Straddling both a colonial and communist past, Ho Chi Minh has a rich history that ranges from wartime brutality to peaceful artist culture. The city used to be called Saigon and plenty of people continue to call it that. There are so many beautiful monuments left over from the period when it was officially known as Saigon!
If you're planning a trip to Ho Chi Minh, don't hesitate! There are plenty of things to do! It's an expansive city that bursts with colorful traditional Asian structures and imposing Western-style monuments, making any Ho Chi Minh itinerary a whirlwind of blended cultures and epic experiences! We may be biased, but our  itinerary really is the best. Keep it close for motorbike rides, water puppet shows, and even trips underground!

Unlock Our GREATEST Travel Secrets!
Sign up for our newsletter and get the best travel tips delivered right to your inbox.
Best Time To Visit Ho Chi Minh
You don't need to worry too much about when to visit Ho Chi Minh as the city remains relatively warm throughout the year. However, it's the rainfall that you need to watch out for! June to September is typhoon season, and the rain comes down in heavy, short bursts. It's still possible to enjoy your trip to the city of Ho Chi Minh, though, just make sure to chuck an umbrella in when you pack for Vietnam!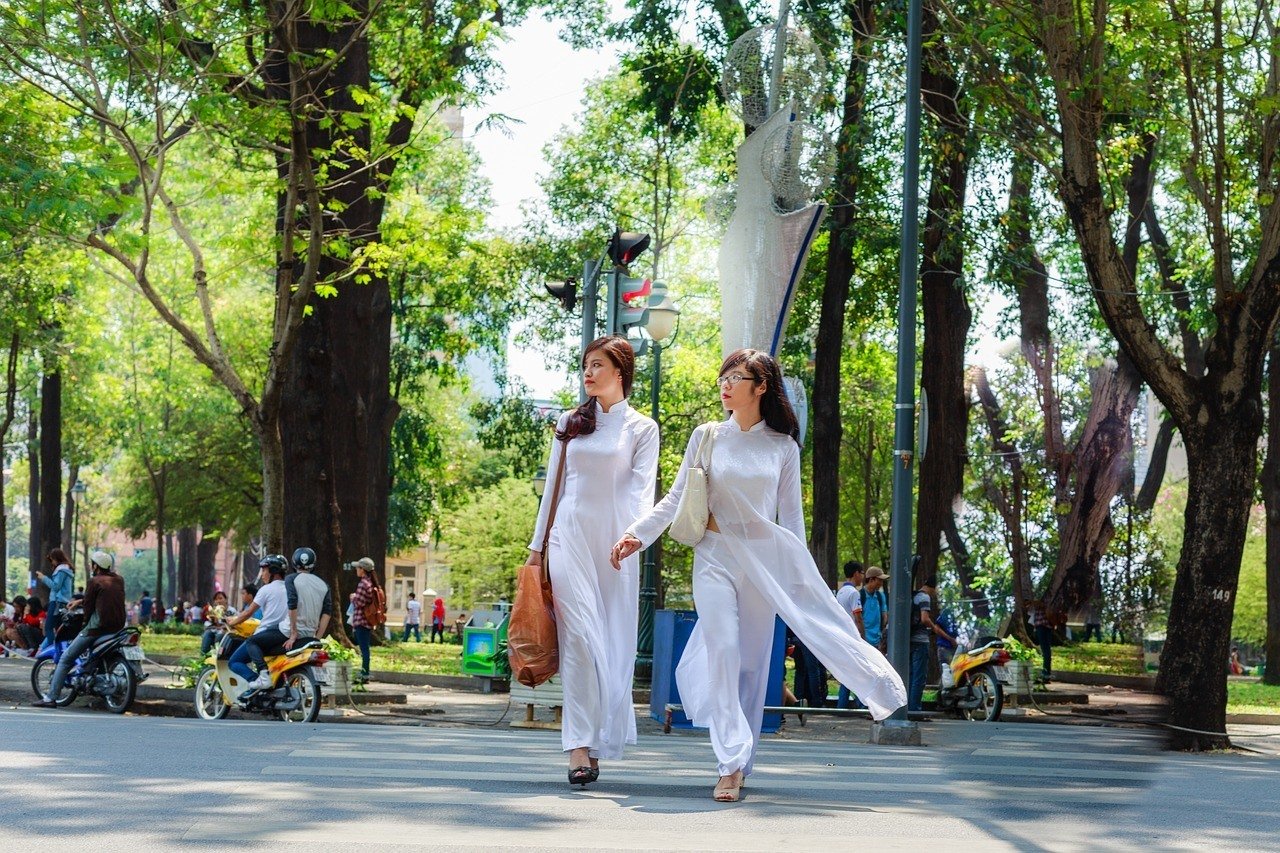 High season falls from December to March when the weather is dry and warm. There are also exciting activities like the Tet Festival in January/February which celebrates the Vietnamese New Year. Although there are denser crowds and steeper prices during Tet, and the local holidays in June/July, Ho Chi Minh tends to remain fairly busy year-round. Don't fuss too much about when to visit Ho Chi Minh; just pack up and book your vacation!
| | Average Temperature | Chance of Rain | Crowds | Overall Grade |
| --- | --- | --- | --- | --- |
| January | 27°C / 81°F | Low | Busy | 😀 |
| February | 28°C / 82°F | Low | Busy | 😀 |
| March | 29°C / 84°F | Low | Medium | 🙂 |
| April | 30°C / 86°F | Low | Medium | 🙂 |
| May | 30°C / 86°F | Average | Medium | 🙂 |
| June | 29°C / 84°F | High | Busy | 🙁 |
| July | 28°C / 82°F | High | Busy | 🙁 |
| August | 29°C / 84°F | High | Calm | 😐 |
| September | 28°C / 82°F | High | Busy | 😐 |
| October | 28°C / 82°F | Average | Medium | 😐 |
| November | 27°C / 81°F | Average | Calm | 🙂 |
| December | 27°C / 81°F | Low | Busy | 🙂 |
Where To Stay In Ho Chi Minh
Ho Chi Minh may not be the official Vietnamese capital, but it sure is the hub of everything! There are 24 districts in the city but tourists tend to stick to Districts 1-5. The best area in Ho Chi Minh to stay really depends on what you're looking to get out of your itinerary!
Are you a first-timer searching for key Ho Chi Minh landmarks? District 1 is the commercial center of the city with plenty of history! It also caters to budget travelers. Another good option if this is your first trip is historical District 3.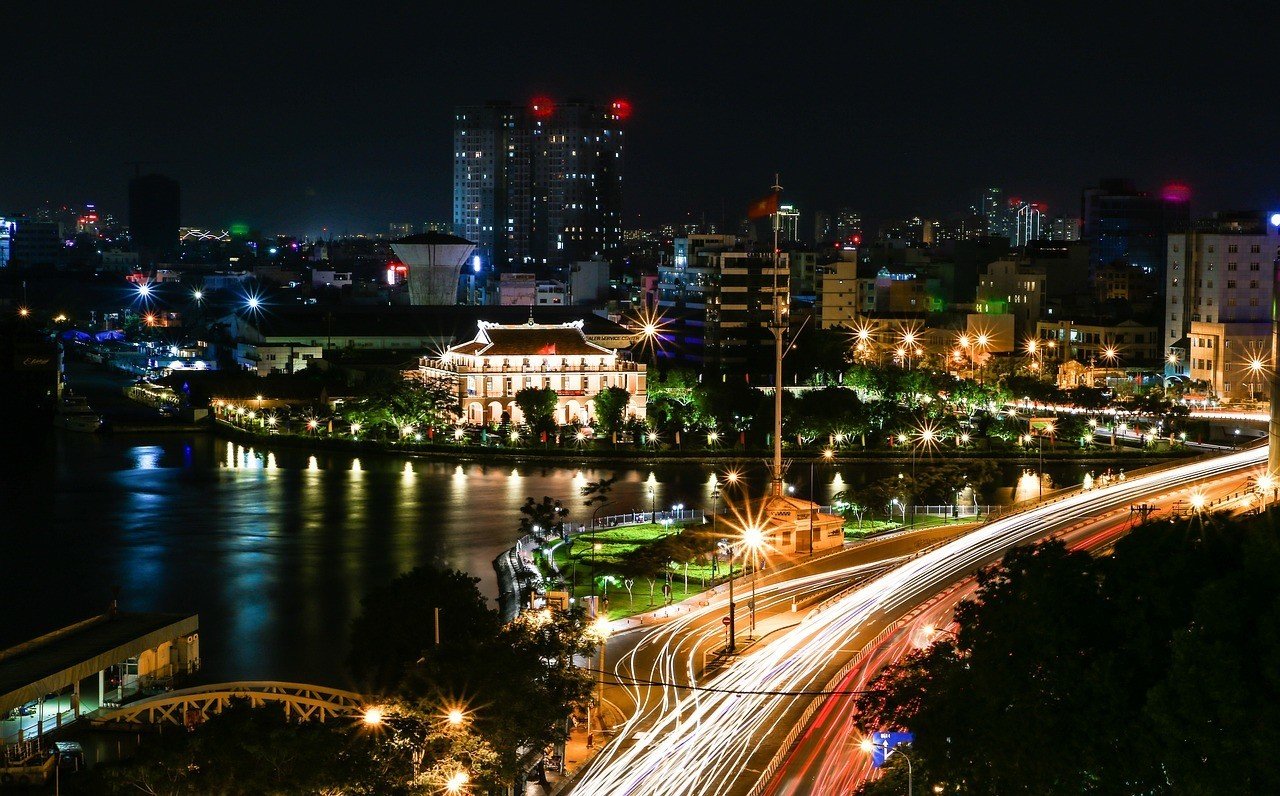 Looking forward to an endless menu of local cuisine? The best place to stay in Ho Chi Minh for you is District 4! There are plenty of food stalls along the streets that attract a younger, hipster crowd.
Seeking an experience that feels authentically Asian? District 5 is for you! It's home to Chinatown, quaint tea houses, and colorful pagodas!
Best Hostel in Ho Chi Minh – The Hideout
If you're backpacking on a budget, then you'll need to check out some of Ho Chi Minh's cheap and fantastic hostels! The Hideout is super social with a rooftop bar, happy hours, and pub quizzes. It boasts all the basics like free Wifi and some cool extras like free breakfast! The District 1 location also gets top marks!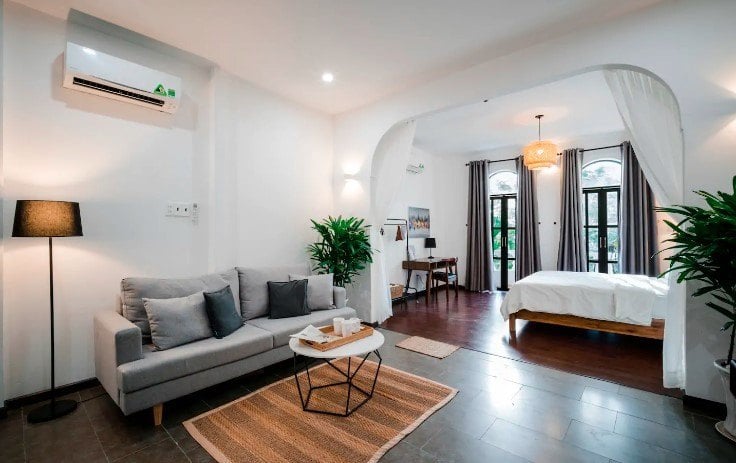 Located in the center of Ho Chi Minh City, this is the best way to experience the city like a local. The apartment is spacious and beautifully decorated.
It also has a balcony where you can watch the everyday lives of Vietnamese people. The kitchen is fully stocked with everything you need to cook at home, but in case you don't feel like cooking, there is an amazing noodle restaurant on the first floor.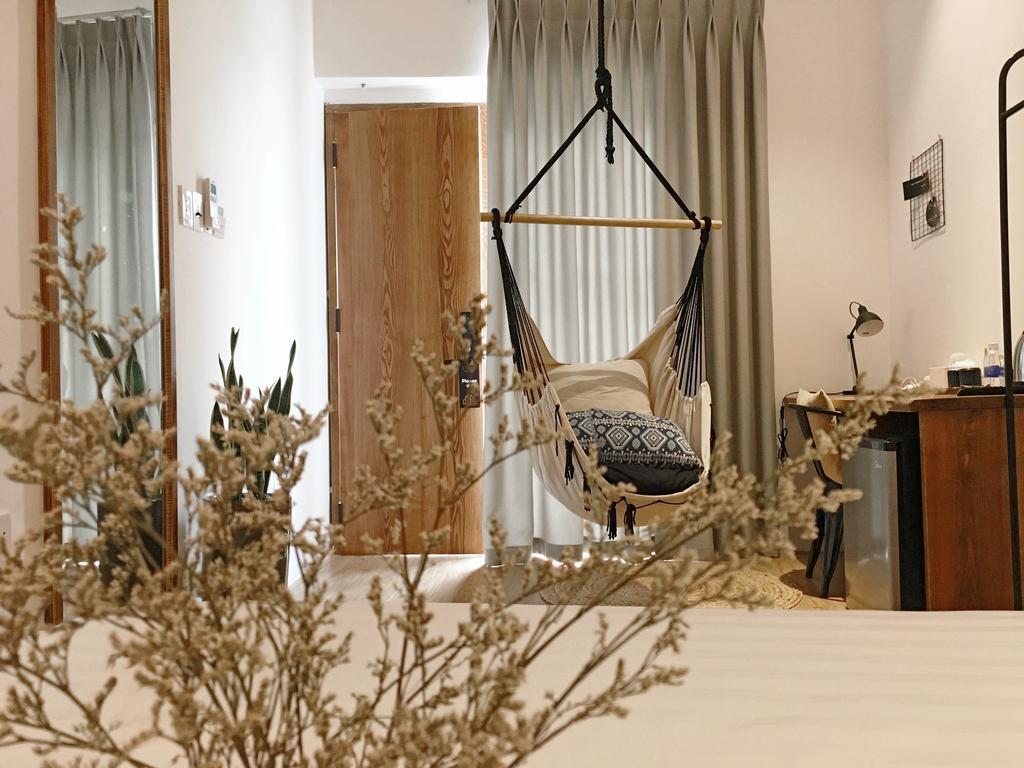 If you want proof that your money can go far in Vietnam, look no further than this gem! Visitors love the sleek, modern design and sparkling-clean facilities! The super comfy rooms have wooden furniture, plush white furnishings, and a hammock! The hotel has free Wifi, a restaurant, room service, and an excellent location in District 3!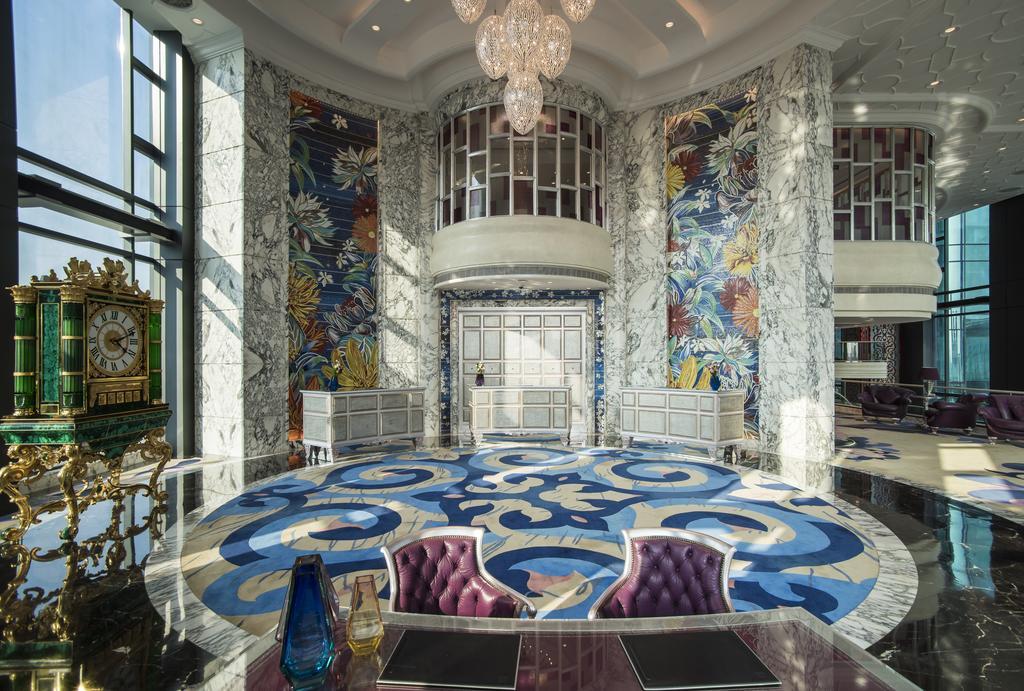 If you're in and out on a weekend in Ho Chi Minh, opt for a little luxury at The Reverie Saigon! It exudes old-world glamor but with plenty of modern comforts! It's located in the heart of District 1, has an in-house spa and also boasts a stellar restaurant. What's not to love?
Ho Cho Minh Itinerary
Once you've made the trip to Ho Chi Minh, it's time to sample the best the city has to offer! Our Ho Chi Minh itinerary is a flexible creation that caters to those on a weekend, as well as those looking to stay a few days more!
Getting around from site to site, you will need to access some sort of transport, particularly because the streets can be dangerous due to speedsters.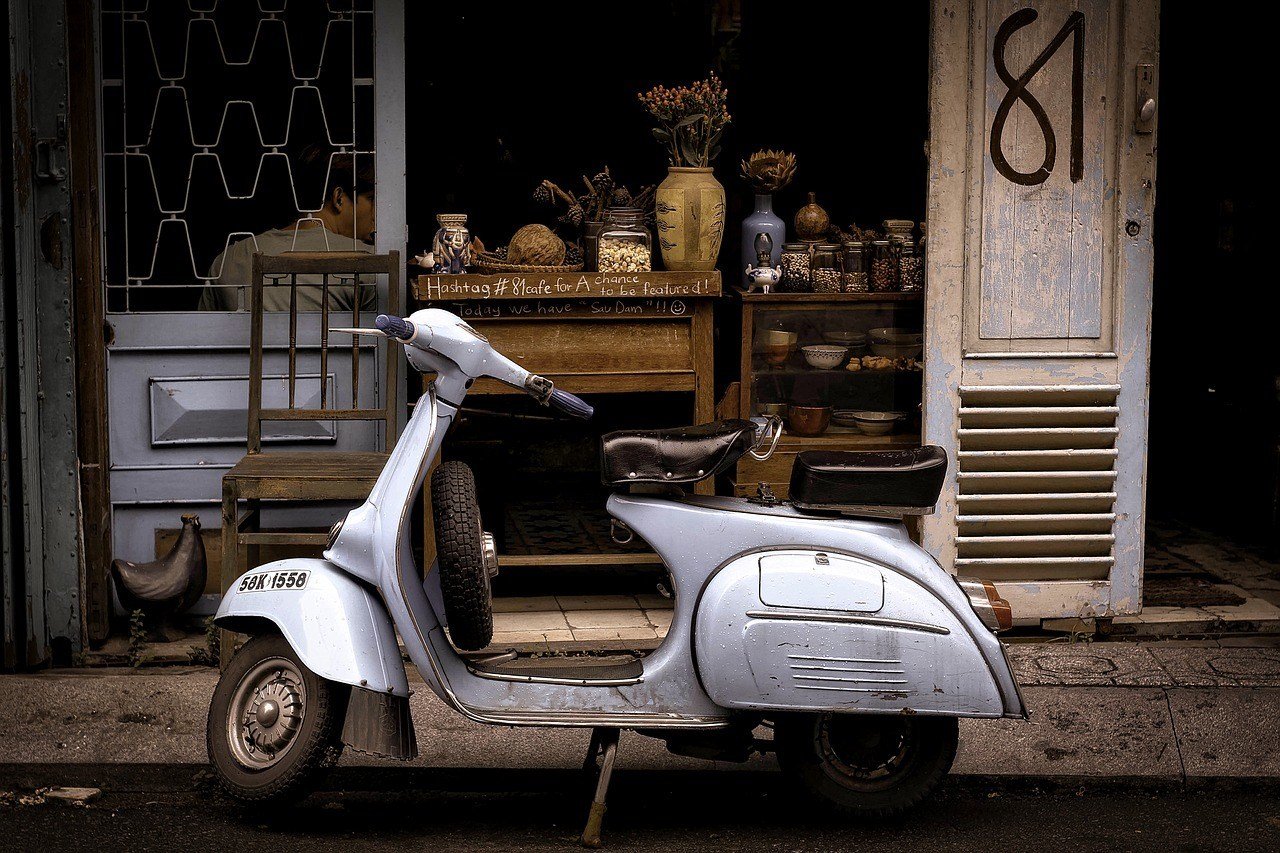 Ho Chi Minh's public transport is hardly glamorous, but it is functional. The public bus system offers comfy seats and air-conditioning, but traffic means that this is a slow method of transport. You pay for your ticket as you get into the bus, so it's perfect for impromptu journeys!
You'll probably want to stick to taxis, though. These are easy to hail from the street and are quite affordable. Stick to reputable companies like Vinasun and Mai Linh Taxi.
A traditional means of local transport is the motorcycle taxi which is quick and cost-effective. There's also the more old-world cyclo, a kind of rickshaw.
Day 1 Itinerary in Ho Chi Minh
The Reunification Palace | Ben Thanh Market | Ho Chi Minh City Hall | Saigon Notre-Dame Basilica | Saigon Central Post Office | Nguyen Hue Walking Street | Golden Dragon Water Puppet Theater
Travel to old Saigon today, with stops at plenty of colonial-era Ho Chi Minh attractions! You could take a free walking tour to see the majority of these sites, but it's pretty simple to make your own Ho Chi Minh walking tour. Simply follow our Ho Chi Minh trip itinerary for day one!
Day 1 / Stop 1 – The Reunification Palace
Why it's awesome: This is one of the most historical sites in all of Vietnam!
Cost: $2 USD
Food nearby: Just a few hundred meters from the palace is Royal Saigon Restaurant Bui Vien. It serves up delicious Vietnamese dishes and caters very well to vegetarians!
Of all Ho Chi Minh's tourist attractions, nothing tells the history of this city better than the Reunification Palace! The history of the site begins in the late 19th century when the French colonial regime employed stellar architect Georges l'Hermitte to design the French Palace of Government or Norodom Palace, as it was known then. When the capital was moved to Hanoi, the building was deserted until after World World II.
The palace became famous as the residence of South Vietnamese president ,Ngo Dinh Diem. He destroyed the French structure but commissioned Ngo Viet Thu, an internationally-renowned local architect, to create a palace that fused both western and Asian styles. You can spot Chinese characters in some of the structures! Try to spot the symbols for good luck and wisdom!
In 1975, the Independence Palace became the scene of the dramatic end of the civil war between North Vietnam and the US-backed South Vietnam, when the North's tanks crashed through the palace gates and the North's flag was planted atop the palace! If you bring this iconic photograph with you and hold it up to the background of the gates, you will be able to picture this historic event vividly!
Today, the Reunification Palace is a must-see on your Ho Chi Minh itinerary. It's home to an underground network of tunnels, some of which are open to tourists! There are also fascinating exhibitions on the war, as well as the history of the city. It's also a great living museum of 1960s modernist architecture!
Day 1 / Stop 2 – Ben Thanh Market
Why it's awesome: Ho Chi Minh's central market has been going since the 17th century!
Cost: Entrance is free. Expect to pay around $2 USD for a small item like a keyring.
Food nearby: At the back of the market is a phenomenal food market that's internationally-recognized as one of the best street food destinations in the world! Sip on some iced Vietnamese coffee with dishes like Vietnamese pancakes or broken rice with pork!
Ben Thanh Market is housed in a building from the early 20th century but it's so full of life you can't resist getting drawn into the maze of stalls!
On the northern end of the market is a variety of fresh fruit, vegetables, and meat. This isn't for the faint of heart, though look out for intestines and brains on sale! If you get queasy, dash towards the flower section!
There's also a large clothing section where you can pick up traditional Vietnamese clothes like the iconic conical hat or the ao dai costume! Other ideas for souvenirs include wooden chopsticks, ceramics, and bamboo goods, all of which are on sale here!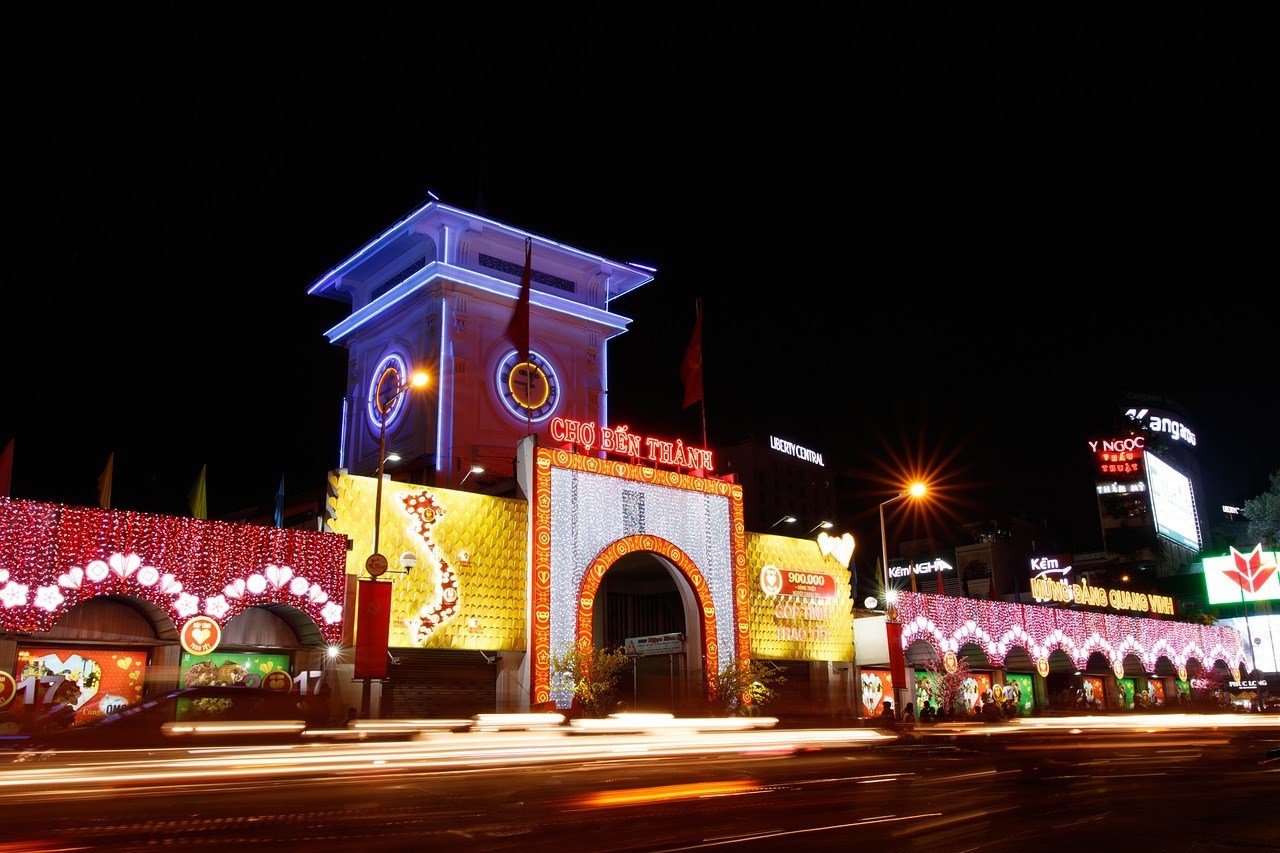 There are four main entrances you can use, but make sure that you stop at the South Entrance for a photoshoot with the iconic clock in the background!
The market is open from 06:00 to 18:00 but the fun doesn't end there! If you have time, try to come back for the Night Market in the streets around Ben Thanh Market!
Insider Tip: This market is an efficient way of grabbing lunch and wandering around one of the most important Ho Chi Minh points of interest. However, it can get very hot inside the market around noon so you may want to have an early or late lunch!
Vendors with light blue tops do not do haggling but most of the market does. Make sure you haggle like a pro to snag the best price!
Day 1 / Stop 3 – Ho Chi Minh City Hall
Why it's awesome: A beautiful building and a magnificent tribute to the founder of a unified Vietnam make this worth the trip!
Cost: Free!
Food nearby: The Rex Hotel is right next door for a gourmet spread. The views from the roof are heavenly food for the stomach and the soul!
Like much of Ho Chi Minh, the city hall shows the crossroads which Vietnam is at. The building was built in the colonial era, modeled after a Parisian hotel, but in front of the building is a statue to Ho Chi Minh, the nationalist leader. The statue shows him teaching a young child.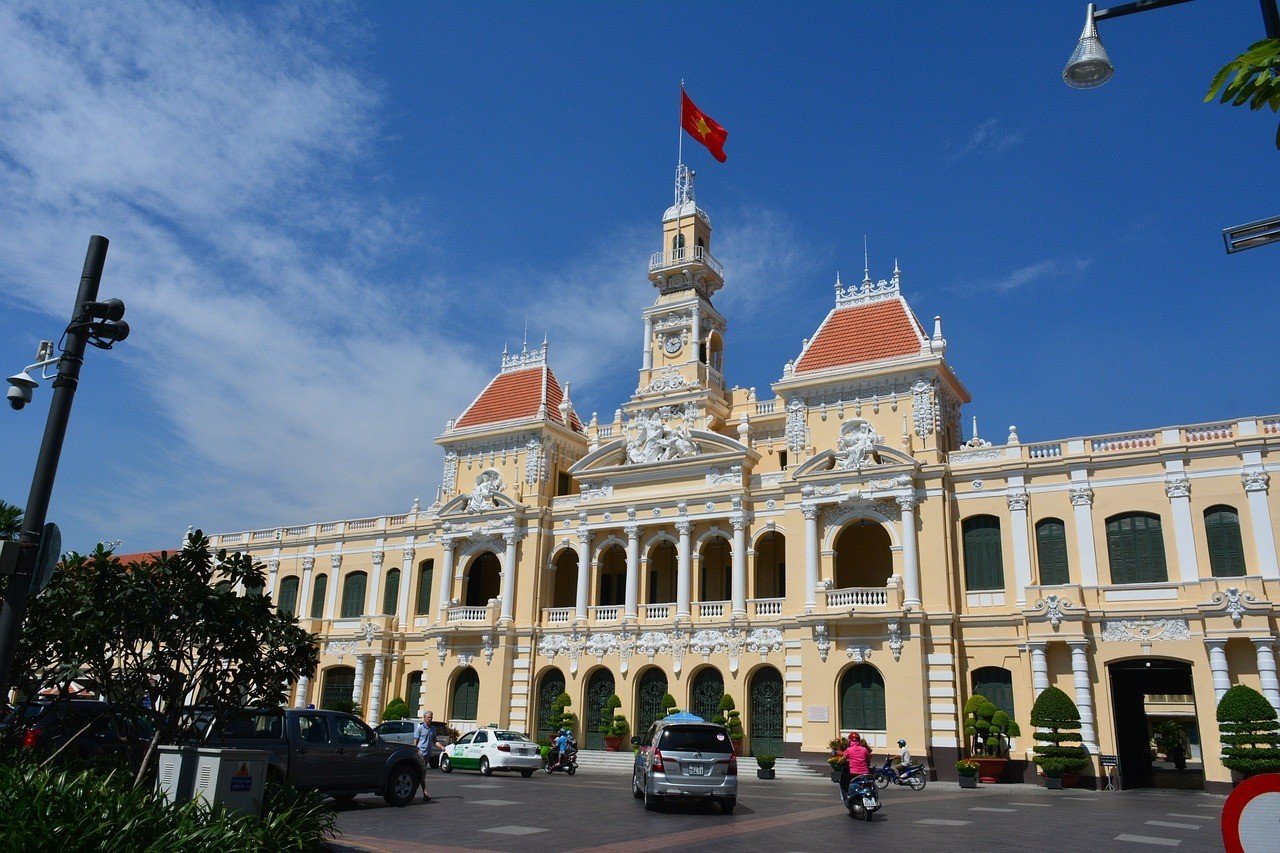 The building is home to the People's Committee in Ho Chi Minh, so the general public is not allowed in. The elegant facade and ornate belltower, though, mean that this place must be on your Ho Chi Minh Itinerary!
Insider Tip: Because this is such a popular site on most visitors' itinerary for Ho Chi Minh, it's hard to get photos without the crowd. We recommend you head next door to the Rex Hotel's rooftop for some stunning photos!
Day 1 / Stop 4 – Saigon Notre-Dame Basilica
Why it's awesome: This picturesque, pinkish church with gorgeous gardens is the perfect photo-opp!
Cost: Free!
Food nearby: For a quick snack, pick something up at one of the stalls outside the church. For hearty local cuisine, try D'Maris Premier Buffet Phu My Hung. If you're looking for a taste of home, sit down at Lost Boys Hideout for some American-style dishes.
The basilica was built from 1863 to 1880 in the neo-Romanesque style, with statement arches, stained glass windows, and a red brick facade that was unusual to Vietnam at the time. Inside, the white-washed walls are decorated with wooden arches that hold up a domed ceiling. While the interior is, unfortunately, currently closed to visitors while it undergoes renovation, the exterior is enough to put this on your itinerary for Ho Chi Minh!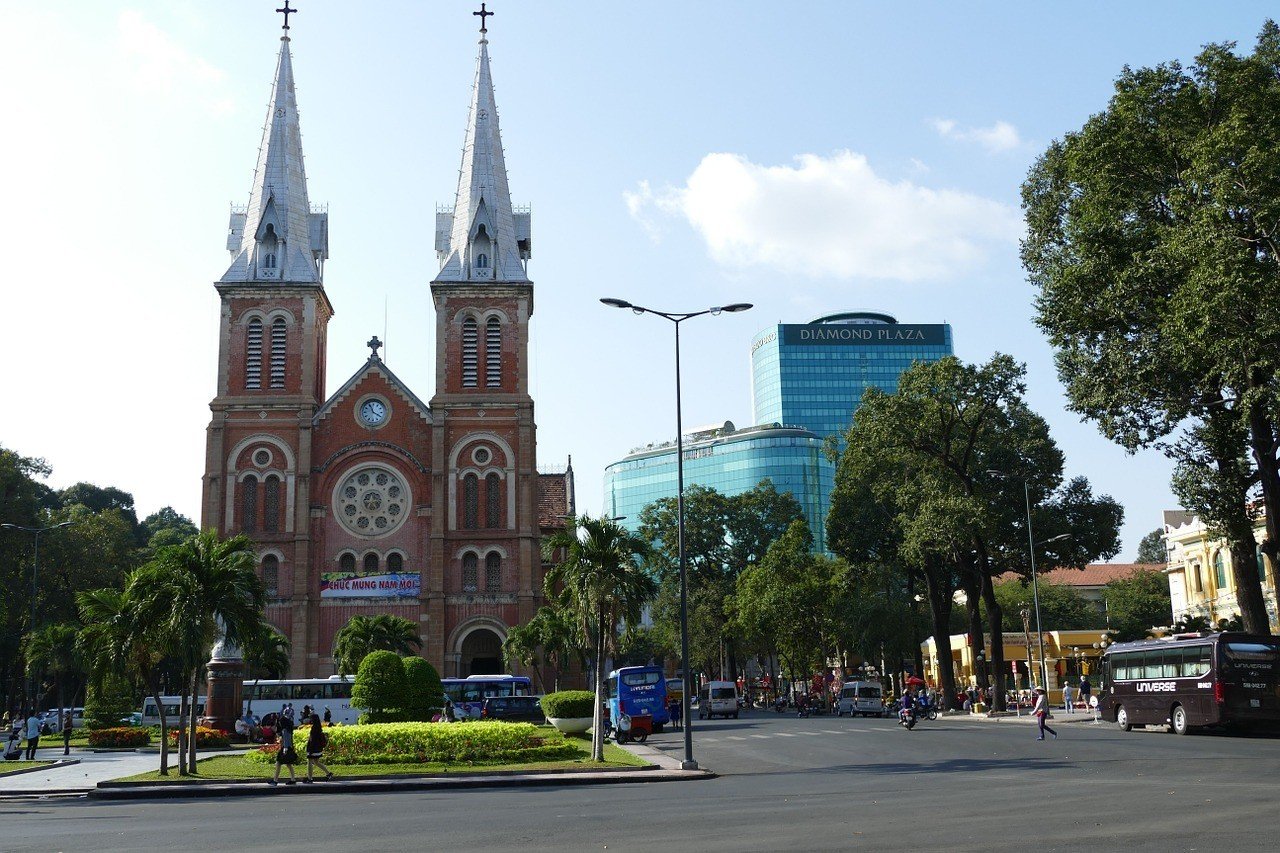 Just in front of the basilica is a statue of the Virgin Mary which in 2005 became the site of a supposed miracle! Viewers alleged that the statue had shed a tear! The Vietnamese Catholic Church has since rejected the miracle as such, but feel free to join zealous onlookers in the watch for another!
Insider Tip: If you'd like to get inside the basilica, try to stop by on a Sunday morning for mass at 09:30 which is held in Vietnamese and English! We hear the high-domed ceiling and wooden arches are really something!
Day 1 / Stop 5 – Saigon Central Post Office
Why it's awesome: The design is so charming that a visit here is like a trip to the old Saigon!
Cost: Free!
Food nearby: The irony you experience when you travel to Vietnam is apparent when you walk out of the post office and head into the American McDonald's, just a few decades after the two countries were at war! Celebrate peace with fries and a McFlurry?
Once you've been to the Saigon Central Post Office, there's (almost) no need to go to Paris. This building was built by Gustave Eiffel, who designed the Eiffel Tower, and it's every bit as gorgeous and iconic! It's so vast and neoclassical that it has the feel of a French train station!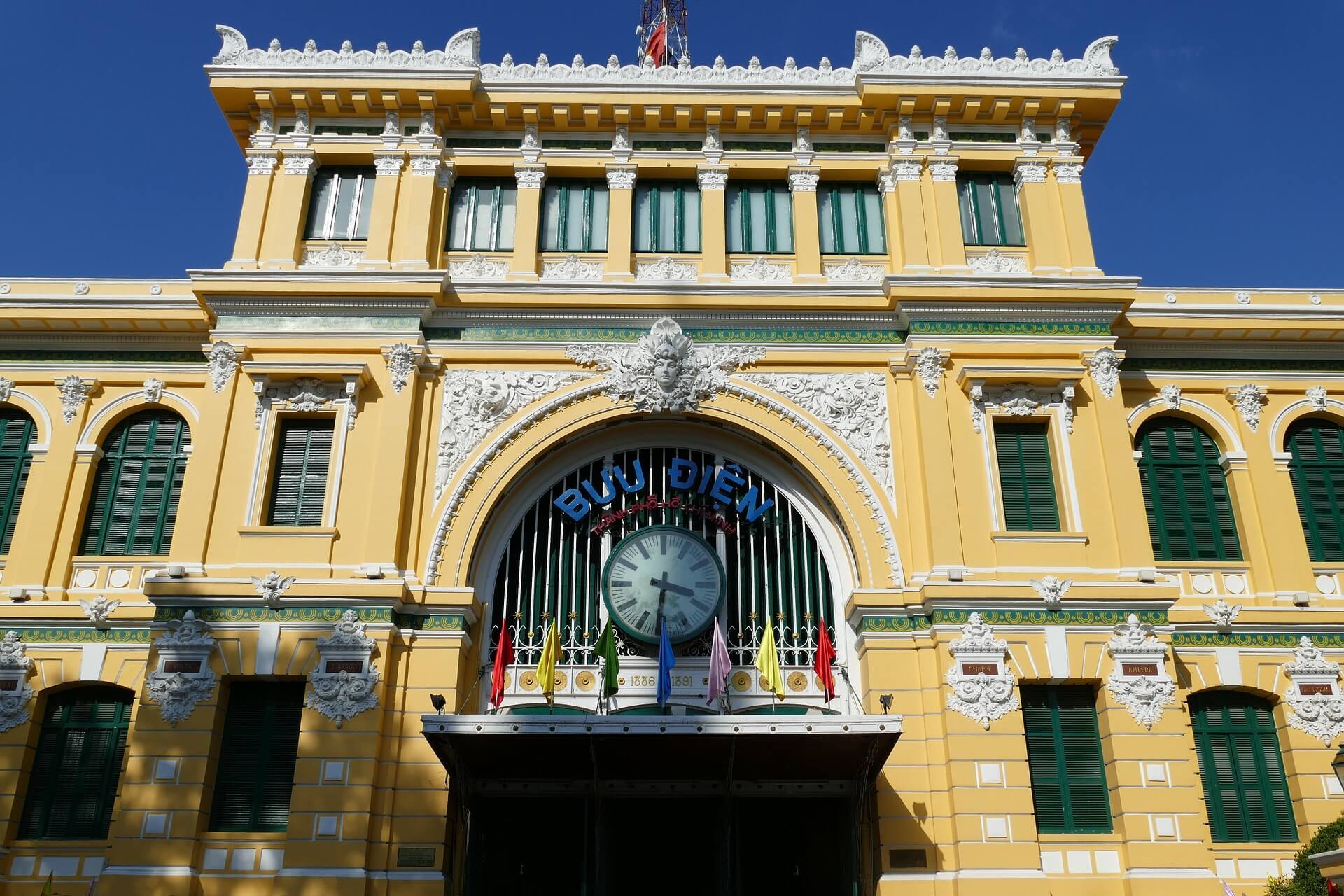 This isn't just a Ho Chi Minh point of interest, though: it's a proper working post office! Why not make a call to friends and family at home in one of the red phone booths? You can also buy a postcard and send it home, retro-style! You can also book discounted theater and tour tickets, as well as exchange currency.
Day 1 / Stop 6 – Nguyen Hue Walking Street
Why it's awesome: Wind down one day in Ho Chi Minh with a leisurely evening stroll in historic District 1.
Cost: Free!
Food nearby: There are plenty of food stalls with snacks, meals, and drinks along the way!
Nguyen Hue is the longest street in Ho Chi Minh at 670 meters-long. It's lined with over 200 trees, 122 pots of flowery creepers, and automatically-operated mist-emitters, so you'll keep cool and get plenty of fresh air in this hectic city! There is also plenty of dance and music entertainment to enjoy!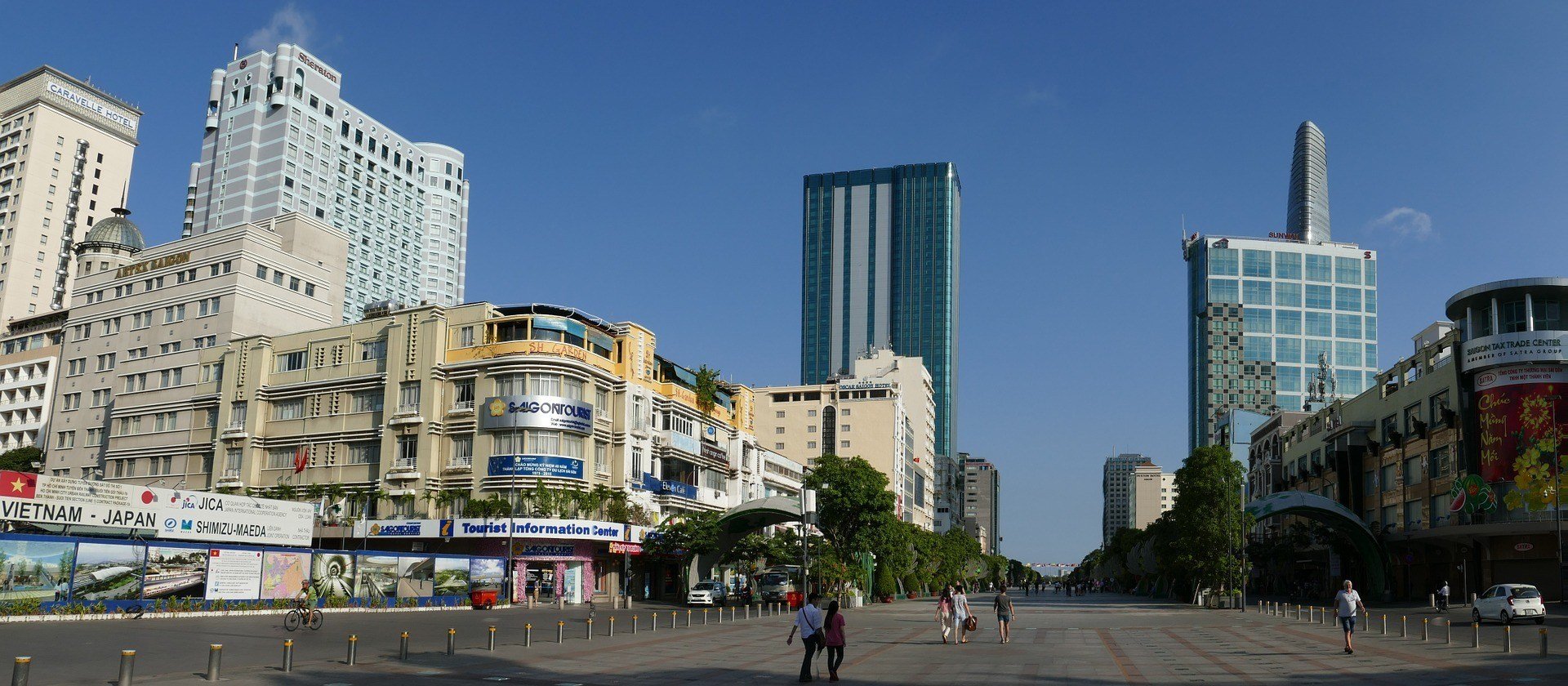 Insider Tip: You can stroll down Nguyen Hue Street any day but to do so without the traffic. Come on Saturdays or Sundays for a more atmospheric experience!
Day 1 / Stop 7 – Golden Dragon Water Puppet Theater
Why it's awesome: This traditional Vietnamese entertainment has been practiced since the 11th century!
Cost: around $10 USD
Food nearby: Try Xanh Cafe for delicious pre-show coffee and snacks. Pi Vegetarian Bistro gets our vote for excellent Vietnamese dinners that appeal to an international audience.
To end off the first day of your Ho Chi Minh itinerary, head over to the Golden Dragon Water Puppet Theater for a water puppet show! This is a distinctly Vietnamese attraction that sees puppets act in water, controlled by bamboo rods. It's performed in Vietnamese, but is just 50 minutes-long and is extremely easy for tourists to understand.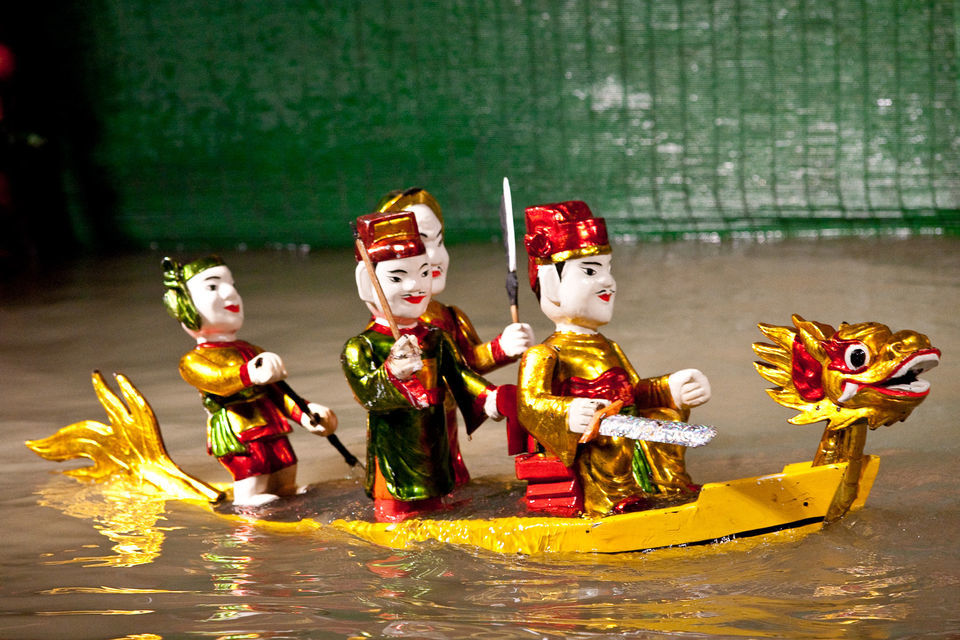 Insider Tip: If you don't manage to make a show at the Golden Dragon (there are shows at 17:00, 18:30 and 19:45), then you can experience the show at another venue like Villa Song Saigon. The Golden Dragon, though, is the most popular with tourists.
Small Pack Problems? 😉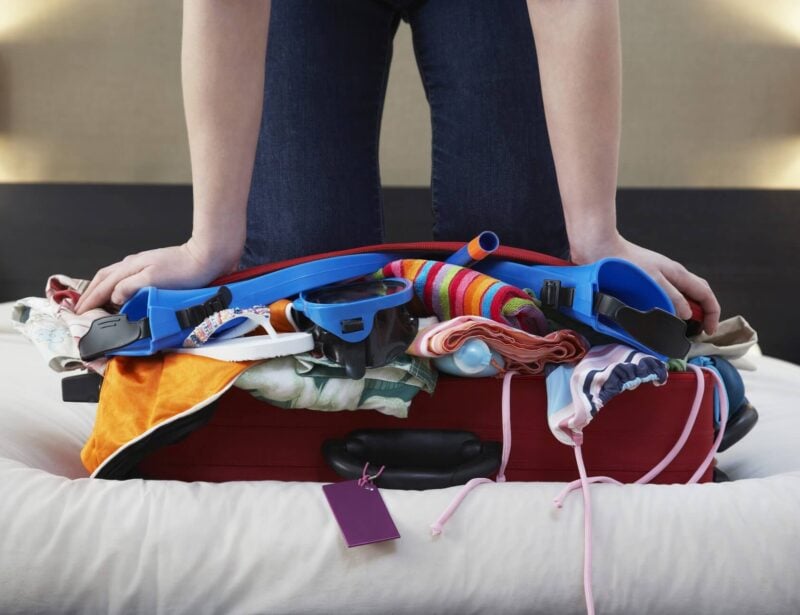 My missus travels with all her clothes in ziplock bags: don't be like my missus. UP YOUR PACKING GAME!
Packing cubes for the globetrotters and compression sacks for the real adventurers – these babies are a traveller's best kept secret. They organise yo' packing and minimise its volume too so you can pack MORE.
Or, y'know… you can stick to ziplock bags.
View Our Fave Cubes
Or Check Out the Sacks!
Day 2 Itinerary in Ho Chi Minh
War Remnants Museum | Botanical Gardens | Jade Emperor Pagoda | Motorbike/Scooter Tour | Bitexco Financial Tower
There's no shortage of what to do in Ho Chi Minh on day two! Our itinerary in Ho Chi Minh includes stops at the iconic War Remnants Museum and Jade Emperor Pagoda. Some tourists travel to Vietnam just for these highlights!
Day 2 / Stop 1 – War Remnants Museum
Why it's awesome: The war with America had devastating consequences for modern-day Vietnam. This is the perfect place to learn about this part of Vietnam's history!
Cost: $1 USD
Food nearby: Keeping with the war theme, head over to Propaganda Bistro to process and reflect on your experience at the museum. Excellent meals are served in a colorful, funky atmosphere.
There is plenty of authentic weaponry and equipment from the war era on display here. Some of the objects were American loans to the South Vietnamese army which were captured by the North and used to finally defeat the US-backed South Vietnam regime.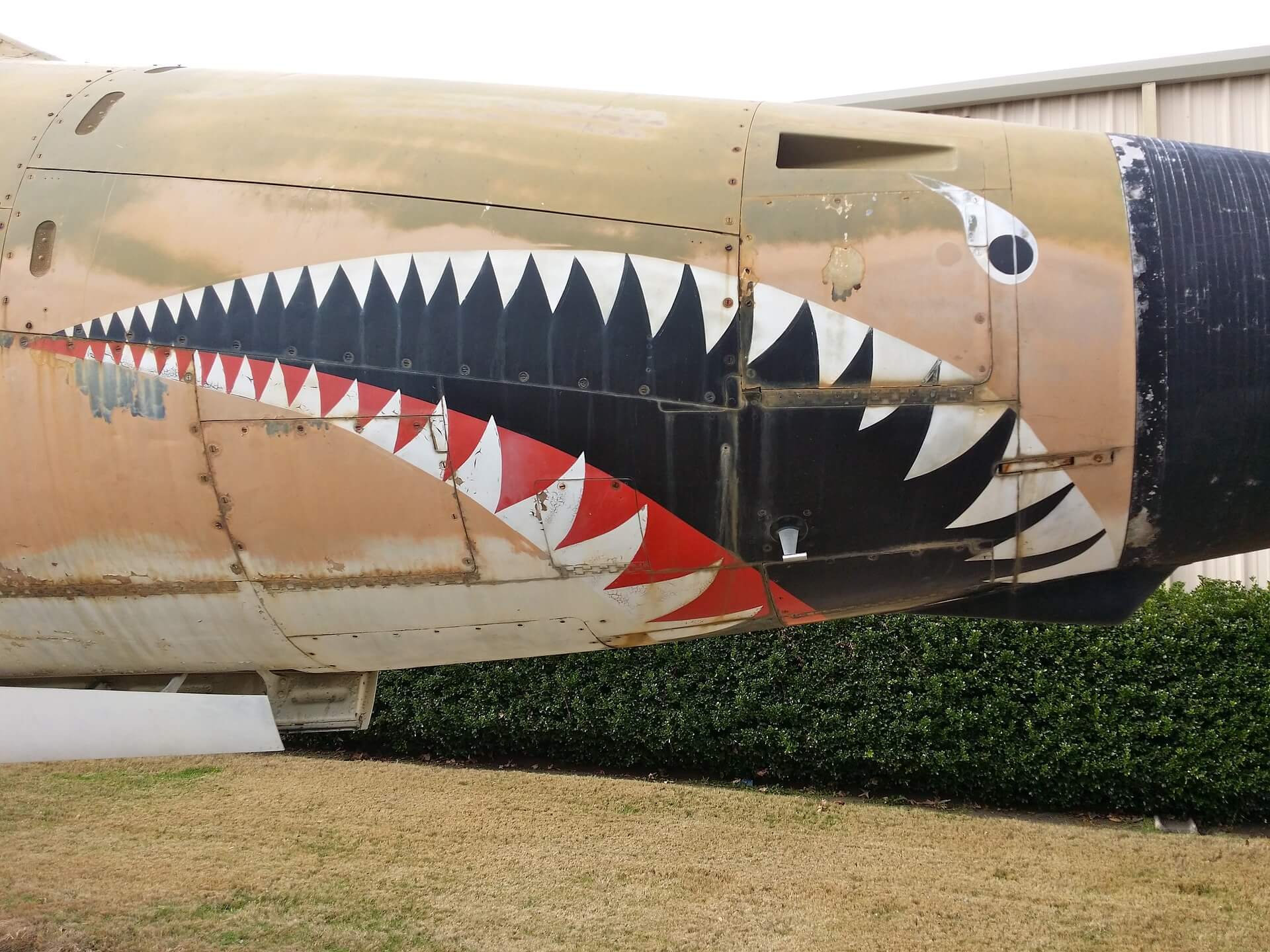 What really leaves an impression at the museum is the photographic exhibitions. These are all very real photos that were taken during the war and depict children's corpses, amongst other horrors. There's also a documentary on the effect Agent Orange had on the population's health. On the more uplifting side, there's an exhibition on the international peace protests.
The visit to the War Remnants Museum is largely told from the Vietnamese perspective which can sometimes be difficult for visiting Americans. However, the takeaway of this sobering attraction on your Ho Chi Minh itinerary is not about winners and losers but about just how important international peace is. Don't miss it.
Day 2 / Stop 2 – Botanical Gardens
Why it's awesome: French style meets colorful Asian plants in this verdant pleasure garden! Bring your camera!
Cost: $2 USD
Food nearby: Ocean Palace, just 100 meters from the gardens, serves mouth-watering Asian cuisine. We particularly recommend the seafood!
The lush environment of the Botanical Gardens is the perfect antidote to the harsh realities displayed at the War Remnants Museum! There's a small zoo on the grounds but the flora is why we've put this stop on your Ho Chi Minh itinerary! Picture over 1600 trees and over 260 different flower species in bloom!
It's one of the oldest botanical gardens in the world, having been founded in 1865. Some of the species in the garden are over 100 years old! Highlights include a lush orchid garden, lakes of tropical fish, and the diversity of bonsai trees dotted around the garden!
Day 2 / Stop 3 – Jade Emperor Pagoda
Why it's awesome: This is an architectural-masterpiece of a temple with plenty of stunning photo-ops!
Cost: Entrance is by donation.
Food nearby: To keep with the peace and quiet of the temple, there is Indika Saigon, a leafy cafe that serves yummy, healthy meals. For a coffee break, try Felix Coffee.
No Ho Chi Minh itinerary would be complete without a visit to the Jade Emperor Pagoda. Some of its distinguished visitors include American president Barack Obama! The colorful building is a Taoist temple to the supreme god, the Jade Emperor, who is the King of Heaven.
Inside the main building, be sure to admire the statues of the two generals who defeated the Green Dragon and the White Tiger, respectively. The dramatic scene depicts the beasts being stepped on as the generals defeat them! The main statue, of course, is of the Jade Emperor. He is draped in expensive cloth and clouded in thicks puffs of incense.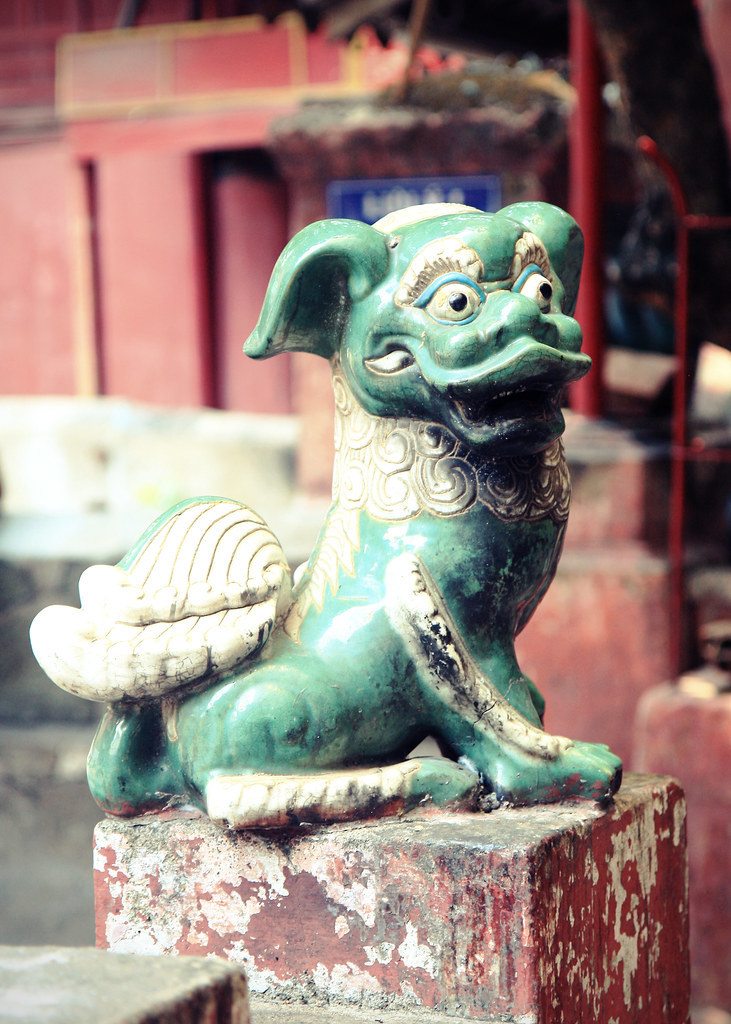 There are plenty of other works of art in the temple. Look out for the Hall of Ten Hells, a carved wooden panel presenting the punishments the sinful face in hell. If you're seeking fortune, visit the City God to whom worshippers present money.
There's also a Buddhist element to the temple! Upstairs, you'll find a portrait of Dat Ma, the founder of Zen Buddhism. The outside structure also represents both Taoist and Buddhist lore. This reconciliation of difference is a wonderful experience on a two day itinerary in Ho Chi Minh!
Day 2 / Stop 4 – Motorbike/Scooter Tour
Why it's awesome: This hands-on excursion combines sightseeing with a fun, interactive activity!
Cost: Around $20 USD per person.
Food nearby: Plenty of tours will include stops at street food stalls. If you hire your own motorbike, do the same!
No Ho Chi Minh itinerary would be complete without a ride on one of the motorbikes or scooters that make pedestrian's lives hell! You can choose between hiring a motorbike, doing a DIY tour, or you can book a tour and leave the driving to the experts!
Riding a scooter can be a great and inexpensive way of traveling around Ho Chi Minh. Although you don't need a license to rent a scooter, most decent travel insurance companies will ask for a valid motorbike license to be able to claim if you crash! Always make sure that you have travel insurance with a motorcycle-riding coverage.
Insider Tip: We absolutely LOVE Insider's Saigon: Motorbike Tour with Local Students! It takes you around flower markets and street stalls on the back of a motorbike with an expert driver and guide at the front!
Day 2 / Stop 5 – Bitexco Financial Tower
Why it's awesome: A modern metropolis like Ho Chi Minh City needs to be seen from above and there's nowhere better to do so than the Bitexco Financial Tower!
Cost: $9 USD for entrance to the Saigon Skydeck. Expect to pay around $5 USD for a beer in the Eon Cafe.
Food nearby: You'll find plenty of cafe-style restaurants in the upmarket shopping center at the base of the tower but for gourmet food and views, try the Eon Cafe on the 50th floor!
Bitexco Financial Tower is the second-highest building in Vietnam and has views for days! There are two options for visitors to find views of the city from the tower. Both offer great views and are fairly pricey so the dealbreaker is really how hungry you are! Either way, this is the perfect way to end two days in Ho Chi Minh!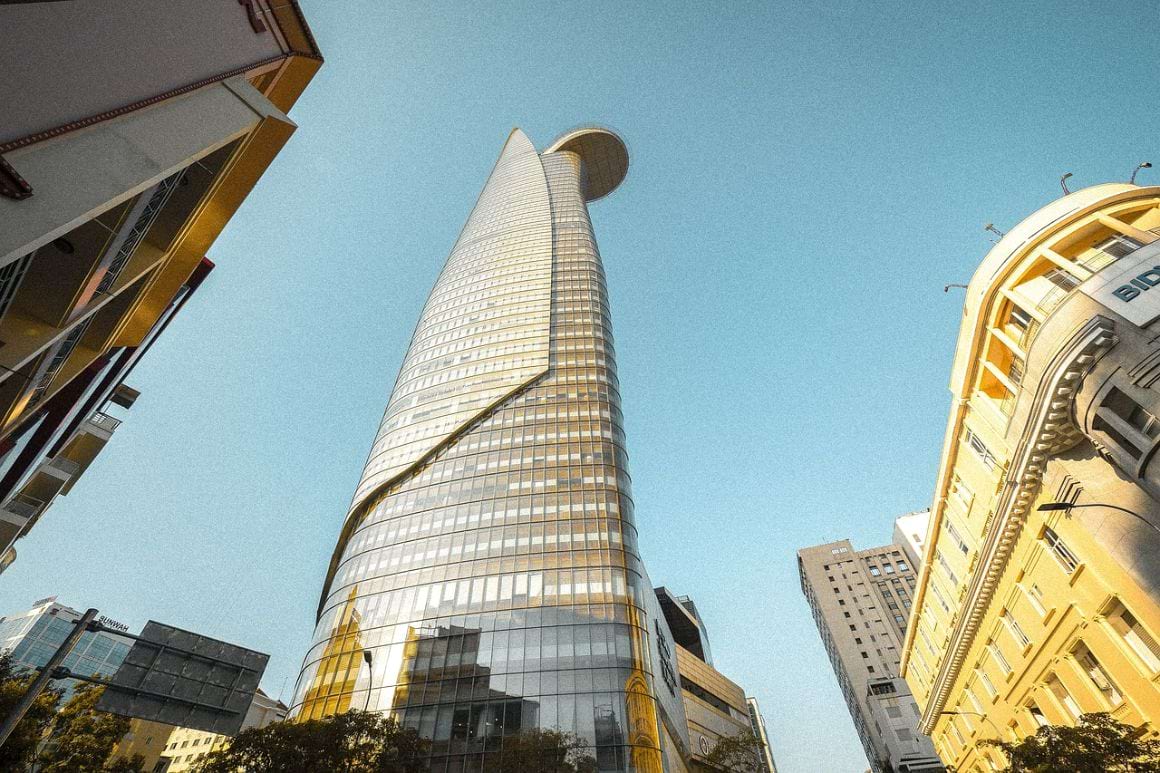 Your first option is the Saigon Skydeck on the 49th floor. Most tourists can't make a Ho Chi Minh itinerary without a visit to this attraction, and you'll see why once you glimpse those panoramic views! There are free binoculars to zoom in on some of the coolest places in Ho Chi Minh CIty!
The second option is the Eon Cafe on the floor above. This also offers great views for the price of a drink!
IN A RUSH? THIS IS OUR FAVORITE HOSTEL IN HO CHI MINH CITY!
Ho Chi Minh City Itinerary: Day 3 and Beyond
Walking Tour of Chinatown | Fine Arts Museum | Vietnamese Culture | Ben Thanh Market Tour | Romantic Sunset Cruise
Are you sticking around Ho Chi Minh a little longer before shooting off to some other beautiful parts of Vietnam?
Three days plus in Ho Chi Minh will give you the opportunity to enjoy more of Vietnamese culture and cuisine. There are a few more Ho Chi Minh landmarks to visit, as well as some exciting hands-on activities!
Ho Chi Minh Walking Tour of Chinatown
One of the best places to visit in Ho Chi Minh is Chinatown which buzzes with markets, temples, and delicious Chinese food!
Ho Chi Minh's Chinatown is also called Cholon. It's located in District 5.
This is the largest Chinatown in the whole of Vietnam!
Take yourself on a relaxed Ho Chi Minh walking tour by making the trip to Cholon for an experience that you won't forget! There's so much to do in this exciting part of town!
Cholon was home to Chinese minorities who hid from the Tay Son dynasty in the late 18th century. Those who survived the attacks established a settlement in the area, specializing in the sale of Chinese goods. The Chinese community also led to the establishment of various Taoist temples and Chinese restaurants.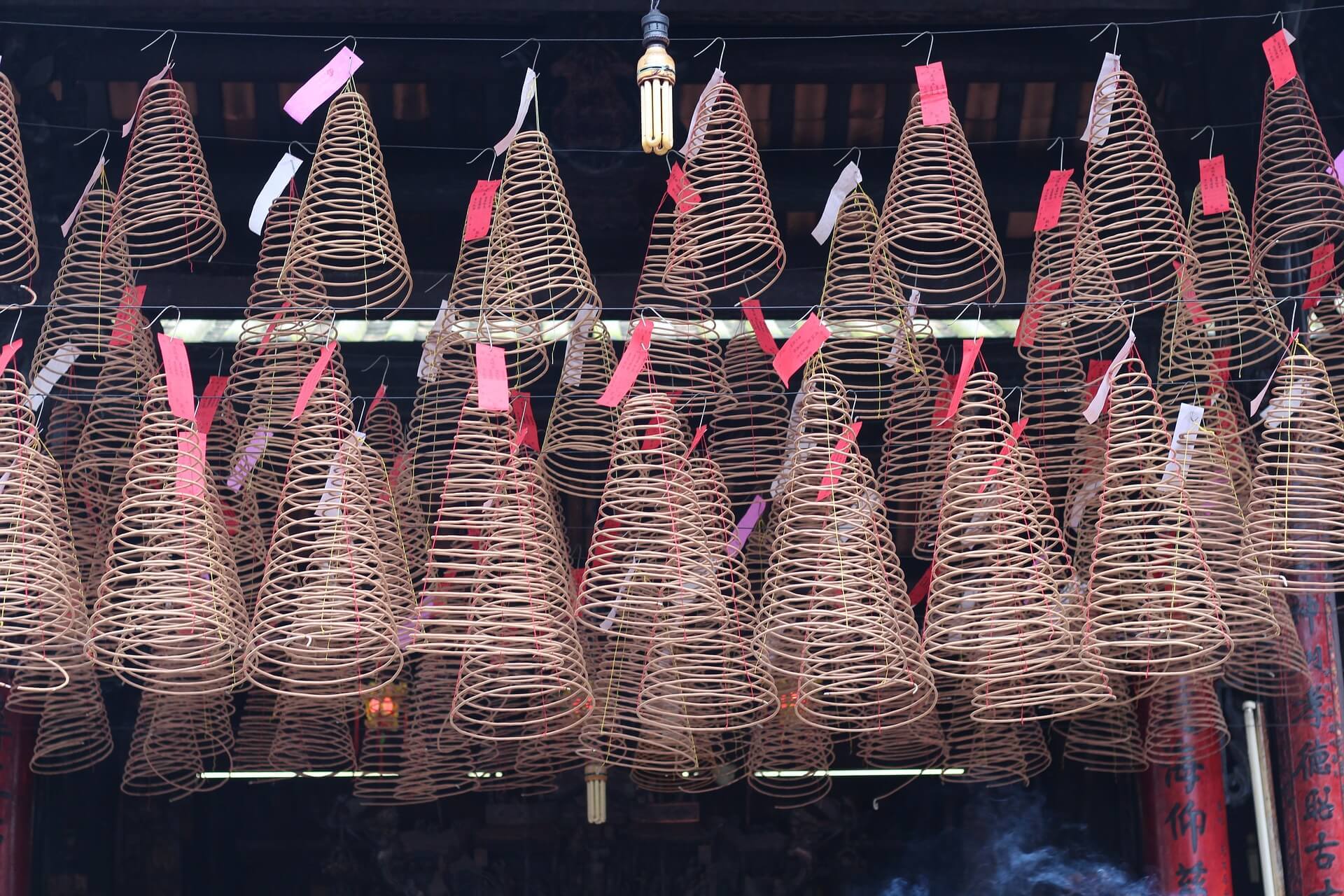 Binh Tay Market is a good place to start your Cholon excursion. There's plenty of Chinese goods, but most people head here for the yummy Chinese dishes!
Ba Thien Hau Temple is also worth a visit. This Buddhist temple is dedicated to Mazu, a Chinese sea goddess who rescues those lost at sea. Mazuism is a fascinating blend of both Taoism and Buddhism, and this is a great place to experience this faith! Be sure to admire the gilded statue of Mazu and the giant ceramic pots of incense!
To soak up the atmosphere, jump into one of the cyclos that roam the streets!
Fine Arts Museum
This lovely yellow building houses some stunning works of art, dating back to the 4th century!
At just $0,50 USD, there really is no excuse to avoid putting this on your Ho Chi Minh itinerary!
The gift shop sells some beautiful prints so you can take some of your favorite pieces home with you!
The Fine Arts Museum building itself is a pretty site: constructed in 1929, it has some gorgeous Art Deco features like stained glass windows and colorful, patterned tiles. The art on display ranges from contemporary pieces that reflect on the Vietnam War to Buddhist figures from the Funan Era (which existed around the 6th century)!
There's also a lovely courtyard and garden that's scattered with sculptures! If you're buying, more contemporary art can be found in the galleries.
Ho Chi Minh City: Vietnamese Culture and Coffee Making Class
Be a barista for the day and learn to roast coffee beans into your favorite hot drink!
Your guide will be a first-rate local barista at a boutique villa in Ho Chi Minh.
The cost of this experience is just $20 USD.
The French may have introduced coffee to Vietnam but in the decades since the Vietnamese have made it distinctly their own by replacing milk with condensed milk! Ca Phe Sua Da, the traditional Vietnamese coffee, is a thoroughly local product. The beans are grown in plantations in Central Vietnam and then transformed into the golden liquid drunk in city cafes. With optional ingredients like eggs and yoghurt, Vietnamese coffee really is unique!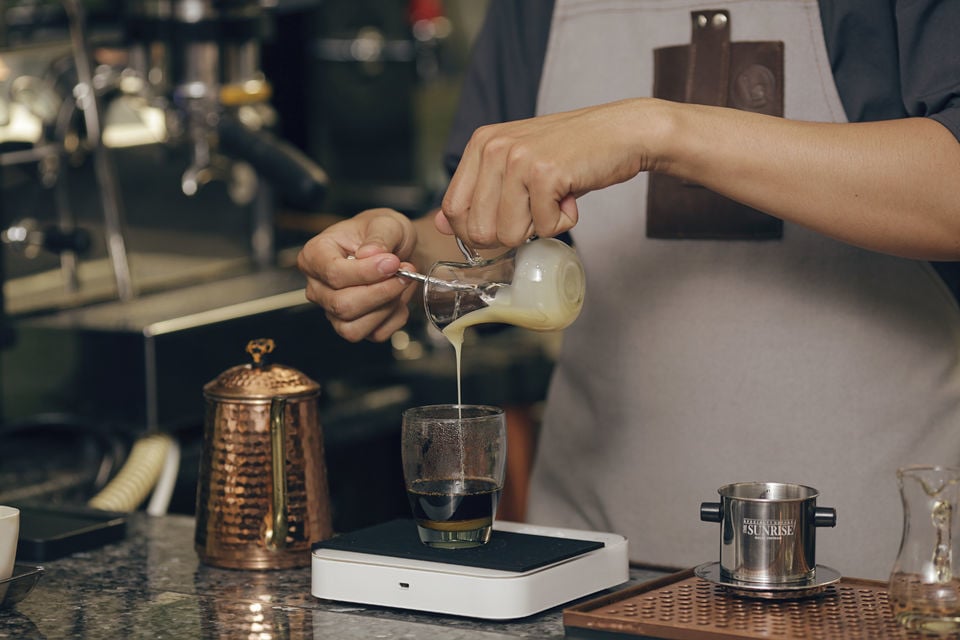 This culinary experience is the perfect opportunity to learn how to make the perfect gourmet brew and appreciate the role of coffee in Vietnamese history. You're sure to find that there's nothing more universal than a good cup of coffee! Luckily, your three-day itinerary in Ho Chi Minh gives you plenty of time for this wonderful experience!
Ben Thanh Market Tour and Cooking Class
Get insider knowledge of Ben Thanh Market as your chef shows you the best suppliers!
Learn how to make the perfect four-course Vietnamese meal, as well as devour it afterwards!
Take your own recipe book home to remember this unique experience from your vacation in Ho Chi Minh!
If you've been wondering how Vietnamese street food tastes, this cooking class is a must on your itinerary in Ho Chi Minh!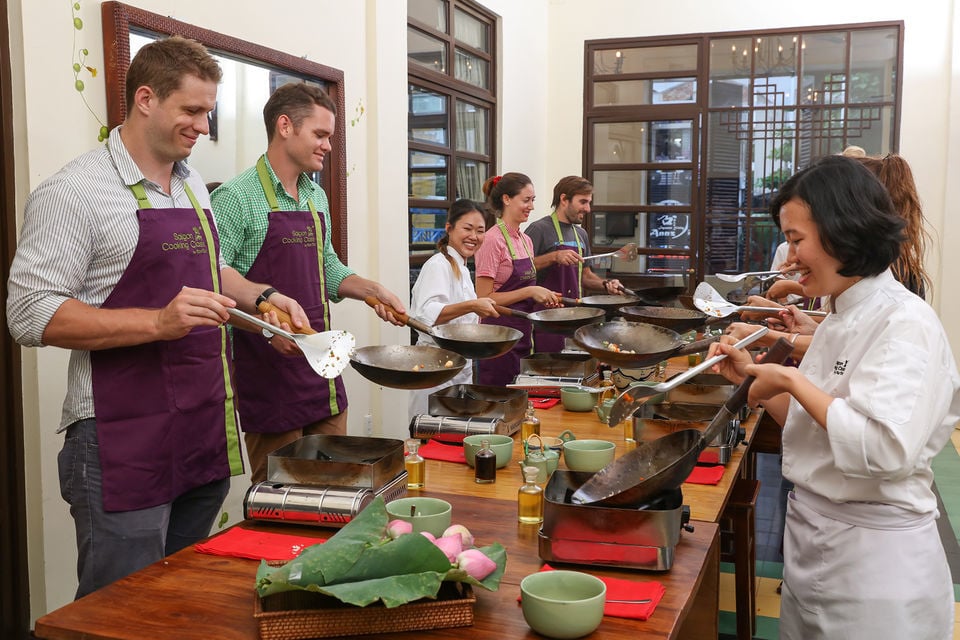 After choosing your fresh products, your expert chef will introduce you to the equipment the Vietnamese masters use to cook your new favorite culinary delights! Each participant will make their own meal individually, with personal attention from the chef. After hours of hard work, it's lunchtime! Yummy!
Ho Chi Minh 2–Hour Romantic Sunset Cruise
Visit the iconic Saigon River than runs along the various districts of the city!
The sunsets over the river, with the cityscape in the background, are phenomenal!
As an added bonus, you'll enjoy unlimited drinks on this short cruise!
Take a boat tour down the lovely Saigon River. It runs all the way from Cambodia to the Mekong Delta in the south of Vietnam. It's become an iconic Ho Chi Minh landmark as it snakes past so many areas of the city! Explore more of Vietnam from the view of a boat.
The cruise will start in the verdant, wealthier areas where you can pick and choose your dream city villa before moving towards a more rural part of the city, Thanh Da Island. Next, the boat will pass more modern developments and the tour will end with a stunning view of the city center all lit-up as night falls. Sunset and a glittering cityscape…this is the perfect way to end three days in Ho Chi Minh!
Is This the Best Daypack EVER???
Staying Safe in Ho Chi Minh
Vietnam is a safe destination overall – there's rarely ever any violent crime against foreigners – but there are some common scams that you should watch out for!
People often offer tourists hospitality deals on the streets, and these are mostly scams. So, book your accommodation ahead of time, and avoid booking excursions like this! Also, avoid any supposed tour guides offering their services outside of attractions; they may be legit, but rather ask the attraction office for recommendations.
Another common scam happens with taxis that overcharge or intimidate passengers. The more modern the car, the more likely it is to be a reliable taxi company. If you have a preferred taxi company, make sure you know how to spell the name. Poor quality companies often play off the popularity of others by creating names that closely resemble those of good quality companies. Also, negotiate the fare before taking a taxi ride.
If you're headed out for a late night, try to keep a low profile. Don't get into any disagreements with bar staff or fellow customers as drunkards and even staff are known to throw bottles at complainers.
Just in case, you should always have travel insurance for health care.
So,is Ho Chi Minh a safe city? Yes, it is but you should always take precautions. Just follow our tips to staying safe while touring Ho Chi Minh!
Don't Forget Your Travel Insurance for Ho Chi Minh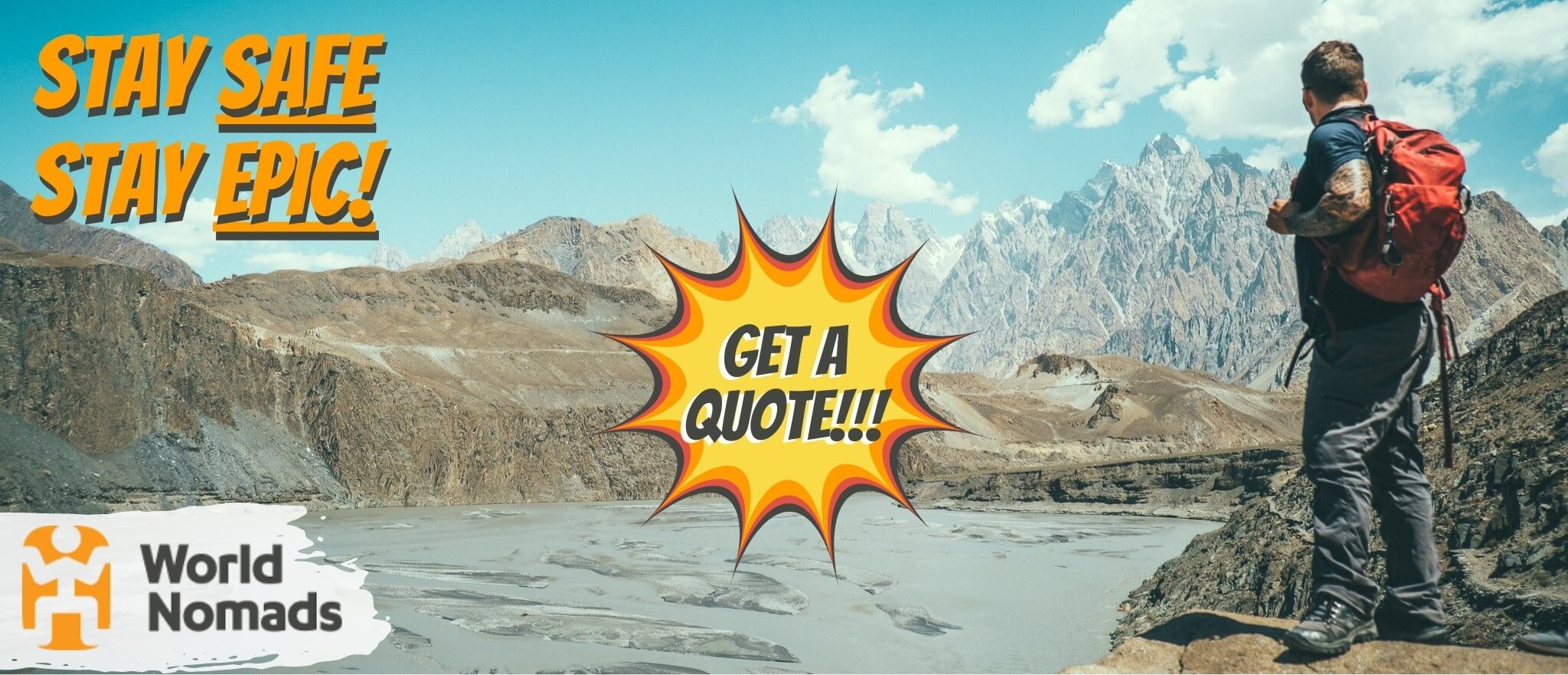 World Nomads' mission is to support and encourage travellers to explore their boundaries. They offer simple & flexible travel insurance, and safety advice to help you travel confidently.
They've been doing it since 2002 – protecting, connecting, and inspiring independent travellers just like you.
Get a quote below or read our in-depth review!
World Nomads provides travel insurance for travelers in over 100 countries. As an affiliate, we receive a fee when you get a quote from World Nomads using this link. We do not represent World Nomads. This is information only and not a recommendation to buy travel insurance.
Day Trips From Ho Chi Minh
From trips down underground tunnels to bike rides along paddy fields, there is so much to do just outside of the city. These day trips from Ho Chi Minh are the perfect way to round off your vacation in Vietnam!
Use Bookaway to find the best deals on transport – buses, planes, trains, and ferries. It'll save you a load of time when organising transport and you'll probably nab an EPIC DISCOUNT too!
Book your transport on Bookaway NOW. Get the best price for the best ride… then use those savings to buy the best feed in town!
Book Your Transport Here!
Ho Chi Minh: Cu Chi Tunnels Tour by Bus
The Vietnam War was a defining moment for the Vietnamese people, a time during which resilience and innovation were key to victory. All this can be experienced at the Cu Chi Tunnels, a complex system of underground tunnels where the Viet Minh fighters lived and based their attacks from.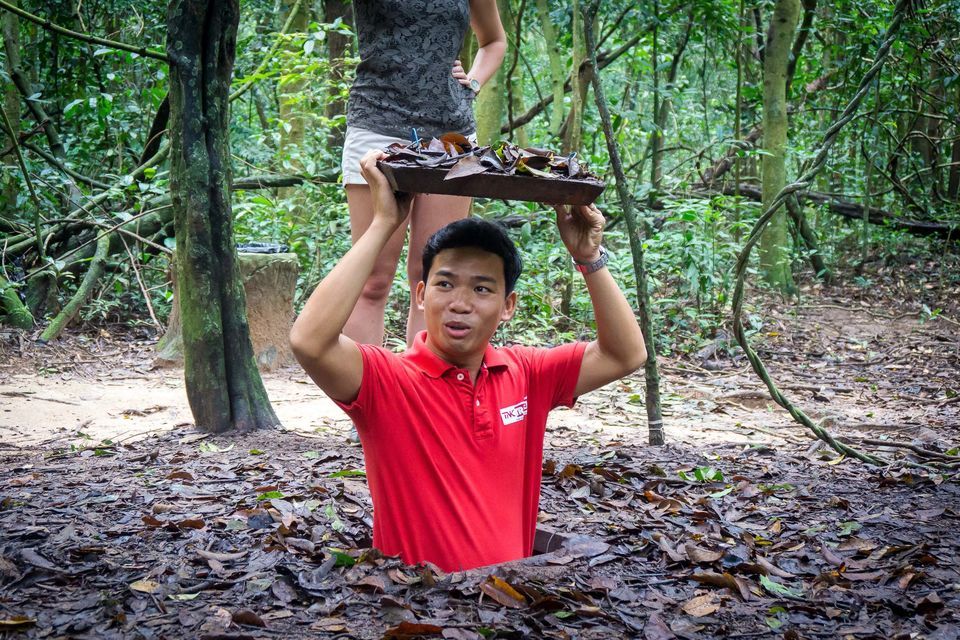 This extraordinary maze of hospitals, bedrooms, and weapon factories is a must on your Ho Chi Minh itinerary! Afterwards, dine like the soldiers with tea and cassava or try your hand at shooting! This is the best day trip from Ho Chi Minh!
Mekong Delta Small Group W/ Vinh Trang Pagoda & Rowing Boat
Picture an exotic maze of rivers and swamps that snake around villages, pagodas, floating markets, and rice paddy fields: this is the Mekong Delta. The journey through the rice paddies takes an hour and a half from Ho Chi Minh to My Tho, the district capital. Here, you'll hop onto a boat on the Tien River and begin a truly epic day trip from Ho Chi Minh!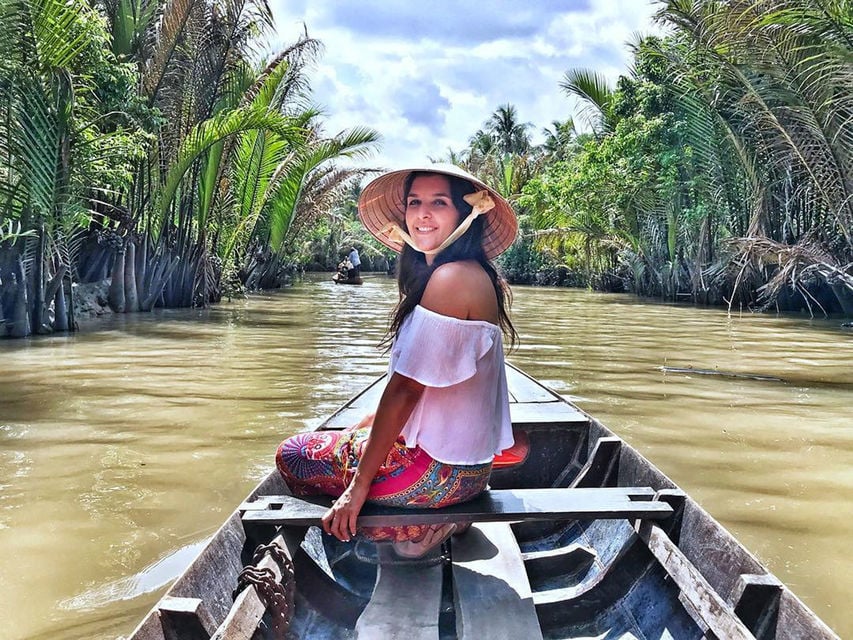 Along the way, there's a stop in a local orchard for lunch and an opportunity to hear some Vietnamese folk music. You can also experience a coconut farm before enjoying a scenic rowing trip on the canal.
Ho Chi Minh: Countryside Half–Day Bike Tour
It can be difficult to imagine anything rural while you're on vacation in Ho Chi Minh, but just outside the urban sprawl is a lush grassland that will take away all your worldly cares! There's no better way to explore than on a bike!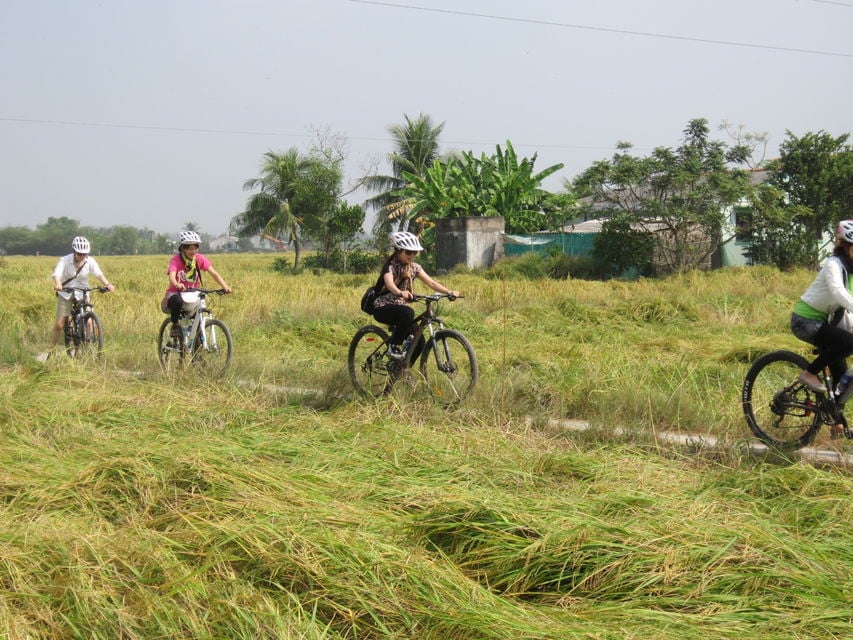 After a quick tour of some urban attractions, you'll head into the countryside. This is the perfect opportunity to enjoy local culture as you'll meet many friendly locals and have the chance to join in local activities, such as weaving. Snacks and lunch are provided so put on your helmet and relax on this epic day trip from Ho Chi Minh!
Saigon's Slum Areas: Morning Motorbike and Walking Tour
Although it's not technically a day trip from Ho Chi Minh, this tour is a day trip away from the tourist areas! It's an eye-opening experience that will allow you to understand how poorer locals in the city live.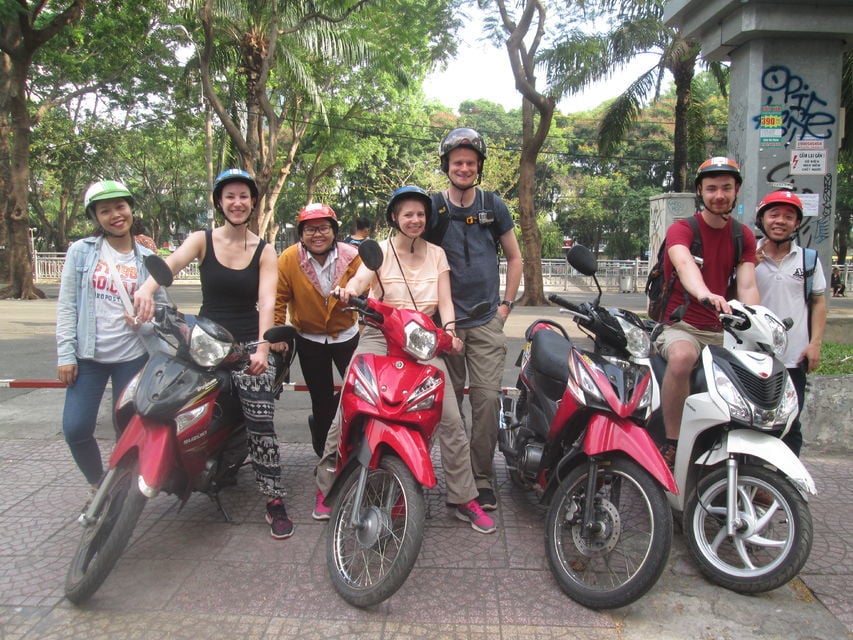 Although it's not technically a day trip from Ho Chi Minh, this tour is a day trip away from the tourist areas! It's an eye-opening experience that will allow you to understand how poorer locals in the city live.
Anyone with an interest in economics or development will particularly enjoy the experience because the guides will introduce you to various government initiatives to improve ordinary citizens' lives in the slums! You will eat lunch in the charity food stall and ride along the narrow streets on a motorbike. This is a great way to participate in community development in Vietnam!
Private Tour to Long Tan Former Australian Military Base
This day trip from Ho Chi Minh will show how relics from the Vietnam War have integrated into modern life: army helipads have become soccer fields and military runways have been transformed into streets!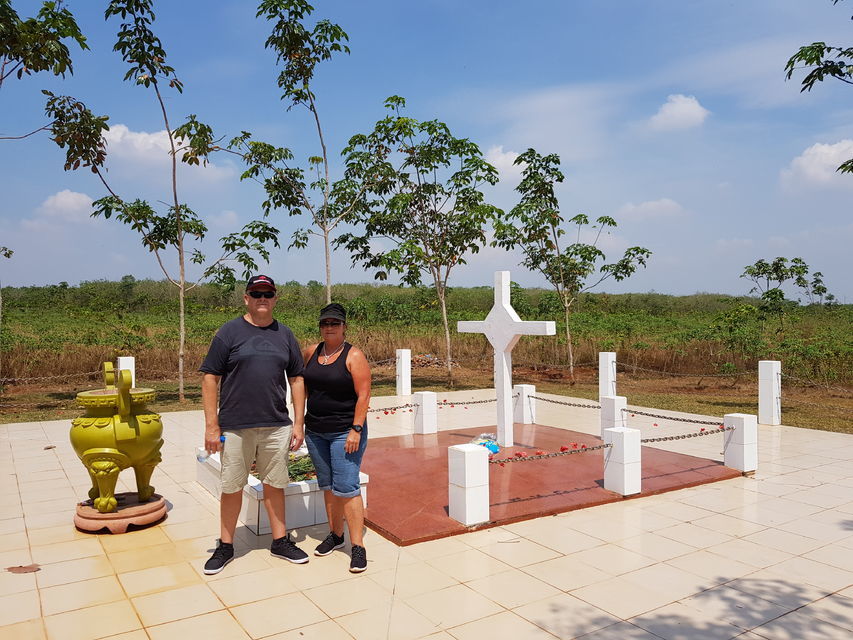 You'll also be able to learn more about a less-known side of the war, the involvement of the Australian and New Zealand Army Corps (ANZAC). At one site on this tour, you can learn the tragic history of how military brigades like ANZAC forcibly removed local villagers. There's also the chance to visit the Long Phuoc Tunnels, an underground military base.
Travel with peace of mind. Travel WITH a security belt.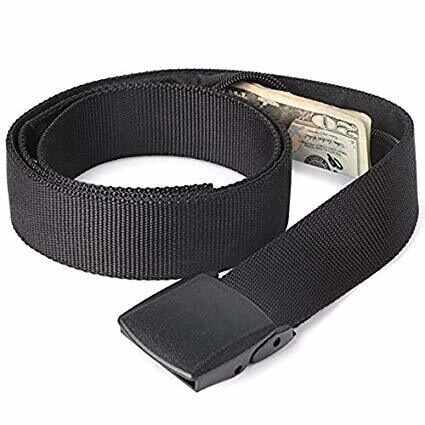 Get your cash stashed with this awesome Pacsafe money belt. It will keep your valuables safe no matter where you go.
It looks exactly like a normal belt except for a SECRET interior pocket perfectly designed to hide a wad of cash or a passport copy. Never get caught with your pants down again! (Unless you want to.)
Hide Yo' Money!
FAQ on Ho Chi Minh Itinerary
Find out what people want to know when planning their Ho Chi Minh itinerary.
Conclusion
Your trip to Ho Chi Minh is sure to stand out for years to come, and more so if you follow our Ho Chi Minh itinerary! From sunset river cruises to Vietnamese cooking classes, the city is winner with all kinds of tourists!
As well as all sorts of interactive activities, we've put plenty of attractions related to the Vietnam War on our Ho Chi Minh itinerary, because understanding Vietnam's difficult past is key to appreciating the resilience of the Vietnamese people! This resilience can be seen everywhere in the city: from the Chinese families who keep on running the vibrant Cholon district to the artists who continue a centuries-old tradition of fine art!
Planning and packing for a trip to Vietnam can be tricky, but we've taken all the effort out of planning your vacation in Ho Chi Minh so that you can simply enjoy the experience! Hold tight to our Ho Chi Minh itinerary, because it really is key to a good time!
---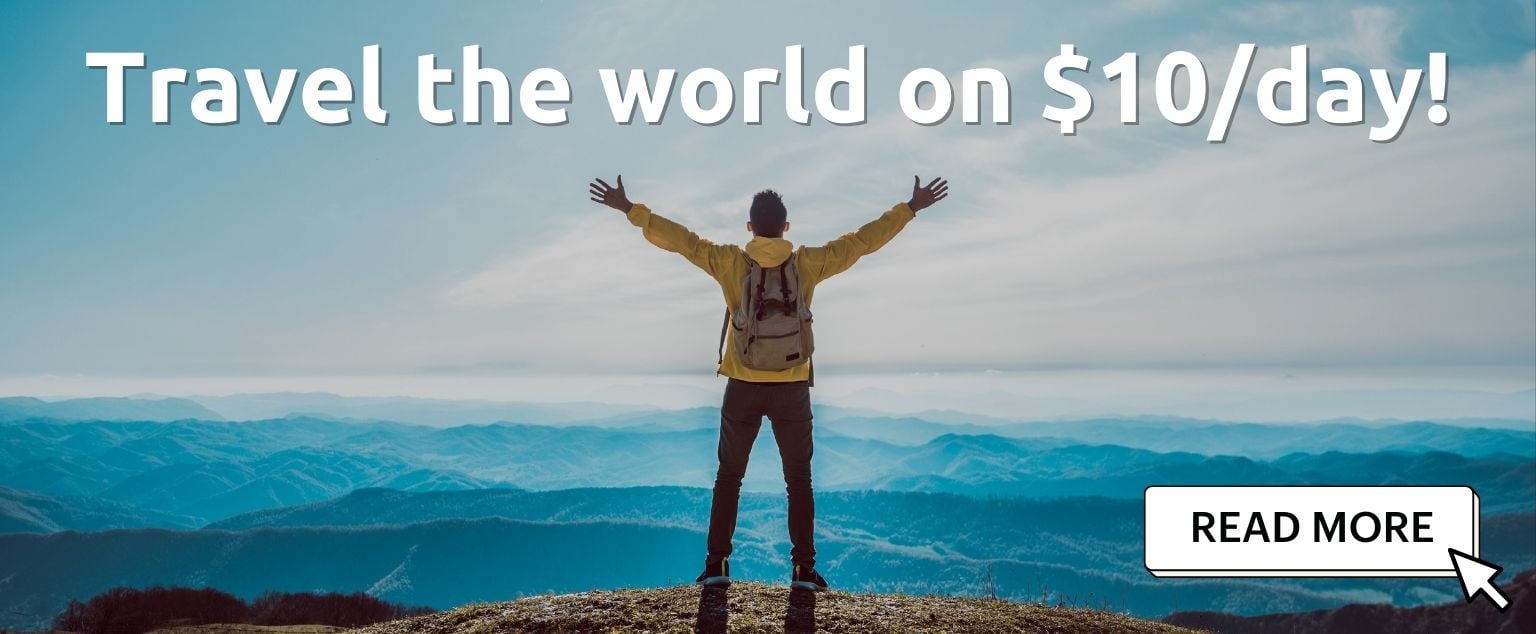 And for transparency's sake, please know that some of the links in our content are affiliate links. That means that if you book your accommodation, buy your gear, or sort your insurance through our link, we earn a small commission (at no extra cost to you). That said, we only link to the gear we trust and never recommend services we don't believe are up to scratch. Again, thank you!