Vietnam is awesome. There's the iconic Halong Bay, the sparkling turquoise seas and curving beaches of Phu Quoc, breathtaking scenery at Tam Coc, the banyan-strewn colonial streets of Hanoi, and a whole lot of other things to see.
And you know what? Vietnam is pretty damn safe these days. Granted, we're not so sure about its road safety. This country is infamous for the millions of motorbikes that madly make their way through its cities and towns every day. There's a little bit of petty theft to contend with, too.
But you shouldn't worry at all. We have made this epic insiders guide on staying safe in Vietnam so that you can really get into the nitty-gritty of this Southeast Asian gem. We're all about smart travel at The Broke Backpacker, and think you should be too!
We're going to be looking into a whole lot of safety concerns when it comes to travelling to Vietnam. Whether or not it's safe to drive in Vietnam, if you can safely eat the food, even if you can travel to with children. Vietnam in its entirety is covered here.
You might be thinking of taking the plunge and going on a backpacking trip for the first time, you might be looking for a safe destination to travel around as a female solo traveller – whatever you're planning, our insider's guide is all about discovering Vietnam… safely!

Unlock Our GREATEST Travel Secrets!
Sign up for our newsletter and get the best travel tips delivered right to your inbox.
How Safe is Vietnam? (Our take)
Vietnam is a classic destination on the "Banana Pancake Trail", the well-trodden backpacker route through Southeast Asia. The culture is vibrant, the history is fascinating, the cities are mad, nature is stunning, and those beaches… WOW.
We're going to come out and say it, Vietnam is safe for travelers. Millions of people each year visit this country – and increasingly not only intrepid backpackers! Couples on a long holiday, retirees, families; all sorts of people are coming to Vietnam.
Vietnam does suffer from some problems that are endemic of poorer countries. Petty theft can be an issue, especially in Saigon, but it actually has a very low crime rate. Scams may be common, but the worst that is likely to occur is your bag, phone or tablet being snatched by a scooter-riding thief.
On that note, the roads, in general, aren't all that safe and motor-related fatalities are more common than anything else.
There is no such thing as a perfect safety guide, and this article is no different. The question of "Is Vietnam Safe?" will ALWAYS have a different answer depending on the parties involved. But this article is written for savvy travellers from the perspective of savvy travellers.
The information present in this safety guide was accurate at the time of writing, however, the world is a changeable place, now more than ever. Between the pandemic, ever-worsening cultural division, and a click-hungry media, it can be hard to maintain what is truth and what is sensationalism.
Here, you will find safety knowledge and advice for travelling Vietnam. It won't be down to the wire cutting edge info on the most current events, but it is layered in the expertise of veteran travellers. If you use our guide, do your own research, and practise common sense, you will have a safe trip to Vietnam.
If you see any outdated information in this guide, we would really appreciate it if you could reach out in the comments below. We strive to provide the most relevant travel information on the web and always appreciate input from our readers (nicely, please!). Otherwise, thanks for your ear and stay safe!
It's a wild world out there. But it's pretty damn special too. 🙂
Is Vietnam Safe to Visit Right Now?
Yep – Vietnam is absolutely safe to visit. Let's just say the numbers speak for themselves. Everyone seems to be traveling to Vietnam these days.
If you're curious about the country, looking for a good place to start a Southeast Asia trip, or it's your first trip travelling alone, Vietnam is a great first-time destination for solo travellers.
About those roads though… Road-related deaths kill more people than diseases in Vietnam. That's around 14,000 people each year. It's the 3rd highest rate of road-related deaths in Asia, behind Thailand and Iran. Pretty serious.
To be fair, approximately 59% of the population get around on motorbikes. Trust us, you'll see A LOT of these in Vietnam. Biking can be fun but it can be a very dangerous way to travel (more on that later).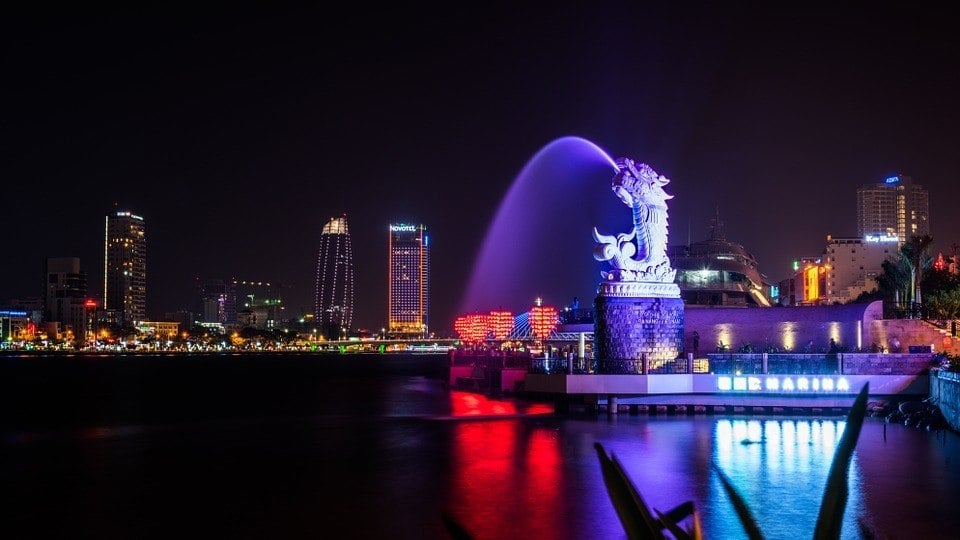 Vietnam is a one-party communist state, which is something you should be aware of. The Vietnamese government represses free speech and censors a lot of dialogue. Reporters Without Borders rank Vietnam as 175 out of 180 countries in terms of press freedom.
At the same time, young people here are open-minded, knowledgeable and happy to make friends. We've met several Vietnamese locals over our travels and all of them are perfectly normal and far more Westernized than we expected.
When it comes to politics, just stay away – don't get involved in local issues.
Safest Places in Vietnam
When choosing where you'll be staying in Vietnam, a bit of research and caution is essential. You don't want to end up in a sketchy area and ruin your trip. To help you out, we've listed the safest areas to visit in Vietnam below.
Hanoi
As the modern capital of Vietnam, Hanoi is the main gateway to the country and the first place most travelers will visit upon arrival. Hanoi has an extensive history that gives visitors the chance to learn about the Vietnam War, colonial rule and ancient history in the region.
Hanoi is ranked among the top destinations in the world! It provides an excellent overview of everything Vietnam has to offer, and we would argue it is a must see on any itinerary travelling around Southeast Asia.
The popularity and infrastructure development makes Hanoi the safest city in Vietnam.
Da Lat
Da Lat is a great example of the colonial influence on Vietnam – with French-style buildings and star-shaped streets running throughout the city. It was once a popular getaway for French colonial authorities looking to escape the heat of the larger cities.
It's got a more laid-back and relaxed vibe than other busy cities which also increases the safety level quite a bit. It's also considered to be a top honeymoon location thanks to the stunning nature and peaceful atmosphere.
Ho Chi Minh
Now, this is a special one! Formerly known as Saigon, Ho Chi Minh City is the largest city in Vietnam and the former capital of South Vietnam! Like Hanoi, it offers some excellent historic and cultural attractions – as well as excellent nightlife venues. A wallet-friendly destination for budget backpackers, Ho Chi Minh City is known for its great street food vendors, featuring cuisines from all over the world, and a wide range of cheap accommodation.
While the city is definitely worth visiting, you'll have to fight your way through the crowds sometimes. And lots of people attract pickpocketing thieves and scammers. As long as you keep an eye on your belongings, you will be fine. Apart from that minor issue, you won't have to worry about anything more serious in Ho Chi Minh.
Places to avoid in Vietnam
Luckily, there are no places in Vietnam that we'd recommend to fully avoid. That being said, it still pays off to be aware of your surroundings and travel with your common sense switched on.
No large city is crime-free, and neither are those in Vietnam. While cities like Hanoi and Ho Chi Minh attract pickpocketing thieves, you normally don't have to worry about more serious crimes. As long as you keep an eye on your belongings, even that threat can be avoided completely.
Vietnam Travel Insurance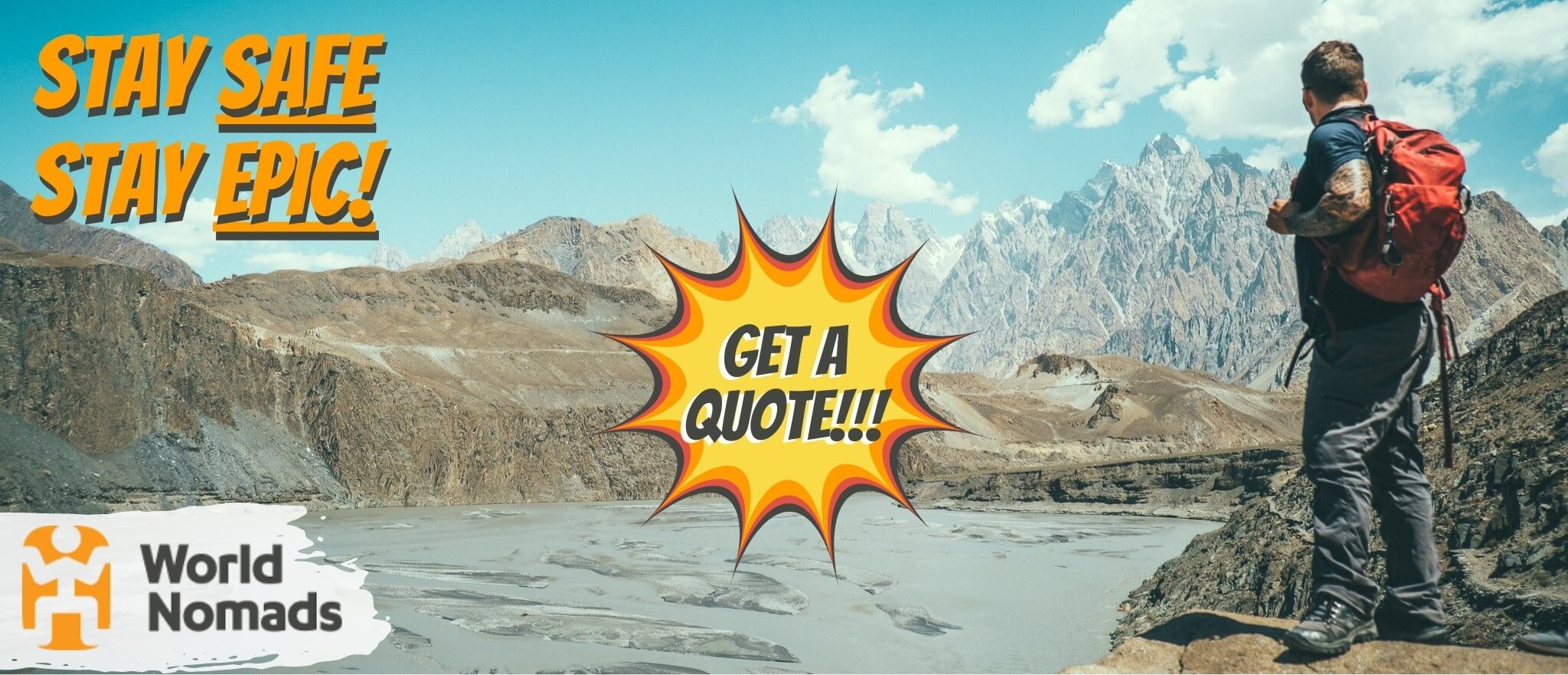 World Nomads' mission is to support and encourage travellers to explore their boundaries. They offer simple & flexible travel insurance, and safety advice to help you travel confidently.
They've been doing it since 2002 – protecting, connecting, and inspiring independent travellers just like you.
Get a quote below or read our in-depth review!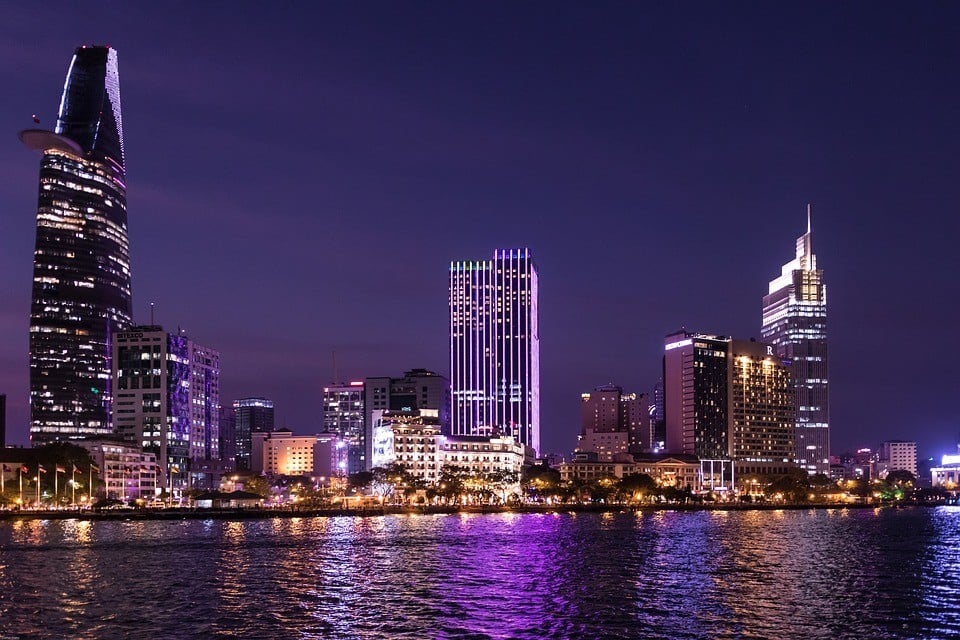 Vietnam is an amazing destination, which is partly because it's so easy and safe to travel around. Everything from catching long distance buses, to going on tours, even walking around tourist areas doesn't come with the same alarm bells that you'd get in other countries. HOWEVER, it always pays to travel smart and safe wherever you are in the world. Here are our top tips for doing just that.
Wear a helmet when riding a motorbike – you are an actual idiot if you don't. It's not cool.
Carry copies of important travel documents – it'll save you a whole lot HASSLE if anything goes missing.
Don't flash any of your expensive tech on city streets – mainly, this goes for Saigon. People sometimes have their phone snatched right out of their hands.
Keep your money safe in a security belt – Money can suffer the same fate as your tech. Keep it totally secure using a money belt – these are inconspicuous, effective, and sometimes good-looking.
Watch out for the weather – in the rainy season, it can be fine one minute, completely torrential the next. Dangerous on treks.
Stay hydrated – Vietnam gets HOT. REALLY HOT. Humidity makes it harder to regulate your temp, so have a reusable water bottle and keep drinking water.
Try to blend in – singlets and short shorts may be the flavour of the month for backpackers here, but you should use the locals as models instead and be respectful. ESPECIALLY at religious sites.
Be conscious of government buildings – if someone's on guard, it's important. Keep a wide berth and you won't get told off.
And don't take pictures of them either – that is actually illegal.
Make sure you count your change – you'll be a millionaire… in dong. All those big numbers can be tricky to figure out. Some unscrupulous store owners know this and will hand back a random (lower) amount of cash as change.
Careful what you're drinking – some rice wines – homebrewed maybe – have CRAZY levels of alcohol. Know your limits
Trust your gut – if people seem weird or if the situation doesn't feel right, remove yourself.
Drugs are NOT legal – drugs, especially cannabis, are easily obtained. People offer it to you all the time and it's an easy way to see a much darker side of Vietnam. Mind you, possessing a small amount of ANYTHING can entail serious consequences.
Don't stray from rural roads alone – there's still plenty of UXO (unexploded ordnance) for unsuspecting travellers to step on.
Cross the road confidently but carefully – motorbikes will swerve out your way. Hesitating is much more dangerous.
Respect the sea – dangerous currents and dangerous critters make the sea pretty perilous. On another note, DON'T swim whilst drunk.
Watch your bags! – we're talking handbags, tote bags, grocery bags, camera bags, any kind of bag. Motorbike riders have been known to take these as you're walking along, or even if you're just in the back of a tuk-tuk.
The main issue you'll in Vietnam is bag snatching. To be fair, this is mainly an issue in Saigon and other big cities. Scammy behaviour, in general, is something to look out for, too.
Ultimately, Vietnam is still a safe place to visit and travel around. As with anywhere in the world, being sensible and travelling smart is going to ensure you have a blast. Following time-tested habits like these will help you stay safe and keep possession of your valuables.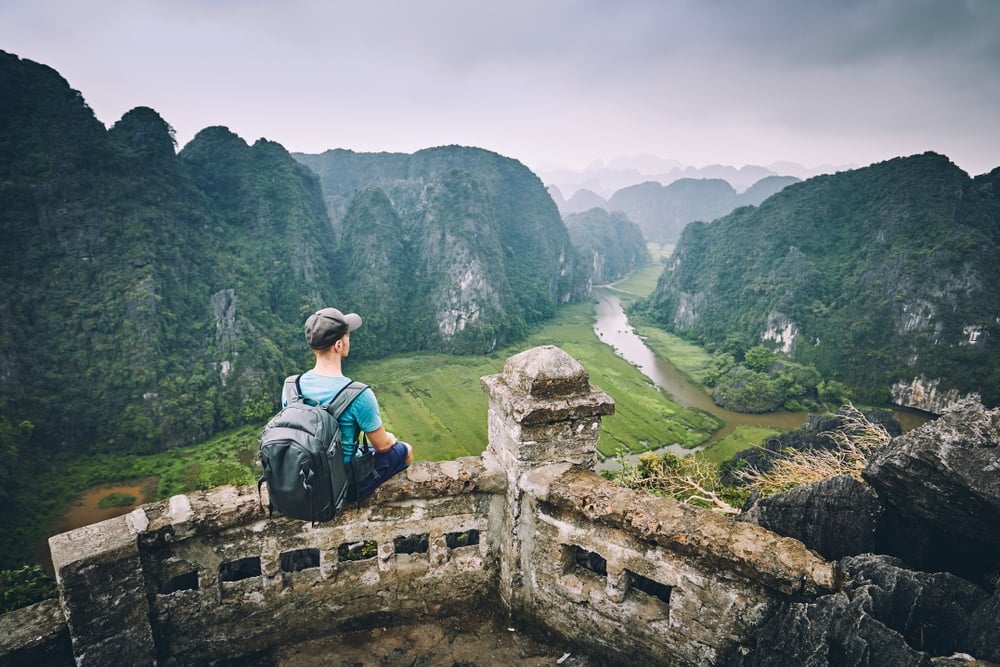 Travelling by yourself is GREAT! It's fun, it's freeing, enlightening, and challenging, all at once. But it can sure as hell be daunting.
However, Vietnam is safe to travel alone. Absolutely. It's is not only SAFE to travel alone, but we reckon it's one of the best places for a first-time solo traveller anywhere in the world.
There are things to keep in mind though as solo travel comes with its own set of risks.
Letting people know where you are is a good idea, no matter where you stay in Vietnam. You might be finding yourself, you might want to be an enigma, and you might want to be alone. But it's still a good idea to call your parents and loved ones, even if it feels like a drag. Checking in not only lets your family and friends know you're safe, it also keeps you in touch with reality, which can be easily blurred when travelling alone.
Getting a sim card is really going to help you out, especially with maps and getting around. If you don't have or can't get a roaming sim, don't worry. Downloading an offline maps app like Maps.me will really be a lifesaver when it comes to finding your way around a city.
Definitely read reviews of the various backpacker hostels around Vietnam before booking, and find one that suits you. At the same time, you'll want to stay somewhere with A LOT of generally good reviews and high scores. This will heighten your chances of being safe and having an amazing time.
Talk to the staff at your hostel and learn things like how much tours or nearby attractions should cost, or simply where to eat and what to do in any given place. You won't have anyone to bounce ideas off when you're travelling alone; so make the most of local knowledge.
Make friends! Whether that's with local students, which will definitely open up the country in a whole different way, or with fellow backpackers, you'll be rewarded. Plus, travelling solo CAN get pretty lonely. Talk to people, share travel stories, tell people about your country, listen – you might even end up making a travel buddy!
Vietnam is a deceptively large country and the distances between places can be HUGE. You shouldn't wear yourself out by trying to do and see everything. Don't forget: you're already doing a lot just by travelling solo!
If this is the first time travelling outside your country, consider taking a tour. Even if it's just a walking tour organized by your hostel. It's a great way to get acquainted with the country and the city streets. Plus, you might make some new friends too.
Ok, so Vietnam might seem cheap, but keep track of your money. Good money management will ultimately lengthen your trip! At the same time, if something bad DOES happen – all your stuff goes missing, whatever – you should have a backup credit card. This will save you so much stress and hassle you would not even BELIEVE.
As you can see, there's still plenty of things that solo travellers can do to keep themselves safe in Vietnam. That said, this Southeast Asian country is thankfully very safe. But more than anything, keeping happy is going to be key to having an amazing trip. Make friends, have an awesome time, and remember how fortunate you are to be in this amazing country!
Is Vietnam safe for solo female travellers?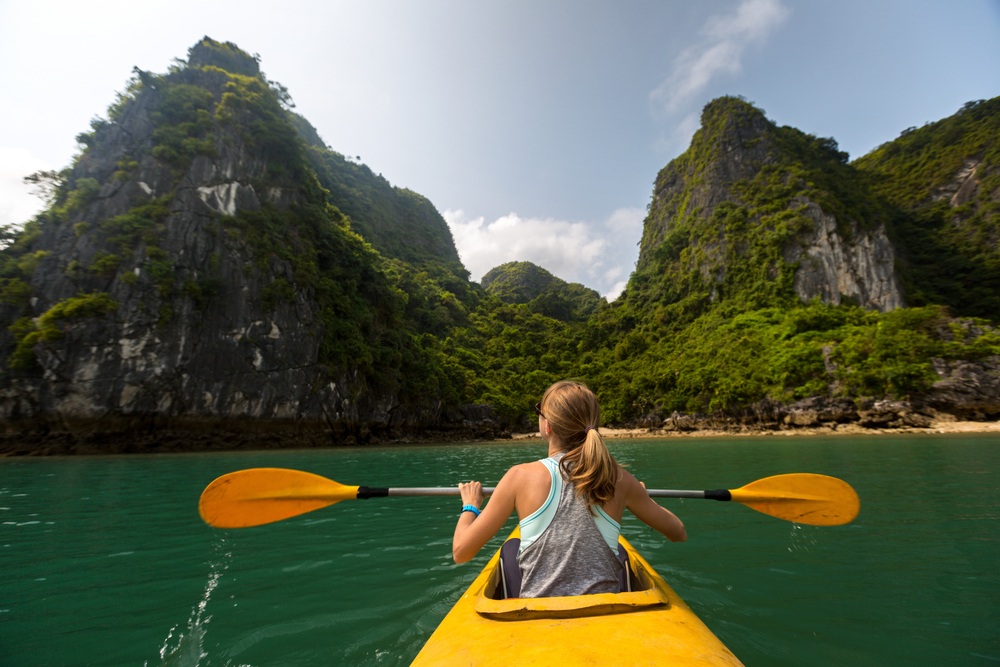 Women travelling by themselves have to do so by a slightly different set of rules. While this is an unfortunate situation, it is something that needs to be taken into consideration regardless of where you travel.
But Vietnam is safer for female travellers than a lot of other countries in the world. Vietnamese women are particularly amazing and will, more often than not, help out any woman visiting by themselves.
For solo female travellers, making a trip to Vietnam is totally doable. To make sure that your trip is free of trouble and harassment, we've included a couple extra tips for women travelling to Vietnam.
Vietnam is still relatively conservative and this, in turn, affects how women should present themselves. The conservative values go all the way to how you're dressed, of course. Generally, tight and/or revealing might possibly get you propositions (however this often goes no further). Check out what the local women are wearing around you and try to adapt as much as possible.
Book yourself into a female-only dorm at a hostel. This a nice idea to get to know fellow female travellers, share stories, and swap tips – maybe even about a destination you're planning to go to. Obviously, doing research and reading reviews is going to make sure you end up staying at an awesome hostel.
Making friends is a good idea. Not only does it remedy those solo travelling blues, but it may give you a new buddy to explore Vietnam with.
If you're getting hassled by anyone, whether it's a taxi tout or another backpacker, make a fuss. It's unusual for anyone in Vietnam to make a scene and get loud, so this will definitely draw some attention.
This goes for pretty much anywhere in the world, but if someone seems like they're a bit too interested in you and they're asking a load of questions, don't reveal too much. You don't NEED to tell anyone your address, whether you're married or not, or even your full name. If you're not interested in someone, or if they're weirding you out, don't give them anything, even if they're another traveller. You never know who they are or how weird they might be! Use your gut, basically.
DON'T walk around by yourself at night, especially around train stations or sketchy backstreets. Let's face it, that's where you'll find people with ill-intentions. Main streets will be safer, but we still wouldn't recommend it. Harassment and assaults have happened, even in the touristy areas of Vietnam.
If you're a victim of a crime, the onus is often on you to prove what's happened. This can make pursuing justice somewhat challenging, especially if you've been drinking (locals don't respect drunks). If you want to report a crime, take someone who speaks Vietnamese with you to help plead your case.
Train travel tip: if you find yourself in a room on a sleeper train with people you really don't comfortable with, alert the train guard and see if they can move you.
Traditionally patriarchal Confucian values persist in Vietnam, however, women play an important role in society. Look at any street and you'll see who's doing the most work (spoiler alert: women). If you'd like to learn more about gender roles in Vietnam, we recommend visiting Hanoi and going to the Women's Museum, which is one of the most inspiring and interesting places we've been.
Women here still face daily domestic struggles, but things are always getting better, thanks in part to increased education. While Vietnam is still generally safe for solo female travellers, the situation will get even better over time.
What we do recommend is being careful at night though. If possible, grab a taxi to get around after dark or stick with a large group. Wandering around by yourself in secluded areas is never a good idea, especially at night.
More on Safety in Vietnam
We've covered the main safety concerns already, but there are a few more things to know. Read on for more detailed information on how to have a safe trip to Vietnam.
Is Vietnam safe to travel for families?
Wow, YES. Absolutely, Vietnam is safe to travel for families. For kids and parents alike, Vietnam can be an awesome experience!
If you and your family love spending time on the beach, there are plenty here. If you're all about beautiful nature, there's plenty of that too. (Ever heard of Halong Bay?) There are colonial cities, there are amazingly colourful markets, cultural immersions, and a whole lot more on offer in Vietnam for families.
To be honest, it's better to take older children. They'll probably get a whole lot more out of it culturally and physically. Biggest problem may be that you and your kids' friends will probably never hear the end of the vacation!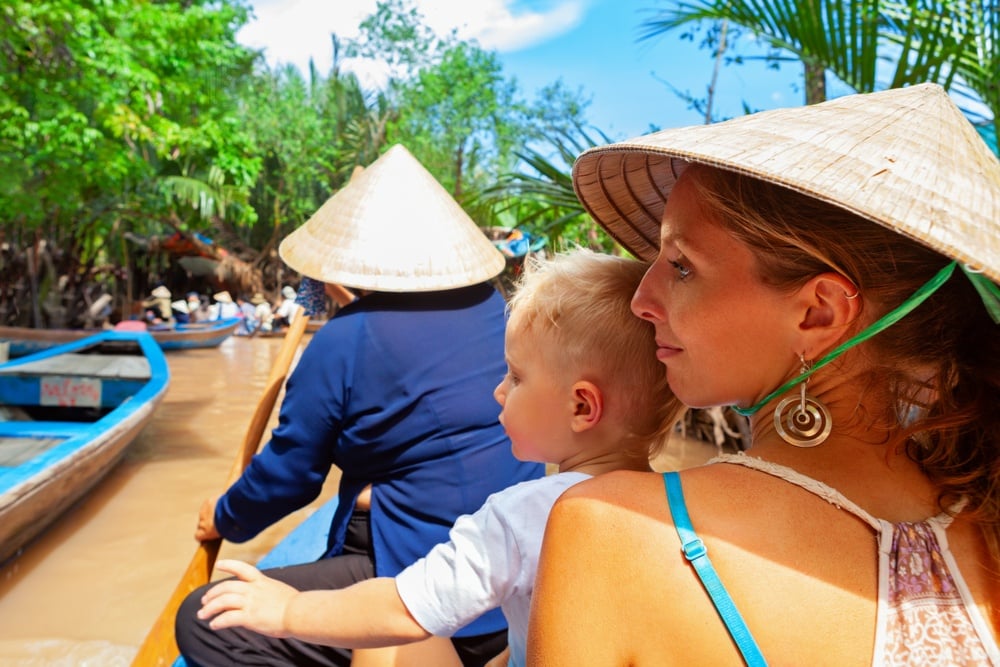 Jokes aside, there are some special considerations when traveling to Vietnam with the family.
Vaccines should be in order. Protecting yourself against mosquito bites is super important as well. Make sure your kids stay out the sun and keep them hydrated.
Travelling with small children comes with its own complexities, but having said that we've seen Western women on night trains with babies in their arms. Take solace in knowing that a lot of women feel comfortable enough travelling with infants.
Granted, you won't find baby changing facilities, and forget high chairs or car seats. You should stock up on nappies or any medical supplies your children might need before departing for Vietnam.
This all changes, of course, if you're planning on staying on a resort. You'll find pretty much everything you need here. Some places are definitely more family-friendly than others too, so research your destination.
In the end, yes, it's safe to travel with children in Vietnam. You and they will love it!
Is it safe to drive in Vietnam?
The rumours you've heard are true – the roads in Vietnam are mental.
Somehow, Vietnamese people know how it works and you'll see motorbikes effortlessly meander between each other in a chaotic ballet of vehicles.
Up until recently, it wasn't allowed for travellers to rent a car. Now, you can, but we still wouldn't recommend it.
However, as many travellers do, you can easily rent a motorbike in Vietnam. These are available EVERYWHERE.
Should you decide to rent a motorbike in Vietnam, be wary of the condition of it. Take pictures before you head out. For that matter, rent from somewhere that has been well-reviewed and that is willing to give you a brief lesson if you need on. Far better to actually have some motorbike riding experience.
The unexpected can always happen. Animals in the road is a real hazard and road regulations are almost nonexistent.
At the end of the day, driving in Vietnam can be a very cool experience, so much so that many people are willing to accept the risks. The amazing landscapes, open roads, the romance of a road trip, the adventure of it all, the amount you'll save; we totally get it.
Just keep in mind that it IS risky.
Riding a motorbike in Vietnam
As we mentioned above, there's a lot of traffic in Vietnam. The streets seem chaotic and hectic, which can be a bit overwhelming. However, some parts of Vietnam – such as the spectacular Ha Giang Loop – are just too damn special to miss out on.
If you decide to rent or buy a motorbike, we've listed up a few basic rules that can prevent you from one or the other accident:
Always wear a helmet: We can't repeat that enough. Yeah, you might see locals without one, but you're better off safe than sorry. If you go on long trips, we'd even recommend buying your own proper helmet than wearing one from the rental.
Stay on the right side of the road, manage your speed carefully and always be aware of your surroundings. Locals can be reckless, so you have to be focused at all times.
Make sure your lights and honk work – and use them! Honking isn't offensive in Vietnam, it's a simple way to say "hey I'm on the road too, be careful".
If you don't want to drive on your own, you can always use the Grab App. This is the Asian version of Uber, and you can choose your way of transport (bike or car). It's a super cheap option to get from A to B too.
Is Uber safe in Vietnam?
Uber in Vietnam ceased operations in early 2018. So that's that.
You can use Grab or Go-Jek to order taxis. You don't need cash, it's all tracked, and it's pretty safe.
Are taxis safe in Vietnam?
Taxis ARE generally safe in Vietnam. Again, like most countries you'll visit, there are scams.
Ordering through your hotel will greatly reduce your chances of getting ripped off. You can even pay by card in some taxis. Otherwise, make sure you have small denominations as taxi drivers don't like breaking larger bills.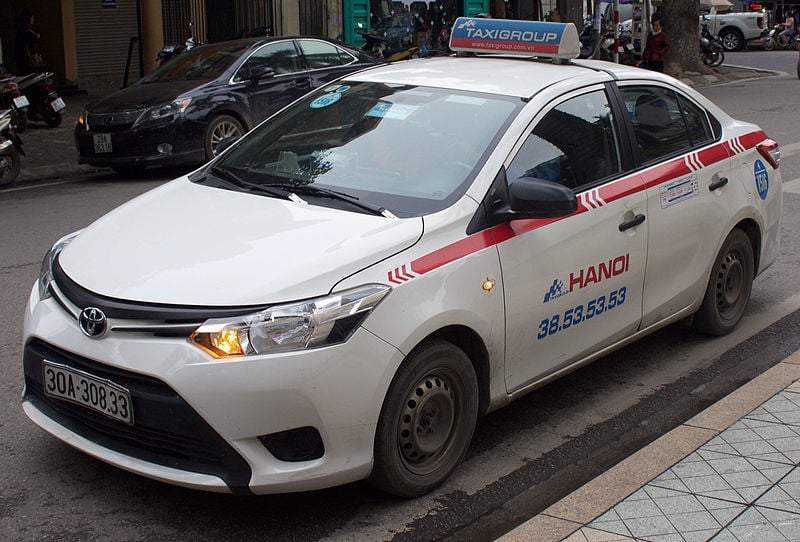 Taxis in Vietnam run on a meter, and the cars are usually clean and well kept. Do your research on reputable companies, but usually taking a cab from a taxi rank outside a train station, or wherever you find them, will be just fine.
As always, if it doesn't feel right, don't get in.
Then there are the infamous xe om (literally, 'hug taxis'). These are motorbike taxis that you'll find pretty much everywhere. It's a normal mode of transport. You should haggle for the best price, and there's no room for luggage – just so you know!
Regardless of which type you choose, all forms of taxis are safe in Vietnam.
Is public transportation in Vietnam safe?
Ok, so first things first: public transport in Vietnam is AWESOME! Using it will add so much authenticity and insight into your trip. This is particularly the case with trains.
Not only are the train stations beautiful in a crumbling, in that Old World French colonial way, but they're great places to soak up local life. Travelling on the train in Vietnam is perfectly safe and is, we're gonna say it, probably the best way to see the country without any hassle.
When it comes to night trains, there's a number of rooms on offer. You can sip a coffee as the world whizzes by your window. Or head up to the restaurant carriage where the guards will sell you a beer if you want it. You can even buy tickets online in advance to make sure you get the seat (or bed) you want.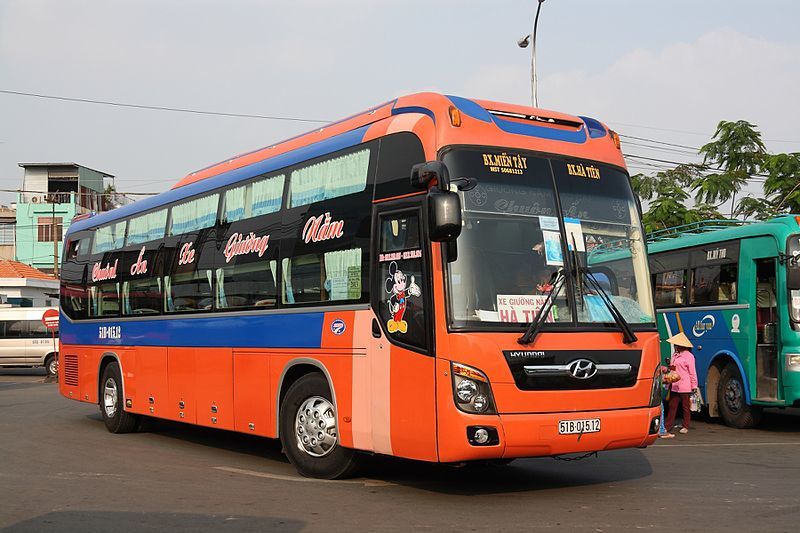 In the cities themselves, there are public bus systems, but these are not worth the effort. You can pretty much walk or take a taxi to anywhere you need to. If you travel to Hoi An, or anywhere else rural, renting a bicycle to get around is totally doable.
Night buses are safe, but obviously, there are the perils of the Vietnamese roads to contend with. For that matter, the bus drivers can drive erratically. Accidents do happen. If you need to travel long distances, either travel by day or jump on one of those trains.
If you're REALLY desperate to travel quickly, you can even catch a cheap flight.
Is the food in Vietnam safe?
Seriously? The food in Vietnam is the reason some people COME here in the first place. It's amazing. Everything from pho and banh mi to delicious goi (like a mini, Vietnamese pasty) and unusual street food like banh tranh trong (rice noodles with dried beef, squid, and plenty of chilli)… Wow. Just wow.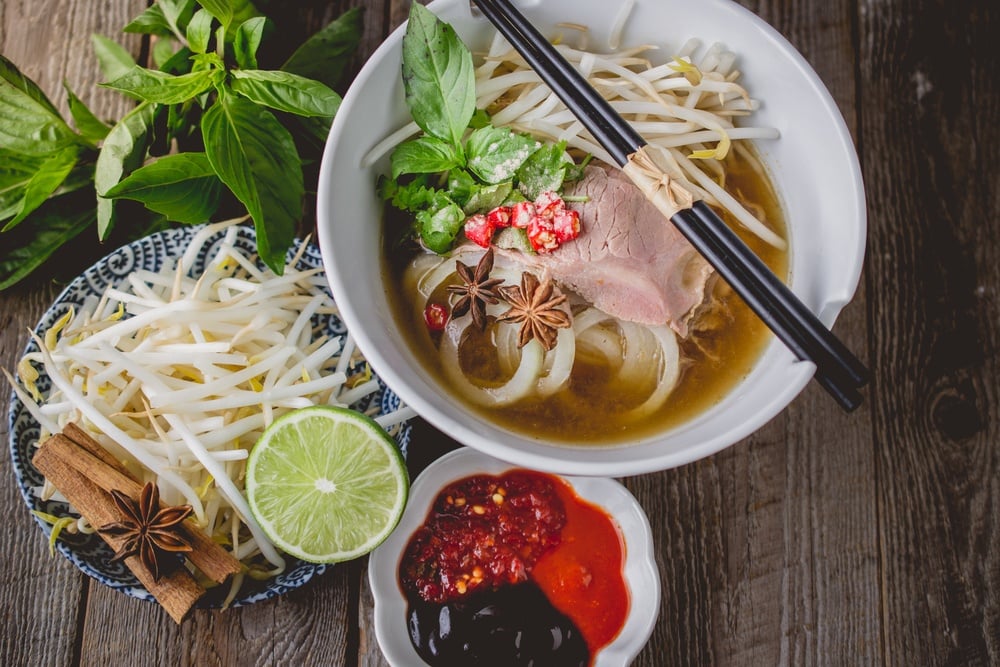 It's also super affordable. Especially the street food – it's some of the best in the world. Missing out on the street food will mean missing out on a whole slice of where Vietnamese life is actually played out. To help you get your taste on, here are some tips.
Before anything else, wash your hands! It's not just other people's hands that can make you sick, it's your OWN.
If you're really on the look-out for something good, go online and read reviews. Those street food stalls are there in the same spot, day in, day out, and of course have their own Google reviews.
Stay away from raw blood pudding. There are bacteria in this that can really make you fatally ill.
Pho is the iconic dish of Vietnam, and when you do get a bowl of this delicious noodle soup, make sure it's hot. To be honest, this goes for any food. Freshly prepared = less likely to make you ill.
What are the locals doing? What are they eating? If everyone's eating the same thing at one food stall, that's a sign. If you see a REALLY BUSY place, that's an even better sign. Popular places are going to be super tasty and will have good reputations. People don't return to restaurants that make them sick.
However, your stomach might not be used to this food and it might make you ill anyway. Sometimes it can be downright spicy, too. Ease yourself in.
If meat is ropey looking and you actually can't even identify what animal it's come from, maybe opt out.
Just because you're seated on a plastic stool on the side of the road with scrunched up tissues on the floor, doesn't mean it's dangerous. This is just the way it is in Vietnam. You'll even find office workers perched on these little stools. Places are cleaned daily, washing is regularly done, and sometimes if a place looks like it's been open for decades, it probably has – and for good reason!
Don't eat fruit that you haven't peeled yourself. Just a good rule of thumb, really.
Totally drink the coffee though! Amazing! Milk in Vietnam – not so much. The condensed milk in a Vietnamese iced coffee is ALL GOOD, on the other hand.
Finally, don't be afraid of egg coffee!
Traveling with an allergy? Research ahead of time how to explain your allergy. Keep in mind that store owners and restaurant staff might not know all the foods that contain allergens, so it's helpful to know the names of some of these too. If you're gluten-free, pick up a handy Gluten-Free Translation Card with descriptions of Celiac disease, cross-contamination risk, and local Vietnamese ingredients in Vietnamese.
As long as you're considerate and you wash those mitts of yours, you're bound to have a blast exploring what the beautifully fresh cuisine of Vietnam has to offer. Now we're super hungry.
Can you drink the water in Vietnam?
In a word, no.
Drink bottled water. Bring a refillable travel bottle and, if your accommodation has a filter, fill up.
If you're out trekking in the mountains and are tempting to drink from the streams, don't. Not unless you know where the stream flows from and you have something to purify it, like a Grayl Geopress.
The water is not safe to drink in Vietnam. Simple as that.
Is Vietnam safe to live?
Good news: Vietnam is safe to live in and many people do. Many expats choose to live in Vietnam, especially in cities. In particular, Saigon has a sizeable expat community.
A lot of people teach English in Vietnam. It's an easy 'in' and a way to experience another culture.
The cost of living is probably going to be comparatively low. So much so that it might be painful to return to your own country!
You'll have to contend with things like people trying to rip you off, petty theft, scams, and, of course, the roads. Pollution in big cities is present in sometimes unhealthy amounts. Even Hanoi is getting increasingly worse in terms of air quality. The pollution is caused by the burning of coal, which is one of Vietnam's primary sources of energy.
There's something that's initially not an obvious concern but could easily become a problem. Cheap alcohol and a lack of judgement could become a slippery slope. A lot of expats fall into alcoholism and making friends with people like this may not be the best idea.
Other than all that, Vietnam is safe to live in. There are no MAJOR health risks, no MAJOR crime. Just do your research, find out where you want to live, don't isolate yourself, and you're bound to enjoy your time living in Vietnam.
The Future of the SIM Card is HERE!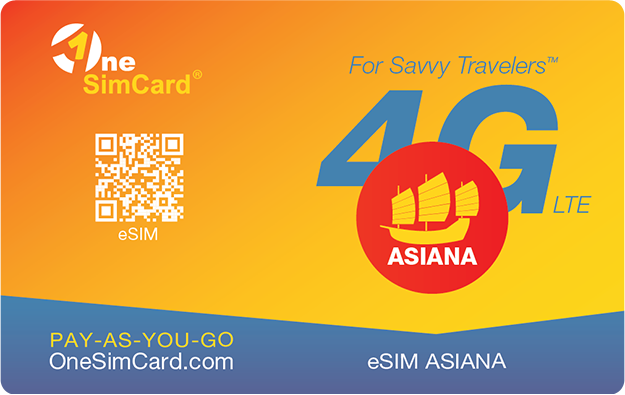 A new country, a new contract, a new piece of plastic – booooring. Instead, buy an eSIM!
An eSIM works just like an app: you buy it, you download it, and BOOM! You're connected. It's just that easy.
Is your phone eSIM ready? Read about how e-Sims work or click below to see one of the top eSIM providers on the market and ditch the plastic.
Buy an eSIM!
Is it safe to rent an Airbnb in Vietnam?
Renting an Airbnb in Vietnam is a great idea. And it's perfectly safe, as long as you read the reviews. Staying at an Airbnb during your trip will also open up new possibilities and options to experience the country. The local hosts are known to take great care of their guests and give the absolute best recommendations of what to do and what to see. Local knowledge always goes a long way, so be sure to reach out to your hosts if you're unsure about how to fill up your Vietnam itinerary!
On top of that, you'll stay safe with the reliable Airbnb booking system. Both hosts and guests can rate each other which creates a very respectful and trustworthy interaction.
Is Vietnam LGBTQ+ friendly?
Vietnam is pretty relaxed when it comes to LGBTQ+ travellers. While you might not find the most extensive gay-scene, locals and fellow travellers are normally pretty open minded and friendly. If you're worried about you and your partner's safety, keep physical affection behind closed doors. That way you will 100% have a hassle free trip.
Same-sex relationships and same-sex sexual acts are legal, and a ban on same-sex marriages was lifted in in January 2015. Since then, the country's attitude towards the topic has improved quite a bit. That being said, you probably won't be able to fully avoid the closed-minded, conservative people. If you encounter one, stay calm, move on and forget about it.
FAQ about Staying Safe in Vietnam
Here are some quick answers to common questions about safety in Vietnam.
So, is Vietnam Safe?
It may have its faults, but if you're willing to overlook the few, Vietnam is an amazingly safe destination.
In terms of threats to your life, the roads will always be your biggest (and almost only) concerns. The biggest danger in Vietnam is being in a road traffic accident. That's statistics for you.
However, since you don't HAVE to rent a motorbike, and since the roads – however chaotic – seem to work well enough in Vietnam's bustling cities, you're going to be just fine in this incredible cradle of Southeast Asia.
Petty theft may be a small issue, but, in the big picture, it's not something that should keep you awake at night. There are little if any serious dangers to your life, and petty theft can be avoided with good sense, anyway.
In Vietnam you can eat street food, explore eternally busy city streets, start chatting to local students, trek in the highlands, chill on some incredible beaches, and be safe in the knowledge that it's… well – SAFE. So enjoy yourself! Especially if this is your first go at backpacking.
Disclaimer: Safety conditions change all over the world on a daily basis. We do our best to advise but this info may already be out of date. Do your own research. Enjoy your travels! Some of the links in this post are affiliate links which means we earn a small commission if you purchase your insurance through this page. This costs you nothing extra and helps us keep the site going.
---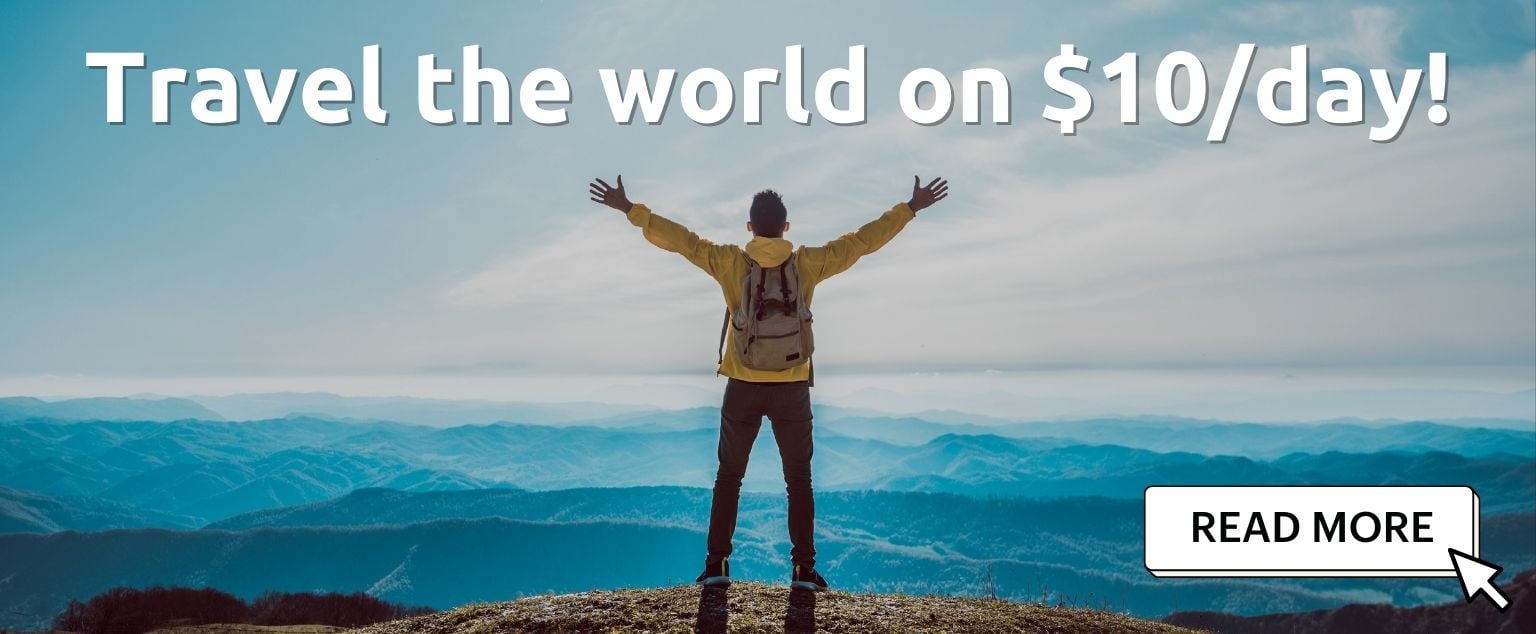 And for transparency's sake, please know that some of the links in our content are affiliate links. That means that if you book your accommodation, buy your gear, or sort your insurance through our link, we earn a small commission (at no extra cost to you). That said, we only link to the gear we trust and never recommend services we don't believe are up to scratch. Again, thank you!