The Ha Giang loop is arguably the most beautiful destination in all of Vietnam; I'd even go as far to say, it's one of the most beautiful places in all of South East Asia.
Bordering China to the north of the country, this extraordinary province beholds some truly awe-inspiring scenery ranging from colossal limestone mountains, lush rice paddies, majestical flowing rivers, and kindred mountain villages create an ethereal landscape, sure to leave you mesmerized.
After spending 5 remarkable days completing a 400 KM Ha-Giang loop by motorbike, I've concluded that all intrepid travelers should experience this once-in-a-lifetime ride.
To cruise along some of the most magnificent mountain roads in Asia with the wind in your face and adrenaline in your veins is an empowering feeling.
In this post we will look at how to do the Ha Giang motorbike loop including what to pack and of course, what to do in Ha Giang.
How To Do The Ha-Giang Loop
Not only were we enchanted by the Ha Giang motorbike loop surroundings, but also the indigenous people and Vietnamese culture in this region.
We stayed in tiny villages with locals who treated us like family and allowed us to experience their extraordinary day to day lives away from industrial civilization.
(Nothing screams culture shock quite like witnessing 9-year-old children drive motorbikes on mountain roads, innocent toddlers play contently alongside a cliff edge, or admirable mothers carry out hard labor with babies strapped to their backs.)
Unlike neighboring Sapa, the Ha-Giang loop has gone under the radar of the backpacking trail in Vietnam, hidden from the millions of tourists who visit the country every year.
Subsequently, the curious nomads who do venture to the Ha-Giang province are rewarded with raw, authentic, and off the beaten path adventure.
In this article, I will be sharing our daily itinerary and experiences; this guide that will equip you with need-to-know information for a safe and enjoyable motorbike journey on the Ha-Giang loop.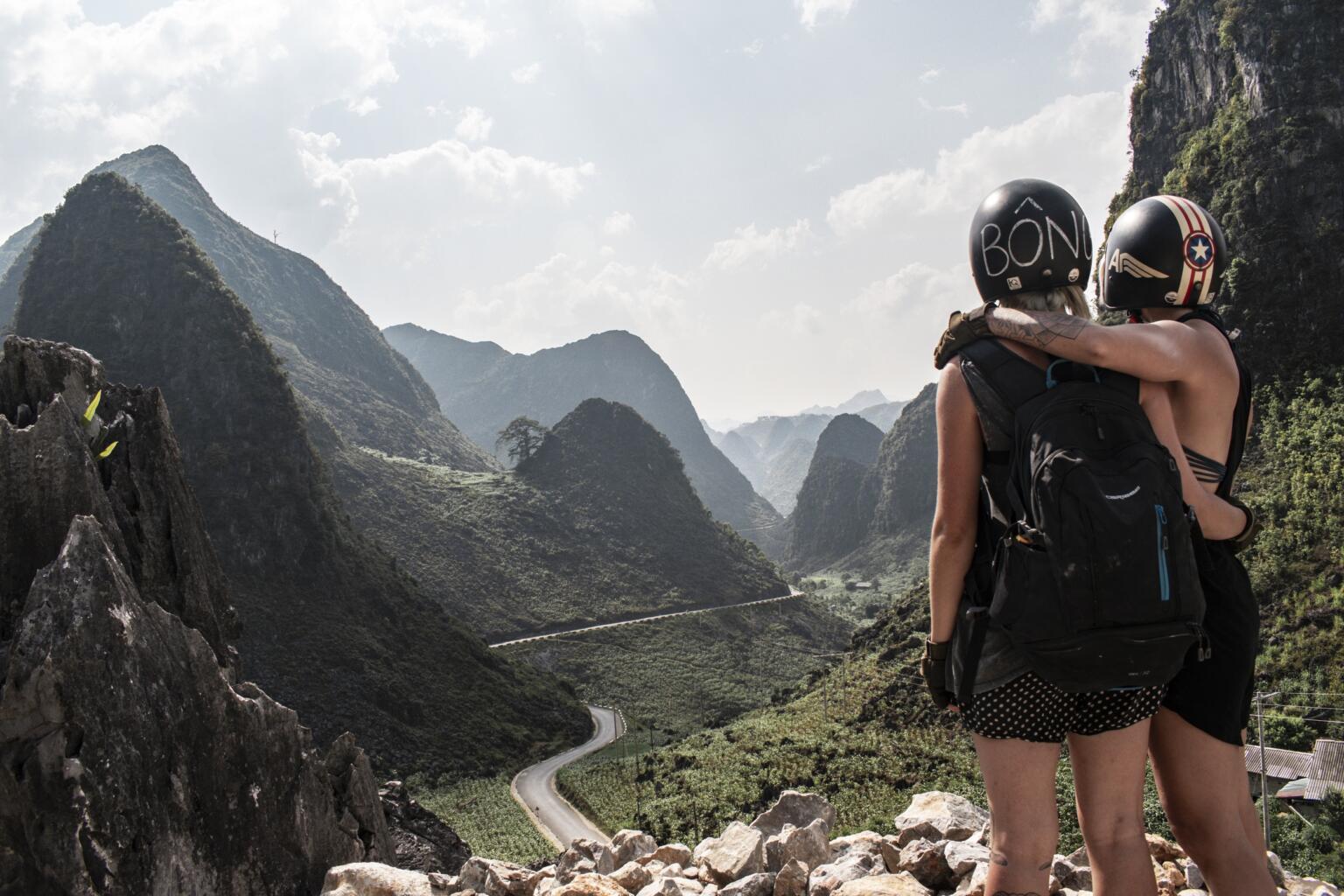 The next few sections will provide you with everything you need to know about motorbiking in Vietnam on the Ha Giang loop route. Keep these three very important considerations in mind:
Most locals do not English, so we recommend learning a few key phrases in Vietnamese. Use an offline google translate app on your phone and consider buying a Vietnamese travel phrase book.
Although we had a local sim card, we struggled to find cell signal on the road. Make sure to have offline maps and an offline translation app.
Good wifi is easy to find in hotels, homestays, and restaurants.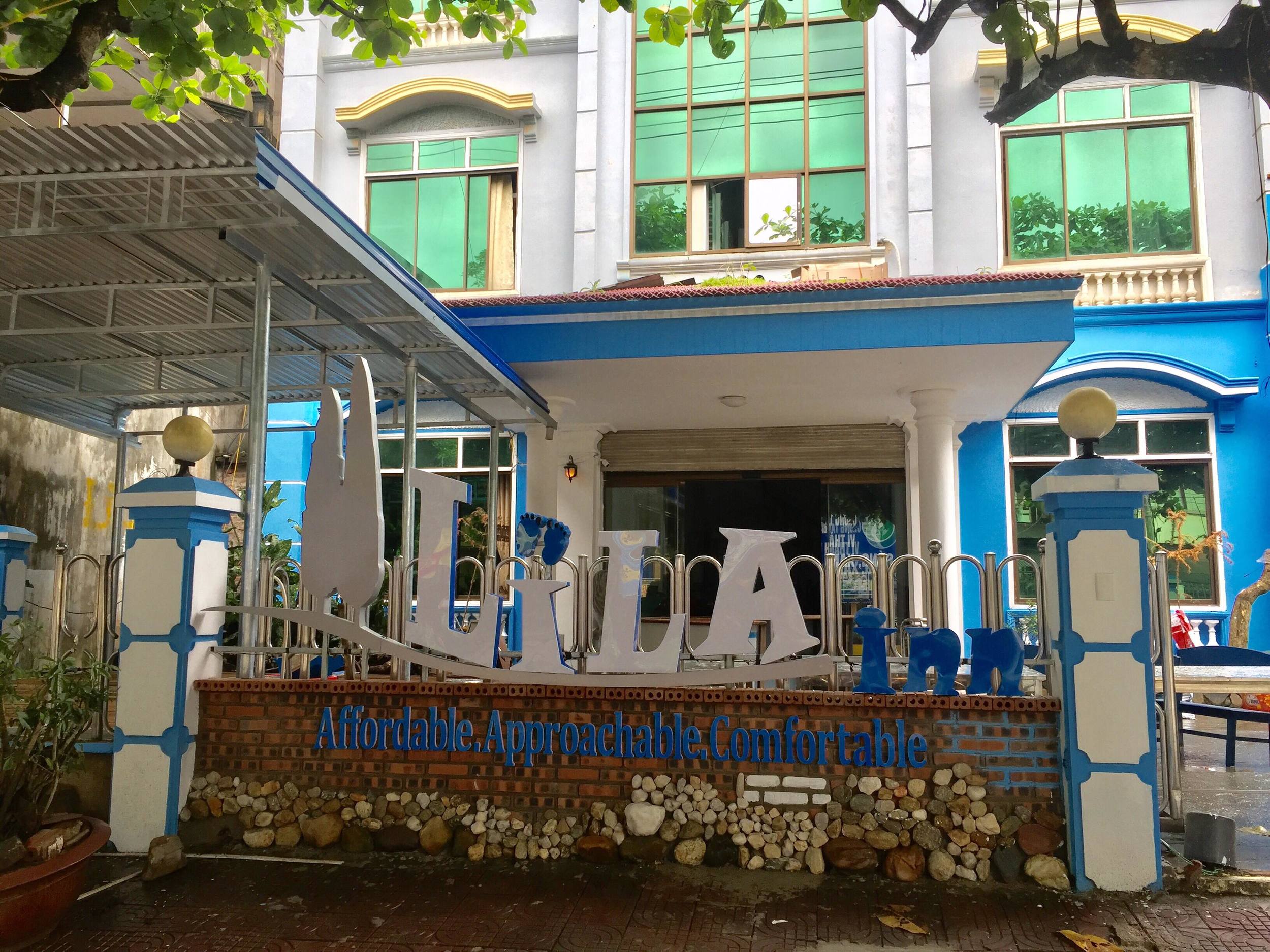 Despite being the road less traveled, there are a number of accommodation options throughout the Ha-Giang Loop including som of Vietnam's backpacker hostels as well as homestays and even some hotels. We highlighted the best places to stay along the Ha-Giang in our itinerary below, but here is where to stay in the town of Ha-Giang:
LiLa Inn: This comfortable hostel is the perfect backpacker crash pad. Low cost, with dorm rooms and private rooms. Plus, they rent motorbikes – manual, automatic, and semi-automatic. They even boast a robust gym and will help you plan your trip and arrange transportation for your onward journey.
Bong Hostel: This is one of the few hostels found in Ha Giang and a great place to stay pre-loop. Not only can you rent your bike and accessories here, but the staff is super helpful when it comes to planning your loop itinerary. It's also a great place to meet other travelers should you be looking for companions for the ride.
Ngan Ha Homestay: This is a great option for those seeking a private room – the rooms are super cheap and include a free breakfast. You also have the option to rent your bike here.
Hmong Moonshine: A beautiful property built right on the edge of a lake. Doubles as (you guessed it) a moonshine distillery. Run by some very friendly and helpful locals. If you need help organizing a motorbike tour around Ha Giang, Tuyen is the man to ask!
Although your standard packing for traveling Vietnam should suffice, there are a few key extra essentials to take. Below is a list of what to pack for the Ha-Giang loop in Vietnam:
Small to Medium sized backpack. You can usually leave your large luggage with your hotel or guest house.
Small daypack
Enough clothes for 3-5 days, bearing in mind you will get very dirty along the drive
Good-quality closed-toes travel shoes such as trainers or boots
Any medication you might need
Swimsuit/Towel for the waterfall
Waterproof jacket and backpack cover
Camera/GoPro
Phone with mobile data
A Ha Giang loop map – we suggest an offline Google/Maps.Me app or a paper map
Contact details of your hostel or somebody you can contact in case of emergency.
Battery Pack/Chargers
Sunscreen
Sunglasses
Toiletries
First Aid Kit
Sufficient cash (although there are ATMs along the route)
A motorcycle tent if you prefer to sleep outdoors
How to get to Ha-Giang, Vietnam
The easiest way to access Ha-Giang is to take a bus from Hanoi. The journey time is approximately 6-7 hours and there are morning or evening buses available. As a guideline, we paid 150,000 VND for this service. We also recommend packing earplugs for the journey! A Ha Giang motorbike can usually be arranged upon arrival.
Best Time to Visit Ha-Giang
If you are wondering when is the best time to visit Ha-Giang, October through to April are considered the best months to visit Ha-Giang as it is dry season and the roads are safer to drive.
Where to Rent a Bike in Ha-Giang
Although there are a number of Ha Giang motorbike rental rental shops in Ha Giang town, we highly recommend LiLa Inn. The bikes are in perfect condition and they also provide all the accessories you will need, such as straps, gloves, helmet etc. If you take a Ha Giang loop tour through an agency they will provide a bike.
They will give you a detailed map of the loop, plus a ton of useful information and recommendations for along the way. They also provide free motorbike lessons for those who aren't so confident on a bike.
Below are the bikes available along with the daily rental prices:
125cc Automatic – 200,000 VND
110cc Semi-Automatic – 150,000 VND
125cc Manual – 250,000 VND
LiLa Inn discounts their rate for anyone renting the bike for more than a couple days, so ask them to quote you for the length of your trip. Remember that you need to buy insurance as well when you rent your bike, which can nearly cost as much as the rental itself.
TIP: Although it is possible to complete the drive on a powerful automatic, it is recommended that you take either a semi-automatic or manual bike. The reason being, you will have more control over the demanding conditions of the mountain roads.
If this is your first time on a geared bike, do not fear. We had only ever driven an automatic before we got to Ha Giang, however, a short lesson on a semi-auto from the staff at our hostel had us feeling like pros in no time.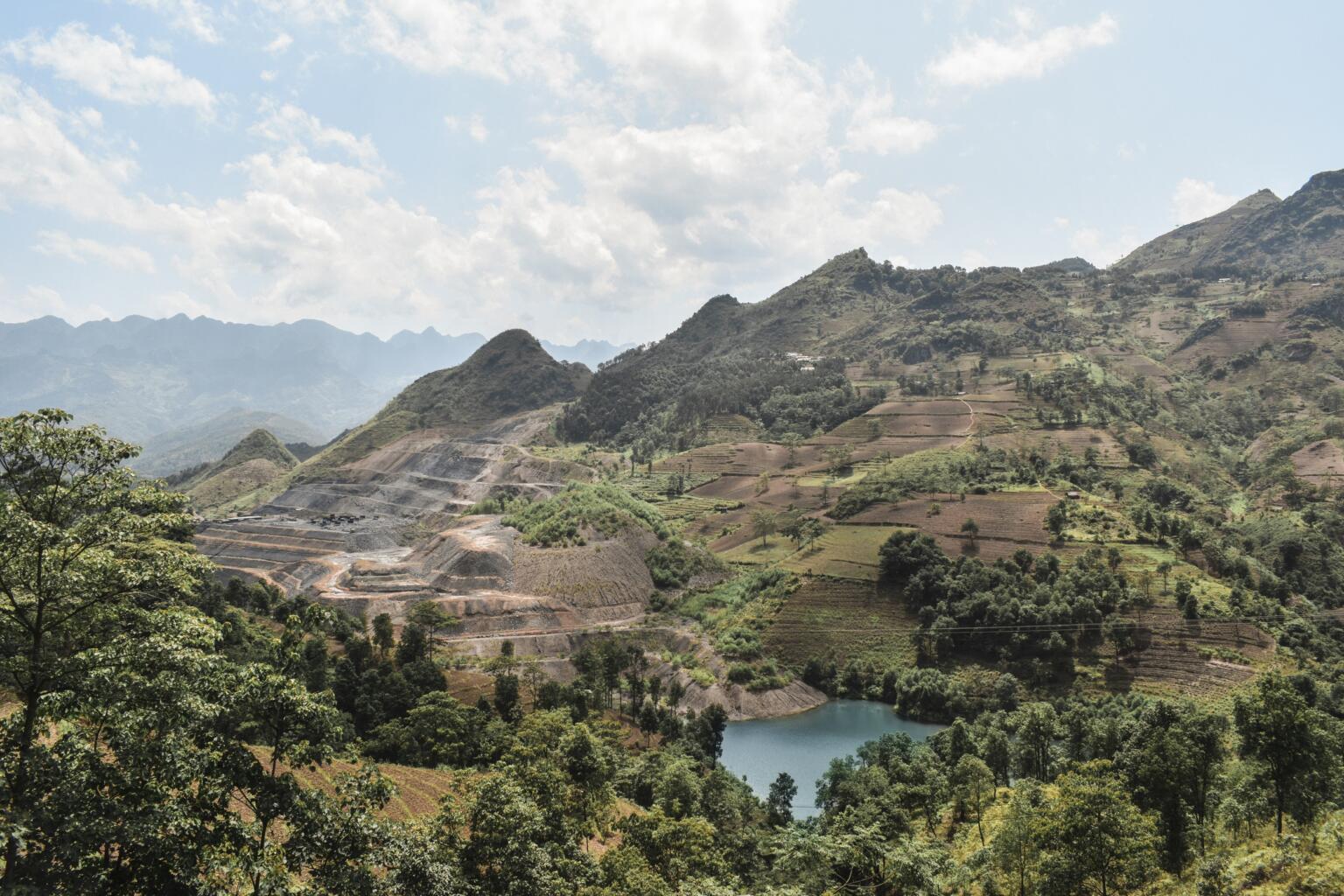 How to Drive the Conditions of the Ha-Giang Loop
It is important to note that the drive can be challenging at times, especially if you do not have much experience riding a motorbike. The roads can be extremely narrow, and scaling a cliff edge while mighty construction vehicles squeeze by can be somewhat nerve-racking.
You should be prepared for bad road conditions, steep inclines, and sharp hairpin bends.
The key is to keep your cool and drive within your limits. We witnessed a few accidents along the drive, thankfully none too serious, though they were usually due to speeding.
Take your time and appreciate the picturesque surroundings; not only will it be a safer journey but a more enjoyable one as well.
Tip: If you do not feel confident riding a bike yourself, you have 2 options:
1. Hire a driving guide while you ride in a buggy in the back (we recommend contacting Bong Hostel in advance to check availability).
2. Just do the Ha-Giang Loop by car… the scenery is the same, but the likelihood of a fuck-up is probably way smaller!
Thankfully, completing the loop is financially achievable for all of you broke backpackers. Below you can find a breakdown of our approximate daily spending. The total per person per day was about 460,000 VND, equivalent to $20.
Motorbike rental – 150,000 VND
Fuel – 40,000 VND
Accommodation – 100,000 VND
Meals – 120,000 VND
Water/Snacks – 50,000 VND
Total per day – 460,000 VND ($20)
Below we have outlined our detail 5-day itinerary on the Ha Giang Loop. Some travellers talk of a Ha Giang loop 3 days tour but in this post, we are sticking to the 5 day loop.
Day 1 on the Ha-Giang Loop: Ha Giang to Quan Ba – 65km
Following a tasty and fulfilling breakfast at Ngan Ha Homestay, we made our way over to Bong Hostel to rent our bikes.
Not knowing quite what to expect from the loop, we were feeling a little anxious at this point; however, the staff at Bong Hostel really helped to ease our minds. We were given the full low down and what to expect from the journey ahead, as well as an abundance of tips and recommendations for along the way.
After a short lesson on a semi-auto bike and gathering the necessities for the drive, we were ready to hit the road.
Excitement and anticipation consumed us as we embarked into the unknown. It wasn't long before we were out of the town and heading into rural territory.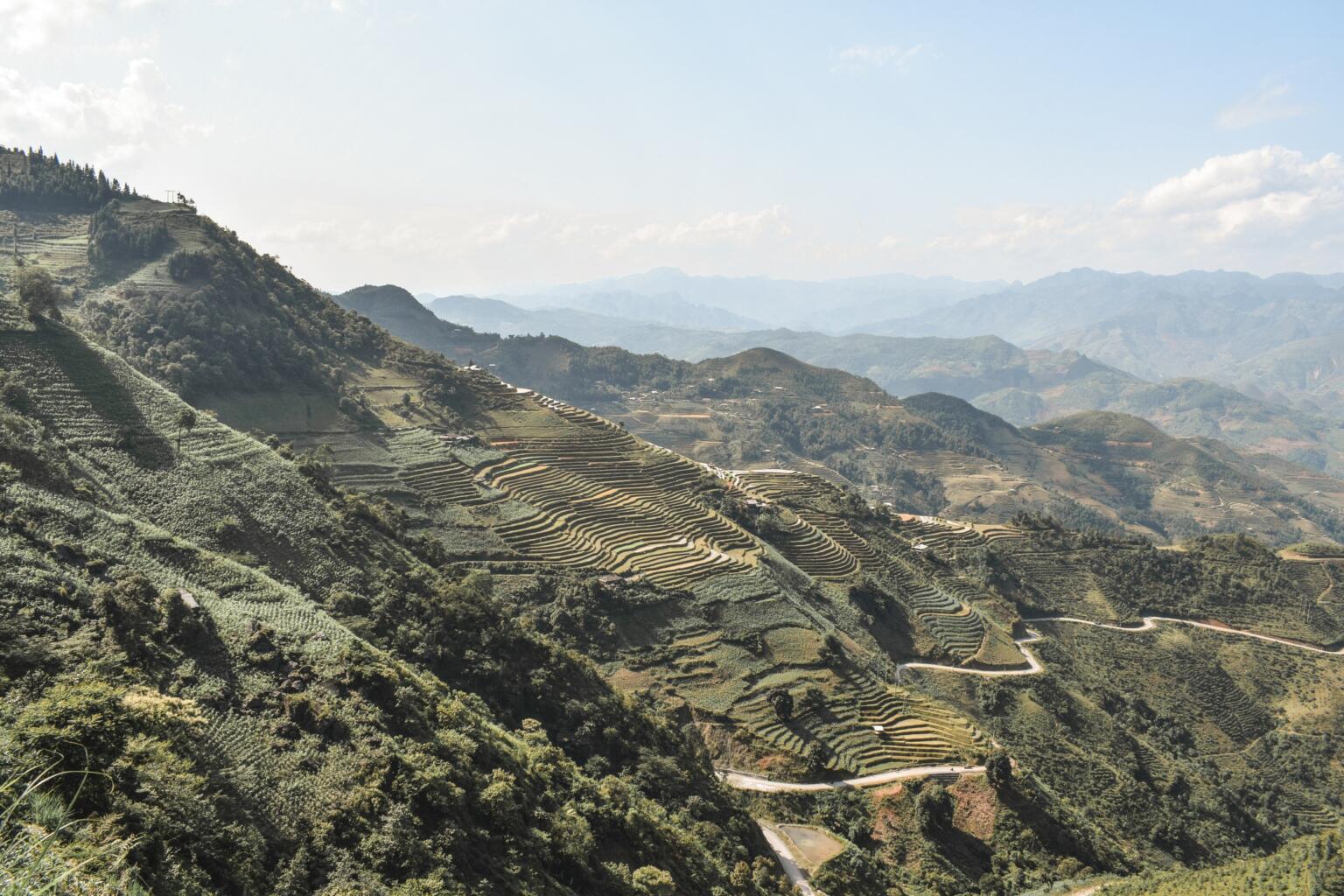 The roads became narrower and the air cleaner. Soon, we were encompassed by flourishing rice paddies and colossal limestone cliffs; little did we know that this was only a taste of the beauty to come.
At first it took some restraint to not stop every 10 minutes, but eventually, we hit the first major mountain pass of the journey – The BAC Sum Pass.
As we steadily advanced the mountain, cautiously maneuvering the hairpin turns, we were rewarded with breathtaking views of the valleys below.
We cruised the landscapes at a steady pace, allowing ourselves to be allured by nature's ubiquitous beauty. Hours past hazily until our bodies reminded us that it was time to refuel.
Conveniently, we soon approached Diem Gioi Thieu Va Ban, a serene cafe situated in the mountains after the Bac Sum Pass. We planned to stop briefly for refreshments but found ourselves marveling at further awe-inspiring views for over an hour.
It was soon time to complete the last leg of our journey to Quan Ba. Along the way, we passed through almighty Quan Ba Pass, otherwise known as Heaven's Gate – a pretty accurate description considering the heavenly views and majestic sunset projecting a golden glow on everything it touched.
We made it to Hong Thu Homestay just in time to watch the sunset over the glorious terraced fields, followed by a traditional Vietnamese dinner cooked fresh by the matriarch of the family.
It was a wonderful evening encouraged by unlimited rice wine and our hosts dancing, playing games, and singing karaoke. To this day, our first night on the Ha-Giang Loop remains one of my most memorable homestay experiences.
Day 2 on the Ha-Giang Loop: Quan Ba to Yen Minh – 78km
After a deep, rice wine-fuelled sleep, we awoke to a fresh morning and a delicious breakfast of pancakes and fruit. Wanting to learn more about the family who welcomed us, we spent the morning communicating through google translate, learning about their village traditions stories.
The family seemed thrilled that we were so interested in their way of living, and we were grateful that they wanted to share it with us.
It was almost midday before we hit the road, and after an exceptional first day, we were left wondering how it could possibly get any better.
But the route continued, leading us through one picturesque road after another, and occasionally a remote mountain village. The local kids would run out to high-5 us, excited to see a tourist in a rather desolate place, while their parents waved curiously.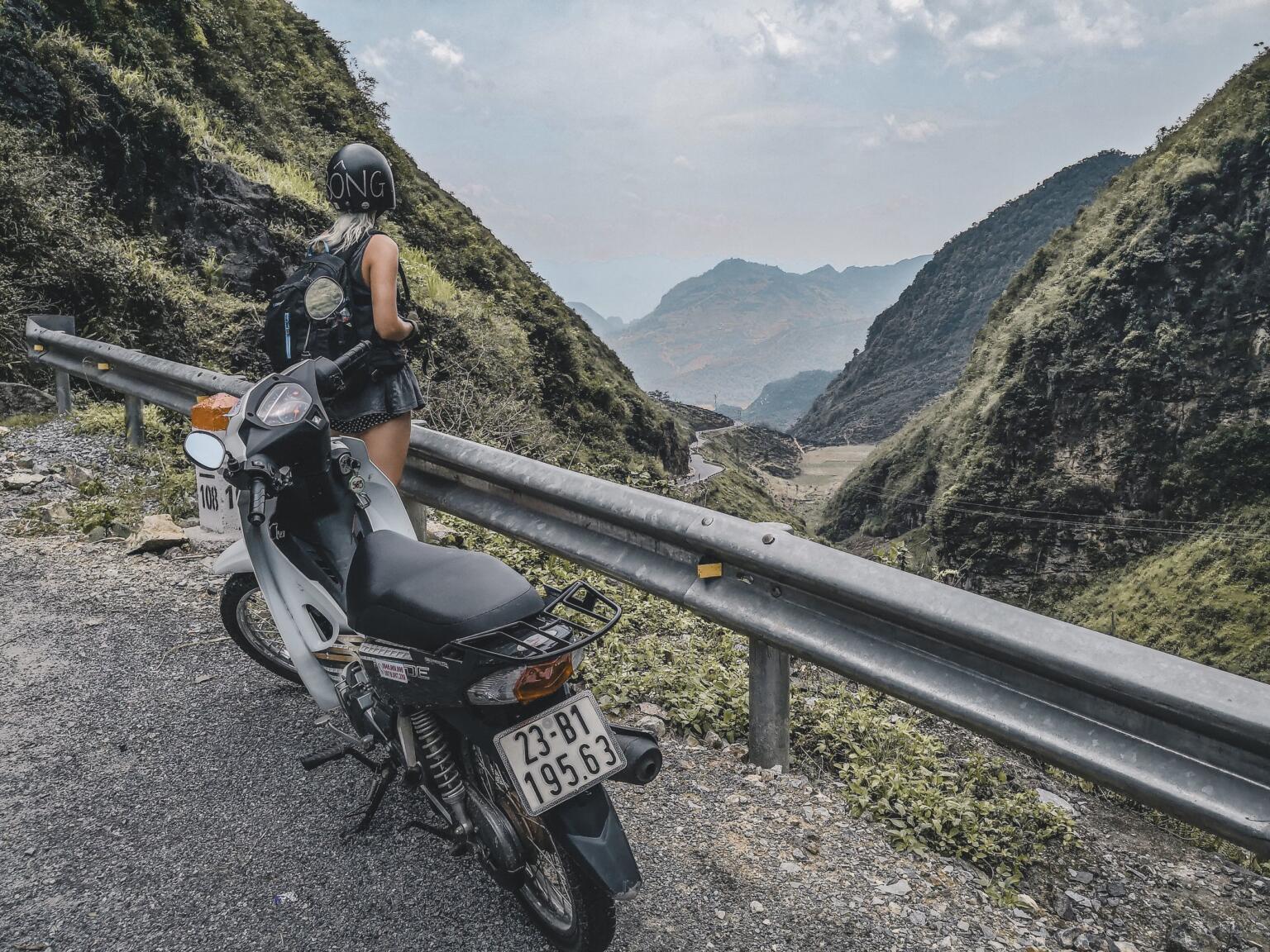 We were not far from the town of Yen Minh when we stumbled across Yen Minh Pine Forest. Located on a hairpin bend at the peak of a mountain pass, the forest wasn't an attraction we expected, making our discovery all the more exciting.
In the heart of the verdant forest, we felt undeniable energy from nature and the views into the valleys.
Immersed in the powerful environment, we stayed until golden hour graced us with beams of light. It was later than we expected and although we did not plan to stay in Yen Minh, we knew we wouldn't make it to the next town before nightfall, so we located a guest house nearby to pitch up for the night.
Although Yen Minh isn't exactly geared for tourists, Nha Nghi Thien An offered us clean and comfortable accommodation for a reasonable price. There are also a number of eateries in town that ensured we didn't go hungry.
Day 3 on the Ha-Giang Loop: Yen Minh to Lung Cu to Dong Van – 115km
With a bit of ground to make up from the previous day, we rose early and after a good breakfast at August Coffee, and continued our journey on the Ha-Giang Loop.
You get the gist by now; the landscapes were mind-blowing, and the natives' culture was bewildering. Often we even found ourselves navigating through herds of cows, buffaloes, and goats.
The first thing on our Ha-Giang itinerary for the day was the Sung La Valleys. Positioned slightly off the beaten path, Sung La is rarely visited by those completing the loop; however, we had been advised by a local not to miss it.
When a local shares a hidden gem with you, you do not pass that shit up, so we set off on the steep and treacherous road to Sung La Village. As we reached the peak of the mountain we understood exactly why our friend recommended this village.
1500m above sea level, prodigious mountains stretched as far as the eye could see while flourishing fields adorned the valleys below. Do be cautious though; this drive is not for the faint-hearted and only confident bikers should attempt it.
After admiring the views for as long as we could spare, we continued in search of the Lung Cu Flagpole – an iconic landmark that represents the northernmost area of Vietnam.
To reach this monument we had to detour slightly off route again, and the roads were somewhat perilous; however, we've learned that the difficult roads almost always lead to beautiful destinations, and on this occasion, it was certainly true.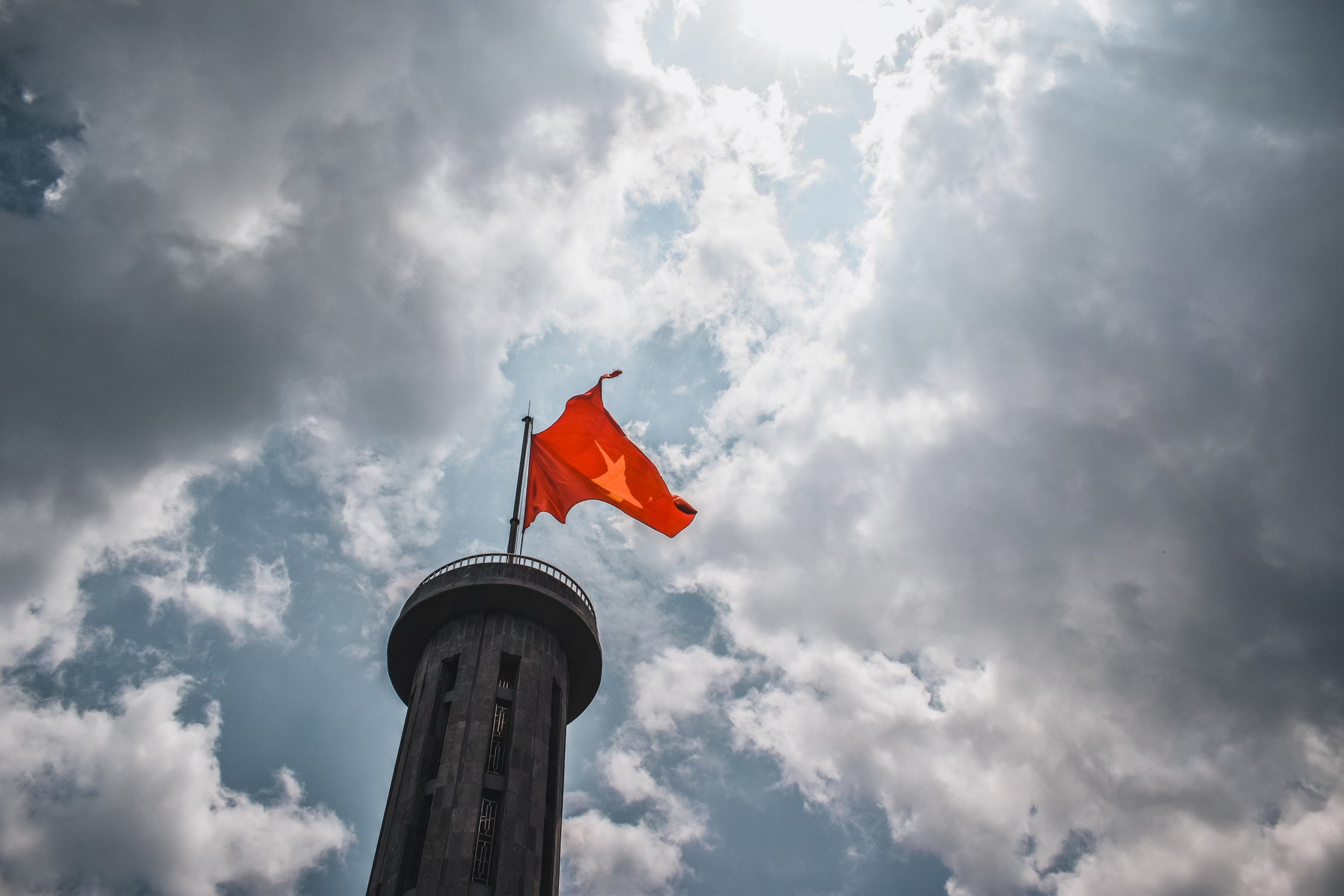 As we reached the charming village of Lung Cu, the striking Vietnamese flag danced proudly in the wind at the peak of the tower. It was midday by the time we commenced the 500 step climb to the top, and the unforgiving peak of day sun made it feel more challenging than it actually is.
Our weariness, however, was short-lived as we cast our eyes over the beautiful landscapes before us. Immense verdant mountains stretched all the way into China where lush rice paddies graced the rural areas encompassing the village.
We attempted to locate the China border because we had heard that it was possible to access it by driving down a dirt track located just before Lung Cu village; however, it was guarded on the day we were there.
It's worth checking it out if you can, but whatever you do, do not actually cross the border; the penalties are not pretty!
Tired and hungry we made our way to Dong Van, where we would chow down and rest for the night. It turned out to be a relatively developed town hosting an abundance of hotels and restaurants, as well as a small market selling an array of local goods.
We even got to watch a pretty good sunset over the rice paddies and limestone formations that encompass the town. Green Varst did the business with some great food, while Thien Nyung Hotel gave us cheap and comfortable digs for the evening.
Day 4 on the Ha-Giang Loop: Dong Van to Du Gia – 130km
We woke up on the fourth morning with another big day ahead of us. It was to be the longest leg of our journey so far, but also said to be the most picturesque.
We were not quite sure how it could possibly get any better, but we were definitely ready to find out! After a tasty and fulfilling breakfast at Green Varst, we were on the road again, and it wasn't long before we knew the drive would be a game-changer.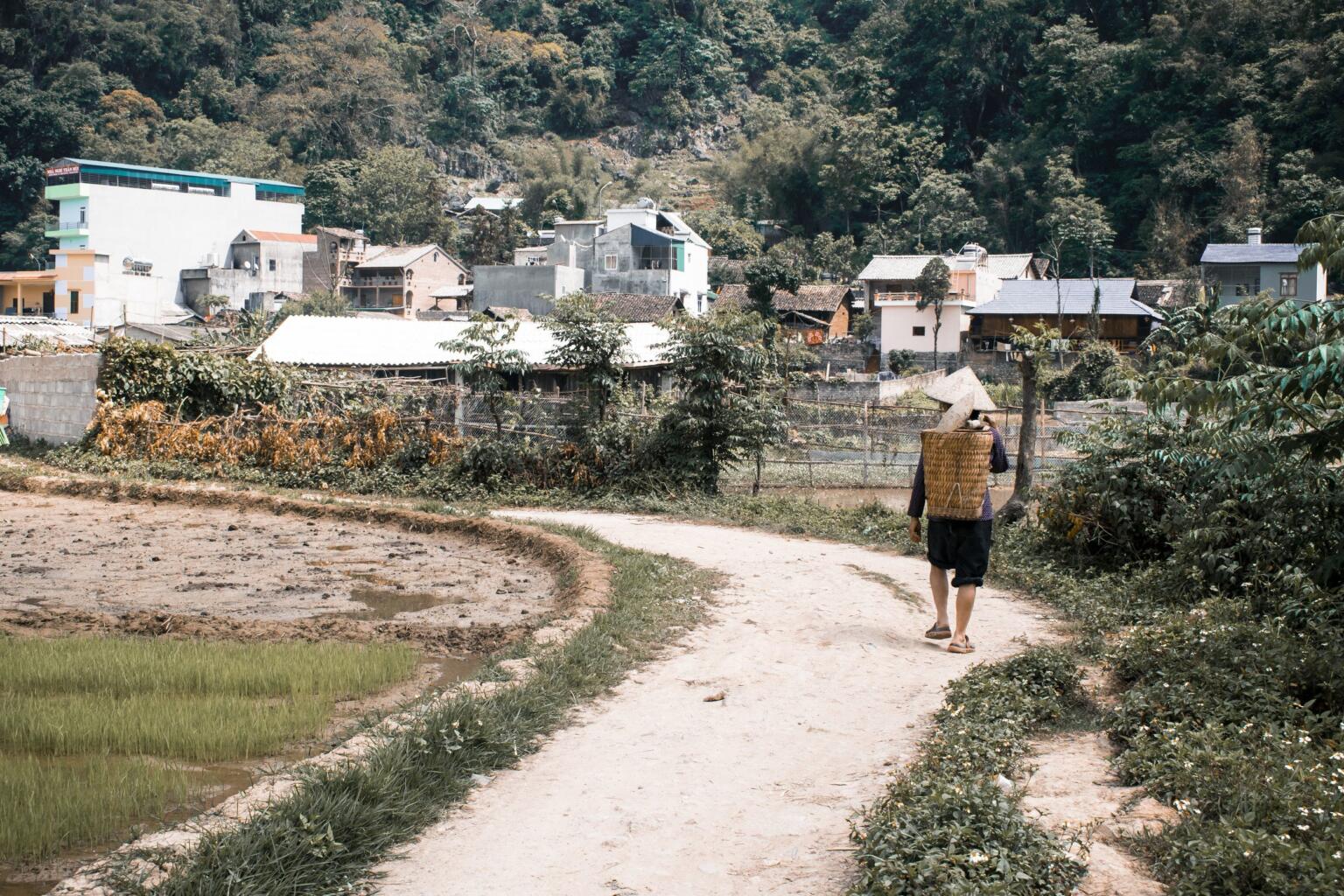 Shortly after leaving Dong Van Town, we hit the iconic Ma Pi Leng Pass, a grandeur mountain road approximately 20km in length. Sitting at an altitude of around 1500 m, the pass is said to be the most beautiful mountain road in all of Vietnam, a bold statement impossible to argue with.
Tremendous limestone cliffs surround a flourishing valley, and the striking Nho Que River sparkles emerald green through a misty haze. We maneuvered the exhilarating twists and turns of the road, an effortless drive that almost felt like there was no bike at all; we were soaring through the landscapes.
I even remember having to choke back tears. It may sound dramatic, but it just seemed to have that kind of immense power over us.
It was impossible to know exactly when we had reached the end of the pass, as the breathtaking views continued all the way to Du Gia, where we would spend our last night.
The thrilling mountain roads to reach the charming mountain village were as endless as the farmers' fields adorned with conspicuous looking plants! Feel free to stop and take a look, but I would refrain from pocketing any if you fancy leaving in one piece….
We arrived at Du Gia Homestay just in time for a delicious family dinner, joined by a number of other travellers celebrating their final night of the loop. Together we drank rice wine and vehemently swapped stories of our unforgettable experiences in Ha Giang.
Day 5 on the Ha-Giang Loop: Du Gia to Ha Giang – 81km
On our last day on the Ha-Giang loop, we were elated by our achievements and appreciative for what we'd experienced, but our hearts were heavy as the trip was coming to a close. Alas, we gathered up our gear, enjoyed breakfast with a view, and set off to enjoy our final hours.
First on the agenda was to explore a little bit of Du Gia itself.
Walking among the mounting landscapes was a powerful reminder of how small we really are. We were greeted warmly by the locals, who worked together in harmony, flawlessly creating a happy and united community.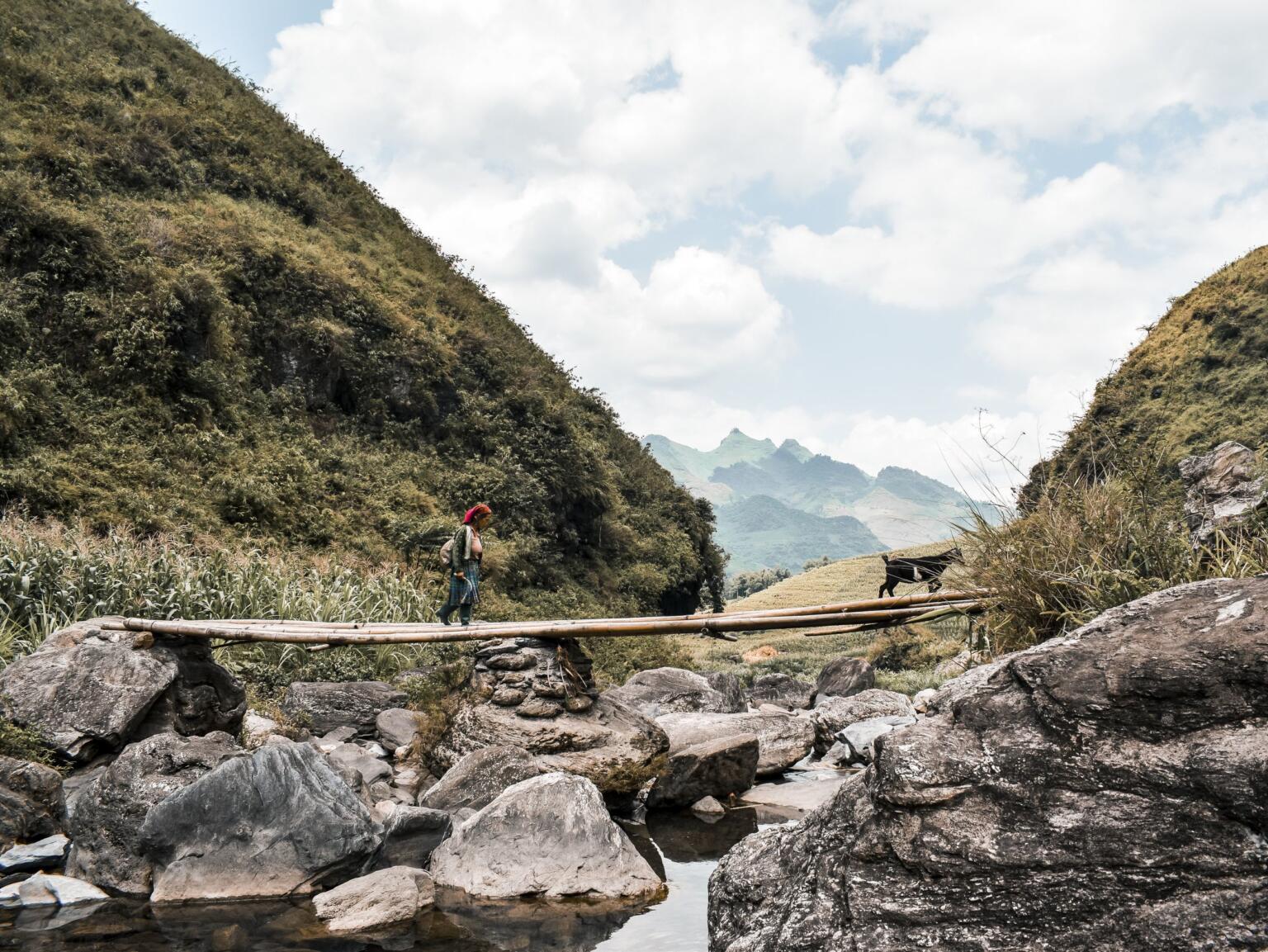 Before hitting the road we took a dip at the local waterfall. A treacherous road led us to the local swimming spot, where groups of inquisitive local children greeted and welcomed us enthusiastically before showing off their cliff jumping skills. In turn, we bewildered them with photos and boomerang clips on our phones.
It was refreshing to see children being children, enjoying nature and each other's company instead of gadgets and social media.
When it was time to leave, we reluctantly said our goodbyes and set off on the road back to Ha Giang Town. As we drove, we reflected on the past 5 days and our disconnection from most of civilisation.
With fresh air in our lungs and clear minds, we felt immense gratitude and love for the beautiful world we live in. We were consumed with inspiration and freedom.
Lost in our thoughts, we ended up taking a wrong turn on a (particularly) horrendous road. After checking the map we realised we were on the right track, but this road was not recommended due to its hazardous condition.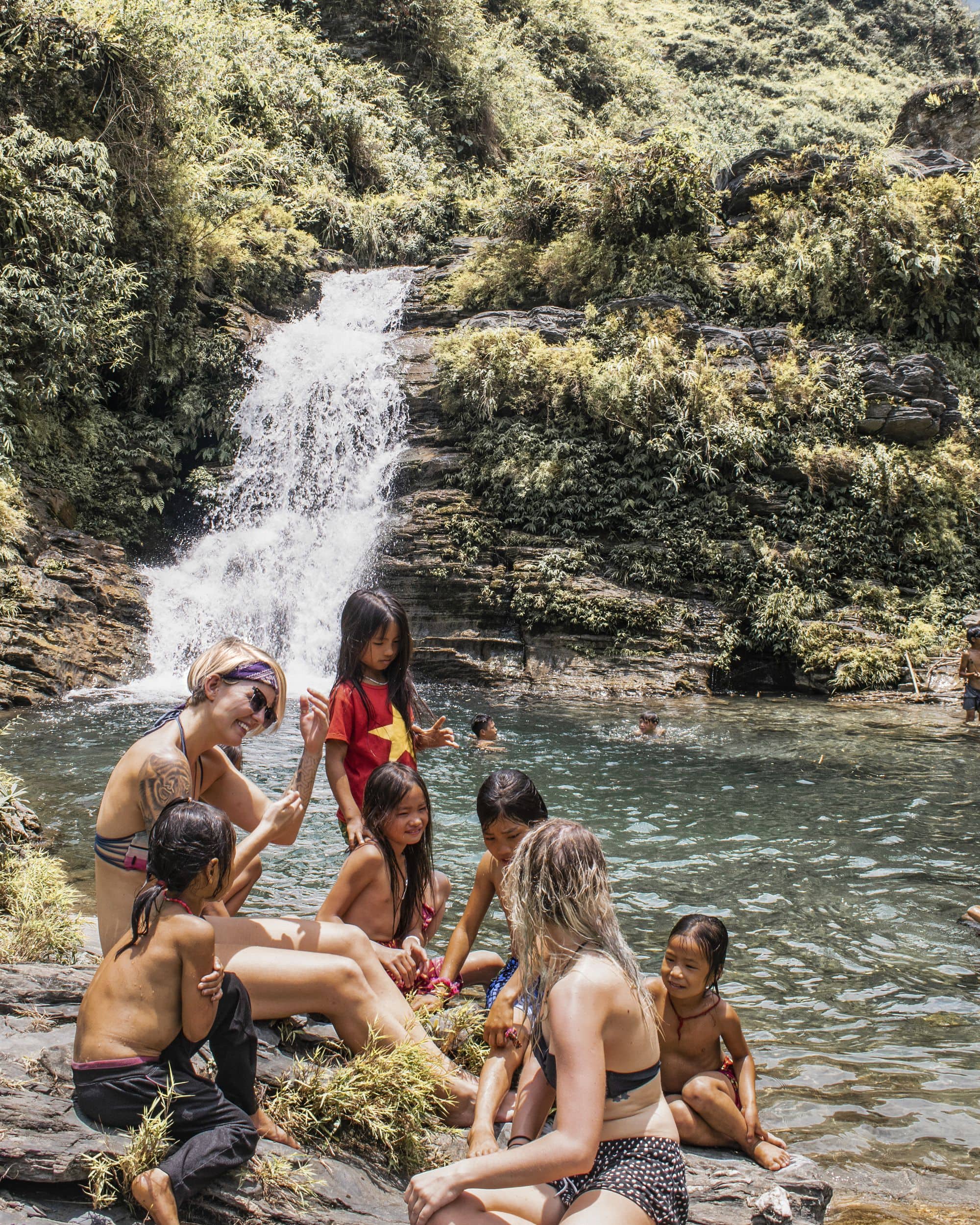 It was too late to turn back, however, so we continued the route cautiously. It took longer than we had hoped, but we were simply thankful to arrive back to Ha Giang in one piece.
It's worth noting that Google maps took us on this route, and although it was said to be the faster route, it turned out to be quite a stressful journey. To avoid this route we suggest following the QL4C via the DT181.
Well, that concludes our experience and Ha-Giang loop itinerary. Although the roads got hairy at times, overall, it was a safe adventure in Vietnam. As long as you keep your wits about you, you'll be ok. Better yet, you'll have one of the most unforgettable experiences of your life!
We hope this guide answers any questions you may have about completing the Ha Giang loop, though feel free to reach out to us with any questions. Have fun, ride slow, and remember to watch the beautiful sky.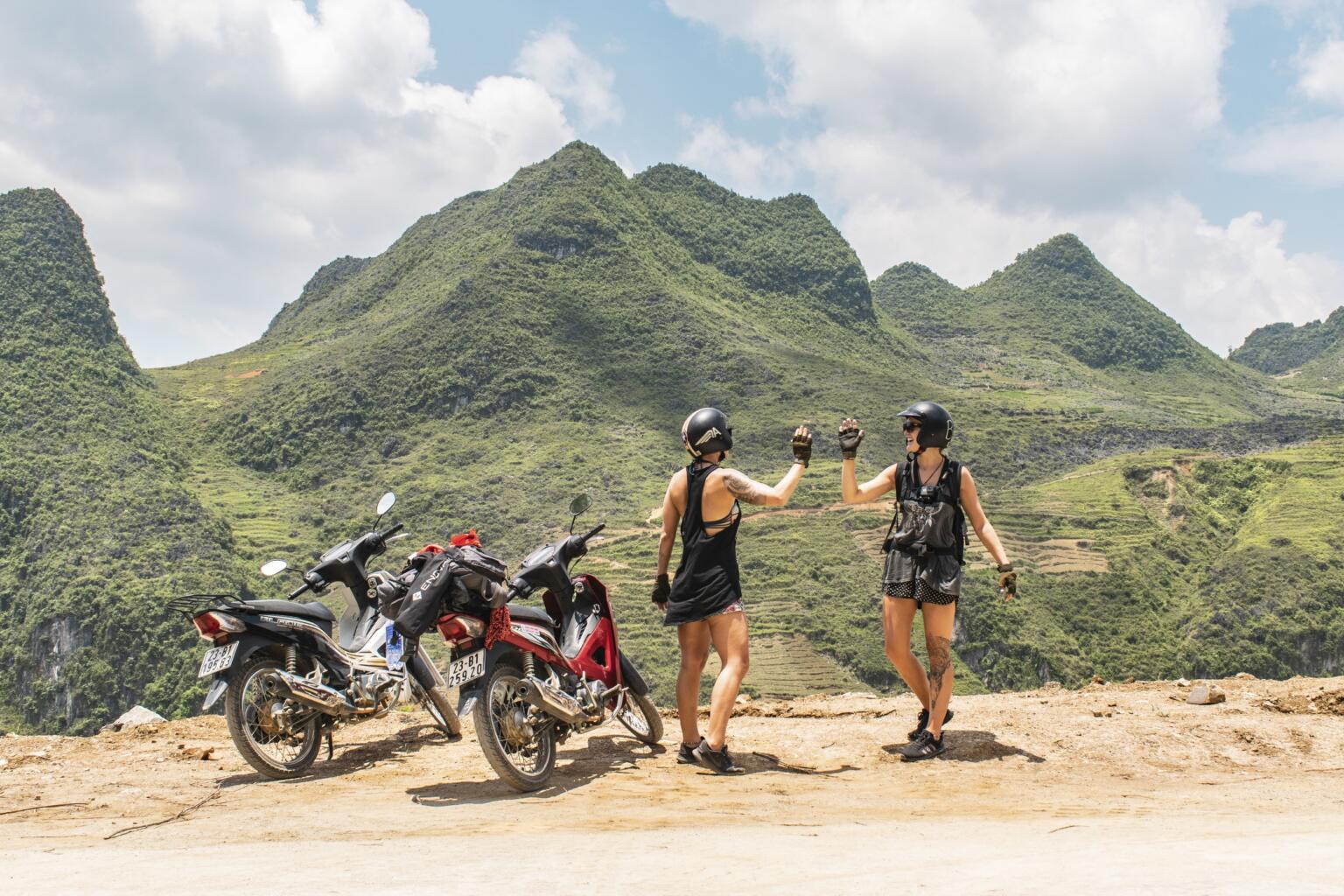 ---
About the Author: Our Taste for Life
Our Taste For Life documents the story of Charlotte & Natalie – A British lesbian couple chasing their dreams around the world on a shoe-string budget. They share a passion for adventure, writing, and photography and spend a majority of their time bickering over what their next meal will be. Follow their journey on their blog, Our Taste for Life. Check out their Instagram handle @ourtasteforlife for the latest!
---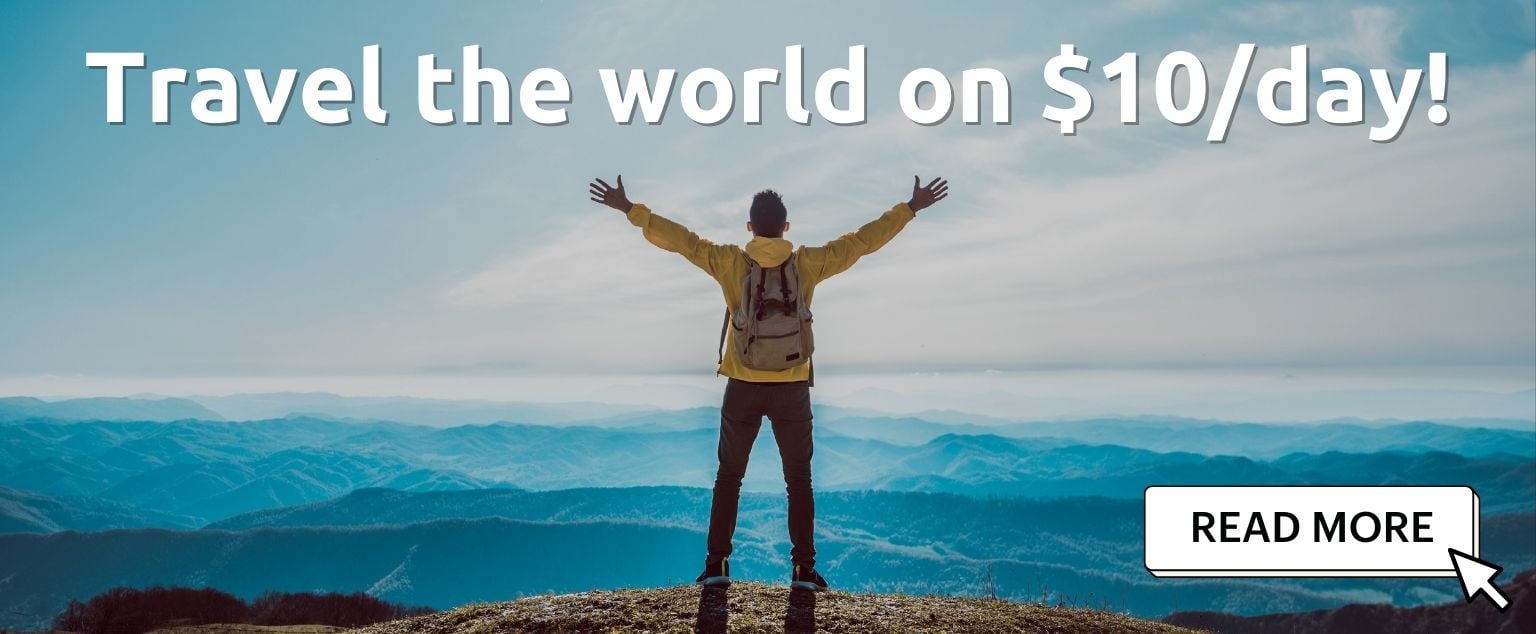 And for transparency's sake, please know that some of the links in our content are affiliate links. That means that if you book your accommodation, buy your gear, or sort your insurance through our link, we earn a small commission (at no extra cost to you). That said, we only link to the gear we trust and never recommend services we don't believe are up to scratch. Again, thank you!