The historic city of Hoi An is one of the most popular places to visit in Vietnam. There are several cultural and historic attractions that make backpacking Hoi An essential, like exploring the riverside Old Town and its mix of cultural influences, where you can walk across a Japanese bridge to visit a Chinese temple before sitting down to eat at a Vietnamese market.
The Old Town of Hoi An managed to avoid destruction during the "American War," and it was awarded UNESCO World Heritage status in 1999.
With its UNESCO status also came rapid development of a tourism industry, meaning plenty of boutique hotels, fancy restaurants, and approximately one million tailor shops can be found here.
Hoi An is most definitely a touristy city, but it's still a great place for backpackers and travelers to discover Vietnamese culture. Backpacking Hoi An is about much more than exploring the Old Town.
Within a few kilometers, you can find yourself chilling on a beach or cycling through peaceful rice fields. Go a little further and you can explore the ruins of an ancient Hindu temple.
Moreover, while the food is delicious all across Vietnam, it is especially tasty in Hoi An. The city is considered one of the food capitals of Vietnam, so be sure to indulge in the local specialties at the many markets and restaurants.
Furthermore, a few days in Hoi An is the perfect way to break up a long trip between Hanoi and Ho Chi Minh City.
If you're ready to plan a kick-ass trip to this historic town, read on for a massive Hoi An travel guide, chalked full of travel tips and useful information.
We'll give you a rundown of a daily Hoi An budget, some of the best hostels in town, a jam-packed 3-day Hoi An itinerary, and tons of more useful advice.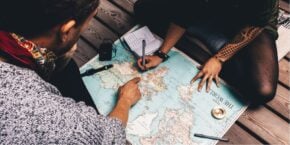 Heading Off-Grid? • Download This Guide as a PDF!
Sign up to The Broke Backpacker's EXCLUSIVE VIP AREA below and download our top backpacking guides as PDFs – go offline with peace of mind!
Broke Backpackers everywhere will be happy to hear that Hoi An is a very budget-friendly destination for backpackers in Vietnam. It's possible to backpack Hoi An on the cheap but still live rather comfortably. You don't need to spend a lot of money on transportation, and food and drink are very cheap in Hoi An too.
A daily budget of around $25-30 a day will score you a dorm bed in a nice hostel, the Hoi An sightseeing ticket, and local fare and drinks.
Increase your budget to $40-45 a day and you can get a private double room with a friend, rent a motorbike for further excursions, and go out for a nice sit-down meal a few times on your trip.
Below is a breakdown of Hoi An's daily costs to help you plan your budget.
Hoi An Daily Budget
Dorm bed in a hostel: $7-10
Small basic room for two: $20-25
Airbnb in a private apartment: $40-50
Shuttle from Danag Airport: $6
Bicycle rental (one day): $1
Old Town sightseeing ticket: $5
Bowl of cao lau noodles: $0.50-1
Local restaurant for lunch: $3-4
Cup of local coffee: $0.50
Draft beer: $0.25
Backpacking Hoi An Budget Tips
As you can see from the table above, Hoi An is already a fantastic bargain. You can get a dorm bed, rent a bicycle, fill up on delicious Vietnamese food, and have a few coffees/draft beers for $20 or so. Sounds like backpacker heaven to me!
That being said, there are always more secrets of the budget backpacking trade to stretch your money even further in Hoi An:
Book a hostel with free breakfast and/or a kitchen: Cutting down on your food expenses is a great way to stretch your budget. There are plenty of hostels that have free breakfast or offer breakfast on the cheap. If there's a communal kitchen, you can buy groceries and cook a few meals for yourself.
Rent some wheels: The Old Town of Hoi An is small enough to walk around, but if you want to explore beyond there you might as well rent a motorbike. This will cost way less than taking cabs or signing up for tours, and it will be way more fun.
Don't fall for tourist prices: This is one of the most touristy places in all of Vietnam, and locals know it. Everyone from cyclo drivers to restaurant owners try to jack up the prices. Be informed of the real price and don't support this price-gauging. There are plenty of businesses that will charge you a fair price though.
Shop around and bargain hard: Hoi An is well-known for its tailors and shoe shops, so most tourists who come here inevitably do a bit of shopping. You can definitely get quality goods here for a great price, but be sure you shop around a bit and use your bargaining skills.
Drink locally: A cup of Vietnamese coffee costs $0.50 or less and local draft beer only runs about a quarter. Forget those $3 lattes or $5 cocktails and stick with local stuff to save your budget for other expenses.
Why You Should Travel to Hoi An with a Water Bottle
Plastic washes up on even the most pristine beaches… so do your part and keep the Big Blue beautiful
You aren't going to save the world overnight, but you might as well be part of the solution and not the problem. When you travel to some of the world's most remote places, you come to realise the full extent of the plastic problem. And I hope you become more inspired to continue being a responsible traveller.
Plus, now you won't be buying overpriced bottles of water from the supermarkets either! Travel with a filtered water bottle instead and never waste a cent nor a turtle's life again.
Save $$$ • Save the Planet • Save Your Stomach!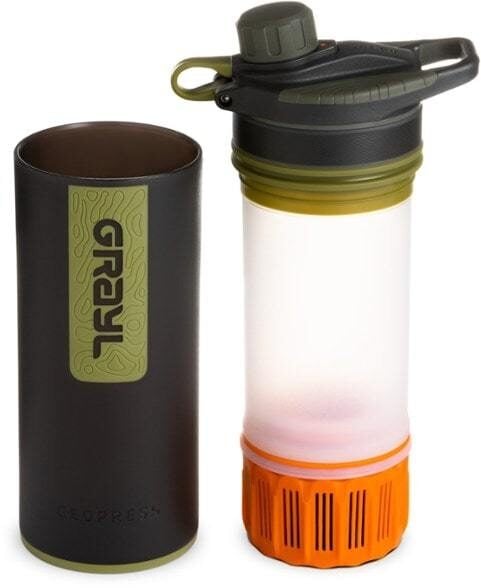 Drink water from ANYWHERE. The Grayl Geopress is the market's leading filtered water bottle protecting your tum from all the waterborne nasties. PLUS, you save money and the environment!
Single-use plastic bottles are a MASSIVE threat to marine life. Be a part of the solution and travel with a filter water bottle.
We've tested the Geopress rigorously from the icy heights of Pakistan to the tropical jungles of Cuba, and the results are in: it WORKS. Buy a Geopress: it's the last water bottle you'll ever buy.
Buy a Geopress!
Read the Review
Hoi An isn't a huge place to explore like Hanoi or Ho Chi Minh City, which makes choosing where to stay in Hoi An a bit easier. Most first time visitors to the city stay in the Old Town, as it's home to a majority of the attractions.
The Cam Pho area is a good neighborhood for those looking to be close to the action but with a lower price tag.
There are heaps of choice bits of backpacker accommodation around the city, however, I've gone ahead and included our choices for the top three hostels in Hoi An – best overall, best party, and best for solo travelers – below.
If you want to party, look no further than Mad Monkey Hoi An. Start out lounging in the movie room, then move on to a game of volleyball in the pool.
At night, there are plenty of fun activities in their awesome bar, including pub quizzes, theme nights, and more. When you're nursing a hangover the next day, load up on their free breakfast, rinse, and repeat!
Relax as you enjoy stunning views of the gorgeous gardens and lush landscaping from your private balcony. This one-bedroom apartment features a comfortable large bed. High-tech amenities include a flat-screen TV with cable channels, high-speed wireless Internet, safe and full stocked minibar. It also boasts 2 bathrooms with a rain shower, a bathtub and a kitchenette area for the convenience of guests.
Overall Best Hostel in Hoi An – Tribee Cotu
Do a search for the best hostels in Hoi An, and you're sure to see the name Tribee pop up a few times. That is because Tribee's chain of hostels has a reputation for providing backpackers with a comfortable place to call home.
Tribee Cotu is the best of the bunch, for several reasons. First of all, even the dorm rooms have actual beds, so you don't have to feel your bunk shake every time your roommate climbs up the ladder drunk at 3 AM!
They also have an awesome free breakfast and plenty of fun, included activities, making them one of the best hostels in Hoi An.
Tribee Cotu is one of our favourites in Hoi An but they're not taking guests right now. We're not sure if they're closed for good but we hope they'll come back soon.
Best Hostel for Solo Travellers in Hoi An – Tribee Cham
No, I'm not a paid spokesperson for the Tribee hostels. They're just really that good. Just check out the hundreds of other glowing reviews from backpackers and see for yourself.
There is a big difference between a party hostel and one that's good for solo travellers. At Tribee Cham, you'll be able to meet fellow backpackers and be social, but you'll also be able to actually get some sleep so you can go out and make the most of your day in Hoi An.
Tribee Cham is one of our favourites in Hoi An but they're not taking guests right now. We're not sure if they're closed for good but we hope they'll come back soon.
1. Explore the Old Town
The best thing to do in Hoi An is definitely explore the Old Town. It's a UNESCO World Heritage Site and the main reason why Hoi An is such a popular travel destination. Simply wandering the colourful streets of the Old Town is enough to fill several days in Hoi An.
There are plenty of historical and cultural attractions to visit in the Old Town. You'll need to buy a tourist ticket (about $6) which covers your entrance into five different places. You can choose between temples, museums, assembly halls, and more.
2. Chill on the beach
While it's not technically in town, visiting the beach is a popular activity to do in Hoi An. It's just a quick motorbike/cab ride away, so pack your beach gear and take one afternoon to go munch on fresh seafood, chill out, and go for a swim.
Just be prepared for the countless touts that stroll the beach peddling their wares. Though after a few days in Old Town, you'll probably be used to them.
3. Suit up!
It seems like every other shop in the Old Town is a tailor, so you might as well suit up while you're backpacking Hoi An. There are a few places where you can get a custom-made suit for cheap.
Ladies, don't feel left out either, as you can get some amazing tailor-made dresses too. Just be sure to shop around and bargain hard!
4. Take a free bike tour
A great way to experience a more local side of Hoi An is to take the free bike tour. The tours are run by university students who are trying to practice their English.
On the tour, you take your bike on the ferry and head over to a small island. Your guides will then take the group around the countryside, visiting several different workshops. The tours are tons of fun and for a good cause, so be sure to sign up for one.
Check out some highlights of the free bike tour in this video.
5. Dig into the local food
Vietnamese food is awesome everywhere in the country, but it's especially tasty in Hoi An. As a matter of fact, the city is thought of as somewhat of a food capital. Eating your way around the city is definitely one of the best things to do in Hoi An.
Be sure you try a few of the local specialties here including Cao Lau rice noodles and the dish known as "white rose:" shrimp dumplings bunched up to resemble a rose.
6. Take a cooking class
After travelling around Vietnam for a while, you're sure to fall in love with the food. I'm not sure about you, but it's hard to find legit Vietnamese food where I come from.
Taking a cooking class here is a great way to ensure you'll always be able to satisfy your cravings for Vietnamese cuisine. There are plenty of classes in Hoi An, so sign up and get cooking!
7. Day trip to My Son
One of the top things to do in Hoi An is definitely to take a day trip out to the ruins at My Son. These Hindu temples were constructed by the kings of the Champa Dynasty way back in the 4th century. Many of them were even buried here.
Unfortunately, much of the complex was destroyed during the war as a result of US carpet bombing. The ruins that remain are a UNESCO World Heritage Site and well worth a visit, especially since they're only an hour away from Hoi An.
8. Get lost in the rice fields
Getting lost isn't always a bad thing when you travel. When backpacking Hoi An, it's fun to just jump on a bicycle and cruise out to the countryside.
It doesn't take long to find the scenic rice fields, which feel like a world apart from the busy Old Town. If getting lost isn't your thing, there are plenty of great bike tours as well.
9. Hang out by the river
One of the great pleasures of being in Hoi An is simply relaxing down by the river. With the ancient houses, colourful boats, and bright lanterns at night, it's a very photogenic place to hang out.
There are lots of cafes, restaurants, and bars along the river where you can grab a drink and enjoy the scenery. At night, a popular thing to do is release a lantern in the river.
10. Hit the markets
Even if you don't need to buy anything, it's fun to wander around the many local markets in Hoi An. Chances are you'll end up buying something, anyway because there is a lot of fresh produce, delicious street food, handicrafts, and more to be discovered.
The night market, in particular, is a fun place grab dinner and a few drinks.
Is This the Best Daypack EVER???
Now that you've read about some of the best things to do, as well as where to stay in this city, it's time to put it all together and plan how to spend 3 days in Hoi An.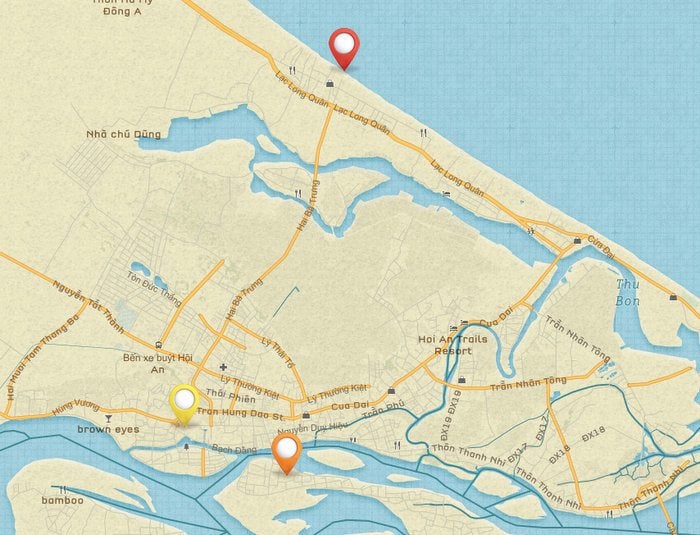 Day One in Hoi An: Explore the Old Town
After you get settled into your hostel, the best thing to do on your first day in Hoi An is explore the Old Town. Go ahead and buy the tourist ticket that covers the entrance fee to five different sites of your choosing.
With the ticket, you can choose between museums, ancient houses, assembly halls, temples, and more. Be sure you visit the Japanese Covered Bridge, which is a famous symbol of the city. If you don't visit all five in one day, you can always use the pass again tomorrow.
The Old Town of Hoi An is a very well-preserved UNESCO World Heritage site. It's fun to just wander the streets and take it all in. It's not too big, so it's pretty hard to get lost. Just see where the day takes you as you cross places off your tourist ticket.
Whenever you need a break from sightseeing, there are plenty of cafes and restaurants to choose from. Vietnamese coffee is strong and delicious, and it only costs about $0.50 a cup! This stuff will keep you going all day and won't burn a hole in your wallet.
If you're looking to buy a tailor-made suit or dress, you should go ahead and line that up on your first day. There are tons of tailors to choose from in Hoi An, but I recommend reading some reviews to find a reputable place before you go window shopping.
I'm 33 and still don't own a suit, so I can't provide much more advice on this topic.
The cuisine of Hoi An is famous throughout Vietnam, so be sure to try some local specialties while you're there. Grab dinner at White Rose, a restaurant named after one of the city's signature dishes. Their famous, delicious shrimp dumplings are wrapped up to resemble a white rose!
In the evening, head down to the river to watch the town light up. You can even send a colourful lantern off into the river. There are plenty of vendors ready to sell you one, so go ahead and join in the fun.
After that long day exploring the town, it's time to sit down and enjoy an adult beverage (or four). Draft beers here only cost about $0.25, so go ahead and drink up!
The nightlife in Hoi An isn't especially rowdy, but there are plenty of bars to keep you entertained. Many hostels have fun night events, such as a pub quiz or beer pong tournament.
Day Two in Hoi An: Cycling on an Island
Hopefully, your hostel has free breakfast to start the day. If not, you can always grab something quick and easy like a bahn mi sandwich for a buck or less.
The first thing on tap for day two in Hoi An is the free bike tour. These tours are run by university students who are studying tourism and need to practice their English. You can rent a bike for $1 a day, so make sure you have one lined up or wake up early enough to grab one.
Once the group is ready to go, you load your bikes onto the local ferry for the short ride over to the island. Spend the next few hours peddling around and visiting different workshops. You'll see boat makers, a rice paper factory, and more.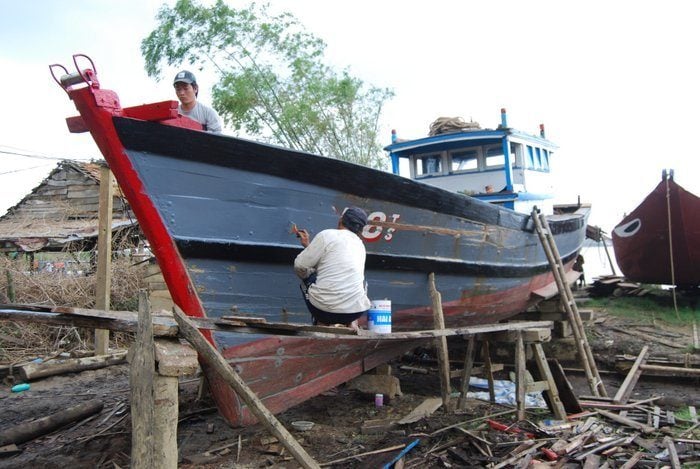 The tours are a lot of fun and a great insight into rural life in Vietnam. We really enjoyed talking with our local guides and actually ended up going out for lunch with them. These kids know where to get the best, cheapest local food, so be sure to join them if they offer!
You've got a few options for how to spend your afternoon on day two in Hoi An. If you still have a few spots on your tourist ticket, go ahead and cross those off. You paid for five of them, so you might as well check them all out.
If you'd rather, go chill on a nearby beach instead of walking around town. There are a couple of beaches just a 10-15 minute ride outside of town, so grab a cab, or cruise out there yourself on a scooter.
These aren't the best beaches in the world, but they're fine for a relaxing couple of hours. You'll find some pretty good seafood restaurants on the beach, so you might as well stick around for dinner.
Another option is to sign up for a cooking class. If you love Vietnamese food, why not learn how to cook it yourself? There are several cooking classes in Hoi An, so get in the kitchen and learn how to cook some classic Vietnamese dishes.
Back in town, you've got plenty of options for going out. I recommend going back down to the river for a few cheap beers before wandering around. Depending on the night, you should be able to find a live music venue or cool event.
Day Three in Hoi An: A Trip to My Son
While you're in this part of Vietnam, you should definitely take a day trip out to the ruins at My Son. This ancient temple complex is basically the Angkor Wat of Vietnam. It's not nearly as large or impressive, but that's because much of it was destroyed in the war.
The ruins of this Hindu temple are still well worth a visit. For one, you won't find the swarms of tourists that you will find in Cambodia. It's nice and peaceful out here, and a great break from the hustle and bustle of the touristy Old Town.
It's easy to sign up for a half-day tour of My Son. Most hostels run trips out there, as does every travel agent in town. You can also get yourself out there independently. If you're really motivated, try and get there to watch the sunrise.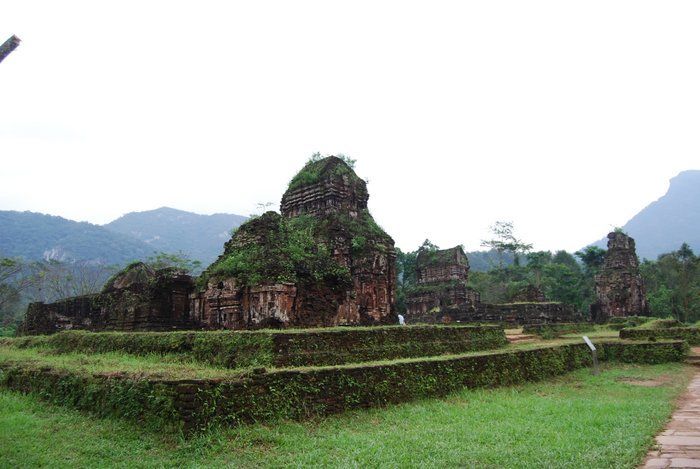 To wrap up your three days in Hoi An, you should do a bit of market shopping. There are several great markets in town where you can get a cheap meal or pick up some souvenirs to take home. This may also be a good time to pick up your Vietnamese tailored suit.
Before going out for one more night on the town, you should go ahead and lock down your transportation out of town. You can catch a bus or cab to Da Nang to jump on the train or catch a flight, or you can hop on a bus in town headed to nearby places like Hue.
Hoi An off the Beaten Track
There is no denying that Hoi An is one of the most touristy places to stay in Vietnam. At times, it can feel like you're walking through a Vietnamese Disneyland.
That being said, all you really need to do is get out of the tourist bubble in Old Town to see a more local side of Hoi An. That's why I highly recommend joining the free bike tour. Sure, you'll still be with a bunch of tourists, but you explore a rural island with local guides and learn a lot about the local culture.
Speaking of locals, they're quite friendly here. This is especially true of the younger Vietnamese who love practicing their English and meeting backpackers.
I recommend making friends with your guides or using Couchsurfing to meet locals. They'll gladly take you to some more local spots to get away from the crowds.
Best Walks in Hoi An
Hoi An is a great place to explore on your own two feet. It's not a huge city, and is a much less chaotic experience than backpacking in Hanoi or Ho CHi Minh. The Old Town especially is quite compact and is the perfect place for a stroll.
Once you have the Hoi An tourist ticket for the sites, it's fun to simply wander around town and check them off your list one by one. There are plenty of markets, cafes, and restaurants along the way when you need a break from sightseeing.
Another pleasant Hoi An walk is the riverfront path. You can cross over a bridge to the little Hoi An island, where you can enjoy a walk in the park and check out the sculpture garden. Once the sun goes down, the town lights up and the colourful lanterns start to come to life on the river.
Best Time of Year to Visit Hoi An
Hoi An is warm all year and only has two seasons – dry and wet. The best time to visit is between February and April, when the temperature is comfortable and the city is at its driest.
While the summer months are also dry, they can be painfully hot. That being said, prices are lower during these months, and the hot weather makes it a great time to hit the nearby beaches, which are some of the best beaches in Vietnam.
The rainy season in Hoi An lasts from September to January, with October and November being the wettest months. If you visit Hoi An in fall, you're likely to get soaking wet and/or spend a lot of your time indoors.
Consider the lunar calendar when you plan your trip too. Every month around the full moon, the city is bustling with activity. Try to time your visit during a full moon for a fantastic cultural experience.
Getting in and out of Hoi An
The closest airport to Hoi An is located in the nearby city of Da Nang. It's about a 45-minute ride from the airport into town, with your best budget option being the Hoi An Express bus for about $6. There are also plenty of cab drivers waiting if you're up for haggling with them.
If you're travelling across Vietnam by train, you'll also end up in Da Nang. If you arrive late, there are plenty of nice hostels in Da Nang, but there is a local bus near the train station that will get you to town for $1. Don't be surprised if the conductor tries to get you to pay 5x that amount. Just kindly point to the sign that shows the fare is 20,000 Dong and that's what everyone else is paying.
Many backpackers get in and out of Hoi An by the hop on, hop off buses that run throughout the country. The bus station is about 10-15 minutes away from the Old Town. From there, you can catch a cab or a motorbike taxi to get to your hostel.
When you're ready to travel to Hoi An, forgo buying tickets at the station and book them online instead! You can now book transport in advance for most of Asia using Bookaway and doing so can really save you some stress (and maybe money, too).
How to get around Hoi An
Hoi An is small enough that you can rely on your own two feet for getting around. You really don't need to use any kind of transportation for getting around the Old Town; plus, it's a very scenic place to walk around.
Many people like to rent a bicycle for their stay in Hoi An. They are found all over the city and only cost about $1 a day. Just make sure you lock it up so you don't get stuck buying it if it's stolen.
Of course, there are also plenty of cabs and motorbike taxis here as well. Just know how to haggle as they're quite accustomed to ripping off tourists in Hoi An.
For trips out of town to the beach or to the ruins at My Son, you may want to consider renting a motorbike. If you're not comfortable on a bike, you can always bargain for a cab or just jump on a tour.
Use Bookaway to find the best deals on transport – buses, planes, trains, and ferries. It'll save you a load of time when organising transport and you'll probably nab an EPIC DISCOUNT too!
Book your transport on Bookaway NOW. Get the best price for the best ride… then use those savings to buy the best feed in town!
Book Your Transport Here!
Safety in Hoi An
For the most part, Hoi An is a very safe destination for tourists in Vietnam. The biggest issues in Hoi An are pick-pocketing and petty theft. Be aware of people on motorbikes getting close to your, as they may be trying to snatch your bag as they pass by.
Just like you would anywhere in the world, use common sense and be mindful of your surroundings.
There have been some reports of assaults on women in Hoi An. Never leave your drink unattended in a bar here, as there are nefarious characters around who try to spike them. It's also not advised to walk alone after dark here, especially if you're drunk.
Travel Insurance for Hoi An
Traveling without insurance would be risky so do consider getting good backpacker insurance sorted before you head off on an adventure.
I have been using World Nomads for some time now and made a few claims over the years. They're easy to use, professional and relatively affordable. They may also let you buy or extend a policy once you've started your trip and are already abroad which is super handy.
If there's one insurance company I trust, it's World Nomads.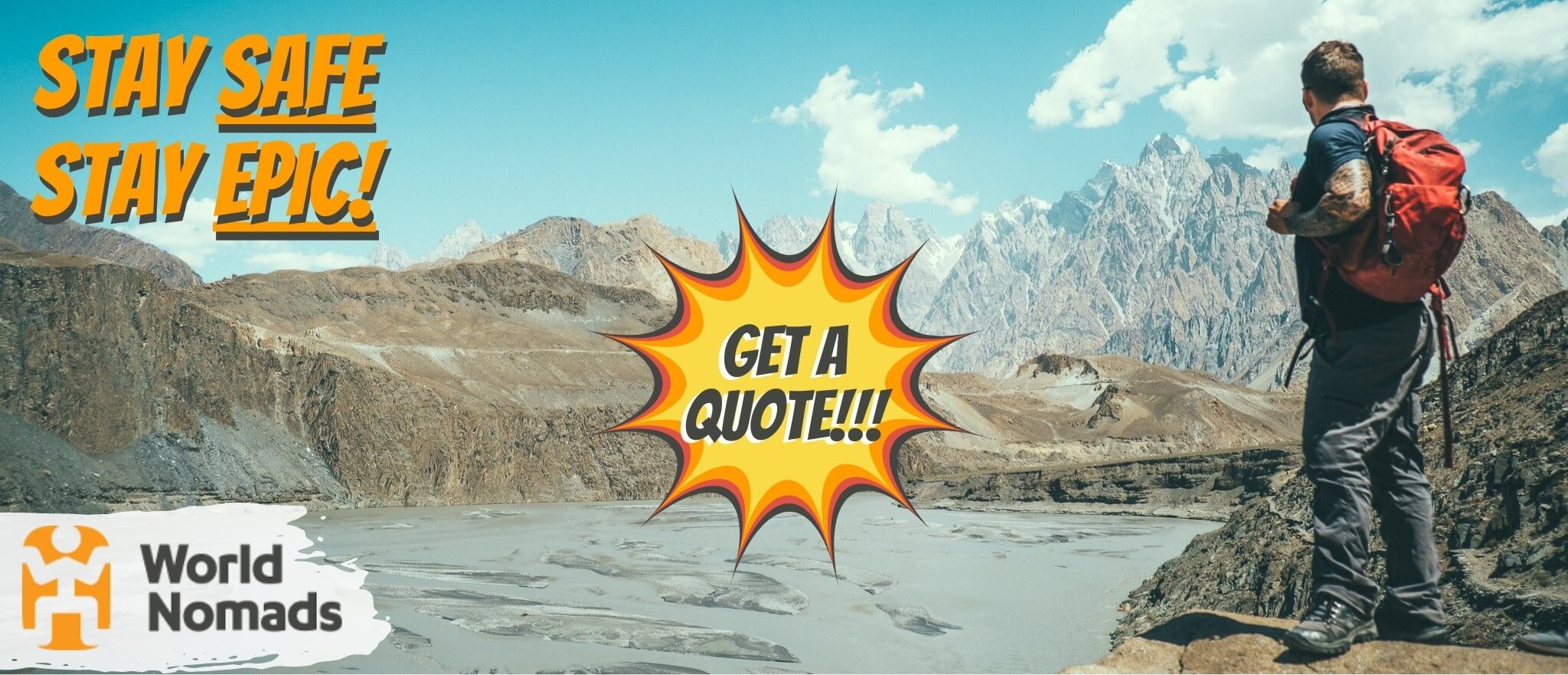 World Nomads' mission is to support and encourage travellers to explore their boundaries. They offer simple & flexible travel insurance, and safety advice to help you travel confidently.
They've been doing it since 2002 – protecting, connecting, and inspiring independent travellers just like you.
Get a quote below or read our in-depth review!
World Nomads provides travel insurance for travelers in over 100 countries. As an affiliate, we receive a fee when you get a quote from World Nomads using this link. We do not represent World Nomads. This is information only and not a recommendation to buy travel insurance.
Hoi An Accommodation Travel Hacks
With plenty of excellent and affordable hostels around Vietnam, backpacking Hoi An is already pretty easy on the wallet. That being said, there are always ways to make your travel funds go even farther.
Be sure you book a hostel that offers free breakfast to save you time and money in the morning. Not all free hostel breakfasts are created equal, so be sure to read some reviews and see what other backpackers have said.
If you're planning to spend most of your time in and around the Old Town, book a hostel that's in a central location. Being able to walk everywhere saves you money and time, and reduces stress since you won't have to bother haggling with cab drivers.
Many Hoi An hostels have free events in the evenings, such as pub quizzes and movie nights. Find one of these to give you something fun to do at night that won't burn through your cash.
Eating and Drinking in Hoi An
Vietnamese food is amazing everywhere you go in the country, and Hoi An is famous for having some of the best local food in the world. Eating your way around town is definitely a highlight of backpacking Hoi An.
Starting on the budget end of the spectrum, you can find plenty of cheap and delicious Vietnamese fare at the local markets. Just be aware that vendors in these markets can be pretty aggressive as they try to convince you to eat at their stall.
There are also plenty of restaurants in town cooking up classic dishes without the pushy vendors and plastic stools. You'll pay a little more at these places, but it can be worth spending more for a relaxing meal.
Some of the must-try dishes in Hoi An include cao lau noodles and the "white rose" shrimp dumplings.
There are plenty of excellent cafes in Hoi An where you can sit down and enjoy a strong cup of Vietnamese coffee. If you're more into tea, there are some great tea houses in Hoi An.
Many bars along the river pour local draft beers for only $0.25 a glass. No wonder broke backpackers everywhere love backpacking Hoi An! You can go out to dinner and get several beers without even spending ten bucks!
Nightlife in Hoi An
Other than the riverside bars, there isn't a ton of nightlife in Hoi An. The nightlife here is far more laidback than what you'll find visiting Ho Chi Minh City, for example. It's still a popular backpacker town, though, so there are quite a few bars to choose from.
You might not even need to go out to a bar here, as chances are your hostel will be running some kind of fun event at night. Sometimes it's fun to kick it at the hostel over a few beers with fellow travellers.
One word of warning about the nightlife in Hoi An – it's best to stick to beer here. There are several reports of bars pouring fake alcohol and even spiking drinks and robbing people. Whatever you order, be sure to keep an eye on your drink and don't take drinks from strangers.
Check out Vietnam's festivals; some of which are held in Hoi An.
Books to Read on Hoi An
Reading about a place you're planning to visit is always fun. It gets you more excited for your trip and you learn something in the process. Below are 4 books and guides to add to your Hoi An reading list:
Lonely Planet Vietnam Travel Guide – Plan your trip to Hoi An and the rest of Vietnam with the most recent Lonely Planet guide.
Secrets of Hoi An: Vietnam's Historic Port – If you're interested in learning about Hoi An's 2,000 years of history (and you should be), then this is a great read.
Da Nang and Hoi An, Vietnam – This excellent guide on both the big city of Da Nang and the historic town of Hoi An is written by a local and full of useful tips.
Make money whilst Backpacking Hoi An
Teaching English online is a great way to earn a consistent income—from anywhere in the world with a good internet connection.
Depending on your qualifications (or your motivation to obtain qualifications like a TEFL certificate) you can teach English remotely from your laptop, save some cash for your next adventure, and make a positive impact on the world by improving another person's language skills! It's a win-win! Check out this detailed article for everything you need to know to start teaching English online.
In addition to giving you the qualifications to teach English online, TEFL courses open up a huge range of opportunities and you can find teaching work all over the world. To find out more about TEFL courses and how you can teach English around the world, read my in-depth report on teaching English abroad.
Broke Backpacker readers get a 35% discount on TEFL courses with MyTEFL (simply enter the code BACKPKR), to find out more, please read my in-depth report on teaching English abroad.
Whether you are keen to teach English online or looking to take your teaching game a step further by finding a job as an English teacher in Vietnam, getting your TEFL certificate is absolutely a step in the right direction.
Being a Responsible Backpacker in Hoi An
Reduce your plastic footprint: Perhaps the best thing you can do for our planet is to make sure you do NOT add to the plastic problem all over the world. Don't buy one-use water bottles, the plastic ends up in landfill or in the ocean. Instead, pack a tough travel water bottle.
Go and watch A Plastic Ocean on Netflix – it'll change how you view the plastic problem in the world; you need to understand what we are up against. If you think it doesn't matter, get off my fucking site.
Don't pick up single use plastic bags, you're a backpacker – take your daypack if you need to go to the shop or run errands.
Bear in mind, that many animal products in countries you travel through will not be ethically farmed and won't be of the highest quality. I'm a carnivore but when I'm on the road, I only eat chicken. Mass-farming of cows etc leads to the rainforest being cut down – which is obviously a huge problem.
Need more guidance? – Check out our post on how to be a responsible backpacker.
---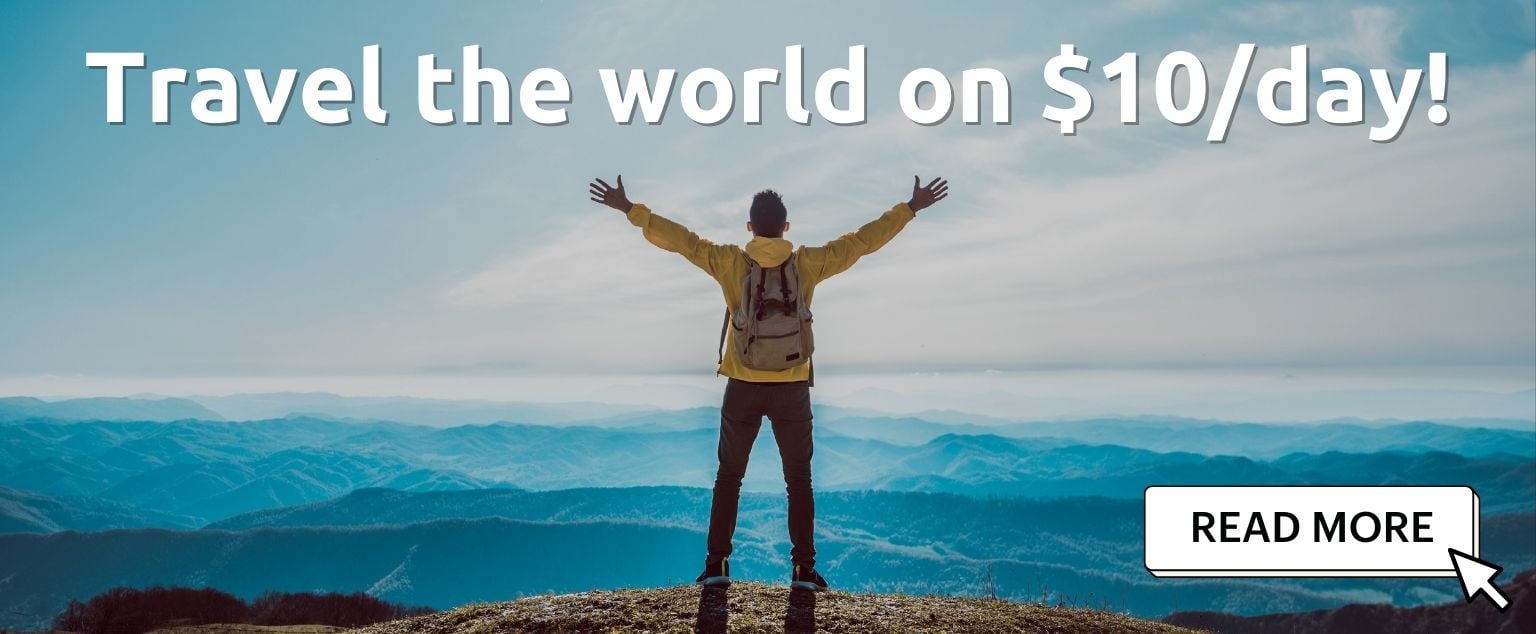 And for transparency's sake, please know that some of the links in our content are affiliate links. That means that if you book your accommodation, buy your gear, or sort your insurance through our link, we earn a small commission (at no extra cost to you). That said, we only link to the gear we trust and never recommend services we don't believe are up to scratch. Again, thank you!