The Swedish capital city is the perfect introduction to Scandinavia. It's set across 14 islands on an archipelago which extends into the Baltic Sea.
A number of bridges and ferries connect these islands, making it easy to get around to see some of the best places to visit in Stockholm! The city is filled with exciting and interesting things to do – there are a number of cool museums, sprawling parks, and a couple of unusual attractions too!
In this post, I'll take a look at the best places to visit in Stockholm. Hopefully, it will be a useful guide when planning your trip and show you some hidden corners of the city.
Need a place quick? Here's the best neighbourhood in Stockholm:
BEST AREA IN STOCKHOLM
Hornstull
Located on the western side of the island of Sodermalm, Hornstull is a lively, vibrant and up-and-coming area. Once a dodgy neighbourhood to be avoided at all costs, Hornstull is today a happening 'hood home to independent shops, cosy cafes, hip hangouts and one of the coolest markets in old town.
Places to visit:
Excite your sense with savoury tapas at Ramblas.
Hang out in the sunshine, go for a swim or enjoy a sauna at Tantolunden Park.
Take in the views from the Skinnarviksberget scenic spot.
These are the BEST Places to Visit in Stockholm!
Eating Swedish meatballs that don't come from Ikea in your home country sounds great, doesn't it?
Before you do that, though, you'll need to book accommodation and know where the coolest areas in Sweden are. Be sure to check out where to stay in Sweden and get the full low-down because there's more than just Hornstull. Then, onto the good stuff…

Unlock Our GREATEST Travel Secrets!
Sign up for our newsletter and get the best travel tips delivered right to your inbox.
#1 – Gamla Stan – One of the nicer places in Stockholm to sightsee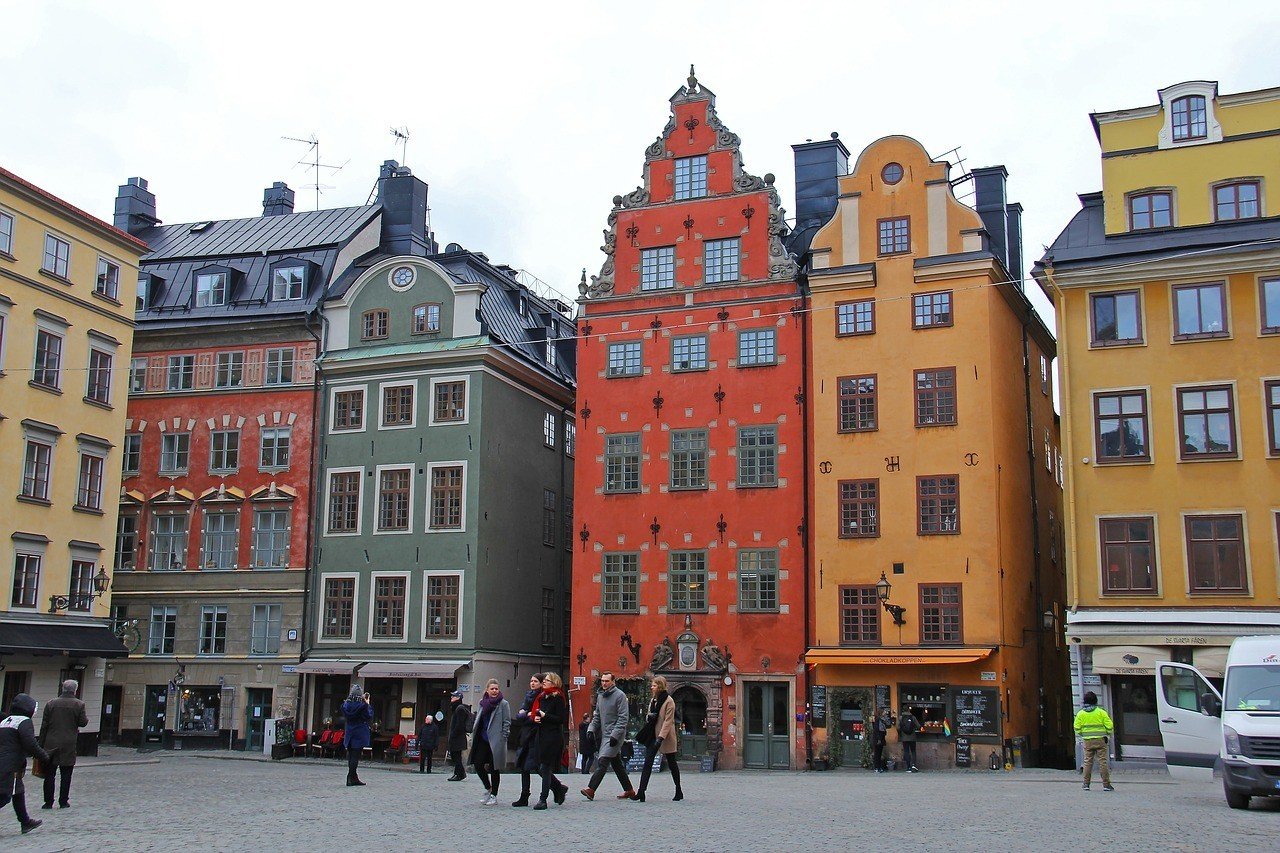 Take a leisurely stroll along the cobbled streets
Be wowed by the colourful buildings
Enjoy some of the best places to eat in Stockholm
Why it's awesome: There's a reason why Gamla Stan is on every backpackingStockholm travel guide. It's one of the best-preserved historical centres in the whole of Europe and it's where Stockholm was founded all the way back in 1252!
You could easily spend your whole break in Stockholm without leaving this area, as it's full of Swedish history, historic attractions, great restaurants and bars, and some of the city's top nightlife.
Indeed, some of the places that feature on my list are actually in Gamla Stan! The Old Town is centred around a pretty main square called Stortorget.
What to do there: There's plenty to keep even the shortest attention spans indulged in Gamla Stan! Get lost along the narrow and winding streets (the narrowest alley is just 90cm wide) and admire the colourful buildings that line them.
In this district, you'll find the national cathedral which is definitely worth a visit, and many tourist attractions which I'll get to later in my list.
Pick up some souvenirs or handicrafts for family and friends in the shops along Västerlånggattan and Österlånggattan or head over to Riddarholmen and its spectacular church! If you'd like to make this area your best for a while, check out some of Stockholm's best Airbnb's nearby!
#2 – Skansen Open Air Museum – Awesome place to visit in Stockholm with kids!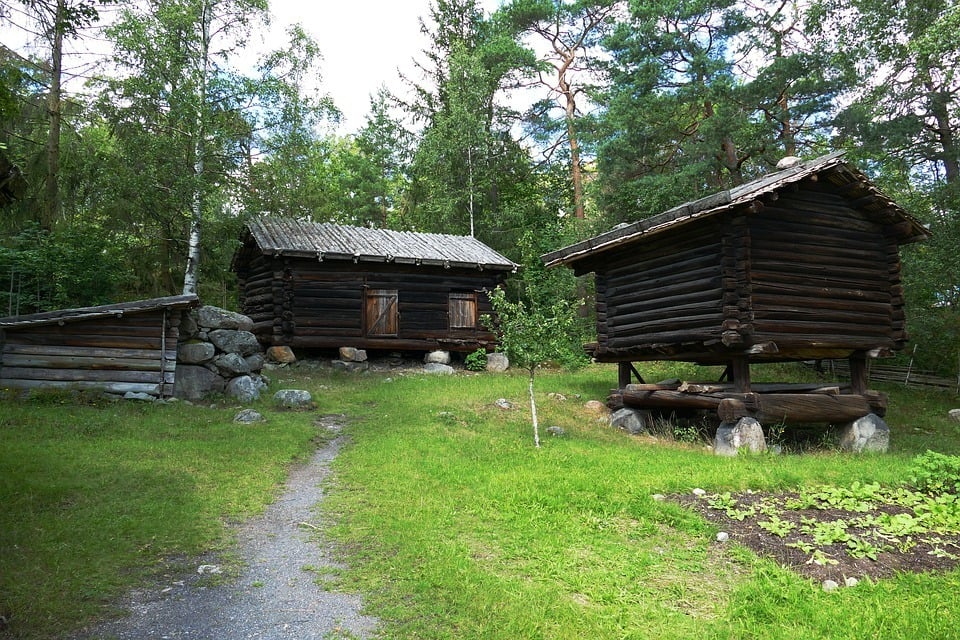 Step into the past at this cool museum
Celebrate typical Swedish traditions here
Explore over 150 farms and dwellings from all over the country
Why it's awesome: Skansen Open Air Museum is one of the most interactive attractions in Stockholm. On the island of Djurgården and one of many attractions within the Royal Park, it was opened at the end of the 19th century to show what life was like in pre-industrial Sweden.
So, nowadays you can visit working farms and typical Swedish dwellings from all over the country. This is a great place to put on your Stockholm itinerary if you're travelling with the family!
What to do there: Discover houses and farmsteads from every part of Stockholm in the oldest open-air museum.
There are events on throughout the year, so if the cool exhibitions at the museum aren't enough for you, the events will have you covered! In summer, there are singing, dancing, and concerts, while Winter means festive Christmas Markets!
No matter what time of year, the wild animals that call the museum home are sure to have everyone smiling. You'll find typical pets in the Children's Zoo, but more exotic animals in the Our Africa section and aquarium!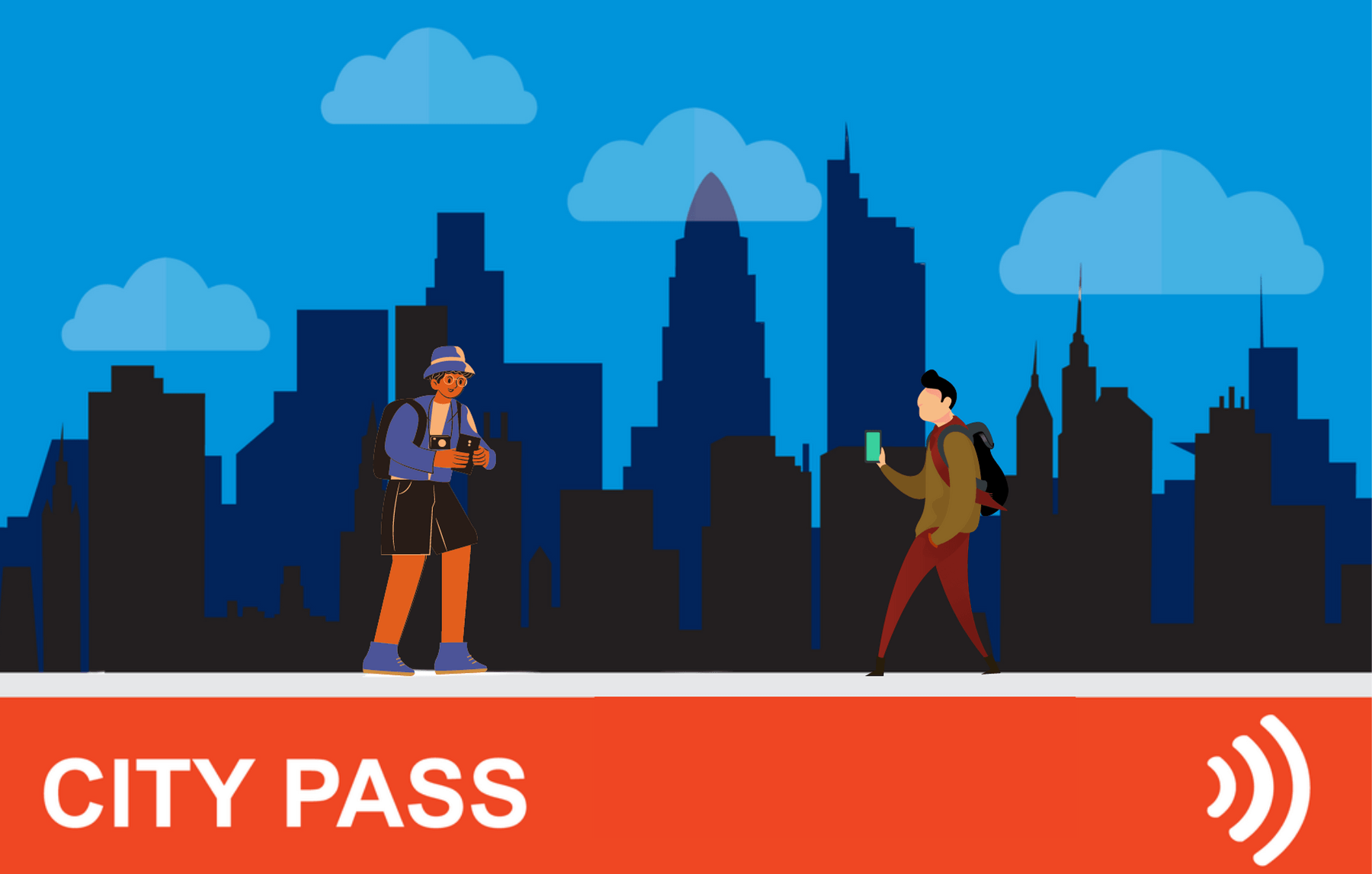 Travelling to Stockholm? Then plan yo' trip the smart way!
With a Stockholm City Pass, you can experience the best of Stockholm at the CHEAPEST prices. Discounts, attractions, tickets, and even public transport are all standards in any good city pass – be sure invest now and save them $$$ when you arrive!
Buy Your Pass NOW!
#3 – Stadsbiblioteket (Stockholm Public Library) – One of the most incredible free things to do in Stockholm
A beautiful example of Nordic classicism
No entry fee!
One of the most distinctive landmarks in Stockholm
Why it's awesome: In a city with a fearsome reputation for being one of the most expensive in Europe (if not the world) any free activity is a bonus. One such activity is visiting the Stadsbiblioteket, or Stockholm's Public Library. What makes the library so special? Well, the main rotunda of the building is an architectural marvel. It's also packed with 360-degree shelves for books in over 100 languages. It's a bookworm's dream!
What to do there: If you've got plenty of time to spare, why not take a book and spend the afternoon reading in this welcoming and peaceful setting. Even if you're not into reading, it's definitely worth adding a visit to the library to your Stockholm itinerary.
Climbing to the top of the rotunda and looking down on the stacks of books is certainly a mesmerising view! It's also a great spot if you're a digital nomad or visiting Stockholm on a working holiday, as you'll be able to work here without being disturbed.
#4 – The Royal Palace – A great place to see in Stockholm if you love architecture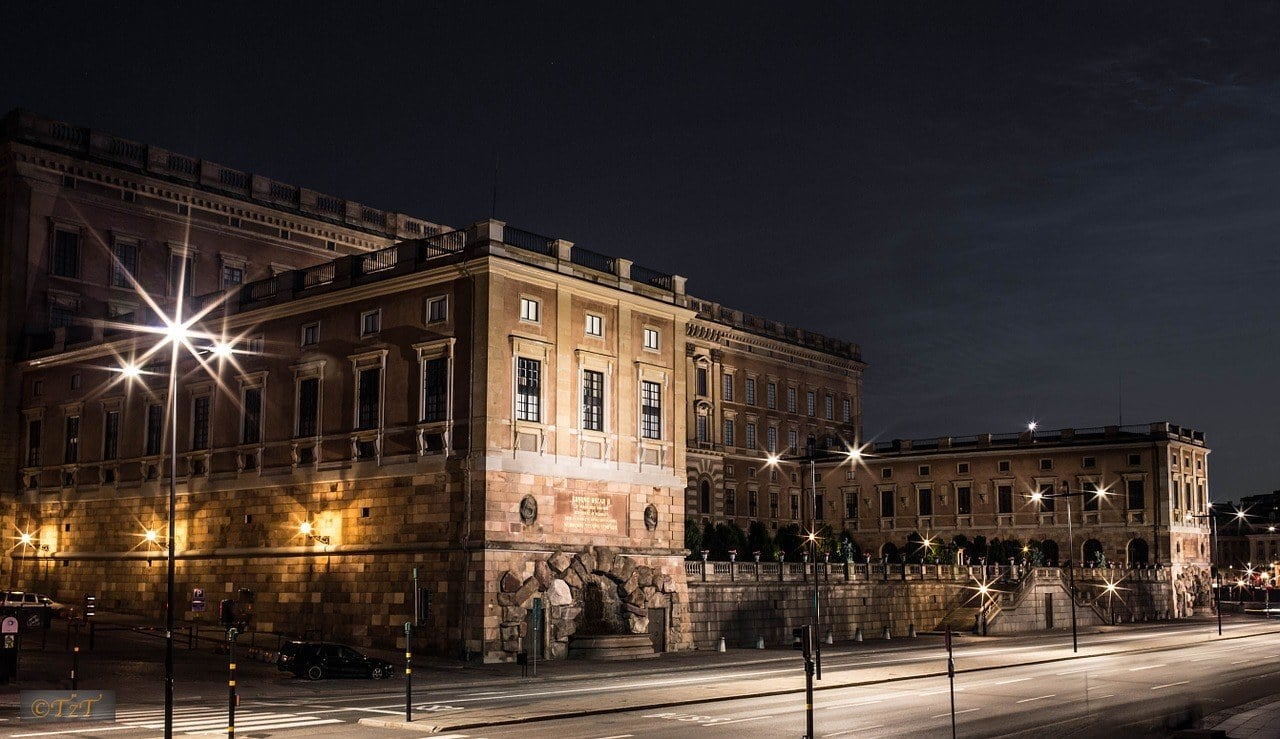 One of the largest palaces in Europe
The official residence of the Swedish Royal Family
Why it's awesome: So, the Royal Family's living quarters aren't open to the public but there's still a large chunk of the Royal Palace you can visit and get to know Swedish history better! This incredible building is one of the most recognisable landmarks in Stockholm, as it's one of the biggest palaces in Europe. It consists of 600 rooms set over 11 floors, built in the Baroque style. It's a Stockholm must-see for those interested in architecture.
What to do there: If wandering around and learning about the Royal Palace isn't enough for you, you're in luck! There's more than enough to spend at least half a day here with the palace alone, but there are also 3 museums attached.
The first is the treasury – packed with regalia from Swedish Royalty. The other two are the Tre Kronor Museum and the Gustav III Museum of Antiquities. One of the best Stockholm vacation ideas if you visit Stockholm in the summer is to take a detour to the Royal Chapel!
#5 – Vasa Museum
One of the best-preserved 17th century ships in the world
Spent 333 years on the seabed
The most visited museum in Scandinavia
Why it's awesome: In the 17th century, a ship befitting a nation that wanted to create an empire was commissioned by the King at the time. That ship was Vasa. The giant floating fortress was always too ambitious, and problems began even while it was still in construction.
Less than one nautical mile from Stockholm on its maiden voyage, the boat capsized and sank. Although there were many salvage attempts, none were successful until 1961. Now, you can see the ship in all its glory at the Vasa Museum, one of the most popular attractions in Stockholm!
What to do there: You don't only see the painstakingly restored Vasa ship at the Vasa Museum, but there are 10 other exhibitions at the museum. They deal with life on the ship (or what it was expected to be like – no-one ever really found out) and a film about the ship itself.
If you want to get into the gory details, it's a good idea to take a tour of the Vasa museum with a friendly and knowledgeable guide. After you've finished, head to the restaurant which serves tasty food! This truly is a Stockholm must see!
#6 – The Nobel Museum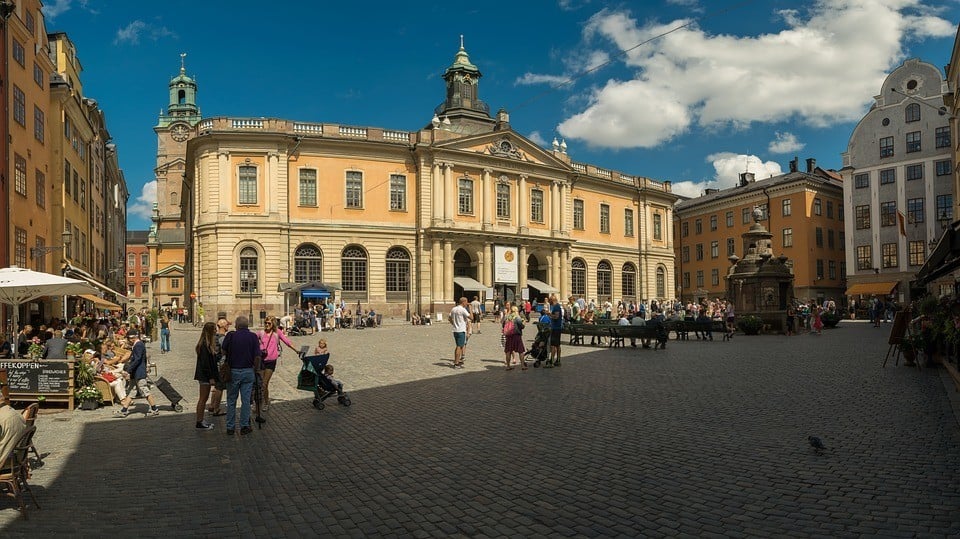 Take a guided tour of the Nobel Prize Museum
Relax afterwards with a coffee or an ice cream
Another of the most important landmarks in Stockholm
Why it's awesome: The Nobel Prize is the most prestigious award in the world when it comes to academic, scientific, or cultural advances. This fascinating museum should be high up on your Stockholm itinerary if you want to learn more about the ideas which have previously won this prestigious Prize. There have been almost 600 prizes given out (at the time of writing) and every single one is detailed in this museum!
What to do there: As well as learning all about the previous laureates of Nobel Prizes, there are a number of things on offer. To get a really in-depth perspective of the importance of the museum's work, take a tour with a knowledgeable guide, who will really make the exhibits come alive!
Once you've tired of the museum, there's a great bistro where you can enjoy a spot of lunch or refuel with a coffee. And don't miss the shop where you can pick up some cool mementos of one of the most important attractions in Stockholm!
#7 – City Hall and the Blue Hall
Take a guided tour of City Hall's grand ceremonial halls
Relax afterwards in City Hall park
One of the most iconic landmarks in Stockholm
Why it's awesome: Stockholm's City Hall is famous for its grand ceremonial halls, including the Golden Hall and Blue Hall, as well as housing unique pieces of art. It is also the offices of over 300 city council members.
The Nobel Prize Banquet, or Nobelfesten in Swedish, is an annual banquet that takes place in the Blue Hall of City Hall on the 10th of December, after the Nobel Prize ceremony. The banquet is known as a formal dress event and there's a multi-course dinner.
Of course, for tourists, you cannot attend the Nobel Prize banquet, but you can visit the hall and witness the ornate detailing and stunning architecture where this momentous event takes place.
What to do there: City Hall is only available to enter by guided tour, which takes place daily. On the tour, you'll get exclusive viewings of the finest national romanticism artwork and architecture in Scandanavia.
#8 – Abba: The Museum – Easily one of the most fun places to check out in Stockholm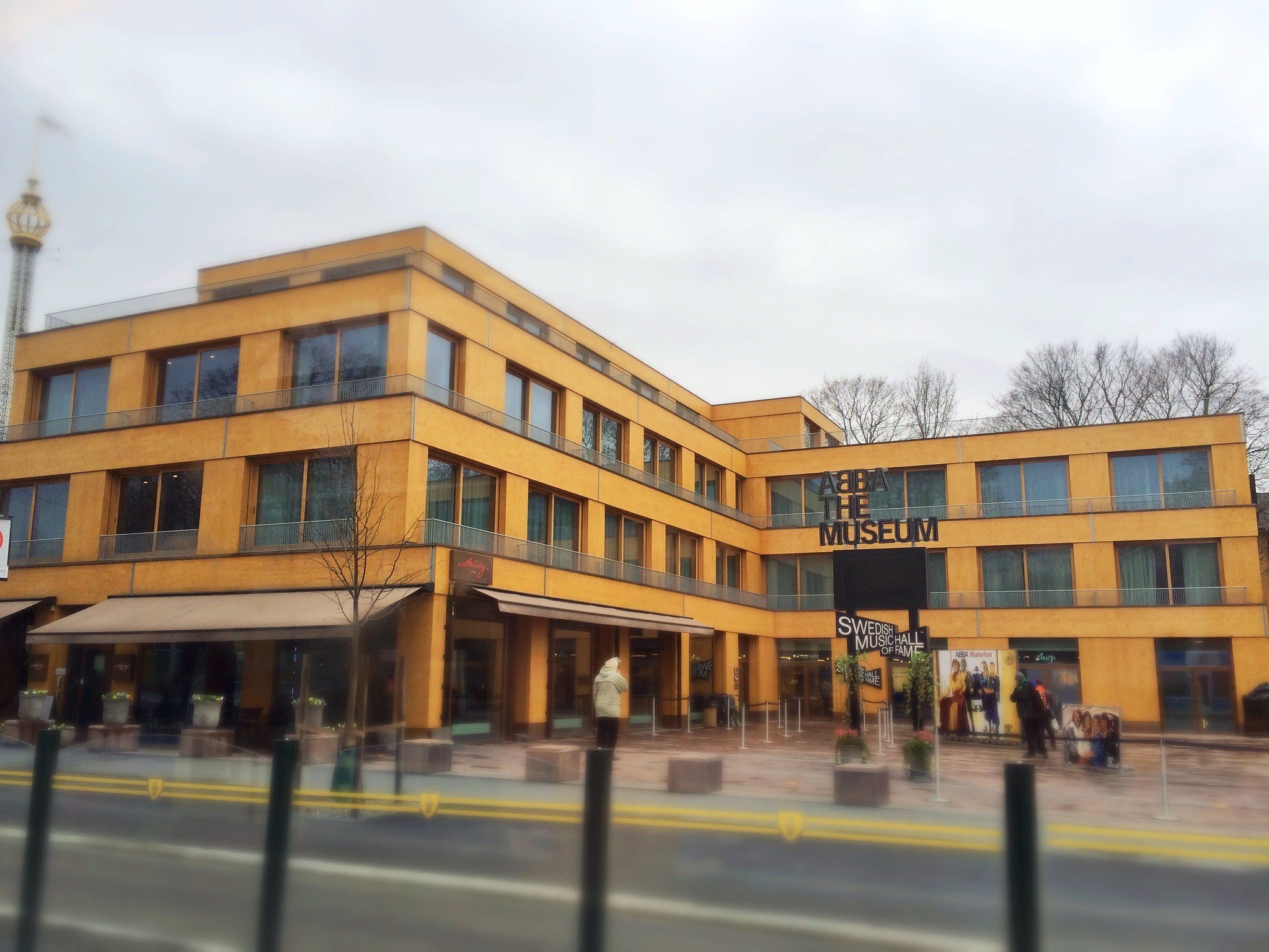 See memorabilia from most successful Swedish band of all time
Sing, dance, and try on outfits
Record your own performance and download it!
Why it's awesome: To some people, the Eurovision prize is just as important as the Nobel Prize (don't ask us who) but winning was what really established Abba as one of the most successful pop bands on all time.
This cool interactive museum allows you not only to find out more about the fantastic foursome's greatest hits and journey to superstardom but also to try your hand at some of the band's greatest songs! So, take a chance on Abba: The Museum and I'm sure you'll have a great day out!
What to do there: If you're not careful, you can easily spend a lot longer than you intended to at Abba: The Museum. Easily one of the most fun attractions in Stockholm, it's an interactive experience that will win over the heart of even the most pop music sceptic person out there!
Everything you do at the museum is recorded on your ticket: think photos, dancing, even recording your own version of Dancing Queen, and available to download online for 30 days after your visit. So, you'll definitely make some unforgettable memories here – I'll leave it to you decide if they're good or bad!
If you want to learn more about Swedish music, consider taking a trip over to the Swedish Music Hall of Fame.
#9 – Drottningholm Royal Palace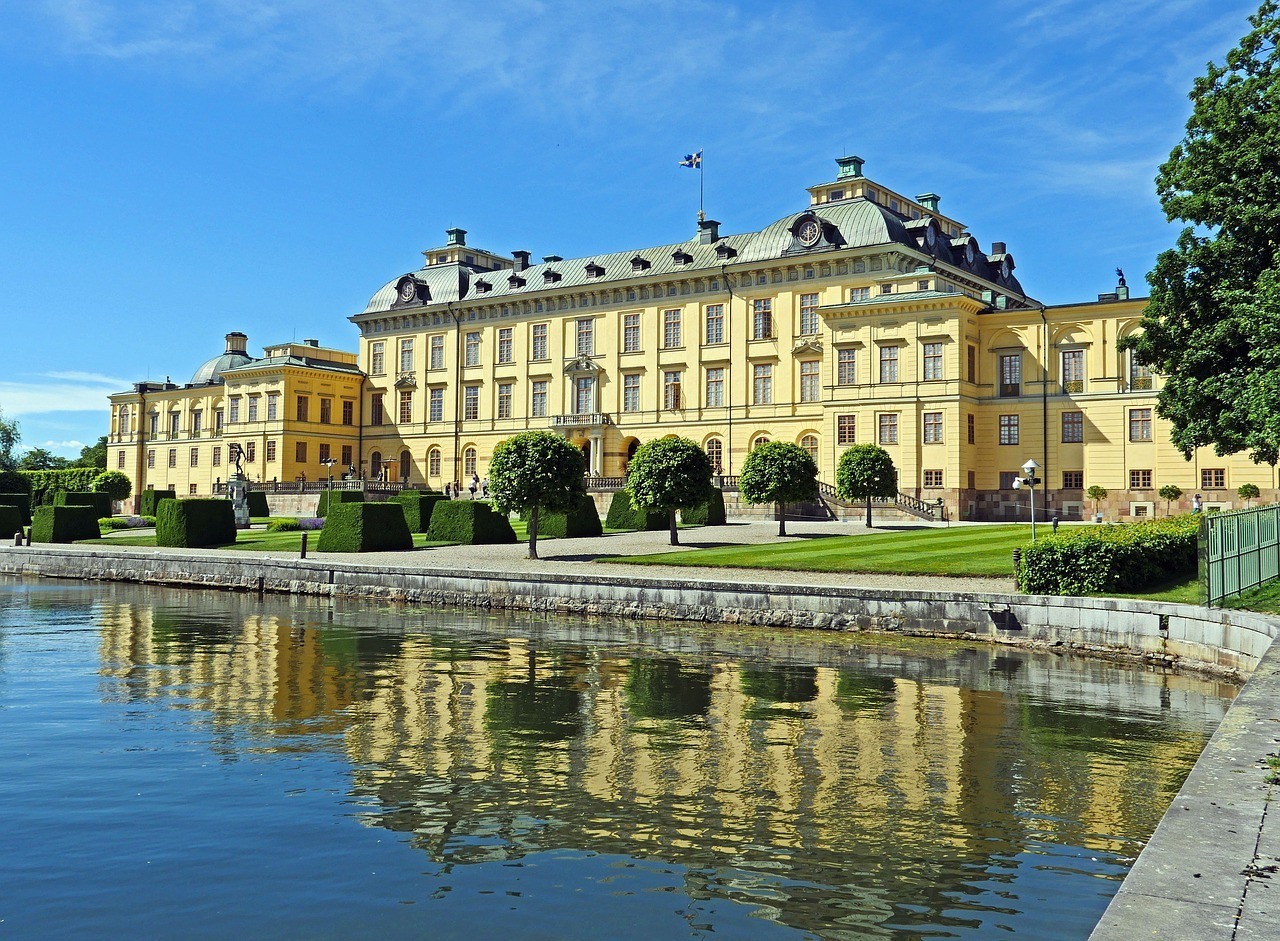 One of Stockholm's three UNESCO World Heritage sites
Royal Palace and

royal national city park

open to visitors all year round
One of the most famous places in Stockholm
Why it's awesome: You've already seen the Royal Palace, the Royal Family's official residence. So, let's move on to Drottningholm Palace, which is the private residence (also known as the queen's palace).
Although it's their private residence, the palace and the gardens are still open to the public, who can enjoy a Baroque Garden, Chinese Pavilion, and theatre! As well as that, the rooms and salons inside the palace are stunning, with different influences from the 17th century until now!
What to do there: Take a tour of this stunning palace to get an idea of how the Swedish Royal families of the past have lived. The best part of a guided tour is undoubtedly the Drottningholms Slottsteater (the Drottningholm Palace Theatre).
It's said to be the best-preserved 18th century theatre in Europe and it does still use the original stage machinery which is over 200 years old! After visiting the palace and the theatre, take a stroll in the beautiful Baroque gardens or the peaceful royal national city park.
#10 – Royal Djurgården – A beautiful and scenic place to check out in Stockholm
An oasis for nature lovers in the middle of the city
Several other attractions on this list are in the park
One of the most famous places in Stockholm
Why it's awesome: The Royal Djurgården is an island in the city centre of Stockholm, and the perfect place to escape from the hustle and bustle of the city. In days gone by, it was a park for gaming and hunting for the Royal Family, but now it's open to the public.
Many attractions that have already come up on this list are in the park, such as Abba: The Museum, Skansen Open Air Museum and the Vasa Museum. In addition, you can head to the Gröna Lund Amusement Park for a fun time!
What to do there: You'd think after all the stuff I'd already mentioned, I'd have run out of stuff to do, right? Well, there's so much going on in the Royal Djurgården that I've hardly got started. If you're on a budget, then this is the perfect accompaniment to staying in one of Stockholm's best hostels as it's free to stroll around or go for a jog.
If you're feeling a little lazier, you can always just take a picnic and lay down in the afternoon sun! There are a couple of museums that I haven't mentioned above, and even a lake which is great for birdwatching!
Is This the Best Daypack EVER???
#11 – Stockholm Metro Art Gallery
Witness incredible works of contemporary art on the city's public transport system
90 out of 100 stations are elaborately decorated
Stockholm vacation idea for budget travellers!
Why it's awesome: If you travel to Stockholm, you'll probably be getting around on the metro at some point. After all, there are over 100 stations that connect even the hardest to reach parts of the cities.
But you probably weren't expecting that these journeys would be so beautiful! The metro stations are adorned in contemporary art, sculpture, mosaics, paintings, and installations. The price of admission is just your train ticket, so get ready to be amazed!
What to do there: Sometimes when you're in a new city, you don't want to travel on the underground systems. That's because you'd rather be a street level, discovering new and unusual things to see – however with Stockholm, it's the other way round! Well… it isn't as it's pretty out of the Subway too, but you get my point!
The incredible preservation of the stations is loved by tourists and locals alike, and it means that there's very little graffiti, unlike some other major European capital metro systems!
#12 – Colour by Numbers
Control the colours of the Telefonplantower
A cool interactive exhibit
One of the more unusual things to do in Stockholm
Why it's awesome: Long ago, skyscrapers were just grey blocks that made the skyline impressive, but a little colourless. All that has changed in recent years, but Colour by Numbers is something really special.
At the time of writing, this is the only tower in the world where the colours can be customised from a passer by's mobile phone. All you need to do is download an app to paint the tower in whatever colours you desire. This is without a doubt one of the coolest and most interactive landmarks in Stockholm!
What to do there: Download the app and customise your own building! What's that though, you don't have a smartphone? No problem! You can also just call a number which enables you to change the colours using the numbered buttons on your phone.
If you're travelling from outside of the EU and you're worried about roaming charges, fair enough. But ask yourself this, how many chances are you going to get to see your own design on a skyscraper?!
#13 – Ericsson Globe Arena (Avicii Arena)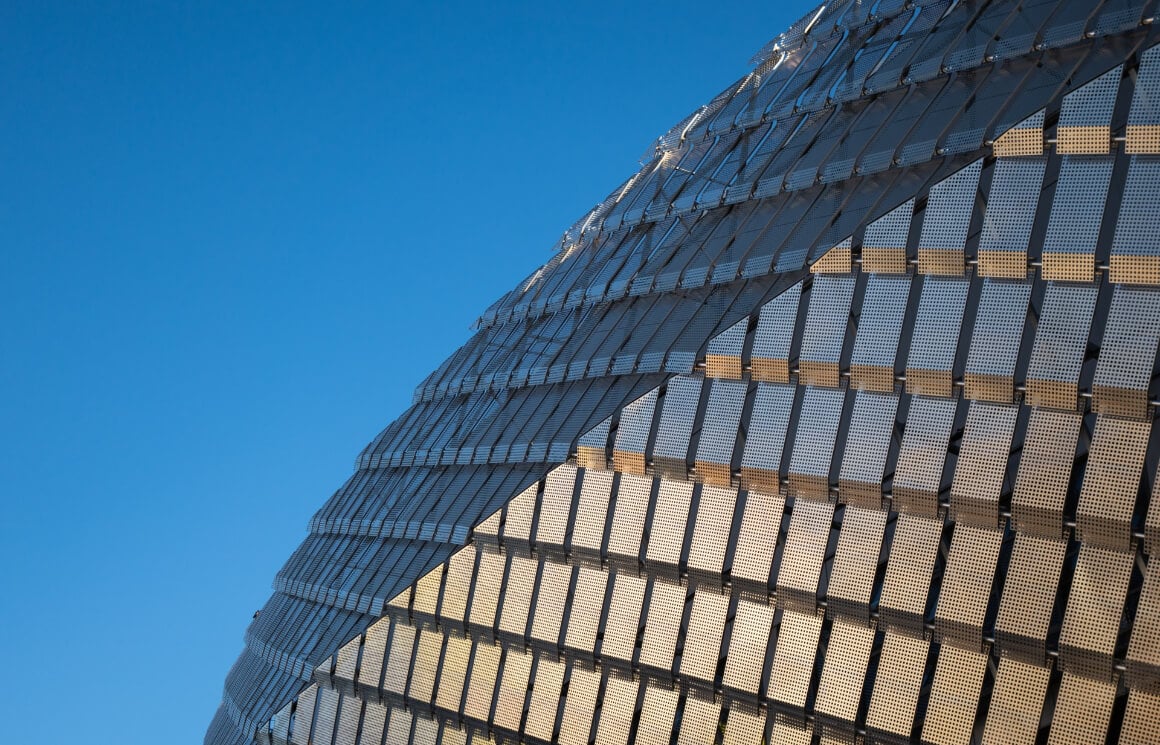 Witness the world's largest spherical building!
See a mile-wide view of Stockholm from above at SkyView
One of the best places to see events
Why it's awesome: If you love live events, be it live music or sporting events, then you need to take a trip over to the Avicii Arena, formerly known as the Ericsson Globe Arena or National Arena. It is the largest spherical building in the world and has been hailed as one of the best pieces of architecture in Sweden!
The Arena was renamed after the loss of the popular Swedish EDM artist Avicii in a bid to raise awareness for mental health.
The Arena is also the National Arena for the Swedish ice hockey team and can hold 13,850 people for sporting events, and 16,000 people for music events.
What to do there: if you're lucky enough to witness an event there, great for you! If not, then you can visit SkyView, a kind of pod on tracks that takes you to the top of the building where you can see panoramic views of Stockholm.
Get insured for your trip to Stockholm!
ALWAYS sort out your backpacker insurance before your trip. There's plenty to choose from in that department, but a good place to start is Safety Wing.
They offer month-to-month payments, no lock-in contracts, and require absolutely no itineraries: that's the exact kind of insurance long-term travellers and digital nomads need.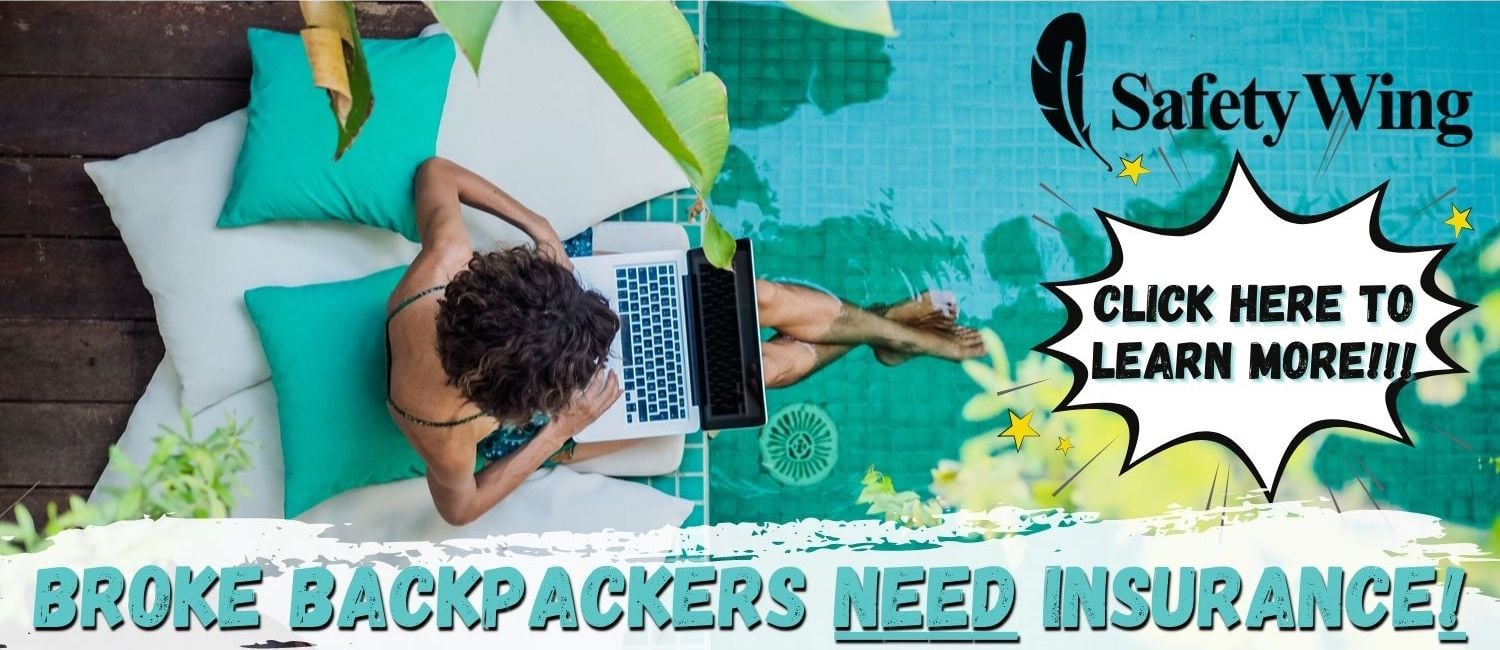 SafetyWing is cheap, easy, and admin-free: just sign up lickety-split so you can get back to it!
Click the button below to learn more about SafetyWing's setup or read our insider review for the full tasty scoop.
FAQ on the Best Places to Visit in Stockholm
Find out what people want to know about the best places to visit in Stockholm
Final Thoughts
So, that concludes my list of the best places to visit in Stockholm. I hope that you've found my list useful and informative and it's beefed up your Stockholm itinerary!
You should also have a better idea of the coolest neighbourhoods in town and be thinking about where to stay close to some of the best attractions on my list.
You'll hopefully also see that the Swedish capital is a wonderful place for a city break. With a rich selection of attractions in Stockholm, you'll never be bored. There's also a great food and drink scene as well as some pretty exciting nightlife!
I think my comprehensive guide probably has shown you not only how the best places to visit in Stockholm, but also how to see the city like a local. All that's left for us now, is to wish you a fantastic holiday!
---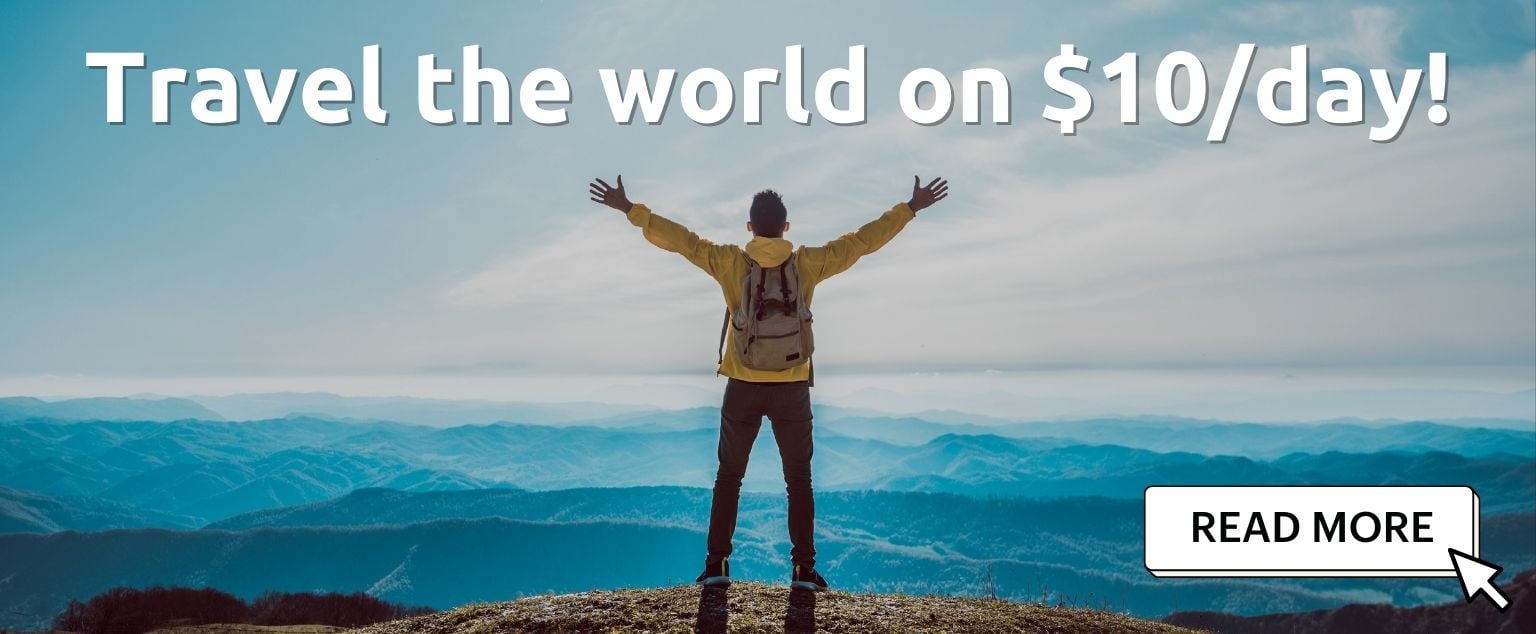 And for transparency's sake, please know that some of the links in our content are affiliate links. That means that if you book your accommodation, buy your gear, or sort your insurance through our link, we earn a small commission (at no extra cost to you). That said, we only link to the gear we trust and never recommend services we don't believe are up to scratch. Again, thank you!