Santa Fe is a vibrant and beautiful city that appeals to all types of visitors. Whether you're looking for outdoor adventure, cultural exploration, or simply a great place to relax and unwind, there's something for everyone in Santa Fe.
The adobe houses, the San Miguel Chapel, and the stunning desert landscape make Santa Fe a truly unique place to visit. New Mexico has long been a hot destination for those exploring the USA, and Santa Fe is the perfect place to start.
Santa Fe can become scorchingly hot during the summer months. The temperature might only say 85 but it's important to remember that in this desert climate. The heat is much more intense than in other places due to its lower humidity levels. So if you're looking to explore the outdoors, it can be a challenge to find activities and attractions that don't involve too much heat in the summer months.
In this guide, you will find all the information you need on when to plan your trip to Santa Fe. We'll cover a range of factors such as weather patterns, tourist traffic, affordability, and more so that your visit may be perfect for both you and yours! So don't wait any longer – read on and discover just what the best time is for an unforgettable journey in Santa Fe!
Best Time To Visit Santa Fe – The best time to visit Santa Fe is in September and October when the temperature is mild and there are plenty of outdoor activities available. All of the summer tourists have left and prices have slightly dropped.
Best Time For Walking Along Canyon Road – If you're a fan of art, then visiting Santa Fe in April and May is ideal. This time of year is when Canyon Road – the heart of Santa Fe's art district – comes alive with blooming wildflowers and vibrant colors as people gather to admire the works of various artists.
Best Time For The Mountains – The best time to visit the mountains around Santa Fe is during the fall and spring when temperatures are mild. You can enjoy outdoor activities like hiking and camping without extreme weather.
Best Time for Skiing – The best time to ski around Santa Fe is during the winter months when snow covers the slopes and temperatures are cold enough to enjoy some of the area's best resorts.
Best Time For Sightseeing – The best time to see Santa Fe's sights is in spring when the weather is warm but not hot and you can explore the city streets, museums, and galleries without having to worry about extreme heat.
Cheapest Time To Visit Santa Fe – The cheapest time to visit is from December to February when fewer people are visiting the city and prices for flights, accommodation, and activities are at their lowest.
When Is The Best Time To Go To Santa Fe
Santa Fe is truly stunning at all times during the year. It's one of the few places that experience the mildest versions of all 4 seasons. For the most pleasant weather, aim to visit in the spring or fall, while summers can be hot and winters cold but beautiful.
This magical town in New Mexico is at its busiest in summer due to the letting out of schools and many Americans going on vacation. However, the hot weather can make outdoor exploration difficult during these months. This is also the start of Monsoon season so there is an increased likelihood of rain. But this helps to cool off the desert sun and make for some pretty spectacular rainbows!
For those looking to beat the heat, you can catch one of the shoulder seasons. Spring is a beautiful time in Santa Fe with all of the spring wildflowers blooming and the temperatures ranging from 45-75 degrees. It's the perfect way to get rid of any winter blues that are trying to follow you into the year.
Fall is also a great time to visit, with cool evenings and warm days – perfect for getting outside or exploring downtown. And so many festivals! You can enjoy the Hot Air Balloon Festival down the road in Albuquerque, the Santa Fe Wine and Chile Fiesta, or the Traditional Spanish Market – just to name a few.
For the best deals, visiting at the start of the low season (November through March) can provide you with good savings on lodging and attractions. Santa Fe is one of the more expensive cities in New Mexico, so planning your visit around the cheapest times can be very advantageous.
Whether you are looking for outdoor adventure, cultural exploration, or simply a great place to relax and unwind. Santa Fe has something for everyone at any time of the year! Depending on what makes the most sense for you this article will help you plan your trip at the right time to get the most out of this magical southwestern destination.

Unlock Our GREATEST Travel Secrets!
Sign up for our newsletter and get the best travel tips delivered right to your inbox.
Best Time To Go To Canyon Road
One of the many highlights when visiting Santa Fe is taking a stroll down Canyon Road. Art galleries, boutiques, and restaurants line the street, making it a fun destination to explore. So much of the art is inspired by the stunning desert landscapes and brings the New Mexican culture to life.
The best time to visit Canyon Road is during one of the shoulder seasons – spring or fall. This will give you warm days perfect for exploring and mild evenings to take it all in. The colors are simply breathtaking during this time of year and you'll really get a sense of what makes Santa Fe special.
No matter when you visit, make sure to take some time to explore Canyon Road – it's one of the best parts about traveling to Santa Fe!
Best Time To Go Skiing In Santa Fe
The mountains in New Mexico are the perfect place to escape and enjoy some skiing in winter. If you're looking for an unforgettable ski experience, then Santa Fe is the ideal destination.
The best time to go skiing in Santa Fe is from December through March when snowfall is at its peak and temperatures are cooler. However, this is also when Santa Fe can get very crowded. You may want to try visiting in the early or late season for lighter crowds and cheaper prices.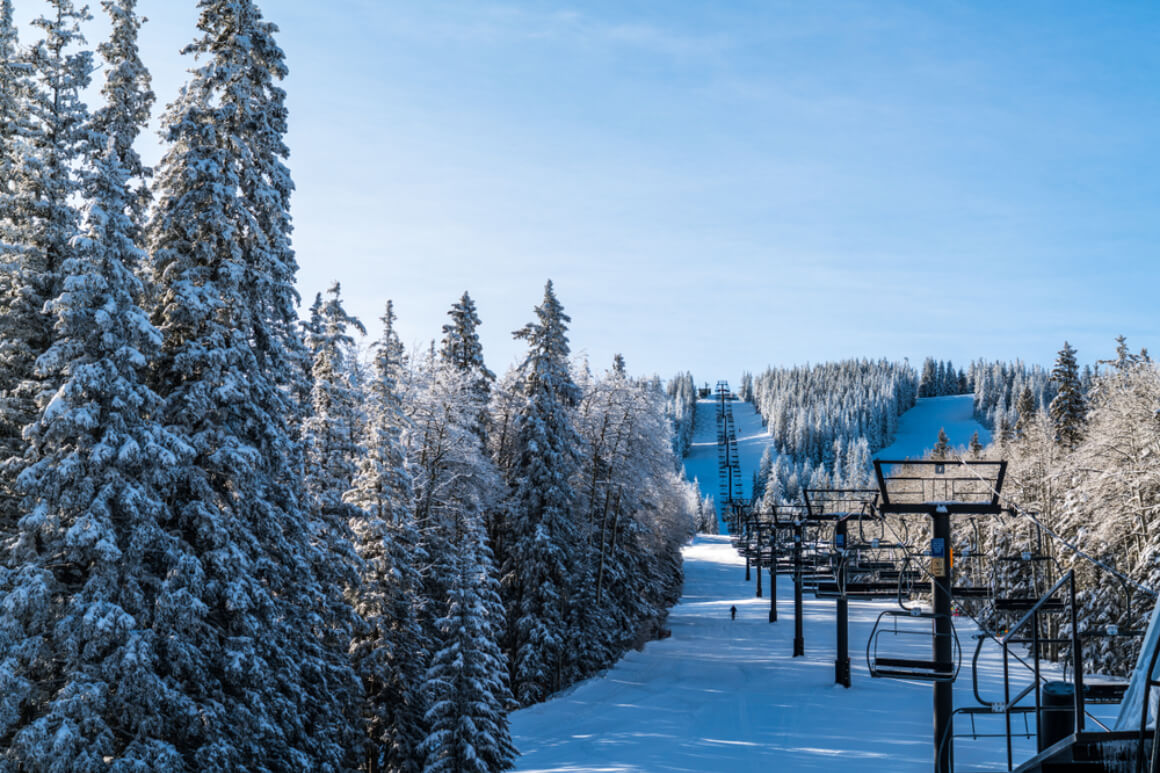 Ski Santa Fe is a medium-sized ski resort and is located just 16 miles outside of the city. It has over 60 trails and 7 chair lifts, offering plenty of options for all levels of skiers – from beginners to experts.
If you're looking for a bigger mountain, you can head to Taos Ski Valley which is located an hour away. This resort has the highest base elevation in New Mexico, and a wide variety of terrain to explore. It's also home to some of the best powder skiing in the state and has been voted one of North America's top ski resorts for over 20 years running!
The early season starts in late November and can provide a great skiing experience with warmer temperatures and good snowfall. Later in the season (from mid-February to mid-March) there are still excellent powder days and plenty of sunshine, but the temperatures can start to dip below zero.
Best Time For Sightseeing in Santa Fe
Santa Fe is such a cute little town. It has its own style and is full of artsy and eclectic vibes. There are a lot of things to do here, so when is the best time to visit for sightseeing?
Established in 1610 as a Spanish colony, the city's cultural heart lies within its classic Plaza. The encompassing historical area is composed of winding lanes that guide you past adobe monuments such as the Palace of Governors – the contemporary home to New Mexico's History Museum!
The best time to visit Santa Fe and explore the streets is during autumn, specifically from September until October. During this period, temperatures are mild and the air has a pleasant crispness – perfect for sightseeing! The changing leaves also add a hint of color to the photogenic views while crowds are minimal compared to the summer. It looks like golden hour all day long!
Come winter, Santa Fe sparkles with snow-covered roofs and cozy fireplaces. While the weather is cold at this time of year, there are many activities to keep you warm such as skiing, or visiting Christmas markets for some local holiday cheer. It's also an ideal time for stargazing as the low humidity ensures clear skies.
Finally, spring is a great time for outdoor adventures and exploring the city's nature trails. The March equinox brings warmer days, so although temperatures are still mild, you can take advantage of longer hours in the sun and plan hikes around Santa Fe's mountains and deserts.
The International Folk Art Market is held in July, so if you're looking for a great event to attend, this is your chance. During the festival, Santa Fe comes alive with art and culture from all over the world. Tourists tend to revisit year after year, so if you love art and culture, this is a must-see.
Small Pack Problems? 😉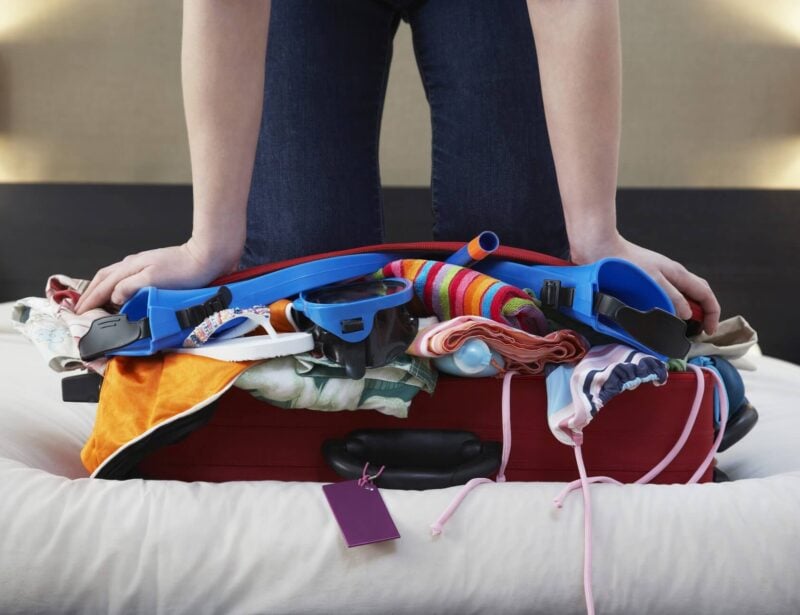 Wanna know how to pack like a pro? Well for a start you need the right gear….
These are packing cubes for the globetrotters and compression sacks for the real adventurers – these babies are a traveller's best kept secret. They organise yo' packing and minimise volume too so you can pack MORE.
Or, y'know… you can stick to just chucking it all in your backpack…
Get Yours Here
Read Our Review
Best Time For Visiting The New Mexico History Museum
The New Mexico History Museum is a must-visit while in Santa Fe. Located in the heart of downtown, it's the perfect place to learn about the state's long and fascinating history.
The museum is open year-round, but its busiest time is during summer when school holidays bring families and tourists alike. If you don't want to deal with the crowds, it's best to choose a time when students are away from school – like late fall or early spring.
The museum also hosts many educational events and talks year-round, so if you're looking for something more interactive, plan your trip around one of these events. For example, in November the museum hosts its annual "Night of the Dead" celebration. Attendees can learn about traditional and modern Dia de los Muertos (Day of the Dead) customs through a series of activities, art installations, and live music.
Cheapest Time To Go To Santa Fe
Best Time to Visit Santa Fe NM

| Expenses | Oct – Feb | Mar – June | Jul – Sep |
| --- | --- | --- | --- |
| Hostel | $30 | $31 | $32 |
| One Way Flight To Santa Fe From New York | $174 | $174 | $328 |
| Private Hotel Room | $135 | $225 | $150 |
| Activity (Santa Fe Scenic Train Ticket) | $99 | $99 | $129 |
Santa Fe is one of the more expensive places to visit in New Mexico. But, with the right timing, it can be a surprisingly affordable destination. The shoulder season (February-April and October-November) is the cheapest time to visit Santa Fe.
I would say that February is the true golden child when it comes to budget-friendly travel. The winter months enjoy mild weather and fewer crowds, which means you can get more bang for your buck when it comes to lodging and other tourist activities.
The prices in the summer can rise up to double what you would pay in the shoulder season. It is worth it for some people, especially if festivals and events are on your list of must-dos.
Busiest Time To Visit Santa Fe
Santa Fe is an all-season destination, so at any time of year, you can expect to find something unique and exciting. That said, the busiest time to visit is usually in the summer months (May-August). During this time, temperatures are pleasant with highs averaging around 85F and lows averaging around 65F.
This makes it ideal for exploring the city and its beautiful outdoor spaces like Cave Gulch Nature Trail, Atalaya Mountain, and Kasha-Katuwe Tent Rocks National Monument. Plus, with activities such as the Santa Fe Opera, Indian Market, and Spanish Market taking place throughout the summer months, there is plenty to do for visitors of all ages. For those who don't mind crowds, the summer months are a great time to visit.
Santa Fe is notoriously expensive during high season, making it important to plan ahead and book accommodations in advance to get the best deals. Prices for hotels and hostels can spike up to 40% between the spring and summer months, so budget travel during this time can be tricky. Flights tend to be more expensive as well with prices often over double what they are in winter.
A lot of times high season can be brutal in places and it can ruin a whole vacation. But I would say that the high season in Santa Fe is one of the best times to visit because there are so many activities and events going on. The city is truly alive and vibrant during the summer months, making it ideal for those who love a lively atmosphere.
Weather in Santa Fe
The weather in Santa Fe is a HUGE pro to visiting the city. The warm temperatures and sunshine that Santa Fe offers all year round. Santa Fe is located in the southwestern United States and has a semi-arid climate with hot summers and mild winters.
Winter in Santa Fe is mild, with average daily highs of around 55F and lows dipping to around 25F. While it may not be hot enough to swim at this time, there are still plenty of outdoor activities to enjoy. Skiing, sledding, and ice skating are all popular during the winter months and make for a great family adventure.
The spring season in Santa Fe is breathtaking with wildflowers blooming throughout the city. Daily highs average around 75F and lows dip to around 45F making it ideal for sightseeing and outdoor activities. Plus the lack of crowds makes it a great time to explore while getting some fantastic discounts on accommodations and flights!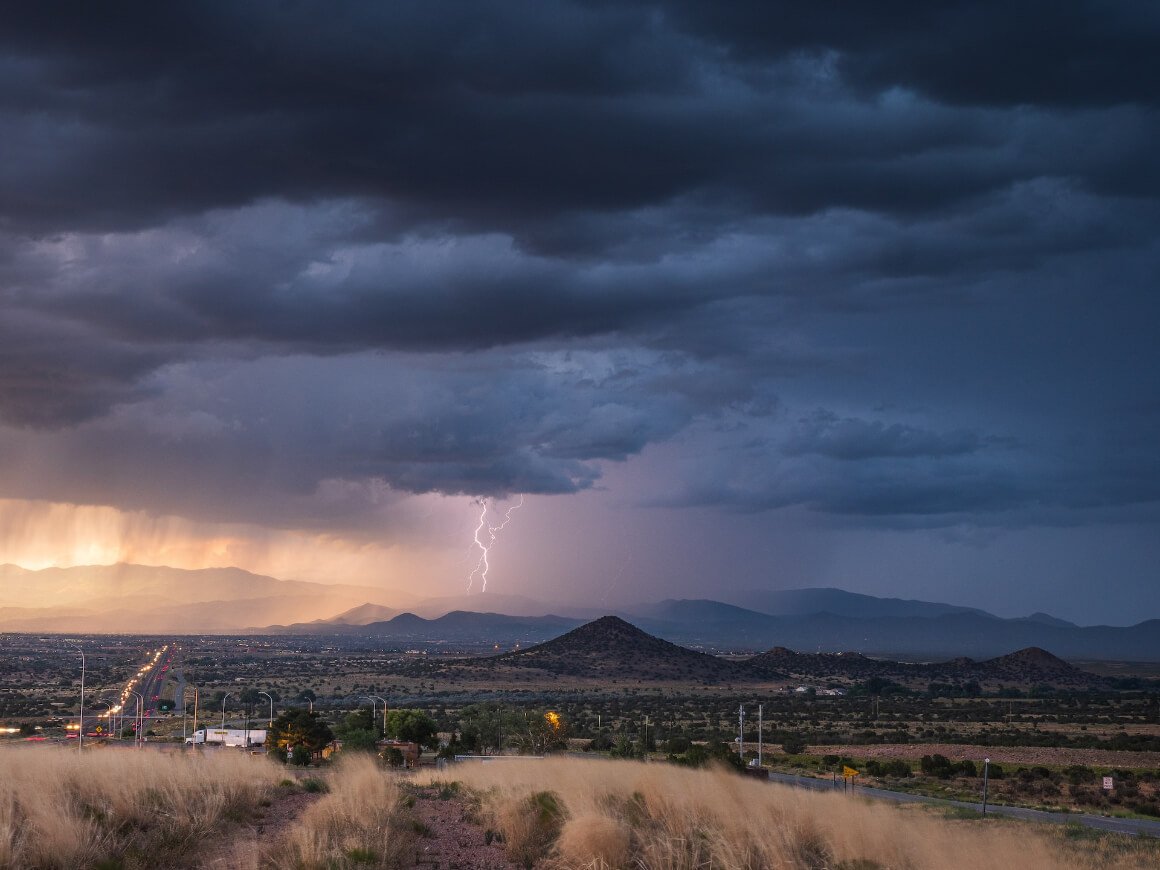 The fall season in Santa Fe is another great time to visit with pleasant temperatures, low humidity, and warm sunny days. With average daily highs reaching around 75F and lows dipping to around 50F, fall offers the perfect climate for outdoor activities. Plus, the city is still buzzing with activity as people return from summer vacation.
The greatest amount of rain usually occurs from July to September with an average of 9 inches per month. Winter is generally dry, but snow does occur and can accumulate up to several inches in some years. The temperature rarely gets below freezing so snow often melts within a few days.
Festivals in Santa Fe
Santa Fe is a city known for its vibrant culture and lively festivals. Whether you're looking for art, music, or food festivals, you will find it all here.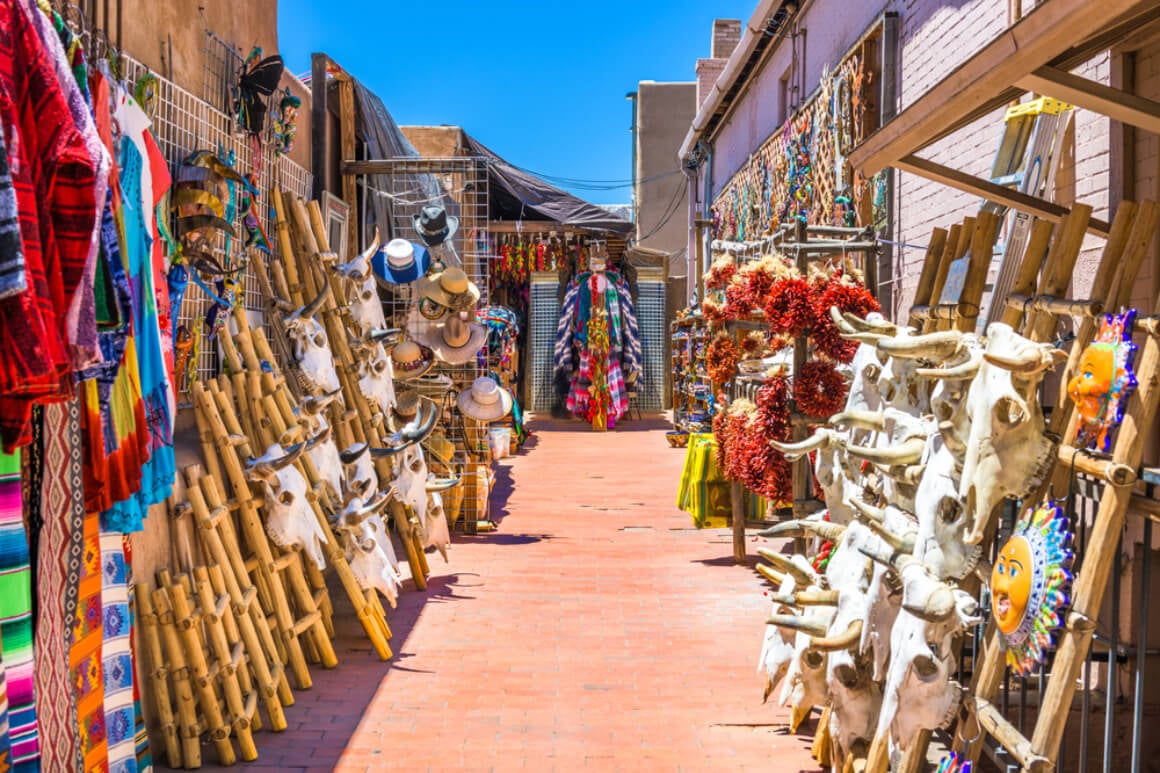 One of the more popular festivals is the Fiesta de Santa Fe. For over three centuries, Hispanic culture has been celebrated during Fiesta de Santa Fe! This joyous event dates back to 1712 and begins with the burning of Zozobra before nine days filled with parades, music, and merriment in honor of Don Diego de Vargas's reoccupation of Santa Fe in 1692.
Santa Fe International Folk Art Market
In July, join in on the festivities of the Santa Fe International Folk Art Market and get exclusive access to a global selection of art pieces. From handloom sarees from India to wood-carved Carpathian icons, you will find an array of colorful textiles dyed by renowned Amazonian craftswomen that can help bring your home décor up a notch.
Santa Fe Wine & Chile Fiesta
It doesn't get better than the Santa Fe Wine & Chile Fiesta in September. Experience a culinary journey like no other, as Santa Fe's highest quality cuisine is paired with the world's finest wines at this five-day event. Taste delectable dishes and pairings while enjoying cooking demonstrations that will leave your mouth watering.
The Spanish Market in late July brings together over 150 local and international artists. Discover the unique cultural artistry while enjoying traditional Spanish music, dance performances, and savory dishes from food vendors throughout the market.
The winter can be a little less active in Santa Fe, but you can still enjoy many exciting events like the Farolito Walk. Illuminate your night with farolitos, or luminarias—candle-lit brown paper bags. Join countless others in Santa Fe's much-loved Canyon Road arts district to observe thousands of little lanterns illuminating the facades and pathways! You can warm up with a yummy hot chocolate while you take in this marvelous sight.
International Balloon Festival
Lastly, the International Balloon Festival in Albuquerque is an experience not to be missed. With hot air balloons in the shape of cartoon characters, animals, and more flying around the sky, it's truly a sight to behold. This is one of the biggest festivals in the USA so prepare for crowds and higher prices around this event but it's so worth it!
No matter when you decide to visit Santa Fe, there's sure to be something exciting going on in this vibrant city! If festivals are your thing then make sure you plan your trip at the right time to experience all that Santa Fe has to offer
When To Visit Santa Fe – A Month By Month Breakdown
If you haven't already selected the perfect month for your Santa Fe getaway, this breakdown of what's in store each month may help make that decision a little easier. No matter which season or time of year you choose, there will be something special to experience here!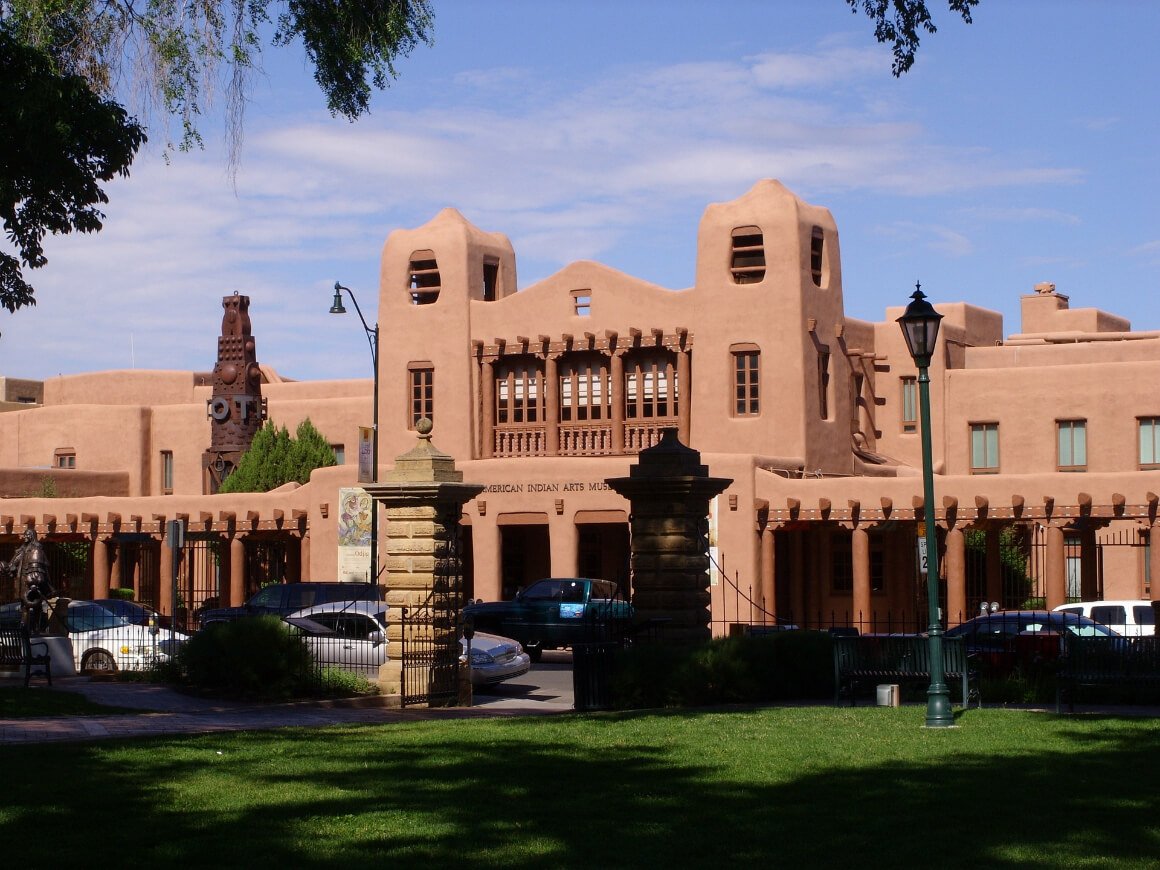 January
Even though it can get cold in the winter months, January is a great time to take advantage of all the amazing sales in Santa Fe. From art galleries to clothing stores, you can find some excellent discounts if you plan your trip right! Enjoy outdoor activities like skiing and snowshoeing while taking in the beautiful landscape.
February
For the least popular month to visit, February is still a great time to explore Santa Fe. Prices are really low for accommodation and you can take advantage of all the winter activities like skiing and snowshoeing!
March
The days in March begin to get warmer, so it's the perfect opportunity to go on hikes or bike rides around the city. Enjoy the warmer temperatures as you explore the galleries and museums of Santa Fe. This is the time to visit for budget travelers as prices are lower than usual but you will still have access to most of the activities during the busy months.
April
By April, things really start to heat up in Santa Fe. With temperatures reaching highs in the 70s, this is an ideal time to visit if you're looking for some outdoor activities like golfing or horseback riding. April brings forth the religious tradition of the Holy Week pilgrimage walk from Santa Fe to El Santuario de Chimayo. This is a really neat event to experience and will give you a look into the cultural side of Santa Fe.
May
The calm before the storm. May is the time to enjoy all the outdoor activities Santa Fe has to offer before the summer crowds arrive. Hike through nearby trails or take a leisurely stroll down Canyon Road and enjoy the beautiful scenery.
June
Time for all of Santa Fe's summer festivals! June brings forth lively musical performances, art galleries, and some really cool Native American ceremonies. Try to plan your trip for the end of June and you won't miss out on any of the festivities!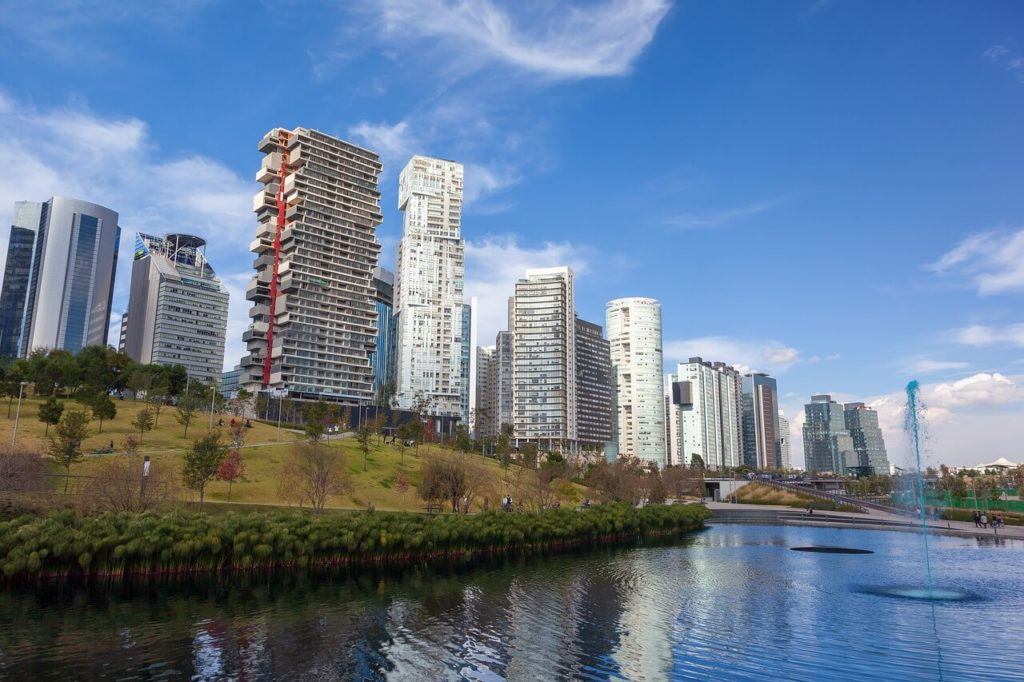 July
The Spanish Market takes place in late July and it is one of Santa Fe's most beloved events. This market brings together over 150 local and international artists, so don't forget to bring your wallet and shop 'til you drop! If you decide to go hiking or do some outdoor activities make sure you check to make sure rain isn't in the forecast as the monsoon season has taken over Santa Fe.
August
The summer heat is at its height by August, but that doesn't mean the fun stops. This is a great time to visit if you're looking for outdoor activities like river rafting and rock climbing. And don't forget about the Indian Market which takes place in August each year! Get ready to spend money though, this is when tourism is at its peak.
September
The summer heat starts to subside and the fall colors begin to appear. This is a great time for photography enthusiasts as the light creates a beautiful backdrop for your pictures. Take advantage of all of the outdoor activities before the weather gets too cold.
October
The leaves start to change and the air gets a little crisper in October. This is the ideal time to visit Santa Fe if you're looking for some peace and quiet before all of the winter festivities kick off. Enjoy the cool weather and take advantage of the low prices on accommodations during this time.
November
The temperatures start to drop and the holiday season starts to kick off. Tourists flock to Santa Fe for Thanksgiving, so make sure you book your accommodations early if you plan on joining in on all of the festivities! You can still do outdoor activities, just make sure to bundle up!
December
The holiday season is in full swing and the streets of Santa Fe are filled with lights and decorations. Take a stroll down Canyon Road and admire all of the local galleries, shops, and restaurants adorned with festive decor. You won't want to miss out on any of the winter activities like skiing or snowshoeing in the nearby mountains.
No matter when you choose to visit Santa Fe, you are sure to have a great time! With so many activities and events happening year-round, there is something for everyone. Just remember to plan your trip accordingly and you will leave with some amazing memories of this vibrant city! Check out our guide of things to do in Santa Fe to help with your planning.
The Future of the SIM Card is HERE!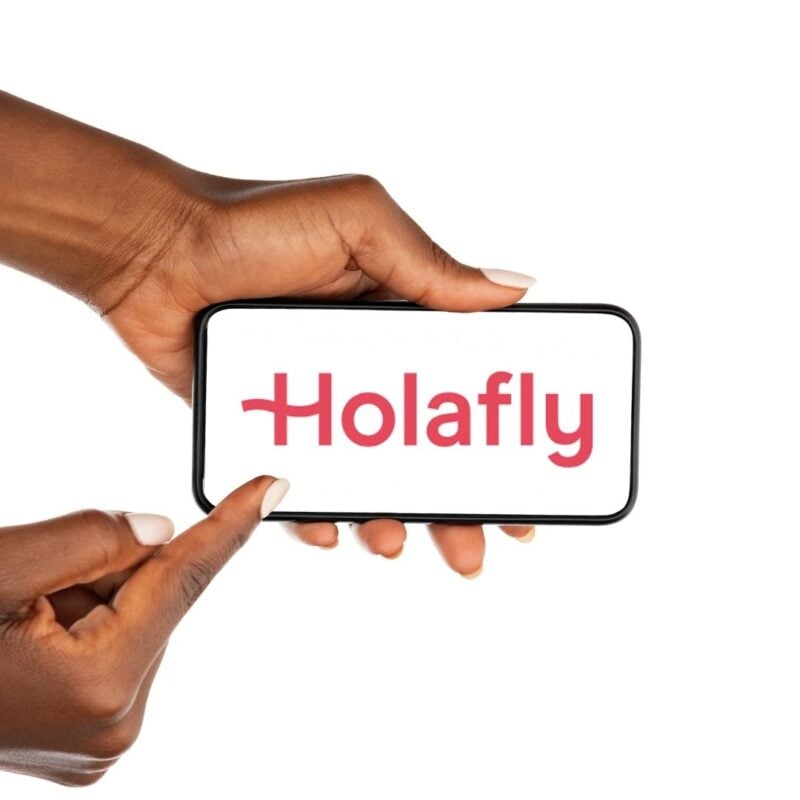 A new country, a new contract, a new piece of plastic – booooring. Instead, buy an eSIM!
An eSIM works just like an app: you buy it, you download it, and BOOM! You're connected. It's just that easy.
Is your phone eSIM ready? Read about how e-Sims work or click below to see one of the top eSIM providers on the market and ditch the plastic.
Grab an eSIM!
FAQ About The Best Time To Visit Santa Fe
Don't Forget Your Santa Fe Travel Insurance
ALWAYS sort out your backpacker insurance before your trip. There's plenty to choose from in that department, but a good place to start is Safety Wing.
They offer month-to-month payments, no lock-in contracts, and require absolutely no itineraries: that's the exact kind of insurance long-term travellers and digital nomads need.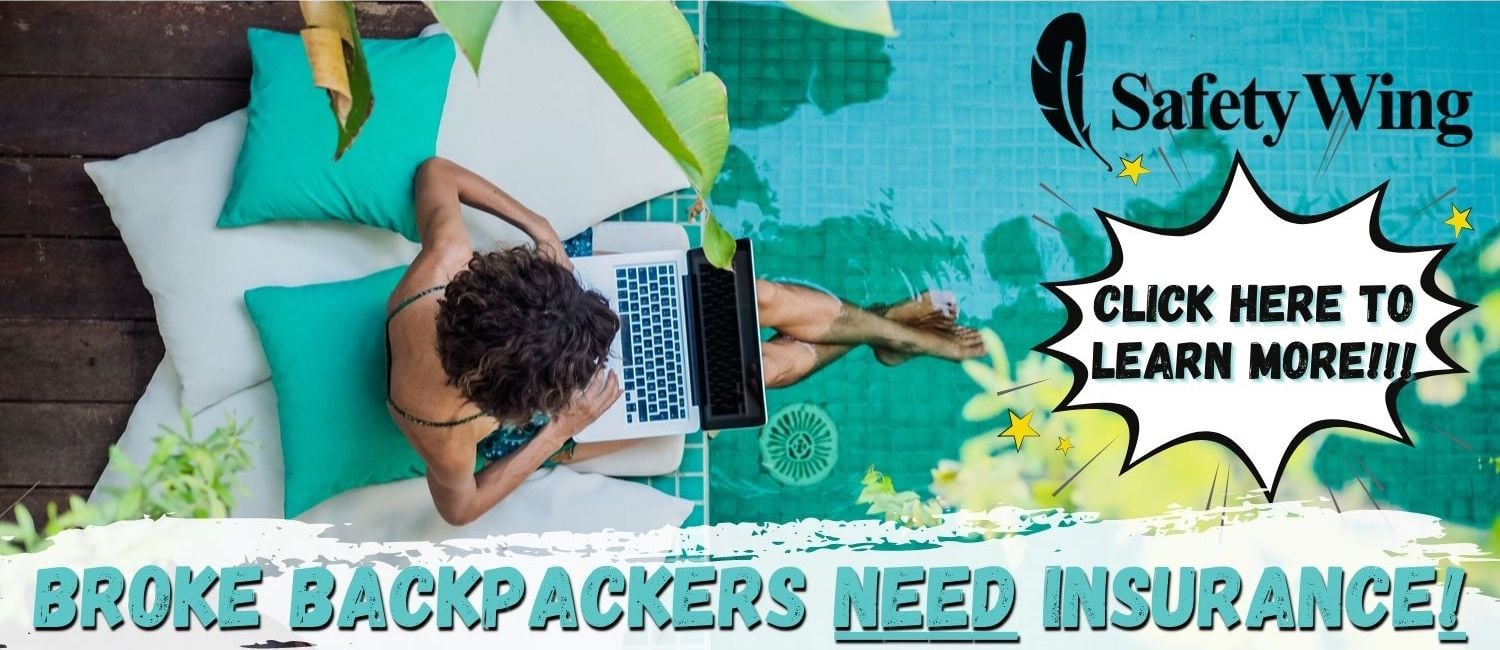 SafetyWing is cheap, easy, and admin-free: just sign up lickety-split so you can get back to it!
Click the button below to learn more about SafetyWing's setup or read our insider review for the full tasty scoop.
Final Thoughts on The Best Time To Visit Santa Fe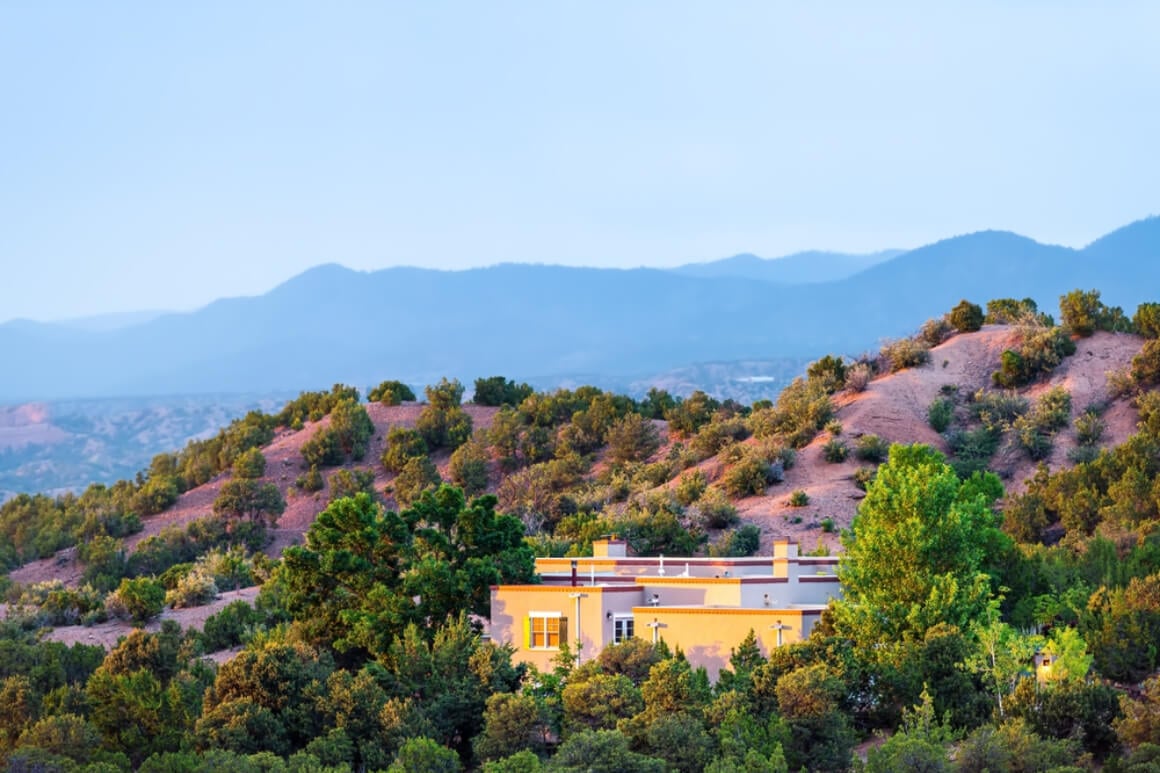 Whew! That's a lot of info! I sincerely hope that our Santa Fe itinerary guide has answered all your questions, and more importantly, will assist you in curating a remarkable adventure to this picturesque town. No matter when you go, your trip is sure to be nothing short of extraordinary!
Whether it's snow skiing in the winter or watching the sky filled with balloons in the summer, you're absolutely going to love it and have a fantastic vacation!
Santa Fe is your perfect escape for exploring the beautiful desert landscape and unique culture that the city has to offer.
---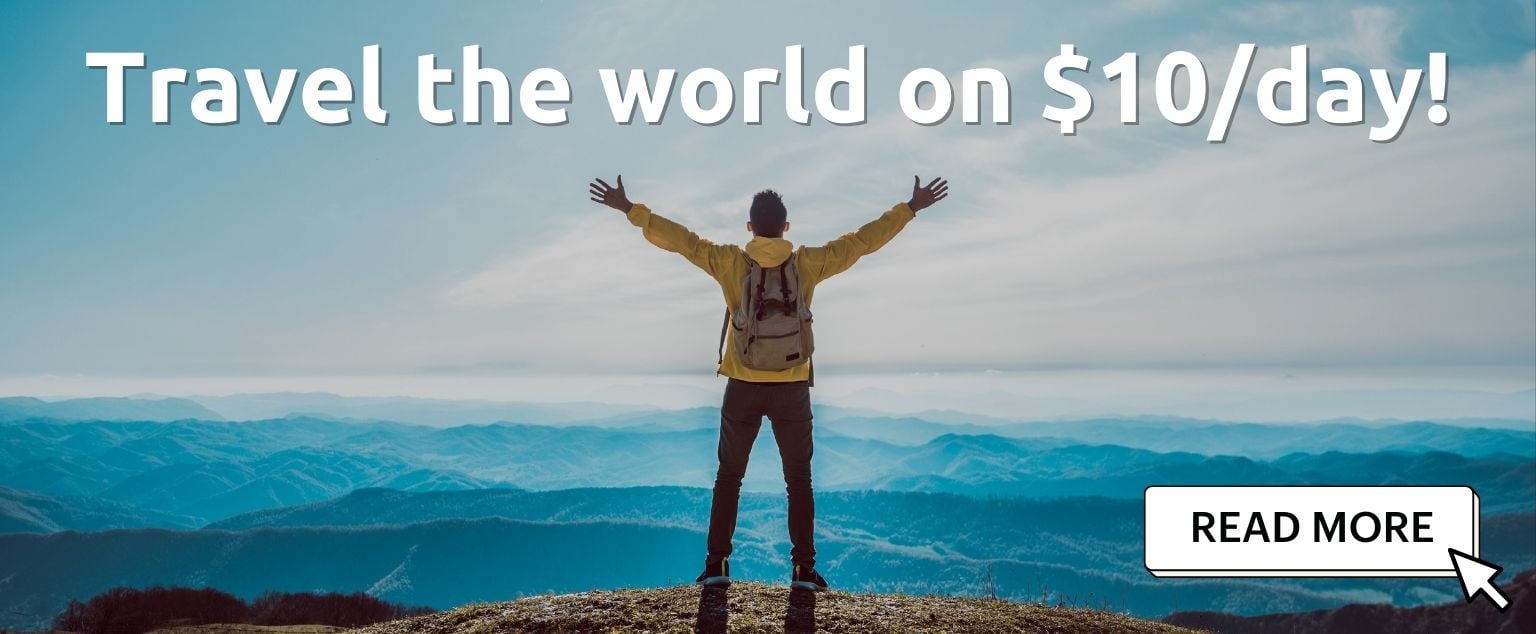 And for transparency's sake, please know that some of the links in our content are affiliate links. That means that if you book your accommodation, buy your gear, or sort your insurance through our link, we earn a small commission (at no extra cost to you). That said, we only link to the gear we trust and never recommend services we don't believe are up to scratch. Again, thank you!