If you're an intrepid traveller, then you've probably dreamed of going to New Mexico. This state doesn't see the same volume of tourists as other nearby states, but this just adds to its mystique. It means that you'll get the chance to enjoy the amazing outdoor landscapes, Native American Artwork, hot springs, and delicious food without the crowds!
New Mexico is dotted with small cities and towns, each of them with its own attractions and culture. You'll likely want to explore all of them on your trip, which is why it's so important to base yourself in the right place. It can be pretty daunting trying to figure out exactly where to base yourself, which is where we come in!
With this accommodation guide, you'll be able to work out exactly where to stay in New Mexico to suit your travel style and budget. We've gone and done the research for you – so you can spend more time packing and figuring out your itinerary.
Want to jump straight to it? Check out our top recommendations for accommodation in New Mexico.
Located close to Santa Fe's centre, this cute casita sleeps up to four guests. It's in a residential neighbourhood just one mile from the plaza and has simple, homey decor that includes a kiva fireplace and a full kitchen. There's also an enclosed, private courtyard, so you can also enjoy a slice of the outdoors.
Nestled in the heart of Santa Fe's downtown, this casita is located in one of the best areas to stay in New Mexico if you want to be close to everything. It's just blocks from the plaza and is a historic structure with lots of period details including Venetian plaster and wooden floors. It also has a private patio with an outdoor grill and seating, as well as a parking space and hot tub.
This hotel in Santa Fe is Native American-owned and sits in the Railyard District, with shops and restaurants just a short walk away. The guest rooms are Hacienda-style and have their own fireplaces and seating areas as well as all the usual modern amenities. The hotel boasts spa services, on-site dance performances, and historical storytelling sessions as well as an outdoor fireplace where you can sit and listen to Native American music.
New Mexico is the fifth-largest in the US. However, it's relatively sparsely populated, so you'll get to see the amazing sights without the crowds. There are numerous small towns to explore in this state, it's important you find one that suits your travel style, budget, and what you most want to see and do in this part of the world.
Santa Fe is one of the best places to stay in New Mexico for your first visit. It's a relatively large city and contains all the modern amenities you'll need to ease your way into travelling in this part of the world.
Las Cruces is known for its outdoor activities and magnificent natural surroundings. In this part of New Mexico, you'll want to spend all of your time outside and just need a place to crash for the night, which will make for a very wallet-friendly trip. It's the best choice for those visiting the USA on a budget.
The next area on our list is Cloudcroft, the best choice when you're deciding where to stay in New Mexico with kids. This mountain town is small, safe, and offers a good combination of activities in every season. There's more than enough here to suit every member of your travel group, that's for sure!
If you enjoy spending your nights getting to know the locals and travellers in bars, restaurants, and lounges, then you'll enjoy Albuquerque. This is the largest city in New Mexico, so you'll have lots of choices when you head out for a night on the town.
The final option is Chimayó, a tiny town with lots of history and culture that will give you a real sense of the more authentic way of life in New Mexico.
There are lots of hotels and hostels in New Mexico to choose from. All you really have to do is pick your area and then find one that suits your budget!
1. Santa Fe – Where to Stay in New Mexico for your First Visit
Santa Fe is one of the most recognizable towns in New Mexico, and it's also the capital. This is what makes it the best choice when you're deciding where to stay in New Mexico for your first time. The city is in the foothills of the Sangre de Cristo and has amazing architecture and an art scene that can't be beaten!
Santa Fe is famous for its Pueblo-style architecture. it's an amazingly atmospheric city, first founded in 1610 as a Spanish colony and filled with crooked streets and historic districts. It offers plenty to see and do, including amazing shopping and cuisine that's so good you won't want to leave!
Best Airbnb in Santa Fe: Zen Den
If you want to get out of the city and enjoy the natural surroundings, then this is the apartment for you. It's only 20 minutes from the Santa Fe Plaza, yet offers complete privacy and stunning sunset and sunrise views. The suite is located in the Eldorado Community and offers a small kitchen, a private deck, and enough space for up to two guests in the heart of the desert.
This casita is just a short car ride from the most popular attractions in the city and is in a gated and quiet community. The casita is separated from the main building and sleeps up to six people. It has its own kitchen, laundry facilities, and garden as well as direct access to La Tierra Trails.
This hotel is a great choice when you're deciding where to stay in New Mexico for one night or a longer visit. Boasting a spa, a casino, and more than nine dining options on-site, it's definitely on the list of the coolest accommodation in Santa Fe. The rooms are modern and spacious with all the usual amenities, and during your stay, you can play around at the hotel's top-rated golf course or brush up on your tennis skills.
Things to See and Do in Santa Fe
Have a meal at Coyote Café or Geronimo
See a show at The Santa Fe Opera House
Explore the city's history at the Museum of New Mexico Complex
Learn about this world-famous artist at the Georgia O'Keeffe Museum
Go shopping, eating, or people-watching at the Plaza, the city's center of culture and activity
Explore the Cathedral Basilica of St. Francis of Assisi, an amazing example of Romanesque Revival architecture built between 1869 and 1886
On Saturdays, pick up some local food at the Santa Fe Farmers' Market
Go skiing in the winter and wander the trails and look for birdlife at the Randall Davey Audubon Center in warmer months
Learn about folk art at the Museum of International Folk Art
2. Las Cruces – Where to Stay in New Mexico on a Budget
One of the best ways to have a great holiday on a budget is to get out into the great outdoors and enjoy some free activities, and that's exactly what you'll want to do when you spend time in Las Cruces. This small town lies in the south of the state, and really is an outdoor lover's paradise. Set in the Organ Mountains, the hiking, fishing, camping, and biking in this part of the state are absolutely incredible, so be prepared to get fit during your holiday!
Las Cruces is more than the best option when you're deciding where to stay in New Mexico on a budget. It offers great (if very spicy) food, access to local ghost towns, and some reasonably priced hotels as well. Basically, it has everything you'll want for an active and budget-friendly stay in New Mexico.
Best Airbnb in Las Cruces: Villa Casita
This villa is one of the coolest places to stay in New Mexico if you want to be close to everything. It's located in the farmland of the lower valley with easy access to Main Street. The studio apartment can sleep up to four guests and has its own kitchen, laundry facilities, and an amazing shared outdoor space including a beautiful pool!
With three bedrooms and two bathrooms, this home is a great choice for travelers with kids. It's freshly remodelled with sleek and modern spaces and amenities including granite countertops and a huge living area. It's also close to local shops and restaurants and has a great outdoor space with a hot tub, fire pit, and grill.
This Spanish-style hotel has to be in any good New Mexico neighbourhood guide. It has large rooms with seating areas, small fridges, microwaves, and coffee-making facilities as well as an airport shuttle to make your stay more convenient. There's also a fitness centre in the hotel, as well as a restaurant with an evening lounge.
Things to See and Do in Las Cruces
Gird your taste buds and try the Las Cruces Green Chile Trail
Learn more about the local area and its wildlife at the Museum of Nature & Science
Immerse yourself in the creative side of the city at the NMSU Art Museum
Try to catch a live demonstration on frontier life at the Fort Seldon State Monument
Taste some local wine at La Vina Winery
Surf or toboggan down the dunes at the White Sands National Monument
Try the local dishes at Chili's Grill & Bar or Alma's Kitchen
Put on your walking boots and go hiking in the Organ Mountains
3. Cloudcroft – Best Neighbourhood in New Mexico for Families
Cloudcroft is a mountain town that acts as the gateway to the Lincoln National Forest. It's a lovely little area with a real small-town feel and lots of activities to keep every traveller occupied. This is what makes it the best choice when you're deciding where to stay in New Mexico for families.
Cloudcroft offers everything from multi-day musical events to skiing and snowboarding in winter and hiking and camping in summer. Like most of New Mexico, it's also famous for its local arts and crafts, so make sure you check out the scene during your stay.
This cool house is unique and completely surrounded by nature. It has spiral, hand-built stairs leading to the upper levels and floor-to-ceiling windows that let in the forest surroundings. On the inside, it's all new and luxurious, with memory foam beds, LED lighting, fast Wi-Fi, and new fixtures. And yet with all the nature and hiking trails around, it's just a five-minute drive from the centre of Cloudcroft. This is what makes it one of the best places in New Mexico to stay.
Nestled on 10 acres of land, this New Mexico cabin is will keep your family cozy and comfortable during your stay. It's spacious and sleeps up to 6 guests, with two bedrooms and a great deck for taking in the natural beauty around it as well as a fully equipped kitchen. The cabin also has huge windows so you can watch the local wildlife enjoying the land as you make your breakfast!
Located right in the centre of Cloudcroft, this hotel has a restaurant, free parking, and a 24-hour front desk. The property has Wi-Fi throughout and serves an American breakfast every morning to set you up for the day. It also has rooms in a variety of sizes to suit every travel group.
Things to See and Do in Cloudcroft
In July, be a part of the action at the Jamboree Arts & Crafts Fair
Hike the La Pasada Encantada Trail, the Switchback Trail, or the Osha Trail
Go camping at the Sleepy Grass Picnic Area or the Silver Campground
Head to Ski Cloudcroft for family-friendly skiing, snowboarding, and tubing
Have a meal at Mad Jack's Mountaintop Barbecue or Big Daddy's Diner
Try some local creations at the Noisy Water Winery or the Cloudcroft Brewing Company
Check out the Bad Ass Mountain Music Festival in mid-June
Visit the Lincoln National Forest for natural caves, a variety of life zones, and pristine waters, and camping, hiking, and amazing scenery
4. Albuquerque – Best Neighborhood in New Mexico for Nightlife
Albuquerque is New Mexico's largest city and has something for everyone. This is where the TV show 'Breaking Bad' was filmed, and it also offers lots of restaurants, bars, and clubs – perfect when you're trying to decide where to stay in New Mexico for nightlife.
However, don't think that it's all movie sets and smoking bars. Staying in Albuquerque also offers great access to the outdoor scenery and activities that New Mexico is famous for as well as accommodation options at every price point. This is also where you'll be able to be part of the International Balloon Fiesta, a truly spectacular hot air balloon event.
Dating back to the 1880s, this old-style home has been renovated to include all the usual modern amenities but still retains its old-style charm. It's near the Plaza and the main transport road and has a private hot tub and a courtyard where you can enjoy the beautiful weather. It's also just a few blocks from local shops and restaurants, so you can enjoy the city's amazing nightlife.
Best Luxury Airbnb in Albuquerque: SneakAway
Located in the best neighborhood in New Mexico to stay in, close to all the best attractions of Albuquerque, this private guest house sleeps two visitors. It's a new construction with a private entrance, hot tub, pool, and a natural gas fireplace and grill. The guesthouse has one bedroom and two bathrooms as well as two decks with views of the Sandia Mountains.
This hotel is in the best area to stay in New Mexico for all kinds of travellers. It has a hot tub, outdoor swimming pool, and a fitness centre as well as large, comfortable rooms with modern amenities. The hotel also offers free breakfasts every morning so you can head out early to explore.
Things to See and Do in Albuquerque
Marvel at the dinosaurs at the New Mexico Museum of Natural History and Science
Go climbing, hiking, or camping in the Cibola National Forest
Immerse yourself in the area's Native American past at the Petroglyph National Monument
Stop for a meal at MAS Taps y Vino or the Foodtopia Restaurant
Enjoy the local nightlife at Uptown Funk Dueling Pianos, the Dragon Horn Tavern, or Founder's Speakeasy
Experience the darker side of history at the National Museum of Nuclear Science & History
See the landscape from above on the Sandia Peak Tramway
Indulge the kid in you at the Unser Racing Museum
Be a part of the Internation Balloon Fiesta and watch the hot air balloons fill the skies
5. Chimayó – The Coolest Neighbourhood to Stay in New Mexico
Chimayó is a short drive from Santa Fe, but it's a world away from the big city. Founded in the 17th century by Spanish settlers, it has deep spiritual roots and is an important Christian pilgrimage site. It's also filled with amazing history and architecture, which makes it one of the coolest places to stay in New Mexico.
This is a smaller town, so you won't find as many hotels and restaurants. If you want to stay somewhere authentic with a more lively community, you can stay in Taos which is only an hour's drive away. However, there is certainly enough in Chimayó to keep you happy and fed during your stay, and the history and surrounding Sangre de Cristo Mountains will more than compensate you for the lack of variety!
Suitable for up to four guests, this is a budget-friendly choice for small families or a group of friends. It offers amazing views and is very spacious with lots of room to move around. The loft is completely private and has its own kitchen and laundry facilities as well as a bathroom with a claw foot bathtub and a walk-in shower – everything you need for comfort with a touch of luxury.
This unusual entry needs to be part of any good New Mexico guide. It's an actual yurt with two bedrooms, suitable for up to five guests. Custom-built, it's on a 3.5 acre, an active farmstead in Chimayo, complete with chickens, goats, dogs, and an orchard. It has all the charm of a log cabin with modern amenities including a wood stove to keep the space warm, a full kitchen, and fast Wi-Fi.
Best Hotel in Chimayó: Casa Escondida Bed & Breakfast
Nestled in one of New Mexico's best neighbourhoods for history and culture, this B&B offers a full hot breakfast every day and is surrounded by six acres of land and views of the mountains. The rooms have their own bathroom and some also have a patio and seating area. There are also lots of shared spaces in the B&B, so you can get to know your fellow travellers or just relax in welcoming surroundings after a long day.
Things to See and Do in Chimayó
Explore the exhibits at the Chimayo Museum
Grab some souvenirs at the Rancho Chimayo Collection or the Chimayo Trading and Mercantile
Get out into the landscape at the North Lake Campground
Try out the trails at Chimayosos Peak or the East Pecos Baldy
Tempt your tastebuds at Leona's Restaurante or Rancho de Chimayó
See how people lived more than 11,000 years ago at the Bandelier National Monument
Visit the El Santuario de Chimayó, a National Historic Landmark where miraculous healings supposedly occurred hundreds of years ago
World Nomads' mission is to support and encourage travellers to explore their boundaries. They offer simple & flexible travel insurance, and safety advice to help you travel confidently.
They've been doing it since 2002 – protecting, connecting, and inspiring independent travellers just like you.
Get a quote below or read our in-depth review!
World Nomads provides travel insurance for travelers in over 100 countries. As an affiliate, we receive a fee when you get a quote from World Nomads using this link. We do not represent World Nomads. This is information only and not a recommendation to buy travel insurance.
There are lots of choices when it comes to hotels and hostels in New Mexico, so you shouldn't have trouble finding one that suits your budget and travel style. Then you can spend most of your time exploring the stunning landscapes and intricate local culture that this part of the world is so famous for.
If you're still not sure where to stay in New Mexico, we recommend Santa Fe. It offers a taste of everything, is easy to get to, and has loads of accommodation options for you to choose from.
Do you own an awesome hostel, hotel or apartment? Want to be featured in our list? Email [email protected] to find out how.
---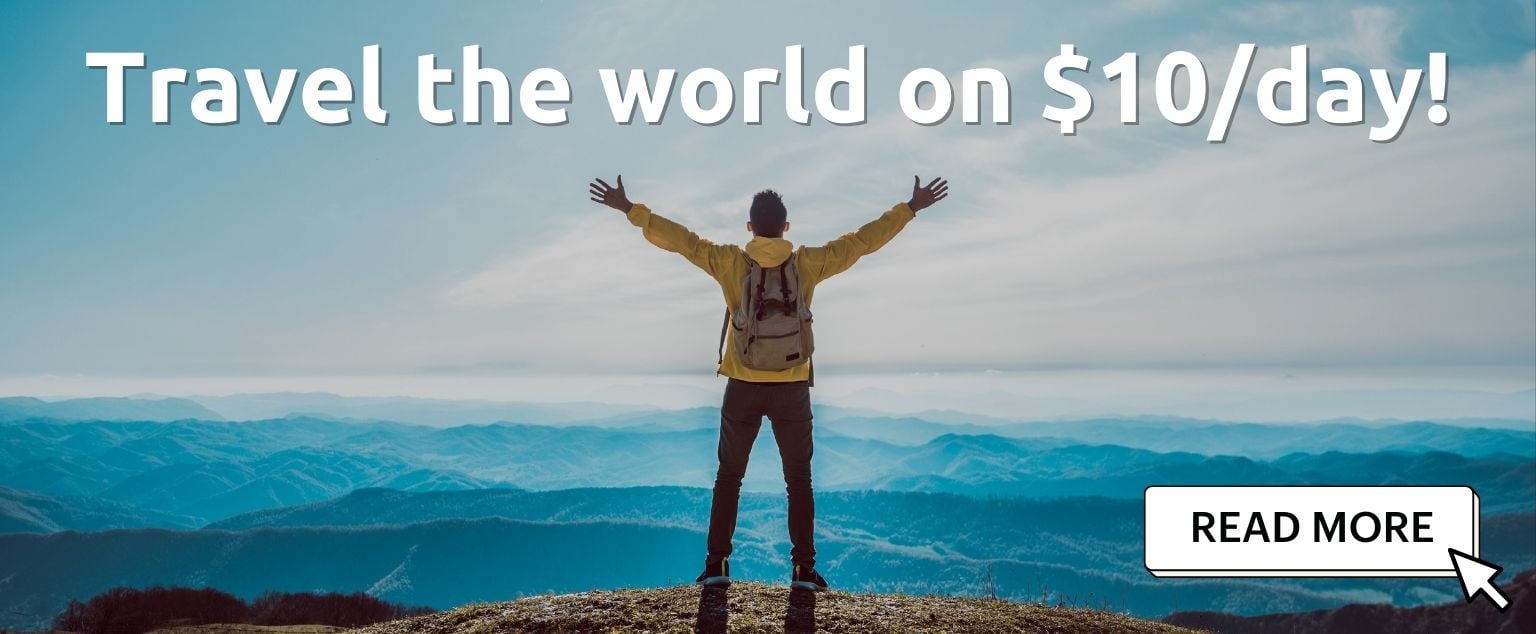 And for transparency's sake, please know that some of the links in our content are affiliate links. That means that if you book your accommodation, buy your gear, or sort your insurance through our link, we earn a small commission (at no extra cost to you). That said, we only link to the gear we trust and never recommend services we don't believe are up to scratch. Again, thank you!