As the most populous city in the state of New Mexico, Albuquerque is full of exciting things to see and do! It sits on the banks of the Rio Grande and abutting the stunning Sandia Mountains, offering the best of both the urban and the rural world.
You can get stuck into a range of activities here, whether it's hiking, dancing, or even trying out a hot air balloon ride!
However, with so much on offer, deciding exactly where to stay in Albuquerque can be tricky. The city offers a variety of neighborhoods, each suited to a different travel style.
To help you figure it all out, we've created this guide on the best places to stay in Albuquerque. Whether you're planning a solo adventure, a family get together, or anything in between, we've got you covered.
Albuquerque is one of the coolest places to visit in the US! Here are our top accommodation picks.
Best Budget Accommodation in Albuquerque: Downtown Inn
This hotel sits close to top attractions like the Natural History & Science Museum. It's ideal for families or groups, offering comfortable, well-equipped rooms. If you're visiting Albuquerque on a budget, then this is a great option.
This is a hotel is the peak of luxury. There is so much on offer: a fitness centre, two swimming pools, a restaurant, bar, and spa! Many of Albuquerque's top attractions are close by, but we wouldn't blame you for not wanting to leave the hotel!
Best Airbnb in Albuquerque: Downtown Spiral Staircase Charmer
This spacious Airbnb sleeps six guests, making it perfect for families or groups. The décor is super trendy, with a spiral staircase and rustic furniture, making this one of the coolest and more unique places to stay. It's ideally located just a short walk from the zoo and other top things to do in Albuquerque.
Albuquerque is a city full of history and is surrounded by absolutely stunning canyons, mountains, and walking trails. With the Rio Grande flowing through it, you'll be close to nature while still being in part of one of the most bustling and exciting metropolitan areas in the US!
Nicknamed "The Duke City" and "Burque", this city was founded in 1706 and is a must-see for anyone staying in New Mexico. The area surrounding Albuquerque is much older than that though, as you will be able to tell from the Petroglyphs which are nearby. These date back from early Native American presence here.
If you're discovering the city for the first time, then we recommend staying in Old Town Albuquerque. It's full of historic sites where you can learn more about the city's past and is full of shops and restaurants. It also offers a large variety of accommodation to suit a variety of travel types.
Taylor Ranch is another great spot to discover Alburquerque's history and offers cheaper prices on accommodation and food. This makes it the best option for anyone travelling on a budget.
Are you a night owl? Then look no further than Albuquerque North. Dance the night away and have adventures during the day in this exciting neighbourhood just a little out of the city centre.
To the west of the city centre, you'll find the Sandia Mountains. These towering features are one of the most stunning parts of the surrounding countryside, and are right next to the neighbourhood of Sandia Heights, which is one of the coolest places to stay in Albuquerque! Hike, swim or even take a balloon ride in this incredible area.
Finally, Huning Castle is the place to be if you're visiting Albuquerque with your family. With a range of amazing historical landmarks to explore and learn about, as well as museums and galleries to get your teeth into, there's something for all generations in this area.
The various districts of Albuquerque are all connected by a public transport system, meaning you can stay in the best place for you while still being able to explore other areas.
Albuquerque is a worthy stop-off point on any Southwest road trip adventure. Here's a little bit more information on each of our favourite neighbourhoods.
1. Old Town – Where to Stay in Albuquerque for Your First Visit
Albuquerque is an old settlement from the Spanish colonies, and the best place to learn all about this is in the Old Town. Don't be fooled by its name, this place is far from outdated. Not only are there some amazing museums, but you can go on ghost tours around the city's hidden mysteries, as well as visit some incredible buildings and landmarks with fascinating stories to tell. For the younger amongst you, this is also the setting for a lot of the hit TV show Breaking Bad!
If you're hoping to have a truly authentic stay in Albuquerque, then look no further than this delightfully historic casita. Just a two-minute walk away from Old Town Plaza and over twenty restaurants, the property is close to everything you might want to see and explore.
If you want to stay indoors or the weather turns bad, you'll be equipped to knock something up in the brilliant kitchen or unwind in the gorgeous living area.
Just because this hotel is the cheapest option in the whole of the Old Town doesn't mean that it is any less luxurious! It's ideally situated just a few steps away from attractions like Old Town Plaza and the National Museum of Natural History and Science.
The hotel offers an indoor heated pool and a free hot breakfast, and each room comes with a TV.
Modern, stylish and characterised by its Mexican flair, this hotel is the perfect way to experience New Mexican hospitality in the heart of the Old Town. There is a delightful outdoor patio for you to enjoy meals, an outdoor pool and hot tub for you to unwind in and each room is large and elegant.
Things to See and Do in Old Town:
Visit the Old Town Plaza to gain a true insight into this fascinating city. It's where Spanish Governor Cuervo y Valdes officially founded Albuquerque all the way back in 1706!
Journey through time at Albuquerque's New Mexico Museum of Natural History and Science. You'll find out all about the amazing wildlife that lives here now and in times of old!
Head to San Felipe de Neri Church – one of the oldest buildings in the city!
Are you a fan of the hit TV show, Breaking Bad? Then you're in the perfect place. Hop onboard an old school RV and take a tour featuring many of the show's locations including Walter White's house and Jesse's RV Junkyard.
If you're a night owl and have nerves of steel then you should take on The Old Town's Ghost Tour.
2. Taylor Ranch – Where to Stay in Albuquerque on a Budget
Just across the Rio Grande is this delightful neighbourhood, which offers more affordable accommodation and prices. It's for sure the best place to stay in Albuquerque if you want to have a brilliant trip without breaking the bank!
If you're a lover of the great outdoors, then this is the place for you. Parks, walking trails and national parks characterize this delightful area, so if you enjoy hiking and exploring, look no further.
Best Airbnb in Taylor Ranch: Casita Bella
You can't go wrong with this guest suite if you're traveling on a budget. Up to four guests can stay in this fantastic studio, which offers kitchen facilities, a private bathroom, and exclusive access to the hut tub. It's also got a great location – it sits in a quiet neighborhood, but is close to popular walking and biking trails.
Just minutes away from the Petroglyph National Monument is this charming hotel which, although cheap, offers loads of amazing amenities for you to enjoy. All the rooms have been newly furnished to provide a comfortable stay.
With a complimentary daily breakfast and a pool on-site, this place really is great value for money.
Best Luxury Hotel in Taylor Ranch: Sandia Peak Inn
This is a typically American-style hotel, so if you're looking for something authentic, then this is the place for you. Whether you fancy a dip in the indoor pool, want to relax in your own private, spacious room or fancy a stroll into town, you'll be well-catered for. Complimentary breakfast, a hot tub and a 24-hour front desk are also included.
Things to See and Do in Taylor Ranch:
If you want to expand your prehistoric knowledge, head to the Petroglyph National Monument. Here, you'll find rock art images up to 15,000 years old!
Throw on your hiking boots and make your way to the Pueblo Montano Picnic Area and Trailhead, where you can set off on an adventure of your own!
Head off into the great outdoors at West Bluff Park. You'll get some spectacular views overlooking the glorious Rio Grande.
Take a stroll around Mariposa Basin Park.
Cool off from the beating sun at Sierra Vista Swimming Pool. There's a water slide if you want a bit of fun or loungers for you to relax on!
3. Albuquerque North – Best Place to Stay In Albuquerque for Nightlife
As the name would suggest, this neighbourhood is situated to the north of the city centre, but you won't be far from the action! There's so much this area has to offer, especially for the night owls amongst you!
If you like your days as memorable as your nights (obviously in a good way), North Albuquerque has loads to offer you. Take a ride in a balloon and see the city from the sky, or take on the night at some of the best bars and nightclubs in the area!
Best Airbnb in Albuquerque North: Villa Simpatico
Fight off the hangover with a fabulous coffee machine, a huge sofa, and 60-inch smart TV! This villa has everything you need for an unforgettable and fun-filled stay in Albuquerque. It's also close to shops and bars, so you'll never have far to walk home (or drive if you'd prefer to take a cab).
This trusted chain of hotels will be a slice of home on your travels around Albuquerque, and you'll know that you're going to get top quality service. Enjoy the indoor pool, fitness centre, and, if you're visiting during the summer months, an outdoor pool and hot tub!
This hotel is the peak of luxury in Albuquerque North. There is so much on offer: a fitness centre, indoor pool, outdoor pool, restaurant, bar and spa! You may not want to leave this hotel but if you do, you'll be really close to some of Albuquerque North's best attractions.
Things to See and Do in Albuquerque North:
Visit the Indian Pueblo Cultural Centre to learn about Native American history.
If you're into your sport, the best place to visit is the Tingley Coliseum, the home of the Duke City Gladiators Indoor Football team.
Balloon Fiesta Park is a must-visit if you're not scared of heights. You can see the city from the skies, and if you're there at the right time of year, you can attend the annual Balloon Fiesta itself!
Feel like being a kid for the day? Why not head to Cliff's Amusement Park! With seasonal rides, rollercoasters and even a water park, you're sure to have a fun-filled day.
Take on the town at a variety of Albuquerque's awesome bars and nightclubs. Some of our top recommendations are Dr Nefario's Laboratory, Leo's, and Effex!
4. Sandia Heights – Coolest Place to Stay in Albuquerque
To the west of the city centre is this beautiful neighbourhood, backed by huge mountains and rolling countryside. This is the best place to stay in Albuquerque if you enjoy the great outdoors and getting close to nature, as it offers direct access to the Cibola National Forest.
With one of the longest aerial tramlines in the world, you don't have to hike to see great views here! There are also museums and galleries to explore.
The Sandia Mountain Getaway is the perfect New Mexico cabin for couples or solo travelers to enjoy private accommodation that's close to downtown amenities, but far enough to provide a quiet escape close to nature. The private room comes with a workspace, and guests have access to the kitchen and a shared bathroom.
Jump in the indoor pool and take full advantage of the free breakfast before embarking on adventures of your own in and around Sandia Heights. This hotel is a little closer to the town, but the mountains and countryside are just a short drive away. You can take a room or a full suite if you'd prefer a little more space to relax in.
Best Vacation Home in Sandia Heights: Amazing Family Home
With no less than four stars, this vacation home is the perfect retreat for you and your family. Boasting a ma-hoosive indoor pool, mountain views, and a garden from which to enjoy them, you'll be more than comfortable in this gorgeous house. With four bedrooms and a large kitchen and living area, you'll have plenty of space to relax after a day of exploring.
Things to See and Do in Sandia Heights:
The world's third-longest aerial tramline is right here in Sandia Heights! The Sandia Peak Tramway will take you up the Sandia Mountains and you'll have breath-taking views the whole way.
Speaking of the Sandia Mountains, why not climb one? Walkthrough the Cibola National Forest and up to Sandia Crest, where you can enjoy panoramic views of Albuquerque and the surrounding countryside.
If you're a bit of science nerd, head down to the National Museum of Nuclear Science and History.
Something a little different is the Anderson Abruzzo Albuquerque International Balloon Museum. It explores the history of balloon travel and even features a flight simulator!
5. Huning Castle – Best Area in Albuquerque For Families
For a quieter, more local, and more laid-back destination, families should check out Huning Castle. It's a friendly neighbourhood that sees less tourists than central Albuquerque, making it our top pick for families.
With brilliant museums, amazing wildlife resorts, access to the Rio Grande River and some gorgeous parks to stroll around and enjoy a family picnic in – there's so much Huning Castle has to offer!
This familiar brand of hotel is something familiar for you to enjoy with your family. Take the kids for a dip in the pool and enjoy a family meal together at the onsite restaurant. This hotel is ideally located just a short drive from ABQ Bio Park Zoo, as well as other popular places to visit.
Best Budget Hotel in Huning Castle: Downtown Inn
This hotel is a great option for families on a budget. Each room is pretty simple, but comes with air conditioning, a microwave, and an ensuite bathroom. The inn has an on-site pool and is a stone's throw from top attractions like the Natural History & Science Museum, so you'll have plenty to keep you entertained.
Best Airbnb in Huning Castle: Downtown Spiral Staircase Charmer
This is spacious Airbnb is ideal for a large family getaway! The décor is super trendy, with a spiral staircase and rustic furniture. The zoo, shops, restaurants, and other top attractions are just a short walk away, making this a great base for exploring the area.
Things to See and Do in Huning Castle:
Spend the day in Roosevelt Park, a chilled-out place to picnic and play games.
Albuquerque Biological Park is every kid's dream if they love animals and wildlife. You'll find everything here, there's an aquarium, a botanic garden, a zoo and even Tingley Beach, which has a fishing and boating lake!
Delve into the Turquoise Museum, located in a modern castle and displaying loads of turquoise jewellery and rare artefacts.
To see some wildlife in its natural habitat, take the family out on a day trip southwards to the Bosque del Apache National Wildlife Refuge. Dubbed 'as outdoor paradise', you can take a tour by car around this amazing site, following the Rio Grande river!
Here's what people usually ask us about the areas of Albuquerque and where to stay.
ALWAYS sort out your backpacker insurance before your trip. There's plenty to choose from in that department, but a good place to start is Safety Wing.
They offer month-to-month payments, no lock-in contracts, and require absolutely no itineraries: that's the exact kind of insurance long-term travellers and digital nomads need.
SafetyWing is cheap, easy, and admin-free: just sign up lickety-split so you can get back to it!
Click the button below to learn more about SafetyWing's setup or read our insider review for the full tasty scoop.
With its fascinating history, stunning scenery and eclectic culture, Albuquerque has so much to offer for travellers of all types! Whether you're planning a quick road trip stopover, a romantic getaway, or an all-out family reunion, there are some great accommodation options on offer.
If you're still unsure which area is best for you, we highly recommend checking out Old Town Albuquerque. This area offers plenty to see and do, aswell as accommodation to suit every traveller.
Have we missed anything? Let us know in the comments below!
Do you own an awesome hostel, hotel or apartment? Want to be featured in our list? Email [email protected] to find out how.
---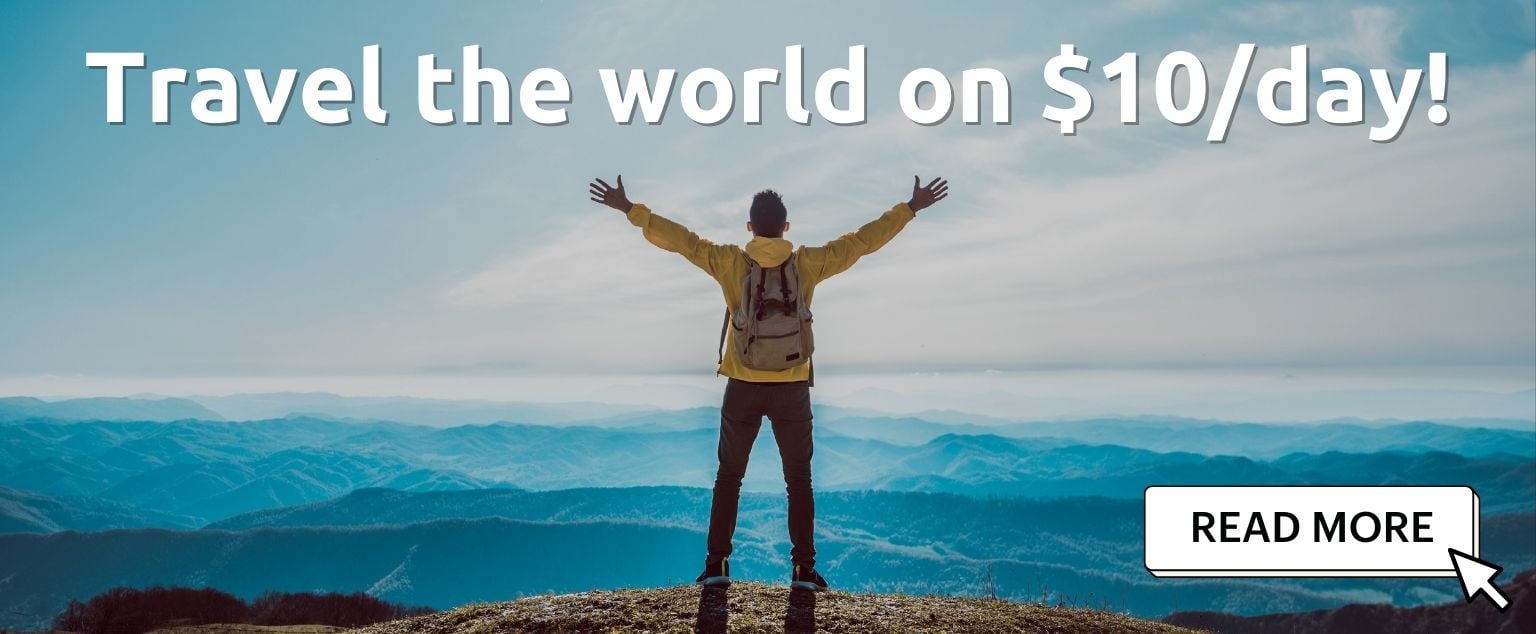 And for transparency's sake, please know that some of the links in our content are affiliate links. That means that if you book your accommodation, buy your gear, or sort your insurance through our link, we earn a small commission (at no extra cost to you). That said, we only link to the gear we trust and never recommend services we don't believe are up to scratch. Again, thank you!