Are you an aspiring travel photographer looking to up their game? Do you use social media as a means of posting your photos as well as gain insight into the traveling world? If so, you need to check out these 50 photographers who have some of the best travel Instagram accounts in existence right now!
Instagram has become more than just a space to share your casual, everyday eye candy. It is now one of the leading platforms for sharing professional work and multimedia from both artists and journalists.
More than just moments, many of the photos found on the best travel Instagram accounts are testaments to the travel lifestyle…
If you want to take better travel photos and become a more successful photographer in the community, then take inspiration from these awesome Instagram personalities. I myself am not that into social media, but these are the Instagrammers I enjoy following and find inspiration from for my own travels. 🙂
Some of these guys will undoubtedly be big names in the near future. Others have already established themselves as the best travel photographers on Instagram without any signs of slowing down.
Please understand that these Instagram accounts are listed in no particular order. We love all of out Instagram compatriots equally 😉
Introducing the Best Coworking Hostel – Tribal Bali!
Come visit Tribal Bali – Bali's first specially designed, custom-built co-working hostel…
Bali's most special backpacker hostel is finally open…. Tribal Bali is a custom-designed, purpose-built co-working hostel – a place to work, rest, play and stay. A place to find your tribe and hands down the best place in Bali to hustle hard and make new friends…
Snap a few pics around the massive infinity pool or pose with your coffee in front of the pink pool table. There are plenty of Instagram-worthy backgrounds to spice up your feed.
Top 50 Best Travel Instagram Accounts
The Most ICONIC Travel Instagram to Follow
Obviously, I'm going to start with The Broke Backpacker's very own (and new!) IG. Now you can get a fix of your favorite travel blog across multiple platforms, how sweet is that?
Expect travel inspiration, stories of debauchery, and sweet tips on how you too can travel on the cheap–forever!
The Traveling Instagrammer With the Tiniest Guitar
Stringed-instrument extraordinaire as well as a savant with stringing together words, Ziggy is the definition of a broke backpacker if I've ever seen one. And a damn impressive adventurer at that.
From dumpster diving, to vanlife, to truly hardcore India travel, this man has truly done it all. And now you can find raw adventure, doobies, and a whole lot of candid moments shared on Zigz' IG.
Aside from giving the rest of us dirtbag standards to look up to, Ziggy also wears many hats here at The Broke Backpacker. From daily admin to serious fiascos, the entire team would be a whole lot worse off without him.
Always fond of a good smoke sesh, you'd also be a fool not to eat up Ziggy's sage (and thoroughly detailed) advice on the wild, wondrous world of drug tourism!
Epic Landscape Travel Instagram
Sima is one epic young lady on a mission to inspire others to hit the road in search of adventure… She's Iranian and she specialises in MOUNTAINS! Usually, she's found climbing, hiking and taking photos in high up places.
Her mountain shots are simply stunning and she's a self-taught photographer so if you're looking to learn the craft yourself or simply up your game, follow her for plenty of inspiration!
Must-Follow Instagram – This Travel Blogger is Going Places
Ralph Cope aka Roaming Ralph began his career as a traveling content creator but was soon discovered by The Broke Backpacker to be a solid photographer.
He has since worked with the company in developing not only their photography department but also as an official photographer marketing content. We consulted him, of course, on the assembly of this article.
He's a talented and dedicated landscape photographer who stays true to his craft without playing into the overdone post-processing trends. He's currently leading tours into the Karakorum Mountains in Skardu and expanding trips into other remote mountain places. Check out this guy!
Best Adventure Travel Instagram Accounts
Besides being one of our beloved team members, Samantha is one of the most offbeat travelers I know. She's based in Pakistan, and her Instagram account features dope travel photography along with hella' informative captions.
Instead of continuous selfies, you can find a whole host of portraits, landscapes, shrines and whatever else Samantha happened to find inspiring while adventuring in Pakistan.
Aside from producing epic content here at The Broke Backpacker, Samantha also has her own travel blog and has been published in some pretty impressive travel publications.
Hands down, Alex is one of the most adventurous solo female travelers I know. She has traveled solo in Pakistan, like me and she knows her shit. She also takes incredible photos and her IG lives are pretty fucking hilarious… I dig her sense of humour. She's doing pretty amazing things 🙂
Best Instagram Travel Bloggers
Hannah and Adam are two globetrotting travel bloggers from the USA. They go to some of the most insane looking places you've ever seen. I'm very jealous of their incredible USA travels… I love these guys and we've gotten smashed together many a time.
I have never seen a photographer create such sublime and surreal photos like Scott. His photos are beautifully abstract, being mostly aerial… they are unlike anything else on social media.
Even when he isn't in the air, his groundwork is just as stunning and of has a revelatory quality. Scott is of my favorite photographers and definitely one of the best travel Instagrammers out there.
Elia is a kind of guru in the travel photography community, one who teaches just as much as he creates. He is a great photographer, to be sure, but more importantly, he is a great educator who supplies eye candy to supplement a good helping of food for thought.
Follow Elia for the occasional morsel of photographic enlightenment and be sure to check out his tutorials with Fstoppers and the like.
Stunning Landscape and Adventure Travel Instagram
I suppose no list of the top Instagram travel photographers would be complete without a mention of Chris Burkard, the current darling of the travel photography world. Every photo he puts out, be it from an epic surf trip in the Arctic or one from his backyard in California, is significant.
I personally look forward to every one of Chris' posts and have no problem saying that he is one of the best travel Instagrammers, hands-down.
Bordering the line between reality and surrealism, Robert creates digital art through his use of photoshop and photography. His posts are dreamy and borderline lucid. He uses a lot of tones between red and yellow.
Robert is one of the best digital art Instagrammers, so check him out!
Lots of travel photographers like to talk about how amazing life can be; few actually talk about how it can all go to shit.
Connor McCracken uses his Instagram to promote open dialogue about mental health problems and how travel can remedy them. He is one of the best travel Instagram photographers because of his candor and sincerity.
Cory Richards is a legend – a free camera wheelin' son of a gun with a penchant for wool jackets and perfectly trimmed facial hair.
His photos are among the most narratively rich and dramatic that I've seen, blending photojournalism and storytelling with travel, perfectly. He is certainly one of the best travel photographers on Instagram, ever.
Renan Ozturk received a great deal of attention for his role in Jimmy Chin's epic Meru. Before the fame, he was a rambler, and, most importantly a damn good painter (think Ansel Adams meets Ralph Steadman). His attention has since shifted to photography and between the two, his Instagram is full of amazing travel moments.
Evelina is an eco-travel Instagrammer, dedicated to making travel more sustainable. She's one of the only travelers making a point to travel without flying in order to keep her carbon footprint minimal.
If you are interested in travel BUT also strive to be a sustainable and conscious human, then give Evelina a follow and follow her advice.
Her content includes adventure travel inspiration, light packing, slow fashion, minimal living, slow travel, zero waste, and more!
Nikki is awesome… She's lived in a van for many years and posts some of the most incredible van-life stuff you've ever seen. She's now working on building an online income whilst driving her brand new, custom made, van all over Canada and the states with her very cute dog. I love Nikki big time and we had a lot of fun hanging out in Thailand together 🙂
Julia, with the help of her boyfriend, Chris (chrisrlocke), is taking the West Coast by storm with their snapshots, which are among the best travel photos on Instagram. Their work is characterized by epic vistas and the intimate moments that they share with it.
Having traveled quite a bit through New Zealand, Asia, and Europe, they're now back in the PNW.
Stunning Travel Instagram for Landscapes
Stephen Matera is one of the most reputable landscape photographers in the United States today. His work has taken him to some of the country's most magnificent corners, several times over. Every time he posts, he manages to discover something fresh about the US, making
In an age where many travel photographers are capturing the same, repetitive photos of the same, growingly-monotonous subjects, a couple of people like Kyle, are managing to be novel.
Working primarily as a conservationist in China, Kyle ventures out into the Chinese wilderness and captures some stunningly original photos. Still untouched by Western tourism, the Chinese wilderness is exotic and Kyle does great justice to it.
Best Travel Instagram Account for Obscure Destinations
Thomas is perhaps the only fine art landscape photographer (that we know of) that ventures to Pakistan, which is one of our favorite regions!
His work is glorious and is comparable to many of the best travel Instagram photographers out there. He also visits Greenland, Patagonia, Southeast, and many more adventurous destinations.
Jerome is currently on an epic trip through Central Asia and is putting out some of his best work yet! With his trusty 4×4 and camera both on hand, he is helping to blaze new trails in a region that sees little tourism. We also appreciate his own self-proclaimed broke backpacker roots 🙂
Sorelle is a next level human, and I have been extremely impressed by her depth, wisdom, and humor on what can sometimes be a superficial app…
She is best known for her #advancedselfie; you would never know her photos are taken with a timer and tripod if she didn't tell you! She shares tutorials and behind the scenes content on YouTube too. You should follow her; everybody should follow her.
Rachel Pohl and her husband @charles_post live and travel around the USA, specifically in the mountains and around Montana, where they hunt, fish, camp, and conserve. Yes, conserve.
Charles is a professional conservationist, and together he and his wife share thought-provoking conversations on Instagram about preserving wild lands and participating in the eco-systems around you.
Rachel is an artist and incredible painter as well. Together, Charles and Rachel's photos, work, and art are as mesmerizing as they are inspirational.
Having worked with many of Instagram's best travel photographers already, Marco is quickly making a name for himself as one of the leaders.
His work is mostly concerned with the mountains and tundras of the Arctic as well as his home in the Dolomites. The landscapes that he creates are near-flawless being both dramatic and vivid. For wilderness photographers, Marco is an inspiration.
Best Travel Instagram for Wildlife (and the Coolest Name Ever)
Art Wolfe is one of the great masters of modern travel photography so it makes sense that he'd have one of the best travel Instagram accounts! His work is superlative, celestial, even, and he has set the bar for most of the world's current travel photographers. No matter what the subject – be it human, animal, or Earth – Art Wolfe is one of the best at capturing them.
Joe is a traveling street photographer that has done a great job of bringing style and elegance to otherwise decrepit or oppressive objects. Being raised in Nairobi, Kenya, which is a city with plenty of grit of its own, Joe has had a lot of inspiration and subject matter to work with over the years. For streets artists, Joe is one of the best travel Instagrammers that you can follow.
Frederic is a different photographer. His photos are not the most attractive and certainly have a griminess that many find unappealing. Both haze and noise (the photographic kind) are readily apparent in his work, which can be off-putting.
I just can't help but feel like this guy is refreshing though. Like a good Schopenhauer thesis, Frederic manages to make photography interesting again with the frankness and brutality of his work. Go check out how is style earned his place among the best travel Instagrams.
Andrew is a traveling professional who specializes in nature photography and has worked with brands, such as Nat Geo, Yeti, Land Rover, Columbia, and more.
He has accomplished a lot, to be sure, but many photographers in this list have too. Here's the thing – Andrew is only 21 years old. Fuck, he makes me feel like a wash-up, and I'm not even 30 yet! If we could give Andrew any title, it'd be the best travel Instagram photographer who still has to pay extra for a car rental.
Like much of social media, John Price popped-up on my radar a couple of years ago out of seemingly nowhere. At the time, his photography, which concerned mostly alpinism and climbing, intrigued me.
Unlike most others on social media, he has consistently improved and keeps wowing me. His alpine photography is some of the most dramatic out there, which makes him, deservingly, one of the best travel Instagrammers today.
Jody is a special photographer who is able to blend narrative, journalism, and aesthetics seamlessly into her photos. Her work is varied but, in my opinion, has a profound sense of isolationism. Many of her subjects: man, beast, or land, feel cut-off from their world, and in doing so achieve a certain beauty.
For all you rockhounds out there that daydream about that epic send against the most stunning backdrop, Rannveig is the best travel Instagrammer for you.
This girl has journeyed to some of the best climbing sites in the world, like Maiorca, the Chinese Karstlands, and the Norwegian fjords; her photos are stunning. Props to the photographer(s) that she works with, but she's no slouch behind the lens either.
If you are a yeti (like me) who either lives or dreams of being in the mountains 24/7, then there's no better travel Instagrammer then Ben Tibbetts.
A mountain guide as well as a photographer, Ben mostly stick to the Alps though he constantly finds ways of reimagining these sometimes overly familiar mountains. His work is more akin to portraiture and does a great job of capturing the inner essence of each peak.
I have a hard time keeping up with this guy because he just goes to some many goddamn countries! Judging from his feed, there are few photographers who are as well traveled and active as this guy. If you're looking for an account that is consistently churning out diverse and high-quality photos, Jeremey @travelfreak is a great choice.
What makes Shannon one of the best travel Instagram photographers? Maybe it's that winning smile; maybe it's that charming Aussie accent, or maybe it's that she's one of the most active and passionate wildlife photographers on the 'gram.
We have to admit that Shannon's wildlife photography is astounding and speaks for her and itself.
If I were an outdoor retailer looking to photograph some adventure gear in epic fashion, I would reach out to Michael Clark immediately. This guy does such a good job of getting action shots, particularly those involving water sports.
His images are crispier than a bag of fresh chips and pop with vibrant, yet truthful color. Solid work, Michael.
Best Travel Instagram Couple (Plus a Dog)
Alex and Cody are digital nomads who travel in their own customized Mercedes van. Aside from their usual gigs (gotta pay the bills somehow), they do a great job of educating people about how they fabricated their vehicle and about what "the van life" is like.
For those curious about what it's like to live on the road and how to do it themselves, this couple has one of the best travel Instagrams for the nomadic lifestyle.
One of the most popular styles of photography these days involves creating photos with subdued and permeating shadows, which is achieved using a technique referred to as "crushing the darks." The result is a dusky-looking shot with a deep, brooding mood.
Now I don't know who started this trend but I can tell you who perfected it: Roman Königshofer. For as long as I've been following this guy, his work has been stylish and deeply pronounced thanks to his mastery of the shadows. Roman is the best travel Instagrammer for this particular school of photography, in my opinion.
This guy is an awesome photojournalist who has the ability to capture some of the most personal photos I've seen. Most impressively, he goes to some very off-the-beaten-path places like the Wakhan Corridor and the Karakorum.
If anyone has been to places like these, they will know how difficult it is to capture the local life, either out of lack of cultural comprehension or just being stonewalled. Koodos to Mathieu for doing these people justice.
There's a certain vulnerability to George's work that I can't put my finger on. Though his subjects often seem detached or distant in many ways, there's a certain playfulness to them as well.
Regardless of where Michael goes – he's primarily based in SoCal – his work is always fresh and I enjoy it quite a lot.
Jackson is one of the leading figures in the young travel photography world. He works harder, longer, and in more creative ways than many of his peers and you can see it in his photos. If he's not showing you some new clean-up campaign, he's posting an epic shot from some gorgeous island or beach. That's an Aussie for you, I guess.
Feeling anxious to get outdoors? Do you have the irrational desire to hang on precarious ledges or over fatal cliffs? Well, Jeff feels the same way! This IGer is all about escaping to the wild places and getting his kicks in, both figuratively, and sometimes literally! Check out his page for some adventure inspiration.
Two traveling Italian lovers rediscover the beauty of their own country – shocking News: Italy is gorgeous – and that of several countries abroad…what's not to love?
Thankfully, Marco takes beautiful photos, with a dreamy, Barbara Walters-like effect, and often travels to lesser-known places. He is one of the rising stars in social media and soon to be one of the best travel Instagrammers in the business.
If you need some more inspiration for traveling in Italy, check out these love birds!
Patrick has been making rounds in the international photography world for some time and has definitely established himself as one of the best working travel Instagrammers. He is primarily a landscape photographer and has a great eye for composition and dramatic lighting. He is definitely one of the best travel Instagrams if you're interested in fine art photography.
Benjamin's work is not like the usual travel photographers who shoot sweeping landscapes or romantic getaways. Instead, his photos are very abstract, surreal in a way because of their color palette and composition. He is so unorthodox that I think his work belongs in an art show more so than a travel Instagram page.
Jay is a fantastic photojournalist who has captured some of the most unique and downright dizzying photos that I have seen on Instagram. Somehow, someway, Jay is able to capture singular moments in the midst of what looks like sheer chaos.
His portraits are ecstatic, his wildlife photos are dynamic, and his still lifes are revelatory. All-in-all, he is definitely one of the best travel Instagrams that you can follow.
Quinn AKA @everchanginghorizon is another leader in the travel photography community that seems to be everywhere at once. His work is epic and dramatic sometimes but it never takes itself too seriously.
Like the wanderer that he is, Quin's photography is joyous and free. His hard work has definitely earned him the right to be called one of the best Instagram travelers today.
Much like @everchanginghorizon, Elise AKA @roundtheworldgirl just appears to be a lady having fun with her camera. Granted, she's traveled to lots of amazing places and has taken some equally amazing photos, but I guess that's why she's one of the best travel Instagrammers right now. If only we could all be as carefree and wild as Elise.
Top Travel Account for Climbers
Jimmy Chin has become an icon of sorts in the adventure community. From skiing to climbing to photography to filmmaking, his work spans multiple mediums and multiple subjects. Jimmy Chin can seemingly do it all, capturing incredible adventures through his camera lens.
He is an inspiration to all fledgling adventure enthusiasts and definitely one of the best Instagram travel photographers working today.
There's an edginess to Mutua Matheka that I really enjoy. With the intense use of primary colors, the likes of which reminds me of arthouse directors like Nicolas Winding Refn, and sometimes harsh lighting, Mutua creates some very visceral photos. For those looking for something more stylized than the other travel photographers, this guy runs one of the best travel Instagrams for you.
Jonathan is a Nat Geo photographer who does a bit of everything and does it all well, of course. Chases through the Savannah? Check. Epic mountains? Check. Underwater selfies? Check. Check.
To those who like to see a bit of variation in their favorite travel Instagram profiles, Johnathan is one of the best that you can find.
A solo woman traveler from India, Priyanka is an inspirational traveler breaking down barriers with her stories, and beautiful, raw photos. I have a special place in my heart for solo travelers who travel to adventurous places like Pakistan and India (her home country). She has a way of showing you the authentic people and places in a country, not just the cookie-cutter versions of travel.
Priyanka's uses HDR and saturates her photos, but her work still remains genuine and artistic. She has a good eye and captures emotion in her photos.
---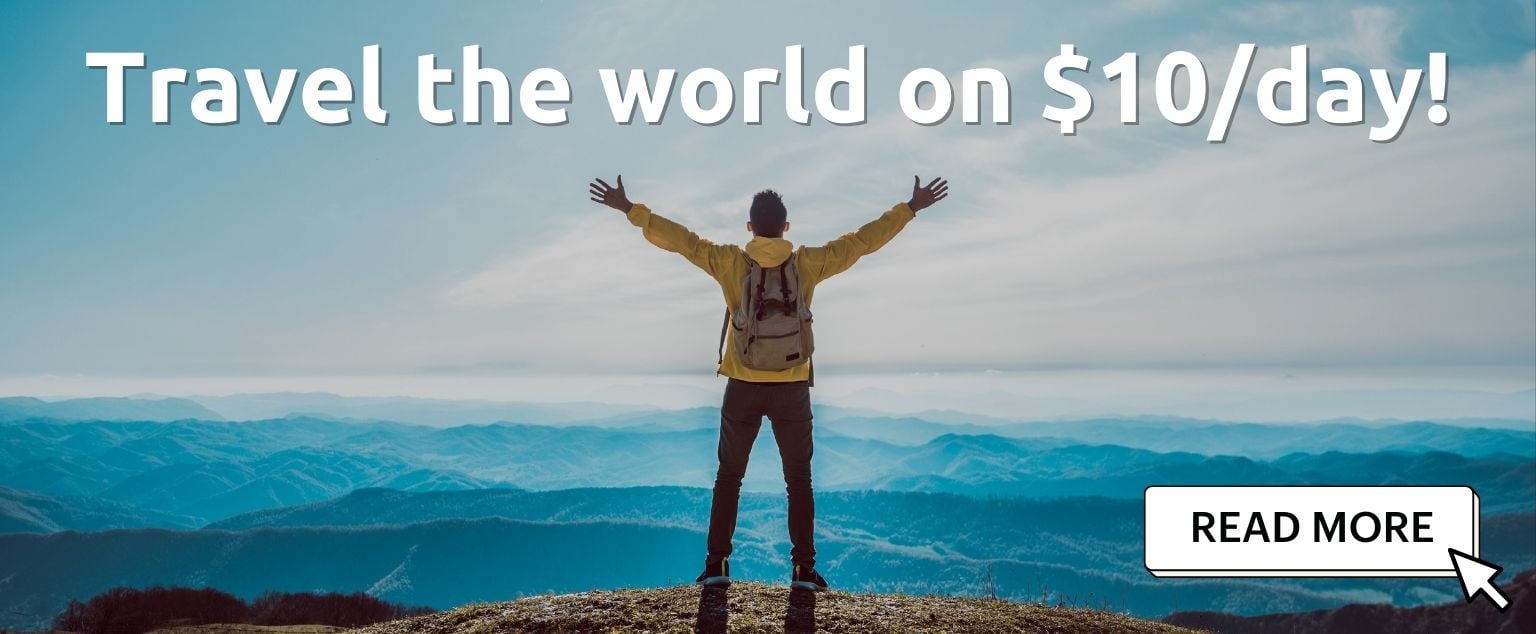 And for transparency's sake, please know that some of the links in our content are affiliate links. That means that if you book your accommodation, buy your gear, or sort your insurance through our link, we earn a small commission (at no extra cost to you). That said, we only link to the gear we trust and never recommend services we don't believe are up to scratch. Again, thank you!