With its highland mountains, year-round colorful foliage, insane winter sports, tons of wildlife, beaches, and vineyards, Massachusetts has a ton of incredible outdoor activities to enjoy.
The grandeur of Berkshire and lobster rolls in Cape Cod will have you coming back every year for more. So if you're heading off to The Bay State for your next round of adventures, you're in for a treat.
But when it comes to choosing an accommodation option in Massachusetts, a plain old hotel room won't cut it. With so much nature and wilderness to explore, the best way to experience this natural beauty is by staying in one of the best cabins in Massachusetts.
Found deep in the woods, nestled under mountaintops, or along the shores of the lakes, cabins allow travelers to enjoy their surroundings as abundantly as possible, whilst still having access to homely comforts.
In the vast and versatile lands of Massachusetts, finding a cabin that suits your needs can be quite a job because of the sheer amount of them, and every one of them is alluring. That's whyI've prepared this guide to the best cabins in Massachusetts so that you can find the perfect cabin for you. Let's get exploring!
In a Hurry? Here's Where to Stay in Massachusetts for One Night
FIRST TIME IN MASSACHUSETTS
Is this amazing Massachusetts Cabin booked for your dates? We've got your back with our other favorite properties below!

Unlock Our GREATEST Travel Secrets!
Sign up for our newsletter and get the best travel tips delivered right to your inbox.
Staying in a Cabin in Massachusetts
To experience Massachusetts at its finest, you simply must rent out a cabin. These rustic dwellings give you ample privacy, allow you to interact with the lovely mountain and lake communities of the state, and most importantly, they provide views from your window that are quite different from your everyday skyline.
Cabins in Massachusetts are cosy and comfortable, even the rustic ones are purposefully so, to give you the impression of living in an original cabin. While you might be thinking cabins are rickety and run down, you'll find it hard-pressed to find one that doesn't come with luxurious amenities in this state.
One thing you'd find in almost all cabins in Massachusetts is access to large acres of land outside. And these green lands have just as many amenities and details on the outside as they do inside. Outdoor showers, lakeside gazebos, kayaks, canoes, fire pits, hammocks, decks, hot tubs, and sitting areas are just some of the common features found in the areas surrounding the cabins in Massachusetts.
The cabins in Massachusetts are found in all shapes and sizes, from massive luxury ones to host a large group of guests to small, intimate ones for solo travelers or couples. The price range is also quite vast and you'd easily find budget-friendly, mid-range, and luxurious cabins in Massachusetts' most popular spots.
What to Look For in a Cabin in Massachusetts
Of course, before choosing a cabin in Massachusetts, you must consider the location first. Massachusetts is a huge state and not possible to see all in one go. If you're looking for a retreat amongst nature, look at places to stay in The Berkshires. If you only have a short time, look at places outside the city, so you can have a weekend in Boston.
For those who are venturing into the woods for the first time and want seclusion without being too far away from the population, there are cabins located just a few minutes from towns and big cities. Some are even located in lake and mountain communities where you can see other cottages and cabins from your porch.
Mountains in Massachusetts are popular tourist spots, especially during the winters when skiing and snowboarding enthusiasts rush to the mountains, whereas summer and fall bring most people towards the woods, lakes, and beaches.
You can always trust the cabins in Massachusetts to have all the modern amenities that you would find at home such as a fully equipped kitchen, hot showers, living area and sometimes entertainment facilities such as Netflix or a library. However, some also offer off-the-grid options and a Wi-Fi-free zone, so if you are going for absolute retreat, finding that wouldn't be difficult either. If you're planning a New England road trip, you're in luck, because most cabins come with parking.
Either way, there are plenty of options to choose a cabin to your preference. My list is quite diverse to offer an option to all kinds of travelers, but if you want some more choices before you commit, check out Airbnb for more picks, but remember to set your search filters to your needs because you'll likely find a ton of options.
OVERALL BEST VALUE CABIN IN MASSACHUSETTS
OVERALL BEST VALUE CABIN IN MASSACHUSETTS
Traditional Log House
> $$
> 6 Guests
> Breakfast provided
> Cranberry bogs across the street
BEST BUDGET CABIN IN MASSACHUSETTS
BEST BUDGET CABIN IN MASSACHUSETTS
Just Be Cabin
> $
> 2 Guests
> Private entrance
> Secluded rustic cabin
BEST CABIN FOR COUPLES
BEST CABIN FOR COUPLES
The Pocumtuck Cabin
> $$
> 2 Guests
> Outdoor dining area
> Located at the highest point of the western summit
BEST CABIN FOR A GROUP OF FRIENDS
BEST CABIN FOR A GROUP OF FRIENDS
The Pondhouse
> $$$$
> 5 Guests
> Lake access
> Glass walls provide amazing views at all times
OVER-THE-TOP LUXURY CABIN
OVER-THE-TOP LUXURY CABIN
Exotic Mountain Cabin
> $$$$
> 15 Guests
> Private hot tub
> Located in the Berkshire mountains
BEST CABIN FOR FAMILIES VISITING MASSACHUSETTS
BEST CABIN FOR FAMILIES VISITING MASSACHUSETTS
Stockbridge Cabin
> $$$
> 6 Guests
> Outdoor showers
> Lakefront
BEST CABIN FOR BACKPACKERS
BEST CABIN FOR BACKPACKERS
The Camp
> $$
> 4 Guests
> Fully equipped kitchen
> Forest and wildlife all around
The Top 10 Cabins in Massachusetts
A stay at a cabin in Massachusetts puts you in the midst of some amazing chances to enjoy nature's finest. No matter how you choose to travel, the following cabins will let you enjoy your surroundings in Massachusetts.
Overall Best Value Cabin in Massachusetts – Traditional Log House
$$
6 Guests
Breakfast provided
Cranberry bogs across the street
The Traditional Log House rests on a series of cranberry bogs and captures the serenity of its surroundings in Plymouth. While the cabin is situated on private, wooded property, giving its guests a remote setting, it is also just a short distance from the breathtaking cape cod, historic Plymouth, Providence, and Boston.
There's a lot to do when you stay in this cabin. The Log House itself is a warm and spacious property with plenty of natural light seeping in and illuminating the wooded interior. With room for six guests and children-friendly settings, this cabin is fit for friends, family, and couples.
The best time to visit this cabin is during summer and autumn. The former makes it a popular place to visit due to the nearby beach and the latter surrounds the property with all the breathtaking colors of autumn leaves.
This Traditional Log Cabin near historic Plymouth is one of the best options in Massachusetts, whether you're traveling on a budget or without it. The property is truly special for its beautiful interior and the amazing location it is situated in. It offers great value for money and guarantees good times.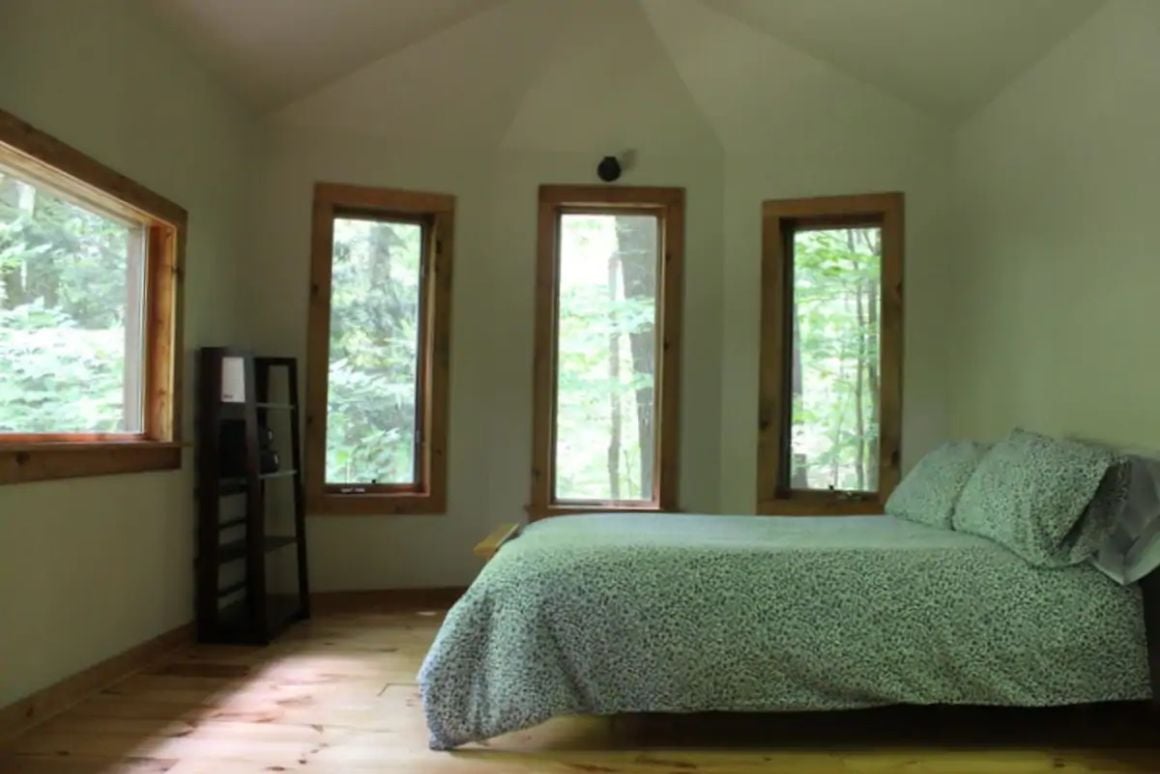 $
2 Guests
Private entrance
Secluded rustic cabin
Budget travelers have a place in Massachusetts and it is right here in this rustic cabin in the woods in Cummington. Solo travelers and backpackers on a budget will also find this cabin fitting to their requirements.
The cabin is right behind the host's main house amongst huge trees and well-maintained grass and has a common space with a full-sized comfy bed for you to sleep in.
In winter, you can warm up the cabin using the woodstove. This cabin allows its guests to enjoy some relaxing time in a nature retreat. In your free time, you can join the yoga classes in the host's home studio and take that relaxation a step further.
You can also head over to the breathtaking Shelburne Falls just 30-minutes away or the culturally rich Berkshire County, which is a little over 45-minutes away.
$$
2 Guests
Outdoor dining area
Located at the highest point of the western summit
What could be more romantic than spending days in a secluded cabin in North Adams, surrounded by nature, and on the highest point of a western summit? The Pocumtuck Cabin has everything a couple needs to create some wonderful memories.
The cabin provides spectacular mountain views, access to a private park with endless nature to explore, and a shortcut to Hoosac Range Trail. Not to mention the cabin itself, the beauty of which begins the moment you walk the stone pathway to the door and what lies beyond. The tidy and cozy interior, the modern amenities, and the cute décor make it a very comfortable nest to spend your time indoors.
However, the outdoors is just as accommodating and you get outdoor showers, hammocks, space for grilling, firepits, and rock gardens.
$$$$
5 Guests
Lake access
Glass walls provide amazing views at all times
Want to escape from the world with your best friends by your side? It doesn't get better than this countryside cabin, on the outskirts of Ashfield. Picturesque mountain views, bright fall foliage, and acres of serene lands surrounding the cabin just draw you in and make you want to stare at it, endlessly.
That is why the cabin has glass walls so you get to sleep under the clear, starry night sky and wake up to the breathtaking view of the sunrise from behind the mountains and hills.
The rustic cabin allows you to unplug and retreat from the chaotic world, and go offline for a while. The cabin comes with an outdoor fire pit, outdoor hot shower, composting toilet, and outdoor sink. Once you're able to peel yourself away from the bed, head over to the nearby waterfalls just over 10-minutes away or enjoy hiking on any of the many trails in the area.
Is This the Best Travel Pack EVER???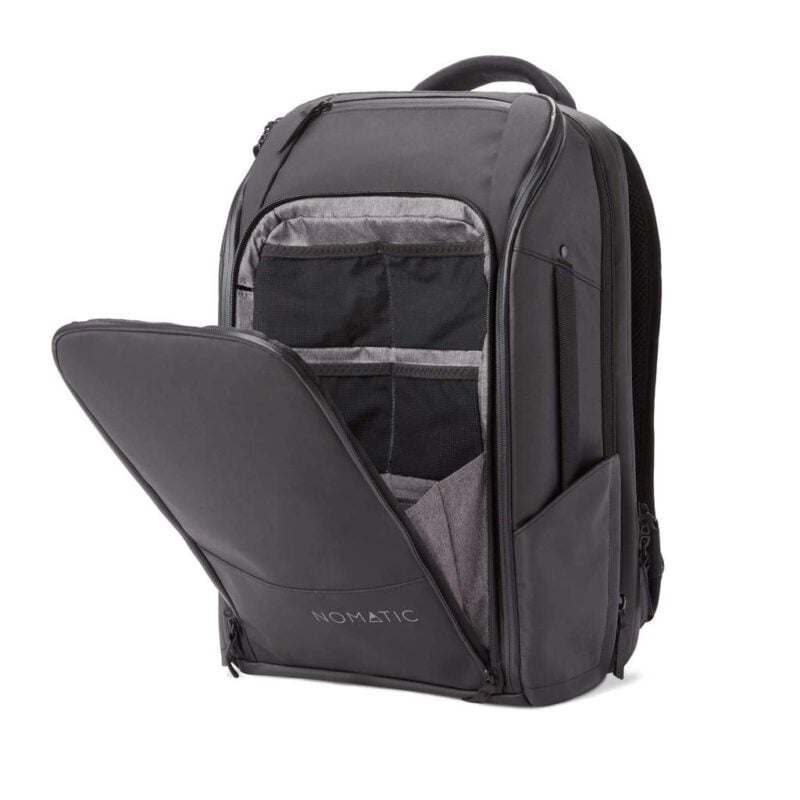 $$$$
15 Guests
Private hot tub
Located in the Berkshire Mountains
Situated in the Berkshire Mountains, this luxe exotic cabin is spacious enough for 15 guests and offers dazzling mountain views, innovative décor, all the comforts of your own home, and much more.
The endless amenities leave nothing to the imagination and allow you to find utmost comfort in this retreat nestled amongst mountains. You get high-speed internet, a wood-burning stove to keep the cabin warm and toasty, and so much more.
And when you head out, there's a whole world of awe-inspiring nature in your backyard. Butternut Ski Mountain and the charming town of Great Barrington is just 15 minutes away. You can occupy your days during this vacation hiking, boating, fishing, and fine-dining!
$$$
6 Guests
Outdoor showers
Lakefront
This incredible Airbnb cabin in Massachusetts carries a chic and bohemian vibe and has all the aesthetics to offer one of the best family vacations to its guests. The cozy sleeping loft is specially designed with children in mind and allows them a unique room to fall asleep in.
The cabin's amenities and décor are perfect to bring families together and create wonderful memories. Eat snacks on the sunny deck, cozy up by the Fieldstone fireplace, enjoy stories together in the reading nook, prepare huge meals in the kitchen, and fall asleep while looking up at the stars through the skylights; a dream vacation indeed.
And then there's the shimmering lake right out front and tons of other lovely cottages and cabins in the beautiful lake community of Mahkeenac Heights, what's not to love?
$$
4 Guests
Fully-equipped kitchen
Forest and wildlife all around
This cabin is a great option for backpackers traveling in 2s, 3s, and 4s and wanting to take a break from the road and settle down for a few days in the mountains. This charming cabin is surrounded by peaceful silence all around, with nothing but trees and forests for miles. And of course, the mountains serve as the backdrop.
While the immediate surrounding of the cabin allows you to rest in seclusion, North Adams, Ashfield, Cheshire, and many other cities and towns are just 30-minutes away. The cabin features one bedroom with a queen bed and a couch, laundry room, kitchen, and living room.
$$
5 Guests
Handcrafted canoe and kayaks provided
Surrounded by 3-acres of private woodland
Can't decide whether to stay by a lake or in a cabin in the woods? This lofty cabin has a solution and it comes with epic views. The cozy and spacious cabin is surrounded by private woodland, and you can see acres of greenery surrounding you.
Take a few more steps from the cabin's door and you'll have the breathtaking sight of the lake before you. The lake is all yours along with the lakefront dining area, gazebo, hammocks, fire pit, outdoor movie area, and whatnot. There is also a handcrafted canoe and several kayaks for enjoying a ride on the lake on misty mornings.
Families, friends, and solo travelers aching to unwind and relax in a secluded location surrounded by beauty will love every minute in this cabin. It features a bedroom and a loft, a kitchen with a 1920s Glenwood gas stove, a den with a large TV, and all the modern amenities.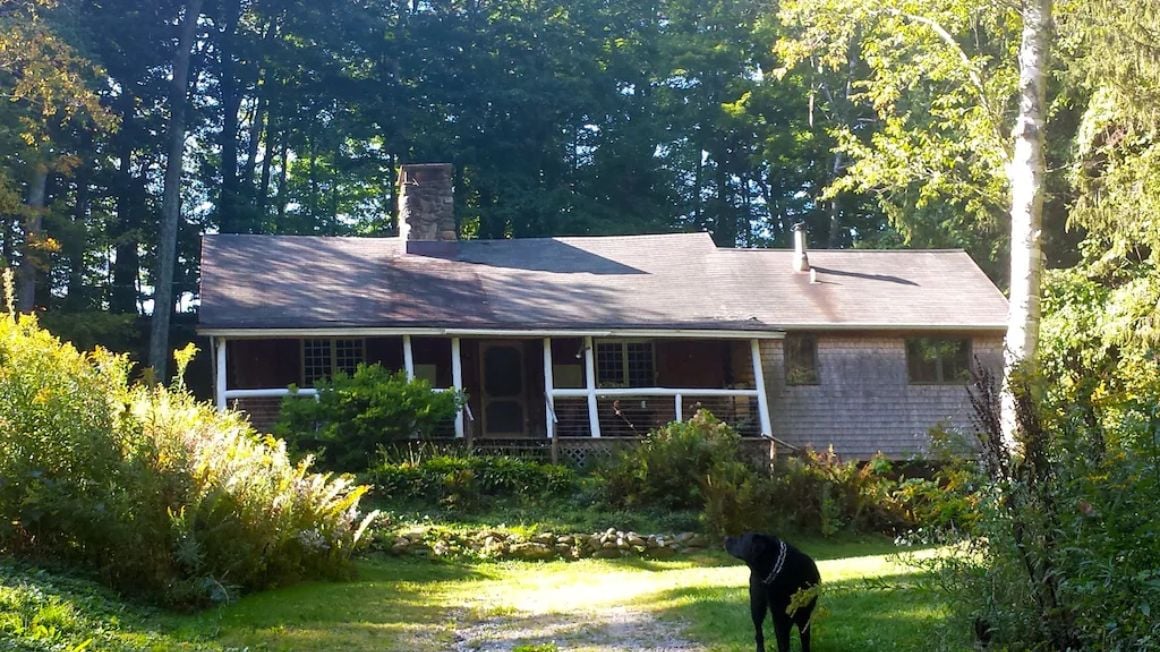 $$
5 Guests
Children-friendly
Mountain views
If you are looking for a genuine experience of staying in a traditional log cabin, complete with vintage-style furniture and the authentic coziness of the accommodation, this 1900s cabin in Berkshire is it.
The newly renovated cabin captures the allure of a traditional cabin with its old-school décor, stone fireplace, original claw-footed tub, and a wide porch. The cabin features two bedrooms, two bathrooms, a kitchen, living room, laundry facilities, and a dining area. The cabin comes with all the modern amenities.
And just like original cabins in the woods, this one is found on the offshoots of the Appalachian trail, on the outskirts of Williamstown. The cabin faces Mount Prospect and the Hopper Valley, guaranteeing breathtaking views and plenty of trails to hike.
$$$
4 Guests
Pets allowed
Near the forest beach
The incredible Forest Beach makes for an ideal vacation for beach-lovers of all ages. And this cabin is just three kilometers from it. Whether you are with friends, family, or even solo, this beach-themed cabin is the perfect place to stay for a weekend filled with water activities.
Sea La Vie is an incredible cabin with a wooden interior painted white and decorated blue to remind you that you are near a beach. The cabin features two cute bedrooms, a well-equipped kitchen, and a bathroom. The front yard comes with a hammock!
In addition to spending time on the sandy beach a short walk away, you can also enjoy cycling and exploring the surrounding areas.
Don't Forget Your Massachusetts Travel Insurance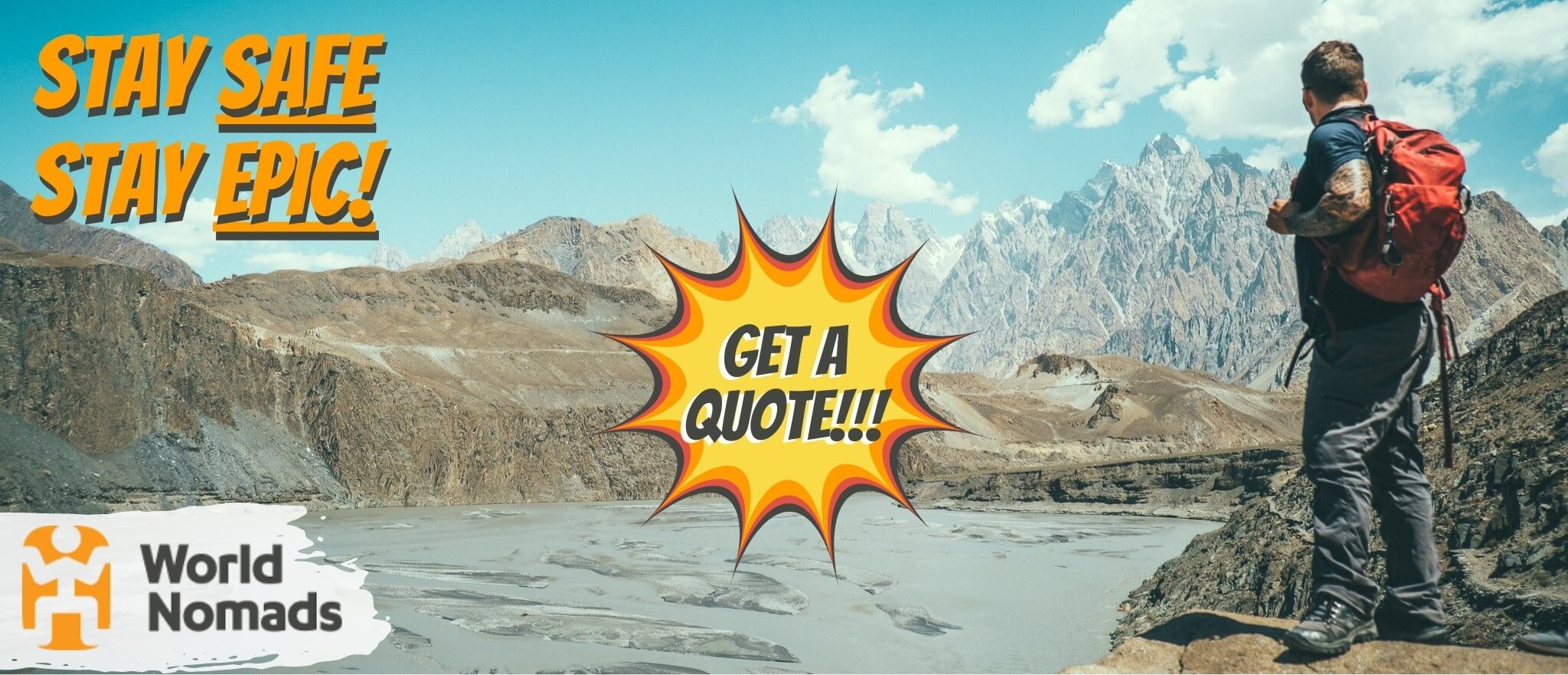 World Nomads' mission is to support and encourage travellers to explore their boundaries. They offer simple & flexible travel insurance, and safety advice to help you travel confidently.
They've been doing it since 2002 – protecting, connecting, and inspiring independent travellers just like you.
Get a quote below or read our in-depth review!
World Nomads provides travel insurance for travelers in over 100 countries. As an affiliate, we receive a fee when you get a quote from World Nomads using this link. We do not represent World Nomads. This is information only and not a recommendation to buy travel insurance.
Final Thoughts on Cabins in Massachusetts
Sure, Massachusetts is well-known for its history and heritage, but while you are there, don't forget to take advantage of your surroundings and enjoy the splendid nature the state is gifted with. The best way to do that is by placing yourself in the midst of it, preferably in unique accommodation in Massachusetts.
For those looking for a laid-back vacation amongst pristine landscapes, this is your perfect chance. My selected list of best cabins in Massachusetts is for travelers of all kinds to relax and unwind in nature's preserves.
Even if you are traveling on a budget or looking for a romantic getaway, my list has a recommendation for you. So get ready for a memorable trip.
Don't forget to secure yourself against travel risks if you are an out-of-country traveler. Consider Travel Insurance to throw all worries out of your mind and enjoy your vacations peacefully.
---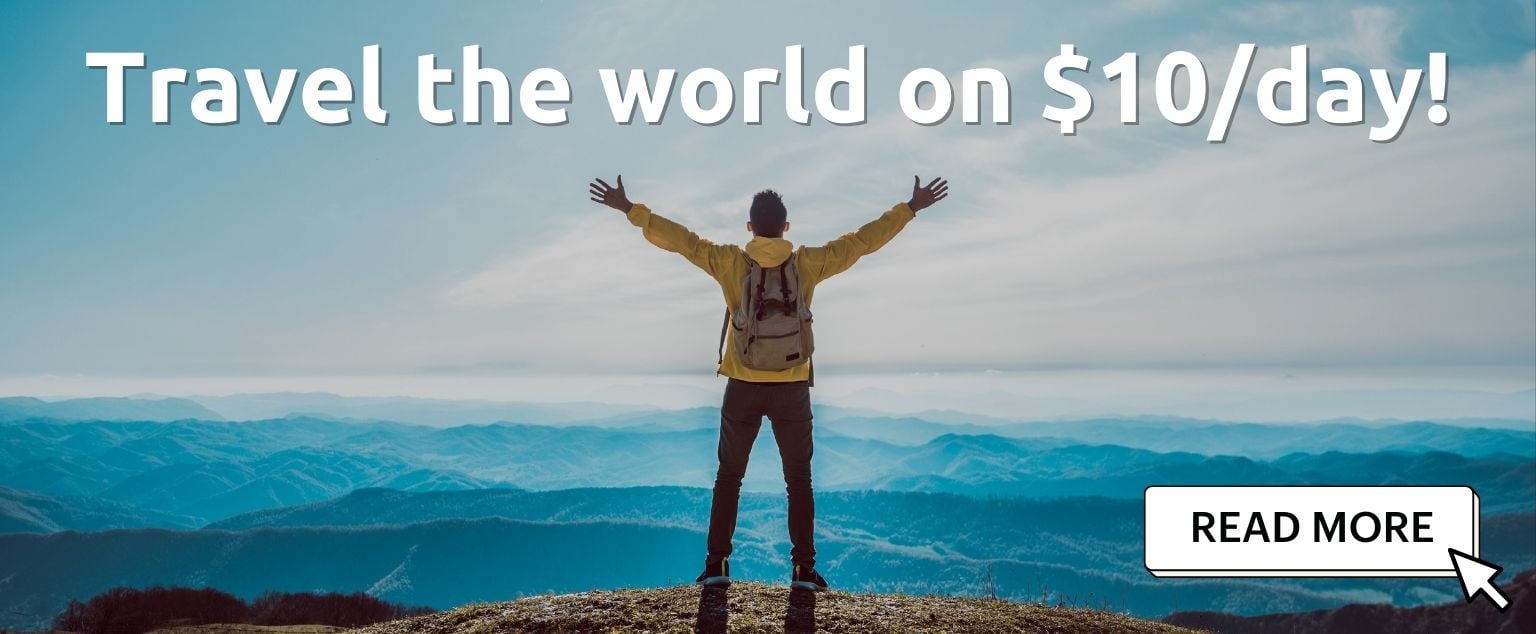 And for transparency's sake, please know that some of the links in our content are affiliate links. That means that if you book your accommodation, buy your gear, or sort your insurance through our link, we earn a small commission (at no extra cost to you). That said, we only link to the gear we trust and never recommend services we don't believe are up to scratch. Again, thank you!