Belize is an awesome time! Couple a coral-fringed Caribbean coastline with copious verdant jungle interiors and add a cocktail of colorful cultures, and you get the fascinating country that is Belize.
However, border tensions with Guatemala and increased drug and human trafficking into Mexico via Belize have made it rank consistently high worldwide when it comes to violence.
You may have heard stories about how dangerous or how safe Belize is and may well be wondering is it safe to travel to Belize?
We have crafted this guide to staying safe in Belize so that you don't have to worry anymore. All of us over here at The Broke Backpacker believe you CAN and SHOULD be able to travel smartly, safely and responsibly all whilst having the best time ever!
Naturally, we're going to be covering a lot of different topics. That means basically everything from whether it's safe to travel solo in Belize to whether or not Belize is safe for female travelers. We believe that traveling to Belize is safe – public transport, food, and lodging all included – but only if travelers are sharp and aware of their surroundings.
You may be worried about backpacking through Belize or you may just be worried about a short trip to Belize. Whatever your concerns, our insider guide will help you out.
COVID-19 UPDATE
Whilst COVD 19 has not gone away, the world is opening up again to travellers. However, at this time Belize remains closed for non-nationals.
For the most up-to-date safety information and what you should be doing to help, please consult the WHO and your local government.
14/07/2020
How Safe is Belize? (Our take)
So is Belize a safe place to travel? We think so, and backpacking Belize is a great idea. 60% of Belize is covered by forests, there are 450 offshore islands to explore, it boasts the largest cave system in Central America. Oh, and then there's the huge Belize Barrier Reef for you to discover; around here are excellent snorkeling and scuba diving opportunities, safe waters for boating, good fishing to be had, and we're only scratching the surface.
Even though tourism is such an integral part of the Belizean economy, doesn't necessarily mean it's the safest place in the world. In fact, violent crime of all kinds is on the rise, especially in urban areas like Belize District. Unfortunately, Belize ranks consistently in the top 10 countries in the world with the highest rate of homicides.
Both drug and human trafficking – and the gangs responsible for them – are the main causes of increased violence. While this is a tragedy, it also means that Belize is relatively safe for tourists. Unless you're a gang member or a Belizean citizen caught in the crossfire, you're unlikely to be a victim of these crimes. Unless your Belize itinerary includes getting involved in crime, you will probably not have much to worry about.
Pickpocketing and theft from hotel rooms is the most common crime committed against visitors. And the country is also prone to hurricanes.
But let's have a more detailed look and ask…
Is Belize Safe to Visit? (The facts.)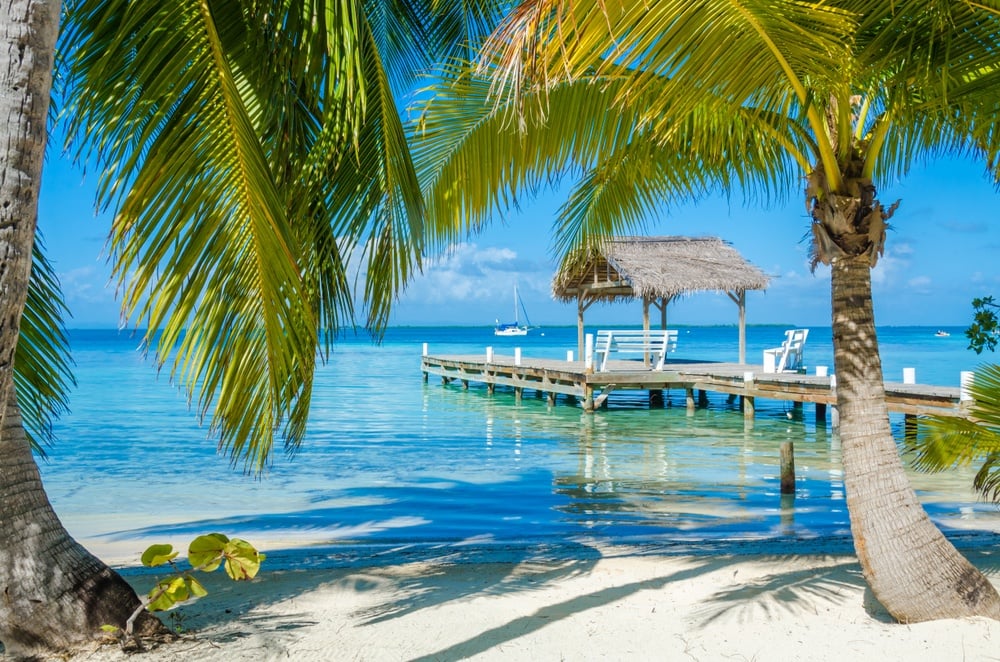 With so many natural points of interests, it's no wonder that Belize is a such a popular destination for tourists and backpackers. In 2017 there were over 1.5 million visitors to Belize in 2017, which includes people jumping off cruise ships for a day trip; the number of overnight visitors is increasing every day though. Belize travel warnings do not deter big cruise ships companies so they shouldn't deter you either.
Usually, tourists aren't the target of crime in Belize, however, in recent years crimes have been increasing in tourist areas. It's believed that this is due to a large disparity between rich and poor – which is vast. It is true that petty crime is one of the main dangers in Belize.
But this disparity is not as big as in other Central American or Caribbean societies and lacks the same racial and class tensions that have shaped the narrative of other nations in the region. Neighboring countries like Honduras, Guatemala and El Salvador have higher murder rates.
At the end of the day, Belize is safe to visit but practicing good personal security (i.e. traveling smart) is likely to diminish any chance of you becoming a victim of crime.
Is it Safe to Visit Belize Right Now?
The Belize safety rating is usually like a "PG' movie and the Belize crime rate IS probably higher than what you will be used to at home. Generally, anything north of Belize City is considered 'risky' because of gang activity according to number of Western Governments travel advisory departments. Some areas in the country have been classified as "crime-ridden" and police in these places have the right to stop and search without warning, so be aware of that.
In 2018 there's also been trouble along the western border with Guatemala, thanks to border tensions that go back to 1821. Border areas may be best avoided. The Caribbean coast is where most tourist activity is limited to.
That said, November 2018 alone saw 38,823 overnight tourists, an increase on the previous year. More and more people have been visiting thanks to airlines offering seasonal flights and marketing campaigns, amongst other things – all linked by a bigger focus on tourism. The plan is a two-decade-long affair that will see more and more tourists visit an all-around safer and easier-to-travel-in Belize.
Politically, Belize is actually pretty stable. Like many developed Western countries with two main political forces, Belizean politics is basically dominated by the center-left People's United Party and the center-right United Democratic Party. Protests and riots are rare in Belize, and travelers shouldn't have to worry about getting swept up in demonstration turned violent.
As long as you stay up to date with current events and exercise some precautions, it is easy to travel to Belize safely.
Do you need Travel Insurance for your trip? Even if you're only going for a few days, that's more than enough time to get smote by wrathful angels. Have fun in Belize, but take it from us, overseas medical care and canceled flights can be seriously expensive – insurance can, therefore, be a life-saver.
Travel mishaps can and do happen and it is well worth thinking about insurance before you leave home.
We have used World Nomads for years now and I have personally made several claims. Why not get a quote from them yourself?
Do be sure to read the terms and conditions to make sure that the policy covers your needs.
Getting an estimate from World Nomads is simple – just click the button or image below, fill out the necessary info, and you're on your way!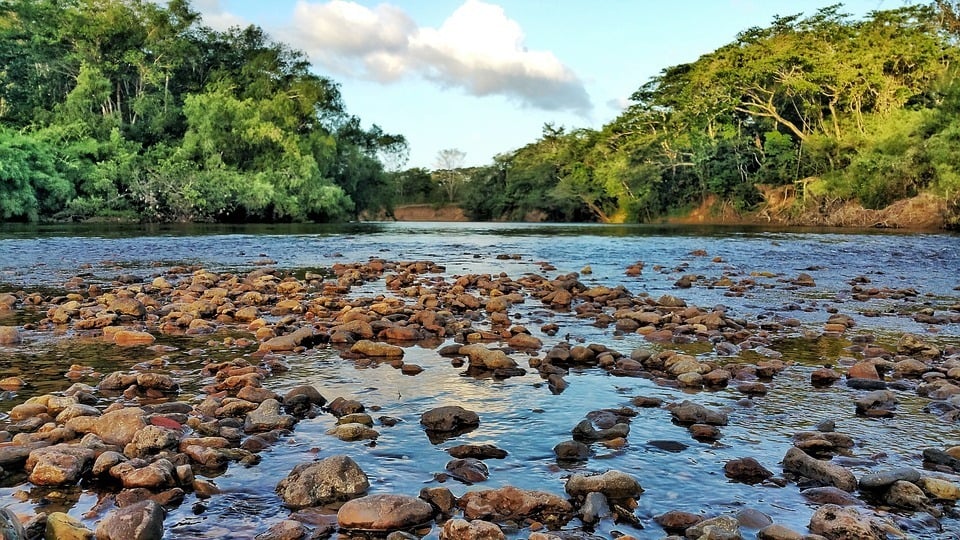 It might be relatively trouble-free for visitors, but the best way to avoid any crime whatsoever is to travel smart. The best way to travel smart would be to bear in mind our insider tips for staying safe in Belize. These Belize travel safety tips will help;
Don't walk around in secluded urban areas – fewer people around = fewer witnesses.
Don't get crazy drunk – keeping your wits about you is the best way to avoid crime, so getting dead drunk isn't smart.
Hand over the goods – if you ARE a victim of a robbery, just hand it over. Your possessions aren't worth your safety.
Act like you know where you're going – if you look lost you'll stand out as a tourist, therefore rich, therefore a good target.
Don't flash your cash – yeah, um, this is just an advert for how a) rich and b) oblivious you are. Keep the bulk of your cash hidden in a money belt.
Be careful when you're walking around – there's a lack of pavement sometimes. Stay safe on the road!
Hire a guide if you're heading into the jungle – trekking is cool, but getting lost or getting bitten by something awful is not.
Be careful of coral (and other sea creatures) – the reefs are STUNNING, but coral can hurt – and so can a lot of other critters.
Understand local laws – for instance, public drinking is a no-no. Do your research and avoid trouble with the police.
Do what you need in the daytime – there's a much lower crime rate during daylight hours (as anywhere).
Catch a taxi after dark – they're inexpensive. Better safe than sorry.
JUST SAY NO – drugs are ILLEGAL. Drugs cause major problems in this country. Don't contribute.
Don't pay for sex – that's also ILLEGAL. Again, you'll most likely be funding trafficking gangs and human misery. Don't even.
Ask for help if you need it – if you feel like someone's following you or something dodgy's going on, step into a cafe or shop and ask someone for help. People are friendly here.
Carry copies of important docs – losing vital documents is a major headache, so if you need them when you're out and about, have copies.
Check your vaccines before you travel.
Protect against mosquitoes – there may be low rates of malaria, but the risk is never worth it. Use repellent and cover up: these mozzies are beasts.
Know what to do in a disaster – Hurricane Earl took out 65% of Belize's electricity in 2010. June to November is hurricane season so be aware if you're traveling in this period.
Lock windows and doors at night or when you go out – much theft happens at one's accommodation, so ensure your room is secure.
Protect yourself from the sun and keep hydrated – you might want to be in the sun ALL THE TIME but that's not smart.
Businesses close on Sundays – if you need supplies for any particular reason, get them on a Saturday!
Keep opinions on religion to yourself – it's still very much a religious country, so be respectful.
Watch out for snakes, scorpions, etc. – yep, they live here. Be vigilant.
The easiest way to have a stress free time in Belize is to keep in mind our handy tips. Ultimately, staying safe in Belize is pretty straightforward – it's all down to traveling smart and being aware of your surroundings.
Some General Safety Tips from the OG Broke Backpacker
Keeping your money safe in Belize
It may have a relatively high homicide rate, but the number one problem you're likely to face as a tourist in Belize is theft. Keeping your money (and your belongings) safe is probably going to be a top concern. You will most probably travel to Belize safe and sound, but in case the shit does hit the fan a money belt is a sound investment.
You may be pickpocketed, you may have something stolen from your room, but, at the end of the day, having any amount of money stolen from you is going to be more than annoying. So protect your cash with a money belt!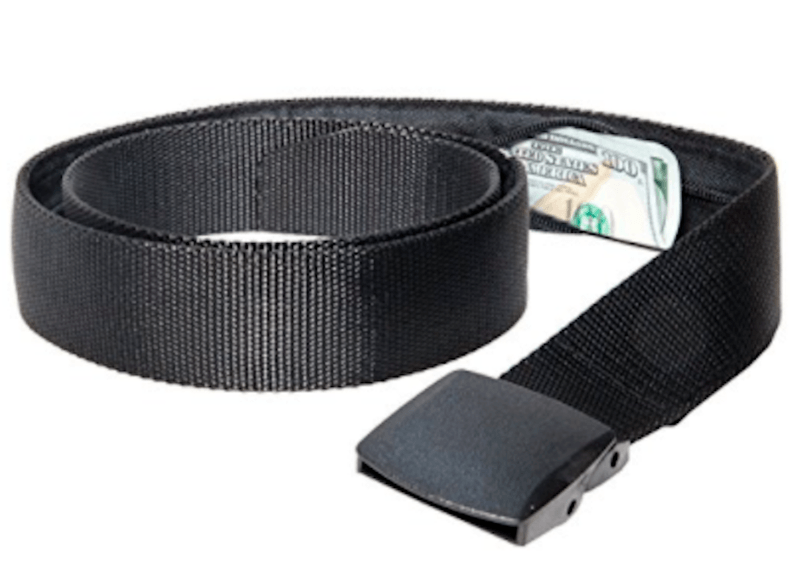 There are quite a few different money belts to choose from out there, but when it comes to our own choice we at The Broke Backpacker would definitely recommend the Active Roots Security Belt.
For one, it doesn't even LOOK like a money belt. It just looks like a belt. Major plus. It's also affordable and pretty dang sturdy.
The best way to prevent anything from being stolen from you is to not have anything to steal in the first place – and that's how it will look with the Active Roots Security Belt. Plus, since having things stolen from your room seems to be a trend in Belize, keeping a stash o' cash in your moneybelt will ensure you always have a bit of money to fall back on. It's a no-brainer.
If you need a little more room for your passport and other travel valuables, have a look at a full-size money belt that tucks under your clothes instead.
If neither of those options appeals to your refined fashion sense, don't compromise! Opt for an infinity scarf with a hidden zipper pocket.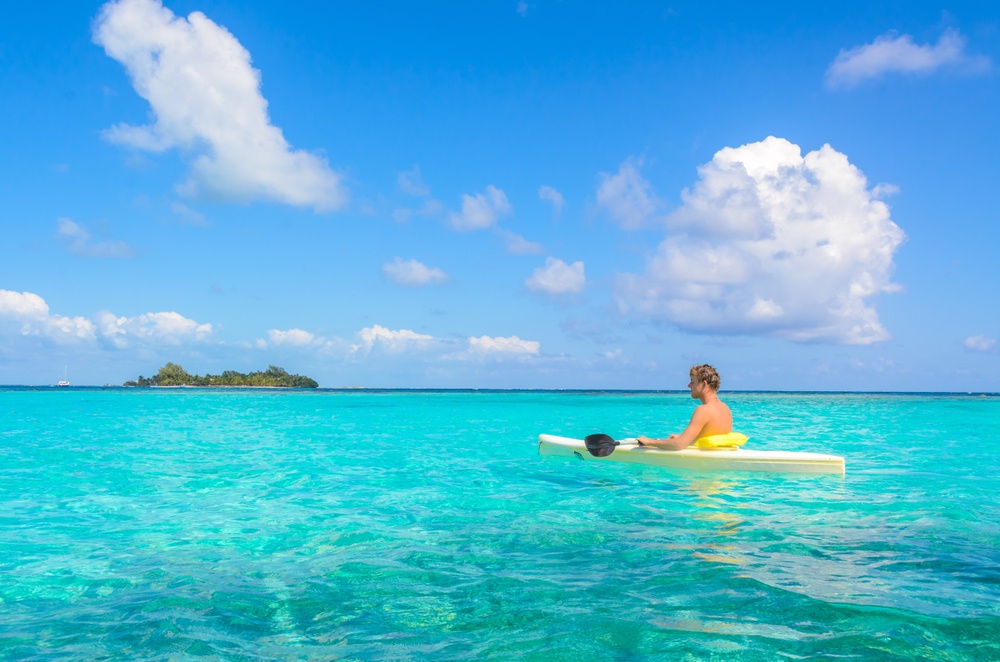 Belize IS safe to travel alone. There are a few differences between traveling solo and traveling in a group – anywhere in the world – which means you'll have to put some extra care and thought into how you travel. Safety in Belize is largely a question of how you behave and how alter you stay.
It might seem like a bit of a far-flung destination, with neighboring Mexico being more popular, but this Central American nation is amazing to travel solo. The awesome Belize Barrier Reef alone (the worlds second largest) is a definitive highlight!
And (almost) everybody speaks English. Having no language barrier is something that makes solo travel in Belize much easier. There'll be no lingo mixups and no menu mishaps. Granted, there are still a few tips to bear in mind when it comes to safe solo travel in Belize.
Staying in well-reviewed hostels and guesthouses is a great idea. This is for two reasons. The first is keeping your belongings safe. It's not unheard of to have things stolen from accommodation, so somewhere with a lot of great reviews is going to be a good option. Secondly, meeting people is a good way to stay connected, stay sane, and stay safe, so a social hostel is a good idea for a solo traveler.
Similarly, do your research. Our tips are literally the tip of the iceberg! Making sure you use well-reviewed everything – from trekking tours and hostels, to snorkel rentals and restaurants – will help prevent you from getting involved with scams and anything otherwise dodgy or unsafe.
If English isn't your first language, don't worry. A few simple phrases will be enough to make yourself understood, order food and get around. (Hey – you're reading this article aren't you? English clearly isn't lost on you then.)
Standing out like a tourist is a sure way to receive some negative attention. Trying to blend in, wearing what locals might wear, not having a huge camera hanging from your neck; this will help your experience to be more of an authentic one – and will lessen the likelihood of being a target of crime.
Sticking to restaurants, accommodation, even ATMs that are in public view is the best idea. Isolated, secluded spots are great places for crime to occur unseen.
It might seem like a good idea at the time, but don't go to the beach at night. Aside from the usual dangers of swimming at night, you're also easy pickings for thieves, which makes this generally a no-no.
It might be easy to judge the country by its gritty capital, but Belize is safe for solo travelers who are smart. Always be aware and always be prepared; situational awareness is KEY. Remember these practices and it will be not only safe to travel alone in Belize but hugely rewarding.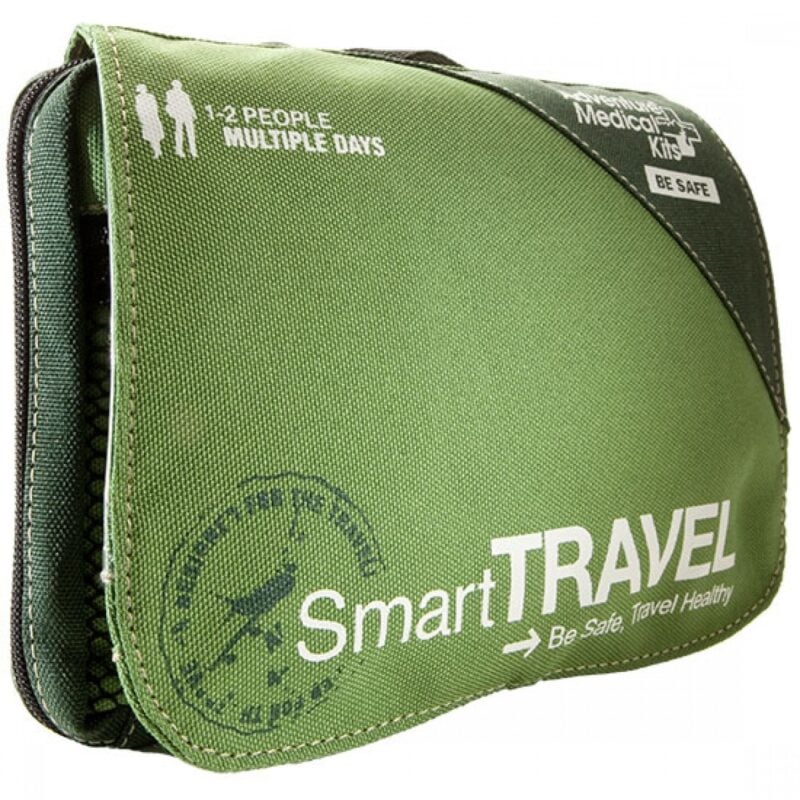 Be prepared for what life throws at you on the road. Pick up an AMK Travel Medical Kit before you head out on your next adventure.
View on REI
View on Amazon
Is Belize safe for solo female travelers?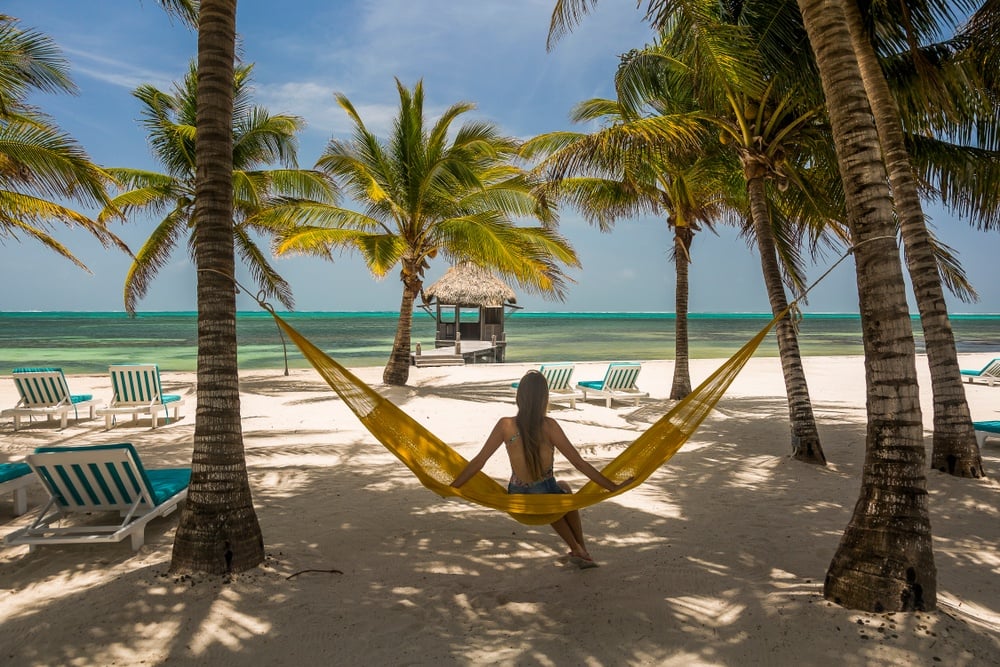 Is travel to Belize safe for lone women? Belize is safe for solo travelers, that much we know. When it comes to traveling solo as a female there are, unfortunately, a whole other set of rules you need to follow to stay safe. It's lame, but this is the reality.
Belize can be a safe place for solo female travelers who take special precautions, and we've listed a couple of important ones below. Granted, none of these precautions are radical or extreme – they just require a little extra attention. These tips will enhance your Belize safety;
Catcalling is very uncool but it will happen no matter how you dress. Our tip is to understand the culture of the country and respond with a polite "good morning" or "good evening" or an equally appropriate greeting – and move on. Getting upset with it every time is going to wear you down and affect how you enjoy your trip.
Travel for yourself and assess the risks involved in seeing or doing something that might be potentially dangerous. If there's a risky activity and you think that it's not worth the trouble, then don't do it. Don't feel like you have to see everything that everyone else is seeing.
Talk to other people if you don't feel safe – tell the hotel staff where you're going, let bar staff know if someone is hassling you, make friends with doormen. Traveling solo as a female doesn't mean you have to be a ghost.
Tours are both fun and safe. Take a simple walking tour of the city, for example, that your hostel might put on. If you've just arrived in a city, this is a good way to get acquainted with your surroundings. Plus you can meet fellow travelers.
It might be tiring, but always be aware. Observe your surroundings, notice if people are acting weirdly around you, make assessments and remove yourself from certain situations if they don't feel right. If something seems dodgy, don't get involved.
Getting crazy drunk is really not a smart move. But if you do want to party, check yourself into a well-reviewed hostel and make a good group of travel buddies to go out with. Even then, watch your drink and don't accept drinks from strangers. Stay lucid.
Use accommodation with good reviews. Anywhere ropey, with few reviews, or bad reviews, is just not a good idea. Your safety and security are worth more than sticking to a budget too rigidly.
Ask locals for advice on safety in the area, as well as good places to go to eat and drink. Are there areas to avoid? Is there a safe route from A to B? It pays to know.
It's ok to say no if you don't feel comfortable with something. This is your experience, your safety, your life. Saying no is fine.
Don't lose your money to a pickpocket! 
There are tons of ways to store valuables and goods while traveling but a travel scarf has to be the least obtrusive and the most classy.
The Active Roots Zipper Scarf is your run-of-the-mill infinity scarf but with a hidden pocket that's big and sturdy enough for a night's cash, your phone, a passport and (hell with it) some snacks too!
With the proper habits, Belize is safe for solo female travelers. Basically, it all boils down to being aware of situations, making sure you avoid things that feel like they aren't right and maximizing your safety by making friends.
Think about what you want to get out of your trip – what kind of activities and cool things you want to get up to – and just make sure that at all times you put your safety first. Follow our tips and travel smart!
Is Belize safe to travel for families?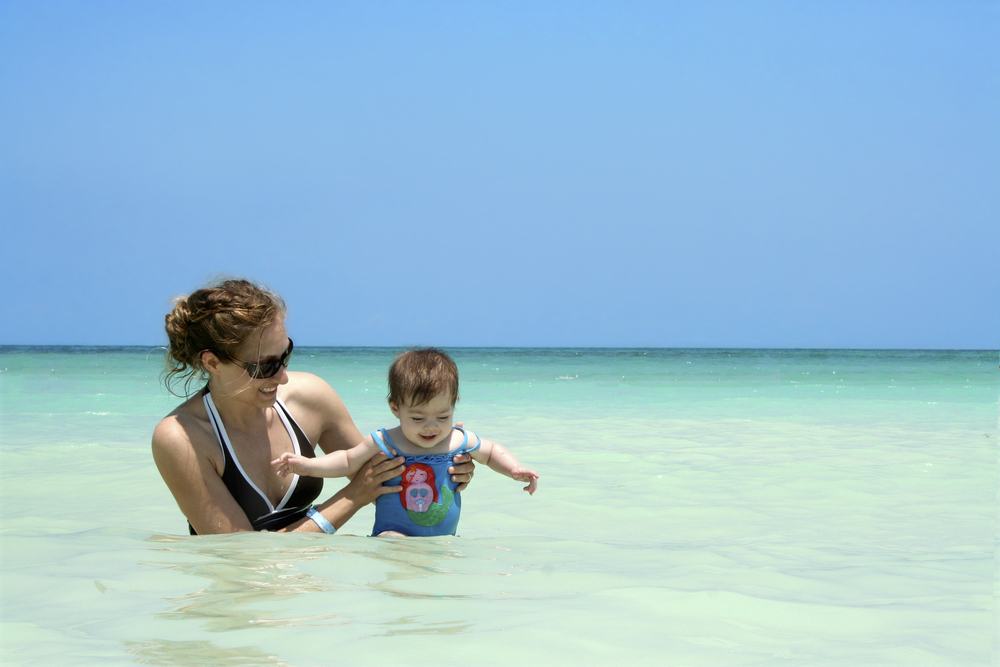 Choosing to travel with your children to Belize could make an already thrilling country even more memorable! One part Latin America, one part Caribbean, and all parts amazing, this country offers activities for all ages and creeds. Thankfully, Belize is safe for families to travel to as well!
Thanks to a healthy package tourism scene, there are plenty of places to stay in Belize for families. Cruise ships dock along the coast regularly, there are many resorts, and you'll be able to find more than a few suitable spots on the 450+ cays offshore. But is it safe to go to Belize with your family?
Belize is compact – meaning no long journeys – and Belizeans are friendly, even more so if you have a kid or two in tow!
Make sure you visit outside the rainy season: a lot of the activities are outdoorsy and you won't want to miss out on account of a bit of rain.
You'll have to deal with things like mosquitoes and humidity, regardless of the season, but the payoff is incredible. The landscape is all kinds of stunning, the adventures to be had are amazing, and it's easy to travel around.
Make sure you are up to date with vaccines, pack all the regular essentials (first aid kit, etc.), have a LOT of mosquito repellent, and keep everyone hydrated and out of the sun. Do these things and you'll be sure to have a blast with the fam!
Is it safe to drive in Belize?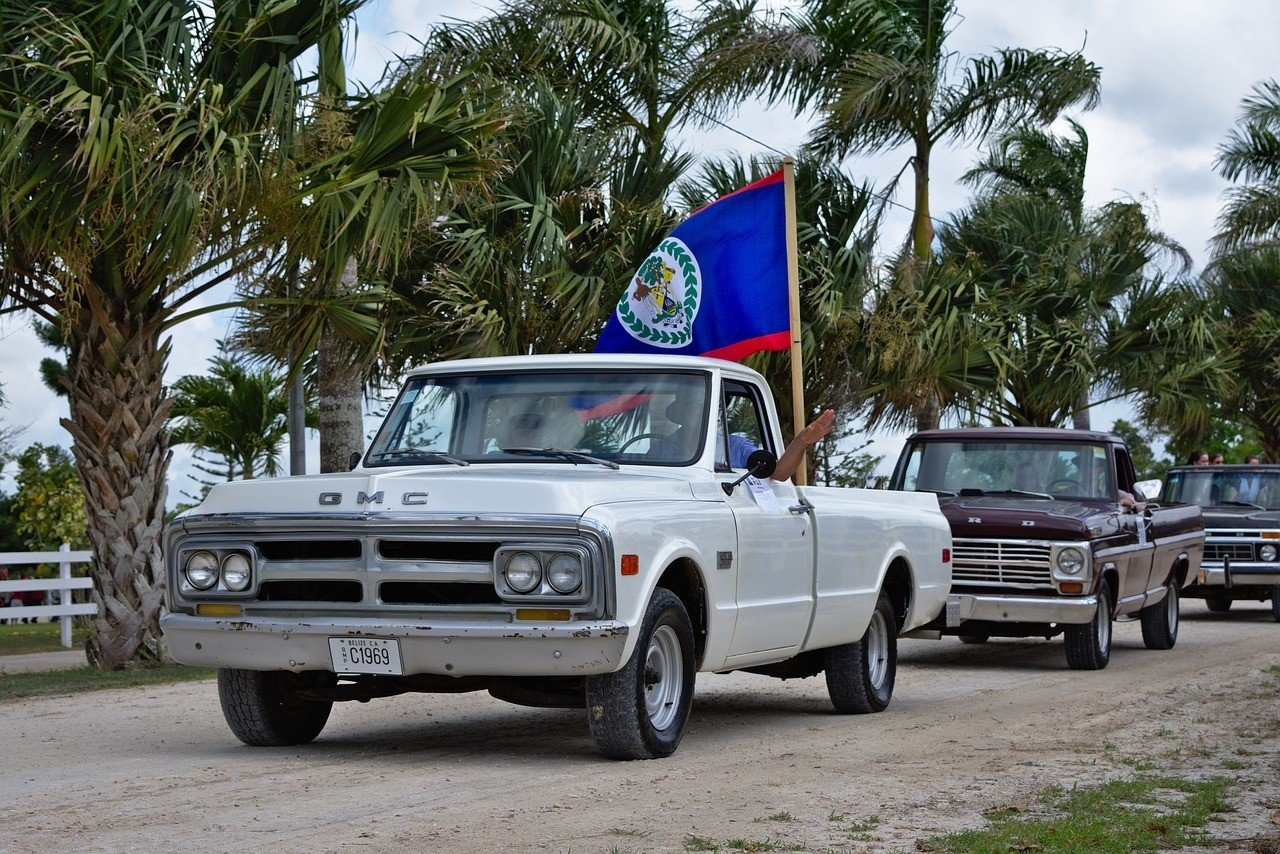 Is it safe in Belize to drive? Being mainly known as a cruise ship destination, the words "road trip" and "Belize" don't tend to get written about in the same sentence.
But if getting around a country by car is your jam, you'll be pleased to know that it is both fun and safe to drive in Belize. Thanks to its small size, you should be able to see a lot of Belize just by renting a car as well.
Belize is still a developing nation and the standards of driving may not be the same as some larger, more affluent nations. For instance, the roads may be called highways, but these are just standard two-lane country roads. You'll encounter a lot of speed bumps too, so be careful – if not for your own safety, then for the sake of not having to pay for damaging the rental!
Belizean rental cars are usually older models. A little bit of know-how about changing tires and checking for engine trouble would go a long way. Make sure you check the tread – and check for a spare – before you make any agreement.
Being stopped is normal since there are police checkpoints dotted around the country. Just go through the checkpoint, show the police your ID and insurance (and anything else they want to see), and then keep on movin'. Checkpoints have increased recently due to border tensions and other issues.
There aren't many petrol stations, so if you DO see one make sure you fill up. You never know when the next one's going to show up.
Don't drive at night. It's not a good idea, not only because of dodgy drunk drivers but also because of nocturnal wildlife finding their way onto the roads. Dogs roam around a lot, even at night, so be aware that these can pose a hazard on the roads.
As is the case with many developing countries, we'd recommend that only experienced drivers tackle the roads here. But with few cars on road, incredible natural scenery, and a very low population density compared to other Central American countries, it's not only safe to drive in Belize but pretty amazing, too.
Is Uber safe in Belize?
Unfortunately, there is no Uber in Belize. Maybe one day.
For now, you'll have to rely on taxis.
Are taxis safe in Belize?
Without a doubt, taxis are safe in Belize. They're one of the best ways to get around and are especially useful at night.
It goes without saying that licensed taxis are the only taxis you should be jumping in. You'll identify these from their green license plates. Anything else is unlicensed and potentially dodgy.
One thing you should know: the taxis in Belize don't operate with meters. Remember that you'll have to agree on a price to a certain destination before you get in. That's the best way to avoid a surprise bill at the other end.
Taxis in Belize are relatively easy to come by. You'll find them at the airport, in the 'Tourism Village', outside hotels, or just driving around. To hail a taxi, just put your hand up for one that beeps at you. Don't be afraid to haggle either, it's normal!
Taxis are also a good way to make a tour. Ask your hotel for a taxi and they'll recommend a driver who'll offer a fair price to take you out for the day.
In conclusion, taxis in Belize are safe. Case closed.
Is public transportation in Belize safe?
Generally, public transportation in Belize is safe though you'll have to be prepared for some
The buses here are super colorful affairs that kind of look like old American school buses turned into works of art. Known as chicken buses, these vehicles are cheap and travel long distances, which makes them very useful for backpackers.
Chicken buses are a pretty fun way to get around, but be they are not for the fainthearted. Many are not always in the best condition and can get more packed than is safe, with people standing in the aisles and almost bursting out the doors.
If you're looking for an adventure, a chance to rub shoulders with the locals, and to travel outside of the usual tourist routes, buses are your best bet. They often don't have any sort of schedule so if you need to know when you might be arriving somewhere, ask the driver.
Water taxis operate to/from and in-between the many cays, and these are a popular mode of transport for island hopping.
Water taxis aren't the safest means of transport. Many don't come with all the necessary life jackets, can get overcrowded, and sometimes even set sail in bad weather. If you don't feel safe, don't embark. If you don't mind a little rough sailing, this is normal for this part of the world. (Think of it as an experience!)
You can buy a return ticket from Belize City to San Pedro, but don't hurry back. These tickets are valid for three months!
Whilst it may LOOK precarious at times, the public transportation in Belize is quite safe, actually. It might be overcrowded, and it might be old-looking, but most of the time your journey will be without issue.
Keep everything on you in transit!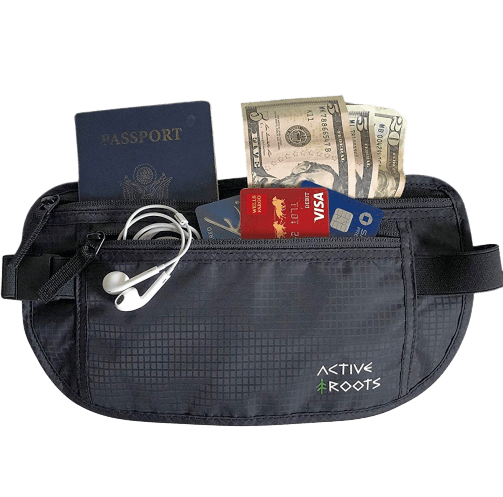 When moving from place to place, you shouldn't store travel documents in a bag, even if it's under your seat or overhead.
A full-sized money belt that stays tucked under your clothes keeps your documents and cash organized during your travels and assures nothing critical gets left behind or stolen.
Is the food in Belize safe?
Thanks to the mix of ethnicities and cultures in Belize, the food here is amazing. Heavy on the rice, heavy on the beans, and packed full with plenty of spice and heat, this is definitely one of the main highlights of Belize!
We believe that the food in Belize is safe to eat. It's not going to have the same sanitation quality as a developed Western country, but follow a few rules and eating in Belize can be stress-free. Do so and you'll get to experience all the culinary delights it offers with none of the stomach upset!
Avoid foods that look like they've been sitting around all day. You never know how old these morsels are or how long they've remained unsold.
Street food here is the best. This stuff is usually fresh, hearty and hot. Anything that's been cooked up right in front of you is most likely going to be not only safe to eat but super tasty.
Popularity=good food. People wouldn't eat somewhere that had disgusting food; that would be pure madness. Similarly, people wouldn't eat somewhere that consistently made them feel ill. Eating somewhere that is popular with the locals is pretty much a good rule of thumb for anywhere in the world, but it works just as well in Belize.
If you get a chance to wash your hands, wash 'em! Didn't you learn this when you were younger?!
Don't eat unpeeled fruit and, on top of that, don't eat fruit you haven't peeled yourself. At least you KNOW where your hands have been.
There's a lot of seafood on offer here, which is totally delish. If you're worried at all about the freshness level of anything, don't worry yourself by eating it. Seafood can make you notoriously ill.
Refrigeration isn't much of a thing when it comes to dairy products on the street and these can turn bad very quickly in hot weather. Even if you fancy a glass of milk or whatever (we're talking to you, Ron Burgundy), don't give in to temptation! It's better safe than sorry.
If you're REALLY worried, stick to your hotel.
Even if you DO get a bad stomach it's easy to come by over-the-counter meds here, thankfully.
Not only is the food in Belize an actual delight, the food in Belize is safe to eat. If you're super worried, the best you can do is stick to dishes that omit meat and seafood, eat from your hotel/guesthouse only, and wash your hands!
There's such an immense amount on offer when it comes to food in Belize that it would be a shame to miss out. So we'll just say "wow, are we ever jealous right now?!"
Can you drink the water in Belize?
It's not 100% safe to drink the water in Belize. The infrastructure isn't so much to blame; it's more that disasters like floods, even those which occur miles and miles away, can cause all sorts of nasty things to get into the water. A high level of chlorine in the tap water is a little bit concerning also.
Though it should be fine for brushing teeth and showering, you should probably avoid drinking water from the tap in Belize. When it comes to drinking water, it's best to stay safe and stick to bottled water, which is available everywhere.
If your hotel has a filter in the lobby or something – great news. You can fill up here, in which case you might want to consider bringing a refillable water bottle of your own. We like the Active Roots Insulated Water Bottle because it's super durable and does a great job of keeping water cool.
Want to save the world?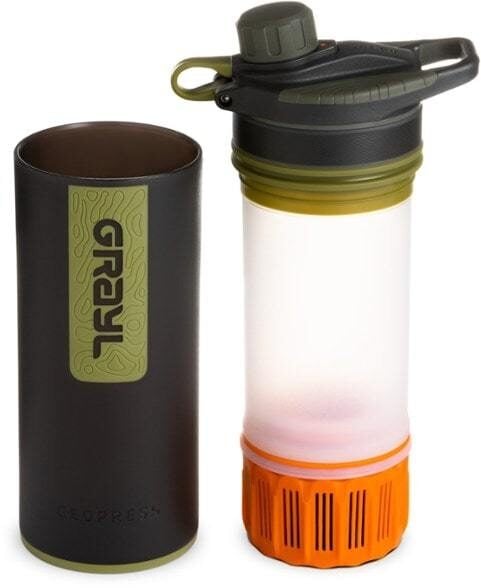 Single-use plastic bottles are a huge threat to Marine Life – Be a part of the solution and travel with a filter water bottle.
The GRAYL GEOPRESS water bottle is the ONLY all-in-one filter water bottle setup you'll need. Whether you need to purify the water from a hostel sink in Kathmandu or a stream trickle in the Andes, the Geopress has got you covered.
Read our full review of the GRAYL GEOPRESS!
Is Belize safe to live?
Asking 'is Belize a safe place to visit is one question, but it's another thing to wonder is Belize a safe place to live? There are quite a few things that make Belize a safe place to live. If you're thinking of making the move there – congratulations. We'd say go for it!
That's not to say that it doesn't come without its own unique challenges. Theft and burglary are quite common, so you're going to want to stay somewhere with good security. Go with a good real estate agency, or somewhere that's been recommended by other expats. Do your research, basically.
With this in mind, you'll have to get used to keeping everything locked at all times and never showing any valuables – ever. Don't advertise your home as somewhere that's littered with potential booty!
The same rules for tourists also apply if you live here: don't look rich and don't flash your cash. It's just a good way to attract people who might want it too!
Say goodbye to electricity and water that works 100% of the time. Though infrequent, things like blackouts and water shortages definitely happen.
Most expat communities abound on the Caribbean coast and on the cays. If beachside living is the reason you've come to Belize then you're in luck. These places, away from Belize City, are the safest places to live in Belize. San Pedro is popular. However, the capital is cheaper and you can choose to live in a gated community.
You may want to invest in a dog – sounds odd maybe, but dogs make for good security.
The expat community can be pretty transient meaning that you may find it a little hard to make lasting friends. And the idea of constant blue skies is, of course, weather dependent. If moving to Belize is something you have to do for work and it's not necessarily a 'choice,' then be aware that you'll have to keep a bit of an open mind.
If you're a laid back person who likes to take it easy, then you'll love the pace of life here.
How is healthcare in Belize?
Let's face it. Belize isn't exactly going to be top of many's lists when they're thinking of the world's best healthcare systems.
They'd be right too; the public health system is pretty rudimentary. Don't expect anything like a private room, or even a toilet roll. In big cities, you'll get more services in one of these government-run hospitals but in smaller towns and rural communities, these are more rural services.
Public hospitals, more often than not, are staffed by nurses exclusively, with doctors available on call. There are problems with overcrowding as well and they may not always be able to provide the medicines or the treatments you need.
Then there's the private system, which is a lot more comprehensive and requires travel insurance. The service is faster, the quality is higher, and they are understandably more expensive.
Generally, if you've got only a minor complaint or injury, head to a public hospital. Even a pharmacy should be able to help with diagnosis and treatment of a minor illness. But for more serious issues you should head to a private hospital. In either situation, the language shouldn't be an issue.
If the ailment is really serious, then head across the border to Mexico. (No, we're not joking! Mexico's healthcare system is one of the best in the world!) Ultimately, the healthcare in Belize is just too mediocre to deal with anything life-threatening.
Helpful Belize Travel Phrases
Lucky for us English speakers, English is the official language of Belize. Garifuna people speak a Spanish/English/Creole. To the ignorant ear, Creole sounds like the background chatter from a hit Kingston reggae record.
Keep in mind that more people will speak Spanish as you get closer to the Guatemalan border. Certainly, you can get by with English just fine, but knowing a bit of Spanish will definitely come in handy.
For the Spanish speaking parts of Belize, here are a few helpful travel phrases with English translations for your backpacking Belize adventure:
Hello – Hola
How are you? – Como estas?
Good Morning – Buenos dias
I don't understand – No entiendo
How Much – Cuánto cuesta?
Stop here – Te detienes aquí
Where Is The Toilet? – Donde esta el bano?
What Is This? – Que es esto?
Sorry – Lo siento
Help! – Ayudame!
Cheers! – Salud!
Dick head! – Cabron!
Final thoughts on the safety of Belize
Missing out on Belize because of a misconception that is based on warring gangs, as well as border incidents between neighboring countries that aren't your own, would be a huge shame. We wholeheartedly believe that Belize is safe to travel to; it's safe to backpack through Belize, it's safe to visit Belize on holiday and there hasn't been a serious Belize travel warning for some time now.
You will have to be a little more careful than usual when it comes to watching your pockets, but honestly, that's nothing a moneybelt won't stop. Thefts sometimes occur from hotel rooms, but a little research on the best places to stay in Belize would be a good way to avoid this problem. At the end of the day, being aware of your surroundings always pays off.
When it comes to tips on staying safe in Belize, that's just about it. Our insider guide should have given you a boatload of hints and advice that will help you stay safe when you visit this Central American/Caribbean country. Hopefully, you're going away full of information that'll give you peace of mind on your trip to Belize. And have you thought about getting Travel Insurance for your trip? You can get a quote from World Nomads by clicking on the link below.
Disclaimer: Safety conditions change all over the world on a daily basis. We do our best to advise but this info may already be out of date. Do your own research. Enjoy your travels!
"Find out how YOU can support the site. We work hard to put out the best backpacker resources on the web, for free! It's all about helping out our tribe of awesome backpacker readers [that's you!]. Please visit the link to find out how you can help keep the site going 🙂
For the sake of transparency, some of the links in our content are affiliate links. This means that if you book your accommodation, buy a book or sort your insurance, we earn a small commission at no extra cost to you. I only link to stuff I've actually used and never endorse products or services that are not up to scratch. Thanks for your support.