Rainforests, incredible beaches, savanna, highlands, and the highest mountain in the Caribbean; there's no shortage of things that make the Dominican Republic an awesome place to travel.
It's the most popular tourist destination in the Caribbean, but at the same time, is rife with poverty. Unfortunately, this dynamic leads to increased levels of crime; sometimes it's pickpocketing, sometimes it's a mugging. So the question of whether or not it's safe to travel to the Dominican Republic makes sense.
Don't worry. We have created this insiders guide on how to stay safe in the Dominican Republic because we at The Broke Backpacker believe that safe travel is possible. At the end of the day, getting to see incredible countries can be done if you travel smart!
Regardless if you're wondering whether the Dominican Republic is safe for families, or if you want to know some tips for solo travel in the Dominican Republic, we've got you covered. All this and more will be addressed in our insider's guide.
You're right to be concerned about backpacking in the Dominican Republic, even if it's just for a short trip. We get where you're coming from, of course, but try not to be discouraged. Our guide is going to let you in on a load of ways to stay safe in the Dominican Republic.
How Safe is the Dominican Republic? (Our take)
The Dominican Republic is pretty varied for a Caribbean destination. It's heavy on the package tourism, but it's great for backpacking beyond the seascape of all-inclusives.
That may be the case, but that doesn't mean that the Dominican Republic is totally safe. In fact, sometimes, it's far from it. Reports of muggings at gunpoint during the day in residential areas is known. Assaults and robberies even at the airport DO happen. Night times can be very sketchy.
There's a big focus on beaches and having fun in the sun, but the sea can be dangerous. Being ignorant of warnings, flags, and riptides is not a good way to start your trip.
There are also earthquakes here… and hurricanes, too… Nature as a whole can be pretty merciless in the DR.
At the end of the day, keeping your wits about you and being aware of impending weather or violence is a good place to start when thinking about safety in the Dominican Republic.
There is no such thing as a perfect safety guide, and this article is no different. The question of "Is Dominican Republic Safe?" will ALWAYS have a different answer depending on the parties involved. But this article is written for savvy travellers from the perspective of savvy travellers.
The information present in this safety guide was accurate at the time of writing, however, the world is a changeable place, now more than ever. Between the pandemic, ever-worsening cultural division, and a click-hungry media, it can be hard to maintain what is truth and what is sensationalism.
Here, you will find safety knowledge and advice for travelling Dominican Republic. It won't be down to the wire cutting edge info on the most current events, but it is layered in the expertise of veteran travellers. If you use our guide, do your own research, and practise common sense, you will have a safe trip to Dominican Republic.
If you see any outdated information in this guide, we would really appreciate it if you could reach out in the comments below. We strive to provide the most relevant travel information on the web and always appreciate input from our readers (nicely, please!). Otherwise, thanks for your ear and stay safe!
It's a wild world out there. But it's pretty damn special too. 🙂
Is the Dominican Republic Safe to Visit Right Now?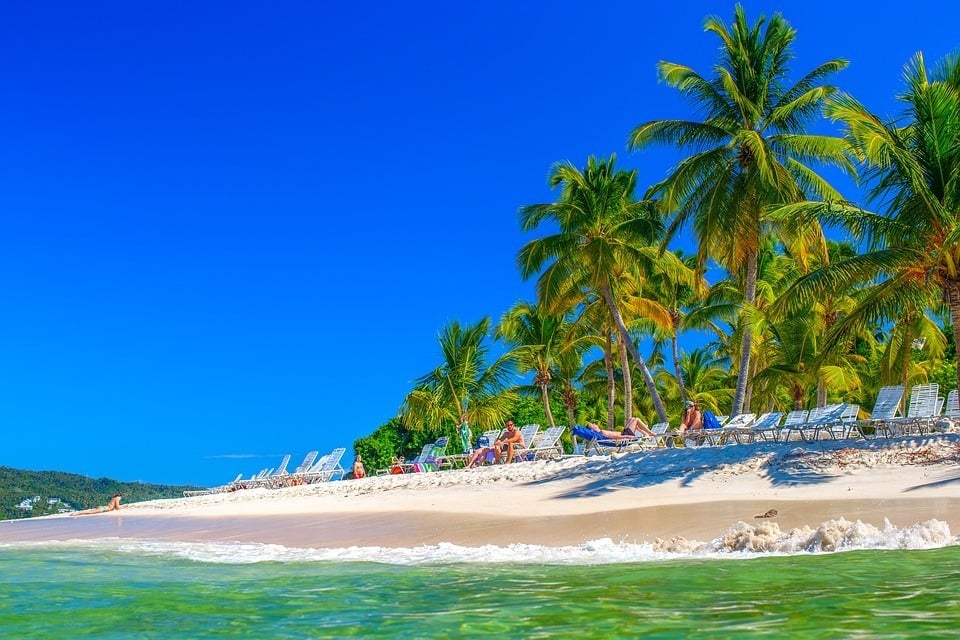 The Dominican Republic is the most visited destination in the Caribbean; more than any other nation in this dreamy stretch of island-scattered sea.
The people of the Dominican Republic are friendly and welcoming. Despite the huge amount on offer for the casual, resort dwelling tourist, there's plenty on offer for backpackers, too. There are sleepy villages, trekking opportunities, and some amazing beach communities, to give just a few examples.
As a backpacker traveling outside resorts, you'll see some extremes, namely in terms of poverty. You'll see poor living conditions, people openly carrying weapons, litter, possible threats to your safety, not to mention sex workers. This is more a sign of the fact that the Dominican Republic is still very much a developing country.
The Dominican Republic has had a pretty turbulent 20th century. There has been a dictatorship, civil war, US occupation, authoritarian leaders… Today, however, Dominican Republic is comparatively stable.
Unfortunately, poverty is a still an issue here. 20% of the population struggles to get by on $2 a day. Around 1/5 of all Dominicans live in shacks. Tourism may bring a lot of money to the country, but there are a lot of negative impacts as not every tourist is respectful of the locals. It's partly your responsibility to make sure those serving you are taken of care of and to support local communities.
The Dominican Republic is known internationally for its sex tourism. In a 2015 study, the International Justice Mission found that roughly a quarter of all sex workers were under 18. There's also a high rate of HIV and AIDS in comparison to other Central American and Caribbean countries.
There's nothing to keep you away though and, as we said before, it's safe to visit the Dominican Republic right now. Go enjoy the beauty of it; just but be aware of abusive and unethical businesses.
Safest Places in Dominican Republic
When choosing where you'll be staying in Dominican Republic, a bit of research and caution is essential. You don't want to end up in a sketchy area and ruin your trip. To help you out, we've listed the safest areas to visit in Dominican Republic below.
Puerto Plata 
Puerto Plata is a charming destination on the North Coast of the island. Though definitely a city, the population is small enough to give it a laid-back vibe. It's also known for its stunning beaches, many of which come with smaller crowds than those on the southern coast.
The city centre is a great spot for connecting with Dominican locals. Puerto Plata is a major shopping hub for island residents, and is home to both international chains and local boutiques. There's also a major airport nearby, perfect if you want to reduce travel time.
Keep  in mind that many tourists often mean pickpocketing thieves and petty theft. While Puerto Plata is the safest city in the D.R., taking a bit of caution and keeping an eye on your stuff will go a long way. 
A beach paradise
A beach paradise
Puerto Plata
Puerto Plata may be small but it is still a city, so try to stay centrally for all of the best attractions. That being said, if you're looking for peace and quiet then it's worthwhile checking out the smaller villages nearby.
Las Terrenas
Another northern destination, Las Terrenas is an even smaller city offering huge beaches. There are three within walking distance of the town centre, each offering something a little different. The one closest to the centre is a major nightlife hub, with bars and clubs to cater to a variety of tastes.
Las Terrenas is another great culinary destination, offering an endless supply of romantic restaurants to include in your date nights. This destination perfectly balances out the convenience of a city with the laid-back charm of a smaller town right on the coast.
However, is quite small, so you can easily get around on foot. If you don't have a car we recommend sticking to accommodation that offers airport transfers. There are some fantastic luxury options across the area, which will give you a bit more safety, but more budget-friendly choices – which are just as safe and secure. 
A hub for relaxation
A hub for relaxation
Las Terrenas
Altough it might be a relatively small spot, Las Terrenas offers amazing food, beaches and budget accommodation while being pretty safe as well. But as always, watch your stuff when you're jumping into the waves!
Santiago de los Caballeros
Known simply as Santiago to locals, this is the second-largest city in the Dominican Republic. Despite the sizable population, it offers a more laid-back alternative than Santo Domingo. It's also one of the safest destinations in the Dominican Republic. 
While it doesn't have a beach (hence less tourists), the city offers historic architecture, charming cultural attractions, and delightful local restaurants. The lack of tourists also means you get a more authentic insight into Dominican life. Santiago de los Caballeros is well and truly one of the coolest spots in the country for those willing to throw away the guidebook.
Off the beaten path
Off the beaten path
Santiago de los Caballeros
The great thing about Santiago de los Caballeros? As the second-largest city, it's actually quite well connected by public transport. That means you can stay here as a base to truly embrace local culture, whilst still getting to visit the coast when you feel like it.
Places to avoid in Dominican Republic
Unfortunately, not all places in the Dominican Republic are safe. You need to be careful and aware of your surroundings pretty much anywhere you go in the world, and the same goes for visiting the Dominican Republic. To help you have a safe trip, we've listed the areas you need to be more careful of below: 
Santo Domingo at night – while the capital city can be pretty safe during the day, we'd recommend avoiding it completely at night, especially the street La Duarte. If you have to go out, stick with a large group or get your accommodation to call you a taxi.
Any beach that has its danger flags raised – it might seem like a beautiful day and the waves are calling you, but don't underestimate the currents and riptides. if you see warning flags, stay away from the water! Staying on the beach will be fine though.
Empty side streets – these are especially dodgy at night, no matter where you are. If it doesn't seem like tourists belong there, stay far away from it!
It's important to know that Dominican Republic is pretty safe overall, but a bit of caution and research before you start your travels will go a long way. If you want to increase your safety during your stay, read on for our insider travel tips. Stick to those and you won't have a single issue in Dominican Republic.
Dominican Republic Travel Insurance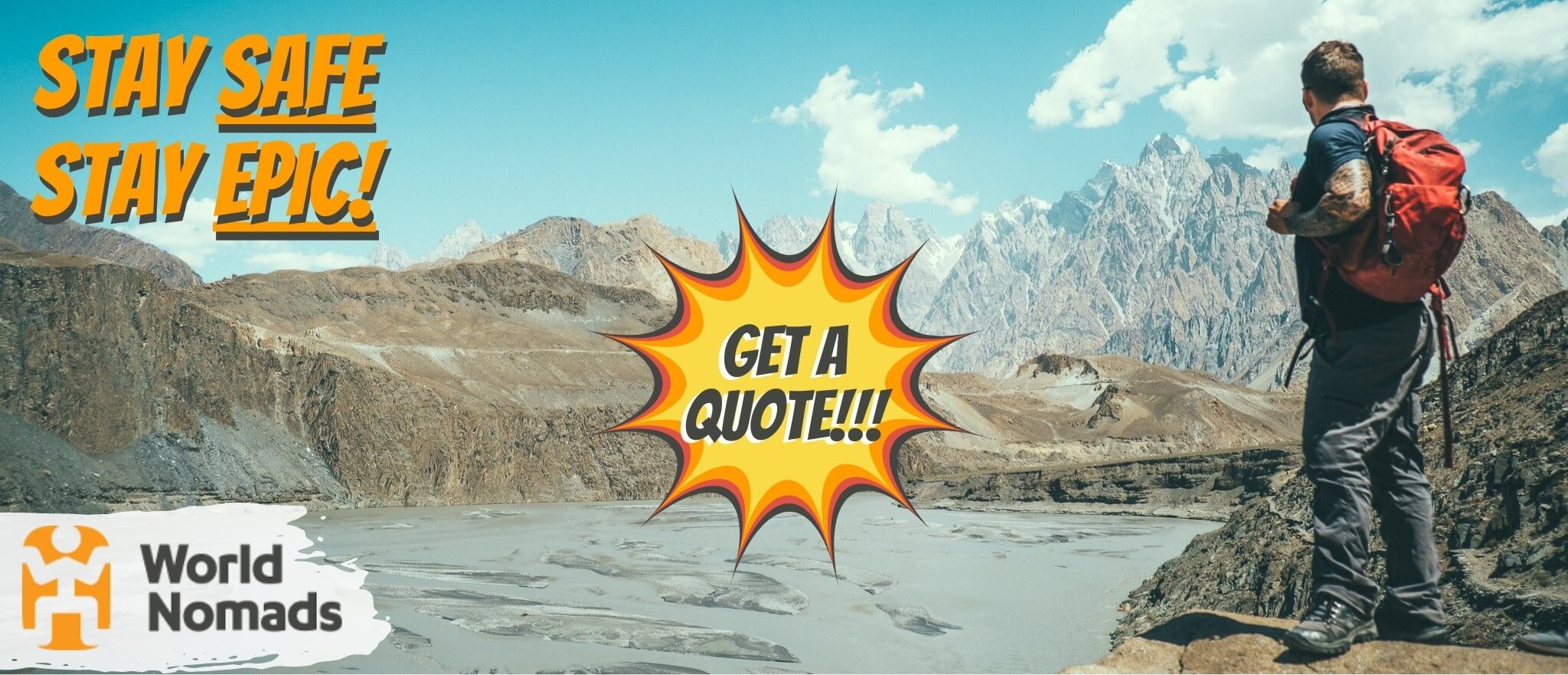 It's good to get lost sometimes, but it's also good not to get too lost. There are people that want you home in one piece.
There's one travel insurance provider The Broke Backpacker trusts for all his wildest shenanigans… World Nomads!
Click the button below to get a quote on your insurance or read our in-depth review of World Nomads' coverage. And then… let the shenanigans begin. 😉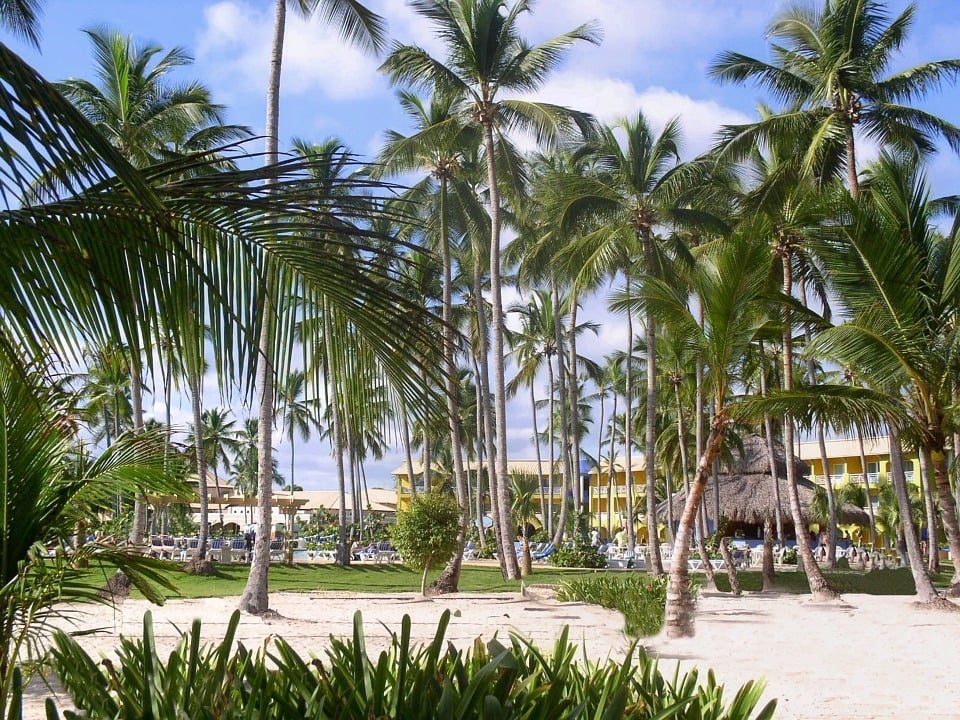 It's a super popular destination for tourists, but the Dominican Republic isn't without its problems. Violent crime against tourists, mainly in the form of robberies, definitely still occurs. By keeping your wits about you and making sure you travel safe and smart, you'll likely avoid any trouble. To help you even more, here are some handy travel tips to safely travel in the Dominican Republic.
Don't walk by yourself at night time – Crime is more active after dark, beaches ESPECIALLY. Get a cab home.
Don't even TRAVEL at night – same.
Flashing your cash in ANY way is a no-no – SLRs, phones, jewels, actually displaying large sums of money. These things make you look rich and therefore a target.
Change your money at banks or official money exchange places – anything else is not recommended at all.
Learn some of the local lingo – it's not necessary, but if you plan on going off the beaten track, knowing some (Dominican) Spanish is a good idea.
Get the relevant vaccinations before you head off – read up on what you'll need and GET 'EM.
Keep your belongings close – pickpocketing happens in tourist areas, so be careful. Try investing in a money belt, and know how to safeguard your cash while travelling.
Stay in gated communities – If you're planning to stay in one of the best villas in the Dominican Republic, choose one in a gated community for added secirity.
Prepare for hurricanes! – the season is between June and November and you should know how to deal with them. Listen to local advice and keep up to date with the weather…
Protect against mosquitoes – mosquitoes carry dengue fever and chikungunyi, both of which are just nasty. Cover up and apply repellent.
Avoid stray animals – rabies is a thing here so it's best to not pet stray dogs and cats.
Be aware of your surroundings at ATMs – people may try to look at your pin and then steal your card. Seems simple but it happens
Stay safe in the sun! – it's a hot place in the Caribbean. Sunscreen, shade, and hydration, people.
And stay safe in the water – beaches often don't have lifeguards. Currents and waves in hurricane season can be dangerous. Swimming drunk, for that matter, will put you in an even more disorienting situation.
Take care on the roads – seriously: many people die on the roads in the Dominican Republic. The rate is 10 times that of the UK.
Be careful around the Haitian border – especially if you intend to cross it. Research what you need to do when crossing so you don't have to linger.
DON'T talk about Haiti either – it's a complex situation.
Don't take drugs – you don't know WHAT it is, WHAT it funds, PLUS it's illegal with hefty prison sentences to punish offenders.
Practise safe sex – AIDS/HIV is a problem here. Always wrap up.
Don't pay for sex – you don't know the situation, who's getting the money, anything. Child prostitution is also a big problem.
Get a room – public displays of affection are uncommon. Best not.
Don't resist if you get robbed/carjacked – this can unfortunately happen. If it DOES happen, hand over the goods. Your life is worth more than a rental car.
Keep your wits about you in remote/residential areas – even in daylight hours. Muggings aren't uncommon.
Walk confidently – anything you can do to look less like a tourist is going to lessen the risk to your safety.
Know what to do in an earthquake – they happen here. Take shelter, and if you're near the beach, go to higher ground – a tsunami could arrive in minutes
Use your room safe or locker – things can get snatched from your room. Best to keep it out of sight.
Lock the doors and windows of your room – just in case.
So whilst there is a lot to keep in mind when you travel to the Dominican Republic, most visits to here are trouble-free. Plenty of backpackers love it for good reasons – it's relatively calm in terms of the backpacking scene, there's loads to do, and locals are mostly friendly.
Follow your gut and avoid getting into bad situations. Knowing what to do in a natural disaster will help, too. Do these and you will have a great time without worrying!
Insider Safety Tips from the Broke Backpacker Team
Travel SAFE and Make a Difference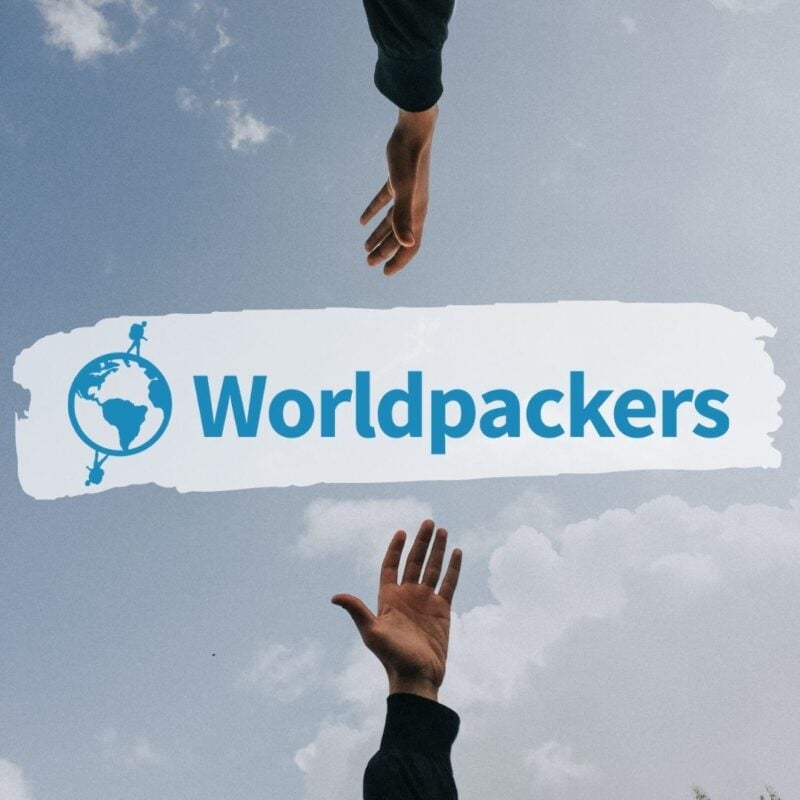 Worldpackers connects travellers with hostels, schools, NGO's and many more for work exchange opportunities. Chat with your host before you arrive to have a soft landing and then experience your destination differently! Local connections make your trip a lot safer – and open up a whole new culture experience.
Worldpackers trips are insured! They'll help you find a new host and cover up to 7 nights in a hostel so you're not left on your own if a host falls through.
Use the discount code BROKEBACKPACKER for a $10 discount. Plus, get 3 free months on your membership during their summer promo!
TRAVEL BETTER NOW
Backpacking is becoming more popular here and it's easy to see why: humpback whales, colonial architecture, adventurous landscapes, and those beaches… Wowsers. That being said, solo travel in the Dominican Republic is as safe as one would expect.
Solo travelers are always a little more vulnerable so it's important to be careful when you're traveling around the Dominican Republic alone. It may be safe on the whole, but crimes against tourists aren't uncommon and you're more likely to be targeted when by yourself. Obviously, it pays to know HOW to travel solo in the Dominican Republic.
It's a good idea to hop on a tour to discover places easily and safely. Whether that tour may be a long or short one makes no difference – this is a great way to get acquainted with the island.
Obviously, it's down to how you want to travel. Resorts are safe, but you'll be less likely to meet other backpackers. Punta Cana is good for nightlife, whilst Cabarete attracts a mix of travelers.
Meeting other backpackers is a good idea. This will help you to keep sane and happy by talking to other like-minded people, plus you can share travel tips for the Dominican Republic – and/or further afield, too. Win-win.
Going around by yourself at night time isn't a very smart move. This is a good time for a robbery, though in some areas it doesn't matter what time of day it is. The general rule of thumb here is to avoid walking through quiet/sketchy areas by yourself. Case closed.
You might also want to get yourself a local guide. Not only will you be able to safely explore different areas of the Dominican Republic with someone who knows the local scene, but you'll also get to learn A LOT more. Fumbling through your guidebook as you squint at bilingual signs is a both annoying and sometimes precarious.
Be positive and friendly! Especially if you're moving through more 'local' areas. Say ¡Hola! with a smile on your face and the country will open itself up to you, to an extent. Obviously, greeting some gang members chilling out at a mall in Santo Domingo isn't smart, so use your common sense.
If you're a male traveling alone you may be approached by prostitutes. Be aware of this and say a firm "no" before moving on. Sex tourism has created this state of affairs, so don't contribute any further.
When you're out at night, getting crazy drunk isn't a good idea. You'll lose your senses and be a lot more vulnerable to robbery or anything else unsafe.
Tell someone at your guesthouse, or keep in touch with people at home, if you're going out to explore more remote places. Someone knowing where you are is better than no one knowing where you are.
Though there are risks involved with traveling by yourself anywhere, the Dominican Republic is safe for solo travelers. Keeping your wits about you, meeting other people and even getting a local guide will really help you explore this country to the fullest. In the end, it's an easygoing place that you're going to love, and you'll love it more if you stay safe!
Travel with peace of mind. Travel WITH a security belt.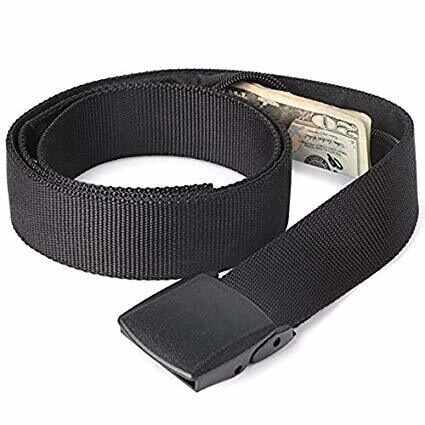 Get your cash stashed with this awesome Pacsafe money belt. It will keep your valuables safe no matter where you go.
It looks exactly like a normal belt except for a SECRET interior pocket perfectly designed to hide a wad of cash or a passport copy. Never get caught with your pants down again! (Unless you want to.)
Hide Yo' Money!
Is the Dominican Republic safe for solo female travelers?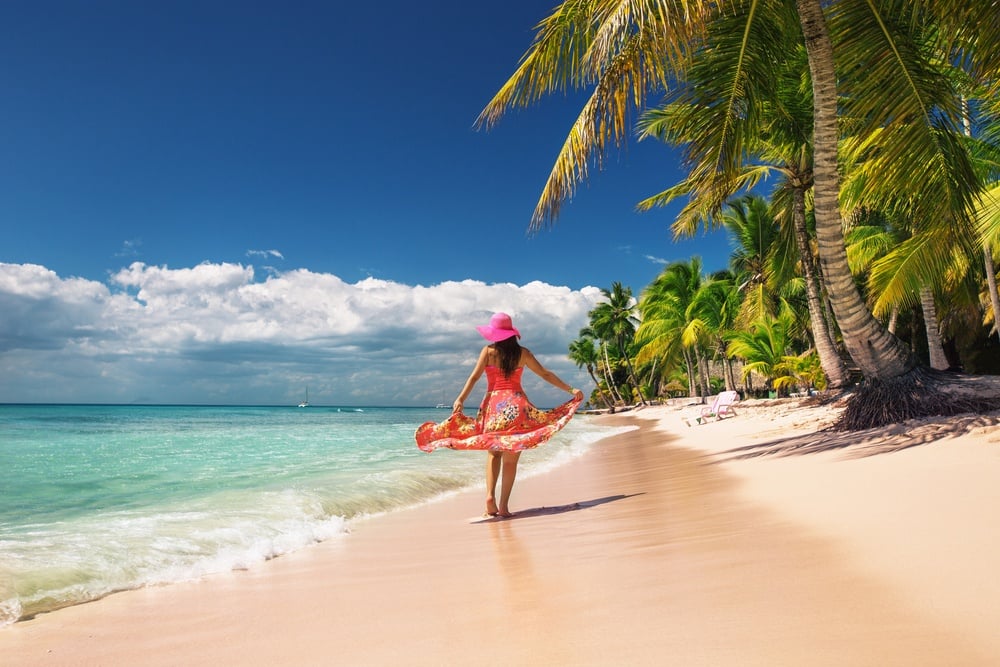 Whilst the Dominican Republican is used to solo female travelers, as many do visit here, there are some cultural dynamics to be aware of.
Local women struggle in the Dominican Republic due to a hyper-masculine society. In fact, many have emigrated to the US to escape this oppression. For female tourists, some could become the object of the same attention (and belittlement) as well.
To avoid becoming a victim of chauvinism or worse, it definitely helps to know how to stay safe as a female traveler. Here are a few tips on how to travel as a female in the Dominican Republic:
Many people are friendly and speak English. Don't be afraid to ask for help if you think something dodgy is going on around you, you're lost, feel like you're being followed – anything. People will be happy to help you.
Walking around at night is not a good idea; don't do it. Get a taxi or walk with people, but whatever you do don't wander around by yourself.
Dressing appropriately for the situation is a good idea; wandering around town in a bikini top and shorts is not, so we'd recommend against that. To avoid receiving to the wrong kind of attention, try blending in with the local women. Wear what they wear to gain extra respect.
Don't take drinks from strangers. Drink spiking happens, so be careful.
Men can be pushy in the Dominican Republic. In fact, they can be quite aggressive in their pick-up technique. This happens mainly in local bars and clubs. Our advice would be to dress conservatively and be firm in turning men down. At the same time, heading out to a local bar or club alone isn't wise. Find some travel buddies to go with.
Speaking of which, making friends with fellow travelers or backpackers is always something you should do. It helps to beat the blues of traveling alone, gets you some safety in numbers when hitting the local drinking holes (or going anywhere), and if you stay in a female-only dorm you might get to meet some pretty cool people doing the same thing as you. Shared experiences are fun!
It's not unsafe to travel around by yourself, but if you want to take ALL the stress out of it, book yourself onto a tour. A walking tour, a snorkeling tour, any sort of tour. You'll get to meet people and see the country without having to lift a finger. Being a well-touristed destination, these are easy to come by.
At the end of the day, backpacking as a solo female traveler ANYWHERE is "risky." Being aware of your surroundings, making sure you don't wander alone at night, and generally being smart with how you travel is going to make your trip safer.
It may have a macho society, but the Dominican Republic is safe for solo female travelers. You'll be able to explore this amazing country safely, so get ready for some amazing times ahead!
DON'T DIE OUT THERE! …Please 🙂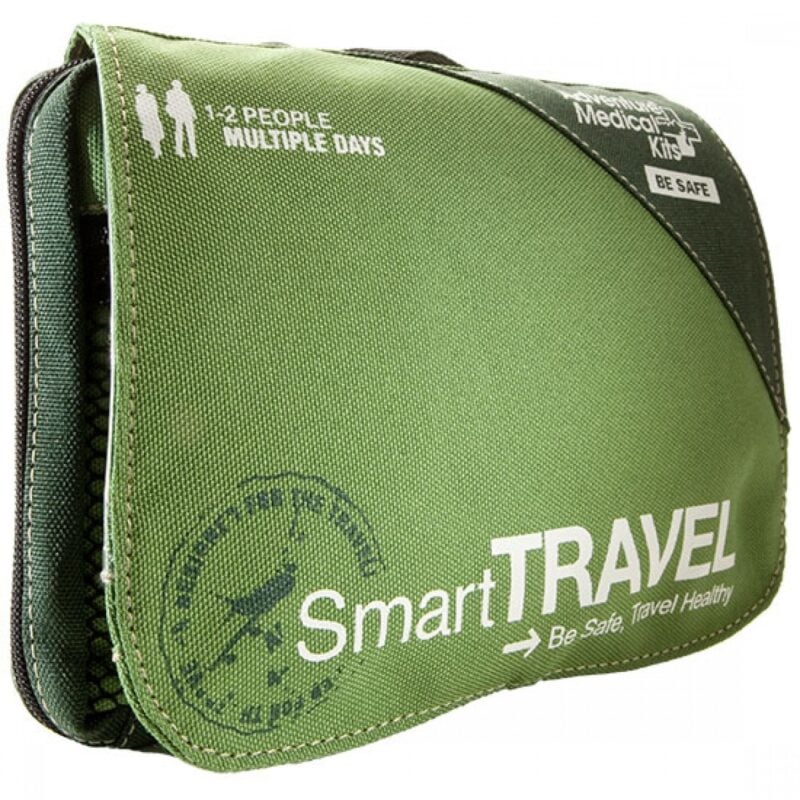 Things go wrong on the road ALL THE TIME. Be prepared for what life throws at you.
Buy an AMK Travel Medical Kit before you head out on your next adventure – don't be daft!
Buy on REI
More on Safety in Dominican Republic
We've covered the main safety concerns already, but there are a few more things to know. Read on for more detailed information on how to have a safe trip to Dominican Republic.
Is the Dominican Republic safe to travel for families?
Completely! The Dominican Republic is very safe to travel for families. Parents and their children have been hitting up this popular destination for years – and continue to do so.
If you're planning on staying in a resort area, and the only time you'll be leaving is on a tour, then you won't need to worry about anything except natural disasters. Not staying in the sun too long, being careful in the sea, not petting stray animals, protecting against mosquitoes, being careful around pool areas; these are easily done and ensure that everyone stays happy.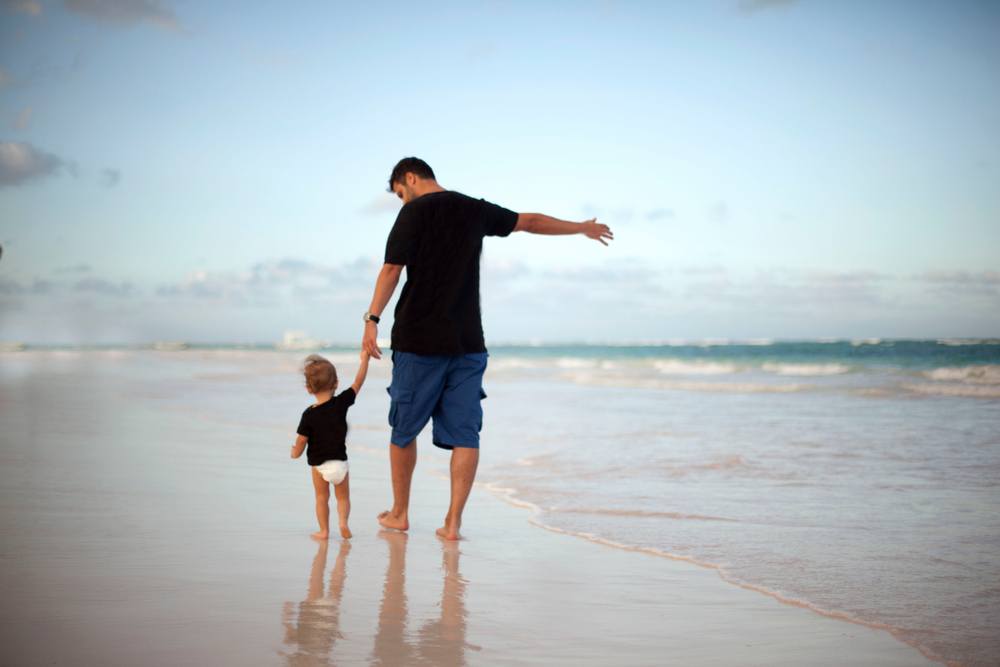 Just remember a few extra things to make sure your family holiday in the Dominican Republic is safe.
The Dominican Republic is small so getting around is pretty easy.
Cities aren't very fun with children. They are hot and a hassle. However, there are many destinations in the Dominican Republic that are great for families.
When it comes to child safety, there won't be things like car seats for children.
Breastfeeding is ok in public. Discretely, in a quiet spot, but not in a restaurant for example. Again if you're in a resort, everywhere is ok.
Is it safe to drive in the Dominican Republic?
One of the biggest dangers in the Dominican Republic is its roads. Well, the roads themselves are good, but the drivers are terrible.
Aggressive driving and a lack of road signs and traffic laws being enforced don't help matters. Around 3,000 people are killed on the road per year according to WHO.
Despite these hazards, tourists can and do drive in the Dominican Republic all the time. It's about weighing up the risk and adventure levels involved.
If you DO rent a car and decide to actually drive it, be prepared to be switched on at all times. We'd recommend having experience of driving in a developing country before.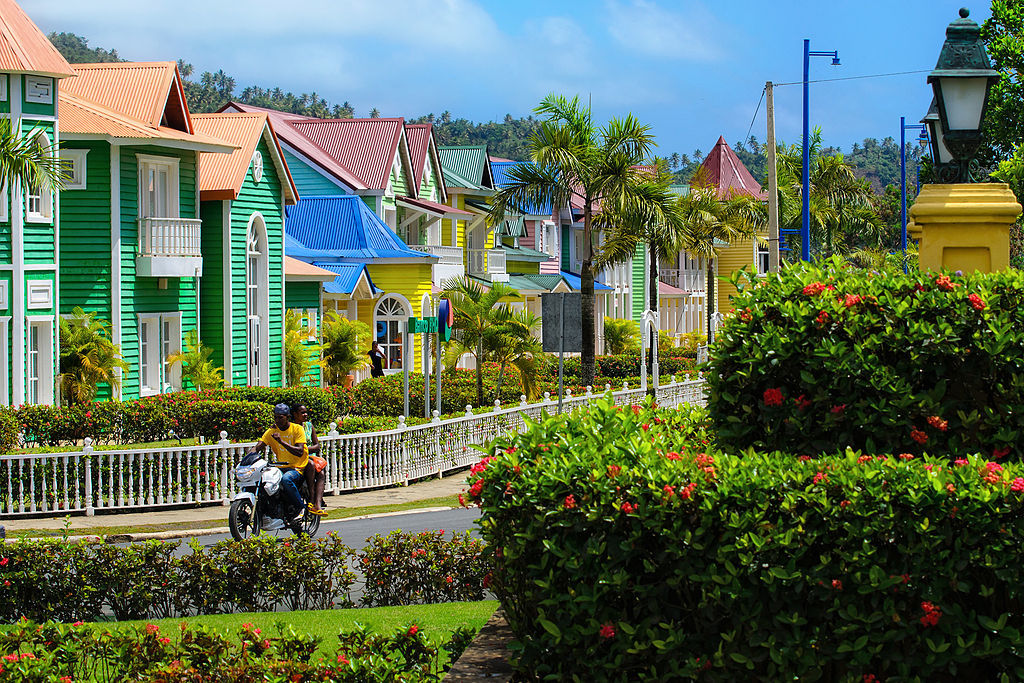 One thing that might happen is being pulled over and solicited for a bribe. Use your own prerogative here. Some have made them go away by starting to film them on their phone, others have paid a tiny amount.
IF you're in a car accident and someone gets hurt, you're held in custody until it's worked out. This could take a couple of days…
Because of the craziness of the roads, we'd say, while doable, it's really not safe to drive in the Dominican Republic. Don't bother.
Is Uber safe in the Dominican Republic?
Uber is sometimes safe in the Dominican Republic, and sometimes not. Whilst Uber is easier because you don't need any language to book a cab, there's still a BIT of risk involved. Because it's still Dominican road travel and the roads are a little dangerous.
You get good drivers and bad drivers, of course, so it's kind of luck of draw. Some drivers may try to scam riders with classic fare hiking techniques, like the ol' roundabout method or dropping you off beyond your intended destination. These types are rarer though and, most likely, you'll have no issues using Uber in the Dominican Republic.
Uber is also cheaper than taxis (when there's no traffic, otherwise the price surges).
We'd say Uber is safe in the Dominican Republic, at least compared to driving or walking yourself. Currently Uber is available in Santo Domingo, Santiago, and Puerta Plata. 
Are taxis safe in the Dominican Republic?
The taxis are surprisingly safe in the Dominican Republic.
Drivers don't cruise around looking for riders though – instead, you'll find them at designated ranks near bus terminals, hotels, tourist areas, parks, and any other sort of big, official-looking place.
Rates from the airport are pre-arranged (there's a board of prices to certain destinations at the taxi rank). Otherwise, it's best to do research on certain routes to make sure you're paying at least NEAR the proper amount. Make sure you haggle a price before you get in – and in Dominican pesos, not US dollars.
If you're traveling with children, it's ok for them to sit on your lap in taxis. In fact, it's legal.
You can ask for an English-speaking driver from a lot of taxi companies. Don't forget, the Dominican Republic is super used to tourists.
Don't go to unmarked taxis. These are not licensed and most likely not safe.
Licensed taxis in the Dominican Republic are safe and are a good way to get around – and it saves you from navigating the chaotic roads yourself!
Is public transportation in Dominican Republic safe?
Public transport in the Dominican Republic is cheap, extensive, and highly varied.
First off are the publicos. These are old minibusses or trucks and you can find them in towns or cities. They don't particularly have any signage designating them as publicos but you'll know them when you see 'em. Safety isn't the highest concern; they squeeze people on and drive erratically.
There's also motoconchos. These are motorbike taxis and are often the quickest and cheapest way to get around, especially if you're a solo traveler. Note that these can be dangerous. They drive very fast and if you've got luggage, it's not the best idea for long distance travel. Not really what we'd call 'safe'.
Buses in the bigger cities are pretty normal. However, overcrowding is common.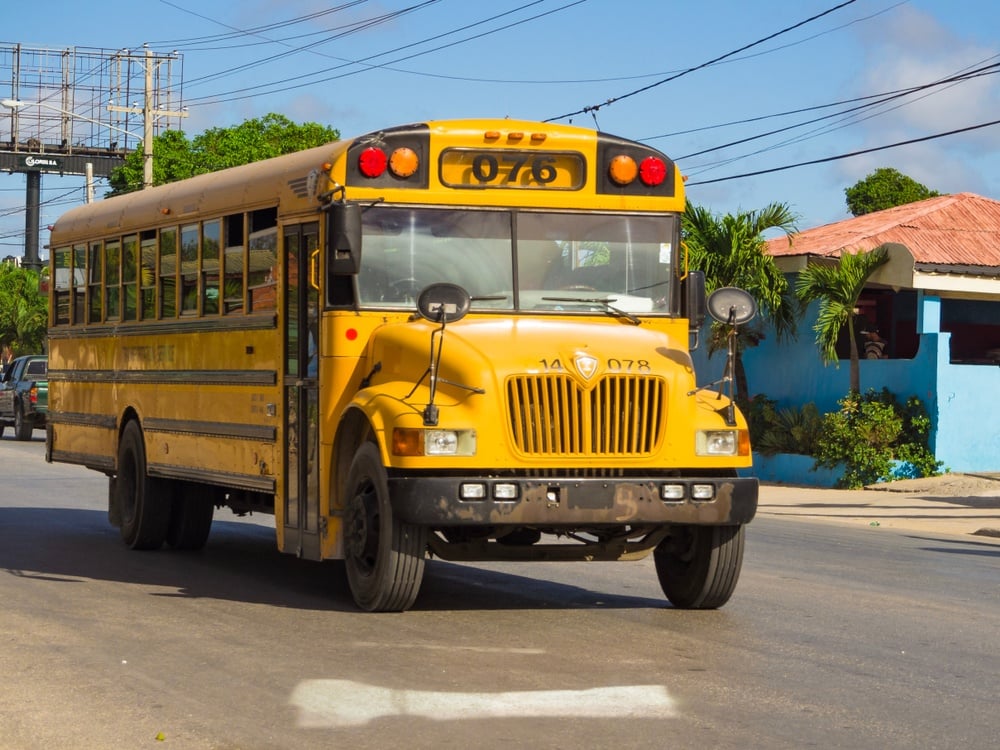 There are also minibusses that travel between towns and city neighborhoods. These are cheap and frequent. We'd say they're a good option if you know where you're going. Again: get ready to be squashed, especially in rush hour.
Then there's the metro, which you'll find in the capital, Santo Domingo. It doesn't have to contend with traffic obviously, so it's fast and safe. It's clean, modern, comprehensive, and is expanding every year. This is by far Dominican Republic's safest mode of public transport.
If you book a tour through a resort, most likely the transport you'll encounter will be more luxury, and A LOT less crowded, than actual public options.
Privately owned bus companies offer up more deluxe buses with air-con and sometimes even a film! These are a bit more high-end and a good way to get across the country.
Overall, public transportation in the Dominican Republic is safe, if not a little hectic and uncomfortable. Just be sure to watch your pockets and bags when there are lots of people around.
Use Bookaway to find the best deals on transport – buses, planes, trains, and ferries. It'll save you a load of time when organising transport and you'll probably nab an EPIC DISCOUNT too!
Book your transport on Bookaway NOW. Get the best price for the best ride… then use those savings to buy the best feed in town!
Book Your Transport Here!
Is the food in the Dominican Republic safe?
A mix of indigenous Taino, Spanish and African-influenced dishes make the food in the Dominican Republic a pretty hearty cocktail of tastes. Expect rice, mashed plantain, root vegetables, salami, avocado, salads and a lot of meat and fish, all of which we approve of.
Best of all, the food in the Dominican Republic is safe! Food is tasty and definitely a good way to get to grips with the melting pot of cultures in the country. By following these tips you should extra safe against possible viruses and stomach aches.
Avoid things that are served cold. Stuff that's been cooked fresh and hot is always going to be less of a risk than something that's been pre-cooked and has been sitting around for a while and most likely collecting germs.
Keep an eye out for the oil that ingredients have been cooked in. We're not going to lie, fried food is dreamy but if the oil it's been cooked in looks dark and gross, then it probably IS dark and gross. Avoid it.
Go for the street food, we beg you! It's amazing and some of the finest street cuisine in the world. As with all street food, just make sure that what you're about to eat has been freshly cooked, of course. Another rule is to look at how busy it is – if it's busy, it's worth queuing because the food is probably delicious and safe to eat. Popular = tasty. Popular = sanitary.
Don't have salads, unless you're at a nice resort. It may look delicious, but if that's been washed in tap water… yeah, that won't be good for you. Same for fruit and veg. Unless boiled, peeled or washed (in bottled water), don't even bother.
The most important thing as ever: wash your hands before you eat. Can't wash 'em? Handsanitizerer.
Traveling with an allergy? Research ahead of time how to explain your allergy. Keep in mind that store owners and restaurant staff might not know all the foods that contain allergens, so it's helpful to know the names of some of these too. If you're gluten-free, pick up a handy Gluten-Free Translation Card with descriptions of Celiac disease, cross-contamination risk, and local Dominican ingredients in Latin American Spanish.
Thanks to tourists and their picky, picky ways there are a ton of different restaurants – especially in cities and resort towns – that cater for pretty much everyone. You'll find everything from sushi joints to American chains, all of which are pretty safe. While we certainly don't suggest traveling to the Dominican Republic to eat a burger, at least you'll know it's safe.
Can you drink the water in the Dominican Republic?
Nope – the tap water in the Dominican Republic is not safe to drink. It's treated, but the piping system is old, leaks and lets all other contaminants in. Not even filtered water is ok.
All Dominicans drink bottled water. Do the same. You can find bottled water everywhere – just make sure it's sealed.
We repeat: The water in the Dominican Republic is NOT safe.
If you don't want to carry a plastic bottle around, then invest in a filtered travel water bottle. Alternatively, you can invest in a tough refillable bottle, like the Grayl Geopress, and fill up on purified water from your accommodation.
Save $$$ • Save the Planet • Save Your Stomach!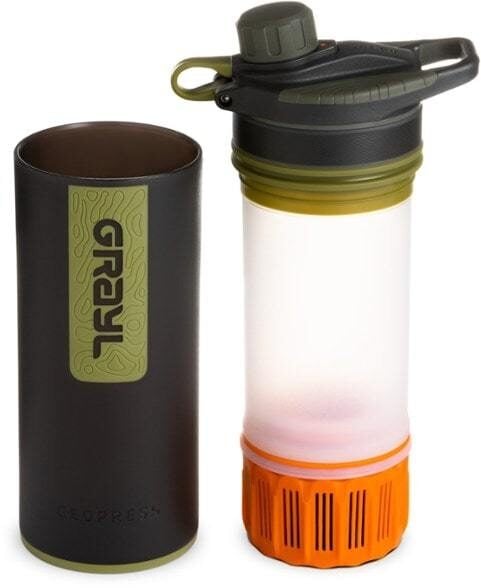 Drink water from ANYWHERE. The Grayl Geopress is the market's leading filtered water bottle protecting your tum from all the waterborne nasties. PLUS, you save money and the environment!
Single-use plastic bottles are a MASSIVE threat to marine life. Be a part of the solution and travel with a filter water bottle.
We've tested the Geopress rigorously from the icy heights of Pakistan to the tropical jungles of Cuba, and the results are in: it WORKS. Buy a Geopress: it's the last water bottle you'll ever buy.
Buy a Geopress!
Read the Review
Is the Dominican Republic safe to live?
A stable economy combined with established expat communities and opportunities for English speakers means that moving to the Dominican Republic is definitely viable.
On top of that, the incredible beaches, trekking opportunities, the general nature and the landscape of this varied country make it a very nice place to live. 
Obviously, there are things to watch out for. As we've discussed, safety can be an issue and there are high crime rates in bigger cities. Tourist or not, if you look like you've got something to rob and you're in the WRONG area, then you'll most likely be deprived of whatever valuables you're carrying.
Ultimately, the overall security situation isn't too alarming so you shouldn't have to live in a gated community or anything like that. There are more dangerous areas than others, so doing your research is going to help you pick the place that's right for you. Chances are you won't be moving to an impoverished area of a Dominican city, anyway.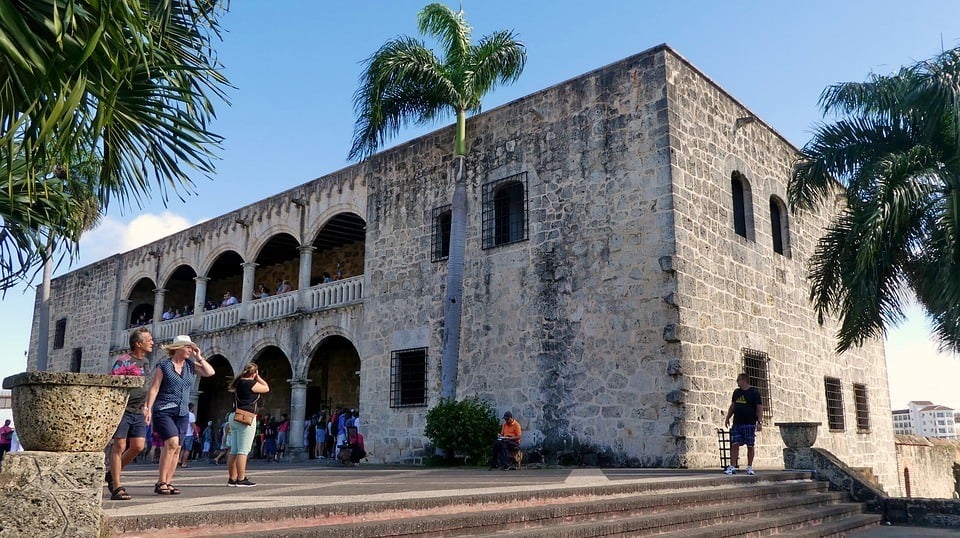 The police might not always behave as you'd think they would behave – asking for bribes is not uncommon. Similarly, the judicial system is not great.
The lifestyle is going to be a lot simpler than you're used to. Power outages happen. 
You should probably learn to speak the official language – Spanish. This will definitely help you bat away things like scams and also just help ingratiate yourself into the country itself. Besides, it'd be rude not to.
Generally, the Dominican Republic is safe to live in. Do your homework, make friends with expats as well as locals, brush up on your español and just make sure you're not flashy with your money. That way you should have a pretty trouble-free time in this beautiful place.
The Future of the SIM Card is HERE!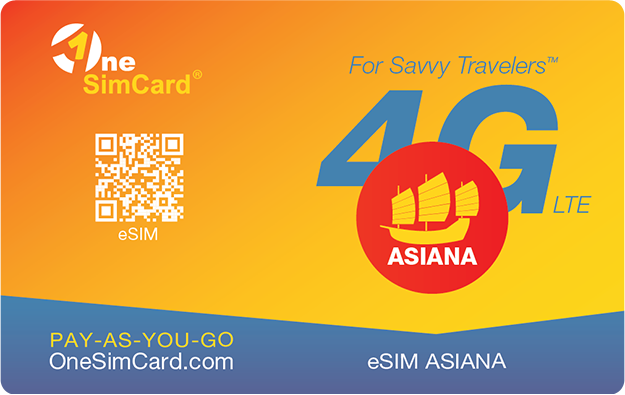 A new country, a new contract, a new piece of plastic – booooring. Instead, buy an eSIM!
An eSIM works just like an app: you buy it, you download it, and BOOM! You're connected. It's just that easy.
Is your phone eSIM ready? Read about how e-Sims work or click below to see one of the top eSIM providers on the market and ditch the plastic.
Buy an eSIM!
Is it safe to rent an Airbnb in Dominican Republic?
Renting an Airbnb in Dominican Republic is a great idea. And it's perfectly safe, as long as you read the reviews. Staying at an Airbnb during your trip will also open up new possibilities and options to experience the country. The local hosts are known to take great care of their guests and give the absolute best recommendations of what to do and what to see. Local knowledge always goes a long way, so be sure to reach out to your hosts if you're unsure about how to fill up your Dominican Republic itinerary!
On top of that, you'll stay safe with the reliable Airbnb booking system. Both hosts and guests can rate each other which creates a very respectful and trustworthy interaction. 
Is Dominican Republic LGBTQ+ friendly? 
The dominican republic is still known to be a very Catholic (or religious) country. While there ARE gay bars and LGBTQ+ entertainment venues, we'd suggest a bit of caution when displaying public affection. The locals in the Dominican Republic are very friendly and welcoming, but some of them can still be quite closed-minded. 
However, same sex activity is definitely legal here (in fact, since 1822) so you won't have to worry about any legal consequences if you and your partner are being spotted. If you're worried about your safety, stick to the bigger cities like Santo Domingo that see a lit of expats and tourists from all over the world which can have your back in case you need support.
FAQ about Staying Safe in Dominican Republic
Here are some quick answers to common questions about safety in Dominican Republic.
So, is the Dominican Republic Safe?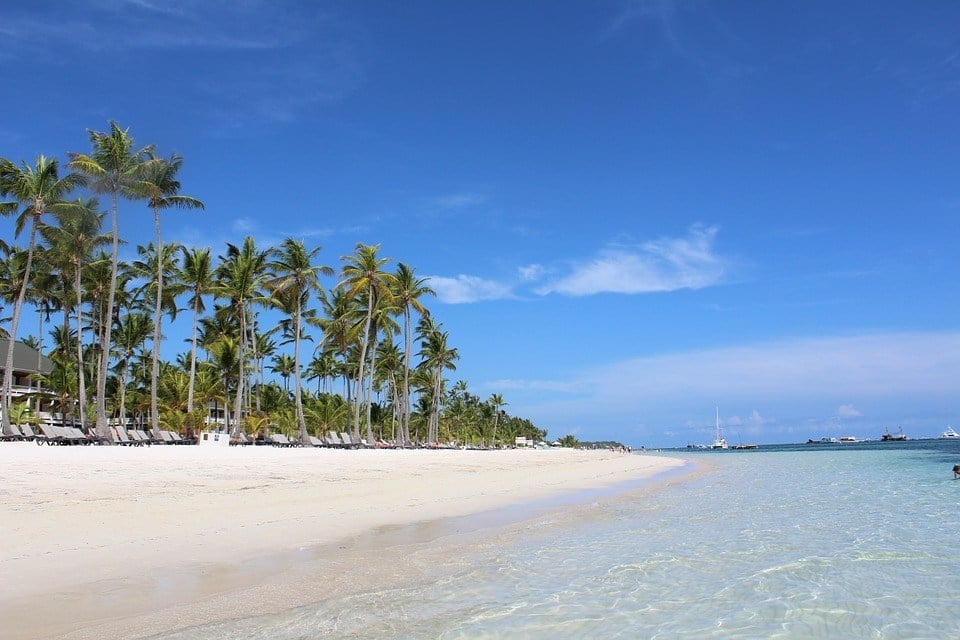 The Dominican Republic is the star player of Caribbean tourism and CAN be safe – if you use your common sense and do a bit of research.
It's well established as a tourist destination, people are very, very used to foreigners, and a lot of locals speak English. All-in-all, the Dominican Republic is a pretty safe place to travel to. But poverty, combined with an influx of relatively rich tourists, has meant that robberies committed against visitors aren't all that rare.
At the end of the day, it's all about how you travel, and we'd recommend you do so SMARTLY. That means not being flashy or cocky. Showing any money, a wallet, wearing expensive jewelry, carrying designer bags, shouting around in English, looking lost; all of these are to be avoided.
Millions of people travel to the Dominican Republic each year. Away from the tourist areas, the crazy scenery opens itself up as a haven for backpackers looking for an adventure in the backyard of an otherwise well-trodden, cruise-ship-visited destination. Our insider guide is full of tips of how to go about keeping safe in the Dominican Republic, so you'll get to explore with peace of mind.
Don't Forget your Dominican Republic Travel Insurance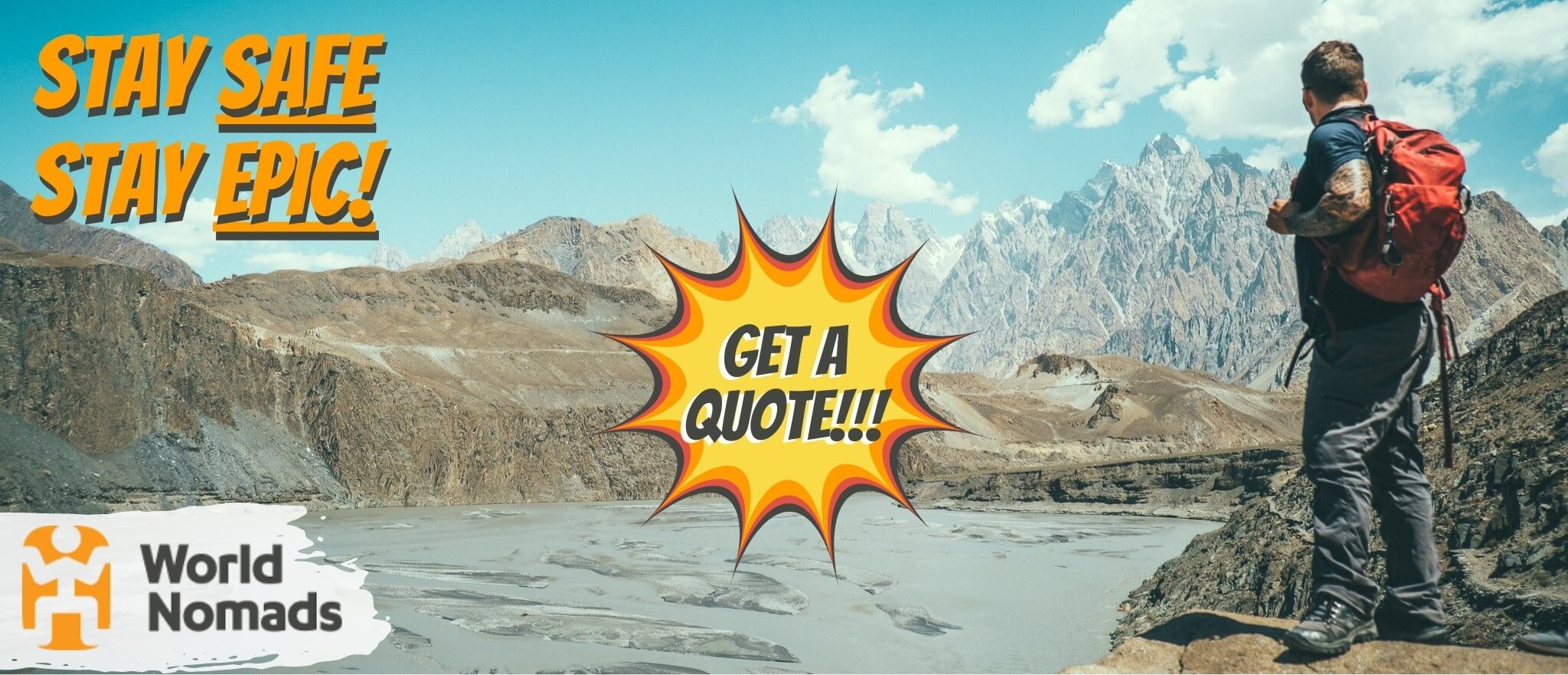 It's good to get lost sometimes, but it's also good not to get too lost. There are people that want you home in one piece.
There's one travel insurance provider The Broke Backpacker trusts for all his wildest shenanigans… World Nomads!
Click the button below to get a quote on your insurance or read our in-depth review of World Nomads' coverage. And then… let the shenanigans begin. 😉
Disclaimer: Safety conditions change all over the world on a daily basis. We do our best to advise but this info may already be out of date. Do your own research. Enjoy your travels!
---
Bye for now, but not forever!
If you want MORE top-tier Broke Backpacker content like this, then sign up for our weekly newsletter below to get the latest and greatest!
And for transparency's sake, please know that some of the links in our content are affiliate links. That means that if you book your accommodation, buy your gear, or sort your insurance through our link, we earn a small commission (at no extra cost to you). That said, we only link to the gear we trust and never recommend services we don't believe are up to scratch. Again, thank you!