Forming the eastern two-thirds of Hispaniola, the Dominican Republic is a fascinating country in the heart of the Caribbean. It's surrounded by the gorgeous beaches and stunning seaside vistas that the region is known for, but there's so much more hidden below the surface. The Dominican Republic was the first Colony in the New World, and much of its history can still be seen to this day.
There are a few things you need to keep in mind before you book, however. Some parts of the country are safer than others so you should research this thoroughly. Beyond that, each town and city offers something completely different and unique. The Dominican Republic is a super diverse destination, and getting around by public transport can be difficult.
That's where we come in! We've combined our personal experience with hints and tips from locals and travel experts to bring you the lowdown on the seven best places to stay in the Dominican Republic. Whether you're interested in culture, water sports, or peaceful beaches – we have you covered.
So let's dive right in! Vamonos!

Unlock Our GREATEST Travel Secrets!
Sign up for our newsletter and get the best travel tips delivered right to your inbox.
Quick Answers: Where is the Best Place to Stay in the Dominican Republic?
Map of Where to Stay in Dominican Republic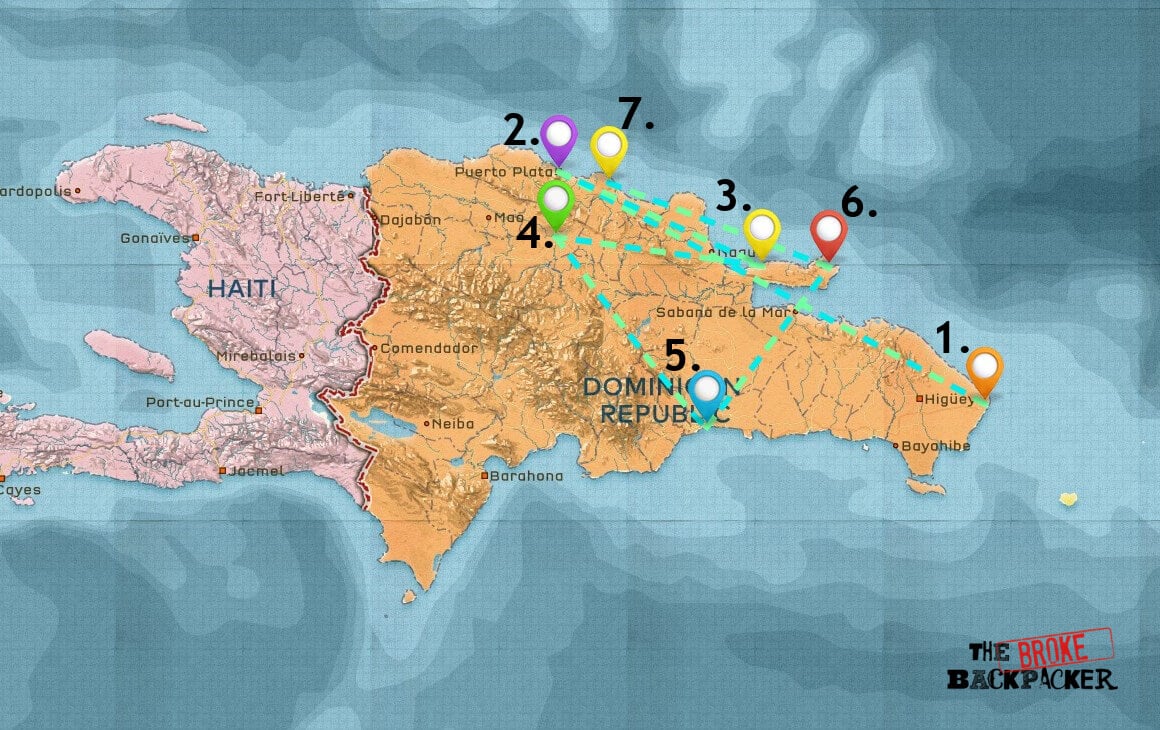 Punta Cana – Overall Best Place to Stay in the Dominican Republic
Punta Cana forms the easternmost tip of the country and is a microcosm of everything the Dominican Republic has to offer. Known for its white sandy beaches, you'll be rewarded with stunning scenery no matter where you end up. For first-time visitors, there are some great tour guides and hotels dotted along the coast.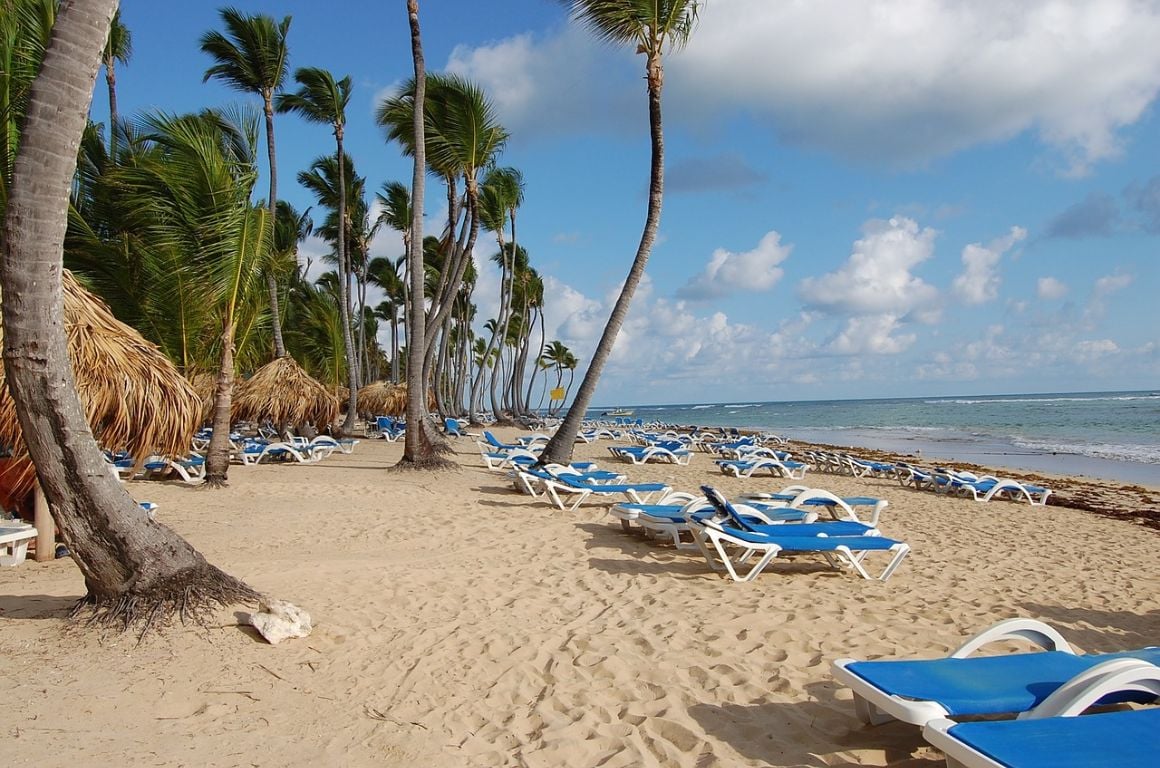 The town of Punta Cana is quite small but has some excellent stretches of beach away from the big crowds. The most popular resort in the area is the town of Bávaro – a major culinary destination in the Dominican Republic. Uvero Alto, on the other hand, comes with some unbeatable viewpoints.
Santo Domingo, the capital, is also technically located within Punta Cana. However, for the purpose of this guide, we've kept it separate because it has a totally different vibe. Punta Cana is an easy-going destination that offers a chilled-out introduction to the Dominican Republic. If you're still struggling to decide by the time you get to the end of this guide, Punta Cana will surely have something to delight you.
Best Places to Stay in Punta Cana
Punta Cana is quite sparsely populated so it's much easier to get around if you have a car. That being said, transport to Bávaro is fairly regular. You'll also find most resorts offer airport transfers – so if you can't bring your own transport, these are your best options.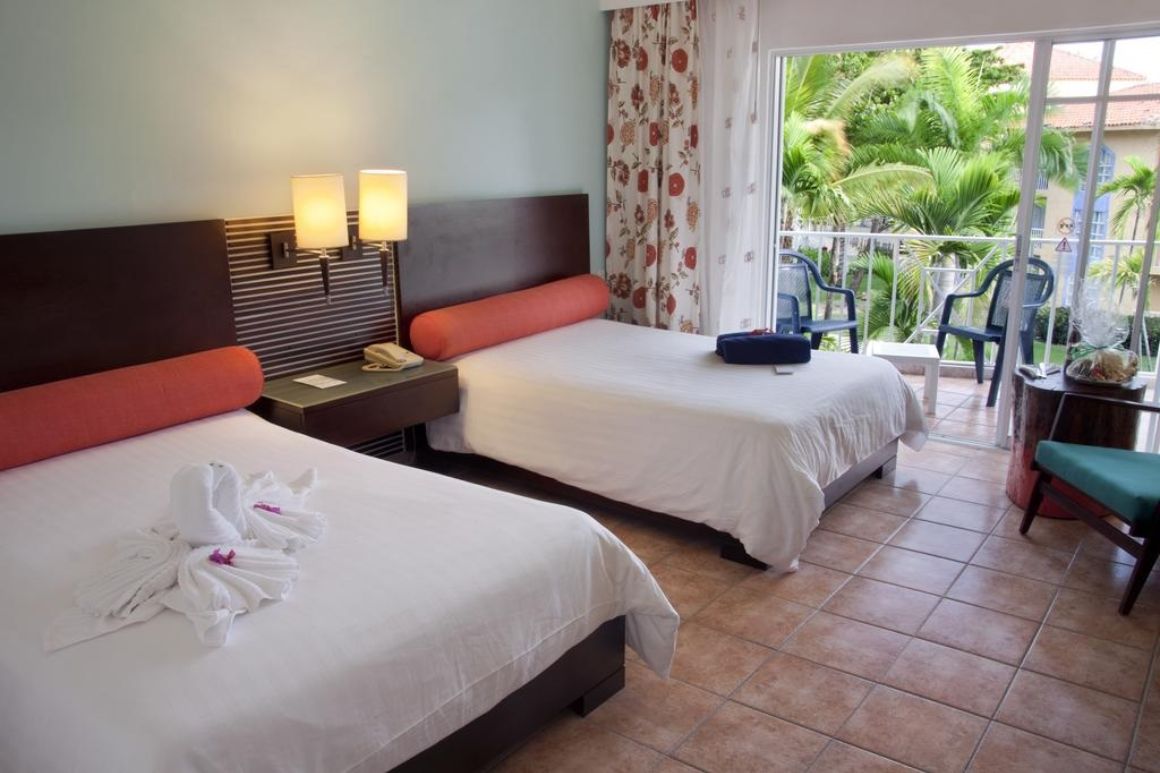 For a true Caribbean vacation experience, you have to stay in a Dominican Republic all-inclusive resort. These are designed so that everything you could possibly need is only a short walk from your bed. All of your meals are included, with multiple restaurants to choose from.
There's also a huge stretch of beach reserved for hotel guests. If you want to explore further, staff can also help you book tours of the Dominican Republic that will collect you from the front door.
Best Airbnb in Punta Cana: Pool Bungalow
Airbnb Plus properties are hand-selected for their stunning interiors, perfect location and next-level guest service. This gorgeous bungalow in the heart of Punta Cana has everything you could ever dream of in a holiday villa.
Only a short walk from the Punta Espada Golf Club, it's particularly popular with families and older couples. The beach is also only a stone's throw away.
Best Hostel in Punta Cana: Gava Hostel
This Punta Cana hostel balances peaceful dorms with social common areas. It offers regular excursions at discounts rates to various locations, including the Catalina Islands, Saona, and Santo Domingo. You can also book an airport transfer – perfect for backpackers that can't hire a car.
Located in the town of Bávaro, there are some great dining options within walking distance. The beach is also right on your doorstep. This is the best place to stay in Punta Cana on a budget.
Puerto Plata – Best Place to Stay in the Dominican Republic for Families
Puerto Plata is a charming destination on the North Coast of the island. Though definitely a city, the population is small enough to give it a laid-back vibe. This makes it an excellent location for families heading to the Dominican Republic. It's also known for its stunning beaches, many of which come with smaller crowds than those on the southern coast.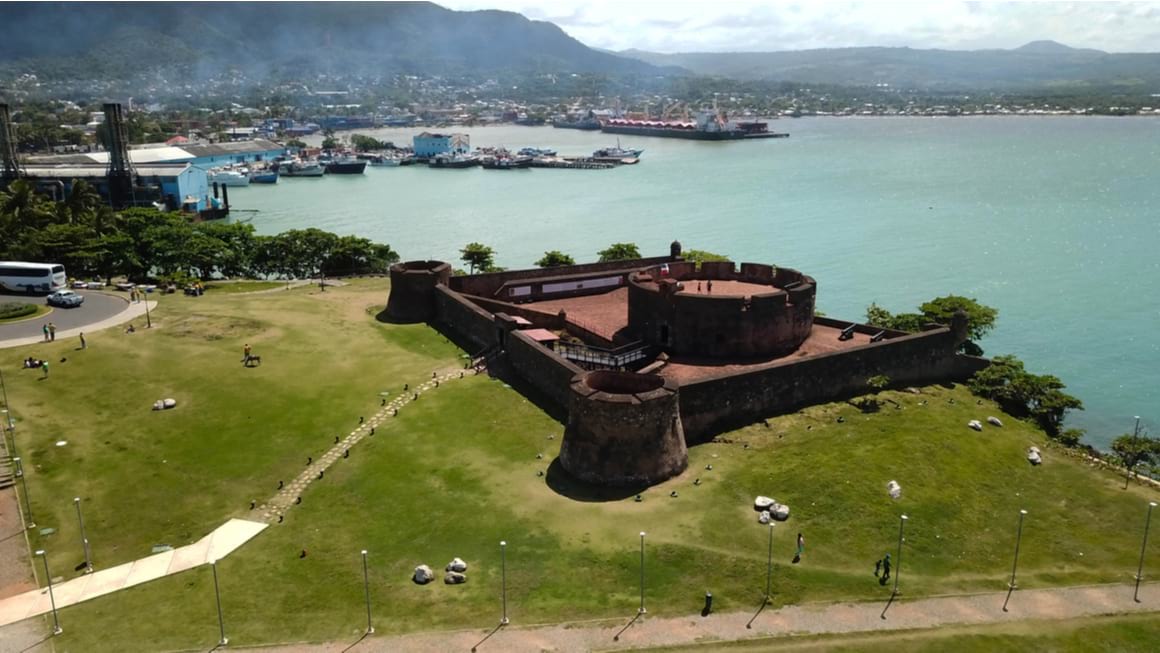 The city centre is a great spot for connecting with Dominican locals. Puerto Plata is a major shopping hub for island residents, and is home to both international chains and local boutiques. There's also a major airport nearby, perfect if you want to reduce travel time.
Best Places to Stay In Puerto Plata
Puerto Plata may be small but it is still a city, so try to stay centrally for all of the best attractions. That being said, if you're looking for peace and quiet (which many families are) then it's worthwhile checking out the smaller villages nearby.
If you don't have a car you don't need to worry too much, since the airport is pretty close to the city centre and has great transport links.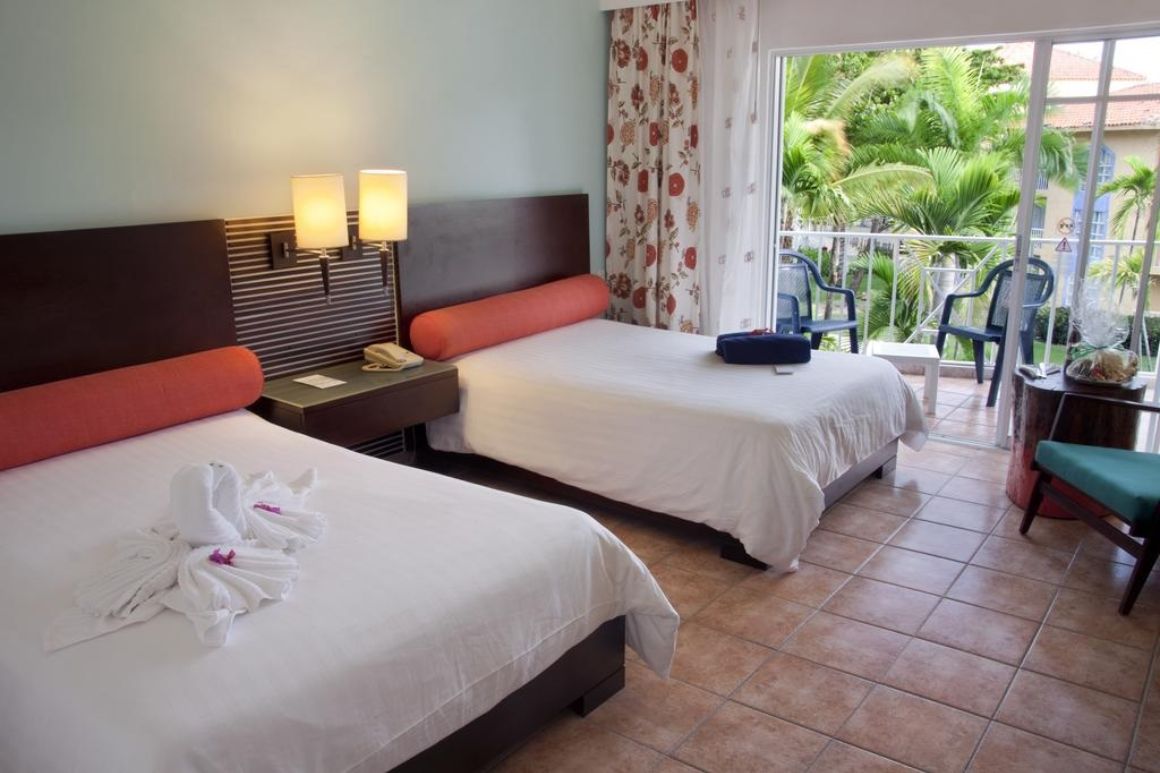 This charming four-star resort is the perfect getaway for families in the Dominican Republic. Their private beach offers unspoiled views of the sea, and also hosts a kid's club every morning.
They also offer water skiing, banana boats and scuba diving, so you won't have to leave the resort to enjoy some of the country's most popular activities. Breakfast is included, and the on-site restaurants offer Italian cuisine and local seafood.
Best Backpacker Accommodation in Puerto Plata: Tubagua Ecolodge
Environmentally conscious travellers will love this charming eco-village. Situated right in the heart of Puerto Plata, you'll only be a short walk from museums, water sports, and the stunning coastline.
The exclusive cocktail pool is a great spot to mingle with other guests, and the on-site dining area offers locally sourced ingredients. Whilst all of their rooms are private, these are among the best priced in the area.
Best Airbnb near Puerto Plata: Villa Jasmine
Airbnb Luxe properties are the most exclusive accommodation options on the website. They have everything Airbnb Plus offers as well as some additional services to make you feel like a true VIP.
This particular property comes with airport transfers, housekeeping and spa services, among other facilities. The stunning coastline is right on your doorstep, offering unparalleled views of the Caribbean Sea.
Villa Jasmine is one of our favourites in Dominican Republic but they're not taking guests right now. We're not sure if they're closed for good but we hope they'll come back soon.
Las Terrenas – Most Romantic Place to Stay in the Dominican Republic for Couples
Another northern destination, Las Terrenas is an even smaller city offering huge beaches. There are three within walking distance of the town centre, each offering something a little different. The one closest to the centre is a major nightlife hub, with bars and clubs to cater to a variety of tastes.
So what about couples? Nightlife aside, the other two beaches are more peaceful – the perfect spot for a romantic getaway. Las Terrenas is another great culinary destination, offering an endless supply of romantic restaurants to include in your date nights. This destination perfectly balances out the convenience of a city with the laid-back charm of a smaller town right on the coast.
Best Places to Stay in Las Terrenas
Las Terrenas is quite small, so you can easily get around on foot. If you don't have a car we recommend sticking to accommodation that offers airport transfers. There are some fantastic luxury options across the area but even the more budget-friendly choices are great for couples that don't want to break the bank.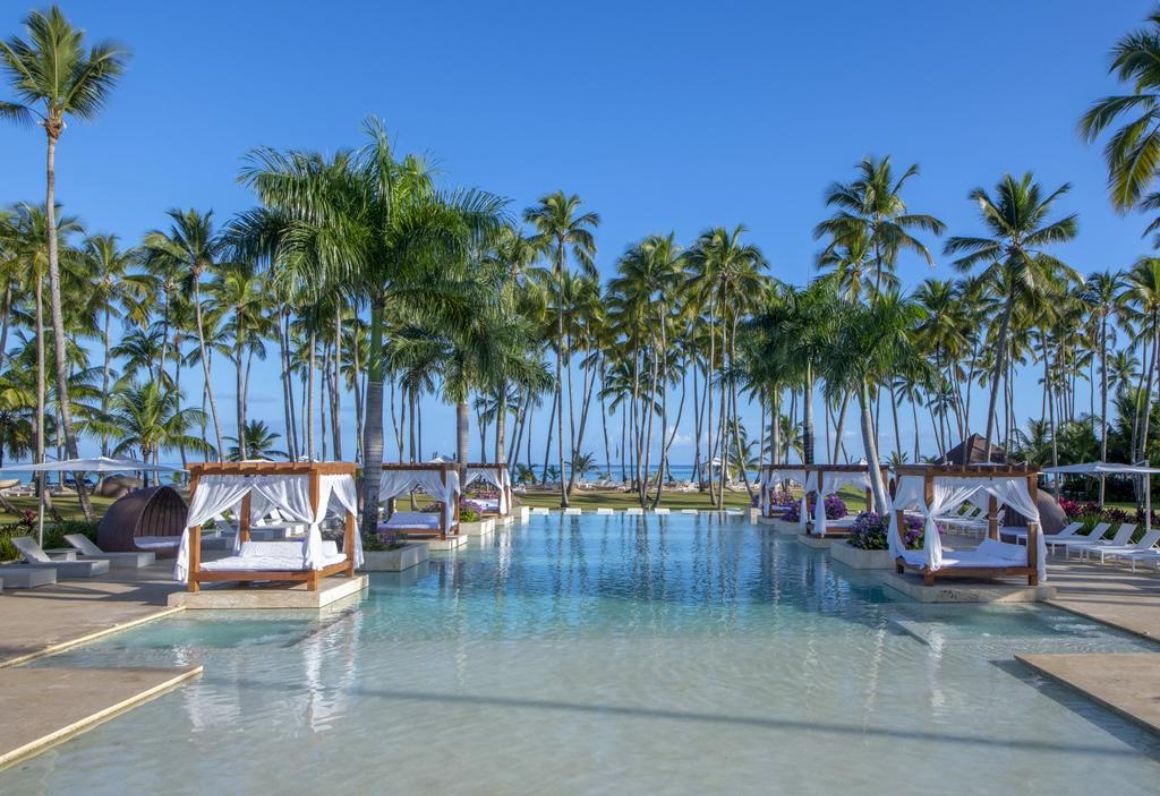 For couples heading to the Dominican Republic it really doesn't get much better than this. Viva Wyndham V Samana is an adult only resort, so you won't have to worry about noisy families ruining the vibe.
At the side of the pool there are private cabanas where you can keep yourself under the shade and lounge in the warm Caribbean air. The on-site spa offers a wide range of couples' and individual treatments that let you kick back and relax right into the evening.
This is another gorgeous Airbnb Plus apartment. The dreamy interiors and wide-open spaces make this the ideal hideaway for a romantic escape to the Caribbean.
It's designed to feel like your own private yacht and includes two spacious balconies offering stunning views towards the coast. The beach is right on your doorstep, with many of the best cafés in Las Terrenas only a short walk away.
Inspired by the colors and sounds of Africa, this lively hostel is one of our favorites for backpackers looking to socialise with like-minded people. Some of the best shops and nightclubs in Las Terrenas are within walking distance of the hostel.
There are even two bars on-site offering Caribbean flavors at a discounted price. One of these is right next to the outdoor swimming pool – perfect for soaking up the dazzling sun, sipping a cheap cocktail, and meeting other visitors.
Is This the Best Backpack EVER???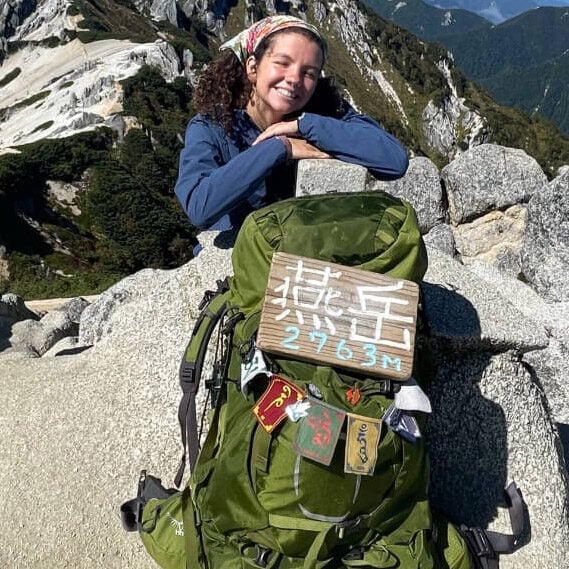 Santiago de los Caballeros – Coolest Place to Stay in Dominican Republic
Known simply as Santiago to locals, this is the second-largest city in the Dominican Republic. Despite the sizable population, it offers a more laid-back alternative than Santo Domingo. It's also one of the safest destinations in the Dominican Republic. Most tourists stay away from Santiago de los Caballeros – so let's find out why should you veer off the beaten path.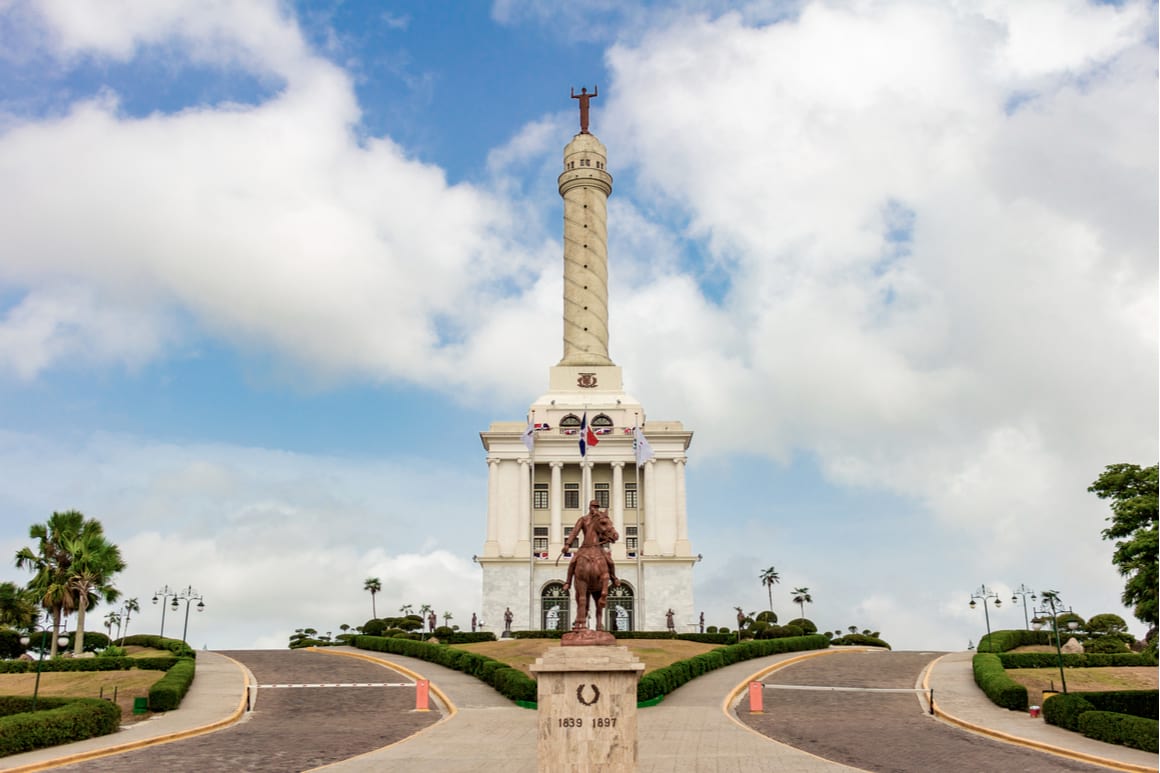 The city offers historic architecture, charming cultural attractions, and delightful local restaurants. The lack of tourists also means you get a more authentic insight into Dominican life. Santiago de los Caballeros is well and truly one of the coolest spots in the country for those willing to throw away the guidebook.
The catch? It's also right in the middle of the country, so there aren't any beaches. Thankfully many of the hotels and apartments make up for this, with pools where you can cool off after exploring the city. Nevertheless, it can be off-putting for many – though if you're planning a longer trip visiting multiple spots it's well worth a night or two.
Best Places to Stay in Santiago
The great thing about Santiago de los Caballeros? As the second-largest city, it's actually quite well connected by public transport. That means you can stay here as a base to truly embrace local culture, whilst still getting to visit the coast when you feel like it.
If you're looking to splash out on comfort and privacy, this four-star hotel offers both without costing an arm and a leg. Santiago might not be near the coast, but the spacious outdoor pool means you won't miss it.
A complimentary breakfast is included in the price, and the restaurant serves premium local cuisine during the lunch and dinner periods.
Taking a bit of a break from all the luxury Airbnbs on offer in the Dominican Republic, this is one for those looking to stick to a budget. Despite the super affordable rates, it comes well furnished and with plenty of space.
The Bella Terra Mall is right on your doorstep, and you're also not too far from the most popular bar and restaurant strip in Santiago. Sleeping up to three guests in one bedroom, this is great for couples and small families on a budget.
Best Hostel in Santiago: Whostal
This is the cheapest hostel on the island! Don't be fooled by the price, however, as it comes with one of the best ratings thanks to exceptional guest service and comfortable beds.
The artsy vibes of this hostel bring in creatives from across the world. Each room is decorated with local art, and they also offer excursions to some great independent art spots across the city. It's right in the city centre, giving you unbeatable access to the gorgeous architecture and cultural areas.
Santo Domingo – Where to Stay in Dominican Republic on a Budget
Santo Domingo is the nation's capital, and chances are you'll spend at least a little time here before continuing elsewhere on the island. For budget travellers, Santo Domingo offers fantastic prices on accommodation and dining compared to the touristy beach resorts. You certainly won't be missing out on any beaches though, as the city has a few of its own.
The large city is not just the most populous in the country, it's also the oldest! In fact, it's the oldest European city in the Americas. The Zona Colonial was the first Spanish settlement in the New World. These days, it's a UNESCO World Heritage Site known for fascinating architecture and world-defining attractions.
Many visitors have some safety concerns about Santo Domingo, but during the day you can get around fairly easily. Many of the suburban areas are great in the evenings too, you just need to do a little research in advance. As the capital, it's a major transport hub meaning you'll never be too far from some of the biggest destinations in the Dominican Republic.
Best Places to Stay in Santo Domingo
So as far as safety goes, we've deliberately picked accommodations that come with great reviews from previous guests. This should be your biggest concern, though the situation in Santo Domingo is far safer than in other large Caribbean cities. If you can hire a car it is a good idea, but during the day public transport is totally fine.
This rustic hotel might be affordable, but that doesn't mean it lacks charm. Housed in a historic building, it feels like a time capsule back to the early days of colonial Dominican Republic.
It was once a convent in the 16th Century and many of the period features have been retained, including original brickwork and exposed beams. They offer an American style breakfast every morning or you can pick up a continental box if you're in a hurry.
This is another great budget-friendly apartment right in the heart of Santo Domingo. For those concerned about safety, this apartment is located just behind the US Embassy in one of the safest neighborhoods in the city.
It's just outside the city centre, but you can get to most of the main attractions via a short taxi ride or even on public transport.
Located in the heart of the Zona Colonial, the Island Life Hostel is the perfect spot for discovering everything the city has to offer. Our favorite part is the verdant courtyard where you can soak up the good vibes and chat with other guests.
They also offer regular social events in the evenings to get you acquainted with the spirit of the island. Want to save as much money as possible? They even include a complimentary breakfast!
The Future of the SIM Card is HERE!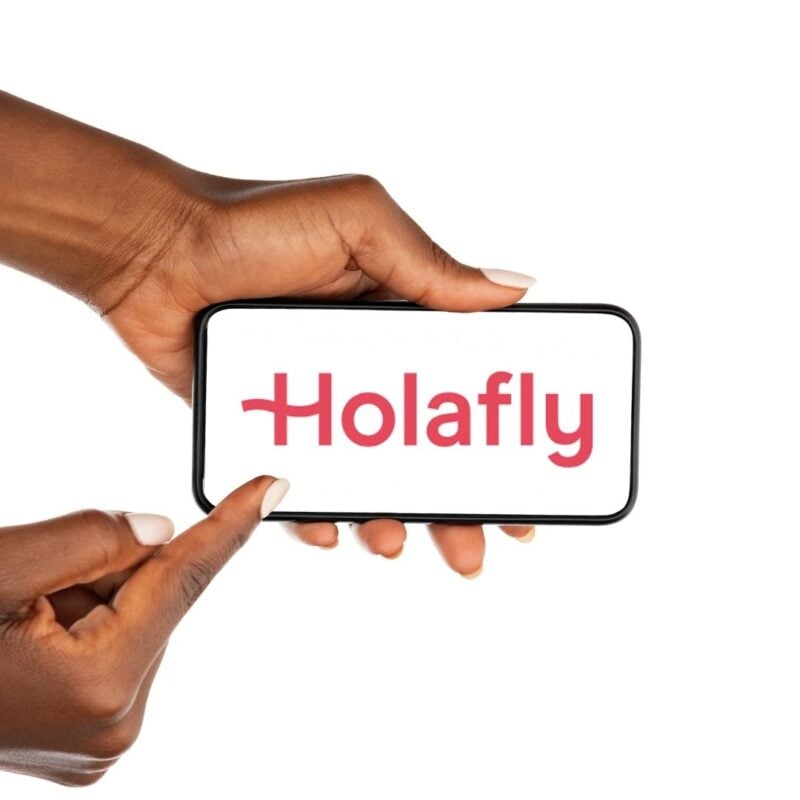 A new country, a new contract, a new piece of plastic – booooring. Instead, buy an eSIM!
An eSIM works just like an app: you buy it, you download it, and BOOM! You're connected. It's just that easy.
Is your phone eSIM ready? Read about how e-Sims work or click below to see one of the top eSIM providers on the market and ditch the plastic.
Grab an eSIM!
Las Galeras – One of the Most Unique Places to Stay in Dominican Republic
Sitting just east of Las Terrenas, Las Galeras has a completely different vibe. This small village is known for its secluded beaches, where you will feel like you've reached the end of the world. Tourist numbers are limited in the area to encourage this exclusive vibe, so you'll need to book in advance.
The village offers a fascinating insight into the rural culture in the Dominican Republic. There are also some excellent diving options in the area with the waters largely unspoiled by tourists. Las Galeras will have your friends back home wondering where on earth you've been, and it'll be your little secret.
Best Places to Stay in Las Galeras
Las Galeras is really hard to get to, especially without public transport. For this reason, we recommend only visiting if you have a car. If you really insist on the adventure, you can get to Las Terrenas by public transport and take a taxi. Just keep in mind this will get a little costly.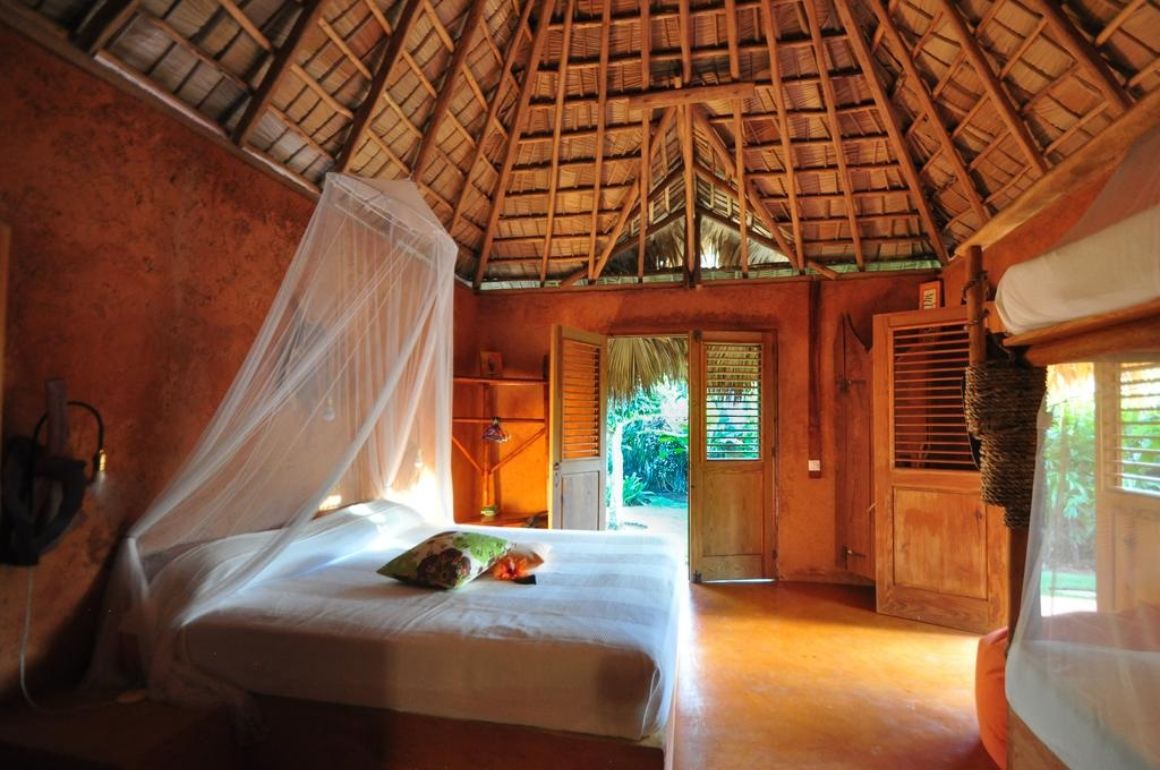 Best Hotel in Las Galeras: Solazul
This 3-star bed and breakfast is perfect for those looking for something budget-friendly whilst still enjoying a little privacy. The breakfast included every morning features locally sourced ingredients within a buffet.
There is a small pool surrounded by thatched gazebos providing a little shade. Las Galeras Beach is practically outside the front door, as well as the main amenities in the town.
Best Airbnb in Las Galeras: La Junglita
Kick back, relax, and enjoy the peace and quiet of the surrounding forest in this quaint villa in the Dominican Republic, in the town of in Las Galeras. The front porch comes with a dining area, hammock, and a colorful shed that houses the kitchenette.
The actual cabin itself takes the form of a studio with bright interior design and art on the walls. This is a particularly popular option with digital nomads heading to the Dominican Republic for a quiet Caribbean retreat.
This hostel is within walking distance of three beaches – so it's no wonder it's named after the whale! The interiors are pretty basic, but super affordable for those wanting to stay in a quieter part of the island.
They offer bicycle, motorbike, and car rental services from the front desk if you decide to plan a last-minute day trip with your new friends. There's also a large terrace, perfect for soaking up the sparkling sunlight.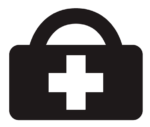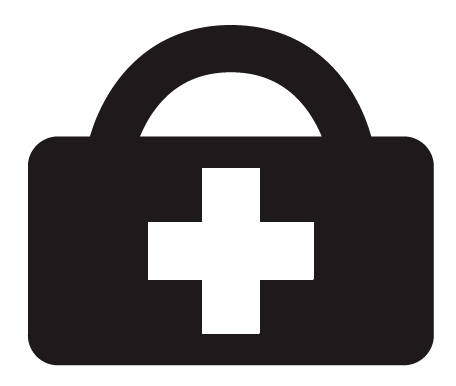 Dominican Republic is a very fun place and one could easily get carried away while visiting. It's important to remember that no country is perfect though.
Read our safety guide for Dominican Republic before planning your trip so you will be extra prepared when you arrive.
Save $$$ • Save the Planet • Save Your Stomach!
Drink water from ANYWHERE. The Grayl Geopress is the worlds leading filtered water bottle protecting you from all manner of waterborne nasties.
Single-use plastic bottles are a MASSIVE threat to marine life. Be a part of the solution and travel with a filter water bottle. Save money and the environment!
We've tested the Geopress rigorously from the icy heights of Pakistan to the tropical jungles of Bali, and can confirm: it's the best water bottle you'll ever buy!
View on REI
Read the Review
Cabarete – Where to Stay in the Dominican Republic for Water Sports
If there's one thing Cabarete is known for, it's water sports! Kitesurfing and windsurfing are particularly popular here. You can also indulge in diving, snorkelling and even stand-up paddleboarding on calmer days.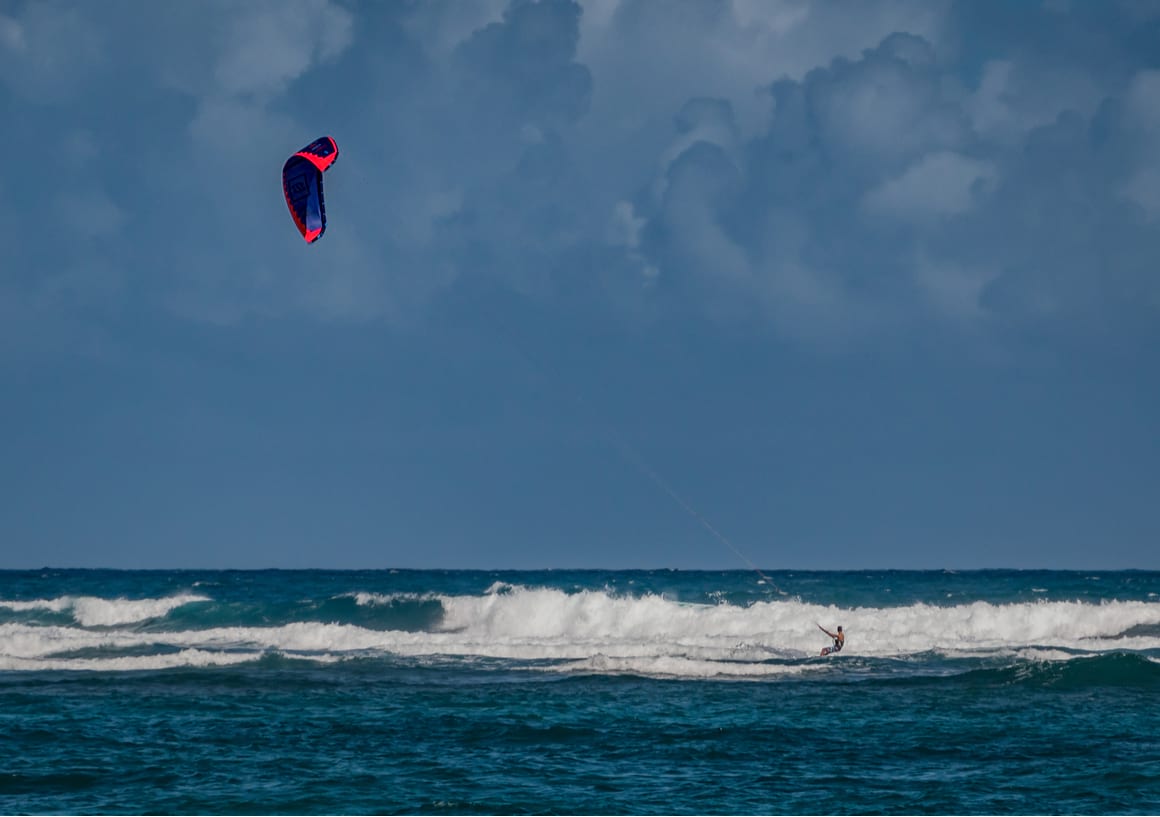 Cabarete is one of the most touristy destinations in the country, but this is just part of the charm for many visitors. You'll be in safe hands throughout your trip, and there is a huge range of activities available during the peak season.
Best Places To Stay in Cabarete
Being such a touristy area of the Dominican Republic, the public transport options are fantastic. The town can easily be explored on foot, with most attractions centred around the beach area.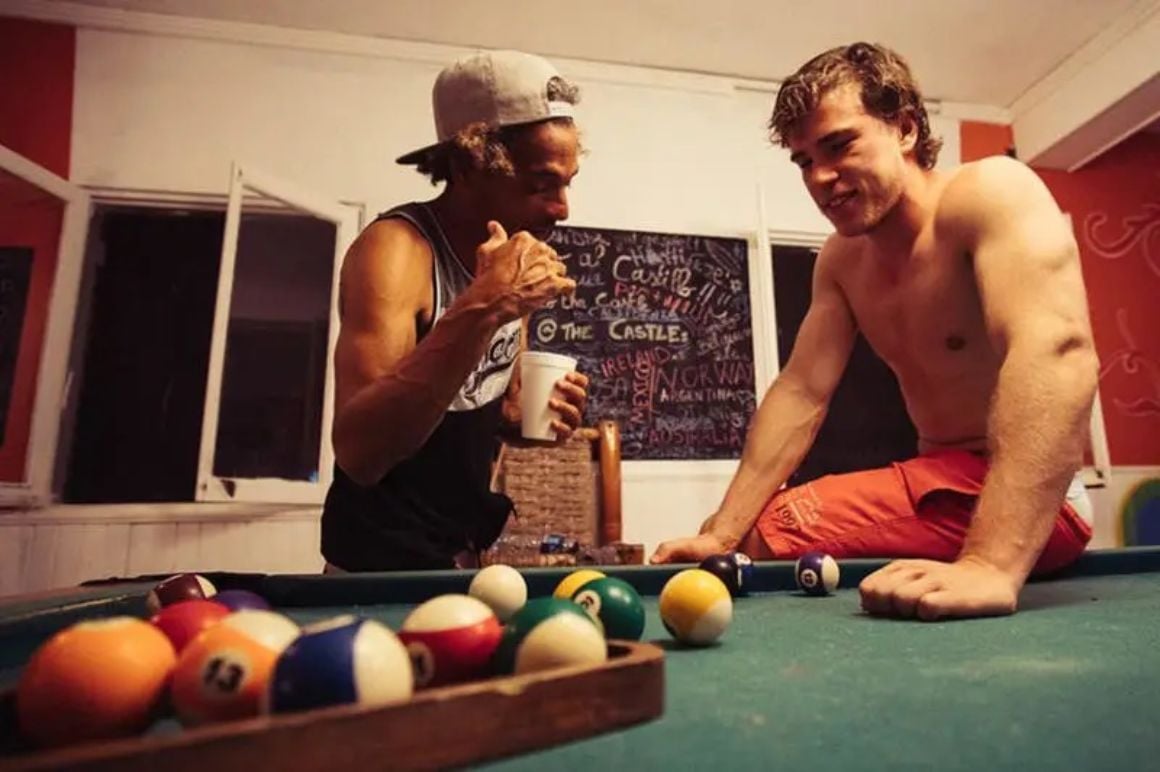 Want to stay in Cabarete on a budget? Look no further than the Diamond Hotel! This three-star dream is quite simple but comes with everything you need on an island getaway. It's just outside Cabarete so you will need a car, but it's totally worth it for enjoying some peace and quiet.
There's a small pool area and terrace where you can soak up the rays, mingle with other guests, and unwind after a long day on the beach.
It might be a little basic, but this small yet perfectly formed hostel is a great spot for meeting other visitors. Their social events are a little more chilled out, and the communal spaces are always packed with backpackers enjoying the laid-back vibes.
This hostel is a great place to meet people just like you. It's just outside Cabarete meaning it benefits from a peaceful atmosphere in the evenings, though the town centre can still be reached on foot.
Best Airbnb near Cabarete: Casa la Bandera
This is another gorgeous Airbnb Luxe property. It's in the nearby village of Sosúa where you will get to enjoy some serenity away from the main tourist crowds. Surrounded by palm trees, the property comes with a large private pool and an alfresco dining area.
Guests can enjoy airport transfers, concierge services and a private driver among other perks. Housekeeping and a private breakfast chef is even included in the price!
Casa la Bandera is one of our favourites in Dominican Republic but they're not taking guests right now. We're not sure if they're closed for good but we hope they'll come back soon.
Top Places To Stay in the Dominican Republic
In a bit of a hurry? It really is worth reading into where the best places to stay are as each town and city offers something a little bit different. That being said, we totally understand that you're desperate to jump on that plane and soak up the rays.
These are our top three picks for accommodation in the Dominican Republic, to help you plan your trip a little quicker.
1. Best Hotel in the Dominican Republic (Las Terrenas) – Viva Wyndham V Samana
This hotel is our top pick for couples, and it's easy to see why! For anyone looking to enjoy a romantic escape in the Dominican Republic, Viva Wyndham offers unbeatable views and a peaceful atmosphere. It's an adult-only hotel, which is why it is so popular with couples.
They offer car hire so you can explore the rest of the island at leisure. If you'd rather explore what's under the sea, you can book onto their snorkelling experiences.
2. Best Airbnb in the Dominican Republic (Punta Cana) – Pool Bungalow
This gorgeous Airbnb Plus property is the perfect getaway in the heart of our top location in the Dominican Republic!
The laid-back bungalow comes with a private pool, perfect for soaking up the Caribbean sun without the crowds. The stylish interiors create a bright and serene space with plenty of room to kick back and relax. There's also a hot tub where you can unwind in the evenings and a huge barbecue area for lunchtime feasting.
3. Best Hostel in Dominican Republic (Santo Domingo) – Island Life Hostel
Named the best hostel in the Dominican Republic by Hostelworld in 2017, 2018, and 2019, it really doesn't get much better than this for backpackers! Where this hostel really stands out is its excellent social facilities, from spacious communal areas to nightly events.
The complimentary breakfast offers local cuisine to help set you up for a day of exploring. It's also located in the Zona Colonial; this is the oldest neighborhood in the New World and a must-visit attraction in its own right.
Don't Forget Travel Insurance for Dominican Republic
ALWAYS sort out your backpacker insurance before your trip. There's plenty to choose from in that department, but a good place to start is Safety Wing.
They offer month-to-month payments, no lock-in contracts, and require absolutely no itineraries: that's the exact kind of insurance long-term travellers and digital nomads need.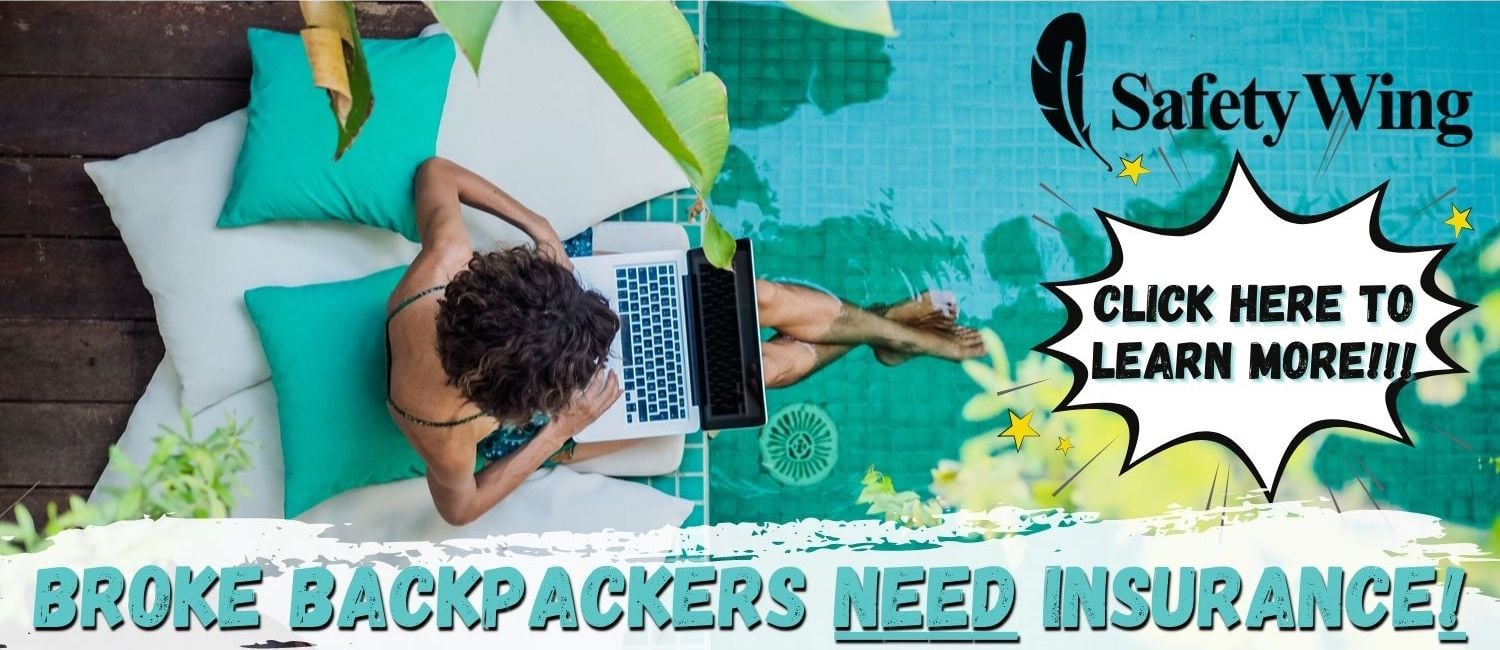 SafetyWing is cheap, easy, and admin-free: just sign up lickety-split so you can get back to it!
Click the button below to learn more about SafetyWing's setup or read our insider review for the full tasty scoop.
Final Thoughts on Where To Stay in the Dominican Republic
The Dominican Republic is arguably the most fascinating destination in the Caribbean. It's got beaches and sunshine, but it also has a turbulent history that's just waiting to be discovered. The Dominican Republic is the beating heart of the region, with cultural attractions that will truly delight every visitor.
So which is our favorite place overall? Punta Cana, situated on the eastern tip of the island, offers great insight into everything that makes the Dominican Republic great. Every town has a stunning beach, fascinating history, and unique culture. This makes it one of the most exciting places in the country.
That being said, we all have different preferences when we travel. The Dominic Republic is such a diverse destination that the best place for you really depends on what you want to get out of your trip. We hope we've given you some inspiration for your upcoming trip to this Caribbean gem!
Did we miss anything? Let us know in the comments!
Do you own or run a kick-ass hostel? Want to be featured on this list? Get in touch at [email protected]
---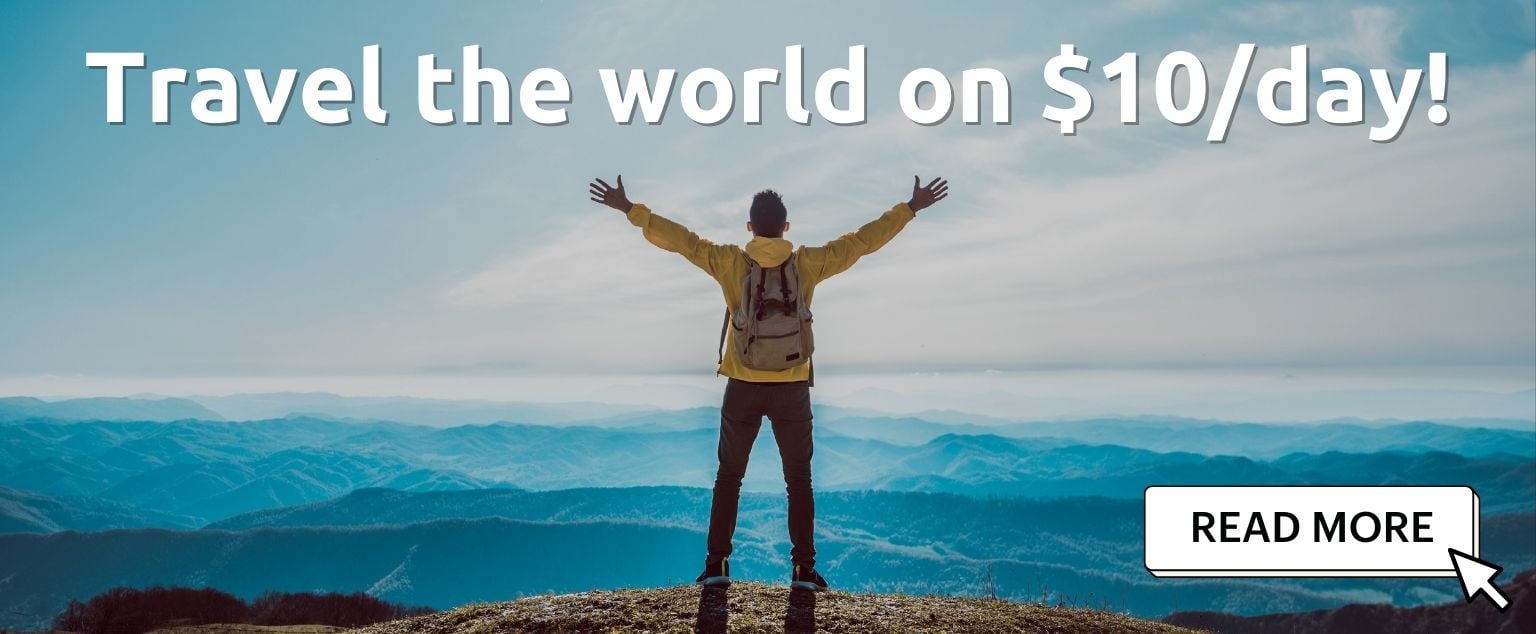 And for transparency's sake, please know that some of the links in our content are affiliate links. That means that if you book your accommodation, buy your gear, or sort your insurance through our link, we earn a small commission (at no extra cost to you). That said, we only link to the gear we trust and never recommend services we don't believe are up to scratch. Again, thank you!