The sun-washed island of Puerto Rico is well known for its stunning beaches, colorful coral reefs, and lush rainforests. With a cultural tapestry of traditions from indigenous, Spanish, and African influences, this Caribbean island is one of the most exciting destinations to explore.
Days here are taken up with sunning yourself on the sand, exploring the bioluminescent bays of the surrounding archipelago, and cruising around winding mountain roads. Don't forget about tucking into slow-roasted pork by the sea, all washed down with a fresh piña colada.
With all that going for it, you might be asking yourself; this all sounds great, but is Puerto Rico is expensive? Is it even possible to take a trip there on a budget?
That's what this guide is here for: to talk you through all of the travel costs for Puerto Rico and to highlight some ways you can save some cash too.
The cost of a trip to Puerto Rico will vary depending on a few different factors. The first thing you'll need to do is work out a rough budget for yourself and figure out how much you have to spend on the trip. The budget will need to factor in all important costs such as flights, accommodation, travel on the ground, and food.
All the travel costs listed in this guide are all estimates and are subject to change. Prices are listed in US Dollars.
Puerto Rico uses the United States Dollar (USD). The currency is exactly the same as in the USA.
2 Weeks in Puerto RicoTravel Costs
For some guideline prices, you'll find a summary of the average costs of a 2-week trip to Puerto Rico below.
ESTIMATED EXPENSE: $228 – $1,628 USD for a roundtrip ticket.
So is Puerto Rico expensive to fly to? Well that really depends on where in the world you're flying from. Flights to this top Caribbean destination can be affordable, especially if you're flying from within the US. Flying from somewhere a little further away like Australia can cost a lot more.
No matter where you are based in the world, there are some ways to save on the cost of flights to Puerto Rico. Take into consideration the time of year you're flying, the high-season in Puerto Rio runs between November and January. Overall, the cheapest month to fly is September
Puerto Rico's main airport is Luis Muñoz Marín International Airport, commonly known as San Juan International Airport (SJU). The capital city's main airport is located 13 kilometers (around 8.1 miles) from the center of town. The journey from San Juan airport to the city center takes around 20 to 30 minutes by car.
Take a look at the costs of flights to Puerto Rico from a selection of major international air travel hubs:
New York to Luis Muñoz Marín International Airport: 228 – 526 USD
London to Luis Muñoz Marín International Airport: 562 – 1388 GBP
Sydney to Luis Muñoz Marín International Airport: 1392 – 1,775 AUD
Vancouver to Luis Muñoz Marín International Airport: 730 – 1,038 CAD
As you can see, the cheapest flights to Puerto Rico are from New York and there are some really good deals to be found. The costs of flying from London, Sydney, and Vancouver are much higher but there are some ways to find cheap flights. One thing to note is that morning flights can be more than 4% more expensive on average.
A good way to figure out the cheapest airfares is to check out a flight comparison website like Skyskanner. Just enter your destination and your dates and the site will show you all of the available flights from a bunch of different airlines. That way you can see all of the options side by side, saving you money and time.
ESTIMATED EXPENSE: $24 – $200 per night
Once you've got your flights locked in, the next big cost is to work out how much to spend on accommodation. You might think that Puerto Rico is all about luxury beach hotels, but it actually has a healthy variety of affordable accommodation choices too.
The price you spend per night for a room in Puerto Rico will depend on what time of year you visit. In high season, prices rise across the island and you can expect to pay more overall. If you want to save some cash, try visiting in the fall or spring. That way you get a cheaper room rate and decent weather too.
Wondering what kind of accommodation in Puerto Rico you can find? Let's take a look…
Hostels in Puerto Rico
It may not be the first place that comes to mind when you think of budget stays, but there actually are some top hostels in Puerto Rico. The hostels are modern, laid-back and friendly places to stay. Often located in beachy locations or in among the buzz of the city. The hostel scene is still small, however, so it's best to book ahead.
The cheapest hostels in Puerto Rico start at around $24 per night, much cheaper than the price of a hotel room.
In general, you can expect to choose from staying in clean but basic dorms or private hostel rooms. Some hostels are more party orientated, while others are more relaxed and focused on being an affordable place to stay.
That being said, you can still find amazing amenities like swimming pools, shared kitchens, and private balconies.
If you want to visit Puerto Rico but your travel budget is tight, then you should really think about staying in a hostel. It will leave you with more money for exploring the islands and is a good chance to make some new buddies, too.
Here's a couple of the best hostels in Puerto Rico to take a quick look at:
Mango Mansion – This award-winning hostel bills itself as a "Boutique Bunk & Breakfast". Located in the Condado Beach area, stay here and you'll be close to the beach and nightlife. The dorms boast luxury bunk beds and air conditioning.
Luquillo Beach Hostel – Situated just steps from the beach, this hostel is found on the northeastern Atlantic coastline close to the El Yunque National Rainforest. Nearby, there's a selection of low cost local eateries and nightlife spots.
Villa Eshta – Situated in the vibrant Calle Loiza district of San Juan, this traveler-run hostel is the ideal base for exploring the island. It's also close to local food joints and a short walk from the beach.
Airbnbs in Puerto Rico
You might not think it, but Puerto Rico has a lot of vacation rentals. You can find properties on Airbnb all over the island, from far-flung beaches to chic city dwellings. A lot of travelers choose to stay in Airbnbs during their trip because they can often be a cheaper alternative to hotels.
The big selection of Airbnbs in Puerto Rico means you can usually find somewhere that suits your travel style and budget. There's some great budget-friendly studio apartments that cost around $60 per night, plus larger places with multiple bedrooms that cost around $150 a night.
But it's not all about the money. Staying in an Airbnb is often about the experience that having your own place offers you. You'll get to spend your trip living a little bit more like a local, enjoying unique locations, and soaking up a different side to the island. It could really make your vacation even more memorable.
Then there's the big bonus of staying in self-catering accommodation. Having access to your own kitchen means you can save money by making yourself breakfast and other meals. You can even save on small things like coffee.
You can also find plenty of VRBOs in Puerto Rico, but there are fewer options than Airbnb and they tend to be more expensive. This is a good option if you're looking for a luxurious stay.
If you're still thinking that Puerto Rico is expensive, you should take a quick look at these low-cost Airbnbs…
Mesmerizing Beach Front Studio – This oceanfront Airbnb is located on the 21st floor and boasts stunning ocean views. The studio apartment comes complete with a fully equipped kitchen, king-sized bed, and balcony.
Beach Condo – This cool modern condo is located on San Juan's pretty Isla Verde beach in walking distance to bars, eateries, nightlife and shops. The nearby public transport easily connects to Old San Juan, so there's no need to rent a car.
San Juan Penthouse – This penthouse apartment in a historical building in Miramar is a spacious property bursting with charm. Guests have access to the large private terrace, while the location is within walking distance to shops, restaurants, and bus stops.
Hotels in Puerto Rico
Hotels are probably the most popular type of accommodation in Puerto Rico, and that's for good reason. They provide a more luxurious vacation experience with in-house bars and restaurants, swimming pools, gyms, and room service. The thing is, all of that does come at a higher cost.
But, if you want to stay somewhere a little bit more down-to-earth then there's some great affordable hotels in Puerto Rico. In general, these are locally-run properties that might not come with high-end amenities but are usually well-maintained and reliable and may even come with swimming pools and an eatery.
You can expect to pay around $80-$100 for a night in a budget-friendly hotel in Puerto Rico, but you can bag a room rate that's cheaper than that in low-season.
One big perk of staying in a hotel is the team on staff which will be on hand to help you out. You'll usually be able to book tours and arrange rental cars through the hotel. Not only that, but there's the addition of having house-keeping to make sure your room is nice and clean.
Let's take a quick look at some of the most affordable hotels in Puerto Rico.
Boho Beach Club – Offering affordable rooms in the chilled beach town of Boqueron, this hotel features a restaurant, a bar, and comfortable guest rooms that are equipped with a coffee machine. Free-parking and 24 hour front desks are a bonus.
Casa Coral – Situated right on the beachfront in Luquillo, the budget hotel offers up a shared guest lounge, a garden, and free private parking. Rooms are basic, but clean and well maintained.
Fortaleza Suites Old San Juan – Right in the heart of Old San Juan, this elegant hotel takes up space in a historic building. The guest rooms are stylishly decorated and feature private bathrooms, seating areas, and cable TV. Elsewhere, there's a terrace and an on-site shop.
ESTIMATED EXPENSE: $0 – $40 per day
Puerto Rico is a pretty small island with a total area of 8,870 square kilometers (3,425 square miles) and a total coastline that stretches for 501 km (311.3 mi). The island's small size means that getting around is fairly easy with a choice of different transport options to get you from A to B.
The one downside of traveling around Puerto Rico is that it doesn't have the best public transport. There are buses and some trains, but the routes are limited. This means if you really want to explore the island the best option is to hire a car or a motorbike.
Thankfully, renting your own vehicle is very normal in Puerto Rico and there's a whole host of places to rent from. Not only that, but road trips around the island offer up a fantastic way to see a more local side to the island and its culture, as well as some pretty incredible natural scenery too.
For those who don't want to drive, taxis and uber are both really abundant and are used as a normal way to travel around. Ferries are also a great way to explore, regularly taking passengers to nearby islands.
There's also the bus network which is good for getting to the more popular tourist sights, but can take much longer than self-driving. In San Juan, there are some good public transport options and even trolleybuses to get around on.
With all of that in mind, let's take a deeper look at the costs of transport in Puerto Rico.
Train Travel in Puerto Rico
Train travel in Puerto Rico is not going to be the main way you travel around. The island hardly has a train network to speak of. There is an urban trail service in the form of a light rail system. The route connects up San Juan with Guaynabo and Bayamon and is a good way to reach these areas.
This metro service runs for 17km (10.7 miles) and is called the Tren Urbano or the Urban Train. Trains arrive every few minutes and run daily from 6:00am to 11:20pm. A one-way trip only costs $1.50, concession tickets cost $0.75, children and those over 75 ride for free. You can also transfer to buses for free.
Tickets can be easily purchased at the self-service ticket machines located in the stations. You can pay with cash or card. The train service is reliable with trains usually arriving on time. More information for exact timetables can be found on the Tren Urbano website.
Overall, the Tren Urbano is not going to get you very far in your travels around Puerto Rico, but is useful as it connects to the larger public transport system. Using your ticket in conjunction with the bus network can be an affordable way to get around the island.
Bus Travel in Puerto Rico
There are a couple of different options when it comes to traveling around Puerto Rico by bus. First up there's the públicos. These small public buses are common on islands in the Caribbean and elsewhere in the world. They are mainly used by locals to travel from town to town and around the island.
The buses run along set routes and connect up some pretty far-flung locations. The buses can be a little unreliable though as they only leave the bus station once they are full. Most busses leave from the terminal de carros públicos in Puerto Rico's towns and cities
A ride on one of these local busses is one of the cheapest ways to travel around, costing only a couple of dollars for a ride. For example, the 117km (73 miles) journey between San Juan to Ponce is only $15. Much cheaper than the price of a taxi. If you want to travel around on a público, a little bit of Spanish might be helpful.
Although the públicos are a cheap way to travel, they can take along time to reach their destination and you often have to change multiple times if travelling a long distance.
Another way to get around is by catching one of the larger AMA buses. These are more like a classic city bus and can be a useful way to reach your destination. The main hub for these buses is the San Juan Bus Terminal. Fares cost $0.75 per trip and $1.50 for a transfer.
These buses aren't used by locals as much and connect to a lot of the big tourist sights around Puerto Rico. Whatever bus you take, you can only pay cash for the tickets.
Ferry Travel in Puerto Rico
Being an island in the Caribbean, getting around by boat is of course one of the most scenic and exciting ways to travel. Puerto Rico is actually an archipelago which includes a scattering of small islands surrounding it, all of which are just waiting to be explored. Thankfully, it's super easy to reach them by the public ferry service.
Located just 3.7km (6 miles) from the mainland, Vieques is home to the beautifully bioluminescent Mosquito Bay. A little further (around 32km) from Puerto Rico's main coastline is Culebra island is where you'll find the picture-perfect Flamenco beach.
Regular passenger ferries to and from these islands are operated by the Puerto Rico Port Authority. Ferries to Vieques cost $2, while tickets to Culebra cost $2.25. Overall, ferry travel in Puerto Rico is affordable. For example, it only costs $1 for a return ticket between San Juan and Cataño.
Make sure to secure tickets a few days in advance as ferries can get completely sold out in the high season. When this happens the only option for transport to the islands is usually a more expensive private tour.
Getting Around Cities in Puerto Rico
When it comes to exploring Puerto Rico's urban areas, there's a choice of different transport options. The type of transport you choose will depend on how much time you have to spare and how much you have to spend on transport.
First up, there's a free trolley service that serves San Juan. This is actually run by two private tourism organizations. The trolleys run around three separate routes in the capital and the service runs all day between 7am and 7pm. The main hub for the trolley bus is Cruise Ship pier 4.
There's also a hop-on hop-off tourist bus service that takes passengers around the city and connects to the beaches, hotels, and main attractions. Choose from the 24-hour or 48-hour Hop-On Hop-Off ticket options, prices start at $28.
There's two lines to ride on. The red line has 21 stops and takes in more of the historic and cultural sites. The blue line has 13 stops and connects to the city center and beaches.
Other than buses, the best way to get around the island's cities is by taking a taxi. The taxi services are reliable and often used as a way for tourists to get around. Rates are fixed for specific journeys, like the airport, but otherwise, a meter is used to calculate the price of the fare.
Taxi fares in Puerto Rico start at $5 and cost $3.22 per mile. Extra charges are added for luggage. Uber is also really popular on the island and great for getting around at short notice – just use the app as normal.
Another way travelers get around is by taking a private shuttle service. These shuttles are aimed at tourists and usually pick travelers up from the airport and take them to where they need to be. A shuttle is probably one of the most expensive ways to get around, but can become more affordable if you're traveling in a group.
Walking is the cheapest way to explore cities, but it's not always easy to get around on foot in Puerto Rico. The best place to walk is Old San Juan. If you're staying in this part of town then you can just stroll to where you need to be and save some cash in doing so.
Renting a Car in Puerto Rico
Using a rental car to get around is one of the most popular ways to travel in Puerto Rico. Having your own vehicle really helps to open up the island and will allow you to experience life beyond resorts and tourist sights. The island is around 160km (100 miles) across and has winding mountain roads and coastal cruises.
There's a choice of more than 15 car rental companies in the capital alone so getting your hands on a vehicle shouldn't be too difficult. That being said, in high-season it's always a good idea to book ahead so you can get the car of your choice. Booking in advance will also help to get a cheaper rate for the rental.
Driving in Puerto Rico is one of the most affordable and convenient ways to get around, although prices aren't particularly cheap. The average cost of a rental car in Puerto Rico is around $50 per day. When hiring the car, make sure to check that Collision Damage Waiver (CDW) is included in the final cost. Additional insurance will aslo cost you upwards of $10 per day.
Fuel is also going to add to the cost of travel in Puerto Rico. At the moment, it's around $1.144 a litre ($4.331 a gallon.)
Want to save some cash and explore Puerto Rico by rental car? Use rentalcar.com to find the best deal possible. There are some great prices on the site and they aren't difficult to find.
ESTIMATED EXPENSE: $20 – $60 USD per day
Puerto Rican food is a delicious mix of all of the cultures and landscapes that make up the island. You can expect to enjoy a lot of cocina Criolla (Créole cooking), an exciting blend of American, Spanish, African, and Taino foods. The island also has a host of local specialties on offer as well as holding claim to being the inventor of the piña colada.
You simply cannot take a trip to Puerto Rico without venturing beyond the tourist-oriented restaurants. Explore further afield and discover a world of delicious local cuisine. After all, this is a country well-known for its barbecue pork, plantains, and rice.
Whatever type of trip to Puerto Rico you end up taking, these are some of the classic dishes found on menus in eateries across the island.
Here are some must-try meals:
Lechón asado – This succulent national favorite involves pig being slow-roasted over charcoal to the point that the skin becomes infused with the smoke. You can find this all over the place, but is best found in real local joints. It costs around $15-$20 for a meal.
Asopao De Pollo (Puerto Rican Chicken & Rice Stew) – Another local staple, this is a stew with a sofrito base. The dish varies from place to place but seafood, cooked in a traditional caldero kettle, is also a common variation. Costs $10.
Seafood – You're on an island in the Caribbean, that means there's plenty of fresh seafood to delight in. This is a key component to eating out in Puerto Rico, from crabs and prawn to octopus and lobster. You simply can not miss out. Costs vary depending on the dish and restaurant.
Now you know what type of food to look out for, but how can you make eating in Puerto Rico less expensive? Read on for my top tips:
Pick up food from the market – Every town and village will have its own local market called a mercado. This is where you should head to pick up the best fruits, snacks, and juices for the cheapest price. If you don't know where your nearest one is, just ask a local to point you in the right direction.
Look for local places – Talking about local things, local food joints are your best bet to get delicious food for the lowest cost. Get off of the Pork Highway and hit up places like El Pino which sells slow-roasted hogs and all sorts of sides for the reasonable price of around $20.
Make your own meals – It might not be the most glamorous thing to do, but you're going to save so much cash if you just make yourself a couple of meals a day. You can still head out for dinner in a restaurant, but by making yourself breakfast and lunch you'll have so much more cash to spend on other things.
Where to Eat Cheaply in Puerto Rico
It can be difficult to work out if Puerto Rico is expensive for food. This is a popular tourist destination which usually means tourist prices. But, there are some fantastic low-priced eateries for budget travelers to tuck into local fare. Here's a few places to look out for…
Angelito's Place – Head to this cafeteria-style eatery for an affordable hog lunch. Located around 45 minutes outside the capitol, make sure to include this in your road trip around the island. Meals cost around $15 and will leave you completely stuffed.
Roadside stalls – Called kioscos or kioskos, the roadside eateries are the best place to try authentic, cheap and delicious Puerto Rican food. You'll find them bunched together in areas such as the coast in Piñones and Luquillo, but they can also be scattered along highways and in urban areas too.
El Schamar in Boqueron – For a quick and easy lunch, make your way over to this top eatery. Chicken empanadas are the name of the game here. A fresh and filling bite to eat, costs $5.25 for three.
If you want to make yourself some meals during your vacation, here's some affordable supermarkets where you can pick up groceries for low-prices:
Freshmart – A local favorite, this chain of supermarkets has a good choice of organic produce. You can find some good deals and a wide choice of products on offer.
SuperMax – Found all over the island, SuperMax probably has the lowest price produced. You can buy a good selection of food and there's also an app for online ordering that also shows current offers.
ESTIMATED EXPENSE: $0 – $35 per day
If you fancy a few drinks during your trip to Puerto Rico, then you're in luck. The island is well known as being a producer of rum. You can find this dark spirit for sale all over the island, often mixed with a fresh cocktail or drunk with coke.
In general, the price of alcohol in Puerto Rico is the same as in the US mainland. Once upon a time the island was home to hundreds of family run rum distilleries, sadly today that number has considerably shunk.
The most famous of them all is Bacardi, the factory in Puerto Rico, is the world's biggest premium rum distillery. If you want to drink for the cheap, it's best to stick to the locally-made rum which is a lot cheaper. A bottle of good rum in a supermarket on the island will cost around $10.
There's also a beer made on the island. The Medalla beer is a light lager that goes perfectly with a day chilling at the beach, or watching the sunset. A can of Medalla costs around $2 a bottle, and the Presidente beer imported from the Dominican Republic is around the same price.
Imported beers come in the form of well-known brands like Budweiser-type brews and cost around $2.75 or more.
Here's a some of the alcoholic beverages you should try out when in a Puerto Rican bar:
Piña colada – Curated in the 1950's at a hotel in San Juan, the internationally famous drink is a must while on the island. This deliciously blended coconut cocktail is the ultimate vacation drink, costing around $8.
Chichaíto – Fancy a shot? Try this Puerto Rican shooter out. A mix of anise and white rum that's mixed with ice and poured into a shot glass. Sweet and licorice-like, you'll find this on the menu all over the place. Cost around $7.
For when you want to get a cheap drink, there's nowhere better than the kioscos. Come nightfall, these local food joints turn into a place to not only grab a cheap meal but also a few affordable drinks too.
And, if you don't fancy beer or cocktails there's always sangria. The island's variation is a fruity rum mixture that is very popular with the establishments on the west coast and in beach bars.
ESTIMATED EXPENSE: $0 – $30 USD per day
For most people, a trip to Puerto Rico is all about one thing: spending time among the beautiful natural landscape. Be it relaxing on a beach or exploring the rainforest, the island's nature really steals the show.
The good news is that it hardly costs a dime to spend time among nature in Puerto Rico. Those of you who want to spend days simply sunning yourself at the beach will be happy to know that the beaches are free. The only thing you might have to pay for is the cost of parking at the beach for the day.
But, you really don't ever have to go far to find a beach, so chances are it will be within walking distance of where you're staying. Getting into the wild forests in Puerto Rico takes a little more planning but is also really affordable.
Located just an hour from the capital, the El Yunque Tropical Rainforest is actually part of the US National Forests System. It's completely free to enter the forest. Visitors can spend days hiking among the trees and visiting the La Coca and La Mina Falls waterfalls.
Waterfalls can also be discovered for free elsewhere on the island. A long list of falls allow for free entrance including Orocovis, Fajardo and Utuado.
Another popular outdoor activity on the island is horse riding. Visitors come here to ride the unique Paso Fino horses. There's a number of different ranches where you can join a guided tour, excursions cost around $45 an hour.
Aside from nature, there's also cultural and historical sights to visit. Guided tours lead visitors through the island's old towns with their pretty church with interesting architecture. Tickets for museums usually cost no more than $10, but government-run sites are mostly free.
Take a hike – One of the best ways to see nature in Puerto Rico is to take yourself on a hike. Most of the trails on the island do not have a high-elevation which means they're appropriate for different levels of fitness, just make sure to plan ahead of time and keep an eye on the weather forecast.
Pack a snorkel – Sure, you could spend $100 on scuba diving, but if you don't have the cash to spend just make sure you pack a snorkel. Not only will you be able to see some pretty beautiful sea life, it will also make a day at the beach a lot more fun too.
So, I've gone through all of the big budget costs for a trip to Puerto Rico. There's the price of the airfare, the accommodation, the price of transport on the ground, and how much you should spend on food. However, there are a few other hidden costs you might want to factor in.
These additional costs are the type of unforeseen items that are super easy to overlook. I'm talking about the money you spend on souvenirs, the cost of getting your laundry done, or getting an ice cream.
The costs might seem small, but over a couple of weeks they can add up. I think it's a good idea to put aside around 10% of your overall trip budget for these unforeseen items.
Tipping in Puerto Rico
The tipping culture in Puerto Rico isn't that different to the rest of the States. Tipping is pretty much expected in Puerto Rico, so you'll really need to budget for the money you're going to be spending on tips.
When you eat out at a restaurant you should be leaving a tip at the end of the meal. This tip should be somewhere between 15%-20%. Those of you traveling from Europe or elsewhere may find the percentage of tipping high, but this is how much is expected.
If you're staying at a hotel or a resort, do not be surprised by an automatic service charge added to your bill. This will usually be around 5%-20% of the final cost and can be for any service, not just eating and drinking.
The hotel staff will also expect tips, and of course will very much appreciate them too. Staff in the restaurants at the resort, tips are around 20%. Tip the hotel porter who has carried your luggage $1-$2 per bag. The hotel housekeeping staff will also appreciate a tip, the rule of thumb is around $2 per day.
When you eat out at more casual restaurants and cafes, leaving a tip will also be very welcomed by the staff. You could leave a percentage of the final bill or leave some dollars in a tip jar.
Taxi drivers or private shuttle drivers can also be tipped, either rounding up the cost of the fare or leaving approximately 10%-15% of the final costs. With an uber, there is the option to leave a tip through the app at the end of the ride.
If you take a tour or take part in an activity, you can tip your guide at the end of the day. Somewhere between 10%-20% depending on the type of tour and the level of care the guide put into their role.
Overall, tipping in Puerto Rico is more than just a nice gesture, it's part of eating out and staying at a hotel. This means you need to keep some cash aside in your budget to pay for the price of tipping.
Get Travel Insurance for Puerto Rico
Travel insurance is probably the last thing you want to think about when you're excited to take your big trip. But it's something you might want to spend some time having a look at. It won't take that long to sort out and can really help you out in a difficult situation
Who knows when something is going to happen? Your flight could be canceled, you could get sick, or your luggage might go missing. Whatever it is, travel insurance helps to ease the pain of these unfortunate events.
Best case scenario, nothing goes wrong and you can relax on your trip knowing you have insurance just in case. Something to think about!
World Nomads' mission is to support and encourage travellers to explore their boundaries. They offer simple & flexible travel insurance, and safety advice to help you travel confidently.
They've been doing it since 2002 – protecting, connecting, and inspiring independent travellers just like you.
Get a quote below or read our in-depth review!
World Nomads provides travel insurance for travelers in over 100 countries. As an affiliate, we receive a fee when you get a quote from World Nomads using this link. We do not represent World Nomads. This is information only and not a recommendation to buy travel insurance.
I've covered a lot of different budget advice and gone over a few ways you can save some cash. Here are just a few more helpful tips to make a trip to Puerto Rico less expensive…
Get walking – Puerto Rico might not be the best place for exploring on foot, but areas like Old San Juan are ideal for strolling. The area is super easy to navigate on for which saves you money on taxes too.
Have a water bottle: Don't waste money on plastic, bottled waters; carry your own and refill it in the fountains and the tap. If you're worried about potable water, get a filtered bottle, like the GRAYL, which filters out 99% of viruses and bacteria.
Don't eat at a hotel or resort – The prices at these kinds of eateries are going to be much higher compared to eateries outside of resorts. Finding somewhere more local to enjoy meals will save you some serious cash.
Book the ferry to Culebra in advance – The local ferries to the islands are by far the cheapest way to get there, but the tickets can get completely sold out. Make sure you bag yourself a ticket by heading down to the port a few days before to buy the tickets. If you're totally out of luck, ask at your accommodation, a local may be able to help you out.
Earn money while you travel: Teaching English while traveling is a great way to make ends meet! If you find a sweet gig, you may even end up living in Puerto Rico.
Book car rental in advance – Puerto Rico is an island which means there's only a certain amount of rental cars available. If you know you want to get around by driving, you need to get your car booked as soon as you can to secure the cheapest rates and the vehicle you want.
Drink Puerto Rican coffee – Leave your Starbucks addiction at home and get yourself to a local PR cafe. These places serve up delicious local coffee for lower prices than the big chains. Caffeine and culture all adds up to a travel win.
Stay at a local hotel – you'll save some money on the price of a room per night, get a more unique place to stay and be giving money directly to a local family. Not only that, but your hosts will have a great local knowledge and might even be able to save you money on things like tours and ferries.
Become a volunteer with Worldpackers: Give back to the local community and, in exchange, you're room and board will often be covered. It's not always free, but it's still a cheap way to travel in Puerto Rico.
A trip to Puerto Rico really doesn't have to be that expensive. Honestly, if you want to take a trip to this Caribbean island, it's totally doable on a budget. You might have to save up some cash for the airfare, but once you're there you can really enjoy local life and not come home with an empty bank account.
There's a good choice of affordable hotels, Airbnbs, and even hostels to stay at during your trip. Not only that, you can also enjoy delicious local food for a snip of the costs of tourist resorts.
What I think the average daily budget for Puerto Rico should be:
If you keep a daily budget in mind during your trip and try and choose low-cost meals and budget-friendly accommodation, and enjoy the occasional splurge, we think a reasonable budget per day should be around $55
---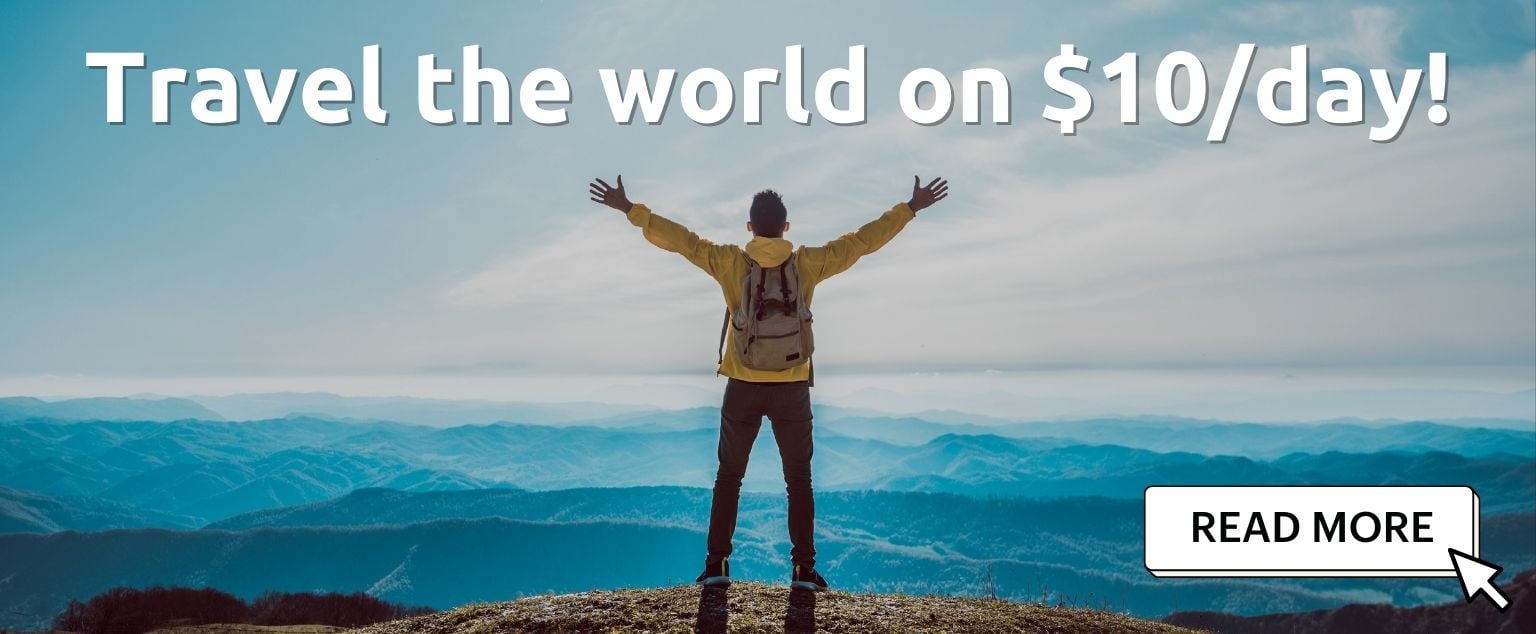 And for transparency's sake, please know that some of the links in our content are affiliate links. That means that if you book your accommodation, buy your gear, or sort your insurance through our link, we earn a small commission (at no extra cost to you). That said, we only link to the gear we trust and never recommend services we don't believe are up to scratch. Again, thank you!