Puerto Rico is a tiny tropical island with a rich history, laid-back culture, and exceptional scenery. From its dense jungle, white-sand beaches, and mountain-drop background, it's no wonder it's one of the best Caribbean islands to visit.
It may only be 3,500 square miles but it's packed with incredible sites. From the cobbled stone streets of Old San Juan to the bioluminescent bay of La Parguera, the island is brimming with culture and nature to explore.
When it comes to choosing a place to stay, however, there are an overwhelming number of options. If you want to stay somewhere unique, authentic, and traditionally Caribbean – well, you won't find that in a hotel. What you need to look towards is an Airbnb in Puerto Rico.
Puerto Rico Airbnbs are usually owned by the locals, so you can be sure they are in the best locations, offer homely comforts that hotels can't (such as kitchens and a washing machine) and your helpful local host can give you tips for places to visit. Sounds good right?
If you're craving a vacation in this tropical island paradise, then read on, because I have some of the most beautiful Airbnbs in Puerto Rico to share with you.
Quick Answer: These are the Top 5 Airbnbs in Puerto Rico
Overall Best Value Airbnb in San Juan
Overall Best Value Airbnb in San Juan
Apartment in Residential Area, Close to the Beach and Airport
> $
> Guests: 2
> Private entrance
> Tennis and basketball court
Best Budget Airbnb in Carolina
Best Budget Airbnb in Carolina
Entire Apartment Close to the Airport and the Beach and Near Recreational Park
> $
> Guests: 2
> Free parking
> Close to Old San Juan
Best Airbnb for Couples in Puerto Rico
Best Airbnb for Couples in Puerto Rico
Home with Views of the Beautiful Jungle with Private Plunge Pool and Hot Tub
> $$
> Guests: 2
> Close to downtown
> Mountain and ocean views
Best Airbnb for Families in Aguadilla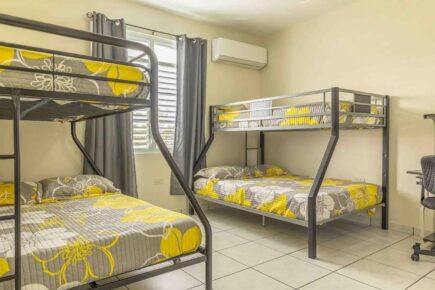 Best Airbnb for Families in Aguadilla
Spacious Home with Pool, Close to the Beach and Airport
> $$$
> Guests: 10
> Gazebo
> Many restaurants nearby
Over-the-Top Luxury Airbnb in Puerto Rico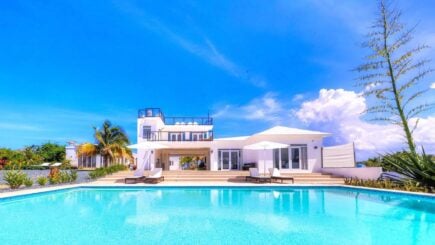 Over-the-Top Luxury Airbnb in Puerto Rico
Villa in Isabela with Breathtaking Views and Rooftop
> $$$$
> Guests: 10
> Infinity pool
> Breathtaking views

Unlock Our GREATEST Travel Secrets!
Sign up for our newsletter and get the best travel tips delivered right to your inbox.
What to Expect from Airbnbs in Puerto Rico
Called the Island of Enchantment, Puerto Rico has been wooing travelers to its shores for decades. The country is packed with endless tropical island charm, from stunning beaches to ravenous street food; it's no wonder why it's one of the top 10 Caribbean islands to visit.
Luckily, Puerto Rico Airbnbs can be suitable for travelers of all kinds, whether you have money to burn or a strict budget to adhere to. If your budget is on the lower end of the scale, you can opt for a private room in a shared house to cut down on costs. If you would like to splurge and be spoiled on your Puerto Rican getaway, there are numerous villas, homes, and apartments to suit your needs.
Wherever you choose to stay in Puerto Rico, you can be sure that all Airbnbs will be in excellent locations near main attractions, be kitted out with homely comforts such as WiFi, kitchens, and living areas, and be packed with comfortable amenities to make your stay a little more cosy.
Let's delve a little deeper into the type of properties you can find and who they are most suited for.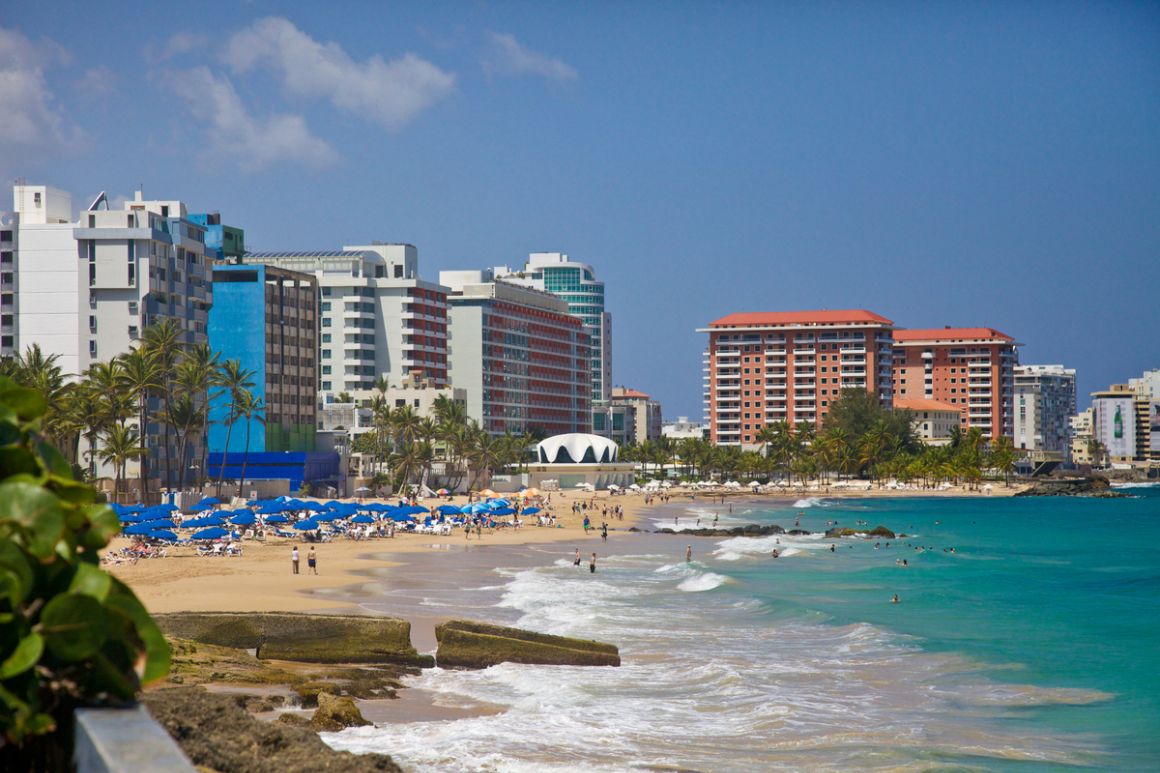 Private Rooms
You may be pinching pennies but you can still have a little private space all to yourself. Private rooms are an economical way to travel around the country, whether in cities or near the beaches. One of the things you need to make sure of is that the private room comes with a bathroom, as sometimes you might have to share a bathroom with other guests or your host. The great thing about private rooms is that you still get the chance to mingle with other people in the common areas and make friends with other travelers.
Apartments and Condo Units
Located all over Puerto Rico but mostly concentrated in urban areas, apartments and condo units are one of the more popular options. Although ideal for a small group, you will be able to find larger apartments and condo units that can cater to more than six people.
You will enjoy the privacy of your own place, as well as the host of additional facilities such as gyms and pools. Make sure to book apartments and condo units that are near the most happening places.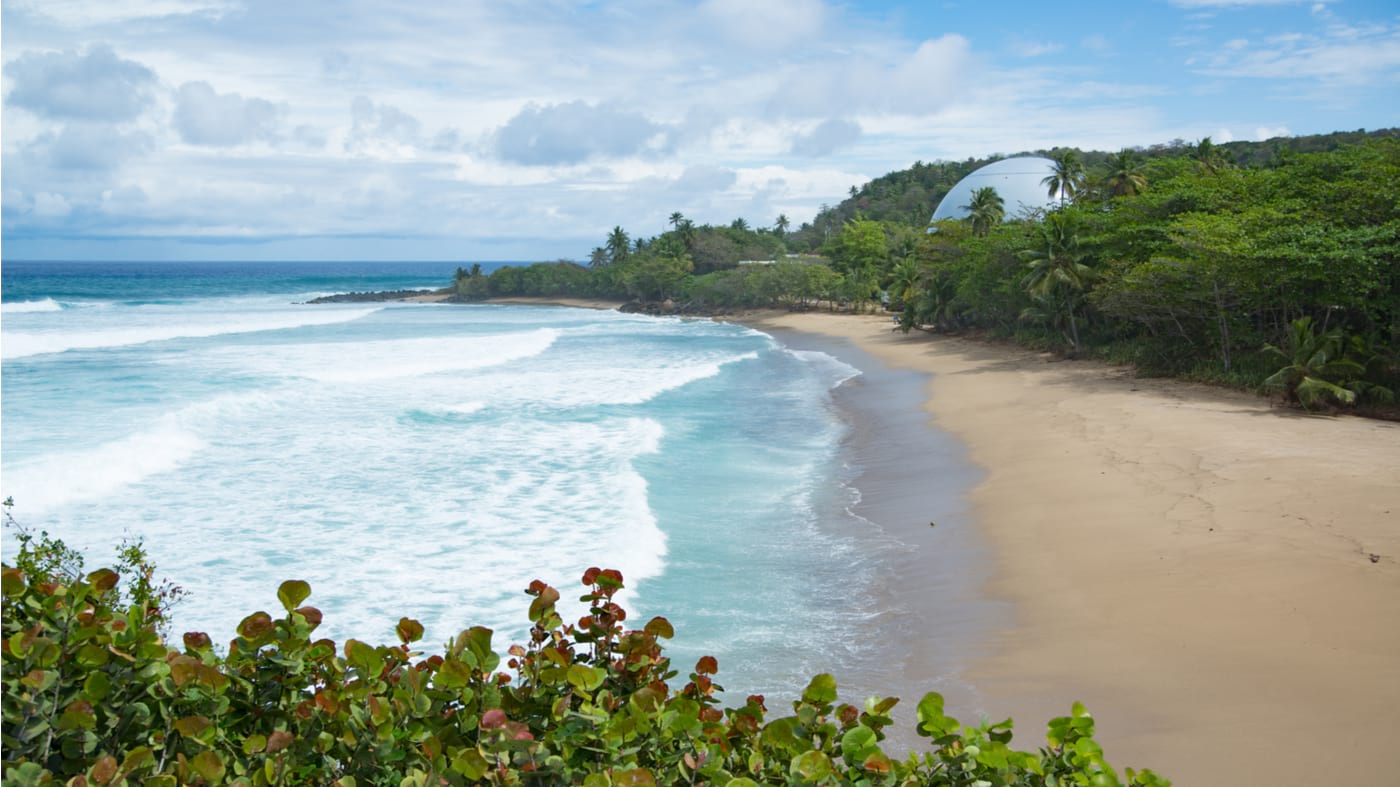 Villas or Residential Homes
Suitable for those in search of opulent accommodations, villas are spacious and sizeable. They come with amenities that can rival hotels, such as infinity pools, saunas, and manicured gardens. The expansive properties can easily accommodate a large family or a group of friends. However, there are smaller and romantic villas perfect for couples who would like a charming abode to come home to when in Puerto Rico.
Check out the many beach houses Puerto Rico has to offer!
Why Stay in an Airbnb
Planning your Puerto Rican vacation need not be complicated. There are many reasons why you should opt for an Airbnb over a dingy hotel. Here are just a few…
Unique properties: Hotels are pretty much the same so why not try properties with personality and character?
Safety: Hosts and guests on the platform are both vetted by Airbnb and customer support is available anytime and all the time to assist you with your needs. Plus, you can read former guest reviews to get an idea of what's in store for you.
Staying long-term: If you plan to stay a few days in Puerto Rico, you can take advantage of discounted rates for long-term rentals.
Airbnb Experiences: Guaranteed fun and entertainment, Airbnb experiences are activities that will create lasting memories.
Last Minute Booking: You need not worry if you made last-minute travel plans because Airbnb properties can be booked the day before, sometimes even on the day of your arrival.
Top 15 Airbnbs in Puerto Rico
Now you know what to expect from these vacation rentals in Puerto Rico, it's time to get ready to experience all the great things Puerto Rico has to offer. But first things first, here are the coolest and most amazing Airbnbs in Puerto Rico.
Guests: 2
Tennis and basketball court
If being near the water makes you happy, this apartment will surely delight you as it is only a few minutes walk from the beach and about 10 minute drive from the airport. You'll have the entire gorgeous space to yourself with an outdoor seating area and hammock waiting for you to relax in.
Located on a quiet street in the Carolina neighborhood of San Juan, there is more than enough free parking space for those with vehicles.
Right in front of the property are basketball and tennis courts, and a few restaurants and grocery stores are within walking distance. If you're up for adventure and exploration, Loquillo and El Yunque National Forest are about an hour's drive away from the property.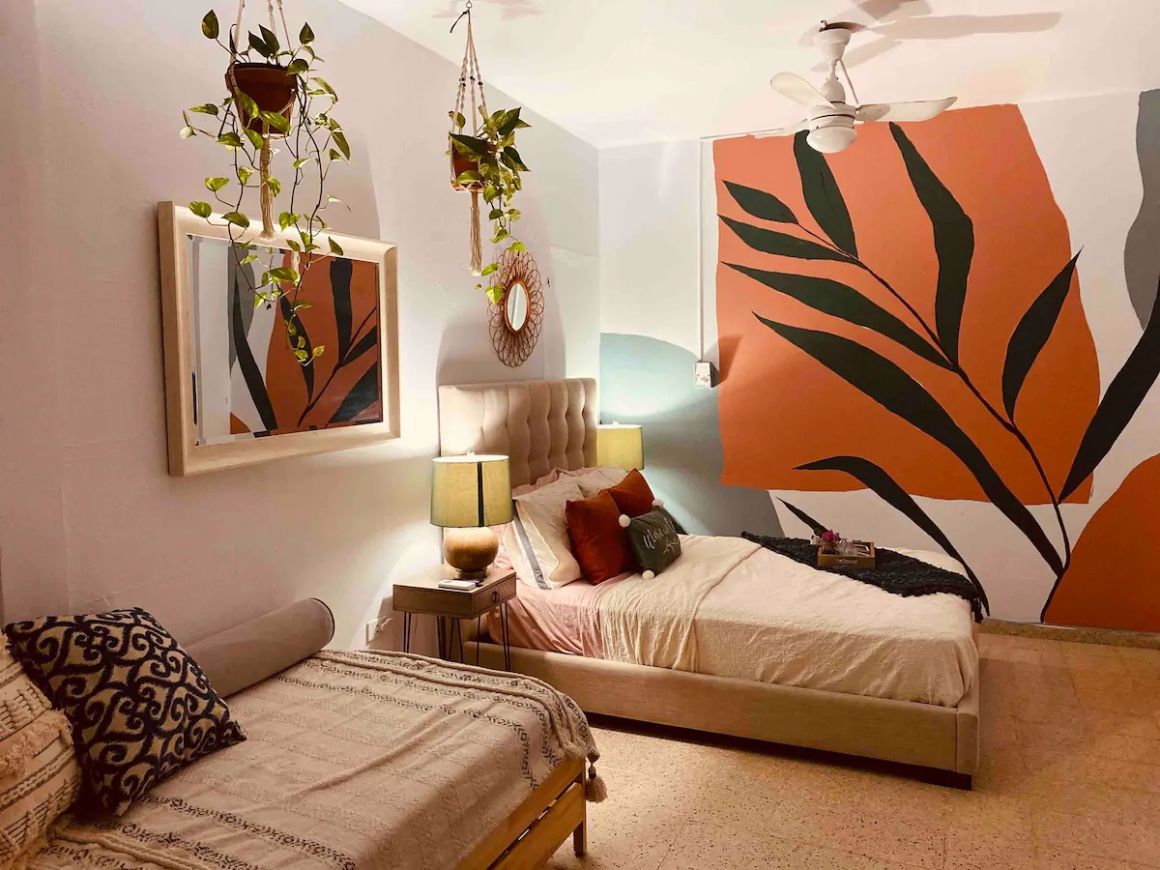 Guests: 2
Close to Old San Juan
Located on a tranquil, quiet street, this boho-style home is peaceful and quiet. You can safely walk to restaurants and grocery stores to get provisions. Aside from that, a recreational area near the property is perfect for walking your pet if you're bringing one, plus a basketball and tennis court that can be used for a small fee.
No need to worry about being late for your flight as this chic unit is only a five-minute drive away from the airport.
In addition, it is also close to the beach, so if you fancy a dip in the waters or want to enjoy the sunrise or sunset, all you need to do is take a short walk. Old San Juan, where there are plenty of attractions to see such as Castillo San Cristobal and La Fortaleza, is only a 10-minute drive away.
Stunning Airbnb for Honeymooners in Rincon | Villa in the Mountains
Start your honeymoon right by disconnecting yourself from work and renting this Airbnb in Rincon! Secluded enough in the mountains, it is only a short drive away from the beaches so you can easily dip your toes in clear waters whenever you want to.
Whatever you choose to do, whether it's a few laps in the pool or relaxing in the hot tub, you'll be greeted by lovely mountain views. There's a floating bed in the pool, as well as a mini-fridge and a bar area by the pool so put them to good use.
The little balcony is the perfect romantic dinner spot where you and your partner can enjoy an intimate meal or you can head to the many restaurants and bars nearby for good food and some drinks. Don't forget to explore the area, there are numerous things to do in Rincon!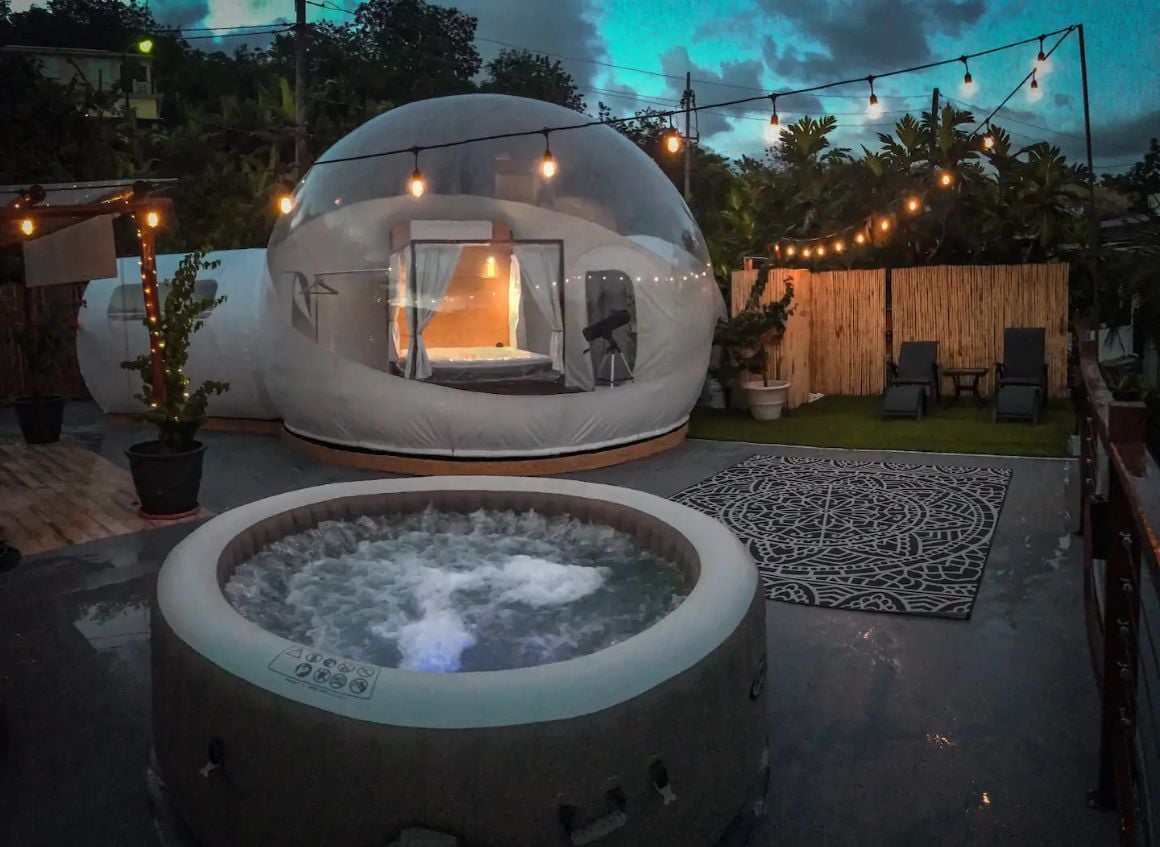 Guests: 2
About 30 mins from the airport
Perfect for anyone who's up for an adventure or anybody who wants to try something new, this dome house's transparent interiors boast incredible views of Lake LaPlaya, Atirantado Bridge, and the surrounding mountains. Nighttime is extra romantic and beautiful, you'll see and sleep under a thousand stars while you dream away.
The bubble house is located at the beginning of what is considered the country's gastronomic route so there are plenty of dishes to try and love. In addition, the bubble house is near fast food, pharmacies, bars, restaurants, supermarkets, and a gas station so you have everything you need.
Is This the Best Travel Pack EVER???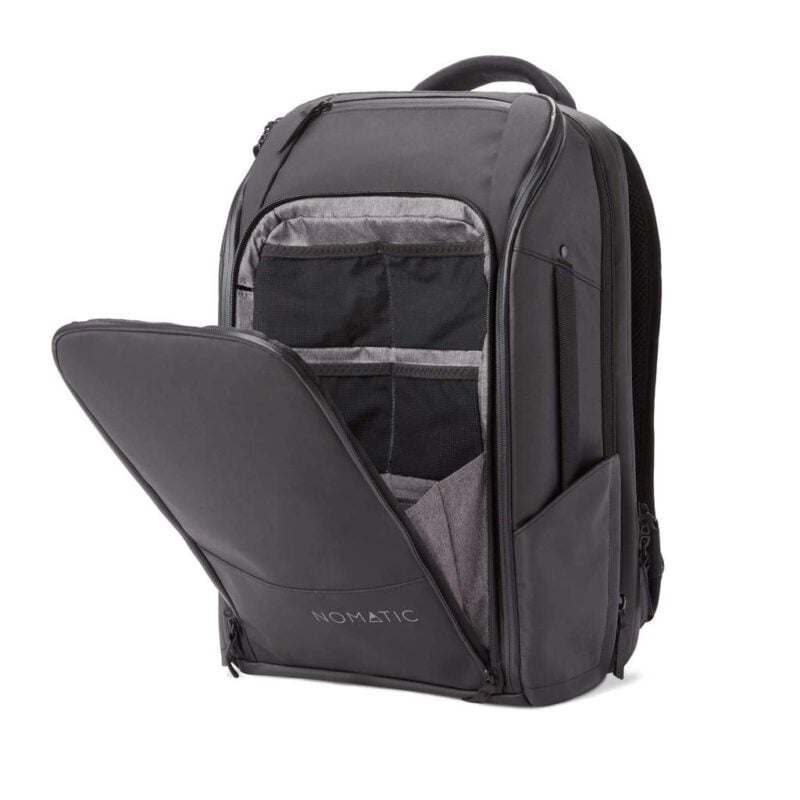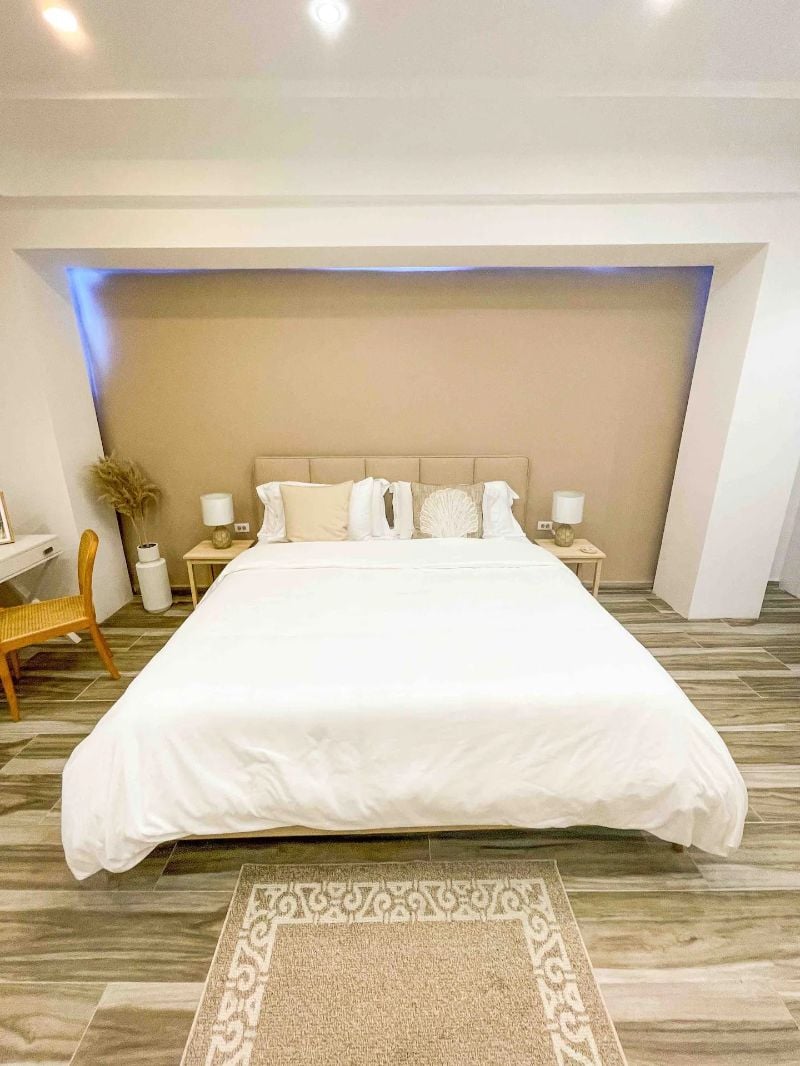 Guests: 2
Laundry facilities
Traveling on a budget while working can easily be done in this private studio. The only areas you have to share with other guests are the lobby and the main entrance, everything else is for you to enjoy. You can easily explore the many restaurants in the area, but if you'd rather eat in, you'll find the kitchenette equipped with basics to get you through a meal.
This centrally-located property is only a 15-minute walk away from the mall and is great base for getting anywhere on the island. It's only a short drive away from Old San Juan, Isla Verde, and Condado where there are plenty of things to see and do.
Over-the-Top Luxury Airbnb in Puerto Rico | Villa in Isabela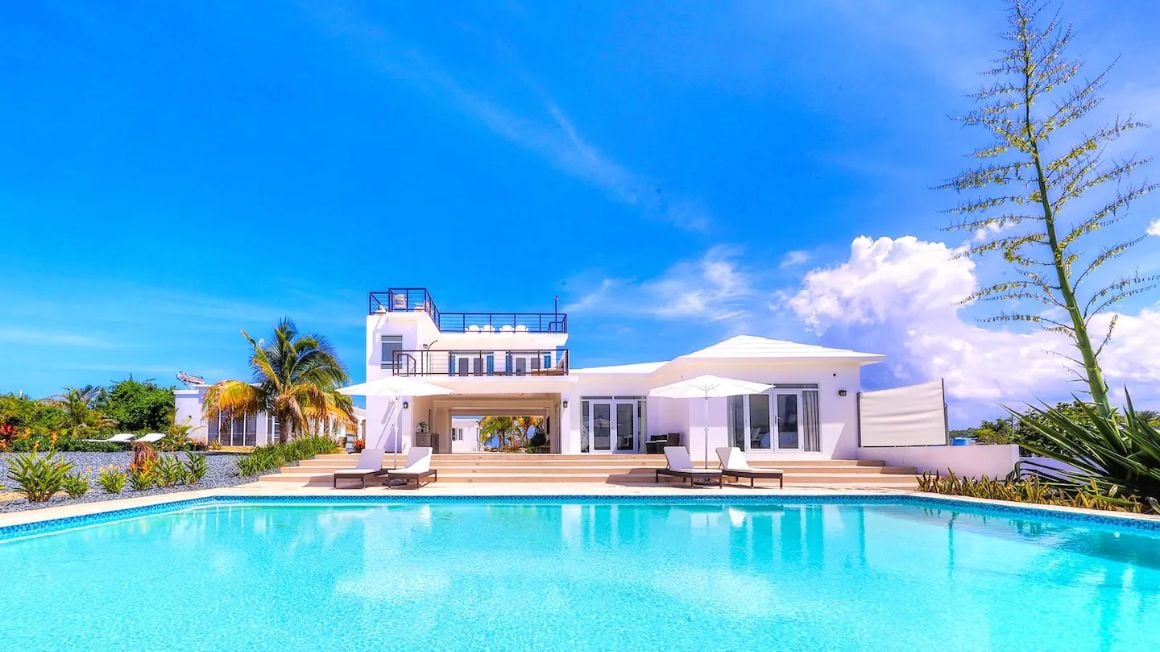 Guests: 10
Breathtaking views
Created mainly for wellness retreats, this opulent property is the zenith of peace and relaxation. Shut all the noise out while sitting on the rooftop admiring the sunrise or sunset or enjoying the infinity pool. All the while listening to the pleasant sounds of surrounding nature and taking in the breathtaking views of the Royal Isabela golf course.
Fancy taking a dip in the ocean? Fret not as the beach is only a minute away. A variety of good restaurants are nearby if cooking is something you don't want to do while on vacation.
Situated on three acres of land made up of coral rock, the property is best for meditation, yoga, and wellness pursuits. However, it is also suitable for people who would like to be away from the hustle and bustle of the city and rejuvenate themselves.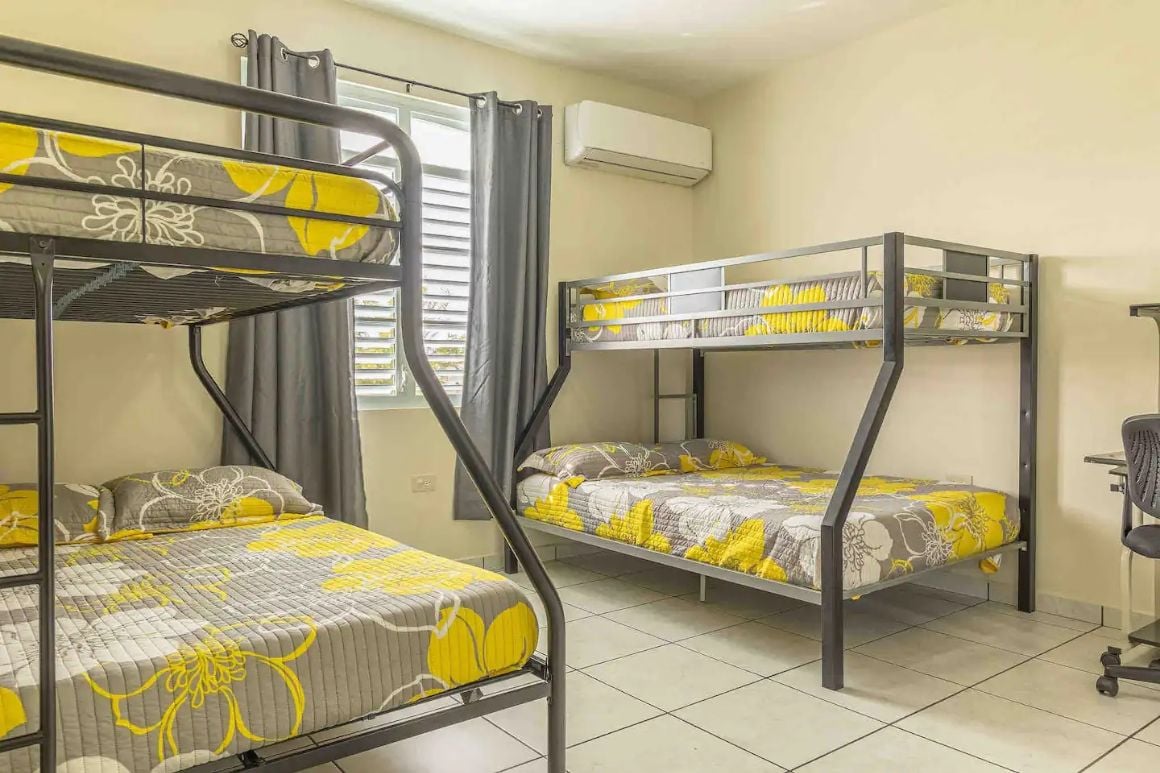 Guests: 10
Many restaurants nearby
Located in a quiet neighborhood and just a few minutes away from the airport, this grand home is perfect for families that want to stay a few days in Aguadilla to enjoy the many beaches located close by and perhaps try surfing.
Take a seat in the gorgeous gazebo while sipping your coffee or have a few laps in the pool. Don't worry about the little ones because they will never get bored with the abundance of board games and toys available.
You can fire up the BBQ and easily prepare meals for the family in the kitchen or drive to the many restaurants nearby to sample the best dishes, the choice is yours.
Best Airbnb in San Juan near Nightlife | Condo in La Placita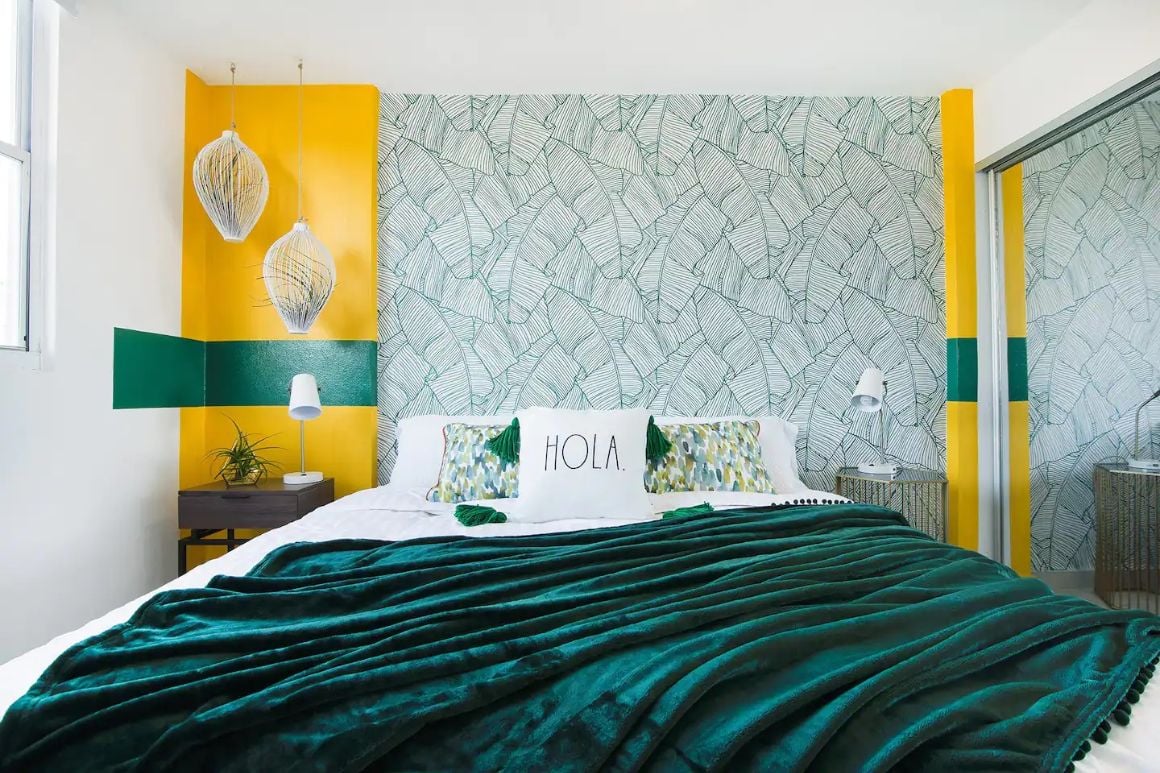 Guests: 2
Great views from the balcony
If you're in San Juan to get a taste of its famous nightlife, you will never go wrong if you stay in this condo.
Located in the neighborhood of La Placita, a traditional farmers' market by day which magically transforms into the most happening outdoor club at night, you can pick from among the endless choices of late-night bars and taste some of the best dishes San Juan has to offer in the many restaurants scattered in the area.
And when you're tired from all that partying, you can come to a stylish and comfortable home and sip your morning coffee while admiring the views from your very own balcony, after which you can easily walk to the beach for relaxation and a much-needed tan.
Guests: 4
Steps away from the beach
Imagine falling asleep to the sound of waves and walking up to a beautiful sunrise while you sip your coffee on the balcony. Well, when you say in this oceanfront apartment, you'll be able to do exactly just that. This beautifully decorated apartment is perfect for couples but can easily accommodate up to four people comfortably.
Apart from witnessing some of the most unforgettable sunsets in the west of Puerto Rico, you can easily walk to the restaurants near the beach if you need something to fill your stomach with. If you're up for adventure, you can try snorkeling or paddleboarding, and you'll be delighted by the wildlife in the area.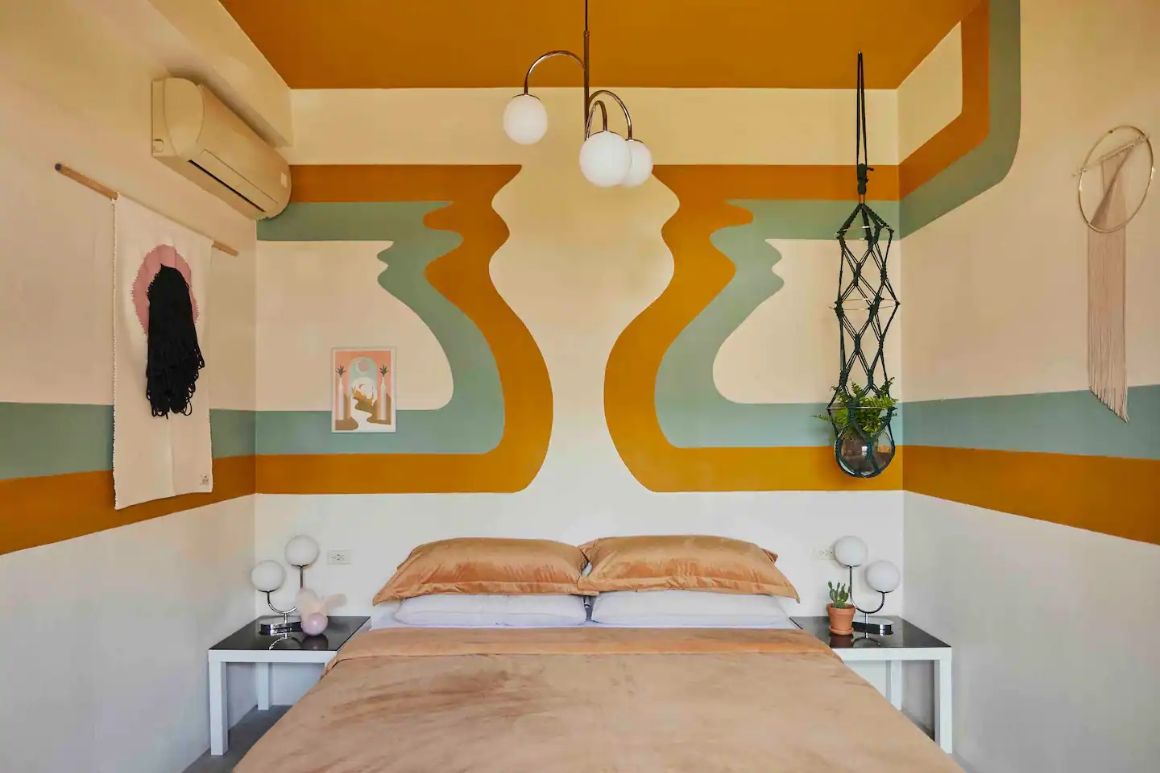 Guests: 3
Close to the beach
This unique property is close to everything that is worth seeing and exploring in San Juan but we warn you that once you see how it looks in person, you might just be tempted to stay indoors.
Decorated with curated vintage pieces for that authentic 70s feel, the home is only a few steps away from the beach and because it is located in the heart of the city's food and art district, restaurants, shops, as well as bars, are within an arm's reach.
A delicious vegetarian breakfast can be served daily at an additional cost if you don't fancy waking up early and hunting for a nice breakfast place. Don't forget to check out the hip and happening Calle Loiza, the former Dominican neighborhood which has gained a reputation as a gastronome's paradise.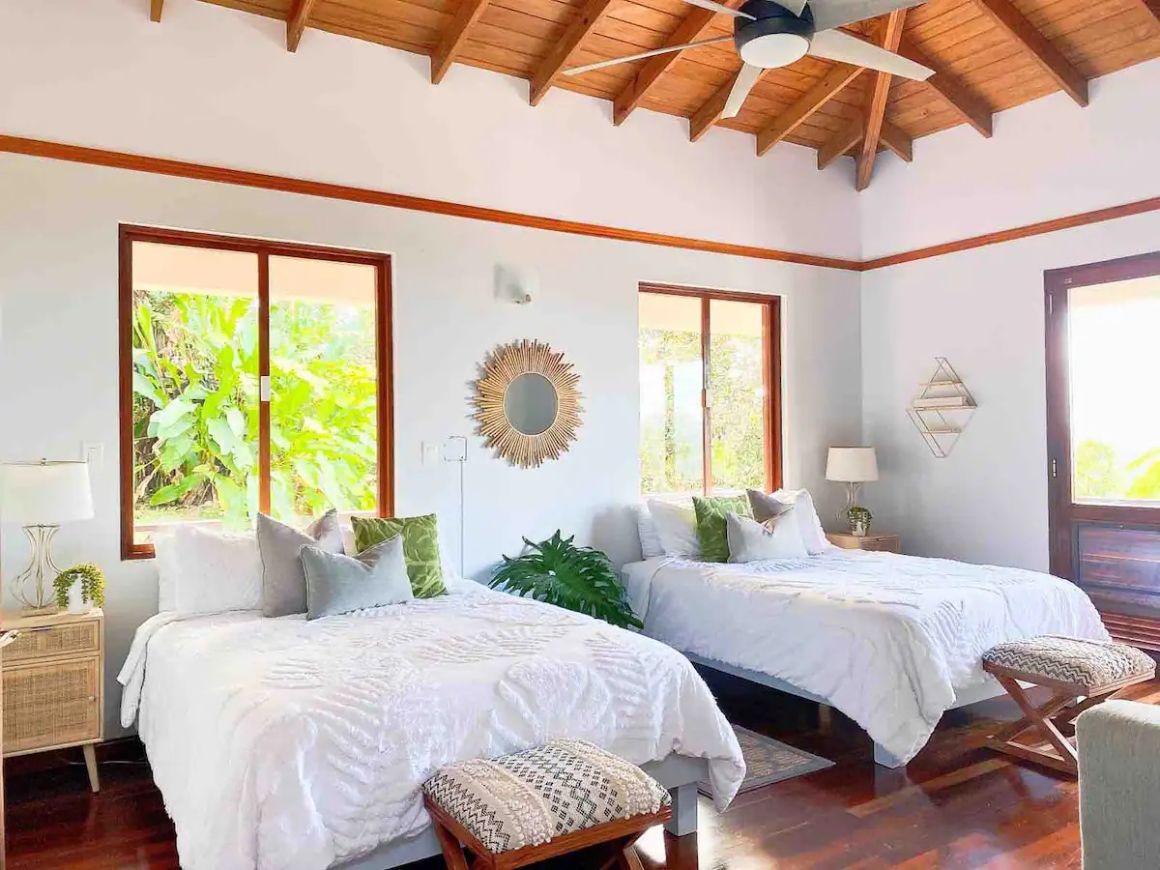 $$$
Spectacular mountain views
You're sure to have a lovely time with your friends in this lovely and peaceful home in Adjuntas situated on a coffee and plantain farm. If you want to disconnect from the city and just relax, this is the place to be. Spacious enough for eight people, you have the private outdoor heated pool all to yourself so you can take a dip as long and as much as you'd like.
In addition, there are a variety of games in the house such as the pool table, ping-pong table, darts, chess, and other board games, so even if you stay in, you'll have a lot of fun.
The fireplace is a cozy place to be in front of in the evening with a hot cup of cocoa. Meals can be prepared in the fully-stocked kitchen but if you're not up for cooking, the great pizza place is within walking distance of the hacienda.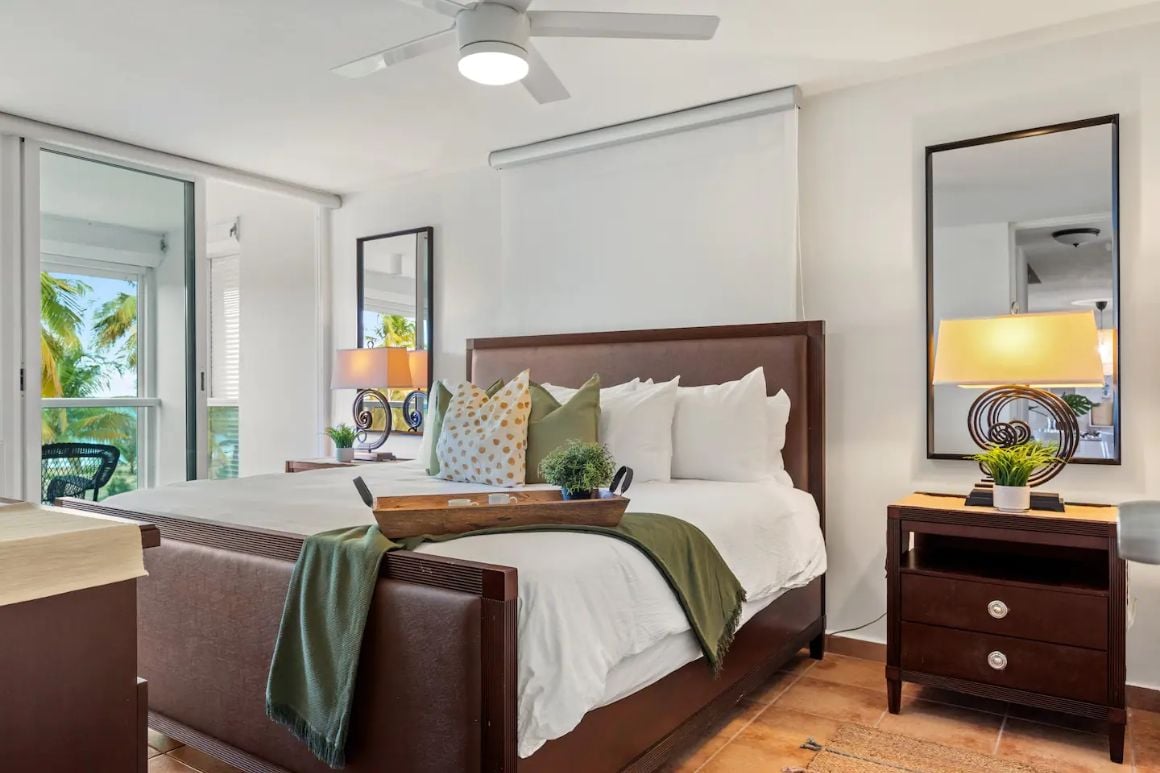 This four-bedroom apartment is just a stone's throw away from Bahia Beach Resort and makes the best base for a group of friends out to explore Rio Grande.
Aside from being close to the best beaches the area has to offer, you have easy access to the rainforest and the various tours on the island. There are plenty of things to keep you busy in the area such as night kayaking, horseback riding, and hiking.
The fully-equipped kitchen is open for guests to use, as well as the communal pool, kid's park, and basketball court. The home has everything you need for a delightful and comfortable stay.
One of the best spots in the house is the balcony where you can take in the most amazing views of the surrounding areas while you sip your coffee. In addition, you can even hear the sounds of the waves from the balcony.
Guests: 2
Near restaurants, bars, and groceries
This tranquil and gorgeous hideaway is located in a residential area in the mountains of Rincon with a driveway that is spacious enough to fit two vehicles.
The incredible outdoor tub and pool surrounded by majestic views are beyond expectations and are perfect for relaxation. Decorated with attention to detail, every nook and cranny looks like it belongs in a home and lifestyle magazine.
The lovely home is just a short drive from the beach and several restaurants and bars are nearby where you can party until morning. Just a few steps away down the block is a grocery store where you can get your basic needs.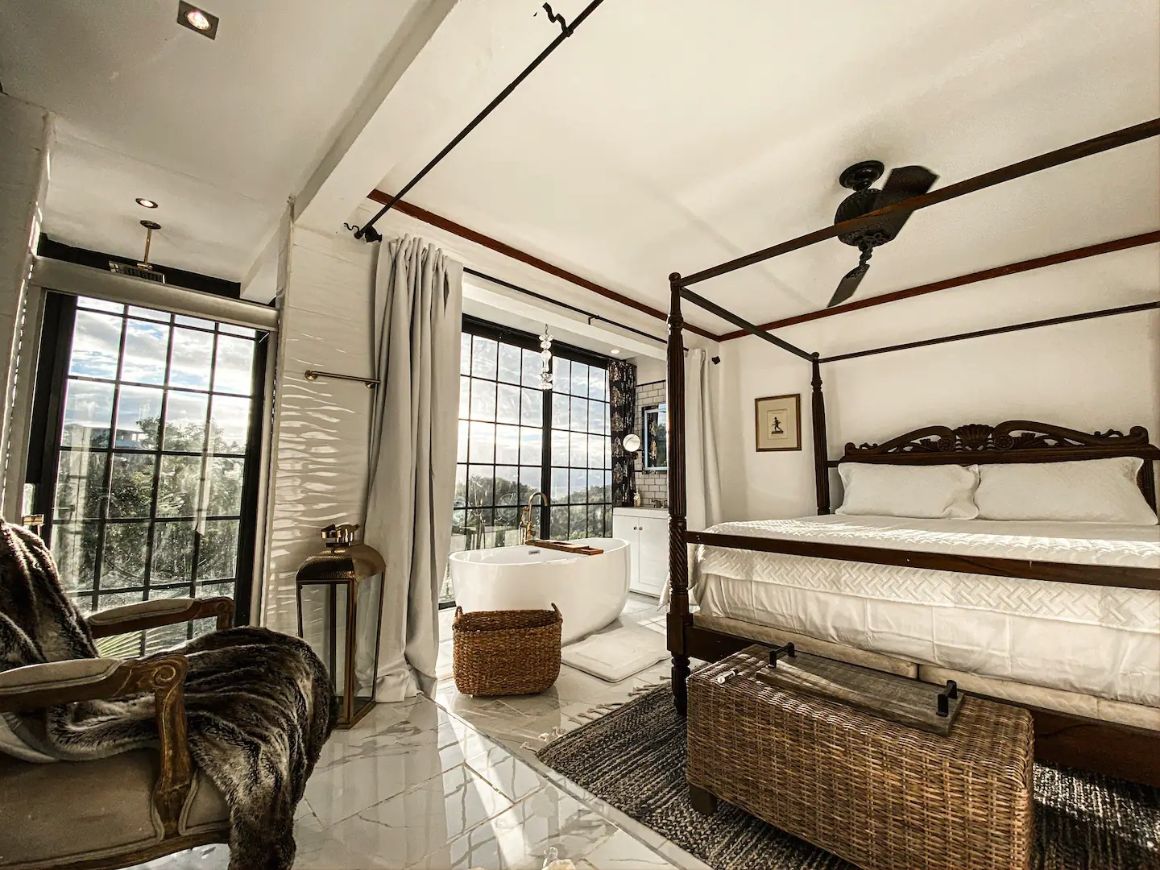 Guests: 2
Mountain and ocean views
Fall in love all over again with your partner when you spend time in this amazing home with picturesque views of the ocean and the mountains while taking a dip in the plunge pool or hot tub with a glass of champagne in hand. Secluded enough for privacy but also close enough to downtown Rincon and the beaches so you can have the best of both worlds.
Head out to the nearby bars and restaurants to sample local dishes and enjoy a few glasses of your favorite cocktail. Guests are strongly recommended to bring or rent a vehicle but transfers can be arranged in advance for your convenience.
Another Romantic Airbnb for Couples in Rincon | Moroccan Inspired Villa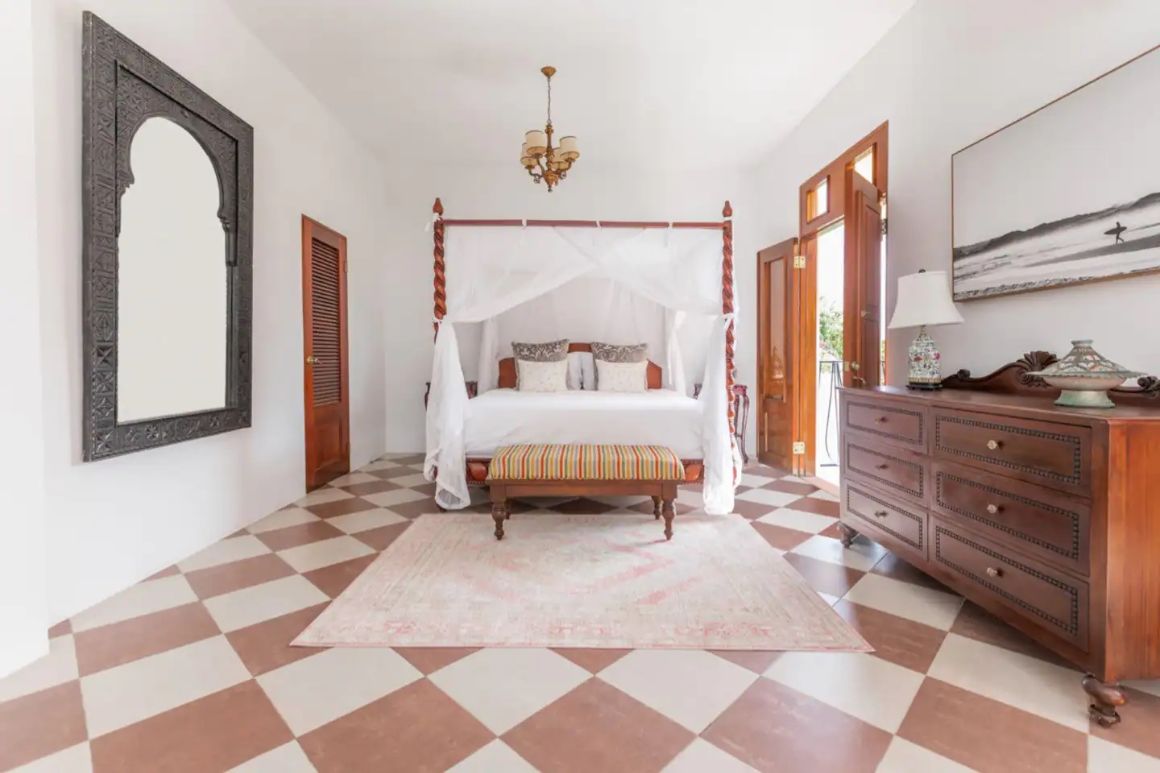 Guests: 2
Stunning ocean views
This romantic villa overlooks the Caribbean Sea, as well as a beautiful tropical garden. The definition of luxury, it comes with a private plunge pool and is only a few steps away from an infinity pool. If you'd rather be at the beach, you'd be happy to know that it's only a few steps away. It's the perfect spot to admire stunning views of the sunset.
The villa is peaceful and secluded enough for relaxation but is a short drive away from all the fun and action Rincon has to offer. If you're into art, Rincon has Art Walks on Thursdays. In addition, you are never a short drive away from music, dancing, and the lively downtown area.

Our GREATEST Travel Secrets…
Pop your email here & get the original Broke Backpacker Bible for FREE.
Top 5 Airbnb Experiences
I have just given you some of the coolest Airbnbs in Puerto Rico but I'm not done yet. I know that aside from the accommodations, your experience in any destination can either leave you with a bad taste in your mouth or leave you with memories to cherish forever.
This is where Airbnb Experiences come in. These small, curated, and intimate activities are hosted by local experts that go beyond your typical tours. These activities allow you to meet and interact with locals and learn from them, not from someone who gathered information from a guidebook.
I have here a few experiences which will give you the opportunity to not only discover the local gems in Puerto Rico but to also see for yourself what makes the country a great place to visit.
No trip to Puerto Rico would be complete without taking the time to learn about the historic area of Old San Juan. With 500 years of history to unravel, on this two-hour walking tour, you'll get to see all the hidden gems in the city and learn about its fascinating past.
From visiting private residences, churches, and convents, as well as sticking your head into some underground cisterns, you'll see all the wonders you wouldn't think to notice if you're walking around on your own.
Marvel at frescoed chapels, climb rooftops and hidden towers and simply enjoy walking down the cobbled streets and secluded Spanish patios.
The perfect introduction to San Juan's nightlife, this bar crawl experience starts at El Cafetin in San Sebastian at 7:30 in the evening where you can begin the partying with a free mojito or titos and a mixer. The next destination is Anam Spa, an oceanfront venue where you get to experience Open Bar for 60 minutes with a selection that includes Tito's Vodka, Jose Cuervo Especial, and Bacardi to name a few.
The last leg of the experience is at Selfie's Bar, a very upbeat venue with table games and hooka. Some venues may have live music and entertainment on certain days. Guests are more than welcome to stay at Selfie's Bar after the experience is finished. The price is inclusive of photographs, three free drinks, the venues, and the 60 minutes open bar.
$30/person
2 hours
Up to 30 guests
If you've always wanted to learn how to salsa, this is your chance. Not only will you learn how to dance, you'll get to experience a traditional Puerto Rican lunch too. Suitable for beginners you need not worry even if you're not very good in dancing, this experience is meant to be fun and starts with an introduction to the fundamentals of salsa at El Patio Sole restaurant.
After learning the styling and the steps, you can sit down with the rest of the group and enjoy a homemade Puerto Rican lunch. The price is inclusive of lunch and a bottle of water. Those who would like to order additional food and drinks can do so at the restaurant for an extra fee.
Available to guests staying in Puerta de Tierra, Miramar, Condado, Old San Juan, Calle Loiza, Isla Verde, and Santurce, this experience takes you to the El Yunque National Rainforest where you will hike an off-the-beaten-path.
The trail leads you to a waterfall where you can reward yourself for all your hard work with a nice swim. While driving to the rainforest, you will learn about the culture and history of the country.
On the trail, you will learn about the forest and its diversity. The trail consists of gentle, as well as inclined terrains with hardwood trees and passionfruit vines that lead to the majestic waterfall. After the hike, you will dine in a local family-owned restaurant where you will partake of authentic Puerto Rican food.
The 500-year old walled city of Old San Juan keeps plenty of secrets and if you want to be in on these secrets, this experience is a must. You will walk through the many streets and travel to corners steeped in culture and history.
Hosted by a knowledgeable architect born and raised in San Juan, you'll experience the architectural history and visit places with restricted access. You'll have the rare opportunity to see underground cisterns, enter frescoed chapels, and even explore rooftops with secret towers.
This social impact experience is helmed by the Puerto Rico Historic Building Drawings Society, a non-profit organization with the mission of educating the public about the country's rich and impressive history and architectural heritage. One hundred percent of the fees for this experience go to the Puerto Rico Historic Building Drawings Society.
Don't Forget Your Puerto Rico Travel Insurance
Is This the Best Travel Pack EVER???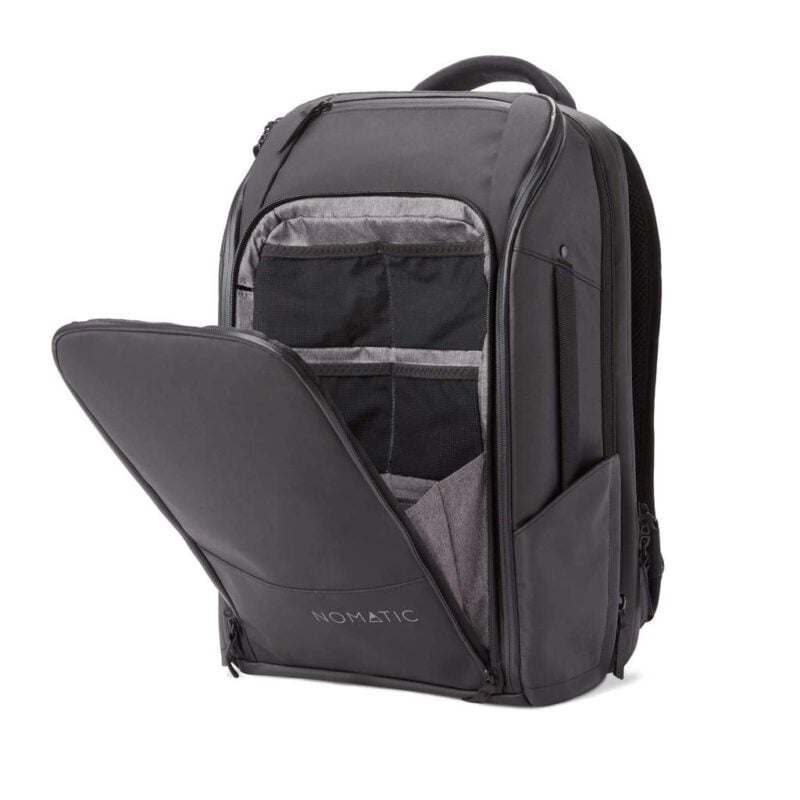 Final Thoughts on Puerto Rico Airbnbs
There's so much to see and experience in Puerto Rico and if you haven't been there, you should seriously consider going. A destination where the Old World sits comfortable side by side with the new, the country may be small in size but it has a bounty of unique experiences to offer.
Whether you are comfortable staying in a private room or want an entire house for you and your friends, there will be the right Airbnb in Puerto Rico for you.
And if you're looking for worthwhile things to do, don't forget to check out Airbnb Experiences. You're guaranteed fun and entertainment that will create lasting memories.
Before you start packing your swimwear and flip-flops, make sure to take out travel insurance for peace of mind. Puerto Rico is fairly safe but you should never travel anywhere in the world without it.
---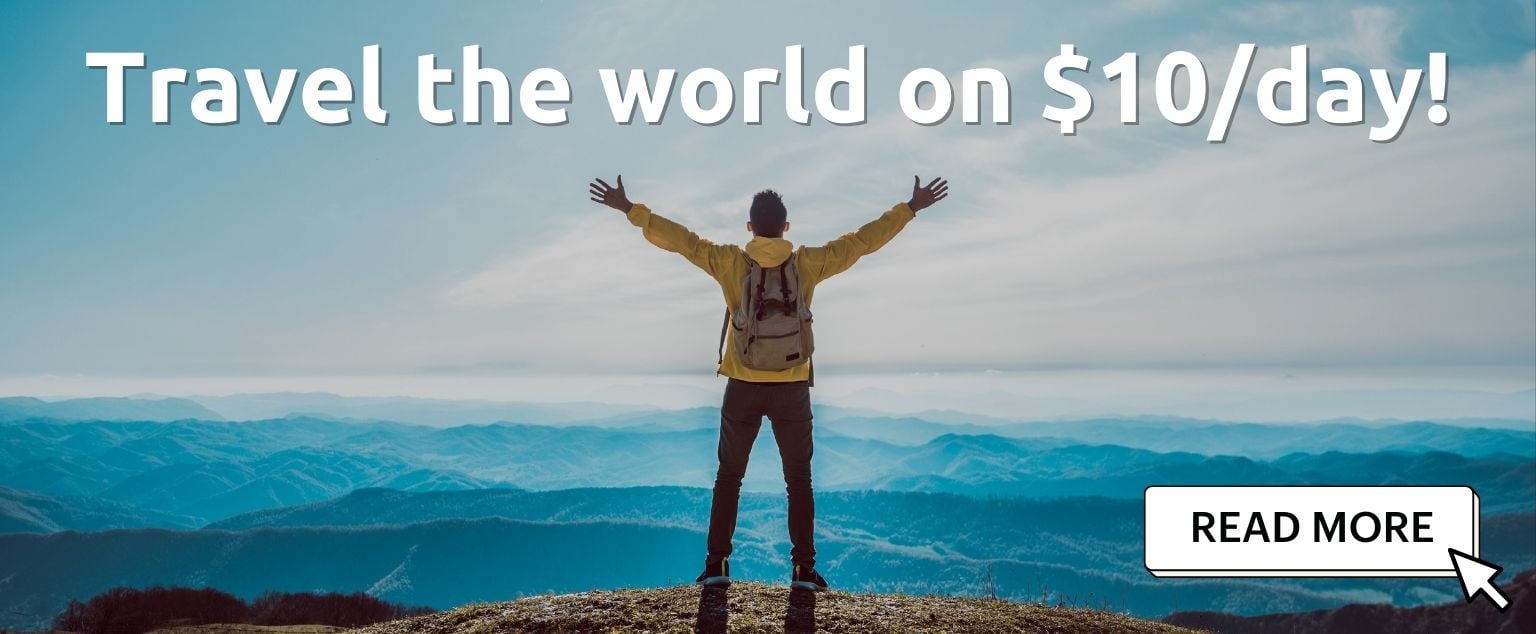 And for transparency's sake, please know that some of the links in our content are affiliate links. That means that if you book your accommodation, buy your gear, or sort your insurance through our link, we earn a small commission (at no extra cost to you). That said, we only link to the gear we trust and never recommend services we don't believe are up to scratch. Again, thank you!