The US territory of Puerto Rico is many things. It's home to San Juan, the third oldest capital of the Americas (founded in 1521!), it's bursting with beaches, there are lush rainforests to explore, and the food scene is insane. It's a Caribbean paradise…
… Or is it? Puerto Rico has a vert high firearm-related homicide rate, and victims are almost always something to do with gangs. A recent gang war didn't stop the problem, which has grown steadily more widespread. Also, there are devastating hurricanes.
There's a lot of potential danger in Puerto Rico, which is probably why you're wondering, "Is Puerto Rico safe?"  Not to worry, we have created this epic safety guide filled with safety tips to help you travel smart.
From whether or not it's safe to drive in Puerto Rico, tips for solo female travellers in Puerto Rico – even tackling whether you should take your kids to Puerto Rico, to first-time solo traveller planning a trip to Puerto Rico, no need to worry, it's all covered in our handy guide.
COVID-19 UPDATE
As a group of adventurers, enthusiasts and fearless travellers, it pains us to tell you this, but the fact is that most travel is currently not safe, and in many countries, not possible because of the COVID-19 outbreak.
Nations across the world are fighting to contain the outbreak and flatten the infection curve – an effort that every citizen and responsible traveller should be part of.
For the most up-to-date safety information and what you should be doing to help, please consult the WHO and your local government.
How Safe is Puerto Rico? (Our take)
Take year-round sunshine and combine it with beautiful beaches, mountains, waterfalls and the bustling capital of San Juan and you have yourself a pretty cool destination.
But this US territory isn't always that safe. There's a high level of gun crime in the country: the gun homicide rate is pretty high. Illegal drugs and the gangs who traffic them are becoming an increasing problem.
There is also some petty crime and pickpocketing that might mean your money isn't as safe in Puerto Rico as you'd like it to be.
Then, there's the weather. Hurricanes do hit Puerto Rico and unfortunately, when they hit, they really hit. Other nature-based dangers include strong currents when you're out swimming.
That being said, Puerto Rico still is one of the safest Caribbean islands.
So…
Is Puerto Rico Safe to Visit? (The facts.)
Puerto Rico is safe to visit. In fact, it's got a lower crime rate than many mainland US cities, which is reassuring.
There is, unfortunately, an unusually high murder rate in Puerto Rico, though, to do with guns. 80% of them are drug-related and most victims are gang members or somehow related to drug trafficking.
3.3 million people live in Puerto Rico, most of whom you'll find in San Juan, the capital of this US territory. You'll also find lots of travellers here since most of San Juan's hostels are located in the busy city.
Inequality is rife between the different cultures that live here – an ongoing issue – and there's crime related to that. Almost half the population of Puerto Rico live below the poverty line – the highest of any US state or territory.
Aside from that, tourism has been important for the island's economy. Lots of American tourists go there because it's American territory, so it's easy, you can use dollars, there are cheap flights, your cellphone still works… And in terms of tourists, there are a lot.
Puerto Rico was affected badly by Hurricane Irma and Maria in 2017. But in 2017, tourists numbered at 5.2 million. That's up (a bit) from 2016, which saw 5.08 million tourists.
Is it Safe to Visit Puerto Rico Right Now?
Whilst it is safe to visit Puerto Rico right now, there are some things you should keep in mind.
Narcotics-based crimes are on the rise and it's becoming a real issue. Drugs are trafficked through the country to mainland US and elsewhere. From 2009—2012 there was pretty much a drugs war: gangs competed with each other to control drugs on the island with snipers on rooftops. And involved with all that, of course, were corrupt politicians.
It's still a problem and we'd advise caution in certain areas, e.g. in and around San Juan where most crime on the island takes place. There's also:
Louis Lloren Torres (a public housing complex)
Pinones
Parque de la Palomas
Santruce
Puerta de Tierra
And parts of La Perla
These places are not safe at night so avoid them.
Apart from crime, Hurricane Irma and Maria had a huge impact on the island. It left 100% of the island without power and one of its dams was on the verge of collapse. The American government was accused of not doing enough to help. Since then more than 135,000 Puerto Ricans actually left their homes as a direct result of the devastation of the September 2017 hurricanes. Power has now been restored, people have access to clean water, but as a country, they're still recovering from the destruction.
Needless to say, hurricanes are a huge threat to Puerto Rico. It doesn't mean you shouldn't go. In fact, tourists are actively being encouraged to help the country recover.
To be extra safe, you may want to avoid visiting when hurricanes are usually at their worst, between September and October.
Puerto Rico Travel Insurance
Have fun in Puerto Rico, but take it from us, overseas medical care and canceled flights can be seriously expensive – insurance can, therefore, be a life-saver.
Travel mishaps can and do happen and it is well worth thinking about insurance before you leave home.
We have used World Nomads for years now and I have personally made several claims. Why not get a quote from them yourself?
Getting an estimate from World Nomads is simple – just click the button or image below, fill out the necessary info, and you're on your way!

You might think that Puerto Rico is a no-no. But it's really fine. It's a pretty safe place to visit. In fact, safer than most US cities – and a lot more beautiful, too. As ever though, it pays to know how to travel smart, so here are our top safety tips for traveling to Puerto Rico to help you out…
Be careful of your belongings – don't leave them unattended (especially at the beach), don't hang bags on chairs or wear dangly bags, anything like that – they'll probably go missing. Consider purchasing a money belt to hide your cash.
Try not to look too much like a tourist – that will most likely make you more of a target for would-be thieves. Instead, try to blend in.
Know about 'Blue Laws' – in Old San Juan you can't drink on the streets. Other places have this rule too, so do research and be aware.
Be vigilant at night in cities – especially San Juan. Crime is just higher after dark, you will get propositioned for drugs and that sort of thing.
Steer clear of caserios – in the daytime, these housing estates are usually ok. But at night, do NOT go there. Gangs operate here.
Stay away from drugs – it's still US law and not good to get involved. Why fund the gangs anyway?
Learn some Spanish – English is spoken, but outside tourist areas Spanish is dominant. A few phrases will definitely help, so prepare to start learning a new language!
Watch for weather warnings – not just hurricanes but tropical storms can cause flooding. Keep an eye on the news.
Careful if you trek the rainforests – it's easy to get lost. Take a map, be prepared, tell people where you're going.
Watch your step – rocky paths in the El Yunque National Forest can be super slippery, especially after rain. Paths can also get flooded. Be very careful and take the right travel shoes!
Cover your legs and arms when hiking – there are poisonous plants in the rainforest. Don't touch flora/fauna either.
Take a good medical kit with you – even a minor graze can get infected in this sort of climate, so make sure you take care of it.
Obey signs on the beaches – riptides can be deadly. The sea may look inviting, but it could be super dangerous.
If you find yourself in trouble with a riptide – don't swim against it; swim parallel to the shore and make your way back once you feel less of a current.
Watch out for coral, sea urchins, jellyfish – not nice to get into contact with any of those, so watch where you swim.
Cover up against pests – sandflies/mosquitoes. The latter can carry the zika virus and dengue fever. Use a repellent with DEET to the keep mosquitoes away.
Keeping your money safe in Puerto Rico
Theft is a bit of an issue here. With poverty, a big problem in the country, and lots of comparatively rich tourists coming to visit, petty crime is bound to thrive.
So when it comes to actually keep your money safe in Puerto Rico, there's more you can do than just blend in and make sure your bags are always in sight. You could simply wear a travel money belt, for example.
Want to keep your money safe?
You should always have emergency cash hidden on you – pick up this awesome security belt with its hidden pocket before you travel, it's perfect for hiding money, a passport photocopy.
There is a whole lot of choice out there when it comes to money belts, but there's one we're all about- and that's the Active Roots Security Belt.
Not only is this awesome bit of kit affordable and pretty sturdy, but it also works just like a belt. No annoying pocket is a win for us. You can read our in-depth review of the security belt for more information.
You simply tuck a bit of money into the belt itself and away you go to explore Puerto Rico for the day. There's nothing to get in the way, or that bulges really obviously out of your clothes. Even if you end up losing stuff yourself (can happen), you have this stash to fall back on.
If you need a little more room for your passport and other travel valuables, have a look at a full-size money belt that tucks under your clothes instead.
If neither of those options appeals to your refined fashion sense, don't compromise! Opt for an infinity scarf with a hidden zipper pocket.
If you know us already, you'll know we're big advocates of solo travel. Pros range from simply doing what you want to do, to actually grow as a person. But there are cons, of course. Getting jaded with the whole thing, even bored, sometimes lonely…
Luckily Puerto Rico is actually an awesome place to travel solo and it's safe too! There are all sorts of adventures you can have on this amazing Caribbean island. But we have a few solo travel tips for Puerto Rico to make sure you have the best time ever and stay safe…
Let people know where you're going and don't go off the grid. A solo travel adventure anywhere doesn't mean you have to cut yourself off from your friends and family back home. Tell people what you're up to, where you're going, where you're staying; it'll be safer for you in the long-run if somebody knows where you are.
Don't go out trekking, or to the beach, or anywhere really, without anybody knowing where you're going. Especially when it comes to getting into the great outdoors because that can really be dangerous.
Be mindful of stuff that seems so simple that you forget to do it. If you're by yourself, there's no one to remind you of the simple stuff like putting sunscreen on, or covering up against mosquitoes, or not swimming too far out on a beach.
Read reviews before you stay anywhere. This will ensure that you're staying at a place that's right for you as a solo traveller that will also fit you as a person. For example, no use staying somewhere social that's also a massive party hostel if you don't want to party, right?
Make friends with other travellers. This will help beat the solo travel blues! Get chatting to people at your accommodation, make a few drinking buddies, maybe even fun peeps to explore the rest of Puerto Rico with.
Keep emergency numbers at the top of your phonebook. In case something happens, you'll want to call someone quickly.
Travel with a sim card. This will help you with everything from maps so you don't end up getting lost, being able to check restaurant reviews on the move, updating Facebook, talking to your family – everything.
Join a tour. This may seem like it's 'not backpacking' or whatever, but that's not true. Joining a tour, even if it's a walking tour from your hostel, is a great way to meet people, learn about Puerto Rico, and do it safely, too.
Try not to keep all your money in one place. If that one place, a wallet or a bag, goes missing, then you're pretty much screwed. Spread it around the place. Use a money belt. You may even want to think about getting your hands on a credit card (just for emergencies), too.
Ask locals about what to do, where to go, places to eat and drink, etc. This is the best way to find the best spots in Puerto Rico. Locals are definitely going to know their island better than a foodie Instagram.
Avoid getting too drunk when you're out at night. It's fun, we know, but getting completely wasted is not a good way to stay safe. Losing your senses can not only mean you don't know your way home, but it's also a good way to make some pretty bad judgment calls as well.
So there you have it. Puerto Rico is safe for solo travellers and it's an awesome place to explore, even by yourself. We're not going to lie, it's a pretty epic place to travel solo. Just be sure to keep your wits about you!
Is it safe for solo female travellers in Puerto Rico?
Puerto Rico is part of the US, so laws and safety advice is similar to travelling the USA. Travelling solo as a woman isn't unusual on the island of Puerto Rico, but as a foreigner, you will stick out more than a local lady. You may have to deal with things like harassment. It's usually taking the verbal form.
That said, Puerto is safe for solo female travellers, but you should be doing everything you normally to keep yourself safe. And to help out, even more, we've got some tailor-made tips for solo female travellers in Puerto Rico…
Men can be too friendly. People are super friendly in Puerto Rico, but you want to be able to make the difference between being friendly and being TOO friendly. If someone's attention is getting too much for you and you feel uncomfortable, be firm but polite and decline their advances.
Don't tell just anybody the details of your trip. You don't always know who you're talking to and what they're intentions are. Plus, why does a stranger need to know if you're married? And the exact address of where you're staying? Lie or remove yourself.
Don't be afraid to make a fuss if you're feeling like you really are in danger. Even more so in public places. Most likely this will stop any attention coming your way from the perpetrator.
Be super careful if you're drinking by yourself. Don't accept any drinks from strangers, watch your drink once you've brought one. Drink spiking can and does happen.
As a woman, you'll be seen as an easy target for petty theft. As annoying as it is, make sure you are extra careful with your bags, use cross-body straps, a money belt, anything to secure your belongings closer to your person. Dangly stuff is more likely to get snatched.
Take a look around you and see what local women are wearing. Though you can pretty much wear whatever you want in Puerto Rico, try to follow local fashion. You don't have to match what they're wearing, but knowing what's appropriate and what's not will not only help you blend in a little more (so you don't look like an unsuspecting tourist) but may also curb unwanted attention.
Do your research when it comes to choosing a place to stay. Pay extra attention to reviews written by other solo female travellers. If they're favourable, if people seem to love it, then it's probably going to be safe, secure and social.
Avoid wandering around at night by yourself. This goes doubly for quiet, deserted streets. If you absolutely do have to walk anywhere after dark, stick to busy spots where there are lots of other people. Shortcuts down sideroads are not worth the risk.
Don't lose your money to a pickpocket! 
There are tons of ways to store valuables and goods while traveling but a travel scarf has to be the least obtrusive and the most classy.
The Active Roots Zipper Scarf is your run-of-the-mill infinity scarf but with a hidden pocket that's big and sturdy enough for a night's cash, your phone, a passport and (hell with it) some snacks too!
Despite being seen as a country that's got a lot going for it with all its beaches and sunshine, Puerto Rico isn't always the most ideal place you could choose to be in the world. The high crime rate here and gang violence is enough to spook just about any traveller.
That said, Puerto Rico isn't as dangerous as you think. For solo female travellers, Puerto Rico is actually surprisingly safe. Choose yourself a social hostel with good reviews from other women, make some travel buddies, book a tour, explore this stunner of an island. Just make sure you make your safety and security a priority, watch your surroundings and use your common sense. If you follow our tips you'll be just fine!
Is Puerto Rico safe to travel for families?
Puerto Rico is very safe to travel for families! In fact, it's a top destination for people with children. So naturally, the island is pretty well equipped for family-friendly fun.
There's a ton of activities to enjoy together, all for different ages. Think snorkeling, days at the beach, child-friendly museums, and even tales of pirates.
You could try out an amazing actual rainforest adventure on the east coast in the El Yunque National Park. Then there are the incredible bioluminescent waters in Fajardo, or you could simply have a laid-back beach getaway in Condado, San Juan – complete with gentle waves and clean sand. Perfect for families.
There's not too much trouble in nature here. Trails for hikes are well-trodden and well signposted. But it's important to be prepared.
Attractions on the island can sometimes be unpredictable with their opening/closing hours. Check before you go.
There's a whole range of accommodation options available in Puerto Rico. There are even family-sized apartments you can stay in. Just make sure to read reviews before you book – some aren't so child-friendly. Resorts usually are though, and some have kids clubs.
Is it safe to drive in Puerto Rico?
It is safe to drive in Puerto Rico, but it can be challenging.
We're not going to lie: the drivers make it challenging. They tend to drive erratically, jump red lights, don't pay attention to roadlands, and will generally be more aggressive than what you may already be used to on the US mainland.
In Old San Juan and other urban areas, traffic can completely clog up the roads. There's no point driving around when this happens; it's better to just get public transport.
Driving in rural areas or mountain roads is both scenic and scary! The roads can be super narrow, have sheer drops, and also not be in the best condition, too.
Another thing to note about driving in Puerto Rico is the fact that (for some reason) GPS systems don't work very well here. People often get lost when the GPS directs you up some random road – even a map can be tricky to follow. Having a few Spanish phrases so you can ask for directions will almost certainly come in handy.
You'll also need to be careful of theft. Be careful of your valuables if you leave your car somewhere, leave in a well-lit area at night. Keep your valuables either out of the car or not on show at all. And when you're driving: doors locked, windows up. Carjackings can happen at night – mainly in rural areas. So it's best not to drive at night; because of those dodgy roads, too.
And finally, in certain places be careful of animals running out into the road. Especially if you're driving around Isla de Vieques.
If you rent a vehicle, make sure that you purchase solid rental insurance to have full peace of mind whilst on the road.
In conclusion, driving in Puerto Rico is actually a good way to get around the island independently. But be careful at night and where you leave your car.
Is Uber safe in Puerto Rico?
Uber's safe in Puerto Rico. However, it's quite limited so it's not always easy to pick one up.
Safe, though. It depends on the demand at the time. A weekend evening, for example, will be very busy. And you can't get an Uber from the airport, either. It's mainly in operation in and around San Juan.
Plus because of that weird GPS thing, Uber drivers might get lost themselves, or not be able to find where you are.
Are taxis safe in Puerto Rico?
Taxis are safe in Puerto Rico, but they can be a little expensive too.
The fares are set in main tourist zones (around Old San Juan) and from the airport. Outside of that, they're supposed to use the meter. But don't expect that to happen…
At night, the best (safest) way to get around is by taxi.
To get a taxi, you can hail one or you could call one to pick you up, or grab a cab from the lines that usually form outside big hotels, cruise ship piers, tourist attractions.
Look for white cars with a yellow Garita or sentry box logo that says TAXI TOURISTICO on the side of them.
They may be expensive, but they're safe and pretty dependable. The usual alternative to taxis, Uber, isn't so well established or even used that much, which is a good-ish gauge of how safe the taxis are in Puerto Rico.
Outside of the city of San Juan, however, you're not going to be able to find a taxi so easily. The best way to get yourself into a cab is to ask your accommodation. They'll either be able to recommend a reputable company to you or just call one for you.
Is public transportation in Puerto Rico safe?
Public transport in Puerto Rico is safe for the most part, however sometimes on busy buses, you will have to watch out for your belongings. Pickpocketing can happen in these cases.
Also, public transport isn't very well connected over the whole island.
Within San Juan, of course, there's a pretty comprehensive (and cheap) bus system – 50 cents per ride! At the same time, it can be pretty tricky for visitors to figure out just how to actually use it.
The information at the bus stops isn't always accurate, the buses themselves don't really run on time, and they can get crowded and stuck in traffic.
There's also the Tren Urbano. This one-line urban train basically just runs through San Juan. It doesn't go to Old San Juan or any big sights; it's more for commuters.
The old trolley service is amazingly free! It's open-air and runs around Old San Juan, connecting it to the cruise ship terminal which is pretty handy for visitors.
Again: safe, but not exactly comprehensive. Like pretty much all of Puerto Rico's public transport.
Keep everything on you in transit!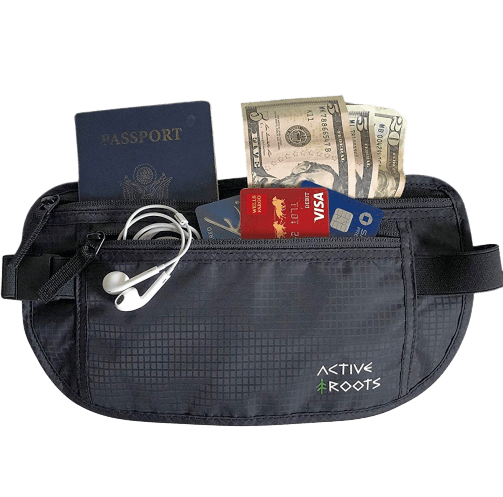 When moving from place to place, you shouldn't store travel documents in a bag, even if it's under your seat or overhead.
A full-sized money belt that stays tucked under your clothes keeps your documents and cash organized during your travels and assures nothing critical gets left behind or stolen.
A full-sized money belt that stays tucked under your clothes keeps your documents and cash organized during your travels and assures nothing critical gets left behind or stolen.[/su_note]
Is the food in Puerto Rico safe?
Traditional Puerto Rican food has a load of different ingredients. Indigenous Taino mixes with African and European cuisine for some pretty tasty dishes. And then don't forget the mainland American influence.
And generally, the food in Puerto Rico is safe. So you're going to be able to sample what's on offer without getting too ill. But then again, it's important to use your common sense here too and to help out even more, here are our pro tips for food safety in Puerto Rico…
Try not to get stuck in tourist traps. It's easily done in Puerto Rico, particularly in San Juan (and almost certainly the old town) and beachside locations. They'll have English-only menus and maybe people trying to get you in. Tacky-looking or trying too hard to look 'authentic' is a bad sign, so avoid. The priority won't be on tastiness or food hygiene.
Meals in hotels can be pricey – and you really shouldn't be afraid of eating at more local places away from your hotel. Not only is it safe to do so, but it's also going to be tastier, a better experience, and probably about half the price of a hotel meal. Also, you'll get to give your money to locals – not big chains. Help Puerto Rico get back on its feet!
Go to places that are popular. And preferably, that are popular with locals. These are going to be the people who know what to look for when it comes to the tastiest traditional dishes of Puerto Rico. If it's busy, and there's a quick turnover of customers, it's probably very tasty and safe to eat there. Don't opt for a quiet place just because you don't want to stand in line – it might be quiet for a reason.
The same goes for food trucks. These are popular ways to get a quick snack on the island. And delicious snacks, at that! Just make sure you're waiting in line, basically. Unless you can vouch somehow for a food truck that isn't busy (i.e. online reviews) avoid ones that aren't busy or that don't look that clean.
Avoid food that looks as though it's been sitting around in the heat all day long. This a good way for food, especially meat and fish, to get bacteria crawling all over it. A recipe for a bad stomach.
Don't eat everything right away. There are honestly so many tasty things to eat. We're talking majorly delicious. And a lot of it is fried. And most of it is rich, stodgy and spicy. Take time to get used to it and ease yourself into all the tastiness.
Puerto Rico food is amazing! You literally must try the Puerto Rico staple of mofongo – green plantain, fried pork skin, all mashed together and fried with garlic, served with meat which is an insane concoction and gives insanely delicious results.
Can you drink the water in Puerto Rico?
Most of the time you can drink the water in Puerto Rico.
But after the hurricane last year, water quality decreased in some areas after damage. In the cities though, you should be fine. In the countryside, however, you'll have to be careful. The best thing to do is just ask a local if it's ok to drink whatever you're thinking of drinking. Simple.
Want to save the world?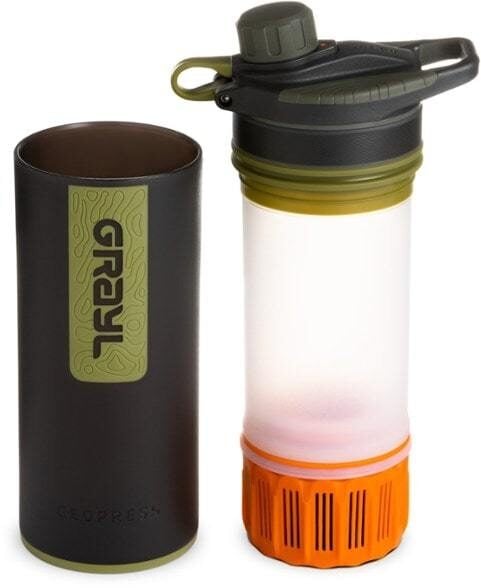 Single-use plastic bottles are a huge threat to Marine Life – Be a part of the solution and travel with a filter water bottle.
The GRAYL GEOPRESS water bottle is the ONLY all-in-one filter water bottle setup you'll need. Whether you need to purify the water from a hostel sink in Kathmandu or a stream trickle in the Andes, the Geopress has got you covered.
Read our full review of the GRAYL GEOPRESS!
Is Puerto Rico safe to live?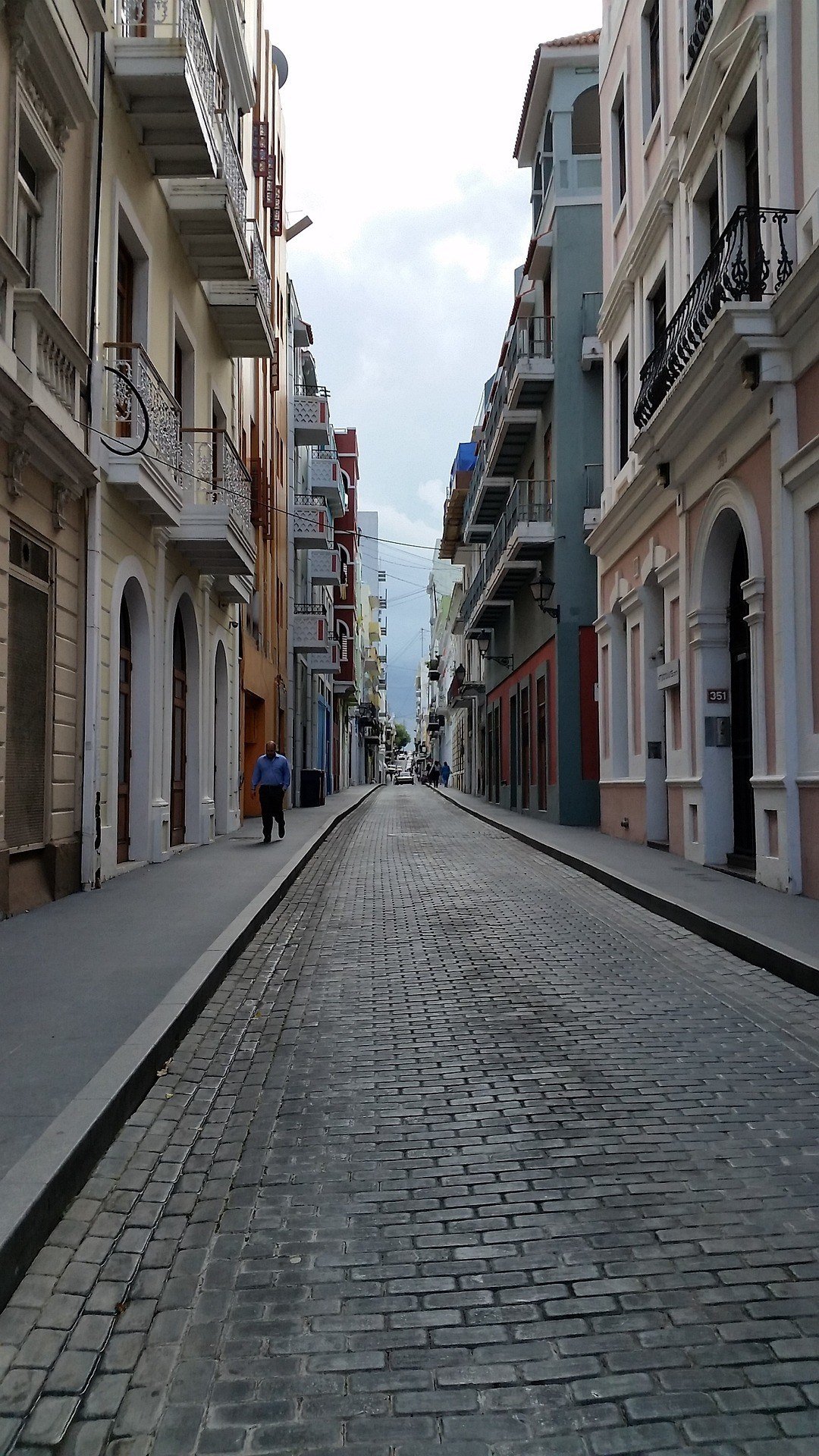 Puerto Rico is definitely a safe place to live. And it's an awesome place to live, too.
However, the basic rule of thumb is here: don't choose to live anywhere near public housing areas. This is where gang activity goes on, which includes drug dealing and shootings.
Puerto Ricans are friendly! And if you have a little bit of Spanish under your belt, it should get you involved in the culture even more. So we would definitely recommend learning some. Even if you're not the best at it, it'll help.
Even though Puerto Rico is part of the US, it has its own languages and traditions, like many colonies around the world. If you are concerned about your safety, you can opt to live in a gated community. But it's not something you need to do.
There are beautiful houses and stunning areas to live all over the island. And wherever you do choose to live, you'll be near the sea: it's only 35 miles wide, after all!
For good connections and English language convenience, choose San Juan. Areas like Ocean Park and Miramar are safe, for example, and Rincon is so popular with expats that locals occasionally refer to it as gringoland – if that appeals to you.
For somewhere more remote, the East Coast will be fine for you. Rainforests, beaches, opportunities for water sports, you'll get to do it all in your downtime here.
So yes, it's safe to live in Puerto Rico. Just do your research, pick somewhere, make your plans, pack a bag and go!
How is healthcare in Puerto Rico?
The healthcare in Puerto Rico is actually pretty good. It is part of the US after all – and standards a similar, making it one of the best healthcare systems in the Caribbean. It's got more than 90 hospitals as well as clinics and pharmacies too.
The Puerto Rican healthcare system is also government-run and it's called Reforma. Government-run facilities contract private medical companies to run the show and the government cover citizens' insurance in certain, poorer areas of the island.
But healthcare across Puerto Rico does vary. San Juan and other big towns you'll have access to a high standard of hospitals and clinics. Many people who work in hospitals will also speak English.
If you're not sure about how you're feeling at all, just go to the pharmacist for free, over the counter advice. They'll be able to help you out.
Obviously, there are also private hospitals which will be of a high standard, but also high prices. So really make sure you have health insurance or travel insurance that includes medical components.
For an ambulance, call 911 – just like the mainland USA.
Final thoughts on the safety of Puerto Rico
You may be worried about gang violence in Puerto Rico, and to be fair – it's a valid concern. The fact that this actually occurs in this US territory is quite concerning. But the reality is this: tourism is very important for Puerto Rico. The likelihood of anything actually happening to you is low, unless you wander (very stupidly) into the areas where narco gangs hang out.
That's the simple way to deal with that issue – as a tourist anyway. There is a little bit of a problem with petty crime, but that's avoidable, too. Wear a money belt, don't look too much like an unsuspecting tourist and try to blend in. Keep your belongings close to you and watch out for suspicious characters trying to get close to you. Your money is likely to stay safe in Puerto Rico if you just pay attention.
If you think we've missed anything important, let us know in the comments below!
Disclaimer: Safety conditions change all over the world on a daily basis. We do our best to advise but this info may already be out of date. Do your own research. Enjoy your travels! Some of the links in this post are affiliate links which means we earn a small commission if you purchase your insurance through this page. This costs you nothing extra and helps us keep the site going.