Travel has always had the power to stir the soul and inspire works of great artistry. The feeling of freedom exploring offers us has inspired humans to create moving artworks, from paintings and songs to epic poems.
Great poets like Whitman and Tennyson have penned profound poems about adventure that have stood the test of time.
We've gathered this list of some of the best-known adventure poems, and some lesser-known but no less impactful poems to ignite your wanderlust. They capture the feeling of being out in the world immersing in new places.

Unlock Our GREATEST Travel Secrets!
Sign up for our newsletter and get the best travel tips delivered right to your inbox.
1. The Road Not Taken – Robert Frost
"I shall be telling this with a sigh
Somewhere ages and ages hence:
Two roads diverged in a wood, and I-
I took the one less traveled by,
And that has made all the difference."
Robert Frost, regarded by many as one of America's greatest poets, wrote this adventure poem which has no doubt inspired more travels than we could ever know. It's a call to courage, to face the unknown, and to break from the crowd and follow your own path wherever it may lead. 
2. Song of the Open Road – Walt Whitman
"Afoot and light-hearted I take to the open road, 
Healthy, free, the world before me, 
The long brown path before me leading wherever I choose. 
Henceforth I ask not good-fortune, I myself am good-fortune, 
Henceforth I whimper no more, postpone no more, need nothing, 
Done with indoor complaints, libraries, querulous criticisms, 
Strong and content I travel the open road."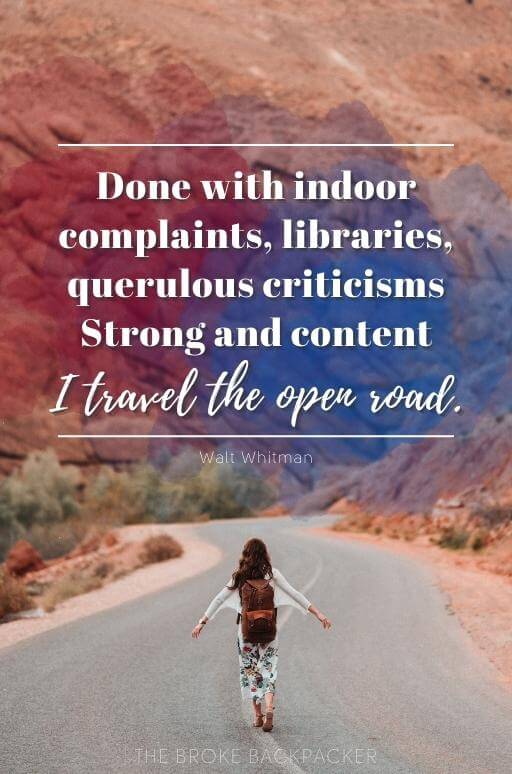 3. Freedom – Olive Runner
"Give me the long, straight road before me,
A clear, cold day with a nipping air,
Tall, bare trees to run on beside me,
A heart that is light and free from care.
Then let me go!-I care not whither
My feet may lead, for my spirit shall be
Free as the brook that flows to the river,
Free as the river that flows to the sea."
Oliver Runner's poem about adventure captures so much of what drives every traveler. The sense of untethered wandering, free to go where the road may lead. As long as we're treading new ground and experiencing new places, we're at our happiest. 
4. For the Traveller – John O'Donohue
"When you travel, you find yourself
Alone in a different way,
More attentive now
To the self you bring along,
Your more subtle eye watching
You abroad; and how what meets you
Touches that part of the heart
That lies low at home: 
How you unexpectedly attune
To the timbre in some voice,
Opening in conversation
You want to take in
To where your longing
Has pressed hard enough
Inward, on some unsaid dark,
To create a crystal of insight
You could not have known."
When it comes to poems about adventure, this one by John O'Donohue does well to explain the changes that occur within us when we travel. We may see new horizons every day, and we may meet new people around each corner, but the thing that changes the most is the heart and mind of the traveler. 
5. If Once You've Slept on an Island – Rachel Field
"If once you have slept on an island
You'll never be quite the same;
You may look as you looked the day before
And go by the same old name,
You may bustle about in street and shop
You may sit at home and sew,
But you'll see blue water and wheeling gulls
Wherever your feet may go.
You may chat with the neighbors of this and that
And close to your fire keep,
But you'll hear ship whistle and lighthouse bell
And tides beat through your sleep.
Oh! you won't know why and you can't say how
Such a change upon you came,
But once you have slept on an island,
You'll never be quite the same."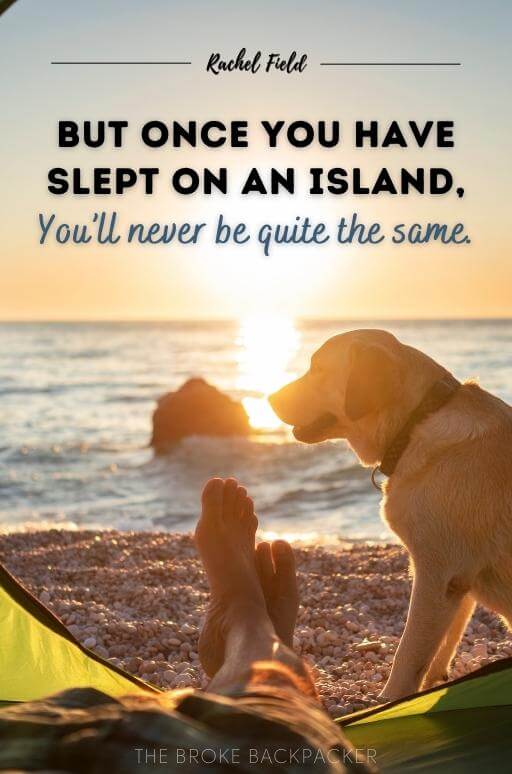 6. Travel – Robert Louis Stevenson
"I should like to rise and go
Where the golden apples grow;—
Where below another sky
Parrot islands anchored lie,
And, watched by cockatoos and goats,
Lonely Crusoes building boats;—
Where in sunshine reaching out
Eastern cities, miles about,
Are with mosque and minaret
Among sandy gardens set,
And the rich goods from near and far
Hang for sale in the bazaar,—
Where the Great Wall round China goes,
And on one side the desert blows,
And with bell and voice and drum
Cities on the other hum;—"
7. Die Slowly – Martha Medeiros
"He who does not travel, who does not read,
who can not hear music,
who does not find grace in himself,
she who does not find grace in herself,
dies slowly.
He who slowly destroys his own self-esteem,
who does not allow himself to be helped,
who spends days on end complaining about his own bad luck, about the rain that never stops,
dies slowly."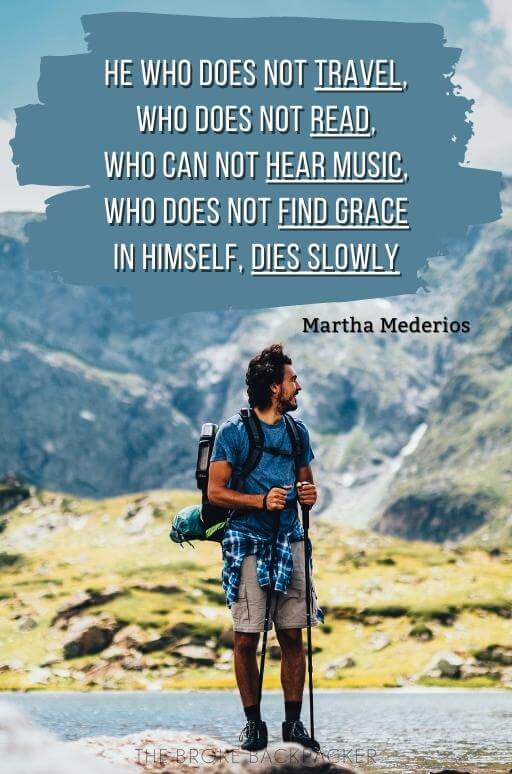 The title of this adventure poem may seem dark, and not much about adventure at all, but it's really about living. Living so fully and so well that death seems to take its time arriving. We know that we all die one day, but we can make so much of our time, that once is enough. 
Reducing our days on earth into an endless stream of items on a to-do list, fulfilling responsibilities, and going through the motions is not a way to get the most out of it. 
8. Oh the Places You'll Go – Dr. Seuss
"You're off to Great Places!
Today is your day!
Your mountain is waiting,
So… get on your way!"
This is the greatest poem about adventure that inspires both adults and children. At its heart, this poem is a call to adventure, encouraging readers to head off into the world with bravery, courage, and curiosity for the things that await to be seen and discovered. 
9. Questions of Travel – Elizabeth Bishop
"Think of the long trip home.
Should we have stayed at home and thought of here?
Where should we be today?"
"But surely it would have been a pity
not to have seen the trees along this road,
really exaggerated in their beauty,
not to have seen them gesturing
like noble pantomimists, robed in pink."
10. Over the Hills and Far Away – William Ernest Henley
"Where forlorn sunsets flare and fade
On desolate sea and lonely sand,
Out of the silence and the shade
What is the voice of strange command
Calling you still, as friend calls friend
With love that cannot brook delay,
To rise and follow the ways that wend
Over the hills and far away? "
11. O to Sail – Walt Whitman
"O to sail in a ship, 
To leave this steady unendurable land, 
To leave this tiresome sameness of streets, 
the sidewalks and the houses, 
To leave you, O you solid motionless land, and entering the ship, 
To sail and sail and sail!"
12. Travel – Edna St Vincent Millay
"The railroad track is miles away,
And the day is loud with voices speaking,
Yet there isn't a train goes by all day
But I hear its whistle shrieking.
All night there isn't a train goes by,
Though the night is still for sleep and dreaming,
But I see its cinders red on the sky,
And hear its engine steaming.
My heart is warm with the friends I make,
And better friends I'll not be knowing;
Yet there isn't a train I wouldn't take,
No matter where it's going."
To the person with an adventurous heart, travel will call in many ways. The restlessness may wax and wane but it never leaves us entirely. The deep desire to explore will always be back to call us, to motion us onwards on our next journey. We can try to distract ourselves and live on regardless but the call will come again. It always does.
13. The Land of Beyond – Robert W Service
"Have ever you heard of the Land of Beyond, 
That dreams at the gates of the day? 
Alluring it lies at the skirts of the skies, 
And ever so far away; 
Alluring it calls: O ye the yoke galls, 
And ye of the trails overfond, 
With saddle and pack, by paddle and track, 
Let's go to the Land of Beyond!"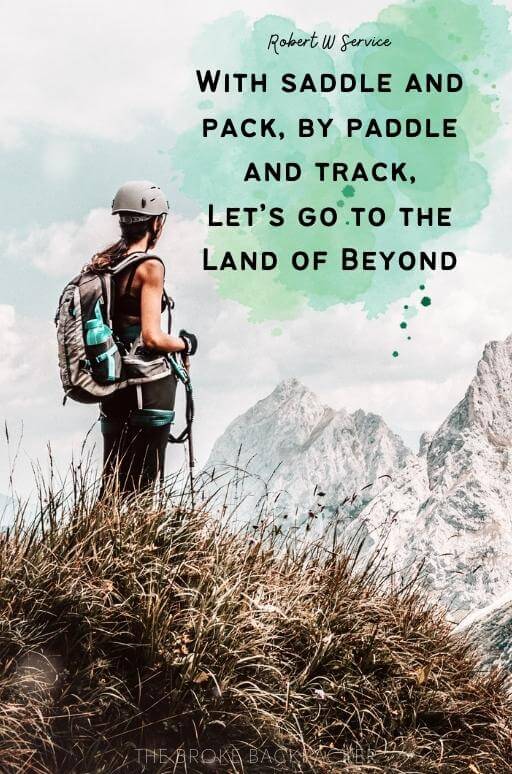 14. Prayer for Travellers – Anon
"May the road rise up to meet you. 
May the wind be always at your back.
May the sun shine warm upon your face;
The rains fall soft upon your fields. 
And until we meet again, 
May God hold you in the palm of His hand."  
15. Ulysses – Alfred Tennyson
"For always roaming with a hungry heart 
Much have I seen and known; cities of men 
And manners, climates, councils, governments, 
Myself not least, but honour'd of them all; 
And drunk delight of battle with my peers, 
Far on the ringing plains of windy Troy. 
I am a part of all that I have met; 
Yet all experience is an arch wherethro' 
Gleams that untravell'd world whose margin fades 
For ever and forever when I move."
This epic adventure poem written by Tennyson tells of a life lived in pursuit of adventure. It's told from the point of view of Ulysses, who is now old and unfulfilled by a sedentary life. Though his body has aged he still longs for adventure. The main theme is that as long as there are horizons to chase and strength in our bodies, we can always choose to set out and explore. We should use every day we're given to its fullest, taking every morsel of adventure we can. 
16. I Want a Life Measured – Tyler Knott Gregson
"I want a life measured
in first steps on foreign soils
and deep breaths
in brand new seas
I want a life measured
in Welcome Signs,
each stamped
with a different name,
borders marked with metal and paint.
Show me the streets
that don't know the music
of my meandering feet,
and I will play their song
upon them.
Perfume me please
in the smells of far away,
I will never wash my hair
if it promises to stay.
I want a life measured
in the places I haven't gone,
short sleeps on long flights,
strange voices teaching me
new words to
describe the dawn."
Tyler Knott Gregson's poem enlists all the senses in describing the gifts that travel brings. We should measure our lives by the places we've been, and the experiences we've had in faraway places. The wanderer in us all can relate to this feeling of needing to fill our days with newness and unexplored places. 

Our GREATEST Travel Secrets…
Pop your email here & get the original Broke Backpacker Bible for FREE.
17. Why Do I Travel – Unknown
"It is on the road that my inner voice speaks the loudest and my heart beats the strongest.
It is on the road that I take extra pride in my wooly hair, full features and lineage.
It is on the road that I develop extra senses and the hairs on my arms stand up and say "Sana, don't go there", and I listen.
It's when I safety pin my money to my underclothes and count it a million times before I go to sleep,
It is on the road that I am a poet, an ambassador, a dancer, medicine woman, an angel and even a genius.
It's on the road that I am fearless and unstoppable and if necessary ball up my fist and fight back.
It is on the road that I talk to my deceased parents and they speak back.
It's on the road that I reprimand myself, and set new goals, refuel, stop and begin again.
It is on the road that I experience what freedom truly is.
It is my travel that has transformed me making me a citizen of the world. When my humanness, compassion and affection are raised to a new level and I share unconditionally."
While the author of this piece is unknown, it's clear that this poem about adventure comes from the heart of an explorer. When we travel we change in ways we could never anticipate. We grow and we learn and we change, and we're never the same again. With each adventure we take, we gain something and are forever transformed.
18. A Call to Adventure – John Mark Green
"Set fire to all your maps, 
Forget how it's always been. 
We're explorers of the heart, 
Learning to dream again. 
The adventure of a lifetime, 
With love along as our guide. 
Exotic places beyond imagination – 
Ones we've longed for deep inside."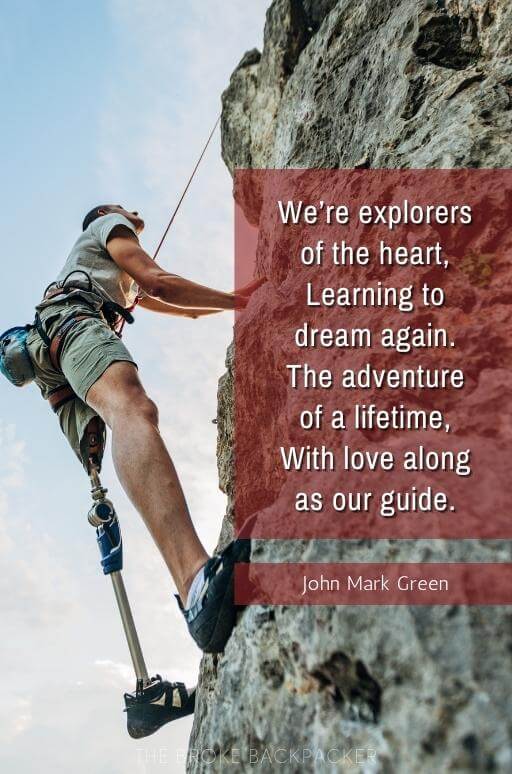 19. Returning – Erin Hanson
"Perhaps we only leave
So we can once again arrive,
To get a bird's eye view
Of what it means to be alive.
For there is beauty in returning,
Oh how wonderful, how strange,
To see that everything's different
But know it is only you who changed."
By leaving, we gain a new perspective on the world. This change within us makes it impossible to go back to who we were before we left, and when we return we can't see things the same way anymore. Coming back is not the same as having never left. 
20. Wanderlust – Richard Avedon
"You must not think because my glance is quick
To shift from this to that, from here to there,
Because I am most usually where
The way is strangest and the wonders thick,
Because when wind is wildest and the bay
Swoops madly upward and the gulls are few
And I am doing as I want to do,
Leaving the town to go my aimless way;
You must not think because I am the kind
Who always shunned security and such
As bother the responsible of mind
That I shall never total up to much;
I know my drifting will not prove a loss,
For mine is a rolling stone that has gathered moss."
21. The Enchanted Traveler – Bliss Carmen
"We travelled empty-handed
With hearts all fear above,
For we ate the bread of friendship,
We drank the wine of love.
Through many a wondrous autumn,
Through many a magic spring,
We hailed the scarlet banners,
We heard the blue-bird sing.
We looked on life and nature
With the eager eyes of youth,
And all we asked or cared for
Was beauty, joy, and truth.
We found no other wisdom,
We learned no other way,
Than the gladness of the morning,
The glory of the day.
So all our earthly treasure
Shall go with us, my dears,
Aboard the Shadow Liner,
Across the sea of years."
This is a simple and beautiful adventure poem about the joys of being free to wander. Our lives should be a series of adventures, through the seasons of our lives, and our treasure is the places we've been to and the people we've shared the journey with. 
22. The Farewell – Khalil Gibran
"We wanderers, ever seeking the lonelier way, begin no day where we have ended another day; and no sunrise finds us where sunset left us.
Even while the earth sleeps we travel.
We are the seeds of the tenacious plant, and it is in our ripeness and our fullness of heart that we are given to the wind and are scattered."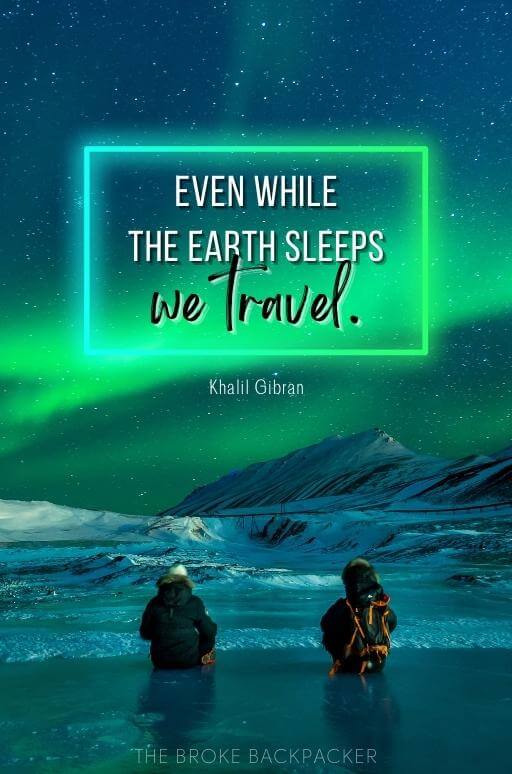 23. What if this Road – Sheenagh Pugh
"What if this road, that has held no surprises
these many years, decided not to go
home after all; what if it could turn
left or right with no more ado
than a kite-tail? What if its tarry skin
were like a long, supple bolt of cloth,
that is shaken and rolled out, and takes
a new shape from the contours beneath?
And if it chose to lay itself down
in a new way, around a blind corner,
across hills you must climb without knowing
what's on the other side, who would not hanker
to be going, at all risks? Who wants to know
a story's end, or where a road will go?"
24. The Return – Geneen Marie Haugen
"Some day, if you are lucky,
you'll return from a thunderous journey
trailing snake scales, wing fragments
and the musk of Earth and moon.

Eyes will examine you for signs
of damage, or change
and you, too, will wonder
if your skin shows traces

of fur, or leaves,
if thrushes have built a nest
of your hair, if Andromeda
burns from your eyes."
Geneen Marie Haugen talks about the lasting effect that travel has on us. When we return home to those who never left, we seem worlds apart. Do they envy us? Do they fear us for what we may know that they do not? We return changed and we can only hope that change inspires others to chase their adventures too.
25. On the World – Francis Quarles
"The world's an Inn; and I her guest.
I eat; I drink; I take my rest.
My hostess, nature, does deny me
Nothing, wherewith she can supply me;
Where, having stayed a while, I pay
Her lavish bills, and go my way. "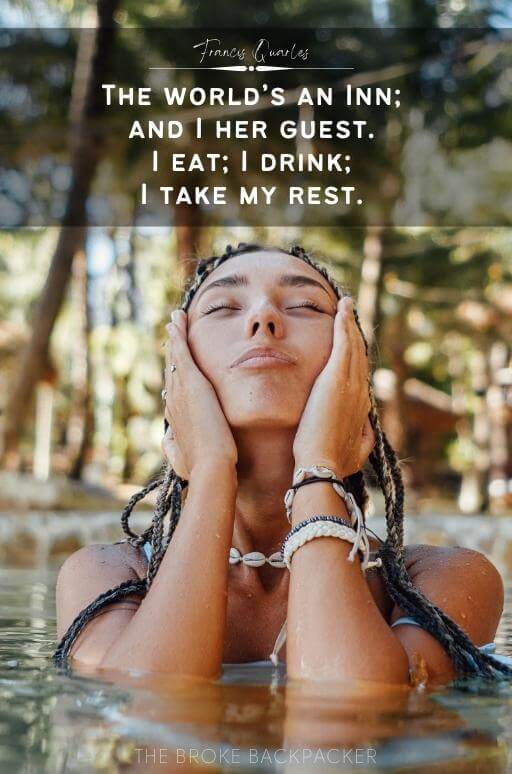 Final thoughts
There are so many more excellent poems about adventure out there to get your wanderlust juices flowing. These are just the tip of the iceberg for incredible adventure inspiration.
We hope these verses have ignited, or at least fanned the flames of exploration within you. Who knows, you might set off on an epic journey and be inspired to create your very own poem.
---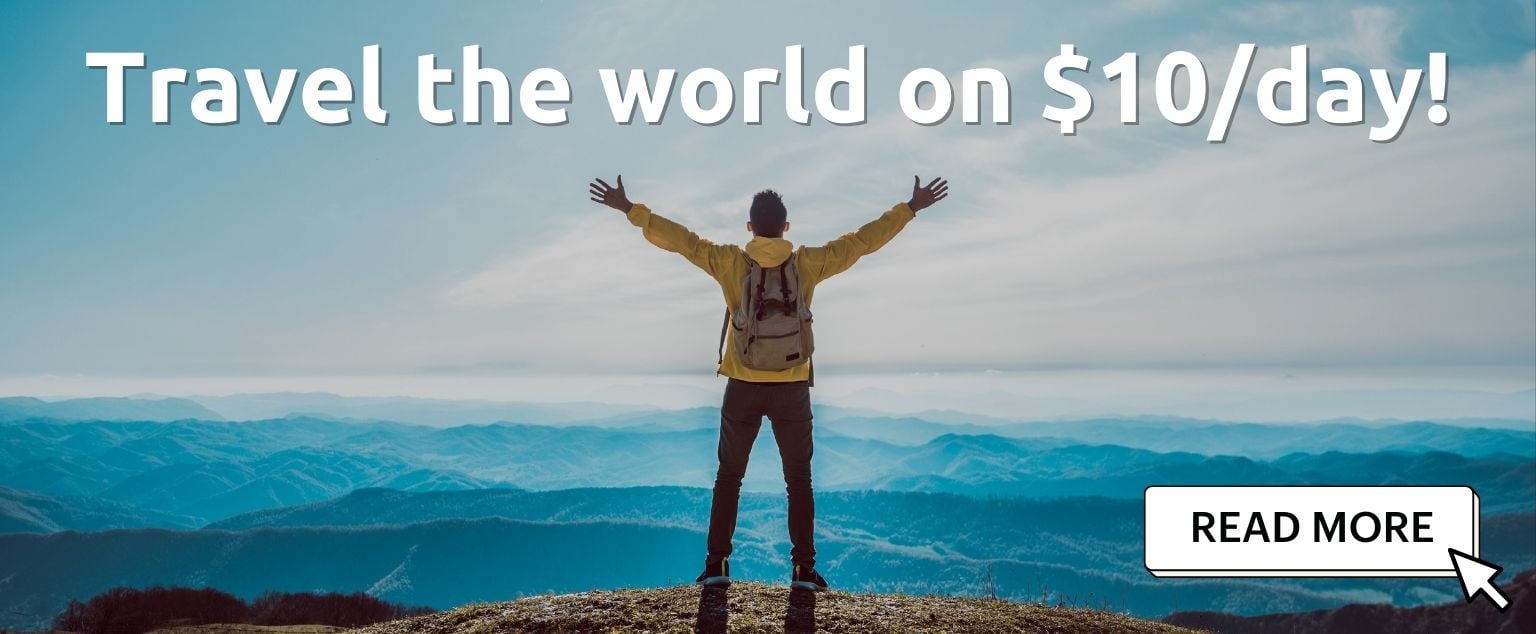 And for transparency's sake, please know that some of the links in our content are affiliate links. That means that if you book your accommodation, buy your gear, or sort your insurance through our link, we earn a small commission (at no extra cost to you). That said, we only link to the gear we trust and never recommend services we don't believe are up to scratch. Again, thank you!