Jamaica is the jewel of the Caribbean. Known all over the world as the birthplace of Reggae, incredible coffee, Jamaican rum, jerk dishes, and of course, miles upon miles of white-sand, unspoiled tropical beaches.
When visiting this stunning country, you'll notice the relaxed way of life. It's almost as if time stands still on the laid-back island, where you can spend your days lounging in the sun, supping up cocktails, and letting all your cares fade away.
That being said, when the sun goes down, the island becomes thriving and vibrant, and has one of the most lively music scenes on the planet, making it a great destination for a range of visitors.
When it comes to places to stay in Jamaica, most people choose to stay in the 'Big Three', the resort towns of Montego Bay, Negril, and Ocho Rios. These are the island's most popular tourist destinations. If you want a. more rural adventurous vacation, you could head straight to the Blue Mountains for some hiking activities.
Wherever you decide to base yourself, I would recommend staying in a vacation rental. The reason? It's the most authentic way to experience the culture and it also offers more homely comforts than any hotel or resort ever could.
If this sounds appetizing to you, read on to find out my absolute favourite vacation rentals in Jamaica!
Quick Answer: These are the Top 5 Vacation Rentals in Jamaica
Overall Best Value Vacation Rentals in Jamaica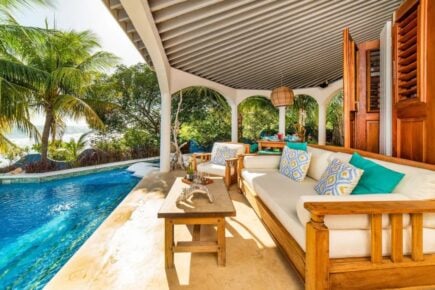 Overall Best Value Vacation Rentals in Jamaica
Peaceful 3 Bed Beach House With Pool
> $$$
> 6 Guests
> On the sand on Treasure Beach, near Calabash Bay
> Bright and inviting home with quirky coastal touches
Best Budget Vacation Rentals in Jamaica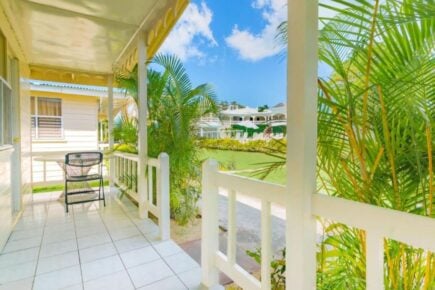 Best Budget Vacation Rentals in Jamaica
1 Bed Resort Bungalow With Garden View
> $
> 2 Guests
> In a Resort on the beach in Negril
> Includes access to a pool and gym
Best Vacation Rentals for Couples in Jamaica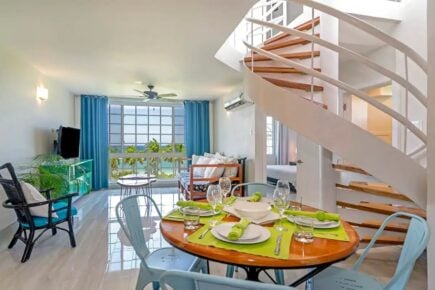 Best Vacation Rentals for Couples in Jamaica
Exclusive 2 Bed Penthouse With Private Chef
> $$
> 5 Guests
> On the beach in St. James Parish
> Beach-themed interiors and ocean views
Best Vacation Rentals for Families in Jamaica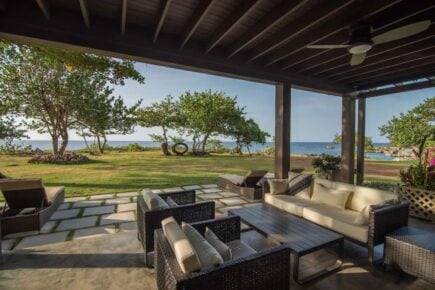 Best Vacation Rentals for Families in Jamaica
Elegant 2 Bed Villa on Private Cove
> $$$
> 5 Guests
> In Chukka Cove near St. Ann's Bay
> Access to a shared infinity pool
Over-the-Top Luxury Vacation Rentals in Jamaica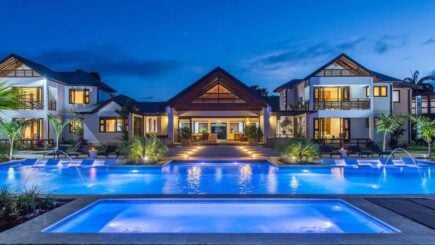 Over-the-Top Luxury Vacation Rentals in Jamaica
Tropical Sanctuary Estate With 7 Bedrooms
> $$$$
> 14 Guests
> On the beachfront in Old Fort Bay, near Ocho Rios
> Luxurious outdoor living with huge pool and private beach
Unlock the The Broke Backpacker's GREATEST Travel Secrets!
Sign up for The Broke Backpacker Newsletter below to receive weekly tips on the travel-life + a FREE copy of The Backpacker Bible!
Types of Accommodation in Jamaica
Before I dive into the best holiday homes in Jamaica, let's have a quick look at the types of accommodation options available so you can make an informed decision about the best place to stay for your travel type and budget.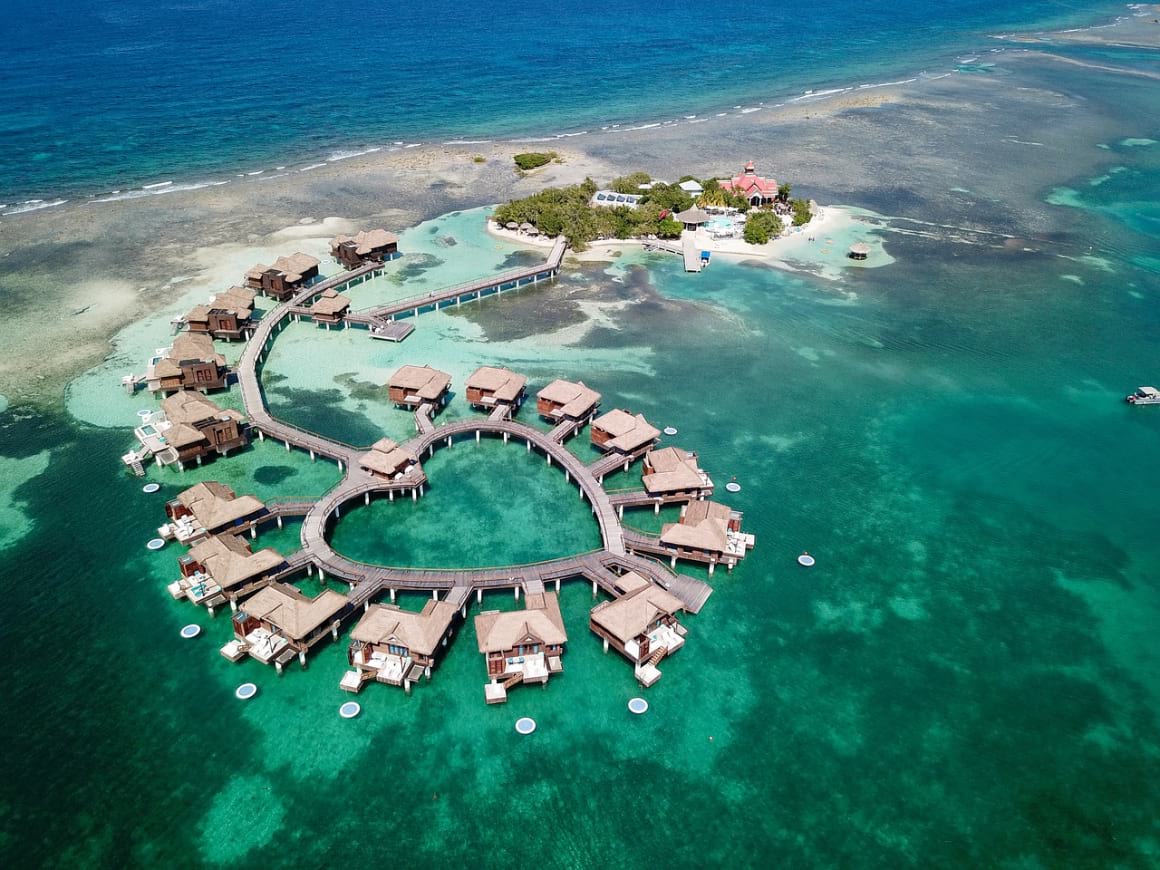 Beach Cottages
If you're visiting Jamaica, chances are you're going to want to rent a place on the beachfront. And you can do that! In fact, the entire coastline of the island is lined with beach cottages and houses with beautiful ocean views and direct beachfront access.
Depending on the level of luxury you have the budget for, and the number of guests you're traveling with, you could find a super affordable beach cottage with basic amenities designed for budget travelers, or an ultra-luxurious one suitable for families or large groups.
Luxury beach homes often include private swimming pools and have been refurbished with contemporary fittings and furniture.
Because they are like homes away from home, but with the luxury of the beach on its doorstep, they can be suitable for a range of visitors, from budget travelers to solo travelers to digital nomads to small families and couples.
Mountainside Cabins
For a more secluded stay, you should head to the Blue Mountains in the center of the island. Although not as popular for tourists, you'll be spoilt for choice with a range of treehouses and mountain cabins in this expansive area.
Typically built from locally sourced timber, mountain cabins are modestly decorated and small in size, with one to three bedrooms. Not only are they a cozy and romantic option for couples, but they are also sought out by hikers, mountain bikers, and other outdoor enthusiasts visiting the island.
What is the main selling point, you ask? Well, by definition, mountain cabins offer some of the best inland views of the island.
I would advise that you only book a secluded vacation rental in Jamaica if you have a small group or more together. While Jamaica is not considered the safest country in the Caribbean and honestly, safety is a concern on the island, so it's best to stick to the busy, tourist areas if you're travelling alone.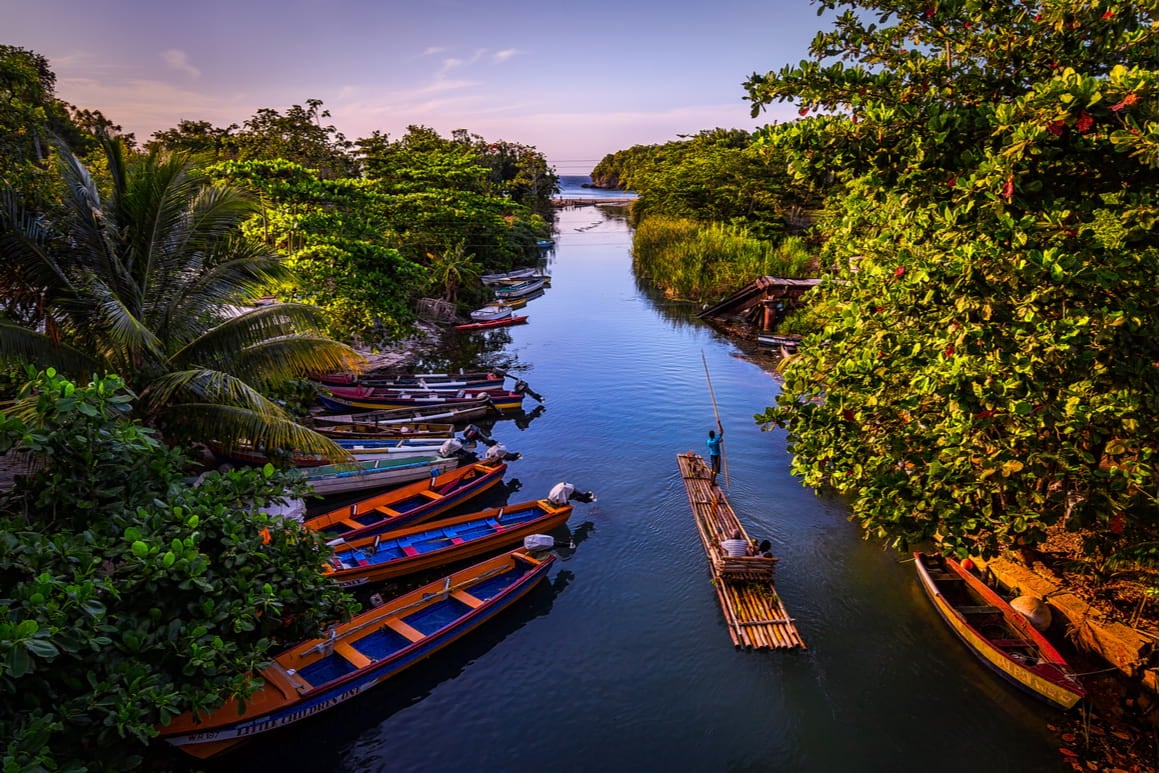 Luxury Villas and Estates
As with any touristy Caribbean island, Jamaica has its fair share of luxurious villas, mansions, and estates. Many of these homes are located in gated communities or private estates, making them the most secure option for tourists.
Although you'll need some deep pockets to pay for these luxury vacation rentals in Jamaica, it's not without good reason. Villas and estates come with all the added amenities and benefits you could wish for. Think infinity pools, Jacuzzis, pool bars, wine cellars, rooftop decks, and staff service.
They're the best option for big groups of friends, family gatherings, and hosting events, often boasting huge indoor/outdoor living areas with exquisite ocean views.
What is the One Item Every Traveller NEEDS???
There is one item every traveller NEEDS. Some travellers don't even know they need it, but those travellers need it more than anyone.
What is this forgotten essential of the backpacker-life? SPOILERS! Guess you'll just have to click the button to find out. 😉
Find Out What It Is!
Top 20 Vacation Rentals in Jamaica
From resorts and condos in Jamaica's tourist hubs to more secluded mountain cottages in the Blue Mountains, you can be sure to find something to suit you in this Caribbean island gem.
Here is my list of the best vacation homes across the island.
Enjoy!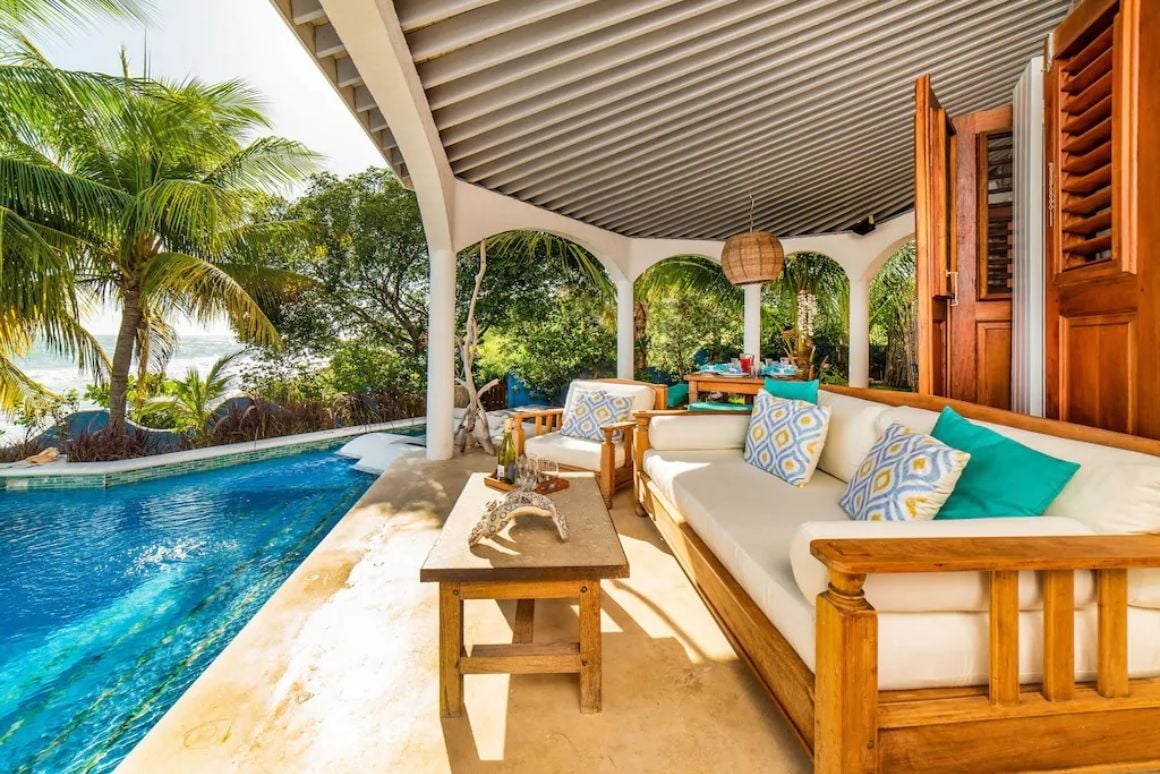 $$$
On the sand on Treasure Beach, near Calabash Bay
6 Guests
Bright and inviting home with quirky coastal touches
What I love most about this property is its unique blend of upscale luxury and local charm. This three-bedroom beach house sits on the sand on the quiet Treasure Beach and has an exquisite swimming pool deck overlooking the water.
Self-defined as a 'home', not a house, this spot has been designed using a combination of local wood and stone materials and decorated with pops of Jamaican style and color. For example, you'll find unique local art, foraged shells from the sea, and unique mosaic details across the home.
Not only is it tastefully decorated and well located, but the home also includes an on-site chef, who will cater to all your foodie needs.
Best Budget Vacation Rental in Central Jamaica | 1BR Bungalow
$
In a resort on the beach in Negril
2 Guests
Includes access to a pool and gym
Jamaica isn't the cheapest Caribbean island option, but this doesn't mean there aren't some incredible accommodation deals to be found. This beach vacation rental in Jamaica is my top pick for budget travelers because of its central location on the beachfront in Negril.
Not only is it affordable, but it's also located in a gated resort with added security features. This one bedroom is a freestanding bungalow with a small patio and a garden view. It's decorated to hotel standards, with neutral tones, and is equipped with high-quality linen and complimentary toiletries.
The bungalow has a small kitchenette with a stovetop, refrigerator, kettle, coffee machine, and toaster. If you're feeling adventurous, Negril is a great destination for scuba diving and watersports.
Most Beautiful Villa Rental in Jamaica | 5BR Villa W/ Pool
$$$$
Located in Montego Bay
10 Guests
Resort-style villa with wet bar
If you're after beautiful views and luxury accommodation, I have you covered. This exquisite villa has been built using high-quality modern materials and fitted with top-of-the-range appliances.
The home is tastefully decorated with contemporary furniture and coastal-themed interiors. However, the focal point of this double-story home is the pool area, which boasts a huge infinity swimming pool with a fountain feature, submerged pool loungers, and an outdoor shower.
Not to mention the abundance of lounge and dining space outside on the private beach and pool deck, all with unbeatable ocean views.
Is This the Best Travel Pack EVER???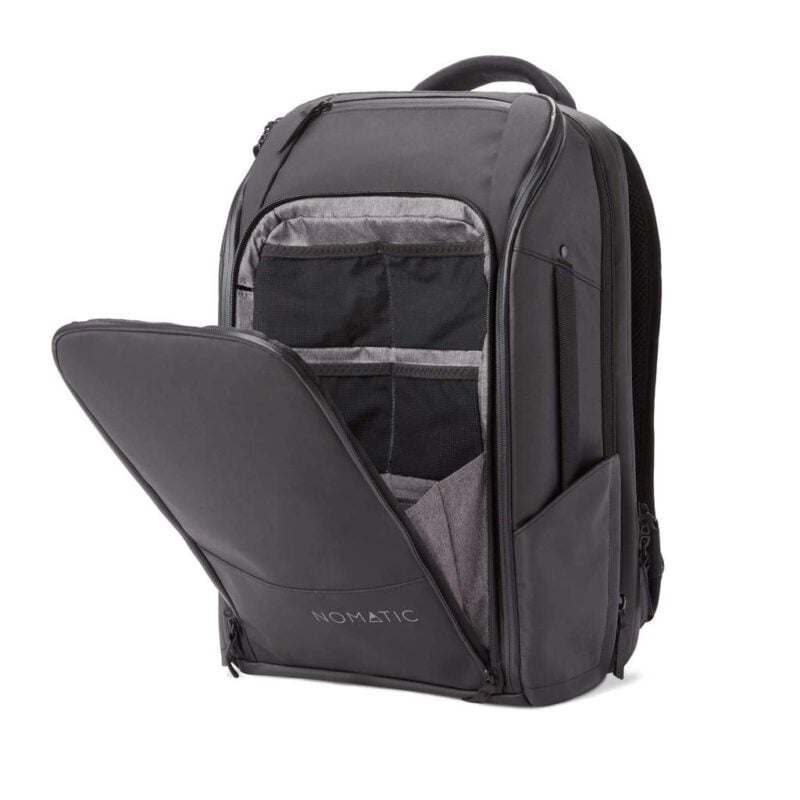 Most Luxurious Tropical Hideaway in Jamaica | 7BR Estate
$$$$
On the beachfront in Old Fort Bay, near Ocho Rios
14 Guests
Luxurious outdoor living with huge pool and private beach
From the outside, it's not hard to see that this massive luxury vacation rental in Jamaica was designed for luxurious resort-style living. The estate includes seven bedrooms, each more luxurious than the next, with bathrooms and ocean-view balconies, and spacious lounge areas.
The open concept living space is beautifully designed using warm wooden tones and tropical-inspired decorations. In true indoor/outdoor living style, this room opens out onto a pool deck overlooking the ocean.
Let's not forget the other amenities on this estate, including the golf green, basketball net, tennis court, gym, in-house beach bar, and private beach.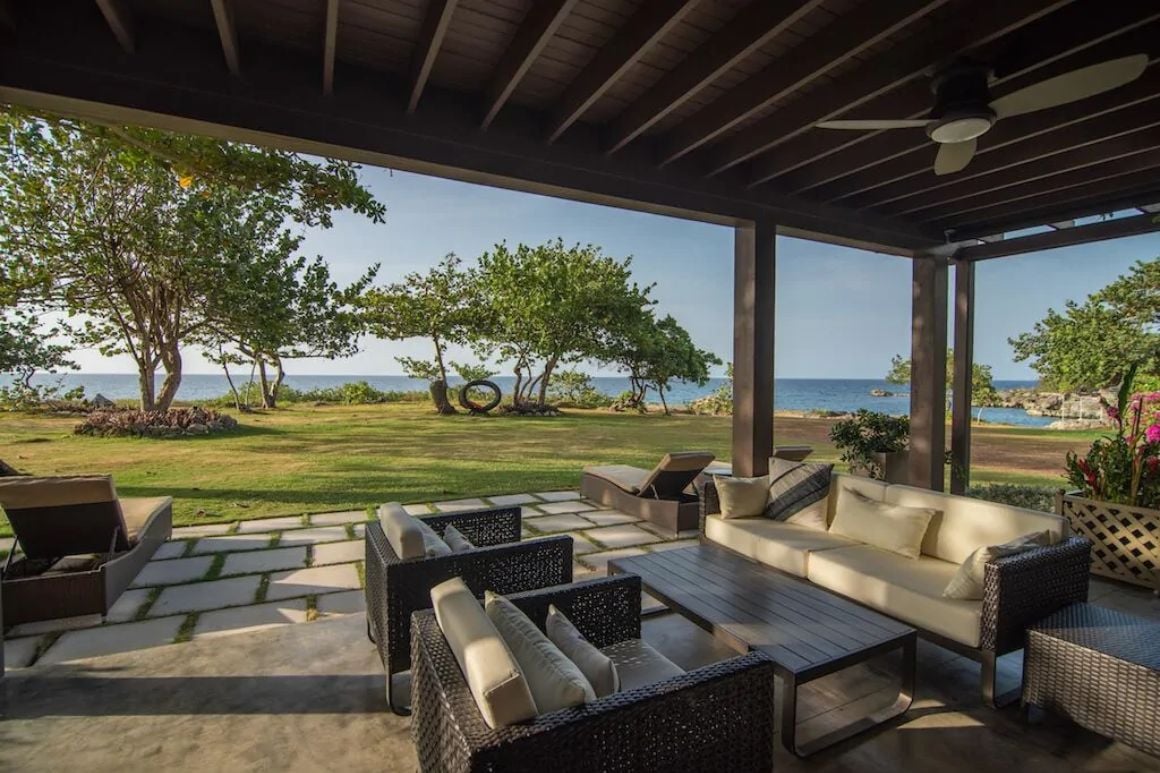 $$$
In Chukka Cove near St. Ann's Bay
5 Guests
Access to a shared infinity pool
Jamaica is one of the top Caribbean destinations for a family vacation. This gorgeous family home offers guests the perfect combination of luxury and authenticity.
It's located in a local area on a secluded cove beachfront and has tons of lush garden space for children to enjoy. The home itself is decorated in a sophisticated style, with touches of tropical influence throughout the space.
Both bedrooms include ensuite bathrooms and exquisite island and ocean views. However, it's the open-concept living space where you'll be spending most of your time. This elegant room is filled with seating options and is surrounded by glass doors, bringing a bunch of natural light and fresh sea breeze into the home.
Best Vacation Rental for a Weekend | 2BR House W/ Pool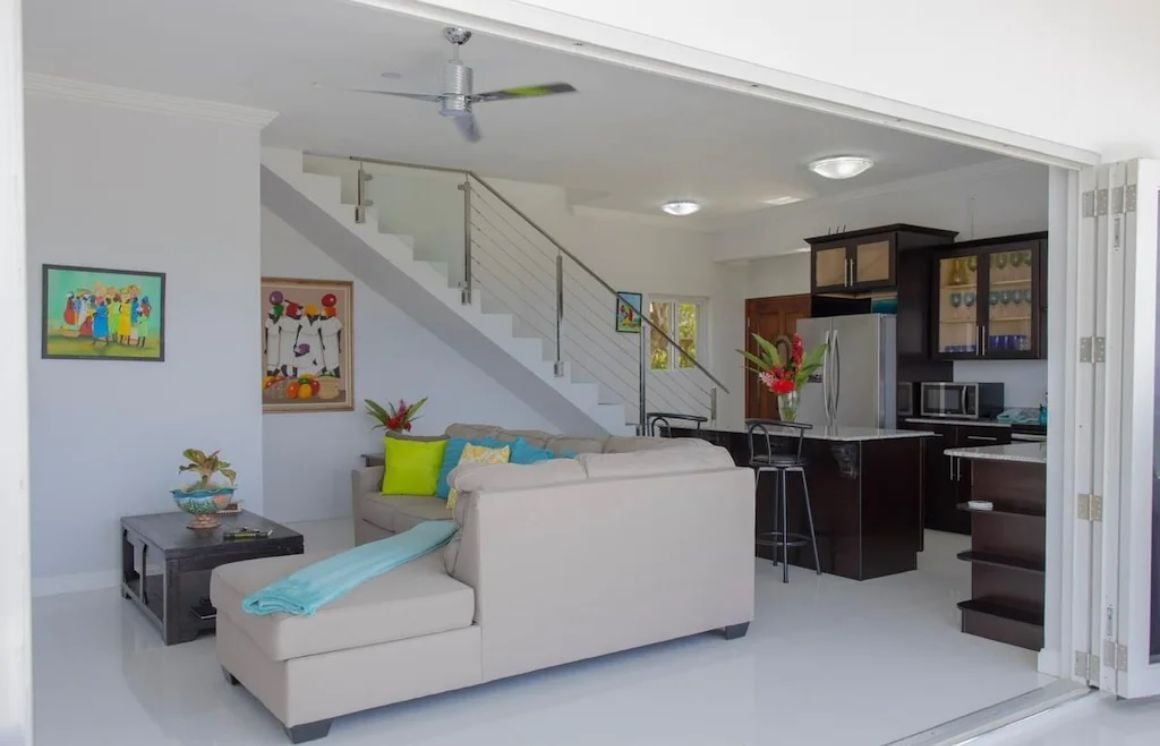 $$
Overlooking the airport in Montego Bay
4 Guests
Beautifully updated interiors and natural light
If you only have a few days on the island, I recommend saving on travel time and spending your days in one of the main resort towns. This two-bedroom home is right around the corner from Montego Bay Airport.
It's just a short trip into town to head to some of the top-rated restaurants, local attractions, and well-known beaches, making it one of the best vacation rentals in Jamaica for a quick visit.
In fact, this modern home sits on a hill with views of the airport and ocean. It has an infinity pool and pool deck, surrounded by a lush garden – perfect for catching some rays.
The house is super clean and bright and includes a fully-equipped kitchen with stainless steel appliances and lots of preparation space. Both bedrooms have their own bathrooms and balconies and offer ample closet room.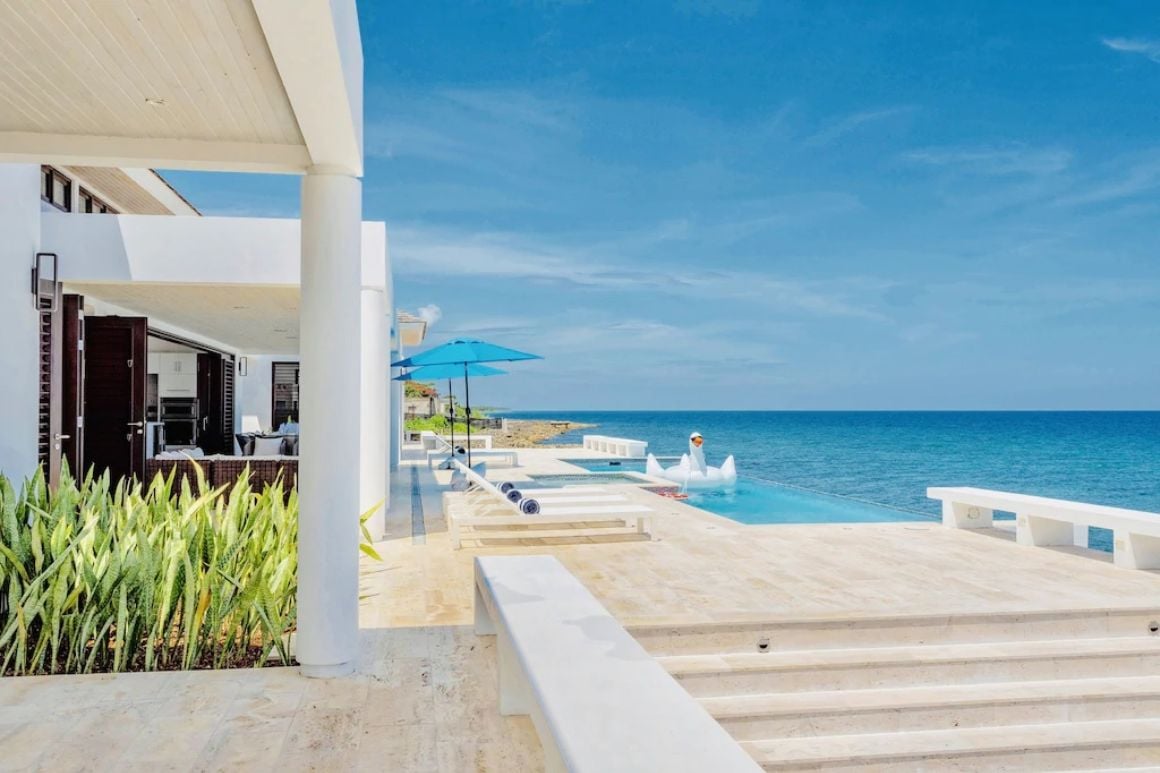 $$$$
On a private beach called Cousins Cove
8 Guests
Includes a pool and Jacuzzi overlooking the ocean
This impressive home almost looks like a modern art gallery. Architecturally speaking, the home is designed using neutral tones, high ceilings with floor-to-ceiling glass sliding doors, stone floors, and marble countertops.
This spacious home has been filled with contemporary furniture including sleek linen couches and modern woven outdoor loungers. From the entrance hall water features to the rainfall showerheads to the outdoor bathtubs, this home was created for the most exclusive guests.
The most impressive part of this home is the outdoor deck and swimming pool which overlook the calm Caribbean Sea.
Super Accessible Vacation Rental in Jamaica | 2 BR Resort Condo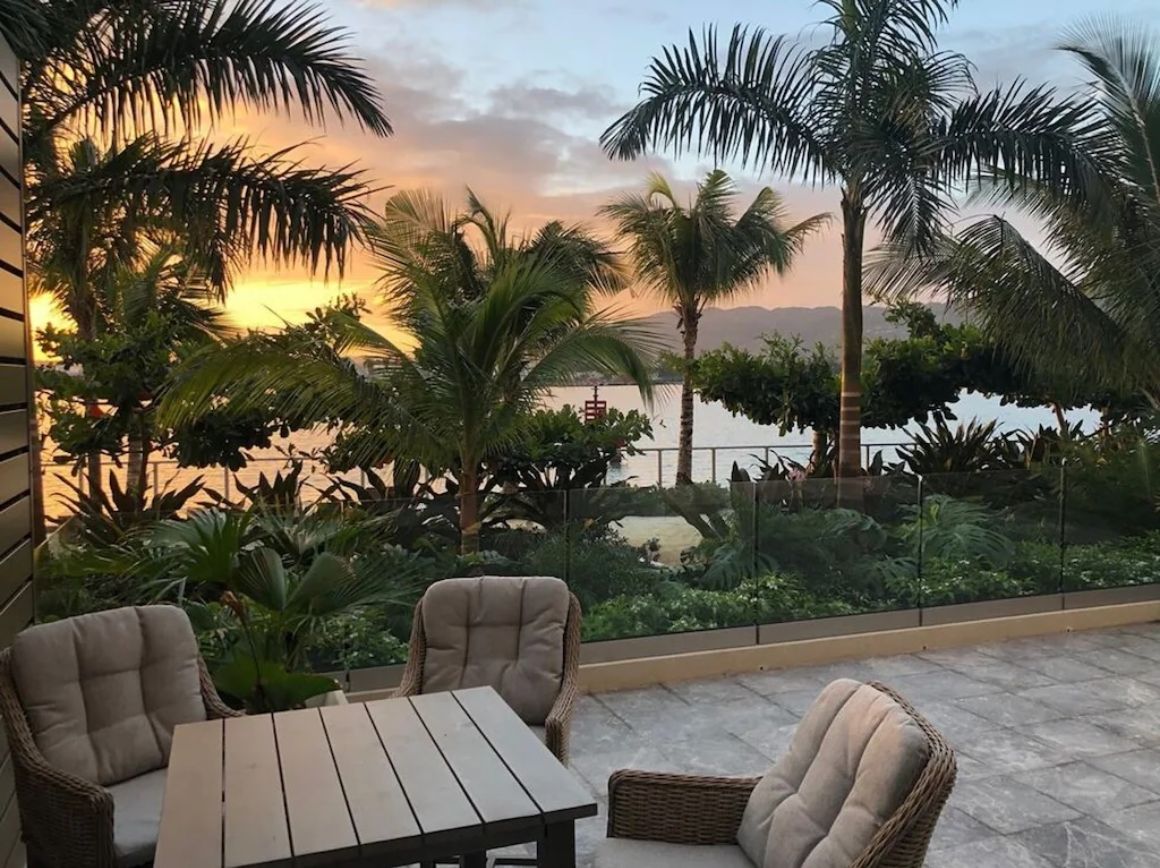 $$
On the coast in Montego Bay
4 Guests
Ground floor property with a spacious patio and shared amenities
As a wheelchair user or guest with limited mobility, your best bet would be to rent out a spot in a resort or a gated community with wheelchair access. This self-catering vacation rental in Jamaica sits on the ground floor of a private resort on the coast in Montego Bay.
Not only is the location easy to get to, but the building is well designed with lots of wide passageways and space for movement. The condo has been stylishly refurbished with contemporary coastal-inspired interiors and includes a fully-equipped kitchen.
Not to mention, there is also a spacious outdoor patio with lounge and dining furniture, which is hidden from the rest of the resort by tropical plants.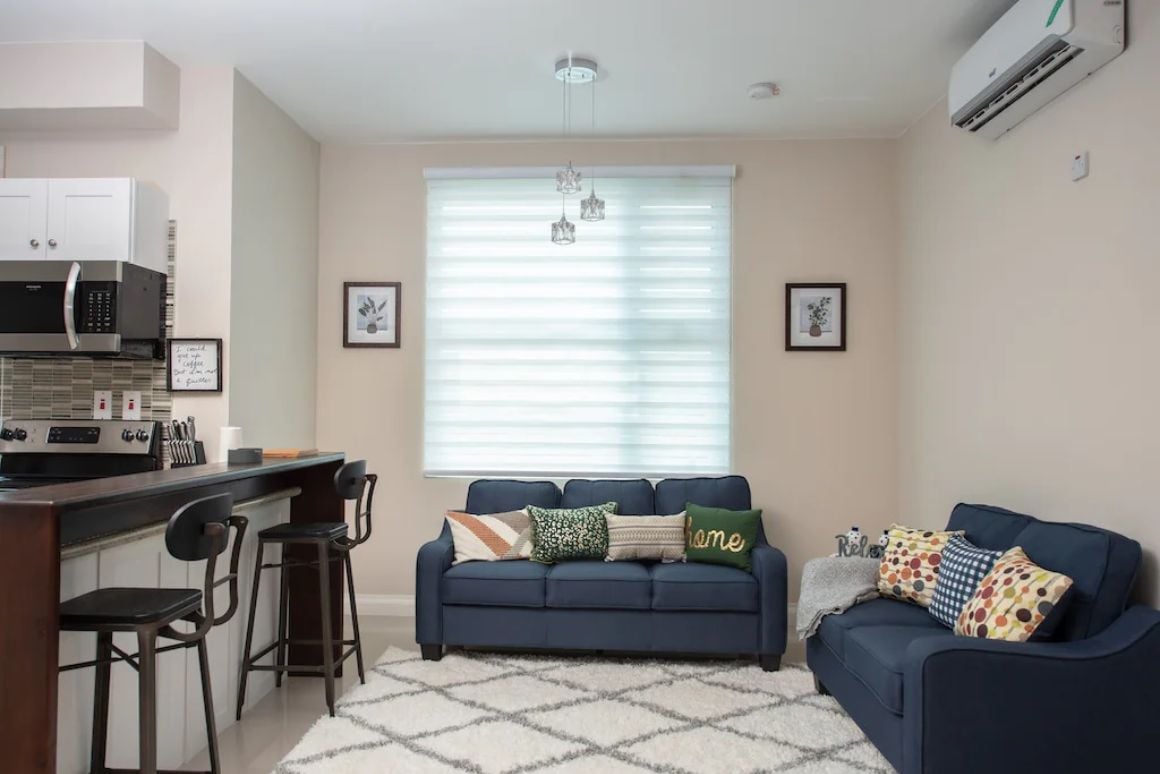 $
In the heart of Kingston, near restaurants and shops
2 Guests
Refurbished interiors and pool access
Whether you're after a central rental for transit purposes or want to spend some time exploring Jamaica's city center, Kingston is a city worth experiencing. This cozy and contemporary condo sits bang smack in the center of the city, down the road from the famous Mandela Park, theatres, museums, and of course eateries and shops.
The space has been refurbished with contemporary furniture and kitchen appliances and includes necessary city extras such as washer/dryer facilities, parking, and internet connection. Let's not forget, it's also wheelchair accessible (with an elevator) and super affordable.
The home has a balcony overlooking the forested city and includes access to a shared swimming pool and rooftop deck.
Best Vacation Rental for a Large Family | 6BR Beach Villa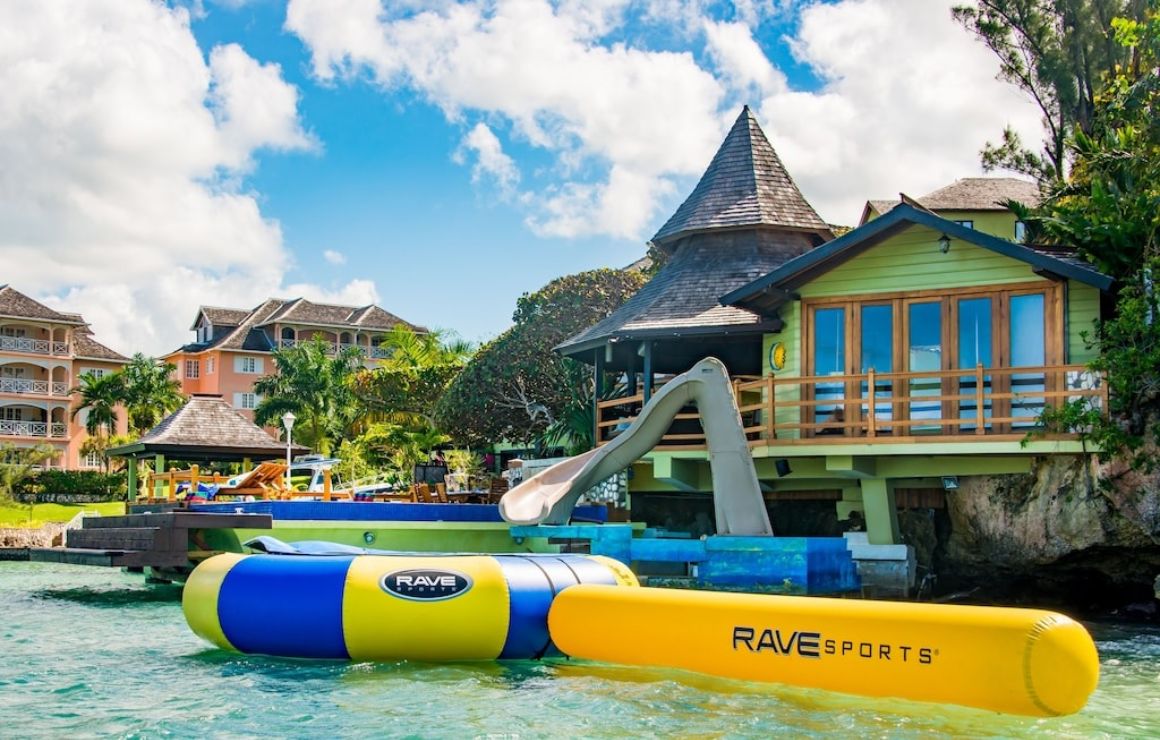 $$$$
On a coastal property by Ocho Rios
12 Guests
Pool slides, blow-up toys and luxury interiors
Welcome to the funhouse! This oceanside estate was designed for fun and games. Your children will be kept well entertained with the huge swimming pool above the ocean, the waterslide, and the floating trampoline, giving you time to enjoy the exquisite home and outdoor living space.
Every inch of this luxury vacation rental in Jamaica has something beautiful to look at. My favorite part is the main bathroom with a living tree inside the shower.
Each of the six bedrooms is uniquely decorated with beautiful wooden furniture, coastal decorations, and balconies with beautiful ocean views. One of the suites even has a bed that hangs from the ceiling!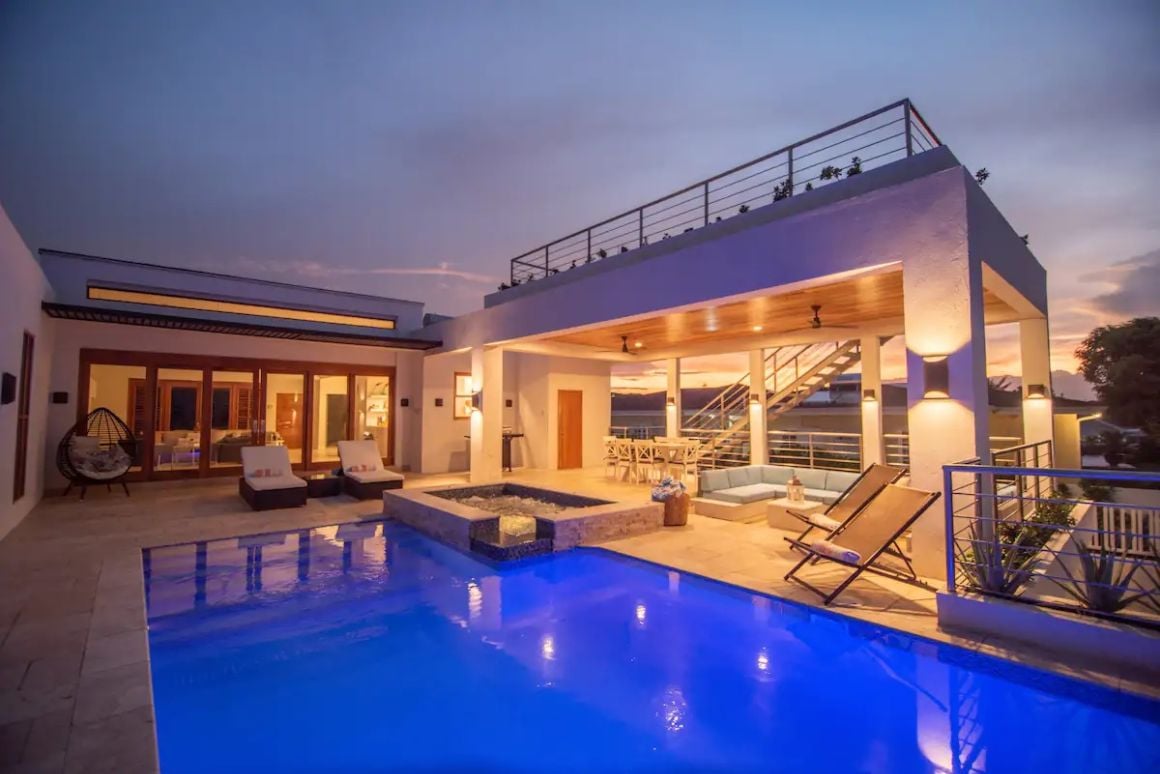 $$$
In a gated community in the small town of Duncans
8 Guests
Huge pool deck with garden and ocean views
If you're looking for the perfect spot for a friend's getaway, and have some extra cash to spend, you can't do much better than this modern villa. It's located in a secure gated community steps from the beach on the north coast of the island.
Spend your days lapping up the sunshine by the infinity pool and Jacuzzi deck, or on the beach out front, before returning to the villa to enjoy a catered meal prepared by the on-site chef. Alternatively, save on the chef and cook up your own family-style feast in the gourmet-standard kitchen.
The home includes four luxurious suites and has a rooftop deck above the pool area – this really is the perfect spot for some sunrise yoga or a sunset cocktail with your friends.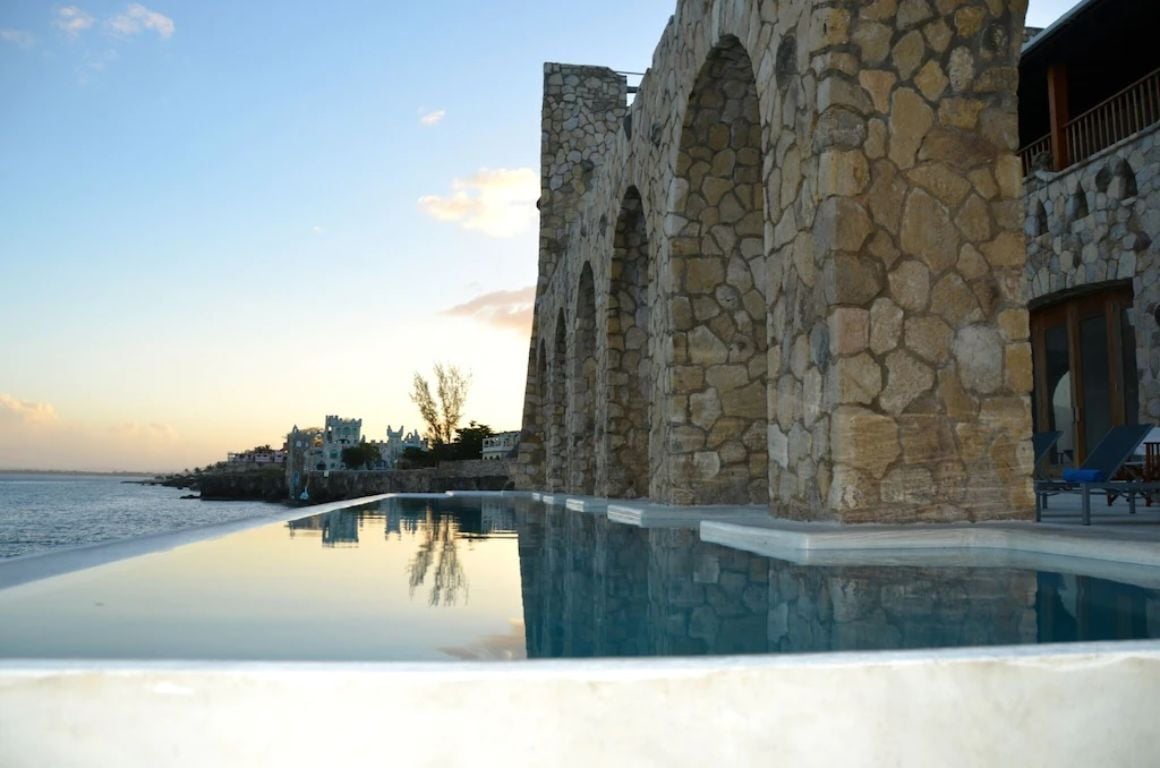 $$$$
On the West End coast near the city of Negril
19 Guests
Stone castle with pool and Jacuzzi
Have you ever dreamt of spending a night in a stone castle on a Caribbean island? Well, now you can. This cliffside castle sits above the calm waters of the West End. Not only is it super unique, but it is also the top self-catering vacation rental in Jamaica for hosting events.
Although it can sleep 19 guests, the home can fit up to 200 guests at a function.
While some rooms are designed to complement the stone medieval exterior, others follow a trendy yet minimalistic style, with built-in concrete furniture and cabinetry giving it a simple Grecian feel.
The most impressive part of the property is the swimming pool and deck, which have unbeatable ocean views.
Best Vacation Rental in Jamaica for First Timers | 2 BR Townhouse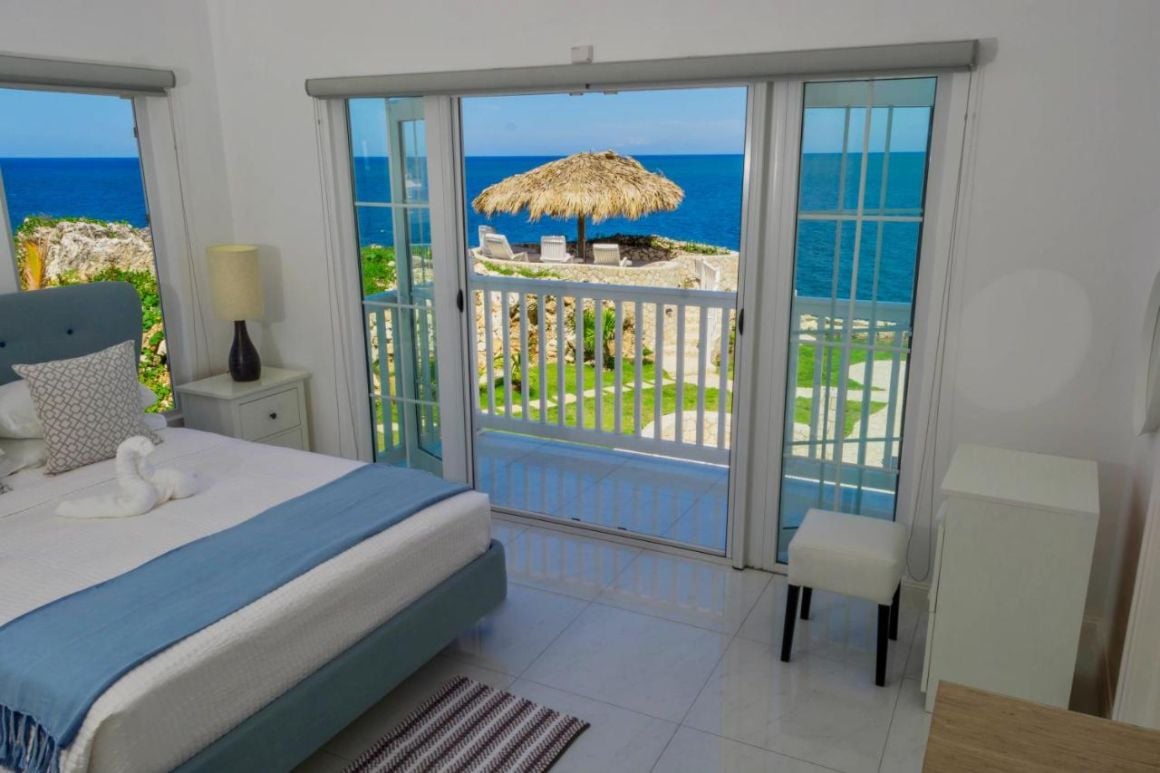 $$$
In a cove between Negril and Orange Bay
5 Guests
Bright and spacious with garden above the sea
Those who have never been lucky enough to visit the island should start in either Negril or Montego Bay. This low-key beach house sits on the beach just outside Negril. The home has a fully-equipped kitchen and a cozy lounge and dining area furnished with natural timber pieces.
The front deck has a separate outdoor living and dining area shaded by an umbrella and is closed-in from the rest of the community with a gate.
During sunset, take a short stroll across the property to the shared lookout points, which jut out over the cliffsides offering the best views of the sea.
Best Vacation Rental in Jamaica for Nightlife | 2 BR Condo W/ Pool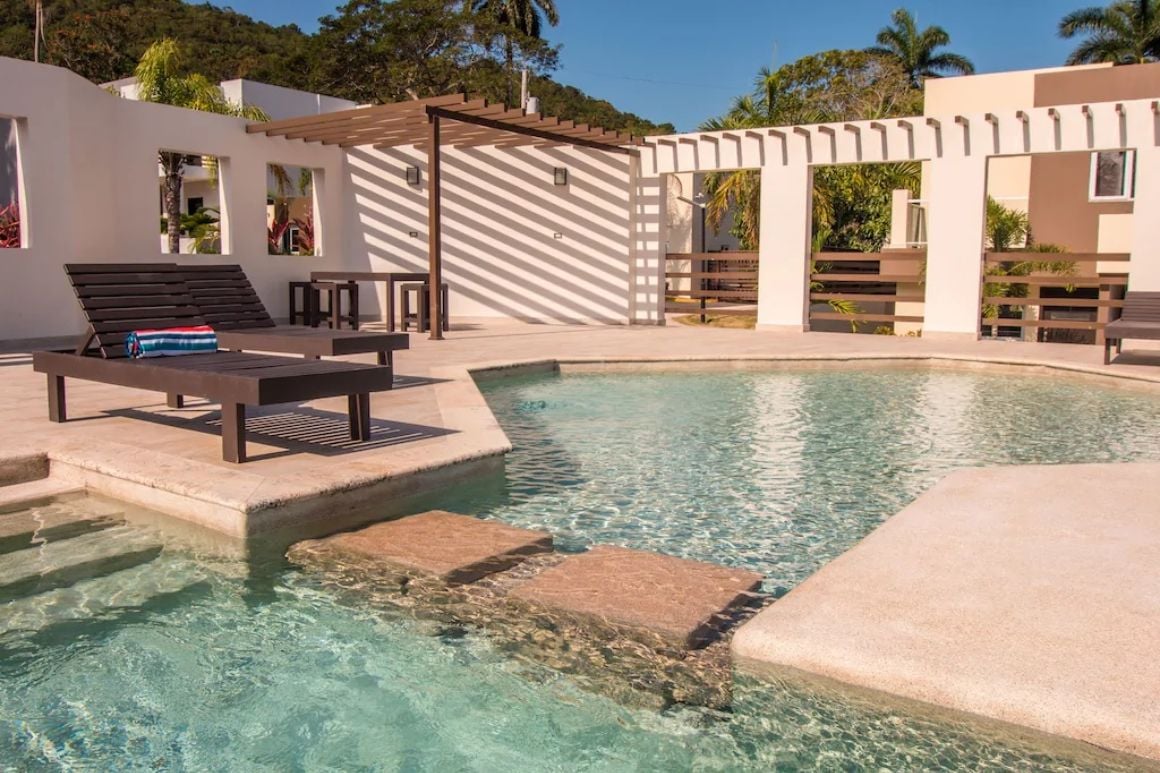 $$
On the coast in Reading, Montego Bay
4 Guests
Access to tiered pools and a beautiful deck
With some of the best rum bars and music scenes in the world, it's no surprise that Jamaica is a top destination for nightlife and partying. Hidden in a small complex of modern homes, this beautiful and spacious beach vacation rental in Jamaica is the perfect spot to base yourself for a night on the town.
It's located on the coast of Montego Bay, a short drive from local bars and pubs in the town. This unit overlooks ocean views from the downstairs living area and opens out onto a shared swimming pool space.
At night, the pools are lit up in a rainbow of colors, making it a great spot to enjoy a nightcap after an evening of dancing.
Best Vacation Rental in Jamaica With a View | 1BR Mountain Cottage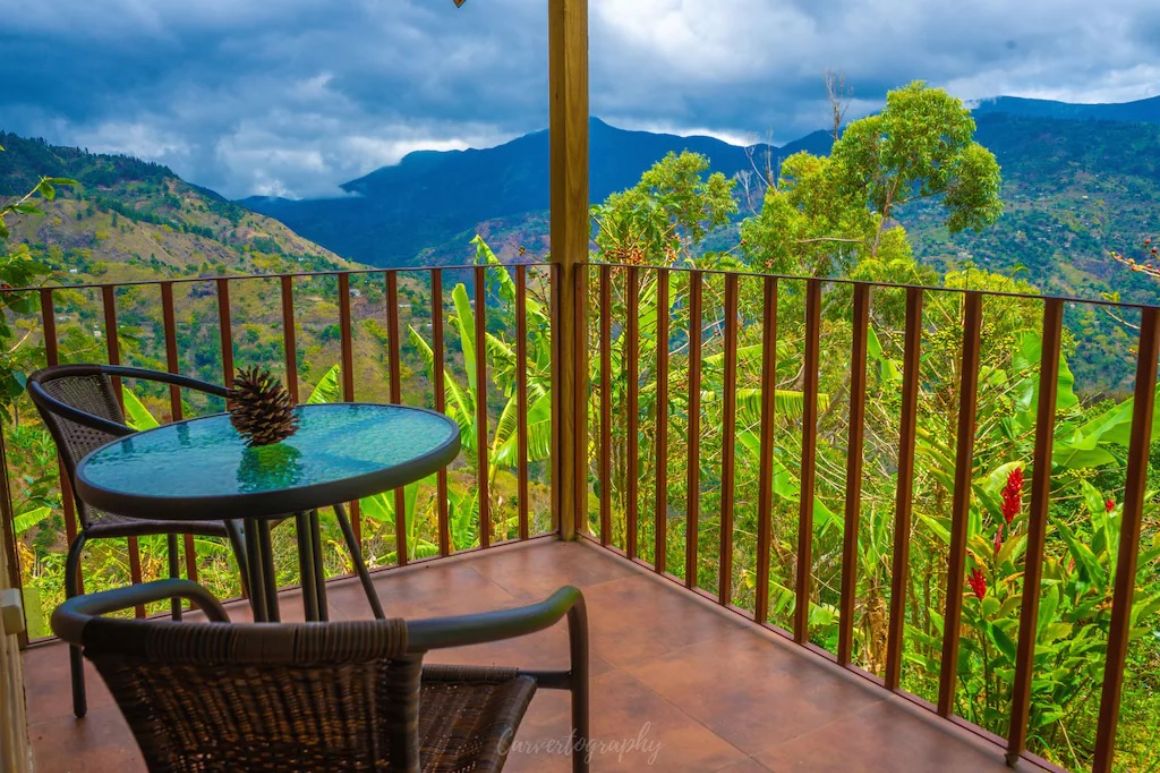 $$$
Perched above the treetops in the Blue Mountains
2 Guests
Updated cabin interiors with luxurious linens
When I think of views in Jamaica, I think of the turquoise ocean and white sand beaches. However, this island nation has so much more to offer. I picked this mountainside cottage in the famous Blue Mountains for its exquisite tropical jungle and mountain views.
The cottage is built from locally sourced timber and has a typical 'American cabin' feel about it. It's fitted with high-quality sheets and linen and includes a coffee maker and kettle for guests to use. The small covered balcony is the perfect spot to enjoy your morning coffee.
The cottage is part of a boutique B&B, which offers breakfast included in the room rate, as well as optional lunch and dinner from the on-site restaurant. There's also a communal lounge perched above the treetops, offering beautiful mountain views and the chance to meet fellow travellers.
Romantic Vacation Rental in Jamaica for Couples | 2BR Penthouse
$$
On the beach in St. James Parish
5 Guests
Beach-themed interiors and ocean views
Romance is in the air, and I might have just found the best vacation rental in Jamaica for lovers and romantic getaways. Tucked away on the coastline just north of the busy Montego Bay, this penthouse is located in a secluded and secure gated community with manicured gardens and a well-kept swimming pool.
The double-story home has been fully remodeled and has two sleek bedrooms (although it's affordable for two guests).
Best of all, although it feels very private and secluded, you'll only be a short drive from top restaurants and bars in the area – perfect for a date night with your loved one. If you don't feel like cooking or going out, you can call upon your own private chef!
$$
Between the ocean and river in Robins Bay
6 Guests
Beautiful sunrise views from the ocean deck
Ditch the resort-lined beaches and head to Robins Bay on the north-eastern shoreline for a more secluded off-the-beaten-track retreat. This two-bedroom bungalow sits on the banks of a tropical cove surrounded by lush plants.
It's part of an eco-resort that is spread over 18 acres. In fact, the entire resort can be rented out to accommodate up to 35 guests! The master bedroom of this unit has a unique natural wooden bed and a porch fitted with a hammock. This is the best spot in the house to watch the sunrise.
Choose to cook a home-cooked meal in the fully-equipped kitchen or order in from the on-site restaurant and enjoy your meal admiring the views from your private deck.
Best Vacation Rental Near Must-See Sights in Jamaica | 2 BR House
$$
Just outside Montego Bay, near main attractions
4 Guests
Modern interiors with a gourmet level kitchen
Montego Bay is one of the best areas to base yourself in if you're up for balancing beach time with exploring the cultural and historical sites in the area. This house is located in a gated community and is one of the top beach vacation rentals in Jamaica near the famous bird sanctuary, marine park, cruise ship terminal, and top beaches.
The double-story home is modestly decorated with clean white interiors and dark wood furniture. Each bedroom has its own bathroom, and the master suite has a huge walk-in closet.
The property is just a few steps from the beach and includes a huge shared pool area with tiered swimming pools which flow into each other. There's ample space to lounge around these pools after a day of exploring the area.
Vacation Rental near the Best Beaches in Jamaica | 3BR Villa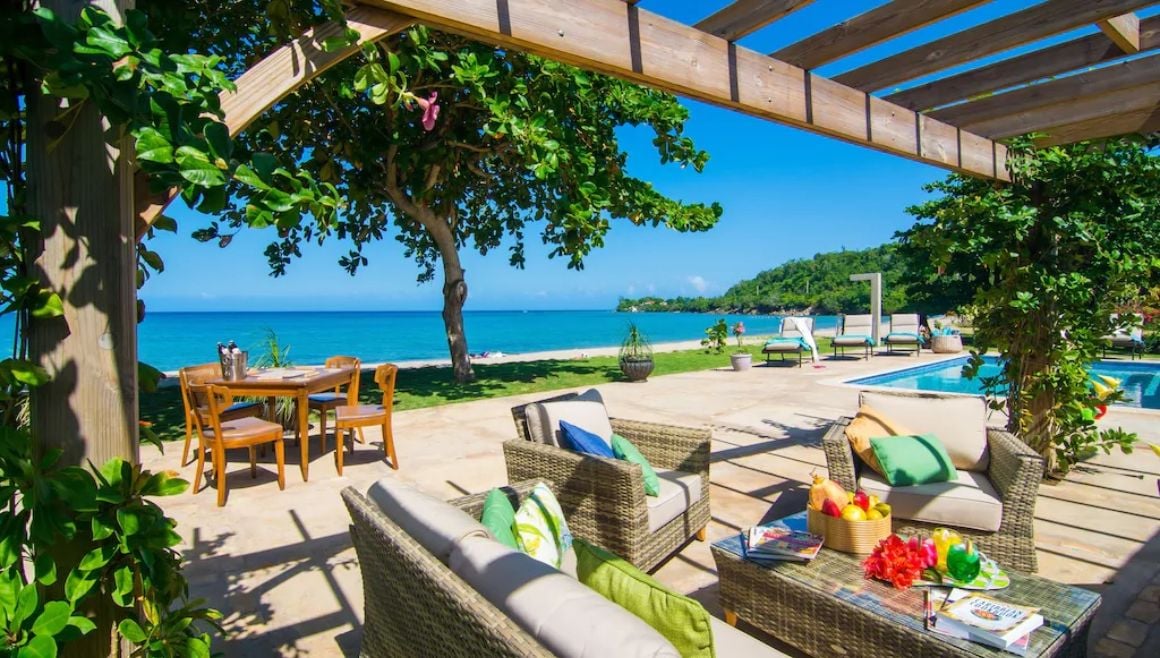 $$$
In a gated community on Bengal Beach
6 Guests
Indoor/outdoor living area with a pool deck
Not only is this beach house ideally positioned on one of the most beautiful beaches in Jamaica, but it's also super affordable for what it offers.
The home is influenced by traditional island architecture, with wooden touches and exposed timber ceilings. It has been furnished with a state-of-the-art combination of contemporary and island-style furniture and decorations, including beachy patterned linens and fresh flowers.
Best of all, the outside covered deck boasts a spacious eight-seater dining room, outdoor lounge, and a bunch of pool loungers lining the swimming pool and beach.
Small Town Vacation Rental in Jamaica | 3BR Coastal Cottage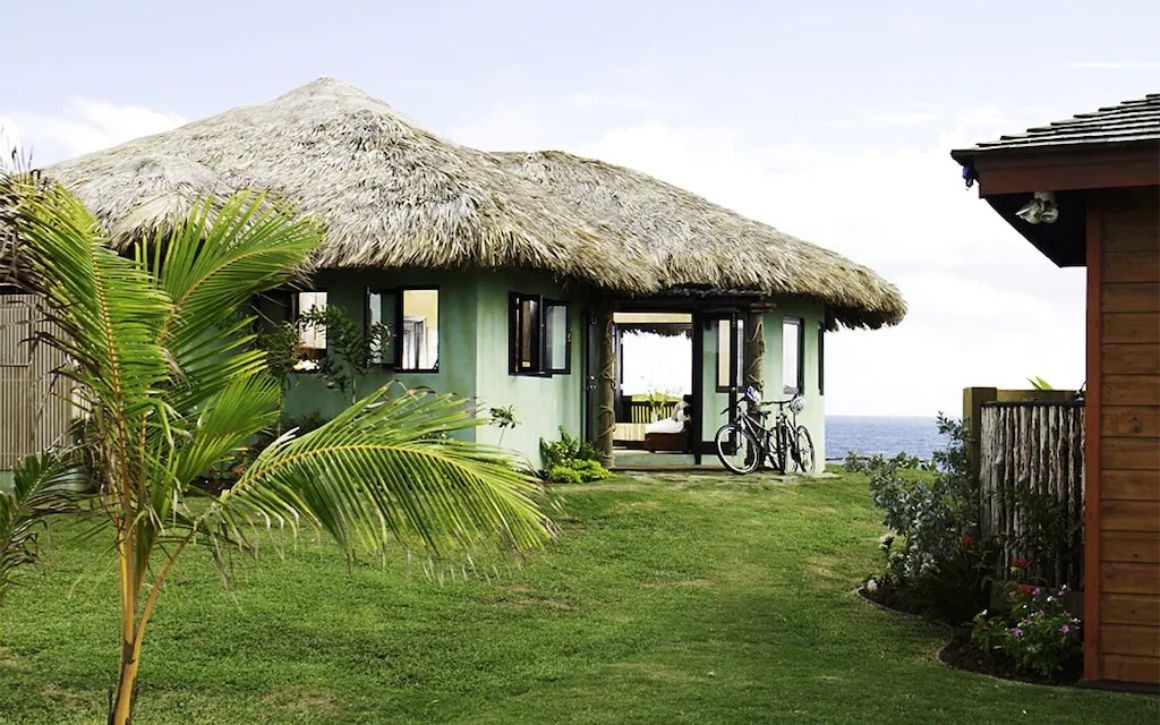 $$$
On the cliffs above Treasure Beach
6 Guests
Traditional beach hut with thatch roof
If I had to describe this property in two words it would be 'remote' and 'authentic'. This pale green beach hut is built with a thatch roof and rounded walls. It's located atop a cliff overlooking Treasure Beach, in one of the least touristic parts of the island.
The home is surrounded by lush grass and has a beautiful plunge pool on the edge of the cliff. This is without a doubt the best seat in the house for an incredible sunset view.
I can't forget to mention the indoor Japanese style jacuzzi and the separate building housing one bedroom and an indoor steam room. All in all, this is one of the best vacation rentals in Jamaica for a small-town relaxing retreat.
Don't Forget Your Jamaica Travel Insurance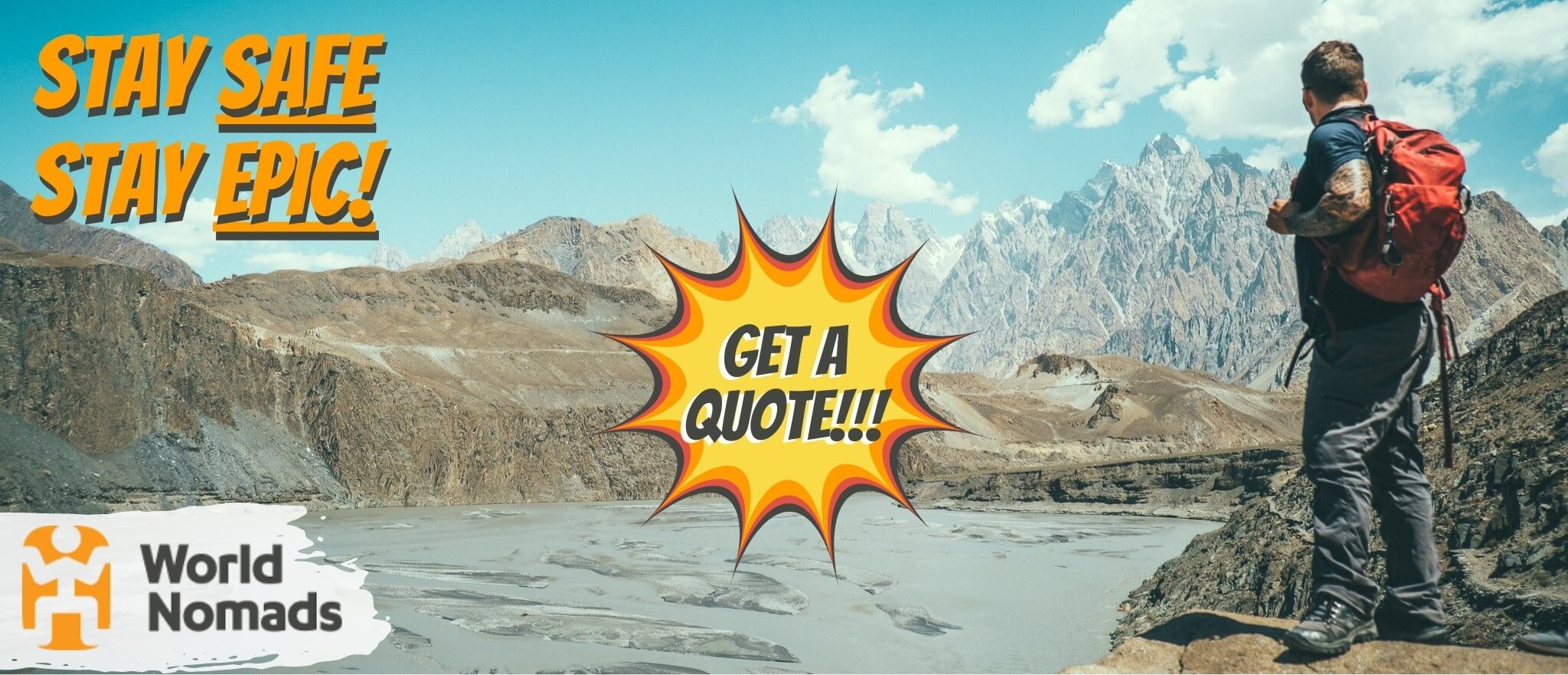 It's good to get lost sometimes, but it's also good not to get too lost. There are people that want you home in one piece.
There's one travel insurance provider The Broke Backpacker trusts for all his wildest shenanigans… World Nomads!
Click the button below to get a quote on your insurance or read our in-depth review of World Nomads' coverage. And then… let the shenanigans begin. 😉
Final Thoughts
Jamaica strikes the perfect balance between touristy and authentic. With some of the most beautiful beaches in the Caribbean, edgy mountain ranges, and a whole host of historic and cultural sites, it's no wonder this island is scattered with so many beautiful vacation rentals.
I know it can be overwhelming choosing somewhere to stay, so just to recap, here's a rundown of where to consider.
Montego Bay is where you'll find the best party scene and where you're more likely to find a bunch of high-end resorts, condos, and apartments to rent.
Negril offers a more relaxed vibe for younger travellers and is often where the most affordable beach houses and bungalows can be found. Port Antonio is buzzing with cultural activity and is the place to go if you want to stay in a picturesque Victorian Caribbean home.
Hikers and those looking for seclusion can head straight to the Blue Mountains, where you'll find rustic treetop houses. Reach, Somerset, and Blue Lagoon are also popular areas designated for outdoor activities and are dotted with secluded self-catering vacation rentals in Jamaica.
I hope this helps you to make an informed decision about which Jamaican vacation rental is right for you. Did you find a place? Let me know in the comments.
---
Thanks for reading – that was fun! 😀
We bring you epic FREE content!
Find out how YOU can help support us.
We're a big site with a big team and this job isn't always easy. But we do it because we love it – we love providing epic and free content. We love the knowledge that our content keeps you adventuring. We don't ask for money, but if you'd like to find out how you can help the site in more organic ways, click the button below.
Thank you for your support 🙂
---
Bye for now, but not forever!
If you want MORE top-tier Broke Backpacker content like this, then sign up for our weekly newsletter below to get the latest and greatest!
And for transparency's sake, please know that some of the links in our content are affiliate links. That means that if you book your accommodation, buy your gear, or sort your insurance through our link, we earn a small commission (at no extra cost to you). That said, we only link to the gear we trust and never recommend services we don't believe are up to scratch. Again, thank you!