Jamaica is a tropical island full of incredible food (think patties and jerk), the birthplace of reggae, and some of the best and most beautiful beaches in the Caribbean. Not only that but it is surrounded by breathtaking natural sites such as lagoons and waterfalls.
Jamaica is THE country to go to if you want fun in the sun.
If you think you need deep pockets to be able to enjoy Jamaica, allow me to prove you wrong. Travelers with all sorts of budgets have been can enjoy all there is to see and do on this incredible island. And when it comes to accommodation, you can find safe and affordable options on Airbnb, too.
The best thing about Airbnb in Jamaica is that you can stay in an authentic and traditional property. No more boring hotels! But the sheer number of options can be overwhelming, and some areas you also want to stay away from, so to help you find the perfect Airbnb I have selected the top 15 Airbnbs in Jamaica.
Let's take a look.
Quick Answer: These are the Top 5 Airbnbs in Jamaica
Overall Best Value Airbnb in Jamaica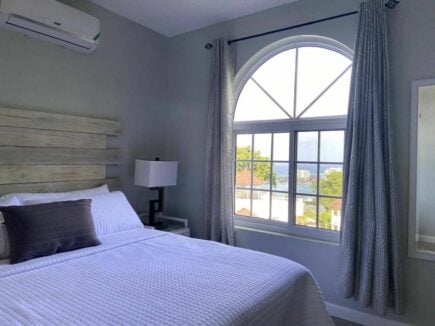 Overall Best Value Airbnb in Jamaica
Apartment with private balcony and panoramic views of the sea
> $
> Guests: 3
> Beach access
> Near major attractions
Best Budget Airbnb in Jamaica
Best Budget Airbnb in Jamaica
Centrally-located studio minutes away from entertainment and attractions
> $
> Guests: 2
> Wi-Fi
> Free parking
Best Airbnb for Couples in Jamaica
Best Airbnb for Couples in Jamaica
Villa perched on Cliffside with pool and hot tub
> $$$$
> Guests: 2
> Landscaped gardens
> Rooms with ocean view
Best Airbnb for Families in Jamaica
Best Airbnb for Families in Jamaica
Waterfront villa with pool and playground
> $$
> Guests: 9
> Pool
> Patio and backyard
Over-the-Top Luxury Airbnb in Jamaica
Over-the-Top Luxury Airbnb in Jamaica
Seaside villa only 5 to 7 minutes away from Sandals Resort with chef and housekeeper
> $$$$
> Guests: 8
> Excellent location
> Beach access

Unlock Our GREATEST Travel Secrets!
Sign up for our newsletter and get the best travel tips delivered right to your inbox.
What to Expect from Airbnbs in Jamaica
Have you packed your swimwear and sunscreen? You can't afford to forget them if you want to have a grand time at the beach and sway to the island rhythms of Jamaica. When it comes to choosing where to stay in Jamaica, I know this can be a daunting task.
Jamaica has a plethora of amazing properties and they cater to all types of people. If your budget is tight, there are private rooms in shared properties, and if you have some cash to spare, you can always rent an entire bungalow over the water. Just like this one…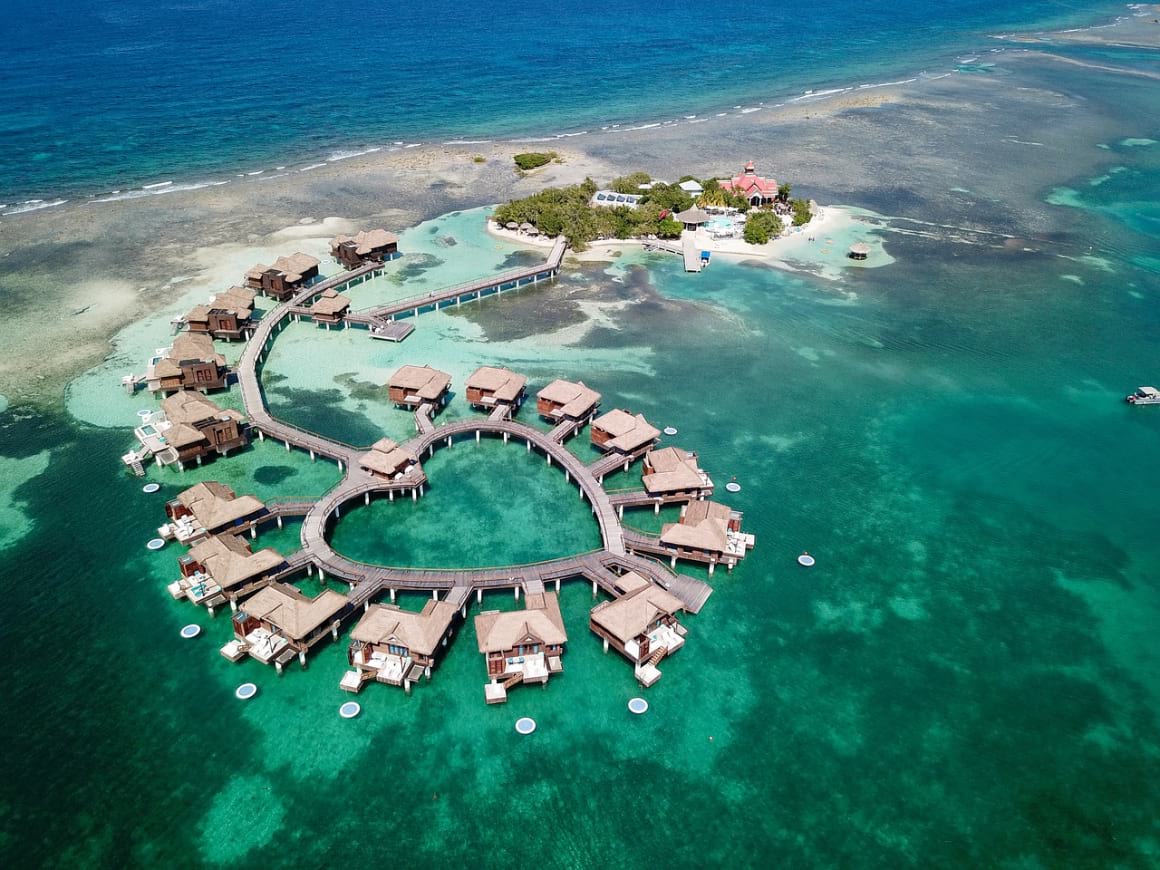 Apartments
Apartments are all over the country but the majority of them are in the major cities. Apartments are excellent for travelers who want the whole space to themselves but also enjoy additional amenities similar to those in hotels such as gyms and pools. You may have to share pools and gyms with other people who live in the apartment complex but you get the entire apartment to yourself.
Homes
There are plenty of residential homes in Jamaica that are up for grabs. Some are simple while others are larger. More luxurious homes even come with pools, and backyards where little ones can run around. The great thing about homes is that they usually come with fully-equipped kitchens and you have everything all to yourself. Most homes are farther from the city center and are in gated communities, so if you're worried about safety in Jamaica, look for one of these. If you want peace and quiet, they are perfect, especially for those with children.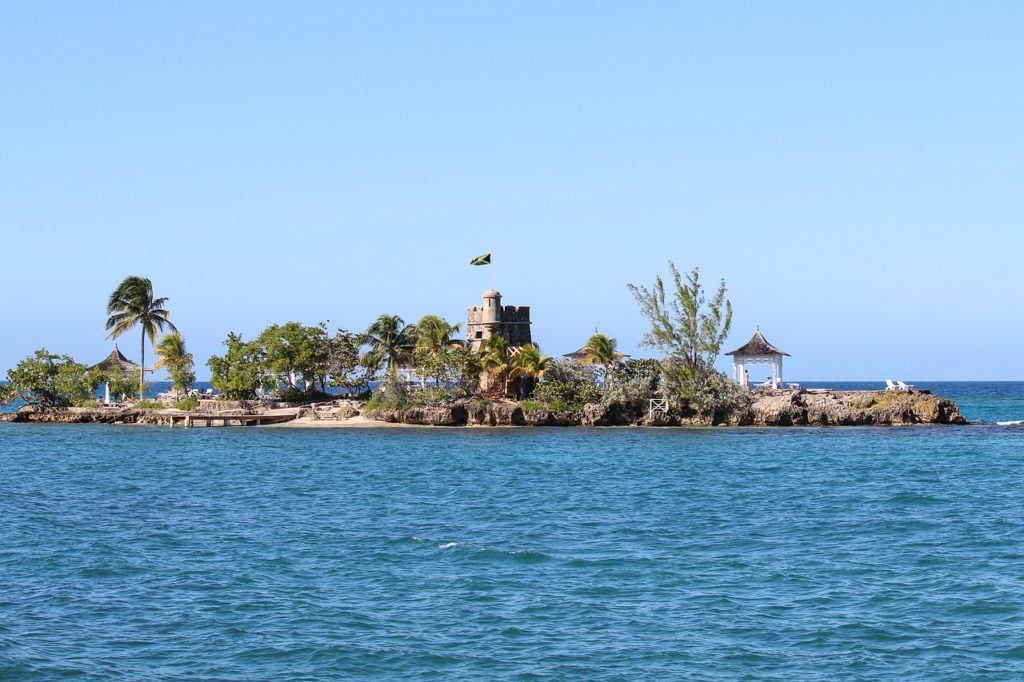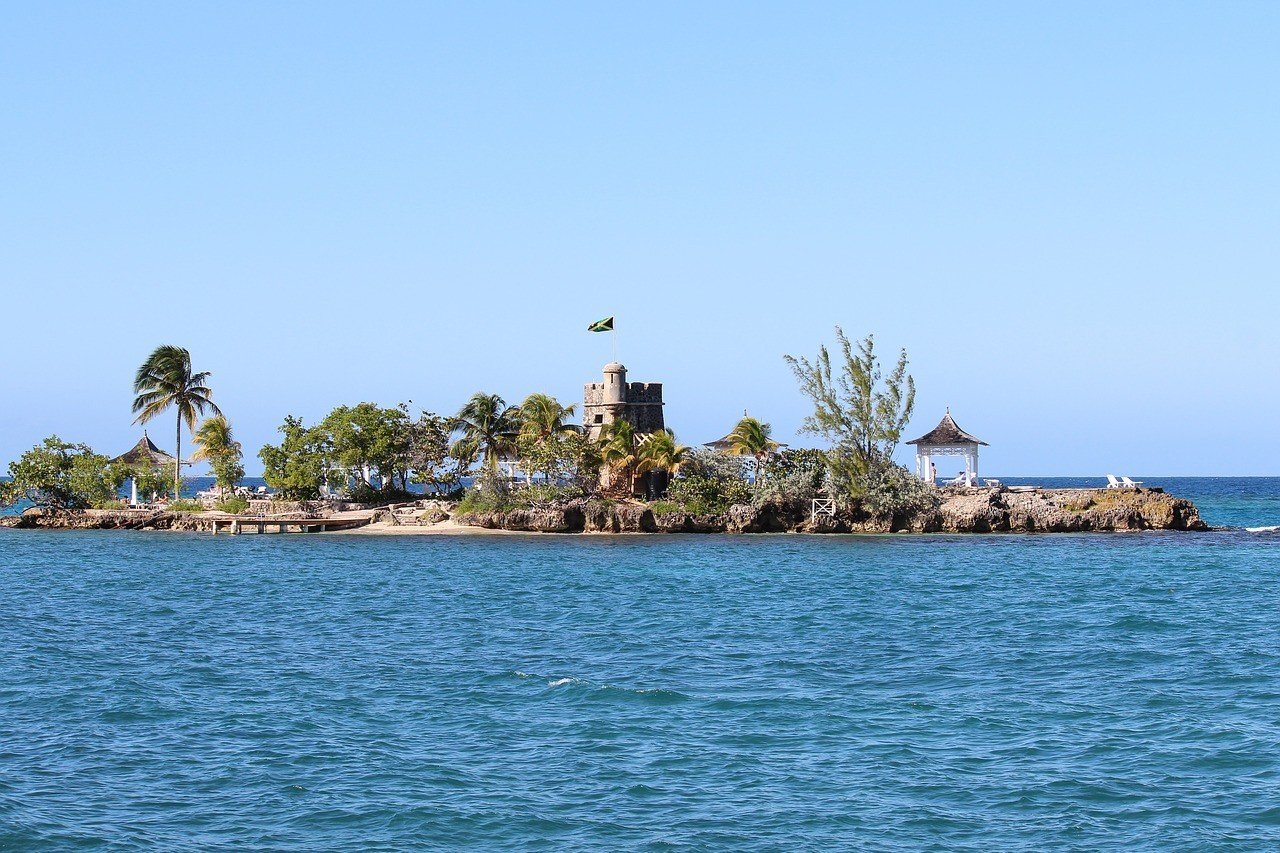 Villas
Villas in Jamaica often have beachfront access, ideal for those who want to be within the vicinity of the water at all times. Opulent and grand, they come with all the extras you didn't even realize you needed such as infinity pools, hot tubs, large gardens, playgrounds, pool tables, BBQ areas, as well as large outdoor dining areas. If money is of no concern to you, villas are the way to go.
Some villas even offer additional services at additional fees such as concierge, drivers, daily housekeeping, and chefs to cook you any dish you want.
Why Stay in an Airbnb
There are many reasons why an Airbnb in Jamaica is better than a hotel. Here are just a few…
Safety: Hosts, as well as guests, on the platform, are vetted. In addition, you can always call customer support for help, no matter what time or what day it is.
Affordability: You don't need to take all your money from your bank to afford a nice vacation. Airbnb has accommodations for all kinds of budgets.
Airbnb Experiences: There are a variety of activities in Jamaica that will make your vacation even more meaningful and we have picked out a few for you.
Unique Properties: Stay in places that don't look like the last property you have been in. Airbnbs in Jamaica are varied and unique. Pick one that suits your needs.
Privacy: You can have a space all to yourself even when you don't have much to spend.
Top 15 Airbnbs in Jamaica
Excited to hit the beach? I hear you! But before you do, let's dive into the deep to come up with the 15 most amazing Airbnbs in Jamaica.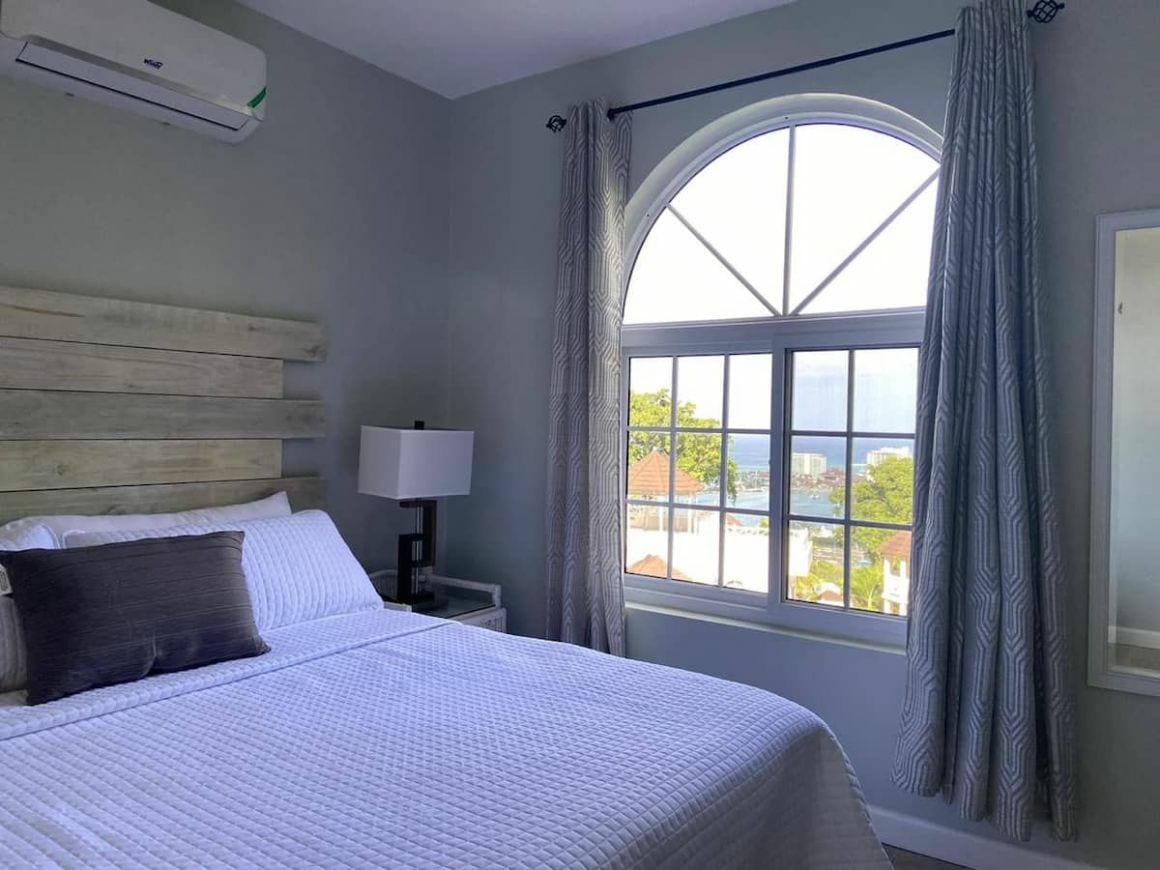 Guests: 3
Near major attractions
One of this property's best features is that it's centrally located so it's close to major attractions and is only a few minutes' walk away from restaurants, beaches, and stores. Convenience is the name of the game when you stay here. You can linger on the private porch and enjoy panoramic views of Ocho Rios and the Caribbean Sea too.
If you feel like you've had too much of the beach, you can always lounge and read a book or swim in the shared pool. Other additional amenities are paid laundry facilities and free parking on the premises. Furthermore, meals can easily be prepared in the well-equipped kitchen.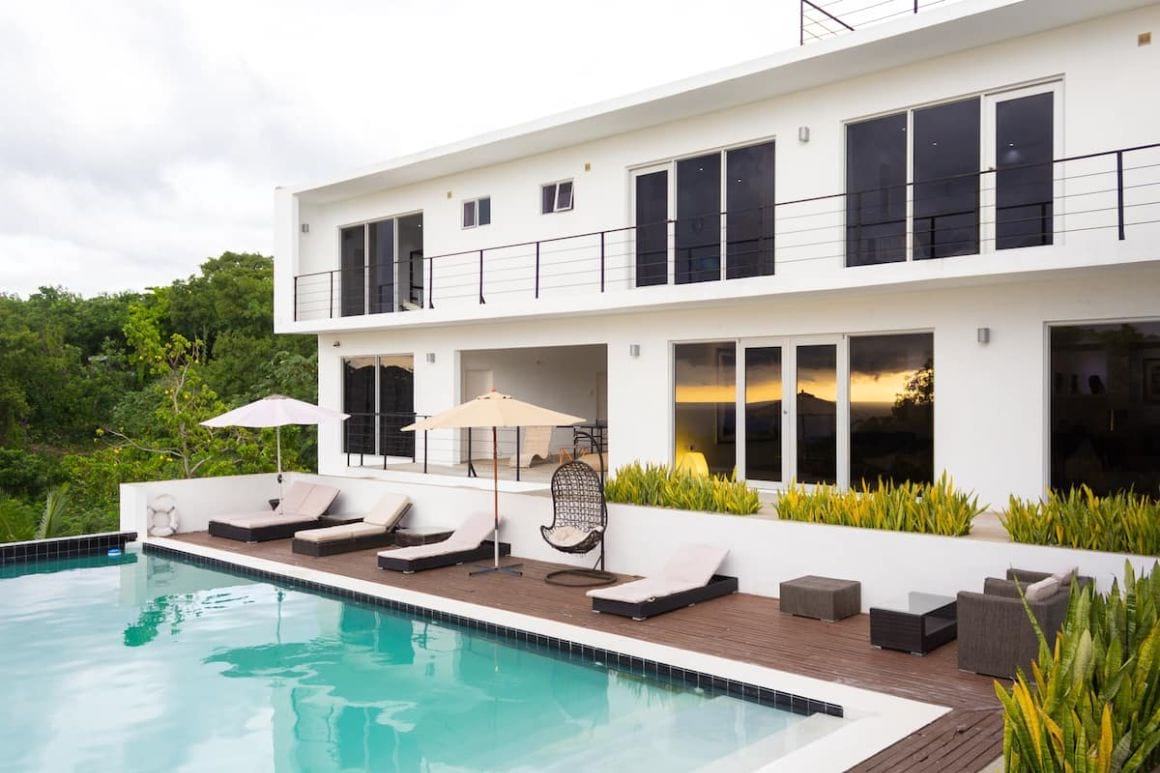 Stay with your friends in one of Jamaica's most stunning villas with spectacular views of the Caribbean Sea and the city skyline. Located on the country's South Coast, this villa is spacious enough for 8 people and one of its most sought-after amenities is the infinity pool where you can take endless laps. Alternatively, you can spend time on the balcony with a drink in hand while admiring the beautiful surroundings.
The private location allows you to fully enjoy the property in peace while being in a small fishing village gives you the luxury to order fresh seafood right off the boat.
The bustling Saturday market is a must-visit, after which you can enjoy views of the sea while gorging yourselves on delicious food in one of the many small, family-owned restaurants in the vicinity. For your convenience, an airport shuttle service can be arranged for an additional fee.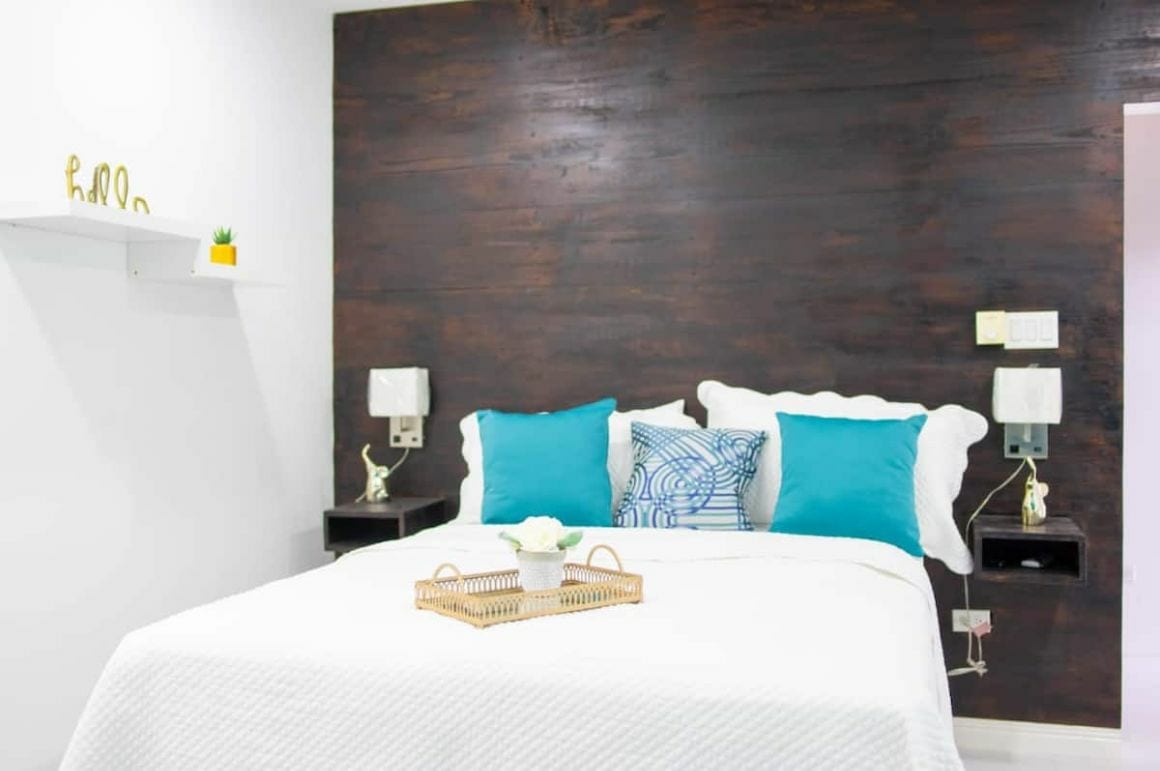 With this centrally located vacation rental in Jamaica, you never have to worry about being too far away from amenities because the mall is just a few minutes' walk away. You can quickly buy all the necessities you need, as well as ingredients, should you decide to prepare meals in the well-equipped kitchen.
Another plus is that it's only 5 minutes away from the airport and airport pickups can be arranged with the host at a minimal cost so you need not worry about a thing. Located in an upscale community in Montego Bay, it's close to the city but is in a quiet place.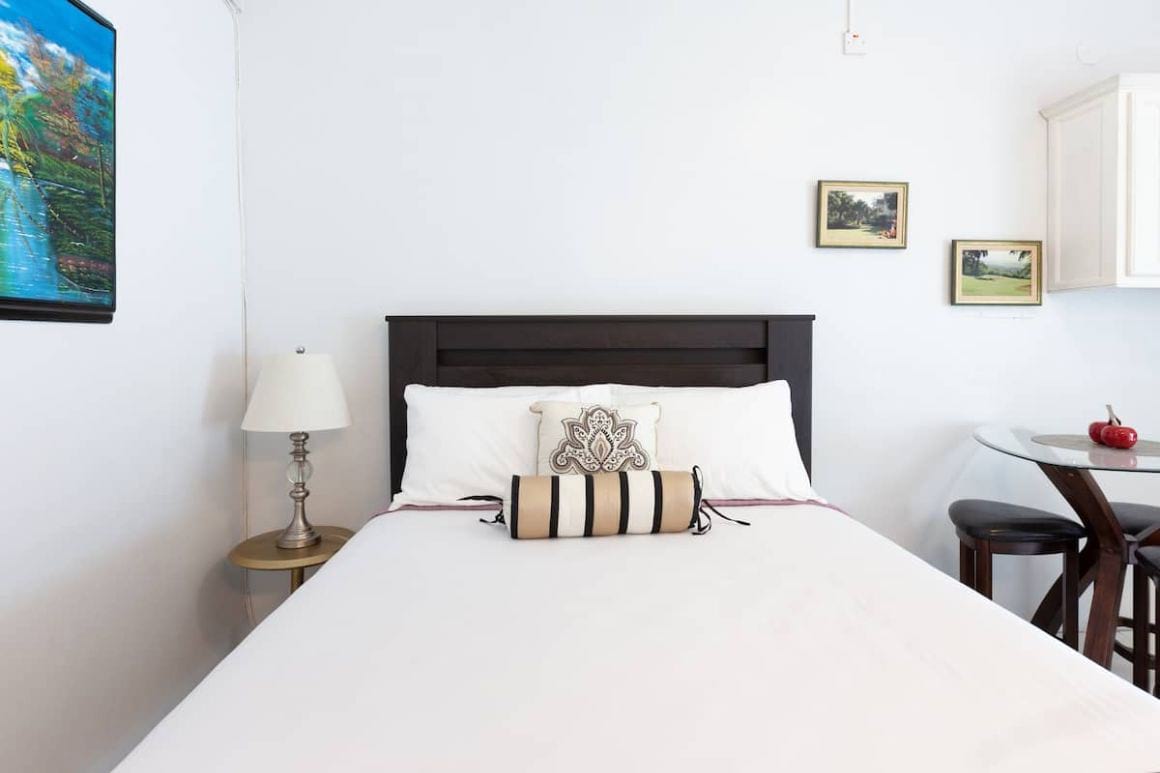 With its excellent location, solo travelers won't find it difficult to see and experience what Kingston has to offer. Loaded with all the things needed for a comfortable stay in the city, you will find public transportation readily accessible so you won't need to spend more on taxis or Uber. Getting in, out and around is quick and easy.
The cozy home is only a two-minute walk away from the Bob Marley and Devon Museums and only a few minutes away from bars, restaurants, and clubs so you can easily get yourself food and drinks. Good news for wine enthusiasts, a wine bar is located right next door too. The entire apartment is for you to enjoy, however, the laundry facilities are shared with other people.
Guests: 9
Patio and backyard
The family will surely have a splendid time in this waterfront townhouse located in one of Montego Bay's most prestigious gated communities. You get your own little piece of heaven with the nearest beach only a walking distance from the house. The tropical garden is the perfect spot if you just want to unwind and the spacious patio has unrivaled views of the bay.
The community has not only one, but four swimming pools, a children's playground, and tennis courts so everyone in the family, from children to adults, won't be bored at all. In addition, there's a pool table in the home too. Safety is one of the biggest concerns with children involved but you need not worry as this property has 24-hour security.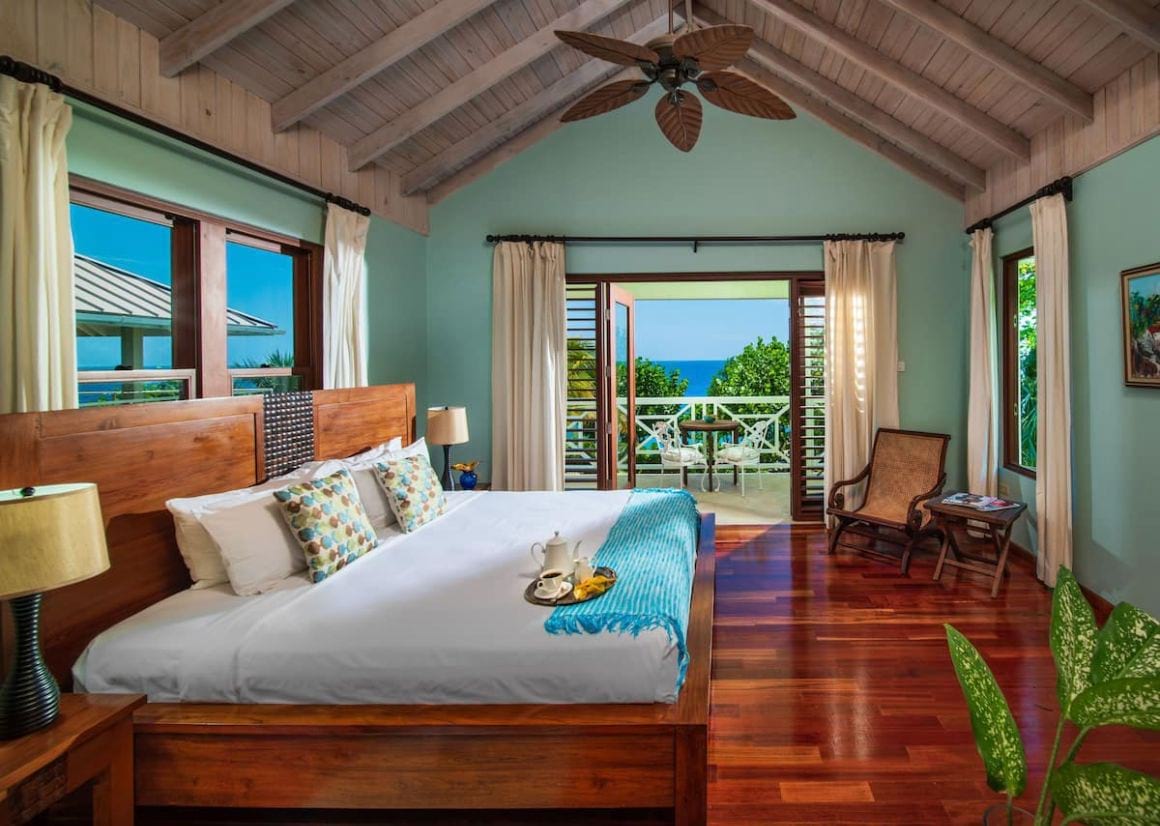 Guests: 2
Rooms with ocean view
Make your honeymoon more unforgettable by staying in this stunning and opulent villa perched on a Cliffside at the country's westernmost point. For starters, it has unrivaled views of the world-famous Negril sunset.
You can saunter through the acre of beautifully manicured gardens or head down to the two subterranean caves of which the larger of the two comes with a natural sea-water pool. If you're lucky you might even catch a glimpse of the dolphins.
Each room has a beautiful view of the ocean so no matter where you are in the house, you are surrounded by beauty. The property rental includes chef services, housekeeping, gardener, and concierge so you can take your mind off any worries and just focus on your partner. After all, that's what honeymoons are for, right?
Is This the Best Backpack EVER???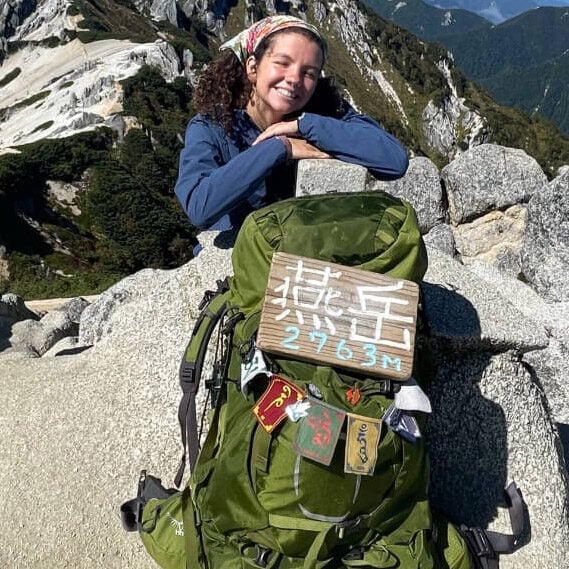 Guests: 8
Waterfront patios
You might not want to leave if this luxury villa is your home on the island. Located in a gated community, you get to enjoy 24-hr security, as well as extra amenities such as four large swimming pools, as well as a tennis court. The spacious house is tastefully decorated and boasts waterfront patios on the upper levels where you can relax and admire the views after an exhausting day spent at the beach.
The home has a fully-equipped kitchen where meals can be prepared and it is only a few steps away from shopping malls, as well as restaurants so you can easily go out and grab a meal if you're feeling a little lazy to prepare them yourself. If you'd like to make your stay as hassle-free as possible, the hosts can organize additional services such as housekeeping and chef services at an additional charge.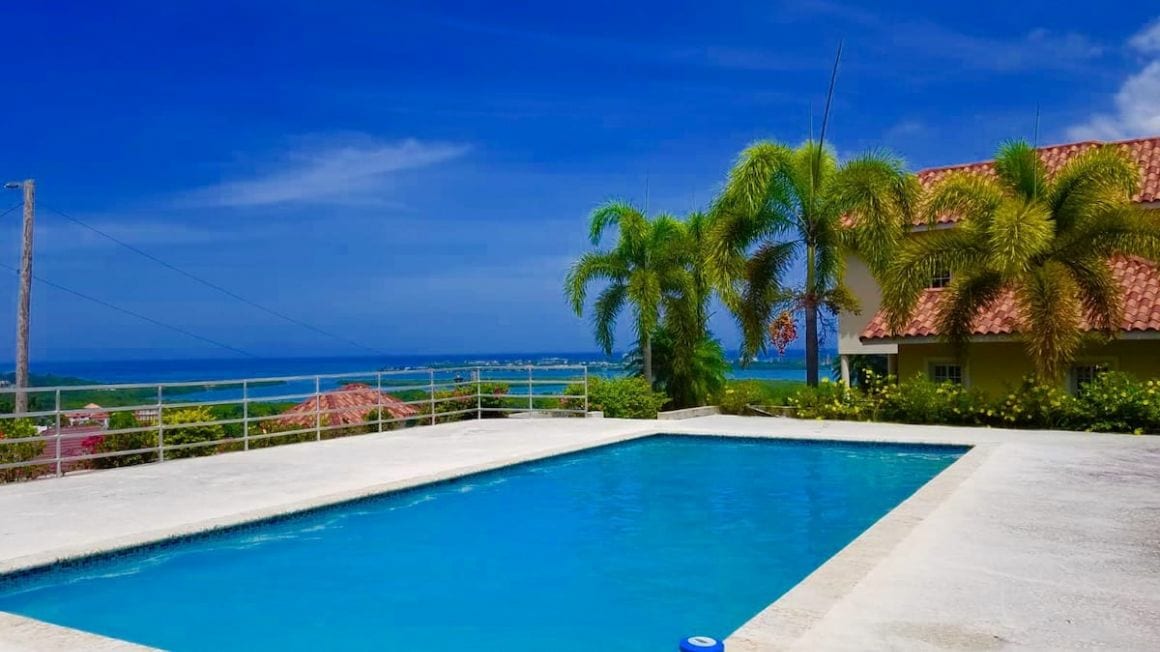 If you only have a limited time to spend in Montego Bay, this is where you should stay. It's close to everything so you spend your time getting to know Jamaica, its people, culture, and cuisine, as well as enjoying the beaches instead of traveling from one place to another. Start the day by having breakfast on the patio while admiring the amazing coastline.
You can then spend the day exploring the area or getting yourself that perfect tan at the shared pool with a cold beer in your hand. Located on the outskirts of the city in a gated community, you get peace and quiet but you're near enough to the city's famous nightlife, the airport, as well as shopping malls.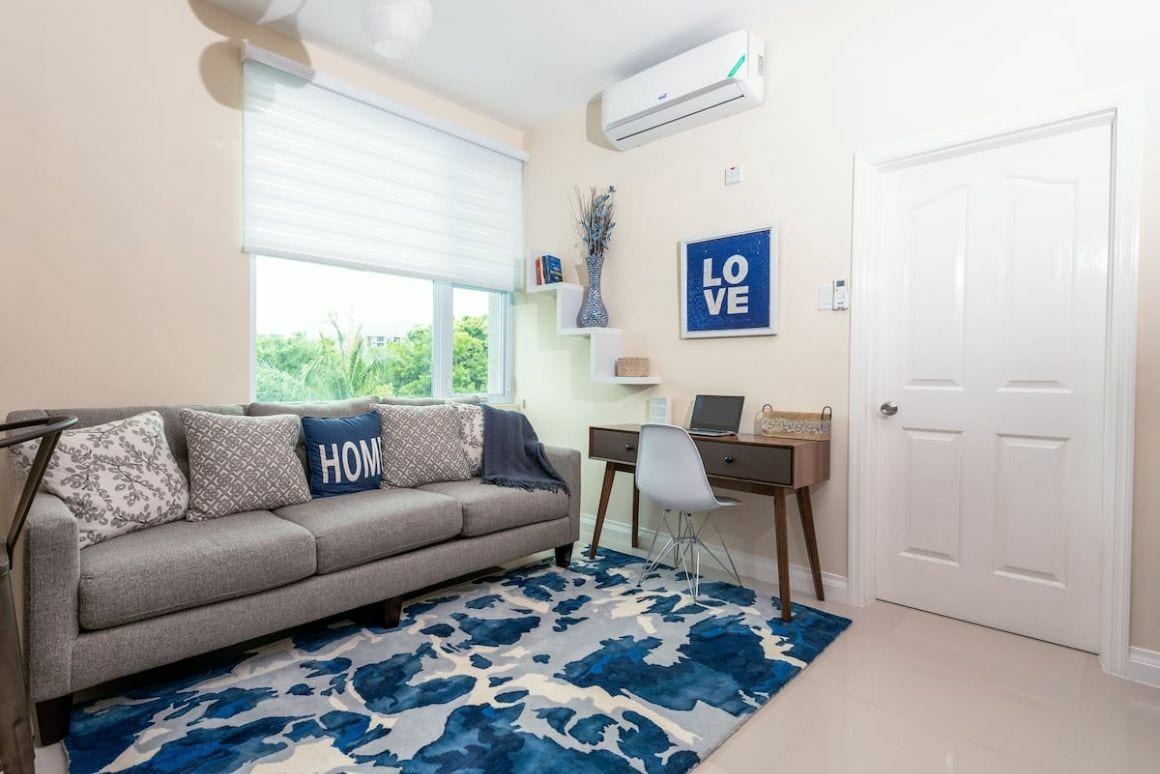 This contemporary apartment is the perfect home for any digital nomad who wants to get some work done while exploring their destination. With easy access to Kingston's restaurants, you'll never have to worry about where you can grab a bite after finishing your tasks for the day. The apartment is close to business centers, shopping malls, as well as Jamaica's famous nightlife, so we can guarantee there will be no boring nights.
If you'd rather stay in instead of going out and about, you'll find the apartment's shared pool and hot tub suitable for relaxation. In addition, guests get to enjoy an assigned parking spot, perfect for those who have vehicles.
This seaside villa will leave you spoiled rotten and might just make you not want to leave. Located in Westmoreland Parish and only about 5 to 7 minutes away from Sandals S. Coast, it's perfect for those who have plenty of moolah to spend. There are spacious verandas on both floors where you can de-stress with a drink in hand, and just enjoy the magnificent views of the beautiful Caribbean Sea.
The grounds include a gazebo, dining area, BBQ, and a pool. In addition, there is private beach access just near the gazebo too. There are more than enough gathering spaces in the entire home.
The rate already includes a chef who can prepare delicious feasts for you all the time and a housekeeper, but they also offer all-inclusive packages that include daily housekeeping, three meals per day, an on-site staff for assistance, and a group roundtrip transfer from Montego Bay, so you need not worry about a thing and just enjoy the opulence and the beauty of the property.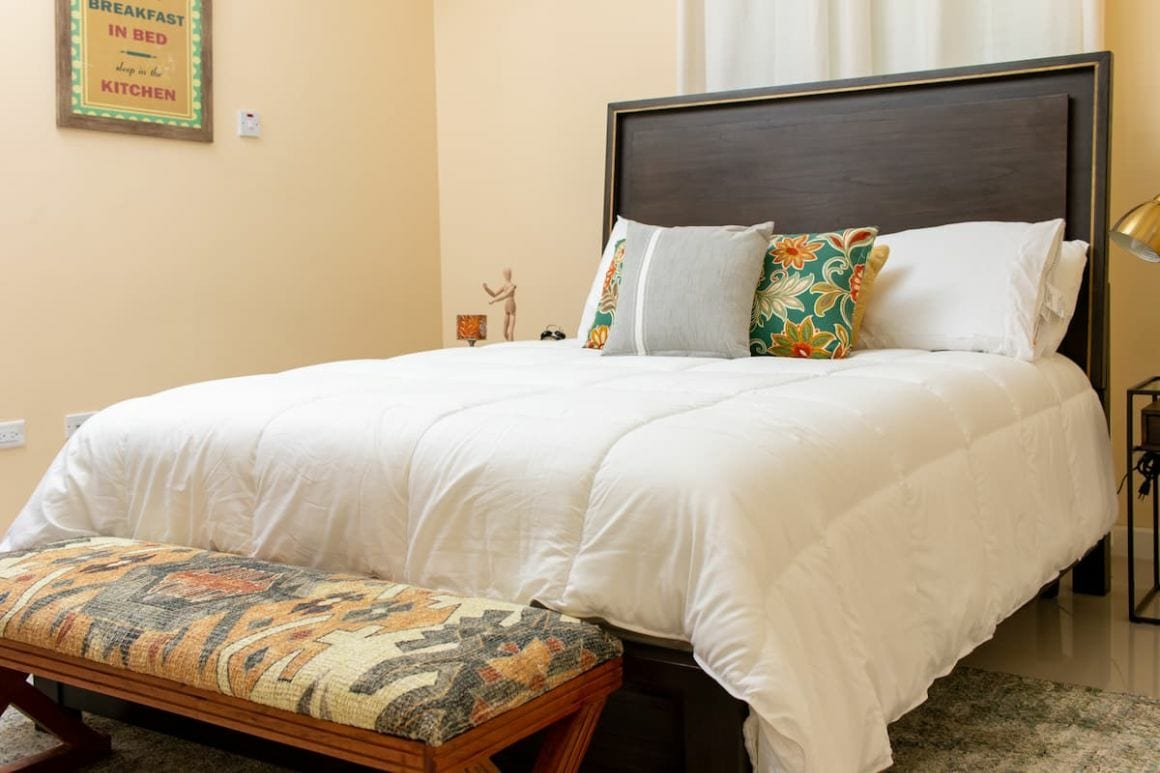 Guests: 2
Near popular spots
This modern apartment is located in the city's business district and is a stone's throw from most attractions such as Half Way Tree, Peter Tosh Museum, Devon House, Bob Marley Museum, and Sovereign Center. With just a few minutes' walk, you can easily enjoy the vibrant attractions and come home to an apartment that's cozy, comfortable, and private.
If you don't feel like going out, you can always hang by the shared pool or work out in the mini gym. The rooftop area is available for guests to use as well. The kitchen is well-equipped for cooking but you can always head out as the apartment is close to the city's hottest spots, so you can easily grab a bite and enjoy a few drinks in the restaurants and bars nearby.
Guests: 4
Laundry facilities
Located in a gated community, this beachfront apartment boasts 24-hr security and several amenities such as the shared pool, gym, and playground. You can cut back on spending on meals with a kitchen that is fully equipped with all the appliances and utensils you need to prepare meals easily.
The property is only 10 minutes away from the airport and the beach is a quick and easy stroll through the playground and park of the apartment block. If you don't fancy going to the beach, the infinity pool is waiting for you to take a dip in. Another option is to perfect your tan on the fabulous deck outfitted with comfortable furniture. Workout classes and yoga is available on the property for an additional fee.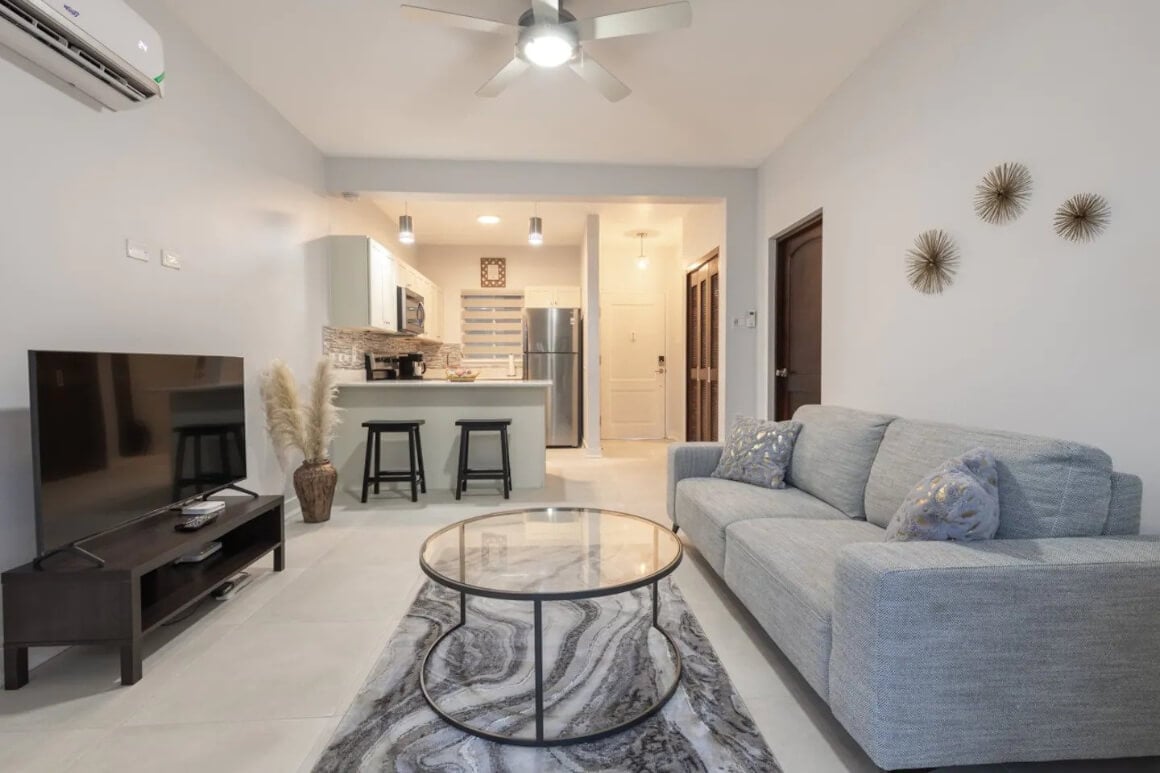 Guests: 2
Near entertainment
This comfy studio apartment is perfect for solo travelers, couples, or business travelers who are traveling on a budget. Centrally located, it is close to eateries and restaurants so you need not worry about where to get your next meal and it's near places of entertainment. Head out at night and enjoy the many bars and clubs nearby, as well as experience Kingston's famous nightlife.
Located on the second floor, the apartment is equipped with everything you need for a pleasant stay. It even has double glass doors which lead to a private balcony from which you can enjoy a cup of coffee in the morning. Shared laundry facilities are available for guests too.
This stunning Airbnb is suitable for a large group of friends. It has 5 bedrooms and can comfortably accommodate up to 14 people. It comes with all the amenities you could ever need or want such as a well-equipped kitchen, a private outdoor pool, an outdoor BBQ grill, a hammock, and beach essentials.
However, what sets it apart from other villas are the two acres of lush gardens and the private access to a stunning coral reef, where you can spend endless hours snorkeling, scuba diving, and swimming. Now that's something you don't come across every day. A manager and a housekeeper are always on the property to take care of the daily chores and a chef is available to prepare meals at an additional fee.
Guests: 2
Mountain and garden views
This urban hideaway is unlike anything you have ever seen and is perfect for solo travelers or couples. Its tropical décor evokes memories of perfect sunny days spent at the beach. It has a garden which you can stroll through any time you want, complete with the pleasant sound of birds.
The private patio is all yours, enjoy it any way you like, whether with a book or a cold drink in your hand. Plus, you can pluck mango fruits straight from the tree whenever they are in season. It doesn't get any fresher than that!
One of the home's best features is its location. From the property, you can easily reach the Bob Marley and Devon museums. Restaurants, supermarkets, and coffee shops are only a short distance away too.
Top 5 Airbnb Experiences
Popular the world over for being the birthplace of reggae and Jamaican rum, the country has a lot to offer. Kingston and Montego Bay maybe some of the most popular destinations in the country but you'll find there's so much more to discover.
Travel off the beaten path aside from the most popular tourist locations and you'll experience the true Jamaica. We have here a list of activities that are worth your money and your time, plus they can be booked on the same platform as your accommodations for hassle-free transactions.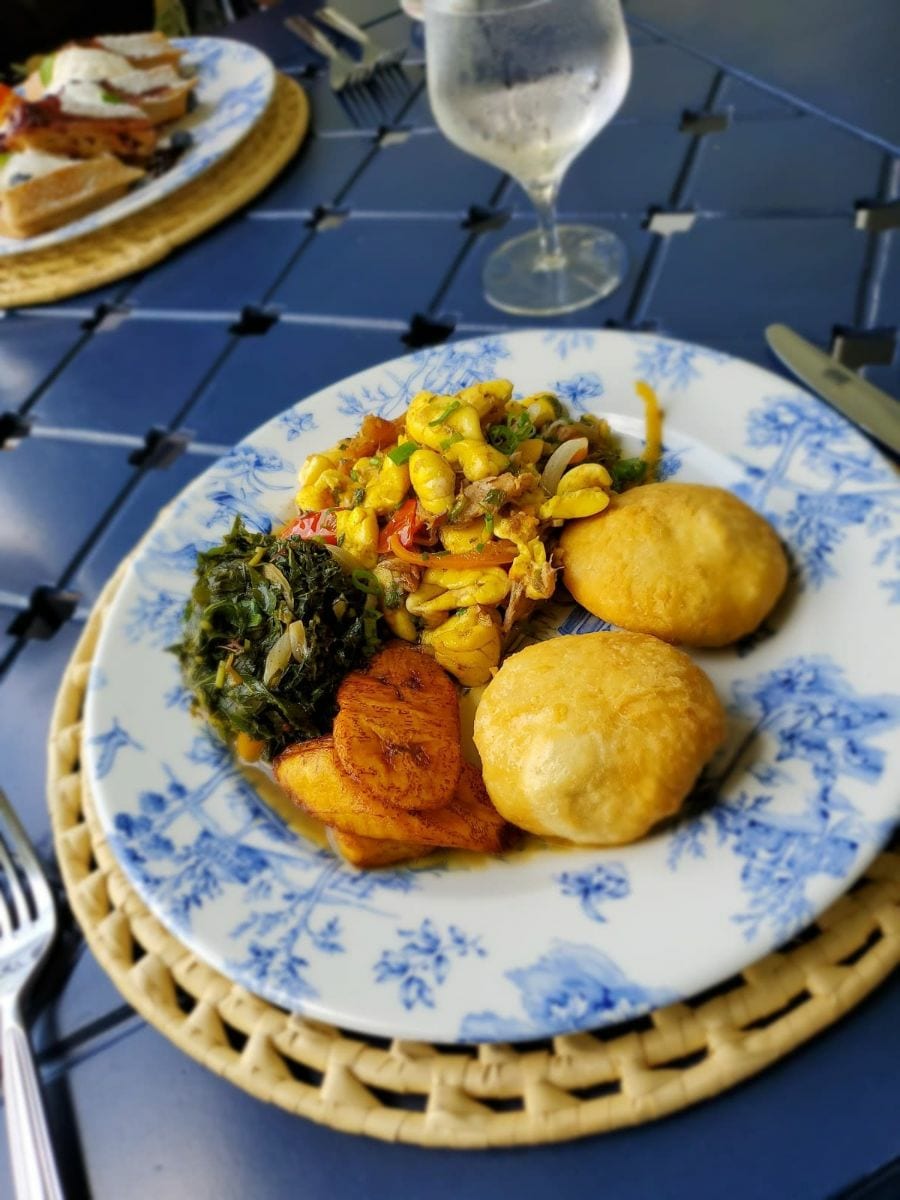 This foodie tour is the perfect way to get to know the city of Kingston through its street food. This experience showcases the authentic cuisine of the country from two of its most well-loved and most popular restaurants so make it a point to bring your appetite with you. One of the highlights of this foodie tour is the jerk chicken from Long Lane.
Included in the tour price is public and private transportation to the two restaurants, and don't hesitate to let the host know if you're celebrating as the tour can be customized accordingly based on mood, general curiosity, or taste.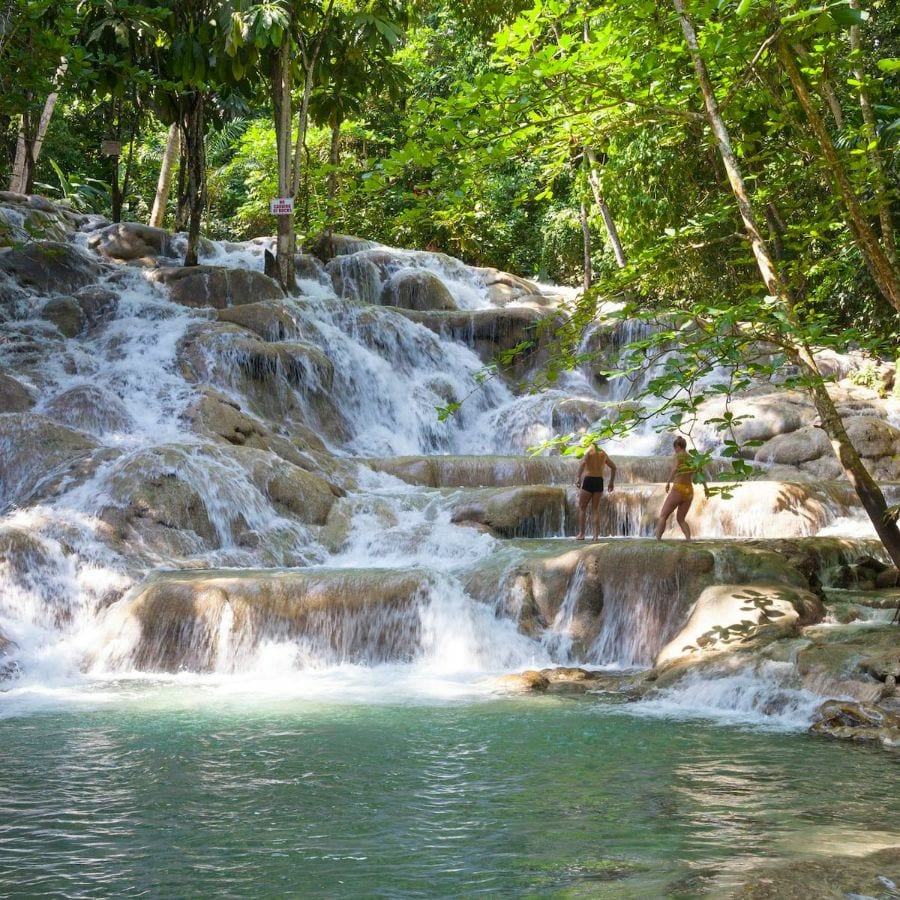 If you're a fan of Bob Marley, one of the pioneers of reggae, this tour is a must-do for you. The first stop of the tour is the Bob Marley Museum in Nine Miles, a tiny village perched on the hills of St. Ann. This is where Bob Marley was born, where he grew up, and where he is now laid to rest.
You will have a tour of the settlement to better understand where Marley got his inspiration for his music. The community hasn't changed much and is still similar to how it was during Marley's younger days. The tour will be conducted by a Rastafarian guide who is ready to answer all your questions.
The next leg of the tour is Dunns River Falls, one of the country's most famous attractions. Don't forget to bring your swimwear as you will have a chance to take a dip in the natural pools surrounded by beautiful tropical scenery, as well as footwear suitable for water activities. Make the climb to the top of the falls because the gorgeous views are worth the effort.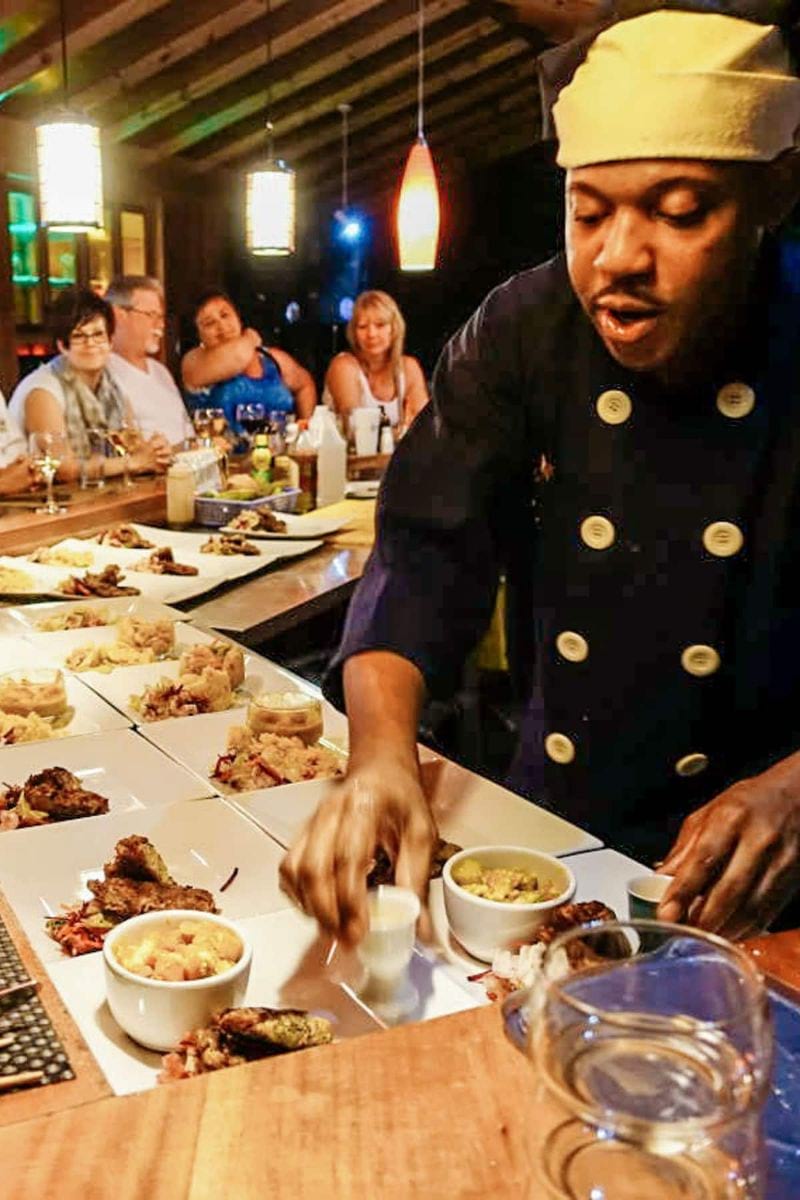 If you're looking for a unique foodie experience, this one-of-a-kind cooking show in Negril is a must. The chef uses nothing but the freshest produce straight which you will see at the beginning of the activity when you visit the farm. Afterward, you can opt to get a drink before the cooking show starts at the studio.
Along with the other guests, you'll be feasting on a five-course meal that includes chicken, seafood, and vegetables. Let the host know if you prefer gluten-free, vegan, or vegetarian food, as well as any food allergies. Don't forget to dress casually and wear comfortable footwear as you will be touring the farm. Transportation to the venue can be arranged for guests.
This calming activity takes you across the hills of Hanover to the rafting village of Lefthe, where you will cruise the pristine waters of the Great River on a beautifully handcrafted bamboo raft. You can relax as you cruise the river while you enjoy a delightful foot rub using limestone paste made from the river rocks.
The raft captain will be introducing you to the fruit trees you will see along the way and give you more information about the surrounding areas. The price is inclusive of pick up from your hotel or Airbnb, as well as drinks and tickets.
If you want a genuine and unique Rasta experience, this activity is a must. This activity starts with welcome drinks before a fun hike into the hills into what is called the Fiyah Camp. You will be hiking through beautiful scenery, passing a variety of vegetables, fruits, and trees along the way. You will be stopping along springs to fill your water bottles and enjoy an unforgettable wood fire 'ital' meal.
Don't forget to bring swimwear with you as you will be stopping at the river to cool off after the hike. Wear comfortable hiking shoes to make the experience as pleasant as possible and some bug spray as mosquito bites are inevitable. Transportation comes at an added fee of $20 per person but the activity price is inclusive of food and drinks.
Don't Forget Your Jamaica Travel Insurance
ALWAYS sort out your backpacker insurance before your trip. There's plenty to choose from in that department, but a good place to start is Safety Wing.
They offer month-to-month payments, no lock-in contracts, and require absolutely no itineraries: that's the exact kind of insurance long-term travellers and digital nomads need.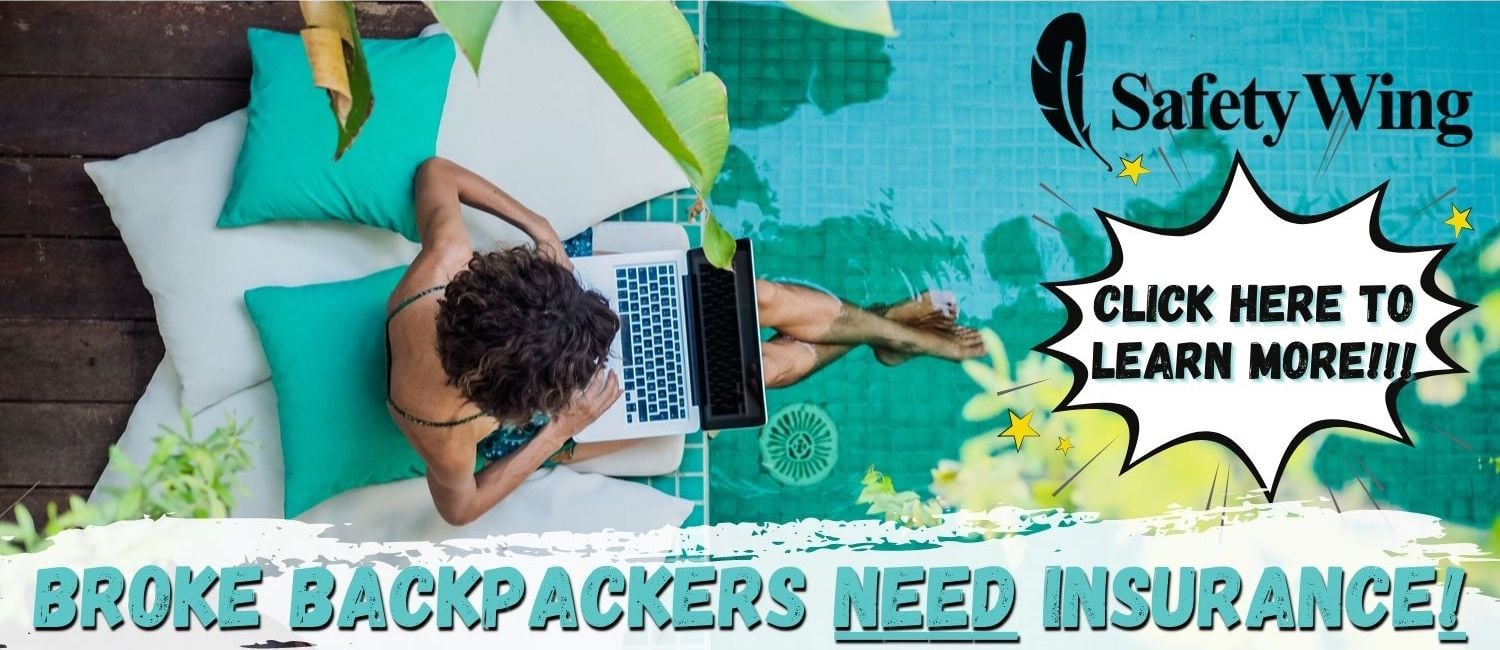 SafetyWing is cheap, easy, and admin-free: just sign up lickety-split so you can get back to it!
Click the button below to learn more about SafetyWing's setup or read our insider review for the full tasty scoop.
Final Thoughts on Jamaica Airbnbs
Unforgettable spectacular sunsets and an array of festivals, street dances, and live reggae music are just a few of the things waiting for you when you visit Jamaica. So, what are you waiting for? Montego Bay and Kingston maybe two of the most popular places in the country but there are a lot of gems waiting for you to explore.
The Jamaica Airbnbs in this list come from all over the country; boast amazing locations, and come in all sorts of budgets. I'm confident you'll find one suitable for your Jamaican escapade.
I do have one reminder before you go off into the sunset and that is to take out travel insurance before you step on the beaches of Jamaica. You'll sleep better at night knowing you have it. World Nomads is our trusted travel insurance provider so check them out.
---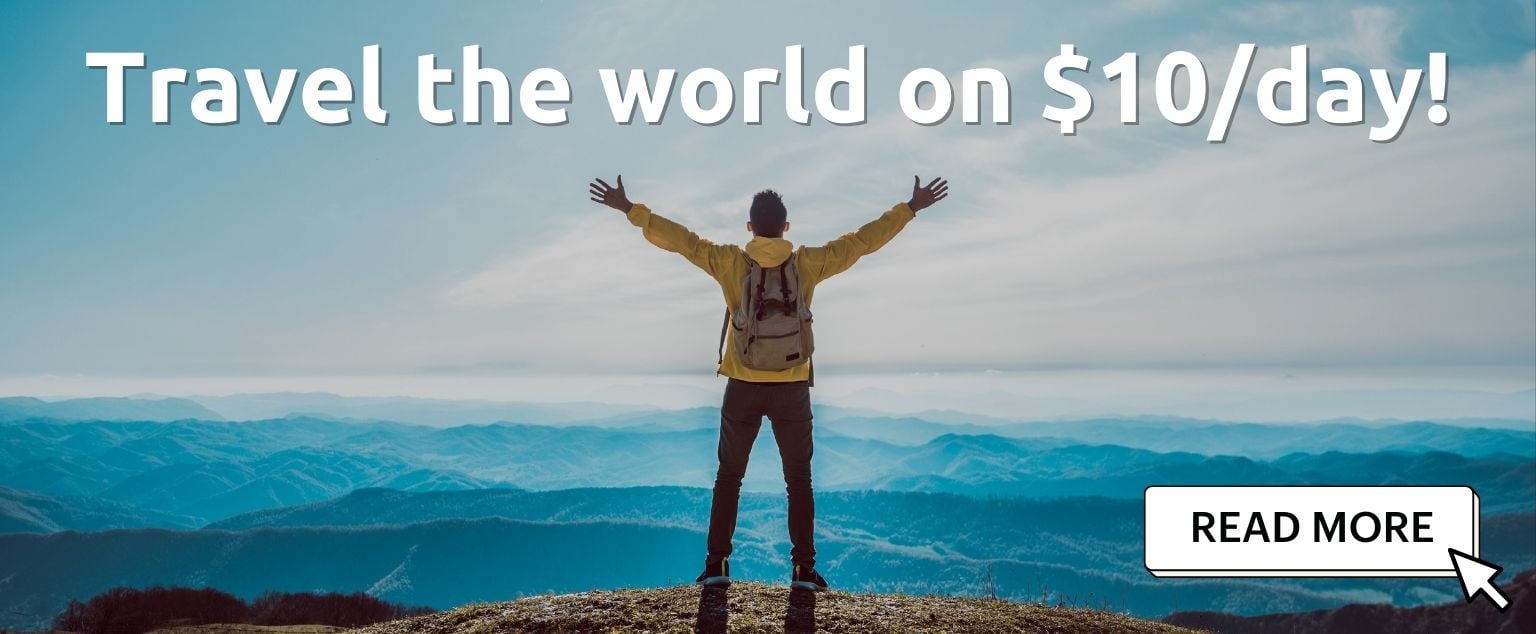 And for transparency's sake, please know that some of the links in our content are affiliate links. That means that if you book your accommodation, buy your gear, or sort your insurance through our link, we earn a small commission (at no extra cost to you). That said, we only link to the gear we trust and never recommend services we don't believe are up to scratch. Again, thank you!