The perfect combination of adventure and relaxation awaits you in Maui. Also known as the Valley Isle, Maui is Hawaii's second-largest island. The island is home to some of the world's most famous beaches as well as the locally sacred Iao Valley. Aside from its pristine beaches and vibrant ocean life, Maui is known for its delicious farm-to-table cuisine which is supported by hundreds of fruit plantations scattered across the island. It's also a prime location for a family holiday because it is safe and has plenty of options of activities for all ages.
Whether you're looking for a relaxing beach vacation in Maui or an active hiking holiday, this island has something to offer everyone. Choose to stay in a luxurious resort in the west of the island for breath-taking ocean views and social activities. Kihei on the South Coast is known for its laid-back vibe and relaxed beach scene. East Maui is best known for housing most of the island's tropical plantations. In these regions, you'll find the most papaya, banana, and pineapples. Whatever your desires, you're sure to find some of the world's best beach vacation rentals in Maui.
Quick Answer: These are the Top 5 Vacation Rentals in Maui
Overall Best Value Vacation Rental in Maui
Overall Best Value Vacation Rental in Maui
Open Plan Modern 2 Bed Beach House
> $$
> 4 Guests
> Newly refurbished private home
> Located in a secure apartment block in Lahaina
Best Budget Vacation Rental in Maui
Best Budget Vacation Rental in Maui
Fully-Kitted Private Home For 7
> $
> 7 Guests
> Large home with three spacious bedrooms
> Nestled in the hilly centre of the island
Best Vacation Rental for Couples in Maui
Best Vacation Rental for Couples in Maui
Bright 1 Bed Coastal Cottage
> $$$
> 2 Guests
> Clean and spacious oceanside cottage
> Located on the coastline 1.4 miles from Hamoa Beach
Best Vacation Rental for Families in Maui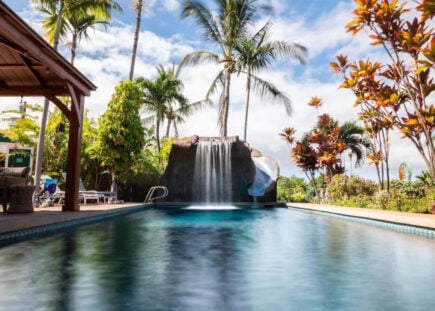 Best Vacation Rental for Families in Maui
2 Bed House with Pool and Waterslide
> $$$
> 5 Guests
> Large family home with pool and waterslide
> Located 1 mile from beautiful Wailea beach
Over-the-Top Luxury Vacation Rental in Maui
Over-the-Top Luxury Vacation Rental in Maui
Modern Green Energy 1 Bed Beach House
> $$$$
> 2 Guests
> Located in Kihei
> Recently renovated modern open-plan home
Types of Accommodation in Maui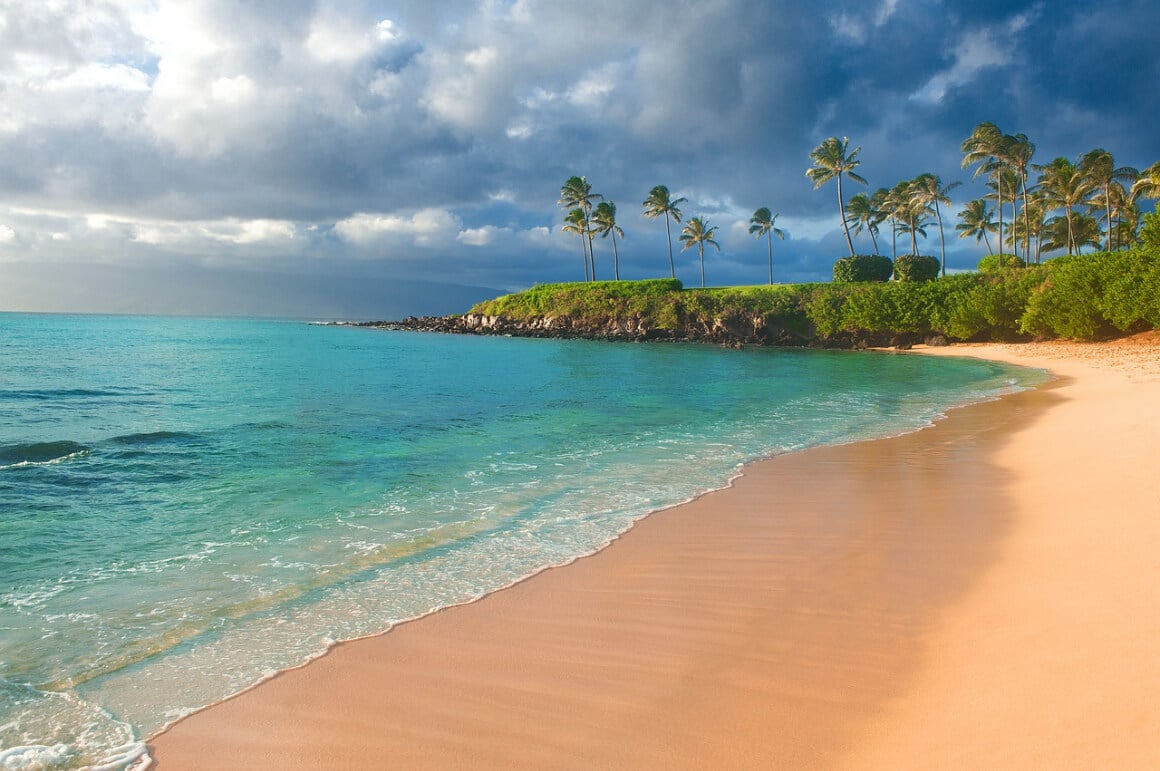 Beach Resort Accommodation
Arguably the most common kind of accommodation on the big islands of Hawaii are resorts. Often found on the beachfront, boasting immaculate lush lawns and hotel service options, resorts offer a range of shared amenities.
Shared facilities can include expansive on-site golf courses, popular restaurants to suit anyone's tastes, seaside spas, and exciting pool bars. Guests are invited to enjoy these benefits while still having the option to retreat to a private room or condo.
Resorts are perfect for all kinds of travelers:
Honeymooners searching for luxury can have a romantic escape
Families with young children can enjoy a range of activities to keep children safe and busy
Groups of friends can enjoy relaxing in the sun and exploring nearby nightlife
Whether you're after a luxury holiday rental in Maui's bustling Wailea area or a quieter escape in Kihei, Maui's beach resorts are sure to blow you away.
Plantation Cottages
Maui's plantation homes were built in and amongst the beautiful tropical fruit and flower plantations, and offer some of the island's most authentic places to stay. The architecture of these homes traces back to the first half of the 20th century. Plantation cottages are typically modestly sized yet charming traditional homes, not too dissimilar to a bungalow or cabin.
Usually located slightly inland of the coastline, they are surrounded by towering trees and lush tropical plants. These self-catering vacation rentals in Maui come fully fitted for a short or long stay visit. They are ideal for both small groups of travelers and large families seeking privacy and space. Even digital nomads can benefit from the secure privacy of a plantation cottage.
Areas including Lahaina, Wailuku, Paia, and Makawao are scattered with plantation homes due to the high agricultural activity in these areas. Many modern spots have been refurbished and renovated to boast modern and clean interiors while maintaining their traditionally authentic exterior.
Condos
If you want to experience central Maui like a local, you should consider renting a condo in town. For those looking for a self-catering vacation rental in Maui, most condos come fully fitted with washing machines, dryers, dishwashers, and other useful amenities. This makes them ideal for families as well as long-stay visitors. Young travelers and digital nomads could also benefit from the central location of Maui's condos.
Condos offer the convenience of a lock-up-and-go rental as well as the opportunity for larger groups of guests (such as families) to gather under one roof for a fraction of the price of a hotel.
Many of Maui's rental condos have been renovated and refurbished for foreign visitors offering a classy style and intimate privacy in central and convenient neighborhoods.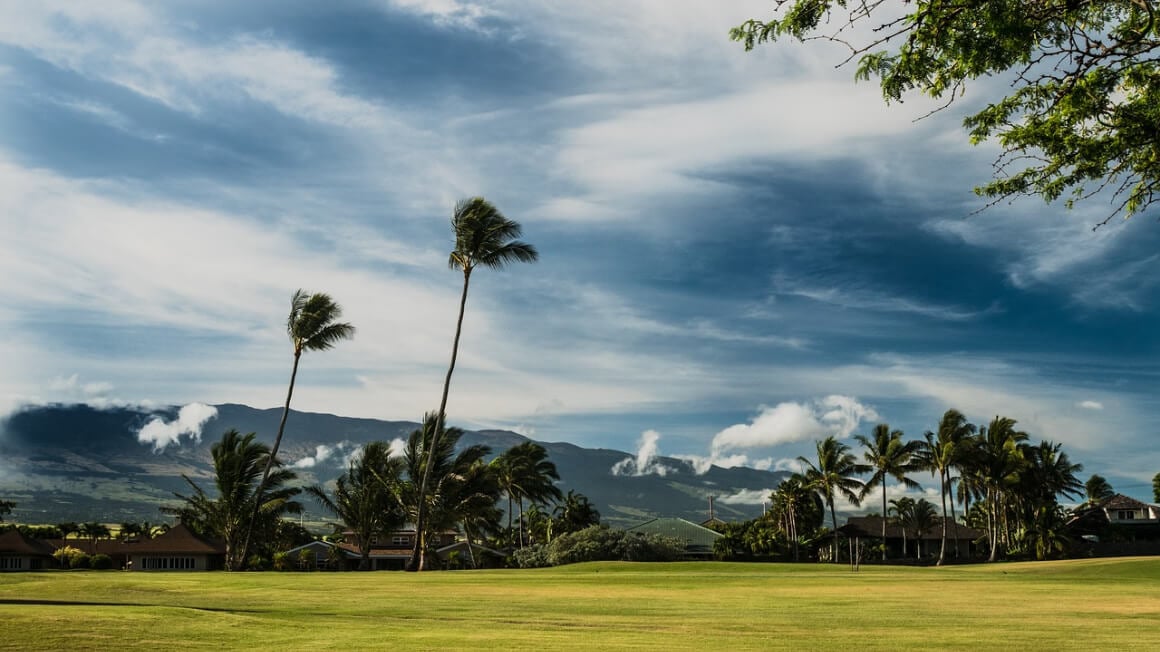 Top 19 Vacation Rentals in Maui
Now that you know what to expect, here are our favorite vacation rentals in Maui for an unforgettable stay!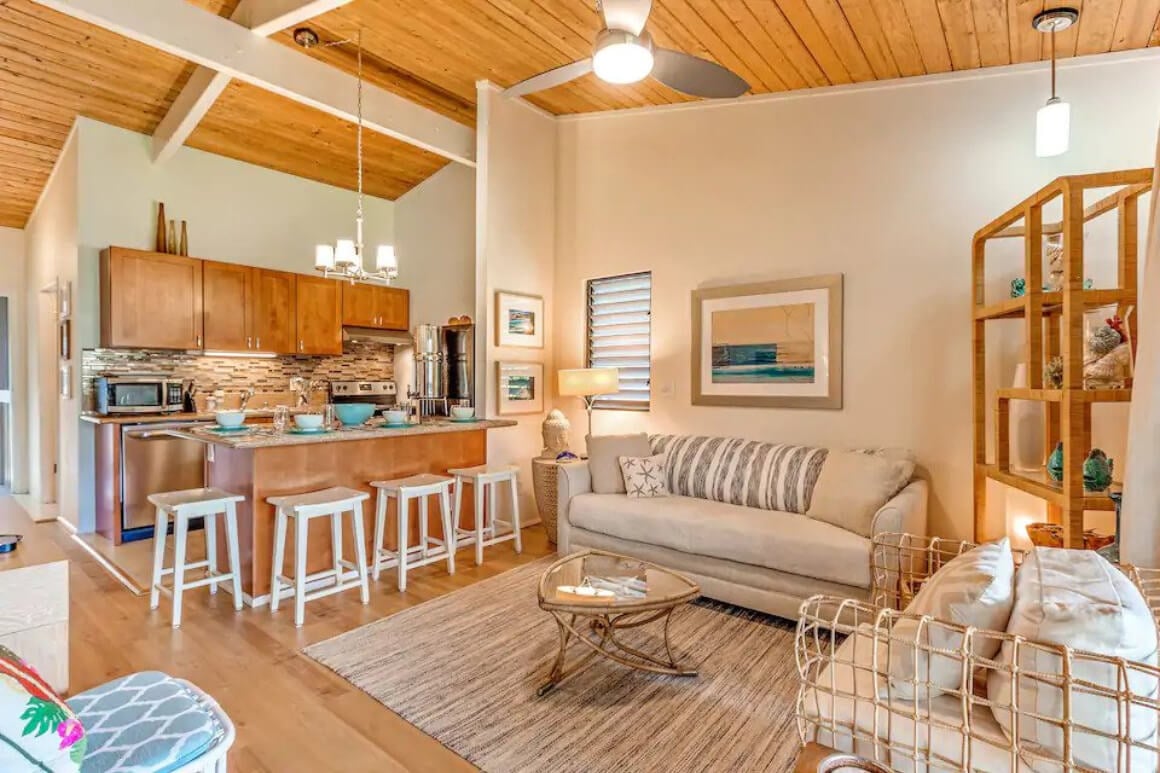 $$
Newly refurbished private home with stylish décor and balcony
4 Guests
Located in a secure apartment block in Lahaina
This warm and inviting beach cottage is primely located on one of the island's top beachfronts in Lahaina, making it one of the best holiday rentals in Maui. Vaulted pine ceilings, air conditioning throughout, and crisp white linen complement a tropical Hawaiian beach holiday perfectly.
$
Large home with three spacious bedrooms
7 Guests
Nestled in the hilly centre of the island with panoramic views
Nestled amongst tropical fruit trees and towering palms, this large plantation home sits in the hilly regions of central Maui. Complimented by iconic island views and a large private swimming pool, the home has been refurbished with modern fittings and cabinetry yet has kept its traditional Hawaiian bamboo furniture.
With three double bedrooms and bathrooms, a large balcony, and rolling lawns, this is the ideal spot to rent on a budget if you have a large family.
$$$$
Open-plan condo in a private resort
2 Guests
Located on the beachfront
Within a private resort estate, this private two-sleeper condo is one of the best vacation rentals in Maui. Located a stone's throw away from the beach and boasting exquisite sea views from every room of the condo, you'll feel like you're on the beach, even from your comfortable king-sized bed.
Is This the Best Travel Pack EVER???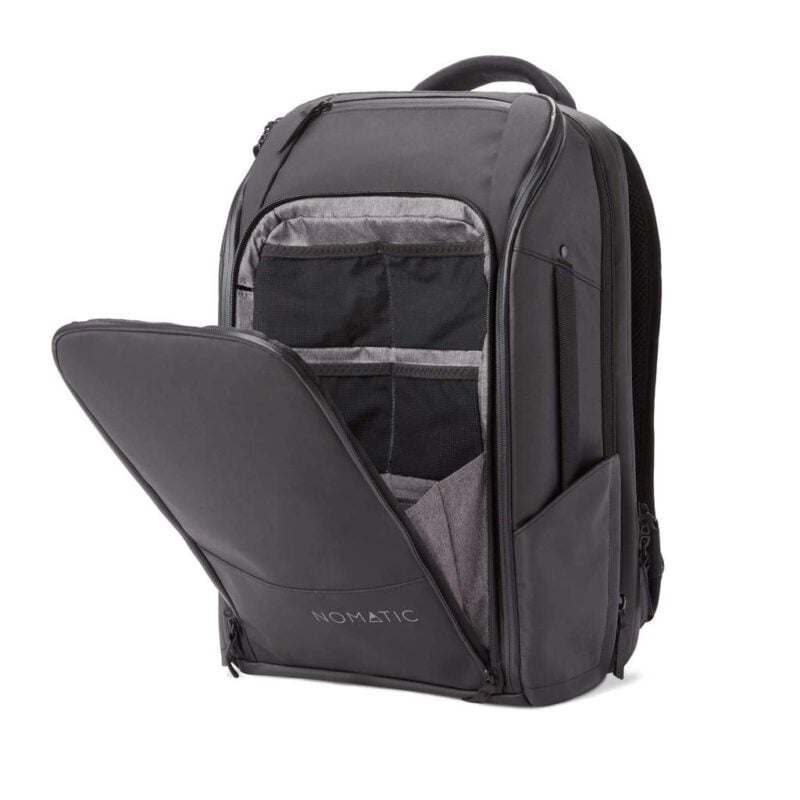 $$$$
Modern open-plan home with sunset deck, jacuzzi and outdoor shower
2 Guests
Located in Kihei within walking distance to the beach
Hidden amongst the tropical plants yet only a short walk from the sandy Kamaole beaches, this private 1-bedroom cottage is one of the top luxury rentals in Maui.
Ideal for a romantic holiday for two, the cottage is stylishly decorated in a chic beach house style. The home is fitted with top-of-the-range appliances to make your stay as comfortable as possible. Rinse off your sandy feet in the outdoor shower and enjoy champagne in the saltwater Jacuzzi after a long day on the beach.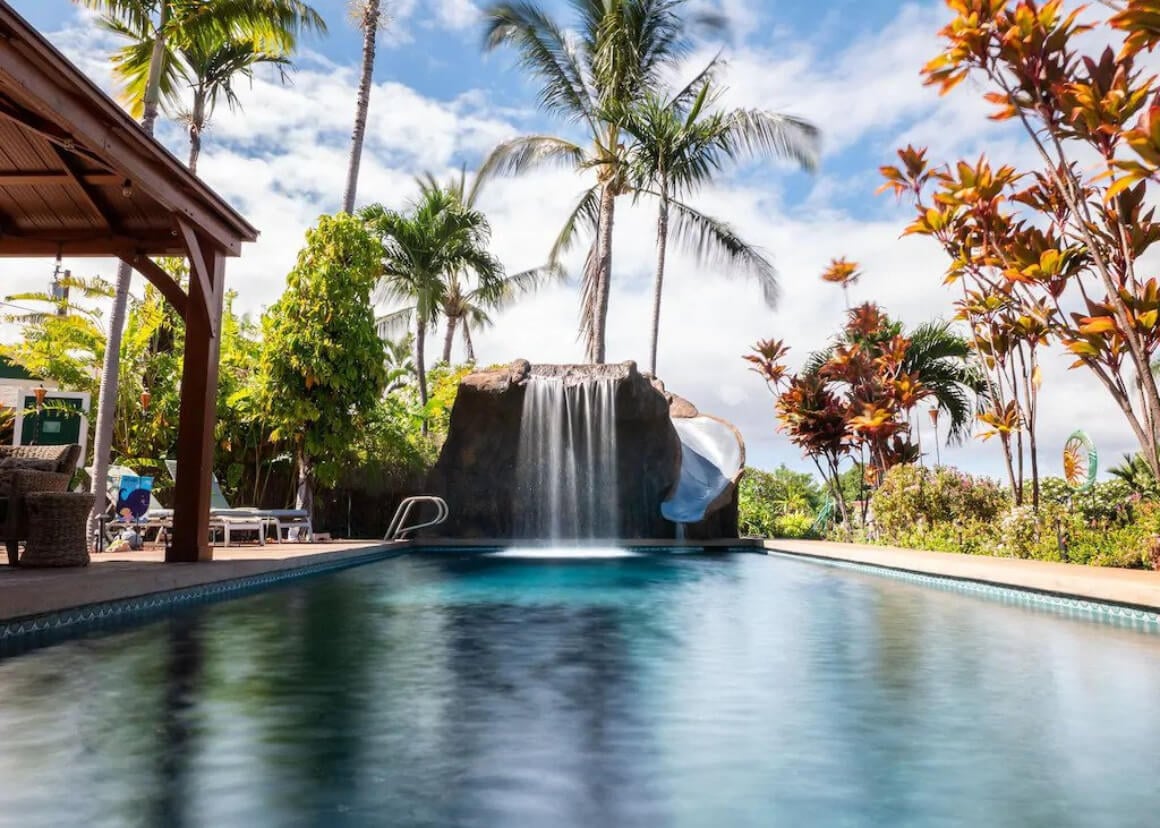 $$$
Large family home with pool and waterslide feature
5 Guests
Located 1 mile from beautiful Wailea beach
The large swimming pool with a waterfall and slide gives this self-catering holiday rental in Maui a resort vibe. Let your kids run free and enjoy the pool while you relax under the shaded gazebo with a drink. Although in a central and popular neighborhood, the home is surrounded by plants giving it a private feeling desired by most holidaymakers.
$$$
Conveniently located beach home
5 Guests
Located 1 mile from the trendy Paia Town
Located in Maui's trendy north shore neighborhood of Ku'au, this plantation cottage is one of the best places to stay in Maui for many reasons. It has been newly renovated in a modern and sleek style, inviting tons of light into the warm home.
The two-bedroom house has a fully equipped kitchen making it possible to cook delicious home-cooked meals while still being central enough to walk to nearby cafes and shops in the area. It is a great base for those with an epic Maui itinerary.
$$$
Jacuzzi with island views, fire pit, and barbecue facilities
4 Guests
Only 1 mile from the beach
This gorgeous Hawaiian-decorated home located slightly inland from the beach is a great spot for a family of four to enjoy. The plantation-style home is surrounded by manicured green lawns and offers access to a private pool and Jacuzzi on a terrace overlooking the island. A modern barbecue set up underneath a bamboo gazebo and a private outdoor shower make this the ideal beach vacation rental in Maui.
$$
Cozy and private beach-style studio
2 Guests
Located in the bustling Kihei suburb
A good location is key for a quick stopover or a weekend visit. This newly refurbished studio combines tasteful Hawaiian art and decoration with modern and clean furniture. Located on the ground floor of a small apartment block with access to lush green lawns, this studio is within walking distance to Kihei Beach and adjacent restaurants and shops and only a quick drive to the airport.
$$
Newly refurbished loft fitted with a trendy modern style
3 Guests
Located in central Wailuku
This apartment is so beautifully decorated, it looks like it could be taken straight out of a magazine editorial. It is big enough to fit three but most comfortable for two guests. This loft boasts high ceilings, wooden floors, and a statement brick kitchen wall.
Complete with modern kitchen fittings, warm wood-toned furniture, and a huge bath, this iconic newly renovated apartment dates back to the days when sugar cane was harvested across the island.
Its central location makes it a convenient rental to lock up and go before you begin your island adventures exploring all the best things to do in Maui.
$$
Large outdoor patio with barbecue
6 Guests
Located a few steps from the beach
A large open-plan shared living space complete with a fully kitted modern kitchen, outdoor covered patio with barbeque, and spacious dining area make this rustic beach home ideal for a friend's getaway. The home is complete with space for six to sleep, an expansive backyard and access to a swimming pool which is shared with neighboring houses.
The home is impeccably clean and newly renovated using warm colors and classy furniture, and has everything you might need for a weekend away with your best friends.
$$
Large bamboo home built on stilts between banana palm trees
6 Guests
Located in the Pauwela hills in north Maui
One of the island's most unique places to stay, this temple-inspired bamboo treehouse will bring tropical zen to any vacation. The home is built on stilts and surrounded by a 360-degree balcony (known as a lanai in Hawaii) overlooking the dense tropical jungle. The bamboo furniture and open-plan living area make it feel like you're one with nature, even when indoors.
The temple is complemented with a private Jacuzzi on the balcony, as well as a truly unique shared swimming pool, featuring a bridge, second Jacuzzi, and waterslide.
$$$
Island style plantation home surrounded by tall fruit trees
2 Guests
Located near Kaupo
A honeymoon vacation calls for peace, quiet, and privacy. This one-bedroom plantation cottage offers that and more, nestled in trees and decorated in traditional Hawaiian plantation style. The cottage is located near Hana, a small town with few tourists, guaranteeing absolute peace and quiet during your stay. While far from the hustle and bustle, the home is nearby some of Maui's best red and black sand beaches and dramatic waterfalls. This is definitely one of the best places to stay in Hana for nature lovers.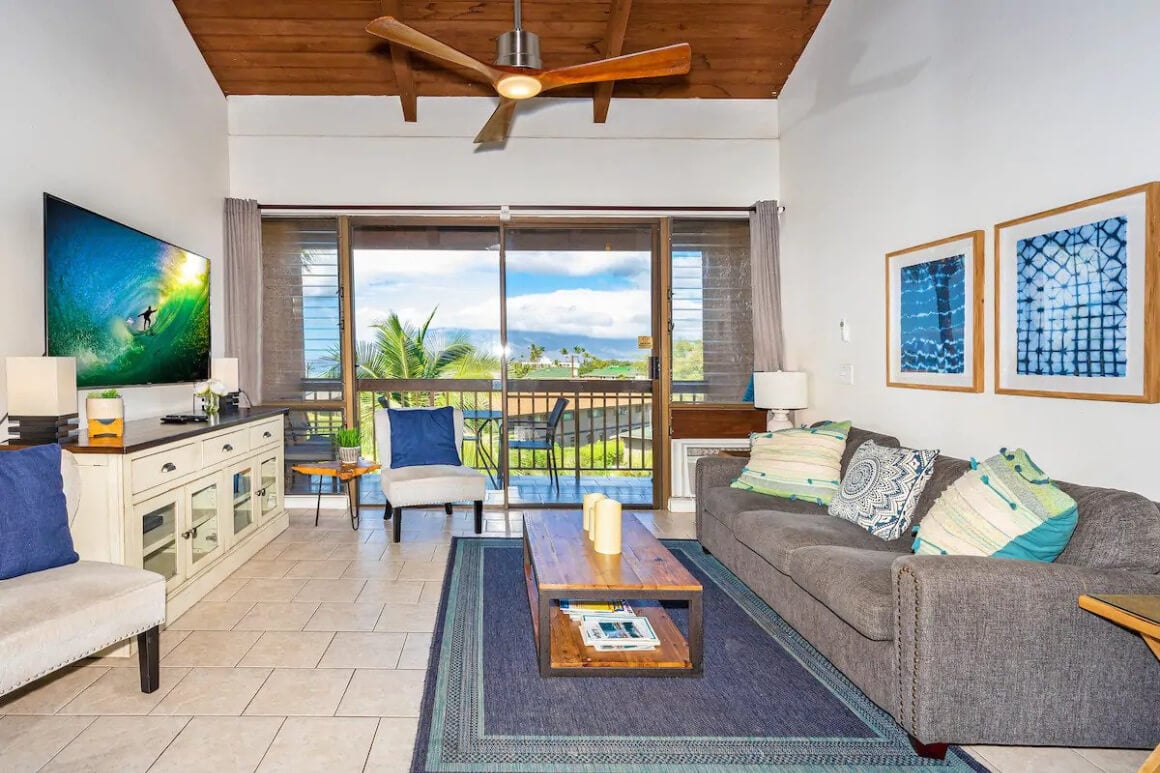 $$
Open-plan loft condo with beautiful ocean views
3 Guests
Located close to Maui's nightlife hotspot
Positioned in the center of Kihei, which is known to house many of Maui's best bars, nightclubs, and restaurants, this condo is the best vacation rental in Maui for those on the hunt for a good night out.
Kitted out with everything you might need from a self-catering home, this two bedroom condo includes access to Maui Vista Resort shared facilities including sociable barbeque spots, swimming pools, gardens, and tennis courts.
$$$
Bright and spacious with floor to ceiling glass windows
3 Guests
Located on the beachfront in the Mahana at Ka'anapali Resort
Beautiful views aren't hard to come by in Maui. Most resorts offer beachfront views and many plantation cottages have tropical jungle views. Rated one of the best views on the island, this one-bedroom condo at the Mahana at Ka'anapali Resort boasts floor-to-ceiling glass windows overlooking the ocean.
Decorated in warm earthy tones and fitted with self-catering options as well as offering an opportunity to eat at one of the resort's top restaurants, you'll be spoilt for choice at the Mahana.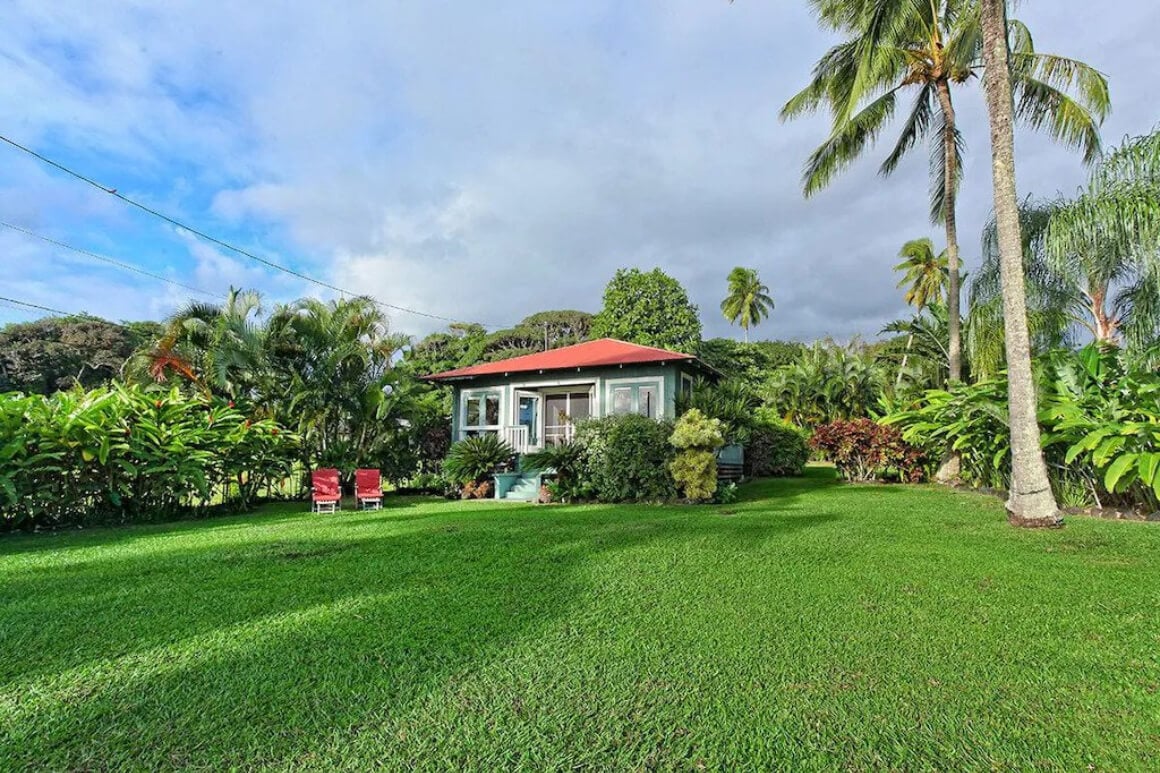 $$$
Clean and spacious oceanside cottage with a huge front garden
2 Guests
Located on the coastline 1.4 miles from Hamoa Beach
Another charming traditional plantation cottage hidden in the banana palms, this luxury holiday rental in Maui combines tranquillity with authentic Hawaiian living. The home was originally built in 1900 and was refurbished and renovated in 2005 to maintain its traditional historic details while incorporating a modern appeal.
The furniture borrows from Asian and contemporary influence and includes local Hawaiian artwork. Your host will decorate each room with fresh flowers from the property giving it a foreign yet romantic feel. Whether looking out over the pastoral farms or the ocean, every room in this cottage has exquisite views.
For romantic getaways, the hosts of this cottage have thought of everything. From organic green teas to top-quality soap products, you'll be well taken care of in this home in Maui.
$$$
Wooden cabin style 1 bedroom cottage
2 Guests
Located near Makawao in north Maui
Known as 'The Gingerbread House', this forest cabin is as sweet as it sounds. Spacious for a couple of guests to share the common living and sleeping area, this wooden cabin is located on a sacred working farm and nursery which produces fresh fruit! Cozy and simple, the cabin is equipped with all the necessities and is located a quick five minutes from the beach.
2 Guests
Located at Honokeana Cove near Napili Beach
Positioned along the banks of the tranquil Honokeana Cove in a gated resort, this apartment boasts a beautiful patio with unrivaled ocean views. This self-catering holiday rental in Maui is equipped with a dishwasher, large sink, and coffee maker, along with all other basic cooking necessities.
The spacious bedroom has an extra-large double bed fitted with high-quality linen. It's also conveniently located a few minute's drive away from the Kapalua Airport.
$$
Baby crib and baby-sitting services
8 Guests
Located on Ka'anapali beach
With four beds spacious enough to fit eight people, this modern condo in Ka'anapali is the perfect spot to rent if you're looking for a large family beach vacation rental in Maui. Located in the Westin Resort (known as one of Maui's top beach resorts), this large private apartment comes with included access to resort amenities including a swimming pool, gym, barbeque, and restaurants.
The large dining table and living area with tons of seating are great for a family to enjoy the private comforts of a condo while having the option to conveniently venture downstairs to the resort.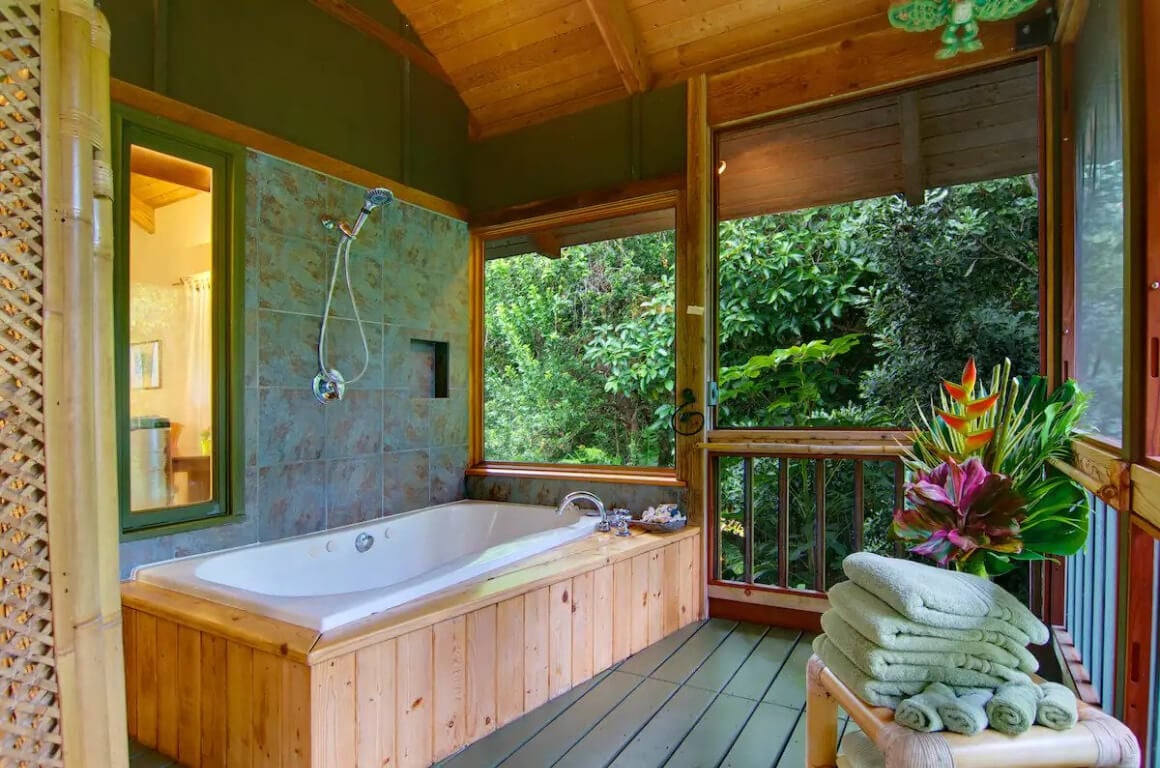 $$$$
Wooden bungalow home nestled in tropical tree-tops
2 Guests
Hidden 2 miles from the quiet Hana Town
This beautiful studio bungalow is hidden between plantation trees in the tropical jungle. Built using wood and decorated with traditional bamboo furniture, this bungalow is as authentic as they come in Hawaii.
The home boasts a large bathroom with vast floor-to-ceiling glass windows to admire the view while relaxing in the oversized bath. Enjoy the sounds of the jungle from the hammock in the open-air seating area below the bungalow.
Don't Forget Your Maui Travel Insurance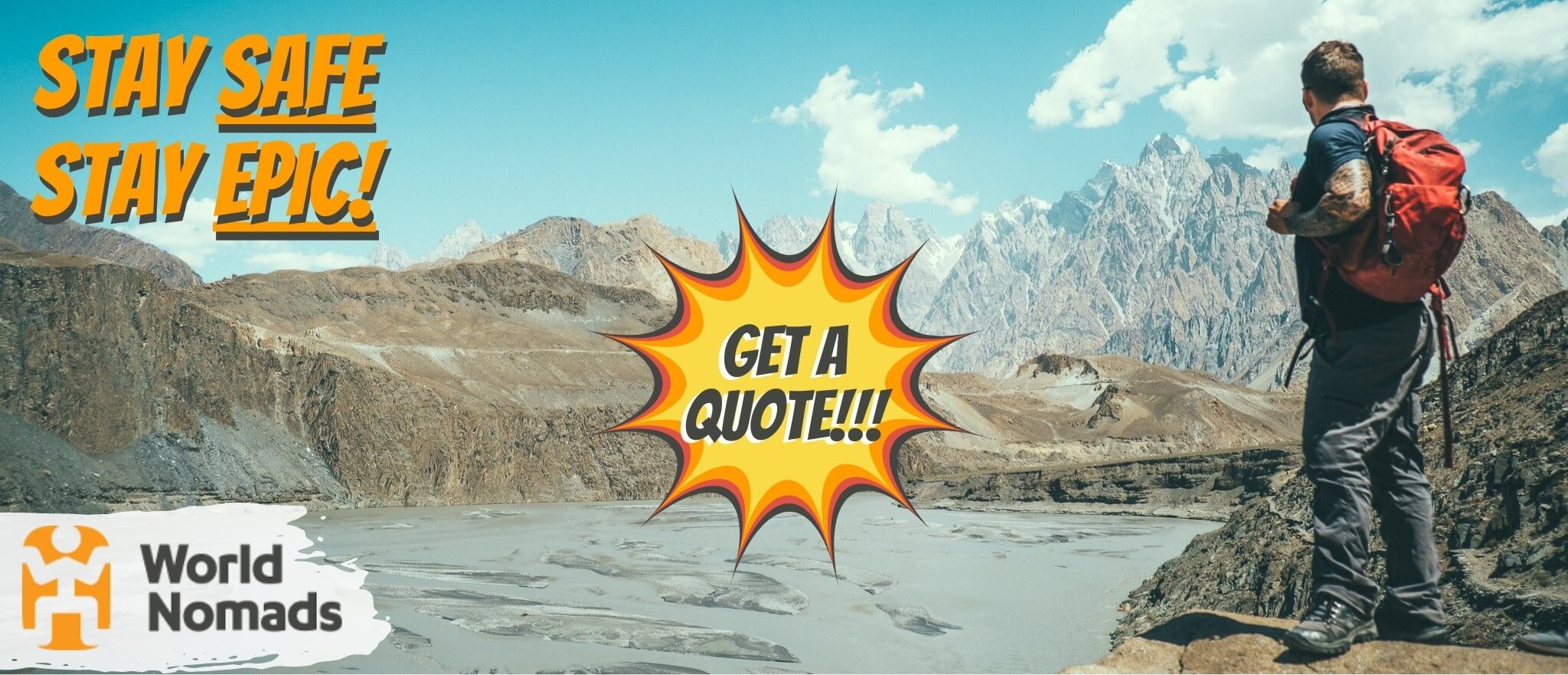 It's good to get lost sometimes, but it's also good not to get too lost. There are people that want you home in one piece.
There's one travel insurance provider The Broke Backpacker trusts for all his wildest shenanigans… World Nomads!
Click the button below to get a quote on your insurance or read our in-depth review of World Nomads' coverage. And then… let the shenanigans begin. 😉
Final Thoughts
Maui offers peaceful tranquillity for a relaxing beach holiday meshed with tropical adventure for hiking, diving, or surfing vacation.
The small size of the island means that wherever you are located, you typically won't have to travel more than 30 minutes to reach the coastline. In fact, the Hana Highway, which circles the circumference of the island, only takes four hours to complete.
As one of Hawaii's most popular tourist destinations, Maui is not short of accommodation. From inland tropical plantation farms to coastal modern condos, you'll be spoilt for a choice of where to stay no matter your budget or travel wishes.
---
Thanks for reading – that was fun! 😀
We bring you epic FREE content!
Find out how YOU can help support us.
We're a big site with a big team and this job isn't always easy. But we do it because we love it – we love providing epic and free content. We love the knowledge that our content keeps you adventuring. We don't ask for money, but if you'd like to find out how you can help the site in more organic ways, click the button below.
Thank you for your support 🙂
---
Bye for now, but not forever!
If you want MORE top-tier Broke Backpacker content like this, then sign up for our weekly newsletter below to get the latest and greatest!
And for transparency's sake, please know that some of the links in our content are affiliate links. That means that if you book your accommodation, buy your gear, or sort your insurance through our link, we earn a small commission (at no extra cost to you). That said, we only link to the gear we trust and never recommend services we don't believe are up to scratch. Again, thank you!