As one of Florida's largest cities, Tampa is one of those places you'll always find something awesome to do. The city is surrounded by water and is filled with rivers, beaches, and mountain activities. From enjoying a cruise on the Hillsborough River to riding themed rollercoasters at Busch Gardens, there's something for everyone.
When it comes to vacation rentals in Tampa, the coastal city is overflowing with unique, luxury, and budget options. In the historical Ybor Village, you'll find 19th-century red-brick homes that were once owned by Cuban-Spanish cigar factory workers. Downtown Tampa is stacked with towering skyscrapers with well-located residential apartments and condos for rent.
Along the Hillsborough River, choose from floating river houses and extravagant villas. Ocean lovers will find plenty of quaint beach vacation rentals in Tampa, including condos and cottages dotted along the bay. Whatever you're after, we can assure you that you'll find the perfect holiday home in Tampa.
Quick Answer: These are the Top 5 Vacation Rentals in Tampa
Overall Best Value Vacation Rentals in Tampa
Overall Best Value Vacation Rentals in Tampa
Waterfront 3 Bed Home with Pool and Dock
> $$$
> 10 Guests
> Bright home with new furniture and pool deck overlooking private dock and canal
> On the canal in North Bay Village, steps from great restaurants and shops
Best Budget Vacation Rentals in Tampa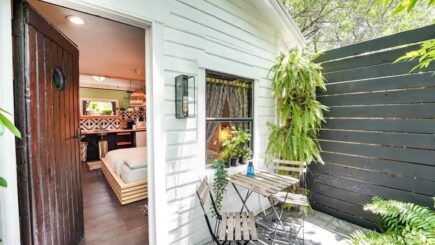 Best Budget Vacation Rentals in Tampa
Boho Studio with Private Yard
> $
> 2 Guests
> Spacious boho-inspired cottage with private yard and outdoor seating area
> Located near Busch Gardens and downtown Tampa in a residential neighborhood
Best Vacation Rentals for Couples in Tampa
Best Vacation Rentals for Couples in Tampa
Trendy Studio Cottage with Garden
> $
> 2 Guests
> Boho inspired interiors with huge barn doors opening into a private garden
> Located in Ybor City, central Tampa, a few steps from world-class eateries and shops
Best Vacation Rentals for Families in Tampa
Best Vacation Rentals for Families in Tampa
Trendy 3 Bed Family Home with Pool
> $$
> 6 Guests
> Contemporary style home with spacious yard, pool, and Jacuzzi
> Located across the road from the Lowry Park Zoo
Over-the-Top Luxury Vacation Rentals in Tampa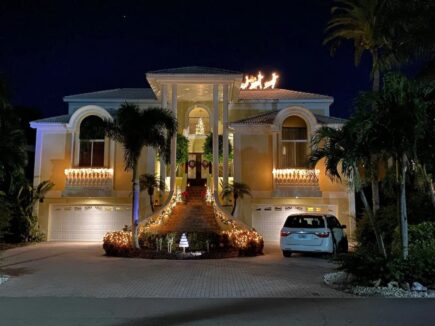 Over-the-Top Luxury Vacation Rentals in Tampa
Great Gatsby 7 Bed Waterfront Mansion
> $$$$
> 13 Guests
> Ultimate luxury with impressive antique furniture, a games room, and a private dock
> Located in a safe gated community near Apollo Beach
Types of Accommodation in Tampa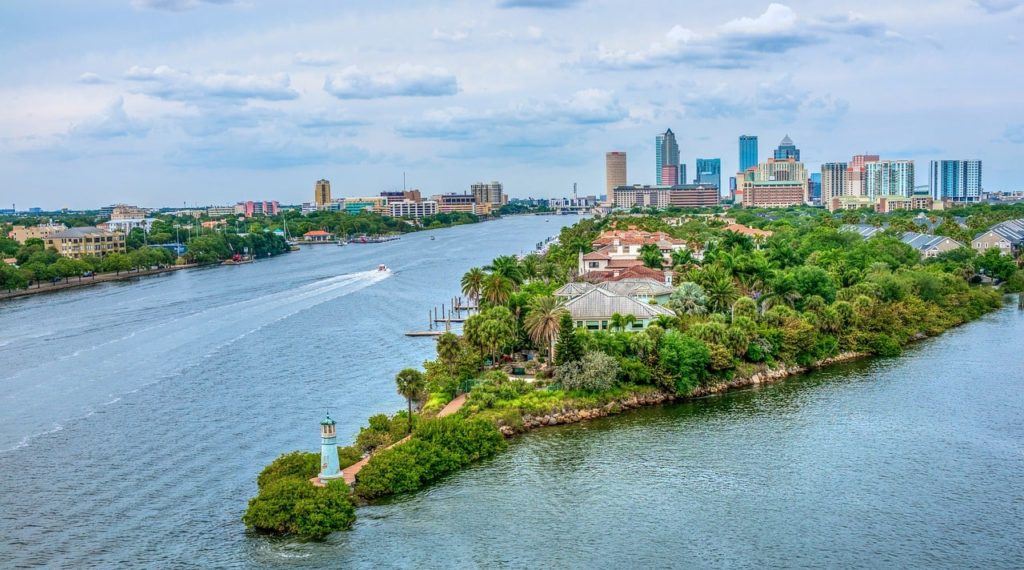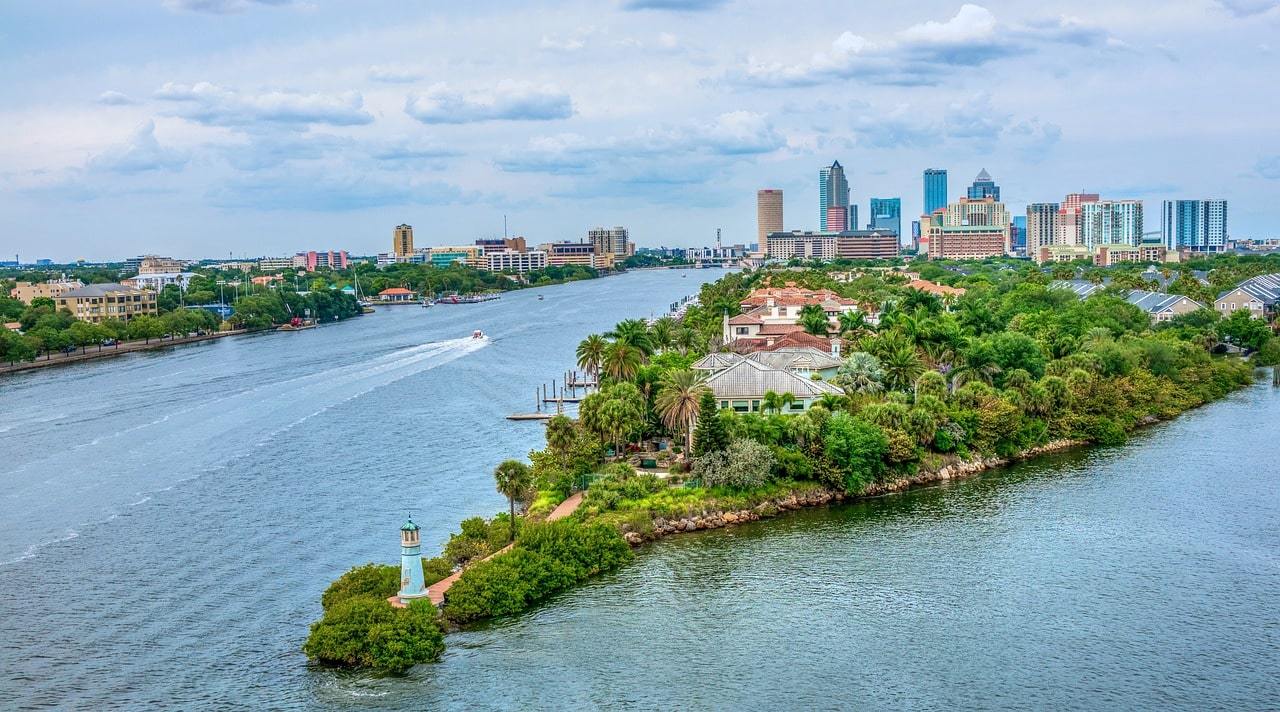 Waterfront Villas
It's common to find waterfront villas and houses dotted along the coast and riverfronts of Tampa. They range in size and price, from one-bedroom floating river homes to enormous ten-bedroom villas with private docks. This type of Florida Airbnb accommodation option is most popular for their beautiful views and space.
You can expect to enjoy private pools, hot tubs, and boat docks in your backyard. Both river and city views are common at these vacation rentals. In many cases, these accommodations are either new-builds or have been refurbished with modern interiors.
These homes are ideal for large families and groups of friends. They're also ideal for hosting big events such as weddings or Super Bowl Sundays.
Apartments and Condos
You'll find the city's best apartments and condos in downtown Tampa, both in the central business district and along its famous beachfront. These areas are a top spot to stay in to be amongst the museums, top restaurants, bars, and cafes.
While apartments and condos are typically smaller in size than private homes, they do offer some unique benefits. As mentioned, they are usually within walking distance to a range of eateries and shops.
They also include access to shared amenities such as pools, BBQ areas, and even gyms. Apartments and condos are safe and secure spots, making them ideal for any small party of travellers craving a city vacation.
Historical Homes
There are some world-class historic vacation rentals up for grabs in Tampa. You'll find plenty in Tampa Heights, which is better known for its classic residential charm and convenient location just on the outskirts of downtown.
Ybor Village is another hotspot when it comes to historical homes. As an old 1800s village that used to be home to many cigar factories and immigrant workers, the area is still scattered with authentic red-brick homes today. There are even some industrial warehouses that have been given new life as luxury vacation rentals in Tampa.
Not only are historical homes awesome for their great location, but they are also usually much more affordable and spacious than other rentals. This makes them ideal for large families or gatherings with friends.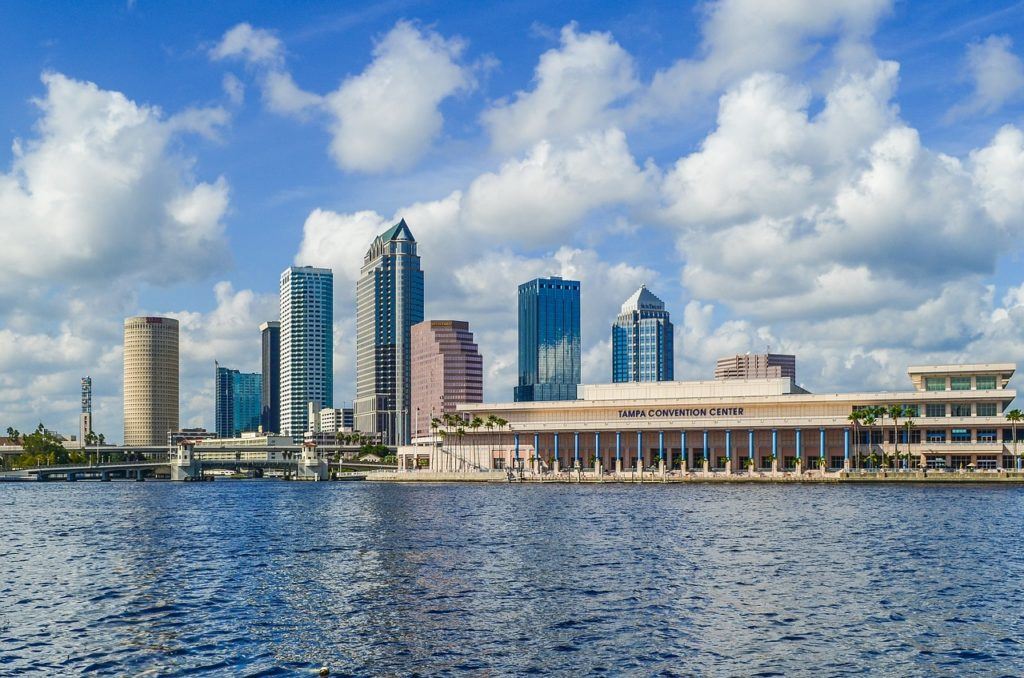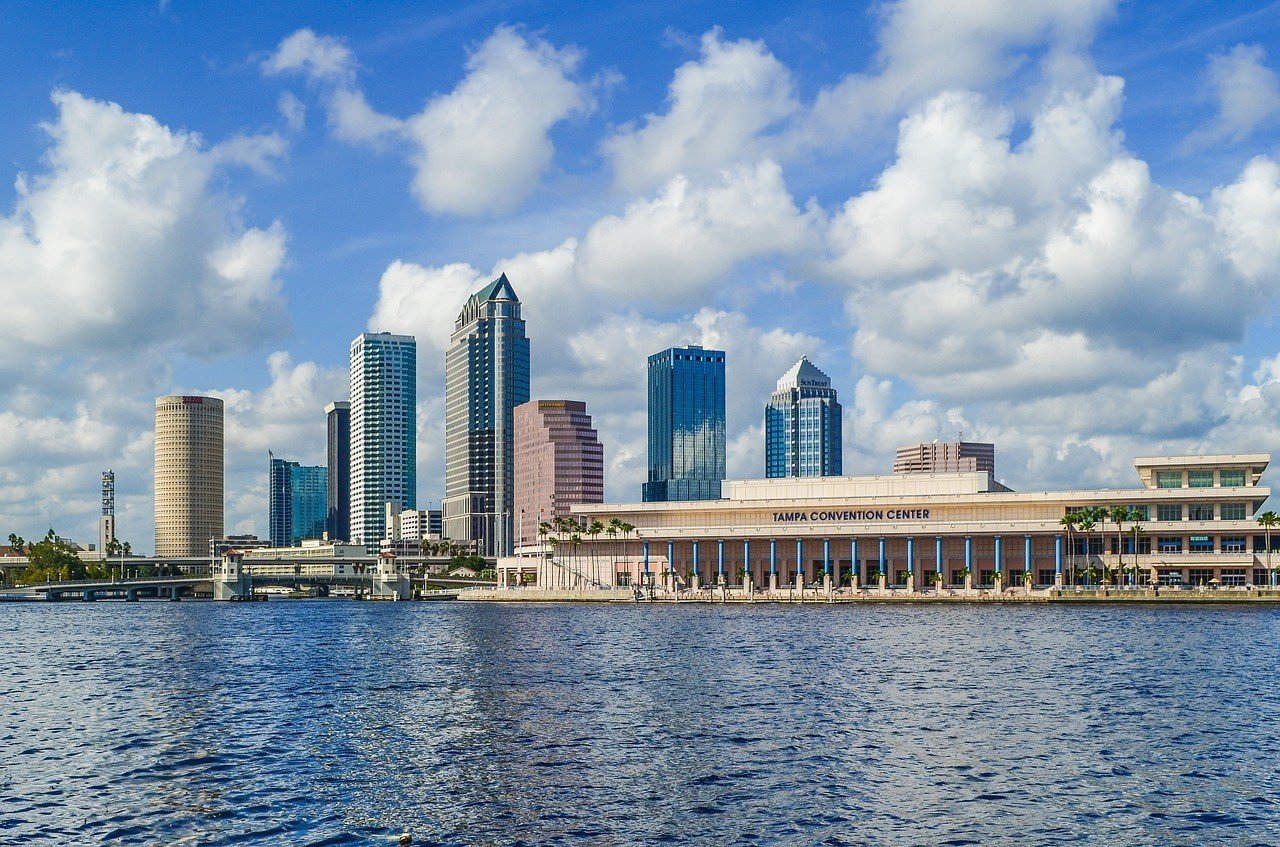 Top 20 Vacation Rentals in Tampa
From floating river homes to historical warehouses, there's loads of awesome accommodation scattered across this dynamic city. Read on for some of our favourite vacation rentals in Tampa!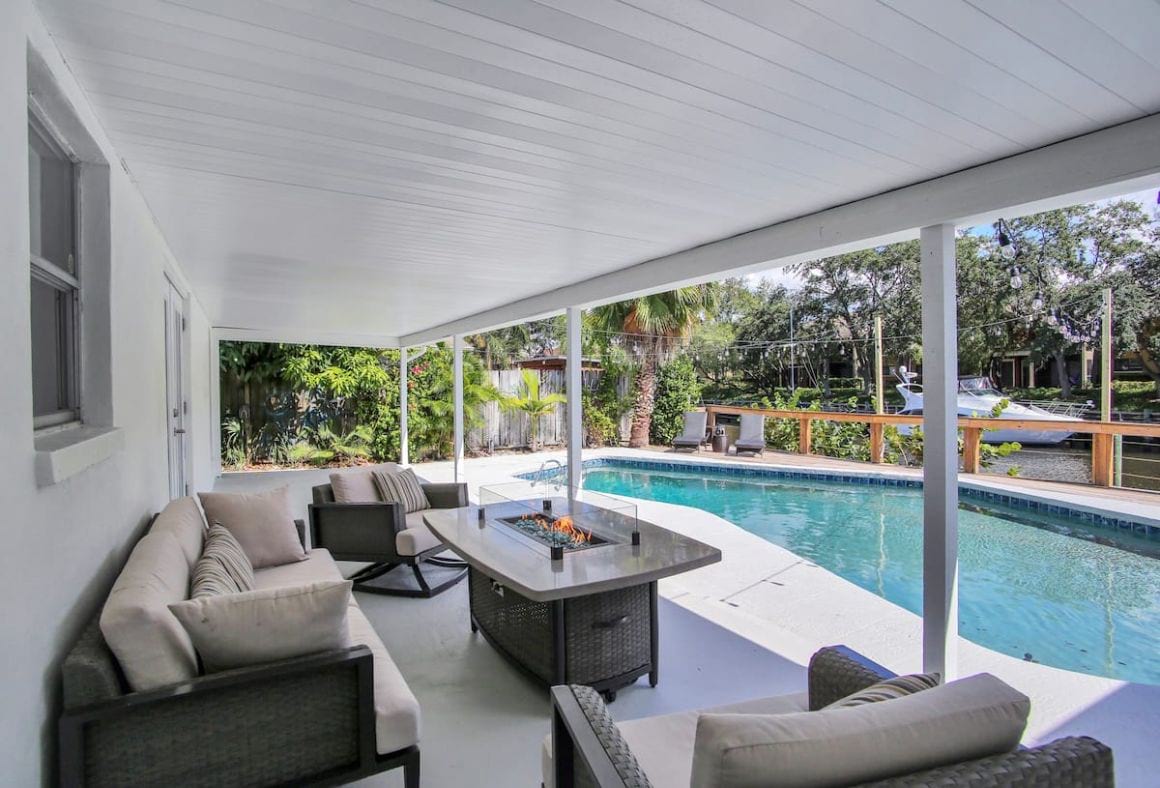 $$$
Overlooking private dock and canal
10 Guests
On the canal in North Bay Village, steps from great restaurants and shops
Feast your eyes on this exquisite waterfront home on the North Bay Village canals. The interior has been completely modernised and is filled with comfortable contemporary furniture.
While the inside is beautifully designed, you'll no doubt be spending your time enjoying the outdoors. The best view from this house is from the pool, and you can also enjoy looking down on the canal from your hot tub. There's even a private dock, which is ideal if you're planning to rent a boat in Tampa.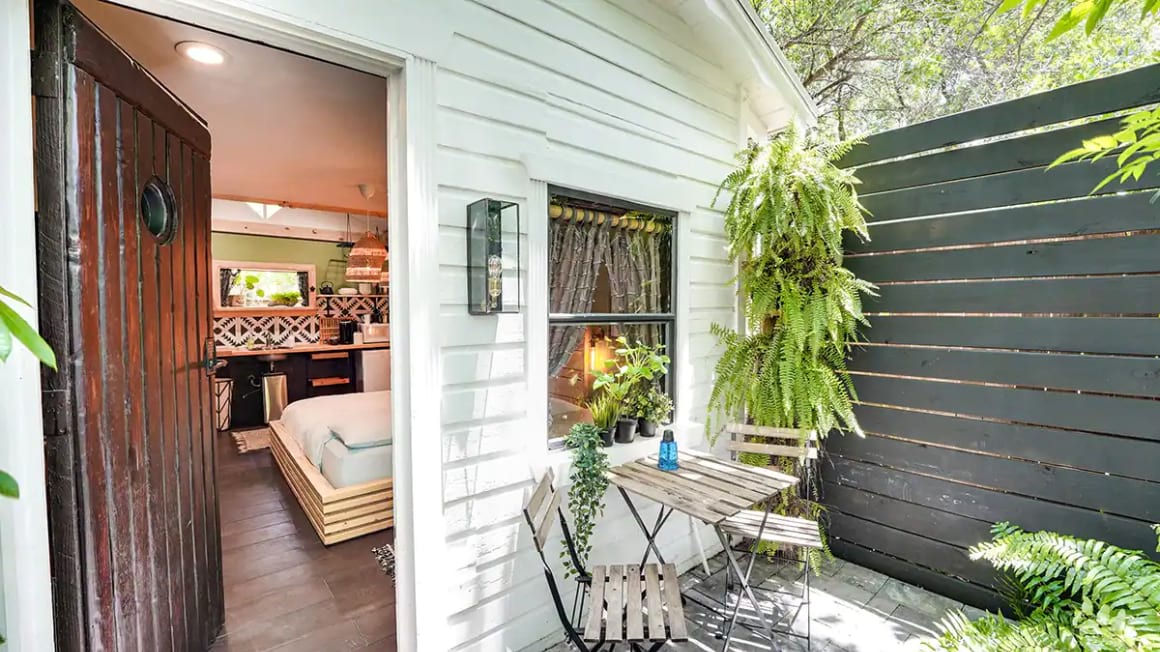 $
Spacious boho-inspired cottage with private yard
2 Guests
Near Busch Gardens in a residential neighbourhood
This gorgeous studio space is one of the most well-located budget homes in the area. It has a large bed and a kitchenette, ideal for couples or solo flyers looking to save some cash. There is no stove or oven, but some of the area's top restaurants and eateries are an easy walk around the block.
This tiny vacation rental in Tampa features woven basket lampshades and gorgeous patchwork kitchen tiling. This gives it a super funky, yet homey feel. The small private yard is the perfect spot to enjoy your morning coffee amongst the greenery.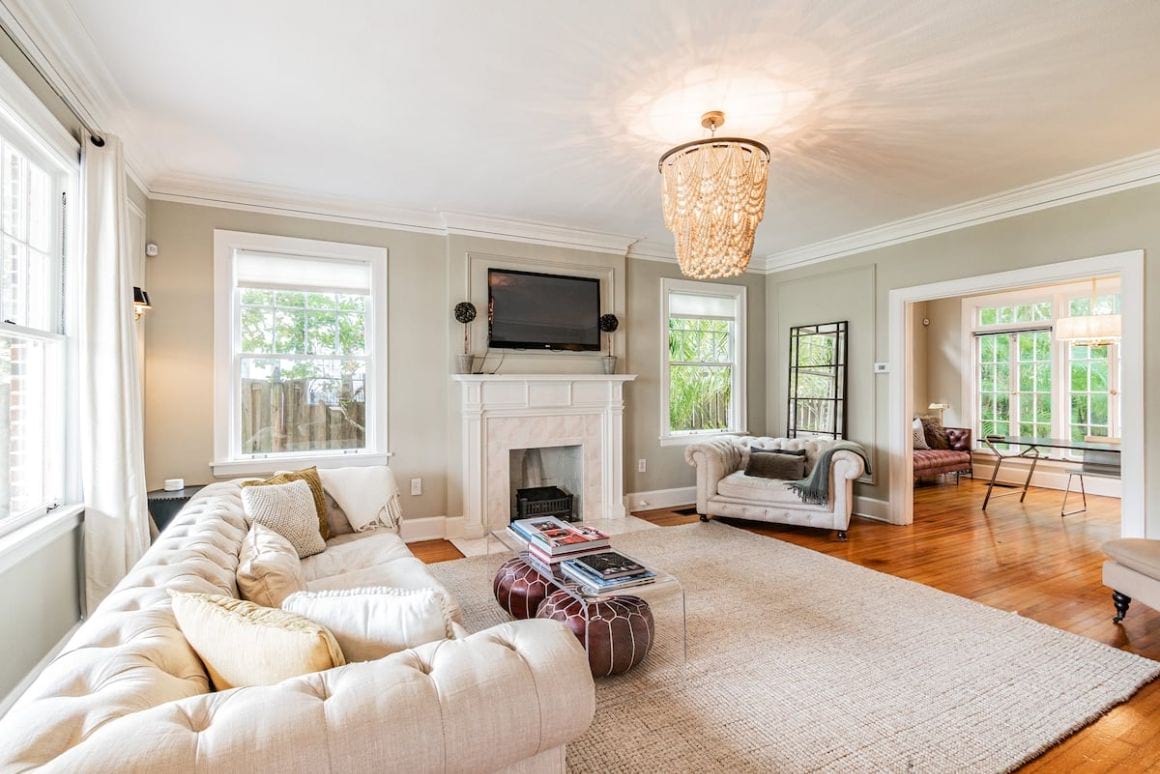 $$
Traditional red-brick exterior, refurbished interior
8 Guests
A minute's walk from Bayshore Boulevard
This is by far one of the most authentically beautiful homes in Tampa. It's a historical house, clad with red-brick walls and roman inspired pillars that will be sure to enchant you. While the exterior has been exceptionally preserved, the inside of the home has a homely contemporary feel.
The house combines new with old: high ceilings, original hardwood floors, and fireplaces mix with a modern kitchen, contemporary lighting, and clean furniture. It also enjoys a fantastic location just a stone's throw from eateries and shops. There are four gorgeous bedrooms in this house, making it the perfect home-away-from-home for families visiting Tampa.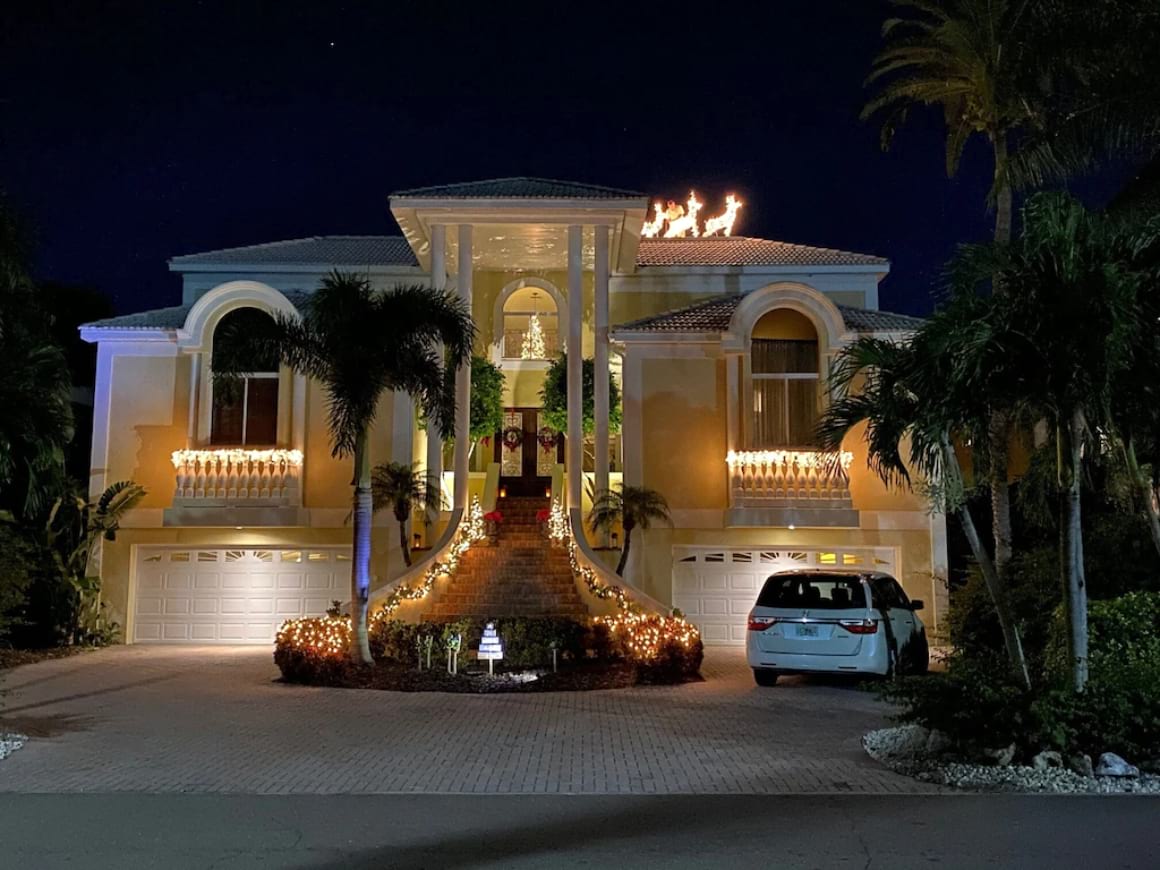 $$$$
Impressive antique furniture, a games room, and a private dock
13 Guests
Safe gated community near Apollo Beach
We've all gawked at the extravagant homes featured in the Great Gatsby film. Well, now you can rent one out for yourself (at a very steep price, might we add). This luxurious waterfront beach vacation rental in Tampa is as impressive on the inside as it is from the outside.
The grand entrance hall pretty much says all you need to know about the seven-bedroom house – a double-storey room rimmed with decorative railings, a huge hanging chandelier, and a grand piano grace this room.
Even more impressive? There's a private man-made beach on the water, so there is no need to join the crowds on the public beaches!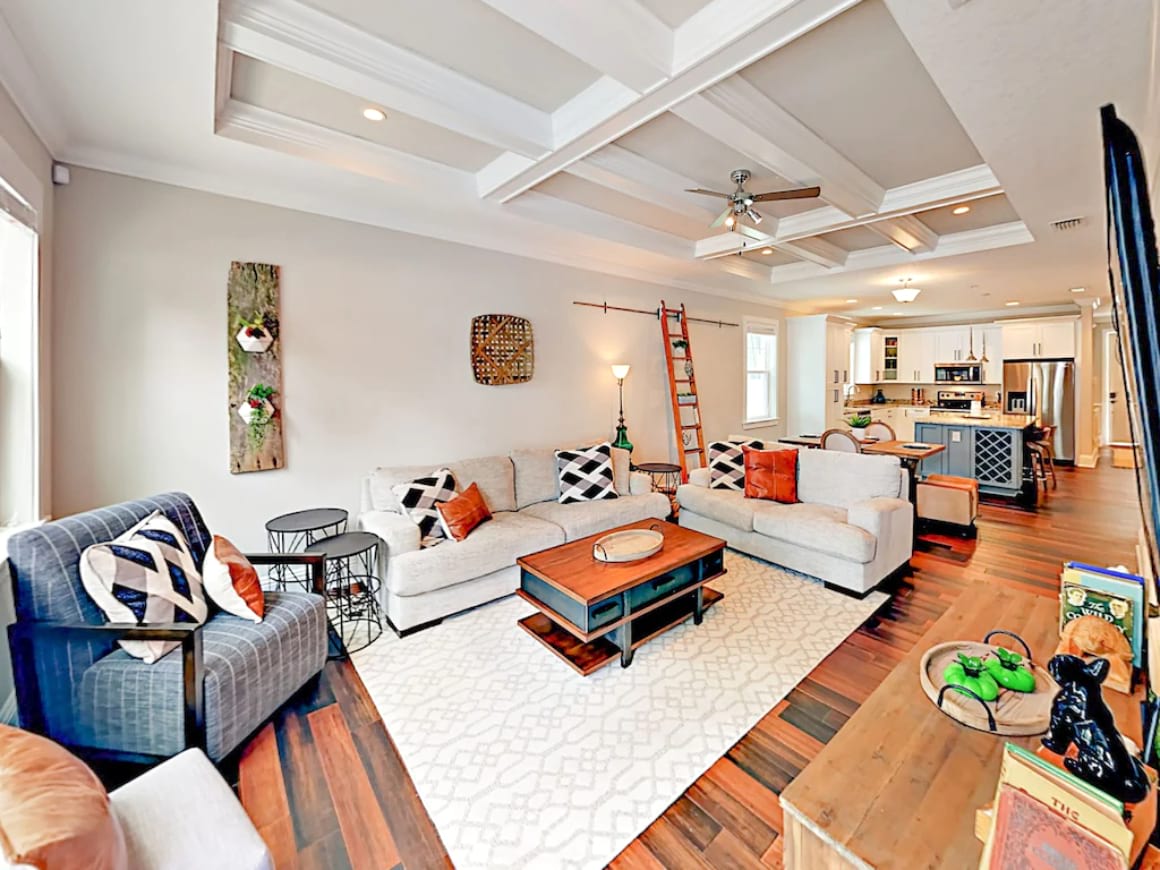 $$
Spacious yard, pool, and hot tub
6 Guests
Across the road from the Lowry Park Zoo
This family home is perfectly on-trend. The central living area includes a beautiful new kitchen fitted with top-of-the-range appliances and granite countertops. All the bedrooms and bathrooms are new too with polished wooden floors and interesting shower tiling patterns.
Feel right at home in this luxury vacation rental in Tampa. There's even dedicated office space for catching up on some emails (or updating your out of office reply). With a pool, Jacuzzi, loungers, and BBQ facilities, you can make the most of your time lapping up those Floridian rays.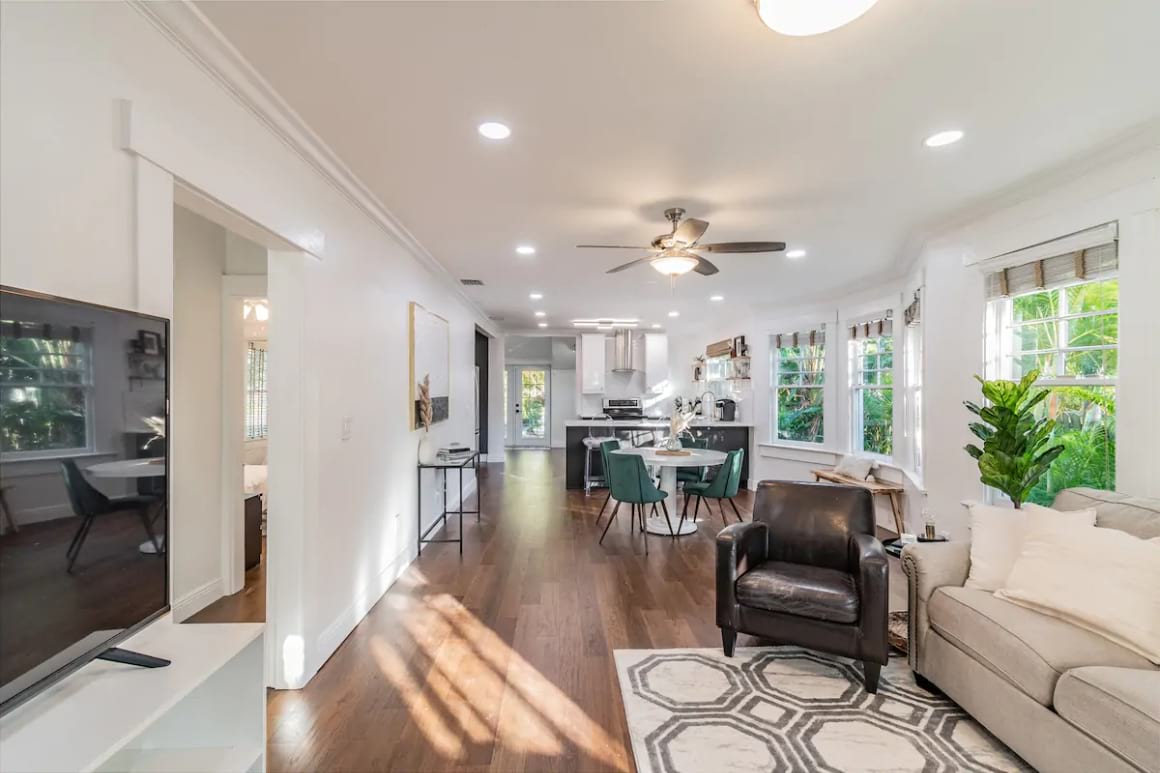 $$$
Remodelled 1920s bungalow
6 Guests
Located in a historical district
This spacious home is overflowing with natural light and is surrounded by greenery. The shared living space has a relaxing, zen feel about it, with modern kitchen cabinetry and appliances.
Perfect for four guests (yet possible to fit in six if needed), there's plenty of space to spread out across the house. Choose from the main lounge, the quaint reading nook by the front door, or the lush garden deck furnished with bamboo-style furniture. The location is also ideal for getting out and exploring Tampa – perfect for a quick weekend break.
$$$
Island-inspired interiors
8 Guests
In a residential neighbourhood east of Tampa
It can get hot and humid in Tampa, and let us tell you from experience, it's a great call opting for a rental with a private swimming pool (and air conditioning, for that matter). This luxury vacation rental in Tampa is filled with a blend of contemporary, island-inspired, and mid-century interiors. We have to admit, though – the yard is definitely our favourite part.
From the living room, step into a conservatory-style covered pool area with a swimming pool and hot tub. Beyond this deck, there is a lush garden full of colourful plants and topiary bushes. Walk a bit further, and you'll reach a stunning pond at the end of the garden.
$$
Access to a shared pool, volleyball court, and BBQ facilities
3 Guests
Trendy beachfront condo near Busch Gardens
When your mobility is limited, it's important to stay in an area where you can easily access Tampa's top attractions. When it comes to a beach vacation in Tampa, this is one of the best and most affordable condos you'll find.
The home has a fully-equipped kitchen and a spacious lounge area leading onto a balcony that overlooks the sea. From the comfort of your own private balcony, you'll be able to admire the calm ocean waters and the buzzing activity at the shared swimming pool.
$
Spacious and modern home
8 Guests
Central location one mile from Tampa River Walk
Affordable, clean, and centrally located. We can't think of a better combination of attributes for a holiday home. This space is filled with natural light and stocked with contemporary furniture in neutral tones.
The convenient location makes this one of the best vacation rentals in Tampa. You can simply walk across the road to reach a range of the Ybor District's top tourist attractions and world-class restaurants. Free street parking is also available, making this place ideal for a Florida road-trip stopover or venturing further afield.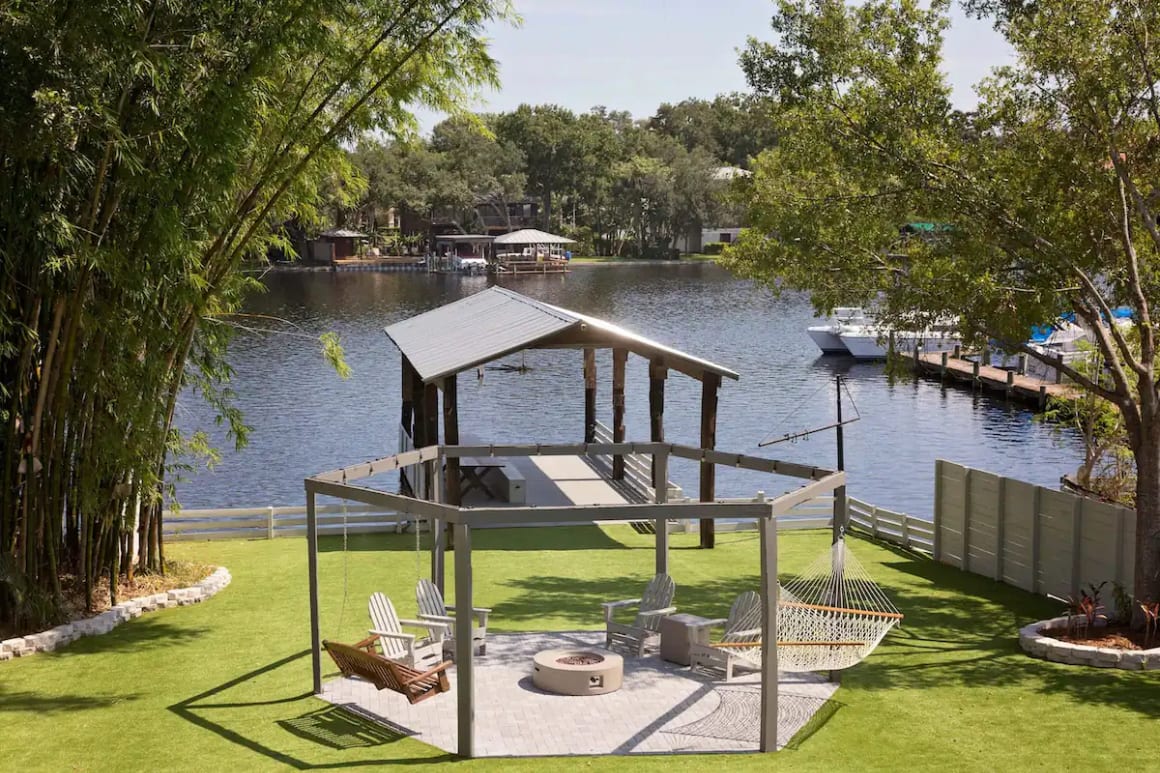 $$$
Contemporary river house with private dock
10 Guests
Minutes from Downtown Tampa on the Hillsborough River
With private bedrooms and tons of shared seating, this spacious home is the best vacation rental in Tampa for large families. The wood-built home has a gorgeous contemporary design, with exposed beam ceilings painted a coastal white. The furniture is also super comfortable, creating a relaxing, homey space.
There's a huge modern kitchen, offering all the space you'll need to prepare home-cooked meals. Best of all, you'll be able to eat your home-cooked meal outside on your private covered dock, enjoying the stunning river views.
$$
Chic house with tons of privacy between bedrooms
8 Guests
Walking distance from shops, attractions, and restaurants
Looking for a great space to enjoy a vacation with your best friends? Whether you're planning a bachelorette or bachelors party or just a simple getaway to the city, this house has you covered. The shared living space is fitted with comfortable sofas, a dining table, and a huge gourmet kitchen suitable for cooking up a storm.
Step outside onto your private garden deck, which has a BBQ and dining area for your guests. This sun-drenched self-catering vacation rental in Tampa is perfect for enjoying cocktails in the sun – the ideal Florida escape.
$$
Old shipping container turned cosy home
2 Guests
Ybor, close to Tampa Bay
This unique tiny house is hands down one of the best vacation rentals in Tampa. The old shipping container has been lovingly repurposed as a beautiful home, with a gorgeous rustic meets chic design.
The interior is stunning, but the outdoor space is what really makes this place. We've already mentioned the deck, but there's plenty more; think swings, a 'floating' tent, a koi pond, and a hot tub (among other things). It's super private as well, despite being in the heart of the Ybor district.
The home is perfect for couples, and pets are welcome too. If you are bringing the dog, just be aware there are bunnies and chickens around!
$
Spacious studio with a deck and river views
2 Guests
Old Tampa, overlooking the skyline and the Hillsborough River
This tropical turquoise home is without a doubt one of my personal Tampa favourites. It has enough character to charm everyone who visits! Located on the Hillsborough River, just across the bay from Tampa, you'll be able to enjoy peaceful natural river views to your left, and dynamic city skyline views to your right. Romantic, amirite?
The home itself is beautifully decorated with pastel blue and white coastal colours. The single-room studio has removable shutters, which offer a bit more privacy when it's time for bed.
4 Guests
Surrounded by nightclubs and bars
Party animals, this is for you. Located between the historic Ybor City and downtown Tampa, this stunning new home is one of the best vacation rentals in Tampa for making the most of the nightlife. From the house, you'll be able to safely walk or take a quick Uber just about anywhere you wish to go in the central city.
Not to mention, arriving home after a night out isn't too bad when you have this contemporary luxury spot to come home to.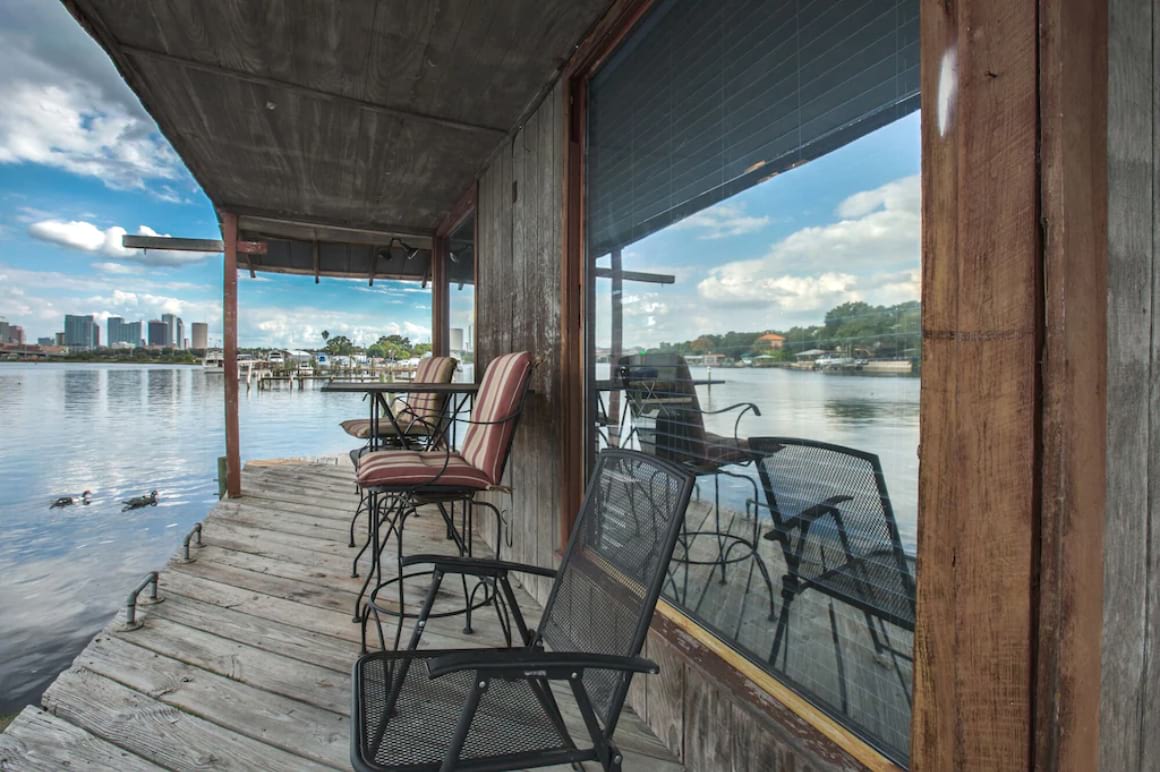 3 Guests
At the end of a dock on the Hillsborough River
The only thing better than a river view is a river view from the river itself. You heard us, this floating home is located in the middle of the river, so if you get seasick, you might be better off staying elsewhere. The home lies at the end of a quaint river dock, alongside boats and other jetties.
From the rustic deck and the lounge windows, you'll be able to glance across the stunning river towards the sparkling lights of Tampa city.
$
Boho inspired interiors with a private garden
2 Guests
Central Ybor City
This quaint studio cottage has everything you need and more for a relaxing vacation with your loved one. It's pretty small, but has been renovated to boast clean and stylish interiors including. Enjoy interesting art pieces, comfortable furniture, and homey indoor plants.
Being a refurbished shed, the best part about this cottage is the huge wooden double doors that open into the yard. You'll have your own private outdoor space, ideal for your morning coffee or an evening glass of wine.
$
Spacious shared living space with balcony
4 Guests
Apartment block in Rocky Point, with ocean views
With so much water in the area, finding a beachfront property in Tampa isn't too difficult. However, finding a beachfront property at a super affordable price is another story. This stylish condo hits both these nails on the head. With private beach access, and a shared swimming pool, lapping up the Floridian sun rays has never been so affordable.
The apartment is tastefully decorated with coastal-style interiors. There is even a useful private desk space, making this one of the best vacation rentals in Tampa for digital nomads.
$$$$
Large yard, pool, and private jetty
7 Guests
On the water in South Tampa with Hillsborough Bay views
This waterfront home has sprawling views across the bay and of the city skyline. You can see the shimmering water from every room in the beautifully designed home, which is overflowing with natural light.
The home also boasts numerous decks and balconies with river views. There's plenty of outdoor space to enjoy homemade cocktails or a meal here. Choose from the stunning first-floor balcony which is filled with comfortable outdoor living furniture or the outdoor lawn. Guests can also enjoy the huge pool with a BBQ area and even a private dock.
$
Rustic wooden cabin with modern fittings
4 Guests
Private farm just north of Tampa
Hidden amongst the tall trees of a working horse farm, your private farmhouse awaits. The spacious open-plan home has everything you might expect from a traditional farmhouse bungalow. A classic old-fashioned stove, oven and refrigerator, and a huge sink characteristic of farm living.
From the floors to the walls to the ceilings, this entire home is built from wood. This, combined with the warm neutral interiors and touches of green give the home a relaxing feel to make you feel right at home. The huge backyard is another great perk – providing a green retreat from the big city.
$$$
Historic traditional farmhouse with huge parking area
9 Guests
Near Dade City, just north of Tampa
This classic and authentic Southern farmhouse is graced with 10-foot ceilings throughout, a wraparound porch, and other classic but luxurious farmhouse touches. A top location for a wedding venue, it also doubles as one of the best vacation rentals in Tampa for its long history.
Inside, however, you'll find contemporary furniture and fittings mixed with the authentic style of the old home. Expect modern amenities and kitchen appliances, set in front of a backdrop characteristic of North America 100 years back.
Final Thoughts
Known as the 'Cigar City' for its historical significance in the cigar industry, Tampa is overflowing with cultural curiosity and historical charm. As one of Florida's top central business districts, today it boasts a dynamic and bustling city centre. Best yet, it's home to some of the country's best dining and drinking establishments.
Tampa is overloaded with many interesting, unique, budget, and luxury vacation rentals. From quaint riverside cottages to century-old homes steeped in history, you'll have plenty to pick from in this awesome destination.

---
Find out how YOU can support the site.
We're a big site with a big team and this job isn't always easy. But we do it because we love it – we love providing epic and free content. We love the knowledge that our content keeps you adventuring. We don't ask for money, but if you'd like to find out how you can help the site in more organic ways, click the button below.
Thank you for your support 🙂
And for transparency's sake, please know that some of the links in our content are affiliate links. That means that if you book your accommodation, buy your gear, or sort your insurance through our link, we earn a small commission (at no extra cost to you). That said, we only link to the gear we trust and never recommend services we don't believe are up to scratch. Again, thank you!