As a playground for the rich and famous, and home to legendary Hollywood, Los Angeles is a vibrant and dynamic destination. Blessed with fantastic California weather, beautiful people, and a range of attractions, Los Angeles is the kind of place you can visit time and again and see something different each time.
Because you could easily spend a week here, or more, I always recommend staying in a vacation rental such as a VRBO. This allows you to spread out and have more facilities that make you feel like your staying in a home away from home.
Visitors looking at a VRBO in Los Angeles may be overwhelmed by the many options to choose from. Rentals in LA range from lavish Beverly Hills villas to sleek downtown apartments and even quaint beachside houses, making it tough to choose something that meets your exact needs.
To save you a little bit of time on your search for the best VRBO in Los Angeles, I've compiled a list that covers a wide range of features for all traveler types. No matter if you're traveling with the kids, looking for something blissfully romantic, or vacationing on a shoestring, there may be something on my list for you.
So, when you're ready, let's get started.
Quick Answer: These are the Top 5 VRBOs in Los Angeles
Overall Best Value VRBO in Los Angeles
Overall Best Value VRBO in Los Angeles
Encino Hills Safari-themed Studio
> $
> 2 Guests
> Minutes from Ventura Boulevard
> Keyless self-check-in
Best Budget VRBO in Los Angeles
Best Budget VRBO in Los Angeles
Shabby-chic LA Hills Studio
> $
> 2 Guests
> Neat and compact launchpad
> Free housekeeping for longer stays
Best VRBO for Couples in Los Angeles
Best VRBO for Couples in Los Angeles
Canal-side Studio
> $
> 2 Guests
> Charming canal-side retreat
> Romantic fairy-lit patio
Best VRBO for Families in Los Angeles
Best VRBO for Families in Los Angeles
Fun, Family Beach House
> $
> 6 Guests
> Immaculate family vacation home
> Large porch and garden
Over-the-Top Luxury VRBO in Los Angeles
Over-the-Top Luxury VRBO in Los Angeles
Expansive Neo-Modern Mansion
> $$$$
> 14 Guests
> Lavish hillside estate
> Private cinema

Unlock Our GREATEST Travel Secrets!
Sign up for our newsletter and get the best travel tips delivered right to your inbox.
What to Expect from VRBOs in Los Angeles
Los Angeles is a sprawling city by the sea. As such, it covers a diversity of areas, from bustling downtown to glitzy Beverly Hills and scenic Malibu and Venice Beach.
Wherever you choose to stay in Los Angeles, opting for a VRBO often means you can live like a local in a property operated by locals. This means you're not insulated in a tourist bubble but get to experience the real soul of LA.
Because California is known for its warm and sunny climate, most VRBOs in Los Angeles will offer access to a pool, even if access is shared.
Of course, one of the most popular experiences that tourists wish to experience in Los Angeles is the lifestyle of the rich and famous in Hollywood and Beverly Hills. Sprawling mansions and villas offer a chance to experience a stay in Hollywood, straight off the silver screen.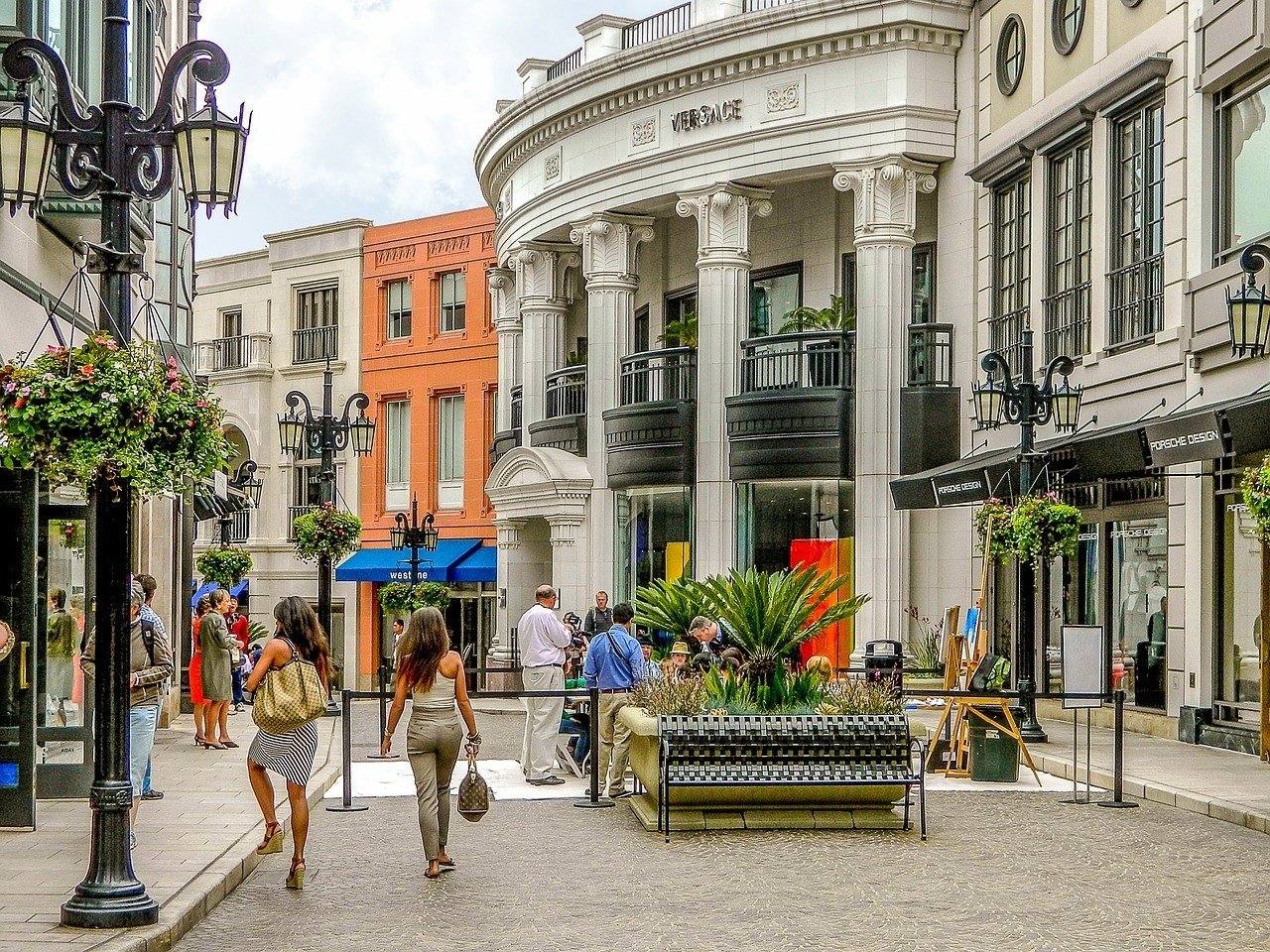 House
Houses in Los Angeles can span a wide gamut. You'll be able to choose from great glossy mansions in West Hollywood to rustic and charming beach houses between Malibu and Venice Beach.
Houses can be simple and small or designer creations – it really all depends on your style. If you're traveling with the kids, a house will offer a comfortable home-away-from-home option, often with a garden or outdoor space where the little ones can burn off some energy.
Your stay in a Los Angeles house will offer all the comforts of home and some extras if you so choose. You'll also enjoy privacy and independence to come and go as you please and to structure your days to suit your schedule.
Villa
Los Angeles villas offer the kind of luxury living that you've always dreamed of. Plenty of space, often a great view, and increasingly high-tech. Villas in LA are glamorous and sophisticated and fitted with only the best furnishing, décor, and appliances.
Villas here also come with some lavish optional extras which include things like housekeepers, private chefs, in-home spa treatments and massages, and even luxury car rental.
From Malibu Seafront Villas to Beverly Hills mansions, if anywhere is synonymous with the ultra-luxe life, it's Los Angeles. Live your rock-star fantasy besides a huge pool or in a hot tub, you'll want for nothing in a villa (except maybe to stay a little longer).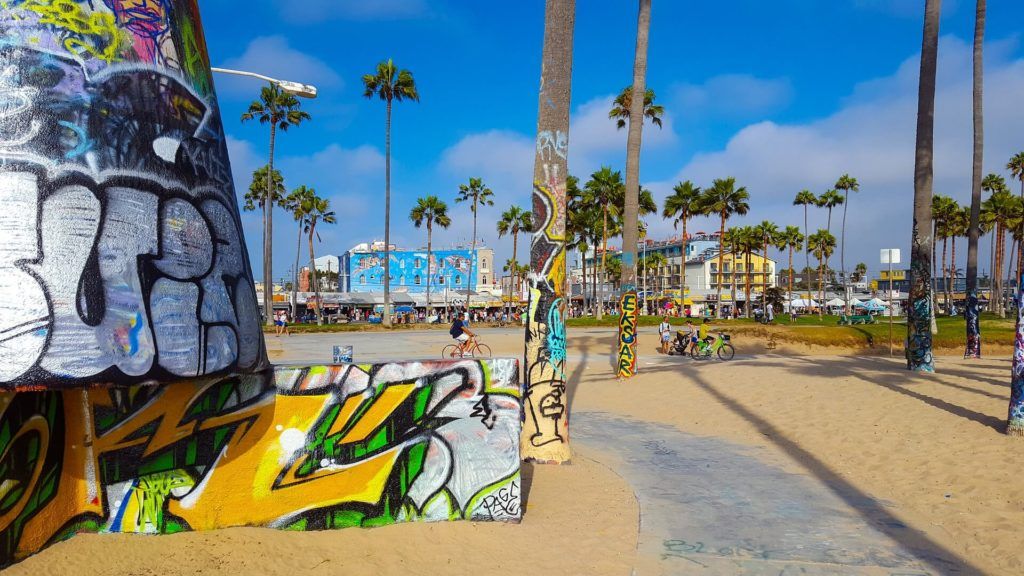 Apartment
Apartment living in Los Angeles is a great option for visitors who are likely to be out exploring all day. If you're the type of traveler who really only needs a place to shower, sleep and store your luggage while you adventure, then an apartment is for you.
VRBO apartments in Los Angeles come in a variety of shapes and sizes. Downtown offers plenty of apartment and condo options to cater to business travelers, but the coastal area and popular districts like Silver Lakes are also big on apartments.
In the more residential neighborhood, apartments usually come in the form of a separate entrance apartment in the back of a main residential home. These options are often very affordable and offer the live-like-a-local benefit.
Why Stay in a VRBO
There are plenty of good reasons to choose a VRBO when visiting Los Angeles. Here are just a few:
Local Experience – live that LA lifestyle in authentic homes. Sometimes your host will be really hands on and share recommendations for places to visit in Los Angeles that are off the tourist trail.
Privacy – more and more options are offering private and contactless check-ins. This means you can enjoy complete autonomy while still safe in the knowledge that VRBO customer support and your host are available should you need them.
Affordability – if you're looking to get more bang for your buck, choosing a VRBO in Los Angeles can help you find a more affordable alternative to large hotels.
Safety – staying in Los Angeles is relatively safe, depending on the area, but regardless of where you stay VRBO has your back with 24/7 support if you encounter issues.
Unique properties – you'll find more variety among VRBOs than large hotels so you can find something that will completely meet your needs.
The Top 20 VRBOs in Los Angeles
Now you're ready to see the best VRBOs in LA that I have picked out for you. In this list, you'll find some great options to suit all travel types and needs.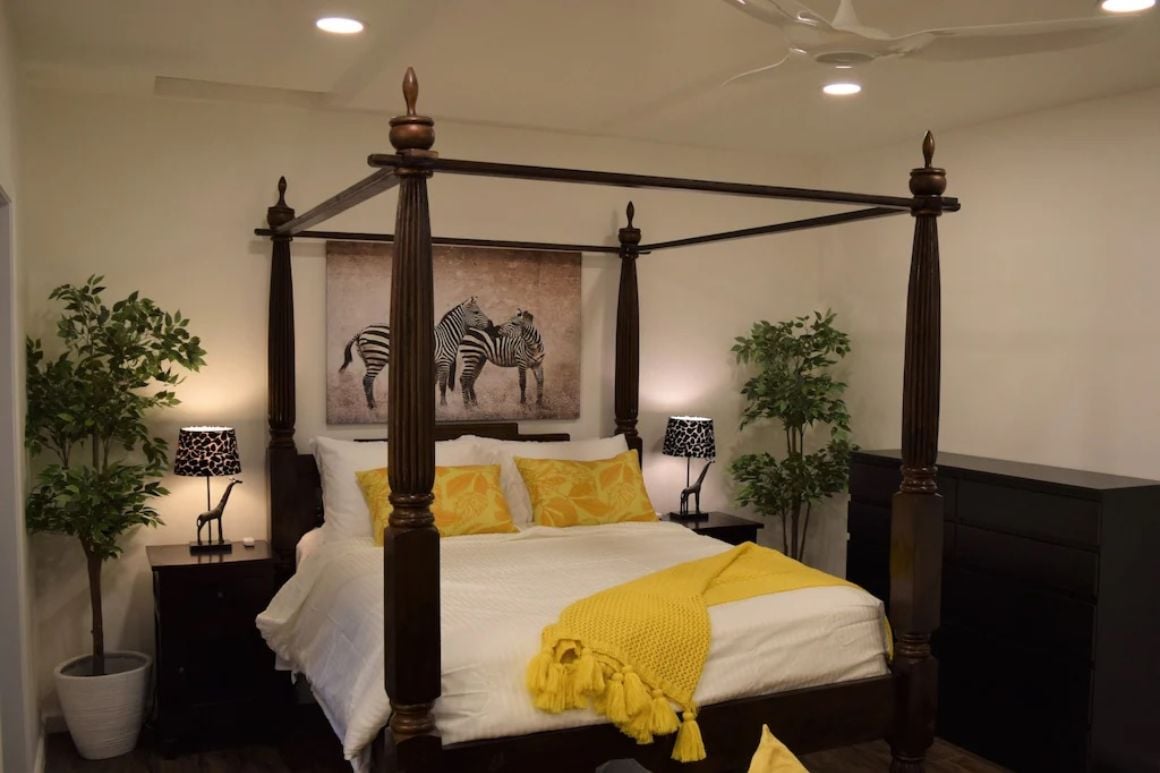 $
Minutes from Ventura Boulevard
2 Guests
Keyless self-check-in
Located in the hills of Encino, this compact studio space offers easy access to Venture Boulevard and many of Los Angeles' top attractions.
The compact space is brightly decorated, featuring a distinct nod to African safaris. The open-plan living space is compact but a perfect place to return to after a day of sightseeing. Whip up a meal in the fully equipped modern kitchen, or grab some Netflix-'n-chill time on the sofa which folds out to offer additional sleeping space.
The surrounding area offers plenty to see and do, including shopping on Rodeo Drive, visiting the famous Sunset Strip, or hitting the Santa Monica Beach for a day of California sunshine.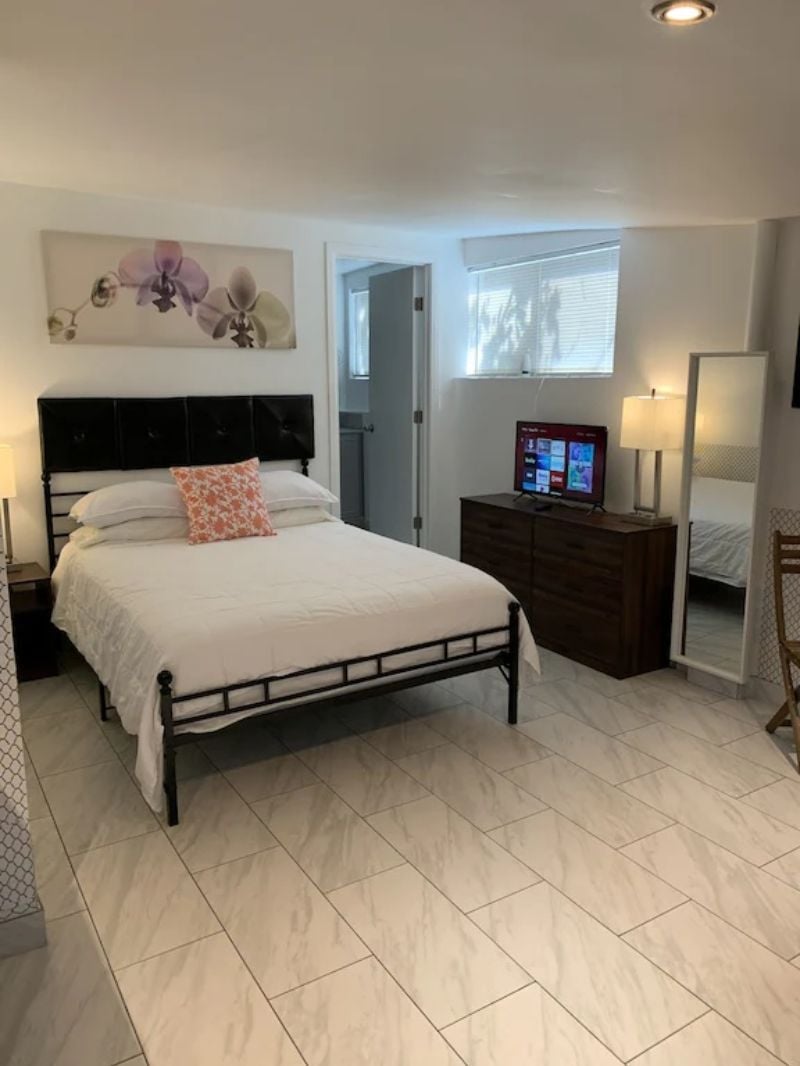 $
Neat and compact launchpad
2 Guests
Free housekeeping for longer stays
This budget-friendly VRBO in Los Angeles is perfect for those backpacking LA, as it's ideally located in the Alhambra hills overlooking Los Angeles. This unit offers excellent value for money and a convenient location near to many of the city's attractions.
The studio is simply furnished with a queen-size bed, a basic kitchenette area with a microwave and kettle, and a private bathroom. Guests of the studio also have access to a small garden area with outdoor seating.
Various shops, supermarkets, and coffee shops are within a short walk of the studio for added convenience. Top Hollywood attractions are easy to access, including Universal Studios, the Hollywood Walk of Fame.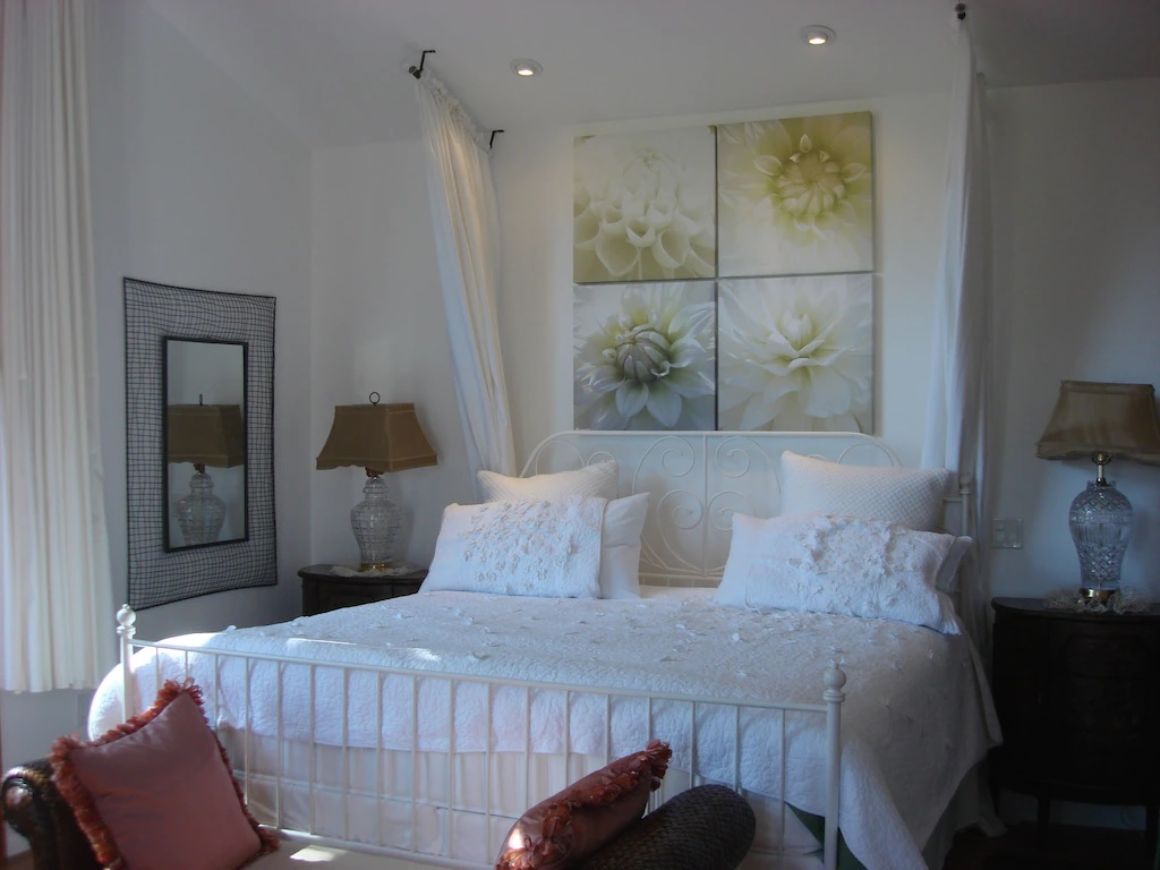 3 Guests
Decadent whirlpool bath
Set in a quiet, verdant area of Tarzana, this well-equipped apartment offers a convenient location. The safe, peaceful neighborhood will have you feeling far removed from the hustle and bustle while in fact being within easy reach of the city.
Ornately decorated, the apartment includes a lounge area and a spacious dining area with high ceilings. From the king-size bed to the luxurious whirlpool spa bath, the apartment offers a truly comfortable stay for a solo traveler or a couple.
Head to the nearby mountains for a hike on one of the trails or hop on the highway which offers easy access to attractions including Malibu, Venice Beach, Santa Monica, and Hollywood.
Is This the Best Travel Pack EVER???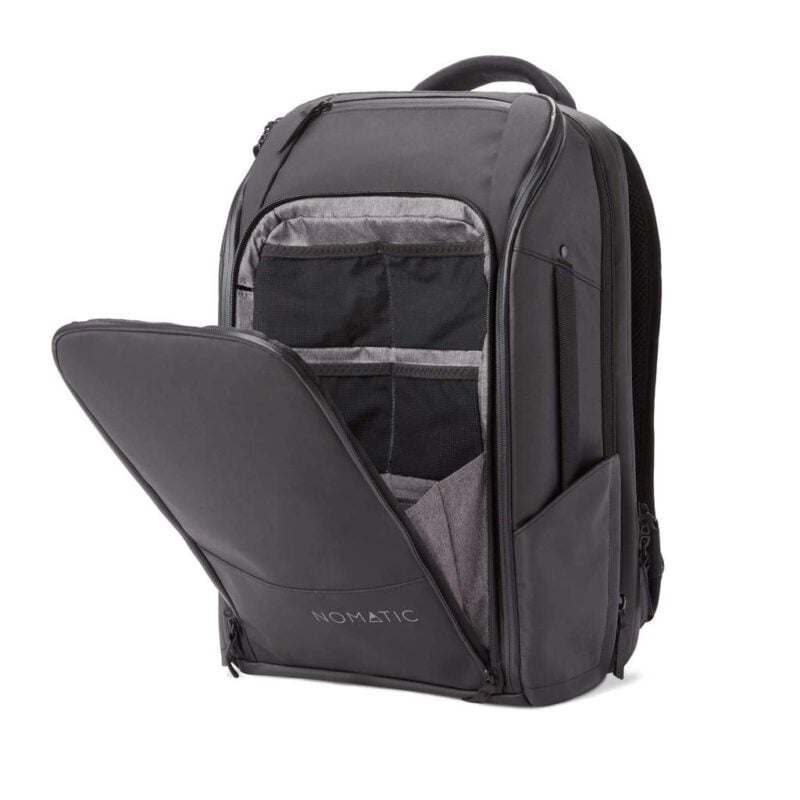 $
Charming canal-side retreat
2 Guests
Romantic fairy-lit patio
Overlooking a canal in Marina Del Ray, this charming studio is an ideal retreat for a couple seeking a stay near the beach. With the marina on one side and the beach on the other, most amenities are within walking distance.
The compact VRBO in Los Angeles offers a well-decorated stay, with a queen-size bed and a modern marble bathroom. The lounge area has a romantic fireplace and opens up through French doors into the patio which overlooks the canal.
With the beach and marina so nearby, there's little reason to venture too far. If you are in the mood to explore, Santa Monica is a 10-minute drive away, while Beverly Hills and Downtown LA are 30 minutes away by car.
$
Immaculate family vacation home
6 Guests
Large porch and garden
This Orange County vacation home in LA is the ideal family-friendly option for a beach break. Situated in a quiet, residential neighborhood, the house offers a casual and tranquil stay.
There's plenty of space in the house for everyone to come together and make family memories, or grab some alone time or a nap. In addition to three bedrooms, the house has a dining room, two lounge areas, and a fully equipped kitchen. Outside, there's a large porch that overlooks a landscaped garden where the kids can run around.
The beach is a short walk away (beach equipment and toys are provided), as are the Seal Beach Pier and Main Street's shops and restaurants. For a fun day out, visit the Seal Beach National Wildlife Refuge or the Red Car Museum.
$$$$
Lavish hillside estate
Soak in the Los Angeles city views from this hilltop mansion. Live the Beverly Hills lifestyle in this sprawling seven-bedroom grand home with all the added extras and amenities you could possibly need.
To maximize the panoramic view, there are floor-to-ceiling windows and indoor-outdoor spaces throughout. There's an impressive kitchen with all the latest appliances, but if you're really living large, secure the services of an optional private chef. Since you're here to relax, you don't even need to climb stairs – use the elevator.
Spend languid days beside the designer heated swimming pool or in the hot tub or request an in-home spa treatment or massage (at an additional cost). Pop down to the Sunset Strip for a night out or do a little shopping on Rodeo Drive.
$$
Large patio on the waters
7 Guests
Dock with canoe available
Stay in this custom-built Mediterranean-style house, overlooking a picturesque canal in Venice Beach. Set in a quiet and secluded neighborhood, this home offers a tranquil but well-located retreat.
Stately interiors and luxury appliances feature throughout this custom-built house. In addition to the three stylish bedrooms, the home has a cozy lounge area, a dining room, and a spacious kitchen. A large patio overlooks the water.
The beach is a short walk away from the house – bikes, boogie boards and beach toys are provided for a fun day in the sun. Take a leisurely paddle on the canal in the canoe provided. LA's many attractions are easy to access from here.
$$$
Impeccable architecture
13 Guests
High tech smart home
This magnificent villa is located in a quiet and elegant neighborhood in a prestigious area. Surrounded by tall trees and hedges, the property offers absolute privacy. Top stores and restaurants are within walking distance.
Six modern and stylish bedrooms offer plenty of space for a family or group of friends traveling together. Everything in the home is state-of-the-art, from the kitchen to the full gym. There's a small garden with a patio and pool, perfect for barbeques and hanging out.
The villa offers easy access to Rodeo Drive, Universal Studios, and the Santa Monica Pier. If you're keen on a beach day, choose from Venice Beach or Santa Monica Beach which are easily accessed. Golfers will delight with the number of excellent courses in the area.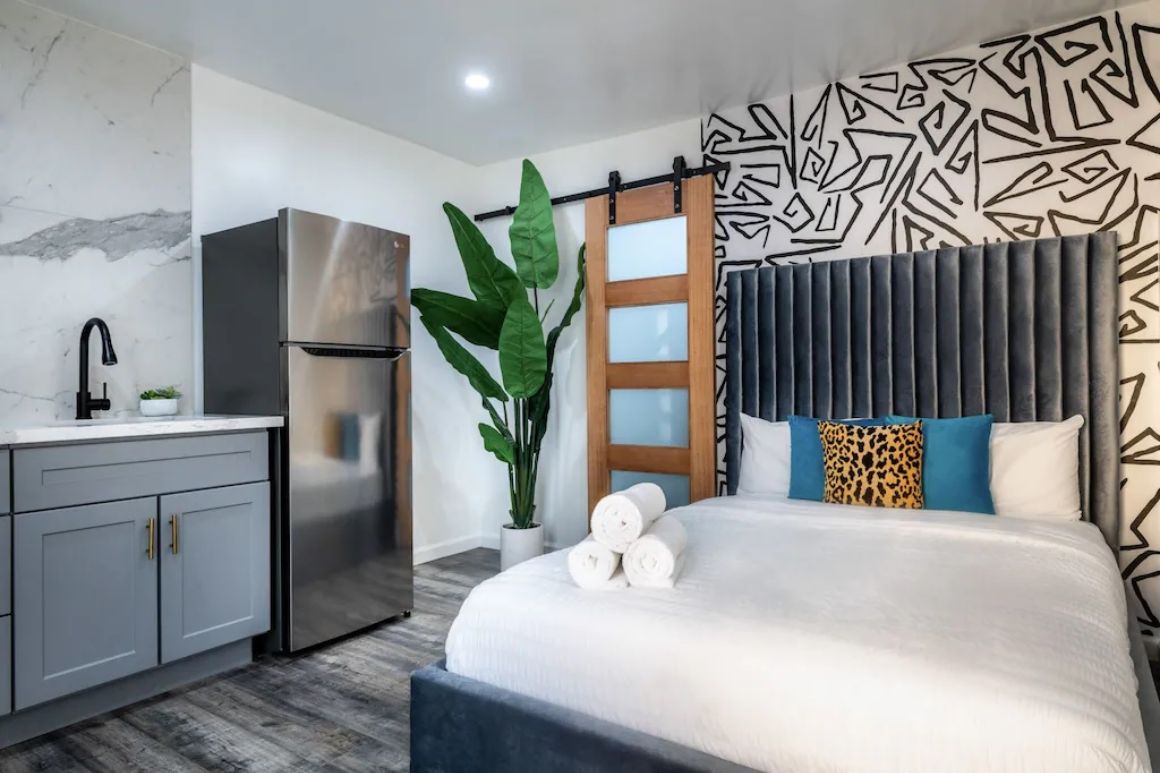 $
Centrally located studio
2 Guests
Outside lounge and firepit
Centrally located near downtown Los Angeles, this is the ideal VRBO in Los Angeles for a city sightseeing adventure. The Forum and Sofi Football Stadium are nearby.
This VRBO in Los Angeles includes a well-equipped kitchen and a queen-size bed with a modern feel. The small space is equipped with air conditioning and Wi-Fi. Parking for one car is included, perfect for those embarking on a California road trip.
Enjoy the California sun at Venice Beach and take a stroll on the famous Boardwalk. Fans of the Silver Screen can visit The Hollywood Walk of Fame and Universal Studios which are both easy to access.
$$
Glamorous, luxury living
12 Guests
Private backyard and heated pool
Located in the prestigious neighborhood of Beverly Grove, this luxurious villa offers a stay like a few others. West Hollywood and Beverly Hills attractions are minutes away, with cafes, restaurants, and stores within walking distance.
With six modern bedrooms, this villa is a great option for a family or group. The luxury continues with a gym, movie room, and detached guest house. A rooftop deck offers incredible LA views, while the backyard houses a large swimming pool, patio, and barbeque area.
Beverly Hills and Rodeo Drive are minutes away with their many stores and top restaurants. For a beach day, Sant Monica and the Pier are a short drive away, as is Venice Beach. Various excellent golf courses are within easy range of the villa.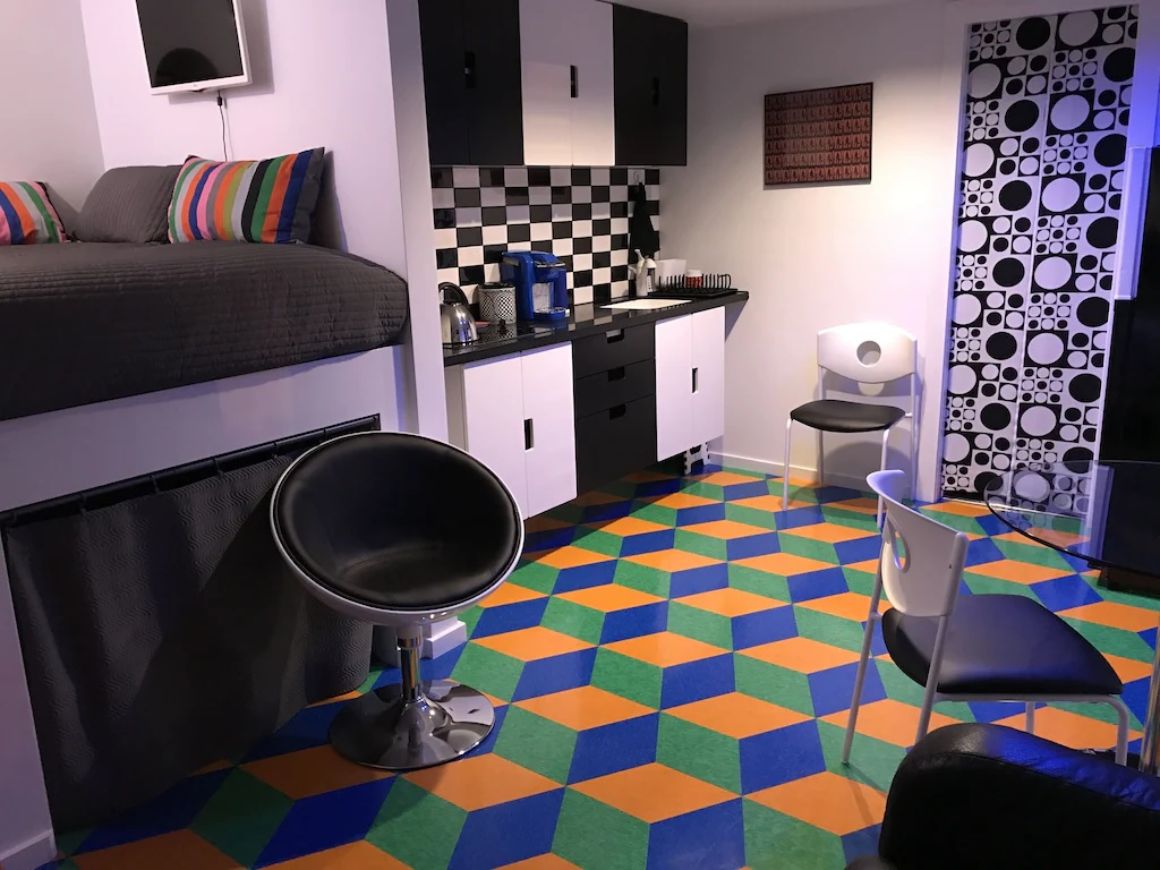 2 Guests
Furnished outdoor deck
Silver Lakes is a trendy neighborhood in Los Angeles with a variety of restaurants, galleries, and nightclubs. This retro-themed studio apartment offers walking access to this vibrant area, as well as being within driving distance of many of LA's other top attractions.
Guests who plan to spend their time out and about exploring will enjoy this compact studio with its funky 1960s pop culture décor. The economical space has a small kitchenette, seating space, sleeping nook, and a bathroom. Outdoors, there's a fun furnished deck.
Get in some great shopping on Melrose Avenue and Rodeo Drive nearby, visit Dodger Stadium, to take a tour at Paramount Studios. This is arguably the best VRBO in Los Angeles near the nightlife.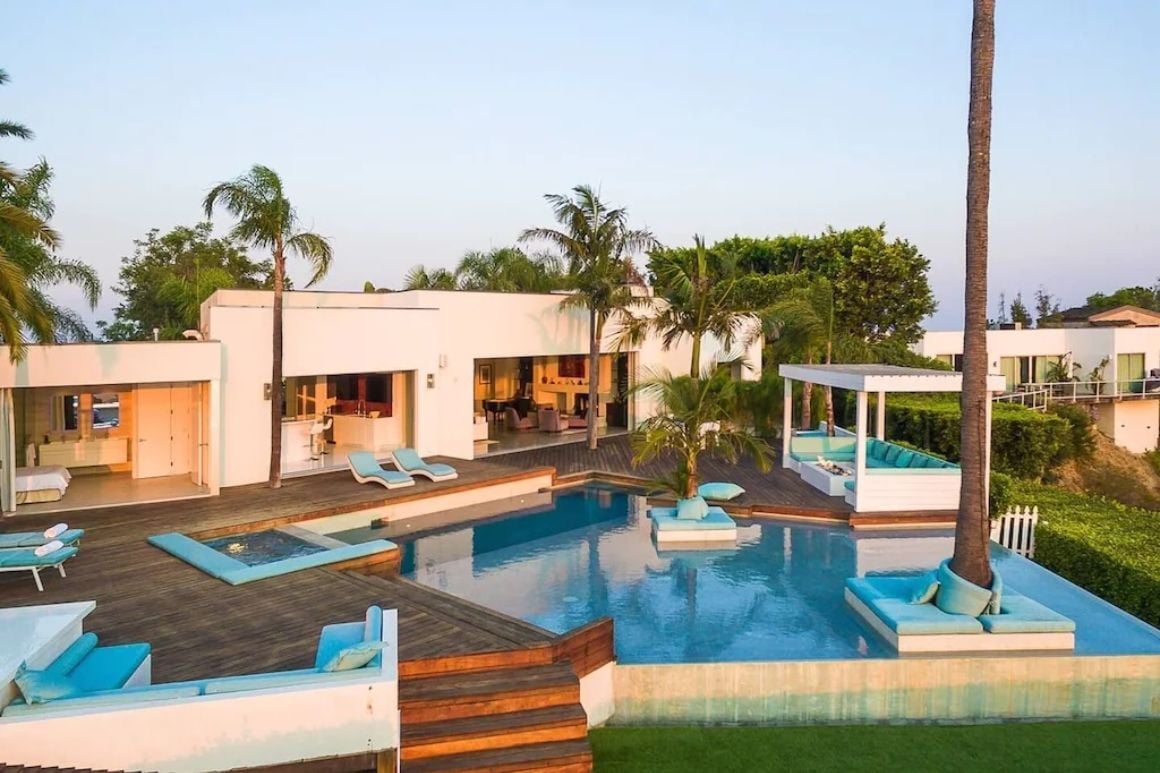 $$
Infinity pool terrace and pergola
8 Guests
Home cinema and wine cellar
Located in the Platinum Triangle, this spacious house offers spectacular views over Los Angeles. The property is tucked in a neighborhood alongside homes of prominent sportspeople, actors, and musicians.
Perfect for families and small groups, the home has four spacious, modern bedrooms as well as plenty of spaces for relaxing. The palm-studded deck and infinity pool terrace are by far the showstopper in this home, offering unbeatable views.
Exploring all that the city has to offer is simple from this central location. The glamorous Sunset Strip is less than two miles from the home, whole great beaches like Santa Monica and Venice Beach are just a short drive away.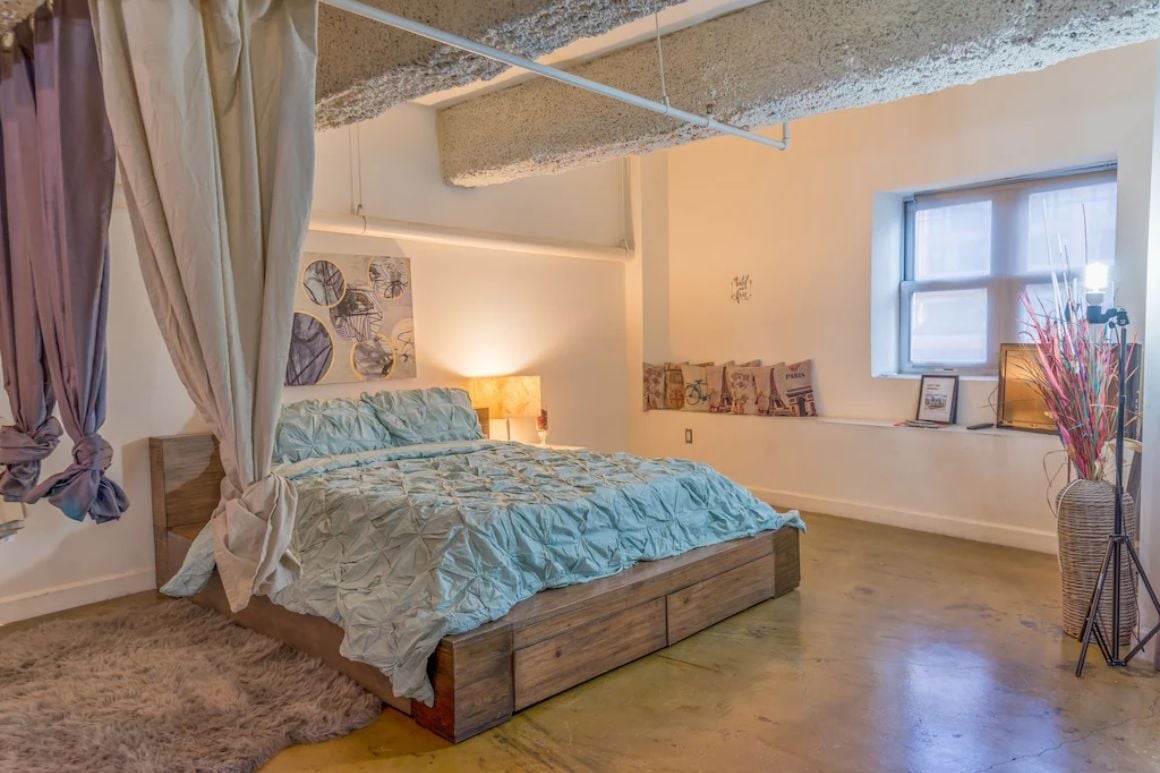 $
Hip and trendy downtown location
4 Guests
Rooftop pool with views
Set in the heart of trendy and vibey downtown Los Angeles, this is the perfect bolthole for a professional or digital nomad to combine work and travel. There's no shortage of shops and restaurants within walking distance of this edgy apartment.
The two-bedroom apartment offers a slightly industrial feel with exposed concrete ceilings and polished concrete flooring. The space has been cleverly divided and offers all the basics needed for a comfortable stay.
Spend lazy days on the rooftop, beside the pool, as you enjoy the city views, or stroll the streets of downtown LA to nearby museums, Staple Center, and more. Explore slightly further out to see attractions such as Universal Studios, Rodeo Drive, and the Sunset Strip.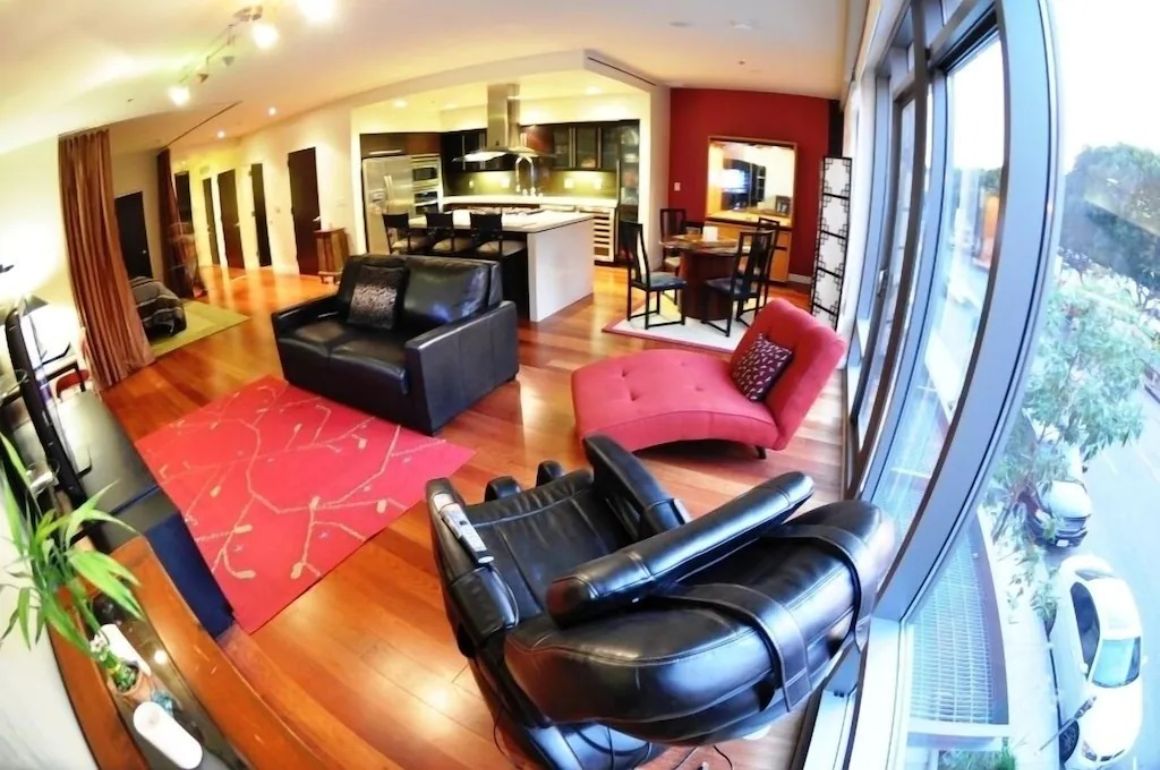 $
LEED-Certified Green Building
4 Guests
Covered parking for two
In the very heart of the city, this executive loft is an ideal retreat for business travelers and leisure tourists alike. With a variety of restaurants, stores, and entertainment options available within walking distance, there's plenty to explore from this Los Angeles VRBO.
The compact studio suite has a well-equipped and spacious kitchen and an open-plan living area. The bed is partitioned off from the living space by a curtain to offer some privacy. The deck area on the fourth floor offers an open-air patio with barbeque suites.
Nearby downtown attractions include the Staples Center, LA Live, and the Orpheum Theatre. Beverly Hills, Hollywood, and the beaches require a bit more of a drive but are still relatively accessible.
6 Guests
Pool deck with fire pit
From its perch in the Hollywood Hills near Laurel Canyon, this mid-century modern home offers superb views and magical sunsets. While the neighborhood is quiet, it's by no means far from the action.
This newly renovated home offers three spacious bedrooms and an open concept living space. The pool area offers excellent views, as well as a hot tub and fire pit for the ultimate barbeque venue.
The location of the home is central to many of Los Angeles' best attractions. The prestigious areas of Hollywood and Beverly Hills are within easy reach, as is downtown LA. Top beaches are a short drive away.
8 Guests
Pool with superb views
Located in the Hollywood Hills, this private home enjoys a secluded setting on a gated road. Hollywood, Beverly Hills, and the Sunset Strip are nearby.
This expansive four-bedroom home is uniquely designed and ornately furnished to offer a luxurious retreat. The bright living space opens onto the patio and private pool which offers superb city and mountain views. are
While this VRBO in Los Angeles enjoys a tranquil setting, the city and its top sights are all within easy reach. Hollywood is less than a mile from the home, while Venice Beach and Santa Monica are a short drive away.
8 Guests
Small garden and seating area
This gorgeous home is located in a peaceful, family-friendly neighborhood in Pacific Palisades. This quaint village near the beach offers plenty of restaurants and outdoor activities to enjoy.
This modern home-away-from-home has been professionally decorated and offers a distinctly Hamptons-style stay. With five bedrooms, a gracious kitchen, and a lovely garden, there are plenty of places to relax together as a group or in solitude.
Spend a day on Malibu Beach which is just three minutes away or head off on one of the many nearby hiking trails through the hills. A short drive will have you shopping on Melrose Avenue or Rodeo Drive.
$$$
Sophisticated and contemporary home
16 Guests
Tennis court and Jacuzzi
Just minutes from Rodeo Drive, in a desirable celebrity neighborhood, this recently renovated home is an architectural inspiration. Set on over one acre, the large home offers tranquillity and seclusion in style.
With four sophisticated and spacious bedrooms and seven-and-a-half bathrooms, the house is an exceptional retreat for a family or group. Perfect for entertaining, the home offers an infinity-edge pool, Jacuzzi, tennis court, outdoor fireplace, and dining area.
If you can tear yourself from this opulent retreat, many of the city's attractions are within easy reach. From the beach to Beverly Hills, the choice is yours how you wish to spend your days.
$
Peaceful sanctuary near nature
8 Guests
Shared pool and Jacuzzi
Midway between Malibu's beach and Calabasas, this eclectic guest house offers a quiet and exclusive stay. Sharing a three-acre property with the main estate, the property backs onto incredible parkland and mountains.
Decorated with fun music promoter memorabilia, this quaint and casual guest house is compact yet well furnished. The upstairs loft space has a queen-size bed and two twin beds, while downstairs has two more twin beds and couches that accommodate up to 8 guests. The pool and outdoor area are ideal for hosting events.
A variety of great hiking trails are easily accessed from the house, as well as some of LAs top restaurants. Some of the best beaches in LA are just a short drive away.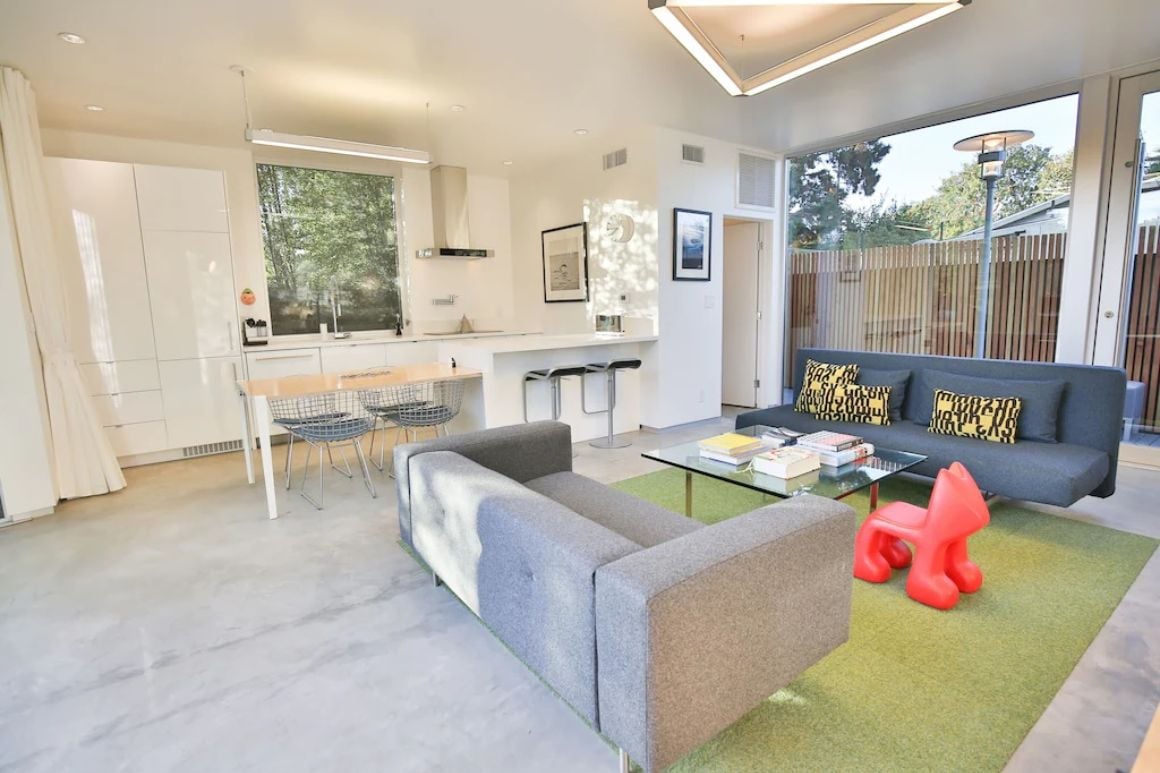 $
Architect-designed modern home
4 Guests
Kids' play frame outside
Located in a quiet, family-friendly neighborhood in Venice Beach, this one-of-a-kind house was designed and built by the owner who is an architect. The beach is a stone's throw away, as are various restaurants and stores.
Ideal for a family of four, this immaculate and light home is well furnished and decorated with all the comforts of home. Designer furniture and modern appliances have been used throughout this newly built space.
Numerous popular beaches are within easy reach of the home. Marina Beach is the closest of these, with Venice Beach less than two miles away. Explore nearby Santa Monica to see the famous Pier.
Don't Forget Your Los Angeles Travel Insurance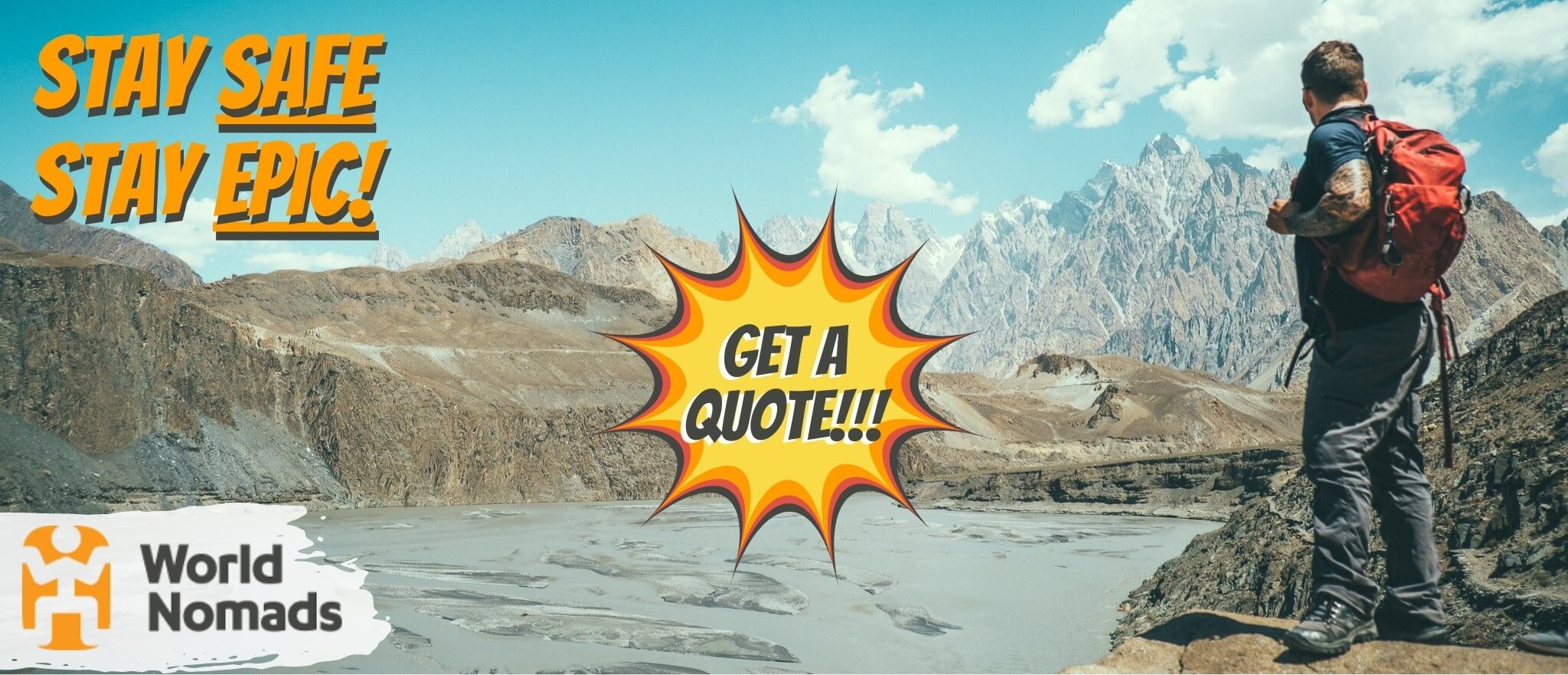 World Nomads' mission is to support and encourage travellers to explore their boundaries. They offer simple & flexible travel insurance, and safety advice to help you travel confidently.
They've been doing it since 2002 – protecting, connecting, and inspiring independent travellers just like you.
Get a quote below or read our in-depth review!
World Nomads provides travel insurance for travelers in over 100 countries. As an affiliate, we receive a fee when you get a quote from World Nomads using this link. We do not represent World Nomads. This is information only and not a recommendation to buy travel insurance.
Final Thoughts on Los Angeles VRBOs
Los Angeles is a perennially popular destination – and not just with fans coming to see celebrities in their natural habitat. Visitors come here to soak up some sunshine on the many excellent beaches along the Pacific Coastline and to experience the laid-back California lifestyle.
Searching for a VRBO in Los Angeles can offer an overwhelming range of options. I've narrowed these down somewhat to create my list of the best VRBOs in Los Angeles to help you find something to suit your needs.
If you're traveling internationally to visit Los Angeles, I would recommend considering some travel insurance. Given the current travel climate and uncertainties, it's advisable to err on the side of caution to protect your travel investment and your loved ones in the event that things don't go according to plan.
---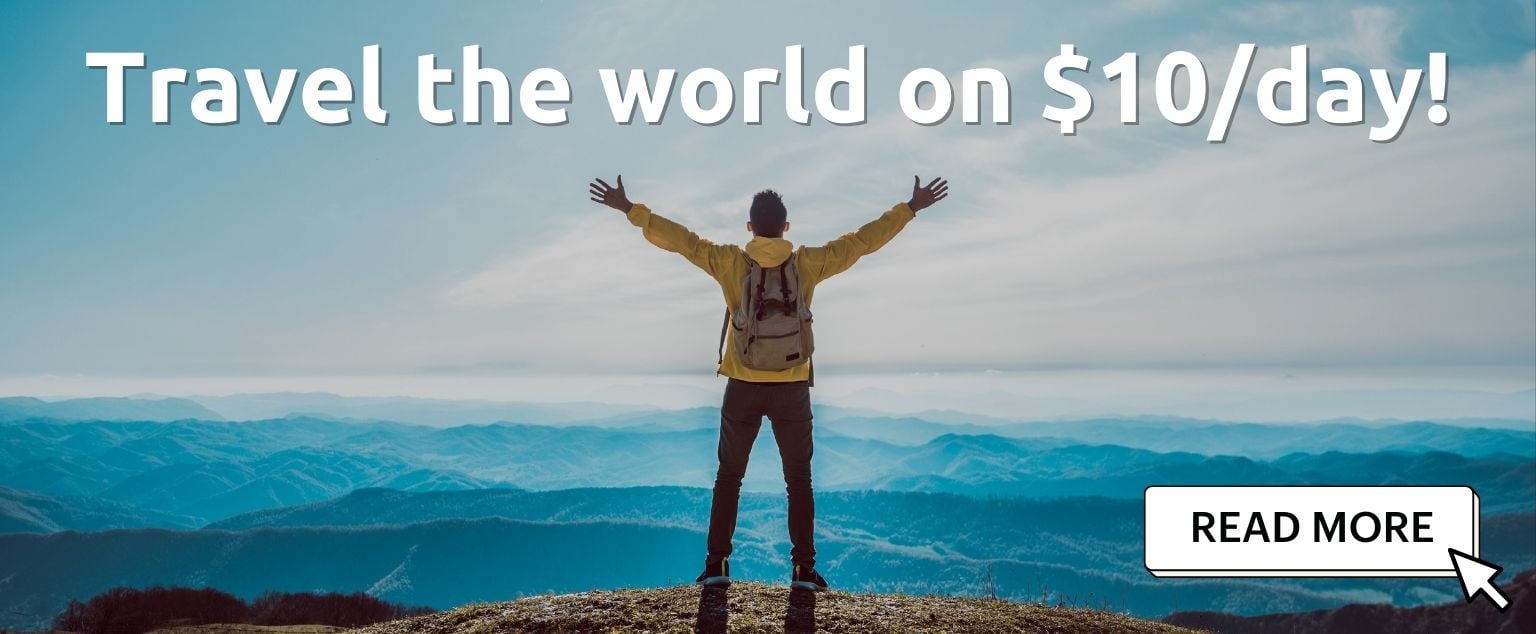 And for transparency's sake, please know that some of the links in our content are affiliate links. That means that if you book your accommodation, buy your gear, or sort your insurance through our link, we earn a small commission (at no extra cost to you). That said, we only link to the gear we trust and never recommend services we don't believe are up to scratch. Again, thank you!