Magical, unspoiled beaches await you in Mozambique! Why choose Paris when you can be a pioneer! As one of the up and coming travel destinations, Mozambique is a hotspot for all that is pure and pristine. With luxurious islands, and an abundance of whales, dolphins, and manatees, Mozambique offers travelers nearly unparalleled experiences.
What can be difficult about figuring out where to stay in Mozambique is sifting through all the Mozambique accommodation options. Not just that, but deciding which locations are the best areas to stay in Mozambique can be an arduous task!
Don't shoulder that cumbersome load alone. We're here to help. We found the best hostels, Airbnbs and hotels in Mozambique for you. We are ready to hold your hand and walk you through all the top places to stay in Mozambique too. Ready? Let's go.
Quick Answers: Where is the Best Place to Stay in Mozambique?
Map of Where to Stay in Mozambique
Mozambique Island, also called Ilha de Moçambique, can be found off of the northern coast of Mozambique. It is actually close enough to the mainland that it is connected by a two-mile-long bridge – in fact, the island itself is just two miles long! It's also just a few hundred yards wide, which means that it's a tiny island perfect for exploring. The entire island has been named a Unesco World Heritage site, which is one of the reasons why it is the best city to stay in Mozambique.
When visiting Mozambique Island, make sure to see the Fortaleza de Sao Sebastiao and to tour the Governor's Palace Museum. There is a smattering of curious colonial buildings, including the old town fortifications and the Church of Santo António.
Best Places To Stay On Mozambique Island
As a teeny tiny island, you can stay pretty much anywhere and not be too far away from what you need. Don't fret over districts or neighborhoods, Mozambique Island is small enough that nothing is really divided that way.
While this Airbnb is a little bit of a splurge, it can fit up to six guests in this two-bedroom and two bathroom home. So if you're traveling with a large group, and split the price six ways – you can throw yourself a party because this Airbnb is one for the books! With tons of rustic charm and lots of thoughtful touches, this restored 18th Century Portuguese house is positively beautiful. You'll be overlooking the sea off of the two terraces. Relax on a sunbed and enjoy total privacy.
Best Guest House on Mozambique Island: Cafe Central
Ah, Cafe Central. What a positively beautiful guesthouse. This colonial-style property sits just a few hundred feet from the Museum of the Island Of Mozambique. You'll love the affordable room rates, and lounging in the two swimming pools. It has an incredible old-world charm that will make you feel almost as if you're in a different century altogether. Never fear, the rooms have been renovated to modern standards – so you won't be stuck with 19th-century plumbing!
As a beachfront hotel, Feitoria Boutique Hotel is a state of the art hotel, yet still will make you feel transported back in time with the tasteful decor and ambiance. If the turquoise waters of the ocean aren't calling your name, then enjoy the soothing waters of the outdoor swimming pool. Popular tourist hotspots that are very close to the hotel are the Fort São Sebastião, the Governor's Palace Museum, and the Church of Misericordia.
Ponta Malongane and Ponta do Ouro are simply so fantastic that we couldn't choose between them as the best place to stay in Mozambique on a family vacation! Since they are just seven kilometers apart, getting between Ponta Malongane and Ponta do Ouro isn't difficult at all. It's most easily traversed by a four-wheeler, which is sure to thrill the kids! As a reference point, both Ponta Malongane and Ponta do Ouro sit in the extreme south of Mozambique, just a bit north from the border with South Africa.
Ponta do Ouro is renowned for its tranquil beaches and for the pods of dolphins that circle the shores. Also from July through October, expect to see whales! Since Ponta do Ouro is closer to South Africa, it is a popular tourist destination for weekend trips and can easily be added to your South Africa backpacking itinerary.
Ponta Malongane is known to be quieter than Ponta do Ouro. It's a bit more remote and it has less busy beaches that are peppered with patches of coastal forest.
Best Places to Stay in Ponta do Ouro & Ponta Malongane
While Ponta Malongane is surely more peaceful than the ever-so-slightly more busy Ponta do Ouro, I recommend staying in Ponta do Ouro to have easier access to restaurants and little shopping marts. Also, when possible, stay as close to the beach as possible to maximize those laid-back, chill vibes!
Best Airbnb in Ponta do Ouro & Ponta Malongane: Rustique Home
This Airbnb is a fantastic choice for lodging in Mozambique with a family in tow. It sits just outside of the city center of Ponta do Ouro, in a more peaceful residential neighborhood. It is an entire home, that can house ten guests with three bedrooms complete with nine beds! There are also two bathrooms so you won't have to fight over shower time. Also, this Airbnb sits just 400 meters from the main beach. If you're wondering where should I stay in Mozambique with my family, this Airbnb is the way to go!
Best Hotel in Ponta do Ouro & Ponta Malongane: Gala Gala Eco Resort
Gala Gala Eco Resort is a beautiful hotel that is just a five-minute walk to the beach! Best of all, the site of this hotel is a little secluded. Tucked away from all the businesses of Ponta, you and your family will love staying here. Gala Gala also has an on-site dive center if you're interested in learning how to scuba dive.
Best Guest House in Ponta do Ouro & Ponta Malongane: Villa Grande
The Villa Grande is a family-friendly resort that sits just 1,950 feet from Ponta Do Ouro Shopping Centre. If there's anything you need, it's within arms reach at the Villa Grande. Each room at this resort has a patio and a garden view. There's also a barbecue available to guests, should you want to whip up some grilled delights!
Vilanculous is a popular coastal town and is known as being the Mozambican capital of water sports! So get ready to get a hefty dose of fun here in Vilanculos when you're traveling with your significant other. It's one of the top places to stay in Mozambique not just because of the water sports, but also because of it being the gateway to the Bazaruto Archipelago, which is Mozambique's only underwater national park.
You and your loved one will love doing everything from sailing to kitesurfing to helicopter flights. You can also do an incredible tour of the Vilanculos Coast on horseback! Get in touch with Mozambique Horse Safari for more information.
Lastly, if you and your loved one are looking to do some volunteering, consider checking out the African Impact Community Project.
Best Places to Stay in Vilanculos
As a balmy, breezy beach town definitely stay as close to the beach as possible! Plus, those white sandy beaches and azure waters really do maximize the romantic vibes.
Welcome to couples' paradise at the Coconut Beach Cottage Airbnb. It sits just opposite the soft white sands of the beach, and is actually sandwiched between two fabulous restaurants! There is also a lovely little garden to enjoy.
Baobab Beach is situated just off the seashore. What's better than life on the beach? This hostel is also just a quick 10 minutes walk from the town center. Right from your hostel, you can book diving, island hopping, horseback riding, and snorkeling trips. You and your loved one will ooh and ahh over the eco-vibes at this tranquil hostel! And yes, private rooms are available.
Best Hotel in Vilanculos: Casa Chibububo Lodge
Bring on the romantic vibes at this beautiful, beachside hotel. The wooden and thatched-roof bungalows sit just steps away from the beach. If you don't feel like wading into the waters, just lounge by the outdoor pool and garden. Additionally, each house has a small kitchen, equipped with all you can need! Lastly, you'll be just under two miles from the Night Market and from the delectable Kilimanjaro Cafe.
Maputo is the capital city of Mozambique. It is an urbanized port town, dwelling right on the Indian Ocean. What makes Maputo the absolute coolest place to stay in Mozambique is that there is plenty of things to do. It's no secret that Maputo has an epic party scene. Enjoy live music and dancing on the beach or in the bars or even on the streets! Speaking of the beach, there is a large beachfront to enjoy. I especially recommend checking out the Praia da Costa do Sol, also called the Sunshine Coast.
There are also plenty of unique buildings to see, and interesting museums to tour. From the Natural History Museum to the Fortaleza da Nossa Senhora de Conceicao—the Fortress— to the train station. Maputo is brimming with curiosities!
Best Places to Stay in Maputo
Don't stray too far from the city center here in Maputo. You'll want to keep your finger on the beating pulse of the city, and the easiest way to do that is to not stray too far from the city center!
Best Airbnb in Maputo: Maison Moz
Ready to feel like you stepped right into the pages of a home decor magazine? This Airbnb is positively pristine! It's a three-bedroom and two-bathroom home and you'll love staying in this fancy house. Moreover, there is a fully equipped kitchen with all you can need. Located in the Polana neighborhood, you'll be close to the ocean, and close to all you need as well. I'm serious here, there is a Thai restaurant, Indian restaurant, a hairstylist, shopping market, etc all along the block.
The Liv Inn Guest House features an outdoor swimming pool, a barbecue, and a peaceful garden for guests to enjoy. And if you're in the mood to upgrade your pool time, take a trip to the Adil Water Park— just 1,000 feet from your doorstep! Also, chow down on the huge buffet breakfast each morning and fill your belly before a day of exploring.
Hotel Atlantis 2 is a beautiful hotel, just a quick walk away from the flower-filled Tunduru Botanical Gardens and from the Museum of Natural History. Some rooms even come with a refrigerator! So, when you're looking for your perfect spot in Maputo, this hotel is worth every penny.
As we just covered, Maputo is the coolest place to stay in Mozambique. But now we're ready to get down and dirty with you and cover why Maputo is the best city in Mozambique on a budget.
There are lots of cheap things to do in Maputo, from touring the National Art Museum to checking out the fascinating Iron House to pursuing the Tunduru Botanical Gardens. If we're talking about free things, go ahead and bask in the cool architecture of Maputo by doing your own walking tour of the city. Make sure to check out the key spots like the Fortress, the Railway Station, and the Prana dos Herois. The Paroquia Santo Antonio is a true architectural beauty too! If you're looking to find some inexpensive souvenirs, stop by the FEIMA market and buy some local crafts!
Best Places To Stay in Maputo
When you're traveling on the cheap, Maputo is where you want to be! With bargain-basement prices that still keep you right inside the city center— you'll be sitting pretty at any of our options below.
This is a brand-spanking-new tiny house directly opposite of the delectable Restaurant Spazio. It has a sitting area, kitchen, bedroom, and a fully functional kitchen. And best of all, right outside of your tiny house is two large mango trees, an avocado tree, and an abundance of flowering plants. Guests will be able to enjoy the garden too!
Best Hostel in Maputo: The Base
The Base is Maputo's one and only hostel and it is a truly superb hostel, for sure! It has a clean communal kitchen for guests to enjoy, super hot showers, and strong wifi. Situated within easy walking distance of the International Bus Station, right on a well-known street in Maputo called Avenue Patrice Lumumba, you'll be close to all the tourist hotspots. What hotspots you ask? Both the museums of Natural History and of Geology. Plus the Teacher's Garden (Café Acácia), is just down the street.
Best Hotel in Maputo: Taka-Taka
When trying to figure out where to stay in Mozambique on a budget, Taka-Taka is the place for you. Your wallet will definitely be happy here! Situated right in the Central A district of Maputo, just over half a mile from Peace Square, you'll be staying at a truly great area of town. Also, the Premier Shopping Mall is just over half a mile away as well.
The Quirimbas Archipelago is a collection of islands in the Indian Ocean off of Mozambique's northern coast. What makes the Quirimbas Archipelago the most unique place to stay in Mozambique? Well, I'm glad you asked! The Quirimbas Archipelago is renowned for its incredible coral reefs and for having an abundance of dolphins, manatees, and whales floating through the nearby waters. Want to swim next to a manatee? Do it in the Quirimbas Archipelago!
Save the clownfishes and parrot fish for the less unique travelers out there. You want unique? You'll get it at the Quirimbas Archipelago.
The Quirimbas Archipelago comprises thirty-two islands. The major islands in the archipelago are: Ibo Island, Medjumbe Island, Matemo Island, Ilha Vamizi, and Rolas Island.
Best Places to Stay in the Quirimbas Archipelago
Medjumbe, Vamizi, and Matemo are known for being more isolated and remote, and for having pristine and nearly unpopulated beaches plus epic dive sites. However, the mangrove strewn island of Ibo is the best place to stay as it's one of the largest and has awesome colonial-era forts and ruins to explore! Ibo Island is truly the best place to base yourself for exploring the Quirimbas Archipelago.
Best Airbnb in the Quirimbas Archipelago: Miti Miwiri
While this Airbnb is actually a hotel in disguise, it's an incredible spot to stay! The hotel itself is chock full of unique antiques and old photos, and the rooms are positively divine. Relax by the turquoise waters of the hotel pool, or enjoy a quick walk to the beach. While you won't be staying right on the shoreline, it's certainly worth it to experience this place's incredible ambiance.
Best Hotel in the Quirimbas Archipelago: Ulani Lodge
The picturesque Ulani Lodge is just a few steps away from the sandy beaches of Ibo Island. It's an incredibly beautiful hotel that has everything from an outdoor pool, garden, and plentiful terraces. This stylish hotel, full of exquisite decoration, is arguably the best hotel to be at on the whole island!
Best Guest House in the Quirimbas Archipelago: Casa das Garcas
Casa das Gracias sits right on the shoreline of Ibo Island. Close to the hotel is the Sandbar and Yachts, Ibo Pier, as well as the Fort of St John Baptist. Additionally, breakfast is included and you can enjoy it right on the beach!
"Toto, we aren't in Kansas anymore…" That's right Dorthy! We are in Tofo! Forgive my pun, but once I came up with it, I simply couldn't resist letting the sleeping dog lie. Again, forgive me. Let's get right to it now as to why Tofo is where to stay in Mozambique for adventure!
This coastal town in the southeastern part of Mozambique is a beach town known for it's Manta Reef. Expect to snorkel with some Gigantic manta rays in Tofo! Plus, there are also dolphins, whale sharks, and even humpback whales to go scuba diving with off the coast as well. If diving just isn't for you, then take an ocean safari and cruise along the ocean waters— you can still see plenty of sea life from the surface!
Tofo is also a great spot to learn to surf. And if you want to get a break from the water, then rent a quad four-wheeler and hit the sand dunes.
Best Places to Stay in Tofo
Tofo is really only composed of a handful of sandy streets. Since it's such a tiny, beach town— you don't have to be worried about being too far away from what you need or too close to the action either!
This Mozambique Airbnb is awesome. It's a stunning home right on the seashore. The house is cradled amongst lush gardens, and you even have an outdoor shower to rinse off after a dip in the sea! Specifically, this is a two-bedroom and two-bathroom home that actually has a total of five beds in it. Go ahead and relax with friends and watch whales right out your living room windows.
The Turtle Cove Lodge and Yoga Shala is a positively darling hotel right on the Tofo beach. There is a garden, pool, bar, and restaurant on site, as well as a huge buffet breakfast to enjoy. Yoga classes and massages are available to guests at a highly discounted rate. Lastly, the price will certainly put a smile on your face— this hotel is very budget-friendly!
Best Hostel in Tofo: Sundance Hostel
Sundance Hostel sits just 200 meters from the beach and is surrounded by all the best local restaurants and bars. It's your one-stop-shop for getting the best out of Tofo! There is a bar right inside the hostel, and an outdoor terrace where all the best socializing happens. There is also a 25% discount on all scuba and snorkel activities at Peri Peri Divers, located right behind the hostel.
Gorongosa National Park sits right at the heart of central Mozambique. It is a 1,500 square mile park filled with stunning valleys, plateaus, forests, and savannah. There's an absolutely unbelievable amount of varying ecosystems just inside this park itself. What does biodiversity mean? It's the perfect storm for an unparalleled safari experience!
Get ready to see some of the densest wildlife populations in all of Africa! Elephants and lions galore! Book a safari and witness the wildlife in their natural habitat, wild, and right in front of your eyes.
Best Places to Stay in Gorongosa
Just because you're right in the middle of rugged terrain, doesn't mean that there aren't places to pamper yourself! While there aren't really accommodation options inside the park itself, consider staying in the nearby cities of Chimoio or Beira for an easy drive to the park.
Beira Terrace Hotel is an exquisite hotel right on the beach. Known for their spacious rooms, and delicious continental buffet breakfast, Beira Terrace Hotel is a great choice when wanting to visit the Gorongosa National Park. Situated just under two and a half hours away, it's a popular place to stay when doing a safari at Gorongosa.
Hotel Inter Chimoio is a luxurious hotel with a fabulous bar and beautiful swimming pool. It's the perfect spot to stay in for true relaxation after a long day on the safari. You'll be less than a two-hour drive away and will be staying in true comfort.
Best Airbnb in Gorongosa: Indic Ocean Apartment
Situated right on the beachfront of Beira, this Indian Ocean apartment is a two-bedroom and one-bathroom rental. It is situated in a safe neighborhood, just a 10-minute walk to the city center or a couple of minutes walk from the beach. Enjoy a beautiful sunset right from your own private balcony!
Well, we certainly had our work cut out for us selecting the best Airbnbs, hostels, and hotels in Mozambique. Yet, we are confident we arrived at the best conclusions. We hope you agree!
Best Airbnb in Mozambique – Maison Moz – Maputo
Just a two-minute walk from the popular Friedrich Engels Avenue in the capital city of Mozambique, the world is your oyster at this Airbnb. Surrounded by dozens of delectable restaurants and boutiques, you'll love calling this Airbnb your home for your stay in Maputo. Lastly, there are three private balconies, three bedrooms, and two bathrooms in this enormous home. It's all yours, friends!
Best Hotel in Mozambique – Ulani Lodge – Quirimbas Archipelago
Hello gorgeous! The Ulani Lodge in the Quirimbas Archipelago right on Ibo island is the place to be. With boutique styled rooms and very spacious rooms, you are very nearly guaranteed to love your stay! With outdoor gardens and a pool to enjoy, relaxation and rejuvenation awaits you at the Ulani Lodge.
Best Hostel in Mozambique – Sundance Hostel – Tofo
When staying in the tiny town of Tofo, you want to make sure you make the most out of the acclaimed best water sport spot in Mozambique! Staying at Sundance Hostel will guarantee you don't miss out on any of the fun. Nestled right among the best local restaurants and bars, just 200 meters from the beach, you'll love staying at this backpacker hub in Tofo!
Books to Read While Visiting Mozambique
These are some of my favorite travel reads and books set in Mozambique, which you should consider picking up before you begin your backpacking adventure…
Ualalapi: Fragments from the End of Empire – One of the 100 best African novels of the 20th century. Readdresses the story of Ngungunhane, the last ruler of the Gaza Empire, and his role as a modern day icon.
Sleepwalking Land – First novel by Mia Couto. A young boy and old man take shelter in an abandoned bus while the Mozambican Civil War rages outside. Inside the bus, their story, as well as the story of others, unfolds.
The Last Flight of the Flamingo – In this other novel by Mia Couto that explores the Mozambican Civil War, Mozambican soldiers and UN agents become the victims of mysterious explosions.
Lonely Planet: Zambia, Mozambique, and Malawi – It's sometimes worth traveling with a guidebook. Despite Lonely Planet's history of selling out and writing about places they haven't been to, they've done a good job with these African countries.
Don't Forget Travel Insurance for Mozambique
World Nomads' mission is to support and encourage travellers to explore their boundaries. They offer simple & flexible travel insurance, and safety advice to help you travel confidently.
They've been doing it since 2002 – protecting, connecting, and inspiring independent travellers just like you.
Get a quote below or read our in-depth review!
World Nomads provides travel insurance for travelers in over 100 countries. As an affiliate, we receive a fee when you get a quote from World Nomads using this link. We do not represent World Nomads. This is information only and not a recommendation to buy travel insurance.
Whether you are wanting to go scuba diving with the manatees in Tofo or see the lions on a safari in Gorongosa, going to Mozambique sounds just about perfect right now. With so many awesome top places to stay in Mozambique, we are sure you found the right spot for you. Plus, with so many drool-worthy Airbnbs, hostels, and hotels that look right out of the pages of a magazine, you're sure to make a million memories in Mozambique!
Do you own or run a kick-ass hostel? Want to be featured on this list? Get in touch at [email protected]
---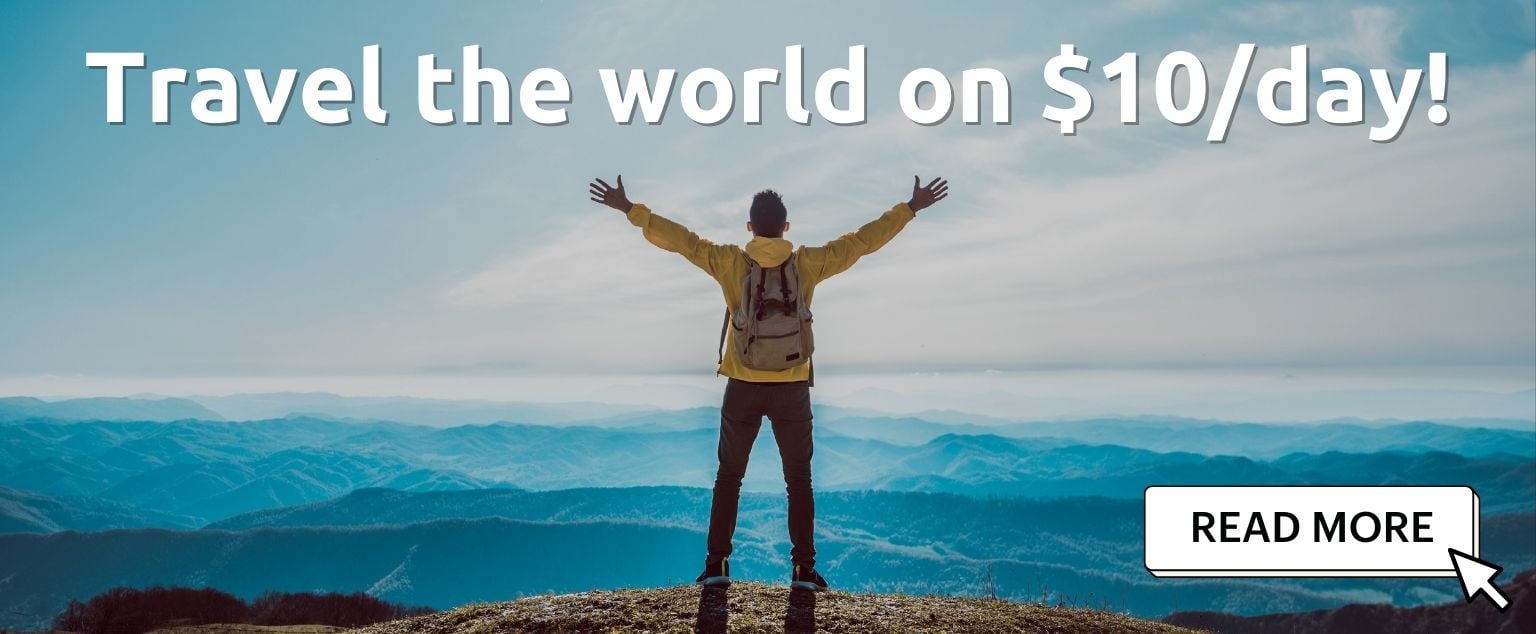 And for transparency's sake, please know that some of the links in our content are affiliate links. That means that if you book your accommodation, buy your gear, or sort your insurance through our link, we earn a small commission (at no extra cost to you). That said, we only link to the gear we trust and never recommend services we don't believe are up to scratch. Again, thank you!