Aruba is an awesome destination for a beach house. With around 40 beaches to its name, the island country – part of the Kingdom of the Netherlands – is popular for its sun, sea and sand credentials.
Unusually for a Caribbean island, the inland of Aruba is almost like a desert. Locals call it "mondi" – it's a cactus-filled desert-esque area unique to the island. That means that most properties are built around the water's edge, meaning you're not short of beach houses in Aruba to choose from.
As well as this, Aruba has more sunny days than any other island in the Caribbean. And everybody knows that the only thing better than a day at the beach is a sunny day at the beach.
So, if a beach house in Aruba sounds like a dream to you, you're in luck, because I've selected the best of the best beach houses for you here…
In a Hurry? Here's Where to Stay in Aruba for One Night
FIRST TIME IN ARUBA
Waterfront Beach House
An Aruban property with a beachy vibe and all the modern amenities you'll need for a smooth, comfy stay, this beach house will make all your dreams come true. If your dreams involve chilling out with the beach as your garden, that is.
NEARBY ATTRACTIONS:
Mangel Halto
Flying Fishbone (restaurant)
De Palm Island
Is this amazing Aruba Beach House booked for your dates? We've got your back with our other favorite properties below!

Unlock Our GREATEST Travel Secrets!
Sign up for our newsletter and get the best travel tips delivered right to your inbox.
Staying in a Beach Houses in Aruba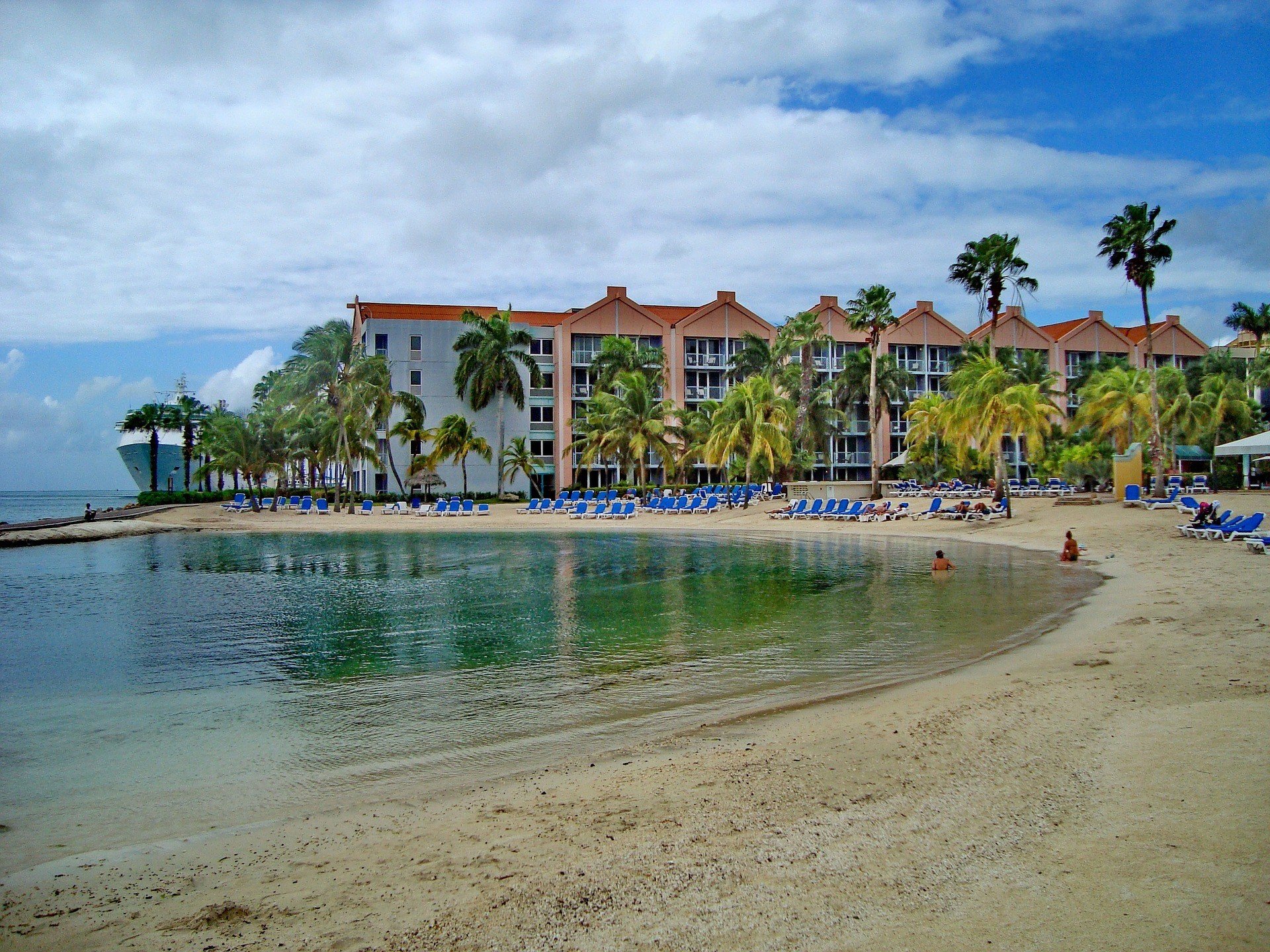 First of all, you're probably wondering: what do beach houses in Aruba even look like? Well, they come in a variety of different shapes and sizes. Being the popular Caribbean destination that it is, many of the best beach houses here come with a fairly high price tag.
But not ALL properties. In fact, you can find some genuinely great affordable beach houses here that definitely will not break the bank. These sorts of budget-friendly places are pretty varied themselves, but generally range from down-to-earth beach shacks to more typical Aruban homes situated right on the sand.
But if you are going to spend a bit more on a beach house in Aruba, you can expect a world of luxury. You'll see things like gyms, large swimming pools, hot tubs, huge open-plan kitchens and lounges, and multiple bedrooms set over two stories.
The design can be fairly different between vacation rentals in Aruba – varying between classic and more modern interiors – but there aren't particularly any beach houses that constitute unique accommodation in Aruba. The theme is very much a constant, but that theme is great in itself: beachy boho vibes, whitewashed walls and turquoise details, chunky wood furniture. You get the idea.
What to look for in a Beach House
You should look for a property that literally opens out onto the beach. if you're staying in a beach house you shouldn't have to cross a road to get there, and there are some proper gems in Aruba that actually have the beach almost as part of their garden. And you don't have to pay a lot for the privilege either.
You should also check where to stay in Aruba, as some neighborhoods offer more amenities and activities than others. Aruba is quite easy to get around and not a huge island, but hiring a car will make your life a lot easier, so make sure to look for a property with parking.
While Aruba is one of the safest countries in the Caribbean, you might want to stay in a gated community if you're generally worried about your safety, especially if you're travelling with kids. You'll find many beach houses for families in Aruba's resort areas.
If you're not sure where to find a beach house in Aruba, you'll find most options on Airbnb. Vrbo is ok, and Booking.com has a lot going on (mainly hotels), but Airbnb in Aruba has the largest choice of properties to sift through; and being able to directly talk to your hosts, see previous guest reviews, and being able to narrow down your search filters is a huge bonus.
But, if that sounds like too much work for you, read on to see my top picks for the best beach houses on this Caribbean island.
OVERALL BEST VALUE BEACH HOUSES IN ARUBA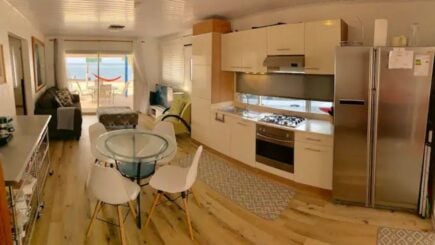 OVERALL BEST VALUE BEACH HOUSES IN ARUBA
Waterfront Beach House
> $$
> 5 Guests
> Private deck
> Amazing location
BEST BUDGET BEACH HOUSES IN ARUBA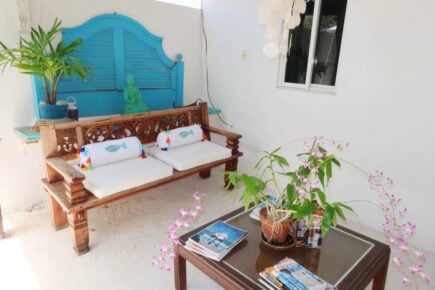 BEST BUDGET BEACH HOUSES IN ARUBA
Beach Front Paradise Home
> $
> 2 Guests
> Private terrace
> Free parking
BEST BEACH HOUSE FOR COUPLES
BEST BEACH HOUSE FOR COUPLES
Palm Beach Vacation Home
> $$
> 2 Guests
> Swimming pool
> Gym equipment
BEST BEACH HOUSE FOR A GROUP OF FRIENDS
BEST BEACH HOUSE FOR A GROUP OF FRIENDS
Dream House with Private Beach
> $$$
> 9 Guests
> Private dock
> Outdoor kitchen
OVER-THE-TOP LUXURY BEACH HOUSE
OVER-THE-TOP LUXURY BEACH HOUSE
Panorama Beach Villa
> $$$$
> 14 Guests
> Tons of amenities
> Beach is ideal for snorkeling
BEST BEACH HOUSE FOR FAMILIES VISITING ARUBA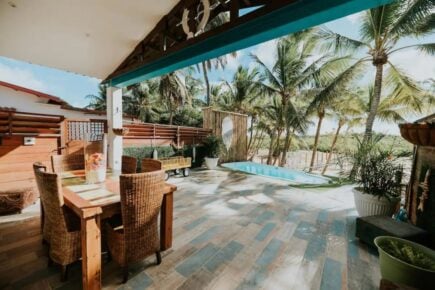 BEST BEACH HOUSE FOR FAMILIES VISITING ARUBA
Casa Palmera Aruba Hideaway
> $$
> 4 Guests
> Hot tub
> Private backyard
BEST BEACH HOUSE FOR BACKPACKERS IN ARUBA
BEST BEACH HOUSE FOR BACKPACKERS IN ARUBA
Aruba Reef Beach Bungalow
> $
> 2 Guests
> Private balcony
> Kayaks and snorkeling gear
The 15 Top Beach Houses in Aruba
Now you know what to expect from beach houses in Aruba, it's time to look at my handy list of the best beach houses suitable for any type of traveler. So, without further ado, here they all are…
$$
5 Guests
Private deck
Amazing location
Stay in this gorgeous beach house in Aruba and you'll have the Caribbean Sea as your backyard – literally. This renovated Aruban property in Savaneta features decor with a chilled-out beachy vibe; plenty of room to relax and unwind in its modern interiors.
Here you can watch fishermen bring in their daily catch, then catch a sunset yourself as it melts into the horizon. This dreamy place combines modern amenities, awesome location, and value for money, and makes it the ideal spot to spend a week or two while away in Aruba.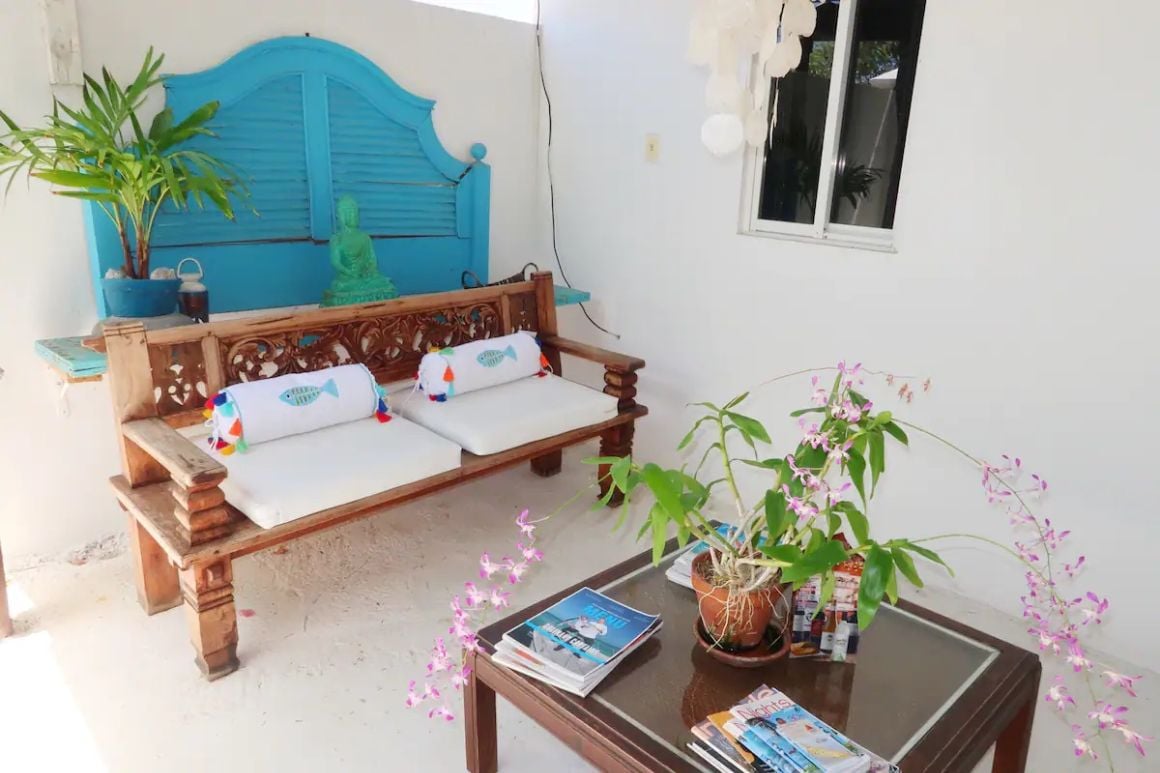 $
2 Guests
Private terrace
Free parking
Aruba is expensive, so if you're looking for budget options, this one's for you. You can get a very decent Caribbean experience staying at this place. Located in Savaneta, you'll be on one of the best beaches in Aruba, close to top restaurants and picturesque mangroves.
The house itself is perfect for a couple (or a couple of friends) and is decked out with turquoise furnishings and houseplants on a whitewashed backdrop, almost like staying in a mini villa in Aruba. You even get your own private terrace to unwind in.
Oh, and of course, the beach is literally on your doorstep. It's compact, but it's our top pick if you're looking for the best beach house in Aruba on a budget.
Best Beach House in Aruba for Couples – Palm Beach Home
$$
2 Guests
Swimming pool
Gym equipment
You wouldn't think it from the outside, but inside this place is a little boho dreamhouse for two. The interiors have been renovated with modern fixtures, so you can expect not only stylish furnishings but all the modern appliances you'll need – a coffee machine, oven, and even a powerful shower.
Fitness enthusiasts can make sure they keep up with their workouts in the private gym… or you could just swing around in the hammock and lounge around all day by your private swimming pool. Location-wise, you'll find this place in Palm Beach, Noord, within walking distance of the Butterfly Farm.
$$$
9 Guests
Private dock
Outdoor kitchen
This beautiful beach house in Aruba really offers the chance for you and your friends to have a vacation you'll never forget.
It's located in a bliss area in Aruba's south coast, specifically in a little fishing village, away from busy tourist areas, but within walking distance of restaurants and bars.
The house itself is sizeable, and comes packed with a ton of outdoor space, including an outdoor kitchen and your very own private dock! Big meals around the table are a must here – after a day of exploring the coast with kayaks, obviously.
Is This the Best Backpack EVER???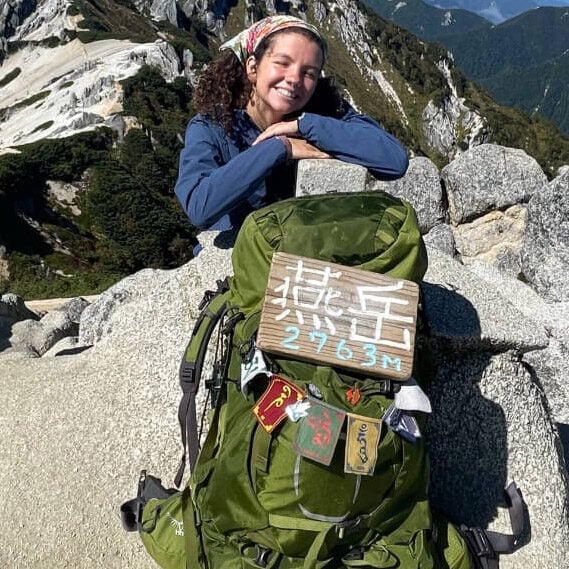 Best Beach House for a Group of Friends – Oceanfront Chalet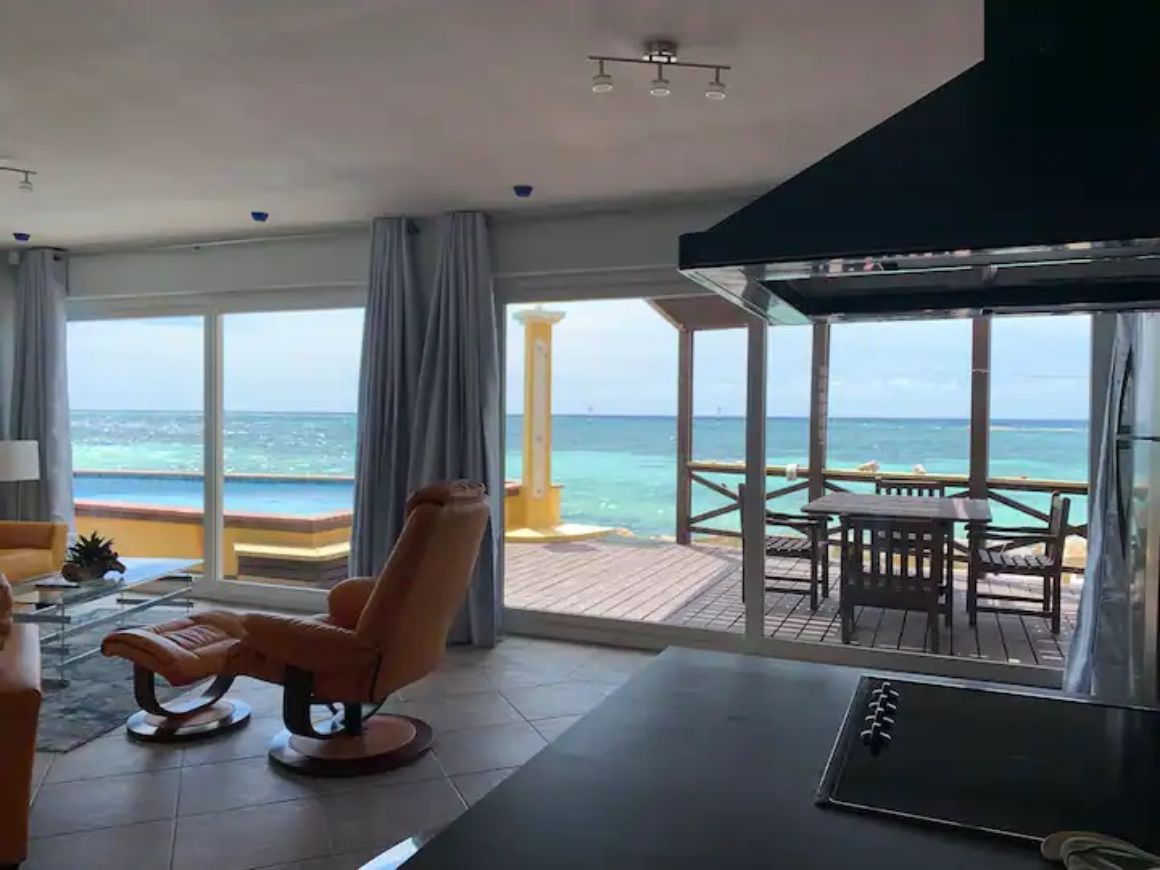 $$
6 Guests
Shared swimming pool
Private deck
Why not book you and your pals in for a well-deserved break at this modern beach getaway? Situated in Savaneta, there's a laid-back atmosphere in town with dining spots and bars just steps away.
Then there's this cool beach house, featuring enormous windows that allow for sweeping views out across the Caribbean Sea.
The private deck is an ideal place to relax, or maybe you're more a fan of chilling in the pool. There are tons of amenities here, too, such as a shared swimming pool, outdoor shower, BBQ, and beach equipment like snorkels and umbrellas. No wonder it's on our list of the best beach houses in Aruba.
$$$$
14 Guests
Tons of amenities
Beach is ideal for snorkeling
Beach houses don't get much more luxurious than this one in Noord. Looking like a crazy celebrity hangout, here you can expect minimalist white-washed interiors strewn with designer furnishings and upscale amenities.
This place literally has everything: gym, office, walk-in wardrobe, huge fully equipped kitchen, private pool, patio with loungers and shades… Need we go on?
The house itself is octagonal, which is pretty funky and allows for some awesome views out across the sea. And the beach it's located on is great for snorkeling. In short, it's jaw-dropping.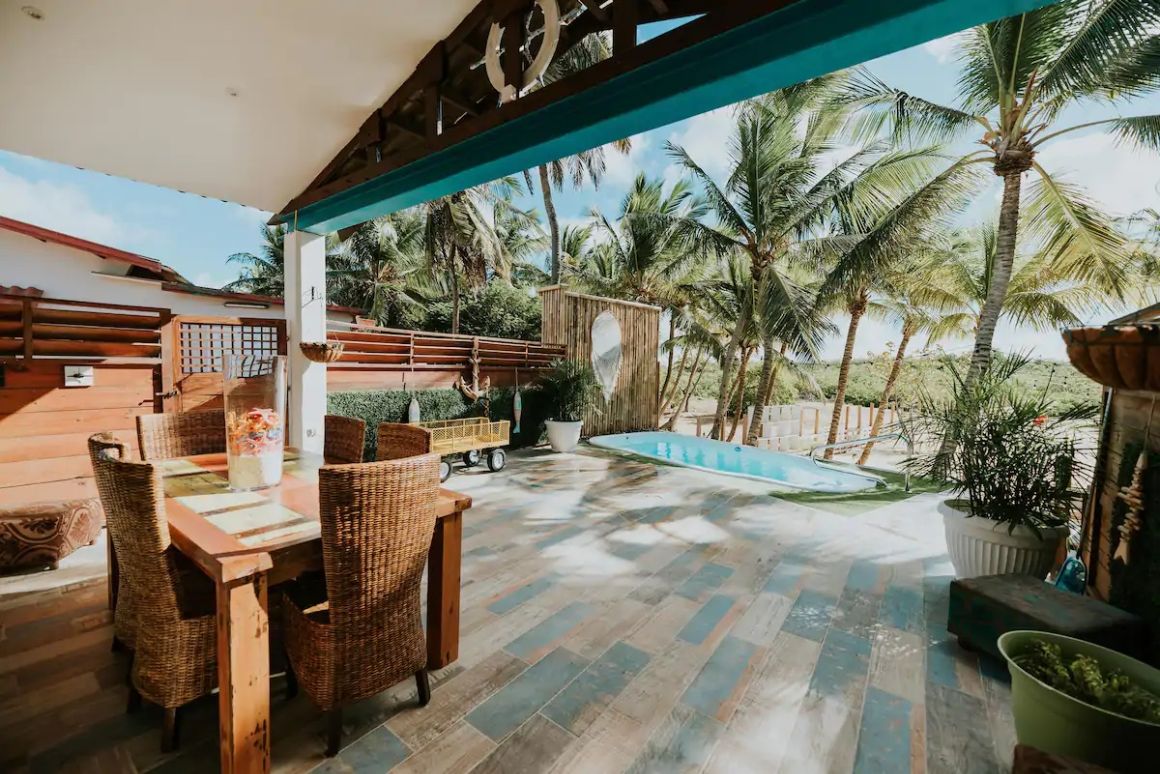 $$
4 Guests
Hot tub
Private backyard
This place is the kind of property where you can walk through the door and feel at home right away. With the Caribbean Sea right on the doorstep, you'll also have your own private backyard with a hot tub.
It makes a big difference having your own garden where you can chill in the shade of trees and the beach a stone's throw away.
Inside, this place is spotlessly clean and well-appointed throughout. The location in Savaneta is also great: there are great food shacks and grocery stores not far from here. And when you're looking to head out for a fun day as a family, the Arikok National Park is just a short drive away.
Best Beach House for Backpackers in Aruba – Beach Bungalow
$
2 Guests
Private balcony
Kayaks and snorkeling gear
If you didn't think it was possible to get your slice of the Aruban beach house action while backpacking, well, think again.
This place in Savaneta isn't exactly a high-end resort, but you will be sharing a beach with one! Here you can relax in what is pretty much paradise, or you can be as active as you want. You can take out snorkel gear, paddleboards, and kayaks every day to make the most of the coastal locale.
Inside, the beach house is all about its rustic simplicity, but it feels authentic and it's been well maintained. There's a small kitchen, seating area, cozy bed, and en-suite bathroom. Dreamy.
$$$$
12 Guests
Private beach
Private swimming pool
Possibly the best beach house in Aruba in terms of sheer cool design credentials, this luxury spot is definitely easy on the eyes. It's a modernist-style villa (think large windows and lots of straight lines) literally right on the beach, with VIP interiors to match.
Here there's a long string of features that will entice you if the design aspect already hasn't: private gym, private beach, private pool, hot tub, workspace, and tons of places to chill the heck out. Basically, it's a design lover's dream and a breathtaking space in Savaneta to spend some time unwinding in this part of the Caribbean.
Best Beach House in Aruba for Solo Travelers – Seahorse Home
$
2 Guests
Amazing views
Safe residential neighborhood
You should definitely look at staying in Savaneta if you're a solo traveler. This beach house is a hidden gem of a property situated in a safe, residential neighborhood, well away from the high-rise hotels, where you can get to know a slice of the real Aruba.
The host is welcoming and will make you feel right at home, and is quick to respond to any messages. The house is cute and colorful with beachy vibes and the Caribbean Sea right out the door. You'll have your own porch to chill out on, too. With an awesome price point as well, it's great if you're looking for a beach house in Aruba on a budget.
$$
3 Guests
Private walled garden
Private swimming pool
This beautiful cottage will have you wishing you'd booked more time off. If you've just got the weekend to unwind, however, this place is utterly perfect for the occasion.
Complete with its own walled garden, overflowing with flowers, and with a private swimming pool, too, you'll be an actual stone's throw from the beach here. Inside this classic Aruban villa, you can expect polished decor and great amenities, such as a well-stocked kitchen.
The location in Savaneta is relaxing, with virtually no other tourists, making it the ideal place to get away from it all.
$$$$
12 Guests
Large private pool
Entertainment room
Aruba has tons of amazing locations, but this one in Noord is pretty insane. This beach house is set in a gated community in a prestigious Aruban neighborhood. It boasts some incredible unobstructed sea views, too.
It sits just across the street from Boca Catalina Beach, and is within walking distance from restaurants, bars, and casinos.
The five-bedroom property is definitely at the higher end of the scale (this is no beach house in Aruba on a budget) and comes complete with an entertainment room, huge private pool, and everything else you could need or want for your vacation.
Best Beach House in Aruba for Views – Cabin By the Sea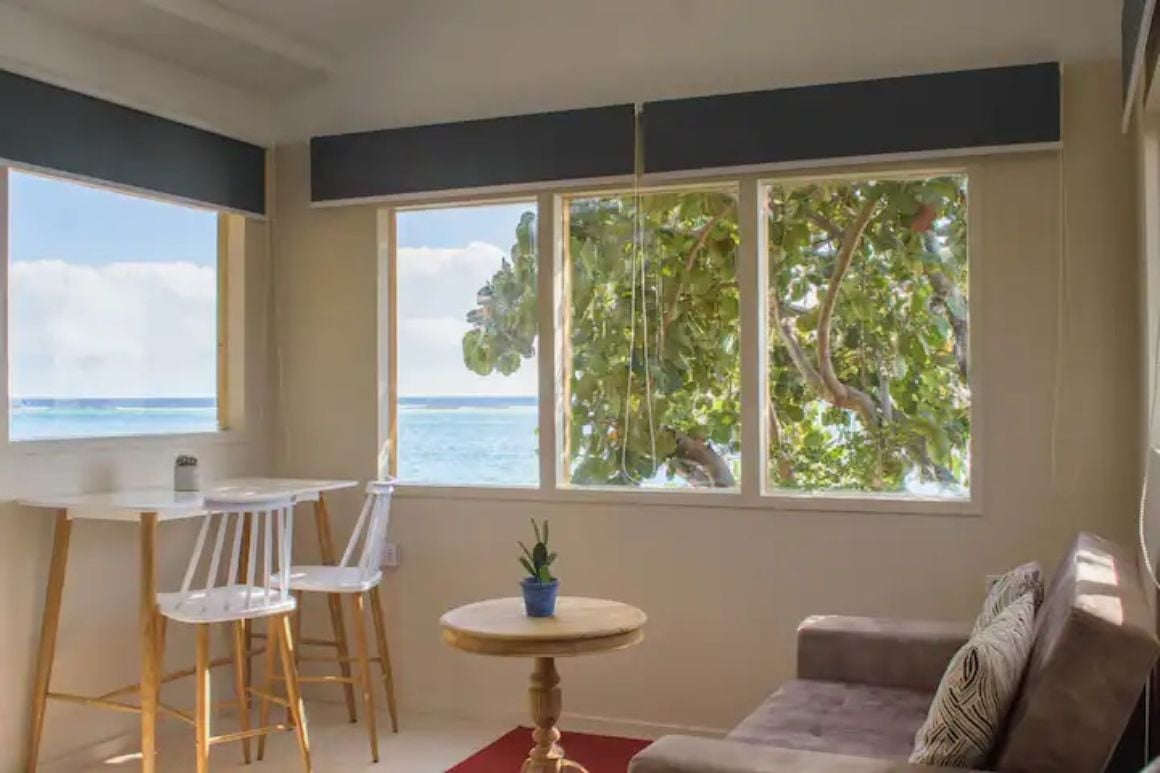 $
2 Guests
Kayaks and snorkel gear
Free parking
Quaint and cute, this beach house in Aruba is blessed with views. You can soak up a great sea vista from pretty much every window in the property.
From the moment you have your breakfast in the sun-dappled garden, to the moment you go to sleep, you'll have the sea for company. Pretty awesome.
And if that wasn't enough for you, the cottage in Savaneta literally opens up onto the sand and boasts its own gazebo, hammock, and grill area. There are also kayaks for guests to take out for an adventure on the high seas.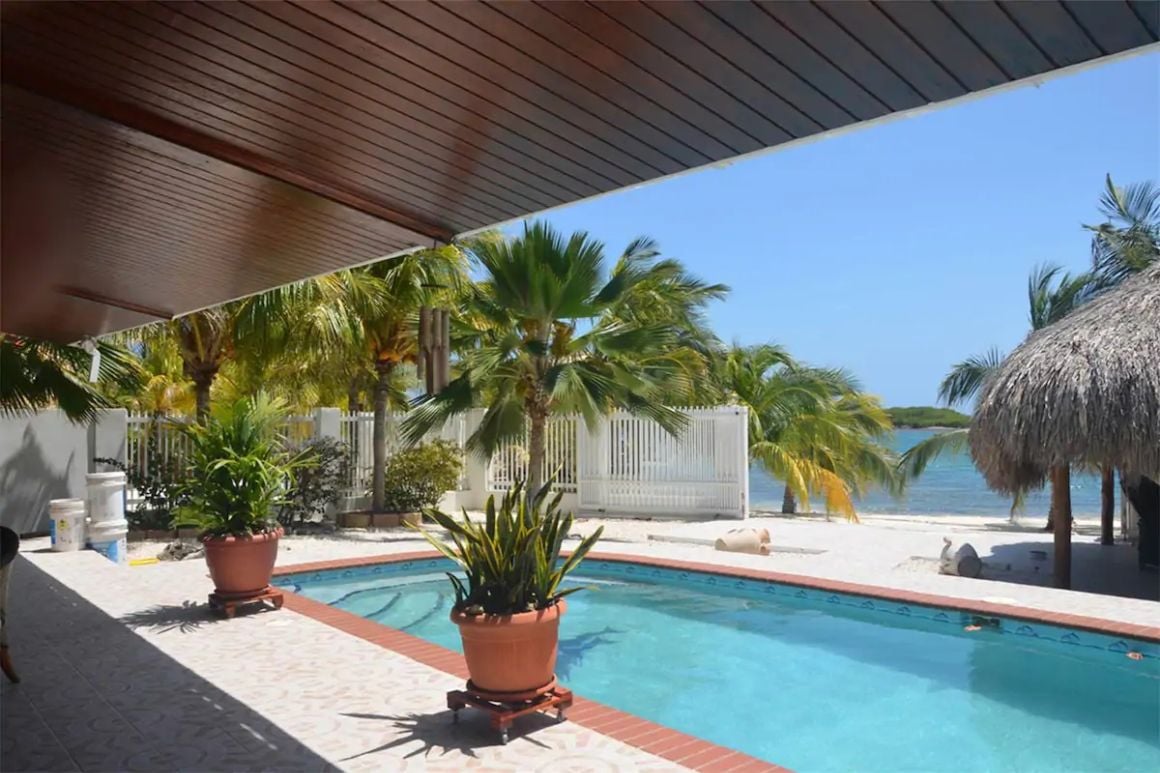 $$$
3 Guests
Private pool and patio
Beach equipment to use
Opening out onto the beach from its secluded patio (featuring a swimming pool, of course) is this beauty of a beach house in Savaneta.
You can go snorkeling, go paddleboarding, or kayaking in the sea with ease. No excursions are needed. It's not too remote either, so you can easily take a stroll to somewhere great to eat for dinner – or you could simply kick back under the stars in your own private garden.
Inside the interiors are polished and well-appointed, with large comfy beds, big showers, and an easygoing lounge.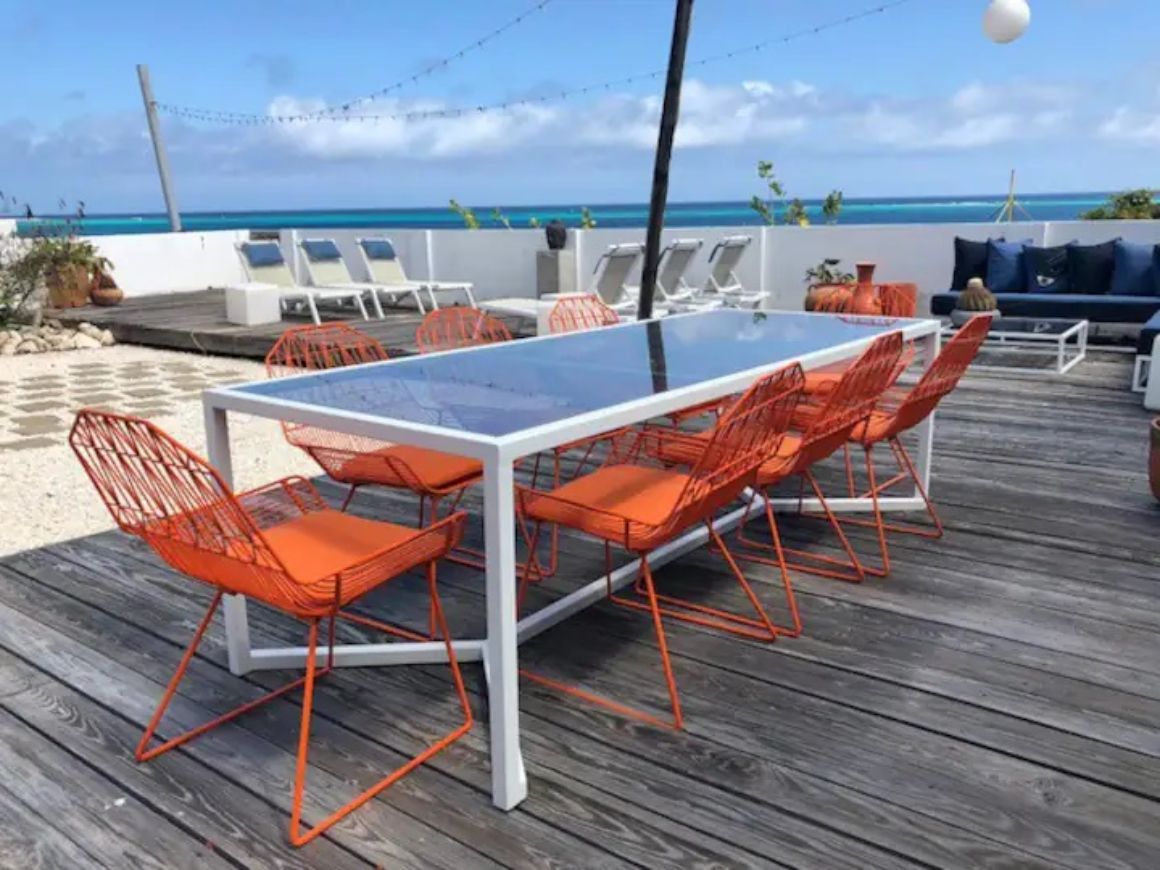 $$
8 Guests
Very cool design
Large outdoor terrace
If you're a fan of architecture and design, then you'll love staying at this stylish beach house in Aruba. From the large terrace and its chic furniture to the beautifully appointed interiors, you'll be in aesthetic heaven.
Apparently, this place has been decked out by a top Aruban interior designer! Throughout, there are plenty of eye-catching pieces of art, too, helping to create a colorful, chilled-out oasis for your beach break.
You'll find this trendy spot in San Nicolas, in the Baby Beach area with good restaurants within easy walking distance.
Don't Forget Your Aruba Travel Insurance
ALWAYS sort out your backpacker insurance before your trip. There's plenty to choose from in that department, but a good place to start is Safety Wing.
They offer month-to-month payments, no lock-in contracts, and require absolutely no itineraries: that's the exact kind of insurance long-term travellers and digital nomads need.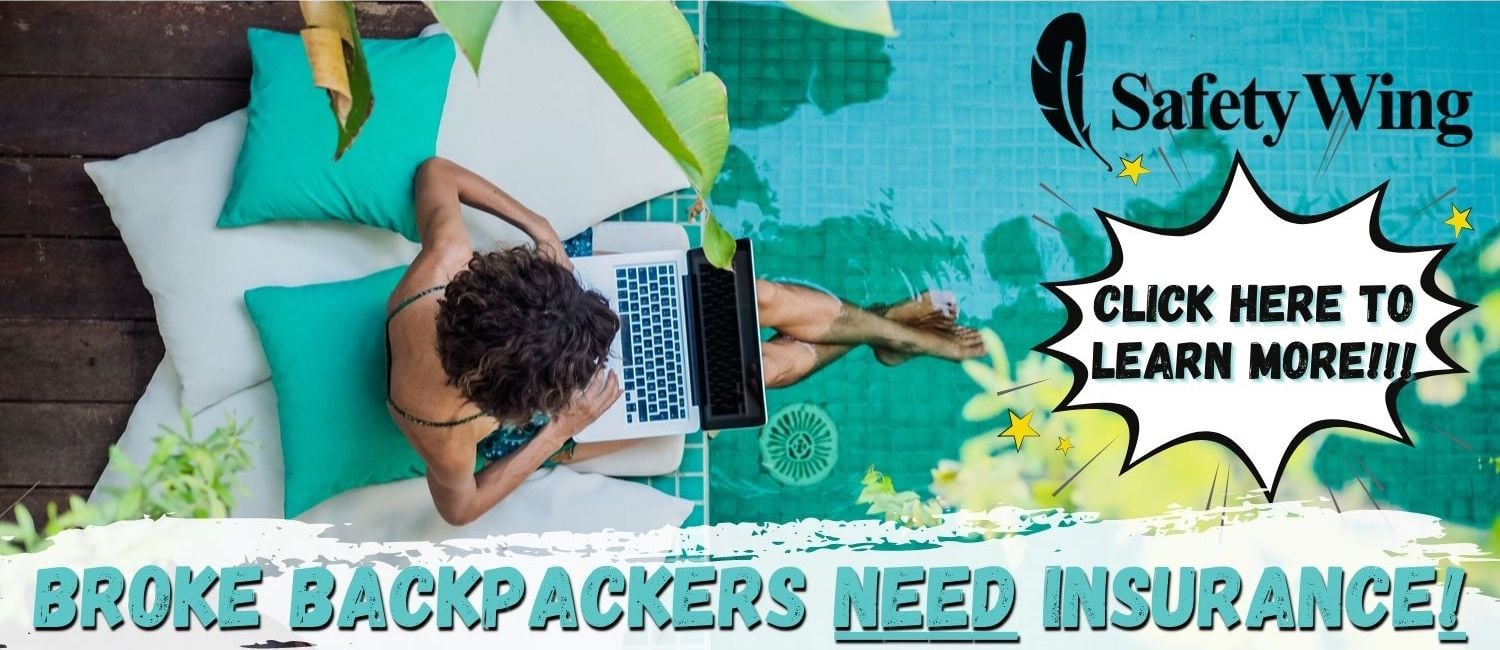 SafetyWing is cheap, easy, and admin-free: just sign up lickety-split so you can get back to it!
Click the button below to learn more about SafetyWing's setup or read our insider review for the full tasty scoop.
Final Thoughts on the Best Beach Houses in Aruba
So there you have it, my top 15 beach houses in Aruba. From cute cottages that have been immaculately maintained, all the way to veritable mansions that come with all the amenities you could need (or even think of), there's basically something for everyone.
So whether you wanted to stay somewhere with your family, or if you wanted to pick a dreamy spot for your honeymoon, there are places in Aruba to fit the bill. And with many properties coming complete with snorkel gear, kayaks, and paddleboards, your dreams of living life to the full by the beach can be easily fulfilled.
Now, last but not least, if you're traveling to Aruba from another country, you may want to consider travel insurance. It's a hassle, we know, but you never know what's going to happen, so it's something to think about.
---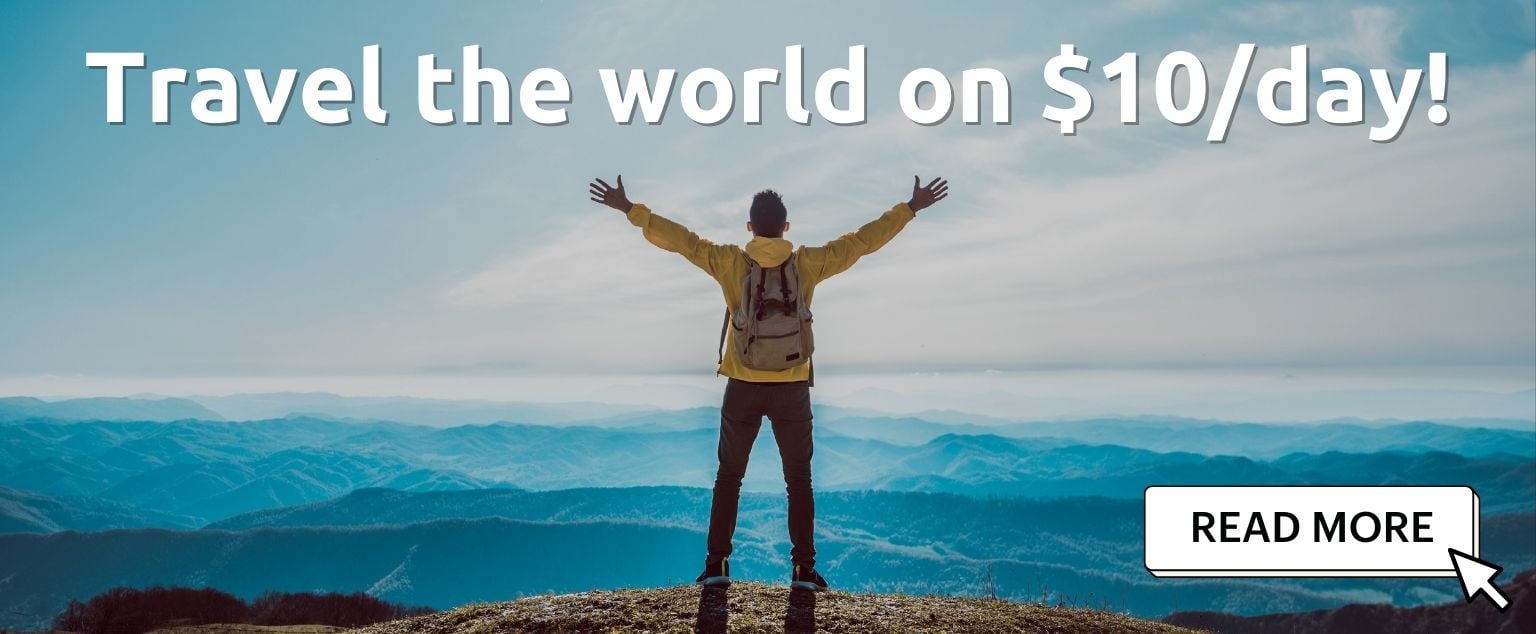 And for transparency's sake, please know that some of the links in our content are affiliate links. That means that if you book your accommodation, buy your gear, or sort your insurance through our link, we earn a small commission (at no extra cost to you). That said, we only link to the gear we trust and never recommend services we don't believe are up to scratch. Again, thank you!