Just off the north coast of Venezuela, Aruba is one of the Caribbean's most beautiful destinations. Famous for its white-sand beaches and pink flamingoes, one-fifth of the island is a national park!
A warm welcome awaits from a super diverse population, too. Listen out for Papiamento Creole, English, Spanish, and Dutch. One of the ABC islands, Aruba is an independent country of the Dutch Kingdom.
If all that sounds like an ideal holiday destination, what are you waiting for? Book your vacation as soon as you can. But where will you stay? I'd suggest vacation rentals in Aruba as they can often boast better value for money than hotels while having lots of character and personality.
With that in mind, I've put together this list of the 15 best Airbnbs in Aruba. Not only that, but I've found some of the coolest Airbnb Experiences to do when you're there too. Let's check it out!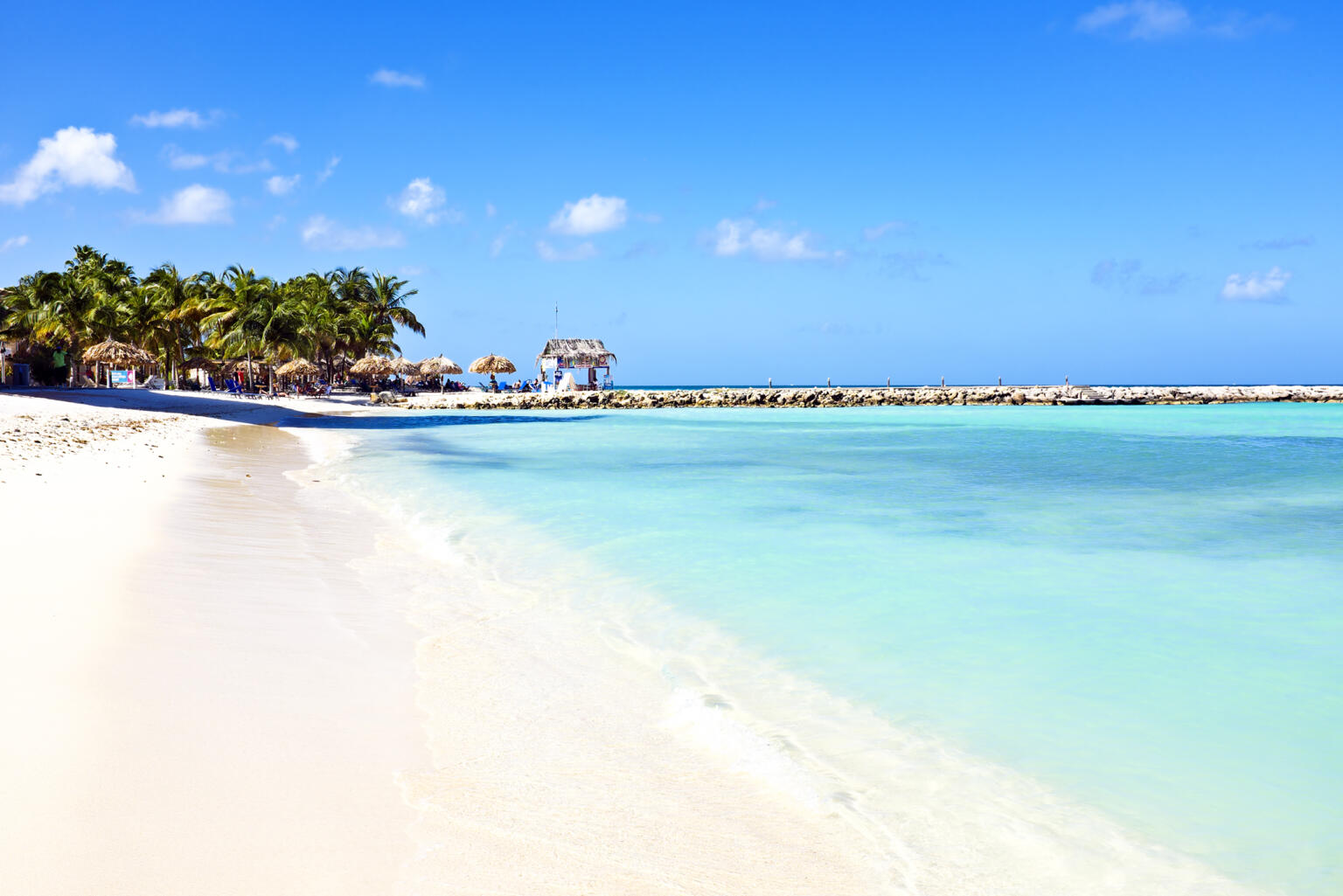 Quick Answer: These are the Top 5 Airbnbs in Aruba
Overall Best Value Airbnb
Overall Best Value Airbnb
Beach Front Paradise
> $
> Two Guests
> Beachfront location
> Self-check-in
Best Budget Airbnb in Aruba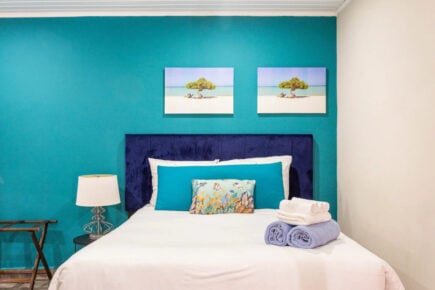 Best Budget Airbnb in Aruba
Downtown Solo Traveler Room w/POOL
> $
> One Guest
> Free Netflix
> Pool access
Over-the-Top Luxury Airbnb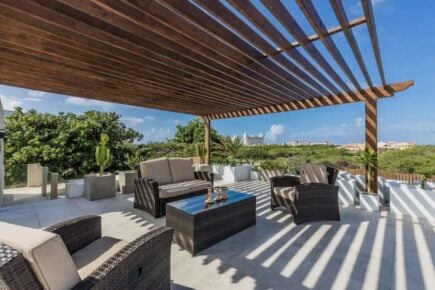 Over-the-Top Luxury Airbnb
Luxury 9BR Villa w/ Roof Deck
> $$$$$
> Up to 26 Guests
> Private roof deck
> Ideal for groups
Perfect Aruba Airbnb for Solo Travelers
Perfect Aruba Airbnb for Solo Travelers
Stunning Room in Aruba
> $
> Two Guests
> King bed
> Kitchenette with small fridge
Perfect Short-Term Airbnb for Digital Nomads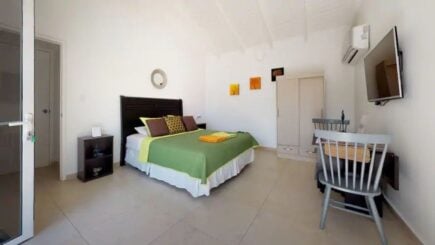 Perfect Short-Term Airbnb for Digital Nomads
Junior Suite With Pool View
> $$
> Two Guests
> Dedicated workspace
> Hot tub

Unlock Our GREATEST Travel Secrets!
Sign up for our newsletter and get the best travel tips delivered right to your inbox.
What to Expect from Airbnbs in Aruba
Aruba is quite a small island – it's only twenty miles long and six wide. However, it still has a fabulous selection of places to stay. What you'll get from Aruba Airbnbs does depend on your budget. At the lower end, you'll be looking at private rooms with locals or studio apartments.
However, with more flexibility in your budget, the sky is the limit! You could bag yourself a Tuscan style villa with space for the whole family with your own swimming pool, or you could have a roof deck in a gated community overlooking the Caribbean Sea.
Because of the size and population of Aruba, there are fewer Airbnbs owned by local hosts – though there are some. Many of the more expensive properties are part of resorts or owned by businesses. Hosts still know the island well, though, so you won't miss out on a local experience!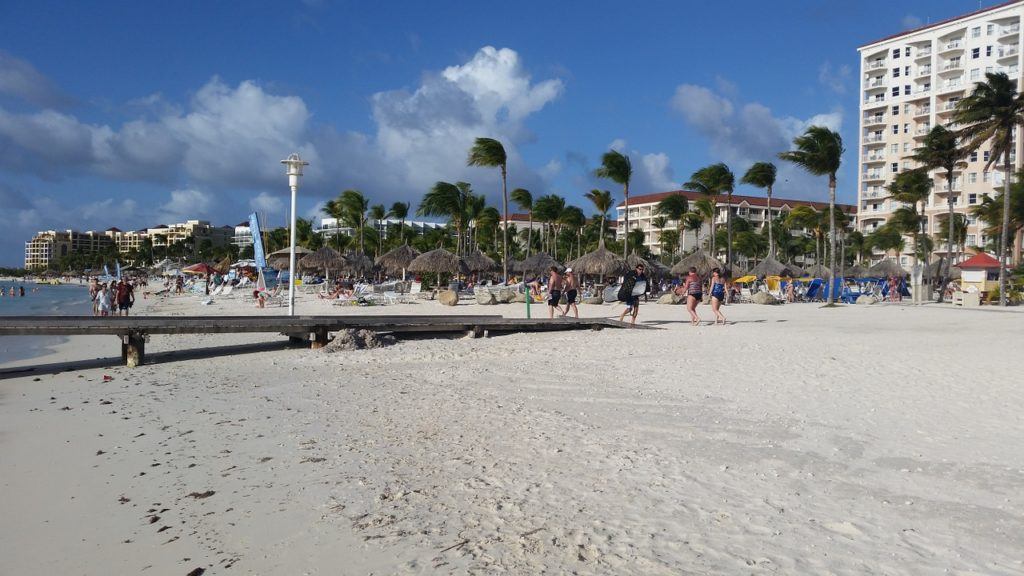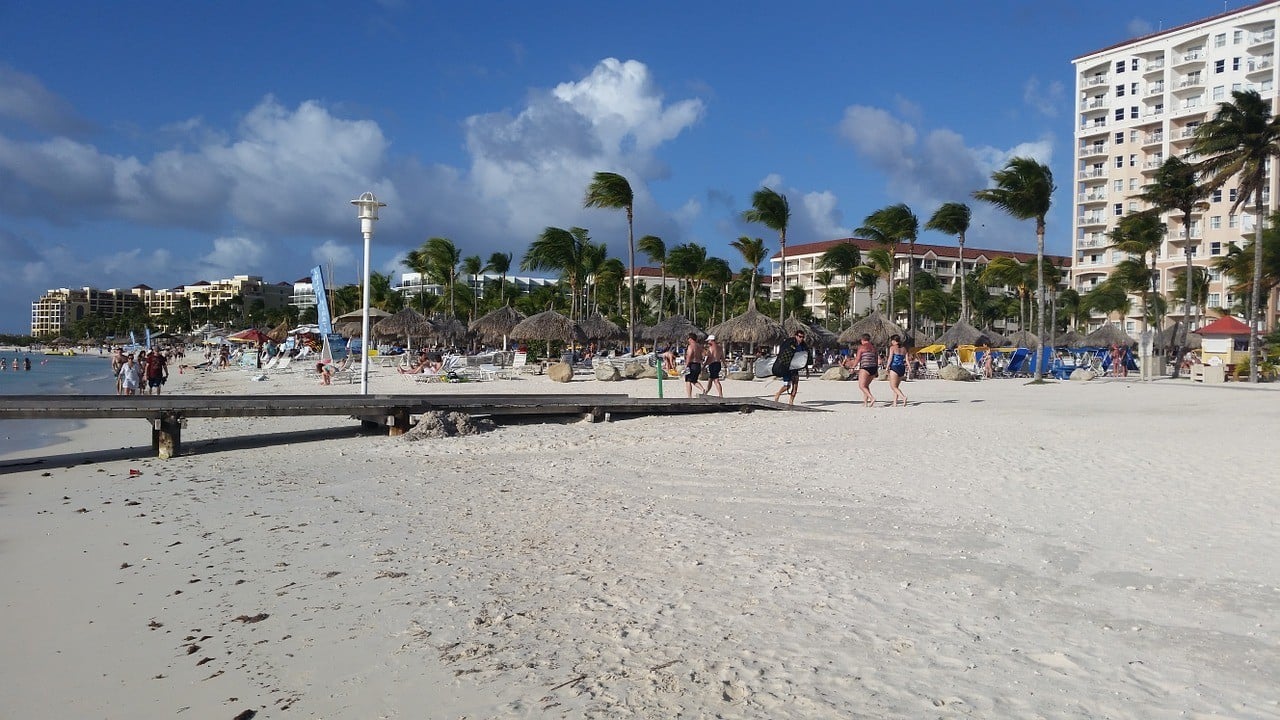 Boutique Hotel
Yes, I know, most people come to Airbnb to get away from hotels. However, boutique hotels aren't your standard, grey chains that you find everywhere. Boutique hotels are dripping with personality, comfort, and character!
Mostly, boutique hotels are ideal for solo travellers or couples – but sometimes you will find rooms that can sleep four guests (or even more). You could always book multiple rooms if you find one your ideal place.
As well as themed (or individually designed) rooms, boutique hotels offer amenities such as private bathrooms, fluffy queen or king beds, air conditioning, breakfast, and swimming pools. And because you're in Aruba, you're never too far from a gorgeous beach!
Townhouse
Townhouses in Aruba are a great vacation rental option for groups and families. Often set across multiple floors, they have everything to make your stay feel like a home away from home. I'm talking fully equipped kitchens, air conditioning, large open-plan living spaces, and even a tropical garden.
And yes, some here come with pools and hot tubs too. Most of the townhouses in Aruba are found at Palm Beach and Eagle Beach, though you will find some in Oranjestad.
While I recommend townhouses for groups and families, solo travellers and couples shouldn't be put off. There are some smaller properties available, or you could stay in a private room in a townhouse should you want to keep your costs down!
Villa
If you're not on a budget, a villa is the perfect type of Aruba vacation rentals. Suitable for large groups, they often have multiple rooms and can accommodate ten or more guests. And it's not only the size that makes them perfect for large groups – it's that you can split the cost multiple ways!
Villas have everything you need to make your holiday memorable and relaxing – multiple bedrooms so everyone is comfortable and has their privacy, huge, fully equipped kitchens, and awesome outdoor areas such as gardens, pools, and even roof terraces. What more could you want?!
Many villas in Aruba are managed by professional letting companies. That should give you peace of mind in the unlikely event you'll have any issues with the vacation rental during your stay.
Why Stay in an Airbnb
Still not convinced a vacation rental in Aruba is for you? Well, let me give you five reasons you should stay in an Airbnb.
Local Experience: With a local host (yes, even if it is a business), you can get the low down on all the best things to do and see in Aruba. No need to bring your guidebook!
Privacy: Lots of Airbnbs have self-check-in. You can even filter for a completely private vacation rental should you wish to.
Affordability: Aruba is expensive, so value for money is vital. That doesn't mean cheap, but you can find much better value for money from Airbnbs than you would with equally priced hotels.
Safety: You might be asking yourself if it's safe to travel to Aruba. Luckily, Airbnb vets both guest and host, and customer support is at hand 24/7. If the worst happens, they can even find you new accommodation!
Airbnb Experiences: It's not just about having an awesome place to stay. Airbnb Experiences gives you the choice of locally curated tours once you arrive. More on that later!
The Top 15 Airbnbs in Aruba
You've seen what to expect and why you should stay in an Airbnb, so let's get to the part you've all been waiting for. Here are the top 15 Airbnbs in Aruba!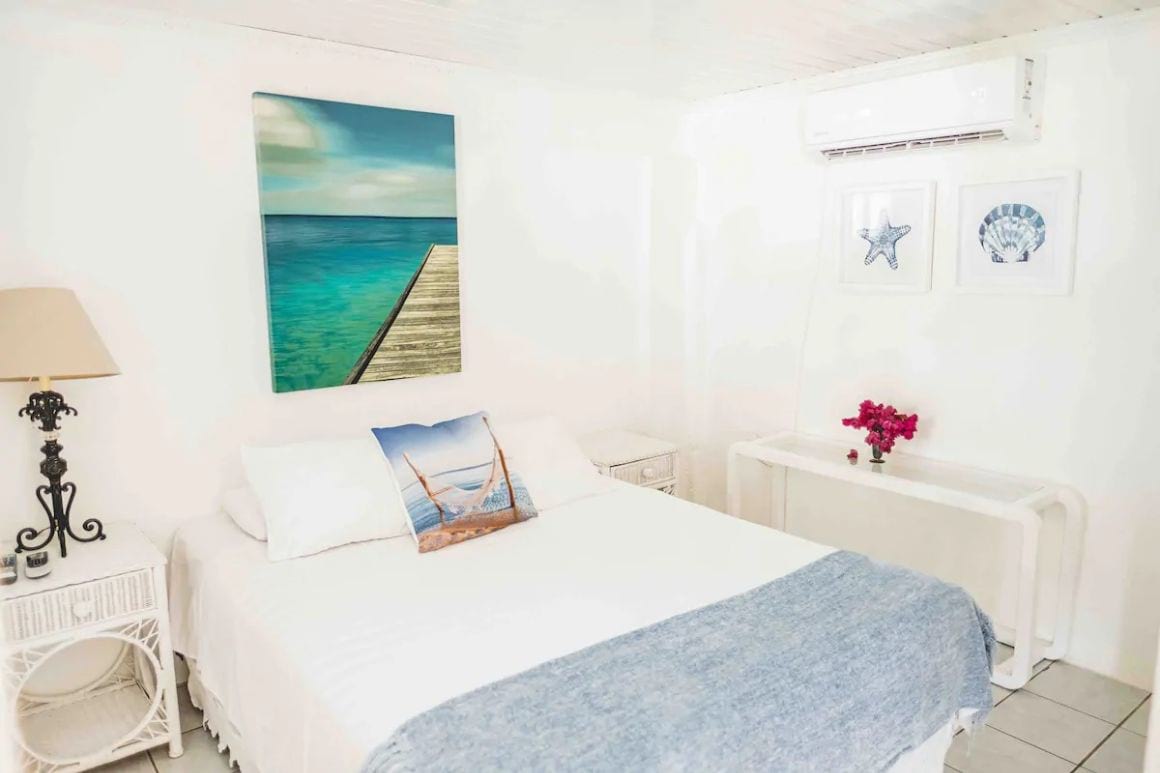 Offering a beautiful outdoor space, this apartment for two is perfect for a couple or solo traveller. And the best bit? It's right by the beach rated as number one in all of Aruba!
There's a shipwreck that you can snorkel or kayak over. Close to home, you've got self-check-in and an outdoor living area with a dining table and a hanging chair – the perfect spot for your holiday read.
This beachfront apartment in Savaneta is ideal for couples and solo travellers looking to explore Aruba. You've got an awesome outdoor space where you can eat, drink, and chill out, and there's a shipwreck to explore just off the beach!
It's not easy to find a cheap Airbnb in Aruba, but it's not impossible either. Located in Noord, it's a private room in a local's home.
However, you get way more than just a bedroom. The outdoor space includes a BBQ and dining table, and there's somewhere to eat inside. Digital nomads will love the dedicated workspace and Wi-Fi!
Two Guests
Kitchenette with small fridge
A homestay is a great choice if you're travelling solo. Not only do you get a local experience, but you save a load of money too. This private room in Noord is less than ten minutes from Palm Beach on foot.
You've got access to a kitchenette with a small fridge where you can prepare simple meals, while the king bed assures you a good night's sleep and the chance to spread out!
Is This the Best Backpack EVER???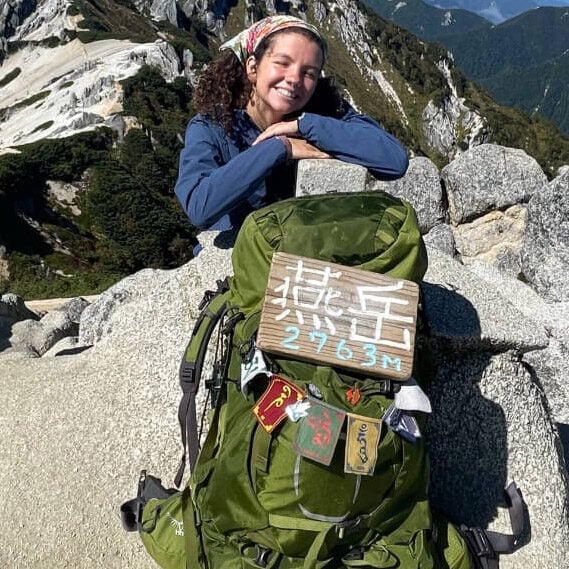 Best Short Term Rental for Couples | Aruba Lagunita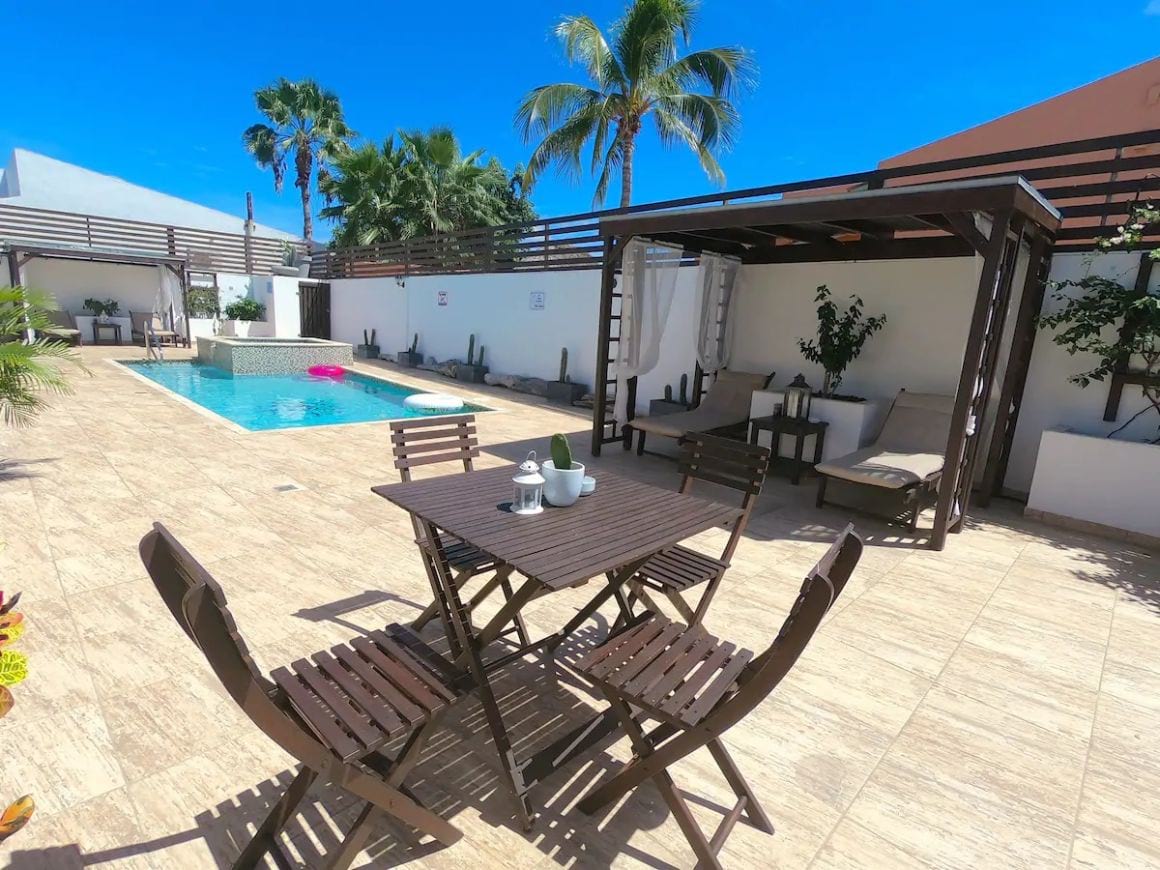 A warm and welcoming apartment, the Aruba Lagunita is a luxury Airbnb for couples less than five minutes from Palm Beach. The villa boasts a double bed, but the outdoor space is the main attraction here.
As well as sun loungers and a dining table where you can share a romantic meal, there's a swimming pool. Self-check-in is available to guarantee your privacy.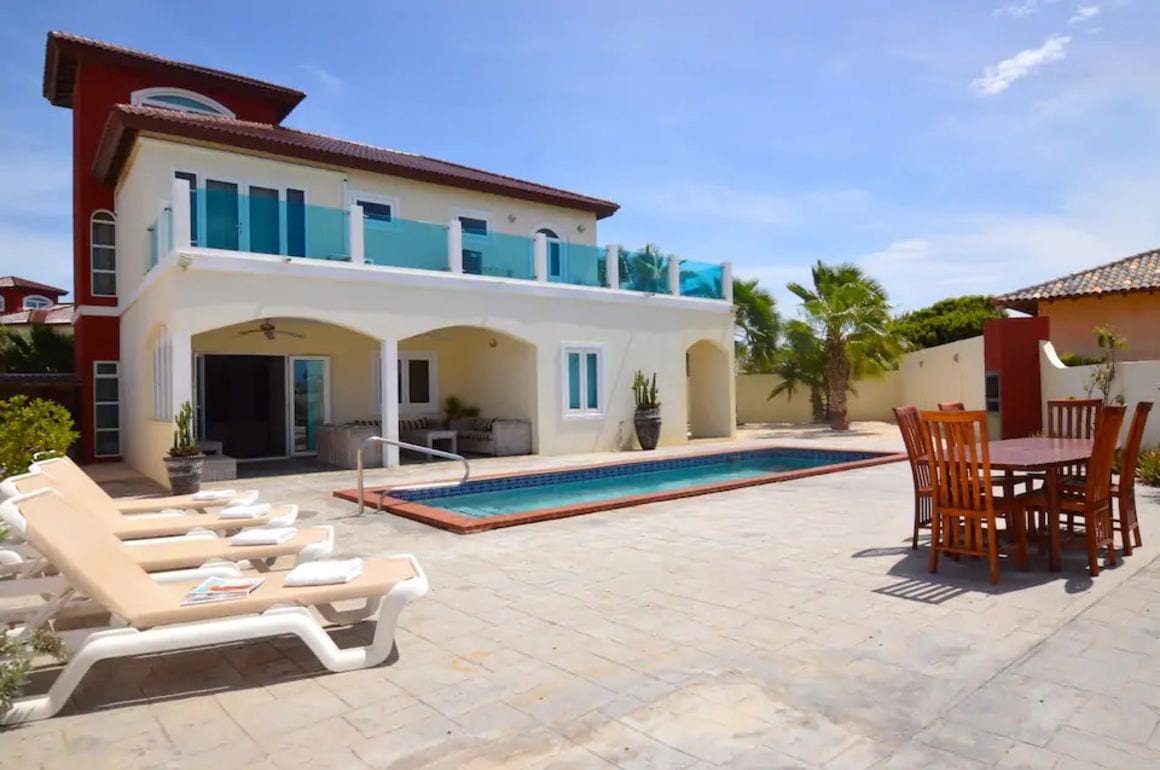 $$$$$
Swimming pool with lounge chairs
Ten Guests
Furnished shaded terrace
This gated community is another place a hop, skip, and a jump away from Palm Beach. Your family will love it, no matter their ages.
There's plenty of room in the garden for everyone to chill out, whether that's on loungers or in the pool. There's a BBQ and dining set perfect for dining outdoors, too.
In the unlikely event that the weather isn't perfect, there's a TV room, dining room, and fully equipped kitchen indoors!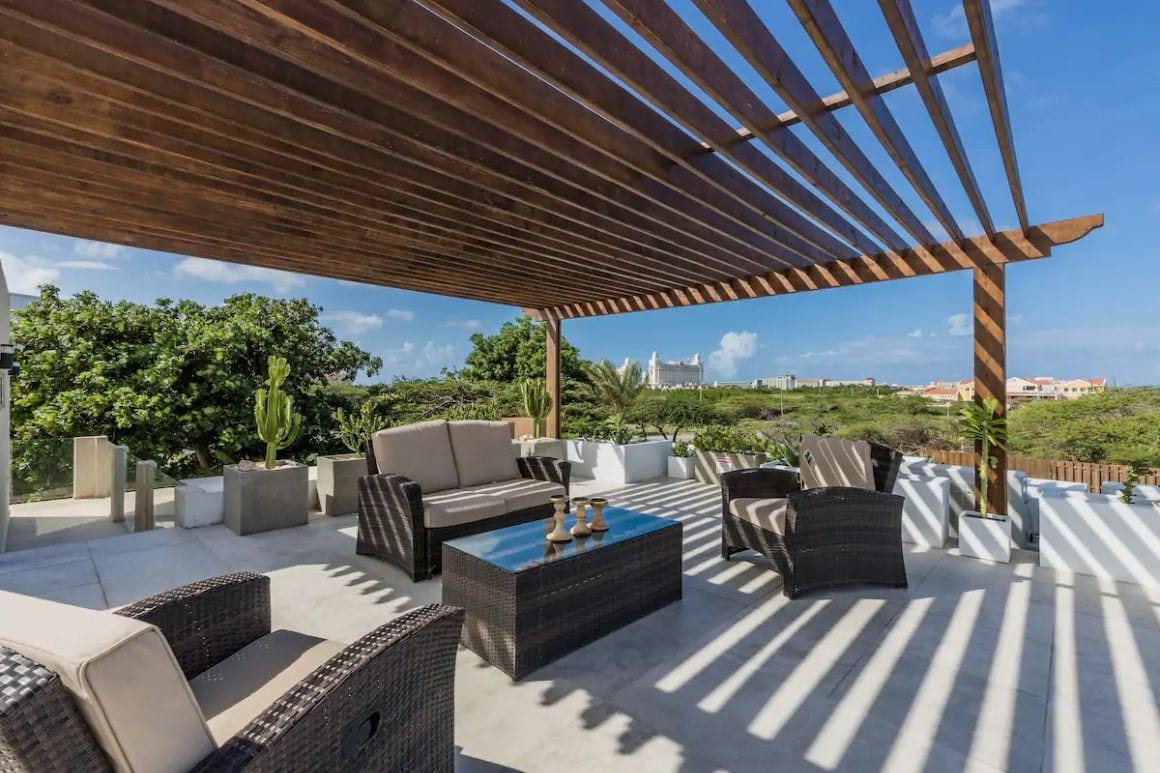 16 Guests
Ideal for groups
This ultra-modern villa is ideal thanks to its roof deck, BBQ and private resort sized pool. It's two minutes from Palm Beach and Eagle Beach, and you've got a superhost, so you can be assured of an attentive and thoughtful welcome.
This villa is ideal for groups as it can sleep up to 26 guests, making the price more manageable than it looks at first glance too!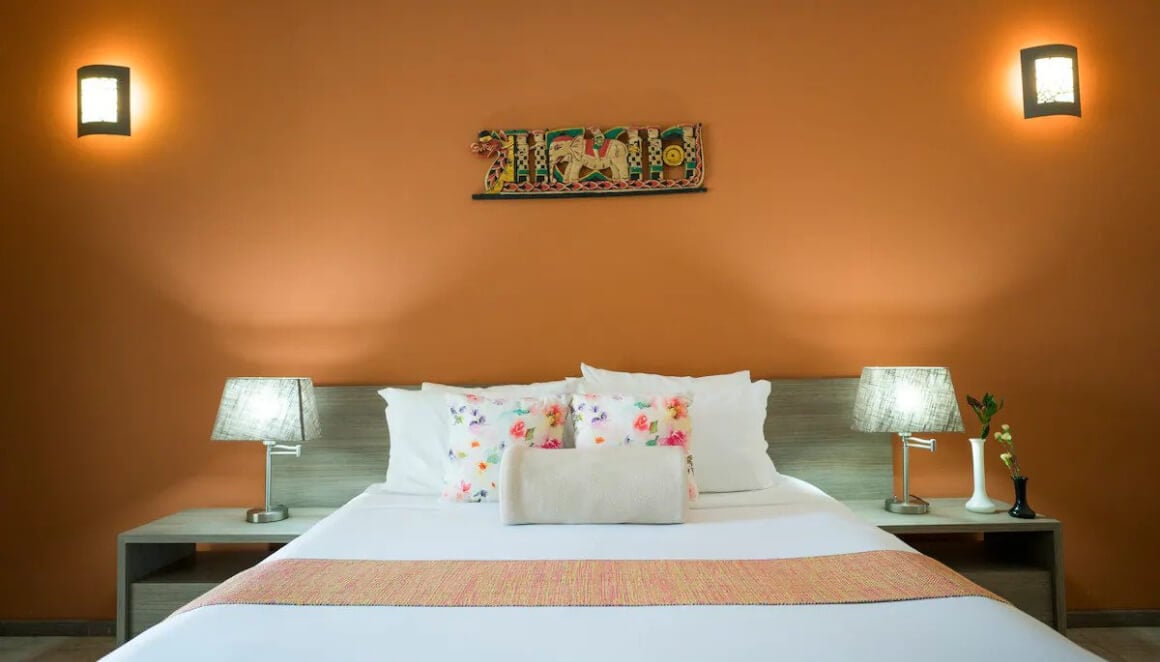 This beautiful Aruban boutique hotel is split up into a range of individually-styled rooms for you to choose from in the Costa Esmeralda Village.
You'll be surrounded by gorgeous gardens and have use of a large, blue swimming pool surrounded by palm trees and tropical vegetation. Back in the hotel, you've got a cosy king bed, making it the perfect option for a couple.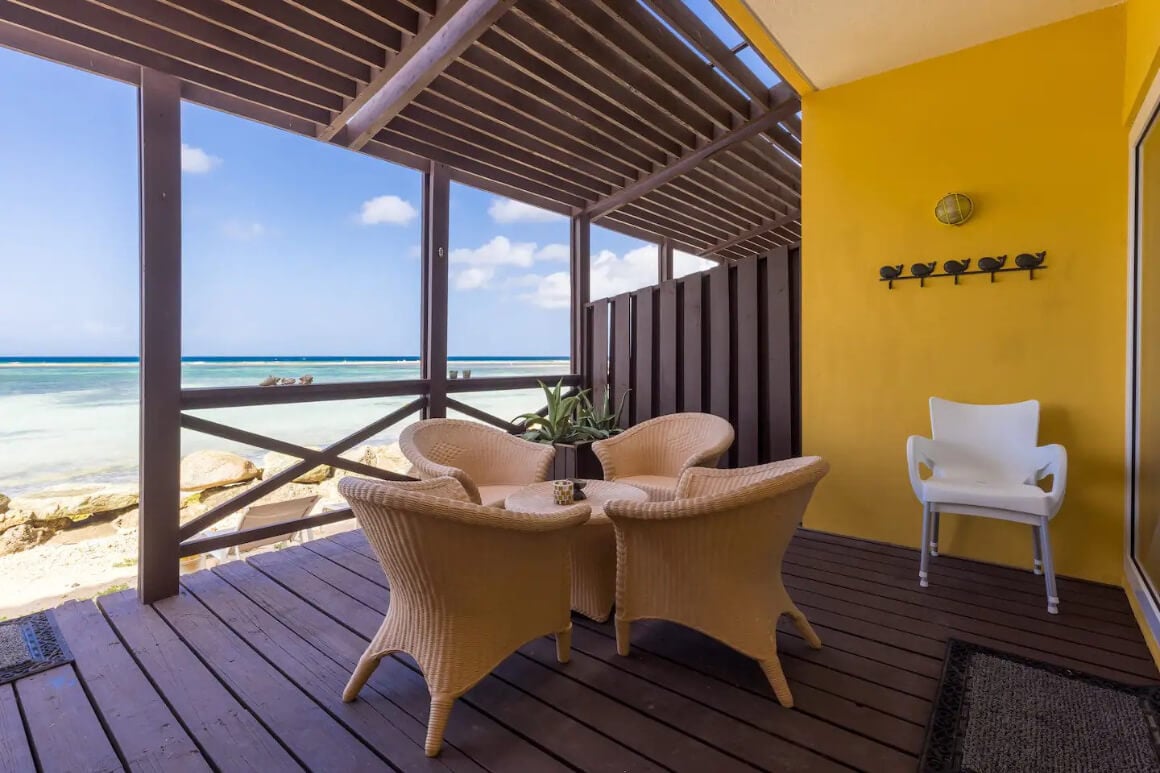 Six Guests
Views of the mountains of Venezuela on a clear day
This townhouse is just five steps from the Caribbean ocean and just a short drive Aruba's famous coastal village, Savaneta.
It's a private home, located just outside the tourist area, so you have total privacy and relaxation. That being said, you're still only 10 minutes away from the airport and the best attractions in Aruba.
The home comes with two bedrooms, and has a large living area and fully equipped kitchen. The best feature of the house is the outside deck which overlooks the beach that's just steps away. You'll also enjoy free parking and there is a gym not too far from the house.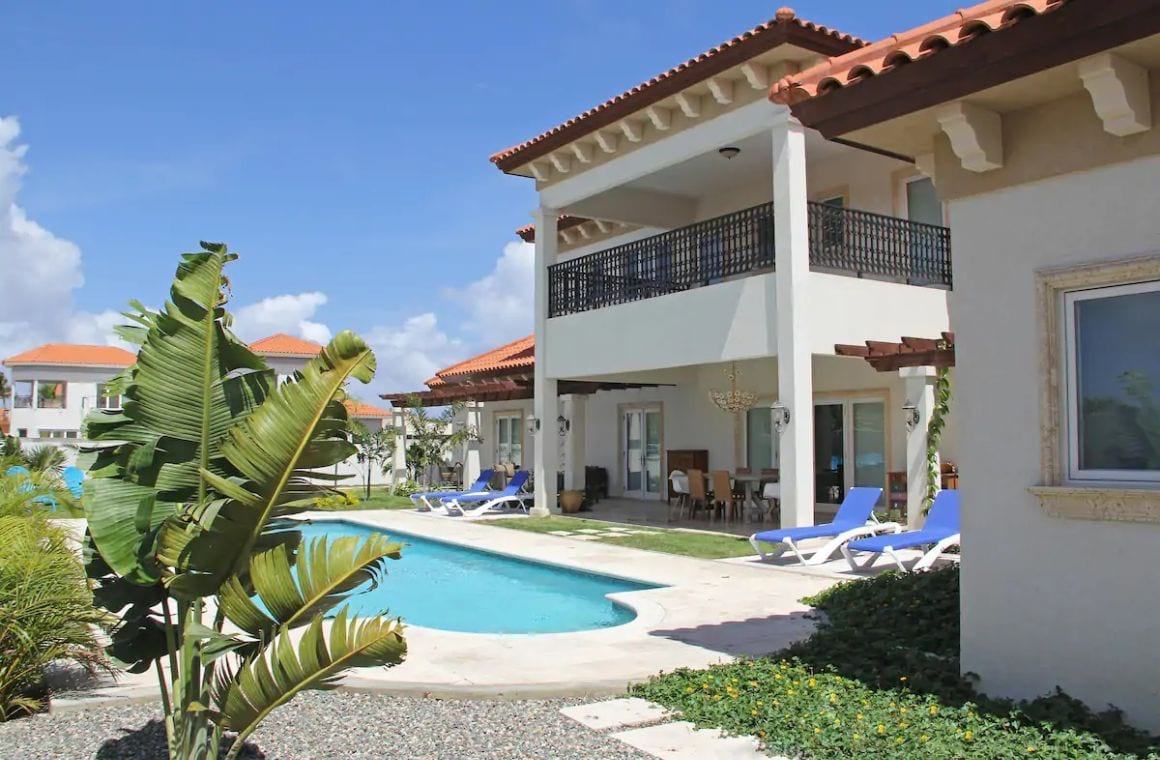 I've already shown you a few villas on this list, but none quite as spectacular as this. The Tuscan style villa is enormous and can sleep up to 14 guests – and it's great for hosting.
There'a swimming pool with a bar and an outdoor kitchen where you can prepare a meal. Though you'll likely spend most of your time outside, I imagine you'll love the fish decor in the living room!
Eight Guests
In the desirable Noord neighbourhood
With space for up to eight guests, this is the perfect villa for a group of friends. And despite its awesome facilities, such as a swimming pool and terrace, it won't break the bank when you split the cost between you!
Choose between whipping up a favourite meal in the fully equipped kitchen or on the BBQ. You can then enjoy dinner all together on the shaded terrace. If you don't feel like cooking, the centre of Noord is within walking distance.
This is the best place to stay in Aruba for those who want to check out the best restaurants and nightlife in Aruba.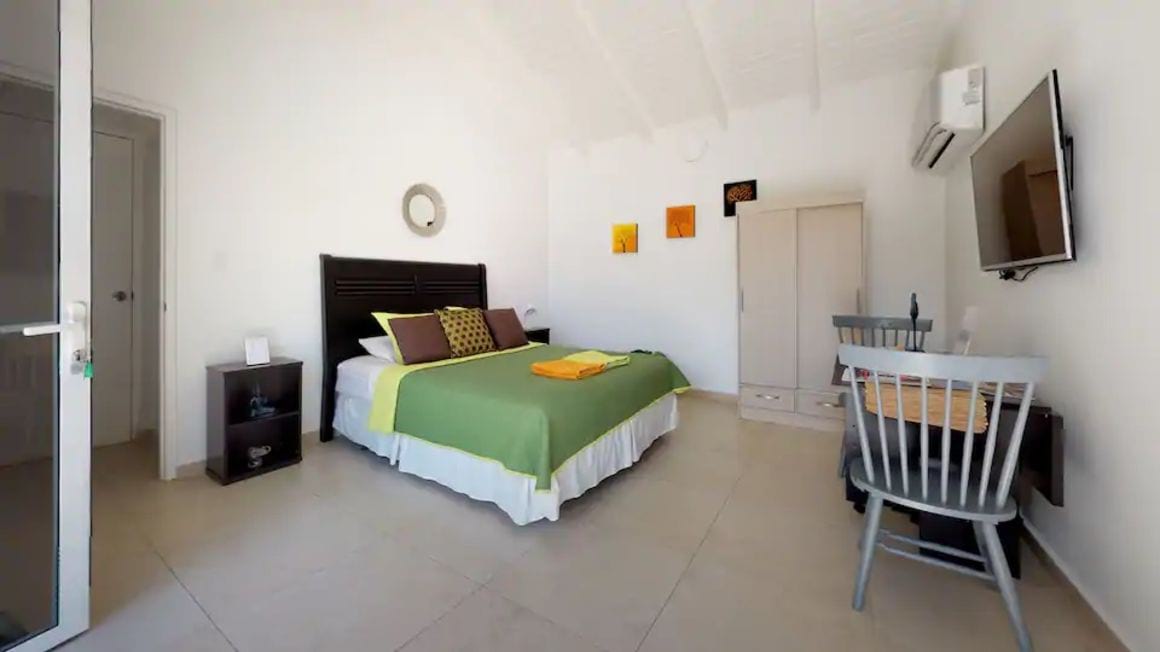 With a dedicated workspace and fast Wi-Fi, this place offers the bare minimum that a digital nomad needs. However, there's plenty more.
A queen bed makes it perfect for resting between jobs, while the kitchenette has all the equipment needed to keep you going as you work. Just be sure to have a break and go for a walk on one of the beautiful beaches within walking distance.
Four Guests
Outside kitchen
Oranjestad is the capital of Aruba and the largest town on the island. If you want to enjoy everything Oranjestad has to offer, this apartment is ideal – it has a small private pool, a fully equipped kitchen (indoors and out), and an outdoor pool shower.
There's a private entrance, and self-check-in is possible, so up to four guests can be assured of their privacy here.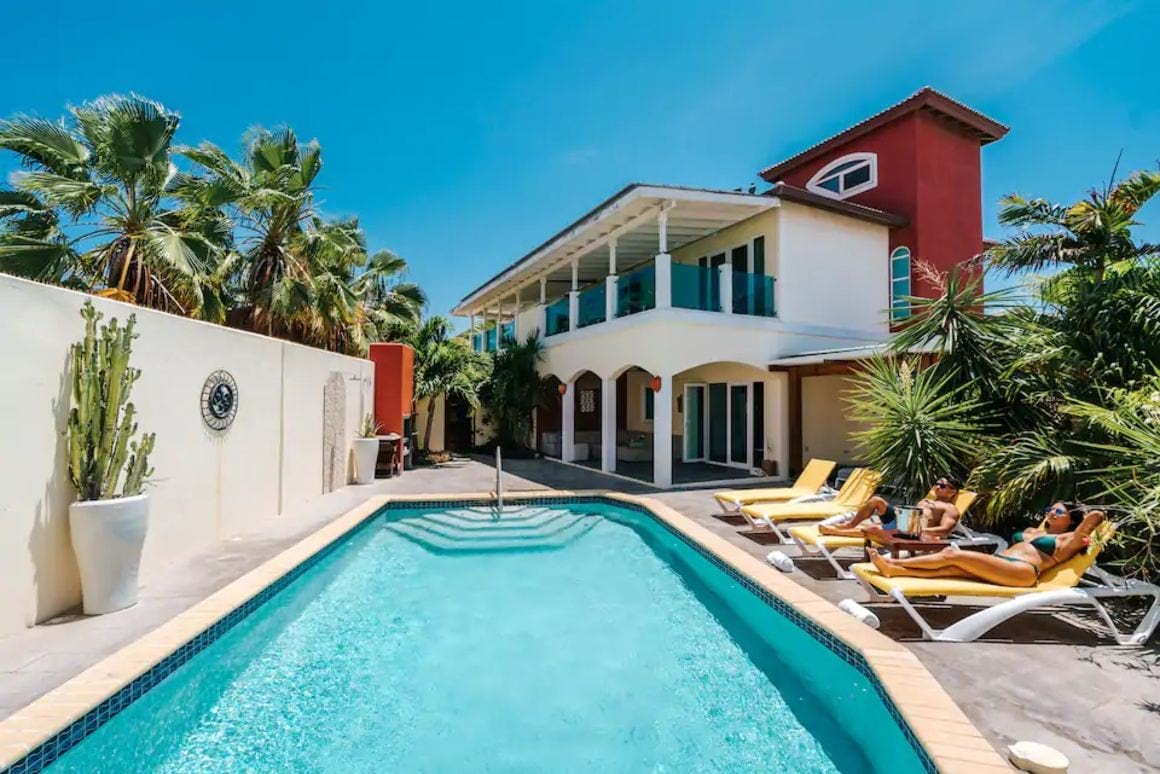 14 Guests
Furnished shaded terrace
Palm Beach is the most popular beach on Aruba, and it's not hard to see why. It also boasts some of the best accommodation, and this cool villa fits right into that.
With space for up to 14 guests, you can take a dip in the huge custom private pool, dry off on the sun lounger or beach chairs, then seek some shade on the terrace. Six bedrooms boast kings, and there's an extra with two twins. Great for kids!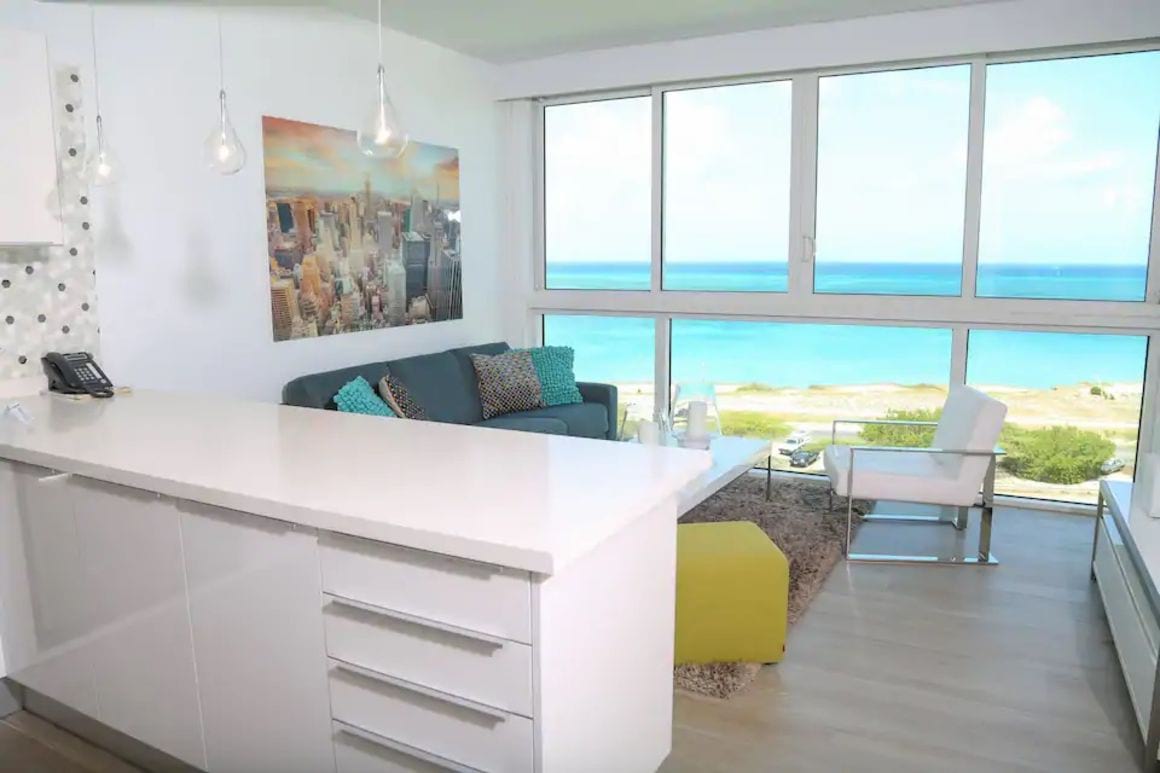 $$$$
Beach and tennis court
Three Guests
Lovely sea view
Eagle Beach is another prime location in Aruba – and here's your chance to wake up with a view of it every morning! The condo has a fully equipped kitchen and comfortable living and dining room.
One of the best bits about staying in a condo is the shared access – and it's no different here. You'll have the use of an infinity pool, a tropical deck, and a fully equipped gym that is open 24/7!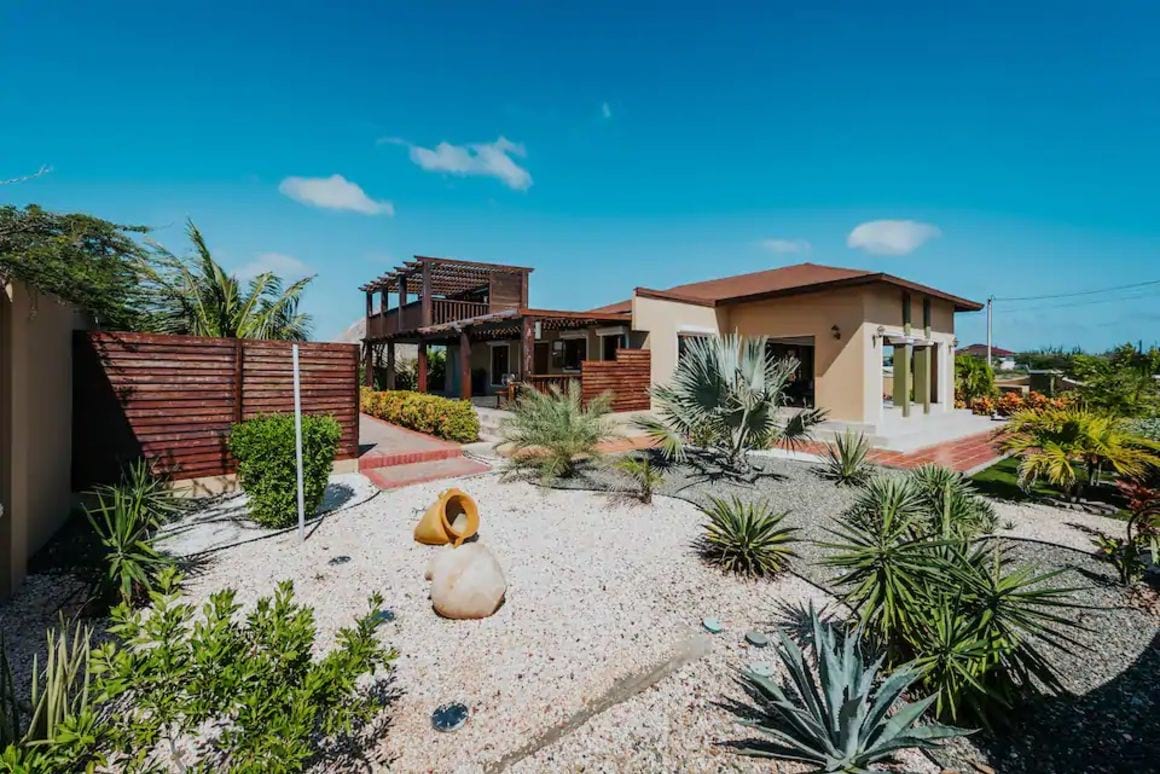 Eight Guests
Secluded island villa
Located right on the southern tip of Aruba, San Nicolas is the island's cultural capital – and this is the perfect beach house in Aruba to enjoy it from! The beach home is secluded and has all sorts to enjoy while you're there.
There's a Bose Soundsystem and smart TV, both perfect for a movie night. Alternatively, head out onto the back porch for a board game with your fellow guests!
Top 5 Airbnb Experiences in Aruba
Now that you've seen some incredible places to stay, let's think about what to do when you arrive. Aruba is a small island, and thankfully, it's easy to get around. However, you still might struggle to fit everything in as there's so much to do!
The best way of working out how to spend your vacation in Aruba is with Airbnb Experiences. These are locally curated tours and trips that show you the best a destination has to offer.
Airbnb Experiences can be anything from snorkelling or kayak tours to a cooking class. Let's take a look at five of the best on offer in Aruba.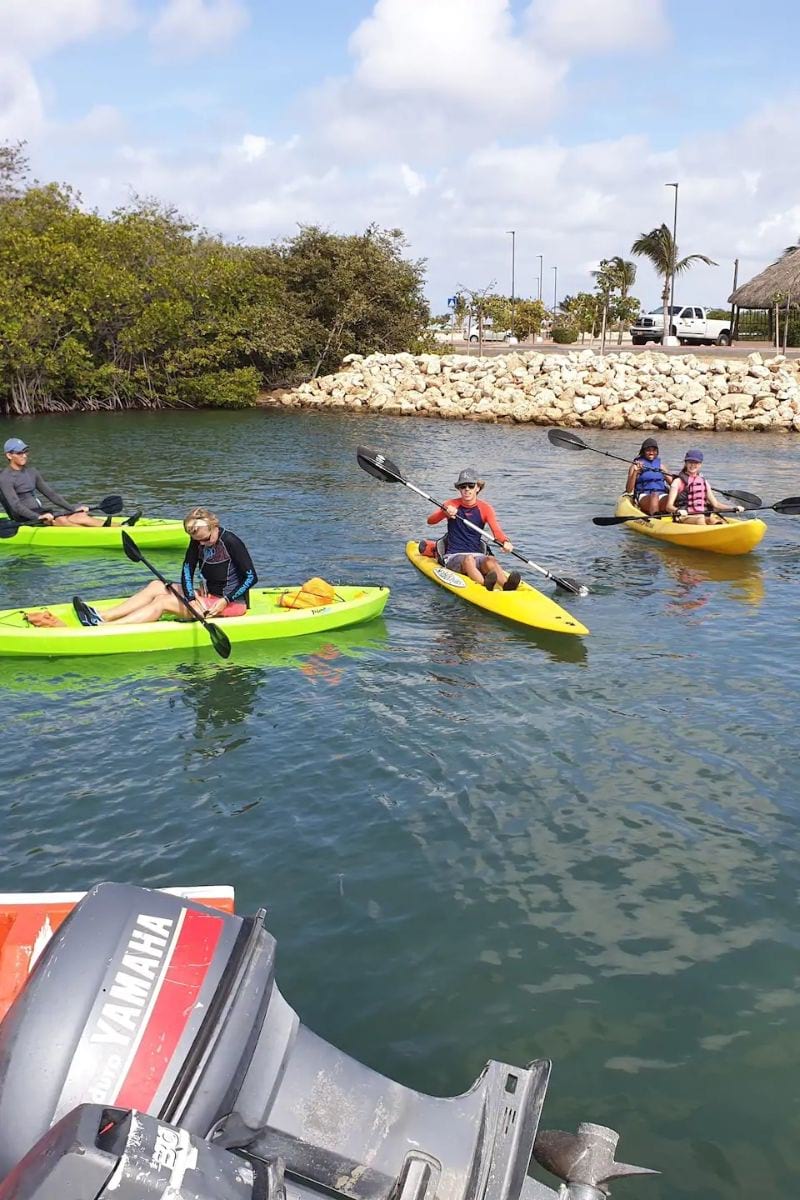 $70/person
3 hours
Up to 6 Guests
The northwest coast is the part of Aruba that gets all of the tourist plaudits, but the southeast shouldn't be missed off your itinerary.
This small-group tour will enable you (and up to five others) to experience it by kayak. You'll stop off at some of Aruba's small islands, called rifs, where locals love to spend their free time.
You'll also be on the lookout for birds, turtles, and other animals. A perfect way to spend a lazy day!
Aruba is known for its stunning beaches and gorgeous sunshine, but it's also known for its national parks.
Since the sun is strong, especially for hiking, the best time to go for a hike is at sunrise. As you walk through Aruba's nature, you'll learn about the history and culture from a local guide.
The tour includes your day pass for the national park, and takes you towards Cunucu Arikok on the hiking trail. You'll then discover Arikok Hill, the 2nd highest point on the island.
At the end of your hike, you can catch the sun rising over the hills with some coffee or tea and snacks.
$34/person
1 hour
Up to 8 Guests
Mangel Halto is one of the top beaches in Aruba. It's actually where my overall best value Airbnb is located!
This tour is your opportunity to go snorkelling and see the tropical fish and turtles that call the area home.
This tour includes bottled water and Dutch-style cookies, just be sure not to scoff them before you go into the water!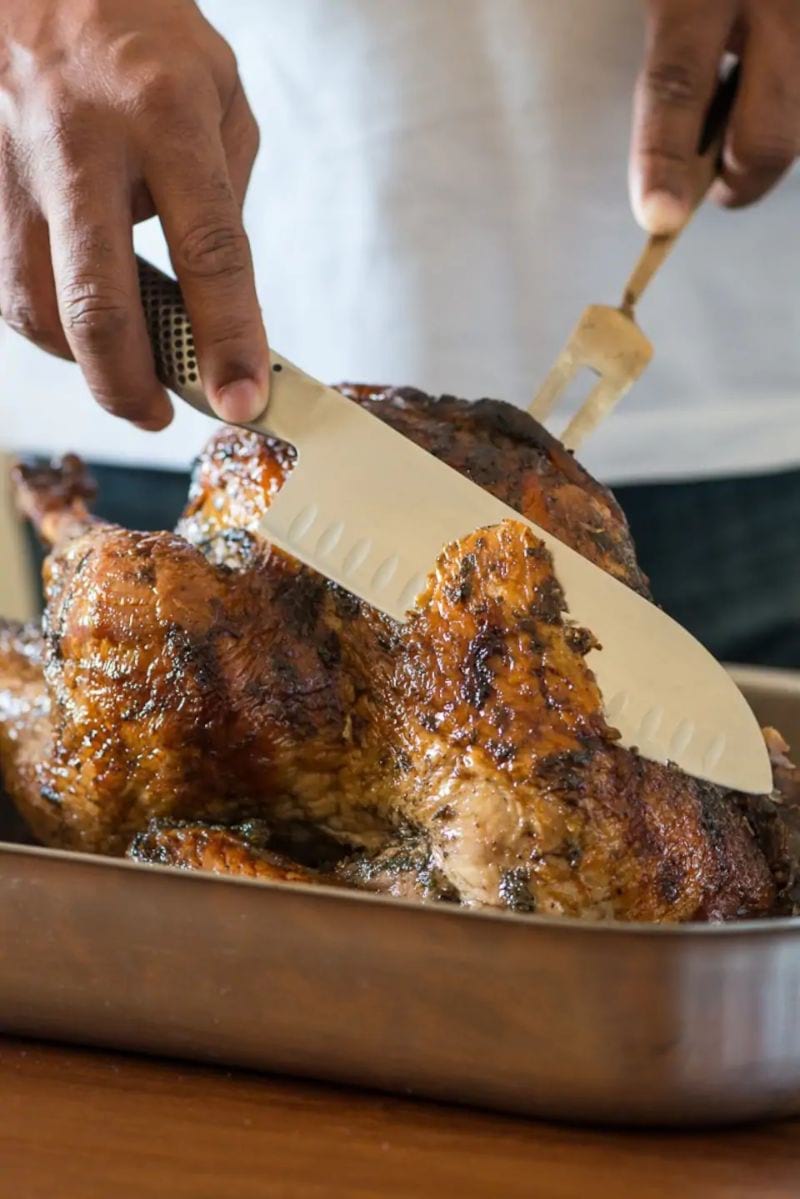 $125/person
2.5 hours
Up to 10 Guests
A cooking class is a great way to get an insight into a destination's culture while enjoying some tasty food.
Start off with a mocktail before learning some family Caribbean dishes (this is home-cooked food, not restaurant style).
While you're cooking, expect dancing, laughter, and a few sneaky tasters. When everything's ready, sit down together and enjoy your meal!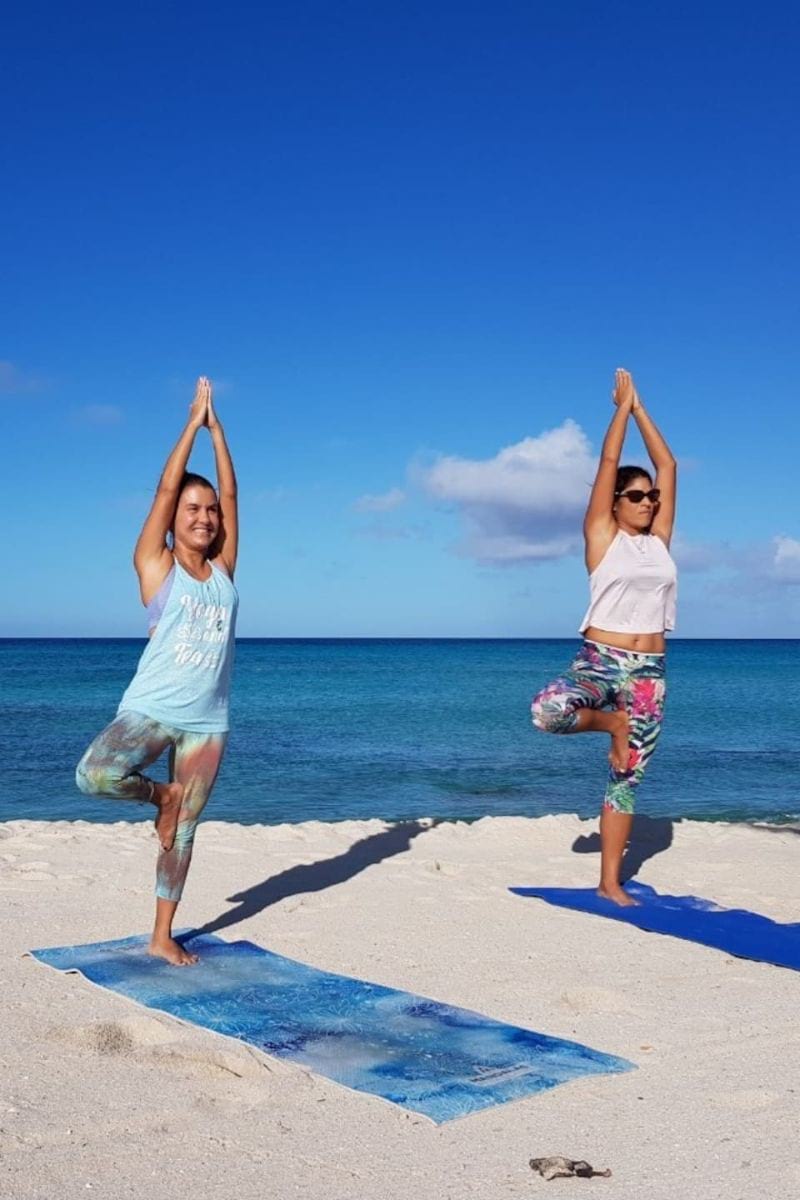 $24/person
1 hour
Up to 6 Guests
If you're trying to pack everything in during your vacation in Aruba, you're going to get stressed.
So, why not do something that will take your mind elsewhere for an hour and chill out… properly.
This yoga class on Eagle Beach can help you to find your inner peace with nature as your yoga studio. Once the yoga class is finished, swimming is optional! So grab your beach towels and let's go!
FAQs About Airbnbs in Aruba
Here's what people usually ask me about Aruba vacation rentals…
Don't Forget Your Aruba Travel Insurance
ALWAYS sort out your backpacker insurance before your trip. There's plenty to choose from in that department, but a good place to start is Safety Wing.
They offer month-to-month payments, no lock-in contracts, and require absolutely no itineraries: that's the exact kind of insurance long-term travellers and digital nomads need.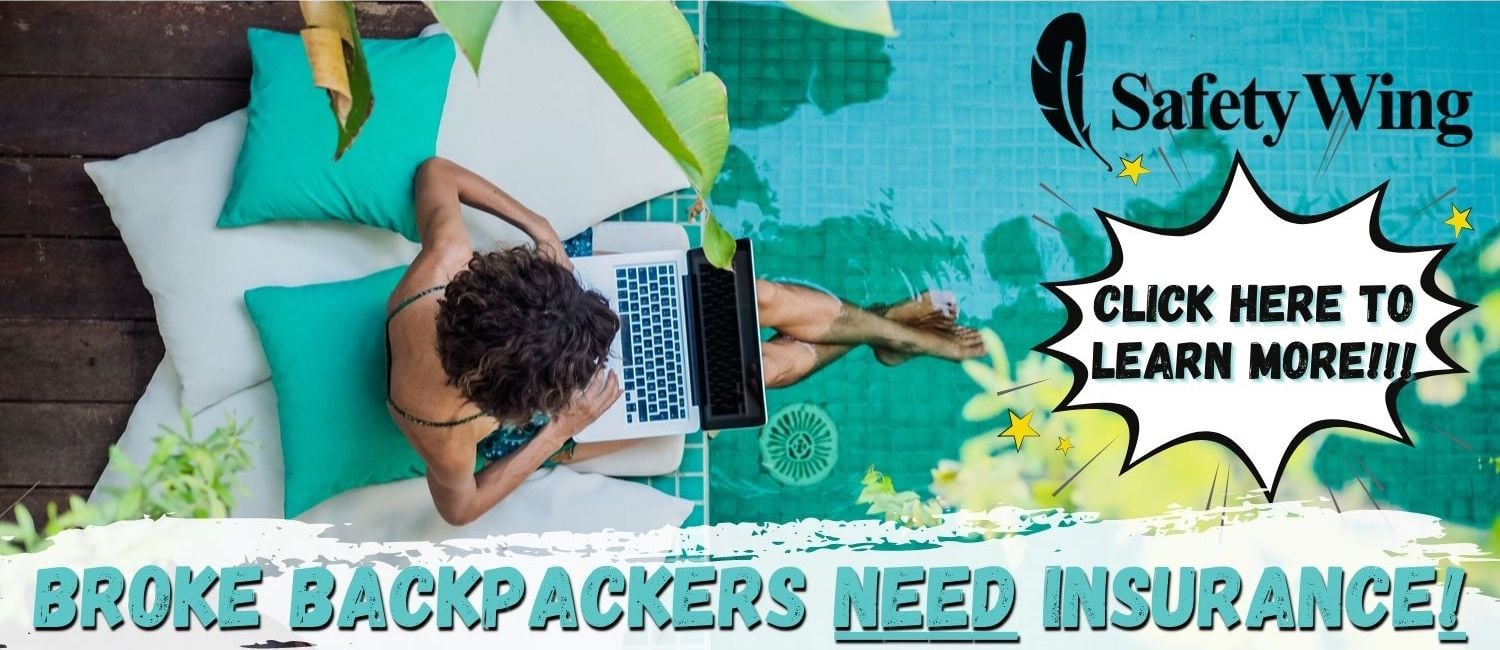 SafetyWing is cheap, easy, and admin-free: just sign up lickety-split so you can get back to it!
Click the button below to learn more about SafetyWing's setup or read our insider review for the full tasty scoop.
Final Thoughts on Aruba Airbnbs
Well, there you have it; those are the 15 best Airbnbs in Aruba. Not only that, there are some pretty sweet Airbnb Experiences to do when you arrive. So, whether you want to stay in a seaside villa, a cute boutique hotel, or a private apartment in Oranjestad, there's an Airbnb in Aruba for you!
If you're still struggling to make your decision on where to stay, let us give you one last piece of advice. Go for my overall best value Airbnb in Aruba. That's the Beach front Paradise. It's the ideal place for a couple or solo traveller to experience this paradise island!
No matter where you choose to stay, I hope you have a wonderful Aruba vacation. To be sure that you and your belongings are safe for the duration of your trip, check out travel insurance policies with World Nomads.
---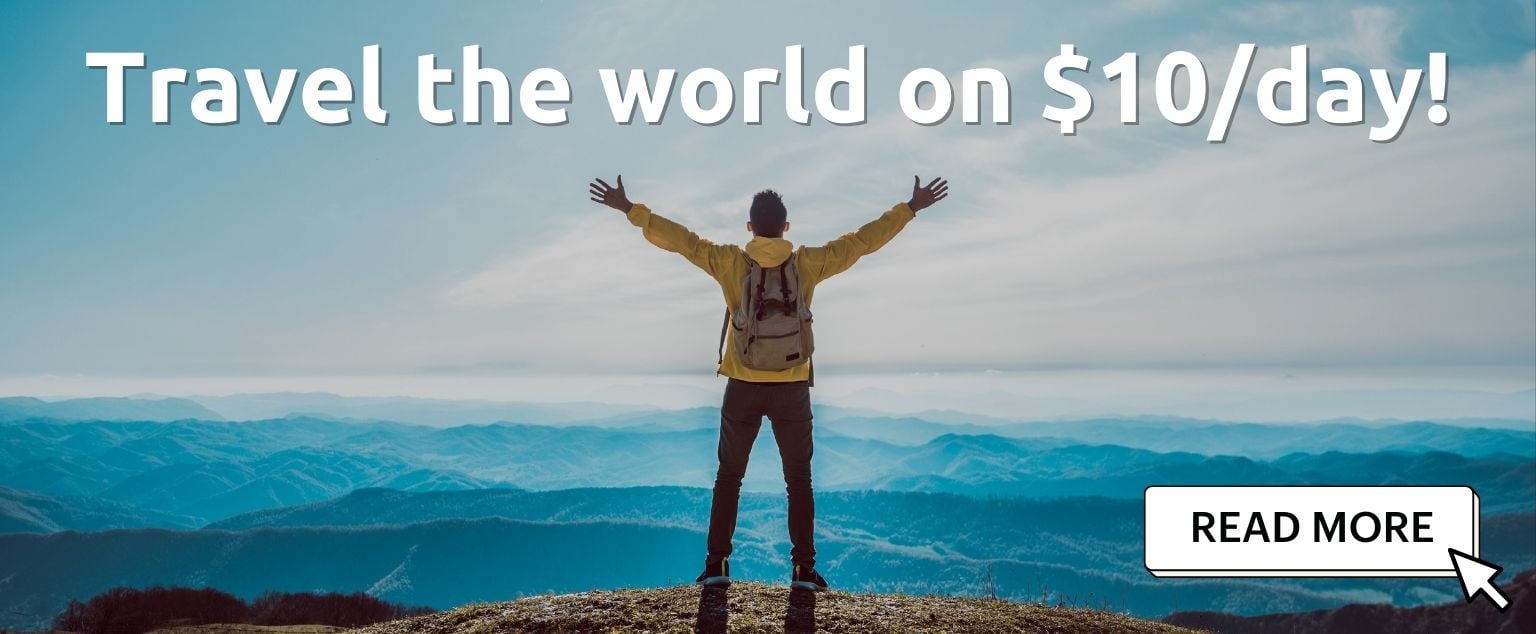 And for transparency's sake, please know that some of the links in our content are affiliate links. That means that if you book your accommodation, buy your gear, or sort your insurance through our link, we earn a small commission (at no extra cost to you). That said, we only link to the gear we trust and never recommend services we don't believe are up to scratch. Again, thank you!