The southern Caribbean island of Aruba is a tropical paradise known for its miles of golden beaches, crystal clear water rich with sea life, a wild national park, local heritage, and a pinch of Dutch culture.
But while Aruba is a popular destination for honeymooners and couples looking for a romantic getaway, many backpackers and digital nomads have been turning heads in Aruba's direction. Why? It's not as expensive as you may think.
If you ask anyone "is Aruba expensive?" they will nearly always respond with a resounding yes, but those people are not experts in budget travel. While you can stay in a luxury resort and dine in world-class restaurants, you can also save money by staying in a local hotel by the sea, or maybe even opt for a hostel.
It's pretty much a dream destination no matter who you are. And yes, the Caribbean isn't going to be the cheapest destination on Earth, but it doesn't mean a trip to Aruba has to break the bank.
This guide will take you through all of the costs of a trip to Aruba and give you practical advice on how you can travel to Aruba on a budget.

Do You Want to Travel FOREVER??
Pop your email in below to get a FREE copy of 'How to Travel the World on $10 a Day!'.
So, How Much Does a Trip to Aruba Cost on Average?
Working out how much a trip to Aruba costs will depend on a few different factors.
Firstly, you need to figure out how much you have to spend on the trip. This means taking a close look at your budget. You can then start to factor in the price of big-ticket items like flights and accommodation before focusing on smaller costs like food and transport.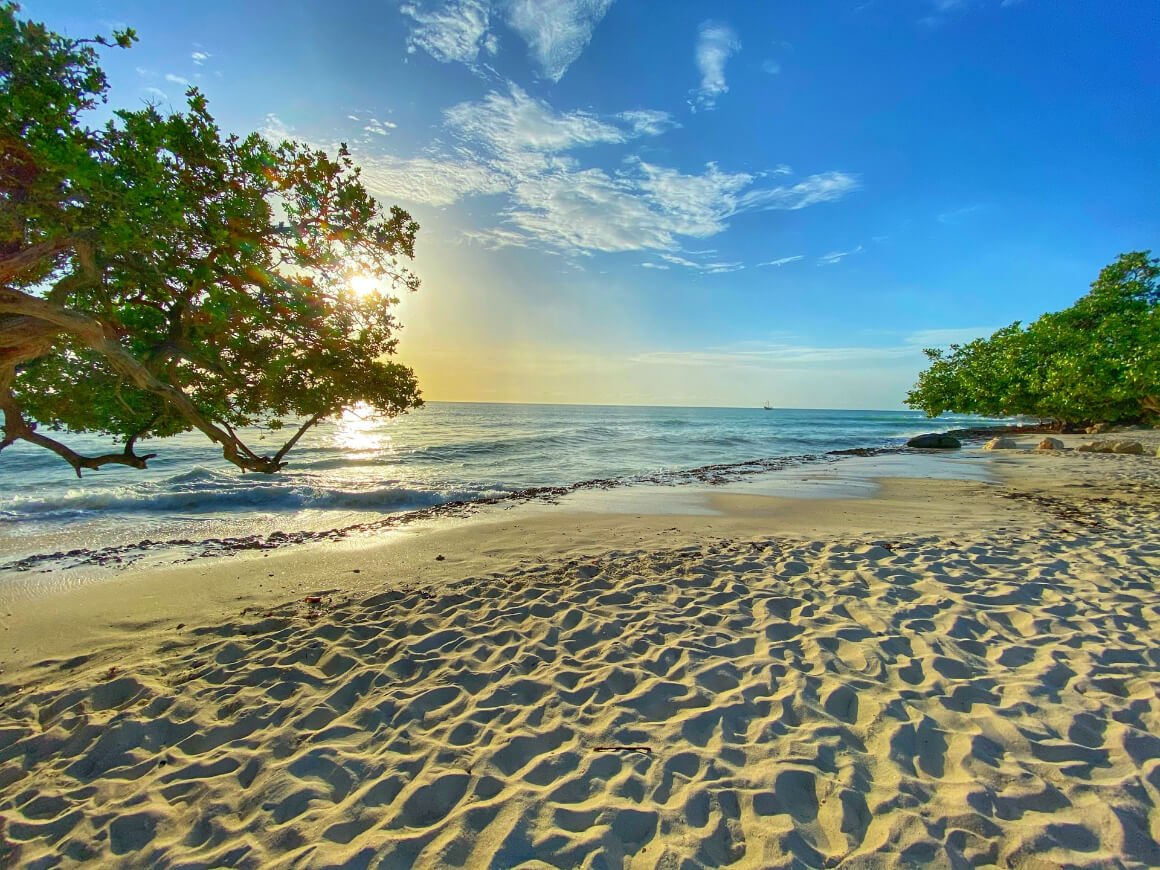 Travel costs in this guide are all estimates and can fluctuate. Prices are listed in US Dollars.
Aruba uses the Aruban Florin (AWG). As of August 2022, the exchange rate is 1 USD = 1.80 AWG.
2 Weeks in Aruba Travel Costs
For some guideline prices, you'll find a summary of the average costs of a 2-week trip to Aruba summarized below.
Is Aruba Expensive

| Expenses | Estimated Daily Cost | Estimated Total Cost |
| --- | --- | --- |
| Average Airfare | $162 | $1,133 |
| Accommodation | $14-$180 | $196-$2,520 |
| Transportation | $0-$23 | $0-$322 |
| Food | $15-$60 | $210-$840 |
| Alcohol | $0-$52 | $0-$728 |
| Attractions | $0-$58 | $0-$812 |
| Total (Excluding Airfare) | $29-$373 | $406-$5,222 |
| A Reasonable Average | $73-$198 | $770-$3,520 |
ESTIMATED EXPENSE: $162 – $1,133 USD for a roundtrip ticket.
The cost of a flight to Aruba is going to vary depending on where you are based in the world. Aruba might be a long-haul flight from your home country, so you can expect prices to be higher the further away you are.
However, Aruba can be an affordable place to fly to, and it's totally possible to low-cost find airfares. If you are looking for the cheapest flights to Aruba, then you'll have to be flexible with your search. Be open-minded with your travel dates and even the time of day you travel. The high season is between November and March.
The busiest airport on the island of Aruba is Queen Beatrix International Airport (AUA). Luckily, it's located really close to Oranjestad, only around 3km (2 miles) away. Driving is the easiest way to get between the two, only taking around 5-10 minutes.
The taxi ride will be something you need to budget for too, but we'll get onto inner city transport later in this guide.
Below you'll find the average costs of a flight to Aruba from various international air travel hubs:
New York to Queen Beatrix International Airport $162 – $392 USD
London to Queen Beatrix International Airport: £320 – £846 GBP
Sydney to Queen Beatrix International Airport: $899 – $1,480 AUD
Vancouver to Queen Beatrix International Airport: $703 – $898 CAD
As you can see, it's cheaper to fly to Aruba from destinations that are closer to the Caribbean. However, London has some great deals from time to time. For those traveling from Australia, the price of flights can be pretty steep. If you're worried about the high costs of flights, there are some money-saving tips to try out.
Try looking for flights in the shoulder season and flights leaving mid-week. A good place to start is by checking out the Skyscanner website. You can compare a whole list of various flights from all of the airlines, and everything is in one place. It can really save some serious time and money.
ESTIMATED EXPENSE: $14 – $180 per night
After flights, the cost of accommodation in Aruba is going to take up the highest chunk of your travel budget. Luckily, once you're on the ground in Aruba, the price for things like accommodation is actually fairly affordable depending on the type you choose.
The one thing you'll need to look out for is the time of year you travel. The cost of hotels and Airbnbs in Aruba can quickly creep up during the island's peak tourist season from November to March. If you want to bag yourself a bargain room, I suggest booking your trip for the shoulder season – either autumn or spring.
To help you start to plan your trip, here's a look at some fantastic affordable places to stay in Aruba…
Hostels in Aruba
Aruba isn't just a place for couples and families to head to on their vacation, it's backpacker-friendly too. If you really want to save cash on accommodation, then you'll be pleased to know there are cheap hostels in Aruba. Most of them are run by friendly locals and are usually located close to the beach.
The cheapest hostels in Aruba start at around $14 per night.
The hostel scene in Aruba may not be as vibrant as in Thailand or Australia, but you can book into clean, safe, and budget-friendly digs. The hostels in Aruba don't usually have dorm rooms, it's more about simple and cheap private rooms, but there's the added bonus of facilities like shared kitchens, lounges, and even swimming pools.
So, if you fancy booking a hostel for your trip, here are a few of the best hotels in Aruba for you to check out:
Hostel Room Aruba – Located in the downtown area of the city, close to the beach, and within easy reach of public transport, this hotel is a great base for exploring. The prices are affordable and it's run by a friendly team who makes sure everything runs smoothly
Pista Q Hostel – Just steps from the beach, this hostel is the perfect budget-friendly accommodation. Amenities include a shared kitchen, a shared lounge, and an outdoor pool.
Palmita Hotel Hostel – With a range of room types to offer including family rooms, the hostel also comes with an outdoor swimming pool, a garden, and a shared kitchen. A continental breakfast is served up each morning and bikes are available for hire.
Airbnbs in Aruba
When it comes to vacation rentals in Aruba, the island has a healthy selection of properties available to book. The main companies to choose from are Airbnb and VRBO, but Airbnb tends to have more choices and cheaper rates.
Airbnbs offer up a great alternative to tourist hotels. They help to provide a base for independent travelers who prefer more privacy and homey comforts and can allow you to be located anywhere on the island – from beaches to city centers.
Airbnbs in Aruba can be very affordable. You can stay in a beach-side property for a snip of the price of a high-end hotel in the same neighborhood.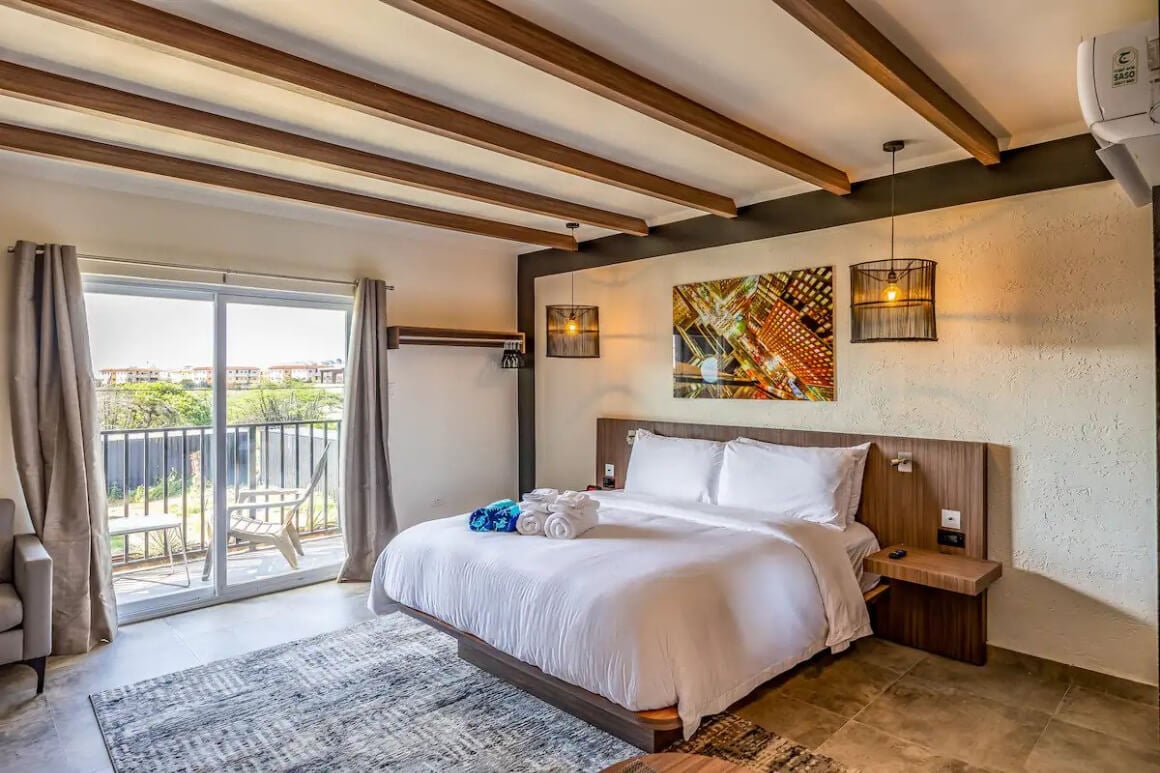 The cheapest can be priced as low as $40-$100.
Another bonus of booking an Airbnb for your trip is that you'll usually get the use of the property's amenities like a kitchen so you can save some cash by whipping up meals every day. Some even come with tropical gardens or swimming pools which is always a bonus.
For those of you who are considering staying in an Airbnb in Aruba, here's a small selection of great properties to get your started.
Beach House – Enjoy waking up to the sound of the ocean at this relaxing Aruba beach house. The beachy interiors come with glass sliding doors that open up to the beach for the ultimate tropical vibe. Perfect for a couple or solo traveler.
Modern Studio Apartment – Featuring polished interiors and all of the amenities you could need to make your stay as fun as possible, this studio apartment is conveniently located in Oranjestad. From here is just a 5-minute drive to beautiful sandy beaches.
Charming Noord Villa – This modern villa in Aruba features clean, bright interiors and a long list of amenities. Guests have access to a shared outdoor pool and the beach is only a 5-minute walk away.
Hotels in Aruba
Hotels are the classic accommodation choice in Aruba. Coming in all shapes and sizes, you can find everything from the most low-key family-run B&Bs, all the way to five-star luxury resorts. The choice is yours to make. But as with most destinations in the world, the more high-end the hotel, the more you pay for a night.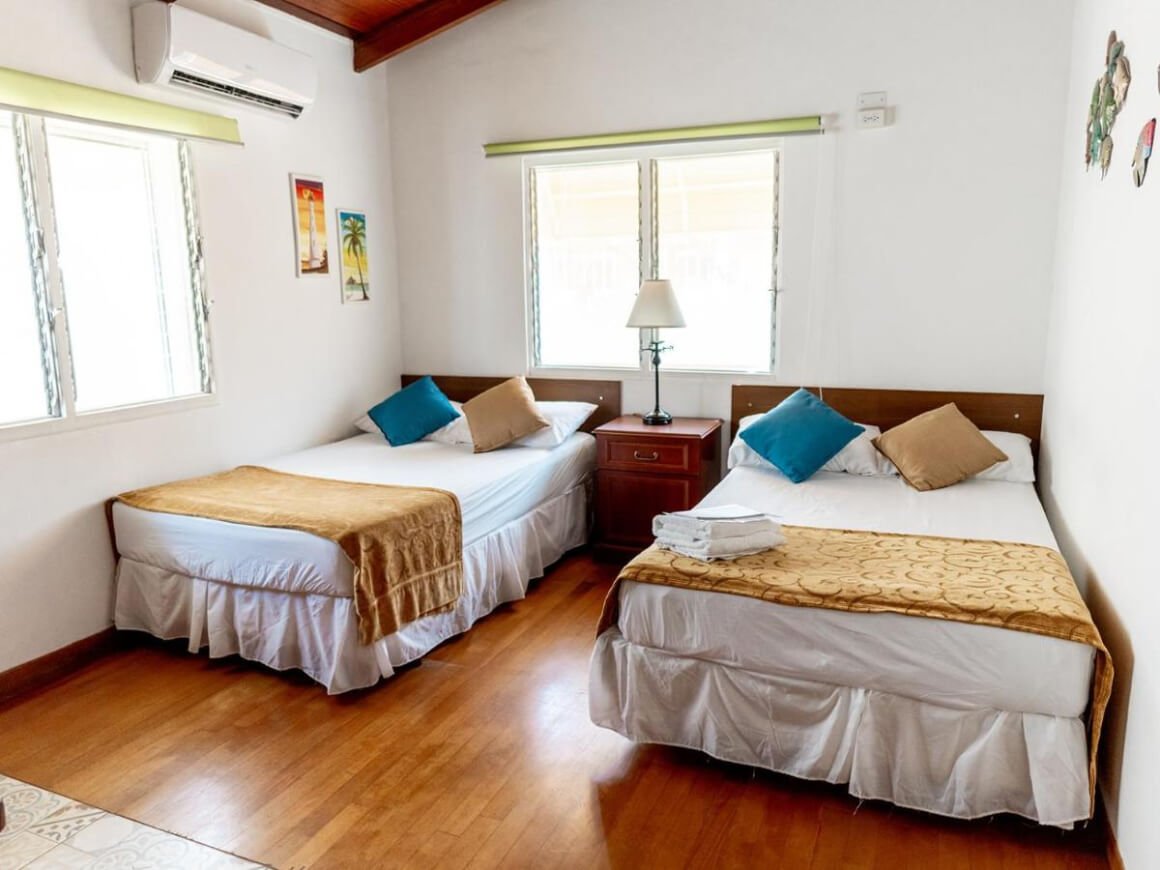 The best budget-friendly hotels in Aruba cost around $50 per night for a room. You can find some even cheaper room rates in low-season and in more off-the-beaten-track locations.
Staying in a hotel in Aruba really does come with some great perks. For one thing, the hotels are usually run by a friendly staff who want to make sure your vacation is as good as it can possibly be. You'll be able to book day trips and activities through the hotel and use handy features like a free beach shuttle.
There are some great locally run hotels in Aruba where you'll be able to enjoy a laid-back trip and get a taste of life on the island too. They usually come with outdoor pools, and tropical gardens, and they even provide a fresh daily breakfast.
Aruba's more expensive resorts will come with pretty much everything. Expect gyms, spas, beachside locations, plush interiors, and a range of on-site eateries to choose from.
Here are some top hotels in Aruba…
Coral Reef Beach – This laid-back beach hotel is located on the island's Caribbean coast in Savaneta. Here guests can take part in activities like snorkeling and windsurfing. The tropical-style rooms come with a private bathroom, a fully equipped kitchen, and a seating area. Several dining options are just steps away while the Arikok National Park is just a 5-minute drive.
Kamerlingh Villa – You'll find Oranjestad a short distance from Surfside Beach. Amenities here include an outdoor swimming pool, shared lounge, and garden. The clean and comfy guest rooms each come with a patio or private balcony.
Aruba Blue Village Hotel and Apartments – Relax in style at this tropical hotel. Located a 5-minute drive from Eagle Beach, it's a small but friendly hotel close to a restaurant. Rooms include a private patio overlooking the shared swimming pool.
Unique Accommodation in Aruba
When it comes to unique accommodation in Aruba, there's one thing that Aruba does really well and that's boutique hotels. There's a collection of beautifully designed hotels that have been carefully curated to make sure the guests have the most relaxing and enjoyable vacation during their stay.
Most of the boutique hotels in Aruba are adult-only. This means you can spend your trip luxuriating in style, sipping cocktails by the pool, and enjoying the easy-going ambiance without little ones running around.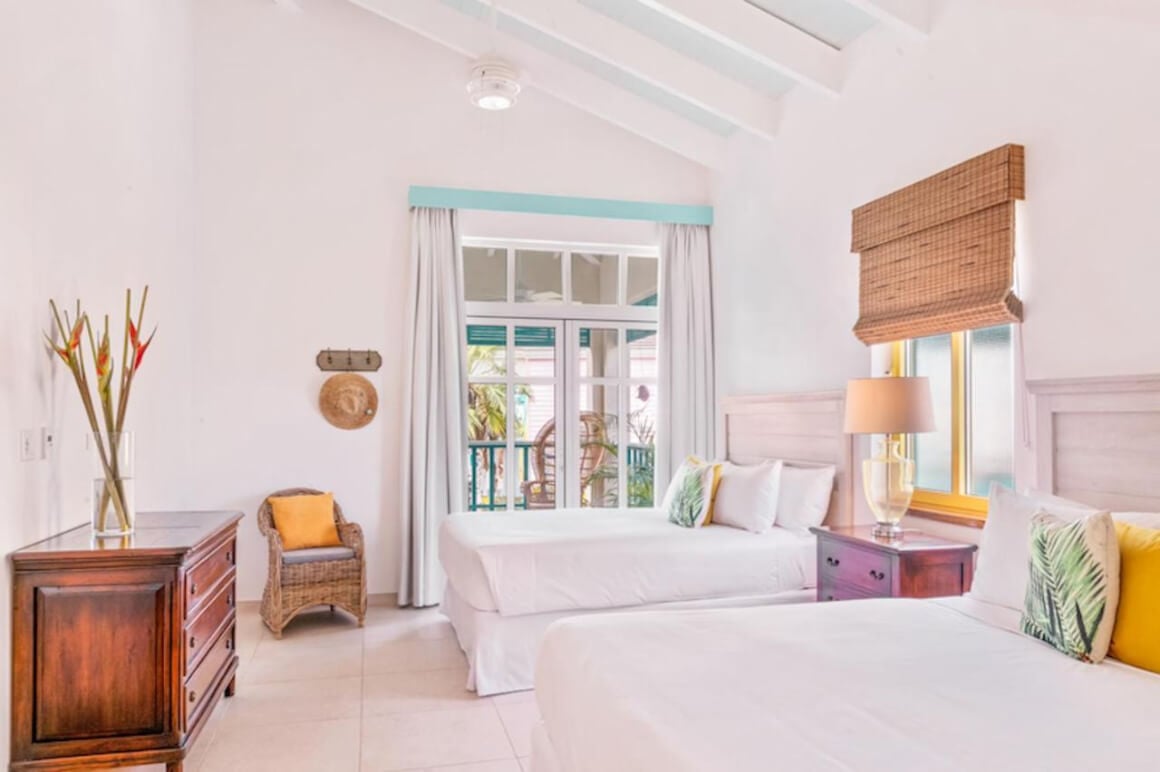 Boutique hotels come in different shapes and sizes. Some of them take up space on the coast with sprawling, manicured gardens, and various high-end amenities. Others are located in former plantations and feature historic buildings and tons of island character.
These are the kinds of places to stay if you really want to spend your trip relaxing. It might be a nice idea to book yourself a night or two in a boutique hotel at the end of your trip to really end your vacation on a high.
If you think that sounds like the kind of place you would like to spend some time, here's a small selection for you to check out:
Wonders Boutique Hotel – This relaxing adults-only hotel is located in a peaceful area a few kilometers from the Oranjestad city center. Set around an outdoor swimming pool, guests can use the free daily beach shuttle and enjoy breakfast served in the hotel garden.
Boardwalk Boutique Hotel Aruba – Situated just steps from Palm Beach, the hotel is set on a former coconut plantation and offers tropical gardens and an outdoor pool. The brightly-colored guest cottages are charming and include a fully equipped kitchen.
Brickell Bay Beach Club Boutique Hotel & Spa – This beautiful adults-only resort can be found in the heart of Palm Beach. Boasting a full-service spa, free beach shuttle service, and a fitness center, days here can be spent around the outdoor pool complete with a bar.
Is This the Best Travel Pack EVER???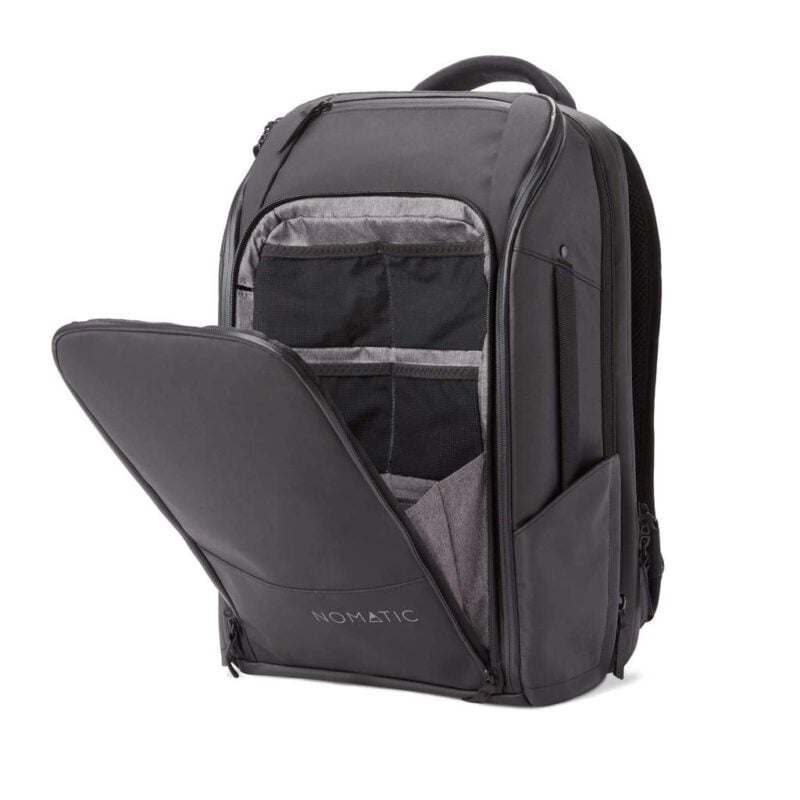 ESTIMATED EXPENSE: $0 – $23 per day
Aruba is not a huge place, 180 square kilometers (around 69 square miles). Needless to say, it isn't going to take you days to travel from destination to destination. With its lively capital, small seaside communities, and rugged nature, there's plenty to see in Aruba.
Being such a small island means that Aruba doesn't have a railway system – it doesn't really need one! But, there's a good choice of affordable transport operating in Aruba.
Most people get around Aruba by using a combination of taxis, buses, and hire cars. Most of the island's 800 km of road are paved and epic coastal routes provide beautiful sea views for road trips. It might be easy to get around, but is Aruba expensive for transport?
By far, the cheapest way to get around Aruba is by making full use of the public bus network. There are 29 buses that ply the routes around the island as well as a fleet of resort-owned mini-busses that take their customers to top destinations.
Renting a car is one of the most popular ways to travel around Aruba. Having your own set of wheels means you can reach the off-the-beaten track destinations and local areas. There's a good choice of rental companies on the island, from big chains to local rental car companies.
You can get anywhere you want on the island with the range of public transport, so let's get some more info on how to travel around and some details on just how much it costs
Bus Travel in Aruba
Bus travel is the main mode of public transport in Aruba. In fact, exploring by bus is the normal way for many visitors to the island to get around. Visitors who arrive by cruise ship usually get around by bus, there's a bus stop right in front of the port.
The island's public bus service is called Arubus, a professionally run network that's very reliable. Regular buses leave the main town of Oranhajset and connect up to most of the island's towns and top sights. You also can travel to all of the big resort areas and beaches.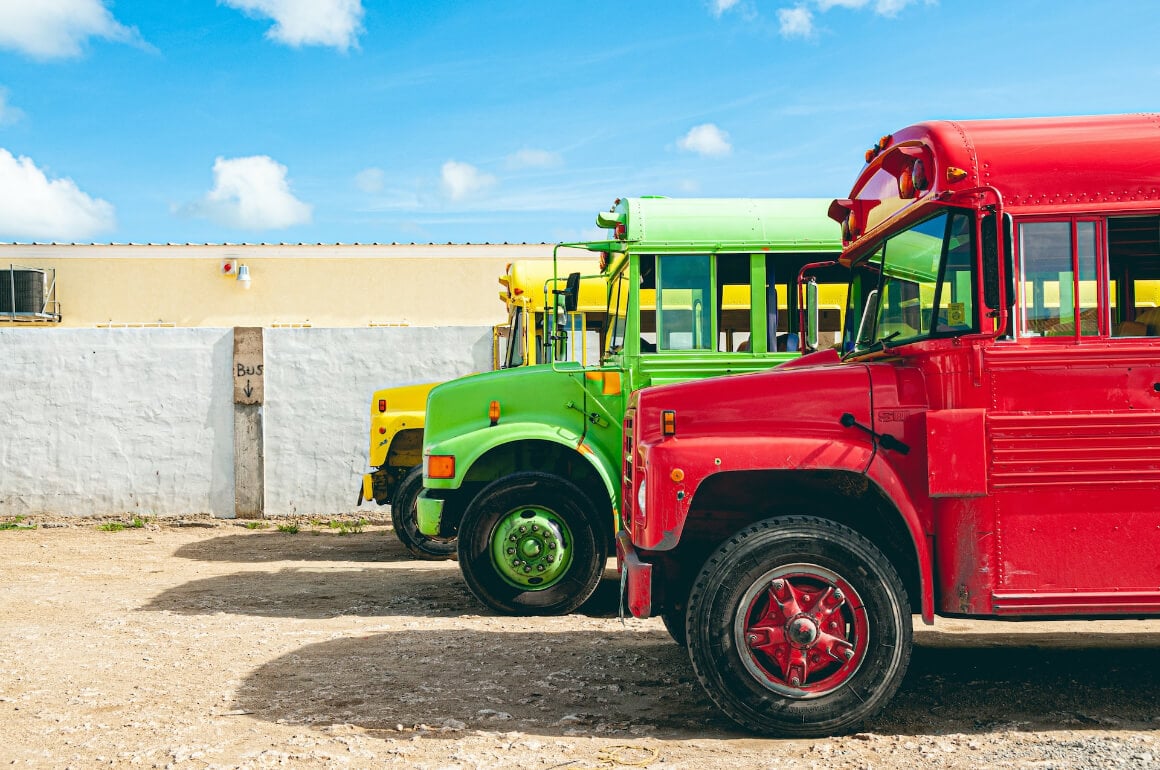 Buses from the capital leave around every 15 minutes and start early. The first bus of the day is 5:40 am and they run until 6.00 pm. During the evening, buses are less frequent, every 40 minutes, and finish at 11:30 pm.
The bus rides are affordable, a return trip on a bus costs around $5. You can also purchase day passes, which cost around $10 and give you unlimited travel on the bus network.
Timetables and the location of various bus stops are found on the Arubus website. This makes it easy to plan your travels around the island and work out your trip schedule.
Those of you who are going to be in Aruba for a while might want to consider picking up a Smart card. This travel card offers reduced fare prices for bus travel around the island. You can use the card for all bus travel in Aruba. The registration fee is around $8.30 and the reduced fare per trip is $2.00.
There are also a number of different private shuttle bus services on the island. These are mostly run by private resorts and private tour companies, prices will vary depending on the different companies and hotels.
Taxi Travel in Aruba
Other than buses, one of the main ways to get from A to B in Aruba is by hopping in a taxi. Taxis are an important part of public transport in Aruba and a very normal way for locals and tourists to get around.
You won't need to worry too much about local scams of dodgy cabs when you're on the island. The taxis in Aruba are known to be reliable and safe ways to get around. That's because they are regulated by the local government which sets fare rates and standards.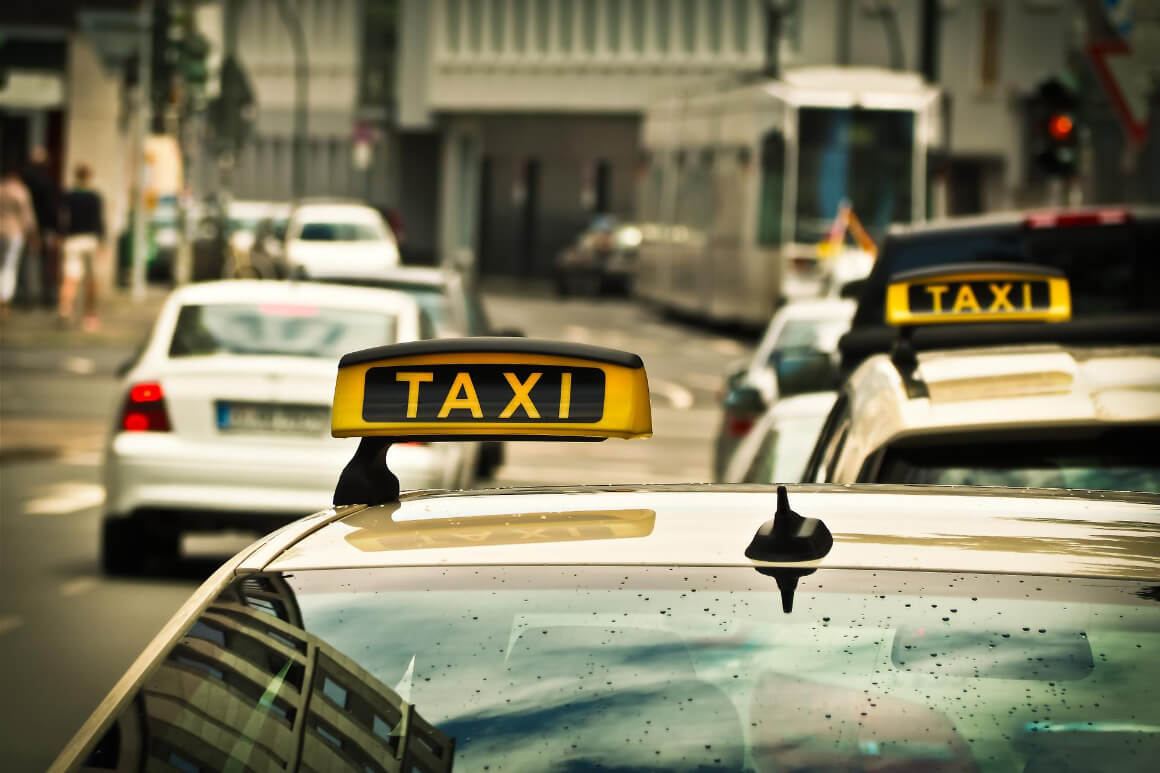 Don't get into a cab expecting to see a meter though. All of the taxis in Aruba run on set rates that have been officially set by the government. These standard rates mean that you should never get ripped off.
Minimum taxi fares in Aruba are set at $7. That isn't particularly cheap but it will get you to where you want to be a lot more quickly than a bus. Make sure to check with your driver how much the fare will be before you set off. A good guide is that most destinations from the airport will cost between around $18 to $50.
This fixed-rate means that a taxi is a hassle-free and fairly affordable way to travel around Aruba. In order to get a cab you can flag one down in the street – just look for a car with a TX on the number plate. You can also get your accommodation to call one for you, or the restaurant you're enjoying a meal at.
Getting Around Cities in Aruba
Aruba is a small island with a population of around 116,600 people. This means that there are no major cities on the island. Instead, the island is split into 6 different districts. Most people live in the largest urban areas in the districts of the capital Oranjestad and San Nicolas.
If you're staying in one of the bigger towns, or want to explore these parts of the islands then there are affordable ways to get around. In Oranjestad, the hop-on hop-off tram is a convenient and fun way to travel around the town's downtown district.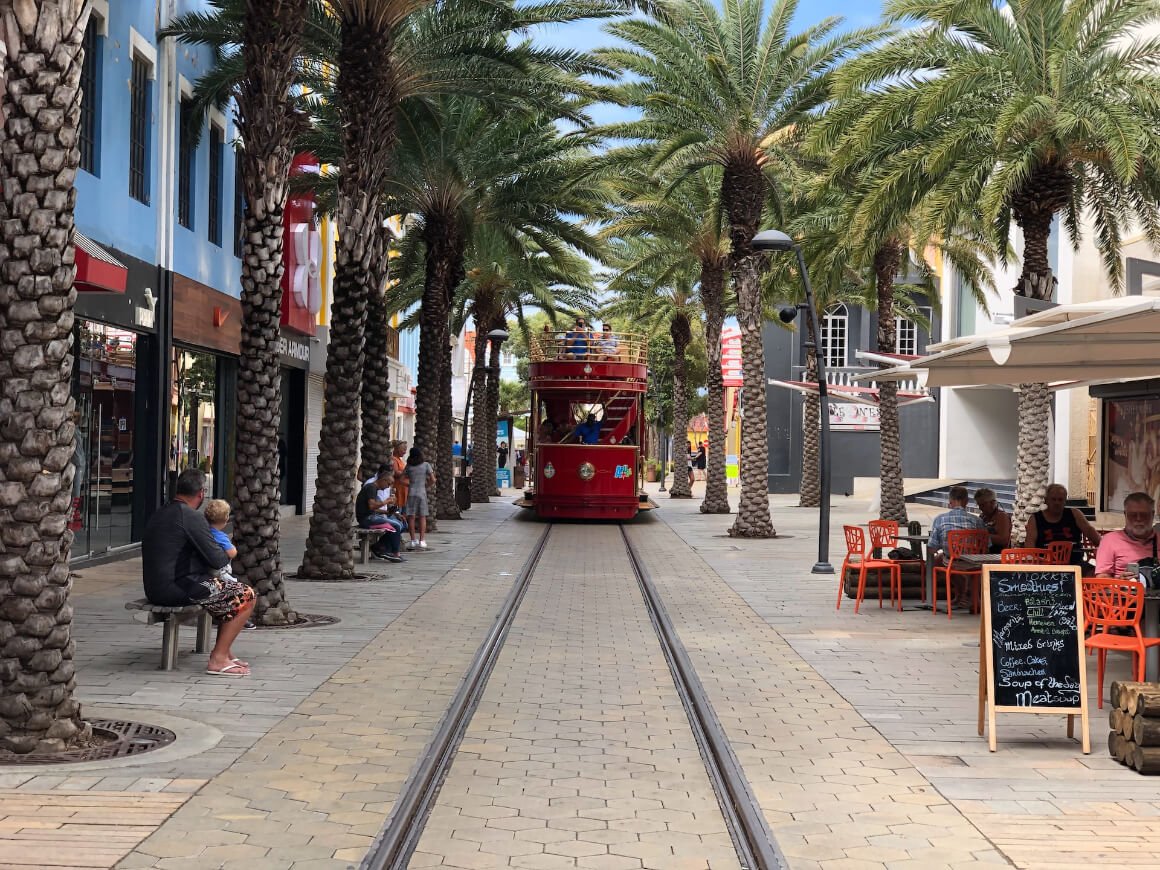 The retro-style tram is easy to spot as it makes its way down Main Street and along the pedestrianized area all the way to the main cruise ship terminal. Luckily for those of you on a budget, the train is completely free to ride. The only downside is that it only covers six stops, most of which are tourist sites like museums.
Most people use cars and buses to travel around the island's towns, but bikes are also a popular way to get around.
Bike rentals are available from companies in towns as well as directly from vacation accommodation. Cycling is a fun way to get around, it's even a great way to explore further afield with several bike trails used by locals and tourists.
Renting a Car in Aruba
Getting behind the wheel and hitting the road in Aruba offers up a world of freedom for exploring the island. You won't have to wait around for buses, have to stick to the normal tourist trail, or worry about catching the last bus home at night. And at only 19.6 miles long and six miles across, driving around Aruba is really fun and easy.
Even though it's pretty small, there are lots to see and do on a road trip in Aruba. You can hit up far-flung beaches, cruise along coastal roads and drive to the top of viewpoints. Being an island, Aruba is really straightforward to navigate. Just make sure the coast is always to one side and you'll get to where you need to be.
Hiring a car also means a trip to Arikok National Park is much more affordable as you don't have to rely on paying for a tour or a guide. Cars are available to hire at the airport or at the main cruise terminal. You can find all of the big named companies and locally owned businesses too.
Car hire in Aruba can be expensive though. If you want to make sure you have served the next rate, it's a good idea to book a few months in advance. Prices will rise during peak seasons when demand is higher. The cost of hiring a car for a day in Aruba ranges between $40 to $90. Deals can be found from local companies or direct from your accommodation.
If money isn't too much of an issue, a four-wheel drive is a good idea for properly exploring the rugged east coast and rural interior. Another cheaper option is to rent a motorbike or scooter to zip around the island roads, prices start at around $30 a day.
The final cost of renting a car in Aruba will usually include a collision damage waiver and theft protection. There are often extras such as supplementary insurance which can cost upwards of $17 per day.
Another cost to look out for is the price of fuel which makes the overall cost of hiring a car more expensive. The cost of fuel is currently around $1.62 per liter.
Want to save some cash and explore Aruba by rental car? Use rentalcar.com to find the best deal possible. There are some great prices on the site and they aren't difficult to find.
ESTIMATED EXPENSE: $15 – $60 USD per day
Aruba's food scene has a lot of vibrant gastronomic treats to try out. You can treat yourself to a meal prepared by top chefs at the island's many fine-dining restaurants. Expect a menu of the freshest ingredients from the region.
Then there are the mouth-watering meals at local food joints and the thriving food truck scene where you can sample home-grown dishes and unique island fare. The island also has a top selection of cafes, international eateries, and bars to spend time indulging in the rich culinary culture in.
Much of the food in Aruba takes its inspiration from the sea, with a ton of fresh seafood dishes to sample.
Not sure what kind of food you should try, keep an eye out for these local classics..
Keshi Yena – This traditional dish is one hearty chicken casserole. Typical ingredients reflect the island's history and culture and feature pulled chicken, olives, raisins, and spices. Of course, it's all topped with a healthy helping of melted Gouda cheese. It typically costs between $7 and $15.50 depending on the restaurant.
Bolo – Sweet-toothed travelers, this one is for you. The island has an array of tasty cakes for you to sample. Traditional examples include bread pudding (pan di bolo), cashew cake (bolo di cashupete) and prune cake (tert di pruim), and black cake (bolo preto). The black cake is usually served up at weddings on the island so it's particularly special. A slice costs upwards of $3.
Pisca hasa crioyo – Translating "fish creole", you might see this meal on the menu at more local eateries. Pieces of fresh fish, fileted fish, pan-fried and served with onion gravy. This is often served at home but eating it in a cafe will cost around $8-$10.
Here are some helpful hints for making your money go further and enjoy some great meals during your trip.…
Go local – Sure, the restaurant at your resort might be good but don't sleep on Aruba's local eateries. These low-key establishments are where you should go for real Aruban dishes. Just turn up and prepare to be delighted with Carriebam cuisine for half the cost of a tourist trap.
Enjoy the seafood – You simply cannot miss out on the great seafood when you visit Aruba. Most seafood joints will set you back around $25 for a decent meal, an amazing and affordable place to try seafood is the much-raved-about Zeerovers. With a seaside setting and low prices, there's nothing not to love.
Grab a Pastechi to go – This delectable pasty-type pastry is the favorite snack of Aruba. Think tasty dough that's stuffed with cheese and then deep-fried until golden. You can also try out other variations which include chicken, ham, beef, and fish. The snacks are sold for only a couple of dollars all over the island, from small grocery stores to local snack bars.
Where to Eat Cheaply in Aruba
If you really don't want to make your trip to Aruba expensive, but still want to get to grips with the local food scene, read on. Here are some insider money-saving tops and must-eat foodie destinations on the island
Renaissance Marketplace – The island has a growing food truck and farmers' market scene, and this is where you can enjoy some very filling meals for only around $5-$10. One option is the popular Renaissance Marketplace – a really filling breakfast here costs around $12.
Roadside stops – If you see a roadside stall, don't be afraid to stop. These locally-run food and drink stands are super affordable and will usually serve you up a refreshing snow cone or a snack to keep you going. It typically costs only a few dollars.
Tulip – This is a popular lunchtime hang out with locals. The fresh dishes on the menu are affordable and there's a selection of traditional and more modern meals like burgers to choose from. A good meal here costs between $10-$20.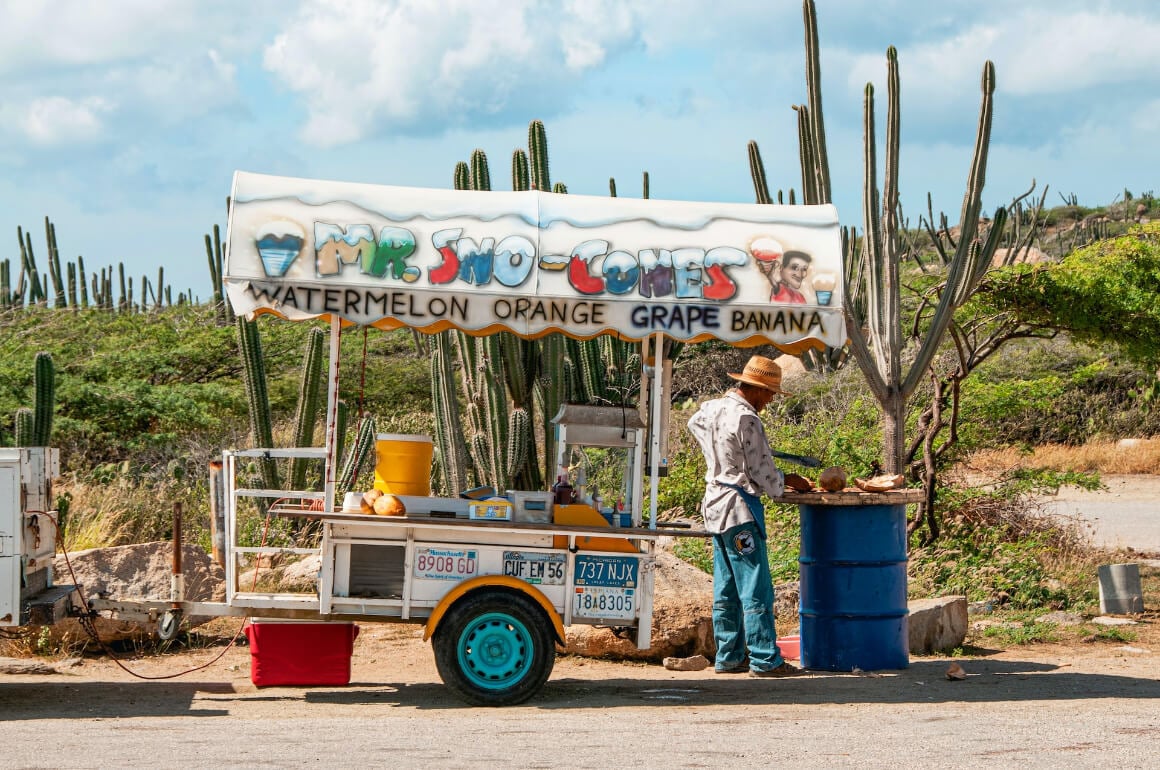 Eating out at local eateries is the best way to get to know more about Aruban food, but you can't always afford to eat out for every meal.
Aruba has some great supermarkets to choose from where you can pick up fresh ingredients to make your own meals. Two of the most reasonably priced stores are…
Superfoods – One of the island's favorite stores. Here you can find a range of different items and a good stock of cheap alcohol too. Stick to Dutch brands for lower prices.
Lings and Sons – Another really popular establishment which is used by locals. They often have different deals such as sales on fresh meats on Thursday.
ESTIMATED EXPENSE: $0 – $52 per day
There's no getting around it. Aruba is expensive for alcohol. It really is. Being an island means that a lot of alcoholic drinks like beer, wine, and spirits have to be imported from elsewhere which helps to hike up the price of beverages. But it's not just that.
In recent years, the island's government implemented an increased tax on hard alcohol. The tax was raised from a rate of 3% to 4.32%. This might not seem a lot, but this does have a knock-on effect on the cost of drinks in bars and restaurants.
Prices are high for alcohol at nearly every drinking hole on the island. Being on a budget may mean that drinking a beer or glass of wine in a bar every night is just not possible during your trip.
For those of you who are staying in an Airbnb, or have a nice private balcony to relax on, you could purchase your own drinks. Head to a supermarket and you'll get much more value for money. Superfoods supermarkets usually sell beer for the lowest price.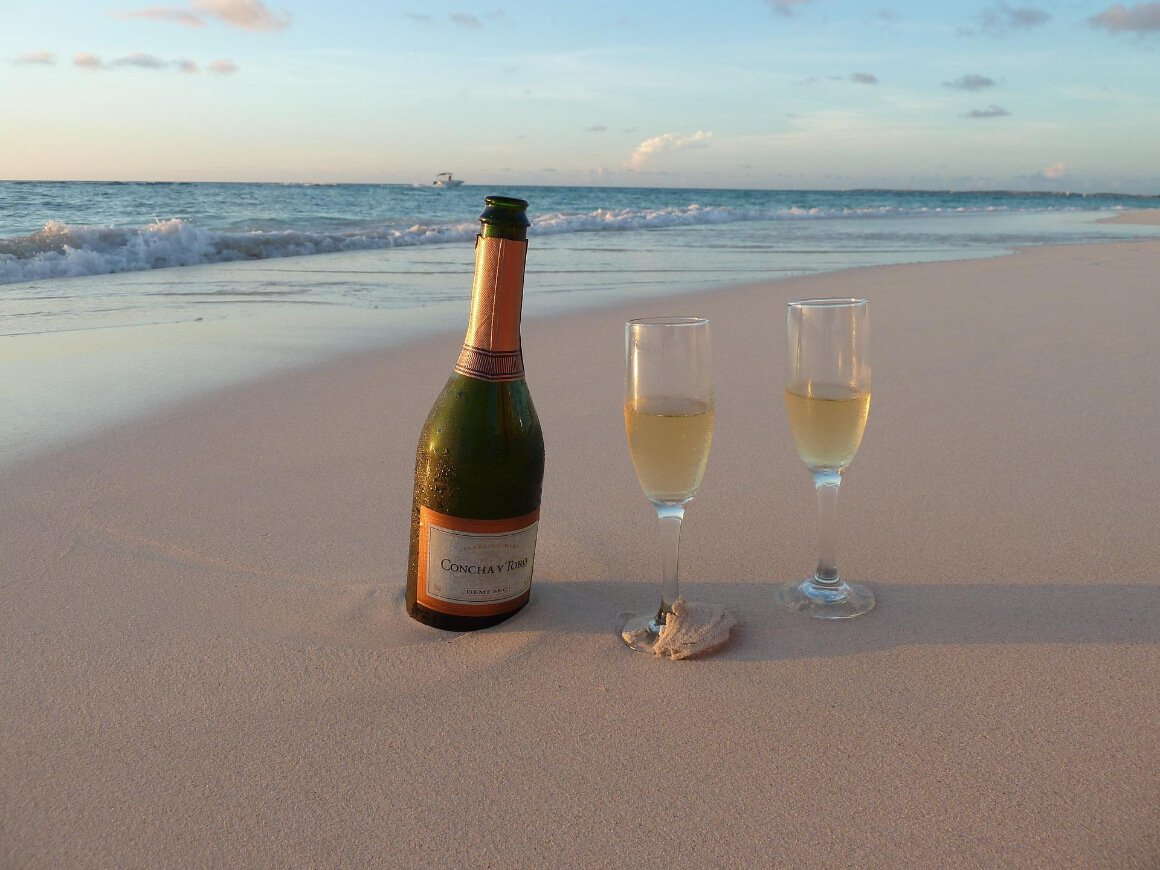 Expect to pay around $15 for a 12-pack of the island's home-grown Balashi beer. For imported beer, prices sit at around $42 for a pack of 24 cans. A Balashi beer in a local bar will cost you around $4 for half a liter glass.
Wine drinkers can pick up a bottle of wine in a supermarket for around $10, in a bar you can pay upwards $8 per glass in a bar. Cocktails cost around $8. A good tip is to look out for happy hours at hotels and resorts to get the most value for money.
But it's not all about imports, here are some local drinks that you might want to sample during your trip to Aruba:
Coecoei & Ponche Crema – Distilled by The Playa Liquor & Bottling Company in Aruba coecoei is a spirit that hails from the island. The liquor comes from the sap of the agave plants that grow in Aruba, which is then mixed with sugar and rum to make a spirit that is only found on the island. Cost around $5 for a small bottle.
Aruba Ariba – Often given to guests when arriving at a hotel, Aruba Ariba is the island's signature cocktail. A concoction of vodka, rum, and Coecoei liquor, various fruit juices, and a touch of grenadine. Delicious and refreshing, around $8.
Being a Caribbean getaway, cocktails are very popular in Aruba's beach bars. Luckily, the island has a thirst-quenching collection of cocktails for holiday-makers to try out.
One of the most popular uses is the very tropical Tortuga cocktail, a mix of aged rum, pineapple juice, banana liqueur, pineapple juice, bitters & guava puree. Delicious.
ESTIMATED EXPENSE: $0 – $58 USD per day
Aruba is a very popular destination for those wanting to take a break from cold winter days and head to the sunny Caribbean. Tourists flock to the island to sit back and relax in its stretches of perfect sand beaches, enjoy the culture in the capital, and spend time relaxing around a pool.
The island is also a stopping-off point for cruise ships, with big groups of passengers regularly spending days exploring all of the island's main sights. All of those overseas visitors mean there's a selection of activities to keep everyone entertained.
But even though Aruba is expensive for some activities, it really doesn't have to be. Away from the all-inclusive resorts, the island has some wonderfully rugged coastlines and empty beaches to unwind on. The beaches are free to enjoy and come with the added bonus of waters filled with tropical sea life.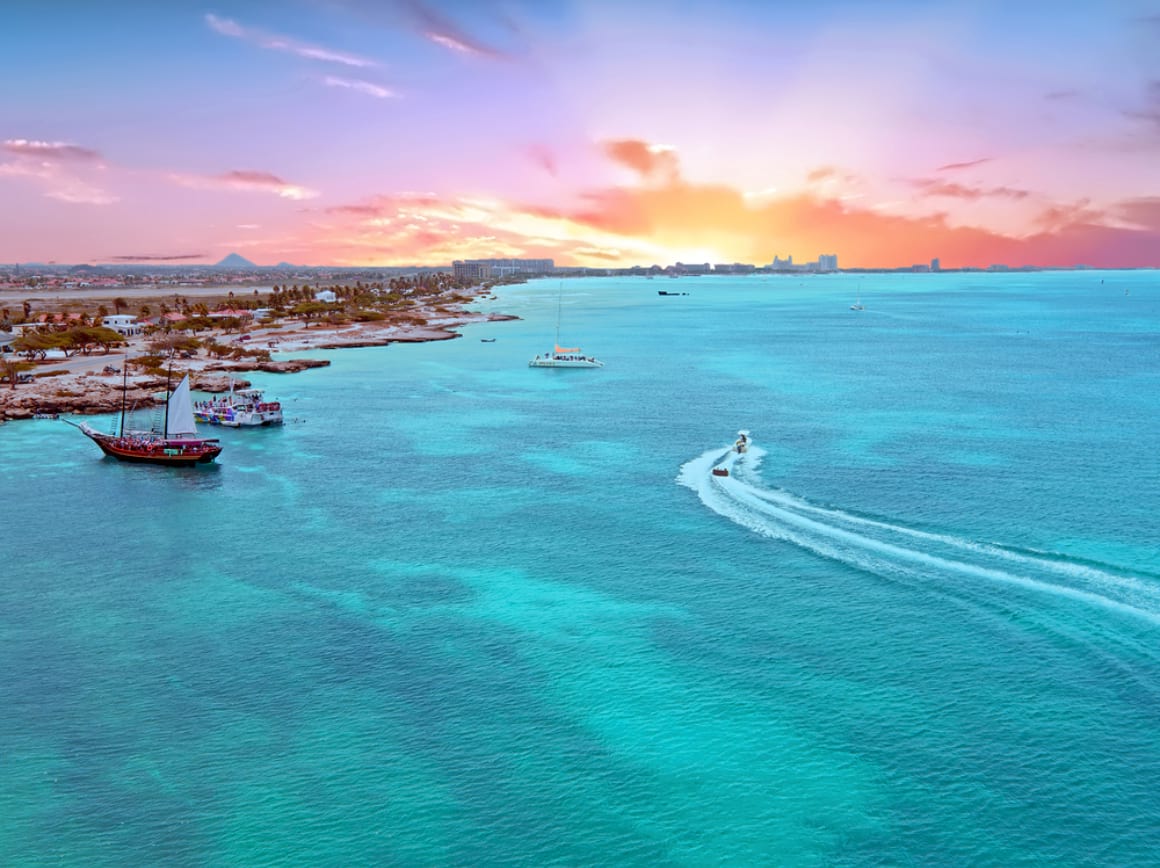 Diving is also a very popular pastime on the island thanks to the island's fantastic dive spots which include shipwrecks and down planes. Diving can cost around $250 for a day though so might not be the best budget-friendly activity in Aruba. Or you could just don a snorkel and get out there.
For those who like culture mixed in with their vacation, the island's capital has some interesting sights, charming streets, and historic buildings. And then there's nature. At Arikok National Park on Aruba's east coast, you'll find natural ocean pools, turtle nesting sites, and an old adobe house.
The park can be explored on a tour or independently. A conservation fee costs $11 for adults (children are free) which goes towards the upkeep of the park.
Even though there are lots of things to do in Aruba that don't break the bank, it's always good to know some helpful money-saving tips for exploring Aruba.
Here are a couple more tips to keep in mind when you're exploring Aruba…
Keep off the tourist trail – Aruba is an island well-known for tourists, get your own set of wheels, check out google maps and make your way to far-flung beaches and interesting locations. You'll find a much more interesting side to the island away from the high prices.
Get the Visit Aruba card – This government tourist card gives you discounted entry to a range of popular attractions around the island.
The Future of the SIM Card is HERE!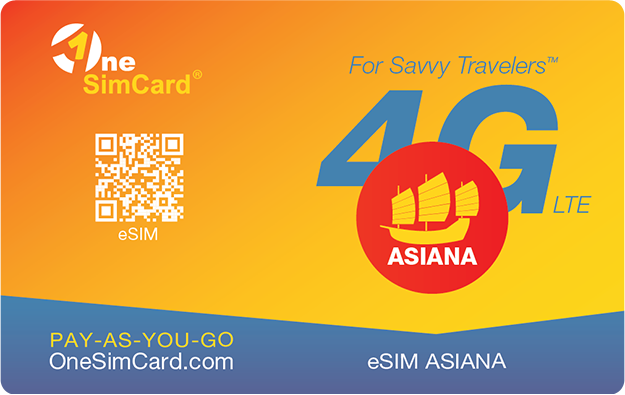 A new country, a new contract, a new piece of plastic – booooring. Instead, buy an eSIM!
An eSIM works just like an app: you buy it, you download it, and BOOM! You're connected. It's just that easy.
Is your phone eSIM ready? Read about how e-Sims work or click below to see one of the top eSIM providers on the market and ditch the plastic.
Buy an eSIM!
You have taken the time to work out your Aruba travel budget, you've looked at the accommodation, compared flight prices, and figured out how much you'll need to get around the island. Have you missed anything off the list?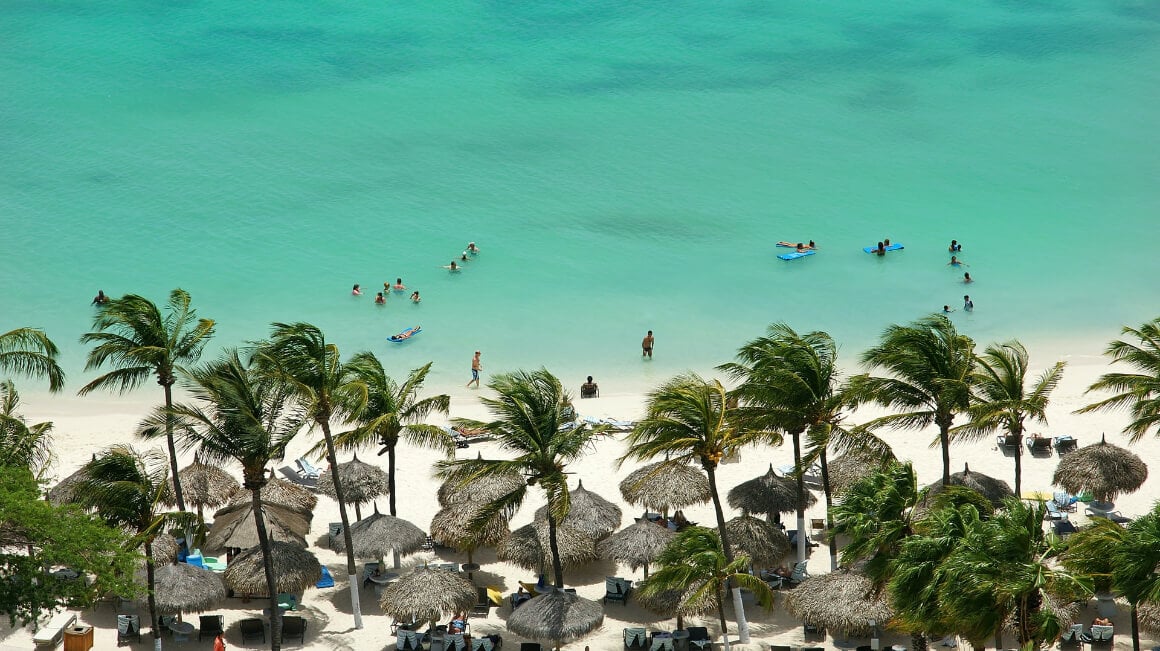 It's a good idea to factor in a portion of your budget for all of these unforeseen costs that can quickly creep up. How about buying souvenirs to take home, the cost of ice cream, or maybe the price of buying more sun cream?
These unforeseen costs can really add up. I recommend putting aside approximately 10% of your budget for these extra expenses.
Tipping in Aruba
If you come from a nation where tipping is very much the done thing, you might be surprised to learn that tipping in Aruba is not at all mandatory. Tipping in Aruba is done to show thanks for good service and so if you don't get good service, there's no need to tip.
However, there is something you should watch out for. In some of the islands and bars, you might spot a service charge added to the final bill. This charge will normally be somewhere between 10% to 15% of the food and drink. You won't need to leave a top on top of this – only if you really want to.
When you're eating in Aruba's restaurants and cafes, it's always a nice gesture to leave a tip. The staff will greatly appreciate leaving a few dollars or 10% of the bill. If you're in a cafe, you can just leave some spare change on the table or round up the price when you pay.
If you're staying in a hotel or resort, it's also a nice gesture to tip the hotel staff. A few dollars for the bellhop for helping with bags will be very much welcomed. You could also opt to leave some cash for the housekeeping staff to show thanks for their hard work.
You can also tip the island's taxi drivers too if you wish, simply round up the cost of the journey to the nearest ten. Tipping tour guides is also very welcome, you could tip around $10 per person depending on the cost of the activity.
Overall, tipping in Aruba is not at all mandatory but is always appreciated. It's a nice way to say thank you for a service and so it's a good idea to factor it into your daily budget.
Get Travel Insurance for Aruba
Before you get out your suitcase and start packing, there's one other thing you might want to have a think about. Getting travel insurance for your vacation is not the most fun part of trip planning but it's a good idea to consider it.
Basically, travel insurance can really help out when things go wrong. It could be a delayed flight, an injury, or lost luggage. All of these mishaps can and do happen to people on vacation. Having that extra cushion can really ease any problems that might occur. 
There are plenty of providers out there to choose from but why not check Heymondo? Heymondo are up-to-date when it comes to combining travel insurance with technology in the digital world of 2023.
What truly sets them apart is their assistance app offering a 24-hour medical chat, free emergency assistance calls and incident management. How reassuring is that?! They also have a convenient and complication-free way to make a claim straight from your phone.
Some Final Tips for Saving Money in Aruba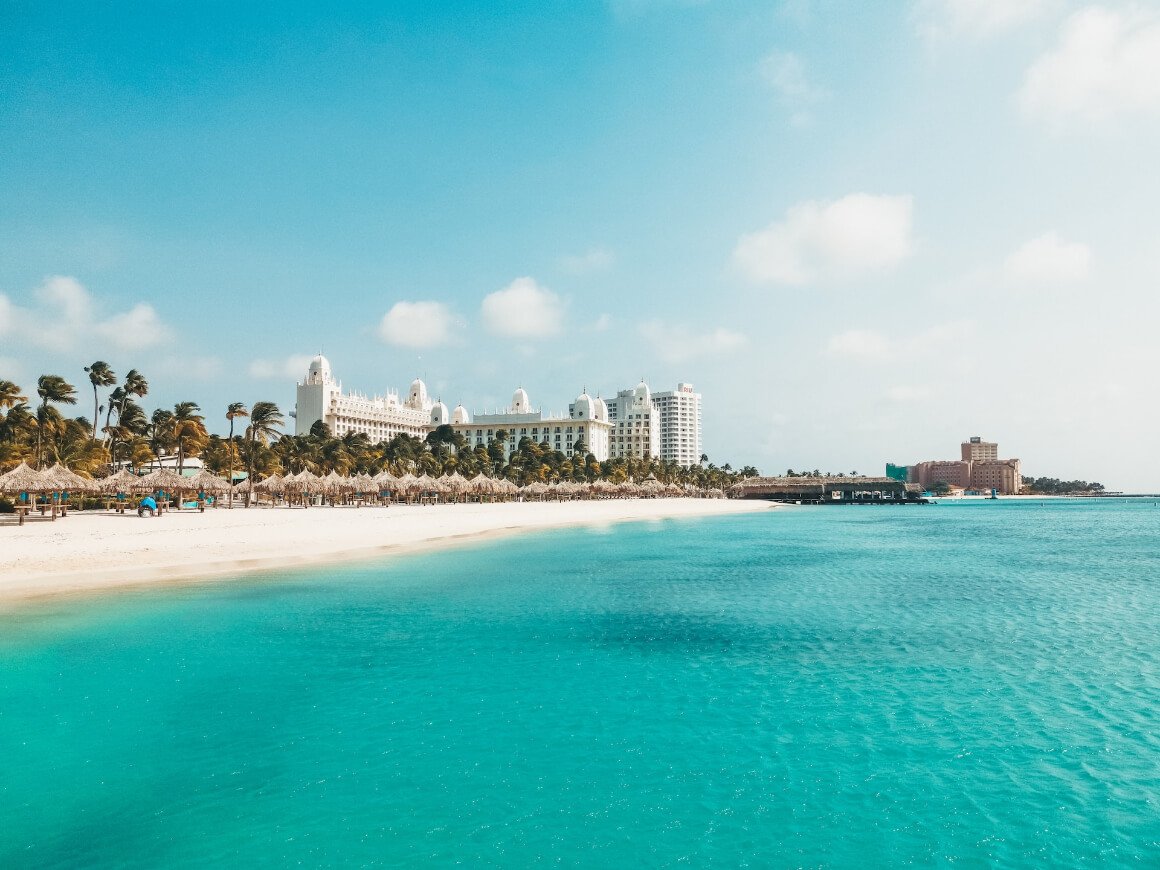 It's almost time for you to get out there and enjoy your big trip to Aruba. To help you along the way, here's some final money-saving advice to help make Aruba less expensive…
Get out into nature – The nature in Aruba is nothing less than amazing and, the best thing is that it's totally free. Get out there and enjoy all of that wonderful Caribbean scenery and you won't even have to spend a dime.
Have a water bottle: Don't waste money on plastic, bottled waters; carry your own and refill it in the fountains and the tap. If you're worried about potable water, get a filtered bottle, like the GRAYL, which filters out 99% of viruses and bacteria.
Meet up with a local – Wherever you go in the world, locals always know a destination best. If you really want to get to know Aruba, make friends online with locals and meet up for a bite to eat at a local hangout. Join a Facebook group, check out Instagram or Couchsurfing.
Use buses – The cheapest way to get around the island is by bus. Cars and taxis can really add up so if you want to keep your daily budget low, the bus is the mode of transport for you.
Earn money while you travel: Teaching English while traveling is a great way to make ends meet! If you find a sweet gig, you may even end up living in Aruba.
Stay somewhere with a kitchen – The costs of eating breakfast every day can total a few hundred dollars if you're not careful. Book accommodation with a kitchen and make your own simple breakfasts, lunches, and sometimes even dinners too.
Don't do everything – Sure, you're in Aruba and want to tick everything off your bucket list but that doesn't mean you have to budget for horse riding, windsurfing, and hiking tours. Choose one big-ticket activity and then plan the rest of your time doing lower-cost adventures.
Become a volunteer with Worldpackers: Give back to the local community and, in exchange, you're room and board will often be covered. It's not always free, but it's still a cheap way to travel in Aruba.

Our GREATEST Travel Secrets…
Pop your email here & get the original Broke Backpacker Bible for FREE.
So is Aruba Expensive, in Fact?
Overall, Aruba is expensive. Being an island in the Caribbean it's easy to spend a ton of cash on expensive resorts, flashy dinners, and high-cost cocktails. But, a trip to Aruba really doesn't have to cost you too much money. You can travel to Aruba on a budget.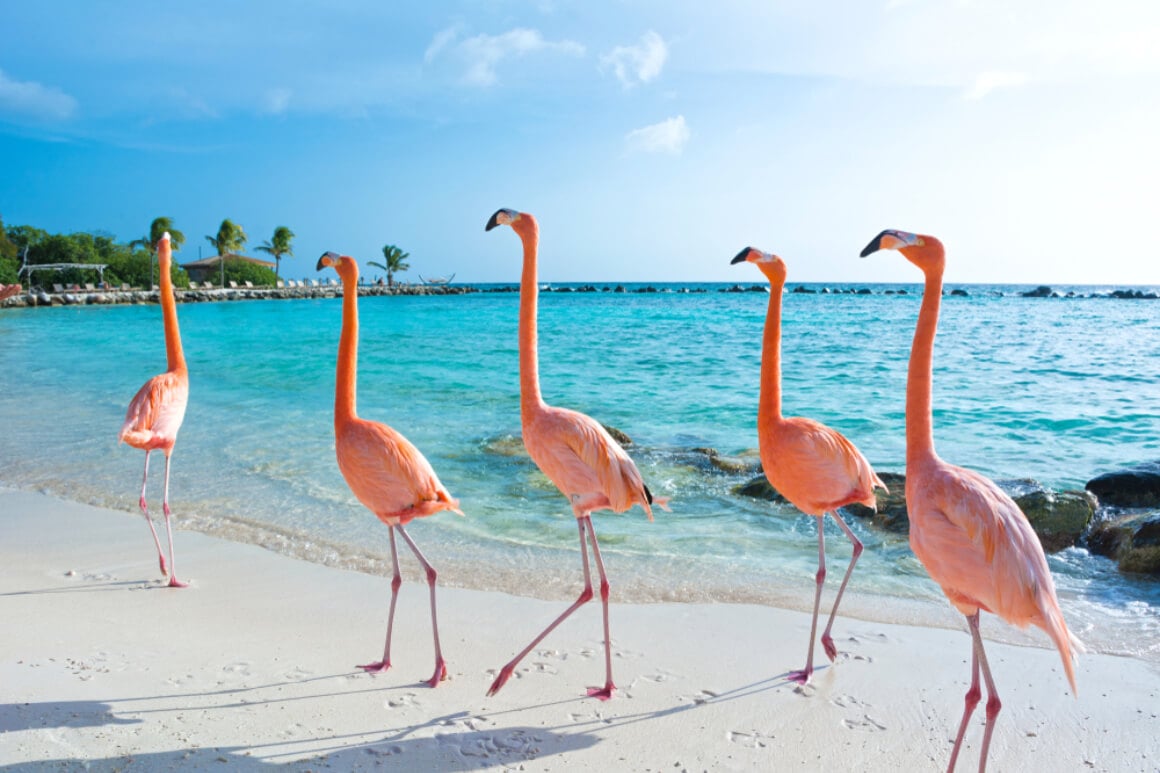 The island's affordable bus network will get you to all of the best beaches, some really cheap self-catering accommodations and locally run hotels, and low-cost yet delicious local food. So what are you waiting for? Your Aruba trip is going to be simply immense.
What we think the average daily budget for Aruba should be:
As long as you take the time to work out your rough daily budget and try to stick to it as much as you can, we think that it can be around $65 a day.
---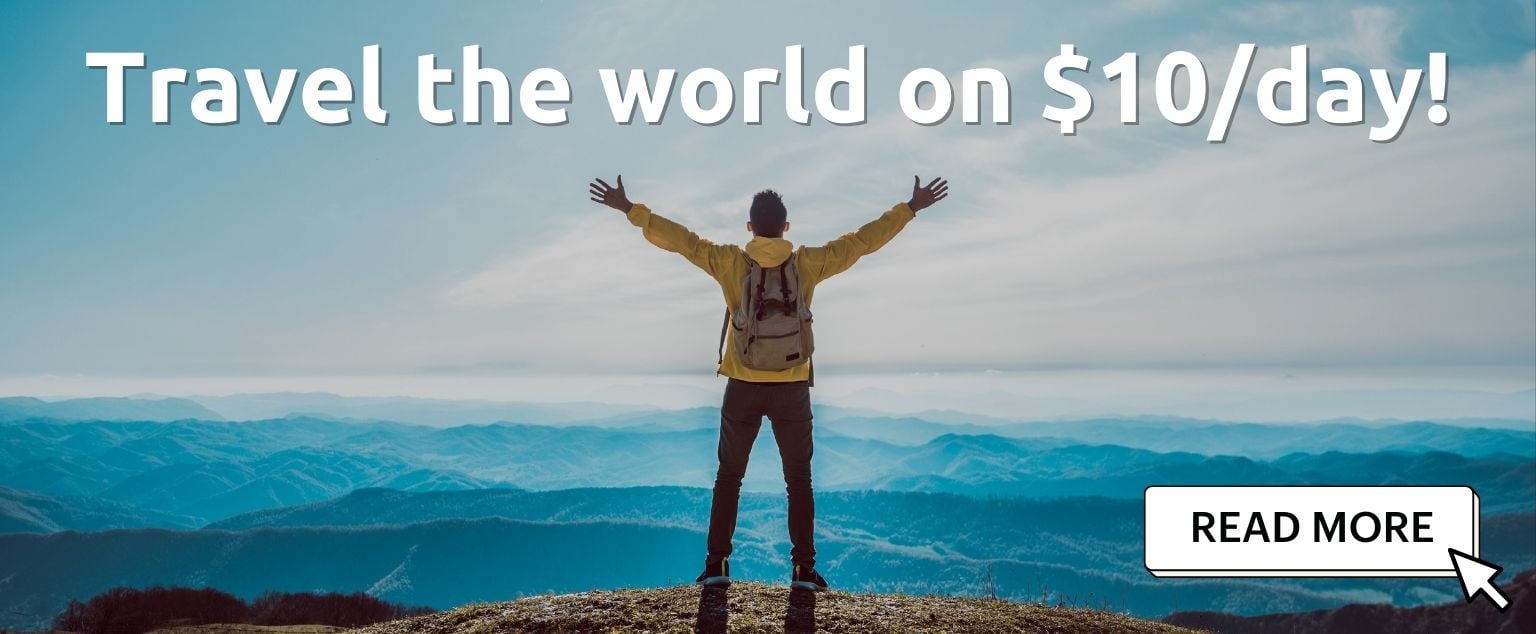 And for transparency's sake, please know that some of the links in our content are affiliate links. That means that if you book your accommodation, buy your gear, or sort your insurance through our link, we earn a small commission (at no extra cost to you). That said, we only link to the gear we trust and never recommend services we don't believe are up to scratch. Again, thank you!