We created this guide for where to stay in Aruba, so you can focus more on your tan and less on trying to plan.
The tiny Caribbean nation of Aruba offers travellers beautiful turquoise waters, white-sand beaches, and a laidback atmosphere that only comes with good ol' island living.
Although Aruba isn't a large island, you want to make sure you pick the best place to stay on Aruba based on your interests! It's one of the smallest of all the Caribbean islands but there's still plenty of cheap hotels, banging beach bars, stunning luxury hotels and family friendly all inclusive resorts with a swimming pool!
Want to base yourself around the cultural sights and restaurants? How about say among tropical scenery?
Are you a diver? Party animal? Family? Travelling Aruba on a budget? No matter what you are looking for our guide will cover the best places to stay in Aruba for every type of traveller.
Looking for a specific place to stay? These are our recommendations for the best places to stay in Aruba. It might be a tiny island but there's so much to see and do as well as heaps of places to stay.
We've got swimming pools, luxury hotels, all-inclusive resorts and even hostels! So let's explore the different neighbourhoods and accommodation options available on one of the most stunning Caribbean Islands: Aruba.
Enjoy paradise from your very own, private Aruban cottage. Located near Arashi Beach in the Noord district, this cottage features a full kitchen, free wifi, and clean linens and is within walking distance of the area's main attractions.
Enjoy a slice of paradise at this spacious and bright Aruba cottage escape – it's seriously one of the best Airbnbs in Aruba!
Stay on the premises of a traditional Aruban home at Aruba Sunflower Villa. Less than a half kilometre from the beach, these accommodations are within walking distance of Palm Beach's key attractions and hottest nightlife spots. Comfortable and clean, you won't find a better value in Palm Beach.
Wonders Boutique Hotel is an adults-only establishment located less than two kilometres from Aruba's capital city, Oranjestad.
With its relaxing garden and outdoor swimming pool, you'll feel surrounded by nature in this centrally situated boutique hotel. Approximately 10 minutes to many of Aruba's most famous beaches, this is one of the best Aruba hotels for couples looking to enjoy a romantic vacation.
Aruba is a small island in the Caribbean Sea. Located just 29 kilometres off the coast of Venezuela, this island is famous for its white-sand beaches, clear turquoise waters, and overall calm and tranquil atmosphere. Undoubtedly, it is one of the best Caribbean Islands to visit!
Covering 184 square kilometres, Aruba is home to approximately 100,000 people and is divided into six main districts. Each district is comprised of a number of cities that offer visitors unique attractions and activities.
Depending on the length of your visit, it's entirely possible that you'll be able to visit all areas of the island. However, if you're pressed for time, we recommend you focus on two or three of the main areas for your trip.
While mostly seen as a resort and family holiday destination, there is still a range of accommodation options in Aruba including budget backpacker hostels and a fine selection of Airbnbs. To help you pick the best areas in Aruba for your visit, this guide breaks down the main attractions by interest.
Oranjestad: The capital and largest city in Aruba. This is where you'll find many of the country's historical and cultural sights, colourful colonial houses, and delicious Caribbean restaurants as well as the famous Playa Linda Beach Resort.
Eagle and Palm Beaches: Head north to the seaside areas of Eagle and Palm Beaches. These are Aruba's main tourist destinations thanks to their white sand beaches, clear blue waters and stunning tropical scenery. Great for budget travellers, partygoers, and families alike, these two resort areas boast a number of Aruba's main tourist attractions.
Arashi Beach: Continuing north is Arashi Beach. Stunningly beautiful but calmer than Eagle or Palm Beaches, this area is perfect for folks looking to lounge on the beach or explore the wonders below the waves. Home to tropical fish, reefs and shipwrecks, this spot is a must-visit for snorkelers, divers and swimmers.
Still not sure where to stay in Aruba? Read on because we've got you covered!
Aruba is a small nation that can easily be explored by car or moped. The island is also serviced by the Arubus bus system which runs between Oranjestad and the northern tip of the island throughout the day. So, no matter where you stay you'll be able to visit other neighbourhoods with relative ease.
While all of Aruba's neighbourhoods are beautiful, some are better suited to specific interests.
Do you want to pack for the beach, lotion in hand, ready to soak up the sun? Or, are you hoping to enjoy Aruba's nightlife and dance under the stars? Perhaps you want to learn a new hobby and explore the depths of the Caribbean Sea. Maybe you're looking to scour the family-friendly all-inclusive resorts with multiple swimming pools, got that too!
All of these things are possible but will be made much easier if you're in the right place.
Here are the five best areas in Aruba, broken down by interest.
Oranjestad is the capital city and the best place to stay in Aruba for first-timers. It is home to the shopping and entertainment centres of the island.
Here you'll find upscale chain stores, street vendors and independent boutiques, as well as a wide variety of restaurants, casinos, dance clubs and bars.
Oranjestad is also where you'll find Aruba's cultural centre. The largest city on the island, Oranjestad is home to art galleries, historical sites and a number of interesting museums.
Stay in Oranjestad and enjoy the bright and colourful colonial houses and traditional Dutch architecture that make up this island city.
If you have to watch your expenses while travelling in Aruba, this Airbnb is the perfect place for you. Even though Aruba is expensive, this Airbnb is super affordable. The cosy studio offers everything from a comfy bed to a fully equipped kitchen and a great pool in the spacious garden. It's a bit further from the city centre, but only 15min drive from the heart of Oranjestad. There are public transport options, as well as restaurants nearby too.
Eco-friendly and centrally located, Agua Clara Eco Suites is the best hostel in Oranjestad. Close to both nature and the city's major tourist attractions, this hostel offers comfortable rooms, a year-round pool, a relaxing atmosphere and free wifi.
Less than a 20-minute walk to the city, enjoy the best of Oranjestad at this charming hostel.
This adults-only boutique hotel is located less than two kilometres from Oranjestad city centre. With its relaxing garden and outdoor pool, you'll feel surrounded by nature in this centrally situated hotel. Just 10 minutes to many of Aruba's most famous beaches, this hotel is perfect for couples looking to enjoy a romantic getaway.
Top Things to do in Oranjestad
Spend a day on the sand at pleasant and pristine Surfside Beach.
Take a deep look at Aruba's past at the National Archaeological Museum in Oranjestad.
Kick-off your holiday at the Bon Bini Festival, a weekly celebration with energetic dancers and energetic drummers that welcomes tourists to the city.
Climb the 587 steps to the top of Hooiberg, a volcanic formation located outside of the city.
Seek refuge in the shady at Wilhelmina Park.
Explore Fort Zoutman, a former military fortification and the oldest building on the island of Aruba.
Hike through the desert and see the Casibari Rock & Ayo Rock Formations, two very large and unique rock arrangements created by ancient volcanoes.
Go shopping and browse the 60 shops, entertainment options and restaurants in Renaissance Mall.
Rent a bike and explore the town on two wheels, seeing all the brightly coloured buildings and interesting architecture.
Enjoy Oranjestad's nightlife, centred along the bustling and vibrant Lloyd G. Smith Boulevard.
Eagle Beach is an idyllic Caribbean community with white sand beaches, turquoise waters and a laid-back attitude. Routinely ranked one of the top ten beaches in the world, Eagle Beach offers perfect conditions for swimming, powdery sand and a myriad of water activities to take part in.
Here you'll find scenic piers, funky beach bars, quirky restaurants and low-rise hotels with plenty of refreshing swimming pools! Eagle Beach is also our top choice for where to stay in Aruba for budget backpackers travelling cheap.
Centred between two high-rise communities, Eagle Beach is where you'll find a wide range of accommodation options from hostels to luxury hotels. Enjoy stunning beaches for a fraction of the price in this northwestern Aruban community.
A 5th-floor apartment with stunning views of Eagle Beach. Perfect for 2 guests the condo has fast WIFI, one double bed with a new orthopaedic mattress, a marble bathroom, Apple TV and a fully equipped kitchen with a bar table.
Affordable, modern and in a great location – what else could you want? This stunning studio apartment gives you so many homely vibes that you'll probably have a hard time leaving again. Within 4min walking distance to the beach, you can pretty much hear the waves when you wake up. It's a cosy space and perfect for solo travellers or a couple. If you need help with renting a car, your hosts will be ready to give you the best advice and recommendations.
This boutique hotel is located just five minutes from Eagle Beach. Conveniently placed near restaurants and tourist sights, this hotel offers guests luxury at a reasonable price.
Each guestroom features its own private patio as well as air conditioning. Perfect for couples or families travelling on a budget.
Top Things to do in Eagle Beach
Enjoy the turquoise waters and white powdery sand at this pristine beach.
Test out a new water sport or activity, like parasailing or stand up paddleboarding, in these calm, clear waters.
Walk along the more than three kilometres of interconnected beaches that make up the stunning Aruban north coast.
Rent a hut and spend a day on the beach enjoying the Aruban heat and amazing views.
Snap a picture of the famous fofoti tree, which points in the direction of the Caribbean.
Pick up a racket and challenge a friend to a game of tennis on one of the beaches' many courts.
Go diving or snorkelling in the clear Caribbean waters, seeing colourful tropical fish swim about.
Rent a catamaran or join a cruise and see this island paradise from a whole new angle.
Enjoy a traditional Caribbean feast right on the beach at the famous Screaming Eagle restaurants.
Located along the northwest coast, Palm Beach is the life of Aruba's party scene, and our pick for the best place to stay in Aruba for the best nightlife and nocturnal activities.
Six kilometres north of the capital, this area is where you'll find many of Aruba's high-rise hotels, famous casinos, and infamous bars and nightclubs. Whether you want to dance under the stars or enjoy a seaside cocktail, Palm Beach is where it's at.
Palm Beach is also where you'll find some of Aruba's best food. From the traditional Caribbean to Afro-fusion, this community is where you can sip, sample and taste your way around the world. It's also home to the shopping street, L. G. Smith Boulevard.
Enjoy amazing views, delicious food, and nights you won't soon forget in Palm Beach.
This centrally located condo is perfect for guests who want to enjoy Aruba's nightlife and entertainment. Guests have access to a fully fenced in one bedroom and bathroom corner property with every modern amenities you can imagine and a private pool.
Stay on the premises of a traditional Aruban villa at Aruba Sunflower Villa. Less than a half kilometre from the beach, these villas are within walking distance of Palm Beach's key attractions and hottest nightlife spots such as L. G. Smith Boulevard and Aruba Marriott Resort. Comfortable and clean, you won't find a better value in Palm Beach.
Less than 10 minutes from the beach and at the centre of the action, this hotel is ideal for guests looking to enjoy a night on the town.
Clean, comfortable and conveniently located, this hotel is within walking distance of the Palm Beach strip, beach plaza, Aruba Marriott Resort and many of the area's top attractions. With a large pool and gaming facilities, you won't find a better hotel in Palm Beach.
Top Things to do in Palm Beach
Dance under the stars while listening to great music at Gusto Night Club Aruba. With a great atmosphere and half-priced drinks between 9 and 11, you won't find a better night out on the island.
Enjoy dinner and a show at the Aruba Sinatra Show, where you'll hear the smooth sounds of artists like Frank Sinatra, Michael Buble, Harry Connick Jr, and more.
Try your luck at one of Palm Beach's many casinos such as the one at Aruba Marriott Resort.
Laugh the night away at Aruba Ray's Comedy Club.
Enjoy cheap happy hour drinks, delicious Caribbean fare, and entertaining karaoke at Bungalow Beach Bar & Grill.
Sing along to your favourite tunes as you cruise throughout the city on the Karaoke Party Bus.
Dive beneath the waves and watch schools of colourful tropical fish swim by as you snorkel in Palm Beaches' clear and calm waters.
Enjoy craft beer and live music at Aruba's only Wild West country bar, Saloon.
Shop til you drop along L. G. Smith Boulevard.
Arashi Beach is a quiet and secluded beach on the northwestern coast of Aruba. Here you'll enjoy all the perks of paradise without the overwhelming crowds. Soak up the sun and dig your toes in the sand on this serene and idyllic beach.
Arashi Beach is also one of Aruba's top destinations for watersports enthusiasts. Just off the shores of this stunning Caribbean beach, you'll find a world of wonder below the surface.
Beautiful reefs, tropical fish, and ominous shipwrecks call this area home, making it a must-see for anyone who enjoys snorkelling or diving beneath the waves. Here you'll also find some of the best luxury hotels in Aruba.
This upscale beach house in Aruba is located in the trendiest neighbourhood. Perfect for 3 – 4 guests, the home has a fully-equipped kitchen with a gas cooker, 1 double bed and a sofa bed, 1 bathroom and access to a shared swimming pool. The property is within walking distance of Aruba's hip shops, eateries and California lighthouse.
Staying at this amazing home means being in for a real treat. Snorkel enthusiasts will love the location of this beach apartment – within walking distance to three different beaches as well as California lighthouse, you'll have a blast in the crystal clear water. On top of that, you can enjoy your morning coffee while admiring the view of the white beach from your private patio.
Stay in paradise at Beach House Aruba Apartments in Arashi Beach. This aparthotel offers modern décor, private palm-roof terraces, and breathtaking views.
Located just a few minutes from the beach and California lighthouse, this hotel is close to restaurants, bars, and most of Arashi Beach's top attractions. Ideal for travellers interested in exploring northern Aruba.
Top Things to do in Arashi Beach
Take a thrilling ride around Aruba's north coast by embarking on an ATV tour.
Visit Rancho La Ponderosa and explore the quality trails and enjoy the scenery on horseback.
Go swimming at Boca California, one of Aruba's best swimming spots.
Dive beneath the waves and explore the Antilla, a German freighter sunk during World War II.
Climb to the top of the California Lighthouse and take in the panoramic views of Aruba's most northern point.
Rest, relax and stare into the crystal clear waters of Malmok Beach.
Visit the tiny Alto Vista Chapel (or Pilgrims Church) that stands high on a hill overlooking Aruba.
Play a round of 18 at Tierra del Sol 18, one of Noord's premier golf courses.
Enjoy beachside beverages and Aruban snacks at the Arashi Beach Shack.
Get off the beaten track at the fascinating Bushiribana Gold Mill Ruins.
Palm Beach is the most popular tourist destination in Aruba. Perfect for those looking for a night out, this seaside community is also ideal for families and travellers with small children.
Home to many of Aruba's top resorts, this area boasts a number of family-friendly attractions. From Butterfly farms to pirate adventures, Palm beach has a myriad of activities to keep kids of all ages entertained.
The shallow waters of Palm Beach also make it an attractive destination for families. Take part in a variety of watersports in these calm and turquoise waters whilst staying in one of the many family-friendly hotels in Aruba.
Whether you want to learn to snorkel or simply play in the waves, Palm Beach is perfect for swimmers of all ages and abilities. It's a very safe area of Aruba – family-friendly – and perfect for anyone travelling with the kids. Of course, many of these Aruba hotels have awesome swimming pools the kids will love too!
Perfect for up to 4 guests, this house is the ideal choice for families and groups of friends looking to feel at home. The master bedroom has 1 queen-size bed, and the second bedroom has 2 single beds. Among other amenities, the house also has 2 bathrooms and a y equipped kitchen. The host provides cots, baby seats, beach chairs and coolers upon request.
Punto Di Oro Apartment is the perfect budget accommodation for families in Palm Beach. A 10-minute drive from the beach and Palm Beach's main attractions, this aparthotel is well situated near public transit, restaurants and other amenities.
Each apartment features a kitchenette, dining area and private patio. With access to the outdoor pool, you won't want to stay anywhere else in Palm Beach.
Bright, spacious and impossibly cool, Pauline's Apartment is the best hotel for families in Palm Beach. Just 15-minutes from Palm Beach's shops, restaurants, and attractions, this hotel couldn't be better situated.
Enjoy furnished patios, garden views, and an outdoor swimming pool at this charming aparthotel.
If you still need some inspiration on where to stay in Aruba, there are plenty more vacation rentals in Aruba available.
Top Things do in Palm Beach
Relax on the beach and play in the pristine sand at Eagle or Hanicurari Beach.
Make your way down the Lazy River, a long, flowing outdoor swimming pool, at Marriott's Aruba Surf Club.
Run, jump, splash, and play in the warm turquoise waters of nearby Palm Beach
Head inside for an afternoon of bowling, laughs and family fun at Dream Bowl Aruba.
Learn to surf, stand up paddleboard or snorkel in these tranquil, clear waters.
Enjoy delicious, healthy and kid-approved treats at Eduardo's Beach Shack.
Don't Forget Travel Insurance for Aruba
World Nomads' mission is to support and encourage travellers to explore their boundaries. They offer simple & flexible travel insurance, and safety advice to help you travel confidently.
They've been doing it since 2002 – protecting, connecting, and inspiring independent travellers just like you.
Get a quote below or read our in-depth review!
World Nomads provides travel insurance for travelers in over 100 countries. As an affiliate, we receive a fee when you get a quote from World Nomads using this link. We do not represent World Nomads. This is information only and not a recommendation to buy travel insurance.
Starring amongst the Caribbean Islands for its ample sunshine and spectacular beaches, Aruba is just what the doctor ordered: a little Vitamin D, saltwater, and ultimate relaxation.
The list of things to do in Aruba goes on, though no one will blame you for lying on a beach with a good book for a week straight. Just make sure you have an amazing place to walk back to and rest up for the next day. If you're still not sure where to stay in Aruba, we highly recommend Hostel Room Aruba its convenient location.
If you are looking for a bit more privacy with a relaxing garden and outdoor pool, adults should opt for Wonders Boutique Hotel.
For those that aren't fans of Airbnbs and hotels, we've got a third option for you. Check out the amazing VRBOs in Aruba – it's luxury for a very affordable price!
Did we miss anything? Let us know in the comments!
---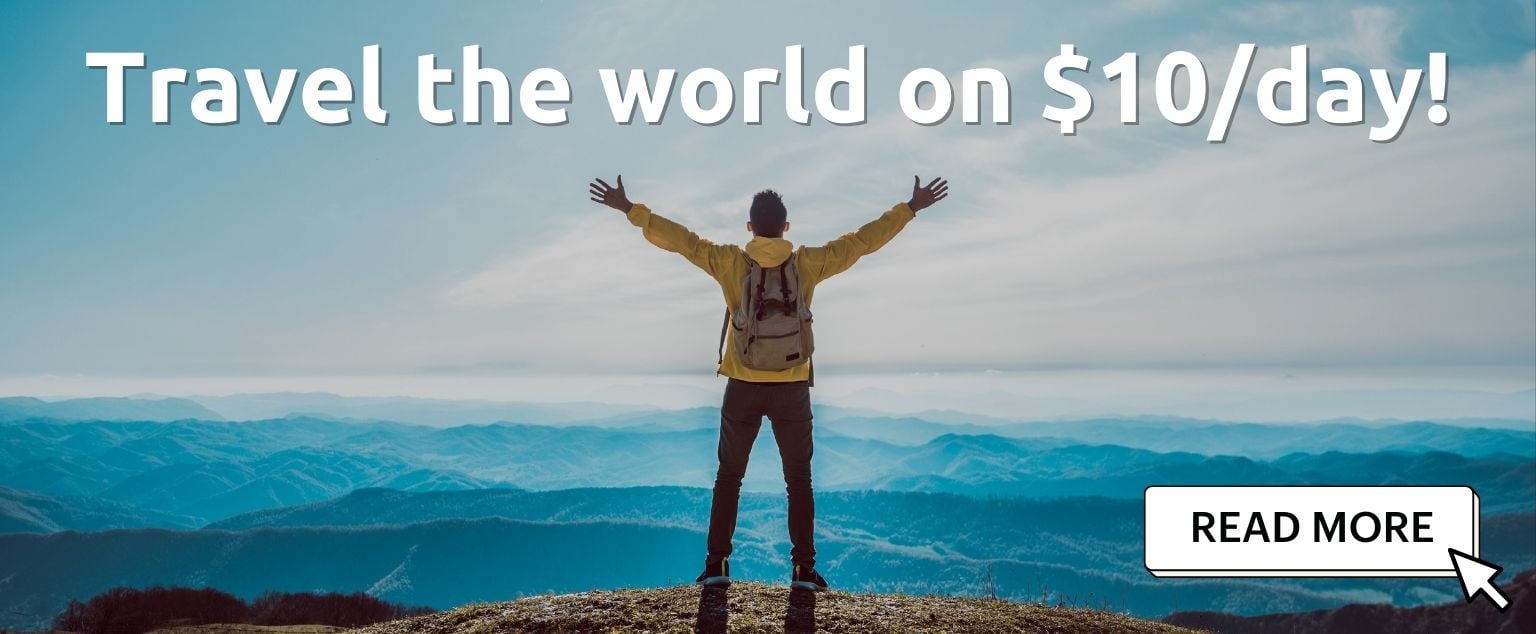 And for transparency's sake, please know that some of the links in our content are affiliate links. That means that if you book your accommodation, buy your gear, or sort your insurance through our link, we earn a small commission (at no extra cost to you). That said, we only link to the gear we trust and never recommend services we don't believe are up to scratch. Again, thank you!