Whether you're a hiker looking to get out into nature or a lover of kitschy and unusual attractions, you're going to love Gatlinburg Tennessee.
The gateway to Tennessee's Great Smoky Mountains, head along the city's Parkway to get into the national park itself. But first, be sure to explore downtown Gatlinburg, which has a mixture of cultural and flashy things to see and do.
When it comes to where to stay, check out vacation rentals in Gatlinburg. Rather than heading to a dull and characterless hotel, look at the eclectic range of Airbnbs in Gatlinburg. You'll find several properties out in the mountains reflecting the true character of the city.
In this post, I'll show you the best Airbnbs in Gatlinburg. From jaw-dropping treehouses to cabins with mind-blowing views, there's sure to be something that will match your travel style – and most importantly, budget!
Quick Answer: These are the Top 15 Airbnbs in Gatlinburg
Overall Best Value Airbnb in Gatlinburg
Overall Best Value Airbnb in Gatlinburg
Romantic Mountain Escape
> $$
> 4 guests
> Self-check-in
> Hot tub with mountain view
Best Budget Airbnb in Gatlinburg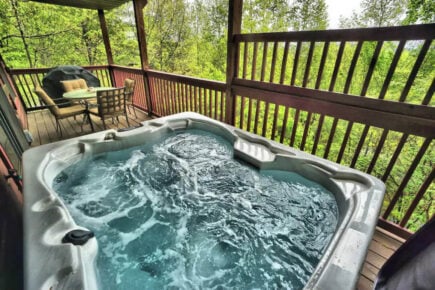 Best Budget Airbnb in Gatlinburg
Cute Cabin near Pigeon Forge
> $$
> 6 guests
> BBQ
> Private hot tub
Best Airbnb for Couples in Gatlinburg
Best Airbnb for Couples in Gatlinburg
Romantic Cabin w/ Hot Tub
> $$$
> 2 guests
> King bed
> Outdoor deck with hot tub
Best Airbnb for Families in Gatlinburg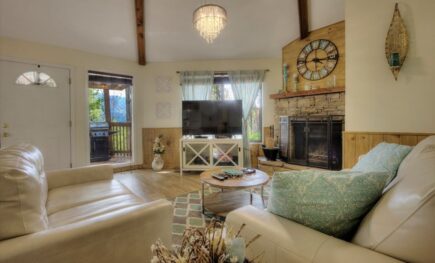 Best Airbnb for Families in Gatlinburg
Mountain View near Gatlinburg
> $$
> 6 guests
> Swimming pool
> Pets allowed
Over-the-Top Luxury Airbnb in Gatlinburg
Over-the-Top Luxury Airbnb in Gatlinburg
Cabin in Smoky Mountains
> $$$
> 6 guests
> Private pool
> Outdoor Hot tub, Children's play area

Unlock Our GREATEST Travel Secrets!
Sign up for our newsletter and get the best travel tips delivered right to your inbox.
What to Expect from Airbnbs in Gatlinburg
In any other city in the United States, you'd expect to sift through apartments and private rooms on Airbnb. However, staying in Gatlinburg is a little different. Thanks to its location at the foot of the Great Smoky Mountains, you're much more likely to come across a cosy cabin or a cool treehouse.
Should you go for one of these over a hotel, it's likely you'll have a home away from home – just with more wood. A fully equipped kitchen and living area come as standard even in the cheapest properties.
However, splash out just that little bit extra, and you'll be in line for spectacular views of the Great Smoky Mountains, hot tubs, and even pool tables!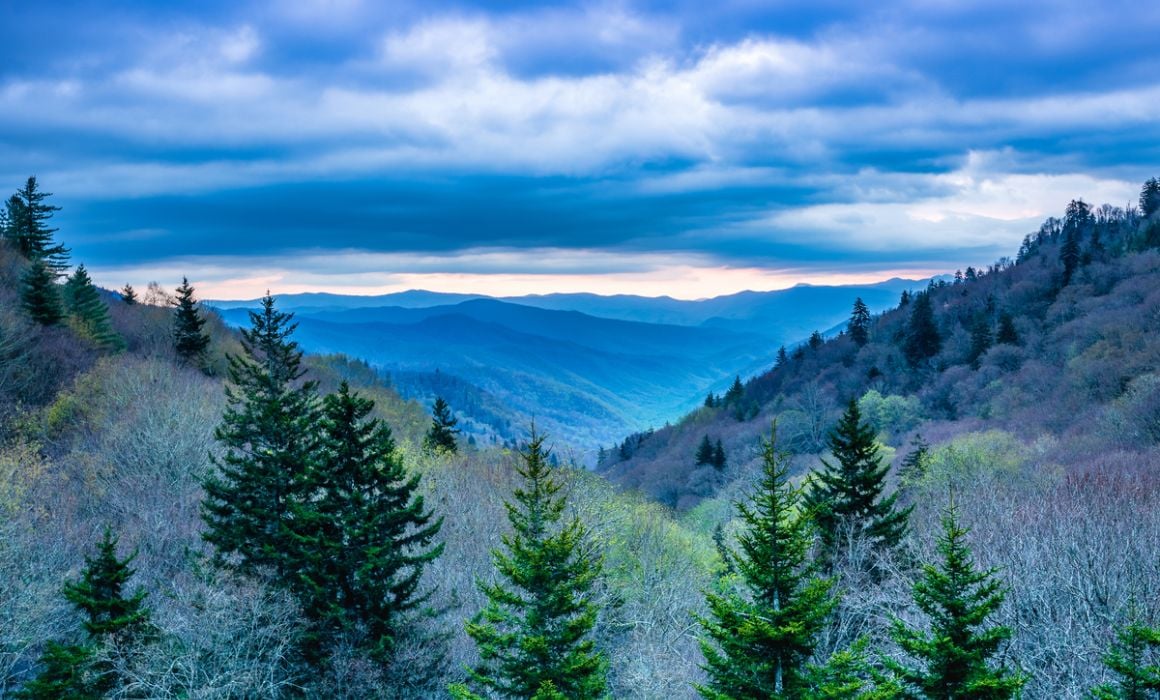 Cabin
First up, is the most common type of Airbnb in Gatlinburg. Forget finding a hotel or a hostel in the Great Smokies – you'll have a much easier job of finding a cabin – and it's got a lot more character!
With everything from cosy cabins for two to huge Airbnbs that will comfortably hold the extended family, there's so much variation in what you can expect. Small cabins are wonderful for couples who want a bit of privacy, while the largest ones can be used for gatherings and celebrations.
Cabins in Gatlinburg may seem expensive at first glance, but usually, price reflects the size. So, if you have lots of people staying, it means more ways to split the cost – meaning you're actually getting great value for money.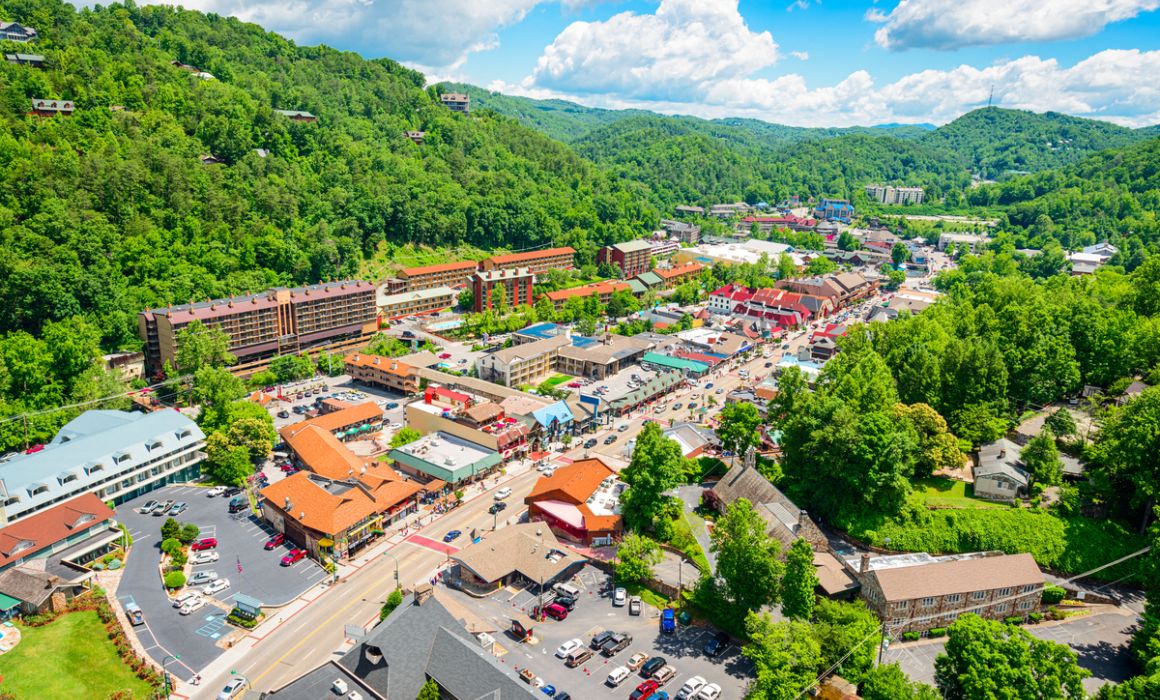 Treehouse
You won't find treehouses are particularly common anywhere – that's a massive part of their appeal. However, in Gatlinburg, there is a range to choose from. Often custom made, these are cool ways of blending living spaces and nature.
Yes, they are one of the more expensive types of accommodation, but they're great for a special occasion. And you'll be able to expect a lot from your treehouse. It's much more than just a cabin up in the air: these exquisite buildings have fully equipped kitchens, comfortable bedrooms, and awesome viewing platforms.
They're smaller than cabins, so it's probably best to book a treehouse for a small group of friends or family – or a couple, should your budget stretch to it.
Chalet
To the average person, a cabin and chalet may seem like the same thing. However, there are a few subtle differences you should know about when deciding which unique property to book.
Chalets originated in Switzerland – the European Alpine country has loads of things! They're usually made of wood and have overhanging eaves – unlike cabins, which are made of logs.
Though it's not always the case, chalets are normally cute and cosy, so these are a great option if you're travelling as a couple. You can expect your chalet to be self-contained, with outdoor spaces, a kitchen, and a living space.
Why Stay in an Airbnb
Once you start staying in Airbnbs, it's very easy to see why you'd go for one over a hotel or hostel. However, if you haven't made that jump yet, let us give you five reasons why Airbnb is great!
Local Experience: Having a local as a host means you can find out all the best places to visit and things to do that are off the beaten tourist track. That doesn't just go for Gatlinburg, but for all travel destinations in the USA.
Unique Properties: vacation rentals are a break from the norm. Airbnb is where to find the coolest and most unusual places to stay!
Privacy: Cabins, chalets, and treehouses mean you and your companion(s) can get the break you need without anyone else interfering.
Affordability: When it comes to value for money, Airbnbs offer so much more than hotels at the same price.
Airbnb Experiences: It's not all about where to stay – check out what there is to do in the area with Airbnb Experiences!
The 15 Top Airbnbs in Gatlinburg
So, now you know why you should choose an Airbnb in Gatlinburg and what you can expect. Let's not wait any longer – here are the 15 best Airbnbs in Gatlinburg!
4 guests
Hot tub with mountain view
First on my list of the best Airbnbs in Gatlinburg is the Bear Dance Cabin. While there's room for up to four guests, it's super romantic, so it will suit a couple just as well.
Thankfully, it's quite friendly on the pocket too! While some cabins have taxidermy that might make some guests feel uncomfortable, this is full of cute and cuddly plush animals – a modern and humorous take on traditional cabin decor!
With space for up to four guests, the Bear Dance Cabin is perfect for small groups and couples. It boasts awesome views of the Great Smoky Mountains that you can enjoy from a hot tub!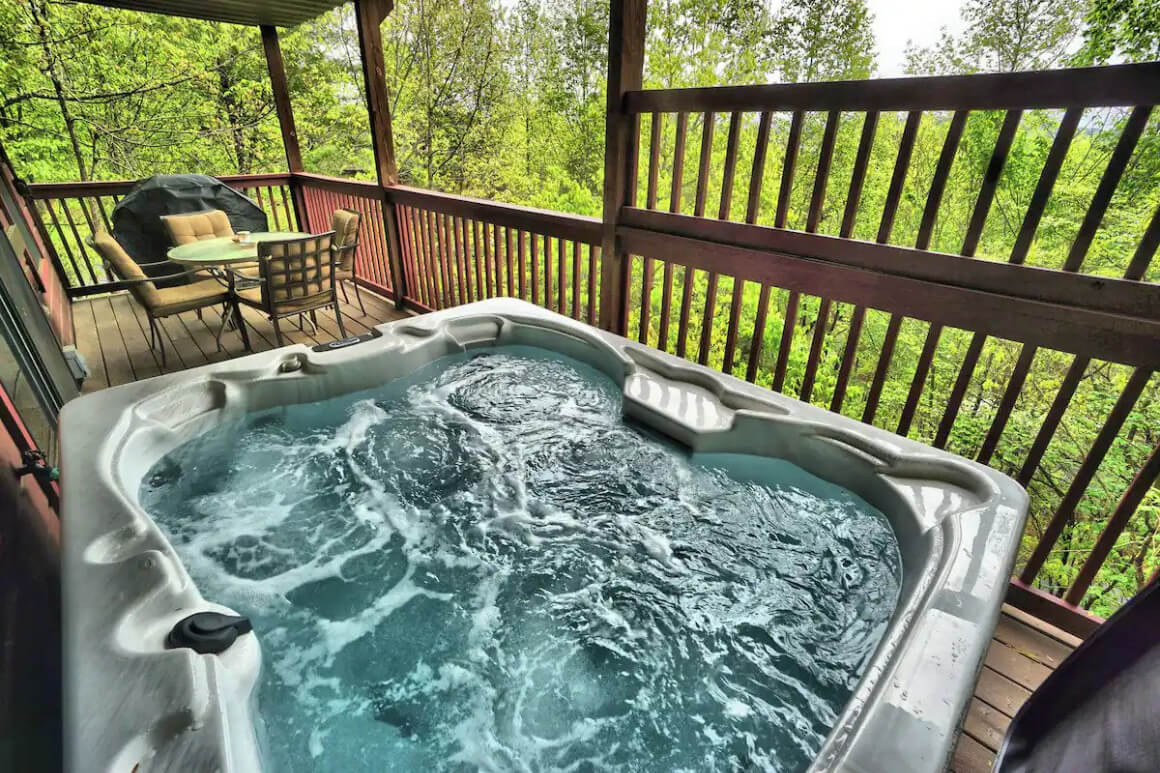 Finding somewhere affordable in Gatlinburg can sometimes feel like a pointless task. Thankfully I know exactly where to look, and that's how this cute cabin near Pigeon Forge has ended up on the list!
Nothing beats this cozy cabin location in the heart of the woods. It has tons of space, a gorgeous balcony looking into the forest and a private hot tub. If you're travelling with kids, it has a pack n play crib plus some children's books and toys. There's also a shared pool onsite.
If you're looking for somewhere with one of best prices in Gatlinburg Tennessee, so you can choose this place and concentrate on spending your money on moonshine and visiting the local attractions!
Is that bed wearing a bow tie?! I guess you won't know until you arrive at this lovely private room perfectly positioned for exploring the bright lights of Gatlinburg. You'll get a warm welcome here – you'll even be presented with a bottle of local wine!
As well as being near the town, hiking trails go through the property itself, so be sure to enjoy a quiet walk once you've got your bearings.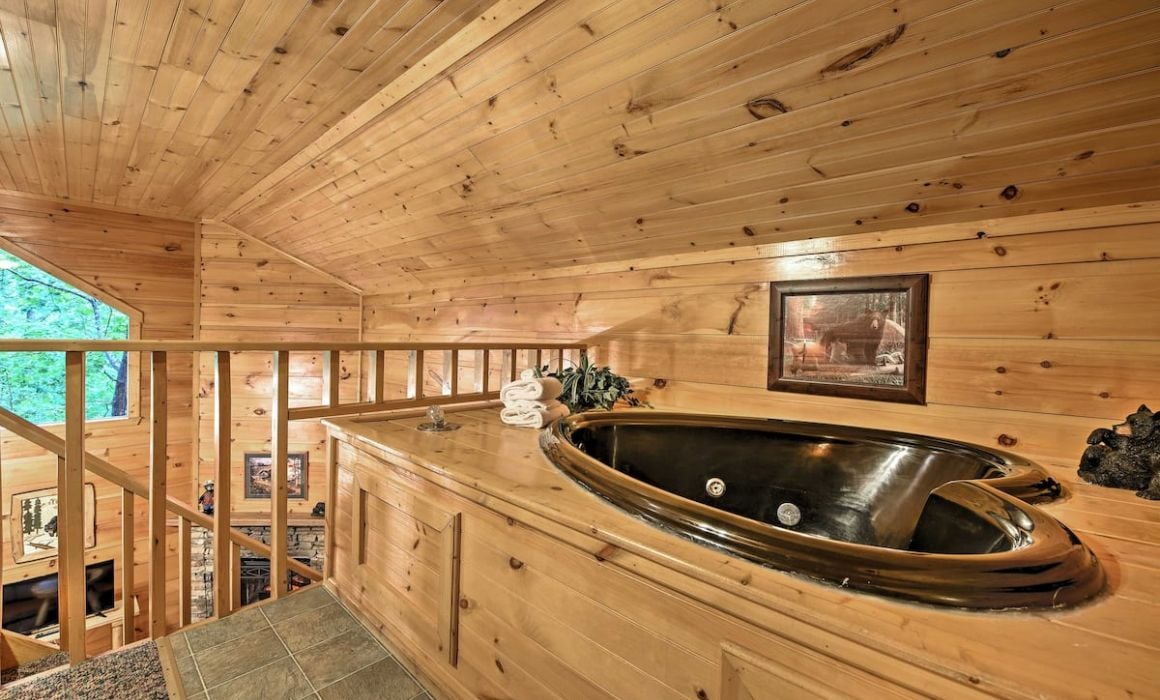 2 guests
Outdoor deck with hot tub
Looking for somewhere you and your other half will love? You can't go far wrong with the Bearadise Cabin.
Secluded and private, you can sit out on the porch and wait for local wildlife to amble on by – either in the open air or in the hot tub! Though the tub will keep you warm, don't miss cosying up in the heart-shaped bathtub inside before retiring to the king bed.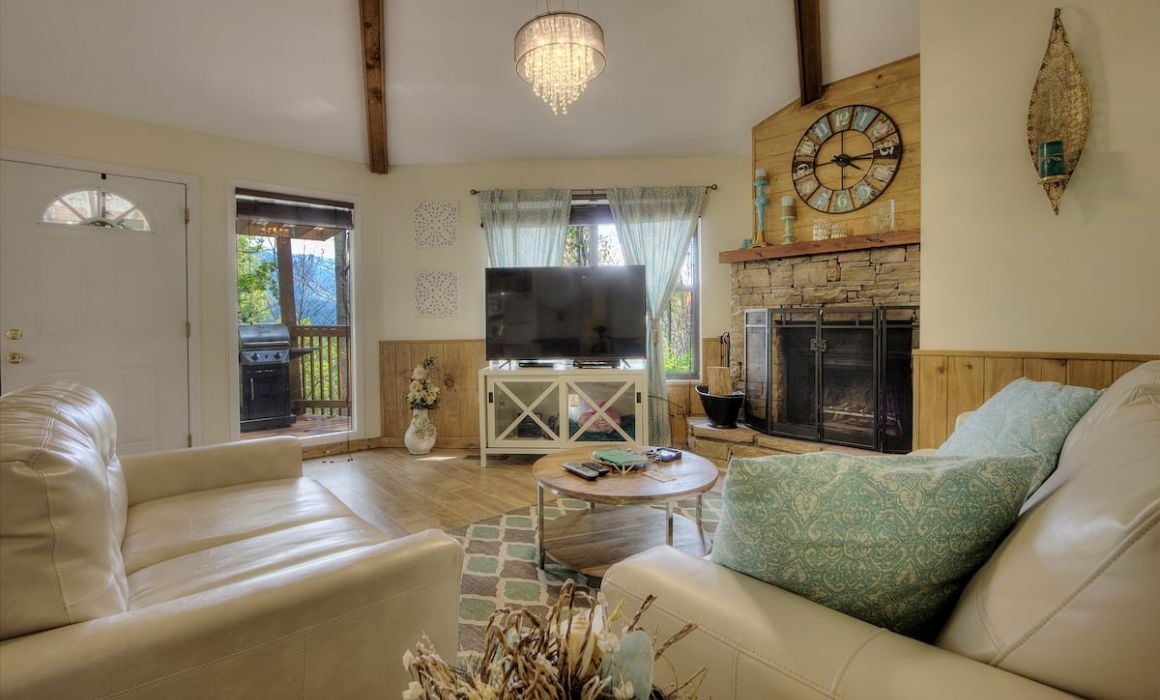 With space for six guests, this chalet is perfect for families of any age. Teens and parents will love chilling out in the hot tub on the back porch, while DVDs are available for younger children. Prefer cool water?
There's a nearby clubhouse with a swimming pool – and you can pop in there for food too. In the winter months, cosy up together for a board game in the living room in front of the fire!
6 guests
Outdoor Hot tub, Children's play area
This gorgeous A-frame luxury cabin in Gatlinburg is the perfect luxury retreat for a family. With two bedrooms, one with a king-size bed and one with a bunk bed, plus an outdoor pool and play area, you'll have everything you need to keep the little ones entertained.
The design of this cozy cabin is gorgeous. From modern interiors with rustic pieces thrown in, everything about this cabin screams elegance. If you're looking for seclusion, the remote location near the Smoky Mountains National Park is perfect. Not only that, but the wrap-around deck is the perfect place to enjoy this forested hideaway.
2 guests
Spectacular mountain views
It's not easy to choose the best cabin in Gatlinburg, but couples will be queueing up for the secluded 'Mountain Romance.' It's cosy and warm and offers everything you could hope for from a romantic break. If the weather isn't right for the hot tub inside, light the fire, jump into a chunky armchair, and watch a movie together!
One of the coolest types of accommodation in the Great Smoky Mountain National Park – and, in fact, in all US National Parks – is the treehouse.
At Treehouse Grove in Norton Creek, there's a selection to choose from. Hemlock will perfectly suit a small group of friends or family as there's space for four guests. Enjoy the comfort of your very own treehouse or sit on the raised porch and marvel at the surrounding forest!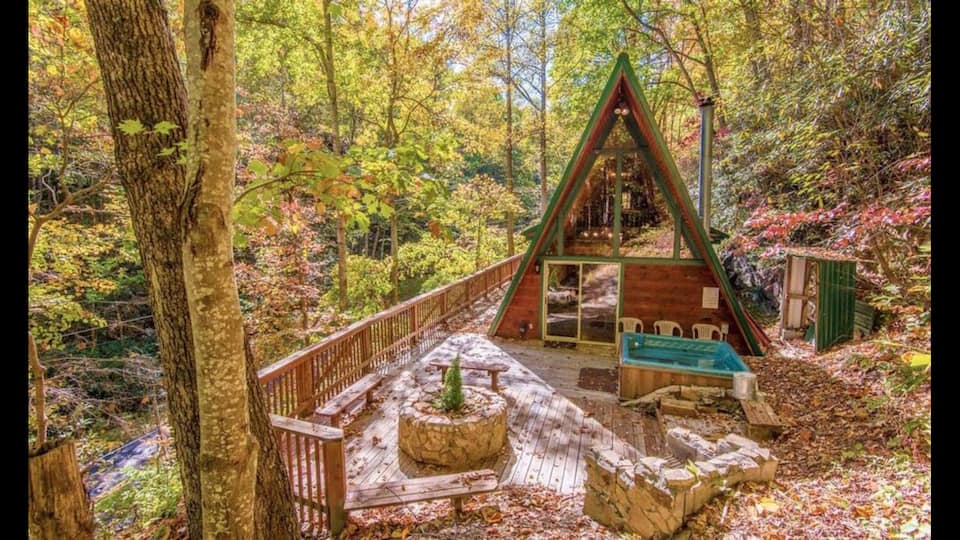 4 guests
Wood burning grill
No matter what time of year you stay, this place looks stunning – although you might have trouble making it here in the snow! This triangular lodge-style chalet is a wonderful spot for outdoor lovers: there are several trail heads to some of the best hikes in the USA just a stone's throw away. After a day out in the mountains, rest those aching muscles in the private hot tub!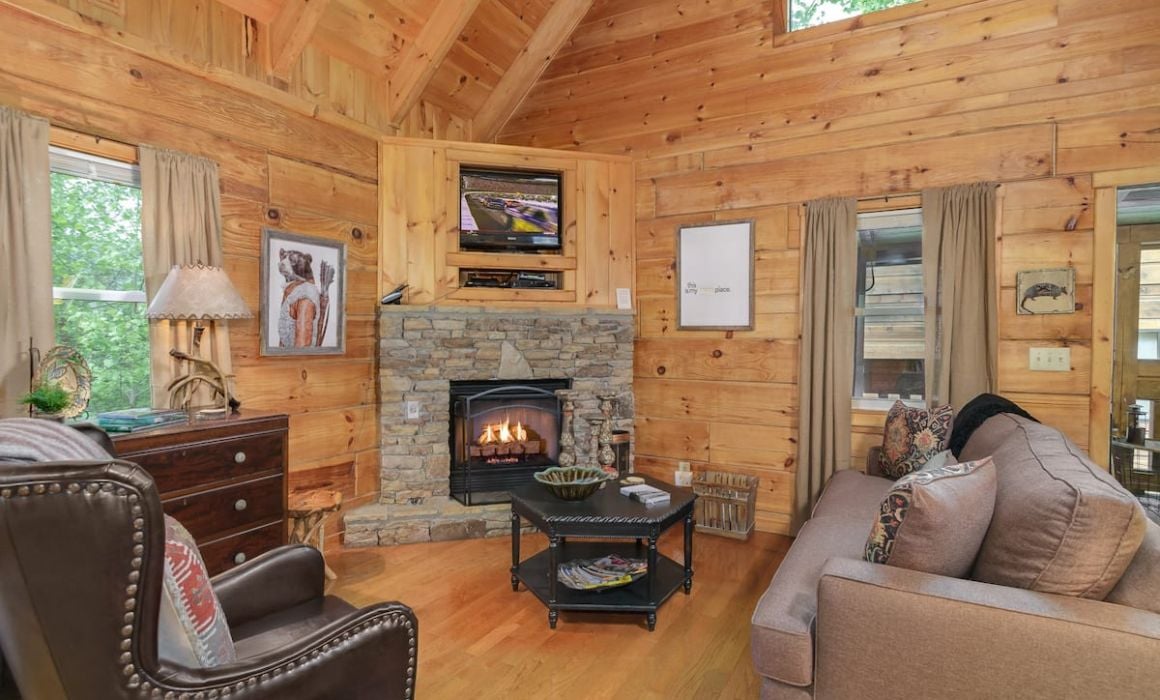 $$$
Laptop-friendly workspace
4 guests
Bench and rocking chairs
If you need to get inspiration for your work, where better to do so than from the seclusion of a one bedroom log cabin?
Take advantage of several laptop-friendly workspaces and fast Wi-Fi before kicking back with a game of pool or a soak in the hot tub. You can also choose between sleeping in the king bed in the roomy loft, or on the futon as you catch a game on the flat-screen TV.
I've already given you an idea of where to stay if you're travelling as a couple. However, another entire cabin wouldn't hurt! This one is particularly special.
In an Airbnb Plus property, you have a queen bed with not a bedside table, but a bedside jacuzzi! Don't spend all your time in there though – you'll miss out on stargazing from the hot tub!
$$$$$
Light and bright living room
8 guests
Awesome views of Mt Leconte
There are lots of absolutely stunning Gatlinburg Airbnb cabins, so when it comes to choosing the most beautiful, you have to factor in the views too. With Mount Leconte front and centre from the porch and living room of this place, you won't be disappointed.
Despite being in a downtown Gatlinburg location, you'll feel like you're staying right in the wilderness. Previous guests have spotted bears – so maybe you will too!
2 guests
Firepit and seating area
One of the more unusual Airbnbs in Gatlinburg, this definitely isn't one for a big group. The Ruby Slipper Retro Camper will suit a solo traveller or an intimate couple – but what a cool place it is to make memories!
This 1960's retro camper is perfect for glamping, and there's a bed in the van itself. Chill outside at the fire pit and check out the heated pool and library on-site for things to do.
If you're renting a car or travelling with your own vehicle, you're going to need somewhere to store it. Thankfully, there's ample parking space at this 'mountain freedom' cabin.
Located at the end of a long road, you won't get many cars passing and posing a danger to yours on the twisty mountain roads! Thankfully, it has all the other features you can expect from a cozy cabin, including a hot tub and cosy living area.
8 guests
Near Pigeon Forge
On the outskirts of Gatlinburg near Pigeon Forge, this cabin gives you the best of both worlds. Oh, and there are awesome views of the mountains from the balcony!
This cabin has three bedrooms with king-size beds, plus there's an outdoor fire pit where you and your mates can roast smores and share stories. Or perhaps you'd all prefer to jump into your private hot tub?
No matter what your reasons for visiting Gatlinburg are, you and your friends will love staying here.
Top 5 Experiences in Gatlinburg
Now that you've got a better idea of where to stay in Gatlinburg, it's time to work out what to do when you're there. Rather than blindly going through the guidebook or TripAdvisor, get input from someone who really knows the area.
Airbnb Experiences offer curated tours by locals – it can be anything from a multi-day hike to a cooking class. Below are five of the best things to do in Gatlinburg. There is a range of things to do, meaning there are sure to be one or two that will fit into the mood of your trip.
Let's check them out!
$59
3 hours
Up to 30 guests
No trip to the Smokys would be complete without heading out on a hike. This gorgeous hike is suitable for all levels, and takes you off the tourist path and deep into the wilderness of the Smoky Mountains!
This trail features several cascading waterfalls and dense forests. But this hiking tour isn't all about seeing nature, but being grateful for it. As you unplug from the stresses of day-to-day life, your guide will inspire you to play a gratitude game to help you remember to be grateful and positive.
This is a no phones allowed tour, so you can really be at one with nature. But don't worry, your guide will take some pics for you and you can, of course, take your own camera.
$45
2 hours
Up to 10 guests
The Smoky Mountains mystifies us all, and the best part of it is you get to completely cut yourself off from the stresses of city life. If you are someone who need to relax and unwind a bit more, then you'll enjoy this mountain meditation tour with a gentle hike in the Greenbrier section of The Great Smoky Mountain National Park.
Focus on deep breathing, inhaling clean fresh mountain air and exhaling all that negative energy that's been brewing inside. The tour focuses on healing and understanding the importance of slowing down and enjoying the sounds of silence.
Find inner peace and enjoy the sounds of the forest on this unique Airbnb experience.
$48
3.5 hours
Up to 10 guests
The mountains are not the only thing that Gatlinburg Tennesse is famous for; it's also known for its local wines and moonshine trade.
On this tour, you'll get to see behind the scenes of two working distilleries and see how the moonshining process works. Plus, you'll get to taste some of the best wines and shine in the area.
But it's not just about tasting drinks and feeling the buzz, you'll also learn about the history from one of the town's 'old timers'. You'll finish up with your own complimentary moonshine cocktail!
$40/person
3 hours
Up to 8 guests
Lots of people come to the Smokies to see bears. While they are impressive, there is smaller, more accessible wildlife, to spot! That would be the birds. Head out with a husband and wife duo to one of the most popular birding spots in Sevier County. Be sure to bring your camera as you might just capture some of them on film!
$44/person
3.5 hours
Up to 10 guests
Gatlinburg is famous for its moonshine and whiskey distilleries; as long as you're old enough, it's not something you should overlook when you're here.
On this tour from the centre of Gatlinburg, you'll hit up several distilleries and sample their offerings on the way. Don't focus just on the alcohol though, it's a very pretty walk!
FAQs About Airbnbs in Gatlinburg
Here's what people usually ask me about Airbnbs in Gatlinburg.
Don't Forget Your Gatlinburg Travel Insurance
ALWAYS sort out your backpacker insurance before your trip. There's plenty to choose from in that department, but a good place to start is Safety Wing.
They offer month-to-month payments, no lock-in contracts, and require absolutely no itineraries: that's the exact kind of insurance long-term travellers and digital nomads need.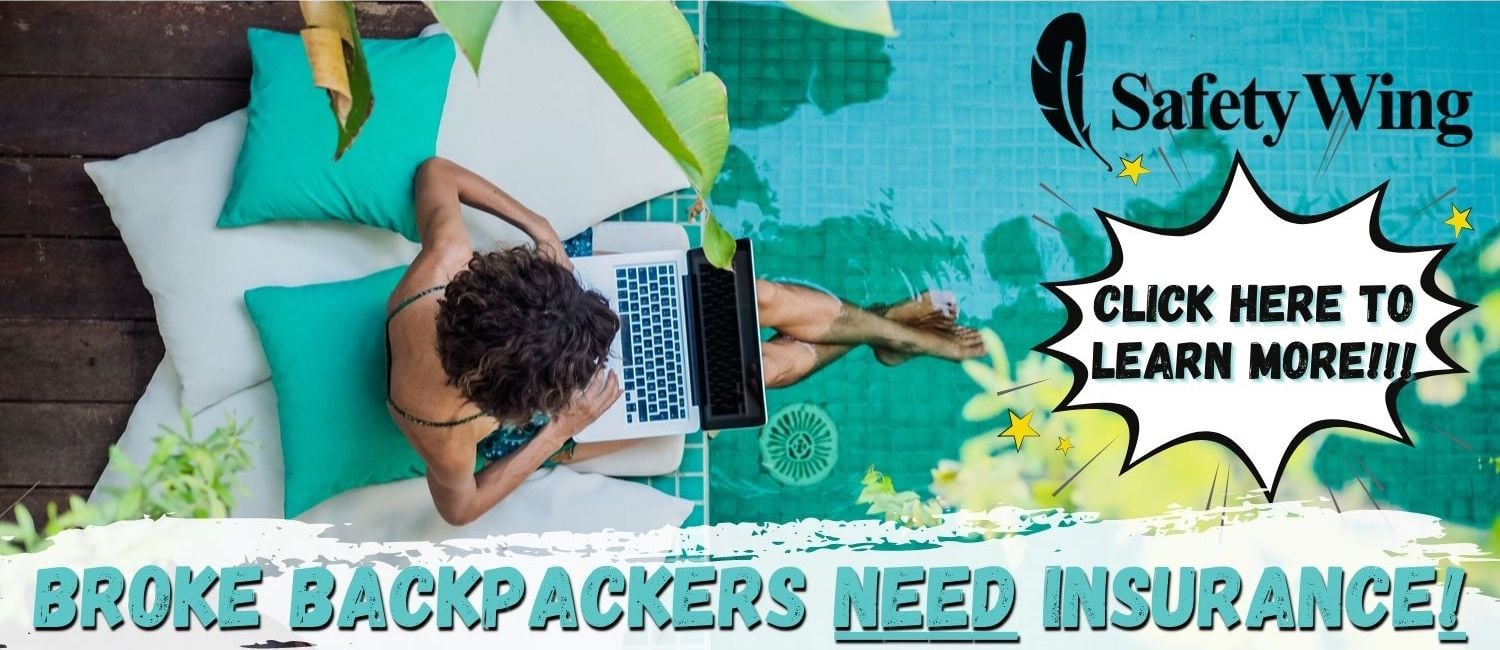 SafetyWing is cheap, easy, and admin-free: just sign up lickety-split so you can get back to it!
Click the button below to learn more about SafetyWing's setup or read our insider review for the full tasty scoop.
Final Thoughts on Gatlinburg Airbnbs
With all these awesome accommodation options in Gatlinburg Tennessee, you're sure to have found somewhere that fits into your taste and budget. You've seen cabins, treehouses, chalets, and other places, too.
If you're still trying to make up your mind, let us point you in the direction of my overall best value Airbnb in Gatlinburg. That's the Romantic Mountain Escape. It offers wonderful value for money, and it's a real authentic Smokies cabin!
Now that you've got your accommodation sorted, it's time to think about travel insurance. A policy from World Nomads will cover your trip from beginning to end!
---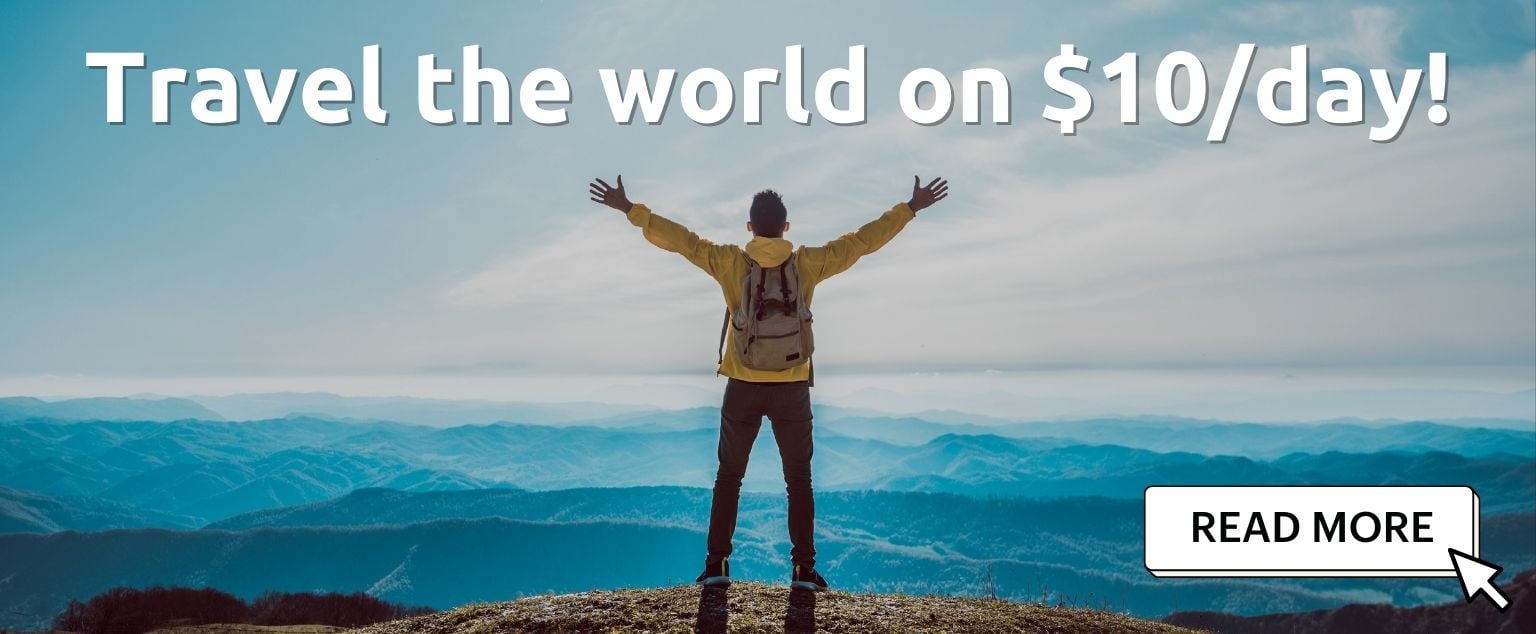 And for transparency's sake, please know that some of the links in our content are affiliate links. That means that if you book your accommodation, buy your gear, or sort your insurance through our link, we earn a small commission (at no extra cost to you). That said, we only link to the gear we trust and never recommend services we don't believe are up to scratch. Again, thank you!