If you want to get to know the real Hawaii, there's no better place to do that than Honolulu. The capital and gateway to the island of Oahu, is the perfect place to kick off your tropical vacation! It boasts a number of impressive art museums, Victorian architecture & that Hawaiin bliss. Not only that, you'll see the only royal palace in the USA, before picking up some cool stuff from the largest open-air shopping centre in the world!
But where to stay in Honolulu? The Hawaiian capital can be frightfully expensive. Along Waikiki's shore, there are hotels galore – but their eye-watering prices might put you off. Instead, check out the scene for rentals in Honolulu. You'll certainly get a lot of bang for your buck! Whether you want a cosy private room in a local's home, a relaxing apartment with an ocean view, or a luxury apartment, there's an Airbnb in Honolulu for you!
In this post, we'll take a closer look at 15 of the best Airbnbs in Honolulu. We've considered a wide range of budgets, personalities, and travel styles, so it shouldn't be too hard for you to find your dream Honolulu apartment. Let's jump right in and take a closer look!
In a Hurry? Here's Where to Stay in Honolulu for One Night
First Time in Honolulu
Cute Private Studio in Waikiki
Tbest all-round Airbnbs in Honolulu., this place is right on the Waikiki shore with views of the Pacific Ocean. You'll also get a front seat view of the Friday night Honolulu fireworks display! Comes with kitchenettes, hot tub & pool.
Places to Visit:
Be sure to check out historic Pearl Harbour

Diamond Head is an epic dormant Volcano

Watch turtles swim at Hanauma Bay
Is this amazing Honolulu Airbnb booked for your dates? We've got your back with our other favorite properties below!
Quick Answer: These are the Top 5 Airbnbs in Honolulu
Overall Best Value Airbnb in Honolulu

Overall Best Value Airbnb in Honolulu

Cute Private Studio in Waikiki

>

$

>

2 Guests

>

Great location

>

Swimming Pool

>

$

>

2 Guests

>

Great location

>

Swimming Pool

VIEW ON AIRBNB

Best Homestay in Honolulu

Best Homestay in Honolulu

Modern Tropical Convenience

>

$$$

>

2 Guests

>

Swimming pool

>

Private bathroom

>

$$$

>

2 Guests

>

Swimming pool

>

Private bathroom

VIEW ON AIRBNB

Best Airbnb for Couples in Honolulu

Best Airbnb for Couples in Honolulu

Studio in the heart of Waikiki

>

$

>

2 Guests

>

Awesome location

>

King Sized Bed

>

$

>

2 Guests

>

Awesome location

>

King Sized Bed

VIEW ON AIRBNB

Best Airbnb for Families in Honolulu

Best Airbnb for Families in Honolulu

Quiet and Clean Downtown Apartment

>

$$

>

5 Guests

>

Free Parking

>

Quiet neighbourhood

>

$$

>

5 Guests

>

Free Parking

>

Quiet neighbourhood

VIEW ON AIRBNB

Best Luxury Airbnb in Honolulu

Best Luxury Airbnb in Honolulu

Beach Condo with Gourmet Kitchen

>

$$$$$

>

6 Guests

>

Spa-like bathrooms

>

Awesome views of Friday fireworks

>

$$$$$

>

6 Guests

>

Spa-like bathrooms

>

Awesome views of Friday fireworks

VIEW ON AIRBNB
Why stay in an Airbnb?
Local Experience
Airbnb gives travellers the unique opportunity to live "like a local." If you decide to book a shared home with your host, you get to look inside a local's daily life, learn about their culture and you might even be able to taste some traditional home-cooked meals.
There are few other ways short-term travellers can get into the homes and lives of locals, so this is a great way to create new connections. As an added bonus, you'll contribute to the local economy and build relationships.
Reach out to your host with questions about things to do or where to eat and they will be happy to help out and give you the best spots and tips. Don't be shy, Airbnb hosts are known for their caring and open hospitality.
And who knows? Next time you might be staying as a friend and not as a paying guest! (No promises though.)
Affordability
No matter your budget, Airbnb has a place for you to stay – from entire apartments to single rooms, houseboats and even castles. There are over six million places worldwide to choose from.
Don't split up into two to three hotel rooms! The Airbnb platform accommodates any size, from single travellers to large groups. Everyone gets to stay together, which makes the travelling experience much more comfortable and at the same time way more affordable. Save your money by paying per night, rather than per person. A lot of rentals have more than one bedroom or an extra pull-out couch, futon or trundle bed. Hosts also provide a nice set of clean sheets, a good quality comforter and extra pillows and blankets.
You don't want to spend a lot of money on having to eat out every night either? Just add the filter "kitchen" into your search and you can choose any home that lets you cook at home with all the cutlery, glasses, pots and pans provided.
Safety
Worried about safety? Airbnb wants every guest to be safe and secure. They require hosts to have a keyed door lock and an interior deadbolt or chain. The privacy inside the rental depends on what kind of place you are looking for but you can always find details in the booking description.
Remember that you are living in someone's home – they want to keep it safe, too. Some properties even have CCTV and a doorman so you don't have to worry about any undesired visits.
Airbnb also has a 24/7 emergency line with someone ready to assist you in case of any problem. They're even able to provide a driver, book you a hotel or send a doctor in a medical emergency.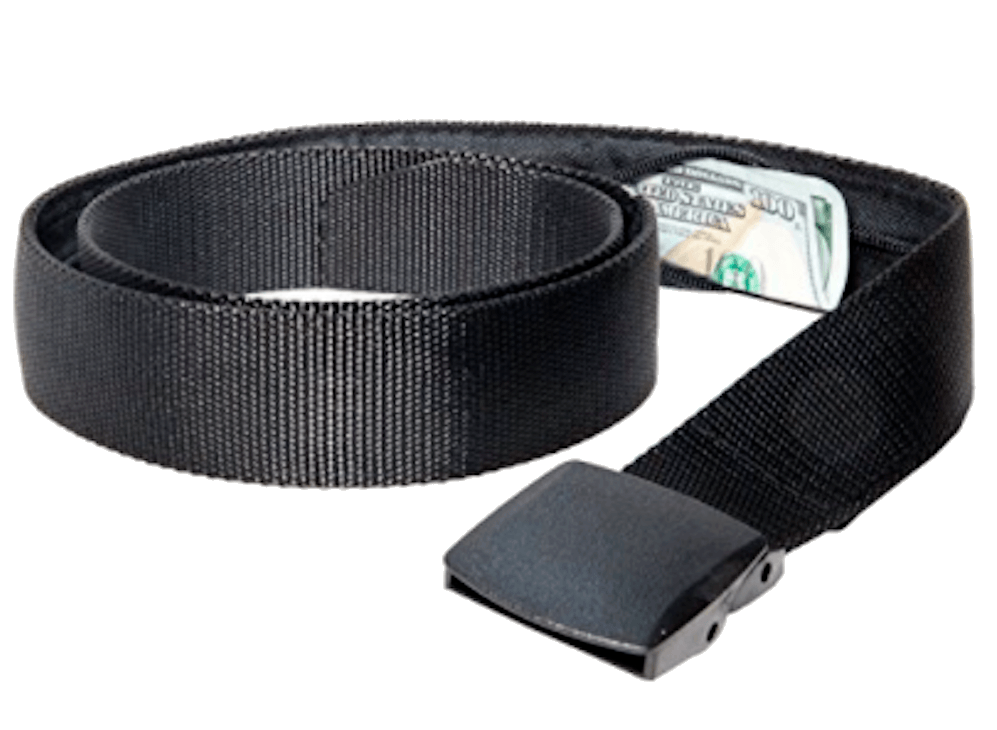 You should always have emergency cash hidden on you - pick up this awesome security belt with its hidden pocket before your next trip. It's perfect for hiding cash, card and a passport photocopy.
The Top 15 Airbnb in Honolulu
$
2 Guests
Great location
Swimming Pool
Let's kick off with one of the best all-round Airbnbs in Honolulu. Yes, this place is right on the Waikiki shore and you've got awesome views of the Pacific Ocean. You'll also get a front seat view of the Friday night Honolulu fireworks display! You really don't need to leave this apartment for your whole time in town – there's a kitchenette where you can prepare your own meals. As it's a studio, this is a great place for a couple to stay.
Take a dip in either the swimming pool or the hot tub to get some respite from that relentless Hawaiian sun!
$
2 Guests
Close to public transport
Parking available
It's no secret that Hawaii is pretty pricey. However, that shouldn't put you off as with a bit of research, you can find a great value Airbnb in Honolulu! This cosy room is a little out of Downtown and Waikiki, but don't worry. It's close to lots of public transport, and with the money you've saved, you can definitely afford to shell out on a bus ticket or too!
To keep costs down further, you've got your own kitchen and a supermarket nearby so you can stock up on food. No need to head to expensive, fancy restaurants. Save your money for exploring Hawaii!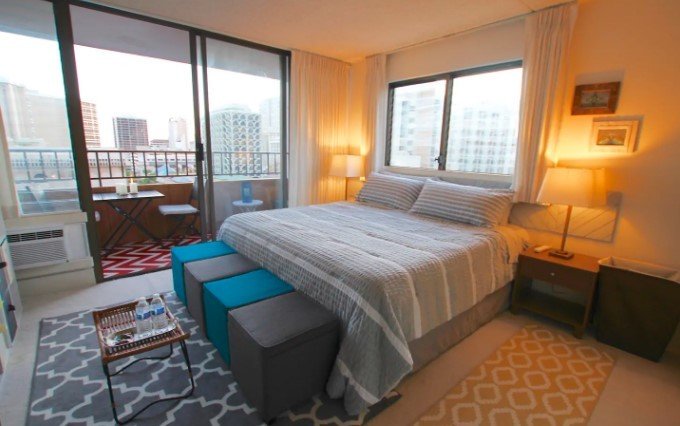 $$
2 Guests
Private Balcony
Dining and Lounge Area
If you're a digital nomad, the key things that you'll be searching for are a fast and reliable Wi-Fi connection and a laptop-friendly workspace. Happily, this Honolulu Airbnb has both of those and a whole lot more on top! The king bed is the ideal place to get some rest and wake up refreshed and recuperated for working the following day. And you can head out to that gorgeous balcony and work! Who knows what way you'll be inspired by the awesome views of the city?!
There's also a gym on-site if you need to keep up with your workout routine. Perfect!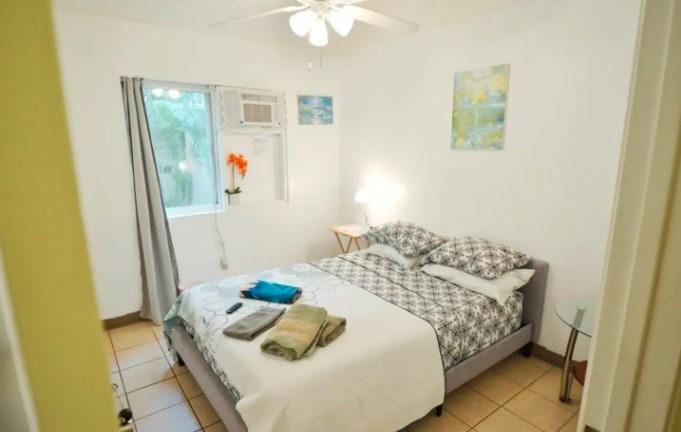 $
2 Guests
Great location
Fully equipped kitchen
If you're travelling solo to Hawaii, you'll want to be somewhere close to the best nightlife so it's easy to meet people, right? Well, check out this tropical room in the centre of Waikiki. It's one of four rooms in a private property, so hopefully, you might meet other people at your Honolulu Airbnb! There's a kitchen which comes not only fully equipped, but with complimentary water, tea, coffee, honey, and a few snacks!
You're also really close to a cool market if you want to pick up some delicious treats to prepare yourself.
The Best Travel Backpack?!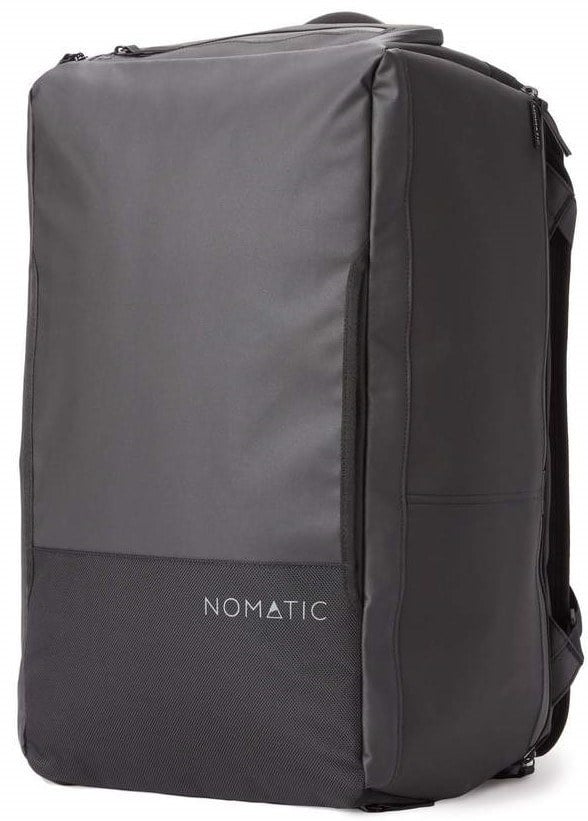 Pssssst! Not picked the perfect travel backpack yet? The Broke Backpacker team has tried out over thirty backpacks this year! Our favourite carry on backpack is the Nomatic Travel Bag.
Read our full review!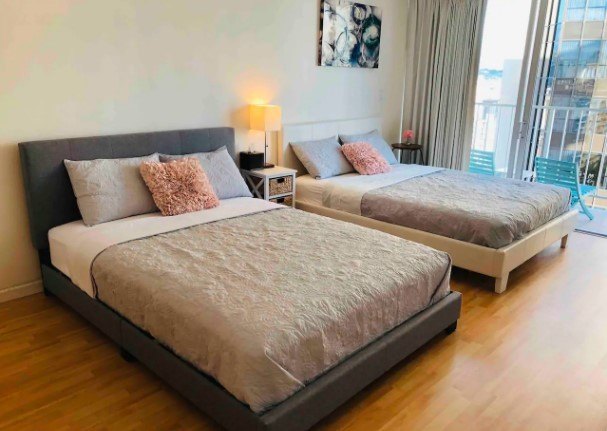 $$$
4 Guests
Free parking
Ocean Views
If you go a little too hard while you're partying in Waikiki, it's good to know that there's a lovely, relaxing short term rental in Honolulu to come back to. This healing Hawaii Ocean apartment! No matter how many Pina Coladas you enjoy, this will be the perfect place to get rid of that hangover – especially with those tranquil ocean views!
There's a fully equipped kitchen where you can whip up some delicious food, and if you're travelling with your own transport – there's free parking!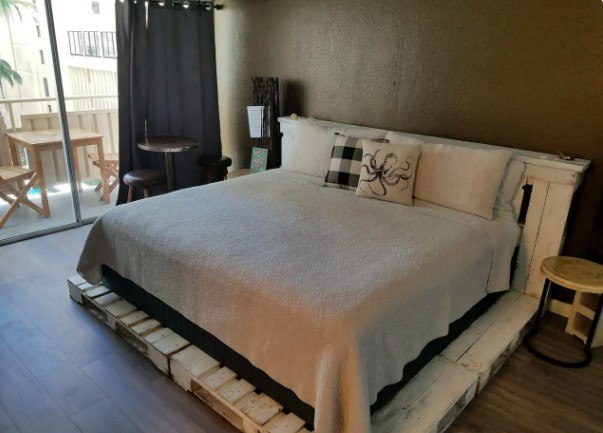 $
2 Guests
Awesome location
King Sized Bed
Travelling with your other half? Then you certainly won't want somewhere run of the mill. Luckily, this Honolulu Airbnb has plenty of character, it's in an awesome location, and you get a king bed so that you can both starfish and still not touch the sides! Once you've dragged yourself out of it, head out to the lanai.
That's a traditional Hawaiian balcony, by the way! You can enjoy a coffee and breakfast out there with awesome views of the beaches – which are less than 100 feet away!
$$$
2 Guests
Swimming pool
Private bathroom
Want to get a really traditional and authentic experience of Hawaii? Then a Honolulu homestay is the way to go! And this one really makes sure that you have an incredible time. The apartment is cute, cosy, and there are high ceilings. It's also in a great location – not in the centre of Waikiki, but close to Downtown Honolulu.
From here, it's easy to get to the Art Museum or Chinatown on foot! You've got access to a swimming pool and your own private bathroom – and to top it all off, a friendly host!
$$
2 Guests
Access to kitchen
Spa quality towels and linen
There are some great homestays in Honolulu, so we couldn't just leave you with one! Check out this artist's home and studio if you want to get to know the biggest city on Oahu! This is a house with a bit of difference, as you'll be surrounded by art made by your host! It's a little out of the city centre, but it's still within 1.5 miles of all the attractions.
So, if you don't fancy walking you won't have to spend long in a taxi or on public transport!
$$$$
5 Guests
Free parking
Ocean and Mountain Views
Looking to splash a little cash on your Honolulu Airbnb? Then this is the perfect place to do that! This residence not only has views of the ocean but the mountains too! The house is a stunning example of interior design, with teak and marble flooring, and polished concrete throughout.
The fully equipped kitchen is a great place to prepare a dinner party for you and four more of your nearest and dearest. After eating, retire to the comfy living room and enjoy your favourite series or a movie on Netflix or Amazon!
$$$$$
6 Guests
Spa-like bathrooms
Awesome views of Friday fireworks
Always dreamed of being a chef? Then it looks like this might just be a great place for you to practice your craft. After all, that incredible kitchen has some great appliances for you to make the most challenging of dishes. Settle down on a Friday night with your delicious meal and watch the fireworks from your balcony.
You have walk-in stone and pebbled showers, and once you're cleaned and fresh, enjoy the big and fluffy towels before curling up in your huge king bed!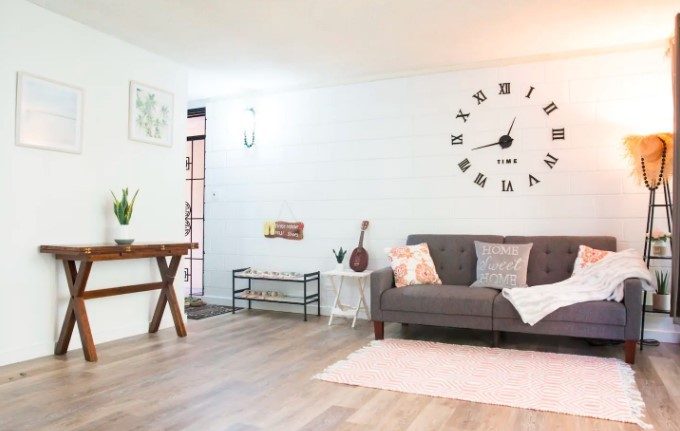 $$
5 Guests
Free Parking
Quiet neighbourhood
For an awesome short term rental in Honolulu for families of all ages, check out this great apartment! In a quiet, downtown neighbourhood. It's also a great option for groups of friends because there's space for up to 5 guests! The calm, open space is relaxing and tranquil and you'll properly be able to chill out here after a long day of sightseeing in Hawaii! If you'd rather stay in and cook, you'll be pleased to know there's a kitchen with an oven, rice cooker, and toaster!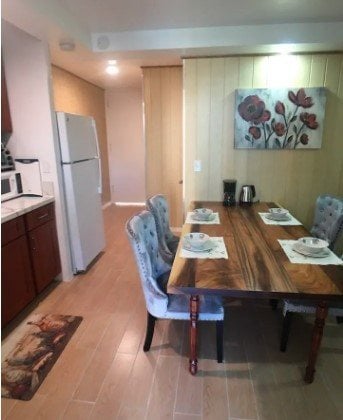 $$$
6 Guests
Great location
Modern chic style
With Waikiki Mall, Kalakaua Street, and Hilton Beach all within a hop, skip, and a jump, you don't get locations much better than this. And those are all really cool places to check out with your friends! Once you're back in the apartment, you'll all have to fight over who gets one of two king beds and who gets the sofa though! The great news is that if you have 5 friends to split the cost of this short term rental in Honolulu with, it doesn't even end up that expensive!
$$
2 Guests
Rooftop pool
Balcony
We know you've seen a lot of Honolulu Airbnbs in Waikiki so far, but that's because it's such a cool place to stay! This cool condo has a rooftop pool with awesome views of the Pacific Ocean – you'll want to spend all your time here rather than exploring Honolulu! There's a desk and Wi-Fi too, so this is a great place to stay for digital nomads! If you've been travelling a long time, you'll be pleased to know there are washing and drying facilities here too.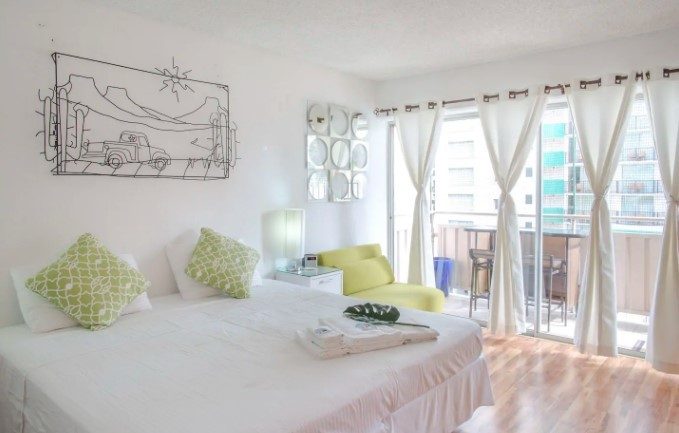 $$$
3 Guests
Enclosed Balcony
Outdoor dining space
Okay, we promise that this is the last short term rental in Honolulu's Waikiki neighbourhood that we'll show you! Just steps away from the beach, this awesome spot has an outdoor balcony and dining space – the perfect place to enjoy a pleasant meal and watch the sunset. When you want to leave the apartment, you don't have to go far for something to do. The iconic Waikiki Beach is less than 100 feet away!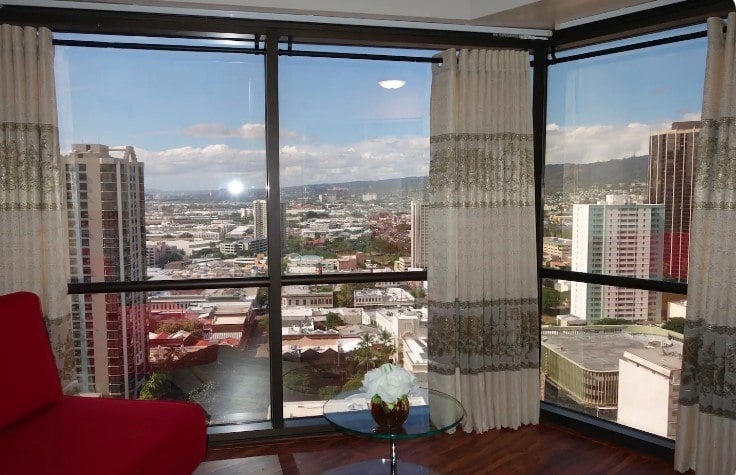 $$$
4 Guests
Free parking
Access to hot tub
Last but not least is this awesome Airbnb in Honolulu. In the apartment building, there's a recreation area complete with hot tub, restaurant, and a free parking space. All of these you're welcome to use during your stay! There's space for 4 guests, so this is ideal for a small family or a group of friends on vacation. And if you split the cost 4 ways, it makes it a lot cheaper!
What to Pack for your Honolulu Airbnb
Our Broke Backpacker editors have put together a shortlist of their Airbnb essentials, which you can find here.
1. Active Roots Toiletry Bag: To prevent the loss of your toothpaste in the depths of your bag, you should get a hold of the Active Roots Toiletry Bag. With large compartments, see-through and enclosed sections, you can have all of your stuff in the right spot, easy to find and accessible at all times.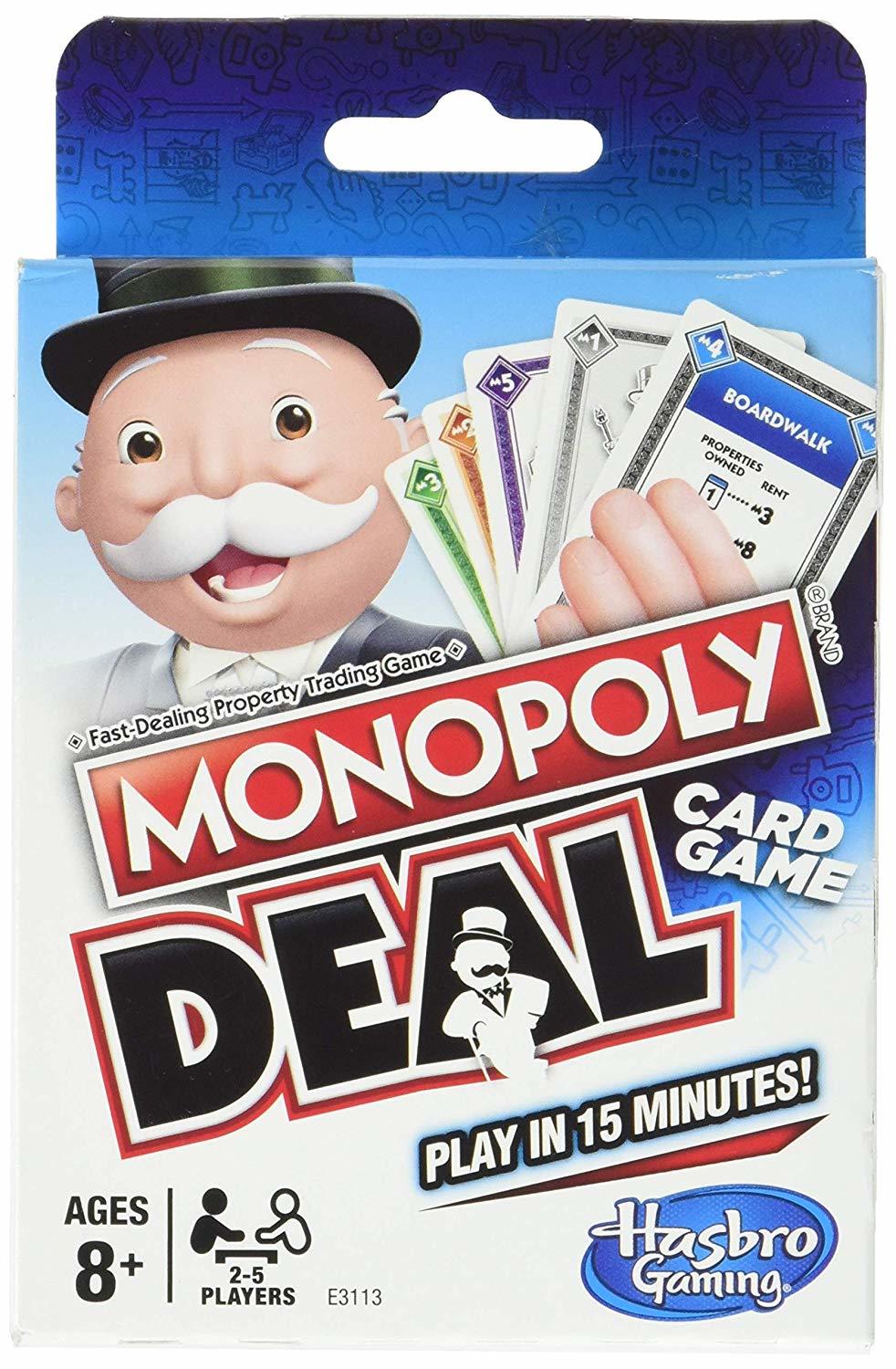 2. Monopoly Card Games: Yes, downtime will happen, even on holiday. The age-old solution: card games! Basic cards can get a bit boring so next time bring along Monopoly Deal Cards. It's a version of the board game, gets your brain cells involved and brings a lot of fun. Up to 5 people can play at a time, which is perfect when travelling in a small group or with your family.
3. Active Roots Water Bottle: Keep your own water bottle on your travels to keep you hydrated all day long, and save the planet at the same time. Reusable bottles help the environment by cutting down plastic waste, which is even more difficult to avoid while traveling. The Active Roots Water Bottle is the perfect one for your next holiday. High-quality material, non-leaking and super chic looking, you can fill it up with any drink, and it'll stay hot or cold all day long.
4. Bluetooth Speaker: Whether you want to wake up to your local radio station (there are apps for that) or just want to have your morning coffee with some relaxing music in the background, a lightweight Bluetooth speaker is great to travel with. This speaker is perfect for any holiday since it's super chic and waterproof. With battery life for up to 15 hours and a sound quality that can turn a boring evening into a mini private party, you'll be the hero of the day if you bring this speaker!
5. Travel Blow Dryer: Your Airbnb only provides basic bathroom amenities, and you're desperately missing a blow-dryer! Bringing your own mini blow dryer with you on your travels can be a lifesaver, especially before a meeting or night out where you don't want to turn up with wet hair, or frizzy hair or (worse yet) unwashed hair because you were afraid you wouldn't get it looking the way you want in time!
6. Suitcase Locks: Protecting your belongings from opportunistic thievery isn't so hard. With these locks, no one can easily access your important items, whether you're using a suitcase or backpack. Lock the two zippers together, and only the person with the keys can unlock it. It's also very useful when your Airbnb doesn't have a safe to store valuable items.
Final Thoughts on Honolulu Airbnbs
So, that concludes our list of the best Airbnbs in Honolulu. We hope that our extensive list has given you some ideas on the best way to enjoy your holiday and that there's a Honolulu apartment that suits your every whim and wish.
As you can see, there's lots of variety. Cool downtown apartments, cosy Waikiki studios, and private rooms which are kind to your pocket and give you a local experience are all up there on the menu of Honolulu Airbnbs. What's that… we've given you too much to choose from?!
If that's the case, take a deep breath and have a seat. Then, just keep it simple and go for our favourite Airbnb in Honolulu – Cute Private Studio in Waikiki! It's the perfect combination of style, value, and it's in a great location! You definitely won't regret it.
Now, all that's left is for us to wish you good luck while you plan an incredible trip to Hawaii. We hope you have a great time!
And don't forget to sort your travel insurance before heading to Honolulu! We've put together a roundup of the best travel insurance for backpackers – check it out here, or if you're low on time, get a quote from World Nomads, our favorite travel insurance provider.
Getting an estimate from World Nomads is simple – just click the button or image below, fill out the necessary info, and you're on your way!

Yay for transparency! Some of the links in this post are affiliate links. This means that if you book your accommodation, buy a book or sort your insurance, I'll earn a small commission at no extra cost to you. I only link to stuff I've actually used and never endorse crap. Your support helps me keep the site going.
---
Need More Inspiration?
Like this post? PIN ME!!!