If you are planning a trip to Maine, or want to explore more of your home state, you've come to the right place. Not only is Maine full of history, fascinating small towns, and delicious seafood, it is home to over half a million acres of public land. Having such an abundance of space to explore makes Maine an adventurer's paradise.
Be surrounded by deep greens, dense forests, and towering mountains. Take in the fresh air, and enjoy towns with relatively sparse populations that don't overwhelm the natural environment.
Maine's coastline is another iconic highlight. With harbors large enough to house naval fleets and thousands of tiny islands peppering the shoreline, there is so much to discover that you may have to extend your trip.
Acadia National Park has one of the best scenic byways in the country which sweeps through the hills, full of pine trees, and along the beautiful coast.
When it comes to finding a place to rest your head each night, you should check out the many available holiday rentals in Maine. To find yourself in the midst of nature, or with lakefront and coastal views, staying at an Airbnb in Maine is the way to go.
Read on to find out why, and discover our favorite Airbnbs!
Quick Answer: These are the Top 5 Airbnbs in Maine
Overall Best Value Airbnb in Maine
Overall Best Value Airbnb in Maine
The Cabin in Skowhegan
> $$
> 5 Guests
> Large loft
> Firepit
Best Budget Airbnb in Maine
Best Budget Airbnb in Maine
Yurt Tent Glamping
> $
> 4 Guests
> Remote and rustic
> The Maine experience
Best Airbnb for Couples in Maine
Best Airbnb for Couples in Maine
Timeless Tides Cottage
> $$$
> 2 Guests
> Amazing views
> Romantic home
Best Airbnb for Families in Maine
Best Airbnb for Families in Maine
Cottage on the Lake
> $$
> 5 Guests
> Firepit
> Nearby activities
Over-the-Top Luxury Airbnb in Maine
Over-the-Top Luxury Airbnb in Maine
The Wiscasset White House
> $$$$
> 12 Guests
> River views
> Huge home

Unlock Our GREATEST Travel Secrets!
Sign up for our newsletter and get the best travel tips delivered right to your inbox.
What to Expect from Airbnbs in Maine
Maine remains a state relatively untouched from the relentless expansion of hotels and tourist hot spots. Despite having some of the best scenery in the country, hotels aren't exploiting the beauty.
Luckily for you, this leaves more space to wander, and more hidden gems waiting to be uncovered.
Even in Bangor and Portland, two relatively large cities, alternative accommodation, and boutique hotels run the show, as local residents open their homes to show you the historical beauty of their towns.
In Maine, you can expect plenty of vacation homes. The local feeling of the properties adds another layer to your stay, along with access to some of Maine's most pristine areas.
Come and find cabins in the woods, cottages on the beach, and Victorian-era homes in sleepy towns.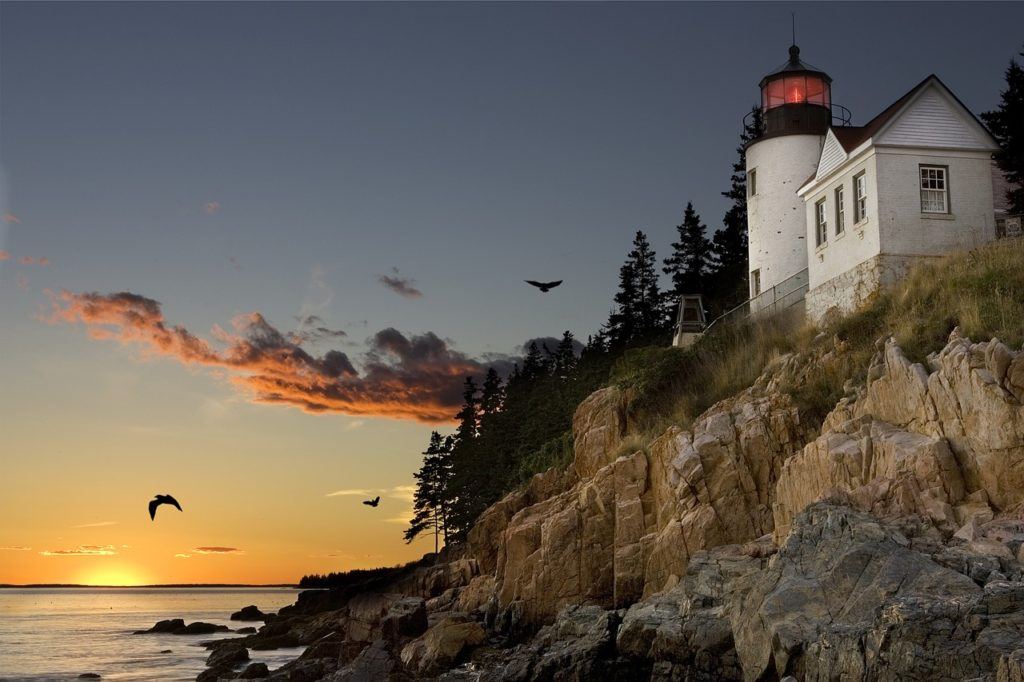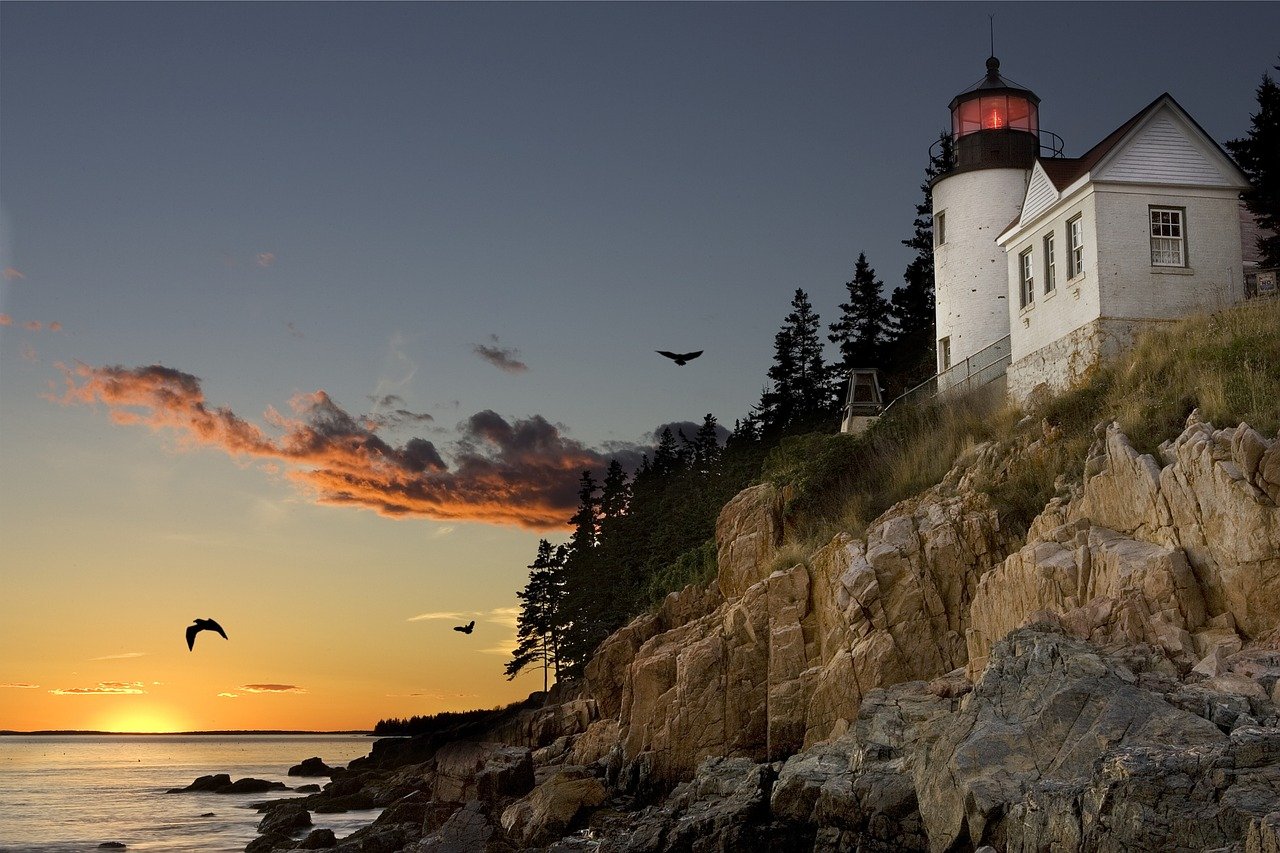 Cabin
Packing your bags and heading to your Airbnb cabin is a quintessential Maine experience. Find yourself in a rustic environment with the fireplace roaring to keep you cozy, and nothing but the sounds of nature and trees swaying.
Cabins are great for solo travelers and couples who are looking to disconnect, de-stress, and enjoy being in nature. If you are on your own, it is a great opportunity to tuck into a book, go on daily strolls through the forest, and re-center the soul.
Cabins are a perfect romantic environment for couples to cuddle up under blankets and watch the stars.
The popularity of cabins in Maine is evident, as you will find them all throughout the state. Other than along the coast, some of the best cabins can be found in Maine's western mountains.
Cottage
Grabbing the kids and heading up to the cottage is a common weekend for the people of Maine. Get yourself a slice of the action by staying at one of the many cottage Airbnbs in Maine.
Perfect for families or a group of friends, cottages offer a larger space with multiple bedrooms, big kitchens, and lawns where you can enjoy nature.
You may find that your ideal cottage is targeted at families, and filled many with toys, games, and bunk-bed rooms for kids, as well as outdoor activities to keep them busy.
Cottages in Maine are most common in and around coastal towns. Not only will you be close to the water (if not on it), you will have easy access to restaurants, shops, and towns with historical significance.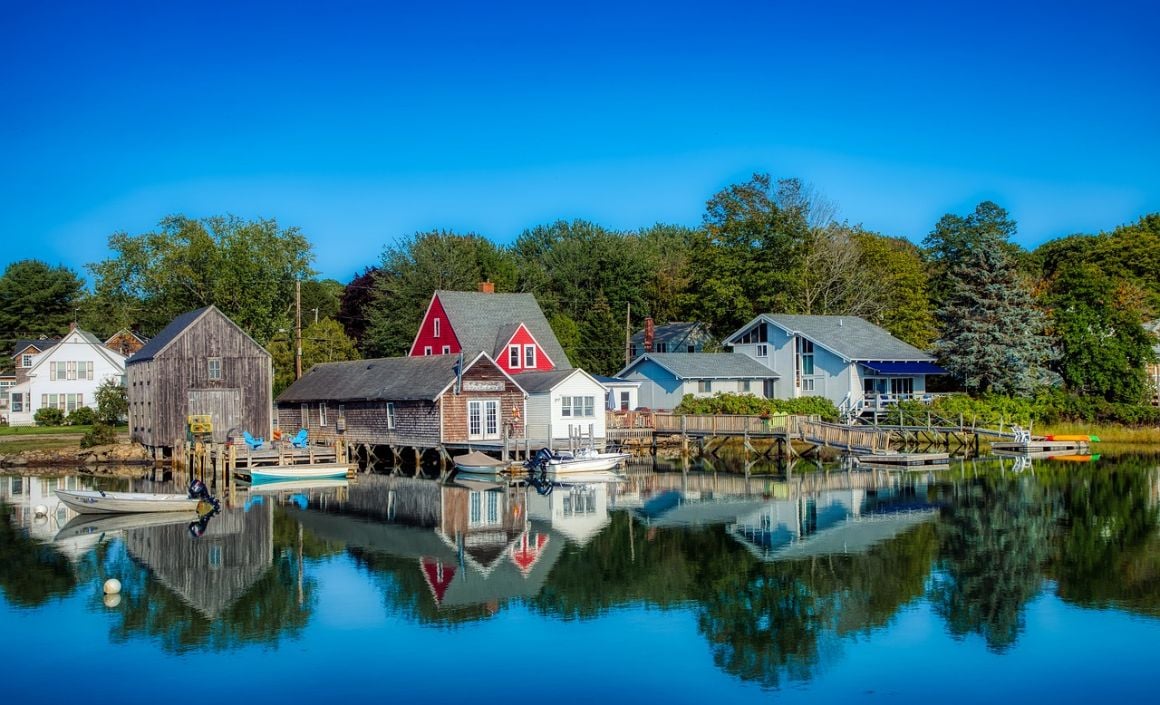 Beach House
Beyond staying in the mountains, another way to see the best parts of Maine is by staying at one of the many beach house Airbnbs in the state.
Wake up every morning to incredible sunrises across the waterfront, just steps from the water itself. Such is the abundance of coastline in Maine, you often will have it all to yourself and maybe even your own private beach.
A beach house is a great spot for digital nomads and remote workers. You can spend your days working on the balcony, and taking quick dips in the water.
While the beauty of the waterfront will have couples excited for a romantic getaway, families will also enjoy extra bedrooms, balconies, and plenty of space for the kids to run.
Of course, most of these Airbnbs are on the coast, but keep an eye out for some gems that line many of Maine's interior lakes.
Why Stay in an Airbnb
There are a bunch of reasons to stay in an Airbnb, here are five of many:
Unique properties: Trade out your regular hotel room for a spectacular home nestled in the woods, a tiny home on wheels or a yacht in a marina.
Affordability: Pay the same price, or less, and receive all the amenities you need, including full kitchens, private bathrooms, and space to kick back with friends.
Staying long-term: Airbnb hosts love long-term visitors! So much so that they offer discounts for weekly and monthly stays.
Last-Minute Booking: If you need to make a booking quick, Airbnb will show what is available in your area to stay in tonight!
Airbnb experiences: Uncover the secrets of your destination with Airbnb Experience – we have listed our top five Maine experiences below.
The 15 Top Airbnbs in Maine
Now that you know a little more about Airbnbs in Maine, lets take a look at the state's best Airbnbs!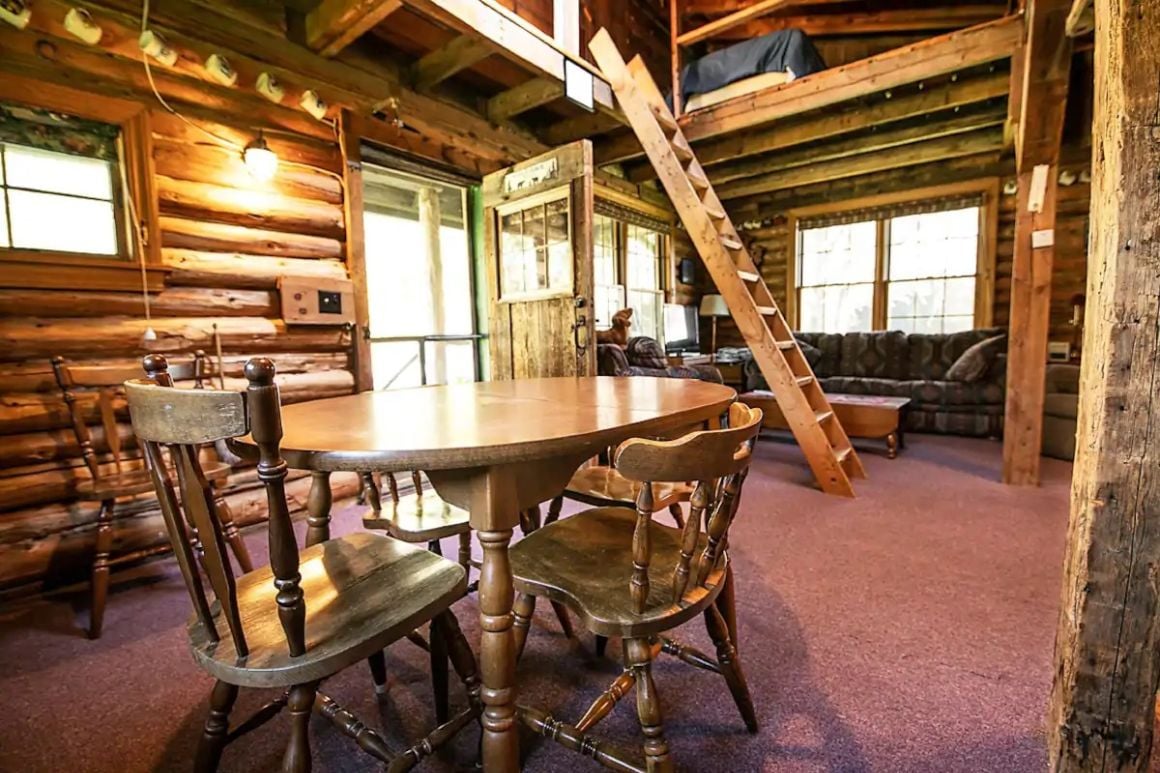 Come discover a wonderful rural life at this Airbnb cabin in Maine.
Away from the noise of the big smoke, have nothing and nobody around you. Surrounded by rolling green lawns and beautiful gardens, you and the crew will have plenty of space to take in the fresh air.
Each evening you can light up the fire pit and cook s'mores and tell spooky stories. Head inside to the spacious home that has enough space for everyone to gather and play cards.
The bottom floor has a queen bed, while the loft has multiple single beds. Grab your friends and head to this secluded cabin in Skowhegan.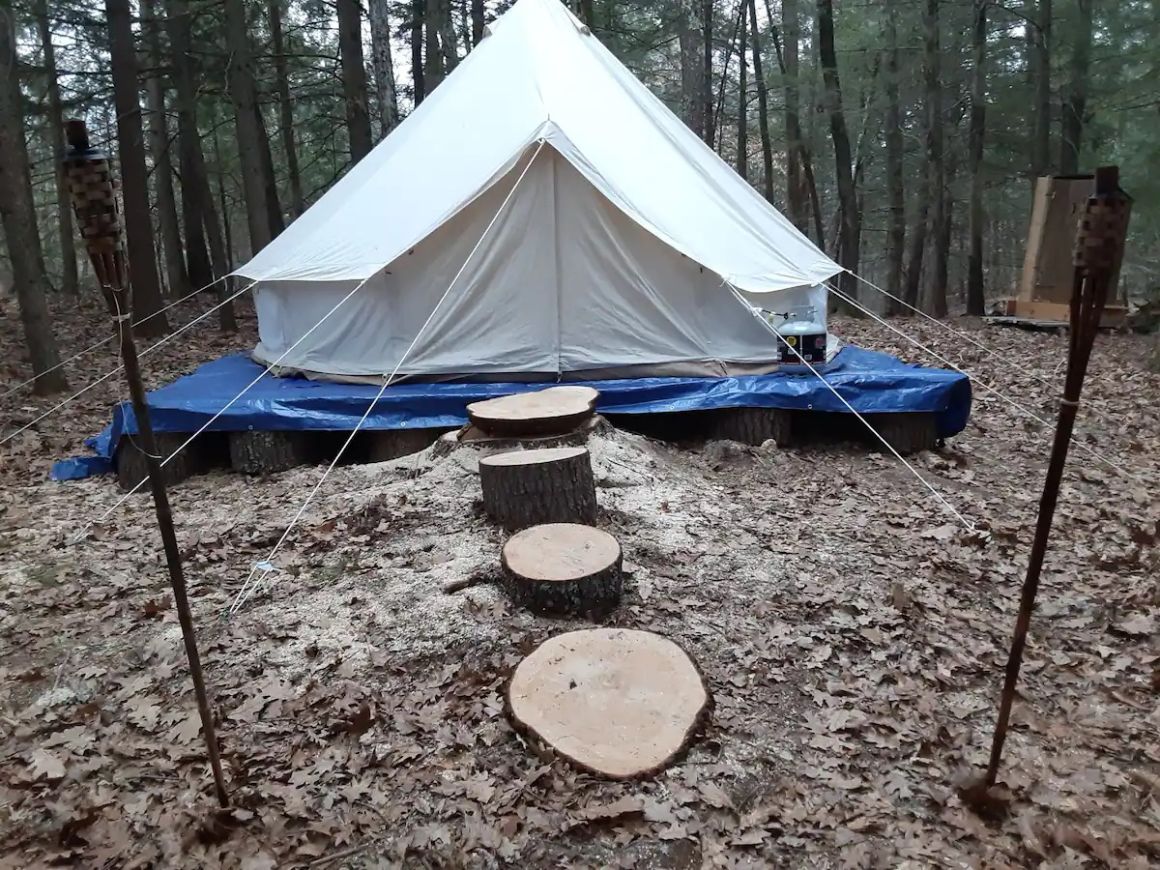 4 Guests
The Maine experience
Pack your long johns, and camp out at this yurt Airbnb in Maine. Enjoy the solitude of being deep in the woods, spend time by yourself in peace, with a loved one or with friends.
The yurt has a surprising amount of interior space, so you won't feel cramped on rainy days if you have other guests.
There is Wi-Fi access to stay in touch, or you can disconnect and go fully off grid.
Use the complimentary kayaks to explore the lake, and stroll the hiking trails around the Pine Forest Wooded Sanctuary.
Sebago Lake, Portland and the White Mountains await, as does a warm campfire each night.
$$
Private kitchen and bath
1 Guest
Acadia National Park
Be just five minute away from Acadia National Park at this studio Airbnb in Maine.
Right in the center of Bar Harbor, the home is within walking distance of many shops, restaurants, and bars. The space is surrounded by historic Victorian homes in a sleepy neighborhood.
Just a few blocks stand between you, and both sunrise and sunset, although in different parts of the town.
When you aren't enjoying the views or exploring Acadia, you can retreat to your own private adobe. Complete with a kitchen, private bath and comfy bed, the studio also has a loft room if a friend ever chooses to come hang out. This is definitely one of the best places to stay in Bar Harbor.
Is This the Best Backpack EVER???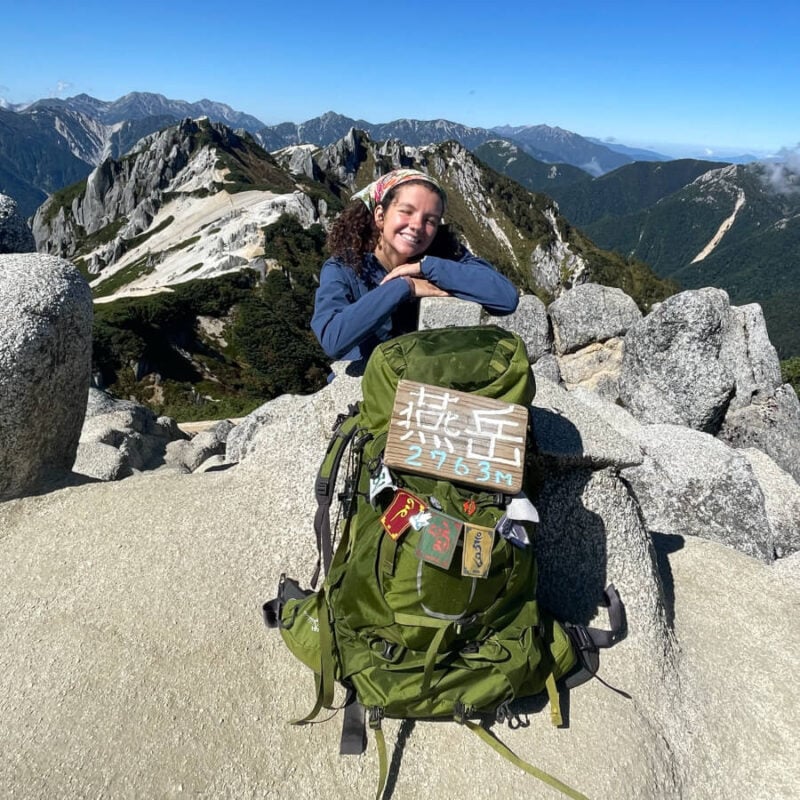 Take your loved one on a romantic excursion to the lakefront and stay at Timeless Tides Cottage – a beautiful a-frame cottage just 350 feet from the river.
Each night, with no one to disturb the view, you can watch the sunset over the Weskeag River. Cook up a lovely meal on the outside grill, and hang out on the deck until the stars sparkle above.
At this cottage you can enjoy your own private dock, where you can try to spot bald eagles and blue herons.
Situated just ten minutes from the picturesque town of Rockland, there is easy access to shopping, restaurants, lighthouses, and museums to add to your romantic stay.
5 Guests
Nearby activities
Take the family to Camp Wigwam and have an Airbnb experience you won't forget.
This lakefront cottage on North Pond offers great views and plenty of opportunities to spot birdlife, including bald eagles. There is plenty of space for the kids to run around, and is close to hiking, boating, skiing, and ice-fishing depending on the season.
At the end of each day, you can hang out as a family around the campfire and make the most of the beautiful setting.
The TV has Netflix hooked up, so you can settle the kids down for a movie while you enjoy a glass of wine.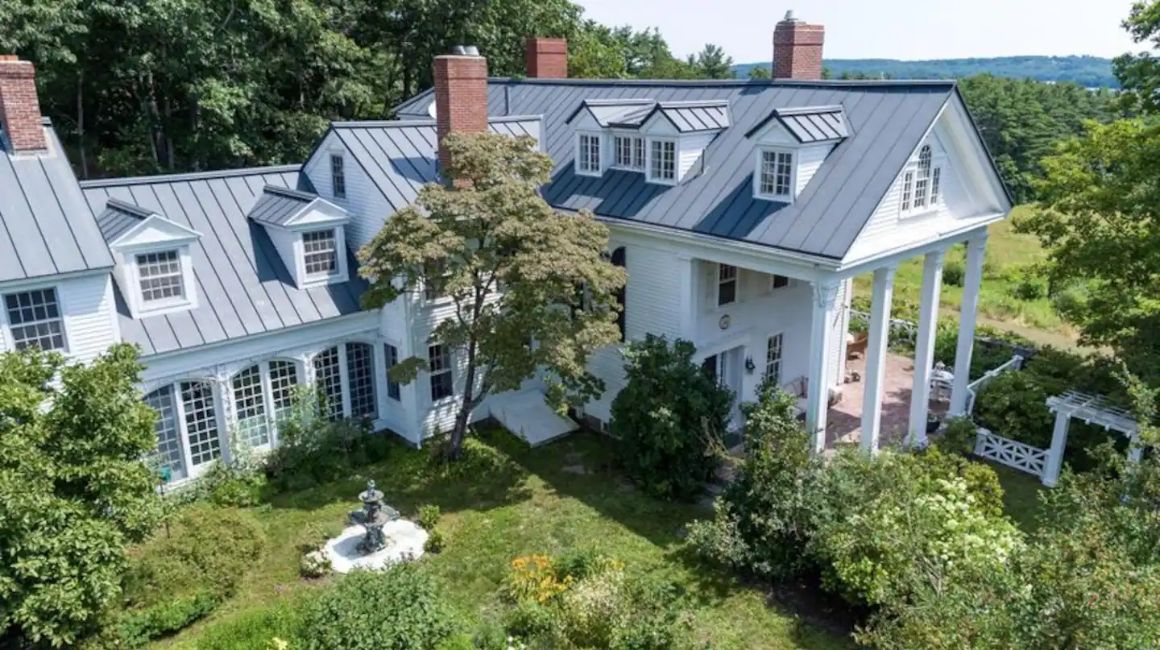 For insane luxury and beauty there is no better Airbnb in Maine than The Wiscasset White House.
On a picturesque riverfront property, this historic home has a wrap around veranda and endless views. The sprawling property has a total of six bedrooms spaced out over three floors, four of which have their own en-suite bathroom.
The kitchen is fit for a gourmet chef and will do well in helping prep an amazing dinner for the whole group.
Cuddle up in front of the fireplace, and enjoy the brilliant surround sound system to play tunes throughout the home.
On 43 acres you will have plenty of room to roam, and the hills are perfect for sledding in the winter.
The Appleton Retreat features this beautiful, and perhaps even the best Airbnb cabin in Maine, Smitten. Encompassed in total privacy and silence, you are able to hear the quiet calls of nature and the rustling of the leaves.
The cabin backs on to protected lands which gives undisturbed nature all around. To the south you will find a fresh stream, and a trail heads north of the cabin to a secluded pond.
Such is the remote location, it is the best for those looking for a real escape and chance to disconnect.
Great during all seasons, why not bring along your hiking boots and cross country skis, and see what else you can find?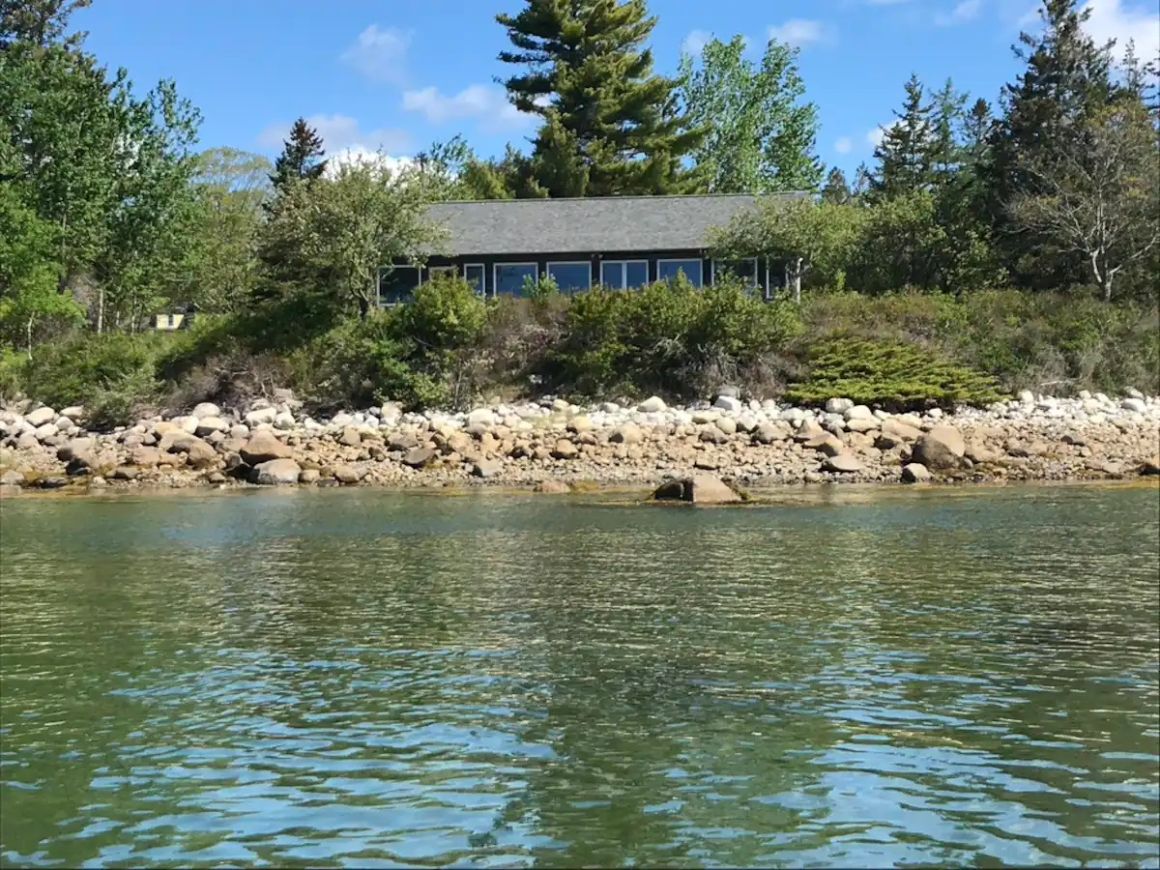 Along the flowing Benjamin River you will find a modern cottage, the best of it's kind on Airbnb in Maine.
The wide windows let the sun flood the living space, and give picturesque views out to the river and beyond. The secluded cottage does what any great cottage should do – slows down life and provides a quiet getaway.
Interestingly, the river empties at low tide giving you a change of scenery twice a day.
The cottage has internal heating keeping the space warm year-round. However if you are visiting during the summer, the nearby towns are bustling with energy, and farmers' markets open up in every small town.
The inspiring design of this modern cabin is an excellent waterfront getaway for a group of family and friends.
Wake each morning to the water lapping the shore, and the coastal breezes flowing through the home. When you aren't hanging out on the porch, explore the town's interesting antique stores and restaurants.
The home is just ten minutes from the main streets of Ellsworth and Blue Hill. Meanwhile, a beautiful 25-mile drive will get you to Acadia National Park and Bar Harbor.
Enjoy private beach access where you can swim every day, and at night, light up the campfire and reflect on the day's adventures.
$$$
Western Maine Mountains
Grab your mates for an awesome adventure to the mountains of Western Maine.
You can relax around a cozy cabin that will feel more like the youthful days of summer camp.
Gather around the fire pit, and fire up the outdoor grill to enjoy dinner under the stars. Later, warm up in the jacuzzi and listen to the sounds of nature.
The cabin is well situated close to numerous outdoor activities. It is just minutes from the Appalachian Trail, nearby to Maine's fourth-largest lake, and has access to Sugerloaf, a premier ski mountain.
Come and unplug at this Airbnb in Maine. Seemingly miles from civilization, you can disconnect and watch the sunset into the water every night.
The home has two fireplaces to cuddle up in front of, including one in the master bedroom.
If you want to bring along a bigger group, the home can accommodate a further four guests with pull-out couches and air mattresses. It is also able to accommodate a baby, or toddler, thanks to high chairs, baby gates, and toys.
Cook dinner on the grill and relax in the hot tub, forgetting about the stresses of the world.
Best Airbnb for a Weekend in Maine | Canoe Shop Barn
As one of the best Airbnbs in Maine, this home is a unique space located close to many adventurous activities. Grab your partner and enjoy a wonderful weekend getaway in a barn!
Upon walking inside, you will quickly feel at home in this 120-year-old converted barn. The bright sunlit living areas and cosy loft have a romantic and rustic vibe that will make your weekend feel special.
At night, dine outside under fairy lights strung between the trees and the barn. Later, you can build a warm fire and nurse a bottle of wine.
For daytime activities you will be close to lakes and hiking on the A.T.
Best Airbnb in Maine for a Group of Friends | Cabin on Pushaw Lake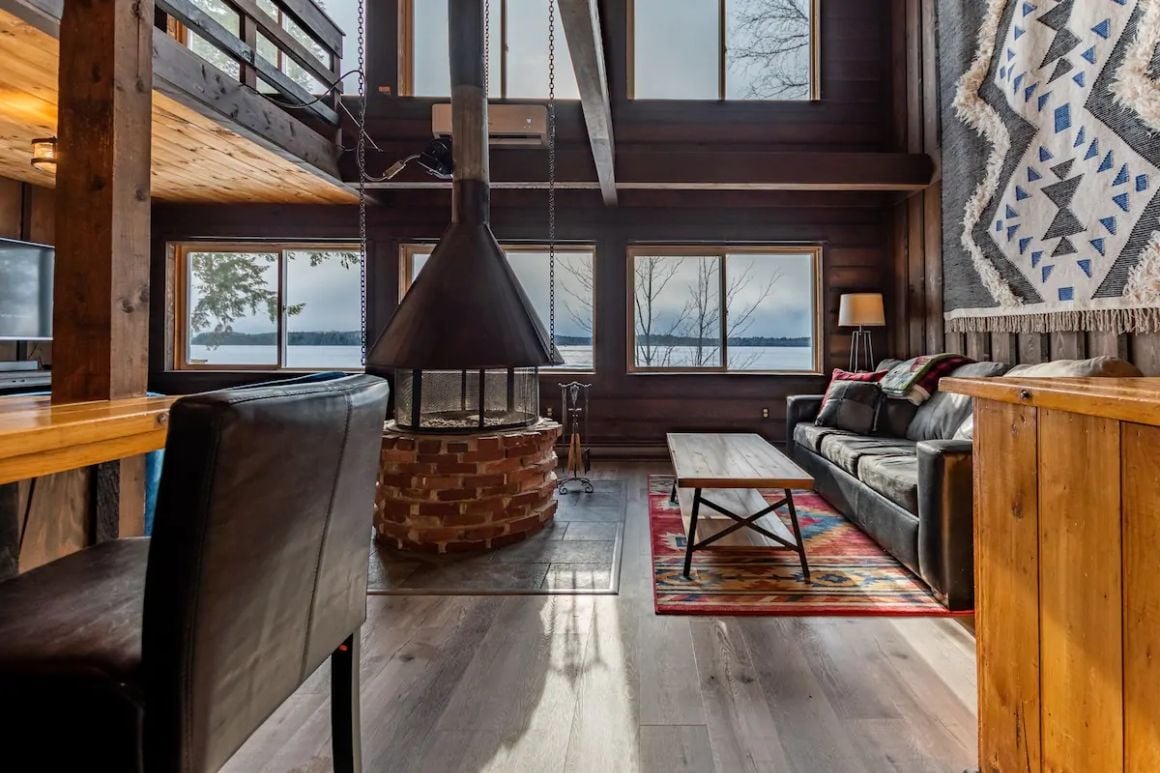 Gather up your friends and head to this spacious Airbnb in Maine. With an open-plan living area, there will be plenty of space for everyone to relax and hang out.
Sit around the center fireplace and catch up, or head outside and enjoy your own personal fire pit right by the water.
Head down to the lake to enjoy boating, swimming, and fishing in the summer, or ice fishing and snowmobiling in the winter.
It's just a small community near the north side of the lake, but you will feel like you have nature all to yourself. Enjoy evening sunsets over the lake before beginning the nightly activities.
Most Beautiful Airbnb in Maine | Modern Lakehouse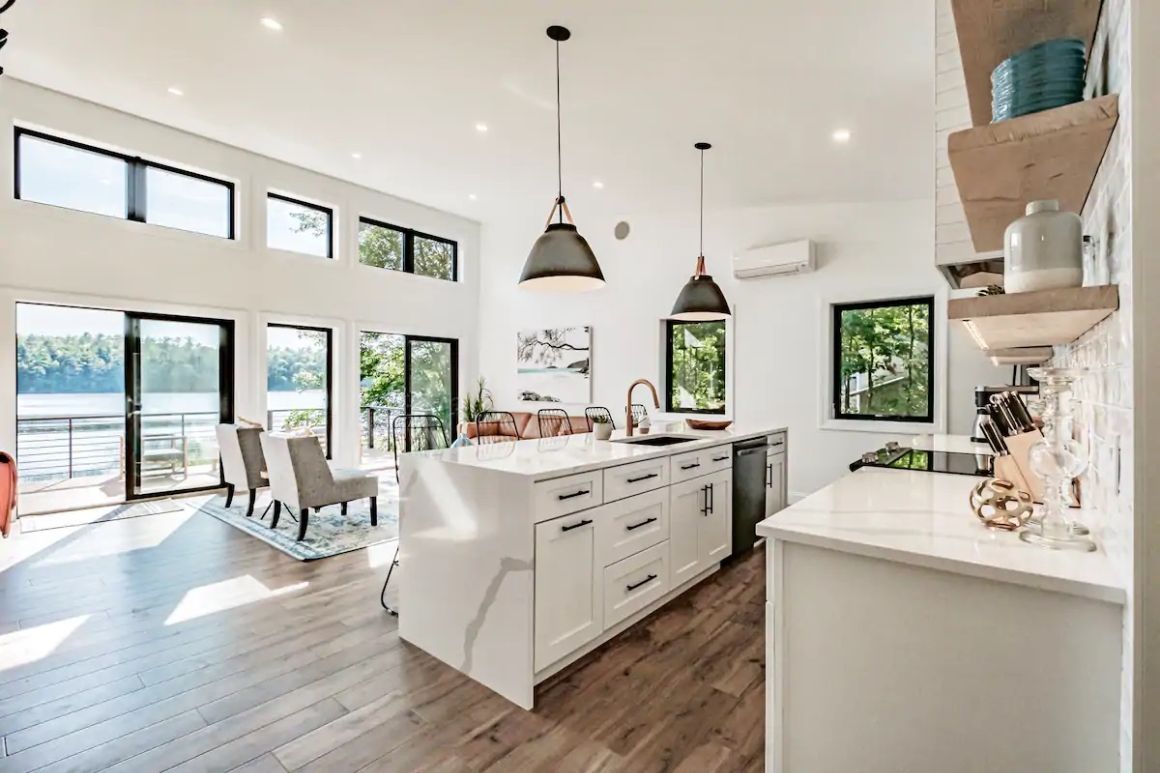 6 Guests
Private water access
Built in 2020, this Airbnb in Maine is incredibly easy on the eyes. As you walk in, the bright interior has a fun beach vibe and provides awesome views of the lake just feet from the porch.
Have plenty of room to move about, with roomy couches and bar stools for drinking cocktails. The chic house design makes every room feel special. Each window floods the space with light so you never lose sight of the beautiful lake.
Kick back on the porch's rocking chairs, or jump in the Jacuzzi. Read a book on the front lawn, or wander down to your own private lakeside beach.
Most Unique Airbnb in Maine | Coyote's Den
Created in the style of an Iroquois Longhouse using bent maple poles, this is the most unique Airbnb in Maine for an unforgettable adventure.
Located off the grid among moss covered woods, the house is completely shut off from the world offering the chance to live rustically in nature.
Heat up the wood stove, your only source of heat, and relax with your loved on in this cozy tiny home. Roam the seven-acre forests along nature trails, passing fairy houses and various art installations. You can pet the goats, fowls, and mini horses on a farm full of misfit animals.
This interesting escape will be sure to live on in your memory.
Top 5 Airbnb Experiences in Maine
When it comes to getting to know a place, you can't go wrong by asking locals for tips and advice. This is what Airbnb Experiences are, but on a much more exciting level.
Tap into the expertise, knowledge, and passion of the people of Maine, and join their many local adventures and activities.
These tours are designed and delivered by locals to grant you an insight not only into your destination's iconic attractions, but also a look into the daily lives of those that call Maine home.
Discover new cuisines and untold histories, explore the mountains, the rivers, and the bays, all with Airbnb Experiences.
Here are our Top 5 for the state of Maine: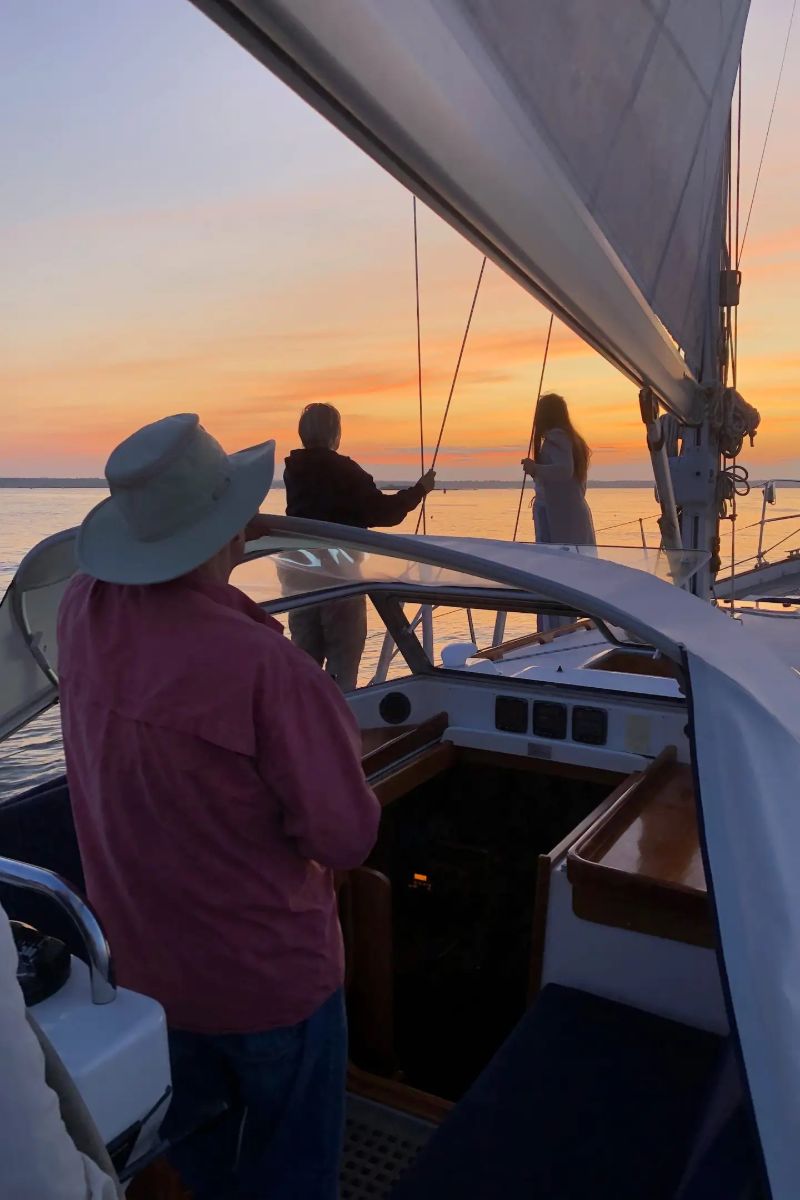 $140 p/p
2 Hours
Up to 10 people
See Wood Island Lighthouse
Sailing on a 42 foot sloop named Mistress, you can head out along the Saco River and into Saco Bay.
Along your journey you will have the chance to see the beautiful Wood Island Lighthouse, The Biddleford Pool and Old Orchard Beach.
Your two certified captains, Abby and Bob, who are both lifelong sailors, will keep an eye out for marine life. You should also keep your eyes peeled as seals, porpoises, and even sharks and whales have been spotted.
Soon it will be time for the highlight of the evening, a wonderful sunset.
$50 p/p
90 Minutes
Up to 6 people
Drinks & transport included
Grab the young tots and kids, and go find Pirate Jack down by Harbor Dock in Belfast City.
Jump onboard a traditional 28ft wood lobster boat called Back and Forth – this iconic boat is the perfect vessel for your family treasure hunt.
Once everyone has their own pirate hat you will get under way and head out into the bay!
This is when the excitement begins as you only have one and a half hours to find the treasure before it is lost at the bottom of the sea, forever.
Using a treasure map, find the clues to help discover the treasure chest before it's too late!
$130 p/p
7 Hours
Up to 6 people
Equipment included
Grab a paddle and your kayak and head down to the east end of Eggemoggin Reach for an amazing day paddling the Brooklin Islands.
The string of islands is preserved by the Maine Coast Heritage Trust, and contains incredible glacial boulders.
On one of the islands, you will ditch the paddle for a quick hike through spruce meadows. Later, have lunch at a gorgeous waterside location where you can enjoy the scenery at your own pace.
This tour is great for people of all skill levels. The islands are not far apart, so even beginners can enjoy a relaxing kayak experience.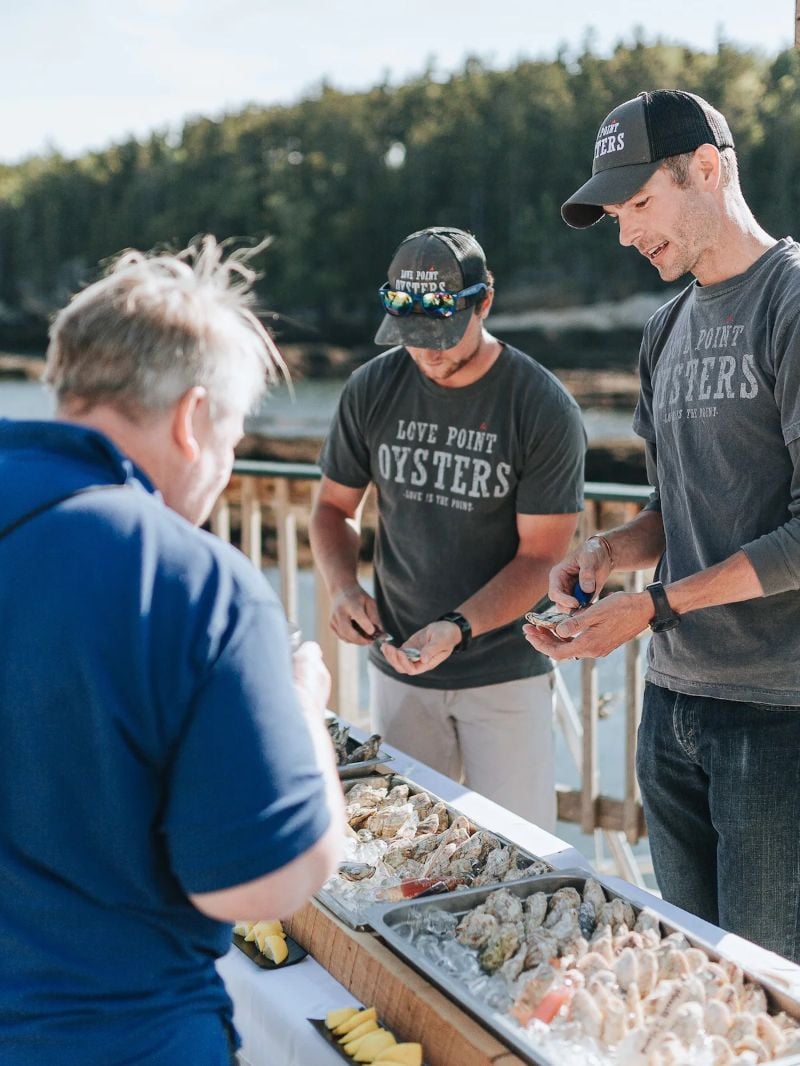 $99 p/p
90 minutes
Up to 6 people
Includes food and drinks
At the Belfast City Harbor Dock, your captain will be waiting to take you on a leisurely trip around Maine's Mid-Coast.
Sit back in the Captain's chair, tour around the harbor, and learn all there is to know about the town of Belfast.
Soon after, you will arrive at Young's lobster pound and the captain will lead the way to one of Maine's most famous lobster pounds.
Grab your lobster rolls and head further out to sea. Now you can chow down your delicious lunch and enjoy the scenery.
$65 p/p
2.5 Hours
Up to 10 people
Glow bikes
Tour Peaks Island in Portland on the back of glow-in-the-dark bikes. Meet your friendly guide at Casco Bay ferry terminal and cruise over to Peaks Island where you can jump on your LED glow bike, and ride around the island lighting up the scenery.
Make you way down to Battery Steele, an underground gun battery built in World War II. Your guide specializes in historical tours and will no doubt have plenty of historical stories to tell.
On the return ride, stop for ice cream or a beer with your fellow riders and reflect on the adventure.
Don't Forget Your Maine Travel Insurance
ALWAYS sort out your backpacker insurance before your trip. There's plenty to choose from in that department, but a good place to start is Safety Wing.
They offer month-to-month payments, no lock-in contracts, and require absolutely no itineraries: that's the exact kind of insurance long-term travellers and digital nomads need.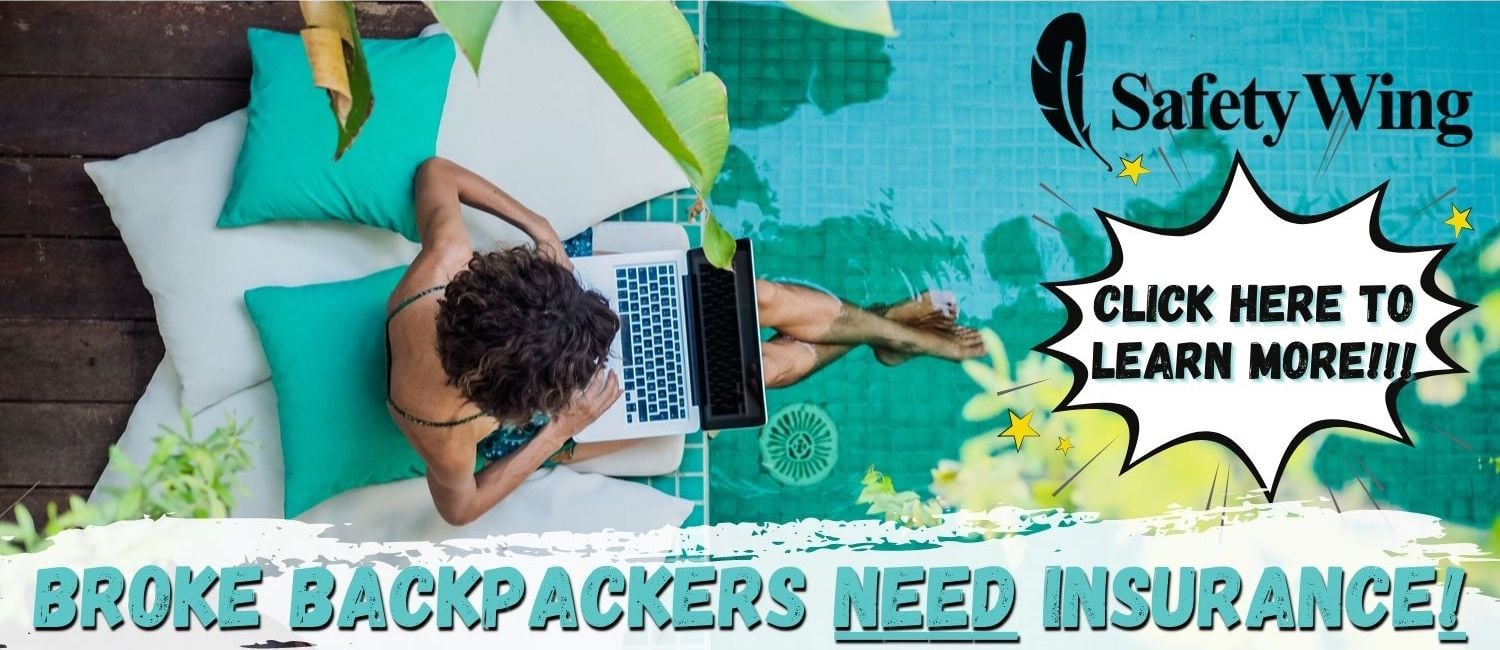 SafetyWing is cheap, easy, and admin-free: just sign up lickety-split so you can get back to it!
Click the button below to learn more about SafetyWing's setup or read our insider review for the full tasty scoop.
Final Thoughts on Maine Airbnbs
Well, there you have it, the best Airbnbs in Maine. For those excited to get out and discover this state, staying at a local cabin, cottage, or beach house is one of the best ways to do it.
Enjoy a day full of adventure, on land or on the water. At night, cook up a feast and eat under the stars, or venture down to one of Maine's many small towns and try the local eats.
Staying at an Airbnb in Maine will put you close to all these activities while giving you a greater insight into the beauty of the Pine Tree State.
Before your adventure to Maine, consider grabbing yourself some travel insurance.
---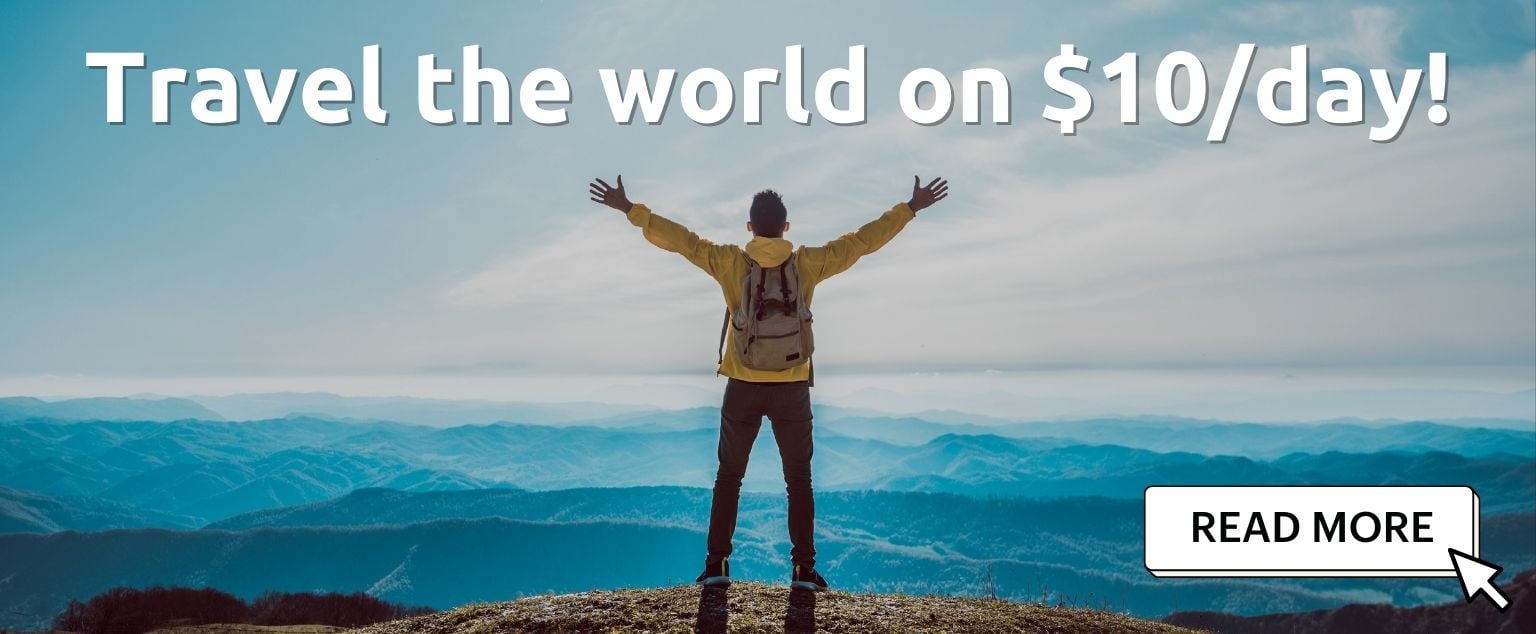 And for transparency's sake, please know that some of the links in our content are affiliate links. That means that if you book your accommodation, buy your gear, or sort your insurance through our link, we earn a small commission (at no extra cost to you). That said, we only link to the gear we trust and never recommend services we don't believe are up to scratch. Again, thank you!