Sitting on the banks of the river of the same name, Ottawa is the very underrated capital city of Canada. It's a buzzing, cosmopolitan city home to one million people, some fine museums, a cool, creative nightlife scene and some tasty food!
You know what's not the most fun thing to do in Ottawa? Figure out where to stay. Given the immense size of this city, it can be quite overwhelming to figure out where to stay. Go ahead and set your worries aside, because we here at the Broke Backpacker are here to save the day! We have created this list of the best Airbnbs in Ottawa just for you…
Let's not waste any more time. We are sure that you are hungry to know more about the best of the best in Ottawa Airbnb accommodations. Let's get to it!
Quick Answer: These are the Top 5 Airbnbs in Ottawa
OVERALL BEST VALUE AIRBNB IN OTTAWA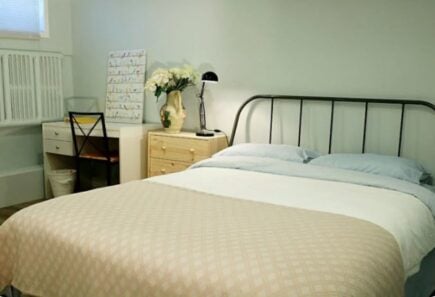 OVERALL BEST VALUE AIRBNB IN OTTAWA
Chic Studio Close to Downtown
> $
> 2 guests
> Fully Equipped Kitchen
> Excellent Location
BEST HOMESTAY IN OTTAWA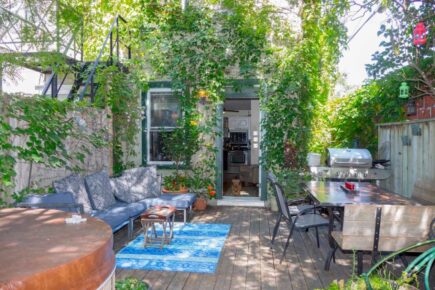 BEST HOMESTAY IN OTTAWA
Cute Home away from Home
> $$
> 1 guest
> Free meals for longterm guests
> Cuddles from the family dog
BEST AIRBNB FOR COUPLES IN OTTAWA
BEST AIRBNB FOR COUPLES IN OTTAWA
Sweet Home Away From Home Apt.
> $$
> 2 guests
> Free snacks, tea & coffee
> Free snacks, tea & coffee
BEST AIRBNB FOR FAMILIES IN OTTAWA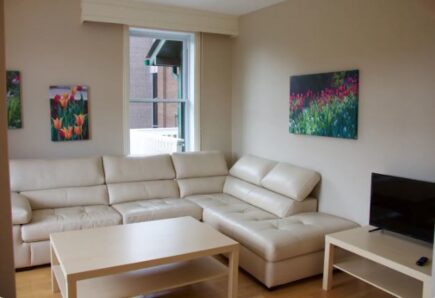 BEST AIRBNB FOR FAMILIES IN OTTAWA
Spectacular & Spacious Historic Apt.
> $$$
> 6 guests
> Baby & Toddler Essentials
> Hear Notre-Dame's Bells from Home
BEST LUXURY AIRBNB IN OTTAWA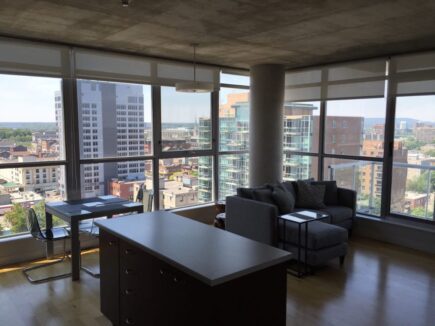 BEST LUXURY AIRBNB IN OTTAWA
Condo in the Heart of Byward Market
> $$$$
> 5 Guests
> Private Gym & Game Room
> Private BBQ & outdoor tanning area

Unlock Our GREATEST Travel Secrets!
Sign up for our newsletter and get the best travel tips delivered right to your inbox.
Why Stay in an Airbnb?
Local Experience: Whether your host is a private owner or a business, they'll be able to give you the top tips on the best places to visit in Ottawa. That doesn't just go for this city, but for anywhere in Canada.
Unique Properties: In a place chock full of unique vacation rentals, why on earth would you want to stay in a drab and dull hotel?!
Privacy: Cabins, chalets, and treehouses mean you and your companion(s) can get the break you need without anyone else interfering.
Affordability: When it comes to value for money, Airbnbs offer so much more than hotels at the same price. Perfect for those that are backpacking Canada on a budget.
Airbnb Experiences: Airbnb isn't just about great places to stay; it also offers incredible local experiences. We'll show you some of our favourites in a bit.
The 15 Top Airbnbs in Ottawa
We won't make you wait any longer – here are our absolute favorite Airbnbs in Ottawa. Once you figure out where you want to stay, head over to our insider Ottawa itinerary, to find out about the hidden gems and hotspots of the city!
2 Guests
Excellent Location
This one-bedroom and one-bathroom Ottawa apartment is the best value Airbnb in Ottawa. It is totally chic and exhibits great attention to detail. Both warm and cozy, this apartment is very close to the University of Ottawa, as well as the Downtown scene. You can step out of your door and be amongst the students, soaking up the vibe!
There are tons of restaurants, shops, and cafes close to this Ottawa apartment. Make sure to note that even though it is a basement unit, there is a window where sunlight streams through in the daytime. Given the price and location, it's hard to find a cheaper short term rental in Ottawa to stay that still has this level of privacy and cute chic vibes!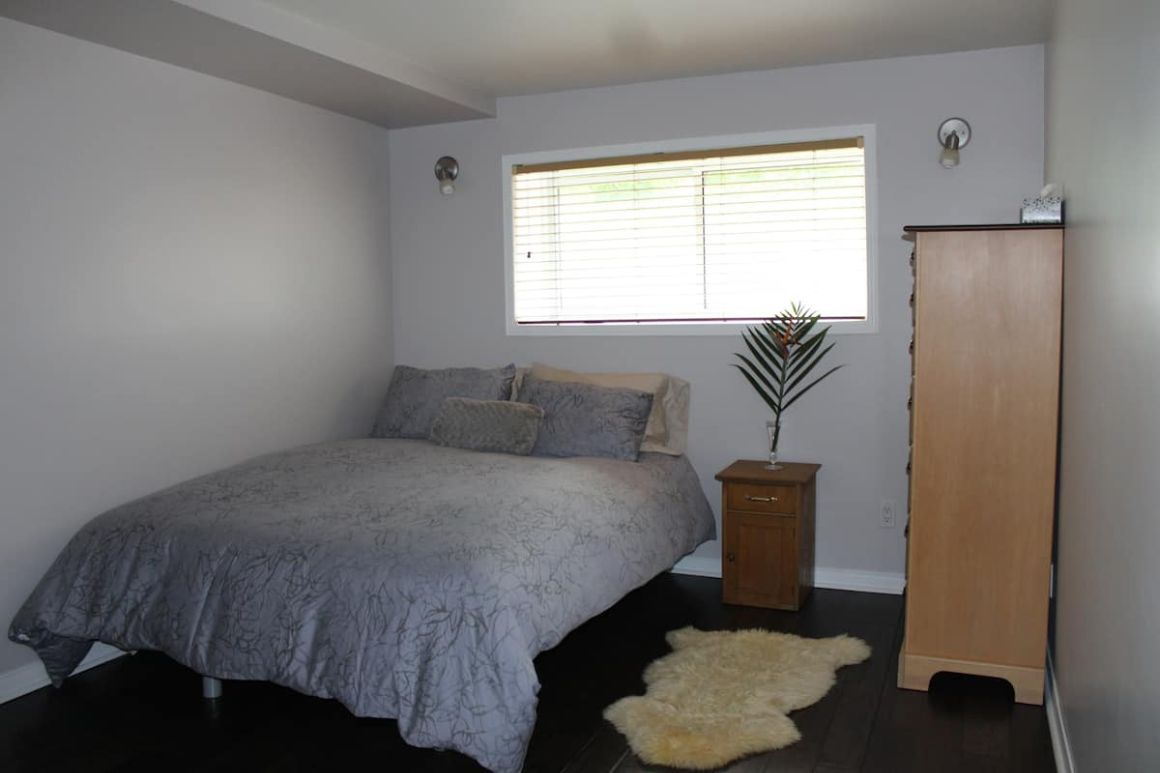 You might not have the best views, but you'll be located in the heart of the city if you're staying at this Airbnb. The basement studio has a floor window, so you won't be sitting in the dark all day. It's fully equipped with your own kitchen, a comfy bed and there's also free parking on-premises. It's one of the most affordable homes in Ottawa, so it's perfect for money-conscious backpackers or solo travellers. There's also a little table which is ideal for doing some work on your laptop.
$$
Multiple places to work
2 Guest
Incredible location
Having a comfy space to work is rare in most Airbnbs. Not at this one though! This stunning condo couldn't be any better for Digital Nomads. You'll be located a bit further from the centre of the city, but still within walking distance to all attractions. The condo is brand new and offers a great working desk right by the window. If you need a break, just go for a walk around the river or chill on your comfy sofa while watching your favorite series on the Flat Screen TV. The unit comes with free parking, and guests get access to the building's amenities, such as a gym and a rooftop patio.
Is This the Best Backpack EVER???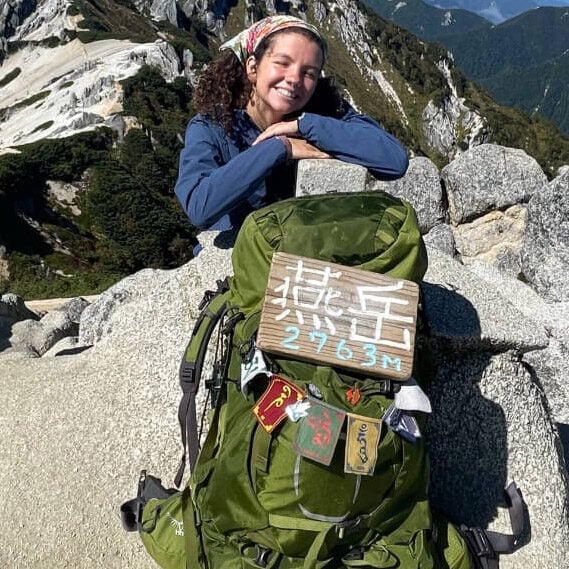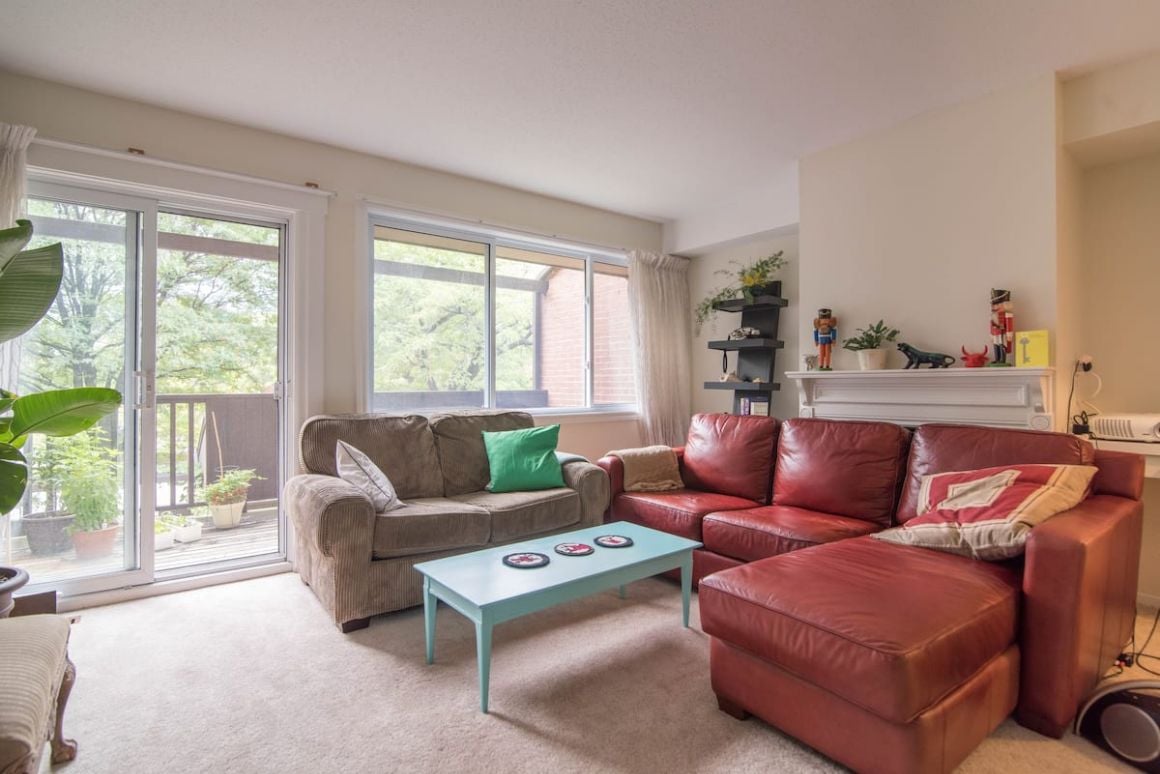 $$
Busy neighborhood but quiet home
2 Guests
Super kind and helpful host
This Private Room in a shared house is the perfect spot for solo travellers that want to explore the city like a local. You'll have a super bright and spacious room to yourself, while the rest of the house is shared with the host. Guests are welcome to use the fully equipped kitchen and to help themselves with complimentary coffee and tea. Moreover, guests are invited to relax in the living room and terrace — treating this Ottawa Airbnb like a home away from home. Lastly, it's worth noting that this is a very spacious apartment, with plenty of room to breathe, and is also full of character.
2 Guests
Smart TV with free Netflix access
This studio apartment in Ottawa is one bedroom and one-bathroom rental. There is a sofa bed for those who are traveling with a party of three. Speaking of party, this Ottawa Airbnb puts you right where the party is at! Byward Market! This area is known for having the best bars in Ottawa, all of which are crammed in a few city blocks. We love the abundance of bars from the zany and quirky Avant-Garde Bar to the lively Scottish Highlander Pub to the legendary Chateau Lafayette (The Laff).
When staying at this Ottawa Airbnb expect to take advantage of the incredible scene in Byward Market. You can pre-load in your apartment, hit the bars and then walk home!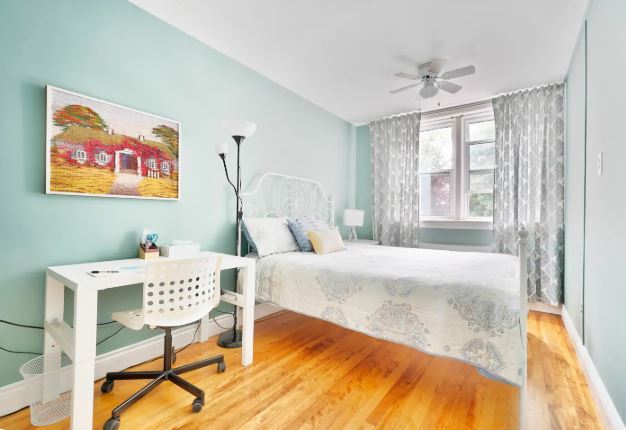 2 Guests
Free snacks, tea & coffee
This Ottawa apartment rental is a dream come true! It is a one-bedroom and one-bathroom Airbnb in Ottawa that is perfect for a romantic getaway. This short-term rental is close to a bevy of restaurants, parks, shopping centers, and bars, near Lower Town Ottawa. Situated on a quiet street, this safe neighborhood puts you at only a 10-minute walk to downtown. Guests will have access to everything in the apartment, including a fully-equipped kitchen stocked with coffee, tea, and snacks for their guests to help themselves too.
There is also free parking and high-speed internet. Given the vibes and the unique charm of this rental, you and your significant other will feel right at home in this short term rental in Ottawa.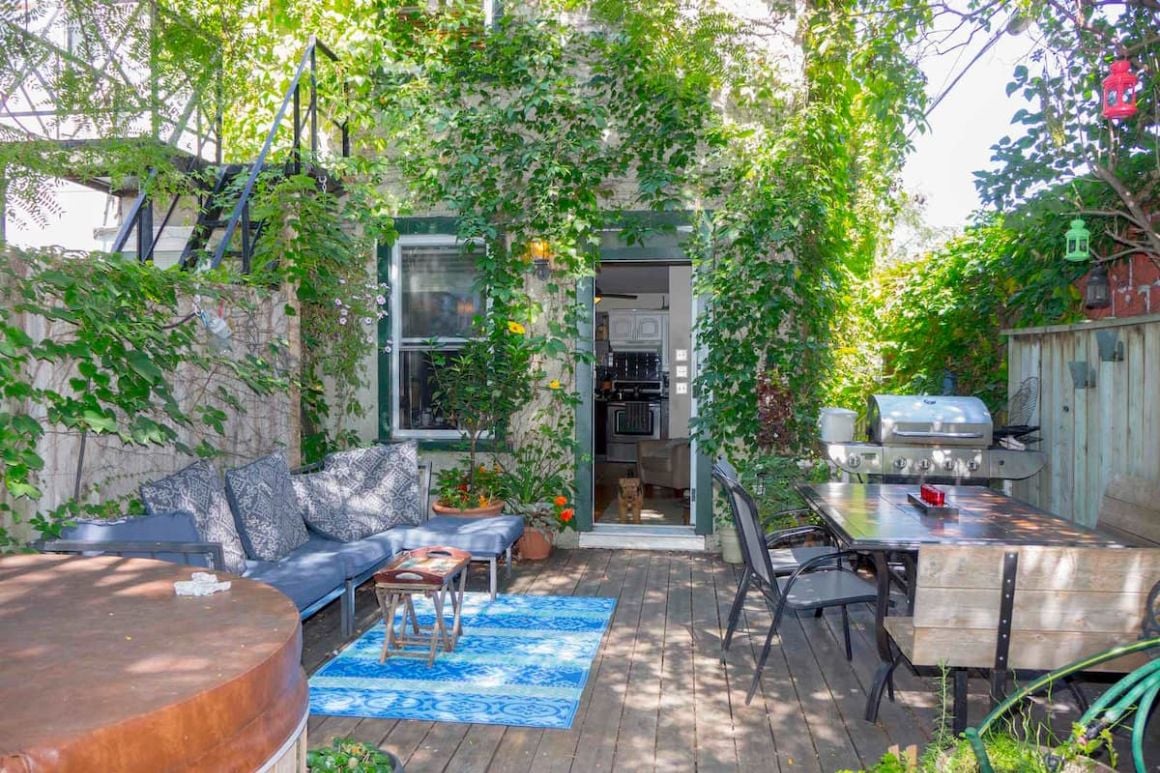 $$
Free meals for long-term guests
1 Guest
Cuddles from the family dog
This cute homestay will make you feel like you're at home from the second you step through the door. The lovely renovated heritage home is located in the quiet residential area of the Byward Market, in walking distance to outdoor vendors, museums, the Rideau Canal and the Parliament Buildings. You'll have a cozy room to yourself, but all common areas are shared with the hosts. Speaking of, they are known to be incredibly kind and helpful, so if you need any recommendations or advice on what to do, just reach out to them – they'll take good care of you!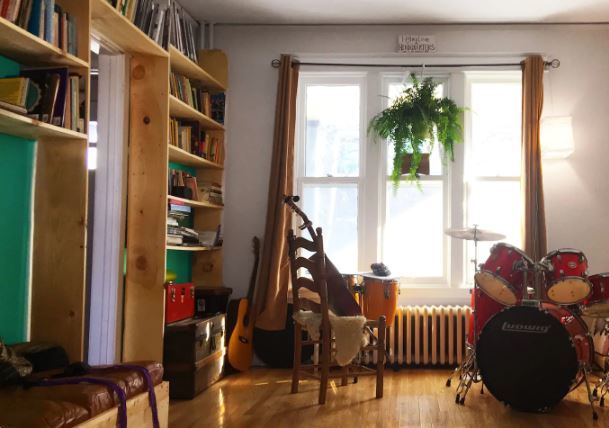 $$
Eclectic Vibes w/ Artistic Taste
2 Guests
Front Porch & Back Porch Access
This Lowertown Ottawa Airbnb rental is for a private room in a house, a one-bedroom with a shared bathroom. It's a bright, clean room, filled with lots of artistic touches. From the funky accent pillows to the Aztec shawl tacked to the wall as decor to the golden "om" sign adorning the bed frame.
This artsy Ottawa homestay puts you close to all the best things, and everything is quite walkable. There is actually a 24-hour convenience store right on the corner of the street, should you forget any necessities. Also, the main bus line passes directly by this short term rental, and there are many bike packs should you wish to explore Ottawa on wheels! Additionally, you will not only have access to just your bedroom and bathroom, but you are also able to use the kitchen, front porch, back porch, dining room, and living room which happily functions as both the movie theatre and the yoga room!
$$$
Free Underground Parking
4 Guests
Pool, Hot Tub & Gym
This luxurious two-bedroom and two-bathroom Ottawa apartment is located in the very center of Ottawa. It's a modern apartment with the most bright, crisp, and clean kitchen. The art that adorns the walls exhibits incredible taste and adds a layer of polish to this elegant Ottawa Airbnb. The entire apartment is immaculate.
There is a grocery store and a wine shop very close by, which makes errand running as easy as pie! The city view from the living room balcony is unparalleled. Guests will have access to the gym, sauna, indoor swimming pool, and a sunbathing outdoor terrace. This modern short term rental in Ottawa will make you feel so pampered, you might never way to leave (but please do. The terms of our partnership don't allow us to condone Air B n B squatting).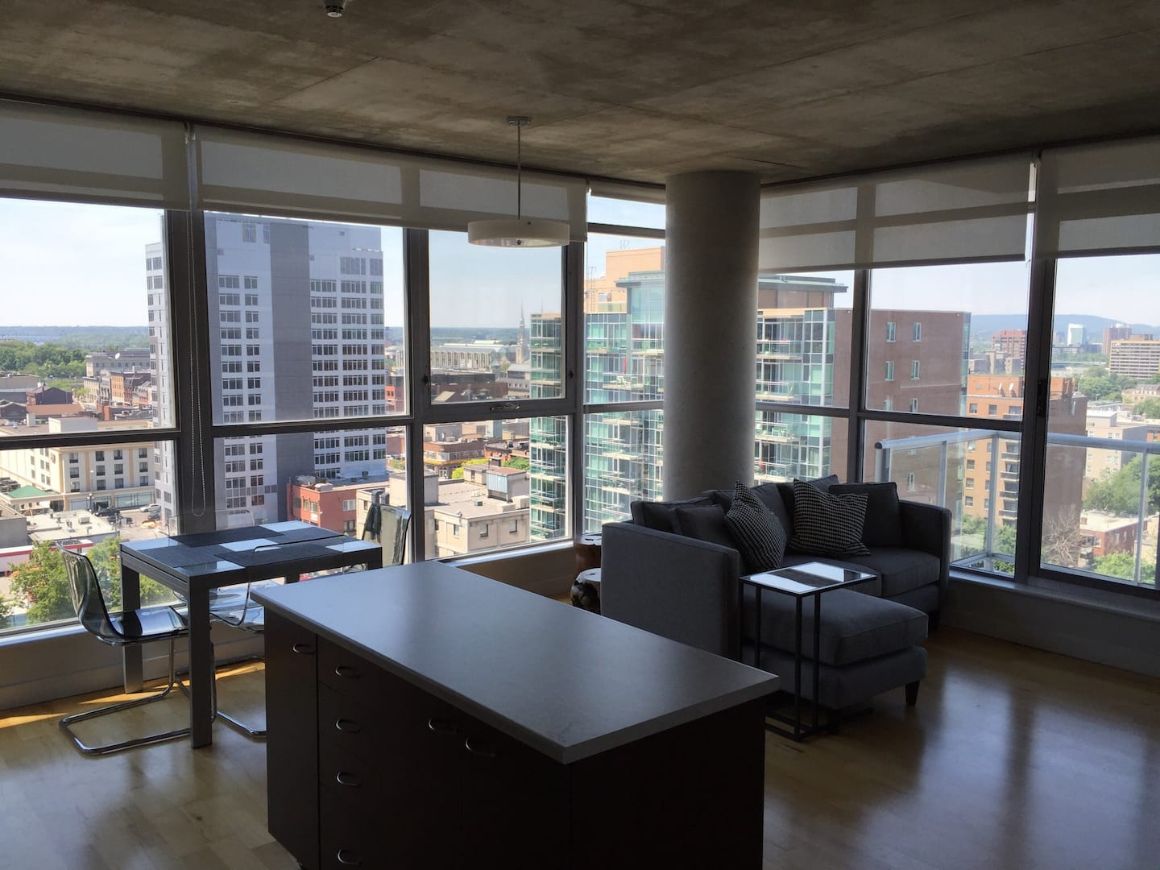 $$$$
Private BBQ & outdoor tanning area
5 Guests
Private Gym & Game Room
This two-bedroom luxurious condo is right in the heart of Byward Market. It is a stunning condo that is within walking distance of all the main tourist attractions. Inside this modern Ottawa Airbnb, you will find a personal and private gym area, as well as a game room complete with a billiards table and foosball table. Outside on the balcony, there is a private BBQ and outdoor tanning area, just for you and your friends!
Keep in mind that all the aforementioned amenities are completely private and inside the condo itself! Inside this Ottawa apartment, there truly is all the bells and whistles that goes above and beyond! Our favorite part of this rental is the views of the parliament building right from your balcony and the floor to ceiling windows.
$$$
Hear Notre-Dame's Bells from Home
6 Guests
Baby & Toddler Essentials
This three-bedroom and one-bathroom apartment is perfect for your family's next trip. Located next to Byward Market, this historic Ottawa apartment sits on a quiet street with plentiful off-street parking. Both large and bright, this apartment is also kindly equipped with Netflix preprogrammed on the TV and milk in the fridge!
This short term rental is very near the Notre-Dame Basilica, and you can enjoy hearing the bells toll. For those travelling with young ones, the host has thoughtfully provided a crib, high chair, and Pack n' play travel crib for guest usage. Stair gates are also available, which is an excellent safety feature. Check-in has been made easy with a door code, so check-in is truly a breeze! It's definitely one of the best Airbnbs to stay in Ottawa with the family in tow!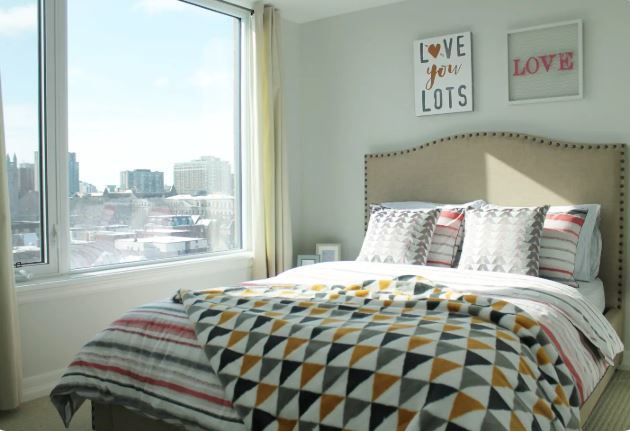 $$$
55? 4K Smart TV w/ Netflix
6 Guests
State of the Art Gym
Ever wanted to feel like an executive and live in a Penthouse? Well, now you can.
This gorgeous penthouse short term rental in Ottawa is right in the heart of downtown. It's a two-bedroom and one bathroom rental that has a third sofa bed available in the living room. And yes, oh yes, this Airbnb in Ottawa is a penthouse suite— right on the top floor of a huge building! Inside you will find a 55′ 4K Smart TV preprogrammed with Netflix, fast 75mb/s wifi, and Egyptian cotton bedding.
You and your friends/mistress will feel like kings and queens in this incredible penthouse suite! There is also one free underground parking space for those who are traveling with cars.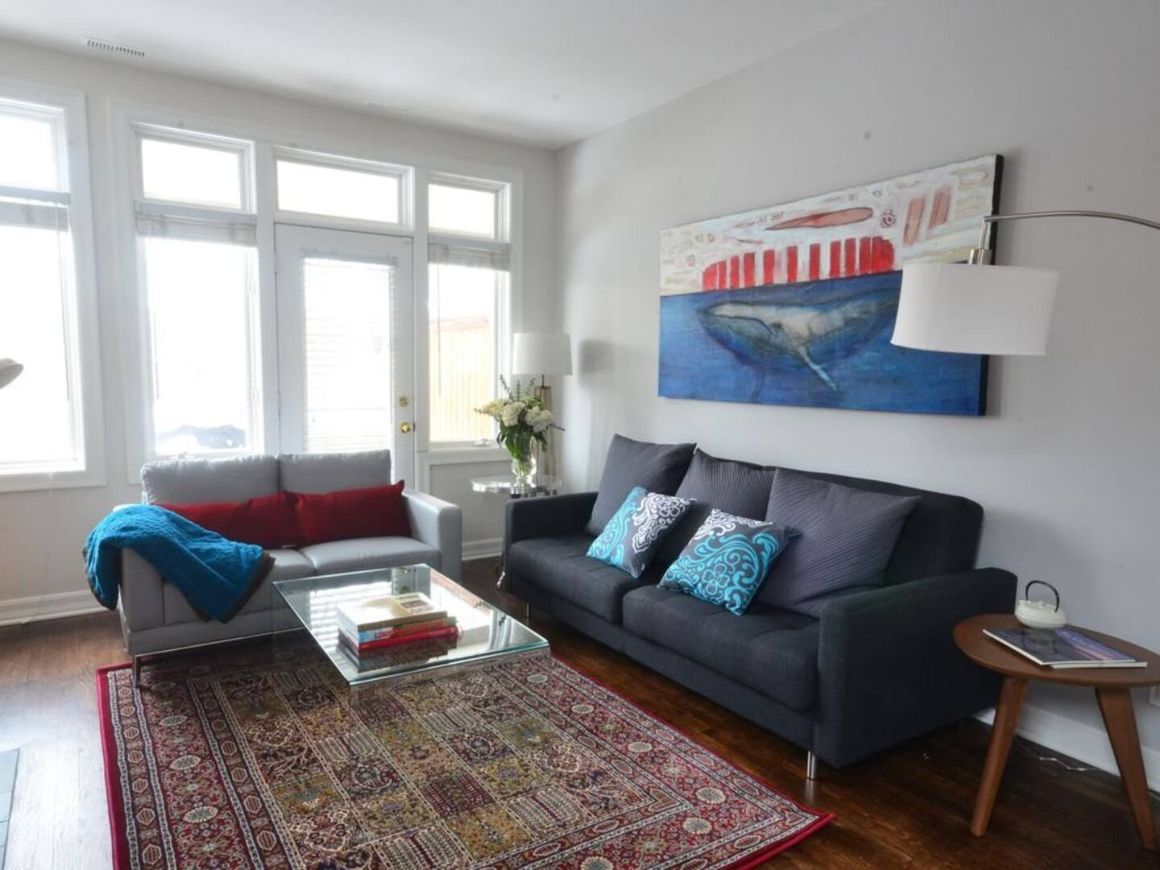 This is our top entire place to stay in Glebe, complete with one bedroom and one bathroom. This short-term rental was recently renovated and has a brand-spanking-new kitchen, bathroom, and living room. Located in one of the hippest areas, you'll love the quirky neighborhood and easy walking distance to lots of hidden gems and cool attractions. There are two bedrooms. meaning you can even bring some friends along. It's not the cheapest of all Airbnbs, but you definitely get quite a bit of value for your money.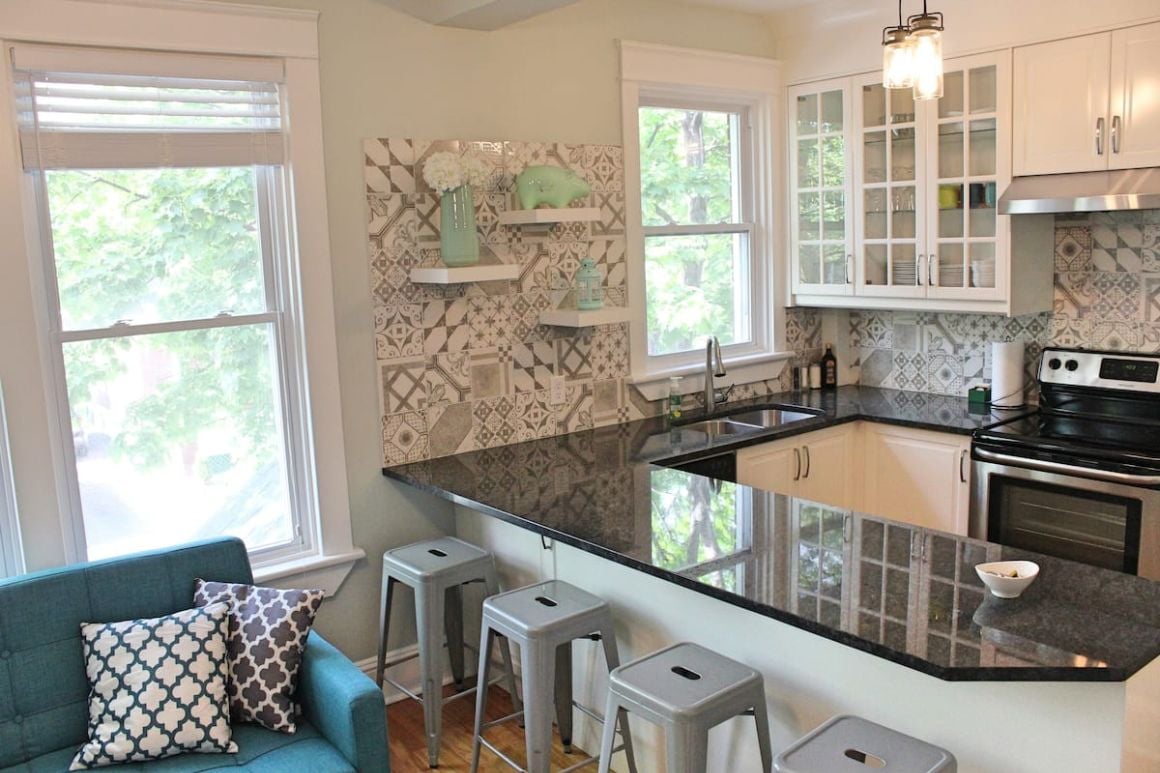 If you're travelling with a group of friends or your family, you'll love this spacious apartment. The three bedrooms sleep up to 6 people at a time. There's a great living room to socialize and watch TV, while everyone still has enough space to enjoy some privacy if they need some time alone. The neighborhood couldn't be any better – you're a short 2-minute walk from Lansdowne Park & TD Place in the heart of the hip and historic Glebe. If you're travelling in your car, you'll be pleased to know that there's a free parking spot included in the rental as well.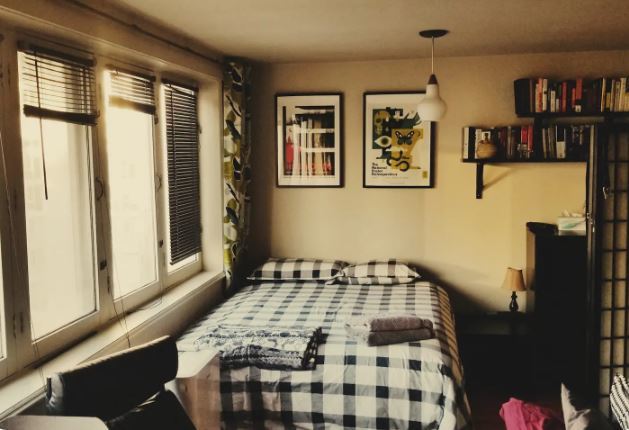 This studio Ottawa apartment located in the heart of Downtown Ottawa also called Gatineau. It is close to all the capital's most popular tourist sites. It is a one-bedroom and one bathroom apartment, however, there is a spacious sofa bed available which means hosting four guests is a breeze. Expect abundant sunshine to flow throughout this Ottawa apartment through all the windows. The roof-top patio is a dream with dazzling south-facing views of the city below. It is also worth mentioning that there is a record player for those who love the sound of record tunes. Swoon and croon on, my friends!
What to Pack for your Ottawa Airbnb
Pants, socks, underwear, soap?! Take it from us, packing for a hostel stay is not always quite as straightforward as it seems. Working out what to bring and what to leave at home is an art we have perfected over many years.
Check out our definitive Airbnb Packing list for our top packing tips!
FAQ about Airbnbs in Ottawa
Here's what people usually ask us when they look for vacation homes in Ottawa.
Don't Forget Your Ottawa Travel Insurance
ALWAYS sort out your backpacker insurance before your trip. There's plenty to choose from in that department, but a good place to start is Safety Wing.
They offer month-to-month payments, no lock-in contracts, and require absolutely no itineraries: that's the exact kind of insurance long-term travellers and digital nomads need.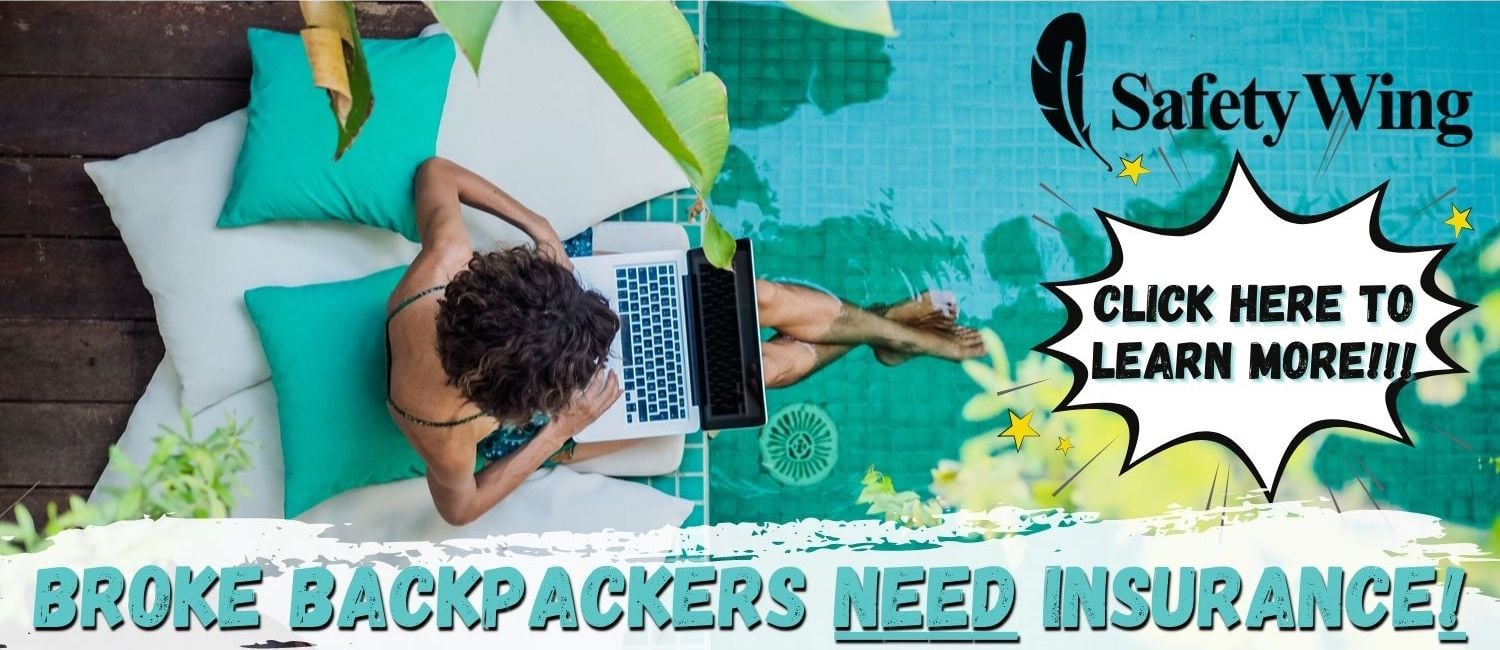 SafetyWing is cheap, easy, and admin-free: just sign up lickety-split so you can get back to it!
Click the button below to learn more about SafetyWing's setup or read our insider review for the full tasty scoop.
Final Thoughts on Ottawa Airbnbs
As the capital city of Canada, Ottawa packs a punch! It's full of incredible things to do and see, and is also charmingly underrated. That means that these Airbnbs in Ottawa don't cost a pretty penny. Stay in comfort and ease, as well as in luxury and style, in our top 15 rentals in Ottawa.
Whether you choose a homestay or a penthouse apartment in Ottawa, either way you're sure to love the charm and the low prices. If you have stayed at a killer Ottawa Airbnb let us know in the comments below— we'd love to hear from you!
If you are heading off to Ottawa, you might want to consider travel insurance. While you're likely not skydiving or swimming with sharks in Ottawa, anything can happen. Get covered and stay covered with World Nomads Travel Insurance
---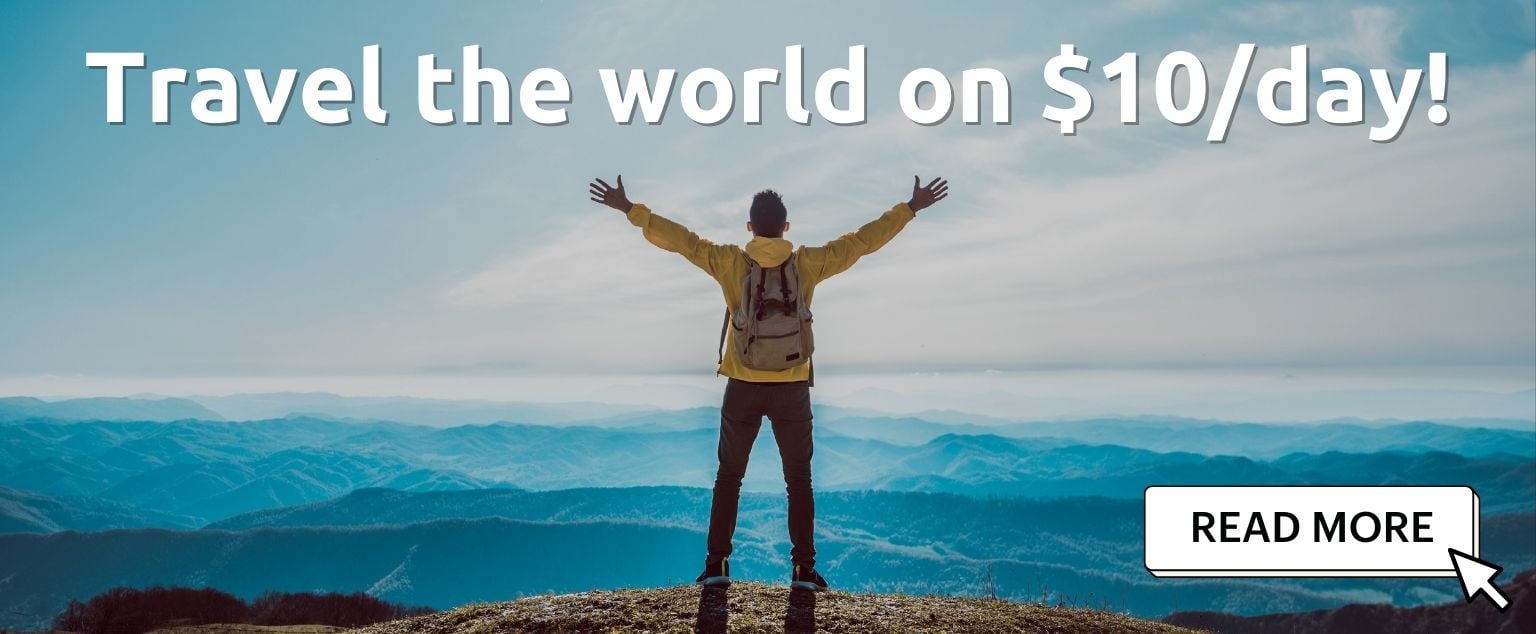 And for transparency's sake, please know that some of the links in our content are affiliate links. That means that if you book your accommodation, buy your gear, or sort your insurance through our link, we earn a small commission (at no extra cost to you). That said, we only link to the gear we trust and never recommend services we don't believe are up to scratch. Again, thank you!