Travelling to Italy? The north and centre of the country are packed with incredible cities to visit. Rome, Florence, Venice, and Milan are all easy to travel between and have lots to see. When you get to the south, you may think it's tricky to navigate beyond Naples – but you'd be wrong!
Puglia, on the heel of Italy's boot, is one of the most beautiful and underrated regions in the country, boasting miles of gorgeous beaches, historical monuments, and incredible food. And the best place to base yourself in is the regional capital, Bari.
Famous for a fantastic seafood and streetfood scene and the romantic old town, it's also where you'll find the bones of St Nicholas (yep, that's Santa Claus).
While you might already be starting to pack your bag, hold on just one second; first, you'll need to find somewhere to stay. While Bari has some great hotels and quirky Airbnbs, these can put a big hole in your budget.
Instead, consider staying in one of the best hostels in Bari. They're great places to keep your costs down and meet other travellers. To find the perfect place for you, we've put together this handy list of Bari's best hostels.
So, let's check them out!
Quick Answer : Best Hostels in Bari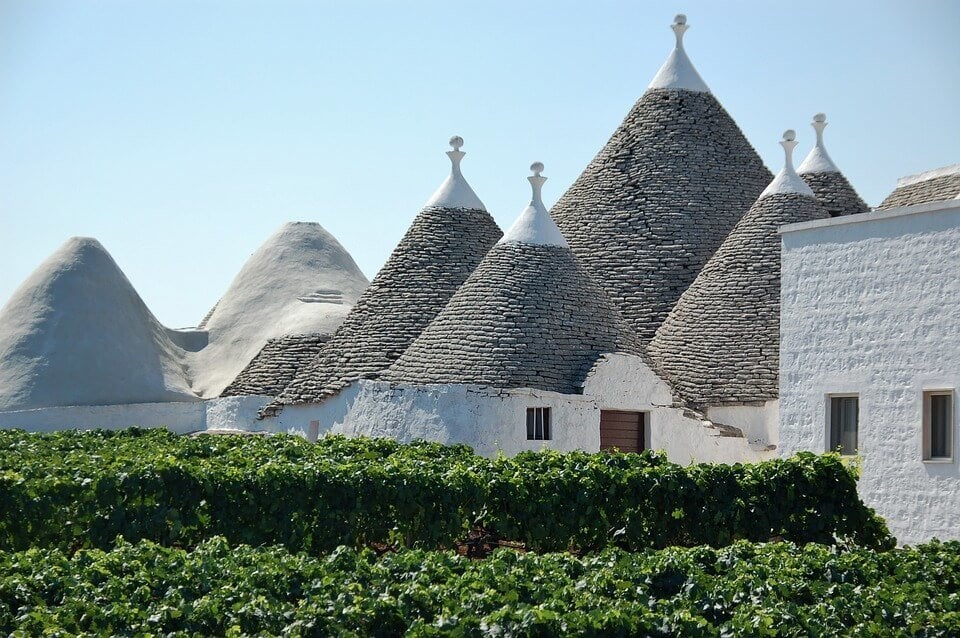 Best Hostels in Bari
When you get to Bari, you're going to want to throw yourself into local culture straight from the go. With some of the cutest hostels in Italy, you'll love your home as much as the region itself. But let's take care of finding your Bari hostel first.
It might not be the most famous location for backpackers in Italy, but you'll be surprised by how much Bari has to offer. The following ten budget accommodations fit a wide range of travel styles – including yours!
Overall Best Hostel in Bari – Olive Tree
$$
Free breakfast
Great location
Roof Terrace
Kicking off our list of the best hostels in Bari is Olive Tree. In 2014, this was rated as the 7th best hostel in Europe by Hostelworld visitors, so you don't just have to take our word that it's a great place to stay. If you're nervous about finding your way around Puglia and Basilicata (it can be quite tricky if you don't speak Italian), don't be! The hostel offers organised tours to Polignano a Mare, the city of Matera (once known as the shame of Italy), and Alberobello's famous trulli houses. When you get back, chill out on the roof terrace and soak up the good life!
Best Hostel for Solo Travellers in Bari – Host Bari Centrale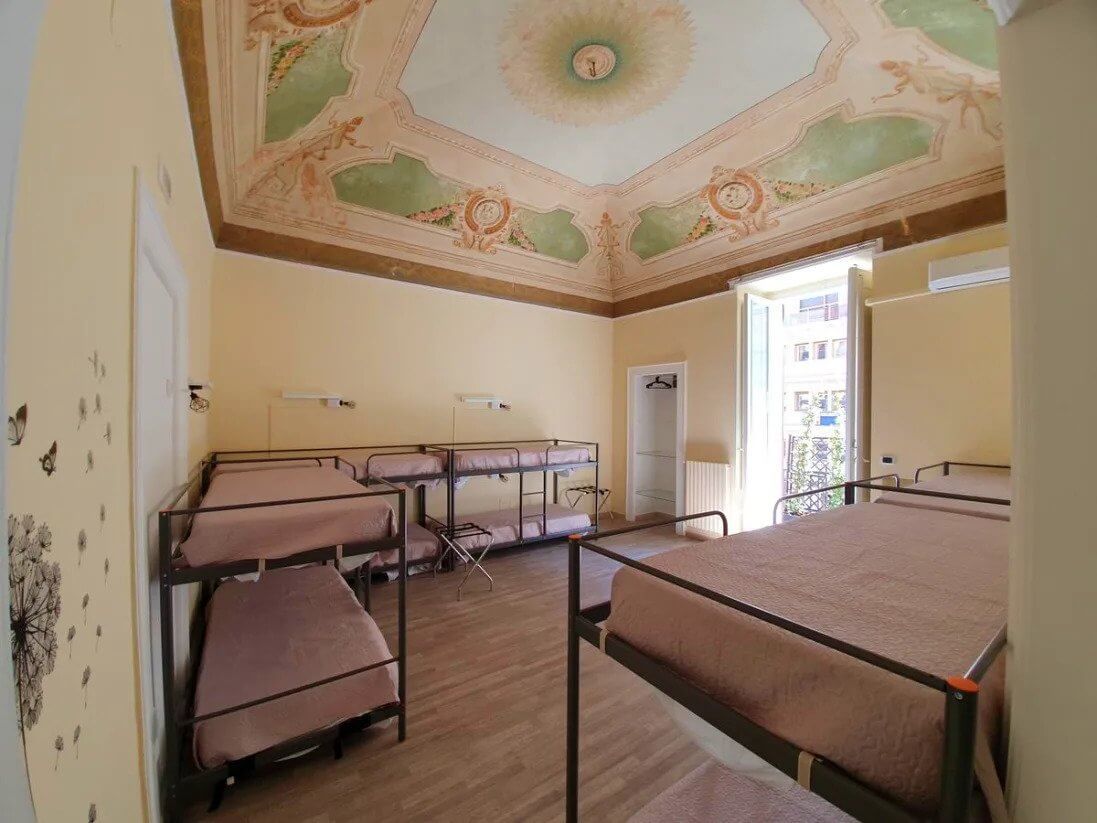 $$
Shared Lounge
Private parking
Central location
Just look at the beautiful high ceilings in this place! If you've got a keen eye for interior design, you're going to love this hostel. However, that's not all it's suitable for. Located close to the city's train station, it's perfect if you're looking to make some day trips under your own steam. If you're staying closer to home, it's not bad either. All rooms come with a seating area, but there's also a shared lounge. Whichever of those you choose, it's not hard to strike up a conversation with fellow travellers and perhaps even finding a travel buddy to explore the city with!
$
Awesome location
Multilingual staff
Outdoor Terrace
With one of the lowest bed prices in Bari and a great deal on private rooms, Blablabla' is ideally suited to travellers hoping to keep costs down. If you arrive in Bari by train, you won't have far to go as this place is on the doorstep. There are lots of nice features that will make your stay a comfy one, including a large kitchen, outdoor terrace, and a book exchange. The helpful and friendly staff speak English, Italian, and Portuguese, and they'll be happy to recommend things to do in Bari!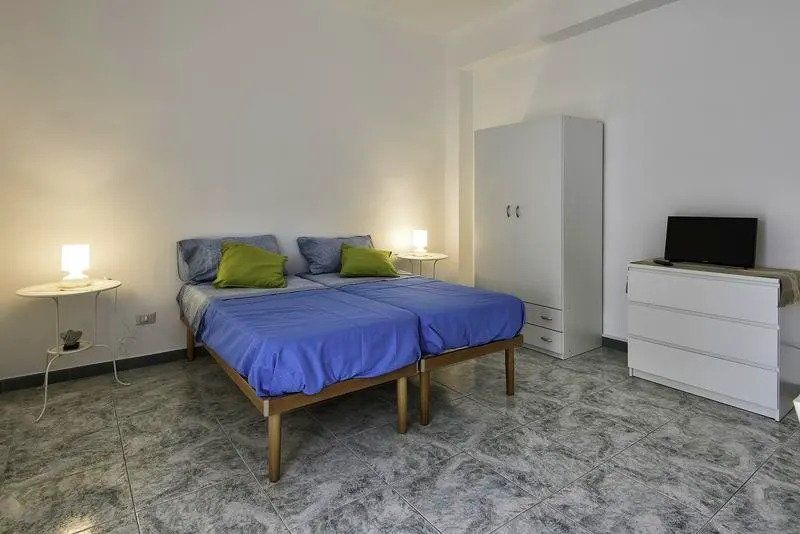 $$
Great location
Fully equipped kitchen and dining room
Free transfers from the station
If you're travelling with your other half, staying in a sweaty, smelly dorm with a load of other people doesn't exactly scream romance. However, there are ways of travelling on a budget where you can still have some quality time and privacy together. One such option is Archita Guest House, one of the highest recommended hostels in Bari! As well as a comfy double room, you can wine and dine each other in the fully equipped kitchen and dining room. There are also free transfers from the train station, so you can save cash on a taxi too!
Best Hostel for Families in Bari – Santa Claus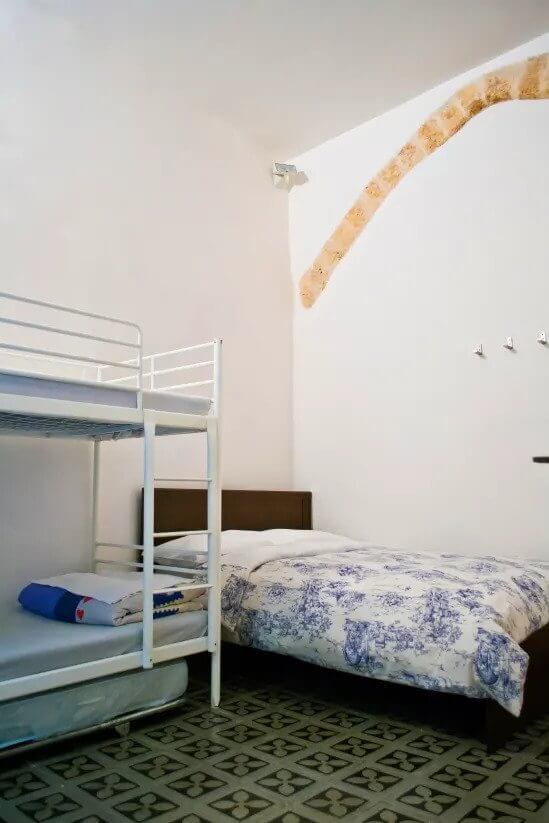 $$
Old Town location
Private shuttle
Free breakfast
If you didn't know that the bones of St. Nicholas were buried in a nearby church, you'd probably find it weird that this place was called Santa Claus. In fact, you still might. Nevertheless, it's an excellent place for a family to stay – especially those with small kids. Located in the heart of the Old Town, Santa Claus consists of three affordable apartments. The others are named Bohemian Rhapsody and Freddie Mercury – since Queen played in Bari several years ago. While you might not be sold on the names, you can't argue with the free breakfast, private shuttle, and location in the centre of the Old Town.
$$$$$
Botanical Garden
Free breakfast
Laptop friendly workspace
This glamorous Bari bed and breakfast is by far the most expensive option on our list. However, if you're working and travelling at the same time, you can usually afford to splash out a little bit extra. There's a laptop-friendly workspace so you can continue your work in your room. But for a bit of inspiration, why not head to the on-site botanical garden? Even if you don't work there, it'll be a great place to take a break and relieve your stress! Though pricey, there are several freebies, including breakfast, parking, Wi-Fi (very important), and city maps. Looks like you've found your next temporary office!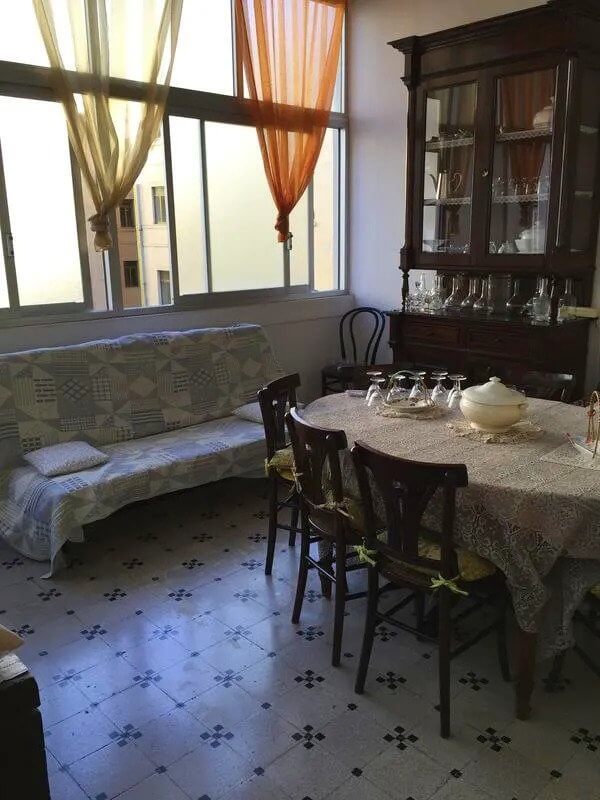 $$$$
Near the sea
Balcony
Washing machine
The rooms at Guest House Bari are not only private, but they're also rather large, and the hostel is right by the port. You might even be lucky enough to wake up with a view of the sea! Rooms come with balconies, and you're able to use the kitchen if you're staying for a long time. There's a washing machine which you can use for a fee; we're sure that a few euros won't be too much bother if you've spent weeks in the same clothes! While this may not be a buzzing party hostel, it's the perfect place for some R + R by the seaside!
Things DO go missing sometimes…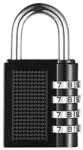 Psst! Heading to a hostel? Don't forget to pack a padlock! It's well worth having one so you can secure your locker and protect your stuff!
More Great Hostels in Bari
Here are three more budget accommodations in Bari that are well worth a look if none of the above match your taste – or they're fully booked! If you're planning on travelling further, make sure you know where to stay in Italy next. Planning ahead is always worth it!
This comfortable B & B is a little away from all the action of the historic centre and the port, but you can easily bag yourself a cheap deal here. There's bicycle rental available too, so it won't take you long to get to all of Bari's attraction. If you're not all about the city's nightlife, you can enjoy kicking back on the terrace with a drink from the bar. There's a patio, but if you want to get out of the heat, drop into your room and take advantage of the flat-screen TV. Last but not least, be sure to enjoy the delicious Italian breakfast!
$$
Balcony
Dining Area
Flat-screen TV
Dolce Incanto means 'sweet enchantment' in English, and you're sure to be enchanted by this classy Bari property. All room rates come with a delicious breakfast, which you can enjoy in the pleasant dining area. In terms of location, this is right on the edge of the city centre area – just a short walk from the central train station and within a stone's throw of the Old Town. Though its apartments and triple rooms are undeniably excellent, this B and B is most popular with couples.
Want to save the world?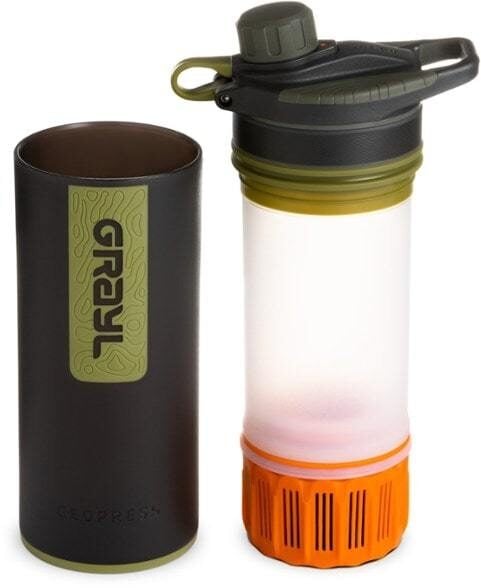 Single-use plastic bottles are a huge threat to Marine Life – Be a part of the solution and travel with a filter water bottle.
The GRAYL GEOPRESS water bottle is the ONLY all-in-one filter water bottle setup you'll need. Whether you need to purify the water from a hostel sink in Kathmandu or a stream trickle in the Andes, the Geopress has got you covered.
Read our full review of the GRAYL GEOPRESS!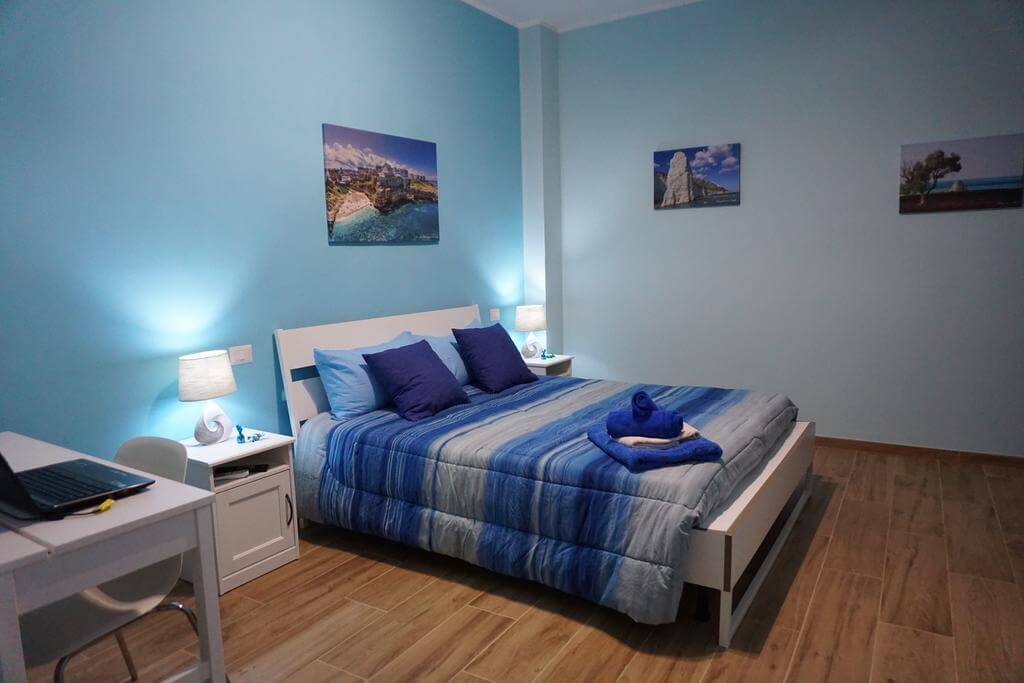 $$
Air conditioning
Great location
Private bathroom
Last but not least is another excellent and affordable B and B near Bari train station. All rooms come with private bathrooms and air conditioning, so you're assured of your privacy and comfort. Not only that, but there are also several things to compliment your stay, including free tea and coffee in your room, Wi-Fi, and a flat-screen TV.
The BEST Travel Backpack?!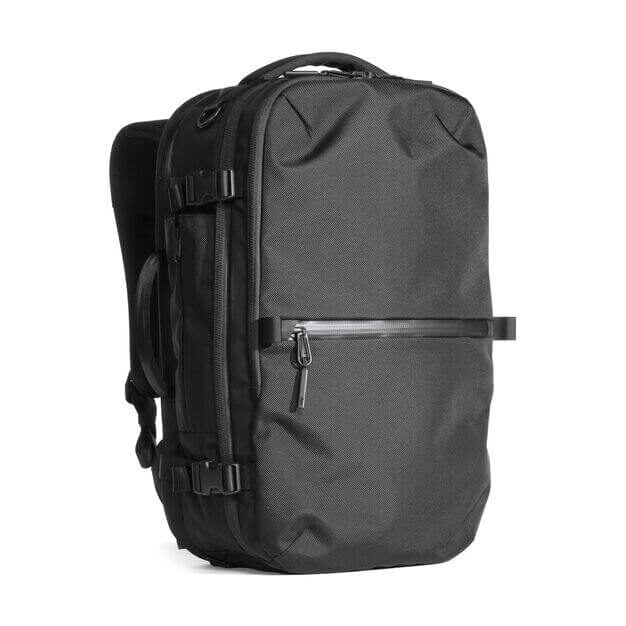 Pssssst! Not picked the perfect travel backpack yet? The Broke Backpacker team has tried out over thirty backpacks this year! Our favourite travel backpack is the Aer Travel Pack 2.
View on AER
What to Pack for your Bari Hostel
We don't often travel without these essentials. Make sure these items are on your Italy packing list.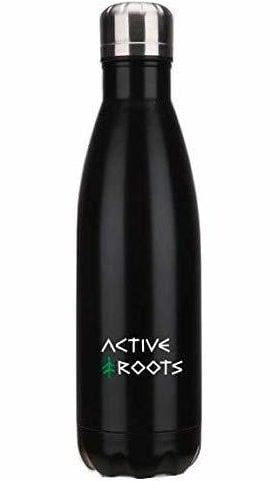 1. Active Roots Water Bottle: Hostels are increasingly meeting backpackers' demands for potable (drinkable) water. Now is better than ever to start traveling with a reusable water bottle! Aside from cutting down single-use plastic, The Active Roots stainless steel water bottle will also keep your favorite beverage hot or cold all day long and it's sized perfectly to fit an entire bottle of wine. 'Nuff said.
2. Power Bank: Everyone knows the mini heart attack when your phone is about to run out of power. Surviving long bus rides without charging stations can be agonizing, which is why every backpacker should have this Anker Power Bank. You can charge your phone up to 5 times, or plug in two devices simultaneously. With high-speed charging and enough power to keep you going for days, you can conquer even the biggest adventures without a problem.
3. Headphone Splitter: Being stuck on a bus or plane with only one phone that has good music or shows downloaded can be pretty annoying if your travel buddy wants to share headphones. With this Headphone Splitter, you won't have to listen with only one ear anymore. Your friend can plug in their headphones at the same time, so both of you are entertained (on both ears!).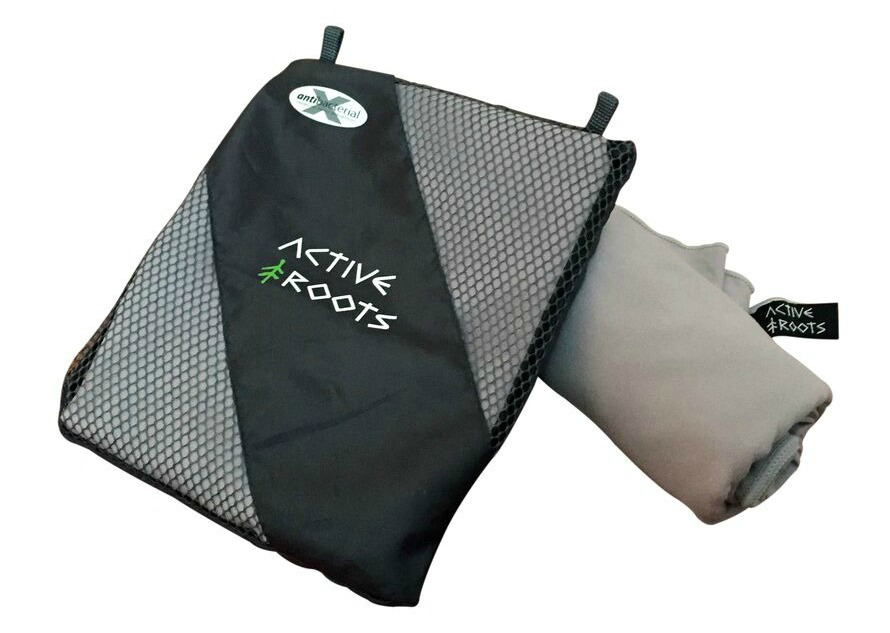 4. Active Roots Microfiber Towel: Having your own towel on your travels is a game changer. The Active Roots Microfiber Towel is perfect for travellers who are looking for a lightweight, quick-drying and extremely soft option. The antibacterial material is super water-absorbent and resists odor buildup because of its antimicrobial material. Ain't technology cool?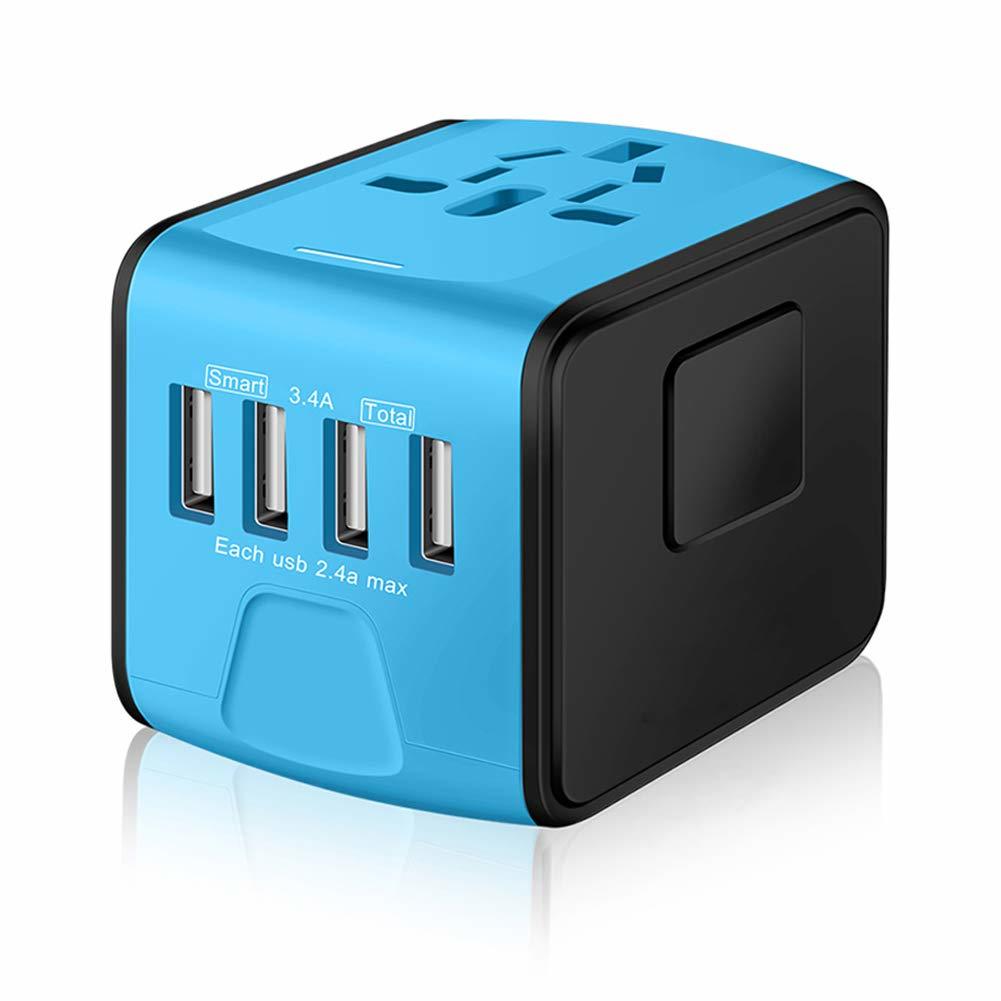 5. Universal Travel Adapter: This universal travel adapter charges your devices in (pretty much) every country – definitely a lifesaver when travelling around the world. The plug also regulates the power output depending on which device you're charging. No more fried hair dryers or electric razors!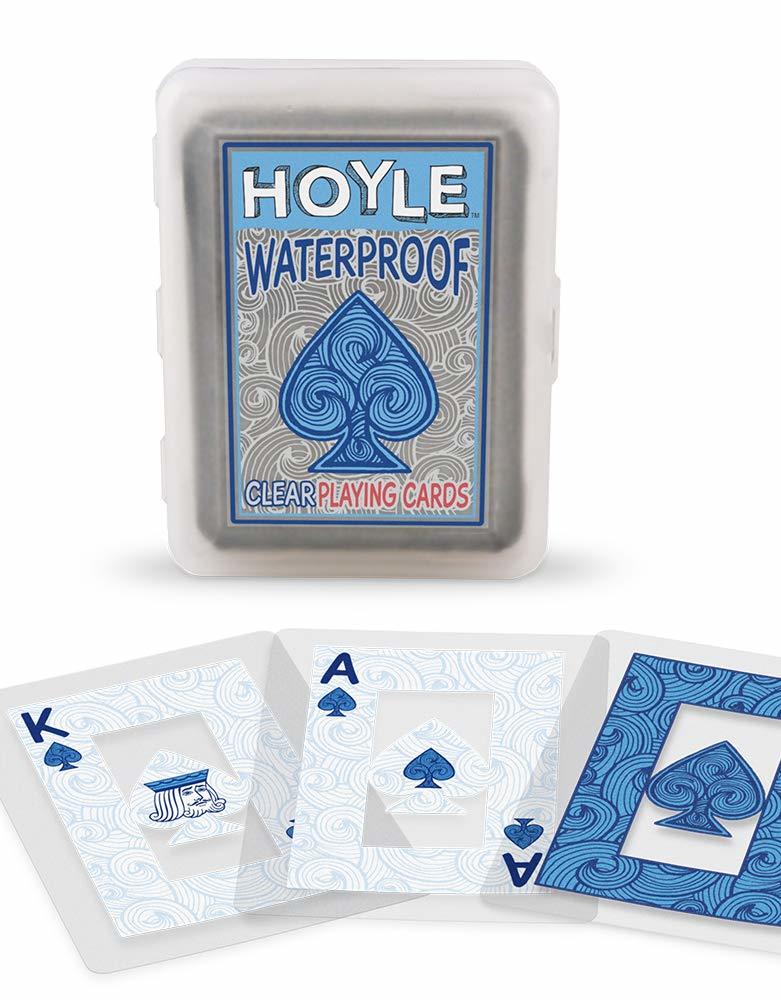 6. Playing Cards: These waterproof cards are essential kit for every backpacker. Play by the pool, beach or at your hostel after a long day with travel buds, without your cards breaking or getting soaked. And once you pull out those cards, the chance that you'll be the hero of the night is pretty high (no promises though).
Why You Should Travel to Bari
Bari is the second largest town in Southern Italy, but curiously, a lot of tourists miss it out. Don't be one of them! This lovely historic city is the gateway to the Puglia region; there's more than enough to do here for a few days before heading on to Lecce or staying in one of Alberobello's Trulli houses.
We get that we've given you a load of choices and you may still be scratching your head on which hostel is right for you. If you really can't decide, just go for our top recommendation in Bari, Olive Tree. Not only does it have a great location, but there's a friendly atmosphere, and who can say no to a free breakfast?!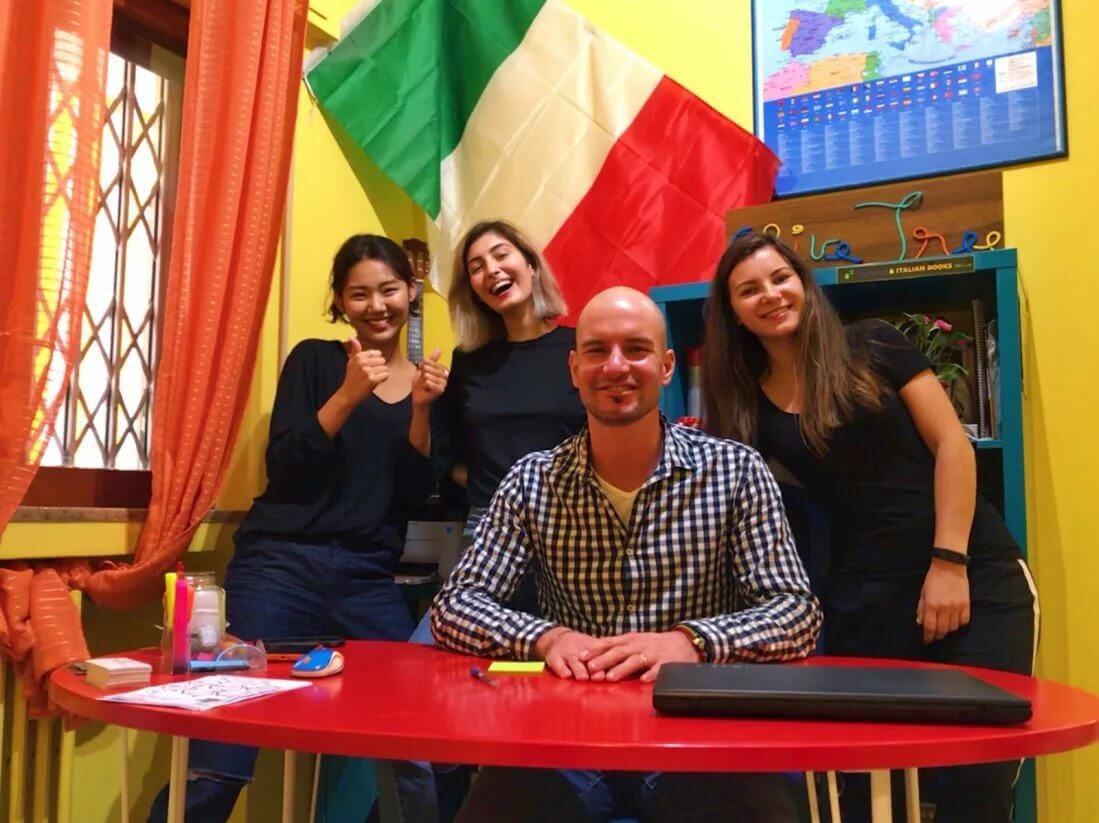 Final Thoughts on the Best Hostels in Bari
For an insight into the best of culture and history of Southern Italy, you shouldn't leave Bari off your itinerary. Be sure to try orecchiette pasta with fresh broccoli, or if you're a meat-eater, you might wish to sample Ragu Alla Barese. That does have horse meat in it though! Not only is Bari a wonderful base for visiting the rest of Puglia and Southern Italy, but it also offers connections to Greece, Albania, and Croatia – perfect if you don't have a set return date!
To get the most out of Bari, it's best to get the boring stuff out of the way first, such as where to stay. That's why we've put this list together! Whether you want a romantic love nest to share with your partner, a vibrant backpacker hostel to make new friends or a quiet spot where you can plug in your laptop and work undisturbed, there's a hostel in Bari for you. And with our handy list, it's so much easier to make the right choice.
With so many great places to stay, we may have missed a few. So, if you've been to Bari and feel like there's somewhere we should have included, give us a shout in the comments below!
And don't forget Travel Insurance! We've put together a roundup of Travel Insurance for backpackers – check it out here, or if you're low on time, get a quote from World Nomads, our favorite travel insurance provider.
Getting an estimate from World Nomads is simple – just click the button or image below, fill out the necessary info, and you're on your way!

Do you own or run a kick ass hostel? Want to be featured in this list? Get in touch at [email protected]
"Find out how YOU can support the site. We work hard to put out the best backpacker resources on the web, for free! It's all about helping out our tribe of awesome backpacker readers [that's you!]. Please visit the link to find out how you can help keep the site going 🙂
For the sake of transparency, some of the links in our content are affiliate links. This means that if you book your accommodation, buy a book or sort your insurance, we earn a small commission at no extra cost to you. I only link to stuff I've actually used and never endorse products or services that are not up to scratch. Thanks for your support.