Belize might not be the first place on many travellers' Central America itineraries, but if you're planning to go, that's good news for you! If you're a diver or snorkeller, you'll love Belize. It's home to the second-largest coral reef in the world and you can dive deep into the famous blue hole. If you'd prefer to stay on land, head out into the jungle. Here, you'll find several endemic species and if you're really lucky, you might even get to see a jaguar!
We're pretty sure that you don't need much more convincing to come to Belize… but where are you going to stay? Well, this country hasn't succumbed to mass development. The authenticity comes at a price though – there isn't a whole lot of choice when it comes to places to stay. However, focus on quality over quantity… And you're sure not to be disappointed!
With that in mind, we've decided to help you out and put together this list of the best hostels in Belize. There are some guesthouses and B & Bs too, to give you the full picture when it comes to budget accommodation. We've also taken into account your travel style and personality!
Our expert travel writers have curated this list with you in mind, so as long as you follow our advice, you're assured of a great time in Belize.
Quick Answer: What are the Best Hostels in Belize?
The Top Hostels in Belize
Backpacking Belize can turn into a really unpleasant trip if you don't choose your accommodation wisely. Depending on what you want to do, deciding where to stay in Belize will be your first step of booking your awesome hostel. Since there are quite a few, you'll have loads to choose from.
Let's kick off our list with the overall best hostels in Belize. Not only do they offer great value for money, but you'll have an experience that you'll remember for a lifetime whilst feeling home. Stay in any of these, and you certainly won't be disappointed!
Insider tip: Ask the hostel staff for recommendations on what to explore. Filling your Belize itinerary with awesome hidden gems is way better than just ticking off the typical tourist hotspots.

Do You Want to Travel FOREVER??
Pop your email in below to get a FREE copy of 'How to Travel the World on $10 a Day!'.
Best Budget Hostel in San Ignacio, Belize – Bella's Backpackers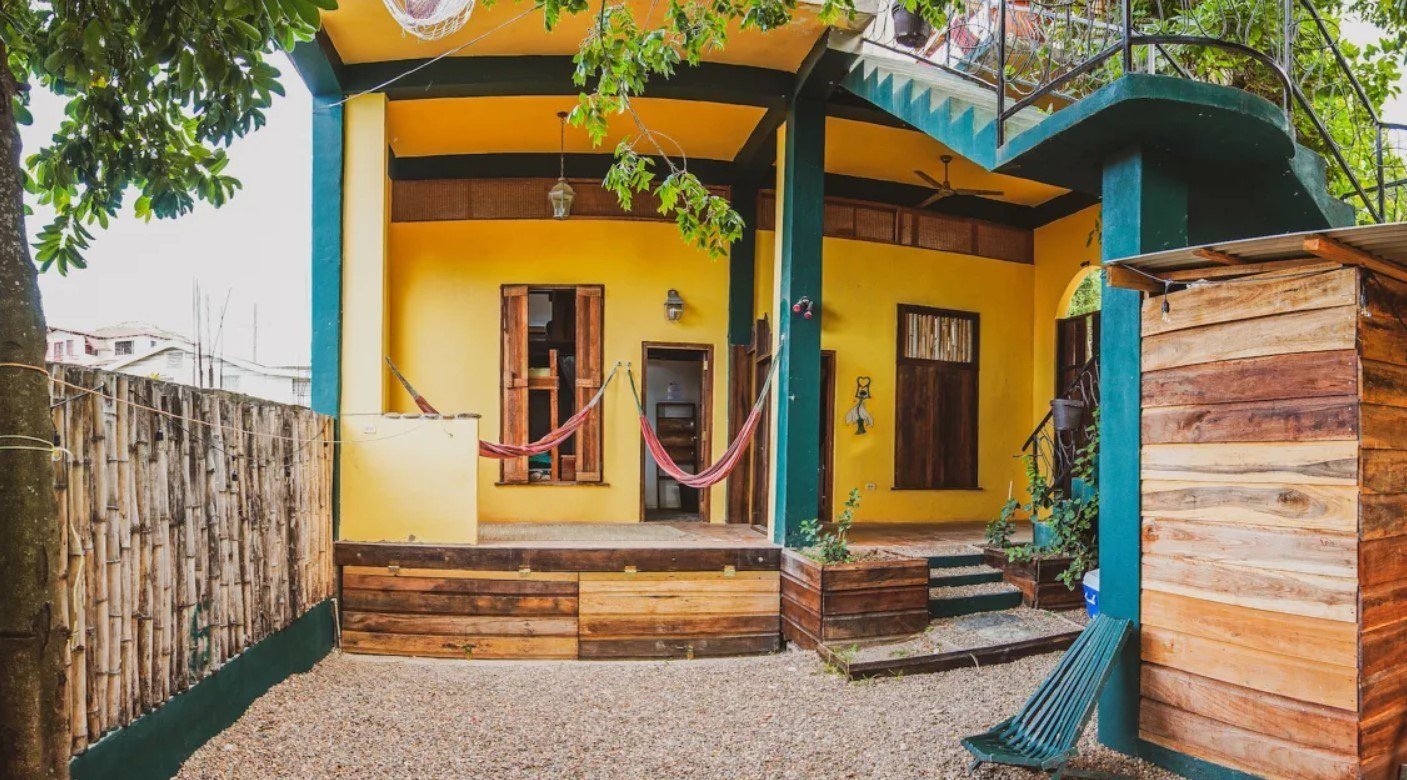 Cozy hammocks
Bar
Fully equipped kitchen
Regular events
Bella's Backpackers is another one in San Ignacio for our best cheap hostel in Belize. It's a great place for meeting other travellers while keeping your costs as low as possible. If you want to save your Belize dollars for the important stuff like partying and exploring, you'll be pleased to know that there's a fully equipped kitchen where you can prepare your own meals over eating out. There are regular events which will make you feel like part of the hostel family, including communal dinners!
The Overall Best Hostel in San Ignacio, Belize – Lower Dover
A legendary hostel in the jungle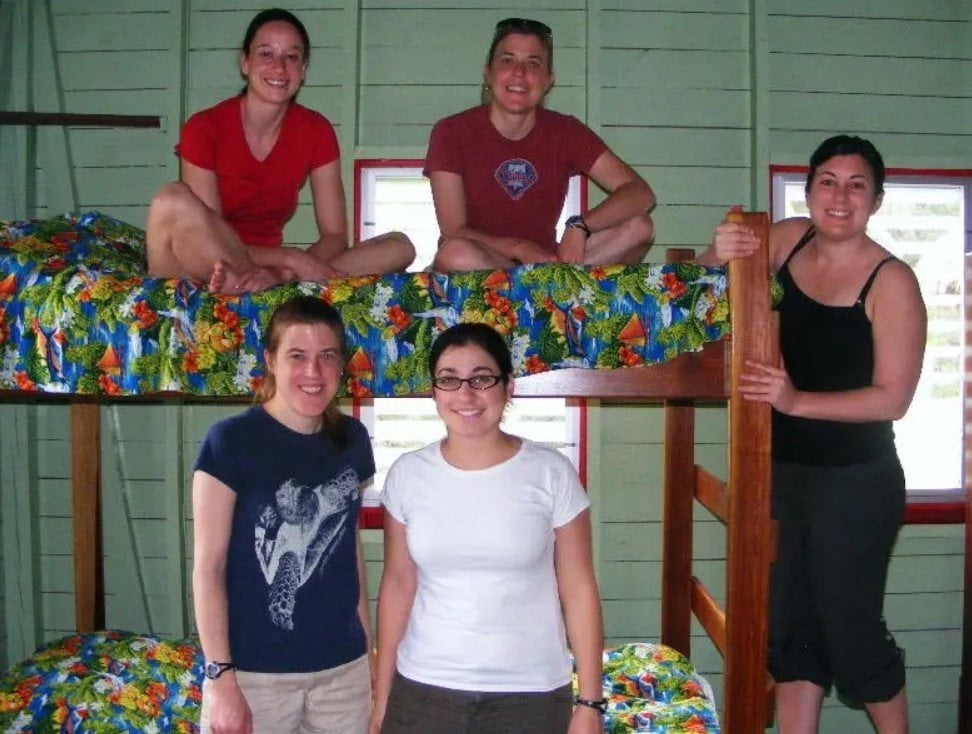 Great for outdoor enthusiasts!
Near the highway
Lots of dogs on site
Breakfast and dinner available
Let's begin our list with the absolute best hostel in Belize. Lower Dover is hidden away in the Western Belizean jungle, and has all of the aspects of a hostel, jungle lodge, and travel operator! If you're an outdoor enthusiast, there's nowhere better than this place – partly because you're just surrounded by cool things to do like zip-lining, tubing, and exploring the ATM cave. Breakfast and dinner aren't included in the price, but for a little extra you can enjoy traditional Belizean cuisine – and there's wine, beer and juice available to accompany it! At the end of the long day, chill out in a hammock and listen to the sounds of the jungle and… just be grateful to be here.
Lower Dover is one of our favourites in Belize but they're not taking guests right now. We're not sure if they're closed for good but we hope they'll come back soon.
Best Hostel for Digital Nomads in Caye Caulker, Belize – Tropical Oasis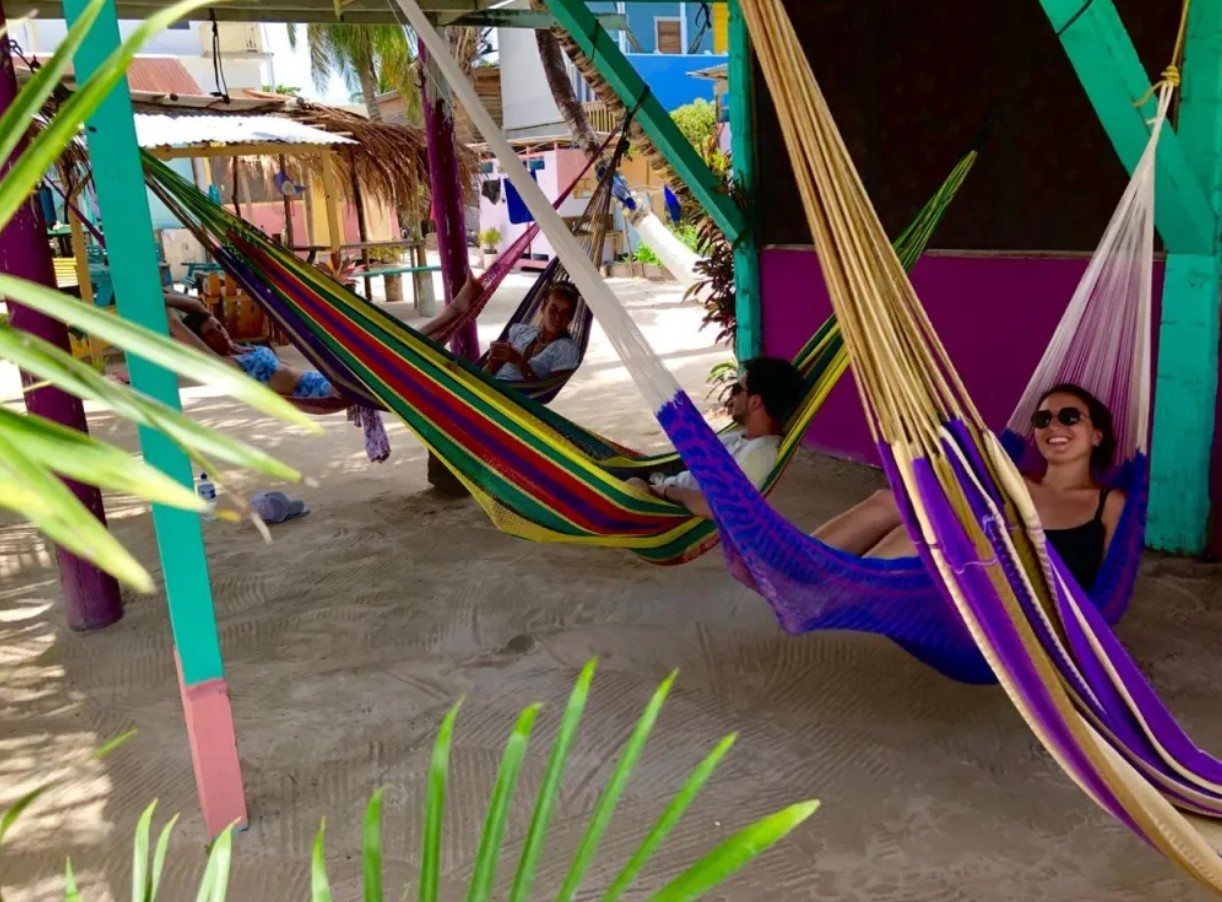 Near the beach
Hammock Area
Outdoor Kitchen
Private Lockers
For our best hostel in Belize for digital nomads, it's time to head to Caye Caulker. Although you can really soak up the chilled-out island vibe, it still lends itself to sending off emails or finishing your latest articles. If you don't want to work in your room, take a private hammock and work from there!
When you're out exploring the island, there's no need to worry about your laptop and any other expensive electronic equipment going missing – there are security lockers here. Come back and end your day with a tasty BBQ with your new friends!
Tropical Oasis is one of our favourites in Belize but they're not taking guests right now. We're not sure if they're closed for good but we hope they'll come back soon.
The chilled-out Caye Caulker is a tiny island where you can enjoy snorkelling, scuba diving, or just doing absolutely nothing! The ways of getting around here are on foot, by bike, and on gold carts, which rule the road here! The hostel scene isn't bad here either – only San Ignacio can rival it in Belize. Here are our favourites.
A cool place to chillax in Belize
5 minutes from the beach
Bars and restaurants aplenty
Fully equipped kitchen
Air-conditioning
Go Slow Hostel is right up there with the contenders for the best hostel in Belize. It's certainly the best of the hostels in Caye Caulker. This colourful spot is at the centre of all the action, and you won't even need to use the hostel golf cart to get to nearby attractions… you're just a 5-minute walk from the beach and all the awesome restaurants and bars in town. If you want to keep your costs down even further, prepare your own meals in the fully equipped kitchen. You're welcome to use the seasonings!
Travellers Palm Backpackers Hostel
Best cheap hostel in Caye Caulker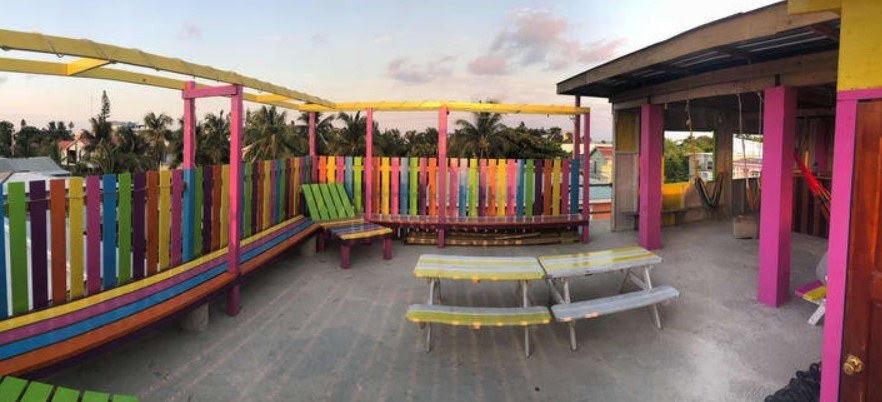 Free tea and coffee
Access to kayaks
Roof terrace kitchen
Peaceful location
Want to keep your costs down with another awesome cheap hostel in Belize? Travellers Palm in Caye Caulker will allow you to do just that! This peaceful hostel has free tea and coffee, so you'll never have to shell out to quench your thirst! It's also got a roof terrace kitchen, so you can prepare your own meals with local market-bought ingredients while you enjoy the views. With all the money you save, you can do some awesome activities, such as renting kayaks and heading out into the open ocean.
Travellers Palm Backpackers Hostel is one of our favourites in Belize but they're not taking guests right now. We're not sure if they're closed for good but we hope they'll come back soon.
Wild Panther's Guest House & Hostel
Great hostel in Belize for families
Bar and restaurant
Awesome location
Family rooms
Picnic area
Offering a range of rooms, Wild Panther's Guest House and Hostel is not just a great place for solo travellers, but couples and families too! For a little extra, you can enjoy an American or a la carte breakfast in the morning, and maybe even eat it in the on-site picnic area! The location is second to none, with markets, cafes, restaurants, and a barrier reef all within a mile of the property. There are a bar and restaurant too, you don't even need to leave the site to enjoy a delicious meal!
Wild Panther's Guest House & Hostel is one of our favourites in Belize but they're not taking guests right now. We're not sure if they're closed for good but we hope they'll come back soon.
Is This the Best Backpack EVER???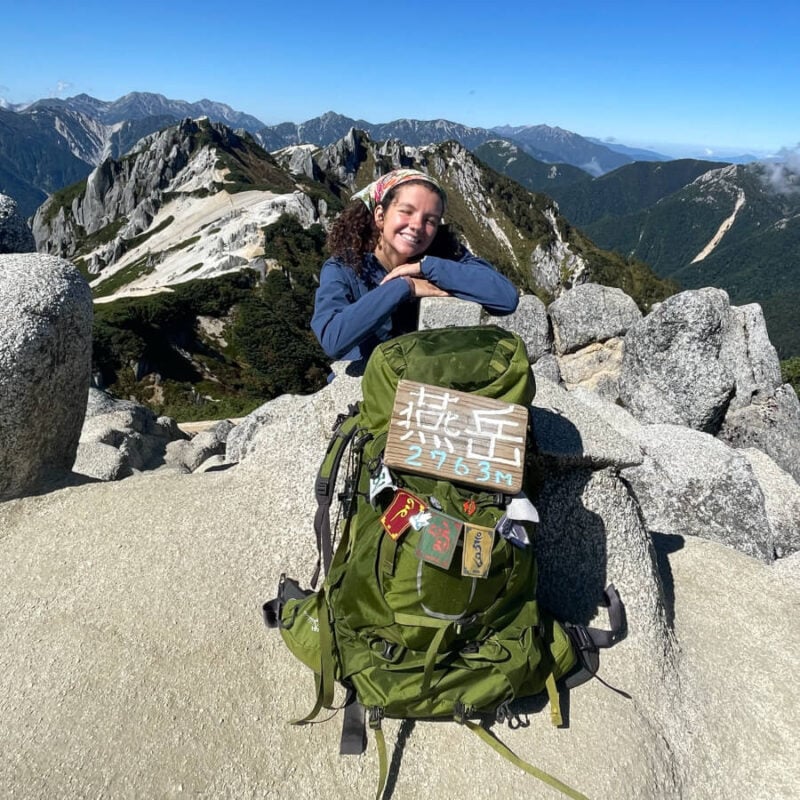 Another of Belize's famed Cayes, Placencia is one that you can actually drive to! Scuba diver and snorkellers should come between May and June, as it's a great spot for viewing whale sharks feeding. There are a couple of hostels here, and the money you save on accommodation can go towards eating out at some of the best restaurants in Belize.
Anda Di Hows Hostel
A highly recommended hostels in Belize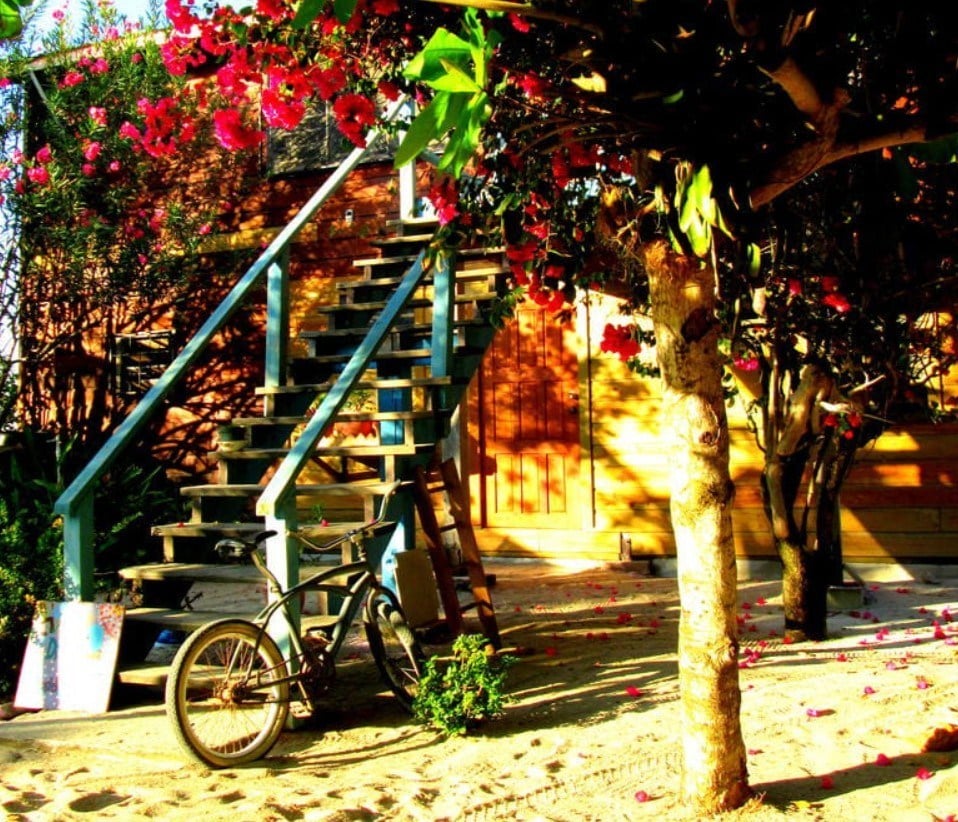 Cool Bar
Covered veranda with hammocks
Incredible location
Fully equipped kitchen
Want to stay in one of the best hostels in Belize where the beach comes right up to the door? Anda Di Hows might be the place for you! Not only is it a great location for topping up your tan and swimming, but it's close to the centre of the village too and the smallest main street in the world, Placencia Sidewalk. If you'd prefer to stay exclusively on-site, just lie back in a hammock on the covered veranda and order a cocktail from the bar
Anda Di Hows Hostel is one of our favourites in Belize but they're not taking guests right now. We're not sure if they're closed for good but we hope they'll come back soon.
SailFish Resort
Great location
Pet and child-friendly
Swim-up bar
Swimming pool
Another awesome hostel in Placencia is the Sailfish Resort – you won't want to leave! Not only does it have a pool, but there's a swim-up bar in it… You definitely don't get that in every hostel. And don't worry about getting here, there's a free water taxi so you can ride the waves for nothing. It's just a short walk from everything too, and if you've been gorging on food from the excellent local restaurants, work it all off with a game on the soccer field that's just behind the hostel!
SailFish Resort is one of our favourites in Belize but they're not taking guests right now. We're not sure if they're closed for good but we hope they'll come back soon.
Punta Gorda is another of Belize's Cayes, but this one offers more than just a chilled out atmosphere. This is a great place to stay if you're looking to explore another aspect of Belizean culture – Mayan villages! There's just one hostel here, but it's a bloody good one.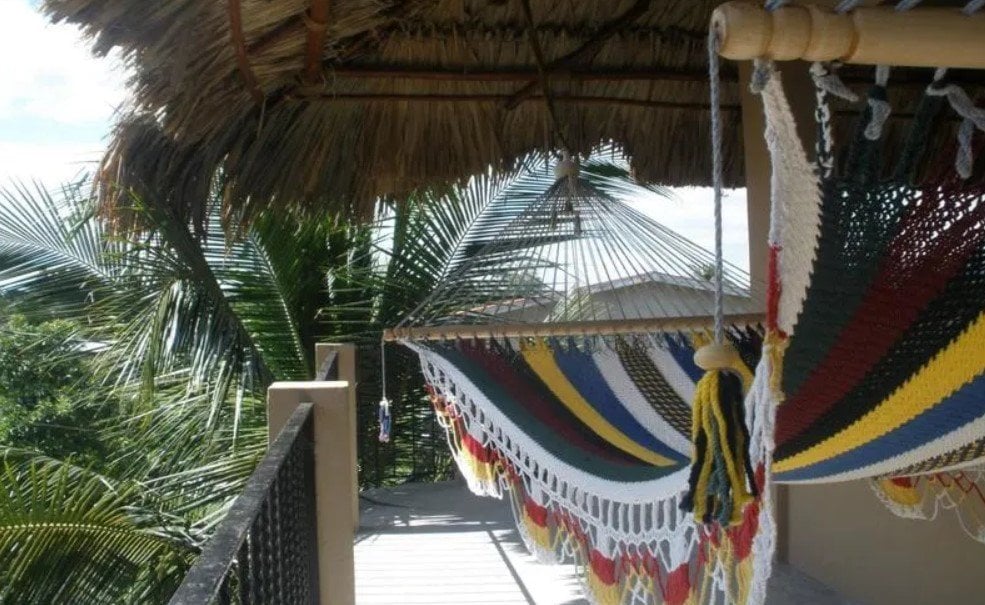 Free breakfast
Pool Table
Restaurant
Pod style beds
Punta Gorda offers one of the top recommended hostels in Belize, with a score of 9.0 on Hostelworld! It's got plenty to keep you entertained, including a pool table and a cracking restaurant with veggie burgers, shakes, and wings. Did we mention that said restaurant is on the 4th-floor sun deck? After you've soaked up the awesome atmosphere, head back to your private pod where you can get ultimate privacy while still paying a dorm price.
A small fishing village blessed with gorgeous blue waters, Sarteneja can also be used as a base to explore the jungle. It's cheap as chips, and you can enjoy tasty fresh seafood too. Again, there's just a single hostel here but it's absolutely awesome.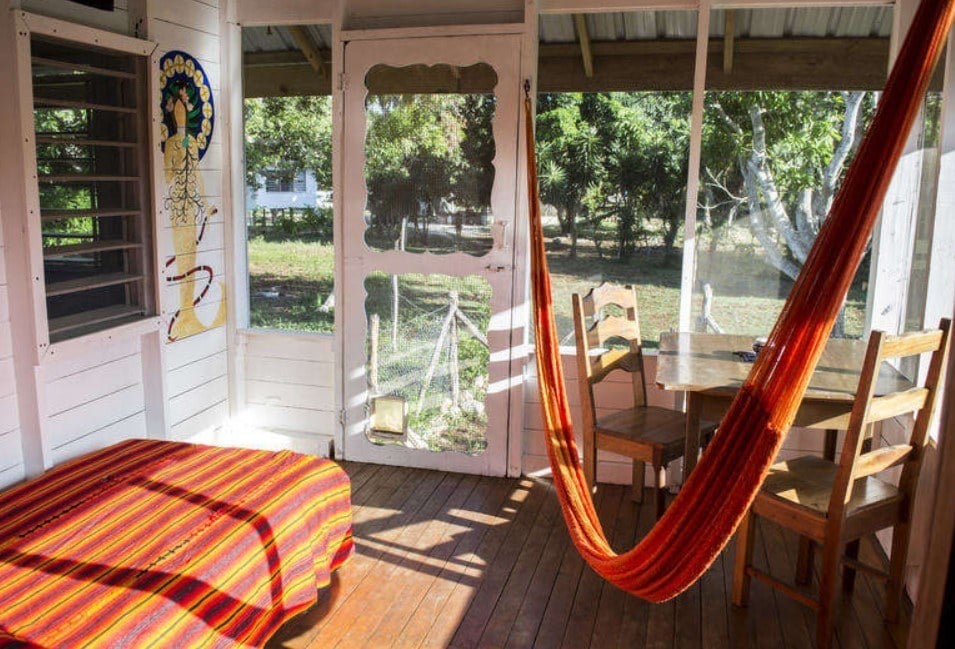 Live DJ sets
Meet horses
Tours and activities available
Organic fruit grown on-site
Are you ready to find out more about not only one of the most unique hostels in Belize but the whole of Central America? As well as being an awesome hostel, it's a tropical horse farm. Perfect for riders and animal lovers. If you'd rather not use a horse to explore the local area, there are bikes too. Once you get back to the hostel, taste some of the organic fruit which is grown on-site, and get ready for an awesome night out… there are live DJ sets here! It's a real and unique hostel life experience.
This central town is arguably the traveller capital of Belize – all roads begin and end here! It's the centre of the Cayo region, and there's a lot of budget accommodation here, as well as a relaxed vibe. There's a chance you'll stay here longer than you intended to, so we've given you a few options.
A must stay for outdoor lovers
Right in the jungle
Saltwater swimming pool
Wake up to sound of birds
Pool table
Do you want to wake up in the jungle to the sound of birds? The secluded hostel brings backpackers in Belize flocking to its gates… Keep your eyes peeled for a number of local birds including hummingbirds, parrots and toucans. Great news if you're a twitcher! Want to cool off from the jungle humidity? There's a saltwater swimming pool where you can do that! And if you're looking for a different kind of pool, grab a cue and challenge of your new friends to a game. This eco-friendly resort in Belize is the perfect place for a tropical vacation.
A hostel above a creative arts space
Large common area
Big Balcony
Small Book Exchange
Above a creative arts space
If you're looking to disconnect from the real world when you travel to San Ignacio, The Old House Hostel should definitely be on your itinerary. Not only can you enjoy the delights of this cool town, but you can immerse yourself in creativity, as this hostel is above a creative art space. And for those who don't fancy getting paint on the hands, you can just pick something up from the book exchange and lose yourself in that on the big balcony or in the common area. There's a cute ginger cat on the premises too, great if you're missing your pet from home!
An awesome hostel in Belize for couples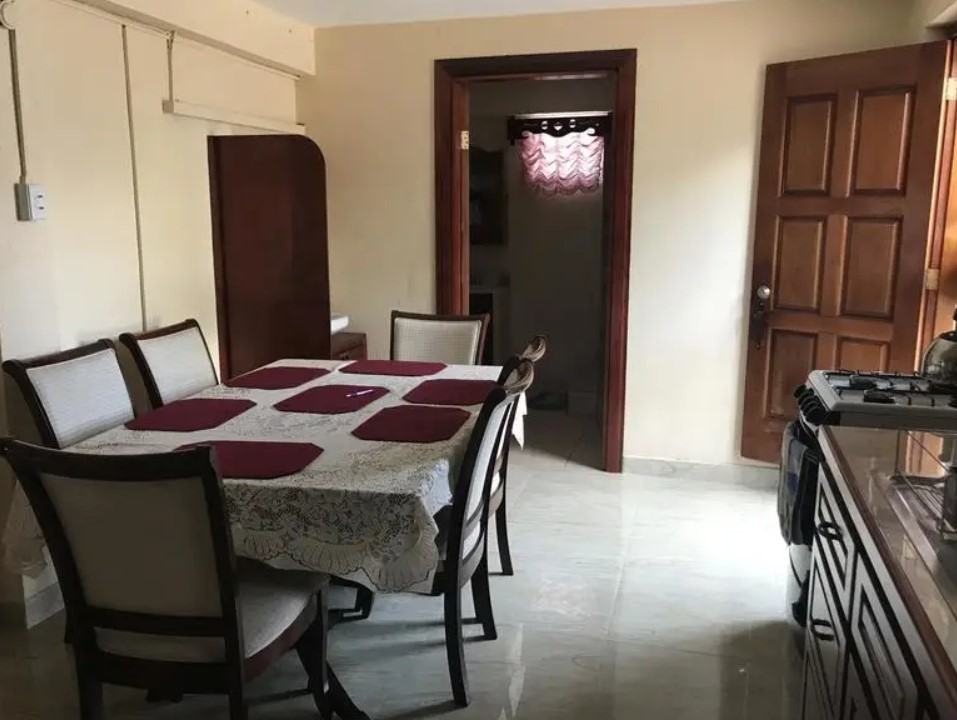 Private bedrooms available
Great location
Fully equipped kitchen
Comfy sofas and cable TV
Not only does this excellent Belizean hostel offer cosy dorms, but it also has tasteful rooms for two. It's the ideal place to whisk your other half away to for a spot of romance on a long trip. Not only can you enjoy comfort in your room, but there are sofas and a cable TV in the common areas. Whip up a tasty meal in the fully equipped kitchen which will not only be delicious, but it'll keep your costs down too. On top of all that, it's in a great location for exploring San Ignacio!
An awesome Belizean hostel for solo travellers
Shared lounge
Shared kitchen
Garden
Evening entertainment
When you're travelling solo, you'll want a hostel that has a vibrant atmosphere and makes it easy to meet people. The shared lounge, kitchen, and garden all make this really easy to do. And there's evening entertainment as well! One of the things that you can enjoy here might be a BBQ… Solo travellers love this place and gave it a near-perfect score on booking.com. If you don't want to eat on-site, head to one of the restaurants or farmer's markets just a stone's throw away!
San Pedro is on 'La Isla Bonita' Ambergris Caye. It's probably the most popular tourist destination in Belize for all budgets and this tropical paradise lives up to the hype. There's a barrier reef offshore which is great for diving and snorkelling. Then, awaiting your return there's one of the coolest culinary scenes in the country.
An award-winning hostel in Belize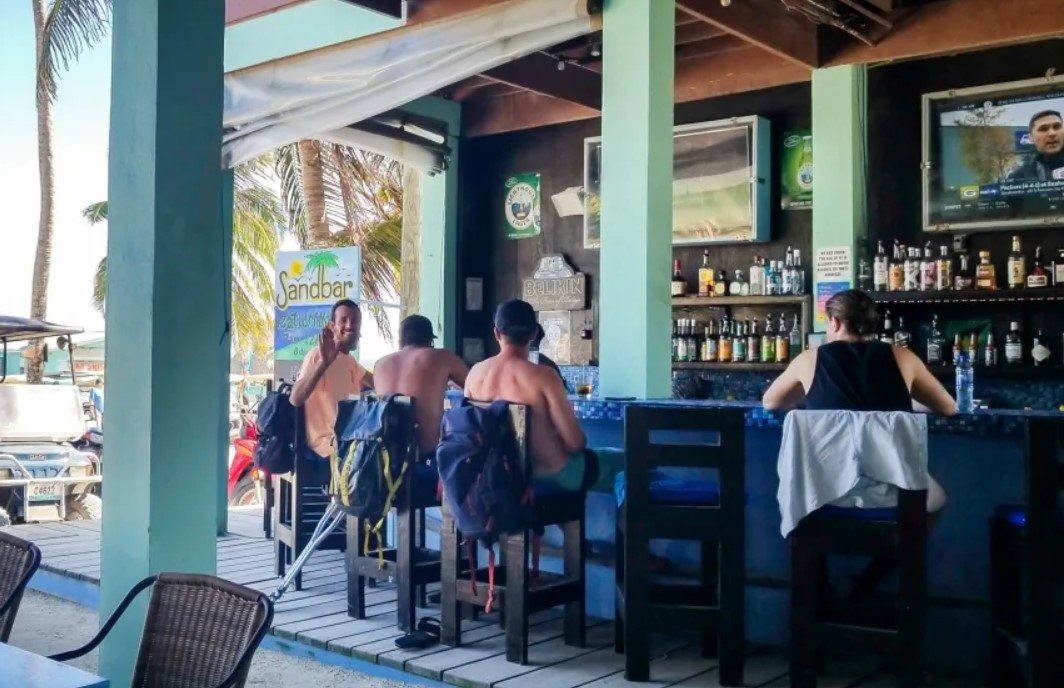 Award winner
Bar and restaurant
Swimming pool
Common area with games and hammocks
You don't just have to take our word for it that this is one of the best hostels in Belize, as it was the country winner for Belize in 2020 and 2016. It's reasonably priced, but you don't have to compromise on features… First up is the bar and restaurant, where you can enjoy pizza and rum. After eating (but not too soon after), enjoy the swimming pool or just lounge around on the sunbeds. In the common room, you can make use of a plunge pool or hammocks. If you want to get to know new friends, challenge them to a board game!
An awesome cheap hostel in Belize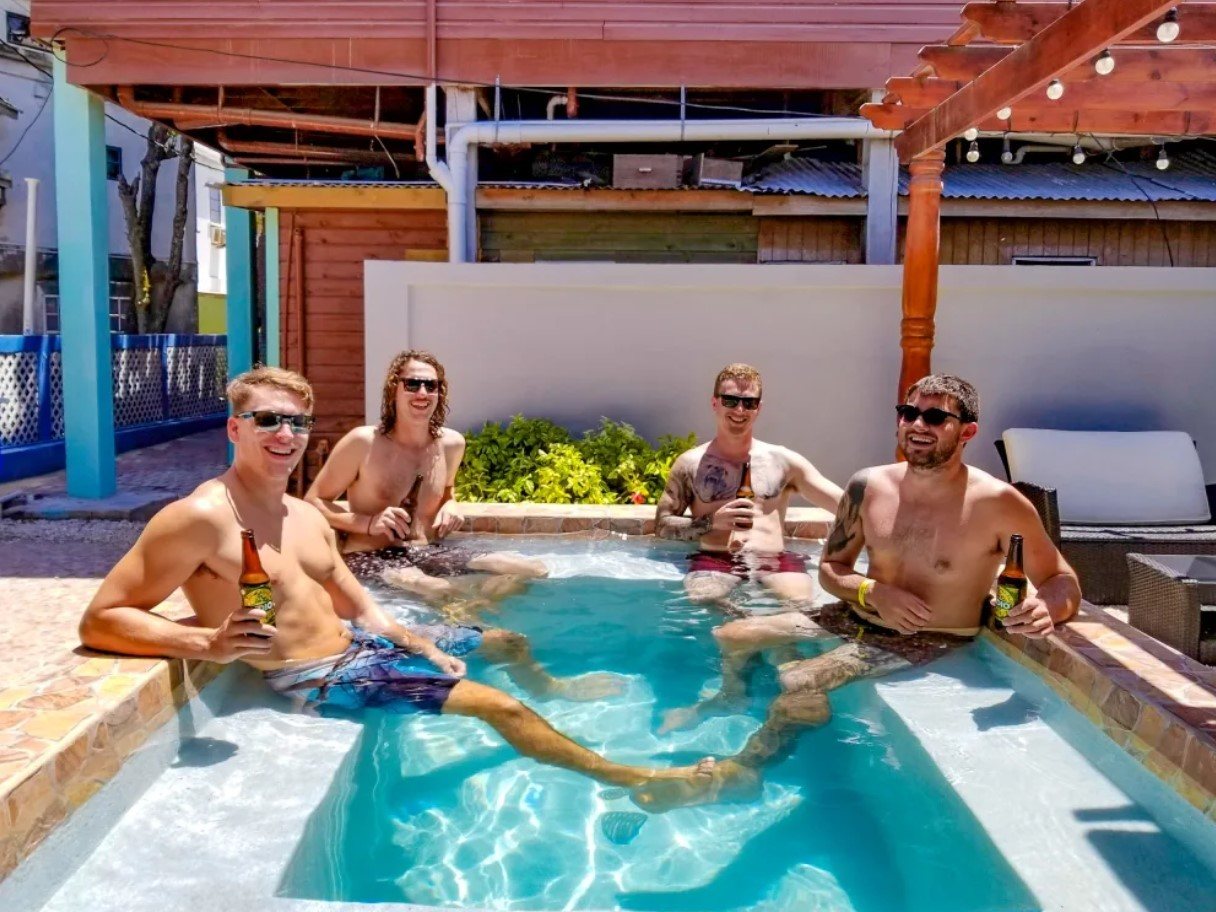 Small lounge pool
Kitchen available
Private rooms available
Great location
This clean and no-frills hostel means you can save your cash on accommodation and spend it on the cool activities in and around San Pedro. Take a golf cart or walk to the beach for some sun, sea, and sand, or rent some snorkelling and scuba diving equipment. If you're looking to splash out a little more for some luxury or privacy, there are private rooms on site too. The reception here can happily arrange trips for you but if you'd prefer a lazy day there's a small lounge pool.

Our GREATEST Travel Secrets…
Pop your email here & get the original Broke Backpacker Bible for FREE.
Named after a catholic priest, Hopkins doesn't even have 100 years of history. You're likely to meet other travellers here and ex-pats who want somewhere quiet to enjoy the cayes! There's also a large Garifuna population, so it's a great place to be introduced to the culture! Hopkins has just got one hostel… but it caters to pretty much everyone. Let's have a look!
A top hostel for digital nomads in Belize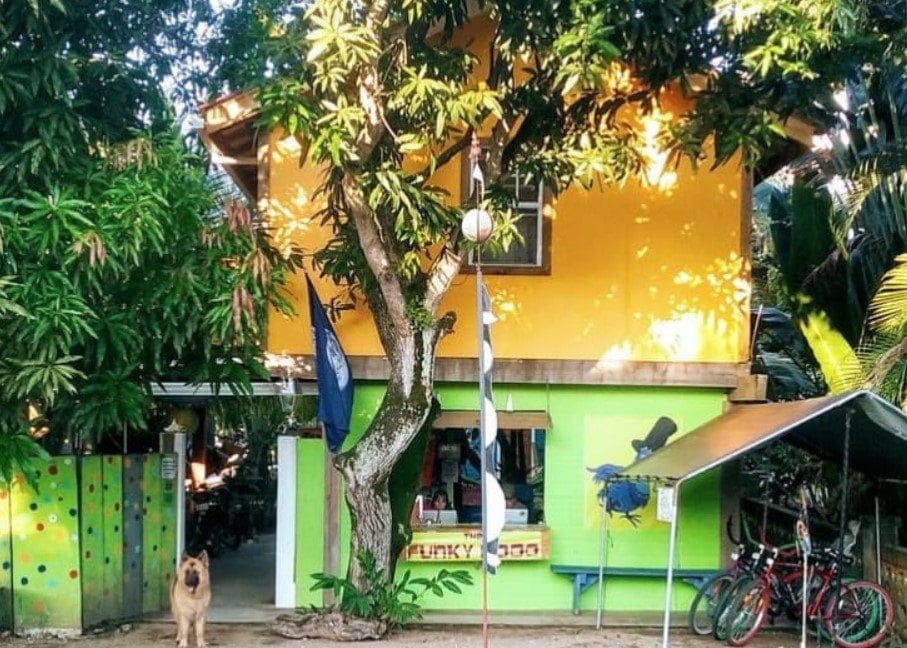 Cool, shaded yard
Great location
Help with booking tours
Well equipped kitchen
Last but not least on our list of the best hostels in Belize, here's the top hostel in Hopkins. It's got a great location in the centre of the village, and the hostel will help you arrange your adventures in the local area. Digital nomads will love chilling out in the shaded sandy backyard which still gets high-speed Wi-Fi. When you want to make lunch or dinner, just head to the well-equipped kitchen and throw something together with that stuff you bought at the nearby market. Can't be bothered to cook? There are several bars, cafes, and restaurants within a minute's walk of the hostel.
Before You Book Your Hostel in Belize
Before we leave you, there are just a few more things you should know about Belize.
The official language is English, unlike much of Central America. Other languages spoken include Mayan, Kriol, Garifuna, and Spanish.
The currency is the Belize Dollar (BZD). $2 Belize = $1 USD.
Belize has the second-largest barrier reef system in the world, after the Australian one.
With a population of 397,628, Belize has the lowest population density in Central America.
Map of Where to Stay in Belize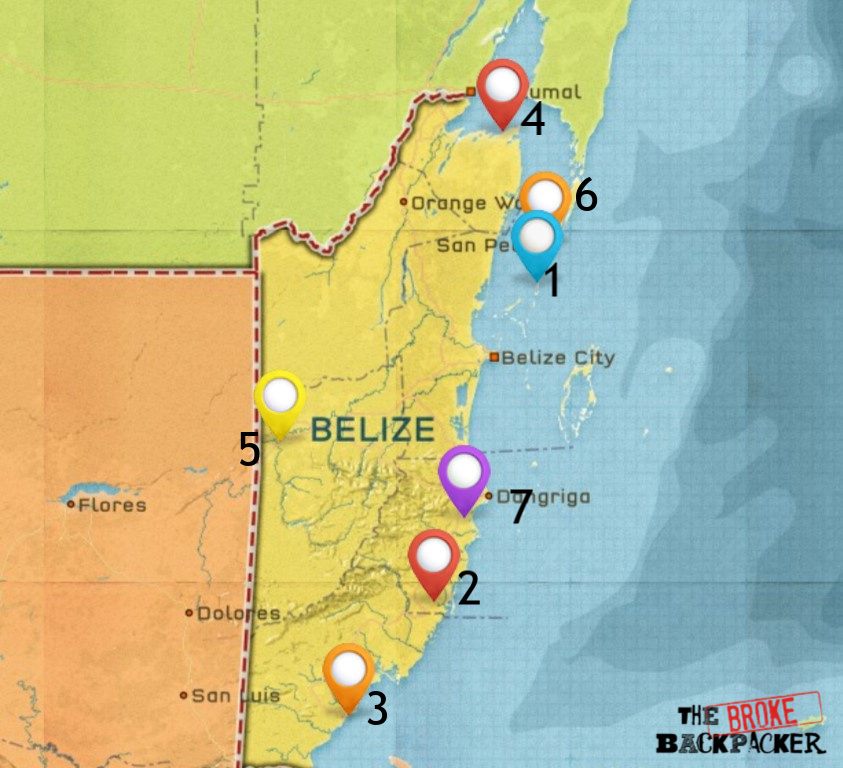 What to Pack for your Belizean Hostel
Pants, socks, underwear, soap?! Take it from us, packing for a hostel stay is not always quite as straight forward as it seems. Working out what to bring and what to leave at home is an art we have perfected over many years.
Check out our definitive Hostel Packing list for our top packing tips!
Why You Should Travel to Belize
So, that concludes our list of the best hostels in Belize. We're sure you can see that there's a lot to choose from. Whether you want to be near the best dive spots in Caye Caulker, or deep in the jungle among the jaguars and the monkeys, there's a hostel in Belize perfectly suited to you!
The only thing is that you might be a little overwhelmed with choice still for where to stay in Belize. In such a small and safe country, you'll be happy to know you can probably stay at all of the awesome hostels in Belize we've selected in a few weeks. But if you can only pick one, go for our overall top choice – Lower Dover in San Ignacio. It's an incredible combination of an escape from the real world, with great value for money and an awesome atmosphere thrown in too!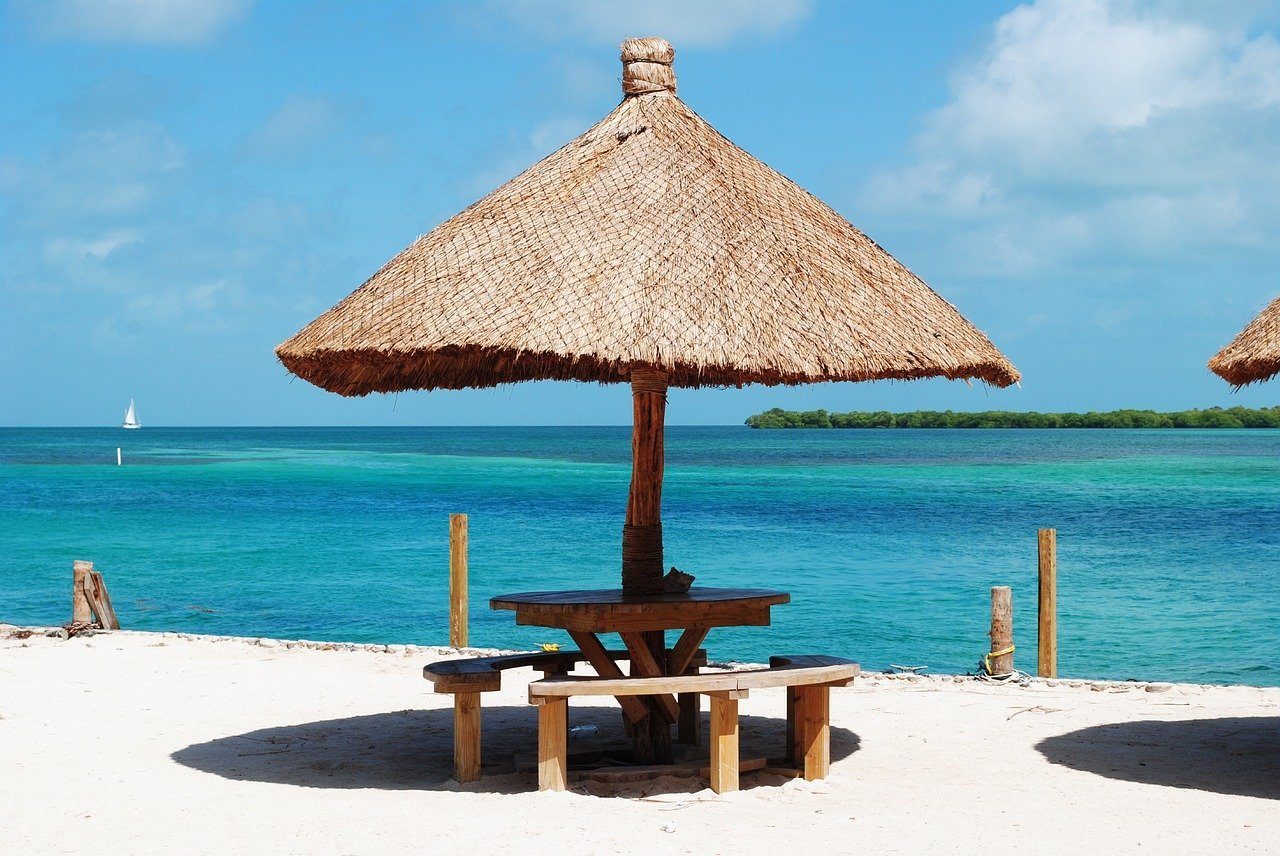 Now that we've helped you plan your holiday, it's time for us to leave you in peace. All that's left is to wish you an incredible vacation in Belize. We hope you have a wonderful time!
Don't Forget Travel Insurance for Belize
ALWAYS sort out your backpacker insurance before your trip. There's plenty to choose from in that department, but a good place to start is Safety Wing.
They offer month-to-month payments, no lock-in contracts, and require absolutely no itineraries: that's the exact kind of insurance long-term travellers and digital nomads need.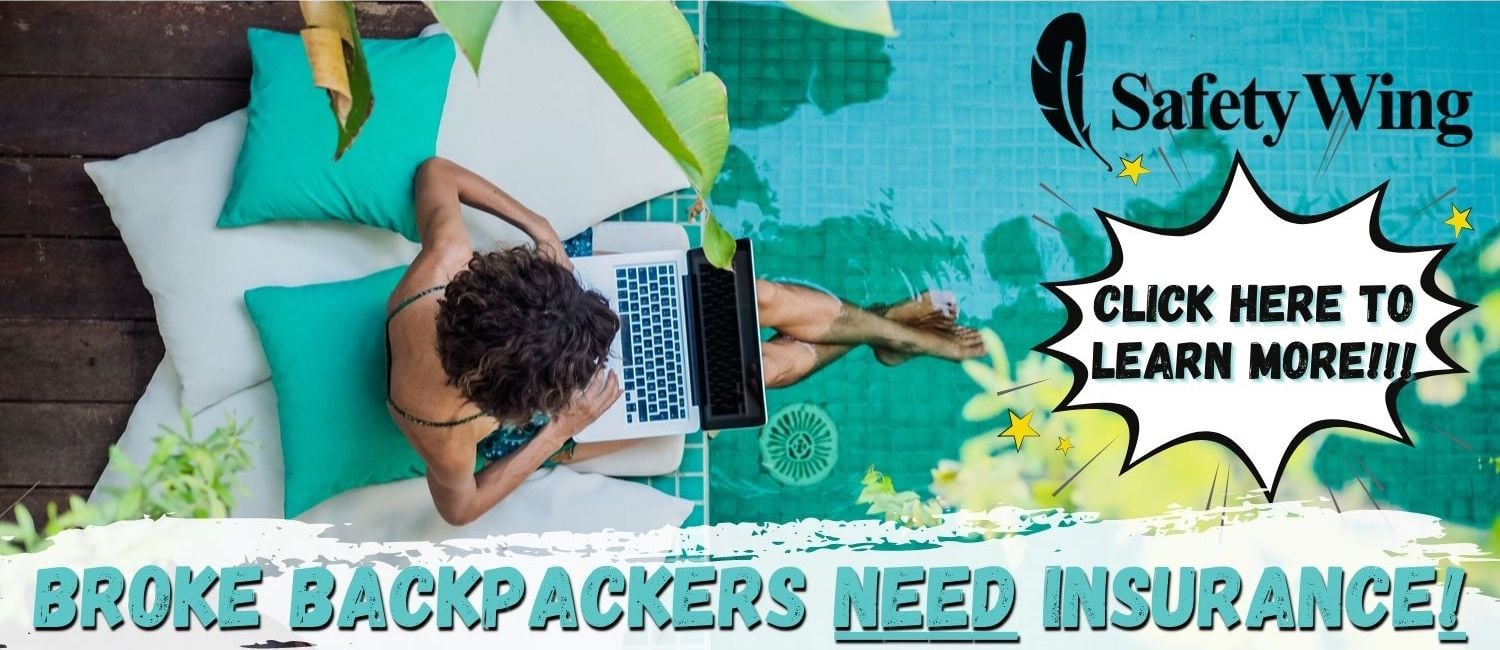 SafetyWing is cheap, easy, and admin-free: just sign up lickety-split so you can get back to it!
Click the button below to learn more about SafetyWing's setup or read our insider review for the full tasty scoop.
Do you own or run a kick-ass hostel? Want to be featured on this list? Get in touch at [email protected]
---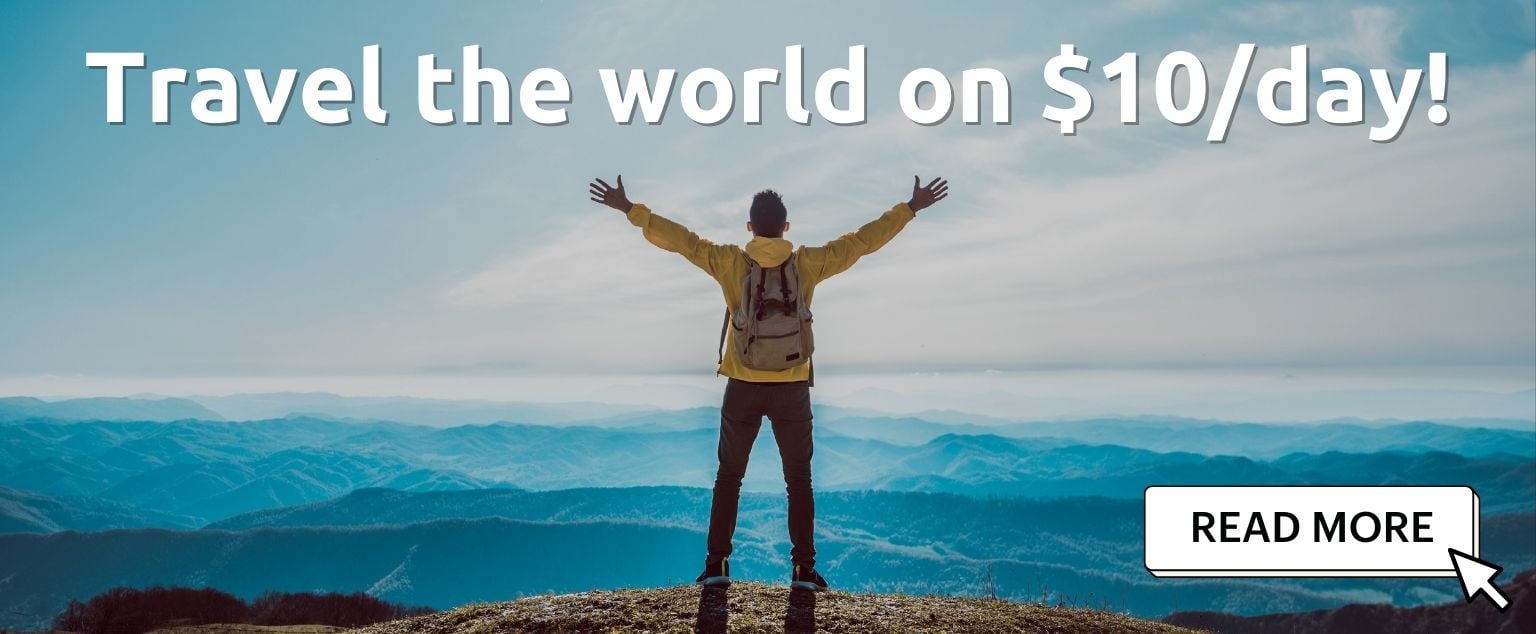 And for transparency's sake, please know that some of the links in our content are affiliate links. That means that if you book your accommodation, buy your gear, or sort your insurance through our link, we earn a small commission (at no extra cost to you). That said, we only link to the gear we trust and never recommend services we don't believe are up to scratch. Again, thank you!