Bilbao is an industrial port city set near the lush mountains of the Basque country – in fact, it's the capital of the Basque Autonomous Region. And whilst it may be industrial, this city features a whole load of sights, from its storied old town to the ever cultural Guggenheim, there's a whole lot to do in this big coastal city.
But choosing a place to stay in Bilbao isn't always easy. Are you here to party? Learn about the culture? Wander around its historical streets? And are there even hostels for backpackers here?
Don't worry! We've made it very easy for you thanks to our handy list of the best hostels in Bilbao – now finding the hostel that's right for you will be a piece of cake.
So let's have a look and see what hostels there are on offer in the Basque capital!
Quick answer: The Best Hostels in Bilbao

Do You Want to Travel FOREVER??
Pop your email in below to get a FREE copy of 'How to Travel the World on $10 a Day!'.
What to Expect from Hostels in Bilbao
While Bilbao might not be as popular as Madrid or Barcelona, you can still find a couple of awesome hostels in the city. If you're backpacking on a tight budget, staying at an affordable hostel is probably the best option.
But that's not the only perk that comes with hostels in Bilbao. Unlike any other accommodation, hostels offer a unique and super friendly social vibe. You can hang out with like-minded travellers from all over the world, meet new people and make friends without having to leave the building.
But obviously, the main reason why hostels are so popular amongst the backpacker crowd is the low price. Compared to hotel rooms and even Airbnbs, you'll pay the fraction of a price at a hostel and with a bit of luck, you'll get even more awesome amenities and features.
The general price rule is: the bigger the dorm, the cheaper the nightly stay. While dorms are definitely the cheapest option, you could also go for a private room if you prefer some alone time or travel with a friend. These rooms are more expensive but are still very affordable. To give you a bit of a feeling for your hostel budget, we've listed the average price range for hostels in Bilbao below.
Dorms (mixed or female-only): 12-22€
Private rooms: 30-45€
Bilbao doesn't have as many hostels as other major cities, but there's still a decent amount to choose from. When looking for a hostel, you'll find most hostels on HOSTELWORLD. There you can check out photos, detailed information about the place and even reviews from previous guests. Just like other booking platforms, each hostel will have a rating, so you can easily pick out the hidden gems!
But it's not just about the hostel itself, you'll also need to decide on where to stay in Bilbao. To make the decision a little bit easier for you, we've listed the three best neighborhoods below:
Abando – the perfect area for first-time visitors and shopping fanatics
Deusto – located north of the city centre, it's ideal for budget backpackers
Bilbao la Vieja – the upcoming hipster area with lots of unique restaurants, cafes and bars
5 Best Hostels in Bilbao
Without making you wait any longer, here are our top 5 hostels in Bilbao, divided into different categories. But just keep scrolling, there might be more options coming your way!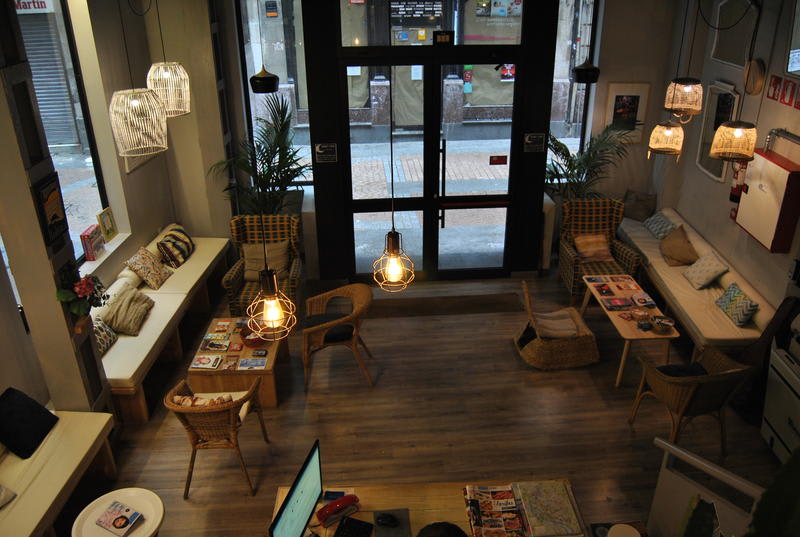 Quartier Bilbao is a great hostel for public transport and exploring the city as the metro is a mere 5 min walk away. There's also a free breakfast here, and a very cool terrace on the roof. An all-round cosy and well-maintained place (like hanging out in a cool cafe with beds), it's the best overall hostel in Bilbao.
Why you'll love this hostel:
Sunny Roof Terrace
Coffee Machine
No curfew
There are plenty of reasons to love this hostel, but the main one must be the incredibly friendly and welcoming atmosphere. If you look at the reviews from previous guests, you'll notice that pretty much all of them loved their stay, so you can turn up with high expectations!
You can choose between the typical dorm (mixed or female-only), but if you're looking for a bit more alone time, book into one of the awesome private rooms. They come with an en-suite bathroom and free towels. No matter which room you go for, you'll be guaranteed a comfy bed, a plug socket to charge your electronics and a locker that fits even the biggest backpack.
When it comes to amenities, this hostel can offer you a whole lot. Make use of the coffee machine in the morning, enjoy the tasty breakfast in one of the awesome common areas, or get some work done on your laptop with the high-speed Wifi (it's free too by the way).
This Bilbao backpackers hostel is set close to the banks of the river and pretty much right in the middle of the old town. You know what that means – walking around charming, Instagrammable streets whilst hitting up some awesome historical sights. Pick up one of the free city maps from the reception and get ready to explore!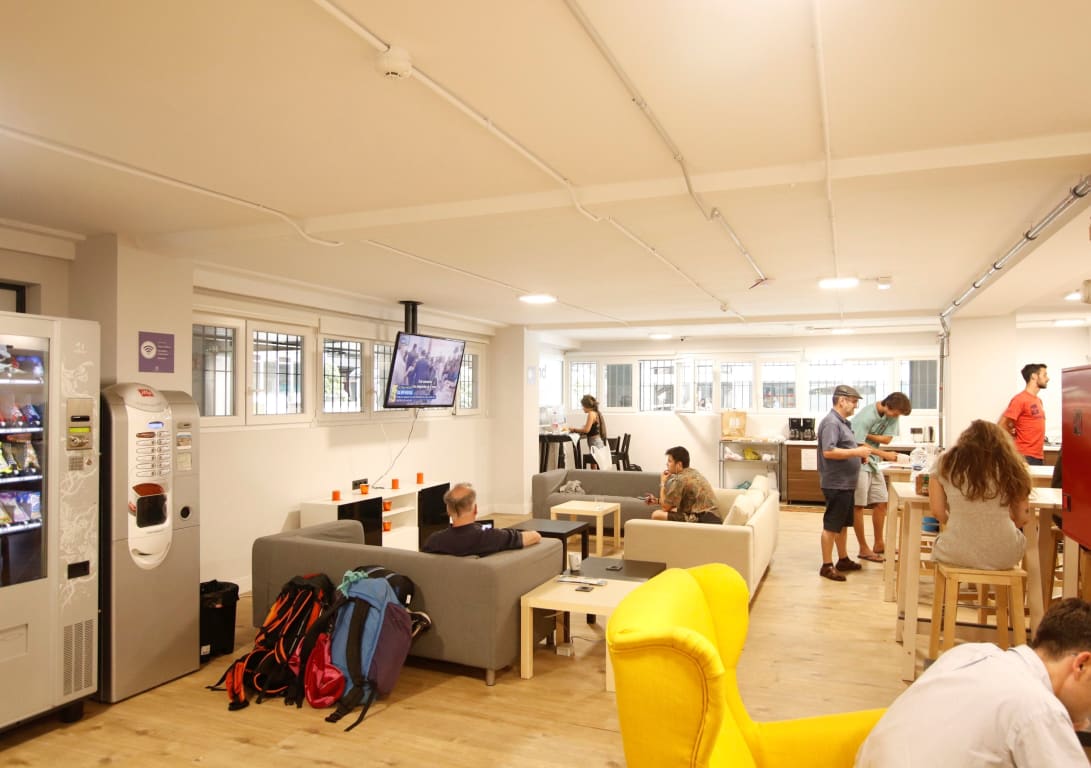 24 Hour Reception
Laundry Facilities
A basic stay in the city, sure, but this Bilbao budget backpackers hostel features rooms with en-suite bathrooms that are cleaned daily. Really big common rooms make it a good place to be able to spread yourself around. Good if you don't like small spaces.
The dorm rooms here might lack a bit of… pizzazz, but they're well looked after – and these are really spacious too. So you can probably spread all of your belongs out over the floor with room enough for everyone else to do the same as well.
Why you'll love this hostel:
Adults-only policy
super central location
Free city maps
While this place might be lacking at the homely vibe and decor, we can't recommend the Bilbao Metropolitan Hostel more to those who have to watch their budget. As one of the cheapest hostels around, you'll get plenty of space and great amenities.
As we mentioned above, the rooms are super spacious. The hostel offers dorms and private rooms which come with comfy beds and free linen. If you need a towel, you can rent one at the reception as well. The rooms are equipped with lockers too so you can store away all of your valuable belongings.
If you're a young backpacker, you might have to look for another place, as there's an adults-only policy. Luckily, all travellers that fit the age category can enjoy a super central location and free city maps to explore the area in detail.
You're close to public transport options and the airport is only 20min by taxi. If you need help with figuring out what to do in Bilbao, just reach out to the helpful staff – they know the ins and outs of the city and will be happy to give their best recommendations.
3. Best Party Hostel in Bilbao – Surfbackpackers Bilbao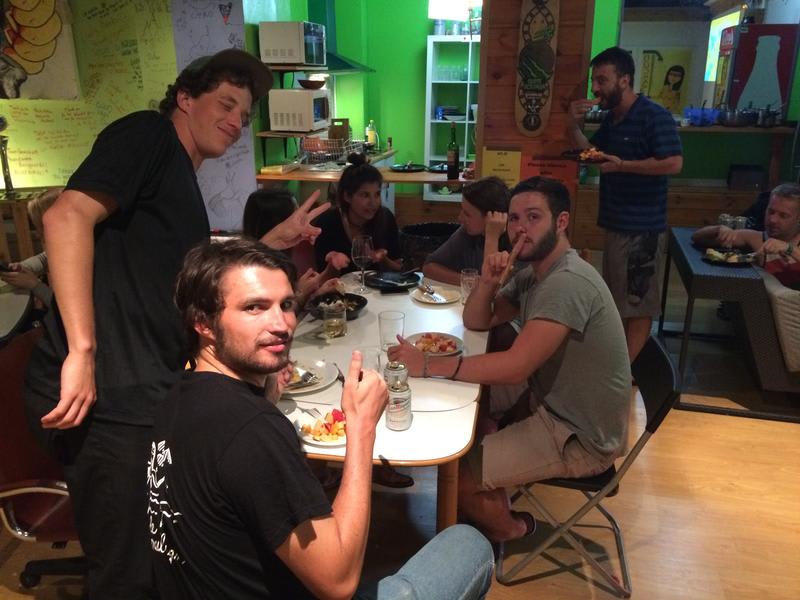 Surrounded by bars and restaurants, this is our top pick for the best party hostel in Bilbao. It might not be the centre of crunk itself, but there's a fun and friendly vibe at this place, one that's good for making drinking buddies to hit the town with.
This Bilbao backpackers hostel (or should we say surfbackpackers) also features a free breakfast in the morning to help with that hangover. Helpful staff are pretty much the glue of this place, as usual, helping to create its sociable atmosphere.
Why you'll love this hostel:
Spacious rooms
Located in lively neighborhood
Very affordable
Surfbackpackers might not be the biggest hostel – in fact, it's actually one of the smallest- but it definitely offers quite a lot of bang for your buck. Speaking of, the nightly rate at this hostel is super low, so you can spend more on your night out!
Don't expect a lot of bling and luxury though. Instead, look forward to a super welcoming and cozy atmosphere. Surfbackpackers is a great place to make new friends, have a laugh and a super relaxed stay.
One thing we have to note though is that there are no power sockets near the bunk bed, so you'll have to survive the night without your phone being right next to you (which might just add to a better sleep anyway).
The spacious dorms offer comfy beds and lockers to put your stuff away safely while you're exploring the area. You'll be located in Deusto, which is the budget backpacking area, so if you're watching your expenses, this hostel and neighborhood will give you the most for your money.
Surfbackpackers Bilbao is one of our favourites in Bilbao but they're not taking guests right now. We're not sure if they're closed for good but we hope they'll come back soon.
4. Best Hostel for Solo Travellers in Bilbao – BBK Bilbao Good Hostel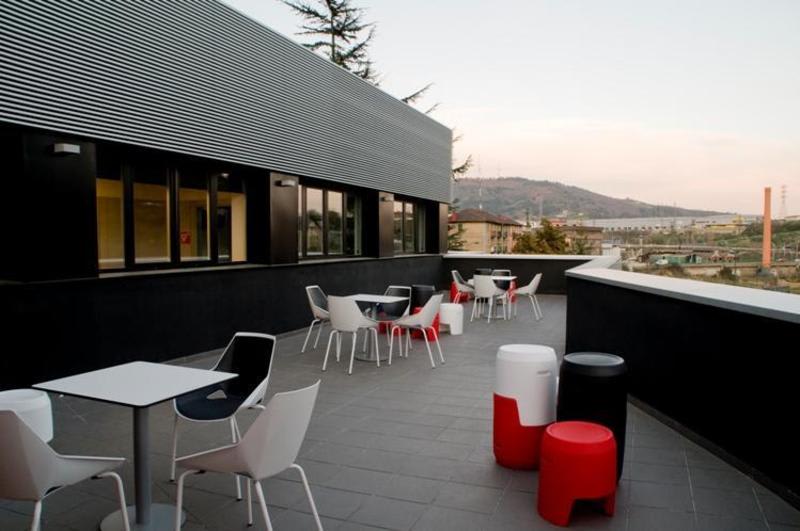 This is the kinda place you can arrive at and feel totally comfortable literally right away. The staff welcome you into the vibrant atmosphere and tell you all about things to do in Bilbao – always handy.
Really well run (i.e. security is taken seriously), this recommended hostel in Bilbao is also really clean and features some super big and very comfy beds. Massive common areas – none of that 'cosy' stuff – plus the ultra nice staff, make it the best hostel for solo travellers in Bilbao.
Why you'll love this hostel:
TV lounge
Vending machine
Games and Computer room
If you want to meet new people and make friends, you've got plenty of opportunities to do so. Join the other Digital Nomads in the computer room, play a friendly tournament in the games room or just chill with your new friends in front of the TV.
The hostel offers dorms (female-only and mixed) and private rooms, which are both very affordable. Each bed comes with a power socket that fits the EU and GB standard plug. To make you feel even more at home, you also don't have to worry about bringing a sleeping bed – the hostel offers free linen.
Location wise, you'll love this place as well. You'll be in walking distance to the subway station which connects you to all the parts of the city. If you're arriving late at the airport, no worries, the hostel is only a short taxi ride away.
BBK Bilbao Good Hostel is one of our favourites in Bilbao but they're not taking guests right now. We're not sure if they're closed for good but we hope they'll come back soon.
5. Best Hostel for Digital Nomads in Bilbao – B Cool Bilbao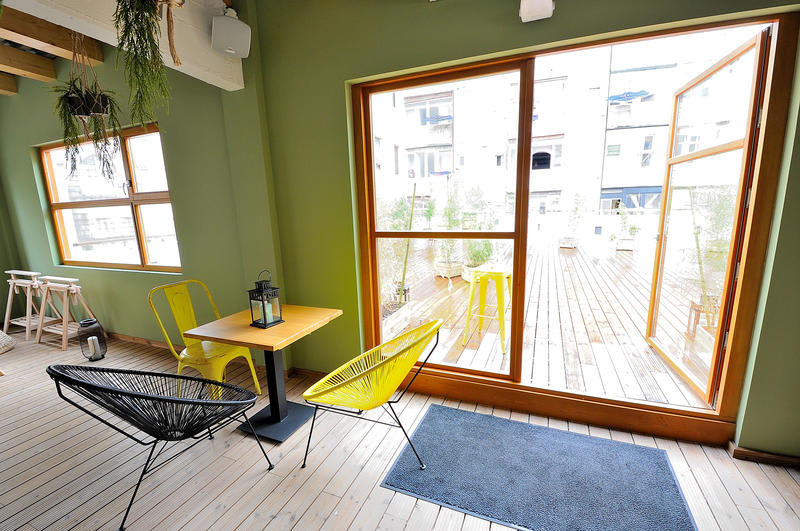 B Cool. Yep. That's the name alright. But you CAN actually feel pretty cool at this best hostel for digital nomads in Bilbao. Nice tiles, shiny surfaces, wooden tables, generally stylish decor that makes it feel like staying in a shared working space… but with beds.
There's also a cafe here so when you're done blasting out a few articles or PR emails or whatever is you do on that laptop, you can take a break and enjoy some seriously tasty local food. Friendly staff make it so you don't go stir crazy, too. The surrounding area is multicultural and makes for an interesting, untouristed wander around.
Why you'll love this hostel:
Edgy designer decor
Free Saturday walking tours
Family rooms
Since we already mentioned the beds above, let's get more into the room details of this awesome hostel. You can choose between the two classics: dorms and private rooms. While you can obviously enjoy the comfort of your own four walls in a private room, dorm beds are equipped with curtains, so you can get a bit of alone time at least.
But that's not all – Bcool also offers special family rooms so the whole group can stay together. On top of that, the ground floor rooms are all wheelchair accessible and specially adapted for people with handicaps. No one is being left out at this hostel!
Once you've settled in, it's time to explore the area. Get your hands on one of the free city maps at the reception and head out. You'll quickly realize that you won't need that map since you're located close to some of the best attractions in Bilbao. If you want to get to know the city in its full details, join the free walking tour on Saturday.
B Cool Bilbao is one of our favourites in Bilbao but they're not taking guests right now. We're not sure if they're closed for good but we hope they'll come back soon.
Is This the Best Backpack EVER???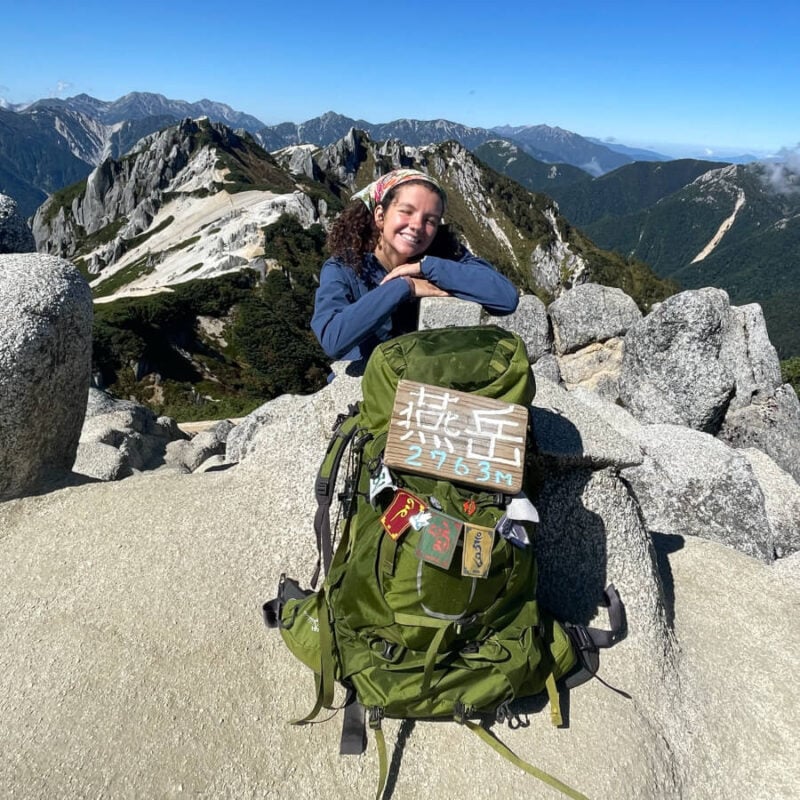 More Best Hostels In Bilbao
Haven't found the right hostel for you yet? No need to panic, we've got a few more awesome places in Bilbao coming right your way!
Best Hostel for Couples in Bilbao – Poshtel Bilbao
Fancy a little break with your partner? Then you should definitely stay in this cool Bilbao hostel, with vintage style shabby chic common rooms – complete with leather sofas and indoor plants, all that Insta-friendly stuff. Bike seats for stools, inexplicably.
Private bedrooms if you want 'em – they're pretty decent. But this is the best hostel for couples in Bilbao because it just feels like a little city escape. It's not about group activities here, just having a stylish place to stay and hang out while you explore.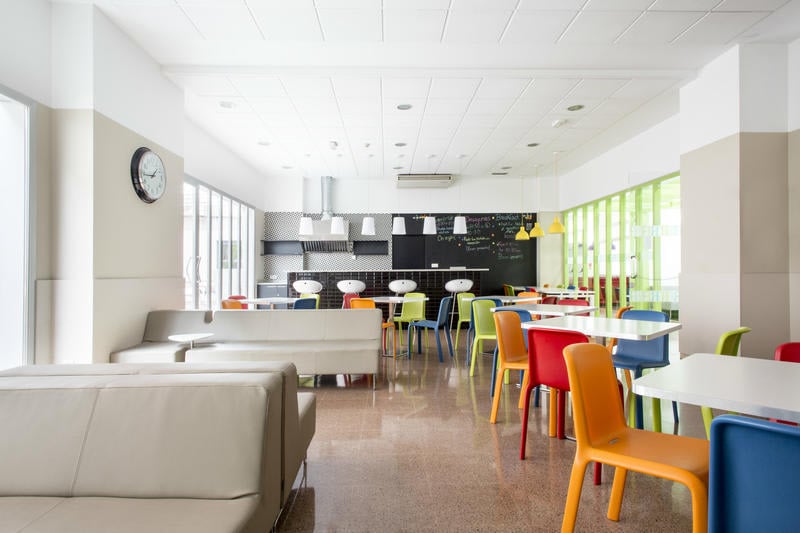 Fitness Centre
Wheelchair Friendly
The Bilbao branch of YHA this place is surprisingly chic, one of the coolest hostels in Bilbao – almost like a boutique hotel. Seriously, like, the private rooms here are in a palette of muted grey and are very design-y.
It's all very minimal, but young and fun, so it definitely feels like the best hostel with a private room in Bilbao. The lounge is also a pretty chill place to hang out. Some of the private rooms even come with kitchenettes and en-suite bathrooms for that extra luxurious touch.

Our GREATEST Travel Secrets…
Pop your email here & get the original Broke Backpacker Bible for FREE.
Laundry Facilities
Outdoor Terrace
10 mins away from the city in a residential area, this top hostel in Bilbao is a super clean place to stay. The staff are also nice here, which makes a big difference, and is great if you're by yourself. Nothing worse than not feeling welcome, right?
This Bilbao backpackers hostel is REALLY close to the Guggenheim, so if you're into museums and stuff like that you'll love staying here. One extra good thing about this place is that it's been made accessible for people with disabilities, which aren't always easy to find.
Ganbara Hostel
Funky and full of colour, this modern place is packed full of Bilbao memorabilia, like some sort of shrine to the city. Paintings, books, old adverts – it's all here, like an Aladdin's cave of everything Bilbao. You might like that, you might not, but at least it's got character.
This top hostel in Bilbao is located in the old town, which means getting around the heritage sights of the area is easy. And the metro station is also nearby, so when you've had enough old town you can get to another part of Bilbao with ease.
Ganbara Hostel is one of our favourites in Bilbao but they're not taking guests right now. We're not sure if they're closed for good but we hope they'll come back soon.
FAQ on Hostels in Bilbao
Choosing the right hostel is never an easy decision. We've listed and answered the most frequently asked question about hostels in Bilbao to make planning your trip a breeze!
Travel Safety Tips for Bilbao
ALWAYS sort out your backpacker insurance before your trip. There's plenty to choose from in that department, but a good place to start is Safety Wing.
They offer month-to-month payments, no lock-in contracts, and require absolutely no itineraries: that's the exact kind of insurance long-term travellers and digital nomads need.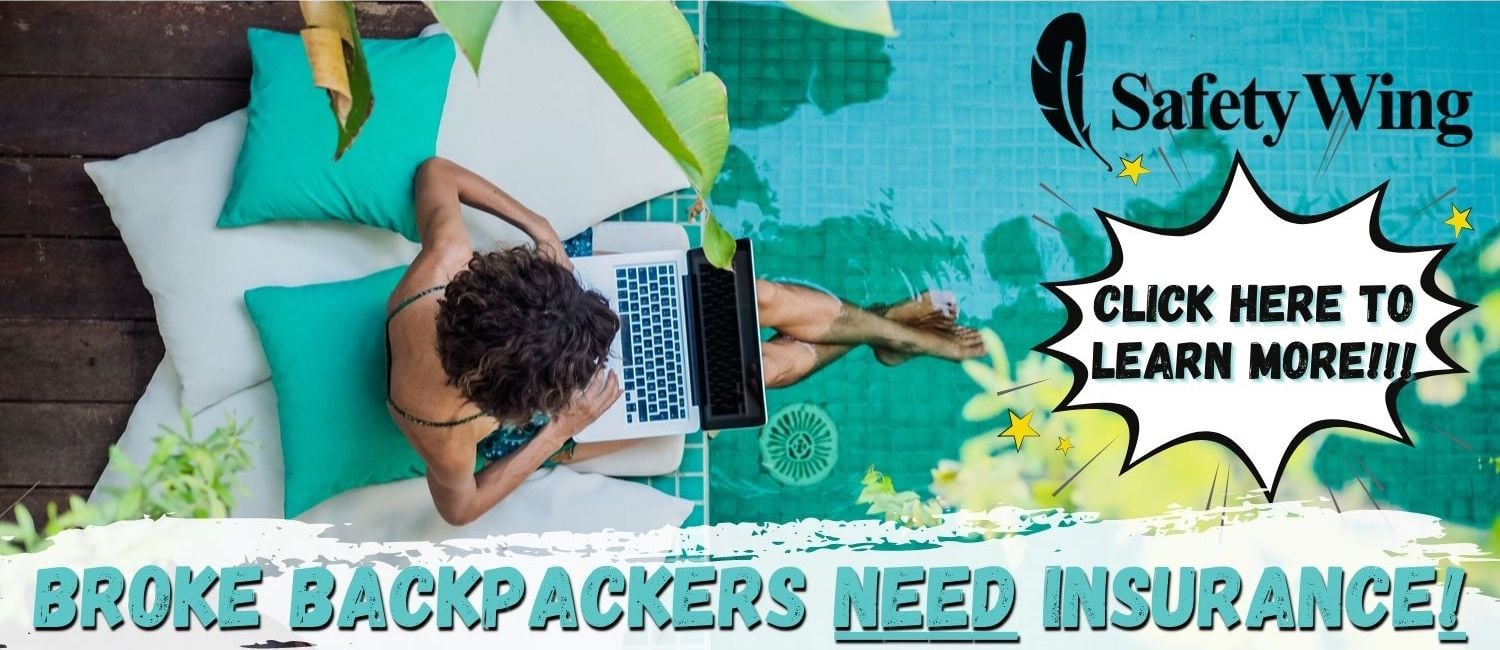 SafetyWing is cheap, easy, and admin-free: just sign up lickety-split so you can get back to it!
Click the button below to learn more about SafetyWing's setup or read our insider review for the full tasty scoop.
Final Thoughts on the Best Hostels in Bilbao
So there you have it, our selection of the best hostels in Bilbao.
From the cheap and cool, to the more expensive and cool… yep, many of this city's hostels are pretty stylish. Which suits anyone with an eye for design!
And surprisingly, there's actually a few options here for disabled travellers. Finding hostels that can accommodate you, or with wheelchair access, isn't exactly what we'd call easy.
If you still can't choose, then don't you worry. We'd just say go for Quartier Bilbao Hostel! That's our choice for the best overall hostel in Bilbao and a great all-round option for most people!
If you think we've missed anything or have any further thoughts, hit us up in the comments!
---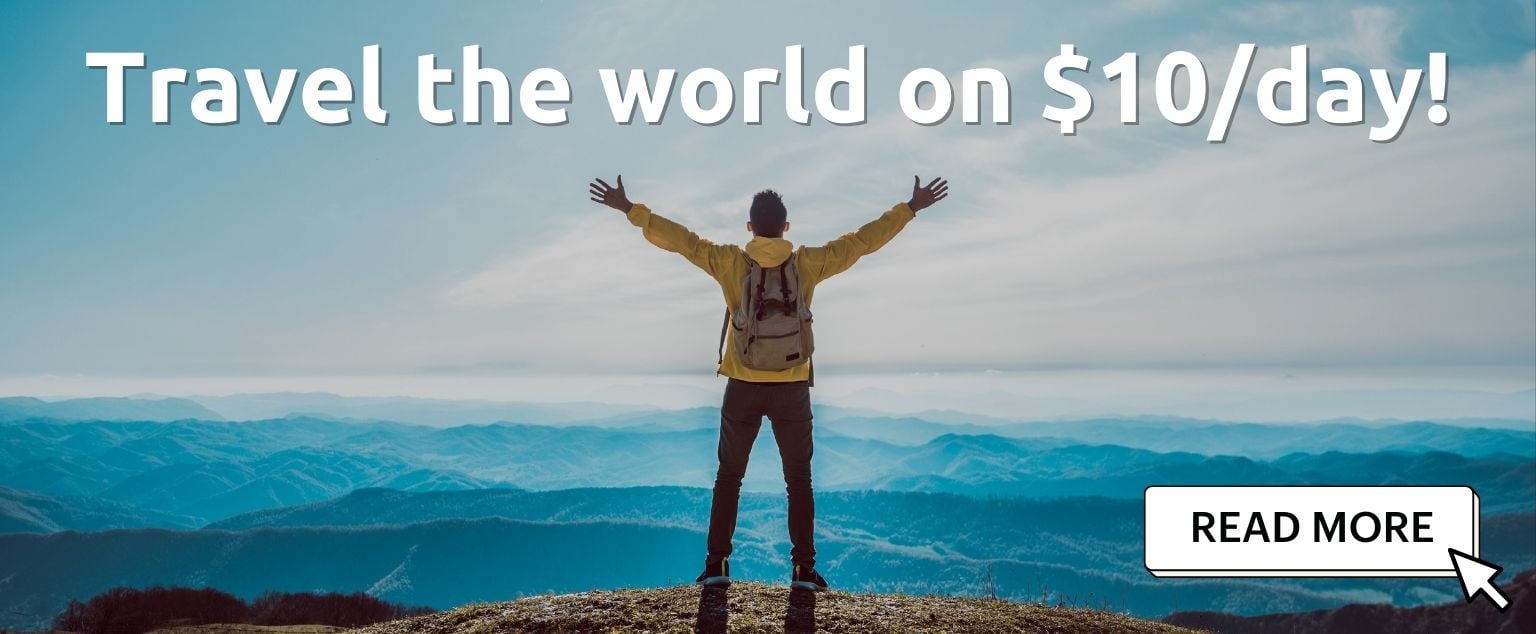 And for transparency's sake, please know that some of the links in our content are affiliate links. That means that if you book your accommodation, buy your gear, or sort your insurance through our link, we earn a small commission (at no extra cost to you). That said, we only link to the gear we trust and never recommend services we don't believe are up to scratch. Again, thank you!