Set on Brazil's Costa Verde, Paraty is an awesome destination in this South American giant of a country. With the beach on one side, and mountainous jungles surrounding it, the thing about Paraty is not only the setting but the town itself.
We're talking one of the best-preserved historical centres in Brazil! This place is all about it's beautiful whitewashed buildings, tiled roofs and pedestrianised streets that make wandering through this awesome town like stepping through a portal in time. That, or it will definitely make for some great photos!
But are you here to see the history? Or are you here for the beach? Maybe you feel like staying in a jungle retreat? There's a lot of different ways to make your stay in Paraty different, so it can be tricky to narrow it down to one that suits you.
Don't worry! We've scoured the huge selection of the best hostels in Paraty and categorised them to make it super easy for you to find the one that's best for you and your travel plans.
So, are you ready? Good – let's see what the Paraty hostel scene has to offer!
Quick answer: The Best Hostels in Paraty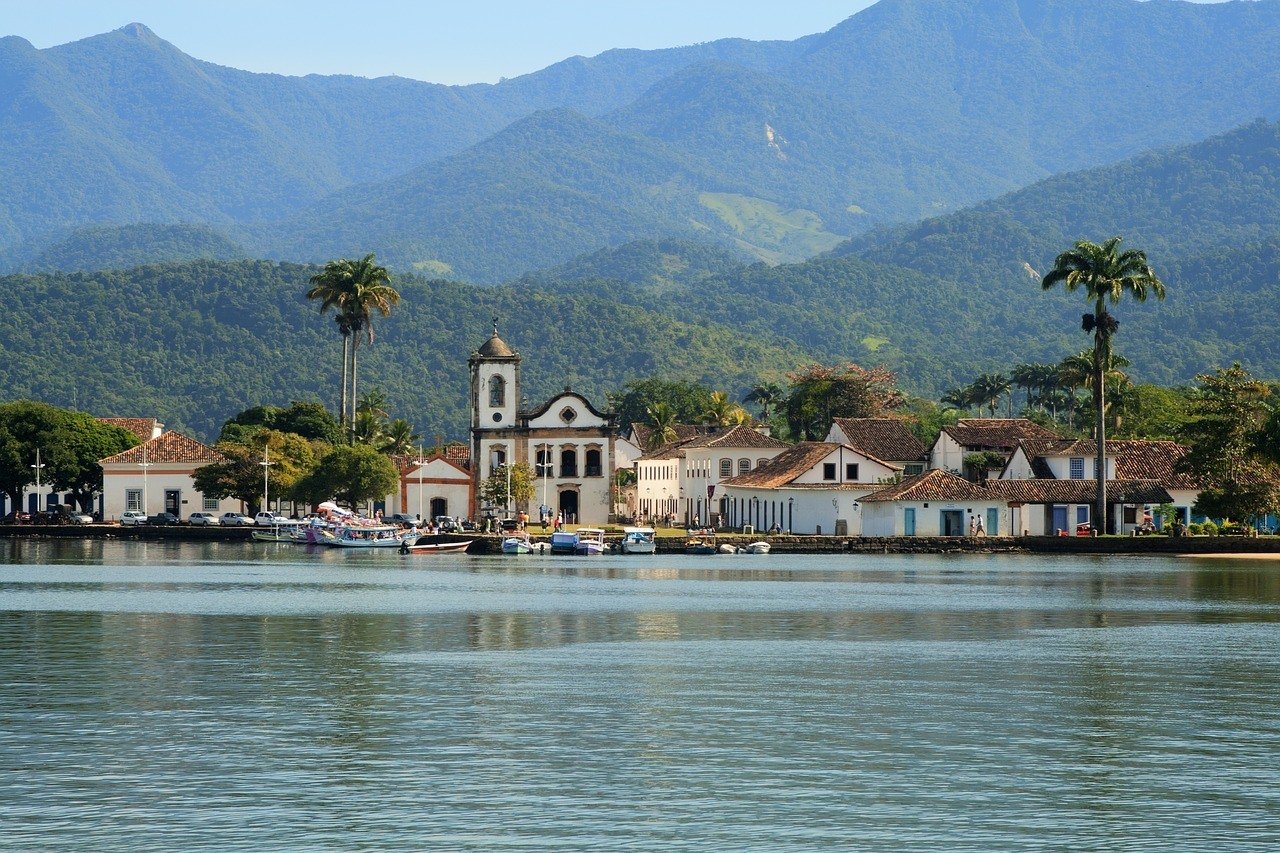 Best Hostels in Paraty
Backpacking Brazil offers a lot of amazing locations, but Paraty definitely belongs on this list! To make sure you have a safe place to rest your head at night, check out the best hostels in Paraty below.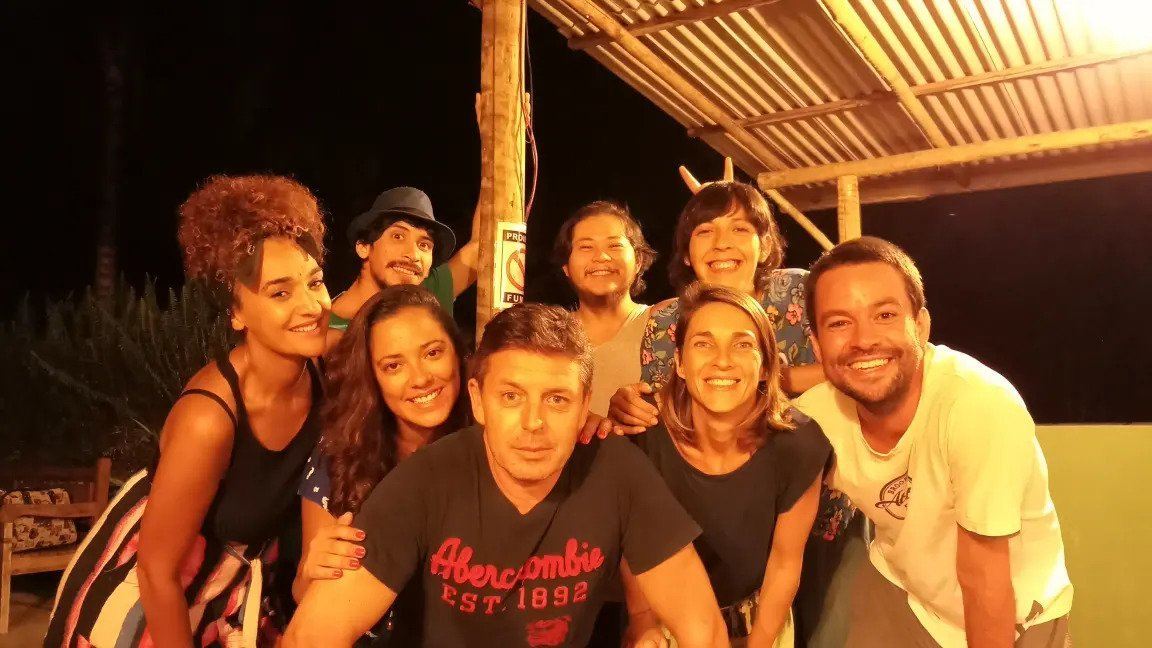 $$
Outdoor Swimming Pool
On Site Bar
Laundry Facilities
This Paraty backpackers hostel is pretty immense, we think, mainly because of its MASSIVE outdoor swimming pool. It's a great place to splash around and escape from the heat – and you get views of the jungle, too. Aside from all that, the staff here are super nice and will help you out with basically anything you need.
Location-wise? This place is just a 5 min stroll to the bus station and just 10 minutes' on foot to all the historical sights and what not of the town. Bonus: the cook at this place (more like a chef, honestly) serves up some amazing food. Definitely the best overall hostel in Paraty, we say.
Best Party Hostel in Paraty – Vibe Hostel
$
Activities
On Site Bar (Obviously!)
Air Conditioning
With a name like Vibe Hostel, how could this place NOT be the best party hostel in Paraty? We mean, even without the name this place is definitely where it's at for good vibes. Staying here you can expect nightly parties, awesome boat trips, and a bar that won't kill your budget for drinks.
This budget hostel in Paraty is the place to come if you're looking to party. It attracts a good crowd who, probably like you, feel like getting stupid on booze pretty much every night. Chill times here means a game of pool or vegging out with their selection of videogames. Nice.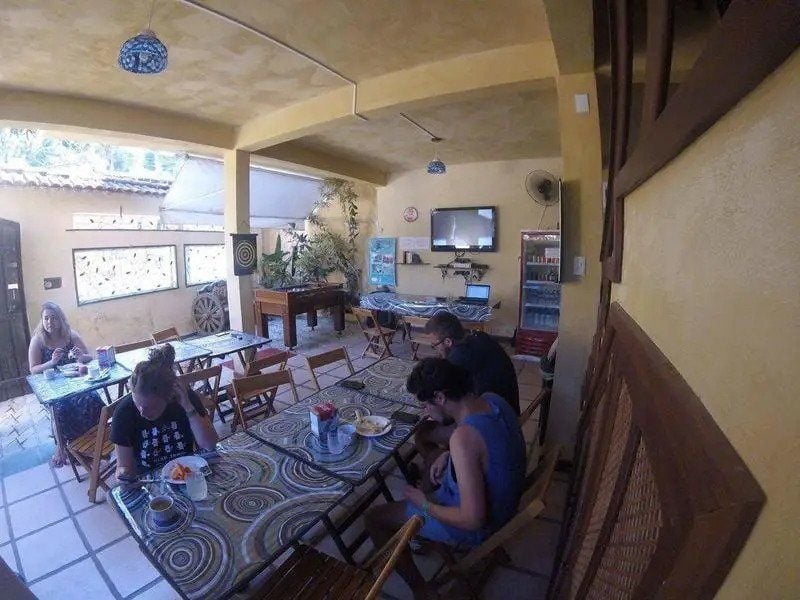 $$
On Site Bar
Outdoor Swimming Pool
Free Breakfast
Not only does Leo's Clan Beach Hostel boast a pretty dang decent outdoor pool, AND an amazing free breakfast served up every morning, it's also well geared towards meeting fellow travellers on your trip. There's plenty of social spaces and all that jazz.
It's honestly the kind of place you'll book for one night and end up wanting to stay a few more… or a WEEK. It's our top choice for the best hostel in Paraty for solo travellers. It's the perfect place to meet other people (thanks in part to the super friendly and welcoming staff and owner) and has a great location, right near the Old Town. Amazing.
$
Free Breakfast
Air Conditioning
GOOD Wi-Fi
If you're on the look out for something that is going to suit your shoestring budget, then we'd definitely recommend staying at Maracuja Hostel – the best cheap hostel in Paraty, obviously! It's a pretty compact, cosy place with a great location near the centre of town. Not bad for starters.
This budget friendly hostel in Paraty also boasts a cool little garden area – complete with hammocks (perfect for a beer and a chill, we gotta say) – as well as an on site bar. Budget travellers will love the free breakfast on offer here, which comes with the bonus of a toastie machine!
Best Hostel for Couples in Paraty – Happy Hammock Eco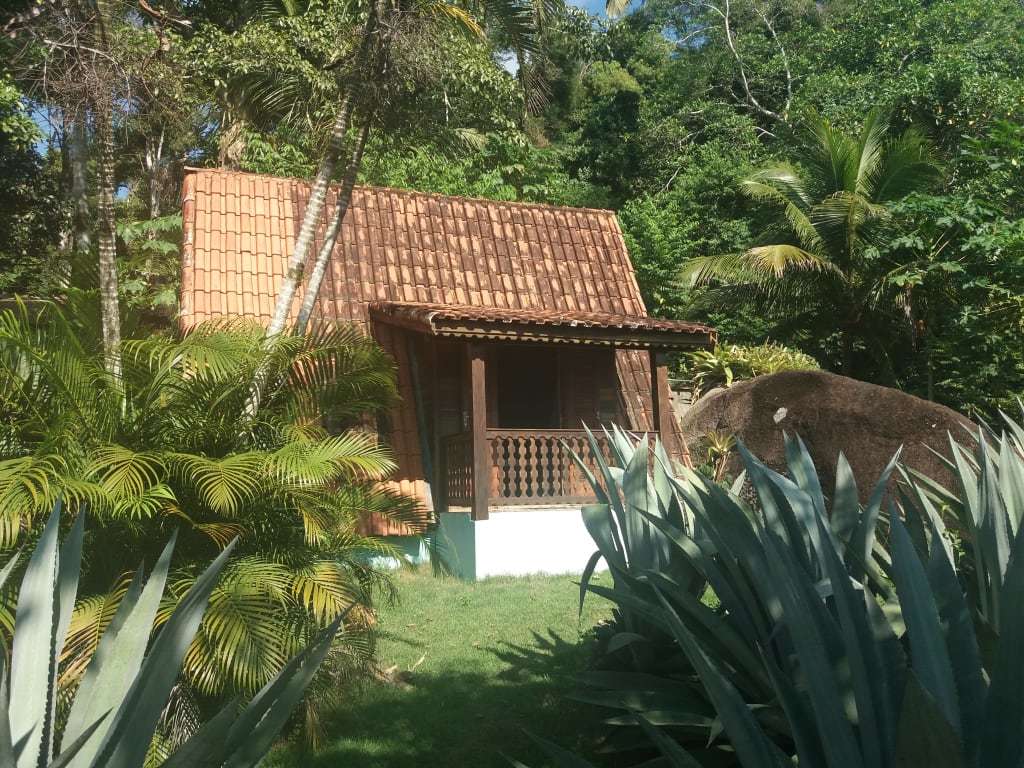 $$$
Beachside Location
On Site Bar
Restaurant
Located literally RIGHT on the beach, Happy Hammock Eco is the place to stay if you're travelling to Paraty with your other half. We're talking secluded, romantic location surrounded by rainforest – and the sea, obviously.
Time here is spent splashing in the sea, chilling in the shade on a hammock, working on your tan in the sun, or spotting bioluminscent plankton in the evening. On top of that, the restaurant here serves up a daily rotating menu of healthy meals… and the private rooms have sea views. How could it NOT be the best couple for couples in Paraty?
Best Hostel for Digital Nomads in Paraty – Hostel Sereia do Mar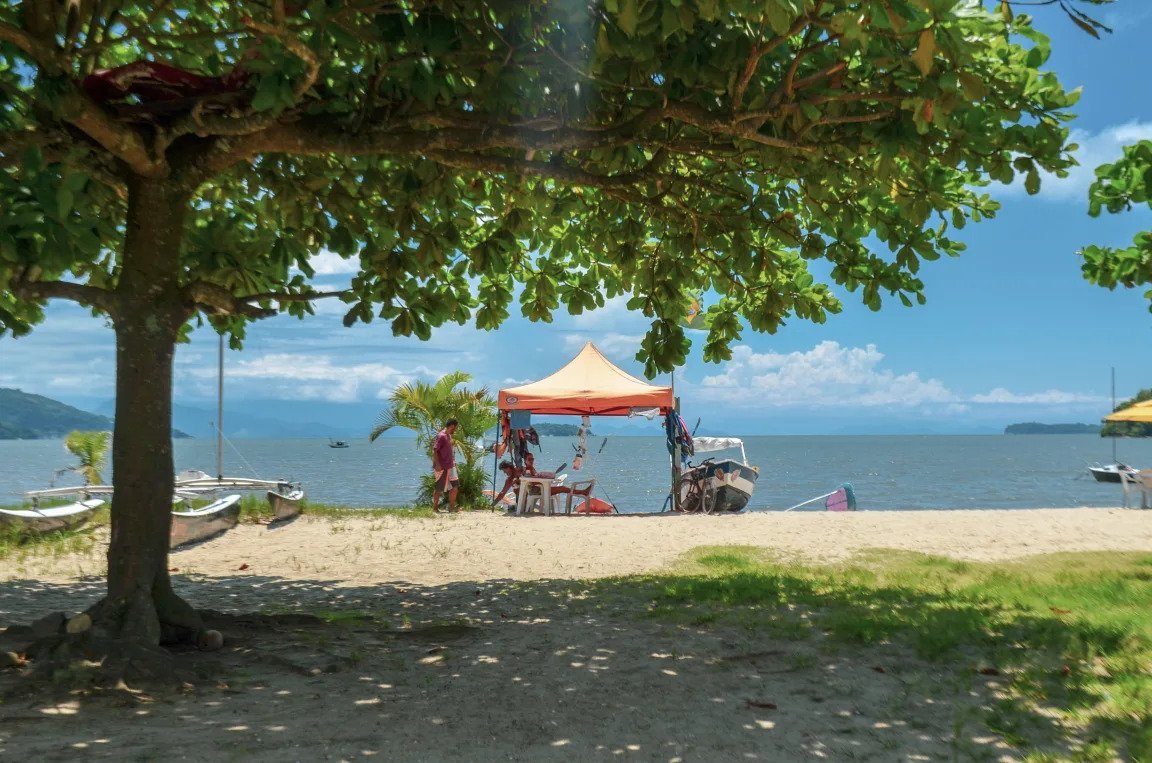 $$
Free Breakfast
On Site Bar
Outdoor Swimming Pool
If you're a remote worker and you need to get some work done in Paraty, then look no further than Hostel Sereia do Mar. This stylish little hostel has some great spaces where you can kick back with your laptop and send as many emails as you need to – all with a sea view or with the pool in easy reach!
The best hostel for digital nomads in Paraty, it's not ALL about the work. When all that's over and done with, grab a pizza and some drinks and listen to some live music at the on site restaurant. Pretty decent for a hostel, we say.
$$
On Site Bar
Bicycle Hire
Free Breakfast
If you want to stay in a hostel, but you're, um, not the socialising type (or you just want your own space, man) – don't worry! Chill Inn Paraty Hostel & Pousada is the best hostel in Paraty with a private room. The privates here are hotel quality and come complete with private bathrooms and big doors that open out onto the terrace. Dreamy…
Tuck into an awesome free breakfast every morning with your toes in the sand, then stroll to the centre of town – just a 5 minute walk away. It honestly doesn't get much better than this. When can we move in?
Things DO go missing sometimes…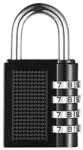 Psst! Heading to a hostel? Don't forget to pack a padlock! It's well worth having one so you can secure your locker and protect your stuff!
More Best Hostels in Paraty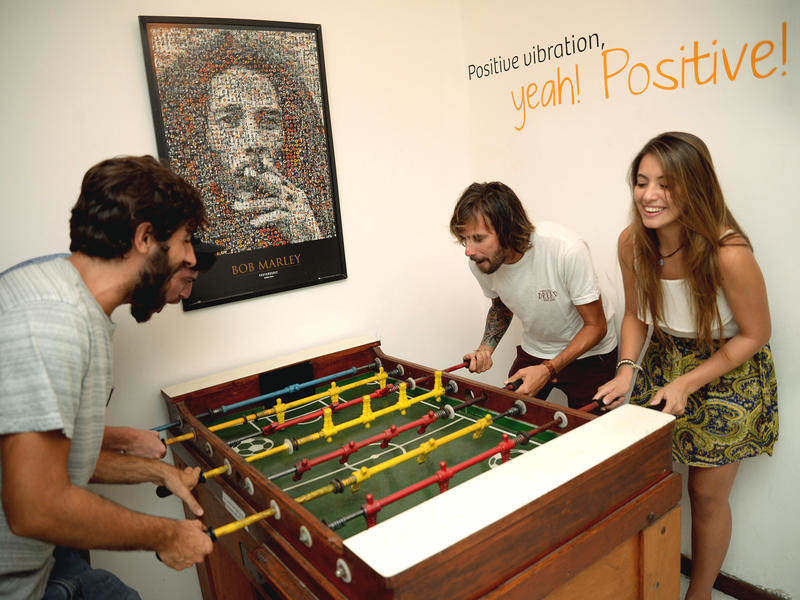 $$
Outdoor Swimming Pool
Communal Kitchen
Pool Table
Close to the main street and center of town, this budget hostel in Paraty is honestly a great choice if you want to be surrounded by the buzz of town, plenty of places to eat and drink, and to catch some live music, too.
The hostel itself is a pretty decent choice for solo travellers, we reckon. The staff here put on things like pizza nights and BBQ to get everyone mingling, plus there's a laid-back outdoor bar with plenty of hammocks to chill in. We can definitely think of worse places to meet new friends!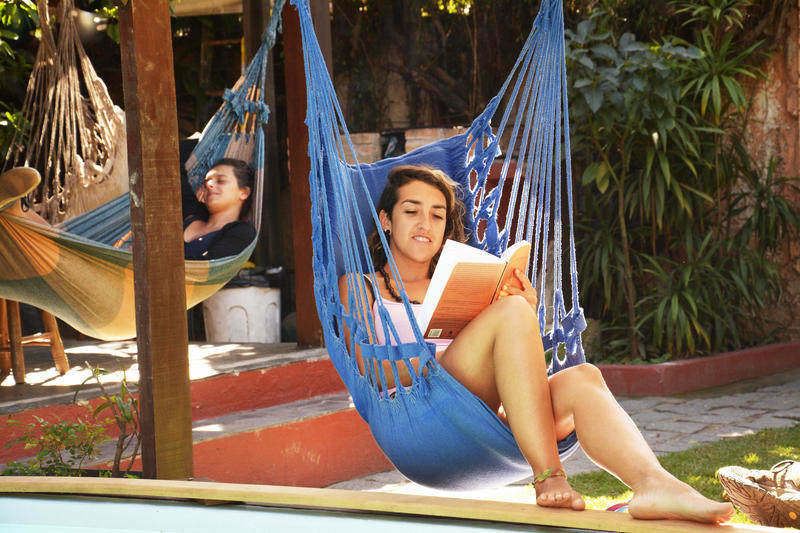 $$
Free Breakfast
On Site Cafe / Bar
Air Conditioning
Backpackers House Paraty is a fun place to stay that's pretty much going to guarantee that you have a good time. It's got a bar, it's got a restaurant, it's got a pool. Heck, it even has a PlayStation for tournaments and chill, hangover days. It ALSO has an insanely good free breakfast (with veggie and vegan options to boot).
But that's not all! It's ALSO very near to the bus station, which means getting in or out of Paraty is a breeze if you stay at this hostel. Fans of convenience and not getting taxis will love that part of this Paraty backpackers hostel.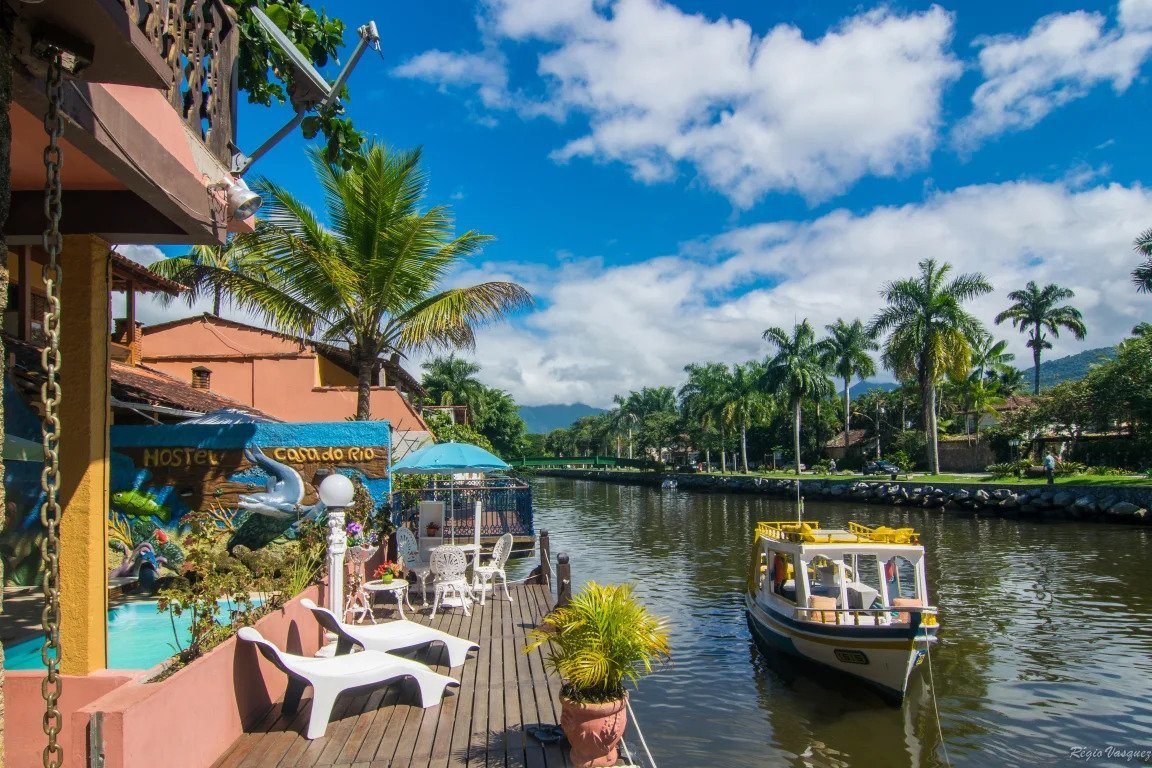 $$$
Riverside Location
Free Breakfast
Outdoor Terrace
Wow. What DOESN'T this awesome hostel in Paraty have? It may not be the cheapest hostel in Paraty, but it's got some killer credentials to make it one of the best in town. First off, that riverside location is pretty dreamy; there's even a waterside terrace with day beds to soak up the sun (and a few drinks, of course).
It's got some pretty swish apartments on offer, which is great if you're travelling with a group of mates; it's got some quirky rooftop dorms; and it's even got an outdoor pool as well. Throw in a free breakfast and we're pretty much sold.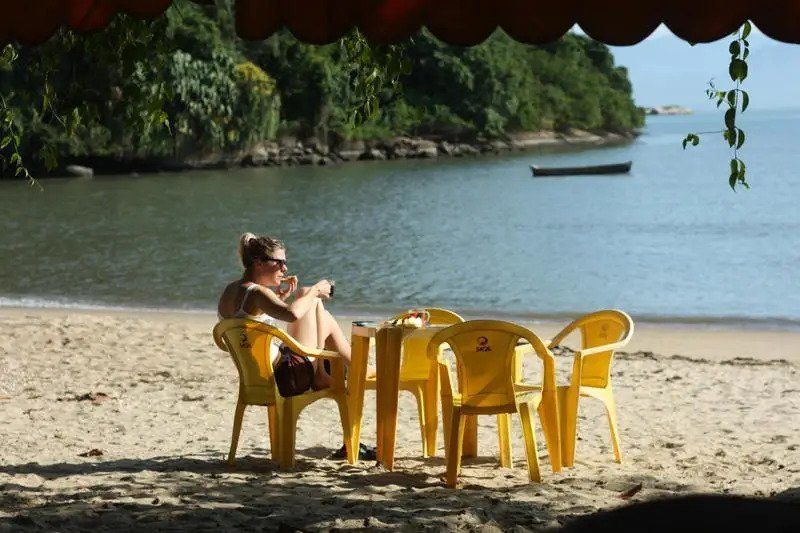 $$
On Site Bar
Beachside Location
24 Hour Reception
Geko Hostel & Pousada Paraty has a pretty much awesome location. It's right on the beach, close to mangroves and other slices of nature, meaning it's THE place to relax. We mean, what could be better than breakfast on the beach every morning? The bonus is being just a 10 min stroll to the historic centre of town, too.
The air conditioning at this Paraty backpackers hostel is strong, which may not sound like much but trust us: you'll need it. Aside from modern conveniences, the staff who run this place are friendly, welcoming and will help you plan your stay in Paraty (and beyond).
Want to save the world?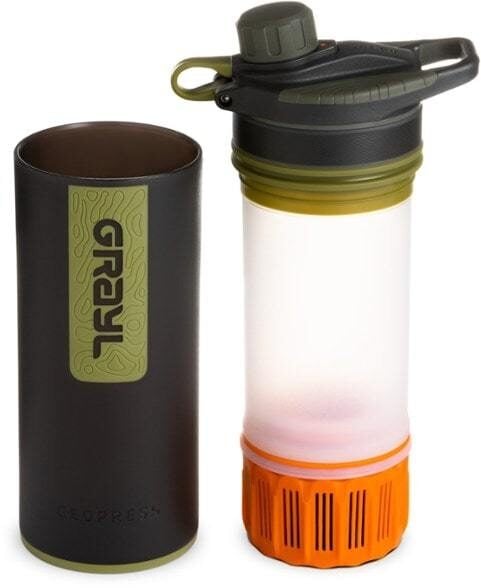 Single-use plastic bottles are a huge threat to Marine Life – Be a part of the solution and travel with a filter water bottle.
The GRAYL GEOPRESS water bottle is the ONLY all-in-one filter water bottle setup you'll need. Whether you need to purify the water from a hostel sink in Kathmandu or a stream trickle in the Andes, the Geopress has got you covered.
Read our full review of the GRAYL GEOPRESS!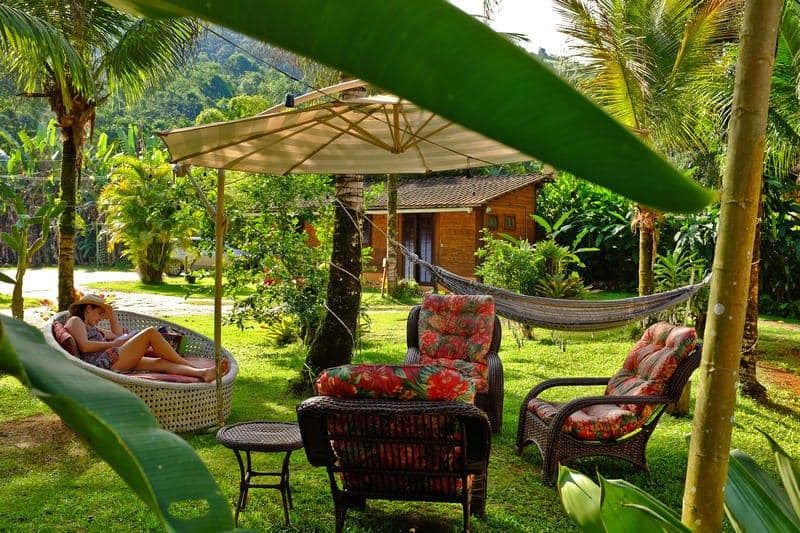 $$$
Rainforest Location
Communal Kitchen
Free Breakfast
If you feel like NOT staying in a Paraty backpackers hostel that's on the beach (there are loads of them), then you can opt for staying at this pousada, smack in a slice of the Brazilian rainforest. Things like swimming in the nearby stream, unwinding in the wild garden, make it a nature-lovers paradise.
The rooms here are clean, comfortable and quiet (except for the rainforest critters you'll hear). Staying here means waking up after a peaceful night's sleep to a Brazilian breakfast each morning. The staff here deserve a mention, too, because they're also great.
$$
On Site Bar
Free Breakfast
24 Hour Reception
Remo Hostel is an awesome place to stay if you feel like being away from all the tourist sights in town. It's also pretty unique: this Paraty backpackers hostel is set in what used to be a shipping repair building, now located in the jungle. If you like unusual settings, this one's for you!
The hostel has a great team running it; they'll make sure you have everything you need – as well as serving up a pretty awesome breakfast each morning. It's very relaxed and, if you didn't come here to party especially, then you will love how chill this place is.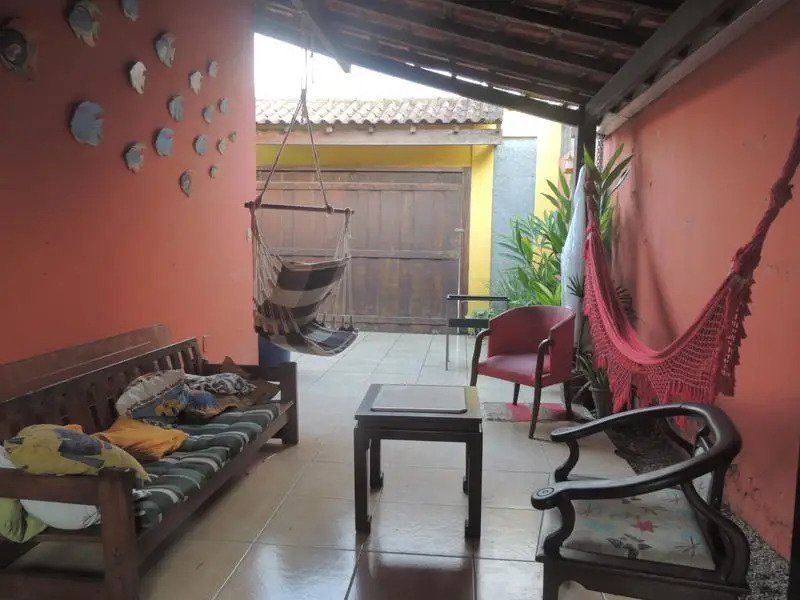 $$
Garden
Air Conditoning
Bicycle Hire
Run by two local sisters, staying at Casa de Iaia feels more like returning home than checking into a budget hostel in Paraty. There's a super welcoming atmosphere going on here, and the homely vibe is helped by the clean rooms and bathrooms, and the big, beautiful garden.
It may take around 20 minutes to walk to the historical centre of town, but you can hire bikes from the hostel and get there in half the time. There's a nice atmosphere here. Don't come expecting to party: come expecting a nice chilled atmosphere and you'll love this place. If you are not feeling like being in the city, check out this article on the best beaches in Paraty.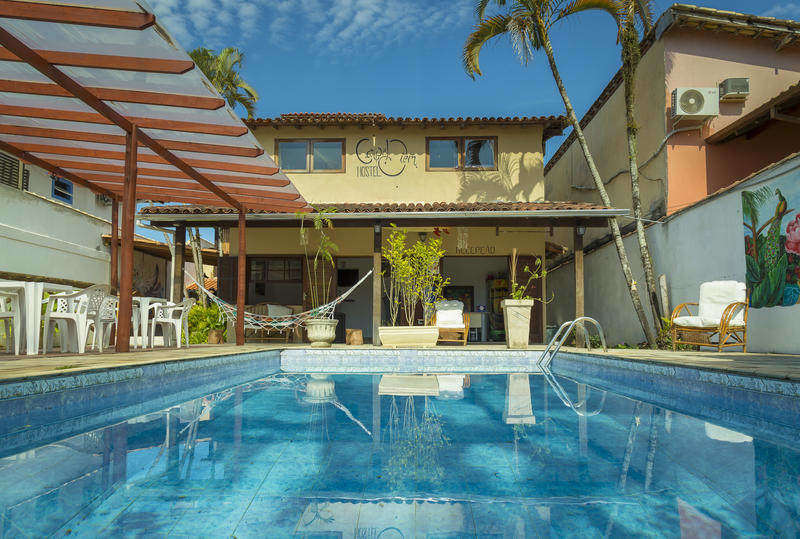 $
Outdoor Swimming Pool
Pool Table
On Site Bar
Located just off one of the main streets in Paraty, in an area that also feels pretty safe, this place is a great option if you're on a budget. It helps, obviously, that it's run by some super nice staff who'll help you with travel tips and plans for future adventures.
There's a decent pool (and bar) area for relaxing and a few drinks – helps to create the great atmosphere at this place. But it's also the perfect place for a stopover: this budget hostel in Paraty also happens to be RIGHT near the bus terminal, so onward travel is as simple (and stress-free) as can be.
The BEST Travel Backpack?!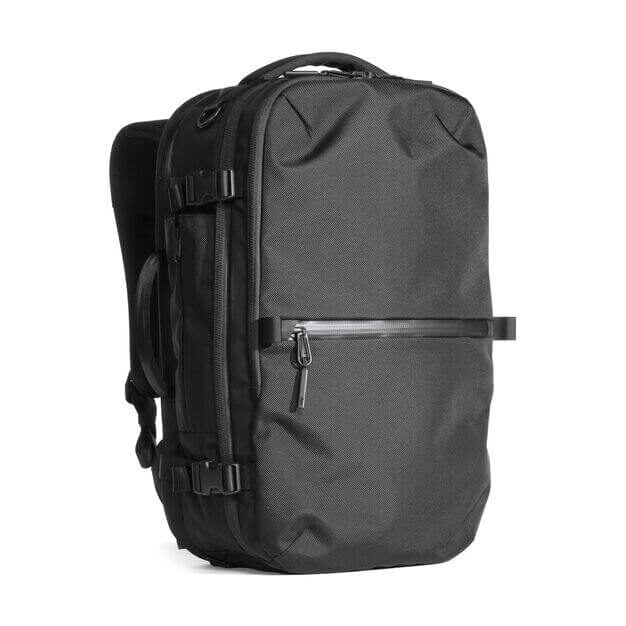 Pssssst! Not picked the perfect travel backpack yet? The Broke Backpacker team has tried out over thirty backpacks this year! Our favourite travel backpack is the Aer Travel Pack 2.
View on AER
What to Pack for your Paraty Hostel
We don't often travel without these essentials.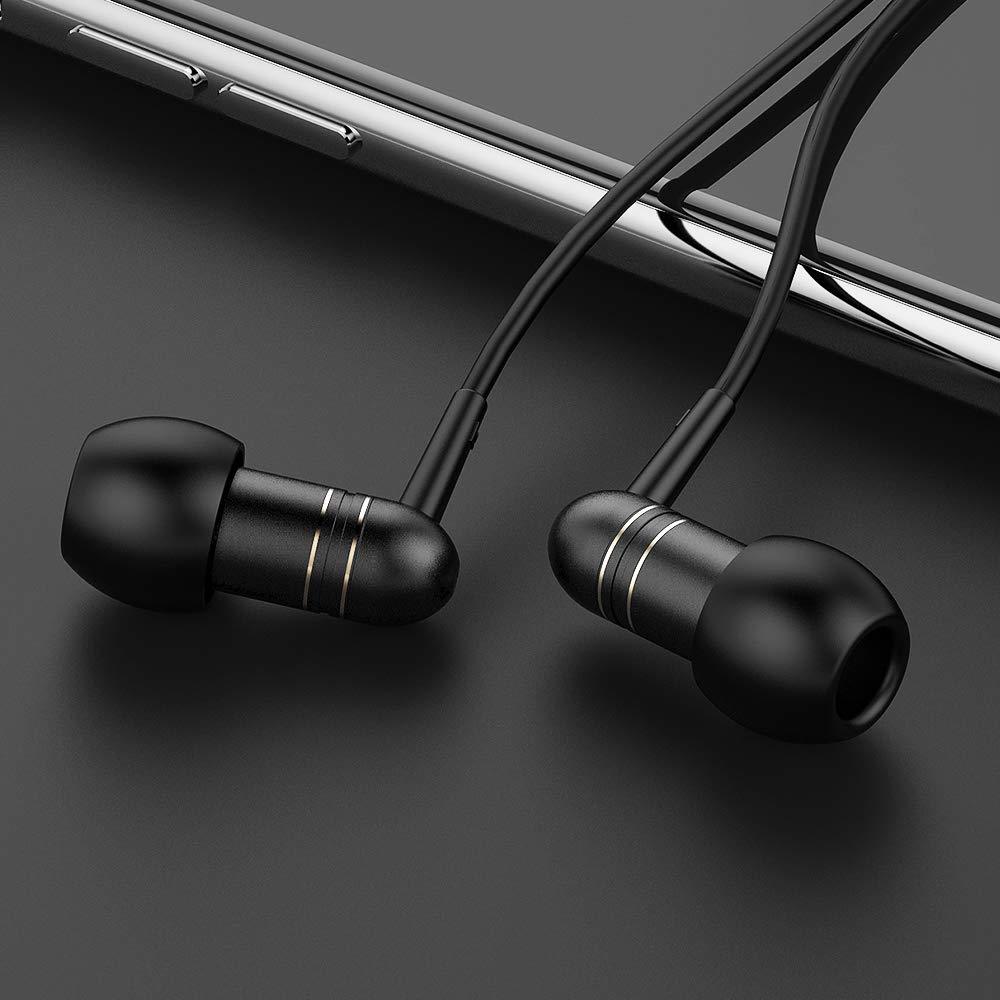 1. Noise-Cancelling Earbuds: Noise in hostels… is a thing. Your bunkmate coming in late, motorbike traffic just below your window, construction on the property or the round-the-clock rooster that seems to follow you to every f*cking hostel. Having a way to escape the noise while you sleep makes for a well-rested morning. Noise canceling ear-buds are a great solution, just put on your favorite artist or load a quick Netflix episode to fall asleep too.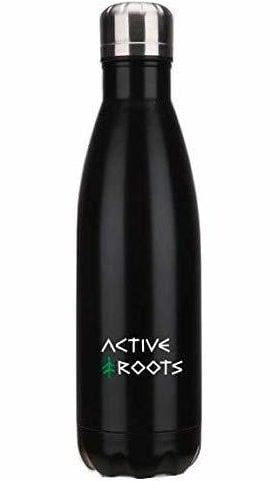 2. Active Roots Water Bottle: Hostels are increasingly meeting backpackers' demands for potable (drinkable) water. Now is better than ever to start traveling with a reusable water bottle! Aside from cutting down single-use plastic, The Active Roots stainless steel water bottle will also keep your favorite beverage hot or cold all day long and it's sized perfectly to fit an entire bottle of wine. 'Nuff said.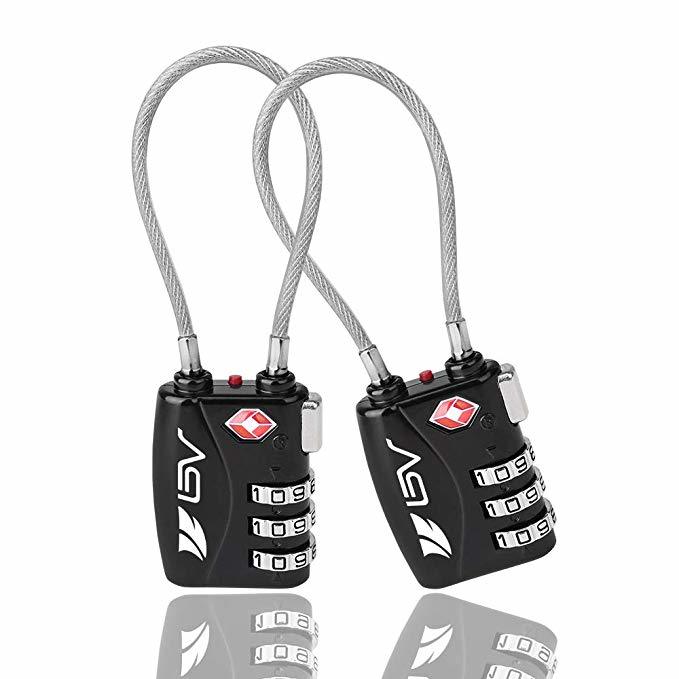 3. Padlock: Keep your stuff safe, guys. Unfortunately not all dorm lockers share the same security standard. You'll want a lightweight lock that can fit all the various dorm lockers you'll clip it to. Having a padlock that is flexible and can fit a variety of locker styles is the best way to make sure none of your belongings wander away while you are out.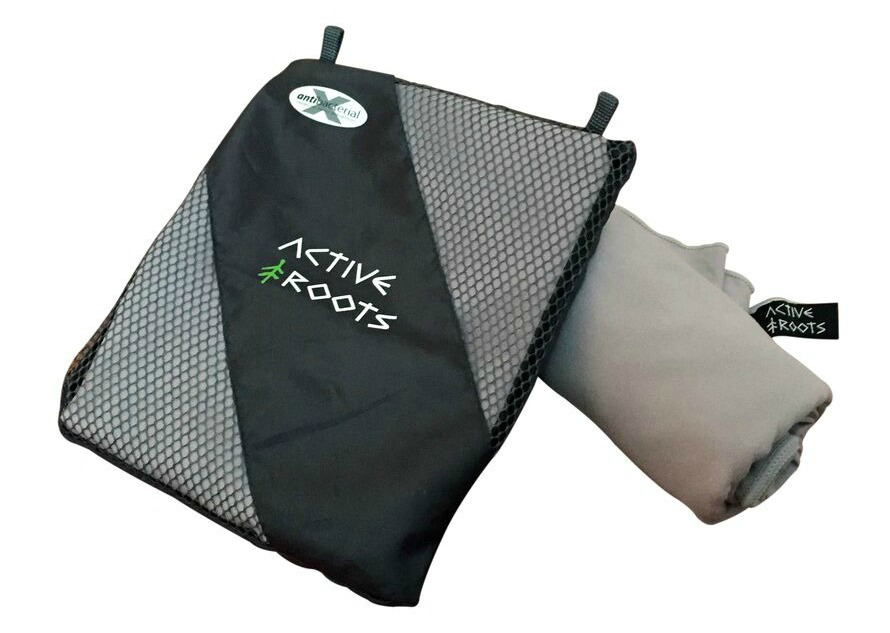 4. Active Roots Microfiber Towel: Having your own towel on your travels is a game changer. The Active Roots Microfiber Towel is perfect for travellers who are looking for a lightweight, quick-drying and extremely soft option. The antibacterial material is super water-absorbent and resists odor buildup because of its antimicrobial material. Ain't technology cool?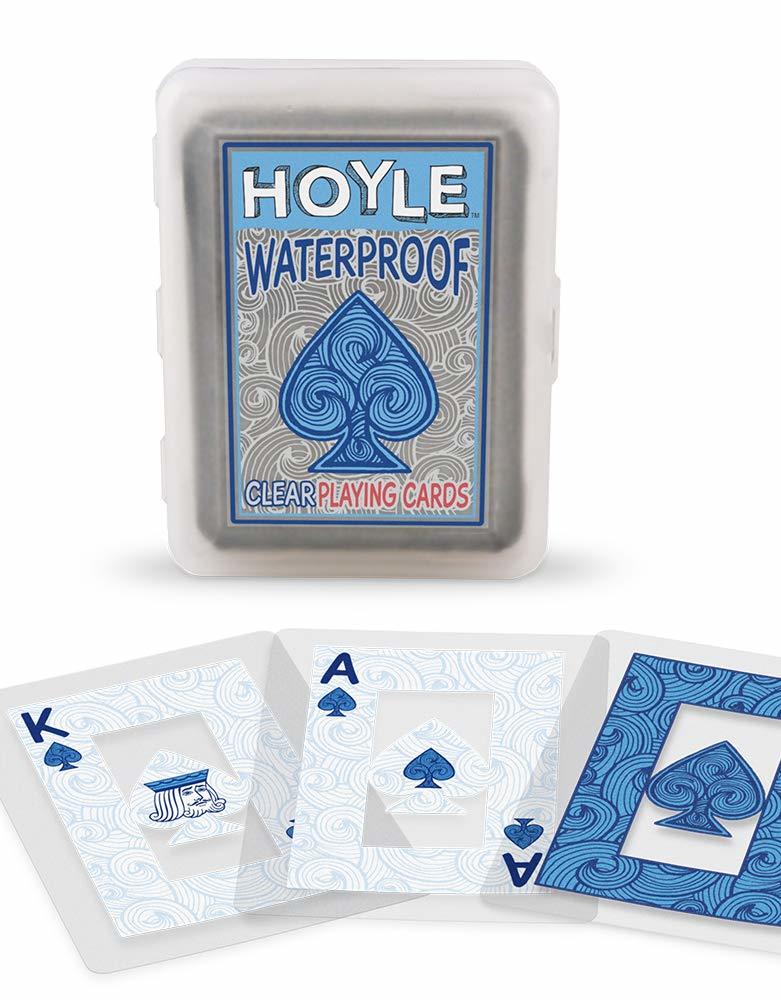 5. Playing Cards: These waterproof cards are essential kit for every backpacker. Play by the pool, beach or at your hostel after a long day with travel buds, without your cards breaking or getting soaked. And once you pull out those cards, the chance that you'll be the hero of the night is pretty high (no promises though).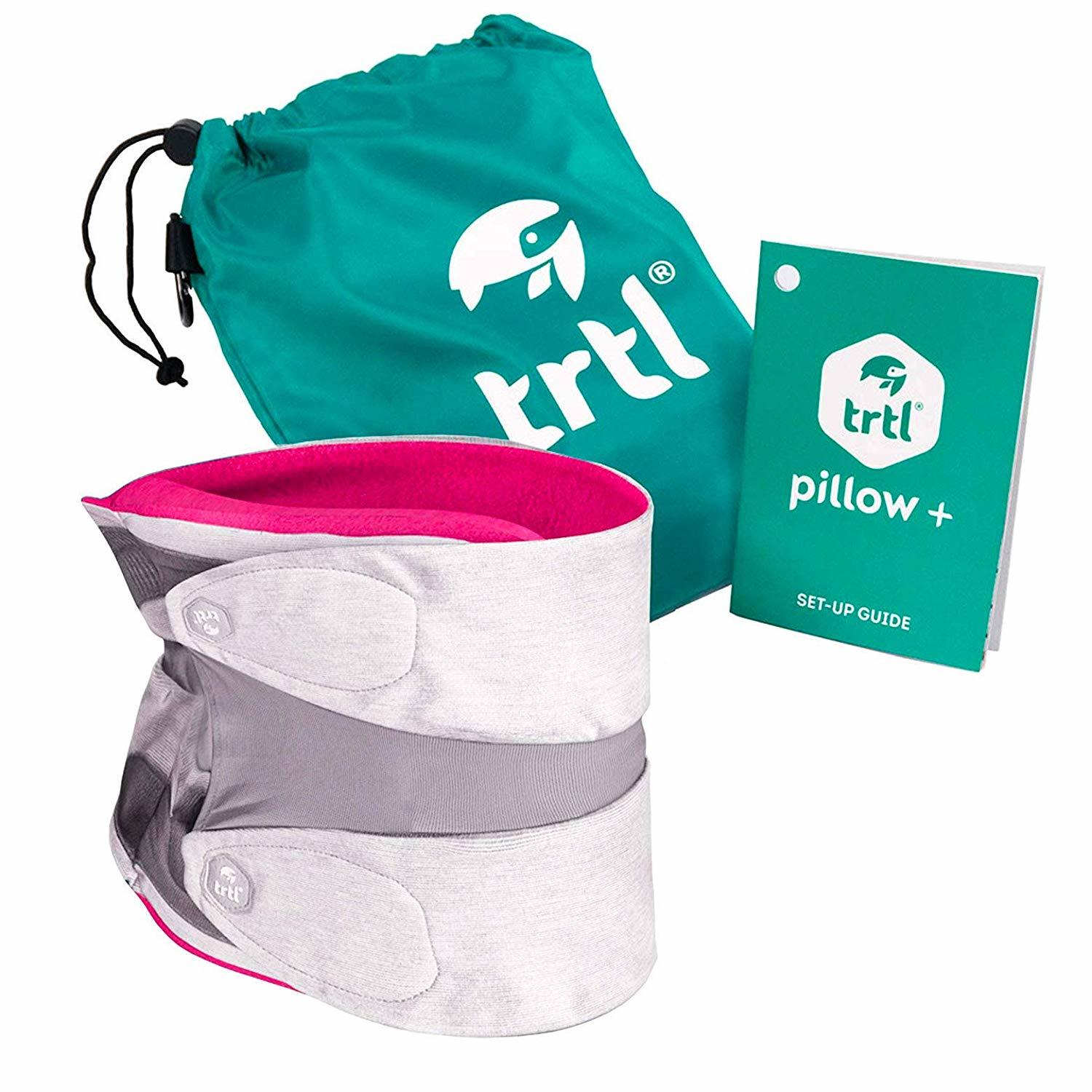 6. TRTL Travel Pillow: Long flights and bus rides are quite uncomfortable (most obvious statement of the day). Most travel pillows… Well, you know how they are. TRTL travel pillow is different. I mean, look at it! It'll cuddle you to sleep every ride and it does a pretty damn good job of supporting your neck so you don't get that stiffness or legendary popping when you stir.
More Epic Hostels in Brazil and South America
Hopefully by now you've found the perfect hostel for your upcoming trip to Paraty.
Planning an epic trip all across Brazil or even South America itself?
Don't worry – we've got you covered!
For more cool hostel guides around South America, check out:
Conclusion
There you have it – the best hostels in Paraty. There's loads on offer here, everything from more high-end to the budget-friendly.
Either way, we made sure to pick a bunch to make sure there's something for everyone. You'll be able to find something that suits you.
Our in-depth guide to the best hostels in Paraty means you've got a lot of choice; it runs from hostels in beachside, party centric locations, to chilled out hostels set in stunning jungle settings.
But if that's too MUCH choice? No worries! We'd say just opt for our top pick for the best overall hostel in Paraty, Casa Viva Paraty. This is a great all-rounder, bound to suit any visiting backpacker.
And don't forget Travel Insurance! We've put together a roundup of Travel Insurance for backpackers – check it out here, or if you're low on time, get a quote from World Nomads, our favorite travel insurance provider.
Getting an estimate from World Nomads is simple – just click the button or image below, fill out the necessary info, and you're on your way!

Do you own or run a kick ass hostel? Want to be featured in this list? Get in touch at [email protected]
"Find out how YOU can support the site. We work hard to put out the best backpacker resources on the web, for free! It's all about helping out our tribe of awesome backpacker readers [that's you!]. Please visit the link to find out how you can help keep the site going 🙂
For the sake of transparency, some of the links in our content are affiliate links. This means that if you book your accommodation, buy a book or sort your insurance, we earn a small commission at no extra cost to you. I only link to stuff I've actually used and never endorse products or services that are not up to scratch. Thanks for your support.