Let's be honest: the Maldives is, like, the granddaddy of villa vacations. This island nation is all about luxury, so when it comes to accommodation, there's no better way to enjoy it than from your own private villa.
Whether you're travelling on your honeymoon, anniversary, or any  special date you want to celebrate — the Maldives has plenty of villa goodness for whatever you need.
Villas come in all shapes and sizes, from beachside vacation homes to luxury resorts. And then there are villas set over the actual sea, virtually floating above turquoise sea and coral reefs below — the ones the Maldives is famous for.
If you're not feeling so flush, or you're backpacking, don't worry, there's also a few surprise budget options.
Whatever your budget is, you're bound to find a villa to suit your needs and lifestyle in this list of the very best villas in the Maldives.
In a Hurry? Here's Where to Stay in Maldives for One Night
Is this amazing Maldives Villa booked for your dates? We've got your back with our other favorite properties below!

Unlock Our GREATEST Travel Secrets!
Sign up for our newsletter and get the best travel tips delivered right to your inbox.
Staying in a Villa in Maldives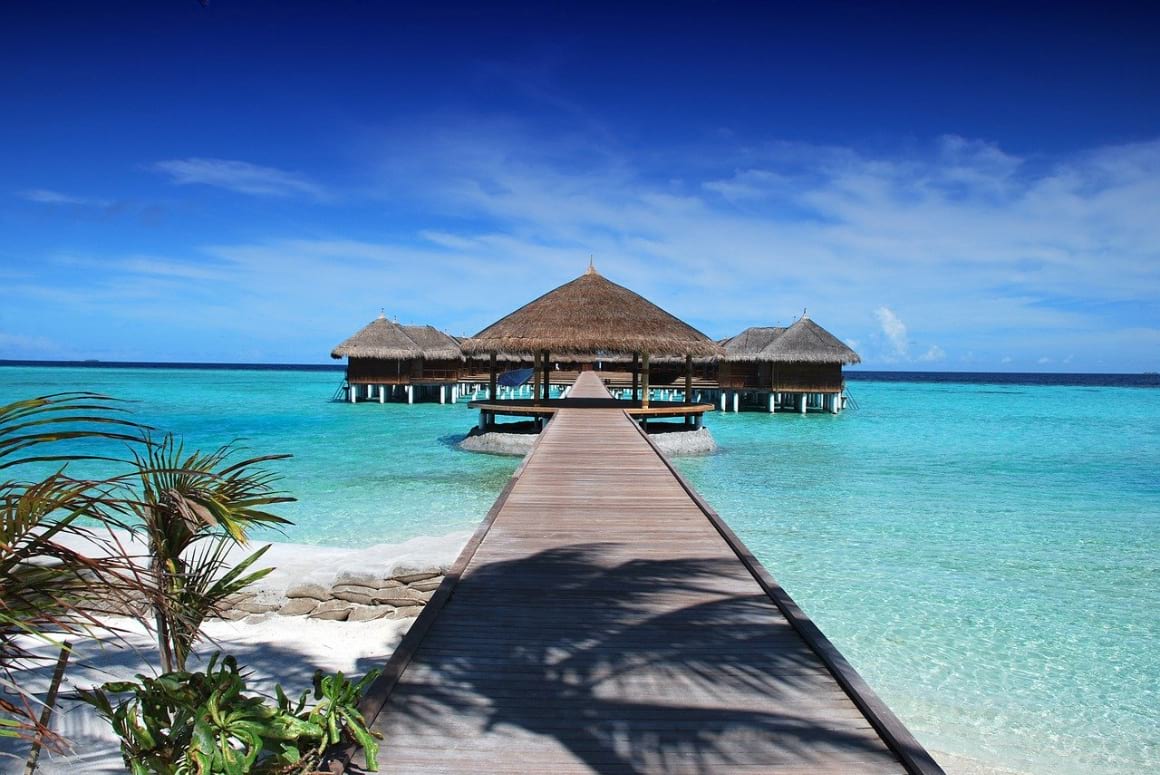 While you may have expected a bunch of standalone private properties from villas in the Maldives, that's not actually the case. In fact, many of the best villas are actually part of resorts. This might not seem ideal but hang on a minute there.
These resorts boast some extremely – and I mean extremely – awesome locations. We're talking private islands, white sand beaches, no big towns or other resorts for miles. Just you, whoever you're with, maybe the people in the villas next door, and the endless turquoise ocean.
Another plus of being situated in a resort is the amenities. Say what you want, but who can disagree with free breakfast or a restaurant for romantic meals over the sea?
Then again, there's always the option to stay somewhere a little more local. That's right: not every property here is situated in a high-end resort. There are a few off-the-beaten-track options near small local communities; villas with retro designs, or villas that have a little more rustic charm about them rather than sleek travel brochure opulence.
What to look for in a Villa
The first thing you need to consider when booking a villa is where to stay in the Maldives. Depending on the purpose of your trip, you might want to stay in Alifu atolls if you're looking for luxury resorts, or Addu if you want more seclusion. Wherever you decide to stay, make sure it's close to all the attractions you want to visit.
The villas are usually stylishly decorated, with a minimalist feel to many of them. If you're worried about safety, you don't have to worry about a thing because they are usually in gated communities or resorts. They also come in a range of sizes. That means there's somewhere to suit a solo traveller as much as there is for a big group of friends or a family. Though one thing to consider is that the bigger the villa, the bigger the price tag.
Amenities are usually quite comprehensive. Even at the lower end of the price scale, you'll find private pools, kitchenettes, and direct access to the beach. Breakfast and cleaning services are also included in the per night cost of many villas in the Maldives, but not always.
Since the Maldives is expensive, so too is the quantity and quality of amenities and facilities. Being on a resort means luxury at your fingertips, with onsite restaurants, spas and excursions. Some rooms even have glass windows on the floor to peer into the submarine world; a few even have their own decks so you can dive into the sea right in from your room.
And if you're wondering what site to use, check out Booking.com or Airbnb. Airbnb provides a more well-rounded selection of villas and beach houses in the Maldives to suit different budgets. You can also connect directly with the host before booking, which means you know what you're getting yourself into before you book.
But if that sounds like too much work for you, read on to see the best villas in the Maldives.
OVERALL BEST VALUE VILLA IN MALDIVES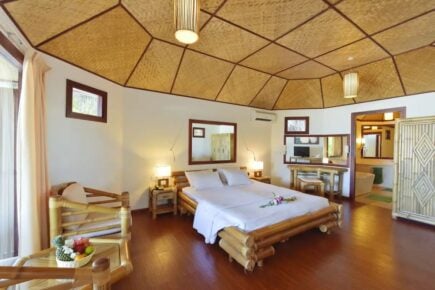 OVERALL BEST VALUE VILLA IN MALDIVES
Lovely Beach Villa
> $$
> 3 Guests
> Shared pool to use
> Right on the beach
BEST BUDGET VILLA IN MALDIVES
BEST BUDGET VILLA IN MALDIVES
Charming Beach Villa
> $
> 3 Guests
> Breakfast included
> Beachside location
BEST VILLA FOR COUPLES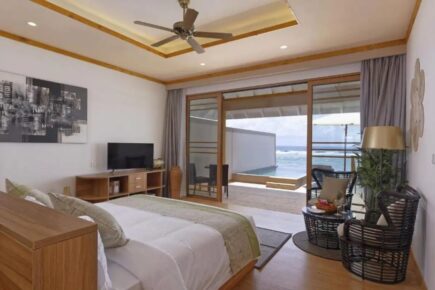 BEST VILLA FOR COUPLES
Water Villa with Pool
> $$$$
> 4 Guests
> Private pool
> Situated over the actual sea
BEST VILLA FOR A GROUP OF FRIENDS
BEST VILLA FOR A GROUP OF FRIENDS
Spacious Garden Villa
> $$$
> 6 Guests
> Fully equipped kitchen
> Insane outdoor space
OVER-THE-TOP LUXURY VILLA
OVER-THE-TOP LUXURY VILLA
Amilla Villa Estate
> $$$$
> 12 Guests
> Housekeeping, breakfast, and more
> UNESCO-certified sea views
BEST VILLA FOR FAMILIES VISITING THE MALDIVES
BEST VILLA FOR FAMILIES VISITING THE MALDIVES
Beach Villa with Private Pool
> $$$
> 3 Guests
> Kids club
> Beach on the doorstep
BEST VILLA FOR BACKPACKERS IN THE MALDIVES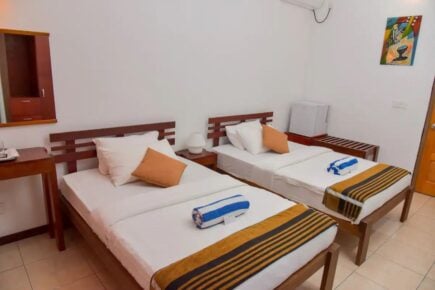 BEST VILLA FOR BACKPACKERS IN THE MALDIVES
Maldives Beach Villa, Himmafushi Island
> $
> 16 Guests
> Rooftop deck
> Daily meals included
The 15 Top Villas in the Maldives
If you're thinking about taking a trip to the Maldives, well, aren't you lucky – it's no wonder it's one of the best tropical island destinations. What better way to stay there than by booking yourself into one of these incredible villas? Read on to find the perfect base for a trip of a lifetime.
Overall Best Value Villa in Maldives – Lovely Beach Villa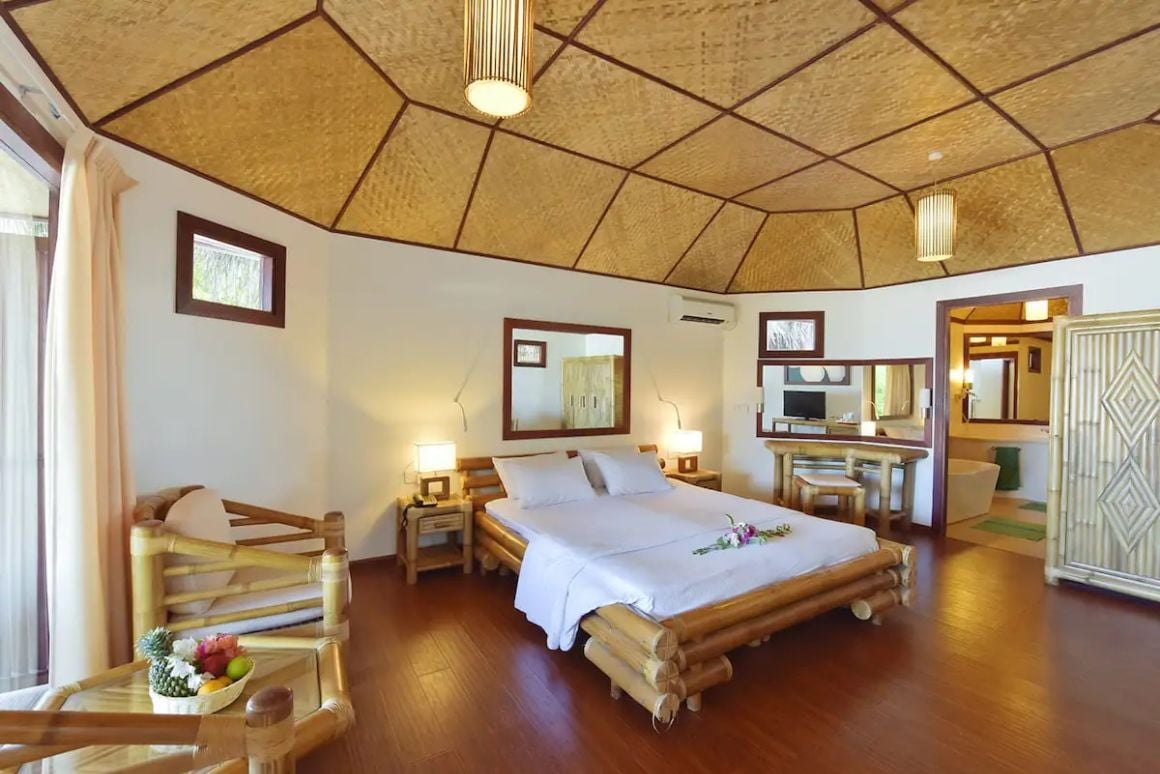 $$
3 Guests
Shared pool to use
Right on the beach in Malé
An idyllic property that combines rustic beachside villa with stylish interiors. This villa in the Maldives is all about those beach getaway vibes, in fact, you can even walk from the villa right onto the sand!
This villa isn't huge, but it's spacious for what you get. Perfect for a couple or small group, you'll find one large bedroom, a good-sized bathroom and a veranda overlooking the ocean. It doesn't have a kitchen, but it does reside in a resort and a restaurant serving up delicious local food is just a short walk away.
Kick your shoes off when you get here and you won't put them on again.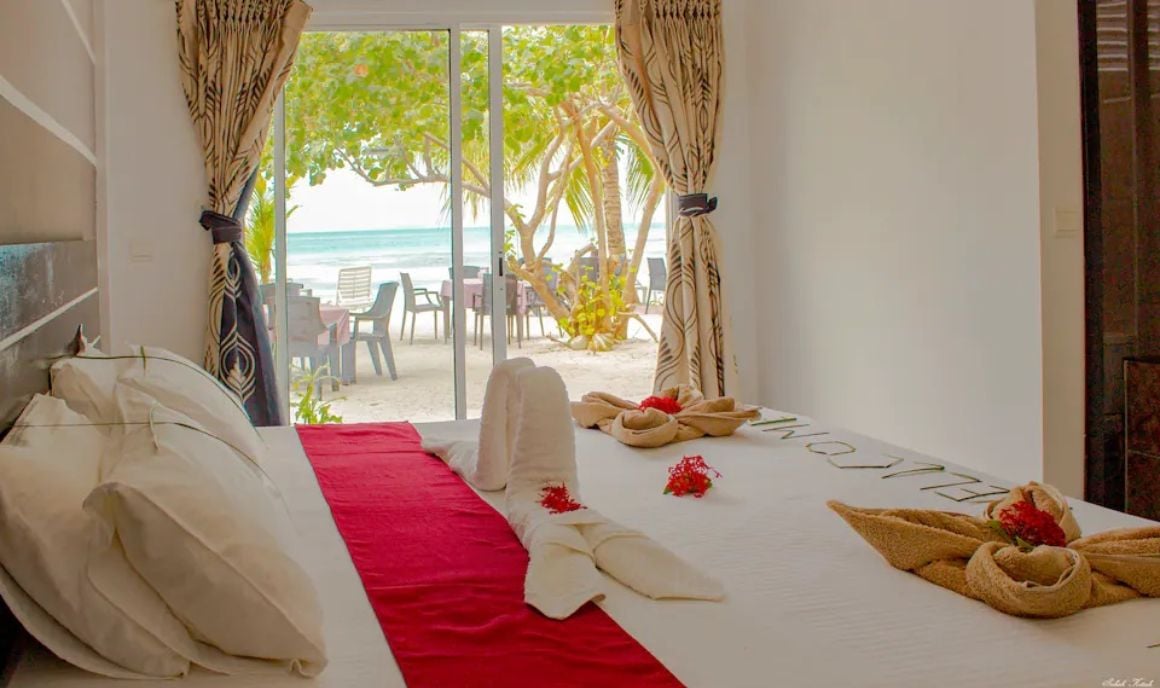 $
3 Guests
Breakfast included
Beachside location
Looking for the best villa in the Maldives on a budget? Well, look no further than this villa in Malé. This budget-friendly place may not be over the top luxury or stylish design, but honestly: who needs that when the sand is literally right outside your door?
Staying here means waking up to the sound of waves rather than an Instagrammable interior. Adding to the value for money factor, the price per night also includes breakfast and daily cleaning. How's that for a bargain?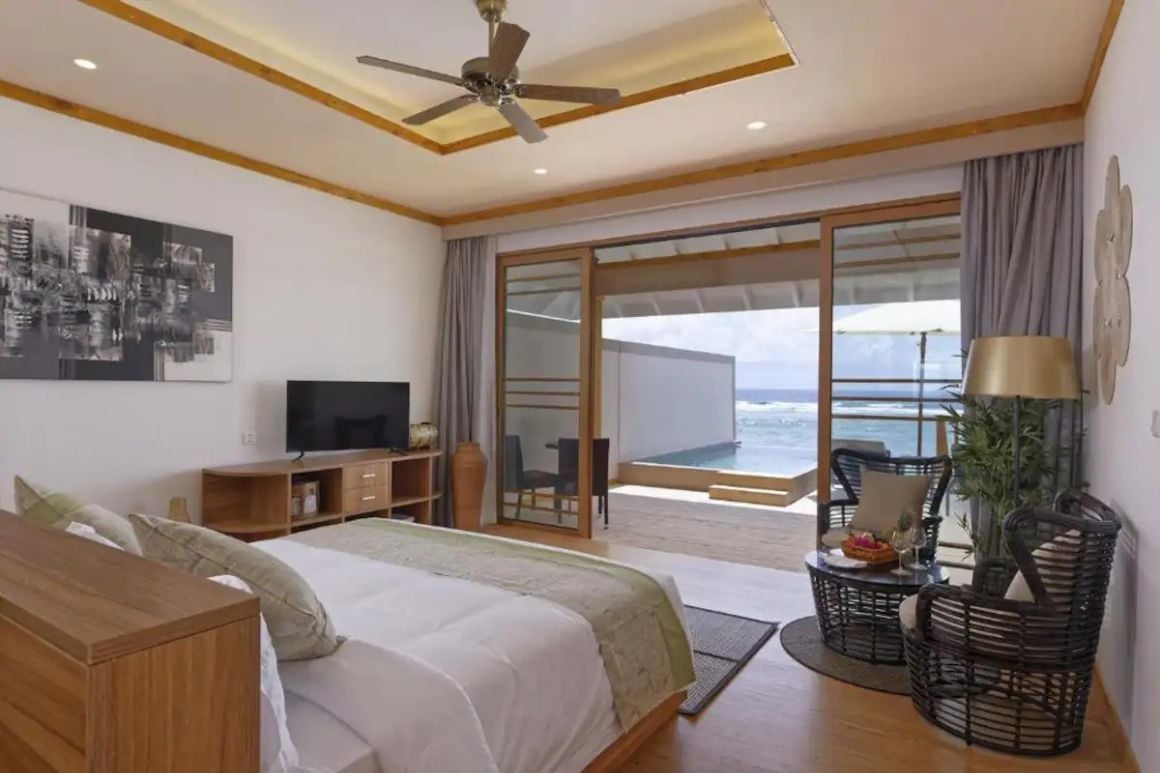 $$$$
4 Guests
Private pool
Situated over the actual sea
When people think of villas in the Maldives, they're probably thinking of places like this: modern spaces situated right over the gleaming tropical seas themselves. This particular spot is picture-perfect, and an ideal option for couples.
The location is very cool, situated just off a 12-hectare island (a 40-minute seaplane ride from Malé airport). For a couple who wants privacy and a bit of exclusivity, not to mention sea views, their own pool and stylish interiors, it's simply ideal.
$$$
6 Guests
Fully equipped kitchen
Insane outdoor space
This modern holiday home in Fuvahmulah is just the ticket for you and a group of friends looking to vacation in the Maldives. It's designed to be an intimate space for friends and family alike, so you'll find pretty much everything you'll need to help your stay run smoothly.
The interiors are clean and modern, and there's a large kitchen and dining area where you can all hang out and make food together. What really steals the show is the outdoor area. There's a covered patio, stepping stones through a water feature, a private pool – all set in a grassy, walled garden dotted with tropical trees and plants. Talk about dreamy.
Is This the Best Travel Pack EVER???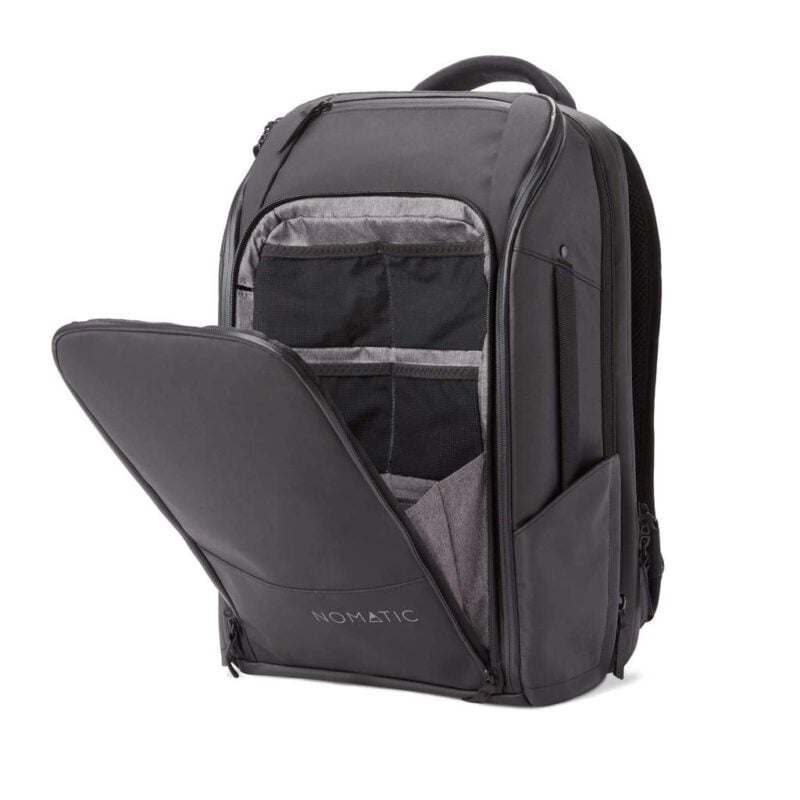 Amazing Villa in the Maldives for a Groups – Relaxed Island Villa
$$$
11 Guests
Beach access
Secluded location
If that last one didn't do it for you, this villa in the Maldives is sure to win over you and a group of mates thanks to its funky design and relaxed island vibes. The spacious villa has enough room to sleep 11 guests across four bedrooms, and it's jam-packed with amenities.
You can sit around the fire pit in the evening, enjoy a barbecue in the garden, or simply open your gate and head to the beach – that's right outside, by the way. Location-wise, it's a 40-minute speedboat ride from Malé Island.
Over-the-Top Luxury Villa in the Maldives – Amilla Villa Estate
$$$$
12 Guests
Housekeeping, breakfast, and more
UNESCO-certified sea views
The Maldives is well known for its luxurious accommodation offerings, and the Amilla Villa Estate really, really steals the show. The location itself is incredible, as it's set actually in the Baa Atoll (part of a UNESCO World Heritage Biosphere Reserve).
This place is all about high end living and stunning natural scenery. Outside you'll find a large swimming pool and hot tub surrounded by sun loungers, and inside – well, it's a world of luxury. The decor is elegant, it's all bright and spacious, and there are views across the ocean. The price per night also includes breakfast, security and housekeeping.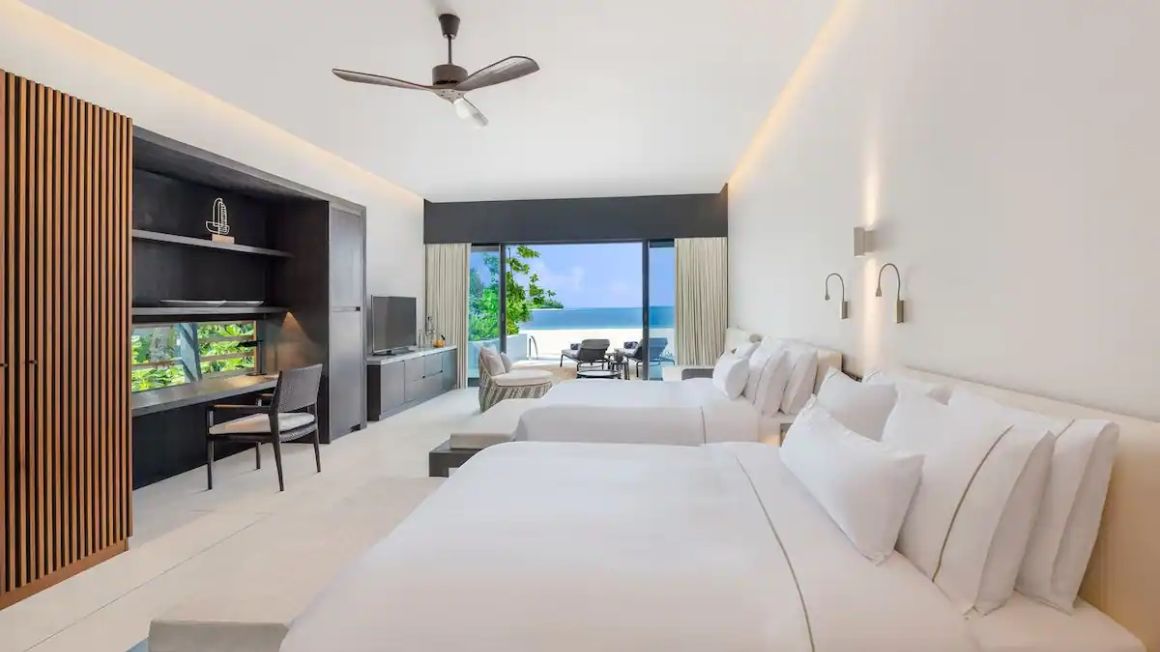 $$$
3 Guests
Kids club
Beach on the doorstep
This one in Baa Atoll is a good option for families travelling with small children. As well as comfy rooms with space enough for little ones, there are also amenities like kids pools and play areas. There's also the bonus of a kids' club on site (it's actually part of a resort).
Part of what makes this one of the best villas in the Maldives is just how modern and well designed the spaces are. You can enjoy tranquillity here, but also the conveniences of a resort, including a restaurant.
Best Villa for Backpackers in the Maldives – Private Room in Villa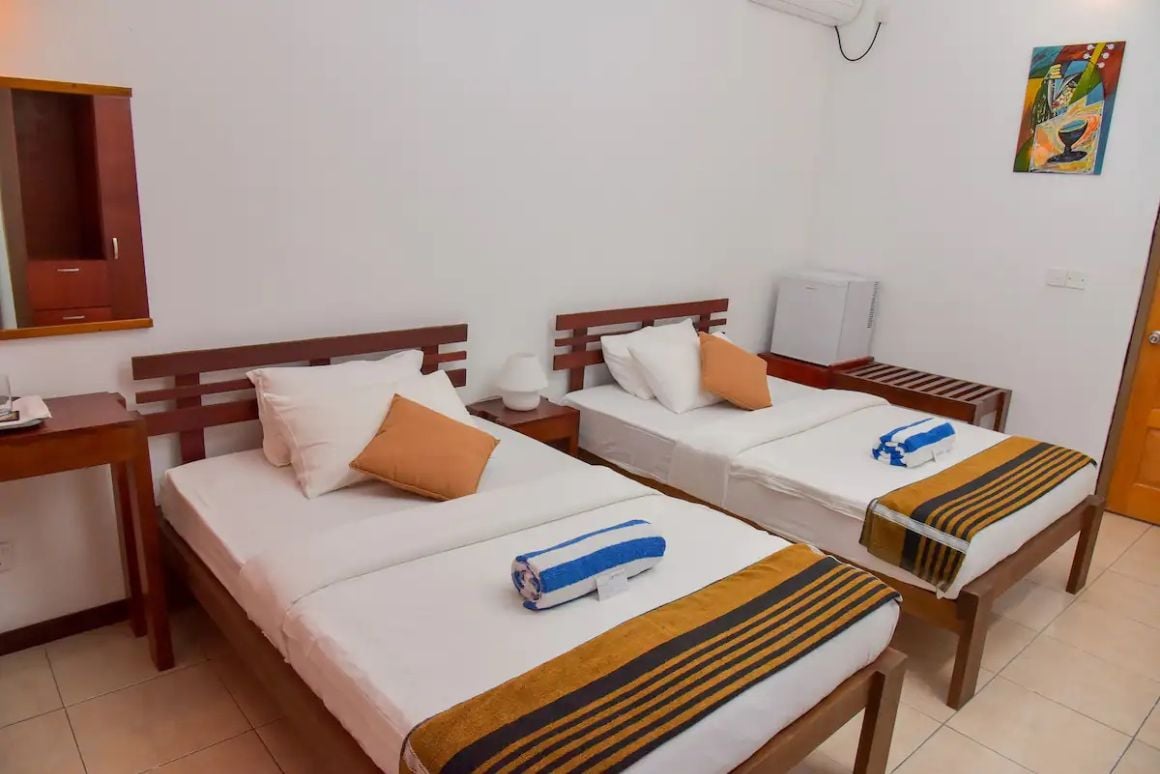 $
16 Guests
Rooftop deck
Daily meals included
While other villas in the Maldives may be all about sleek, modern luxury, this villa on Himmafushi Island is more about retro design. There's a surf-y kinda atmosphere going on here, which is probably something to do with being in an off-the-beaten-track location; there's only a handful of other guesthouses on the island.
Perfect for backpackers. Staying here means you get to enjoy the villa's amenities – the lounge, the rooftop deck, the Jacuzzi. There's also the chance to hop on surfing and scuba diving excursions, too.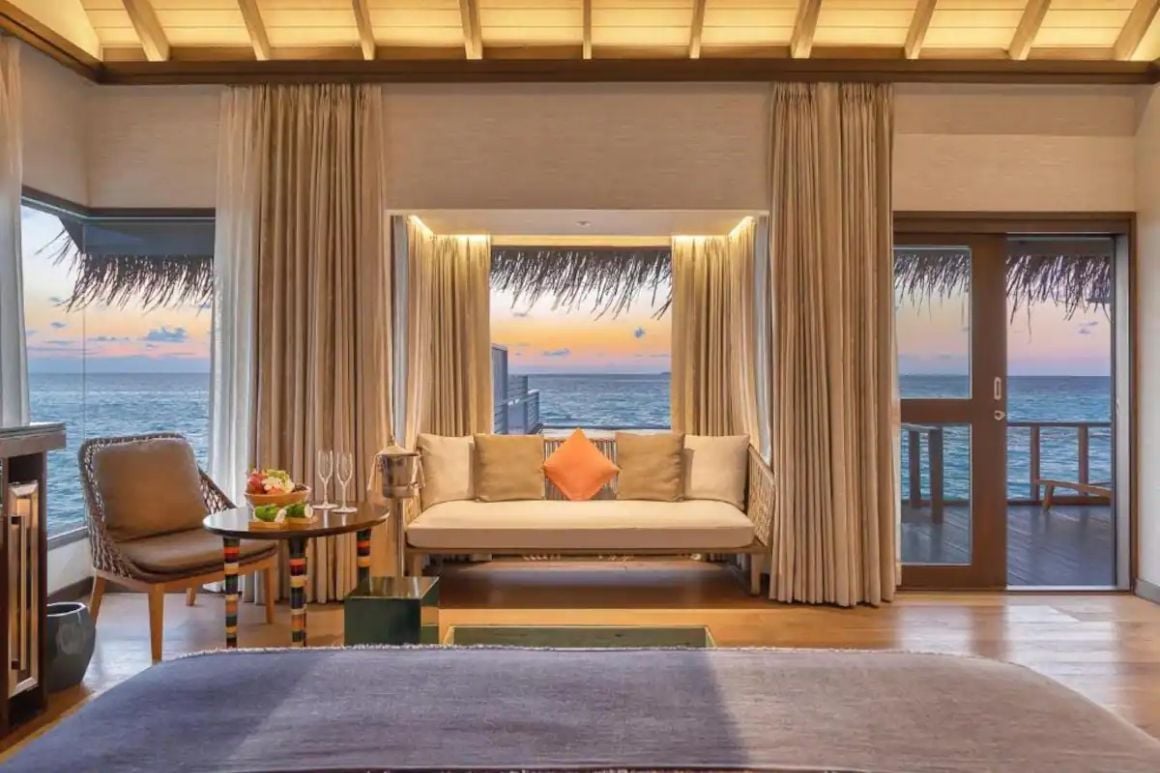 $$$
3 Guests
Private pool
Access to resort facilities
For more of the luxury that you'd expect from a villa in the Maldives, this very sophisticated property in Malé is the place to go. Here you'll find opulence by the bucketload.
It's set over the water itself and is designed to a high standard. We're talking actual paradise scenes here. The villa has its own private pool and deck, and there's even an amazing glass part of the floor in the bedroom so you can look down and glimpse marine life below. A stunner.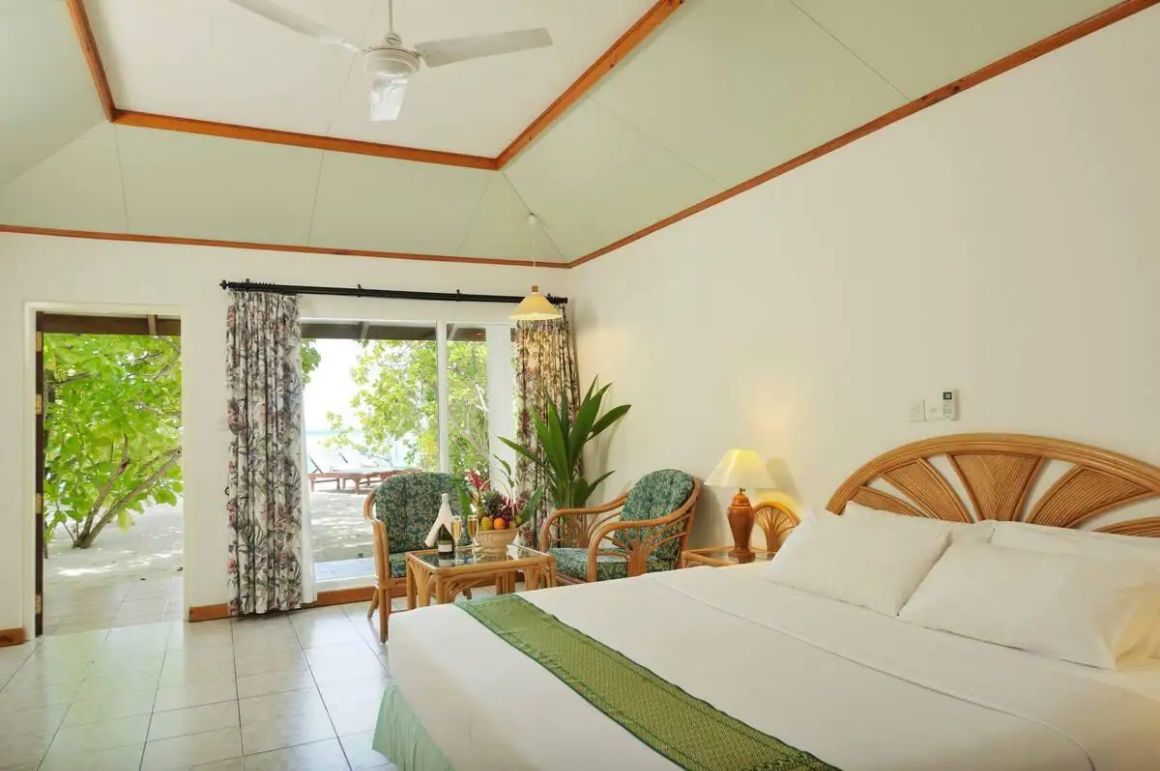 $$
3 Guests
Beach access
Onsite entertainment
This villa in the Maldives is perfect for a solo traveler. Staying here means you'll be staying at a resort in Alif Dhaal Atoll, which puts you in easy reach of everything from food to entertainment. Nothing wrong with putting yourself in a safe environment where you can also meet and mingle with other travelers if you want to.
There are also activities to get involved with. The villa itself is homey and compact, with tiled floors, a large bed and a chilled little seating area. There's also an outdoor terrace to chill on, too.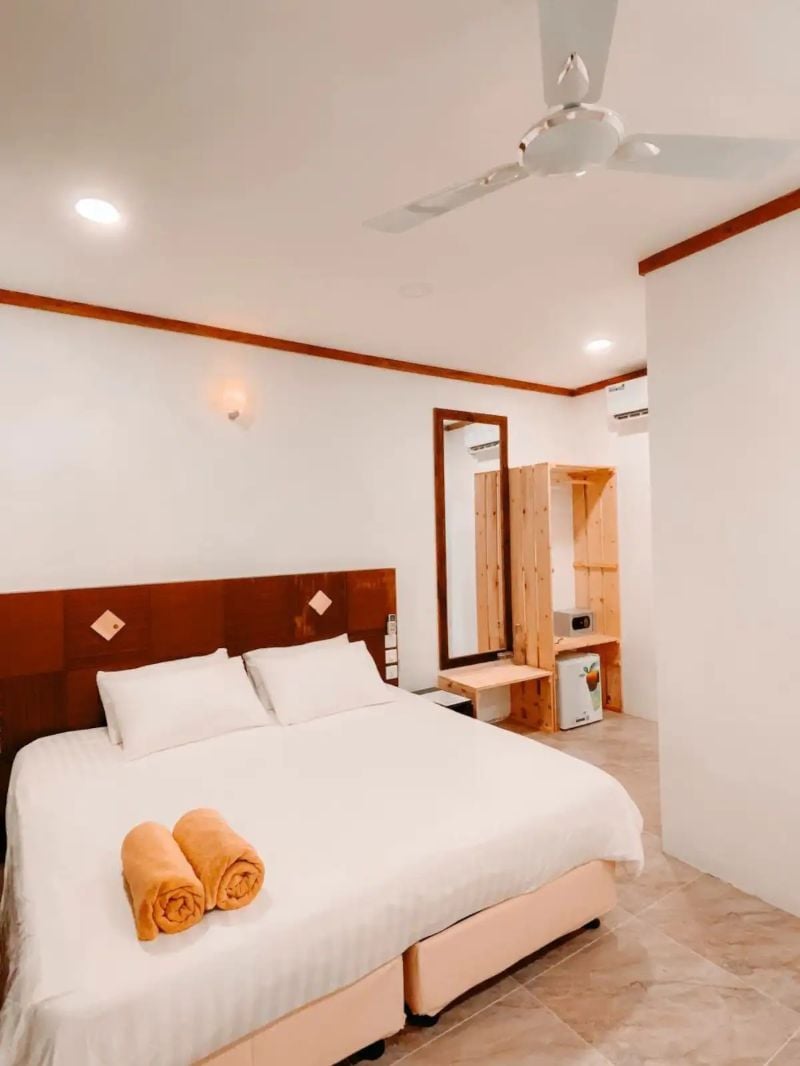 $$
3 Guests
Stone's from the beach
Peaceful location
A weekend in the Maldives? Lucky you! Now all you've got to do is find the perfect place to base yourself – and this villa in Malé is a great option. Not only is it easy on the wallet, but it's also located right on the beach so you can spend your precious time off swimming and snorkeling.
This villa in the Maldives is a peaceful and relaxing place to be, with its clean lines, whitewashed walls and large, comfy bed. Sunsets from here every day will make you wish you booked longer than a weekend.
Villa in the Maldives with an Epic Location – Stylish Private Villa
$$
10 Guests
Close to beach
Large garden
Outdoor baths? Tropical garden? Sunset views? Yes, that's all part of the package at this unique accommodation in the Maldives. There's room enough to fit 10 guests here at this villa in Dhiffushi, so you can bring your family or friends and get ready for an awesome time.
The rustic-chic design of the villa mixes beachside aesthetic with spa luxury for a truly relaxing place to spend your Maldives vacay. But best of all is the location: being pretty much on the beach is the best thing ever. Cocktails, anyone?
$$$
3 Guests
Private deck for even more awesome views
Swimming pool
Though there have already been some amazing views here, you can't get much better than being located right over the water itself. Yep, that's right: panoramic views from your bedroom window right across the glistening blue waters of Malé in the Maldives.
The location of this place – on the end of a row of villas – means you get a whole two sides opening out onto the sea. Plus you get your own private deck for sunrises and sunsets. The resort location also means having access to amenities like restaurants and swimming pools.
Best Villa in the Maldives for Honeymooners – Overwater Villa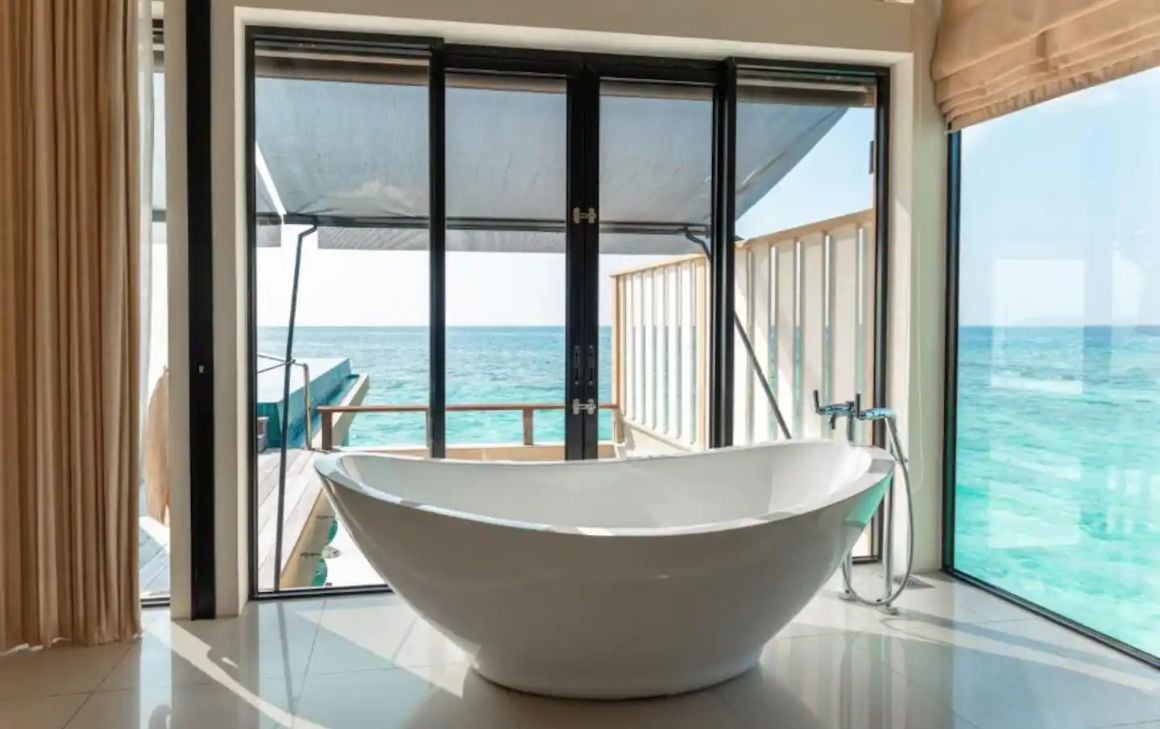 $$$$
2 Guests
Private pool
Snorkel right off your own private deck
The Maldives is an iconic honeymoon destination, and this beach villa in Dhaalu Atoll is the perfect spot to complement your trip.
Here you and your other half can indulge in high-end luxury as you spend your days snorkelling off your own private balcony, taking a dip in your private pool, and sipping on cocktails as the sun sets from an amazing outdoor day bed.
This place is super chill, and super luxe: away from the villa, there's an onsite restaurant for more deliciousness and yet more awesome views.
Most Beautiful Villa in the Maldives – Chic Seaview Villa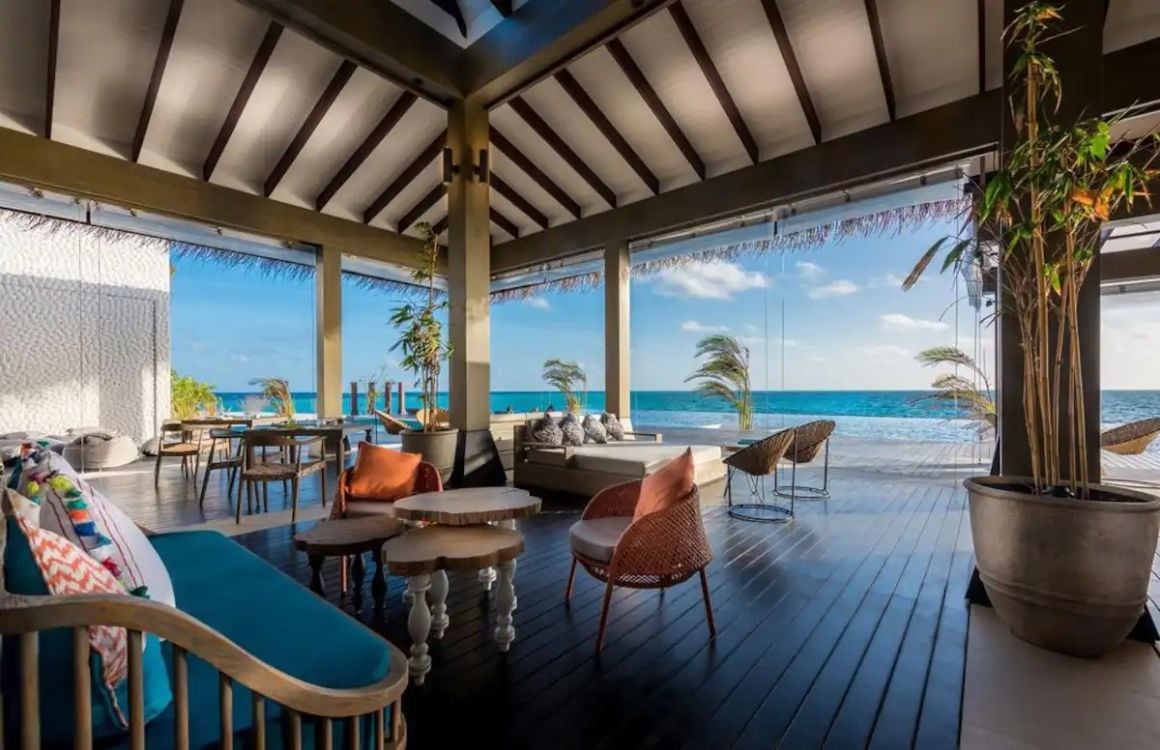 $$$
2 Guests
Private pool
Excursions available
This villa in the Maldives is, well, you can see from the title: beautiful. This villa in North Malé is decorated with natural woods and comes complete with stylish designer furnishings. Each has been thoughtfully curated, making the most of the space and the surrounding scenery.
Which, by the way, is the turquoise ocean for miles and miles. Away from the villa, the surrounding resort has facilities for all your needs, from ocean-view restaurants to spa and wellness packages. If you're traveling with little ones in tow, there's also the option for activities like exploring the best diving spots or having a blast at the kids' club.
Don't Forget Your Maldives Travel Insurance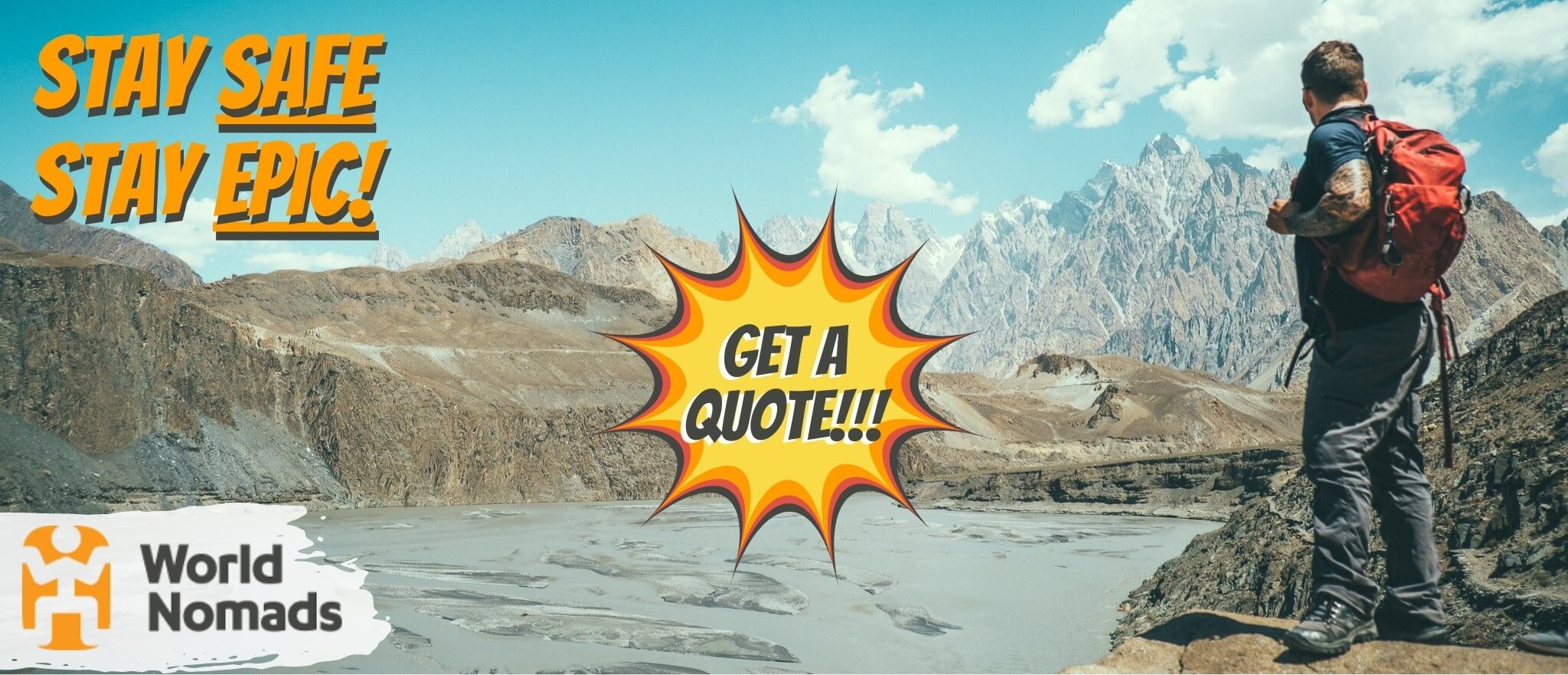 World Nomads' mission is to support and encourage travellers to explore their boundaries. They offer simple & flexible travel insurance, and safety advice to help you travel confidently.
They've been doing it since 2002 – protecting, connecting, and inspiring independent travellers just like you.
Get a quote below or read our in-depth review!
World Nomads provides travel insurance for travelers in over 100 countries. As an affiliate, we receive a fee when you get a quote from World Nomads using this link. We do not represent World Nomads. This is information only and not a recommendation to buy travel insurance.
Final Thoughts on the Maldives Villa
The Maldives is a prime location for some truly fine villas. Vacationing in this part of the world is often all about luxury, but thankfully for those on a budget (or if you're backpacking) you'll be able to stay on tiny islands and a stone's throw from powdery beaches without completely breaking your bank.
And if you're in the market for unique accommodation in the Maldives, there's no doubt you'll find it. This may cost a little more, but then again it's not every day that you get the chance to stay in a sleek, stylish house on stilts over a coral reef with a restaurant a few steps away, right?
Last but not least, if jetting into the Maldives means travelling outside of your home country, you may want to think about travel insurance. We know, boring, but it's something to consider – even if you are staying in the lap of luxury!
---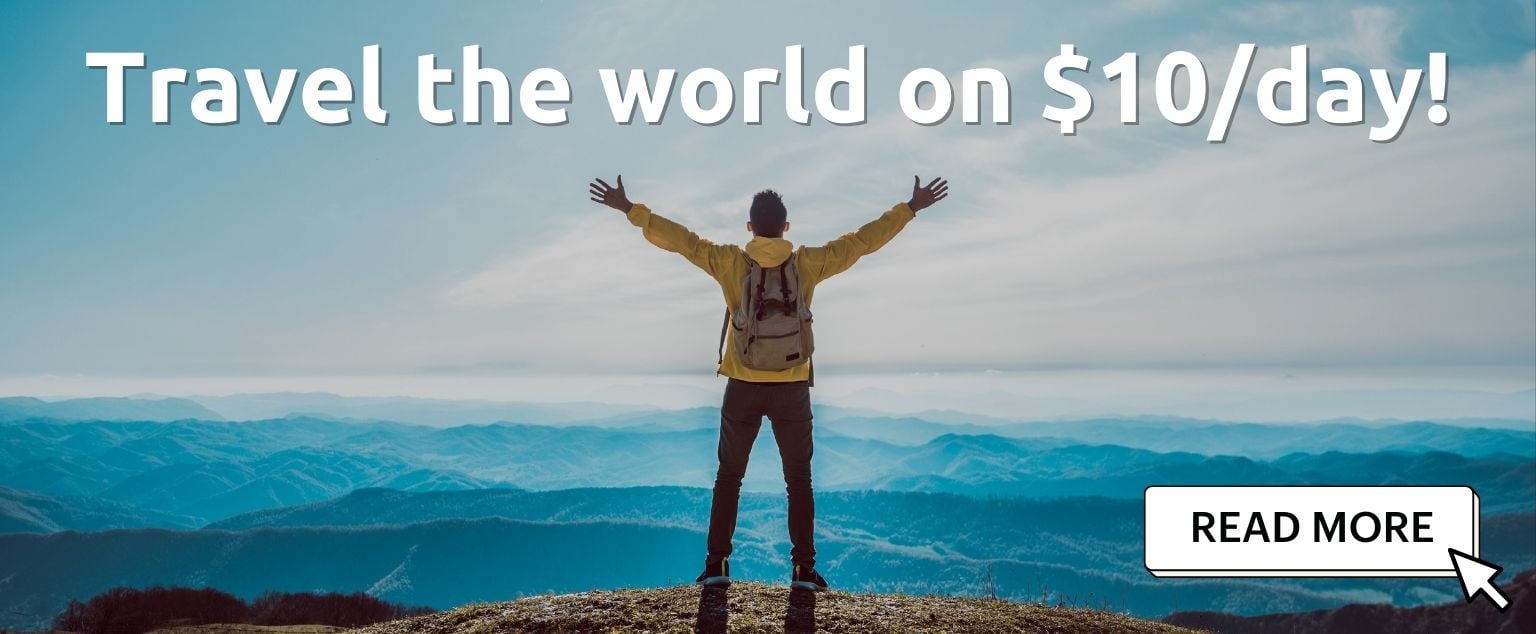 And for transparency's sake, please know that some of the links in our content are affiliate links. That means that if you book your accommodation, buy your gear, or sort your insurance through our link, we earn a small commission (at no extra cost to you). That said, we only link to the gear we trust and never recommend services we don't believe are up to scratch. Again, thank you!