Hands down, Tennessee has to be one of the most incredible places that you'll ever visit in the US!
Although this landlocked state is particularly renowned for its country-music scene, world-class whiskey and fascinating history, it is also home to the world-famous Great Smoky Mountains – or Smokies, as they're referred to locally.
As such, nature lovers and outdoor enthusiasts will love the state of Tennessee, as there is so much wilderness to explore. Whether you're looking for hiking trails up the misty mountains or you'd prefer to nestle by the lake, the good news is there's a ton of accommodation choices to choose from.
Now, I know that there are plenty of hotels or apartments to choose from but with all that nature, the prospect of waking up in a hotel room doesn't sound appealing. What you need is a rustic, cosy cabin in Tennessee.
Cabins provide the most authentic experience and helps to bring the outside, inside. So, if you're looking for a unique stay in a cabin in Tennessee, read on to find out which are the best ones!
In a Hurry? Here's Where to Stay in Tennessee for One Night
FIRST TIME IN TENNESSEE
Charming mountain cabin sleeps two
Located just a few miles from downtown Gatlinburg, this studio features an open-plan layout that comfortably accommodates two. Surrounded by beautiful mountain vistas, the cabin's wooden deck is fitted with a porch swing and hot tub.
NEARBY ATTRACTIONS:
Gatlinburg Space Needle
Mount Leconte
Great Smoky Mountains National Park
Is this amazing Tennessee Cabin booked for your dates? We've got your back with our other favorite properties below!

Unlock Our GREATEST Travel Secrets!
Sign up for our newsletter and get the best travel tips delivered right to your inbox.
Staying in a Cabin in Tennessee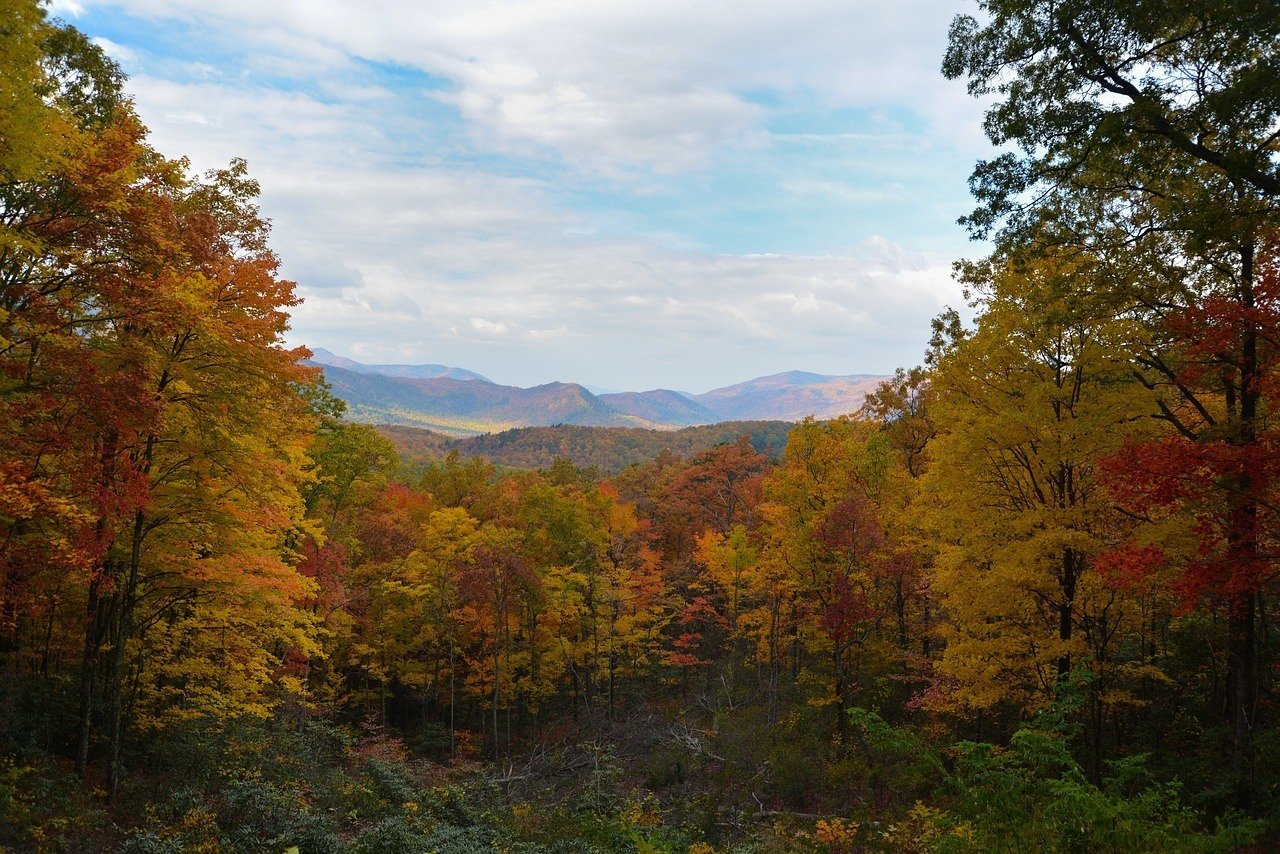 Most cabins in Tennessee are located around the Smokies, Dollywood, and Pigeon Forge area, although it's still possible to find a few in and around Nashville and other cities. Outdoor enthusiasts will be glad to learn that these abodes often provide easy access to hiking trails, fishing, and boating opportunities.
If you happen to be strapped for cash, you'll be happy to learn that Tennessee offers plenty of budget options that won't break the bank. Budget travelers who need their own space may consider studios but if you really want to slash those costs, or you can always book a room in the renter's cabin instead of renting the entire place.
Traveling with the kids? Fret not! You'll find that most cabins provide plenty of entertainment options such as board games, books, or even fire pits that can easily double as campfires (with parental supervision of course!). In fact, some establishments are found on massive private estates, perfect for impromptu camping expeditions!
What to Look for in Cabins in Tennessee
Picking the best cabin in Tennessee will largely depend on the type of holiday you're after. Now, it goes without saying that you'll never be too far from lakes or mountains, but some places are undeniably far better positioned than others for enjoying outdoor activities.
Alternatively, if it's a quiet retreat that you're after, you can always opt for a secluded cabin in the forest, far away from the hustle and bustle of the cities.
It's important to know that some cabins – especially forest or mountain ones- may not provide Wi-Fi so this is something you may wish to enquire about beforehand. Also, with rural vacations you may be further away from towns and cities, so make sure to bring plenty of cash and groceries to last your stay.
Don't worry though, as most cabins come with a fully equipped kitchen so it will be like staying at a home away from home.
Most cabins are rented as entire rental units, which means complete privacy and freedom to come and go as you please. That does mean that it's up to you to keep your valuable safe. Remember to lock your doors and don't leave any food outside, as you might attract some grizzly bears.
OVERALL BEST VALUE CABIN IN TENNESSEE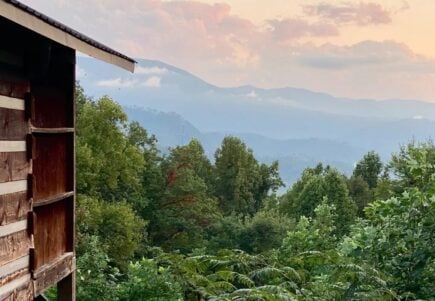 OVERALL BEST VALUE CABIN IN TENNESSEE
Charming mountain cabin sleeps two
> $$
> 2 Guests
> Porch swing and hot tub
> Unblemished views of the Smokies
BEST BUDGET CABIN IN TENNESSEE
BEST BUDGET CABIN IN TENNESSEE
2 Bedrooms near the National Park
> $
> 4 Guests
> Hot tub on the deck
> Close to the Smoky Mountains Park
THE ABSOLUTE CHEAPEST CABIN IN TENNESSEE
THE ABSOLUTE CHEAPEST CABIN IN TENNESSEE
Quaint studio cabin in the woods
> $
> 2 Guests
> Kitchen and barbecue utensils
> Surrounded by walking trails
BEST CABIN FOR COUPLES IN TENNESSEE
BEST CABIN FOR COUPLES IN TENNESSEE
Romantic two-level cabin with a view
> $$
> 4 Guests
> Hot tub and indoor fireplace
> Adjacent to Dollywood
BEST CABIN FOR GROUPS OF FRIENDS
BEST CABIN FOR GROUPS OF FRIENDS
Spacious 4-bedroom cabin for groups
> $$
> 8 Guests
> Hot Tub and Barbecue facilities
> Bears Valley views
OVER-THE-TOP LUXURY CABIN
OVER-THE-TOP LUXURY CABIN
Opulent hilltop cabin for 10
> $$$$
> 10 Guests
> Patio with fire pit
> Close to Nashville city center
AMAZING LUXURY CABIN IN TENNESSEE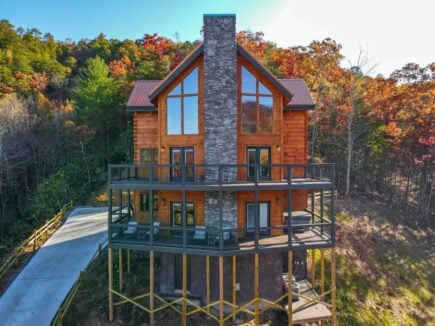 AMAZING LUXURY CABIN IN TENNESSEE
Newly built luxury lodge for 8
> $$$
> 8 Guests
> Firepit and Hot Tub
> Mesmerizing mountain views
The Top 15 Cabins in Tennessee
Now, that you know what to expect from cabins in Tennesse, let's take a look at my top 15 favorite cabins in the state.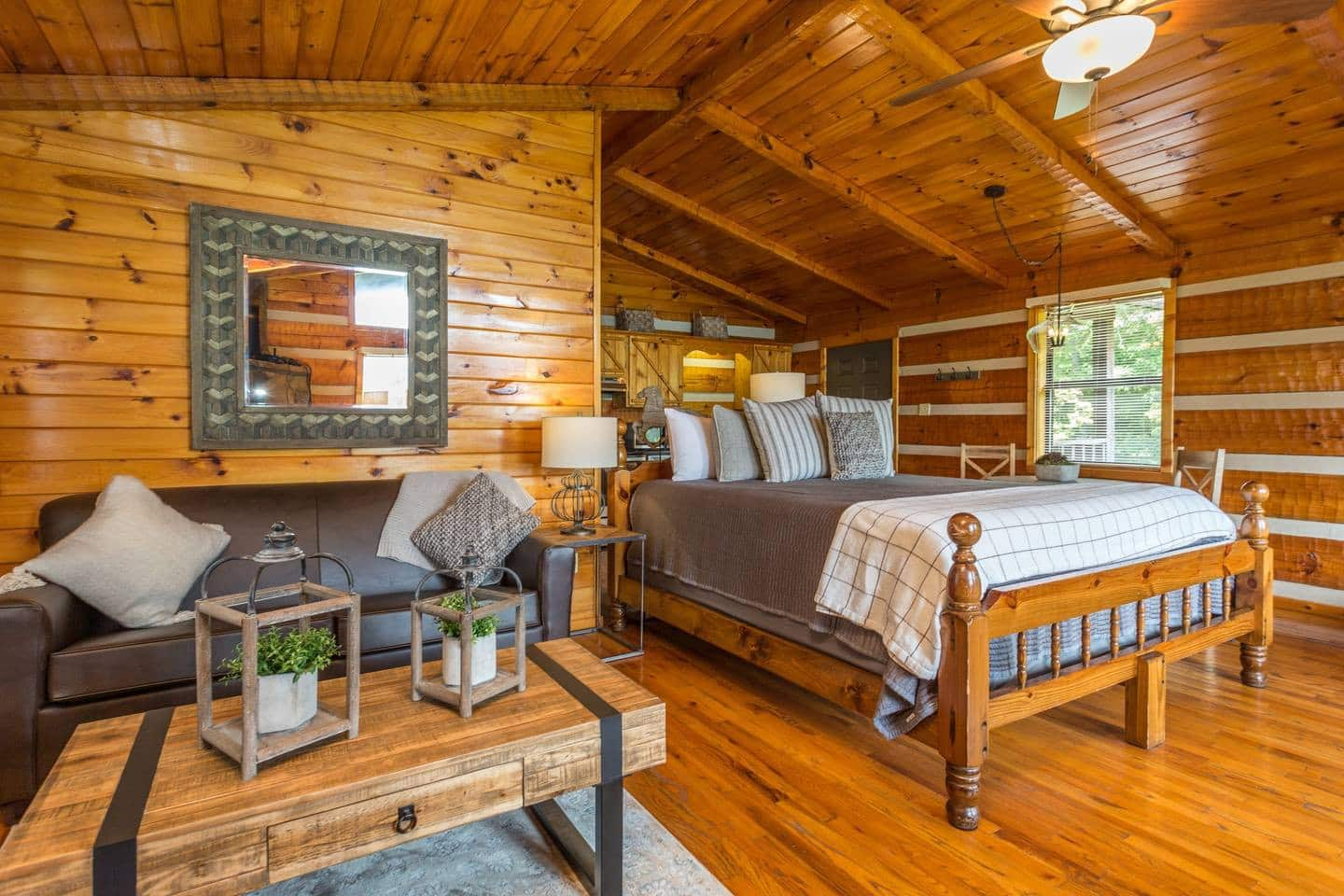 $$
2 Guests
Porch swing and hot tub
Unblemished views of the Smokies
Wake up to awe-inspiring vistas with a stay in this freshly renovated cabin in Tennessee! Just a few miles from downtown Gatlinburg, this space boasts a wooden deck, complete with a porch swing and a hot tub. What makes this cabin ultra-special is no doubt the incredible mountain views.
With an open-plan layout, this studio comfortably sleeps two in the king-sized bed but there's also a full sleeper sofa for two more guests. With a cozy living room and well-equipped kitchen, this space lies just a quick drive from Gatlinburg's Space Needle, Great Smoky Mountains National Park, and Mt. Leconte.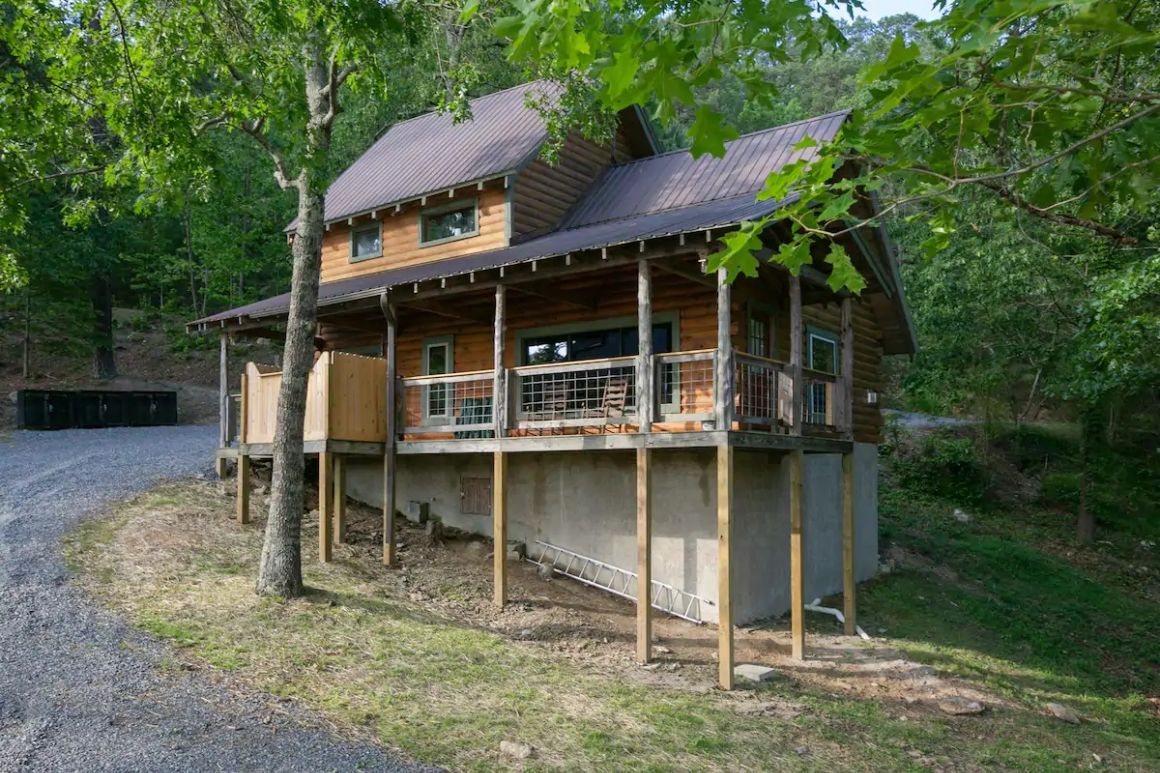 $
4 Guests
Hot tub on the deck
Close to the Smoky Mountains Park
Not only does this incredible gem place you close to the Smoky Mountains Park, but it also manages to be affordable without compromising on quality or comfort. Indeed, this lovely cabin in Tennessee even provides a hot tub on the spacious deck, perfect for soothing your muscles in the evening!
The cabin's two bedrooms easily sleep four guests. If you need to squeeze in an extra person or two, they can enjoy a comfortable snooze on the sofa bed. With two bathrooms, a kitchen, and a living room, this space lies close to popular Townsend attractions such as the glorious Tuckaleechee Caverns.
$
2 Guests
Kitchen and barbecue utensils
Surrounded by walking trails
Keep your budget to a minimum with a stay in this intimate cabin located in Summertown. Featuring an open-plan layout, this studio has one bathroom and a queen bed that sleeps two. There's also an extra daybed to accommodate either a child or another adult.
This space does have a kitchen but then again, some of the area's best barbecue joints lie just a short distance away- perfect for those lazy evenings when you don't feel like cooking! Nearby, you can also explore Amish markets, a disc golf course, antique stores, and picturesque walking trails.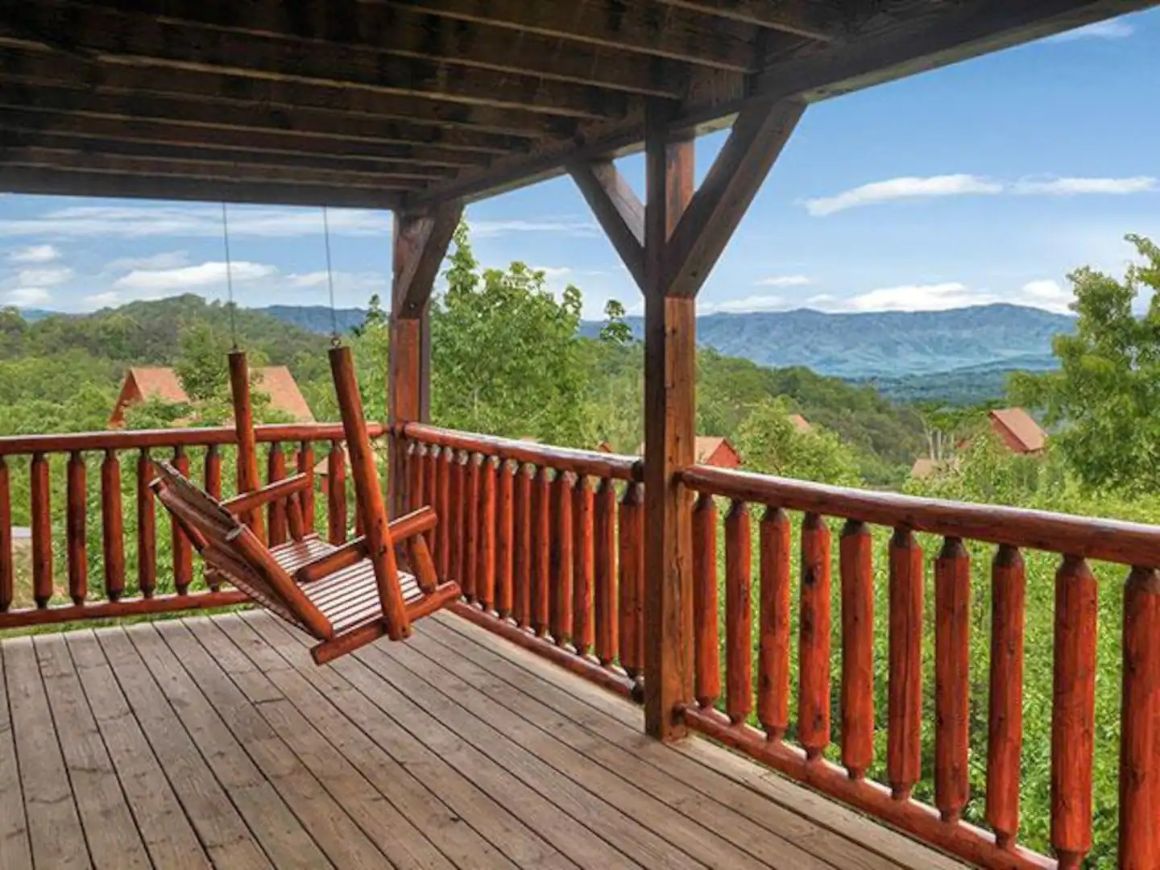 $$
4 Guests
Hot tub and indoor fireplace
Adjacent to Dollywood
Just a few steps from Pigeon Forge's popular Dollywood, this romantic cabin in Tennessee does come with two bedrooms for up to four guests, but we reckon it'll also be perfect for a romantic retreat with your significant other.
Boasting a prime location in the Starr Crest Resort, this two-story space features a full kitchen, pool table, laundry facilities, foosball table, and a natural stone fireplace in the living room.
After exploring nearby attractions such as the Great Smoky Mountain Park, Titanic Museum, and Ripley's Aquarium, retreat to the cabin for a soothing soak in the hot tub.
Is This the Best Travel Pack EVER???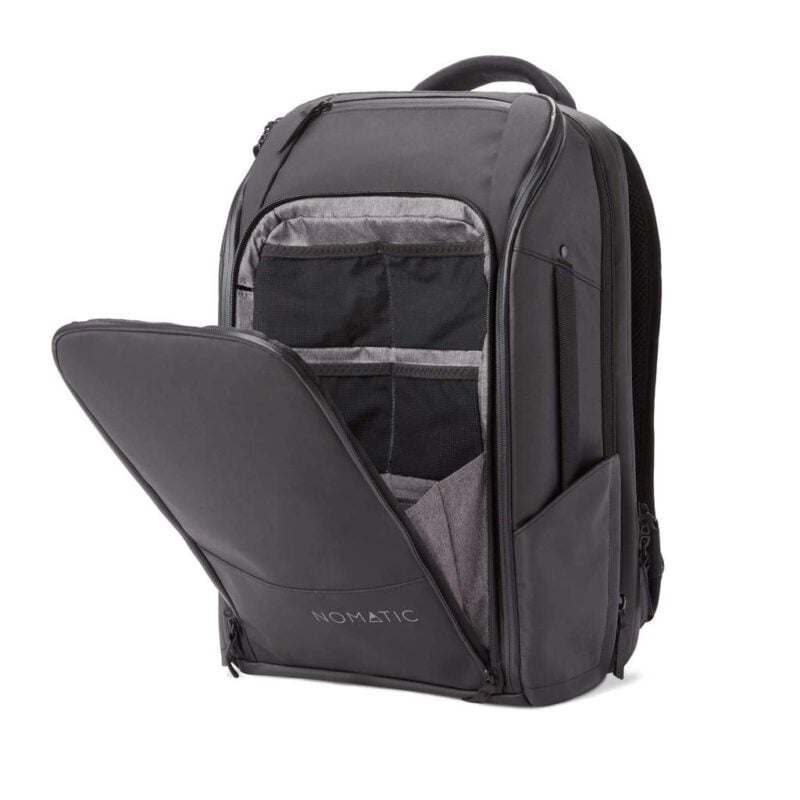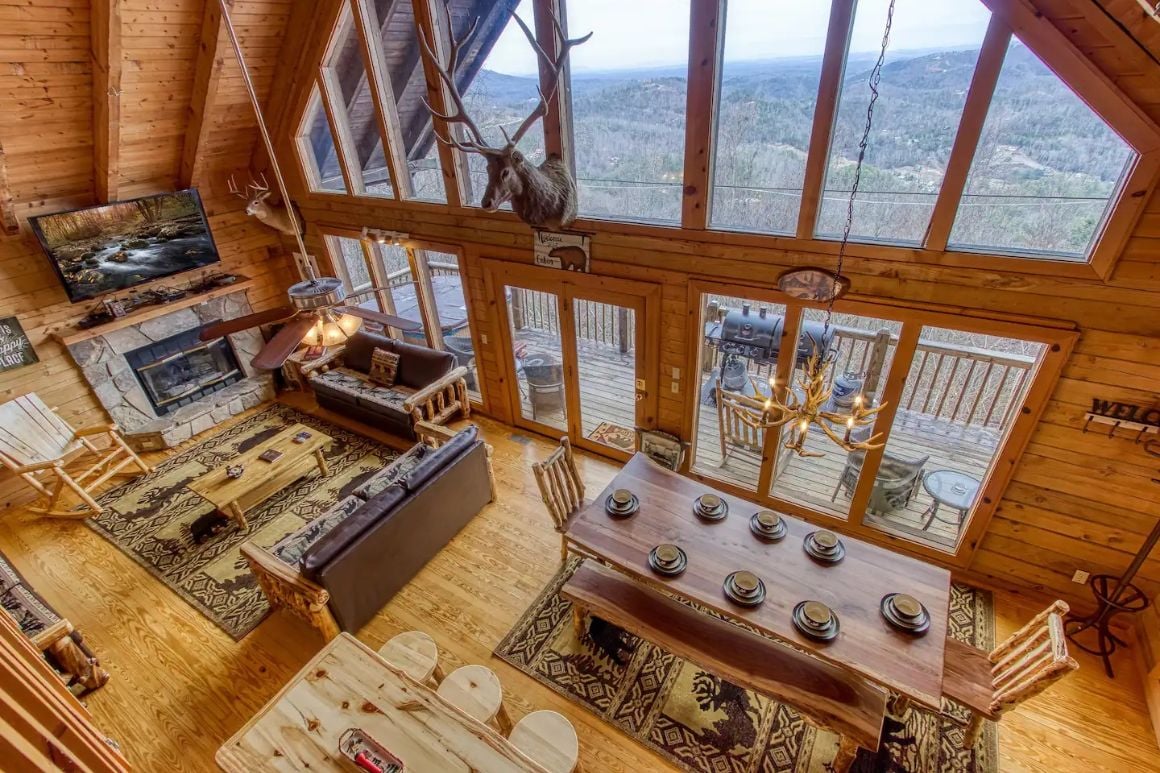 $$
8 Guests
Hot Tub and Barbecue facilities
Bears Valley views
Unwind with a stay at this exceptionally gorgeous, three-floor cabin in Gatlinburg. Eight guests can quite easily fit into the four spacious bedrooms but if you absolutely need to squeeze in a few more peeps, you'll be glad to learn that the cabin provides enough bedding to accommodate up to 16 persons!
With a full kitchen, hot tub, and game room, this space also features an upper loft with sweeping mountain views. Best of all, you'll find that Gatlinburg's popular Hollywood Star Cars Museum and SkyLift Park lie just a quick drive away.
$$$$
10 Guests
Patio with fire pit
Close to Nashville city center
Less than 30 minutes from Nashville is found this exceptionally opulent cabin that provides luxe amenities with two games rooms. Now, while ten guests will be comfortable in the four bedrooms, this hilltop abode provides enough bedding for 16 people – perfect for group holidays!
With Al Fresco dining tables, an outdoor lounge, and two firepits, the cabin features two laundry rooms, spacious living and dining areas as well as an airy kitchen, fully outfitted with modern appliances.
With Old Hickory Lake practically on your doorstep, you can go fishing or boating whenever the mood strikes, whilst still being close enough to pop into Nashville to see all the top things to do there!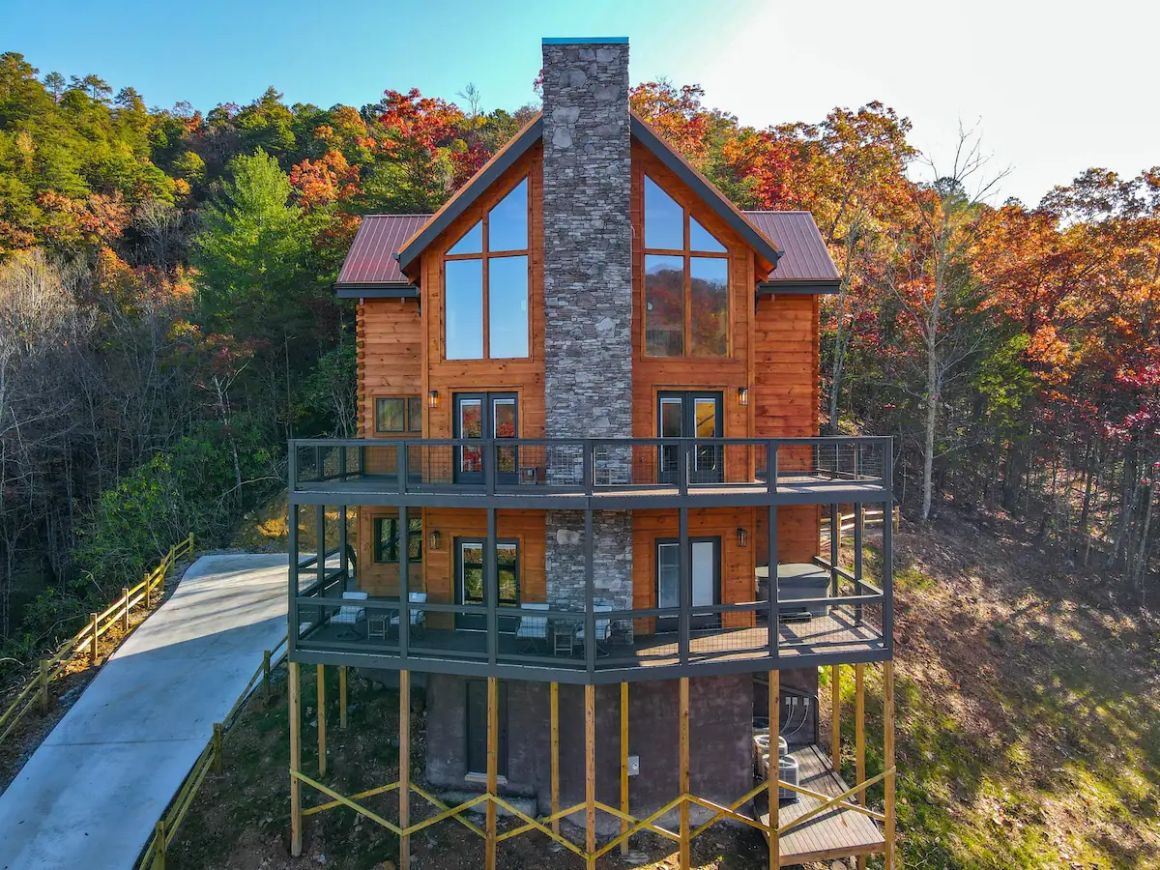 $$$
8 Guests
Firepit and Hot Tub
Mesmerizing mountain views
This exceptionally luxurious cabin in Tennessee provides four bedrooms for eight guests, with extra bedding to spare if you need to fit in four more persons. With a modern, well-equipped kitchen, this lodge is enhanced by upscale amenities such as a hot tub, firepit, and even a sprawling deck from where you can soak up the views.
On those days when you don't feel like going out, you can always check out the entertainment floor fitted with a custom arcade game, fireplace, and much more! A short drive from the cabin takes you to the Rocky Top Wine Trail.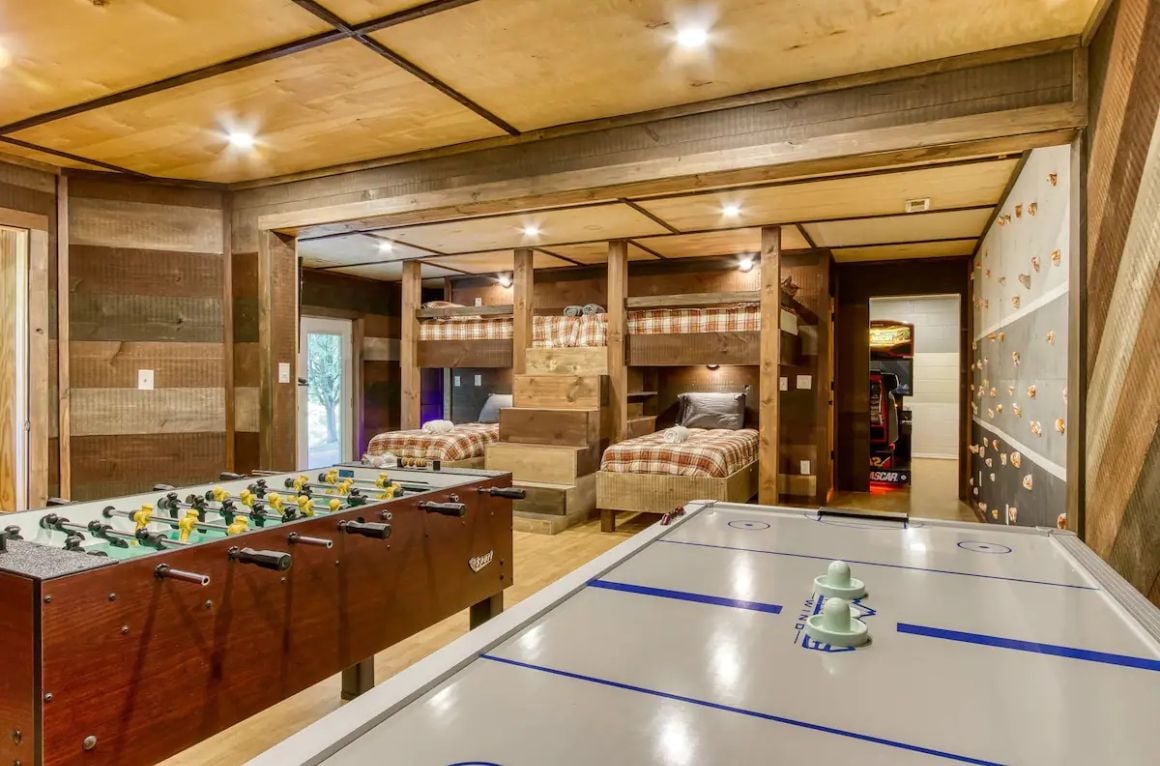 $$
10 Guests
Theatre-style media room
Hilltop setting
Take in some truly spectacular hilltop vistas with a stay in this sprawling, four-bedroom cabin in Tennessee. Fitted with a contemporary kitchen, dining room, living area, and plenty of outdoor terrains to explore, this mountain retreat comfortably sleeps ten – perfect for groups of friends or families traveling with children!
After exploring nearby attractions such as Dollywood and the Smoky Mountain Alpine Coaster, return to the cabin where kids can roast marshmallows by the firepit while parents grill up dinner on the barbecue. As the day comes to a close, the whole family can wind down with a movie in the theatre-style media room.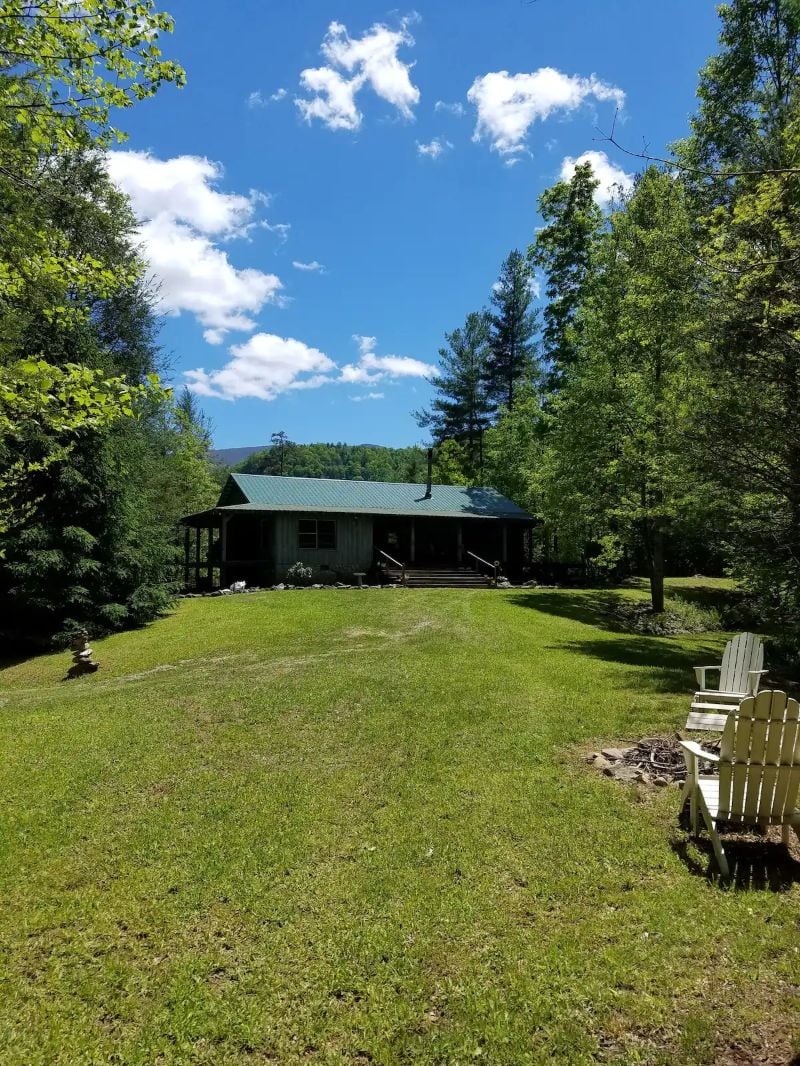 $$
8 Guests
Huge property in Erwin, Tennessee
Unobstructed mountain views
Families, rejoice! This cabin in Tennessee places you on a 30-acre property which features plenty to thrill kids and adults alike: fire pits, hammocks, and even camping areas if you want to pitch a tent by the creek with wading pools.
Now, if all this isn't enough to keep the little ones entertained, rest assured that the cabin lies close to the Tri-Cities and Ashville's Pisgah National Forest.
Boasting five beds in three bedrooms for up to eight guests, this space also provides plenty of games and a kitchen fitted with no less than four types of coffee makers!
$$
2 Guests
Built-in rock fireplace
Close to Nashville Airport
Okay, this adorable studio cabin in Tennessee can technically accommodate three guests but I think it'll be absolutely perfect for solo travelers or those backpacking Nashville – especially if you would like to lose yourself in the countryside while remaining within driving distance to Nashville Airport and city center!
The studio has a kitchenette with basic amenities and paper utensils, so you won't have to muck about with the dishes. In the living area, you'll even find a stone fireplace for those colder evenings. When you want some fresh air, you can always take a stroll in the neighboring Cedars of Lebanon Woods.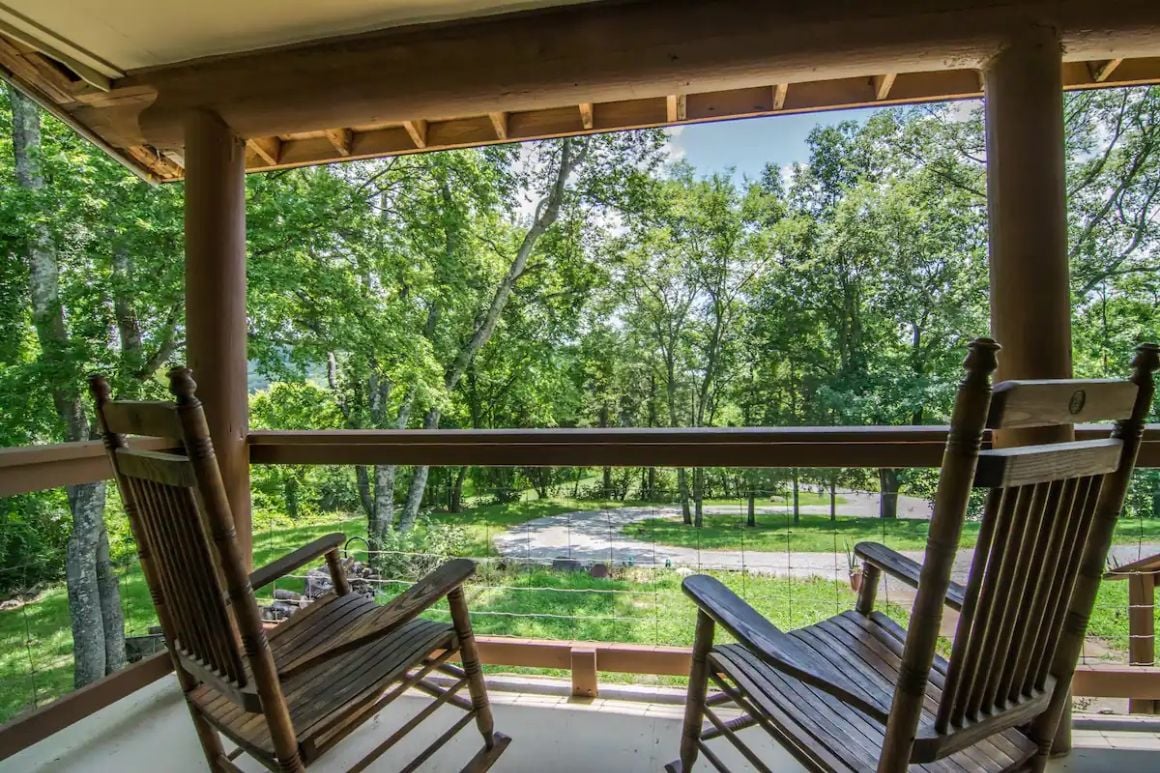 $$
4 Guests
Spacious porch
Surrounded by lush greenery
One of the best things about this rural log cabin is in the most enchanting setting: not only is it surrounded by some of Whites Creek's best rural sights, but it also provides easy access to Downtown Nashville. I can't think of a better Airbnb in Tennessee that soaks up the best of both worlds, can you?
With a quaint little kitchen, dining, and living spaces, the cabin also has a porch with rocking chairs for relaxing after a full day of sightseeing. Nearby, Broadway's neon lights and The Grand Ole Opry await.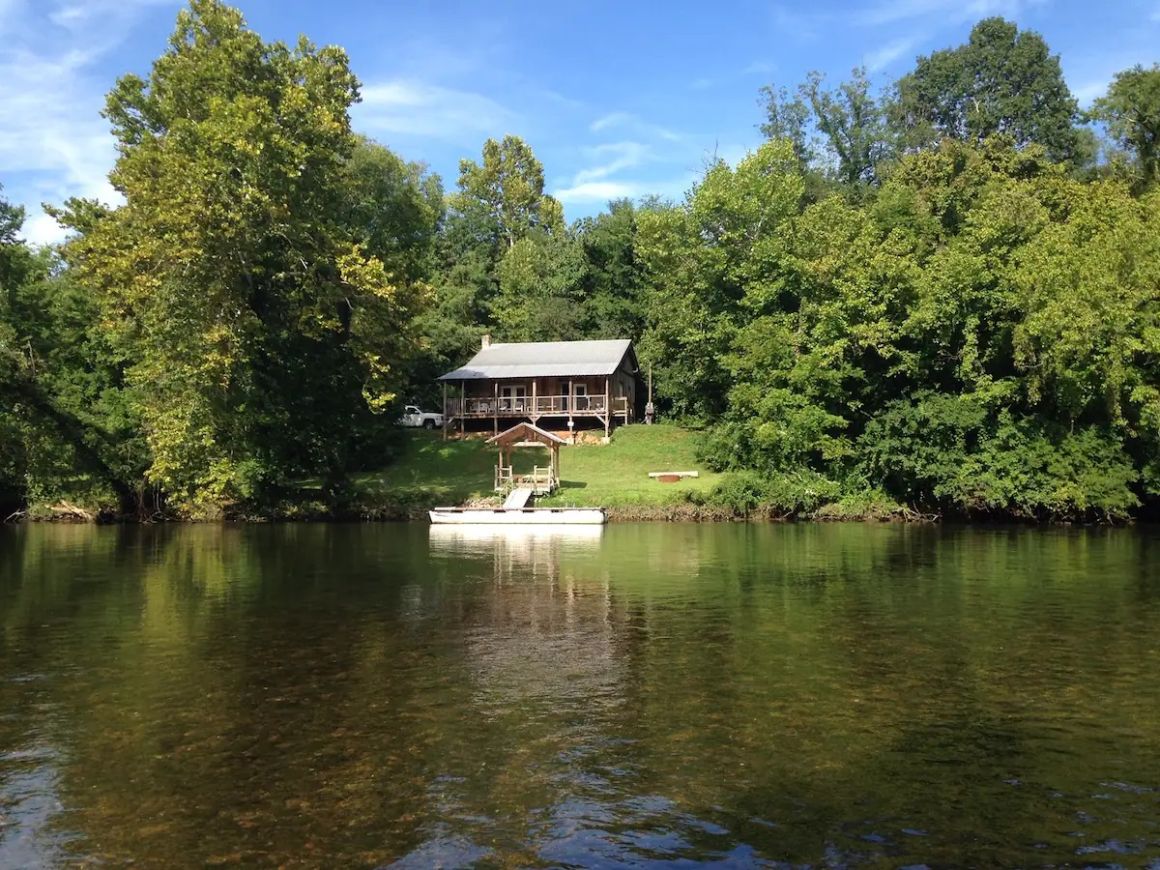 $$
2 Guests
Charcoal grill and fire pit
Easy access to the river
River adventures can't get any better with this studio cabin in Tennessee! Located mere steps from the Holston River, this cabin has an open-plan layout with a queen-sized bed for two. If you absolutely need to squeeze in two more guests, they can stretch out on the extra single bed and sofabed.
With a cathedral-style ceiling, this studio has a kitchen stocked with basic amenities as well as an outdoor charcoal grill and fire pit. Guests of the cabin can enjoy easy access to picturesque attractions like the Great Smoky Mountains National Park.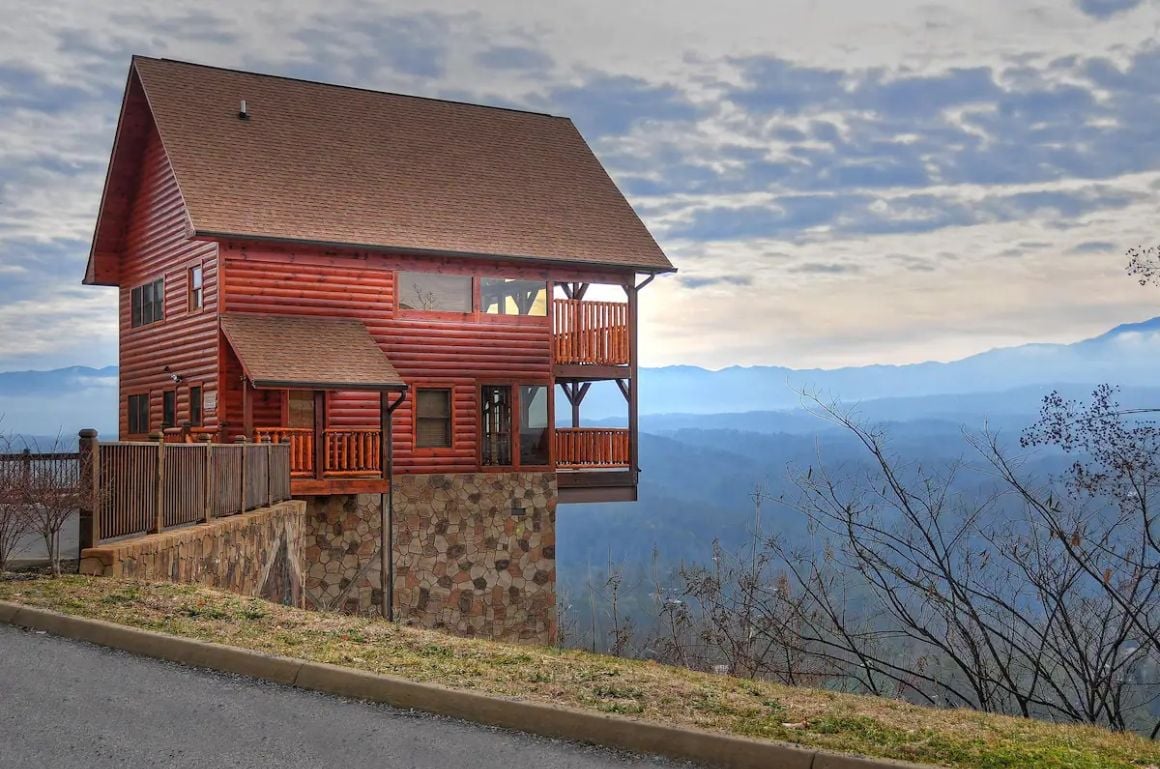 $$
4 Guests
Jacuzzi in the bathroom
Panoramic mountain vistas
Wake up to jaw-dropping, 180 degree views of Mt. LeConte every single morning! Located in a resort, this space features two bedrooms for four guests. After soaking up everything the area has to offer, return to the cabin where you can unwind with a restorative bath in the Jacuzzi tub.
Fitted with rustic Aspen Log furniture, this space also comes with a kitchen, game room, and electric fireplace in the living room. Adults will undoubtedly enjoy a visit to the Little Bear Winery while kids will relish in Ripley's Glass Bottom Boat rides, both located just a few minutes away.
Most Beautiful Cabin in Tennessee – Elegant 2BR Cabin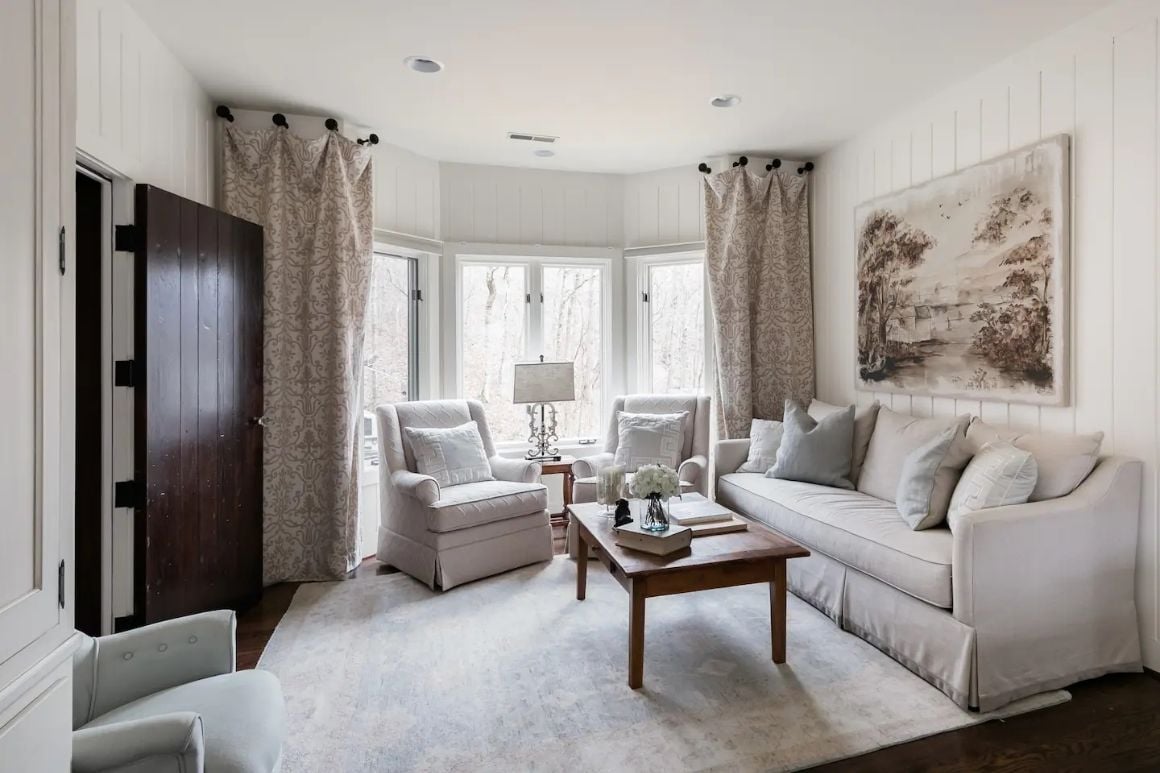 $$$
4 Guests
Fireplace and full kitchen
Overlooking a creek
As far as cabins in Tennessee go, you'd be hard-pressed to find a more exquisite one than this storybook-like establishment. Whether it's unwinding in front of the stone fireplace or putting a meal together in the kitchen to share in the shabby-chic dining room, you can expect plenty of refined amenities throughout.
Featuring antique furnishings, two elegant bathrooms, and two bedrooms, this space sleeps four guests with extra bedding for two additional persons. During your stay, don't miss a visit to the Leiper's Fork, a nearby hamlet known for its antique products, live music, and distillery with tasting sessions!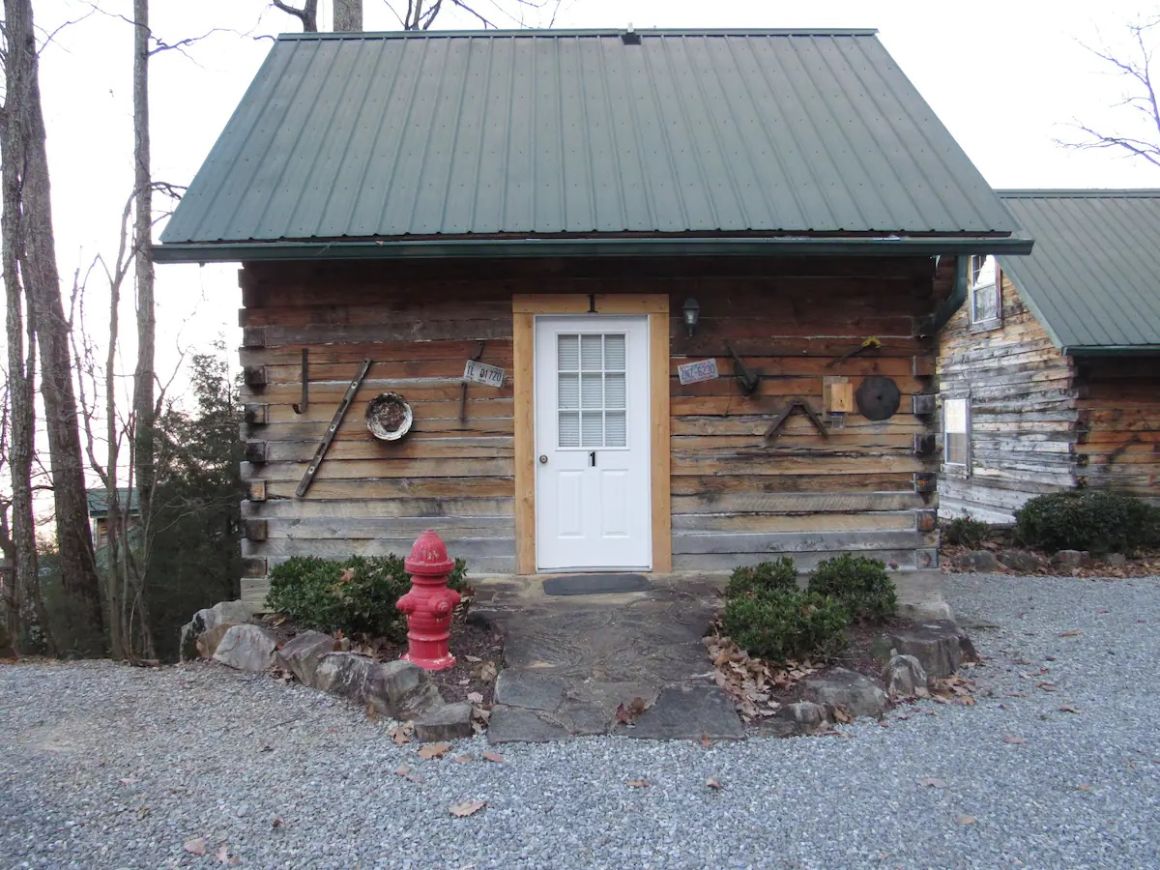 $$
2 Guests
Barbecue facilities on patio
Close to Chattanooga
As far as traditional cabins in Tennessee go, this one certainly ticks all the boxes! Wooden floors and walls, a delightfully rustic setting, and basic kitchen amenities only serve to add to this establishment's charm.
While two guests will be comfortable on the queen bed, the cabin also provides three single beds for three more persons – perfect for families traveling with children!
A short distance from the cabin is found Ruby Falls, known for its underground cascades. If you need to stock up on groceries, you can always head over to downtown Chattanooga, located a quick drive away.
Don't Forget Your Tennessee Travel Insurance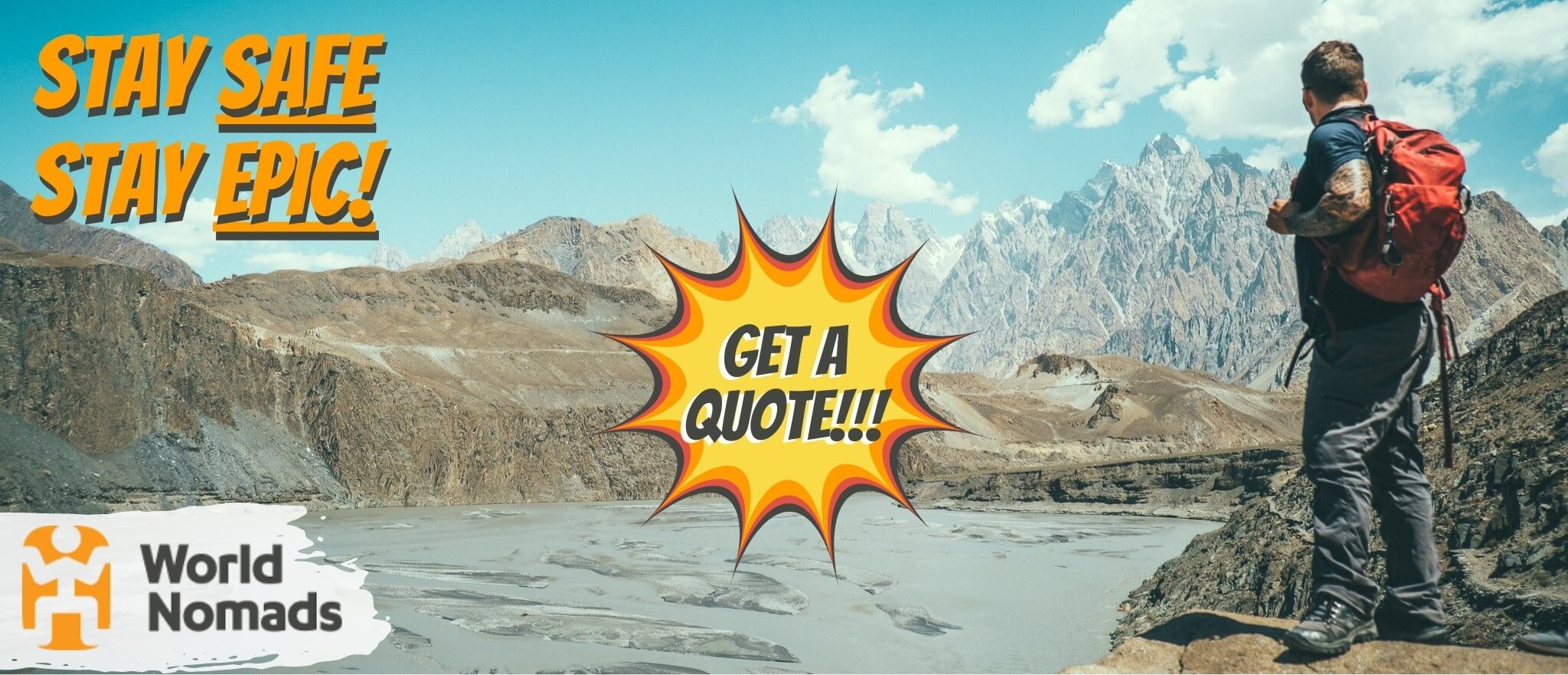 World Nomads' mission is to support and encourage travellers to explore their boundaries. They offer simple & flexible travel insurance, and safety advice to help you travel confidently.
They've been doing it since 2002 – protecting, connecting, and inspiring independent travellers just like you.
Get a quote below or read our in-depth review!
World Nomads provides travel insurance for travelers in over 100 countries. As an affiliate, we receive a fee when you get a quote from World Nomads using this link. We do not represent World Nomads. This is information only and not a recommendation to buy travel insurance.
Final Thoughts on Cabins in Tennessee
We all need the occasional break at times and if you ask us, there's no better way to do it than to book one of these enchanting cabins in Tennessee.
These abodes are absolutely perfect for reconnecting with nature and recharging your batteries before tackling your daily routine again. More importantly, these spaces provide plenty of opportunities to discover some of the most picturesque terrains in the US state of Tennessee.
Once you've selected the cabin of your choice, you may wish to look into getting travel insurance to make sure that your stay in Tennessee is as smooth as possible!
---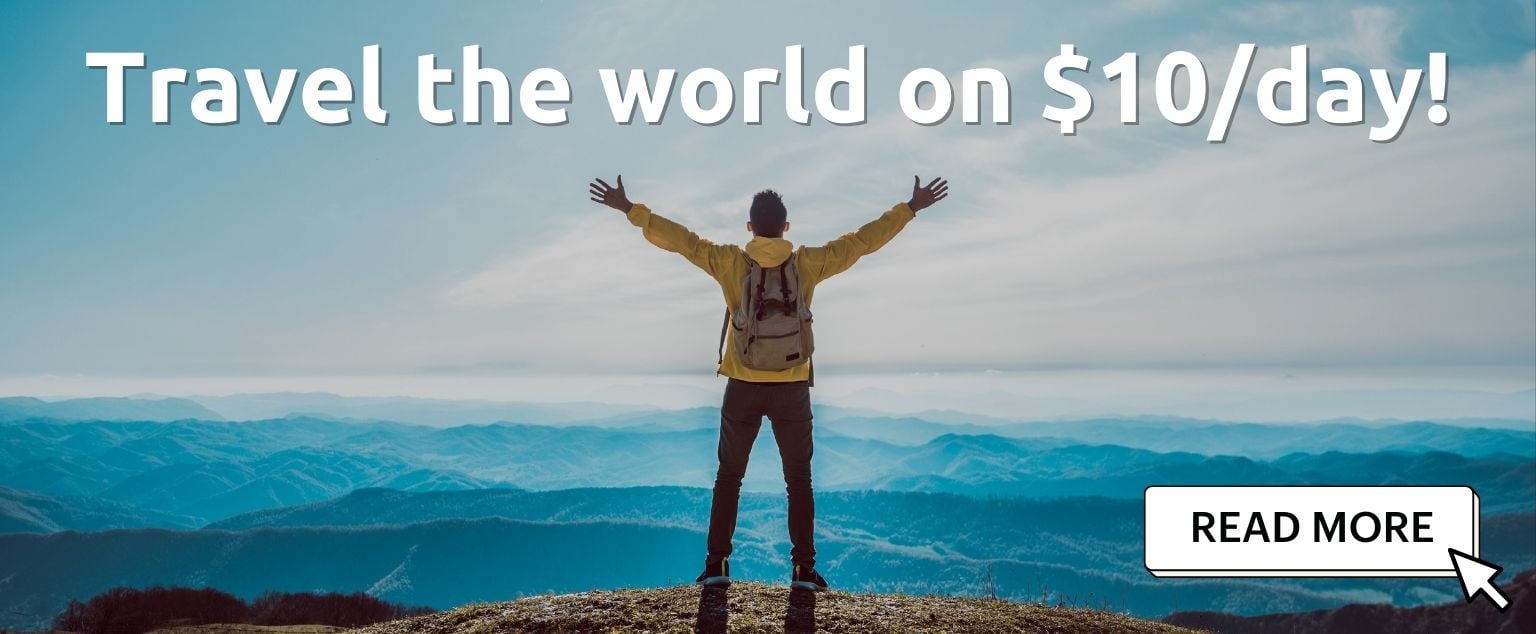 And for transparency's sake, please know that some of the links in our content are affiliate links. That means that if you book your accommodation, buy your gear, or sort your insurance through our link, we earn a small commission (at no extra cost to you). That said, we only link to the gear we trust and never recommend services we don't believe are up to scratch. Again, thank you!