If you're a lady who's looking for a reliable backpack that can hold a lot of gear, look no further. Deuter Aircontact Lite 45 + 10L is designed to compliment your curves while allowing you to pack all of your backpacking gear efficiently. The Aircontact Lite uses interior compartments to keep you organized. With easily adjusted features and tons of padding, this trekking backpack is a force to be reckoned with.
The aluminium x-frame brings stability to the next level, which means that you'll be able to carry heavy loads without the discomfort of a shifting load. And the Aircontact System is designed to optimize airflow between your back and your pack.
We'll be letting you know all the deets for the Deuter Aircontact Lite so you can make the right decision for your trip. We'll also be answering your burning quesitons like, "are Deuter backpacks good?"… spoiler alert, yeah they freaking are!
Yoo, let's get this thing going and make a start on this Deuter backpack review.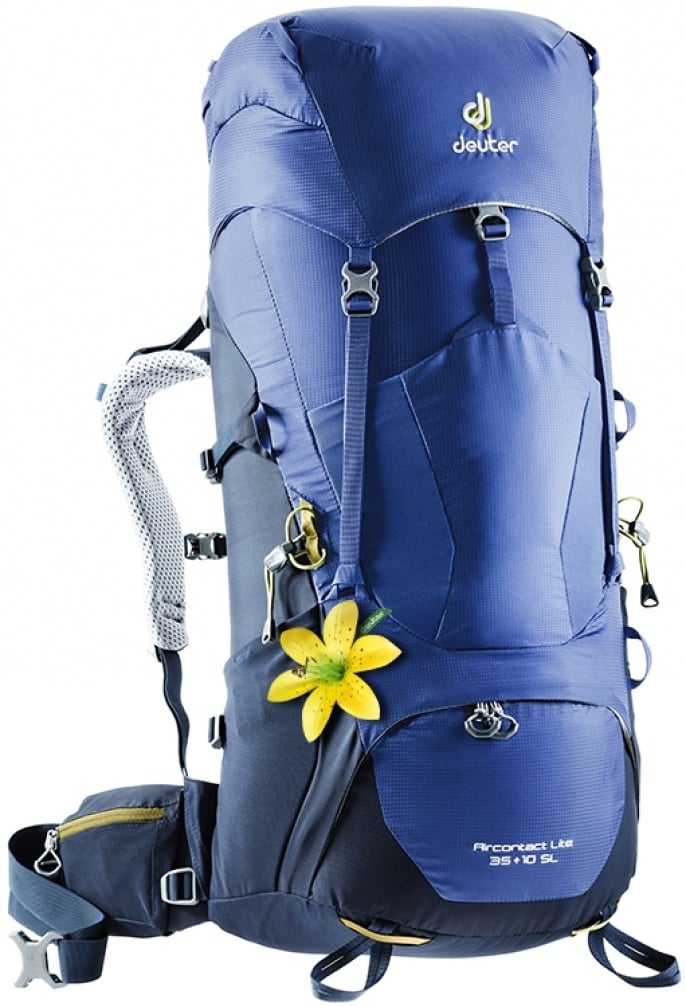 MSRP: $230.00
Weight: 4 lbs. 4.4 oz.
Deuter Aircontact Lite 45 + 10L is a really well-made backpack. This pack has a ton of adjustable features and detachable parts, which makes it pretty versatile.
For shorter hikes, you can shave off 10L's by taking the brain off this Deuter women's pack. Or you can take it out on longer expeditions and stuff all of your gear in this pack without worrying about the durability of the materials.
The bottom of this backpack is reinforced to prevent wear or punctures in the material. There's an internal pocket that allows you to separate your valuable items from the rest of your gear. And there's an adjustable chest strap.
With colors varying from purple to black, Deuter makes it pretty easy to personalize your gear.
And Deuter has a lifetime manufacturer's warranty that guarantees you'll be investing in a reliable product.
Deuter markets the Aircontact Lite as a mountaineering and trekking backpack. I'd personally use it for winter backpacking, or for an expedition in which I'm expecting to carry heavier equipment. But this wouldn't be my first choice for a summer expedition.
Ladies & Gents, It's Time to Step Your GEAR Game Up. 😉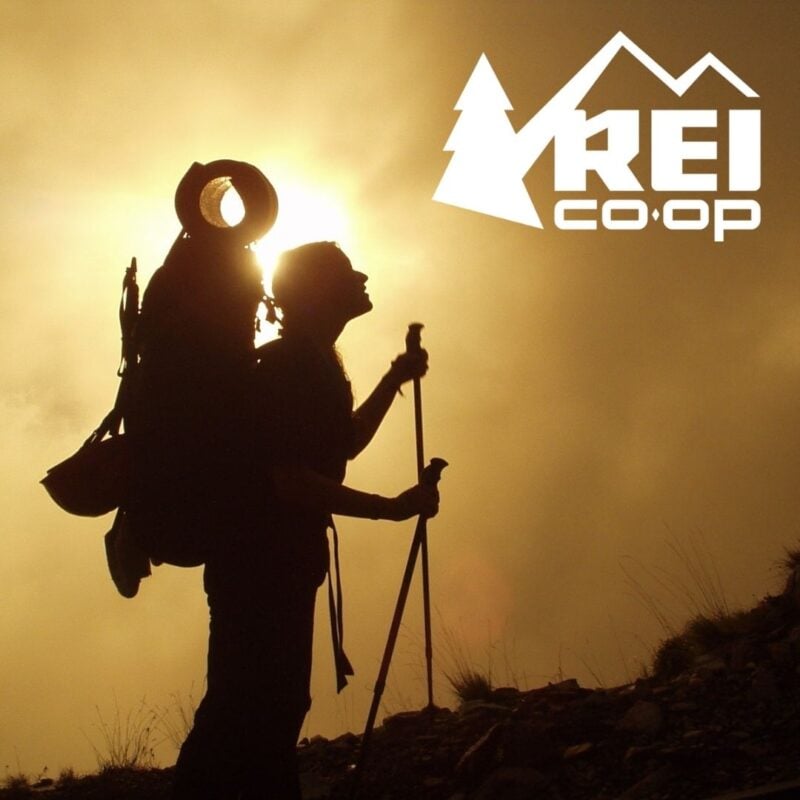 REI is one of America's biggest and most-loved outdoor gear retailers.
Now, for just $30, get a lifetime membership that entitles you to 10% OFF on most items, access to their trade-in scheme and discount rentals.
Join REI Today!
Aircontact Lite 45 + 10L Features
The Aircontact Lite backpack is made to take a beating. This pack has a ton of padding to ensure that your back and hips will escape the effects of carrying big loads.
The adjustable torso is a feature that many backpacks don't share, and it helps you adjust this backpack perfectly to your body.
The detachable brain offers an extra storage compartment where you can make items like your cell phone or wallet easily accessible. Or you can ditch the compartment all together to cut unneeded weight. It's a great feature of the Deuter Air Contact Lite.
And this Deuter women's backpack features trekking pole/ice axe loops to help you secure your gear efficiently.
The Aircontact Lite is compatible with a hydration system (up to 3L). And the suspension system helps circulate air between your back and the backpack, which means it'll take a while for this backpack to absorb your stench.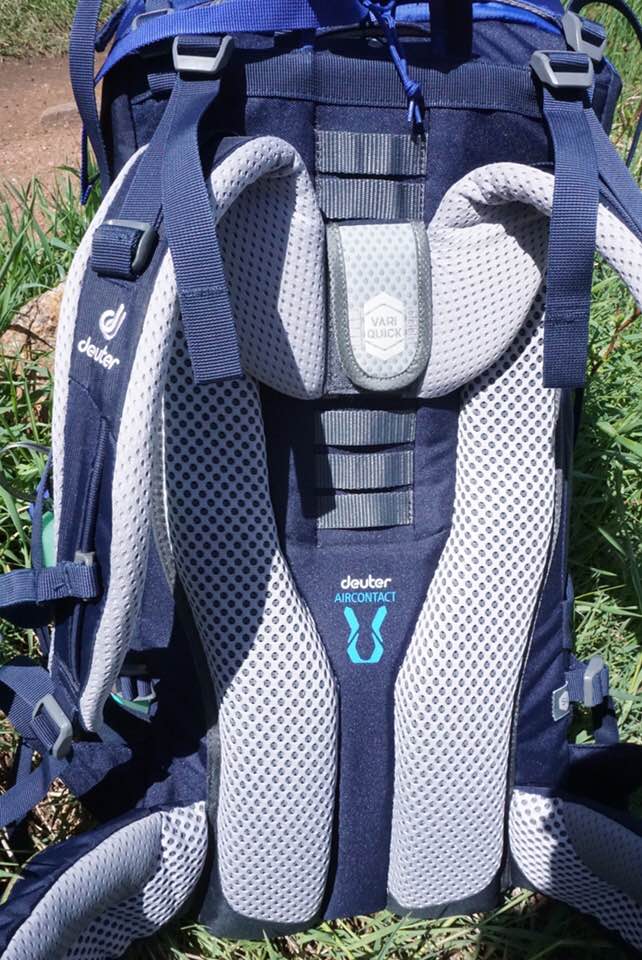 Aircontact Lite Highlights
SL Women's Fit
Aircontact System (cushioned + ventilated)
Adjustable Back Length
Adjustable Volume
Bottom Compartment
Attachments for ice axes or trekking poles
Lifetime manufacturer's warranty
The good and bad parts of this Deuter backpack
Pros: This backpack is super adjustable. You can shift the torso settings to complement your body, and use the load lifters to make sure the weight distribution is right. Plus the shape of the straps compliments the torso really well, preventing"digging" sensations. If you're looking for a comfortable Deuter backpacking pack then these features make it a hit.
Cons: The hip-pockets are surprisingly small. You can probably fit one candy bar in these compartments easily. I'm spoiled and have had the opportunity to wear a couple of backpacks with impressive storage compartments. My previous backpack (Superior Wilderness Designs' 35L) allowed me to stash my cell phone AND snacks in the same pocket. While I think you can certainly do without the extra space, you'll probably end up taking more breaks on the trail to access food that's in less-accessible pockets.
Additionally, it's a little heavier than a lot of competing backpacks. Deuter Backpacks are notoriously meaty products. Many long-distance backpackers air on the side of lightweight products to lessen the impacts on their joints. While this particular backpack isn't quite ultralight, it is pretty light for a Deuter backpack and will carry heavy loads with grace.
The waist straps are really long. I haven't quite figured out how to keep them out of my way yet.
And the side-compression straps rest beneath your water bottles, which means that you often catch the webbing while you're trying to stuff your bottles in the pockets.
Other Amazon reviewers gave the Deuter ACT Lite Women's 4.9 stars.
Travel enthusiasts seem to think incredibly highly of this product. This Aircontact Lite 45 + 10L currently has reviews that are 4 stars or higher. Several gear junkies stated that the straps are really comfortable (there's no "digging" sensation). And this pack can take a beating.
Check Out The Reviews on Amazon
Fit and Sizing of the Aircontact Lite 45 + 10L
Women's torsos tend to be a little shorter than men's, and this Deuter backpack takes that into consideration. It's pretty easy to customize it to fit your needs. And the straps have an 'S' shape to compliment the female build. Deuter did a great job with implementing adjustability into this backpack.
But I ordered a small backpack and found the hip belt to be larger than expected. I have to cinch it almost all the way down to the buckles, which leaves me with a ton of extra webbing. While the extra webbing isn't really a manufacturing flaw, I'll personally probably either cut them shorter or find a way to rig them out of my way. Because otherwise, they dangle down to my knees.
Should I opt for a women's backpack over a unisex backpack?
Before discovering Deuter Aircontact Lite, I always wore unisex backpacks. I figured that making "women's specific" backpacks is just a marketing scheme. But I actually think that buying a women's specific backpack makes a difference. While ultimately, your gear doesn't generally determine whether or not you complete your expedition, it can certainly make your trip more comfortable.
I've been really impressed with the straps and torso on this backpack. And I'm pretty confident it's due to the adjustments that Deuter makes for women. That said, you can certainly get away with a unisex backpack. But I'm pretty intrigued by the Aircontact Lite's female-friendly features.
Is this the most comfortable backpack you'll find?
The weight distribution of this Deuter backpack is on point. Meaning you can carry a heavy load and barely notice a strain. That said, I personally feel like there's a little too much padding. While the padding makes the backpack comfortable, it also adds to the overall weight that you have to carry.
And the aluminium frame helps distribute weight evenly over your hips, which allows you to carry heavy loads with minimal discomfort.
The best present of all… is CONVENIENCE!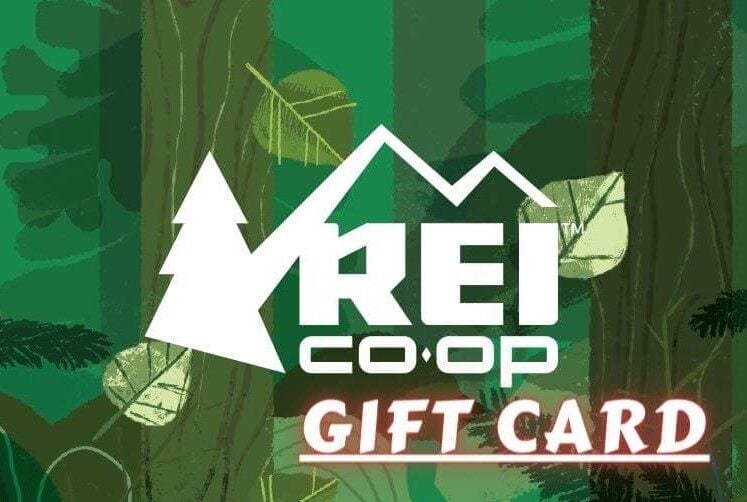 Now, you could spend a fat chunk of $$$ on the WRONG present for someone. Wrong size hiking boots, wrong fit backpack, wrong shape sleeping bag… As any adventurer will tell you, gear is a personal choice.
So give the adventurer in your life the gift of convenience: buy them an REI Co-op gift card! REI is The Broke Backpacker's retailer of choice for ALL things outdoors, and an REI gift card is the perfect present you can buy from them. And then you won't have to keep the receipt. 😉
Buy on REI!
Weight of the Aircontact Lite
A 4 lbs. 4.4 oz. backpack is a little heavy compared to similar backpacking products. The above-average weight could be attributed to a number of things; Any time an engineer adds extra zippers, padding, compartments and buckles, you're adding a noticeable amount of weight.
While the design makes for an easily-organized backpack, it also adds to the overall weight of the product. Some of these add-ons are detachable on this particular backpack. So you can strip it to make it a little bit lighter. But a heavier backpack usually means that it can take a beating.
The weight is only of concern if you're intending to use it to hike long-distances with lightweight gear. This would be a really good option for winter camping because winter camp gear tends to be heavier, which means you need a reliable backpack to carry it all.
I'd like to note that while a 4 lbs. 4.4 oz. backpack is a little heavier than necessary for the average hike, the Aircontact Lite 45 + 10L is significantly lighter than other Deuter models.
Is this hiking backpack reliable and durable?
After a decent amount of testing in the Rockies, this backpack is still practically like new. Backpacks tend to see a lot of ware on the bottoms because we tend to set them down on the ground. After a substantial amount of testing, the Aircontact Lite shows nothing more than a slight discoloration on the fabric, which is totally normal.
The fabrics themselves are in awesome condition, and I suspect they'll continue to impress me during their lifetimes. Deuter intentionally uses fabrics that deter snagging and tearing. Coupled with reliable stitching and overall great manufacturing, this backpack will undoubtedly have a long life.
Is this Deuter backpack waterproof?
The Aircontact Lite rocks water-resistant fabrics. This means that it'll stand up to a moist environment without issue, but you'll still want to carry a pack cover during torrential downpours.
I'd be cautious about this feature, however. I've dealt with a lot of products that claim to be water-resistant but they don't hold up to that standard. So far, I don't have any complaints about the resistance of the Aircontact Lite. But don't wait until you're on a long-trail to find out whether or not it'll keep your gear bone-dry. And trusting this feature could get you into trouble pretty quickly in the backcountry.
Is Deuter Aircontact Lite worth the cost?
While $230.00 isn't exactly pocket change, it's pretty much right in the middle of the backpacking market. Any time you're looking to invest in a reliable travel backpack, you can expect to pay about $250. But this type of backpack will last you a long time too, so you'll definitely get your money's worth.
If you shop around a little bit, you'll probably be able to find the Aircontact Lite 45 + 10L for as low as $190, which is a steal. You'll be hard-pressed to find reliable products at such a low cost. If you're looking to make a safe investment in a reliable backpack for yourself, the Aircontact Lite offers a really solid option.
Is this Deuter backpack right for you?
My activity of choice is long-distance backpacking, which means my gear standards are pretty specific. Compared to similar products, the Aircontact Lite 45 + 10L has both positive and negative qualities. My summer gear is so light, that the weight is a con for me. If your base weight I 15lbs or lighter, there's no reason to be carrying a 3.4lb backpack.
But I'd absolutely use the Aircontact backpack for winter camping. The extra weight usually means that your backpack can carry beefy loads without issues. Winter camping involves heavier gear, which means that your setup will usually require a meaty backpack.
Additionally, a lot of people are interested in finding a reliable travel backpack. This product totally fits that description. The storage compartments allow you to make your belongings more accessible than traditional one-compartment backpacks.
I'd recommend thinking about your intended use before splurging on this Deuter Backpack. While it's a great product, the Deuter Air Contact might perform best in specific environments.

Our GREATEST Travel Secrets…
Pop your email here & get the original Broke Backpacker Bible for FREE.
Final thoughts about Deuter Aircontact Lite Backpack
After several multi-day expeditions, I'm overall pleased with this Deuter backpack (ACT Lite 45 & 10 SL). The fabrics are dependable, the weight distribution is perfect, and the build of the backpack allows you to shape it to your preference. While other backpacks are really difficult to pack, this Deuter backpack makes it easy. The multi-compartment build helps you pack this product by weight, which allows an efficient setup.
The length of the hip-belt webbing is a little longer than expected, but I really like the width of these straps. Rather than including two smaller hip-belt straps like a few competitive products, Deuter uses one larger strap. And I've found that the single strap is a lot easier to adjust.
While the overall weight of the Deuter Aircontact is a little heavier than competitive products, the extra reinforcements allow you to carry bulky loads without issue. This makes me think that it'd make a great winter pack.
What is our final score for the Deuter Aircontact Lite Backpack? We give it a rating of 4.5 out 5 stars!

I hope you found this Deuter Aircontact Lite review to be informative and helpful in your search for the right backpack, let us know if the Deuter Act Lite 45 & 10 is the right one.
---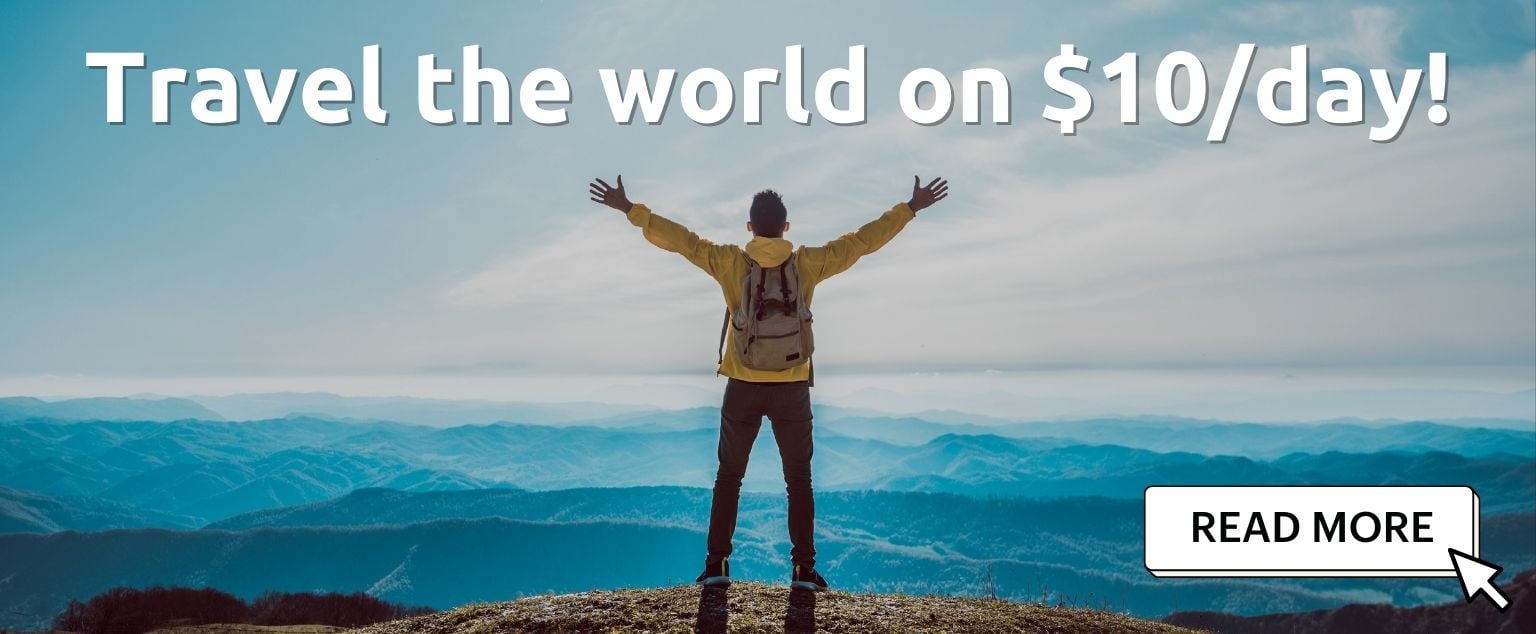 And for transparency's sake, please know that some of the links in our content are affiliate links. That means that if you book your accommodation, buy your gear, or sort your insurance through our link, we earn a small commission (at no extra cost to you). That said, we only link to the gear we trust and never recommend services we don't believe are up to scratch. Again, thank you!