The one thing you should always pack when traveling is your sense of humor. Things may not always go as planned, and in the end, the difference between an inconvenience and an adventure is a question of attitude.
The pandemic had us all stranded at home for way too long, so let's check out some fun travel quotes to help lift your spirits and give that old funny bone a good workout.
For a good giggle, or a funny travel quote to accompany your Insta post, we've hunted high and low to pull together this list of some of the funniest travel quotes for your enjoyment. Check them out!

Unlock Our GREATEST Travel Secrets!
Sign up for our newsletter and get the best travel tips delivered right to your inbox.
1. Work tip: Stand up.
Stretch.
Take a walk.
Go to the airport.
Get on a plane.
Never return.
Our opening travel quote is a real gem. Don't we all wish we could do this? If only it were that simple! In theory, it is, but the reality is that life happens to us all.
2. "You can't buy happiness" Okay, explain travel then..
3. All you need is love and a passport.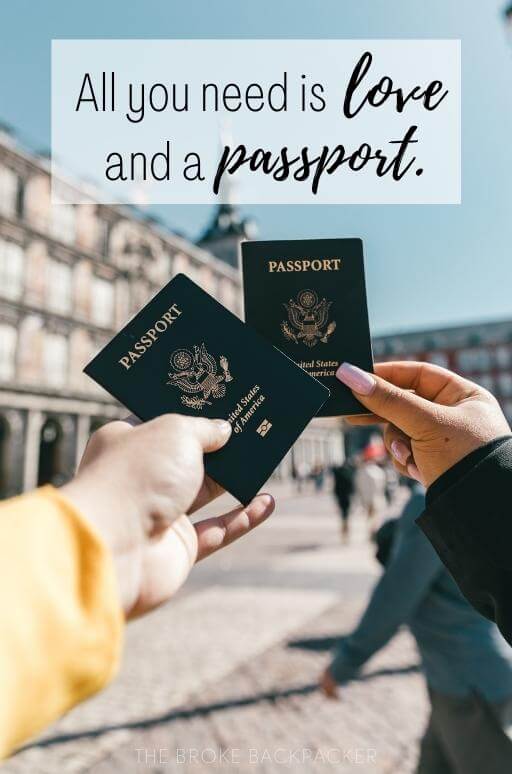 4. A plane ticket is the answer. Who cares what the question is.
5. I Googled my symptoms. Turns out I just needed to go on a vacay.
6. Tripophobia (n.) The fear of not having any travel trips booked.
7. Stuck somewhere between "I need to save" and "you only live once."
Boy, isn't this the truth! The desire to throw caution to the wind is strong in many of us, but reality, however small and softly spoken, weighs in to keep us in check. On the one hand, the more you save, the more places you can go and the more luxuriously you can travel. But on the other, you can always figure it out as you go. Which one are you?
8. You can't buy happiness, but you can buy plane tickets – which is kind of the same thing.
9. A coconut a day keeps the doctor away.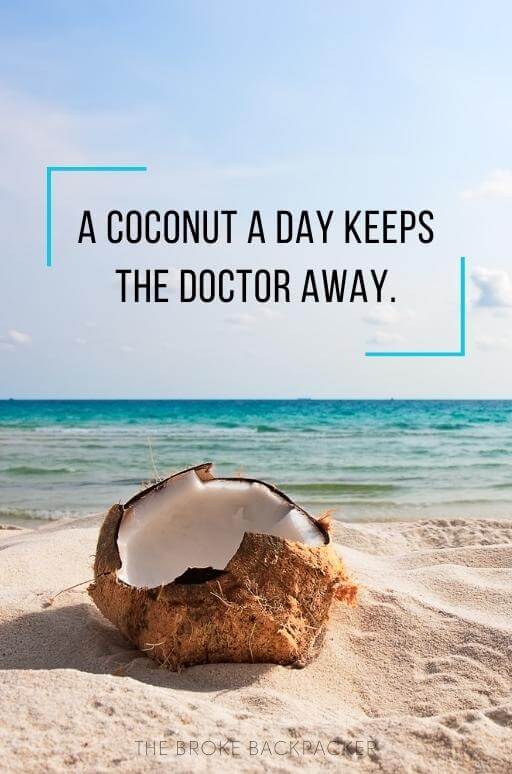 10. Backpacking is money spent on education.
They say the best way to learn is to do, and what better way to do than to head off into the great unknown with only the essentials on your back? Backpacking is undoubtedly the most outstanding teacher. You'll learn about the world, about people, and the most valuable lessons about yourself.
11. I don't know where I'm going, but I'm going. Are you coming with me?
12. I'm getting tired of waking up and not being at the beach.
13. Yeah, working is great.. but have you tried traveling?
14. "Kilometers are shorter than miles. Save gas and take your next trip in kilometers." – George Carlin.
15. At the end of the day, I'd rather have a lot of stories to tell than a full bank account.
Those epic stories of places you've been and things you've seen will warm your heart when you're old and grey in a way that a loaded bank account will not.
16. Forget champagne and caviar – taste the world instead.
17. I need six months of vacation. Twice a year.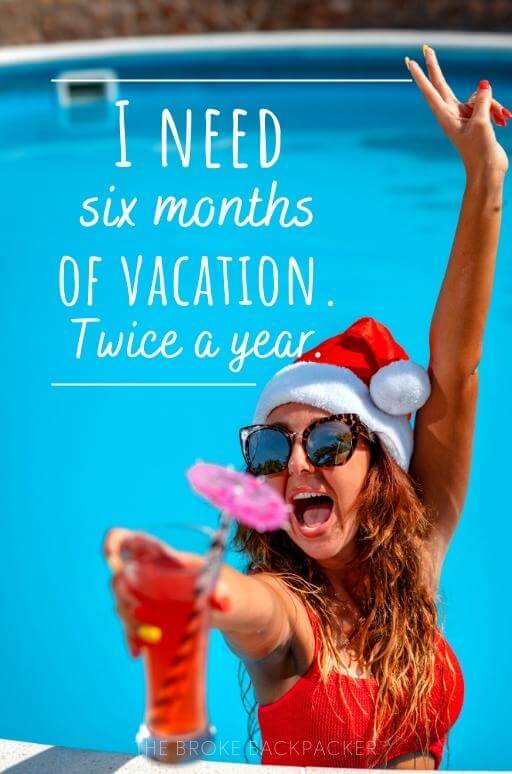 18. Physically, I'm here. Mentally I'm in a pool in Bali ordering my third mojito.
19. I'm a travel fiend on the road to recovery.
Just kidding. I'm headed to the airport.
20. Good things come to those who book flights.
If you don't stand at the bus stop, you're not likely to catch the bus. Similarly, if you don't put yourself on adventure's path, you won't have any. Book the flight. Put yourself out there and see what happens.
21. I need a vacation so long, I forget all my passwords!
22. I've got 99 problems. But I'm on vacation, so I'm ignoring them all!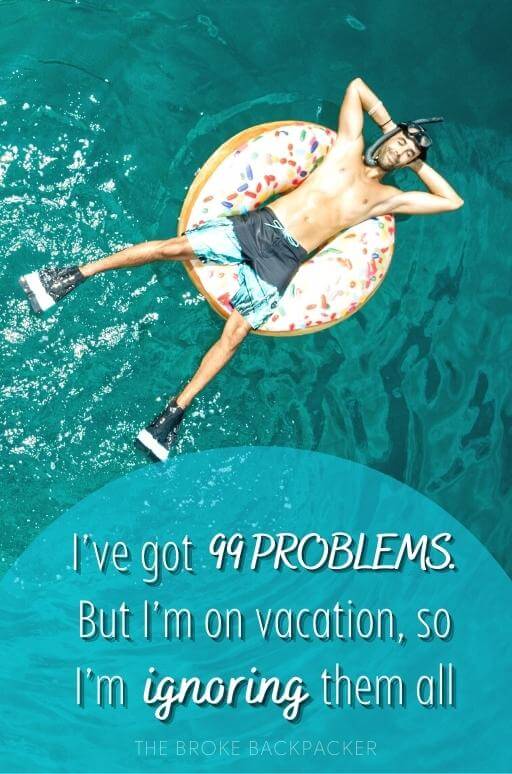 23. Don't speak the language? Already said "what?" three times. Just smile, nod and hope for the best.
24. Me: "I want to travel more."
My bank account: "Like, to the park?"
The struggle is so real for many of us! This funny travel quote reminds us that many of us have champagne dreams on a water budget. You only need to scroll on Instagram to see incredible places and beautiful people living their very best life to remind you that your bank account is totally holding you back.
25. My favorite childhood memory is my parents paying for my holidays.
26. Reality called, so I hung up.
27. Me traveling:
Person: "Un Cafe?"
Me: "Oui"
Person: "Sucre?"
Me: "Non"
Person: "You speak very good French"
Me: "Gracias."
28. There should be sympathy cards for having to go back to work after a vacation.
We couldn't agree more with this funny travel quote. Reality hits like a speeding train after a glorious escape. It's the return to the same old, a mountain of emails, and the unpacking that bring on the blues after traveling.
29. I thought I wanted a career.
Turns out I just want a paycheck to buy plane tickets.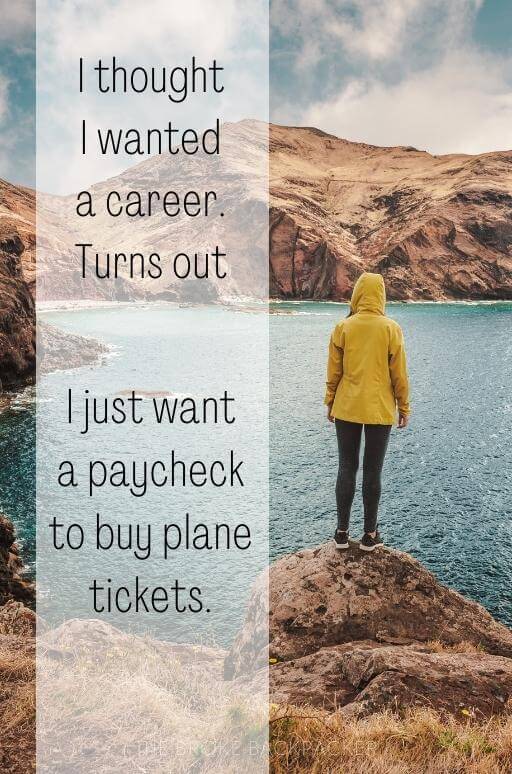 30. I wish I was a postcard. For under $2 you can travel the world to any location in the world.
31. I feel like most of my work problems could be solved with a trip to.. anywhere.
32. I travel a lot; I hate having my life disrupted by routine.
Life is what happens when you're traveling, and everything else is just a means to an end. A true wanderer thrives on the unexpected, and ever-changing scenery. Going to the same job every day to earn money is simply a way to afford the trips that remind you that you're truly alive.
33. Have you ever stopped to think, maybe travel is into me?
34. How can people my age plan spontaneous trips to Thailand? I can barely afford a spontaneous soft pretzel.
35. Education is important. But travel is importanter!
36. Friend: Let's go to Bora Bora.
Me: Man, I wanna go, but I'm pora pora.
Is This the Best Backpack EVER???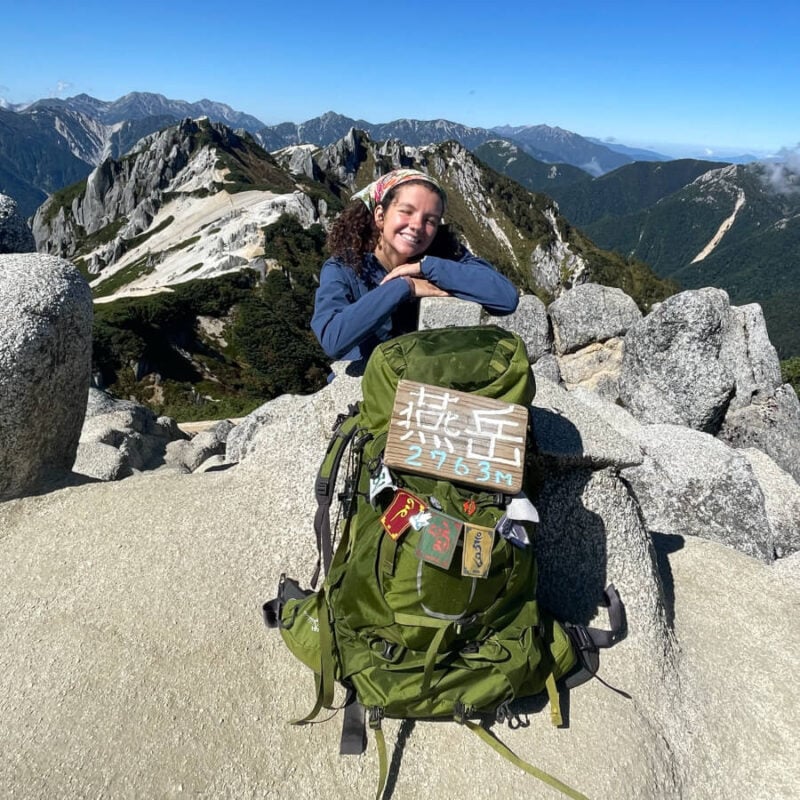 37. If anyone is Christmas shopping for me, I wear a size 7-day Caribbean cruise.
38. People having babies and I'm like; what country am I going to next?
We know this feeling all too well! Not everyone's journey needs to look the same. Follow your heart.
39. Do you ever stress about money and then accidentally book another flight?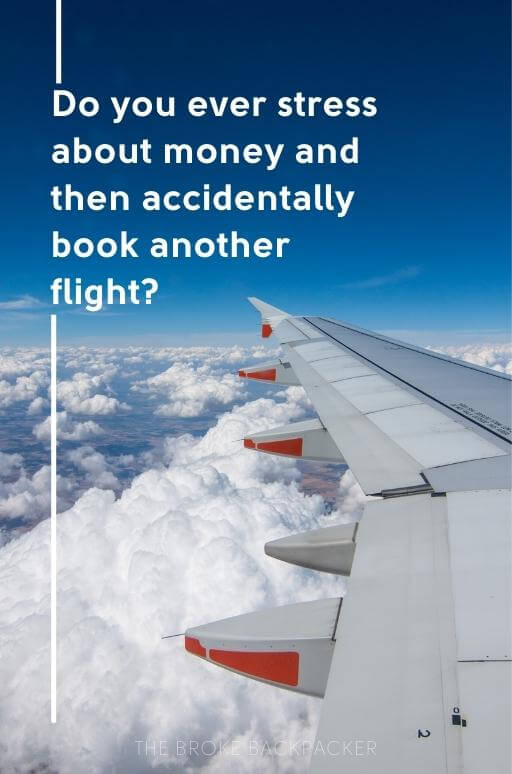 40. Europeans: I drove 40 minutes to spend the weekend in Paris, then popped to Germany to visit family on the way home. Australians: I was in Queensland and drove for 18 hours. Now I'm still in Queensland.
41. Friend 1: I'm getting a house.
Friend 2: I'm having a baby.
Friend 3: I'm getting married.
Me: I'm headed to the airport.
42. Ironing boards are surfboards that gave up their dreams and got a boring job. Don't be an ironing board.
It's just a funny travel quote on the surface, but so true. If your dream is to travel, don't let anyone stop you. Don't deny the lure of the open road. Else you risk living out your days always wondering what if, and regretting those adventures you never took. You could be riding epic waves or stuck in a dark corner and doing a mindless job every day. Choose wisely!
43. I followed my heart, and it led me to the airport.
44. If you had to choose between true love or traveling the world, which country would you visit first?
45. Imagine falling in love with someone and then finding out they clap their hands when the plane lands.
46. I've got a crush on the world.
And what's not to love? There's so much to see and explore!
47. I want someone to look at me the way I look at a travel magazine!
Is there a gaze more full of desire than a traveler flipping through a travel magazine? It's a love affair like no other.
48. Birds literally just eat, travel, and make a mess on things they don't like. I don't know about you, but that's the lifestyle I'm striving for.
49. High five if you don't know what you're doing with your life and just want to travel the world.
There was a time when a nomadic lifestyle was frowned upon, or at the least regarded with suspicion. Air travel and technology have made it so much easier to chase the life of which you've always dreamed.
50. Everyone should believe in something. I believe I should be on the beach drinking Margaritas.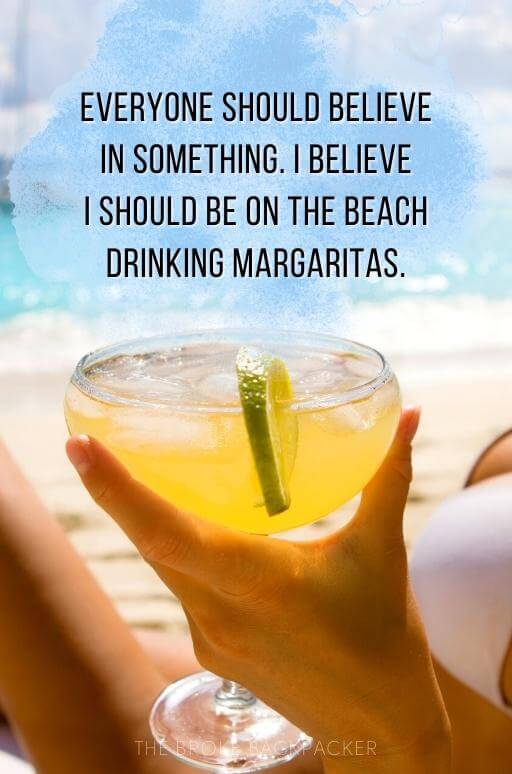 51. Can we just skip to the part in my life where I travel the world?
52. Getting out of bed would be 10x easier if there was a Caribbean ocean and 30-degree weather waiting outside for you.
53. Live a life you don't need a vacation from.
Ok, this one isn't the funniest travel quote, but it's true – and we included it because everyone needs to be reminded. If your life makes you feel like you want to escape, you can change it. It might take time and planning, but it's worth chasing.
54. Work hard. Travel harder.
55. Packs two hours before leaving for a trip.
Unpacks three months after coming home.
We all know this person. Maybe you are this person. Unpacking is always such a chore. Once you unpack, the holiday is well and truly over. We can see why you'd put it off.
56. Me: triple-checked packing list.
Also, me: forgets underwear, contact solution, and favorite chapstick.
57. Procrastapacking (n.) the act of thinking about packing a suitcase instead of actually doing it.
And invariably, this ends with a mad scramble to get everything stuffed in a bag mere hours before your flight. You'll have forgotten something important – it's a given. Passport? Ticket? Money? You'll figure the rest out.
58. Normal life: Wears the same top every day for a week.
Packing for 3-day vacation: I'll probably change a few times a day, so I'll take 21 tops.
59. I have been to almost as many places as my luggage.
Oh, boy! Lost luggage woes. Who hasn't had an awful experience of their luggage going missing? It's all part of the adventure, though!
60. Running to the gate is my cardio.
61. The airport is a lawless place.
7 am? Drink a beer.
Tired? Sleep on the floor.
Hungry? Chips now cost $17.
62. I love those days when my only decision is window or aisle.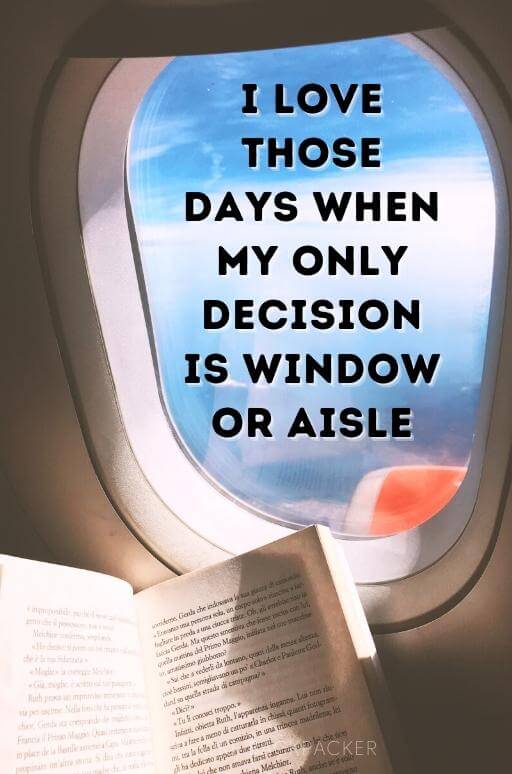 63. If you look like your passport picture, you probably need a trip.
Yikes! Find us one person who actually likes how they look in their passport pictures. It's like the people taking those pictures are specifically instructed to make the subject look as awful as possible while still being vaguely recognizable.
64. What's that medical condition called where you constantly need to have a trip booked?
65. You can't make everyone happy. You are not a plane ticket.
66. In desperate need of a full body massage, four days of sleep, and a ticket to the Bahamas.
67. "Worst thing about being a tourist is having other tourists recognize you as a tourist!" – Russell Baker.
68. "You define a good flight by negatives: you didn't get hijacked, you didn't crash, you didn't throw up, you weren't late, you weren't nauseated by the food. So you are grateful." – Paul Theroux.
69. "Airplane travel is nature's way of making you look like your passport photo." — Al Gore.
A strong contender on our list of funny travel quotes. Why is it that no matter how uneventful and smooth the flight, you always arrive at your destination looking like you were hanging onto the landing gear the whole way?
70. "Don't worry about the world ending today; it's already tomorrow in Australia." ~ Charles M. Schulz.
71. Don't be a tourist, be a traveler.
Oooh, deep! Tourists take pictures of all the major sites and attractions, tick a destination off their list, and move on. A traveler feels a place, tastes a place, and wants to get below the surface.
72. I need Vitamin Sea.
73. "I have found out that there ain't no surer way to find out whether you like people or hate them than to travel with them." ~ Mark Twain.
This quote has stood the test of time. Even in our modern world of speedy air travel and high-tech gadgets, traveling with others will make or break your relationship.
74. Work, save, travel, repeat.
Words to live by, if you ask us. Life summed up in one neat, funny travel quote.
75. Overpack. It's why suitcases have wheels now.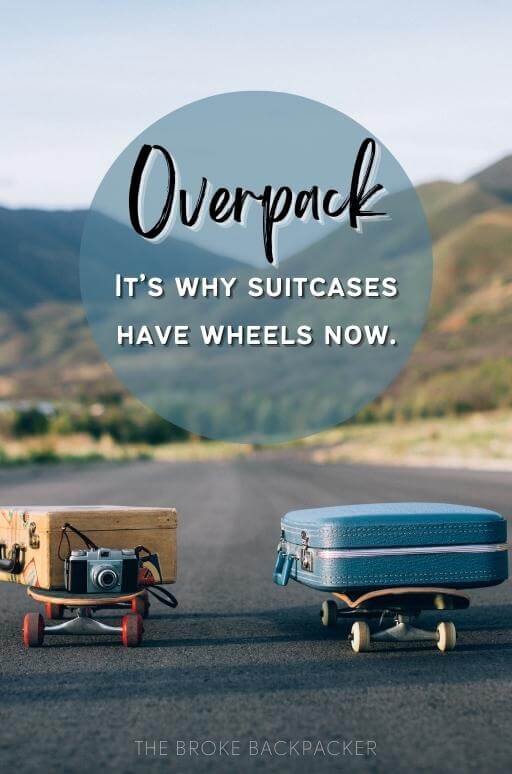 76. "A journey is like marriage. The certain way to be wrong is to think you control it." ~ John Steinbeck.
77. "Drink heavily with the locals whenever possible." ~ Anthony Bourdain.
78. I wish I had never gone traveling, said no one ever.
It's funny because it's true. You'll always gain more than you lose.
79. Let's wander where the WiFi is weak.
We're all so overly connected that it's essential to disconnect so that we reconnect to the things that really matter. Don't miss the moments that count because you're too busy trying to get the perfect picture to post online.
80. A change of latitude would help my attitude.
81. Travel – because money returns, time doesn't.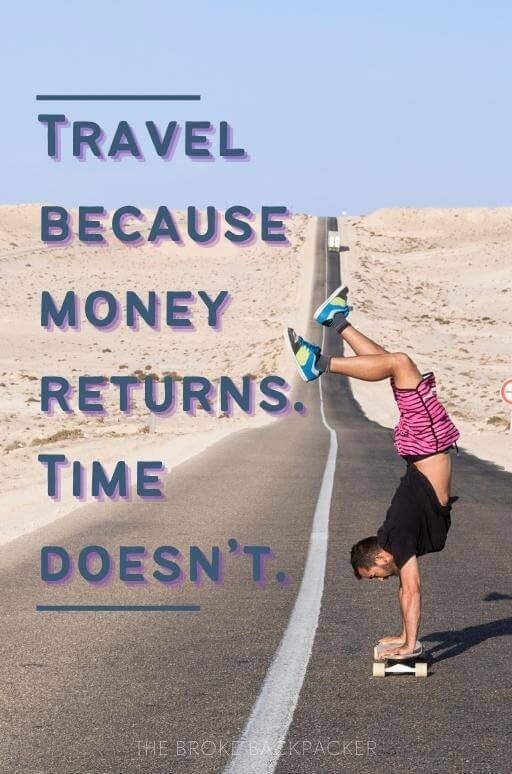 82. That moment when you're asked where you got something, and you answer with the name of the country, not the name of the store.
83. "Sometimes the road less traveled is less traveled for a reason." – Jerry Seinfeld.
84. "A hotel room all to myself is my idea of a good time." – Chelsea Handler.
85. "Airline travel is hours of boredom interrupted by stark moments of terror." – Al Boliska.
86. "Adventure without risk is Disneyland." – Douglas Coupland.
87. "Backpacking is the art of knowing what not to take." – Sheridan Anderson.
88. "I travel light but not at the same speed." – Jarod Kintz.
89. "If you think adventure is dangerous, try routine, it's lethal." – Paulo Coehlo.
Another famous quote offering a snappy piece of life advice. Get out there now. There's plenty of time to settle down into a routine later in life.
90. "I would totally give up travel, but I'm not a quitter." – Anonymous.
91. "When preparing to travel, lay out all your clothes and all your money. Then take half the clothes and twice the money." – Susan Heller.
Great advice wrapped up in a funny travel quote. You never need as much clothing as you think you will, and you always need more money than you budgeted.
92. "Once in a while, it really hits people that they don't have to experience the world in the way they have been told." – Alan Keightley.
93. "I feel like most of my problems could be solved with a trip to.. well, anywhere." – Anonymous.
94. "The gentle reader will never, never know what a consummate ass he can become until he goes abroad. I speak now, of course, in the supposition that the gentle reader has not been abroad, and therefore is not already a consummate ass." – Mark Twain.
95. "The best way to know a city is to eat it." – Scott Westerfeld.
Eating local foods is one of the best things about travel. Depending on the location, this may require a stronger stomach or a tongue immune to spice.

Our GREATEST Travel Secrets…
Pop your email here & get the original Broke Backpacker Bible for FREE.
96. "Travel like Gandhi, with simple clothes, open eyes, and an uncluttered mind." – Rick Steve.
97. "This is the first year I'm not going to Fiji because of COVID-19. Normally, I do not go because I am poor." — Brooke Miller.
We love this funny travel quote. Most of us usually aren't able to travel because of budgetary reasons, but the recent pandemic gave us a new reason for not going anywhere. We're so glad the hard lockdowns and travel bans seem to be behind us, and we can go back to blaming our bank accounts.
98. "I've had entire relationships that didn't get as far as these airport security checkpoints." — Michael LeRoux.
99. "Thanks, TSA, I haven't been touched like that since prom night." — Meaghan O'Connell.
Airport security can be a real drag. Having to open up your bags and have your things rifled through. It's never fun, but this funny travel quote puts a whole new spin on it.
100. "Airports are gonna go from being the meanest place to be to the nicest once we're allowed to fly again. Check my bag? Go ahead. Screaming baby? Sit right next to me, buddy." — Ashley Fern Rothberg.
We're so grateful to be able to travel again. So thankful that all those petty annoyances we hated before seem to be like old friends welcoming us home. Happy post-pandemic travels!
101. Airports: the only place where drinking at 8 am is socially acceptable.
Final thoughts
We stayed at home for way too long, and now that we can travel again, we hope you're out there making plans, exploring, and chasing your wanderlust. If not, maybe these funny travel quotes will pep you up enough to get back out there.
---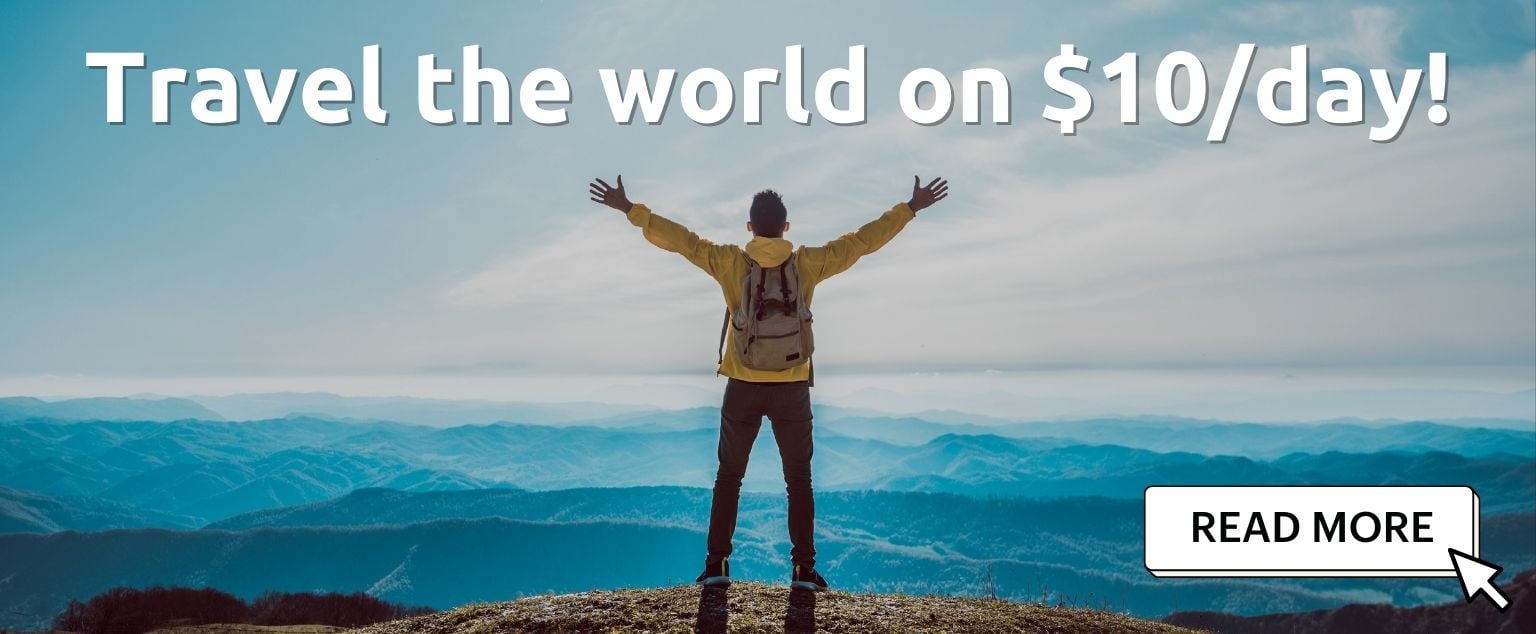 And for transparency's sake, please know that some of the links in our content are affiliate links. That means that if you book your accommodation, buy your gear, or sort your insurance through our link, we earn a small commission (at no extra cost to you). That said, we only link to the gear we trust and never recommend services we don't believe are up to scratch. Again, thank you!