Fushimi Inari Taisha is arguably one of Japan's MOST famous and iconic shrines and visiting here is often a highlight of any Japanese adventure!
This atmospheric shrine, first built in 711 AD, is full of magical Torii gate pathways weaving and winding playfully and purposefully through the forest.
You feel transported to a world where the spiritual and the tangible coexist in harmony, as you follow in the footsteps of pilgrims from centuries ago on their own mystical journey heading towards the summit of Mount Inari.
Walking through these gates and tackling the steep uphill trek, you begin to feel like you really are on a pilgrimage, transported back in time to an age of samurai and sorcerers.
In this article, I'm going to show you how to make your Fushimi Inari Taisha Shrine visit a MAGICAL and unforgettable experience.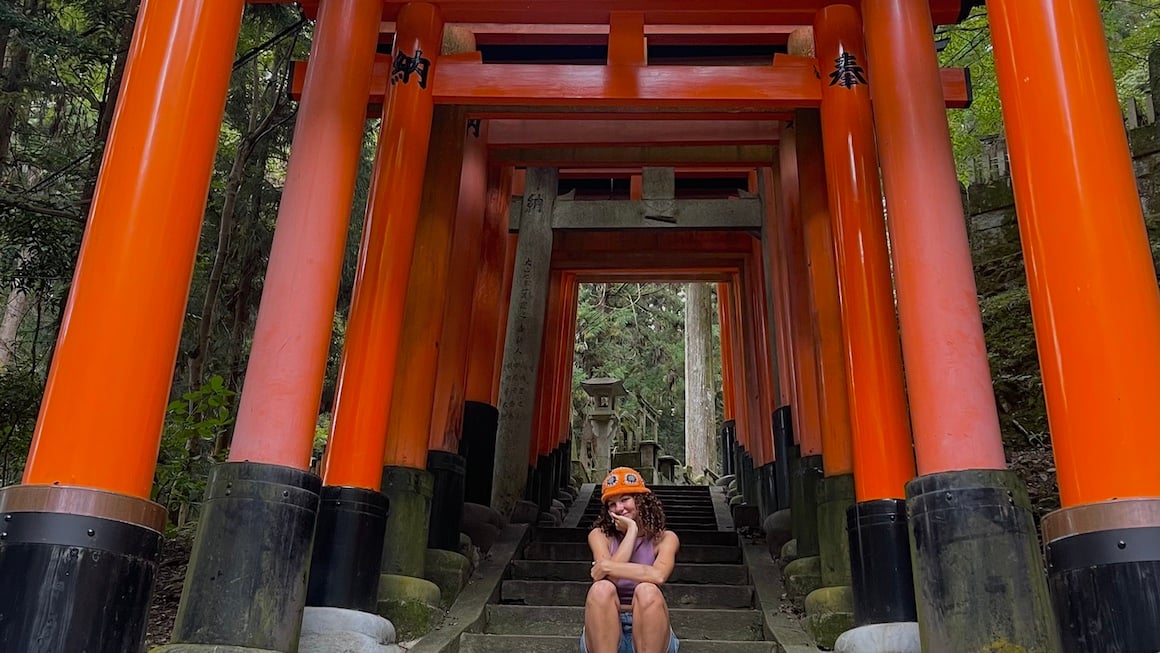 Do You Want to Travel FOREVER??
Pop your email in below to get a FREE copy of 'How to Travel the World on $10 a Day!'.
Quick History
What is Fushimi Inari?
When backpacking Japan, It's important to educate yourself on the history and culture of the country. Fushimi Inari Taisha is a shrine dedicated to the Buddhist and Shinto goddess of rice, Inari.
This shrine has roots tracing back to the 8th century, when agriculture played the main role in the lives of the Japanese people…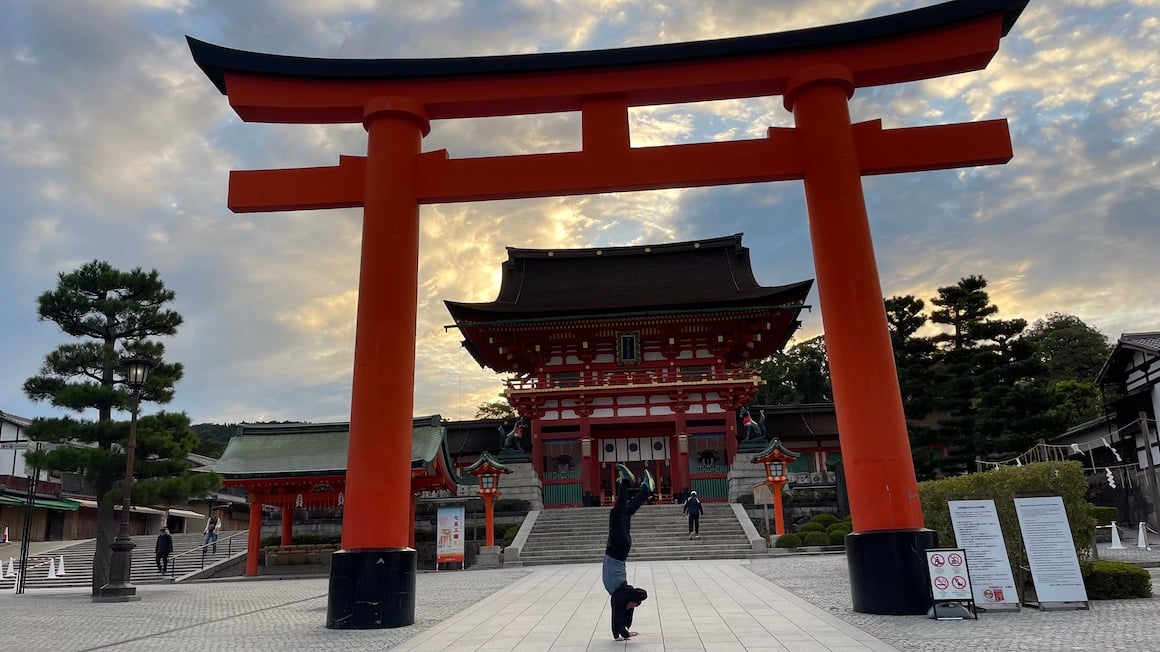 Over the centuries, as Japan slowly transformed itself from an agricultural nation to an industrial one, the shrine became important for fostering luck in business. At the Japanese festival during New Year's, more than 3 million people come to pay their respects!
What's With The Gates?
Each one of the over 4,000 red Torii gates that line the way has been donated by a Japanese business to ensure their luck.
Offering a Torii gate at this sacred place is no small feat, as it demands a financial commitment of 40,000 yen for a smaller gate or an imposing sum exceeding a million yen for a larger one.
What's With The Foxes?
Fushimi Inari Taisha is sometimes also referred to as the Japanese Fox Temple, why? Well, amidst the majestic Torii gates, you'll also encounter an assembly of stone foxes, thoughtfully placed along the mountain paths and guarding the shrine's main gate.
Now, you might be wondering, what does the fox represent in the Fushimi Inari Taisha Shrine?
A common misconception is that the white foxes represent the goddess Inari herself, but they are in fact just her messengers.
According to the ancient legend, Inari descends from the heavens, gracing the earth and riding upon a white fox. In her hands, she carries sheaves of cereals and grains, which are symbols of fertility and abundance.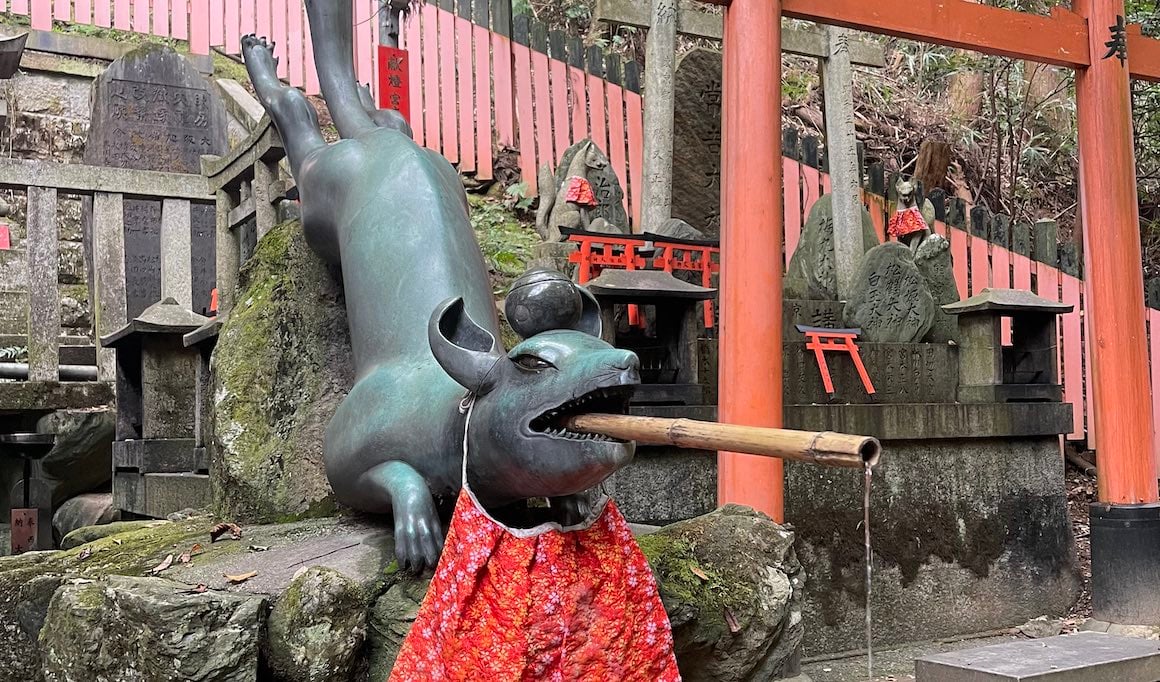 Practicalities of Visiting Fushimi Inari Taisha
Opening times: The shrine never closes! Open all day and night…
Ticket cost – Freeeeee!
How to get there:
Train: Take the JR Nara Line for two stops from Kyoto station to Fushimi Inari. It takes about five minutes. Free if you have a JR Pass; otherwise, about $1,33 each way.
Bus: Take the bus from Kyoto City Bus Stop. It takes 13 minutes and stops at Fushimi Inari Shrine.
How long you need to get around: It takes two to three hours to walk to the top of Mount Inari and back down. You are however free to walk as far as you wish before turning back. It's about 5km long and 233m high.
Pro Tips & Tricks
Go early or late: This shrine is one of the most beautiful places in Japan, but it's INCREDIBLY busy. Chances are your peaceful forest pilgrimage will evolve into a blood boilin' struggle when an Instagram influencer photoshoot is holding up the entire pathway. All while you're shoulder to shoulder with sweaty men and crying children. Want to avoid this? Go early, and I mean really early, like 6-7 a.m., and you'll have the place all to yourself! I also heard that it's quite nice during the evening as well.
Bring water: If you go in the early morning or evening, none of the cafés will be open. So, I highly recommend bringing some water with you, as you'll be workin' up a sweat.
Go to the Viewpoint: If you don't want to walk to the top, at least walk up to the viewpoint, from there it's about another 30 minutes to the mountaintop.
Bring good walking shoes: You will be walking quite a bit if you plan to head to the top of the mountain! A good pair of walking shoes will save you uncomfortable blisters.
Hike up for pics: If you go during crowded times, wait for your pics until you've hiked up a bit. Many tourists come for the pics, so they don't make the trek up the mountain. You'll see it gets more and more peaceful as you reach the summit.
Be respectful: Follow the local customs and practices, here are a few:

Bow at the main Torii gate when you enter and again when you leave.
Wash your hands and mouth with the water at the fountains near the entrance.
No eating inside the shrine.
Find out more about the curious two-clap, one-bow procedure to show your respects at the shrine.

Check out the Fushimi Inari Taisha website: Here you can see a Fushimi Inari map as well as facts, history, events, and festivals.
Try a walking tour: It can add an extra layer of depth to your experience! You can learn much more about Japanese culture and get some more Fushimi Inari Taisha facts up your sleeve!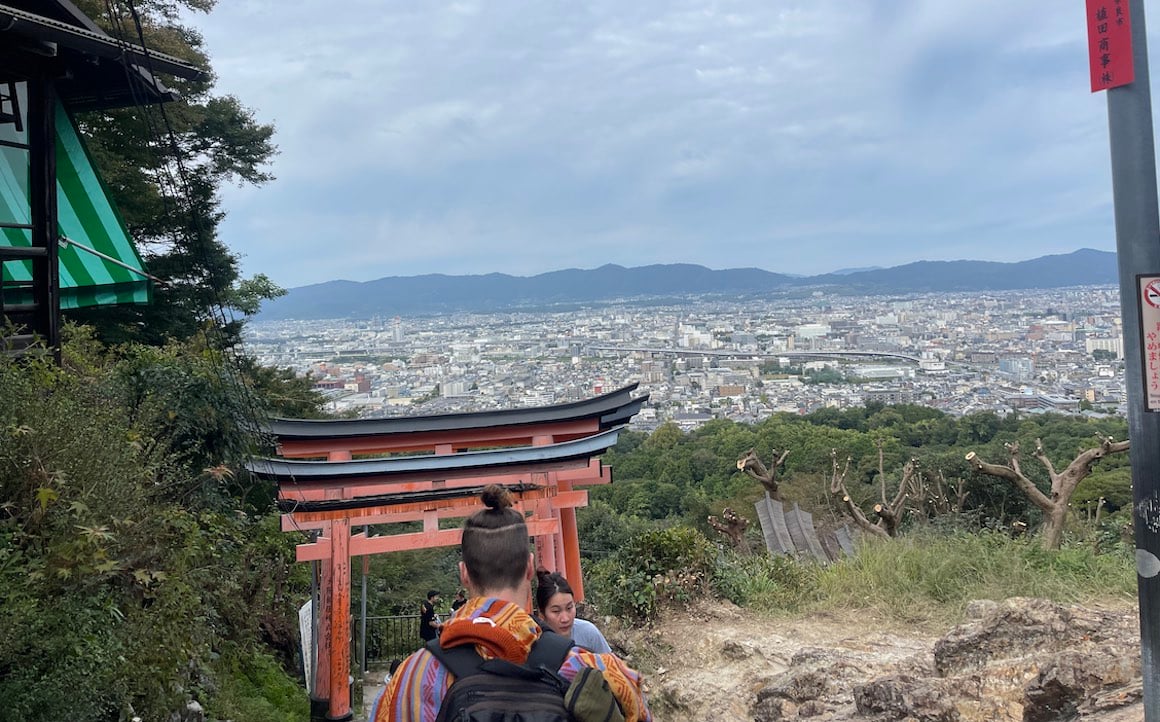 Where to Stay Nearby Fushimi Inari Taisha
There are a LOT of really special places to stay in Kyoto, but tbh, you'll want to head to the shrine as early as possible, especially if you're after the perfect photo without the crowds.
To avoid the hassle of navigating the trains while still half-asleep, try staying within walking distance of Fushimi Inari at one of the sleep spots below…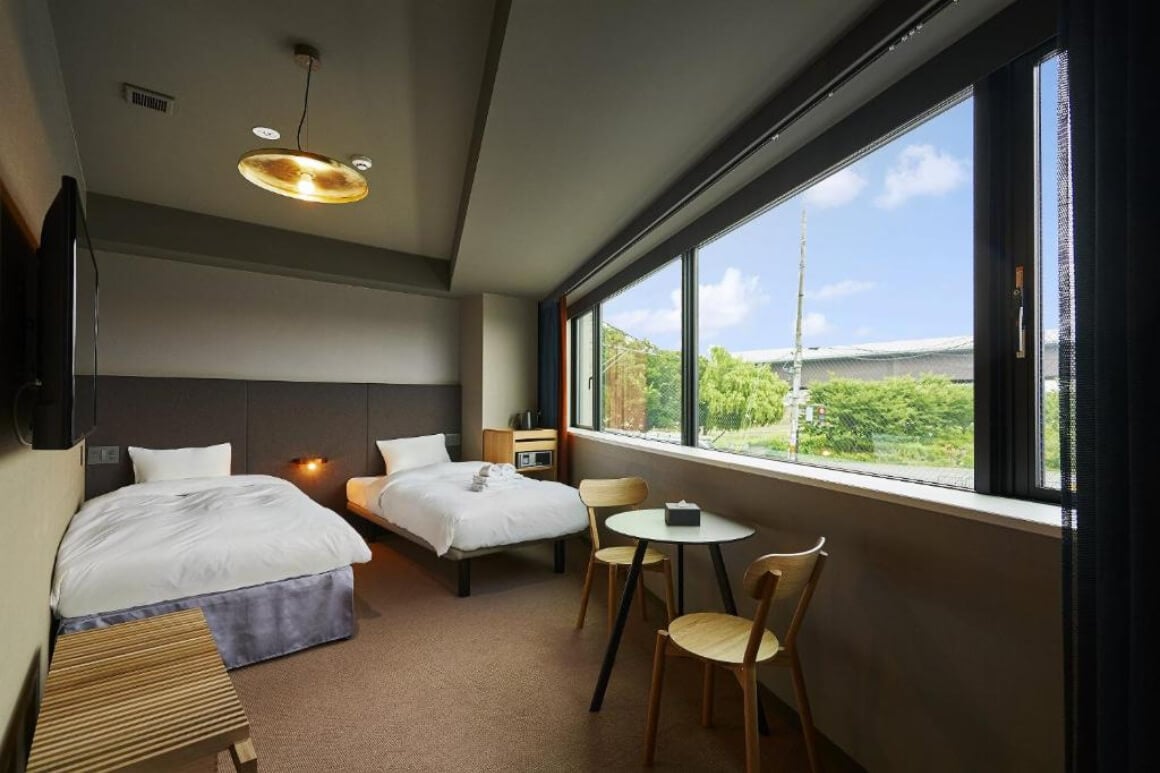 This Reign is one of the best hotels near Fushimi Inari Shrine. It's a comfortable and affordable place to stay in Kyoto, within walking distance of the shrine.
They have rooms with a beautiful city view and serve buffet-style breakfast every morning.
Stay in this traditional Japanese-style inn, where you sleep on tatami mats and experience true Japanese-style living.
Oh, and did I mention it's only 600 meters from Fushimi Inari?
This adorable Airbnb is great if you're traveling as a family or in a group.
You have a lot of space, as it's an entire Japanese-style townhome! Only a 9-minute walk from Fushimi Inari.
Where to Eat Nearby Fushimi Inari Taisha
Kedonya Restaurant
What could enhance your post-hiking experience around the Fushimi Inari Taisha Shrine more than indulging in a piping hot bowl of udon or savoring a delightful donburi?
This well-loved restaurant offers a selection of traditional udon and rice dishes, all within a relaxed ambiance. For about $6.65, you can satisfy your hunger here.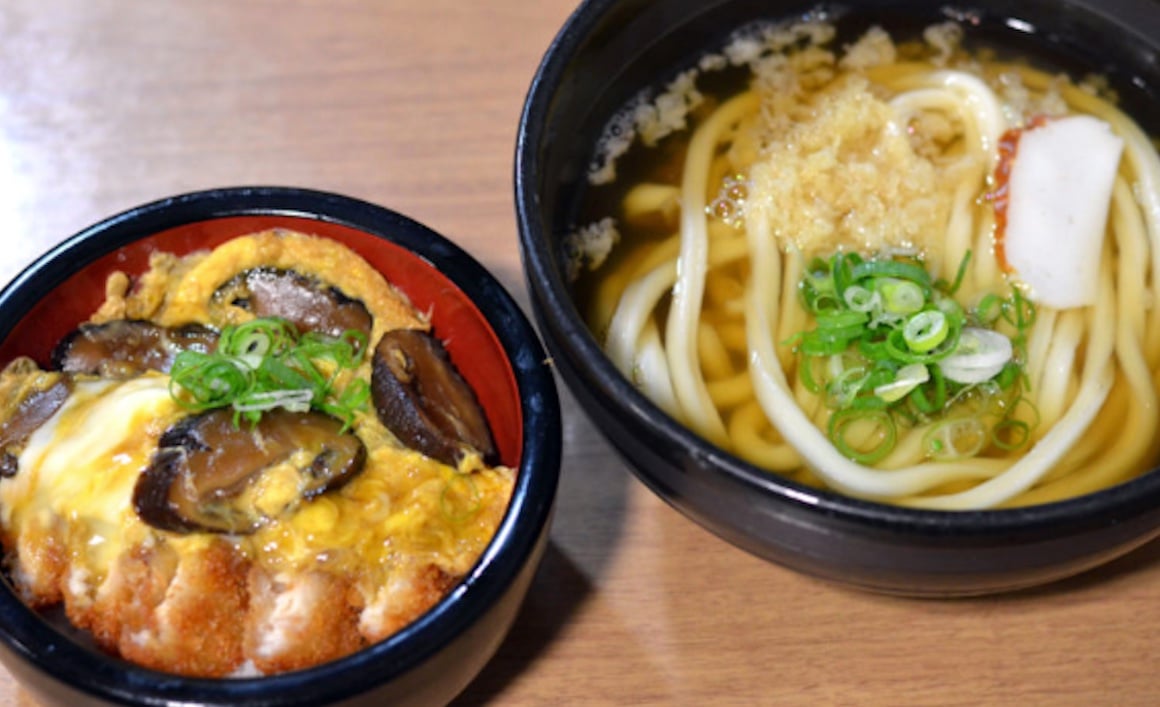 Vermillion Café
Nestled on the north side of Fushimi Inari Taisha Shrine, Vermillion Café offers a cozy escape amid the torii tunnels. Named after the iconic red torii gates, it serves café favorites and light meals.
Finding it can be a bit tricky, but Google Maps can help. Just a 5-minute walk from the shrine's main hall, this café boasts a cool deck with pond views, perfect for a relaxing drink on a warm day.
Other Attractions Nearby Fushimi Inari Taisha
Sake Tasting Tour
Explore the world of sake as you discover its various grades and visit its local breweries and liquor stores. You'll uncover why the Fushimi Inari Taisha shrine's vicinity is renowned for producing exquisite, sweet sake. With over 30 sake varieties to sample, you're sure to find a favorite by the end of the tour.
Check out The Nishiki Market
Whilst the Fushimi Inari market itself lacks good food, don't worry, head on over to the Nishiki Market, located in the heart of Kyoto, Japan.
It is a vibrant and historic food market, stretching over five blocks. It is often referred to as "Kyoto's Kitchen" and is renowned for its wide array of fresh and exotic food items.
You can explore the maze of stalls and shops selling everything you can think of. We're talking traditional Japanese ingredients, such as fresh seafood, tofu, DELICIOUS matcha tea, street food like skewers of grilled fish, tempura, and colorful sweets.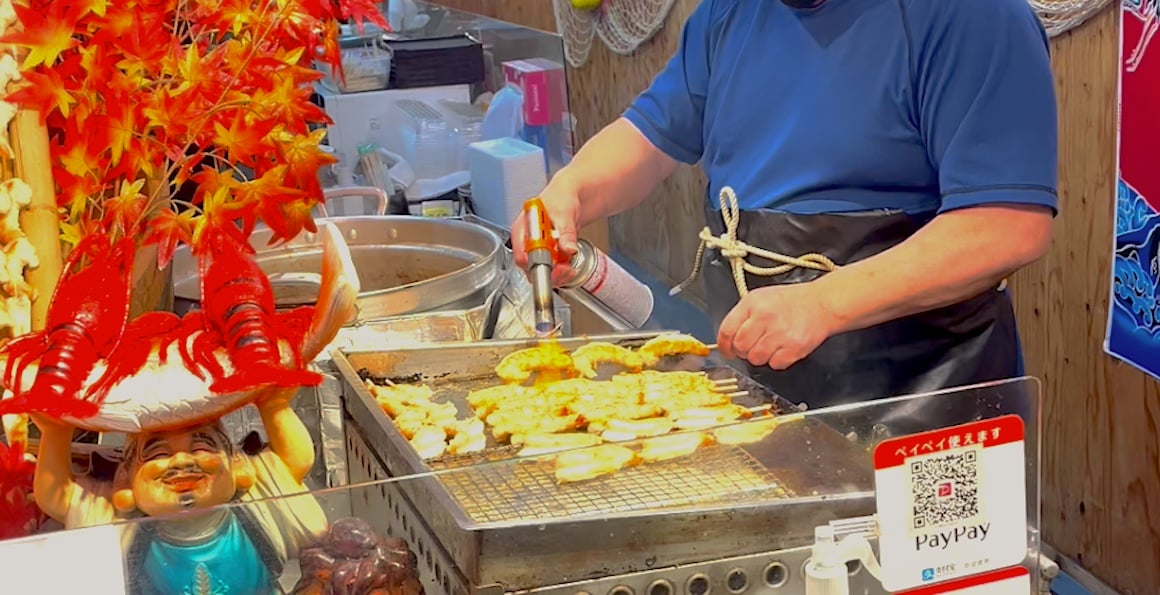 Visit Kiyomizu Temple
A lot of visitors combine their adventure to Fushimi Inari with Kiyomizu Temple, another very popular and famous temple in Kyoto that also happens to be a UNESCO World Heritage Site.
This historic temple is renowned for its impressive wooden terrace, which stands suspended over the hillside and provides visitors with breathtaking panoramic views of Kyoto. You can do a combined tour on Viator to see them both!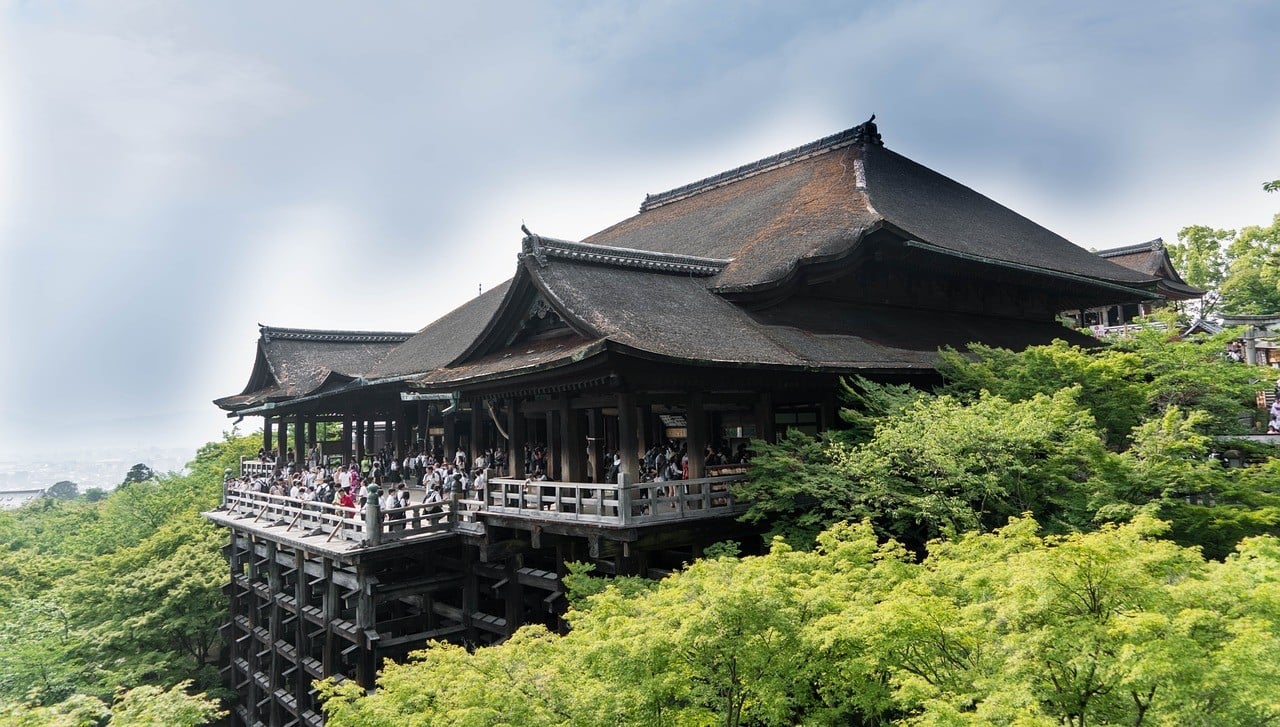 Don't Forget Travel Insurance for Japan
ALWAYS sort out your Japan travel insurance before your trip. There's plenty to choose from in that department, but a good place to start is World Nomads.
ALWAYS sort out your backpacker insurance before your trip. There's plenty to choose from in that department, but a good place to start is Safety Wing.
They offer month-to-month payments, no lock-in contracts, and require absolutely no itineraries: that's the exact kind of insurance long-term travellers and digital nomads need.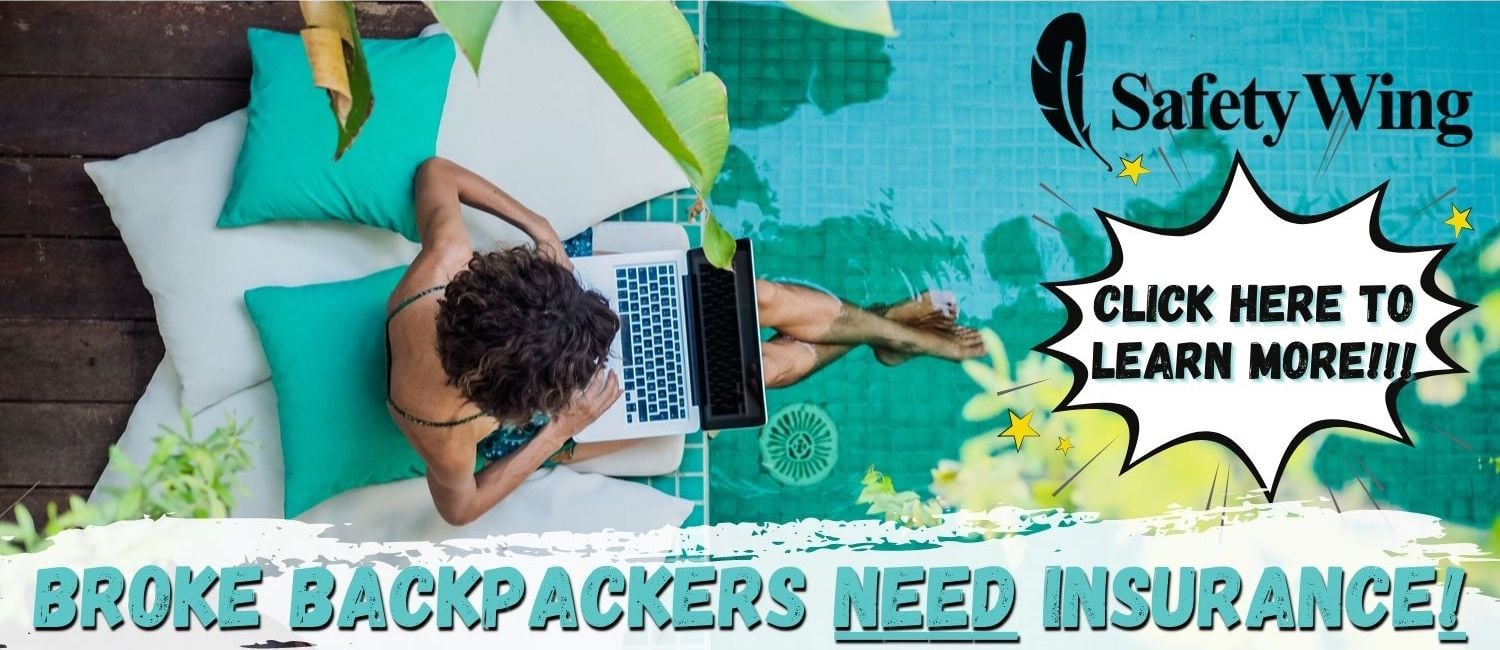 SafetyWing is cheap, easy, and admin-free: just sign up lickety-split so you can get back to it!
Click the button below to learn more about SafetyWing's setup or read our insider review for the full tasty scoop.
FAQs About Fushimi Inari Taisha
Find out what people want to know when planning their visit to Fushimi Inari Taisha.
Final Thoughts on Fushimi Inari Taisha
Fushimi Inari Taisha stands as one of Japan's most iconic and beloved shrines, with its enchanting Torii gate pathways creating a magical atmosphere. Walking through this mystical forest, you'll be transported to a realm where the spiritual and the tangible harmoniously coexist.
As you follow in the footsteps of ancient pilgrims on their mystical trek to the summit of Mount Inari, you'll find yourself on your very own spiritual journey.
To make your visit to the Fushimi Inari Shrine truly magical and unforgettable, follow the tips I've provided, and you'll leave with cherished memories of this wonderful place. You may even meet a cute little kitty…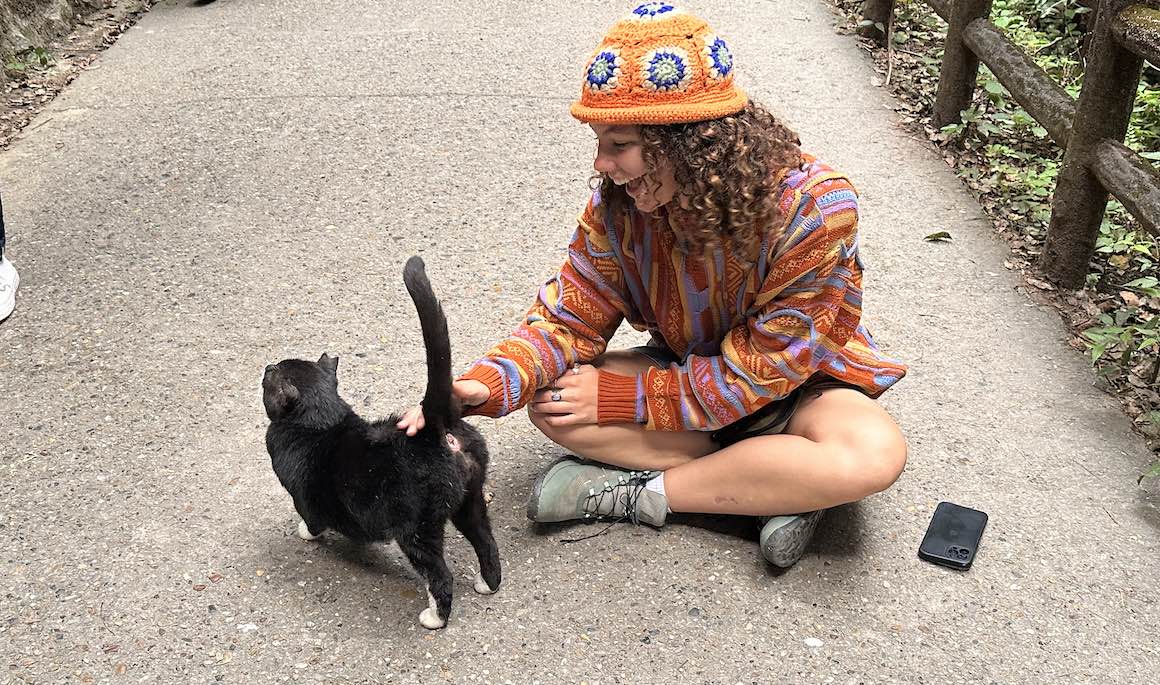 ---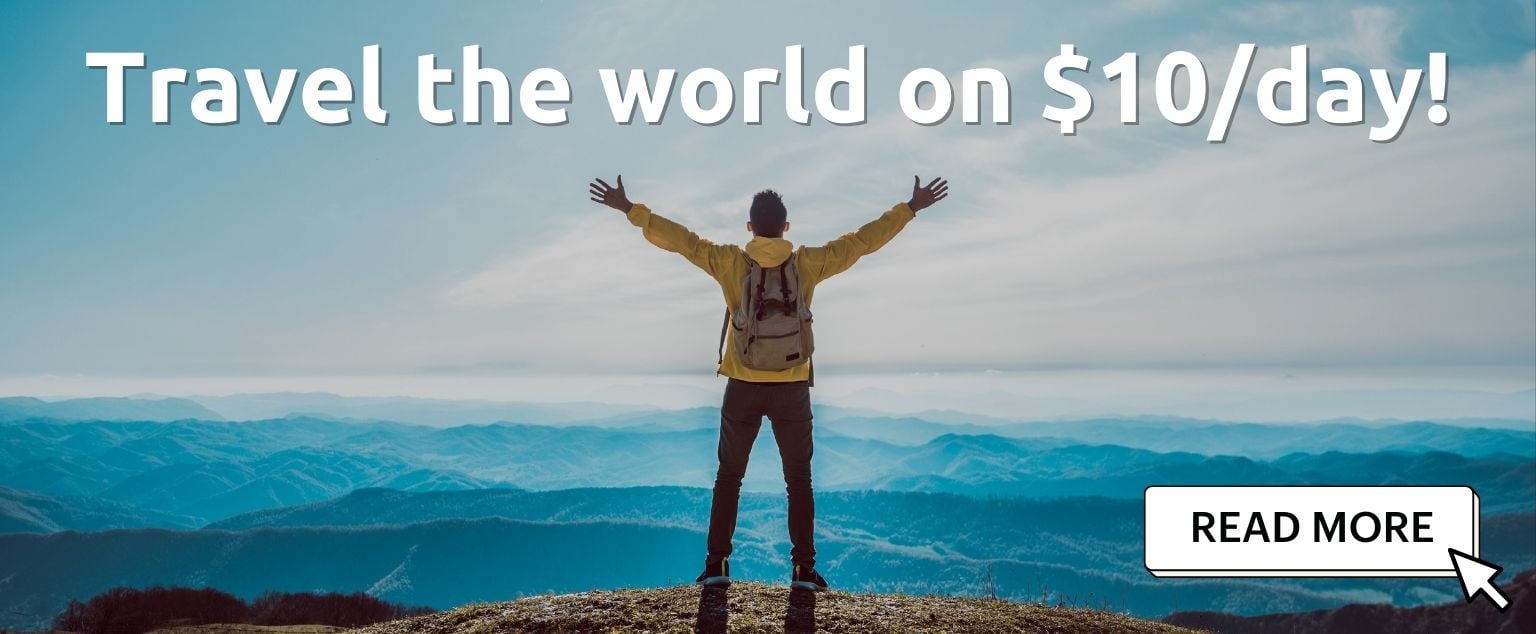 And for transparency's sake, please know that some of the links in our content are affiliate links. That means that if you book your accommodation, buy your gear, or sort your insurance through our link, we earn a small commission (at no extra cost to you). That said, we only link to the gear we trust and never recommend services we don't believe are up to scratch. Again, thank you!