So you're a broke backpacker who wants to travel the world. Along with scoring free accommodation, and finding affordable volunteer programs, the secret to travelling on a budget is finding ridiculously cheap flights through airline mistake fares…
Yes, it's possible to save hundreds of dollars on flights by using a dependable airfare tracker and using mistake fare resources, like secret flying, and airfare watchdog to stay on top of the latest airfare errors.
So what's a mistake fare, you ask? And how do they help you find flight deals?
A mistake fare is when an airline or travel agency accidentally lists a pricing mistake and sells an airline ticket significantly cheaper than intended. The trick is to spot flight price mistakes before the airline realizes their error.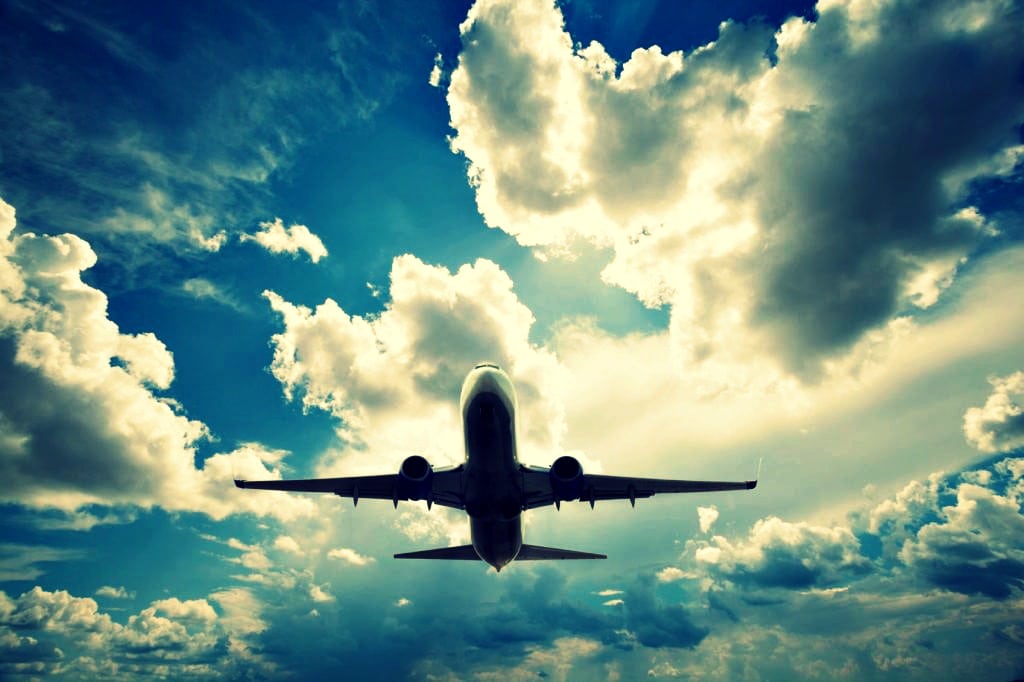 Why do Mistake fares Occur?
If you're looking to travel without spending much money, airline fares will be one of the biggest banes of your low-cost existence. However, keep an eye out for these types of error fares, and you'll be pinching pennies like a pro!
Currency Conversion Mistake: When an airline lists a price error based on a currency conversion mistake.
Fuel Surcharges: if you ever see your airline ticket price broken down, you'll notice much of the cost comes down to fuel surcharges and taxes. Every now and then these fuel charges can be dropped accidentally through:

Self-Dump – A long flight's fuel surcharges are "dumped" by the presence of a smaller, cheaper flight.
An Online Travel Agency unintentionally omits the fuel charge.

Human error: These errors typically occur when someone accidentally publishes a typo. For example, a tired employee at the end of a shift accidentally types $100 instead of $1000.
Computer glitch: Though a bit rarer, sometimes a computer glitch leads to a mistake airfare. For example, in 2013 a return airline ticket from several US cities to Hawaii was sold at $7 USD due to a computer glitch. However, it was caught within a few hours and corrected.
The Best Resources for Spotting Mistake Fares:
Unless your passion is constantly stalking every travel agency and airline at work (believe me, I've been there), the easiest approach to finding mistake fares is to follow the pros whose sole job is to track cheap flights for you.
I've listed the best deal hunter resources below, in order of my personal favourites.
Secret Flying
Secret Flying is a great resource for spotting worldwide flight price mistakes. You can subscribe to secret flying via e-mail sign-up, and follow them on Facebook, Twitter, and Instagram.
Secretflying.com also lists the latest spotted error fares. For example, at the time of writing there was an error fare from Nairobi, Kenya to New York City for $350 USD round trip!
I definitely suggest following them on multiple social media channels to catch the latest error flight fare before it expires.

Unlock Our GREATEST Travel Secrets!
Sign up for our newsletter and get the best travel tips delivered right to your inbox.
Airfare Watchdog
Airfare Watchdog has a team of deal hunters who are always watching airfares. They maintain a list of the top 50 cheapest flights daily, which they update on their website.
Watchdog Flights – Top 50 of the day
At the time of writing, the number 1 deal was a flight from Charlotte, NC (USA) to Orlando, FL for $39 Round Trip!
They also send out price alerts for flights through social media, so be sure to follow them on Twitter. You can also sign up for airline deal alerts through email.
Fly4Free
Fly4Free is another resource that lists some of the lowest airfare mistakes and airline glitches.
For example, on July 12th, 2017, there was a non-stop flight from LA to the Cook Islands Round Trip for $551!
You can sign up for mistake fare alerts by text or email as well.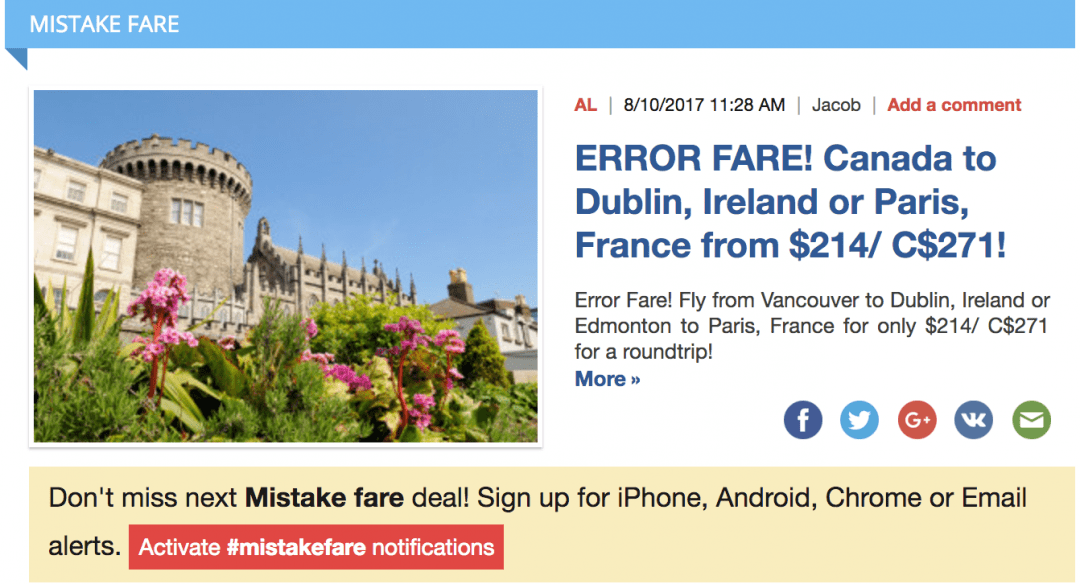 The Flight Deal
Theflightdeal.com lists the latest secret flight deals and other useful travel deals. They have sections on their website for credit card, hotel and car rental deals as well.
You can sign up for their newsletter, and follow them on Facebook and Twitter.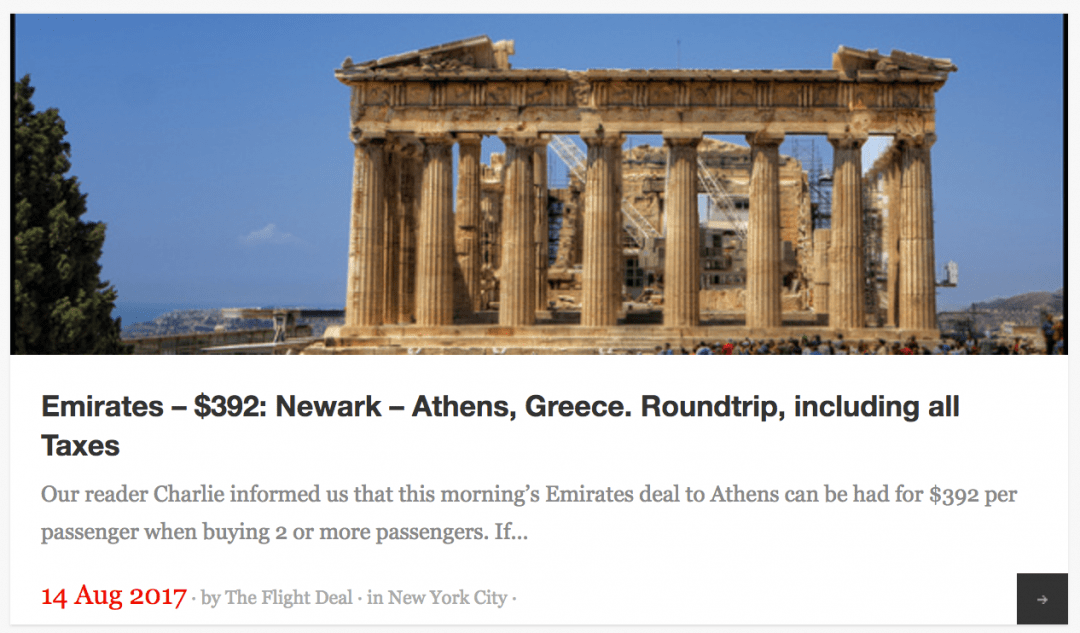 How to find Airline Mistake Fares on your own
The best way to spot an error flight fare on your own and watch for cheap flights is through resources like Skyscanner, which allows you to view monthly trends for your departure destination(s). Likewise Kiwi.com will also help you follow the market.
Skyscanner the cheap airfare tracker
Skyscanner is a great flight deal tracker because they also include some budget airlines; whereas, other third party flight trackers often do not.
You can also sign up for a Skyscanner price alert for any particular flight route in case of any secret travel deals or airfare mistakes.
If you happen to see a flight that looks too cheap to be true, it's probably an airline glitch, so be sure to act on it immediately! Just recently I was able to snag a flight from Brussels to Nairobi for $200 from watching Skyscanner.
I also like that Skyscanner allows you to keep an open ended arrival destination, as well as compare one-way tickets for return.
Use Google Explore Flights
Google Explore Flights is a nifty tool that can help you find the current cheap flights from any destination throughout various dates.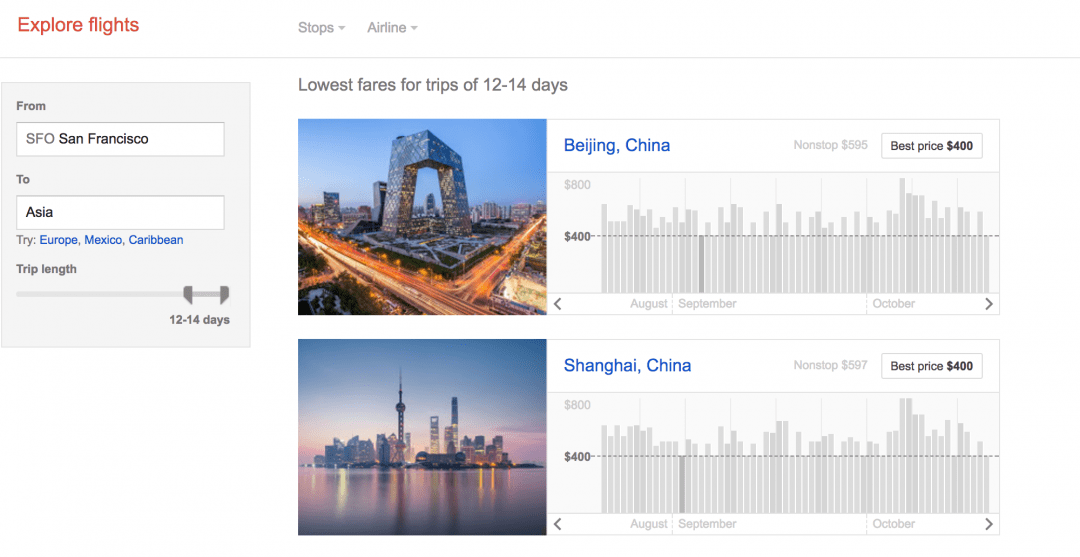 Airwatchdog and Secret Flying, for example, tweet out deals of the day every hour. All of the resources I listed above can be followed on FaceBook, Twitter, and/or Instagram, so be sure to follow them to catch secret fares and flight price mistakes. This way you can jump on cheap airfare alerts before they expire.
Sign up for email alerts on flights
Along with social media, signing up for email alerts through error fare websites is a great way to stay up-to-date on the latest airline mistake fares and secret travel deals. Secret Flying and Fly4Free, for example, offer price-tracking systems and send you email alerts and newsletters.
For most sources, you can decide if you just want to receive information based on your country.
Is This the Best Travel Pack EVER???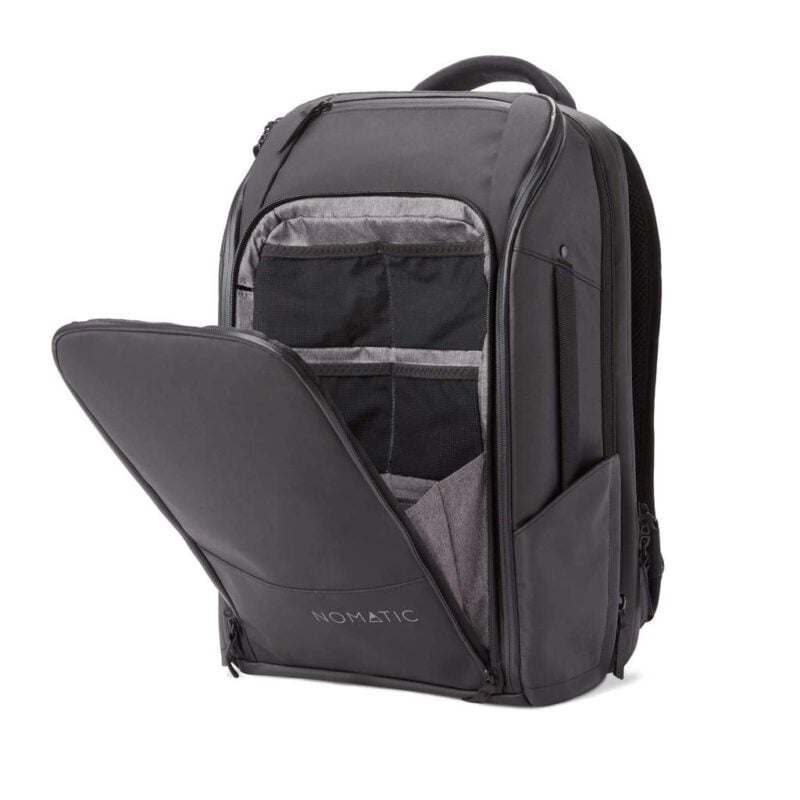 Conclusion to Booking Cheap Airfare using Mistake Fares
As a savvy spending budget backpacker, you are always looking out for secret travel deals and airline mistake fares. The best way to do this is to:
Follow deal hunters on Social Media, such as Secret Flying, Airfare Watch Dog, and Fly4Free to get the latest low price alerts. By following them on multiple channels, you lower the risk of missing out on mistake airline fares before they expire.
Sign up for email alerts and stay on top of low price alerts.
Use broad searching tools, like Skyscanner, to visualize price trends across a month and act on current airline deals.
Check out our other tips on how to find cheap flights
Be flexible with your dates and destinations.
Book airline mistakes ASAP – before the airline notices the mistake and fixes it.
Looking for more inspiration?
---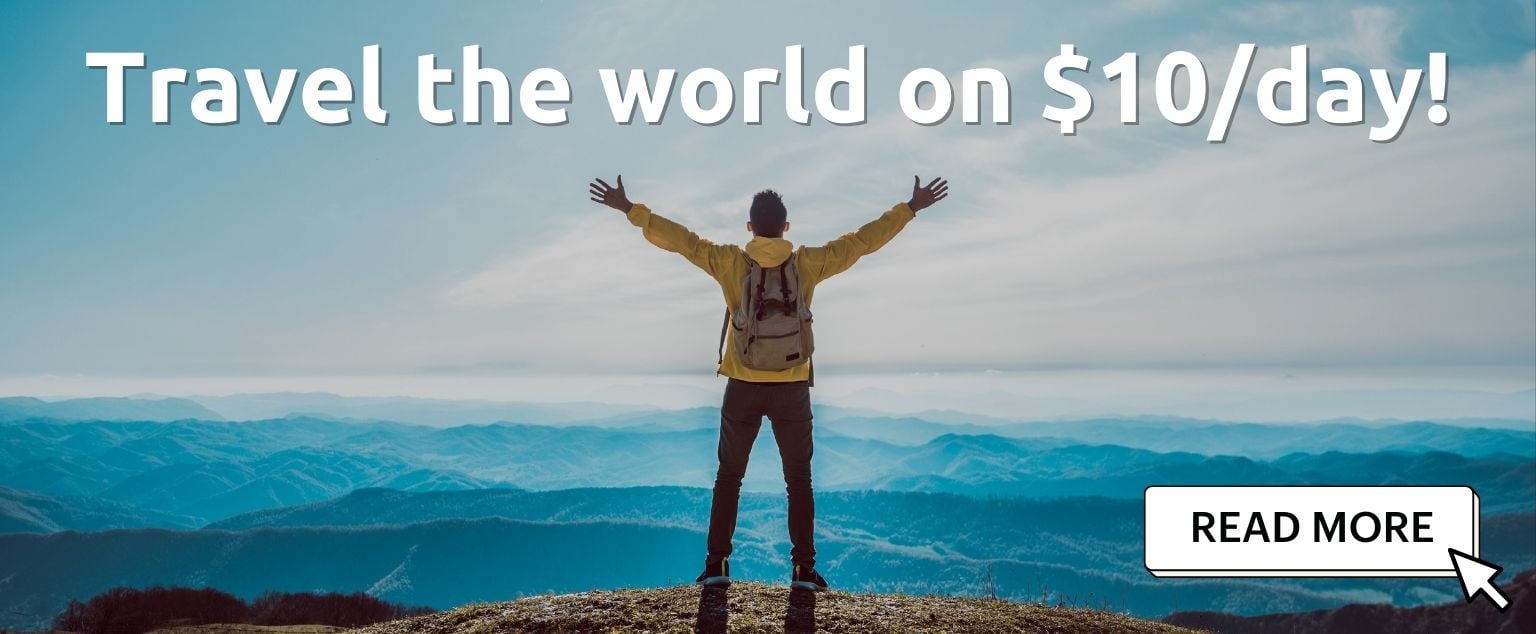 And for transparency's sake, please know that some of the links in our content are affiliate links. That means that if you book your accommodation, buy your gear, or sort your insurance through our link, we earn a small commission (at no extra cost to you). That said, we only link to the gear we trust and never recommend services we don't believe are up to scratch. Again, thank you!