A country that boasts bucolic forests, spectacular mountain ranges, and abundant lakes, Sweden considers nature free for everyone making it the perfect place for nature lovers of all ages.
With 30 Swedish national parks, there's never a shortage of diverse landscapes and wildlife to admire and explore.
Formally protected areas account for almost 15% of the country's land area, encompassing a variety of topography. Some are easily accessible from major cities, while others are situated in remote locations, but they all give visitors a respite from the demands of the modern world.
Seeking a weekend escape or want to spend a whole week trekking? Get ready to discover the national parks in the country.
What are National Parks?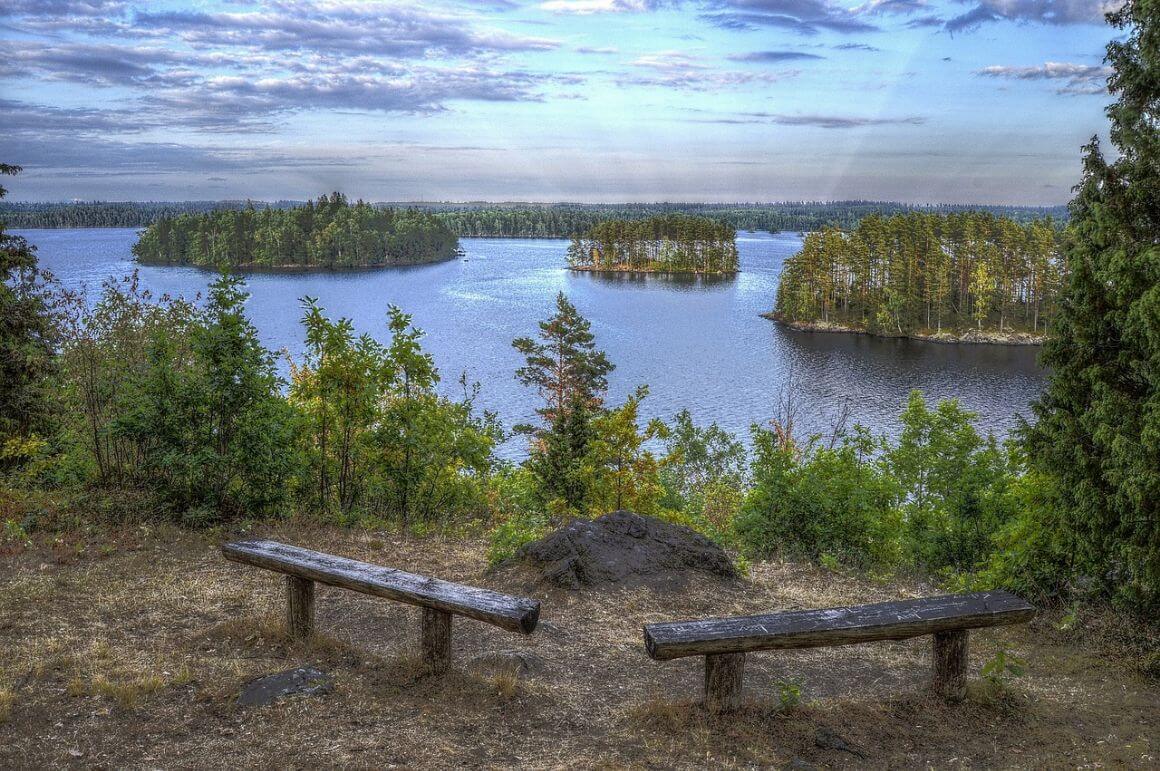 National parks are defined as areas set aside by the government for the preservation of the natural environment, including the animals and plants that live in them.
In Sweden, the status of 'national park' is only granted to the finest and most valuable areas of the Swedish landscape, and stringent rules are put in place to prevent the destruction of these areas.
The Country Administrative Board is responsible for managing protected nature, including national parks. By protecting nature from being destroyed or from disappearing, Sweden aims to preserve the country's natural and cultural heritage.
All of the country's 30 national parks are owned by the government, each offering experiences and adventures for both the young and old, and each with its own unique terrain that includes thick forests, undulating valleys, and bewitching forests. Making Sweden worth a visit!
In addition, they contain irreplaceable flora and fauna, some of which can't be found elsewhere, giving visitors the chance to explore new territories and open themselves up to new discoveries.
National Parks in Sweden
Itching to venture out with your trusty hiking boots and camping gear? Here are 11 of the most spectacular national parks in the country.
Ängsö National Park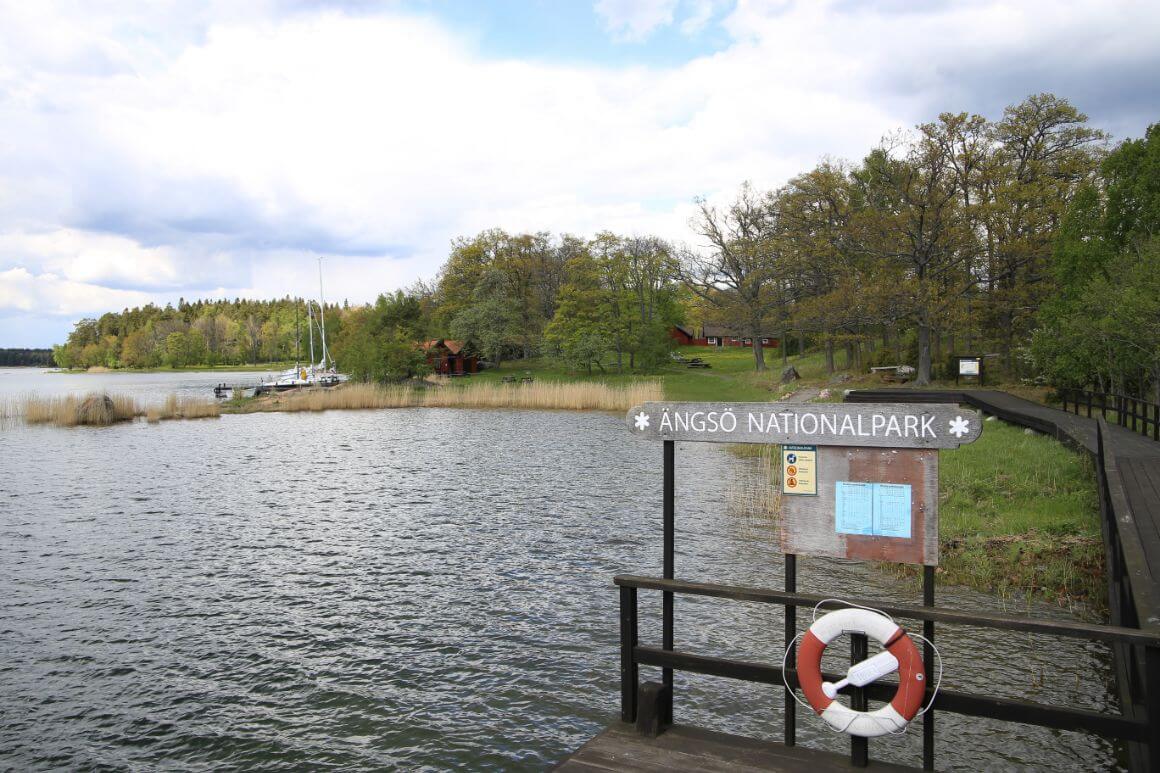 Size: 0.65² miles
Location: Norrtälje Municipality
Unlike other national parks in Sweden, Ängsö does not have an abundance of wildlife but it's a tiny island where agricultural activities have taken place for centuries. Expect a mix of pasture, meadows, and forests.
The best time to visit the well-preserved park is during spring and summer when the flowers are in bloom. Particularly captivating are the elder-flowered orchids, which lend the park an ethereal appearance. Guided tours are available during spring and early summer too.
Aside from the incredible flora, the park attracts an array of birds, making it a birdwatcher's paradise. Ravens, ospreys, flycatchers, tawny owls, and white-tailed eagles call the park home so bring a good pair of binoculars.
The only way to get to Ängsö is by boat from Strömkajen. You may travel on your own boat but keep in mind that the majority of the island's eastern part is a bird sanctuary, and admittance is not permitted from February 1 to August 15.
There is no accommodation in Ängsö but there is a designated area in Norrviken where you can pitch a tent and stay for a maximum of two nights in a row. Just make sure to bring food and water. Keep in mind that fires are only allowed in designated places in Hemudden.
You can hike through the meadows easily as the land is flat and level, and walking-friendly paths abound on the island.
Where to Stay
This bright and cheery condo in central Stockholm is the best place to put your feet up when exploring Ängsö. Only a few minutes' walk to the royal castle, it's also nearby skeppsbro kajen where you can take ferries to several places.
Tyresta National Park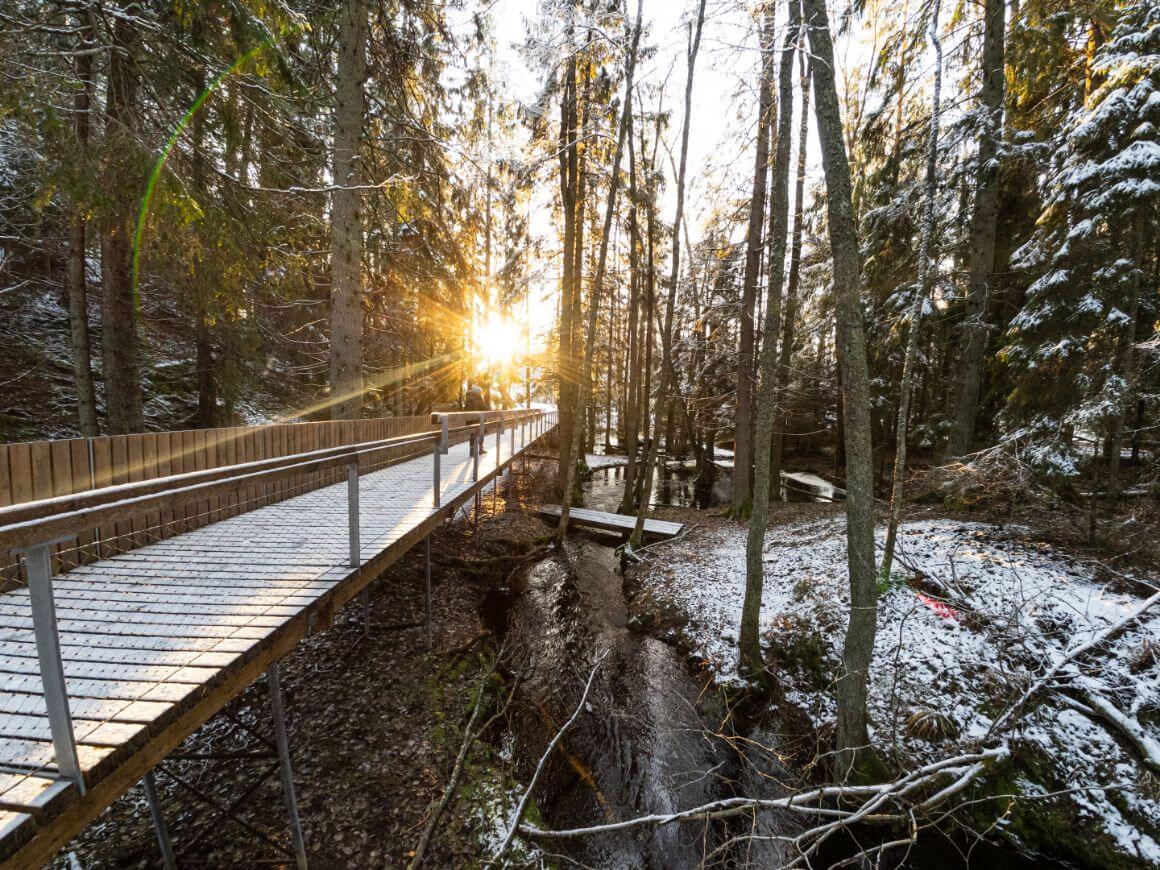 Size: 7.6² miles
Location: Stockholm
Located on the outskirts of the city of Stockholm and conveniently reachable by public transportation, Tyresta is one of the most well-loved national parks in Sweden and is popular with day-trippers seeking a little respite from the urban jungle. It's only just 12 miles away from the capital and yet, it's a completely different world.
Tyresta is the home of Sweden's largest coniferous forest, with pine trees as old as 400 years. You'll be transported to a different time and place with panoramic views of the Baltic Sea and towering ancient trees.
Eight pristine lakes are within the park, namely:
Arsjon
Bylsjon
Lanan
Langsjon
Mortsjon
Nedre Dammen
Stensjon
Trehorningen
Boasting almost 35 miles of walking trails with wind shelters and fire pits, you can hike for a whole day and reach the sea without ever leaving the forest! You'll find over 800 types of moss and lichen and a variety of wildlife that includes deer and wild boar.
From June to August, you can participate in daily guided 45-minute hikes that leave the visitor center at 10 am. Birdwatching is another popular activity and some of the birds you can expect to see are the tawny owl, eagle owl, and Eurasian pygmy owl.
The park has buildings from the 18th and 19th centuries, a café, a farm shop, and exhibits at Naturum.
Where to Stay
Make your stay in Stockholm as convenient as it can be. This bright apartment is in proximity to some of the best restaurants and cafes. After spending your day at Tyresta, you can rest your weary head and, at night, paint the town red.
Abisko National Park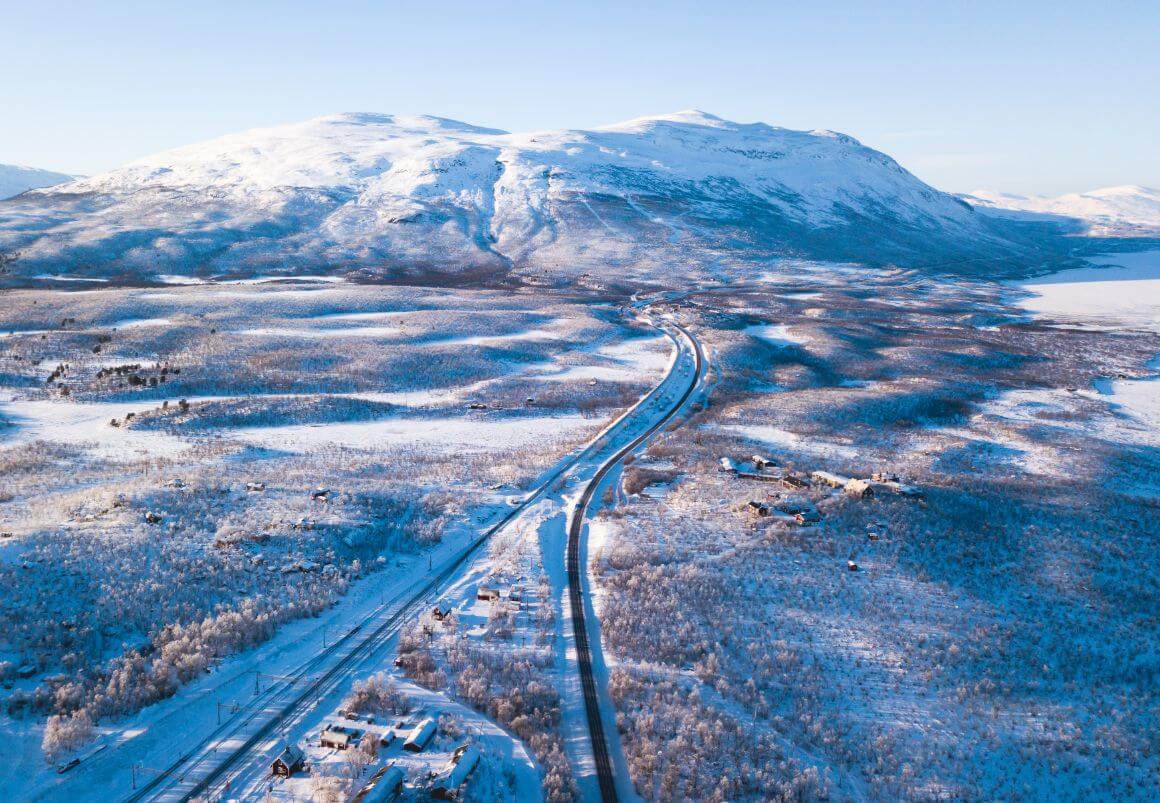 Size: 30² miles
Location: Kiruna
Located above the Arctic Circle, Abisko is one of the best places to go to in Sweden from September to February if you're in pursuit of viewing the Northern Lights.
Easily accessible, you can just hop on a train from Kiruna Central Station and in two hours, you'll find yourself in Abisko.
The park isn't just busy during winter and spring; it draws visitors all year long, thanks to its beautiful natural features made up of snow-capped mountains, forests, waterfalls, and fjords, and the plethora of activities available.
The midnight sun during summer provides more than ample time for admiring alpine meadows and hiking all day long, but autumn is one of the most beautiful seasons as the park turns to different hues of gold and red.
Among the many adventures, you can have in the park during winter are snowshoeing, cross-country skiing, ice skating, ice fishing, and dog-sledding with Alaskan Malamutes and Siberian Huskies.
Don't forget to drop by Abisko Sky Station, only 10 minutes away by train from the national park, and have your camera on ready when you go to the viewing platform.
Also not to be missed is Abisko Naturum. Open nine months a year; it has a children's corner where kids can play and hosts a permanent exhibit about the climate, fauna, flora, geology, and cultural history of the park.
A tourist station is located near the park's entrance which has a restaurant, cabins, and hostel. In addition, visitors are allowed to pitch tents on designated campsites and gather edible mushrooms and berries.
Where to Stay
Make the most of your Northern Lights adventure by staying in this centrally located apartment. Within proximity to ski resorts and the central station, getting from your home to Abisko is quick and easy.
Month to month payments, no lock-in contracts, and no itineraries required: that's the exact kind of insurance digital nomads and long-term traveller types need. Cover yo' pretty little self while you live the DREAM!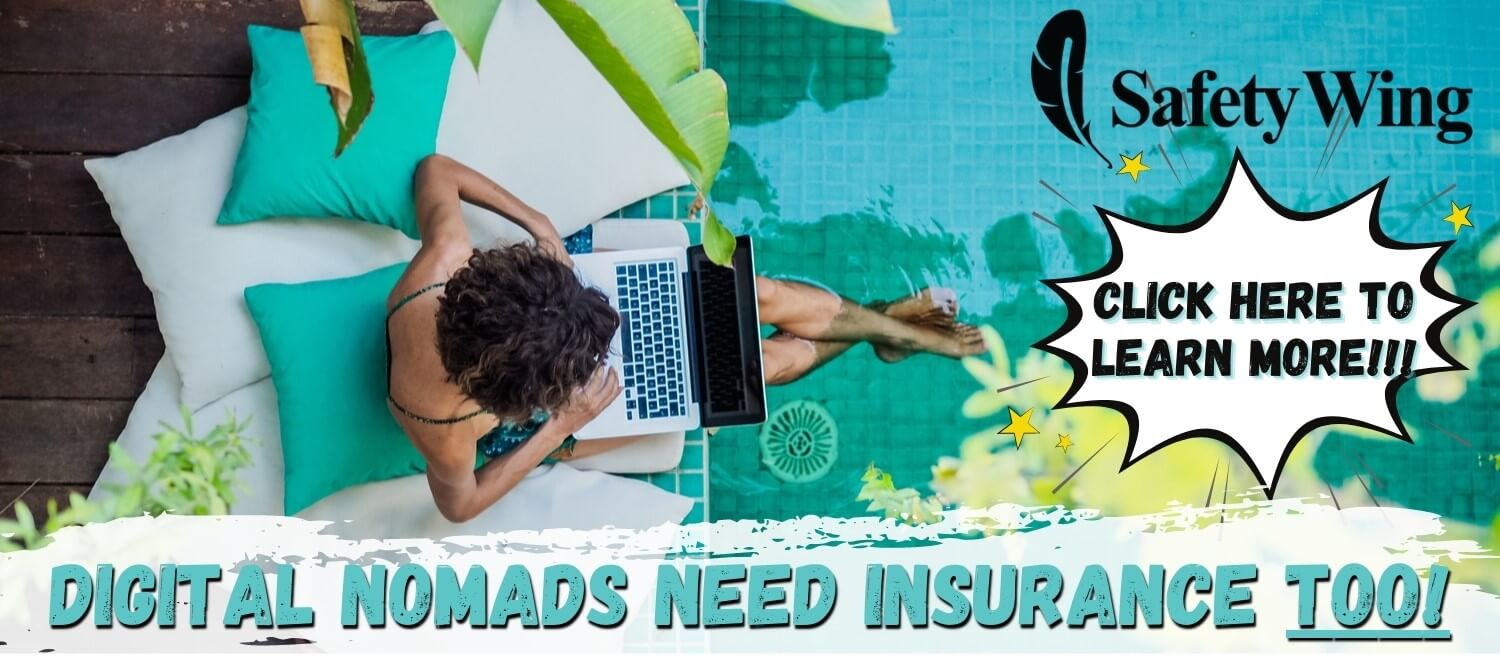 SafetyWing is cheap, easy, and admin-free: just sign up lickety-split so you can get back to work! Click the button below to learn more about SafetyWing's setup or read our insider review for the full tasty scoop.
Sarek National Park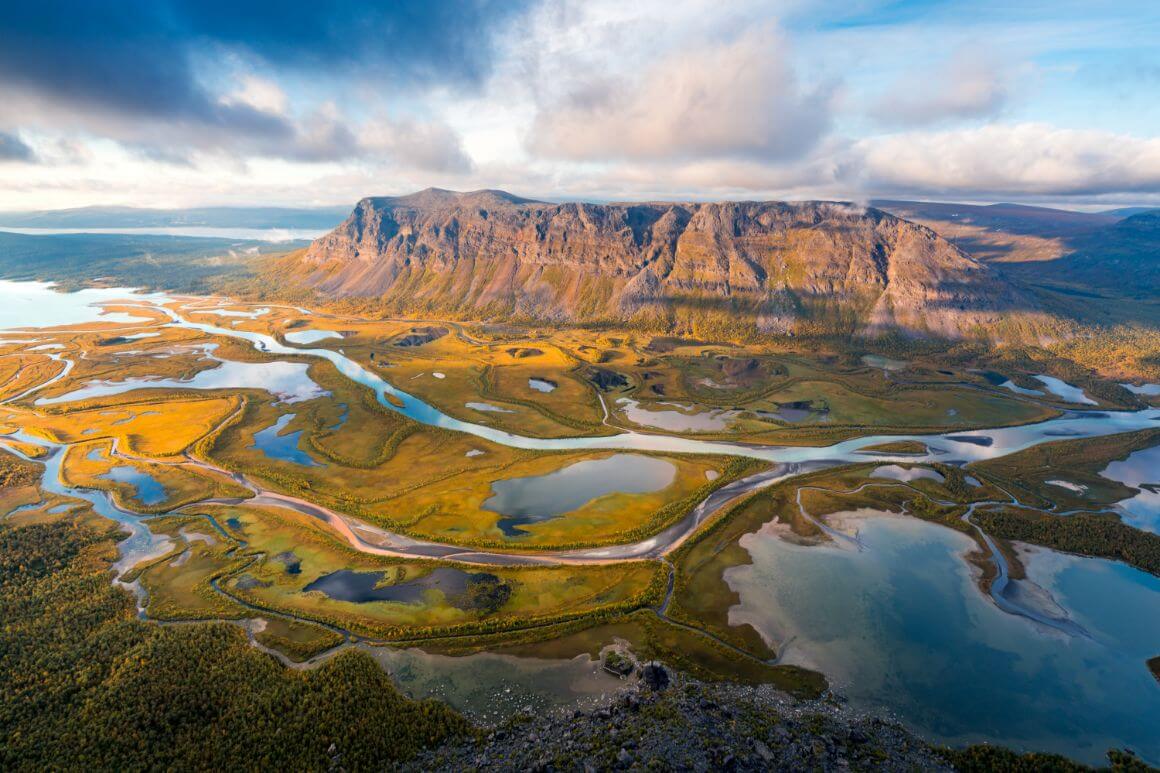 Size: 760.6² miles
Location: Jokkmokk
Considered one of the wildest national parks in Sweden, Sarek features towering peaks of more than a dozen summits, turbulent rivers, glaciers, and valleys, and it's brimming with activities for those seeking adventure.
No roads lead to Sarek, as it is one of the most inaccessible parks in the country. You'll have to ski or hike to get there but it is heaven for hikers who want to traverse a challenging landscape dotted with lynx and brown bears with birds of prey circling overhead. In addition, the dry and cold climate ensures species of Arctic plants that are not present elsewhere.
So much of Sarek remains untouched and many of the trails are unmarked. No need to worry, though, as mountainous peaks are accessible, and wilderness guides have helped visitors get to them safely.
Trekking through the tundra might be a challenging endeavor but you'll be well rewarded with an amazing view of the Northern Lights. Furthermore, you have an opportunity to interact with the indigenous Sami people who continue to live in Sarek as they have for thousands of years.
There are no tourist facilities in the park so bring ample food and hydration. Mobile phone coverage is quite poor and making a call out is next to impossible. Plan your trip in advance and always check Fjällsäkerhetsrådets website for the latest weather update.
Where to Stay
Overlooking a calm river, this comfortable home has a large terrace where you can sit comfortably and watch the Northern Lights. It's the perfect place to be surrounded by wildlife and nature.
Skuleskogen National Park
Size: 11.82² miles
Location: Höga Kusten
Located in the heart of the country's High Coast, an area recognized as a UNESCO World Heritage Site, Skuleskogen National Park is where the mountains meet the sea and is considered one of the most remarkable national parks in Sweden.
A hiker's paradise, Skuleskogen has three different entrance points, all adapted to provide visitors with access, even those with disabilities. All of the entrances are within reach of the hiking trails and the many activities to do and things to see in the park.
However, the south entrance is the only one open during winter and has less challenging trails to Näskebodarna, a summer grazing farm used in the 1800s as an outpost for fishermen. It now makes an excellent day walk where barbecues are allowed.
The most accessible from the road is the west but it is the longest walk to Slåttdalsskrevan Canyon, one of the park's highlights. The deep crevasse is 40 meters deep, 210 meters long, and 7 meters wide and is a favorite among park visitors.
Kälsviken is popular during summer, located just less than a mile from the south entrance; its sandy soil and sheltered bay are suitable for tents.
Campers are allowed to pitch a tent and stay in designated areas for a maximum of three nights from May to September, but permission is needed from the county administrative board if you want to camp in the same area for longer than three nights.
Where to Stay
Log cabins located within the park's boundaries are free for visitors to use, as long as they are available and as long you check in to the visitor center upon arriving. Staying in one of the cabins ensures more time for hiking plus walking up to a magnificent sunrise.
Muddus/Muttos National Park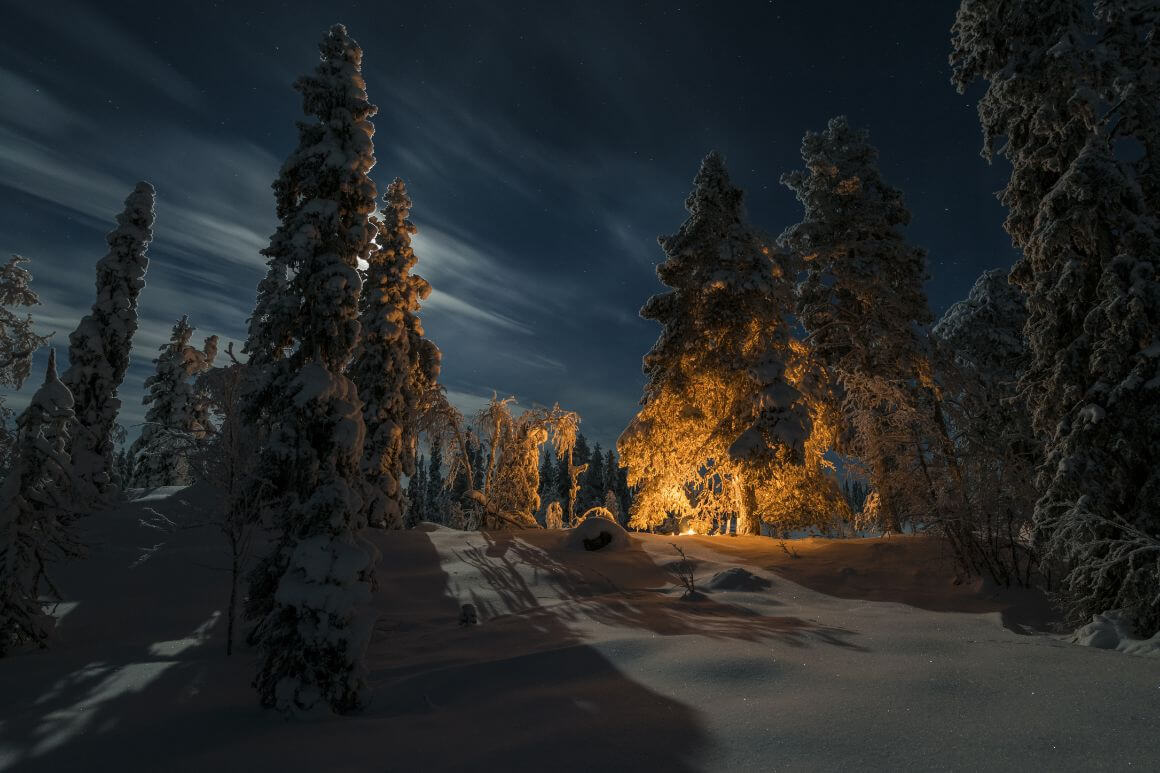 Size: 193² miles
Location: Jokkmokk
Known as the quietest of all of Sweden's national parks, Muddus is covered in primeval forest, boggy marshes, bottomless ravines, and wetlands. Together with other alpine national parks, Muddus is part of UNESCO's Laponia World Heritage Site, one of the last remaining wilderness areas in Europe.
What makes Muddus unique is that it is one of the last places on Earth where nomadic reindeer herding is still practiced by the indigenous Saami people.
The park has three entrances but the easiest way to reach it is from the south, through road E45, by car. No public transport goes to any of the entrances.
Although Muddus is synonymous with reindeer, the park is home to various wildlife, including wolverines, bears, lynx, elk, and countless birds. The black grouse, capercaillie, and hazelhen flourish all year round but avid birdwatchers should visit during early summer when bird activity is at its peak. The Muttosluoppal bird-watching tower is the best place for looking over the marshes and the many birds that surround them.
Hiking trails for novice and seasoned hikers abound in Muddus. Plenty of day hike options are available but those who want something challenging can go on 4-day hikes on trails that are over 30 miles long.
One of the most popular spots in the park is its waterfall called Muddusagahtjaldak. The almost 9-mile trail from Skajdde car park leads to it and makes for a perfect day hike.
A lesser-known spot in the park that's worth a visit is Måskosgårsså. The hike to the narrow ravine is easy and does not require climbing of any kind, with countless picnic spots on the way.
Where to Stay
The park has five cabins open throughout the year with basic cutlery and crockery. But if you'd rather not stay there, this private room makes a comfortable place to call home. It's near the bus station and the supermarket.
Forget boring accommodation… book yourself an EPIC STAY!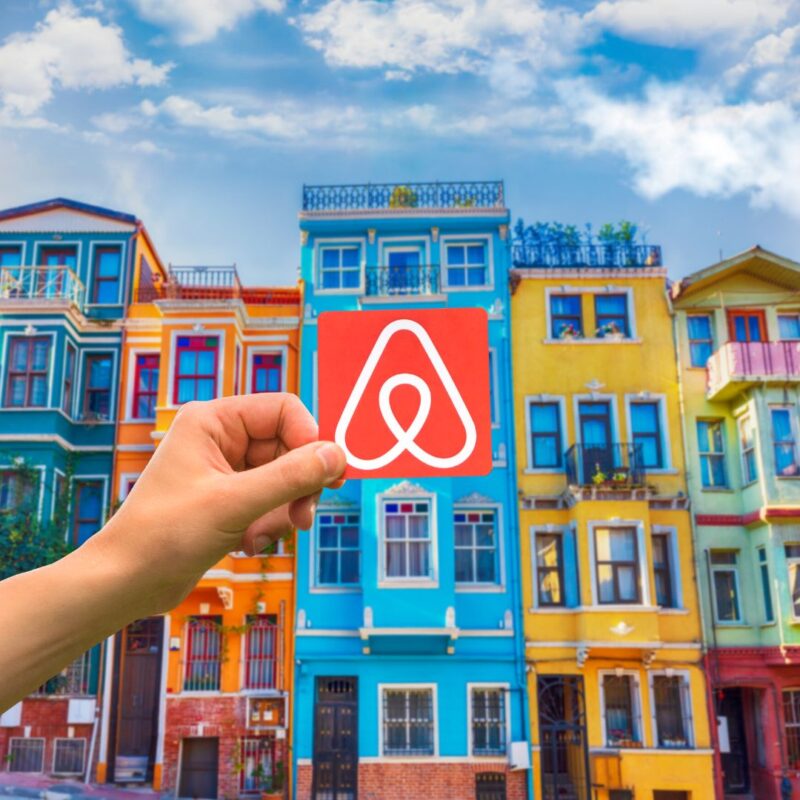 Why stay in a naff hotel when you can stay in a cosy, stylish local house instead? And for half the money too!
Stay somewhere EPIC and save your hard-earned dollars — from houses to barns to castles and caves, there is an Airbnb for every occasion!
Book an EPIC Stay
Farnebofjarden National Park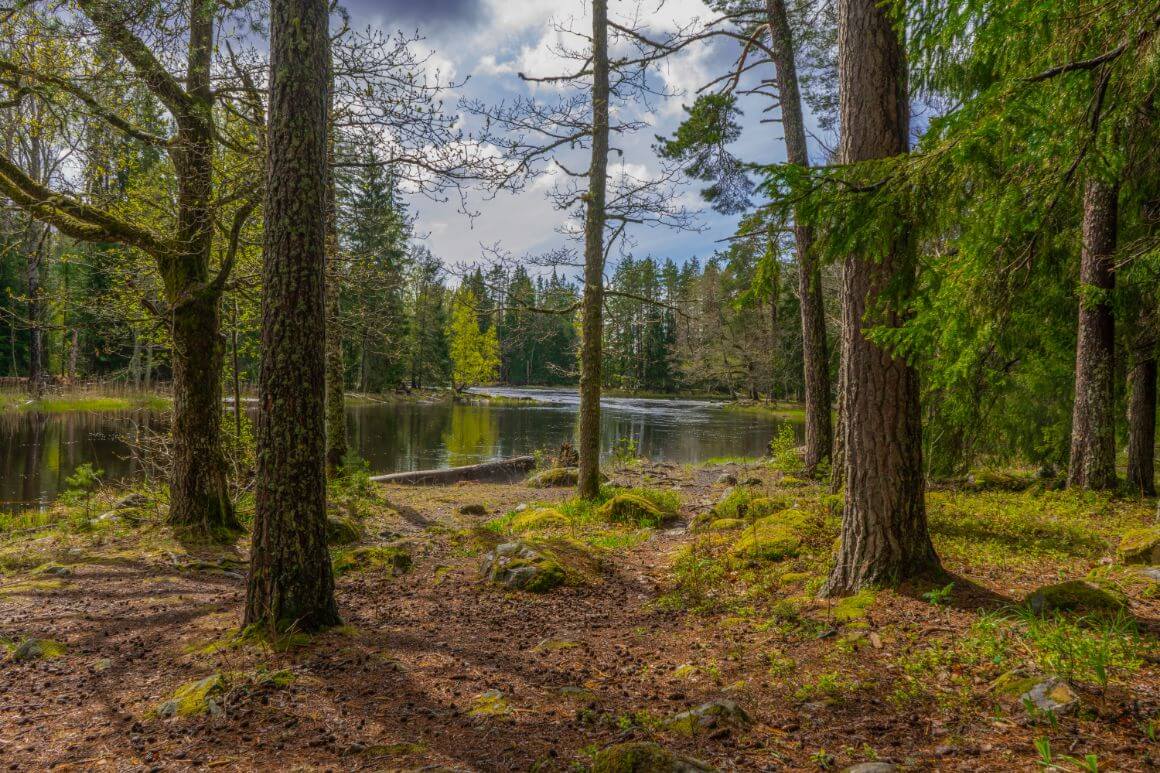 Size: 39² miles
Location: Gysinge Bruk
Characterized by a unique river landscape, Farnebofjarden is renowned as one of the best national parks in Sweden for birdwatching. May is considered the best month to visit as the number of mosquitoes has waned, and the birds are returning.
The park has two entrances, Gysinge and Sevedskvarn, both near route 56. You can get to the park by taking a bus or by car.
Established in 1998, the park's purpose is to protect the Dalälven River, the second-longest river in the country. The river has flooded a few areas and left its mark on the land, creating patches of dry earth and wetlands. More than 200 islands, reefs, and islets have given Farnebofjarden a unique topography.
Ornithologists have been visiting the park since the 1970s because of its countless species of birds, some of which are threatened with extinction. The observation tower at Skekarsbo at 20 meters high, offers panoramic views of the park and its wildlife.
Aside from birdwatching, visitors can easily explore the park by hiking along marked trails. The flat terrain makes for an easy hike but there are certain parts that are hilly. Navigation by boat is another way of exploration and kayaks can be rented too.
Fishing is only permitted to those who have a valid license. Salmon trout is a favorite among fishing enthusiasts as they are abundant in the Gysinge rapids.
Where to Stay
Aside from its easy access to the park, this centuries-old farm has a sauna where you can soak and relax after a day of birdwatching.
Kosterhavet National Park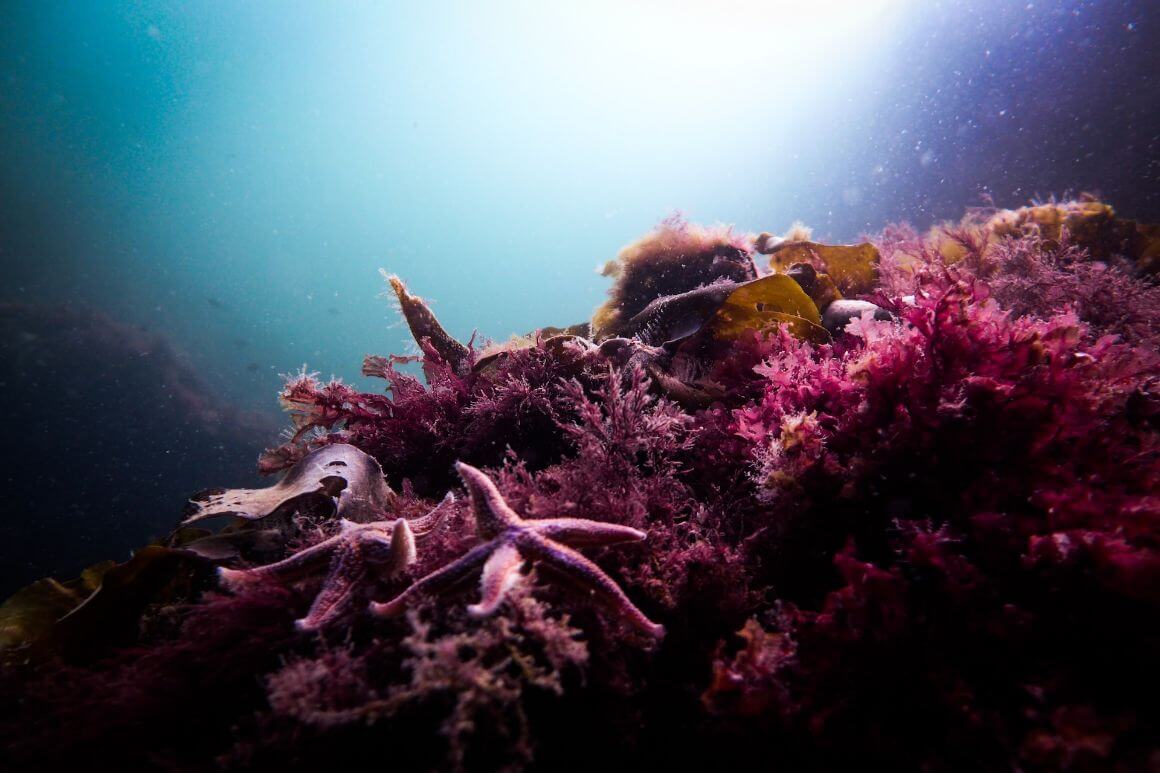 Size: 150² miles
Location: Västra Götaland County
The only marine park in the country, Kosterhavet borders Norway and is a prime example of the country's efforts in coastal preservation. The park can be reached by taking the train along the Bohusbanan line or driving along E6 north towards Strömstad.
The vast expanse of water boasts more than 6,000 species of sea life, 200 of which are not found elsewhere in the world. Kosterhavet is also home to the largest seal colony in the country.
Snorkeling and diving are the most popular activities and two marked snorkeling trails have been laid out to guide visitors as they explore the seafloor.
There is something to see and discover in the park regardless of the time of year and season but many consider kayaking in autumn the best way to explore above the water and perhaps spot seals sunbathing on small, remote islands. During summer, it's possible to take boat trips from the park to farther areas.
Although only 2% of the park is land, fantastic hiking opportunities are present in Kosterhavet too. The terrain is varied and you'll trudge shingle fields, roads, paths, and bare rocks. The hiking trails are marked and they vary in degree of difficulty.
Visitors may pitch a tent for a maximum of two consecutive days in the same spot. However, there are certain periods and places where pitching a tent is not allowed.
Where to Stay
Make this beautiful apartment in Stromstad your home away from home. It comes with free parking and beach access and is only about 4km from the town center.
Tiveden National Park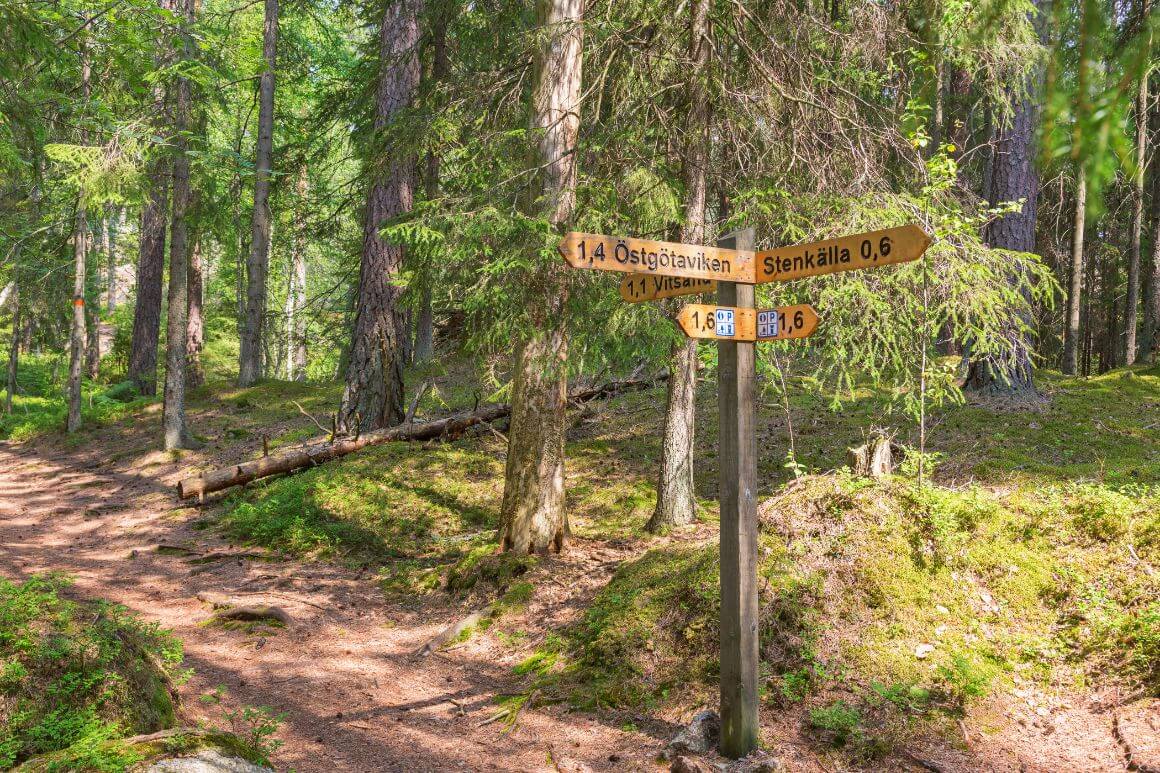 Size: 12.6² miles
Location: Västra Götaland
Located in the heart of Sweden between Stockholm and the city of Gothenburg, Tiveden is known as the Forest Kingdom because of its enchanting natural landscape made up of moss-covered valleys, steep mountain ridges, and sparkling blue lakes.
Throughout history, the park has burned several times, sometimes because of human activity and at other times due to natural reasons.
Tiveden joined the list of Swedish national parks in 1983. It can be reached by driving from highway 49 in the south between Askersund and Karlsborg. About 3 hours from Stockholm, the park is a challenge to reach without a car but it is possible to reach by bicycle.
Situated by between Lakes Vänern and Vättern, Tiveden isn't overcrowded and still feels remote and untouched. The national park remains close to what it was over 400 hundred years ago and being there feels like being transported back in time.
Tiveden has over 18 miles of marked trails, so make sure you have sturdy and comfortable hiking boots if you plan on hiking. The longest and most popular loop is Trail Trehörningsrundan which takes about 6 hours. It loops around Lake Stora Trehörningen, the park's central lake, forests, and small beaches.
Other trails in the park with varying levels of difficulty are:
Trollkyrkerunden Trail
Stenkällerundan Trail
Tärnekullerundan Trail
Oxögabergsrundan Trail
Mellannäsrundan Trail
Junker Jägarerundan Trail
Vitsandsrundan Trail
Stigmansrundan Trail
Autumn brings about a variety of golden and reddish hues, which translate well in photos, but spring and summer are more popular as people take advantage of the warm water and swim in the lakes. It's harder to get to the park during winter but nevertheless, hiking with boots and snowshoes is still possible.
Where to Stay
Camping in the park is allowed at Metesjön, Kärringaudden, and Mellannäsudden for one night only. Tents are only allowed from 6 in the evening until 10 in the morning.
Is This the Best Daypack EVER???
Padjelanta National Park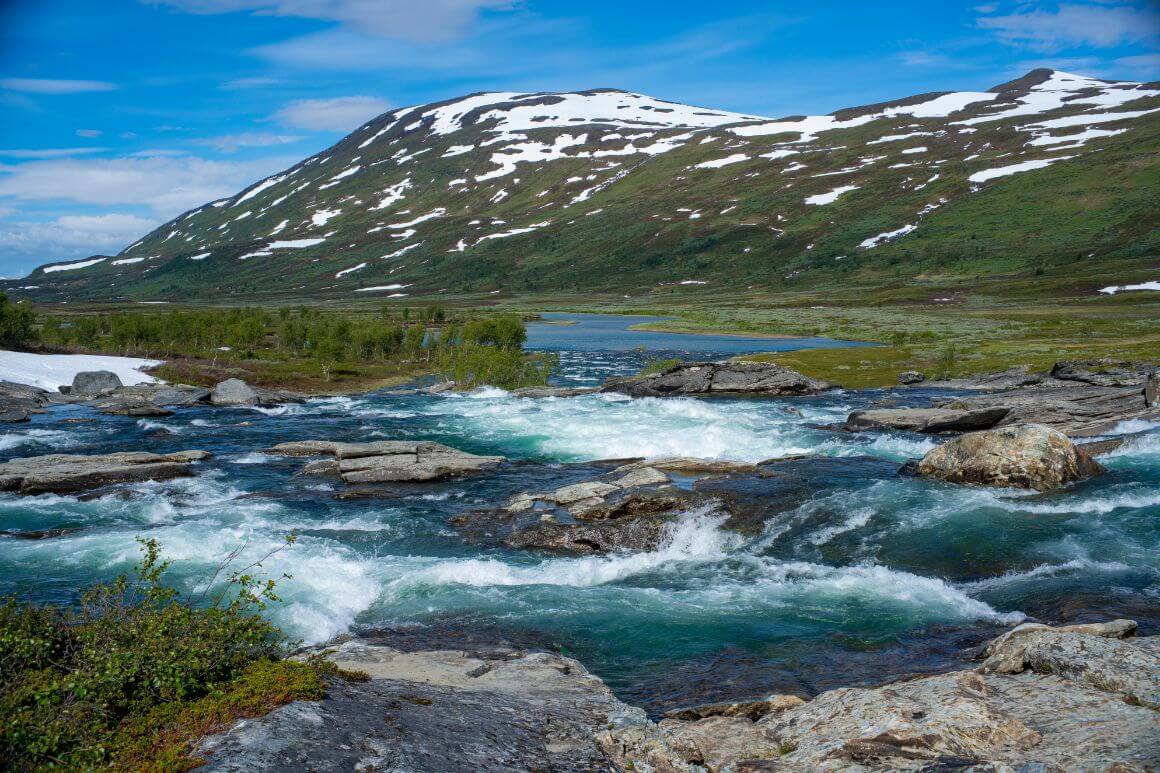 Size: 766² miles
Location: Jokkmokk
The largest of all the national parks in Sweden, Padjelanta or Badjelánnda National Park in the Sami language, was established in 1963 and became a part of the UNESCO World Heritage Site Laponia in 1996.
Sami herders have been frequenting the park, especially during summer, because of the abundance of fish and forage, which are essential for their reindeer. The mountain highlands have served as grazing lands for countless generations of Sami people.
Situated right next to the Norwegian border, Padjelanta can be reached from the north by a train from the Gällivare railway station or by bus from Jokkmokk. From Rijtjem, you can reach the park by taking a tourist boat across Lake Áhkkájávrre and hiking for a full day. Various bus connections and helicopter flights are also available from Gällivare and Luleå.
Because much of the park surrounds the lakes of Sáluhávrre, Vastenjávrre, and Virihávrre, the landscape is open and flat, although there are a few glaciers, mountains, and valleys.
Hiking is one of the most popular activities in the park and the 86-mile Padjelanta Trail is popular among hiking enthusiasts and attracts plenty of visitors. Accessed from Kvikkjokk in the south and Ritsem in the north, the trail ends at the lakeside village of Änonjalmme in the north and passes by the forested Tarra valley.
Well-suited for beginners who want a long-distance trail experience, several mountain huts dot the route but hikers have the option of camping too.
A few other interesting points in the park are Gisuris, where you can see what remains of the ice age deltas, Njierek where you can see fantastic views of the surrounding areas, and the Stáloluokta mountains.
Where to Stay
Continue your adventures with nature by staying in this gorgeous mountain cabin in Rimobäcken. With stunning views of the surrounding mountains and forests, it's like you never left the park at all.
Sonfjället National Park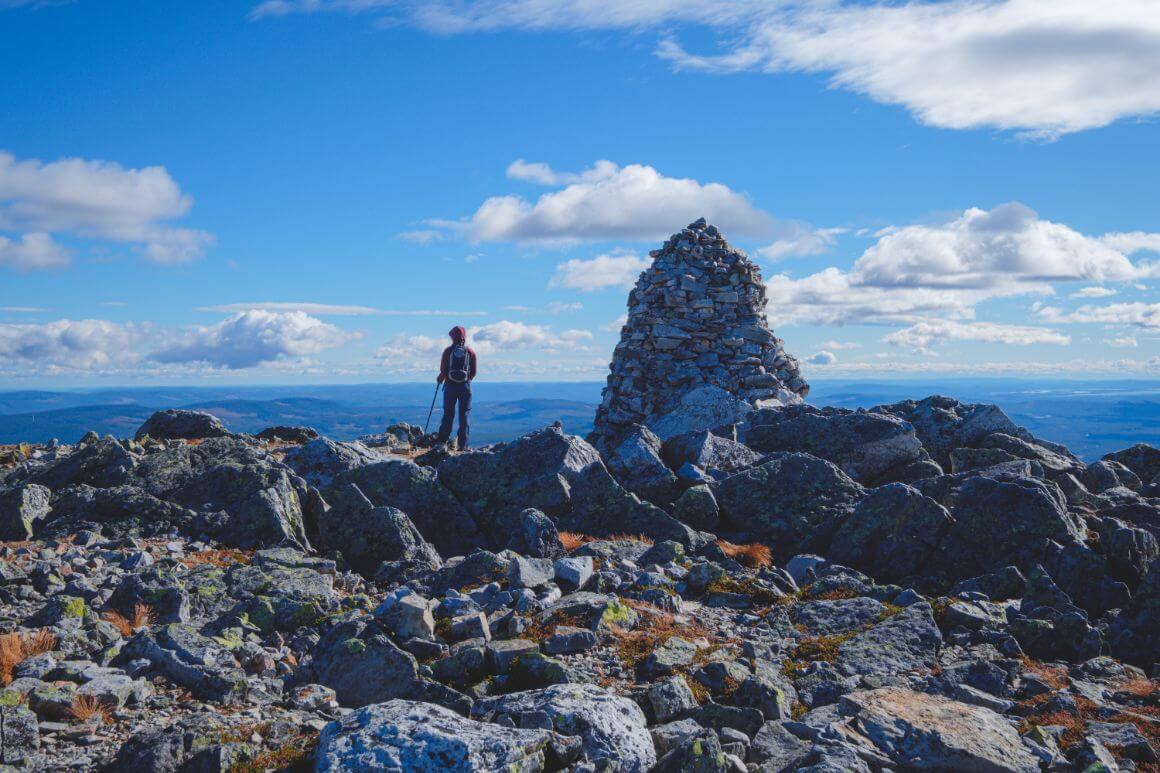 Size: 40² miles
Location: Härjedalen
One of the oldest national parks in Sweden and in Europe, Sonfjället is named after one of the tallest mountains in the region. The round-shaped mountain is suitable for beginners, and during summer, the base becomes a grazing farm for mountain cows and goats.
Established in 1909, the national park got an extension in 1989, increasing its area to approximately 40² miles, but from 1919 to 2010, the park name was officially spelled as Sånfjället.
Sonfjället is particularly popular for having the densest population of bears in the entire country but they are quite difficult to spot. Aside from the bears, the park has a large elk and lynx population too.
If you want to increase your chances of seeing the local brown bear population, get a guide who will show you their traces but keep in mind that they are shy animals so encounters are rare.
Hiking is the most popular activity in Sonfjället and for the most part, the paths are easy to follow and well-marked. Numerous trails are available for advanced and less experienced hikers and most of them start at Nyvallen but the most beautiful is the Sonfjället full circle hike. With climbs and drops in altitude, walking poles can be very handy during the hike. Make sure to wear sturdy shoes and waterproof clothing.
In addition to hiking, winter sees a lot of skiing in the park. Be on the lookout for wolverine tracks on the snow.
Where to Stay
This mountain cottage makes the perfect base when exploring Sonfjället National Park during winter and summer. It's close to Lofsdalen ski slopes and has beach access too and spectacular mountain views.
Final Thoughts
A visit to any of the national parks in Sweden will not only give you that much-needed break from work, but it will also broaden your horizons and give you a much deeper appreciation for mother nature too. Thanks to the country's efforts in preservation, generations to come can enjoy the protected areas.
If you won't be in the country for long and can only visit one park, I highly recommend Abisko National Park not only for its activities and wildlife but also for the chance to see the famed Northern Lights.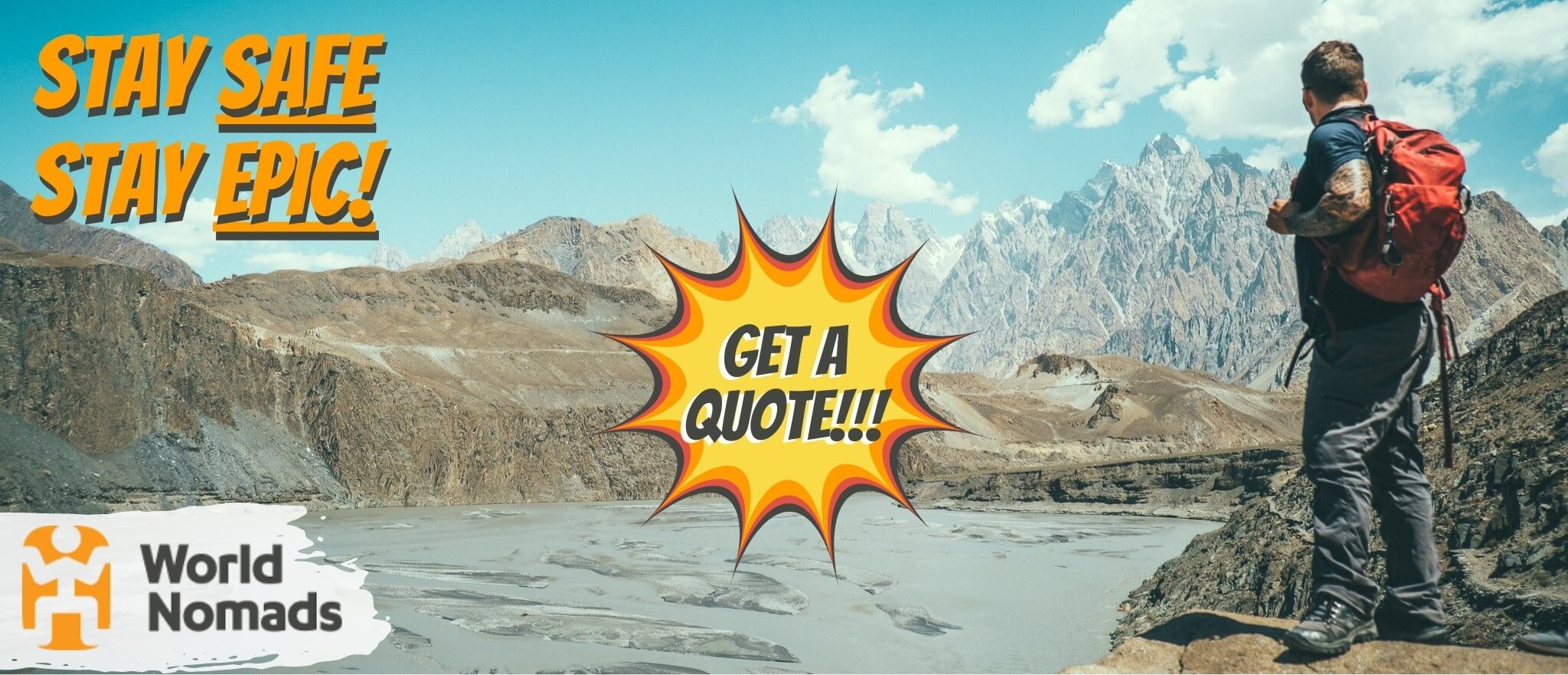 World Nomads' mission is to support and encourage travellers to explore their boundaries. They offer simple & flexible travel insurance, and safety advice to help you travel confidently.
They've been doing it since 2002 – protecting, connecting, and inspiring independent travellers just like you.
Get a quote below or read our in-depth review!
World Nomads provides travel insurance for travelers in over 100 countries. As an affiliate, we receive a fee when you get a quote from World Nomads using this link. We do not represent World Nomads. This is information only and not a recommendation to buy travel insurance.
---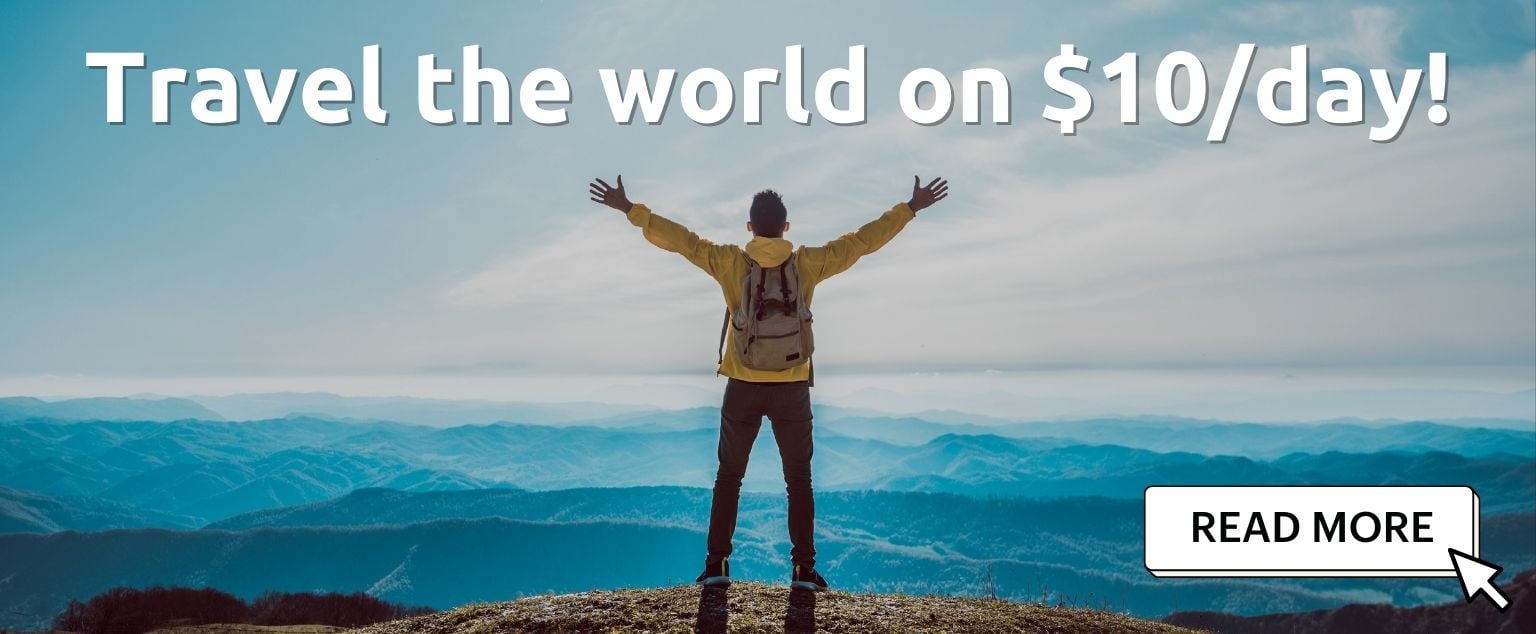 And for transparency's sake, please know that some of the links in our content are affiliate links. That means that if you book your accommodation, buy your gear, or sort your insurance through our link, we earn a small commission (at no extra cost to you). That said, we only link to the gear we trust and never recommend services we don't believe are up to scratch. Again, thank you!