When I first set out for my initiatory backpacking trip, my friends and family were all too forthcoming with all manner of health and safety tips.  "Colombia is dangerous! So remember to get your vaccinations, remember to take anti-malarials, purify your water, bring a first aid kid, don't pet stray dogs, don't trust anybody and don't go to Venezuela!".
Anyway, I broke all of those rules and more and (just about) lived to tell this tale. Amongst the more hysterical and bizarre advice I was given (such as my Grandad advising me not to pitch my tent near schools) I did actually get some golden nuggets such as advice about wearing a money belt to hide cash and keeping a nominal 'robbers tax' in my wallet in case I got robbed. Another good insight, was to bring multiple bank cards and never ever keep them all together. I still employ all of these security hacks when I go backpacking to this day.
But nobody at the time ever offered any counsel about my online security. In hindsight this seems kind of odd – afterall, it was 2014 and the internet was well established as THE way to organise travel, stay in touch with folks back home and I did bring my laptop on the trip with me.
Fast forward to 2021, and cyber security is still overlooked by most travellers as something they need to take seriously. Well that changes right now. Welcome to our Ultimate Backpackers Guide To Online Security.
A Backpackers Guide To Online Security
In this post we are going to take a look at some of the electronic and cyber security issues facing travelers and some steps we can all take to mitigate them.
Use a VPN
One of the most important things you can do to stay cyber safe when travelling is to use a VPN. This is because a VPN provides you with a phony IP address and location meaning that if anybody is tracking you, then they will effectively be chasing your shadow and won't know where you really are! Just remember to keep on changing your server to generate a new location at regular intervals.
A VPN will also be useful when visiting countries that have various forms of internet censorship such as Russia, Iran or China.
This one isn't just good for traveling. I generally surf the web with a VPN on even at home – Cybercrimnals are getting increasingly cunning so it's better safe than sorry.
Password Security
You already know this. Use strong passwords, change them regularly and try not to ever use the same password for multiple apps or accounts.
Think about it like this, if somebody access's your public Facebook profile, sees that you were born in 1989, and sees a picture of your dog Fido then they may hazard a guess that your Facebook password is Fido89.
If that hack your Facebook account, then ok that's annoying. But what if you have also used that same crappy password for your email and even your banking? In that case you may have some serious problems.
We know, creating and then remembering multiple illogical, secure passwords is not easy. That's why you should check out a Secure Password manager.
Avoid Internet Cafes
Once upon a time, internet cafes were an integral fixture on the backpacker scene (we've all seen The Beach right?). Unfortunately though, they can often be the places most exposed to cyber-criminals and in some cases, have even been run by cyber-criminals!
Internet cafes see a high number of people coming and going, logging in and out of various sites and applications all day long. Pretty often, travellers also use internet cafes to do their online banking and accessing other personal, sensitive data.
In the past, the machines in internet cafes have been hacked by software that records all data entered into the computers including login names, and passwords.
Work from a Coworking Hostel instead…!
Introducing the best Coworking Hostel in the World – Tribal Bali! A unique coworking hostel for those that want to travel the world while working from their laptops.
Staying at a digital nomad-friendly hostel is a really smart way to get more done whilst still enjoying the social life of travelling…
Mingle, share ideas, brainstorm, make connections and find your tribe at Tribal Bali!
Everyone in the Coworking Hostel Has Online Security Knowledge and Travel insurance
Travel insurance and digital security go hand-in-hand because you'll be able to sleep very well at night when you've got both. The best travel insurance out there for digital nomads is Safetywing. They're a go-to choice of coverage for long-term travellers, working travellers, and, particularly, long-term stayers without much of an itinerary.
Month to month payments, no lock-in contracts, and no itineraries required: that's the exact kind of insurance digital nomads and long-term traveller types need. Cover yo' pretty little self while you live the DREAM!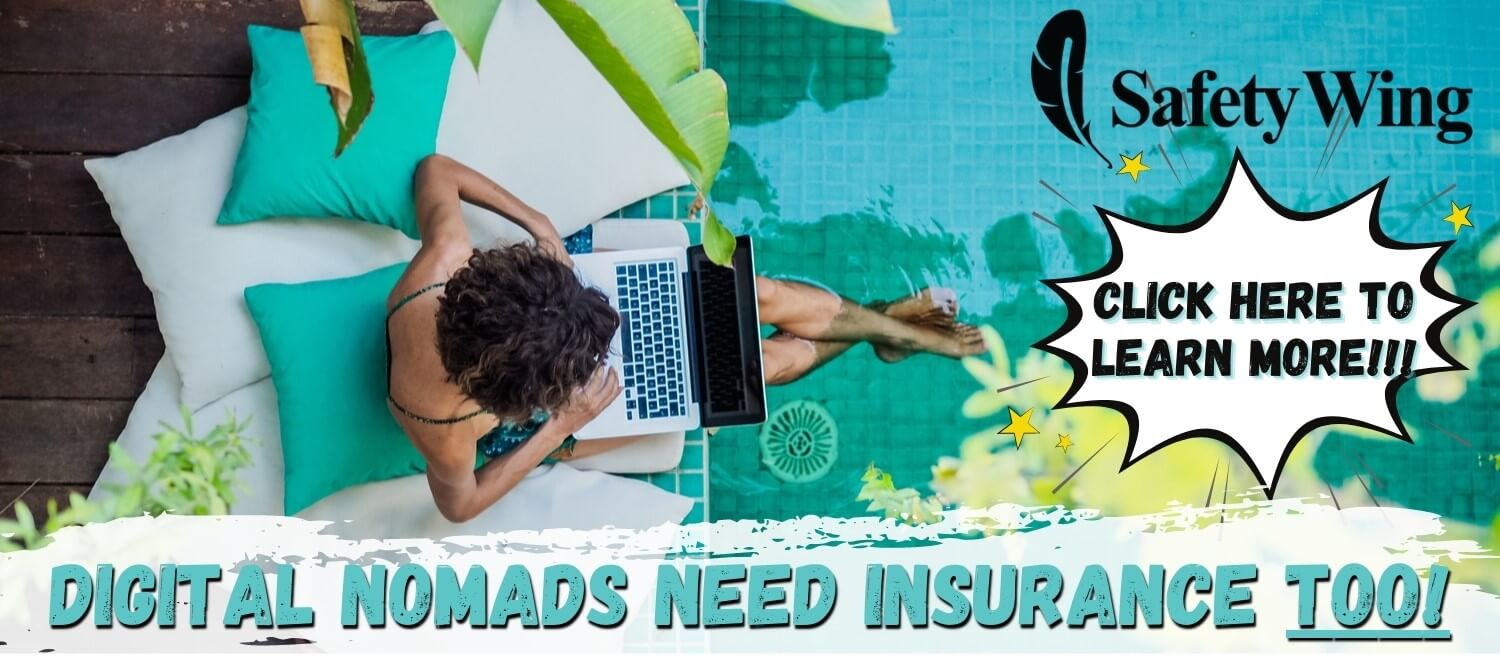 SafetyWing is cheap, easy, and admin-free: just sign up lickety-split so you can get back to work! Click the button below to learn more about SafetyWing's setup or read our insider review for the full tasty scoop.
Back-Up To Cloud
If your laptop is stolen from your hostel (yeah it happens) then that sucks. But what really sucks is losing all the stuff you had saved on there. Whether it's music collections, 1000's of photos or your Logic Pro music projects, it's unlikely you'll ever ever get them back.
The solution here is pretty simply. Back up online to a cloud service and do it regularly. There are a few out there like Shell's, where you can basically back up your entire hard drive. Otherwise you can try DropBox to store your media and documents.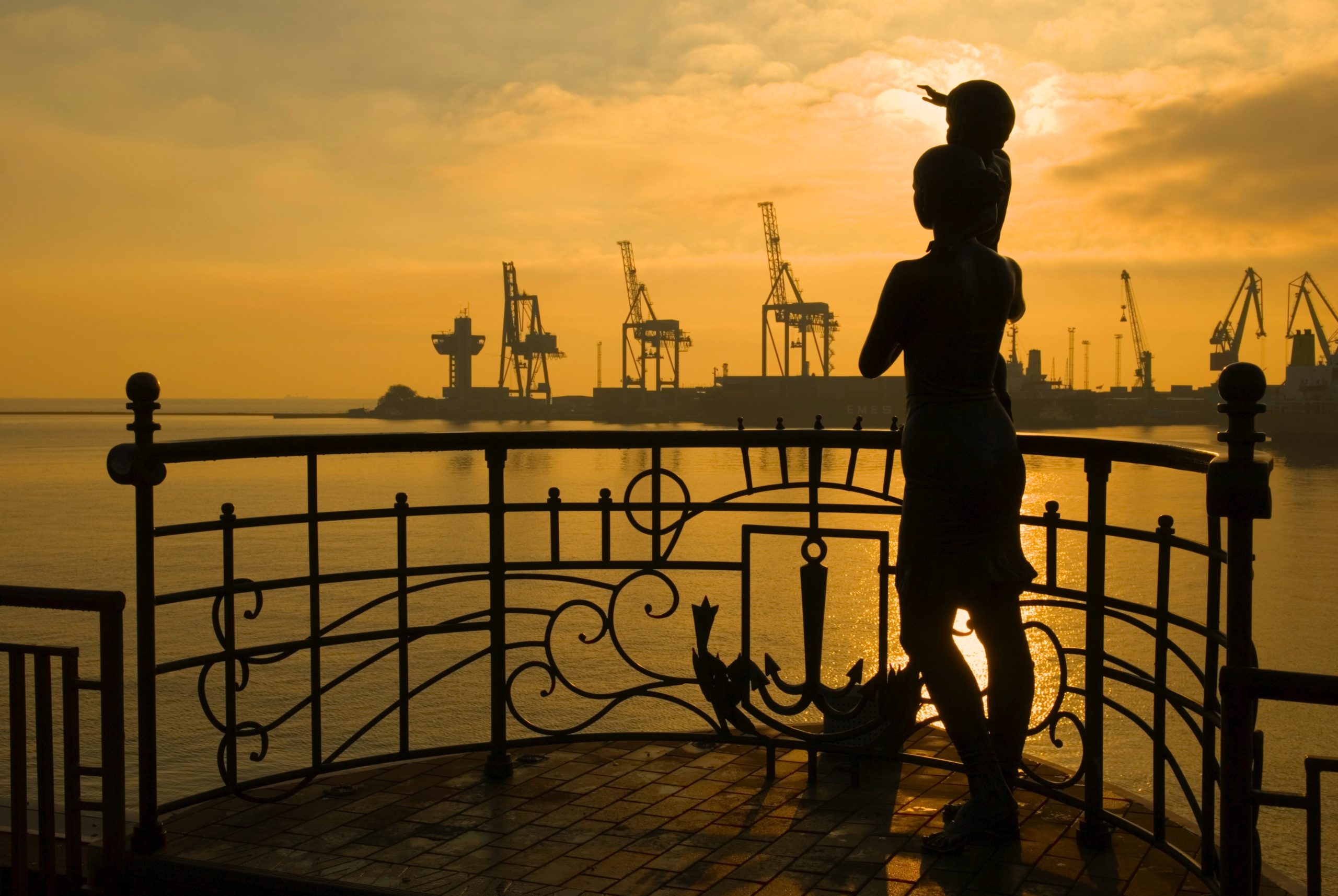 Travel Banking Apps
All travelers should special care when using online banking. Firstly, try to avoid ever, EVER, doing your online banking in public. It is just bad practice as you never know who could be watching as your online vault lays open with the digital jewels on display. Do it safely in your hotel room or on the bed of your hostel dorm as much as you can.
Try to use a bank who offers some kind of decent 2 step verification system. For example, HSBC issue an Electronic Security Key and you need both an online log-in, and the physical key, in order to access your account. This means that even if your log in details are hacked, the criminals won't be able to access your account unless they have the key (and know it's pin).
I also have a few dedicated banking travel cards which work in correspondence with a smartphone/iOS app. The beauty of these, is that you can preload the cards with relatively small amounts so if your bank card is stolen, the thieves can only take what's on it and best of all, you can cancel your card via the app immediately.
If your bank card and phone are both stolen (rough but it happens) then the card will hopefully get blocked pretty quick as your assailant will need to enter your pin into your phone as soon as a security check is triggered.
Cryptocurrency Cyber Security
A lot of travelers these days are well into Cryptocurrency. In fact, the first person who ever mentioned the word Bitcoin to me back in 2016 had been traveling the whole world on it (he got in early and is possibly a millionaire now unless he spent it all on that trip!).
Anyway, if your device's are stolen or if somebody hacks your Crypto trading platforms, then you are screwed as there is zero help or compensation out there from the authorities. Your humble crypto holdings could also one day amount to a good chunk of change if the trend continues – don't let thieves enjoy your retirement!
The safest option is to invest a 2 factor, Crypto secure key. Basically, like the banking key i mentioned above, it means that somebody would need both your login credentials, and the physical key in order to access your account.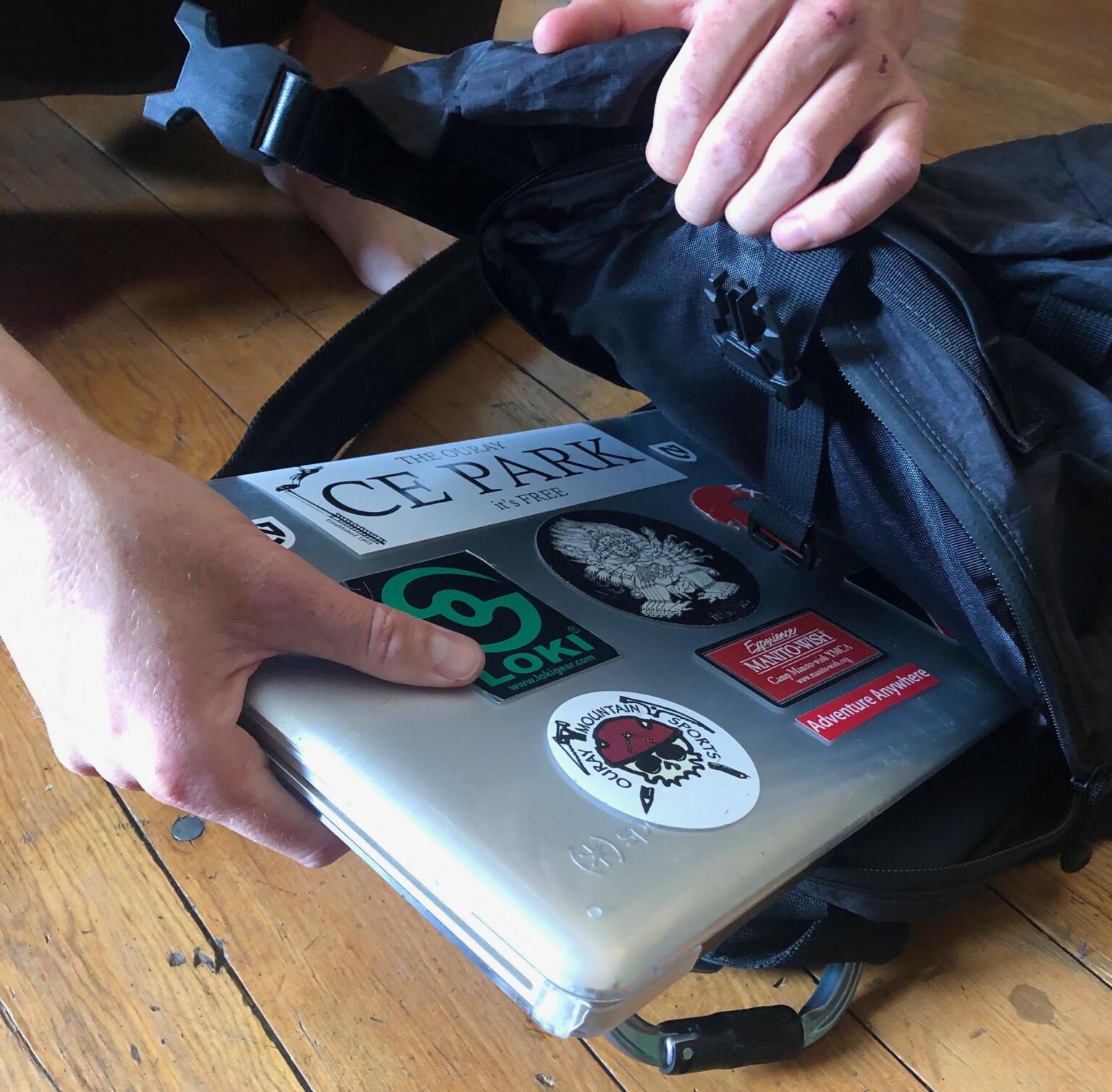 Turn off location tracking
Having a GPS-capable device is a must-have for most travelers—it helps you navigate unfamiliar places and keeps us from getting lost. This in itself can help you stay physically safe.
But, the enhanced physical safety comes at the expense of the backpacker cyber security as enabling location features can also put you at risk of cyber-attacks. Basically sharing local information can enable cyber criminals to track you and detect your location in real-time. They can sometimes even determine the identities of mobile device users.
Location enabled gadgets are a Godsend. But the increased usage of these devices, the possibility of cybersecurity breaches is also ever-present. Remember to turn off location tracking and disable your GPS whenever you are not using it.
Final Thoughts
I hope you found these top cyber safety tips helpful. Any I missed? We always love to hear what you guys think, so leave a comment below. Stay safe, and happy travels.
---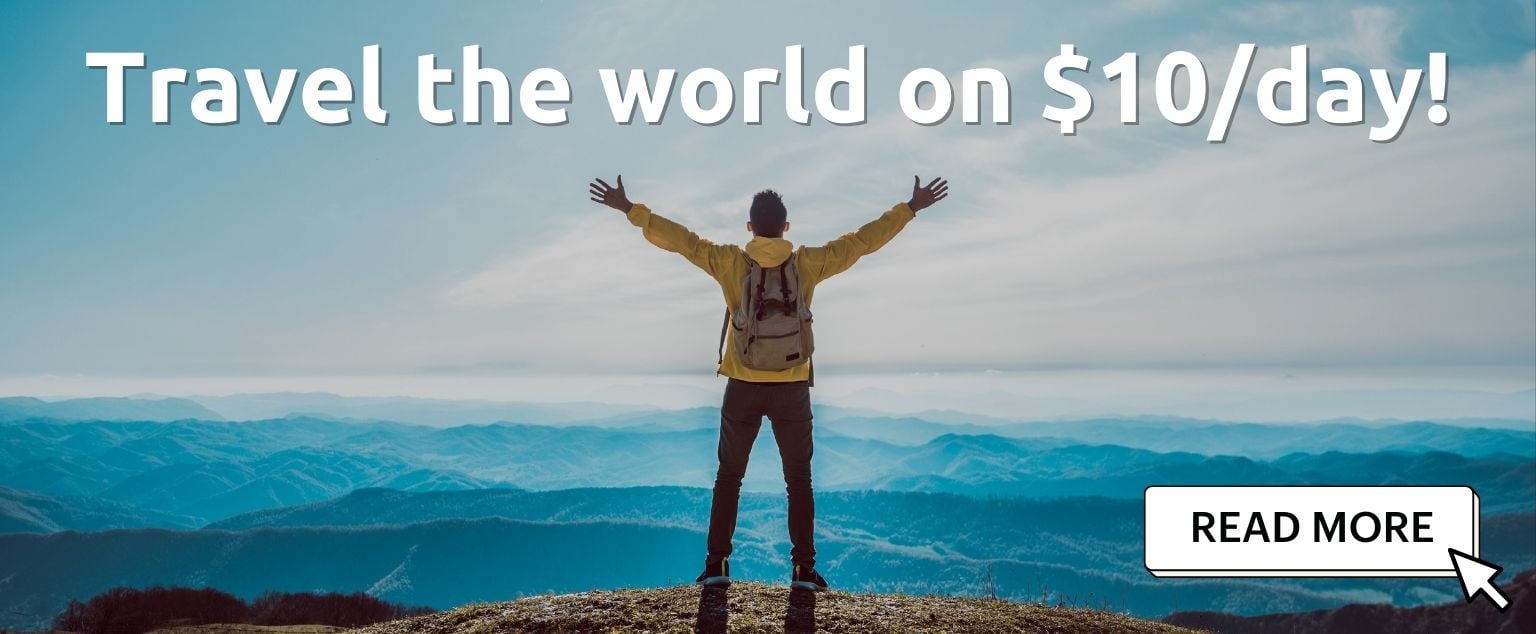 And for transparency's sake, please know that some of the links in our content are affiliate links. That means that if you book your accommodation, buy your gear, or sort your insurance through our link, we earn a small commission (at no extra cost to you). That said, we only link to the gear we trust and never recommend services we don't believe are up to scratch. Again, thank you!