If a trip to Fresno has got you excited, you'll be thrilled to know how many amazing Fresno Airbnbs are available. From the lively Town District to the Historic Old Town, the town is full of beautiful accommodation for every type of traveler.
Staying in an Airbnb not only guarantees interaction with the locals, but you'll also enjoy an authentic experience on a more personal level. After all, there's more to Fresno than the best tacos and Mexican food.
Whether it's your first time in the area with plenty of money to splurge, or you're on a strict budget that you need to stick to, there's always something for you. We have searched high and low for the best Airbnbs in Fresno for a magical stay.
Quick Answer: These are the Top 4 Airbnbs in Fresno
Overall Best Value Airbnb in Fresno
Overall Best Value Airbnb in Fresno
Poolside Luxury Suite
> $
> Guests: 2
> Entire guesthouse
> Self check-in
Best Budget Airbnb in Fresno
Best Budget Airbnb in Fresno
Private Room with Bath in Residential Home
> $
> Guests: 2
> Private room and bath
> Near Yosemite and Kings Canyon National Parks
Best Airbnb for Couples in Fresno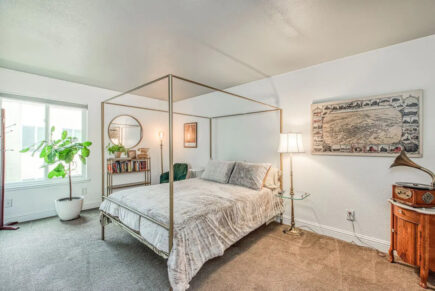 Best Airbnb for Couples in Fresno
Entire Condominium in a Gated Community with 24-Hour Security
> $
> Guests: 4
> Entire condominium
> Key-less passcode entry
Best Airbnb for Families in Fresno
Best Airbnb for Families in Fresno
Spacious Residential Home with Heated Gazebo
> $$
> Guests: 15
> Beautifully manicured backyard
> Located in the heart of Clovis

Unlock Our GREATEST Travel Secrets!
Sign up for our newsletter and get the best travel tips delivered right to your inbox.
What to Expect from Airbnbs in Fresno
Fresno may not be as popular as other towns in California, such as San Francisco or Los Angeles, but that doesn't mean it's boring. Located in proximity to numerous National Parks, it is an outdoor haven that will give nature lovers a frisson of excitement.
Fresno is also one of the most affordable places in the United States, so travelers can enjoy Fresno Airbnbs at much lower prices compared to other places.
Even if you're on a strict budget, you can still enjoy luxurious and quality rentals in Fresno. Generally, the city has all types of accommodation, from hostels to cabins and lodges.
There are properties away from the city center for those who want to enjoy nature, and there are spots right smack in the middle of the action.
Private Rooms
There are plenty of private rooms dotting the city, perfect for solo travelers who would like some privacy while sharing common spaces with others.
Prices for private rooms are quite low, so they are the best for those who want to save some money without giving up amenities such as a private bath. Always double check to ensure that the private room comes with a private bathroom before booking. When in doubt about the shared spaces, always clarify with your host to avoid issues later on.
Most private rooms are in residential homes where you can rub elbows with locals and ask for insight or two about Fresno.
Residential Homes
If you're traveling with your family or a group of friends, your best bet is to rent an entire home in Fresno. Residential homes are pretty much everywhere and they run the gamut of sizes, from smaller homes that can accommodate four to six people to expansive houses that can easily sleep 15 people!
Most of these homes come with extra amenities, such as pools, BBQ grills, fire pits, Jacuzzis, and entertainment rooms with foosball and board games. They are often a short drive away from the city center for days of exploring.
Farmstays and Cabins
Fresno County is a prime spot for agriculture. The area is dotted with farmland with plenty of cabins, lodges, and farmstays for that truly one-of-a-kind Airbnb experience. These properties offer all the comforts of modern amenities with that added charm and appeal.
You can stay in some of the most stylish and comfortable properties in a rural setting while being just a few minutes' drive from the city center. Nature lovers and those who want to get away from the hustle and bustle of the city will especially appreciate these type of Airbnbs in Fresno.
Why Stay in an Airbnb?
There are many reasons why staying in an Airbnb in Fresno can only add to your experience.
Affordability: Airbnbs are usually more affordable compared to hotels. You can get the same comforts, sometimes more, for a much lower price.
Unique Properties: Nobody likes staying in run-of-the-mill properties. If you want a vacation you will remember forever, select from one of Airbnbs many unique homes.
Local Experience: Although some properties may be owned and maintained by companies, most Airbnbs are locally owned and hosted. They are the best people to ask if you need any tips and recommendations.
Last-Minute Booking: If you've reached your destination without having booked a place to stay you need not worry. You can still find properties on Airbnb for a last-minute booking.
Staying Long-Term: For those who are planning to stay a while, Airbnb hosts will be more than happy to provide you a discount the longer you stay.
Top 20 Airbnbs in Fresno
A trip to Fresno promises interesting landscapes, amazing food and an unforgettable trip.
Now, here are the best Airbnbs in Fresno!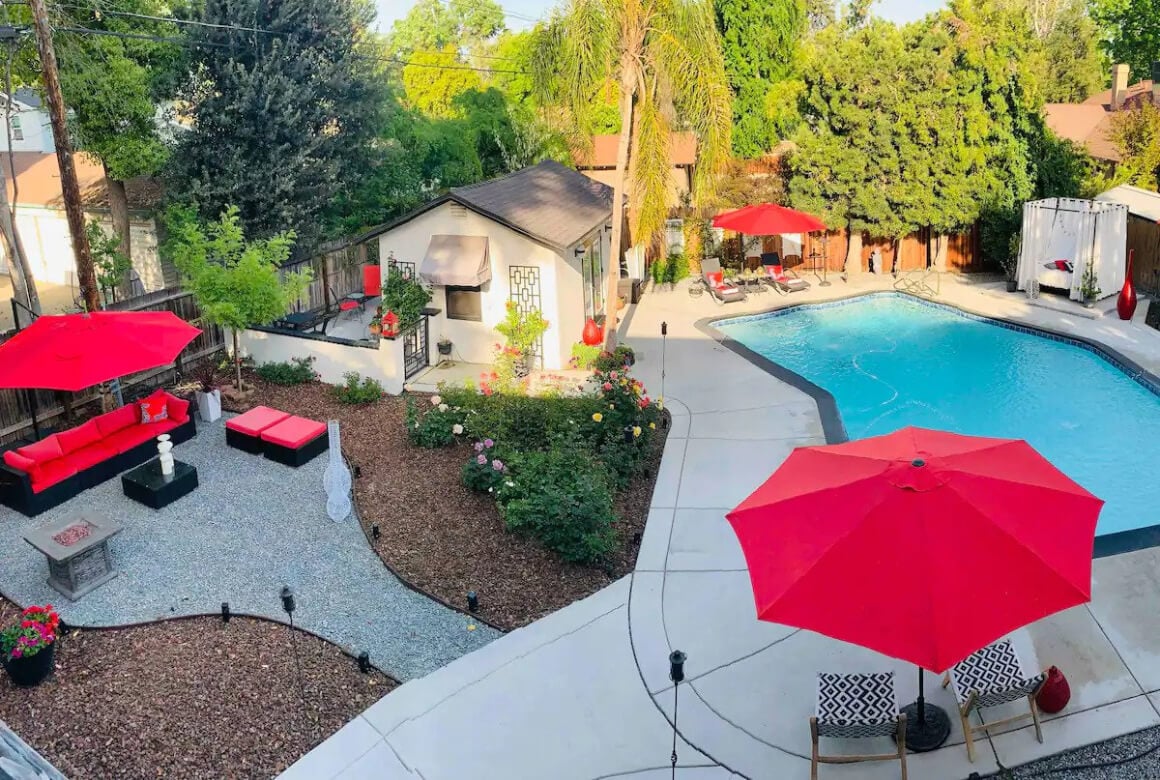 This cozy and chic guesthouse offers all the amenities you'd find in luxury hotels. Located on historic Van Ness Boulevard, guests can enjoy a private room with a comfortable queen-sized bed, private bathroom, fully-stocked kitchenette, private courtyard, and cabana.
With views over the pool, this room has easy access for lounging in the sun and dipping into the water. There's live music, art galleries, and food just a short walk away so you'll never run out of things to do.
Places to visit:
Fresno Art Museum
Forestiere Underground Gardens
Yosemite National Park
Kings Canyon National Park
$
Bright and stylish design with wall murals
4 Guests
Spacious and luxurious penthouse loft
This 1,600 sq ft two-story penthouse loft has a sprawling open floor plan. It features two bedrooms with a king-sized bed, and a queen-sized bed.
Decorated with a tropical theme, the home has beautiful murals throughout as well as chic comfortable furnishings and grand windows looking out over the city.
Within walking distance of unique local stores and coffee shops, you can wander the city before heading home to your own private space.
2 Guests
Near Yosemite and Kings Canyon National Parks
Being on a budget doesn't mean sacrificing your comfort. This private room and bath is the best Airbnb in Fresno for those who are traveling and pinching the pennies. It's only two minutes from Freeway 41 and just a three-minute walk to a selection of eateries.
Guests are welcome to use the living room, kitchen, and patio, and a space will be provided in the fridge for those who request or need it.
Is This the Best Backpack EVER???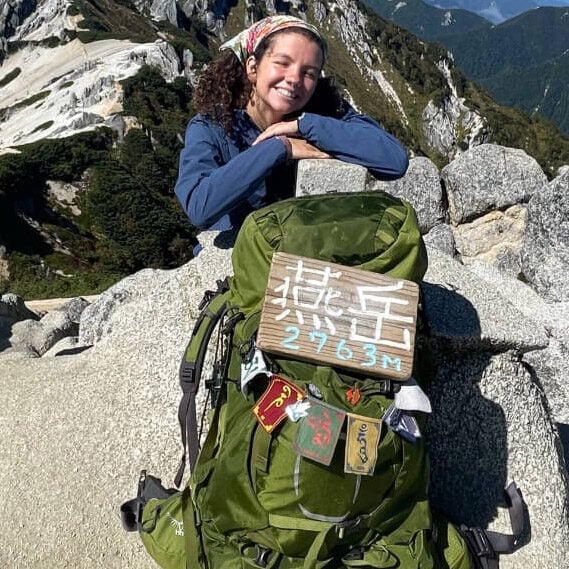 $
Access to a shared hot tub
2 Guests
TV with Netflix, Amazon Prime, & Hulu Live
This private room is in a comfy and fun residential home within walking distance to plenty of restaurants. It's the perfect pit stop for those who would like to explore Yosemite National Park which is only an hour away. The room comes with a small refrigerator where guests can store refreshments or groceries, and is located across from the shared bathroom and laundry room.
Guests have access to the kitchen and living rooms, and are also welcome to use the washing machine and dryer for the duration of their stay. The hot tub, pool, and BBQ area in the backyard are free to use and have some fun.
$
Complete privacy with self check-in
This newly-renovated quaint studio is located in a quiet neighborhood of North East Clovis, only three minutes to Clovis Community and eight minutes to Old Town Clovis.
The home is a completely private studio with a chic and colorful style. There is one bedroom, but the studio can easily sleep up to 3 thanks to the sleeper sofa. The living area is cozy and open-plan with the kitchenette, and features a breakfast bar where you can work away on your laptop in comfort.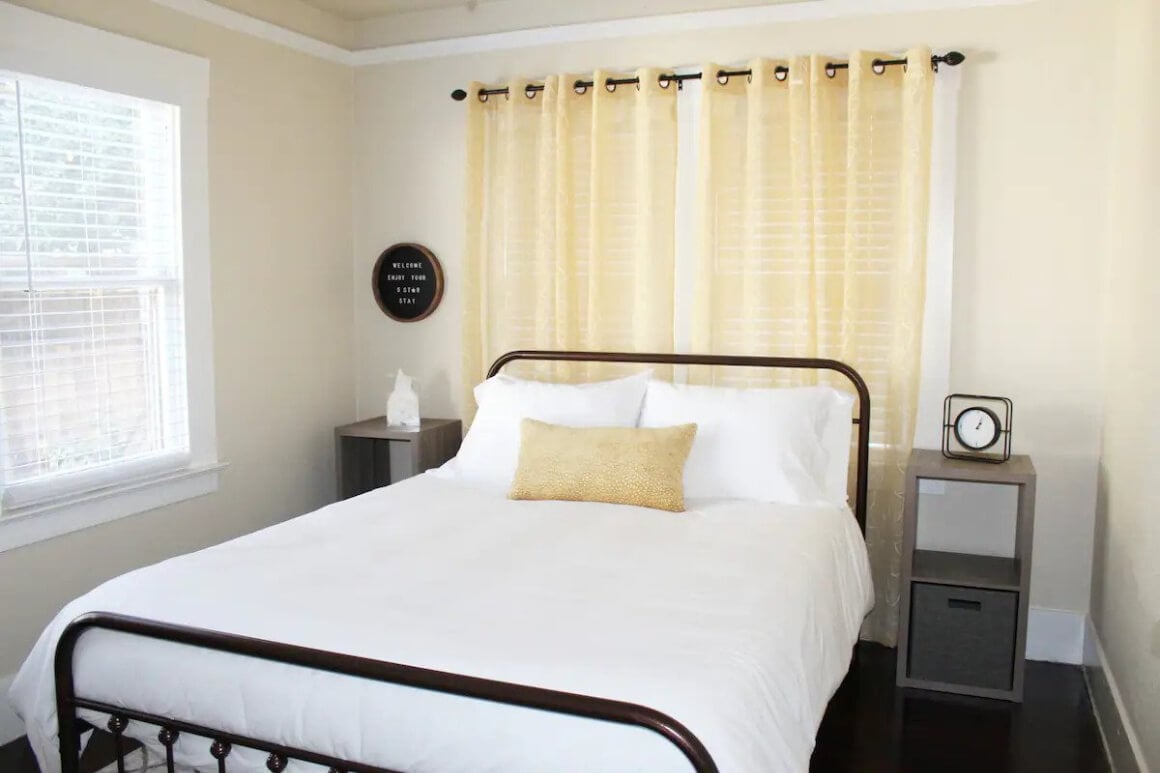 $
Spacious and comfortable home
6 Guests
In a safe neighborhood
This residential home is right in the heart of Tower District and is perfect for a group of digital nomads. It is located in a safe neighborhood near local shops, bars, restaurants, and vintage coffee shops for days out exploring.
The home has two bedrooms and a sleeper sofa in the living area, so everyone can have their own space to relax and finish up those last emails. When you aren't working hard you can lounge to watch movies, prepare your favorite homemade meals and venture around town.
2 Guests
Open studio-style
This fully remodeled vintage barn is a beautiful home for an extended Fresno trip. Featuring lots of homey comforts such as a large bathroom with a walk-in shower and full kitchen, you can quickly settle in.
Just walking distance from shops and restaurants, you can get the hang of the town with a fashionable home to return to. With an open studio style and plush furnishings, it is the perfect space to relax and unwind.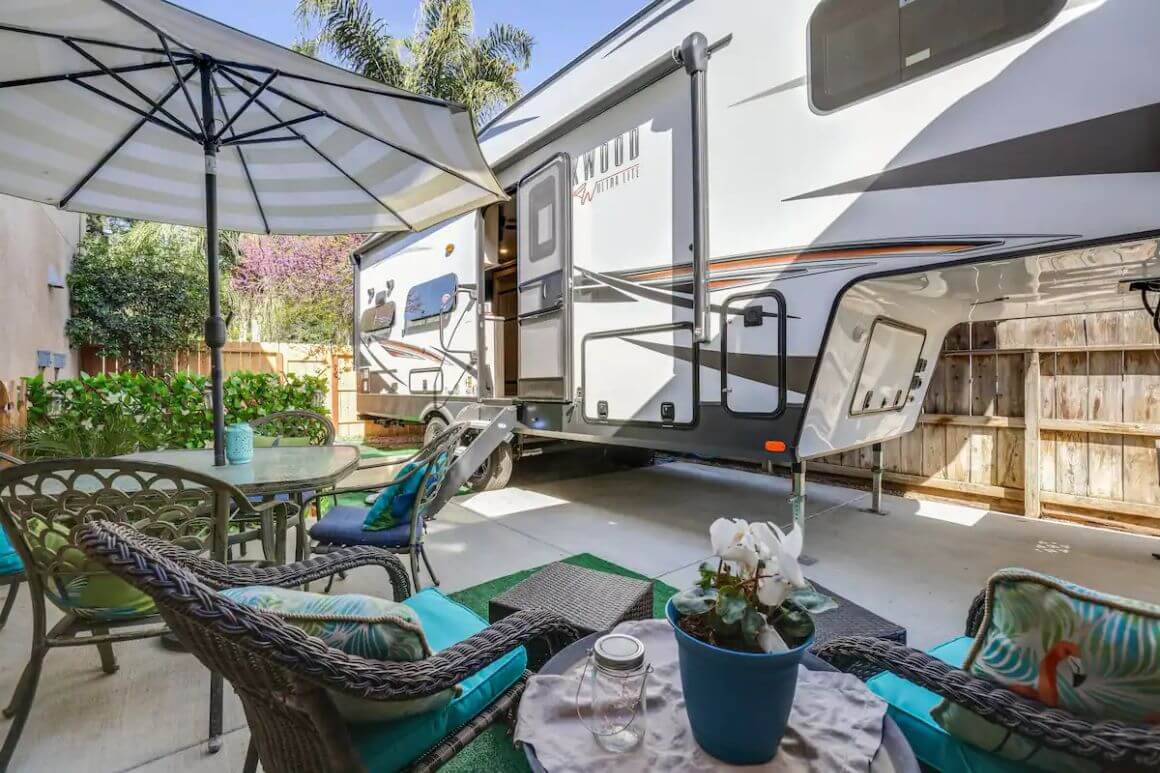 4 Guests
2021 brand-new Rockwood 5th wheel
Nothing says unique like a WOW Villa Boutique RV! Much like a standard home this unique space has a comfortable bedroom, and a dinette that easily converts to a small bed.
The luxury rental has two beach cruisers are available for complimentary use for exploring the nearby areas.
There is a garden patio where you can spend time with your loved ones and dine alfresco. Three Rivers California is a 30-minute drive away and the Land of the Giants in Sequoia National Park is 45 minutes drive away.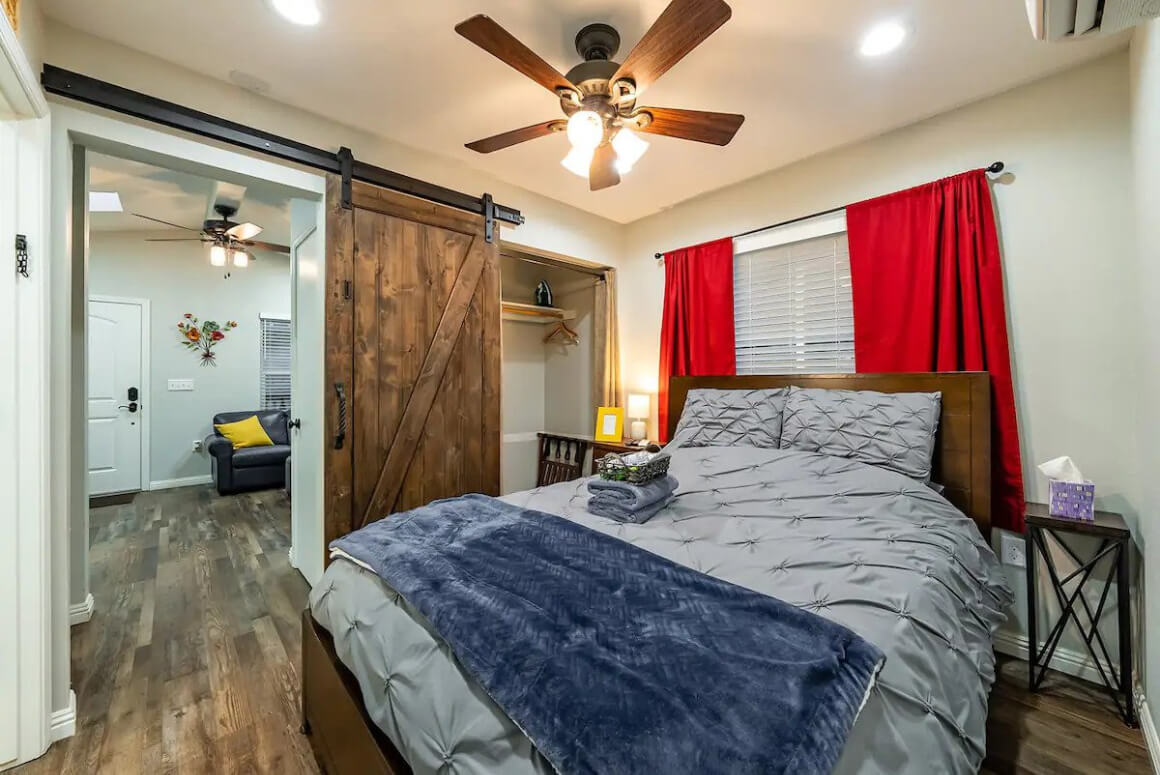 2 Guests
Cozy farmhouse style
Any newly wed couple would be happy with this cozy and quaint farmhouse cottage. For a private escape among nature, it is the perfect place to stay in Fresno.
Close by to Yosemite, Sequoia National Parks and Old Town Clovis, you can easily walk around town on romantic walks with your spouse. The property has a bedroom with a cozy queen-sized bed, a living room with comfy couches, a bathroom with a full-sized shower and vanity, and a charming kitchenette.
There's also plenty of parking on the property for those who bring their own vehicles.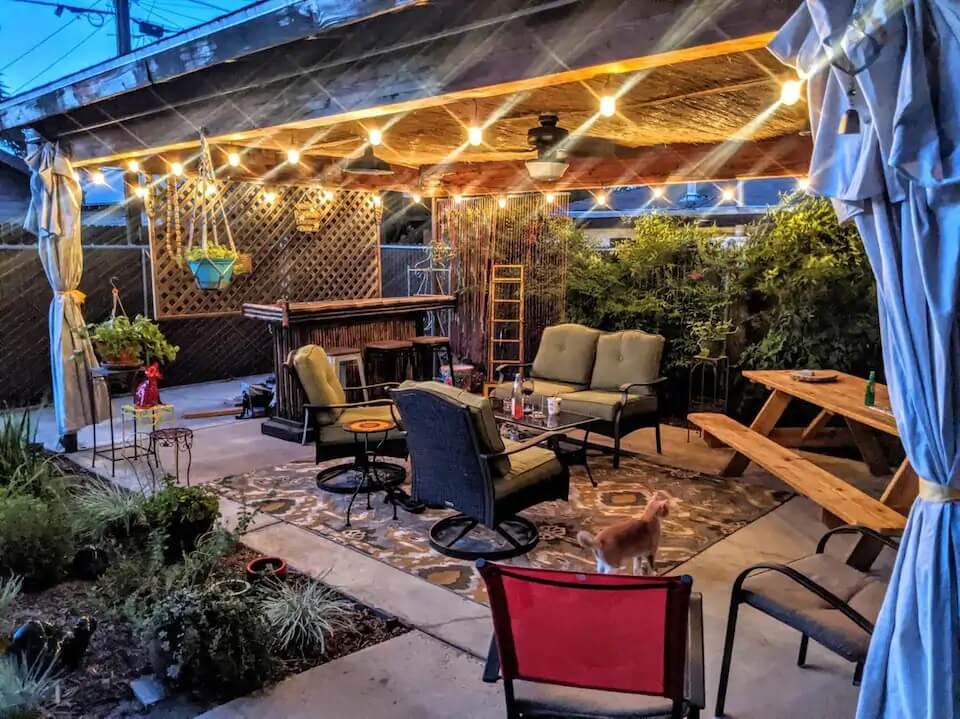 $$
Spacious backyard and patio
9 Guests
Comfortable and roomy living areas
This is the best Airbnb in Fresno with character and space perfect for a group of friends. The property has three bedrooms for up to 9 guests making it the ideal place to enjoy time together.
The garden is just as marvellous as the interior with a large patio where you can hang out into the evening. The home is just minutes away from the Tower District and within a mile of grocery stores, restaurants, and nightlife – great for a night out on the town.
$$$
Located in Tower District
Guests: 6
Victorian charm and design
Your stay in this lovely property in Tower District is going to be unforgettable. Newly renovated and stylish, it is the perfect combination of historical and modern.
The chic and comfortable living areas feature contemporary style furnishings with touches of the classic style of the home. With a spacious kitchen and quaint patio, there is plenty of space to enjoy quality time with your loved ones.
Just minutes from downtown Fresno, the home has easy access to the best spots in town.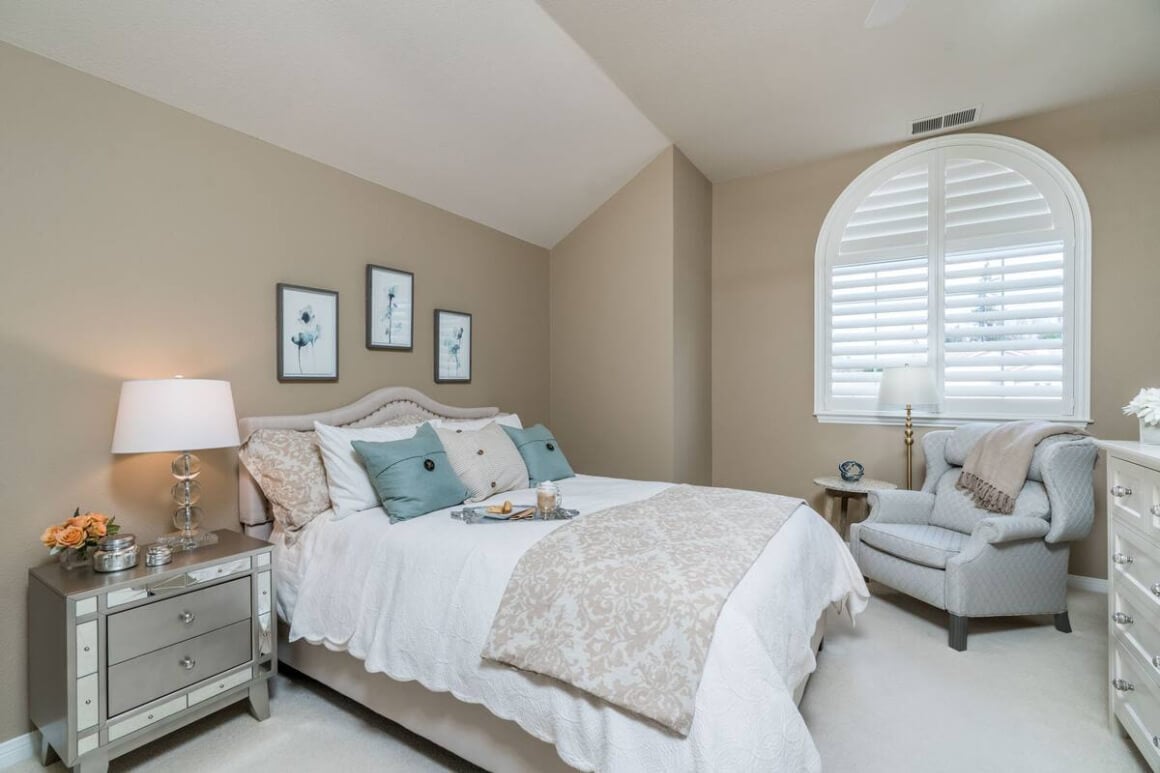 $
Private office space with desks
2 Guests
Chic and modern style
This private suite of rooms is in a residential home located in a safe and quiet neighborhood in Clovis. The perfect setup for traveling workers, there is a dedicated office space with desks where you can concentrate on projects away from the temptation of the bed.
With a private bathroom and plenty of homey comforts in the plush bedroom, you can quickly feel at home in the comfortable space.
2 Guests
Quiet neighborhood
A private room in a residential home, this is the ideal place to stay for a solo traveler in Fresno. Not far from the Tower District it is close by to coffee and ice cream shops – YUM!
Help yourself to use of the kitchen, dining room and living area with all the amenities you need to make snacks and mingle with the owners. There are even laundry facilities on hand!
$$
Beautifully manicured backyard
15 Guests
Located in the heart of Clovis
This grand residential home is the perfect Fresno Airbnb for families. The property is located in the heart of Clovis, close to Fresno International Airport, and is only a short drive to three National Parks.
With 6 bedrooms, a sprawling lush garden and a glistening swimming pool, you can spend your days lounging in the sun and playing games. You can even prepare BBQ feasts as the evening draws in.
There is incredibly fast internet and smart TVs to enjoy and keep the kids busy when the heat is too much.
$
Stylish and modern condo
4 Guests
Key-less passcode entry
If you've been looking for a romantic place to stay for your Fresno honeymoon, look no further! This stylish modern condo is a picturesque setting for a memorable time.
You will have access to gated community facilities including a swimming pool, exercise room, tennis and basketball courts. Spend quality time with your loved one on the patio, prepare romantic dinners in the kitchen and explore the nearby town.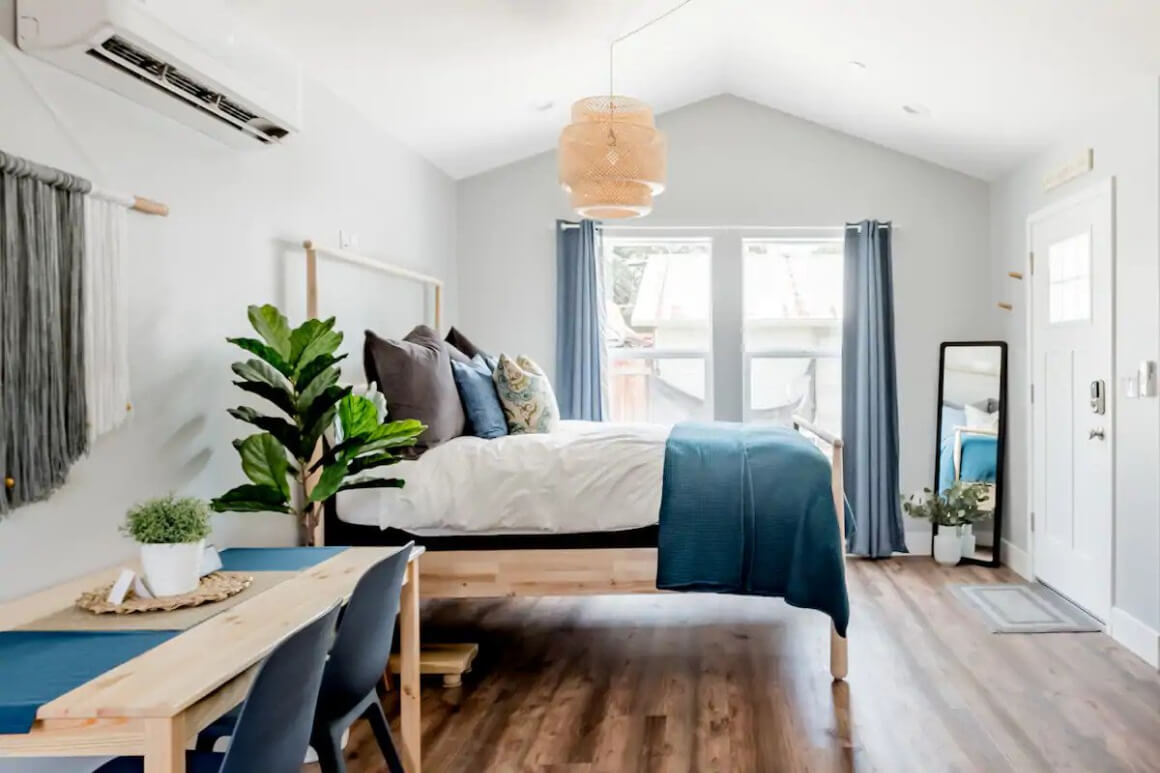 $
Tucked away in a quiet alley
4 Guests
Located in Old Town Clovis
This is the best Airbnb Plu for short-term renters. The Plus tag means you are ensured a comfortable and memorable stay. Located in the heart of historical Old Town Clovis, it's just a few steps away from a plethora of shopping and restaurants.
The property has a cleverly designed open-space plan. The kitchen is equipped with full-size appliances so if you feel like saving a bit of money by preparing your own meals, you will be able to do so with ease.
Aside from the queen-sized bed, there's also a sofa bed that can easily accommodate two people, so you can rent the property with friends.
8 Guests
Near park and hiking trails
The whole family can have plenty of fun in this conveniently located home with a huge pool. The property is in North Fresno nearby shopping centers, an outdoor mall, bars, and restaurants. It's the perfect location for those who love hiking, exploring, and Mother Nature as it's near Woodward Park with hiking trails and beautiful views of the San Joaquin River.
Next to the pool is a BBQ area where guests can grill dinner, and there's a fully functioning kitchen with all the things you need for home-cooked meals.
6 Guests
Check in with smartlock
This is the best Airbnb in Fresno for those who want to enjoy the thriving nightlife of the town.
The spacious condo has 3 bedrooms and 2 baths – perfect for a group of friends! It is only walking distance to shopping and entertainment in Riverpark.
The condo features a full kitchen, quartz countertops, new baths with marble accents, and plenty of spots where you lounge in after having a long day. The property is also the perfect home base for skiing, snowboarding, and exploring the National Parks.
Top 2 Airbnb Experiences in Fresno
Your vacation in Fresno won't be complete without trying local Airbnb Experiences in the area. There are plenty of local, fun, and easy tours which will allow you to see things in a whole new light.
Run by local experts who have an expert knowledge of the area, the culture, and history, guests can be sure they are getting an insider view that they won't find elsewhere.
There's no need to sign up on a new platform or confirm emails. Airbnb Experiences is an easy way to make your vacations more meaningful. Have we got your attention? Here are our favorite experiences in Fresno!
$25/person
2 hours
Up to 6 people
This farm-to-table tour will let guests experience, see, and taste the richness of Central California. The organizers have 15 years of experience and works directly with the soil and orchards. It will take everyone on a journey from the peach tree through the entire process of how it gets to everyone's kitchen table.
You'll be walking the fields of peach orchards and observe the workers picking ripe peaches ready for the grocery store. You'll then travel to the packing facility where you see the machines and men hard at work. You'll see exactly which peaches make the cut for a supermarket display.
At the end of the tour, you'll gain a whole new appreciation for the people in Central Valley and the agriculture of California.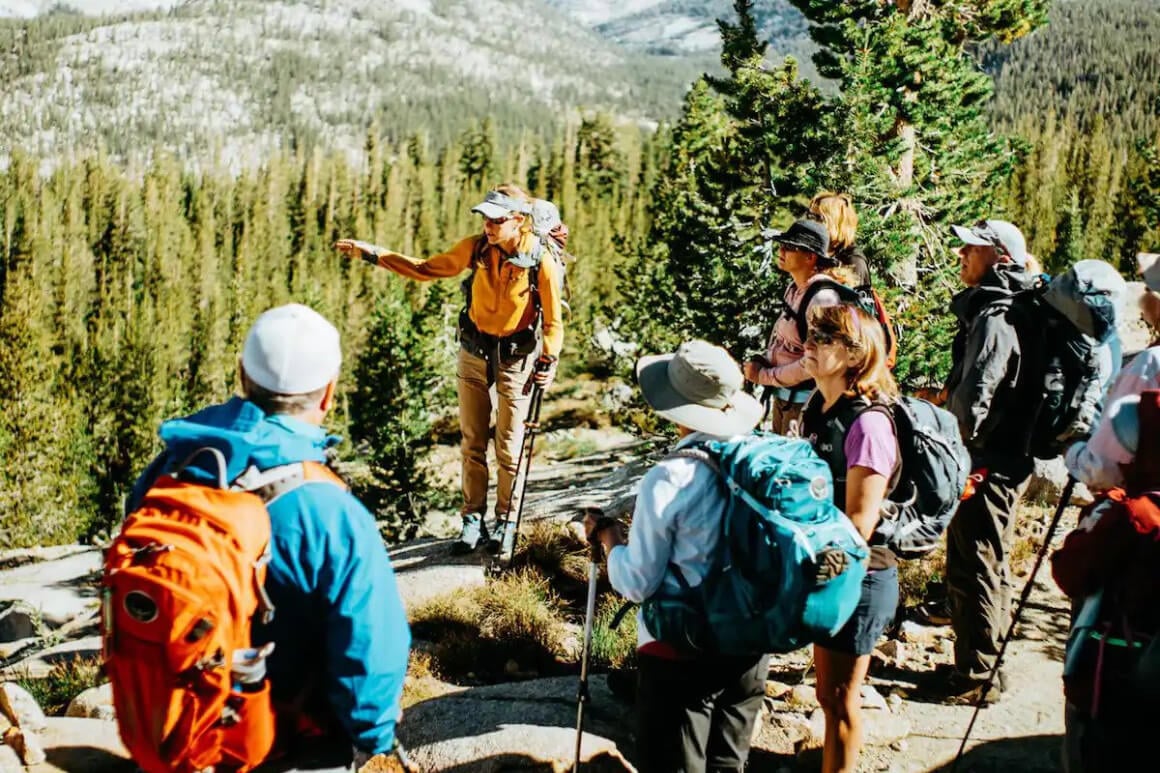 $2,395/person
8 days
Up to 4 people
If you're up for adventure, and have the fitness and cash to back your dreams of traversing Yosemite, this activity is something you shouldn't miss. This epic trek will start at Yosemite National Park's Knoblock Meadow and will go through the northern tip of the park.
The journey will take eight days and will see participants traversing breathtaking lakes, and granite ridges. They will also be summiting Cloud's Rest mountain in the process.
Participants will be led by a professional mountain guide who has a wealth of experience planning trips in the state's most spectacular wilderness areas. Everyone on the journey will be provided with the necessary equipment, snacks, and food for the entire journey.
Don't Forget Your Fresno Travel Insurance
ALWAYS sort out your backpacker insurance before your trip. There's plenty to choose from in that department, but a good place to start is Safety Wing.
They offer month-to-month payments, no lock-in contracts, and require absolutely no itineraries: that's the exact kind of insurance long-term travellers and digital nomads need.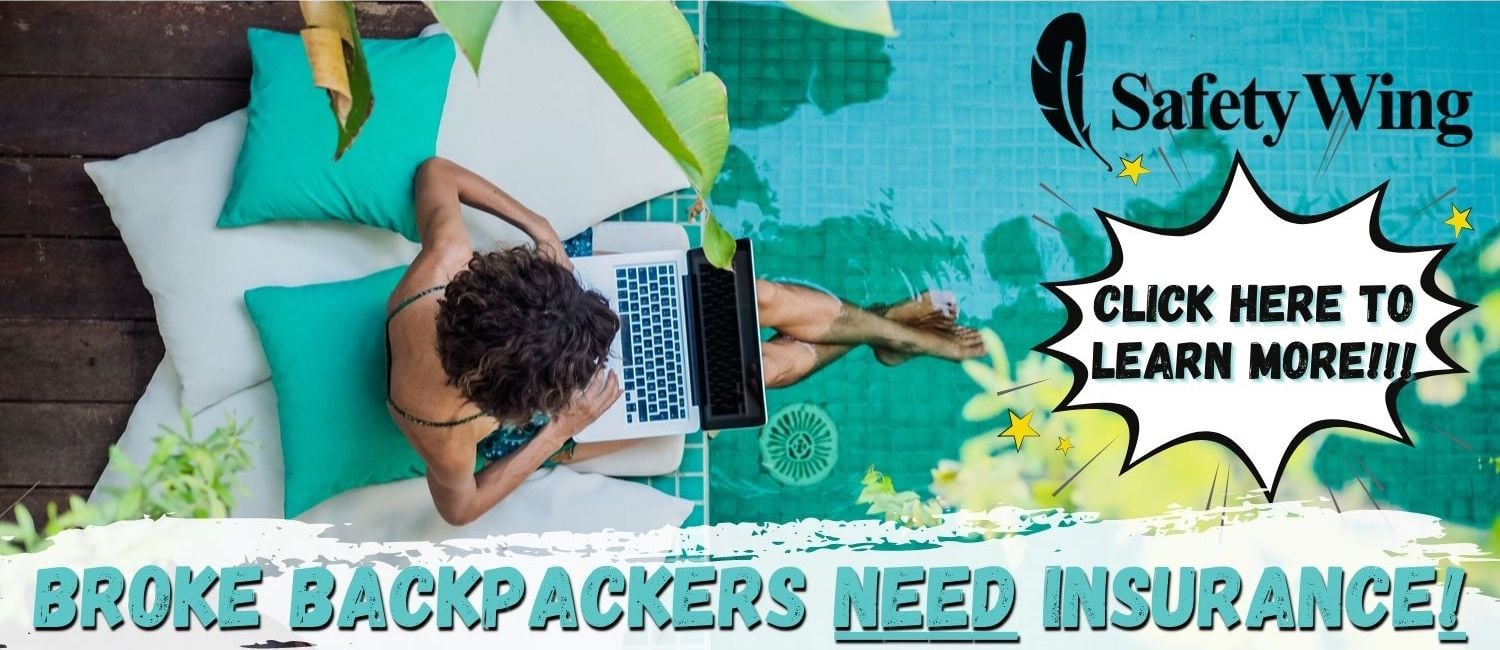 SafetyWing is cheap, easy, and admin-free: just sign up lickety-split so you can get back to it!
Click the button below to learn more about SafetyWing's setup or read our insider review for the full tasty scoop.
Final Thoughts on Renting an Airbnb in Fresno
A place that's dripping with Bulldog Pride, you can't escape the snarling face of the California State University Fresno football team from tattoos to t-shirts.
Fresno may often be overlooked for other more happening areas in the state of California but it has so much to offer, from its nearby National Parks to its numerous festivals. If you haven't been there, now is the best time to go and discover its wonders.
Whether you are looking to spend a couple of weeks in Fresno or just a few days, you need not worry about finding a place to stay. There is always an Airbnb that will cater to all your needs. Just remember to take out Travel Insurance for your trip for your peace of mind.
---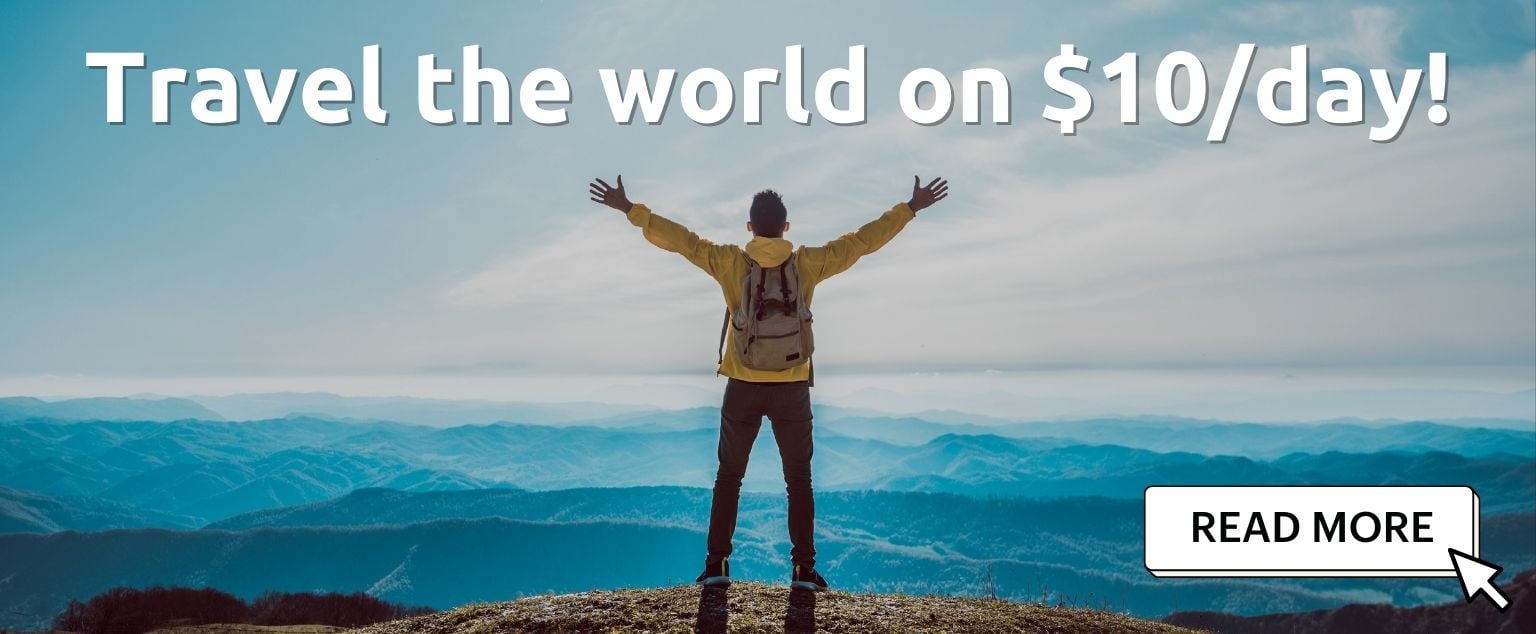 And for transparency's sake, please know that some of the links in our content are affiliate links. That means that if you book your accommodation, buy your gear, or sort your insurance through our link, we earn a small commission (at no extra cost to you). That said, we only link to the gear we trust and never recommend services we don't believe are up to scratch. Again, thank you!