For any backpacker visiting the Canadian Rockies, a stop-off in Banff is a must.
Banff is the gateway to some of North America's best hikes found in Canada's oldest national park: Banff National Park.
In between hikes you will need a place to rest up and recharge your batteries.
Banff is in such a special part of Canada that I want you to stay in a place that is as beautiful as the surrounding mountains (without spending to0 much cash).
That is exactly why I wrote this guide to the best hostels in Banff for 2020.
Get insider tips regarding the best hostel for solo travelers in Banff, best hostel for digital nomads, and my top pick for the best cheap sleep in town.
By the end of this guide you will have a proper idea of what all of the best hostels in Banff are about.
The town of Banff is the perfect base in which to explore the wilds of Canada. But before you start thinking about mountains and glaciated lakes, let's think about cheap, comfortable beds for just a minute…
Here we go…
Quick Answer: The Best Hostels in Banff

Do You Want to Travel FOREVER??
Pop your email in below to get a FREE copy of 'How to Travel the World on $10 a Day!'.
What to Expect from the Best Hostels in Banff?
Backpacking around Canada is definitely not a cheap adventure. Which is why staying at a hostel is the ideal option for budget travellers. Not only do you get a super cheap bed, but you can also enjoy great amenities, freebies and the chance to meet like-minded travellers from all over the world. The unique social aspect of hostels is definitely what makes them so special.
When it comes to hostels in Banff, we have to admit, there are not many. But the ones that are running offer some real bang for your buck. The traditional hostel offers dorm rooms, either mixed or female-only. Some places also offer private rooms, which is a great option if you want a bit more alone-time. As a general rule: the bigger the dorm, the cheaper the nightly price!
Since you're so close to the National Park, it's kind of self-explaining that the hostels in Banff are focused on accommodating backpackers and nature lovers. Often you'll find day trip excursions on offer or at least an information board that lets you know everything about the area. On top of that, you can almost always expect a free or a very cheap breakfast every morning that'll get your ready to start the day.
When looking for a hostel, you'll find most hostels on HOSTELWORLD. There you can check out photos, detailed information about the place and even reviews from previous guests. Just like other booking platforms, each hostel will have a rating, so you can easily pick out the hidden gems!
To make sure you find the right hostel for you, do some research on where you want to stay in Banff before you start your travels. This is especially important if you want to be close to certain attractions or trailheads – no need to travel for hours if you look it up beforehand!
The 5 Best Hostels in Banff
We said it before: if you're backpacking Canada, there's no way around Banff. The charming gateway is a little paradise for all nature enthusiast, hikers, and backpackers that want to see something else than just skyscrapers and cement.
1. Overall Best Hostel in Banff – Samesun Banff
Bar
Self Catering Facilities
Just because it's the overall best hostel in Banff doesn't necessarily mean it has to be the cheapest. But no matter: Samesun Banff is also the most centrally located hostel in the area, which is good news if you don't want to hire your own wheels to zip around.
The hostel itself features clean and spacious dorms, a pretty authentic looking bar area, a decent kitchen to cook your own meals in, and general sorta rustic-yet-contemporary lodge-esque decor. It's nice. The staff is helpful and friendly and the free breakfast is great – what's not to like? (Well, except the price – but this is the best hostel in Banff 2021).
Why you'll love this hostel:
Plenty of outdoor activities
Super kind staff
Free Linen, Towels and Wifi
If you look past the price, you can see that this hostel actually has quite a bit to offer. Starting with the spacious dorms!
Visiting Banff in Summer can be pretty hot, however, visiting in Winter can be absolutely freezing. That's why each bed is equipped with it's own mini fan to cool you down, but also with a super comfy nordic blanket that will keep you cozy and warm once the snow starts falling.
In case you get bored during the week, Samesun Banff Hostel offers lots of different activities. Join the group for ice skating, hiking and even mountain biking. Once you're back from your adventure, head to the Beaver bar where you can enjoy cheap food, great beer and the occasional live music.
If you need any help during your stay, whether that's a simple question or advice on how to plan your Banff trip, just reach out to the friendly staff. They're incredibly knowledgable and are always happy to help you out. If you need some real insider information about the area, this is where you'll find it!
2. Best Hostel for Solo Travellers in Banff – HI Banff Alpine Centre
Self Catering Facilities
24-Hour Reception
With its variety of activities and friendly staff, and the general vibe of the place (when there's not a large group of ski-schoolers taking over this youth hostel in Banff), this Hostel International lodging is a cool place to meet people. There's a decent bar area and a general cosy vibe of looking exactly like a log cabin in some of its common areas.
Because of the decent vibe here we'd say it's the best hostel for solo travellers in Banff – you gotta have a go at karaoke night on Friday for a good laugh. If only AT everyone trying to sing. Slightly pricey though; you do get a free bus pass to get to and from (and around) Banff, however!
Why you'll love this hostel:
2 kitchens
On-site pub and restaurant
Discounted summer activities
If you're coming to Banff for an epic ski adventure, you'll absolutely love HI Banff Alpine Centre. The hostel is pretty much made for having an awesome time in the snow. You'll have easy access to public transport and epic hiking trails. If you're not 100% sure on how to get from A to B, just ask the friendly staff and they'll be happy to help.
But what if you're visiting in summer? Most hiking trails are still available during the summer months. In fact, there one 40min trail right outside your doorstep that takes you to Surprise Corner, where you'll get amazing views over the mountains and the castle-like Fairmont Banff Springs Hotel. If you prefer a bit more action, the hostel also offers discounted rafting tickets and help with renting mountain bikes.
Once you come back from an exhausting day, head to the on-site pub to recharge with a tasty meal and a refreshing drink! If you rather cook for yourself, you can choose between not only one, but two huge industrial-style kitchens. They're fully equipped and even offer seatings, so you can socializing while whipping up a masterpiece.
To fill up your batteries at night, you can choose between the comfy dorms or the private rooms. Each shared room has lockers that are so big that a human can fit in them (please don't try, though)! They also have outlets inside, so you can charge your phone safely while you're out practising your freestyle skiing.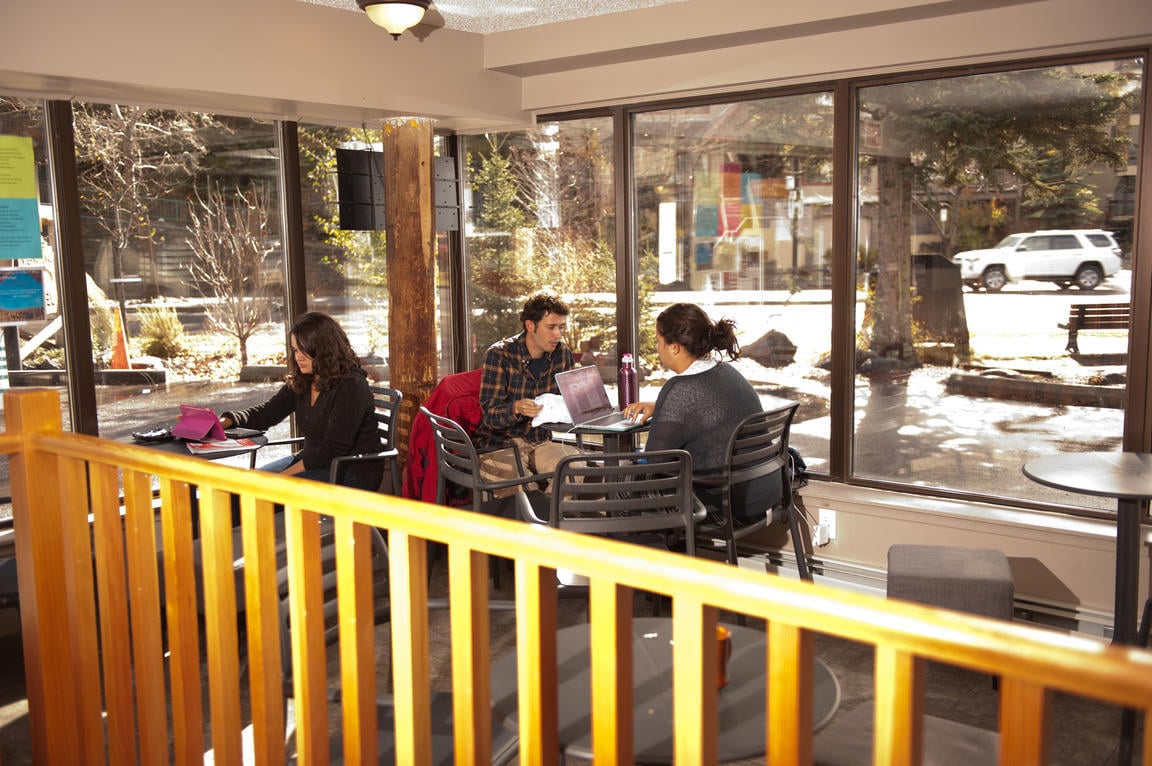 Free Tea & Coffee
Free Laundry
Surprisingly NOT a "Hostel International" budget hostel in Banff (a lot of them are HI-run), the oppositely named International Hostel is a great place to stay if you got some work to do. Laptop-wise, that is. There are plenty of nice little places to work in the glassy cafe/lobby area of this hostel too.
We'd say it's the best hostel for digital nomads in Banff because of that nice space for laptopping, though the price – not as expensive as others in the area – is also acceptable. The many free perks – breakfast! espresso machine! laundry! – make staying here even better as a long-term traveller.
Why you'll love this hostel:
TV-Lounge
Courtyard
Free computers
Whether you want to stay for just a couple of days or even think about long-term, this amazing hostel offers you great deals for both options. Especially during the winter months, you can score some really epic weekly or monthy rates!
When it comes to location, you couldn't ask for a better place either. Located right on Banff Avenue, three blocks from the downtown area, Banff International Hostel is within easy walking distance to many of Banff attractions, restaurants and bars. There are three ski hills nearby and bus transport to the hills is available within a two minute walk away.
As a Digital Nomad, getting work done is an essential factor when deciding on a hostel. You'll be happy to hear that Banff International Hostel offers computers free for usage – working on one screen is great, but why not update to two!
When visiting during the warm summer months, head out to the pretty courtyard and play some outdoor games with other travellers. It's a great place to socialize and take your mind off work.
4. Best Hostel with a Private Room in Banff – HI Lake Louise
Hot Showers
Luggage Storage
With a feel that looks closer to authentic lodge than youth hostel in Banff, the unfussy and charmingly rustic decor of HI Lake Louise gives this place a really nice cosy feeling. And we like feeling cosy especially when visiting Banff in winter.
The private rooms here are… expensive, but given the quality of the facilities, the location to the lake itself, and the general feel of the place, we'd say this is the best hostel with a private room in Banff. You'll also find the staff to be super helpful here in giving up-to-the-minute info about trail accessibility and all that important stuff you need when escaping to nature like you do in Banff.
Why you'll love this hostel:
Sauna
Cozy Fireplace
On-site restaurant
We're not gonna lie, you could potentially spend the whole vacation in this hostel and have a great time. Relax in front of the fireplace, warm your feet in the sauna during the cold winter months or enjoy the afternoon sun on the charming outdoor terrace.
The hostel really feels more like a budget hotel, the only difference is that you can stay in a shared room. If you're travelling with a group or a family, you'll be happy to hear that there are family rooms as well.
There are tons of activities available to guests throughout the summer including horseback riding, biking, or simply relaxing on the outdoor patio with a cool beverage. For the colder winter months you'll be busy deciding between cross-country skiing, dog sledding, ice climbing and much more.
You see that although you're paying quite a bit for this hostel, it probably offers you the biggest bang for your buck in Banff. And if you're still unsure, just read through the previous guest reviews – there are only over a thousand positive ones…
5. Best Cheap Hostel in Banff – HI Whiskey Jack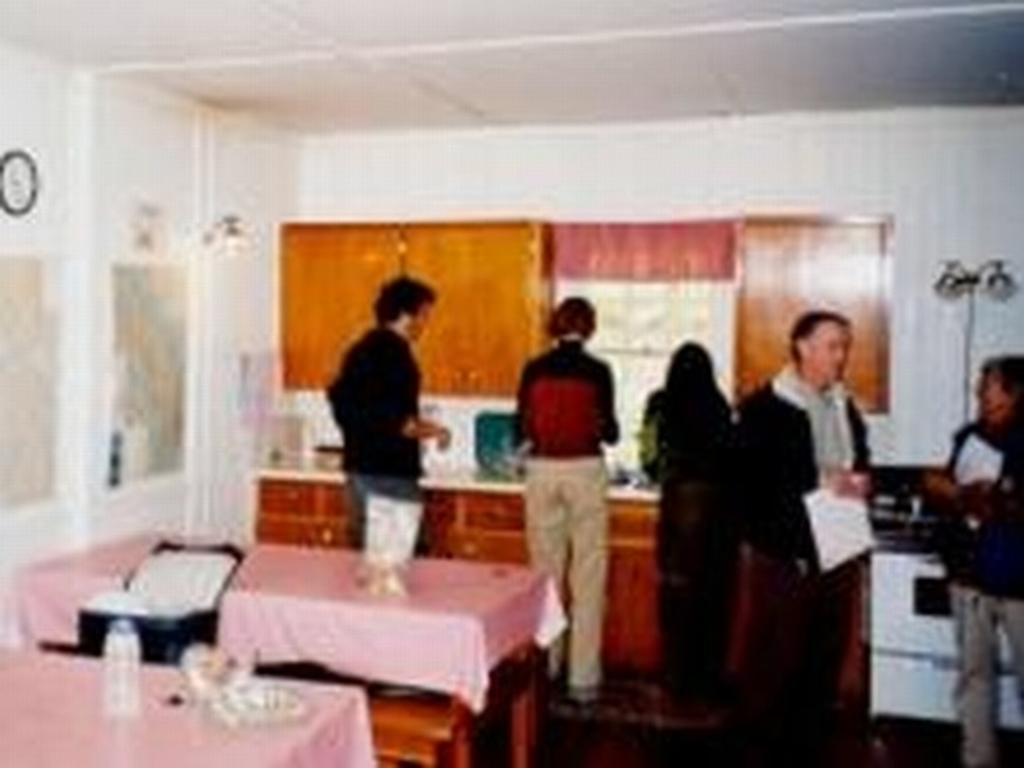 $
View of an actual waterfall
Linen Included
Outdoor Terrace
The quite nicely named Whisky Jack Hostel is a Hostel International-approved lodging that's set in the wilderness of Yoho National Park, just 27km to the west of Lake Louise – but much quieter as a result.
This youth hostel in Banff (or the Banff area) is a very affordable option and, considering that the vista from the hostel deck is pretty much a private view of the literally stunning Takakkaw Falls (one of Canada's five highest), it's easily the best cheap hostel in Banff. It's not luxury, but flushing toilets, running water, shelter, and a great atmosphere is all you need in a place that is this amazing, seriously.
Why you'll love this hostel:
Very cozy atmosphere
Unique experience
No cellular reception
For a truly unique backpacking experience, look no further than the Whisky Jack Hostel. Not only is it one of the smallest hostels in the area (27 guests in total), but it also doesn't have any phone or cellular service. That means no internet, no Wifi and no phone calls! If you're looking for a REAL escape from the modern world, here's your chance!
And yes, we know, the photo shown above isn't very appealing, but don't let this put you off. With a strong 9/10 rating and plenty of positive reviews, you're guaranteed a pleasant stay.
Note that this is a summer hostel that only operated between late June to September. That's why we highly recommend booking in advance so you'll definitely get a comfy bed and the chance to see the stunning waterfalls from the terrace.
To end the day, join the other backpackers around the campfire outside and exchange travel stories. Since the hostel is so small, the atmosphere is much friendlier compared to some of the big chain hostels. In fact, previous guests said that it feels like a real home away from home.
HI Whiskey Jack is one of our favourites in Banff but they're not taking guests right now. We're not sure if they're closed for good but we hope they'll come back soon.
Is This the Best Backpack EVER???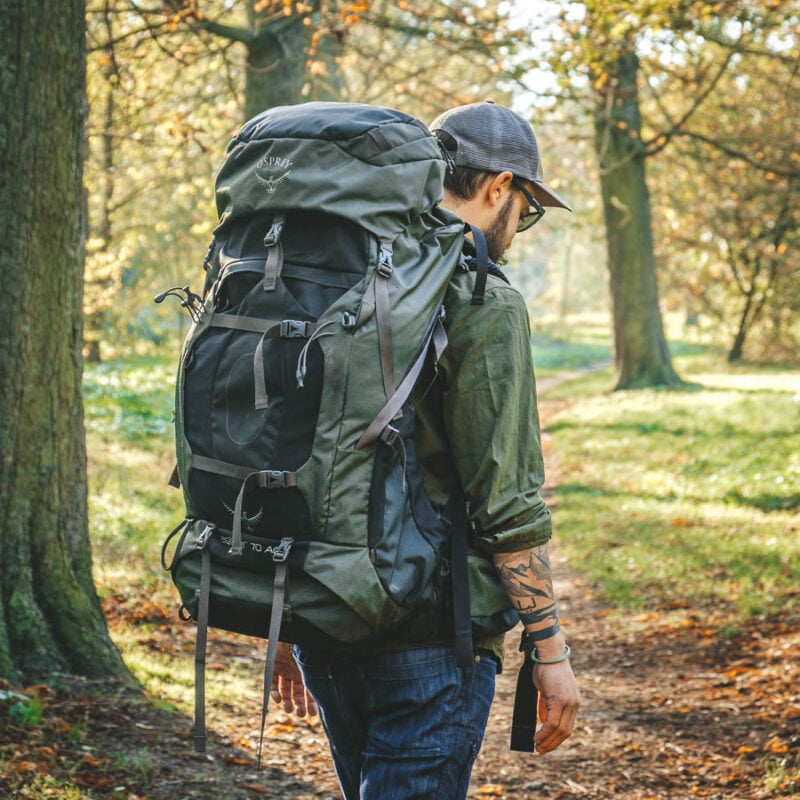 More Awesome Hostels in Banff
Oh yes, there's more! If you're not happy with the selection of accommodations so far, check out more of the best hostels in Banff.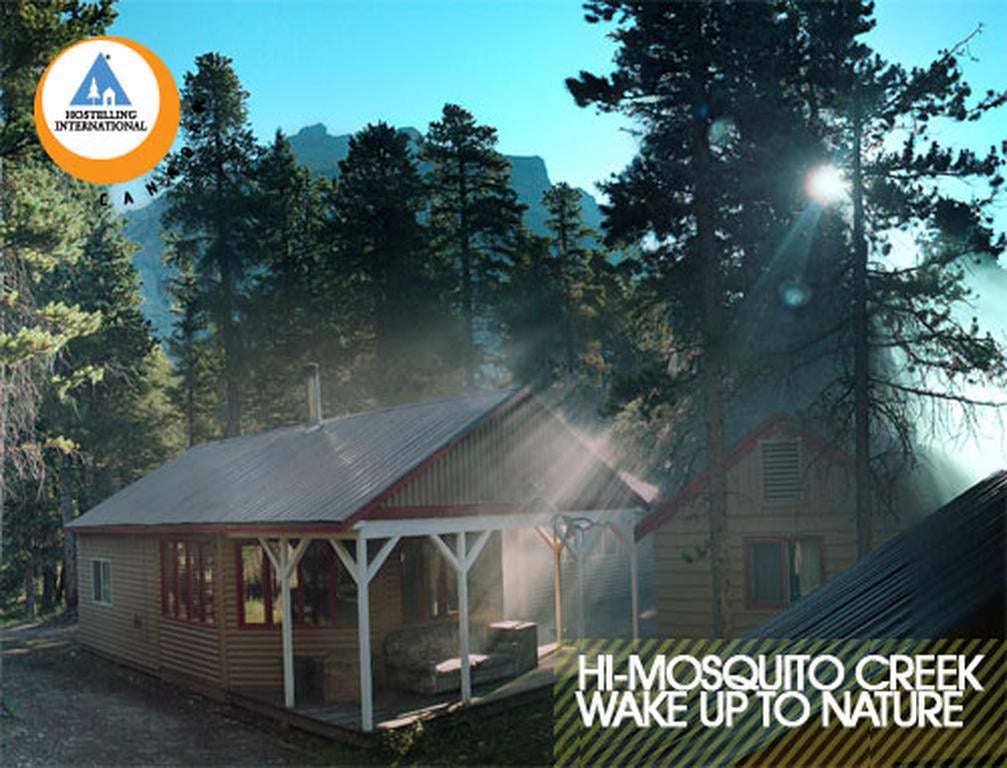 Very much a wilderness hostel (yeah – we're talkin' no showers; and only outhouse toilets, which means no flush) HI Mosquito Creek is the sorta place you come to if you want to enjoy a camping trip-type vibe, complete with sitting around a fire. It's pretty much right next to the creek but is a little difficult to find. Oh and if you thought you'd be Instagramming your pics from here, think again: there's no internet, so you'll have to save 'em all up for when you're at the next destination, just like the Kardashians do so people don't know where they are- errr, we mean, if you like roughing it in nature, this youth hostel in Banff is 10/10.
It's another Banff backpackers hostel smack bang in the middle of nature – and, funnily enough, another one that's also right next to a creek. This one's called Rampart Creek, though. No flushing toilets, no internet, no showers, no electricity even. Solar-powered lights guide you to three outhouse toilets that are surprisingly clean. It is, however, incredibly cheap and – especially if you WANT the whole cut-off-from-civilisation deal – a great shout for a budget hostel in Banff. The warden will even let you connect to his WiFi if you ask nicely – when it's on, that is. Whatever you have planned on your Banff itinerary, this is a good solid base.

Our GREATEST Travel Secrets…
Pop your email here & get the original Broke Backpacker Bible for FREE.
YWCA Banff Hotel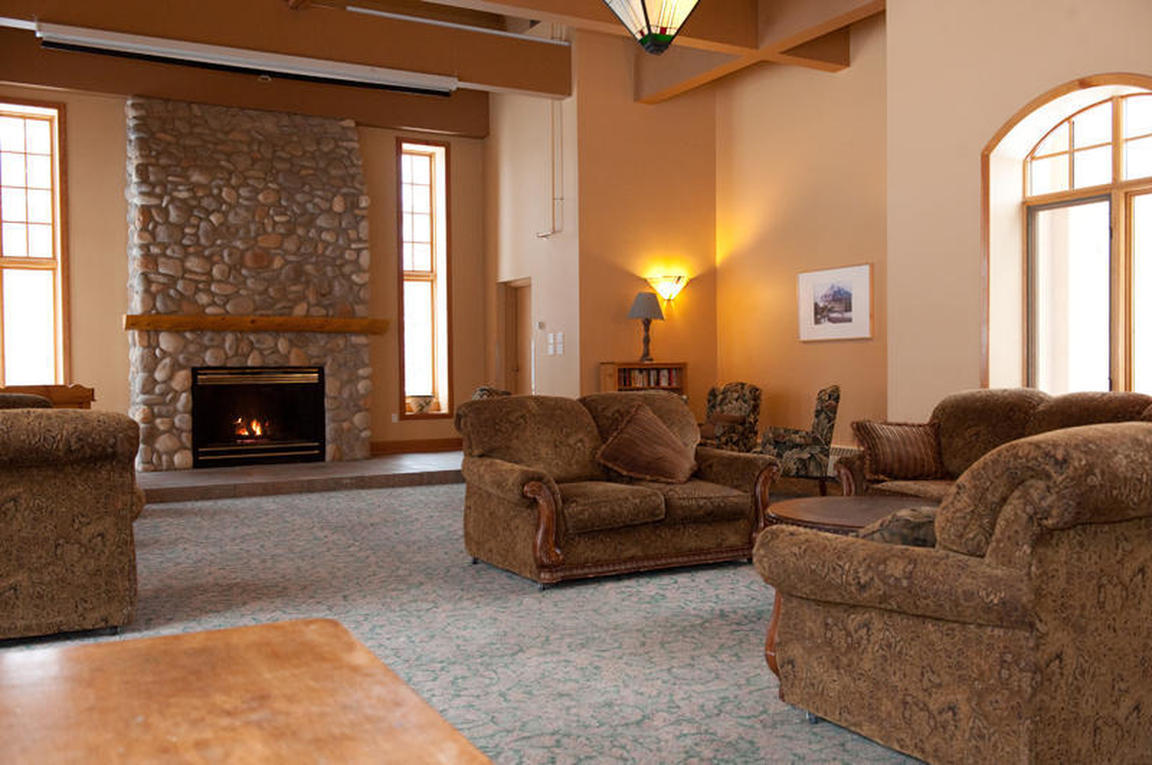 Tour/Travel Desk
24-Hour Reception
Located just across the river from Banff proper, YWCA Banff Hotel (definitely a hostel though – it's got dorms) is a nicely affordable top hostel in Banff – especially given its great location, tasteful decor, helpful staff and generally great facilities. One thing that might be annoying for some people is single-sex dorms only – too bad if you're in a couple. But they also have private rooms. Whilst this recommended hostel in Banff does have WiFi, we regret to inform you that it isn't the greatest… and the common rooms shut at 11pm. So no partying and no Twitter stories. It isn't to far to central Banff and all of the restaurants and things to do in town.
YWCA Banff Hotel is one of our favourites in Banff but they're not taking guests right now. We're not sure if they're closed for good but we hope they'll come back soon.
More good stuff…
Feeling like a hostel just isn't for you? Too much wilderness? (Yeah, us too…) Well, there are loads of hotels in the much-touristed town of Banff for you to choose from, so we've narrowed it down to just two contenders. Peep 'em below.
Historic Building
So Many Activities
If you have the money to burn or you really just fancy splashing out whilst on your trip to Banff, we truly implore you to stay at our pick for the best splurge hotel in Banff: the literally ridiculous Scottish Baronial-style edifice that is Fairmont Banff Springs Hotel. About as far from a budget hostel in Banff as you can get, this iconic luxury hotel dates back almost 150 years and features its own spas, ski shuttles, an onsite snow school, bowling, tennis, horseback riding, a large indoor pool and a smaller heated outdoor pool, a concierge service, a tasty restaurant, attentive staff… Pffft, if that's not enough, then just look at it – LOOK AT IT! Rest up here for a night or so and get back to enjoying the best hikes in Banff!
Best Budget Hotel in Banff – Homestead Inn Banff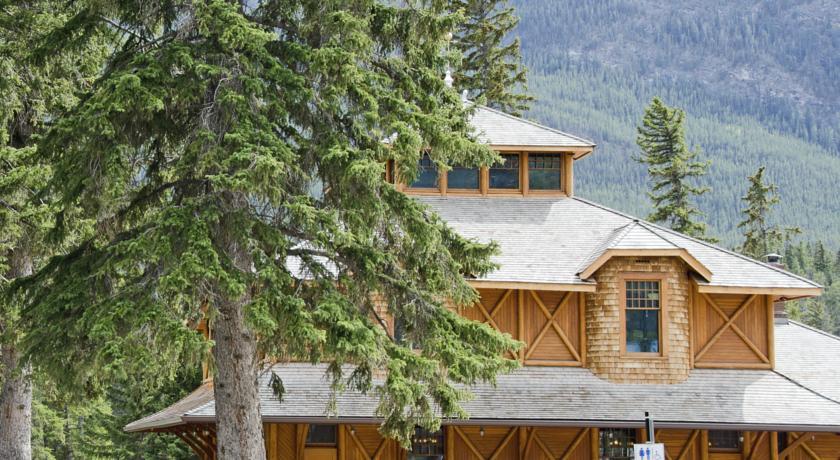 Free Tea & Coffee
Pool/Hot Tub/Sauna
Though it's supposed to be budget, it's not EXACTLY what a backpacker would call budget. However, compared to many hotels in the area, this one is a good bet for someone on a budget. Featuring decent facilities (again, for a backpacker) like an indoor pool, hot tub and a sauna, plus spacious comfortable rooms with TVs and mini-fridges, Inns of Banff is our choice for the best budget hotel in Banff. There are three onsite restaurants for your gastronomic exploration and the style of the place is boutique-lodge-ish. It's a good choice if hostels ain't your thing.
Homestead Inn Banff is one of our favourites in Banff but they're not taking guests right now. We're not sure if they're closed for good but we hope they'll come back soon.
FAQ's on the Best Hostels in Banff
Visiting Banff is not like any other travel destination. With so much nature around, as well as plenty of outdoor activities, your hostel has to meet your travel needs perfectly. We've listed the most frequently asked question about hostels in Banff and did our best to answer them!
Travel Safety Tips for Banff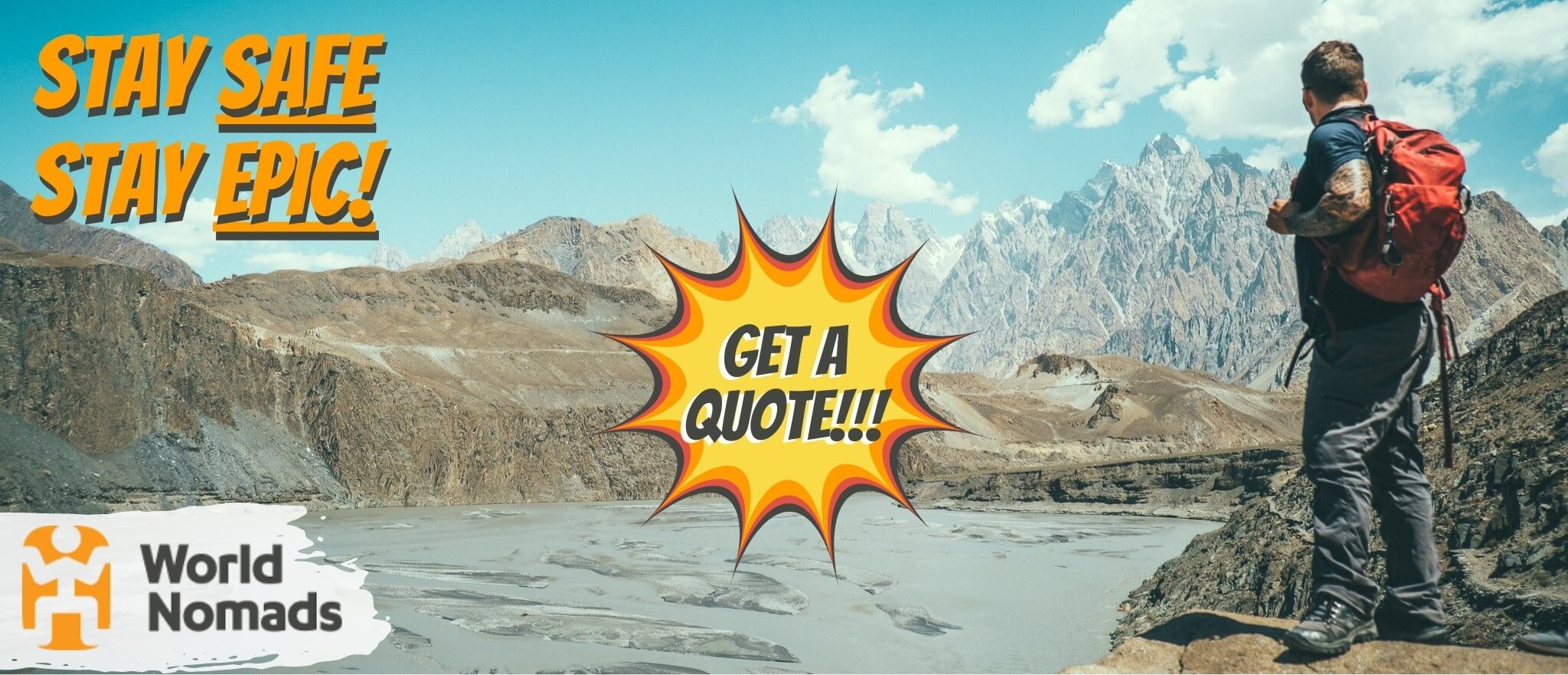 World Nomads' mission is to support and encourage travellers to explore their boundaries. They offer simple & flexible travel insurance, and safety advice to help you travel confidently.
They've been doing it since 2002 – protecting, connecting, and inspiring independent travellers just like you.
Get a quote below or read our in-depth review!
World Nomads provides travel insurance for travelers in over 100 countries. As an affiliate, we receive a fee when you get a quote from World Nomads using this link. We do not represent World Nomads. This is information only and not a recommendation to buy travel insurance.
More Epic Hostels in Canada and North America
Hopefully by now you've found the perfect hostel for your upcoming trip to Banff.
Planning an epic trip all across Canada or even North America itself?
Don't worry – we've got you covered!
For more cool hostel guides around North America, check out:
Final Thoughts on the Best Hostels in Banff
Well my friends, the time has come to say goodbye: we have reached the end of the line for my best hostels in Banff for 2021 list.
Banff is truly located in a special part of the world and my hope is that as many backpackers as possible get to experience it. Visiting Banff isn't super cheap, though you are now prepared to keep costs low with all of your newfound knowledge regarding backpacker accommodation. If you're traveling with friends and can split the costs, these awesome cabins and lodges in Banff are some of the best properties you'll find and allow a unique experience in nature.
The point in writing this guide was to illuminate all of the best hostels in Banff in a way that makes it easy for you to choose the perfect spot for yourself. If you are like me, you can agree that it is way more fun to plan an epic hike than it is to research hostels.
Good news! The hard work is now over and you are ready to book the right place for yourself, so you can focus more on the mountains and less on where to sleep in Banff.
All of the best hostels in Banff are now in your pocket. The choice of where to book is now in your hands…
In times of uncertainty I recommend that you just go with my top overall pick for the best hostel in Banff: Samesun Banff. Happy travels and even happier hiking!
If you think we've missed anything or have any further thoughts, hit us up in the comments!
---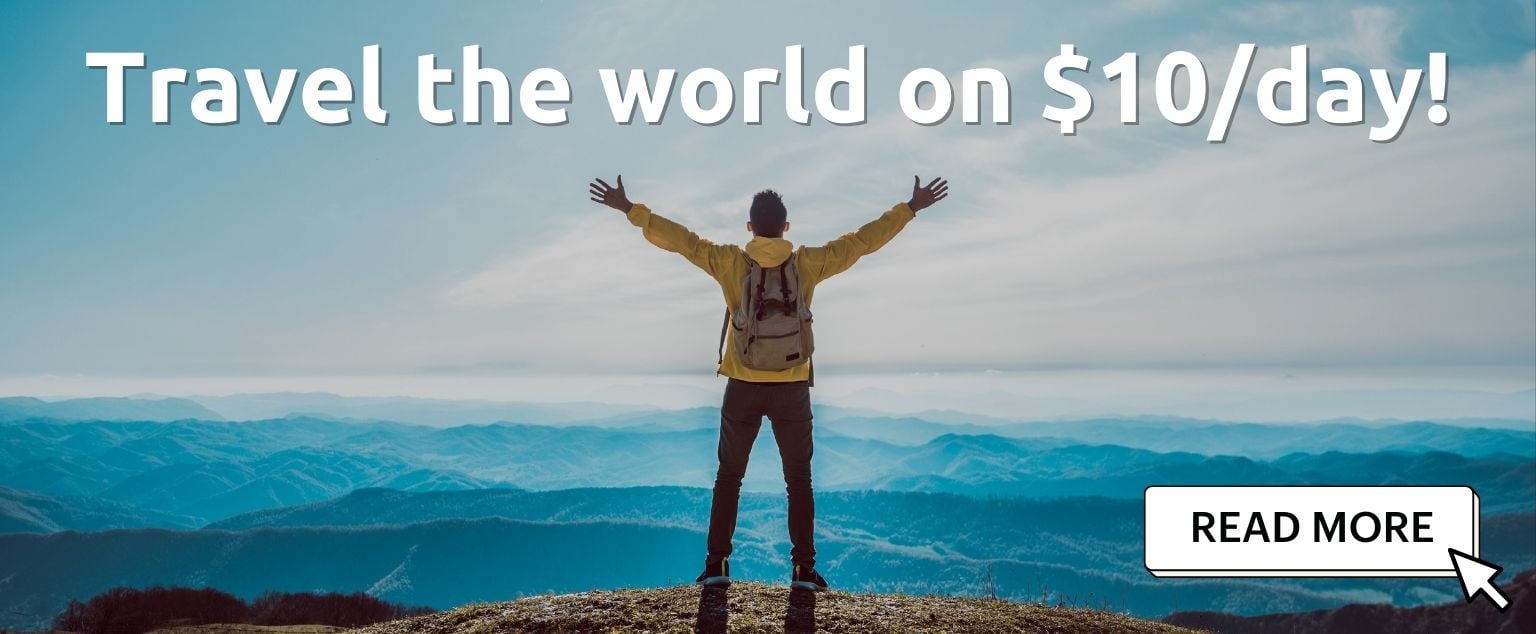 And for transparency's sake, please know that some of the links in our content are affiliate links. That means that if you book your accommodation, buy your gear, or sort your insurance through our link, we earn a small commission (at no extra cost to you). That said, we only link to the gear we trust and never recommend services we don't believe are up to scratch. Again, thank you!