As the capital of Belgium, Brussels is known for many things. It could be the European Parliament that first springs to mind.
Some people jump straight to chocolate, cheese, and beer (and deservingly so). Of course, the history is what makes all this possible – the city even houses a UNESCO World Heritage site. This combination of qualities is what makes it such a popular destination for tourists from all walks of life.
There's nothing quite like munching on some high-class Belgian chocolate while you check out architectural wonders that hold the weight of a very long history. And this is definitely something you should do when you travel to Brussels.
Brussels is a relatively small city, but that doesn't mean that it's always easy to navigate. When you travel to this city, you don't want to miss out on some of its best, quirkiest, and tastiest sites.
That's why we've created this list of the best places to visit in Brussels. It includes some standards and some places that only the locals know so that you get the best of all worlds during your trips.
As well as being the capital of Belgium, it's also (arguably) the capital of Europe – housing the European Union too. That means you can expect all your stereotypical European delights, packed into one city. You'll find incredible architecture, fantastic transport, an eclectic mix of cultures, and history coming out of its ears.
When you're planning your European dream tour, you can't miss some of these top attractions in Brussels. Let's jump right into the city center.
#1 – Grand Place – A great place to see in Brussels for architecture
Why it's so awesome: There are several important must-see buildings in this area to check out as you're visiting Belgium. At the top of the list of must-see places is this UNESCO world heritage site: the Grand Place. The Grand Place is right in the heart of Brussels, the Town Hall is one of the best-preserved areas in all of Europe. The architecture in this area is simply spectacular, mostly because of the Gildehuizen or guild houses, which have amazing stonework and gold decorations in the Baroque style with Flemish influences.
What to do there: You'll want to spend plenty of time looking at the buildings in this area, because they're both historical and stunningly beautiful. Afterwards, make sure you take some pictures of the famous Hotel de Ville or Town Hall, which was built in 1402. When you're tired of taking pictures, check out the cafes and restaurants in the area for a rest surrounded by incredible beauty.
#2 – The Royal Palace – the best place to visit in one day
Why it's so awesome: This is the most important building in Brussels and probably in Belgium as a whole because it's the official residence of the royal family. When they're home you'll see the flag flying high. It's an imposing building surrounded by lush green and looks great in photos.
What to do there: You probably won't be able to enter the building because the royal family is there, but it's still worth visiting. At 2.30 pm, the ceremonial Changing of the Guard occurs, so that's worth planning your day around. There are also several neoclassical buildings around the palace that you should explore including the Palais des Academies and the Palais des Beaux-Arts.
#3 – Manneken Pis – the best free thing to visit in Brussels
Why it's so awesome: The clue's in the name: this little guy is located along the Rue de l'Etuve – and has been traced back to 1388 – but little more is known about it. It's often referred to as the oldest citizen in Brussels and is an image of a little boy urinating. As far as Brussels attractions go, Manneken Pis is surely a unique sight. There are lots of legends about this statue so go ahead and make up your own too.
What to do there: Arrive early to beat the crowds and get that iconic photo of the little boy urinating (you choose how rude you want to be). If you're in Brussels during city celebrations, this statue is often dressed in costume, so make sure you have a look if you're there at the right time.
#4 – Belgian Comic Strip Centre – One of the more unique places to visit in Brussels!
Why it's so awesome: This building is dedicated to cartoons and comic strips that were first created in Belgium. You might not know it, but the Smurfs and Tintin were born in Belgium, and the display celebrates this history as well as other works by Belgian and French comic artists over the years. This is one of the more unusual things to do in Brussels, which is why we like it so much!
What to do there: The displays at this venue rotate constantly, so every time you go, you'll get to see something different. There are 200 original comic strip drawings included in the exhibition, and you'll also learn more about the rising popularity of comic books. So, make sure you check out the sketches, sets, and manuscripts that explore this history as well.
#5 – Coudenberg Palace Archaeological Site – A fascinating educational place to visit in Brussels
Why it's so awesome: It isn't often that you get to explore an active archaeological site, but this is your chance to do just that. Since its discovery in the 1980s, researchers have found numerous tunnels and forgotten streets around the former castle, all of them buried by time and forgotten until very recently. So, if you're interested in exploring a medieval palace with all its secrets, add this to your Brussels itinerary.
What to do there: Put aside a couple of hours to explore this site. The foundations of the palace have been cleared for tourists, and there are free audio guides available so you can more fully understand what you're looking at and why it's important. This is also one of the best hotspots in Brussels to take the kids, as the museum holds interactive programs to get them involved in the explorations.
#6 – Saint Michel Cathedral
Why it's so awesome: This gothic cathedral is dedicated to St. Michel and St. Gudula, the patron saint of Brussels. It was founded in 1225 but wasn't completed until the 15th century and is an amazing example of Gothic architecture. It's topped by 69-meter-high towers and is lavishly furnished inside.
What to do there: The outside of the building is stunning but it's the inside that will take your breath away. Make sure that you spend some time examining the stained-glass windows. The south transept depicts Charles V and Isabella of Portugal and the north transept shows Louis II and Mary. There's also a chapel inside known as the Chapel of the Holy Sacrament, and the stained glass in there depicts the Miracle of the Host, so make sure you see it.
#7 – The Atomium – One of the most incredible free places to go to in Brussels
Why it's so awesome: The Atomium is a surreal-looking construct created by architect Andre Waterkeyn for the 1958 Brussels World Exhibition. It's one of the most popular attractions in Brussels. This 102-meter-high aluminium and steel attraction is designed in the shape of a molecule of iron that's been magnified 165 times. So, if you're the type of person who's always wanted to know what iron really looks like, this is your chance!
What to do there: It's worth the tram journey to get to the location of this Brussels must-see, mostly because it's so odd-looking. Make sure you take the chance to explore the interior as well, where four of the nine spheres present a show about human life called Biogenium. It's one of the best free places to visit in Brussels. Take your picnic, or a beer, and enjoy this unique backdrop.
#8 – Mont des Arts
Why it's so awesome: The Mont des Arts was built between 1956 and 1958, so it's a modern building that somehow fits perfectly with the buildings around it. The site sits between the Royal Palace and the Place de l'Albertine and is a complex of modern buildings that hold the city's library, national archives, and meeting center.
What to do there: If you're looking for Brussels vacation ideas, this is a great place to start because it's close to most of the best tourist attractions in Brussels. The complex also offers amazing views of Brussels. From the elevated buildings, you can see all the way from the Grand Palace to the Atomium and everything in between. And at the other end of the building, you can see the Royal Square and the done of Saint-Jacques on the Coudenberg.
#9 – Notre-Dame du Sablon
Why it's so awesome: This church is considered to be one of the most beautiful Gothic churches in all of Belgium. The inside and outside of the building are equally amazing and look just as good in photos as well. The church also contains the burial chapel of the Thurn und Taxis family and a figure of the Virgin which is a copy of the figurine that was supposedly bought to the chapel by a woman the Virgin appeared to back in 1348.
What to do there: This is a truly stunning church and you'll be amazed at the architectural mastery and the artwork when you visit. The stained-glass images inside the church are particularly popular, so make sure you spend time examining the scenes they depict.
#10 – The Parlamentarium – One of the most important places to visit in Brussels
Why it's so awesome: The Parlamentarium is just outside of the city center and it has a visitor's center that will give you a deeper insight into the Brussels of the present by exploring Europe's past. The center has multimedia exhibits that explore what the World Wars were really like and how they influenced politics in Europe today.
What to do there: If you've ever wanted to learn about why the European Union was developed and how it influenced how Europe grew, this is the place to do it. So, take the tour at the center to learn more about the world you live in now and the people and events that shaped it. This is also a great place to take the kids if you want them to understand the larger stage of the world.
#11 – Cinquantenaire Park – most beautiful place to visit in Brussels
Why it's so awesome: When it's sunny in Brussels, all the locals head out to this park to enjoy the sunshine. In a busy modern city, it's important to get out in nature sometimes and this is the easiest and the fastest way to do that. There is also a great museum in the park called the Royal Museum of the Armed Forces and Military History if you're a war buff.
What to do there: This is the perfect place to have a picnic, hire a bike and do some cycling, or just enjoy the sights and sounds of nature right in the middle of the city. So, take a picnic and enjoy it on the grass, or just hang out near the fountain on the weekend in Brussels (Saturdays are always the best day for people-watching).
#12 – Mini Europe – a unique place to visit in Brussels
Why it's so awesome: This park opened in 1989 and features 350 monuments from all around Europe. To dive into European top sights, this is the place to start. It's the only place to see Mount Vesuvius, Big Ben, and the Leaning Tower of Pisa all in the same place. In fact, the theme park explores the most famous buildings from 80 cities in Europe and the attention to detail in each is simply astonishing.
What to do there: You have to admire the attention to tiny detail in this park. Each model is created using a silicone mould and resin or casts. They each took a long time to build, but some of them represent a level of dedication that most people just don't have. For example, the Cathedral of Santiago de Compostela took 24,000 hours to build. Also, make sure you spend some at the new interactive exhibition at the park for an introduction to EU history through multimedia games.
#13 – The Belgian Royal Museum of Fine Arts – A great place to visit in Brussels if you are traveling solo
Why it's so awesome: When you think of the best art in the world, you probably think of Paris and Italy. But when you travel to Brussels, you'll discover a collection that rivals those famous places. In 1797, the art collection which is now in the museum was created in the former palace of Charles Lorraine. The collection is divided into two parts, the first focusing on Ancient art and holding pieces by Flemish and Dutch Masters from the distant past. The second part of the collection consists of modern art and mostly holds 19th and 20th-century works.
What to do there: Set aside some time to explore both the ancient and modern parts of this museum. These collections absolutely must be on your Brussels itinerary. Check out the artwork by Flemish and Dutch Masters; Petrus Christus, Dirk Bouts, Hans Memling and Gerard David. And afterwards, spend some time exploring more modern pieces and see how art in Belgium has changed and evolved over the years.
#14 – Royal Greenhouses of Laeken – An unknown (but awesome!) place to see in Brussels!
Why it's so awesome: King Leopold II of Belgium created the Royal Greenhouses of Laeken between 1884 and 1886. They're part of a huge complex, with thirty pavilions that are all connected to the Winter Gardens. From the outside, the greenhouses are massive glass domes that shine in the sun. And on the inside is a collection of exotic and tropical plants that are incredibly pleasing to the eyes and to the nose.
What to do there: These greenhouses are only open for 2 weeks in late April and early May, so if you want to see them then you'll have to time your trip to coincide with the opening days. This is at the time when the flowers are blooming though, so it's a beautiful time to appreciate the display. If you do manage to enter the greenhouses, make sure that you check out the geraniums and azaleas, which light up the corridors and catch the sunlight perfectly. The Greenhouse of Congo is also worth seeing for its collection of African plants and the dark history of colonialization this greenhouse represents.
#15 – The Musical Instrument Museum – Quite the quirky place in Brussels!
Why it's so awesome: This museum is located in central Brussels and holds a collection of over 1,500 instruments. This includes both European and non-European instruments as well as a detailed exploration of how Brussels contributed to the making of recorders in the eighteenth and nineteenth centuries. The museum also explores the history of instrument inventor and Belgium native Adolphe Sax, who lived in the nineteenth century.
What to do there: The museum is open from Tuesday to Friday, so check out the opening hours before you just show up. Once you're there, check out the floors of different types of instruments including mechanical, traditional, and keyboard instruments. Also, make sure you listen to the instruments as well as look at them. The museum offers free headphones that allows you to listen to up to 200 musical pieces created by the instruments on display. There's also a sound lab where you can experiment with the instrument and see what sounds you can make.
#16 – Delirium Café – Cool place to see in Brussels with friends!
Why it's so awesome: This café claims to have the best beer in the world and they might just be right! Located in one of Brussels' cobblestone backstreets, the café has one of the biggest beer selections you'll ever see, which is why it's really popular amongst the locals! The bar itself is also quirky and welcoming, with neon signs and posts from years past.
What to do there: Grab a few friends and head to this café at the start of a great night out! Try some of the Belgian beers and see for yourself if they offer the best beer in the world. And if you have trouble choosing a beer from the textbook-sized menu, just ask the bartenders. They have a vast knowledge of beer and can steer you towards something delicious. The café also offers a range of cheeses and other snacks to soak up the alcohol.
#17 – Le Musée du Jouet (Toy Museum) – Awesome place to visit in Brussels with kids!
Why it's so awesome: This museum is housed in an old mansion and is 3 floors and 20 rooms of toys, most of them dating from the 1950s through to the 1980s. However, there are some older toys on display, some of them from the 1800s! Some of the toys were donated, others purchased, but all of them are there to be enjoyed and played with.
What to do there: There are a huge range of toys at this museum, including the incredibly rare and the everyday. And best of all is the fact that you can play with them. So, take the kids with you, or just leave your inhibitions behind, and follow in the steps of children from generations before. There's also a theater and old tram inside the museum, so you could spend hours at play!
#18 – Maison Dandoy – A must-see for foodies!
Why it's so awesome: You can't visit Brussels without eating Belgian waffles. They're available at a lot of places in the city, but Maison Dandoy has the tastiest range. This shop has been making baked goods since 1829, which is why they know how to make the best waffles in the city. There are a few locations, so find one near where you're staying in Brussels and indulge your sweet tooth! And everything is made fresh, which is what makes all the difference.
What to do there: You'll probably need to visit this shop a few times while you're visiting Brussels because no one can eat all the tasty varieties they have in a single sitting. Try the sweet Liege waffle as well as the fluffier Brussels waffles to see which one you enjoy the most. And you can have almost every sweet treat you can imagine on top of your waffles, including hot chocolate sauce, caramel and ice cream!
Get insured for your trip to Brussels!
I know what you're thinking… Do I really need travel insurance for Brussels?
Absolutely, yes. Don't forget to look after yourself first.
ALWAYS sort out your backpacker insurance before your trip. There's plenty to choose from in that department, but a good place to start is Safety Wing.
They offer month-to-month payments, no lock-in contracts, and require absolutely no itineraries: that's the exact kind of insurance long-term travellers and digital nomads need.
SafetyWing is cheap, easy, and admin-free: just sign up lickety-split so you can get back to it!
Click the button below to learn more about SafetyWing's setup or read our insider review for the full tasty scoop.
Find out what people want to know about the best places to visit in Brussels.
Brussels is brimming with history and should be on every traveller's itinerary when backpacking Europe. When you travel to Brussels, you want to experience all that this amazing and historic city has to offer. I mention that in homage to the importance of its incredible history before I mention the insane Belgian beer, waffles, and chocolate.
There are some MUST-SEE places to visit in Brussels: the Grand Place, the Royal Palace, and the town hall should be at the top of your list! But you should do that and combine your travel plan with the confidence to wander and find amazing sites, cafes, and eateries on your own. Hopefully, this list will spur on your imagination.
This is just a starting point to find the Brussels that you've always dreamed of experiencing. And that's the only way that you'll be able to discover your own list of the best places to visit in Brussels. That's where the real Belgian adventure begins.
---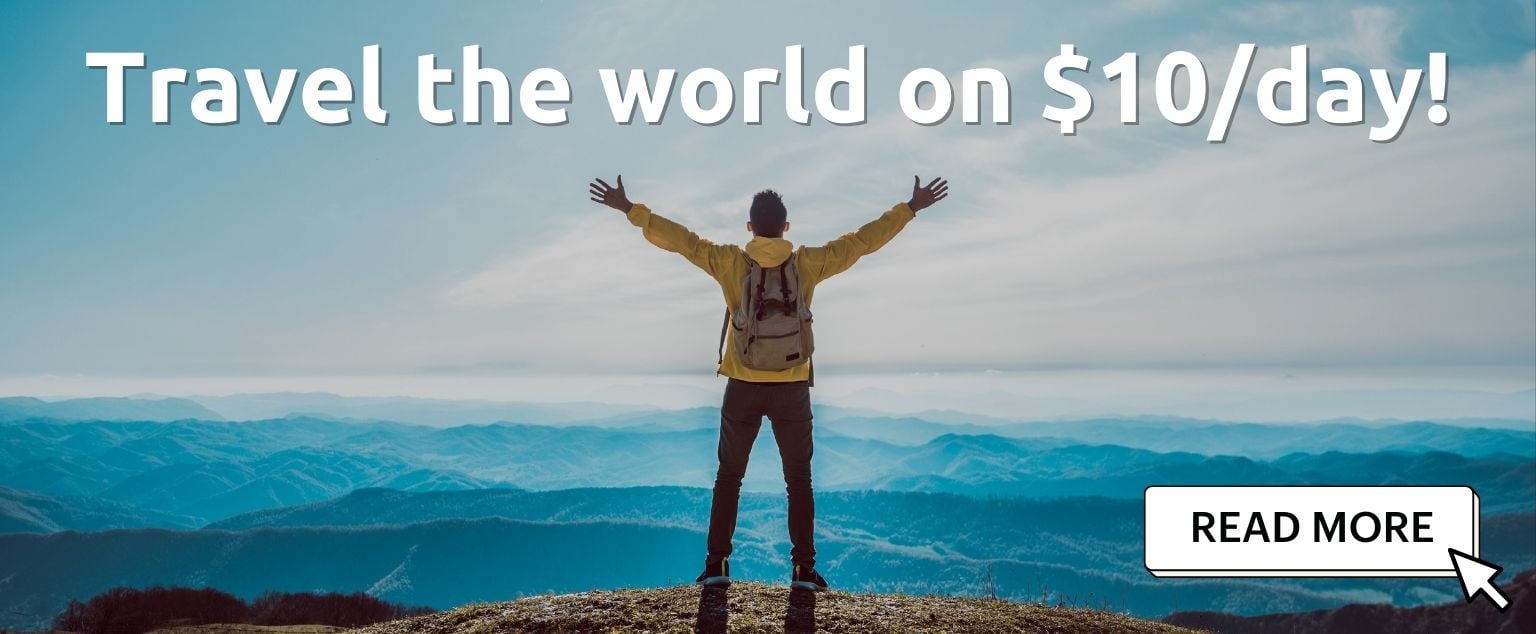 And for transparency's sake, please know that some of the links in our content are affiliate links. That means that if you book your accommodation, buy your gear, or sort your insurance through our link, we earn a small commission (at no extra cost to you). That said, we only link to the gear we trust and never recommend services we don't believe are up to scratch. Again, thank you!