Warsaw was almost destroyed at the end of World War Two, but it has fought back to become a centre for academics, science, and history. Although there are nods to the city's past all over, it's a progressive capital firmly anchored in the present with an eye on the future.
This dynamic and resilient city offers everything you could want from a city break. There are in-depth and fascinating museums, a mix of diverse architecture, a vibrant food and drink scene, and plenty of green spaces to relax and disconnect in.
In this post, we'll take a closer look at the best places to visit in Warsaw. Hopefully, our extensive list will help you to plan your trip to the Polish capital and have an incredible trip!
First, though, let's take a quick look at some of the best places to stay in Warsaw.
Need a place quick? Here's the best neighbourhood in Warsaw:
BEST AREA IN WARSAW
Old Town
Ironically only about 70 years old, Warsaw's Old Town is a UNESCO World Heritage Site and the perfect place to stay when you're visiting for the first time.
Places to visit:
Get a history lesson at the Royal Castle.
Try some culture at the Adam Mickiewicz Museum Of Literature.
Try some Polish dishes in one of the many street-side stores.
These are the BEST Places to Visit in Warsaw!
Warsaw has a variety of different neighbourhoods to choose from when it comes to accommodation. Before you scroll any further down this list, check out where to stay in Warsaw, get the full low-down on the best areas in the city and book yourself a great place to relax!

Unlock Our GREATEST Travel Secrets!
Sign up for our newsletter and get the best travel tips delivered right to your inbox.
#1 – Old Town (Stare Miasto) – A beautiful and scenic place to check out in Warsaw
A UNESCO World Heritage site in the centre of Warsaw
Wander narrow alleyways that open out onto wide squares and churches
One of the best places in Warsaw to learn about the city's past
Why it's awesome: When walking through the historic centre of Warsaw, you could be forgiven for thinking that these buildings date back to medieval times. However, as the city was razed to the ground during World War II, that's not quite the case. Almost 90% of Warsaw was destroyed, but it arose like a phoenix from the flames. Nowhere is more emblematic of that than the Old Town. Faithfully and painstakingly reconstructed in 1962, it's at the top of the list for what to do in Warsaw!
What to do there: Step back in time to get to know the city's past. Don't miss St. John's Arch cathedral, and the triangular Canon square on your jaunt around this cool UNESCO World Heritage site. For a view of the Old Town from above, don't miss the viewing platform at St Anne's Church. There are walking tours of the Old Town which will help you learn everything you need to know about it. However, if that sounds like too much hard work, a more fun option is a Segway tour. It'll be more expensive, but it'll definitely be a memorable way to explore Warsaw!
#2 – Warsaw Royal Castle – One of the coolest historical sites in Warsaw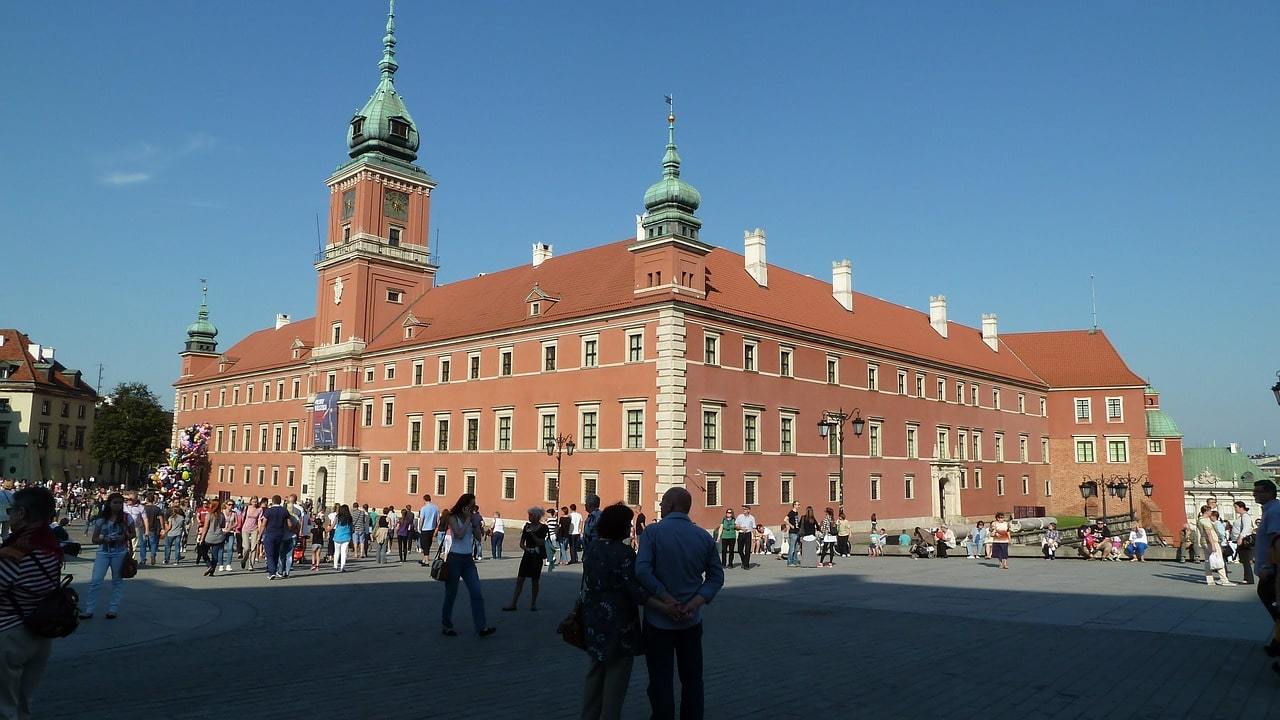 The residence of Polish royalty between the 16th and 18th centuries
One of the most important landmarks in Warsaw
The Royal Route begins here
Why it's awesome: Like the majority of the Old Town, Warsaw's Royal Castle was destroyed during the Second World War II. Due to the Communist Regime, this wasn't rebuilt with the rest of the Old Town though – it had to wait until the 1980s. Since then it has been a museum which houses portraits of Polish Royalty. After all, it was their residence for a couple of hundred years! Castle Square is a great place to get some pictures of the castle and take in some sun. It's also the beginning of the Royal Route!
What to do there: It's definitely worth spending a couple of hours in the castle, to find out more about this Warsaw must-see. After you've finished, it might be an idea to make a start on the Royal Route. This runs 15km from Castle Square to the south, where you'll find Wilanów Palace. On the way, you'll be able to stop off at some of the best places to visit in Warsaw, including ?azienki Park and a number of palaces, churches, and academic institutions!
#3 – Warsaw Uprising Museum – Possibly one of the most important places to visit in Warsaw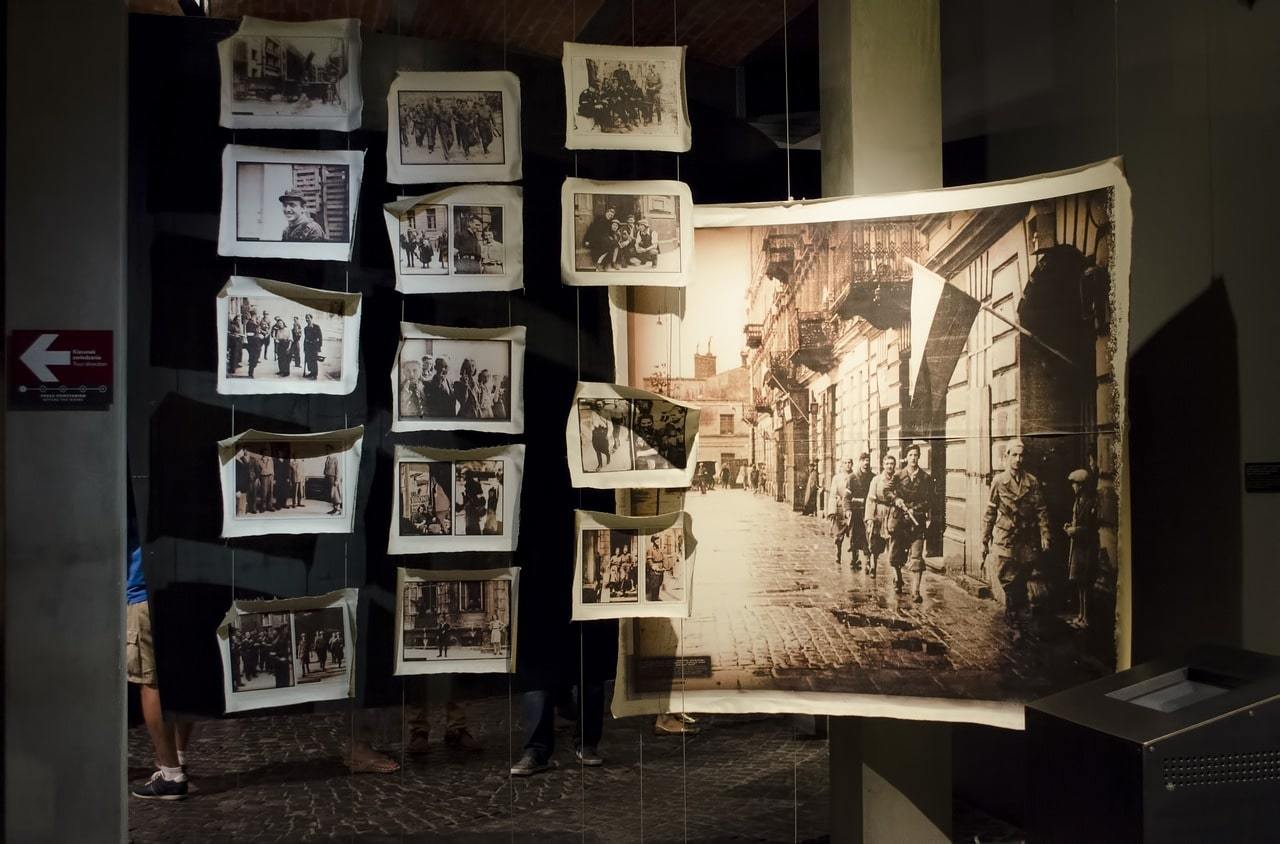 Use pre-war telephones to listen to memories of those involved in the Uprising
Watch footage of the Uprising in the museum's cinema
An extremely important event in the ending of World War II
Why it's awesome: One of the most important historical points of interest in Warsaw, this fascinating museum documents the 1944 Warsaw Uprising, a key event in the closing stages of World War II. Rather than being just lots of exhibits with texts, there's a range of multimedia used to make the story of the Uprising come alive. It's actually modelled on the Holocaust Memorial Museum in Washington DC.
What to do there: If you want to learn more about the Warsaw Uprising, there's no better place to do it than here. Read newspapers printed at the time of the event or even check out the bunkers where people hid. There are also opportunities to listen to actual messages recorded by insurgents on old telephone receivers or watch footage from the event at the Kino Palladium cinema installation. Just make sure that you don't plan to travel to Warsaw's Uprising Museum on a Tuesday. It's closed!
#4 – Palace of Culture and Science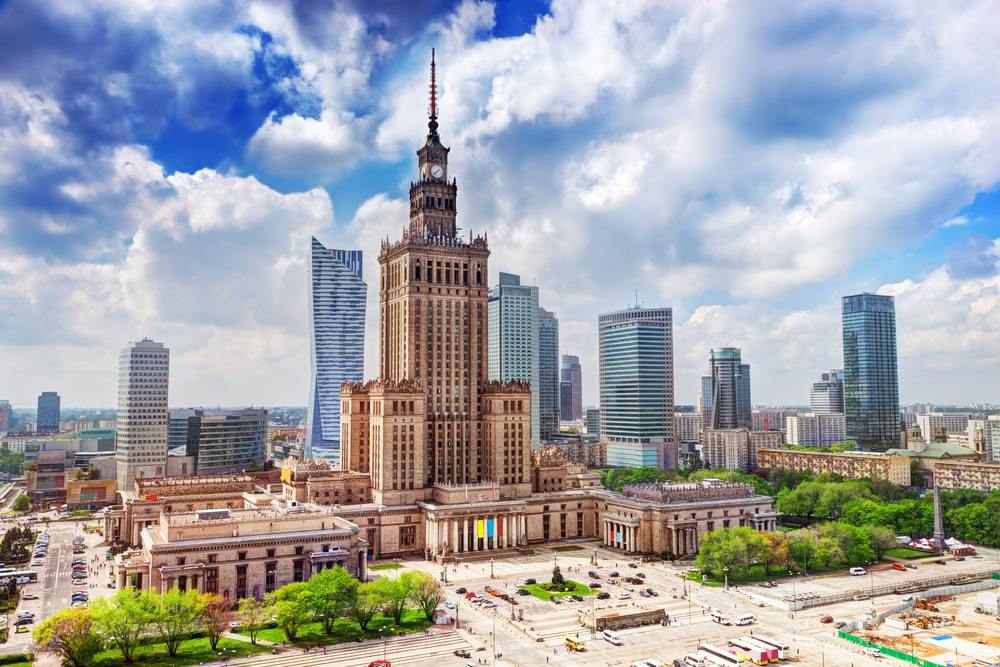 The tallest building in Poland
One of the most recognisable landmarks in Warsaw
One of the best places in Warsaw to get panoramic photos
Why it's awesome: This striking building splits opinion in the way only Marmite can, and you can see it from pretty much anywhere in Warsaw. At 237 metres, it's the tallest building in Poland and across its 42 floors, you'll find four theatres, two museums, and a multi-screen cinema. And those are just the parts you can actually go in! There are also government offices and private companies based in the building. There's enough space, trust us! A lot of Poles dislike this building. Not for how it looks, but because it was a 'gift' from the Soviet Union in 1955.
What to do there: Whatever your feeling on Stalinist architecture, you can't deny that this building is imposing and striking. There are plenty of cultural activities that we've mentioned above, and going to the theatre, museum, or cinema is definitely an option while you're here. However, there's one Warsaw must do in this enormous building. And that's heading to the observation deck. You'll be able to get jaw-dropping views and photos from the 30th floor!
#5 – Lazienki Park – A beautiful outdoor place to visit in Warsaw
The largest park in Warsaw and a key part of the Royal Route
Loved by local families and tourists alike
Don't miss the beautiful palace on an artificial island in the middle of a lake
Why it's awesome: Ask any Warsaw local where they'd go on a sunny day in the city and the chances are their response will be Lazienki Park. So, you may as well follow their advice! This leafy park is the largest one in the Polish capital and covers over 76 hectares. The paths which criss-cross the park lead to museums, palaces, pavilions, and even a planetarium among many other cool places. This is one of the best places in Warsaw to relax and enjoy an entire day in nature. Without leaving the city!
What to do there: Strolling through this ideal park is what to do in Warsaw whether you're travelling solo, with friends, or on a romantic break. Check out one of the four museums in the park, or head to the Lazienki Palace. The classical Palace sits on an artificial island in the middle of a lake, but you can enter to see the lavishly decorated rooms and galleries. In summer, there are often concerts in the park. Just look for the Frederic Chopin statue!
#6 – Tomb of the Unknown Soldier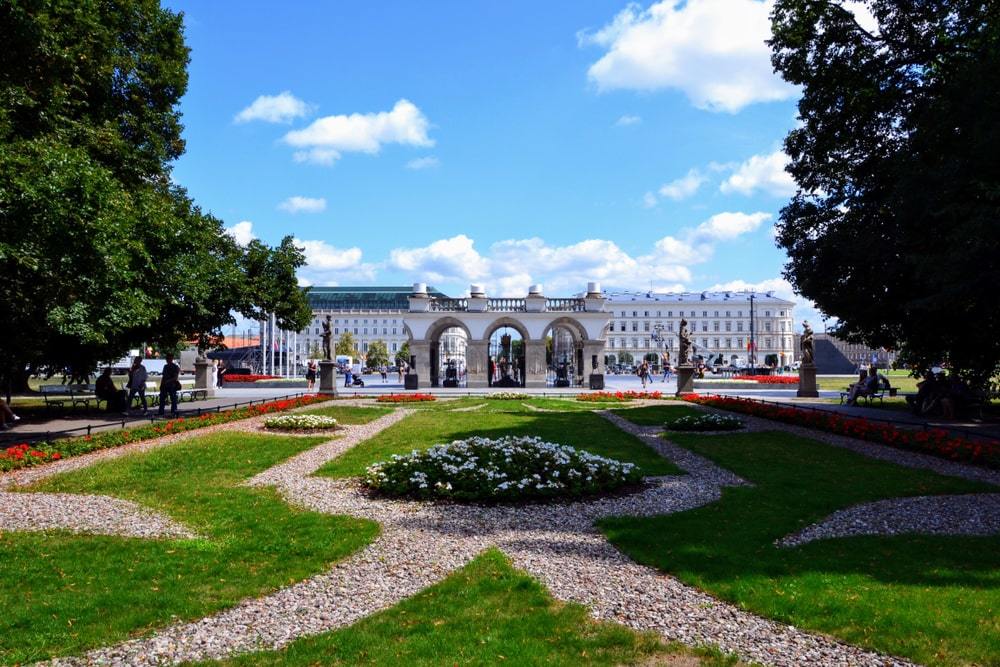 A monument to the unidentified soldiers who have passed away in battle
Watch the changing of the guard on the hour every hour
See the eternal flame – it's one of the most poignant landmarks in Warsaw
Why it's awesome: The Saxon Palace was destroyed in the Warsaw Uprising of 1944, but part of it still survives here. Yes, that's where the 3 arches of the Tomb of the Unknown Soldier are from. This isn't a monument to just one soldier, but rather all those who have died fighting for Poland. You can find this small and moving monument in Pi?sudski Square. This is a Warsaw must-see if you're interested in military history, or you want to spend some time in a quiet and peaceful spot.
What to do there: Try and be at the memorial on the hour. It doesn't matter which hour, as the guard is changed 365 days a year on the hour every hour. No exceptions – not even on Christmas Day! A great time to visit this memorial is on the 15th of August. This square, and the monument, in particular, are the centrepiece of the remembrance ceremonies for Polish Armed Forces Day. The Eternal Flame burning under the arches is a poignant memorial to those who have passed away fighting for their country.
#7 – Copernicus Science Centre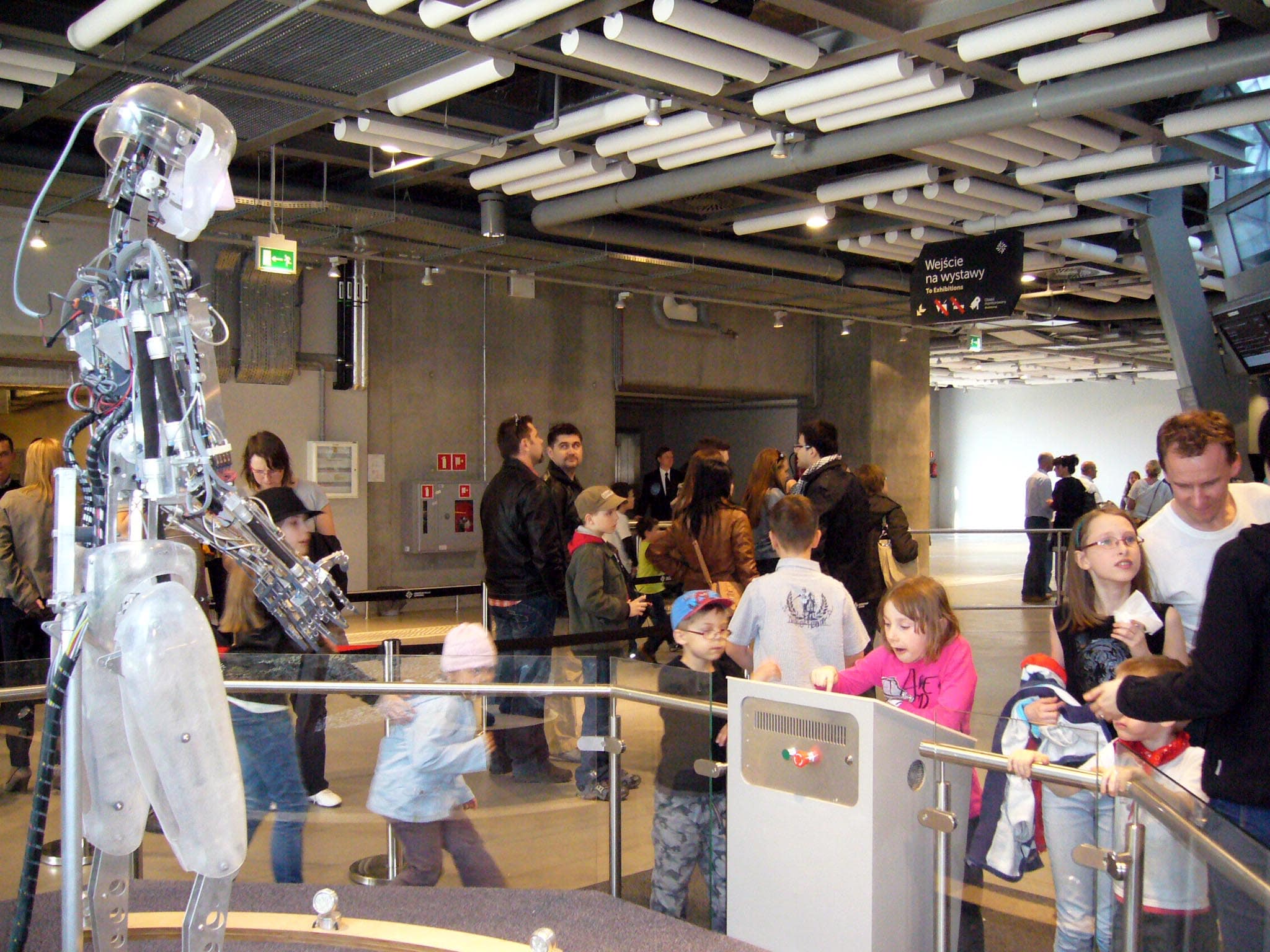 More than 400 interactive exhibits across 6 zones
One of the newest and most modern attractions in Warsaw
Experience the tremors of the museum's earthquake simulator!
Why it's awesome: Even if you're not interested in science in the slightest, Copernicus Science Centre should definitely make it onto your Warsaw itinerary. This might just be not only one of the best learning hotspots in Warsaw but the whole of Europe! Opened in 2010, there are more than 400 interactive exhibits at this museum. They're spread across six zones, so whether you're interested in animals, humans and the environment, even natural disaster, you'll surely find something to pique your interest here.
What to do there: For adrenaline seekers, this museum proves you don't have to go bungee jumping or sky diving. No, here you can enjoy (maybe that's not the right word) the feeling of being caught up in an earthquake! If biology is more your thing, check out the installation of a human skeleton riding a bicycle. It's quite cool seeing how all those bones and joints work! And, if something more relaxing is right up your street, settle back into one of the comfy chairs in the planetarium. Not only are there shows about the universe, but humans and nature too, all accompanied by a fantastic surround sound system. This is a must-visit when you explore Warsaw!
#8 – POLIN – Museum of the History of Polish Jews – A fascinating educational place to visit in Warsaw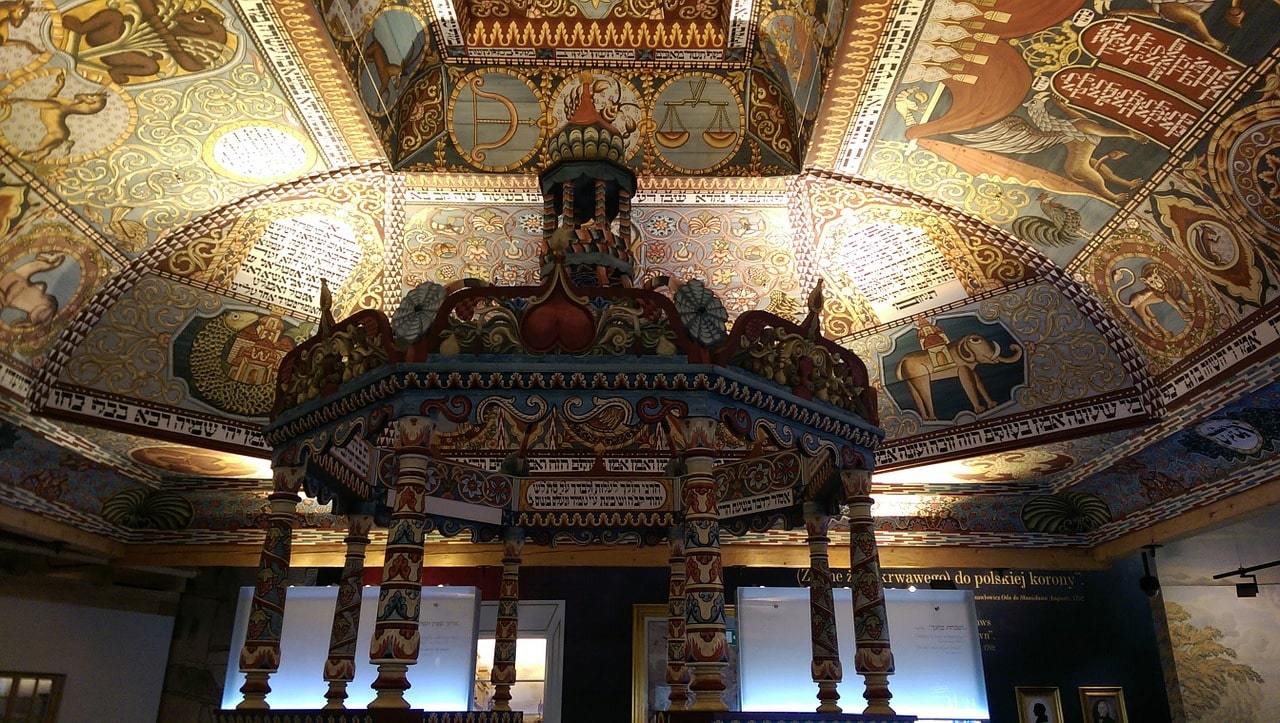 Learn about the 1,000-year history of Jews in Poland
Located in the heart of the former ghetto in Muranów
One of the best places in Warsaw to feel moved and educated at the same time
Why it's awesome: POLIN opened in 2014 after being in the making for seven years, making it even newer than the Copernicus Science Centre. Poland has long been home to Europe's largest Jewish community, and this museum commemorates the highs and lows of this history across eight galleries. Obviously, it's unavoidable visiting this museum without taking the Holocaust into account. Although it was undeniably a terrible event, there are stories about heroes and people saved from such a dreadful fate in the Warsaw ghetto.
What to do there: There are plenty of interesting exhibits to view at POLIN. Although we've mentioned the sobering and chilling Holocaust display, there are some genuinely uplifting and enjoyable parts to the museum too. There's a prayer book that dates all the way back to 1272, a fascinating and intriguing artefact. There's also an entire exhibit dedicated to the 16th and 17th centuries – known as the golden age of religious tolerance! Whatever you take from the POLIN museum, it's an unmissable point of interest in Warsaw. A guided tour is a great way to see it if you're unsure where to start
#9 – Chopin Museum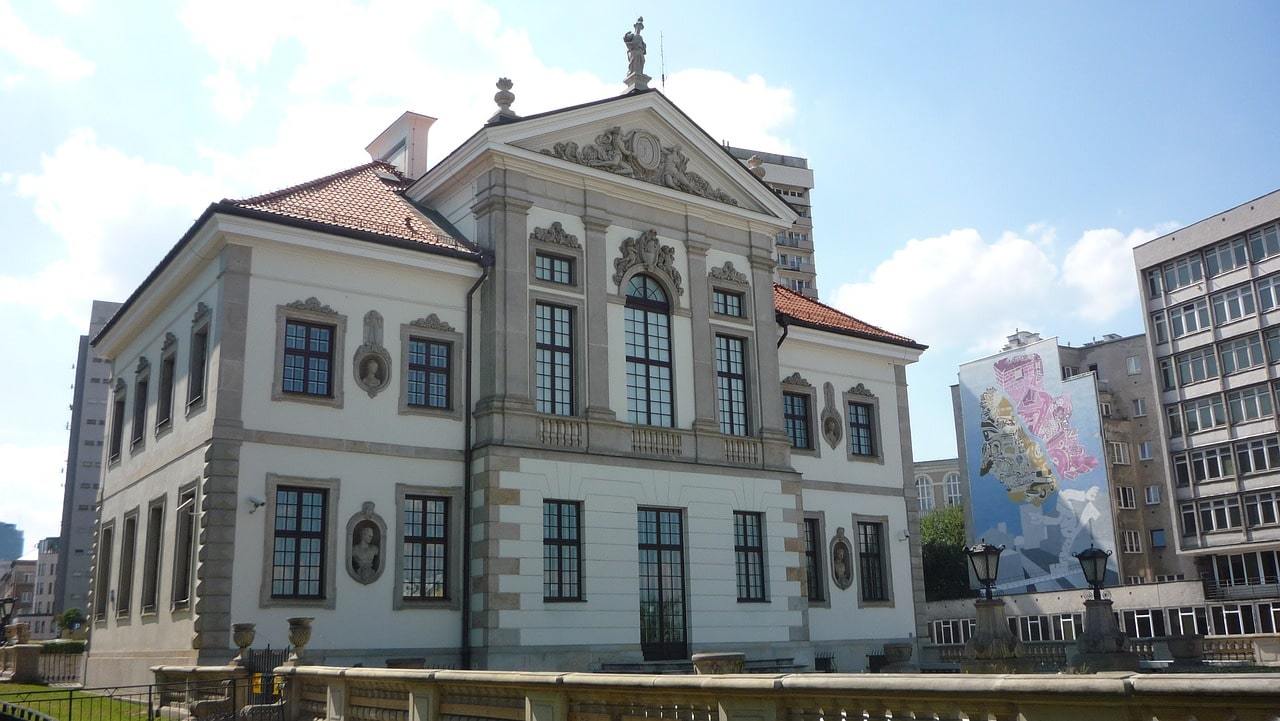 Learn about one of Warsaw (and Poland's) most famous historic figures
Find curious exhibits dedicated to Chopin all across the city
Great Warsaw vacation ideas for music lovers
Why it's awesome: The museum refers to Chopin as a 19th-century answer to Sir Elton John. While we're not sure we'd describe him in that way, learning more about one of the city's most famous historical figures is a Warsaw must do. The museum of Chopin's life is housed in a 17th-century palace but it's packed with cool interactive exhibits that will keep even the surliest teenagers intrigued. You'll learn more about the composer's life. For example, did you know that he actually came from a farm estate in the east of the city, before going on to becoming respected and revered in Paris?!
What to do there: The museum is a great place to learn about the life of Frederic Chopin. However, it's not the only place that you'll feel his presence. While you're visiting Warsaw, keep an eye out for the Chopin benches too. These special benches are dotted around the city and play the great composer's music as you sit on them! There's also a monument to Chopin in ?azienki Park that becomes a concert venue in the summer, while churches often host evening performances of the composer's music. Warsaw is a great place to be if you love classical music!
Is This the Best Daypack EVER???
#10 – Keret House – An unknown (but awesome) place to see in Warsaw!
The narrowest house in the world
One of the more unusual things to do in Warsaw
Open to all who visit Warsaw
Why it's awesome: There are some pretty cool museums and royal attractions in Warsaw, but sometimes you just want something a bit quirky and unusual. Okay then, let us present to you the Keret House! It may be over 30 foot tall, but at its widest, it's not more than 4 feet wide. In fact, at its narrowest point, it's just over 2! The house is too narrow to be classed as a house as it doesn't mean minimum requirements, so instead, it's an art exhibition.
What to do there: Although people have lived in this house in the past, it's not a private residence anymore. Nowadays, it's open to visitors, although you might bump into each other on the ladders that connect the floors! If you're a travel writer, you're able to book a night's stay in the house. This could be a great opportunity to have an authentic, off the beaten track experience. It's certainly one of the most unusual things to do in Warsaw!
Get insured for your trip to Warsaw!
ALWAYS sort out your backpacker insurance before your trip. There's plenty to choose from in that department, but a good place to start is Safety Wing.
They offer month-to-month payments, no lock-in contracts, and require absolutely no itineraries: that's the exact kind of insurance long-term travellers and digital nomads need.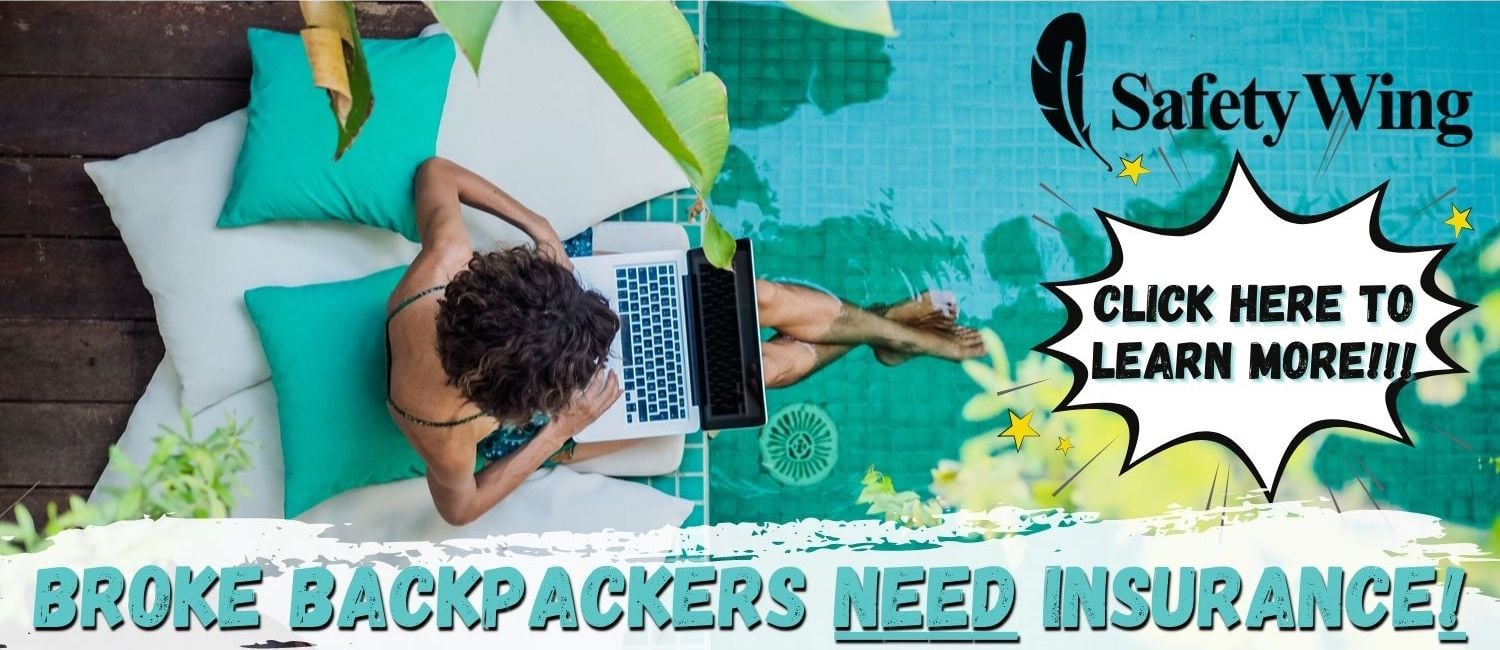 SafetyWing is cheap, easy, and admin-free: just sign up lickety-split so you can get back to it!
Click the button below to learn more about SafetyWing's setup or read our insider review for the full tasty scoop.
FAQ on the Best Places to Visit in Warsaw
Find out what people want to know about the best places to visit in Warsaw
Final Thoughts
So, that's all from us on our list of the best places to visit in Warsaw. Hopefully, you'll see from our extensive list that this is a dynamic and diverse city with plenty to do! And, you'll have an idea of the best places to stay in Warsaw too.
Whatever you want from a city break, you'll find it when you travel to Warsaw. The museums and galleries are some of the best in Poland, showing the history of this fascinating country. The restaurants offer a mix of international food and local delicacies, and the nightlife scene can compete with any European capital!
Hopefully, our list of the best places to visit in Warsaw will have not only showed you the city's best attractions but also given you a bit of an idea of how the locals live. With everything in mind from our list, all that's left is for us to wish you an amazing vacation when you're visiting Warsaw!
---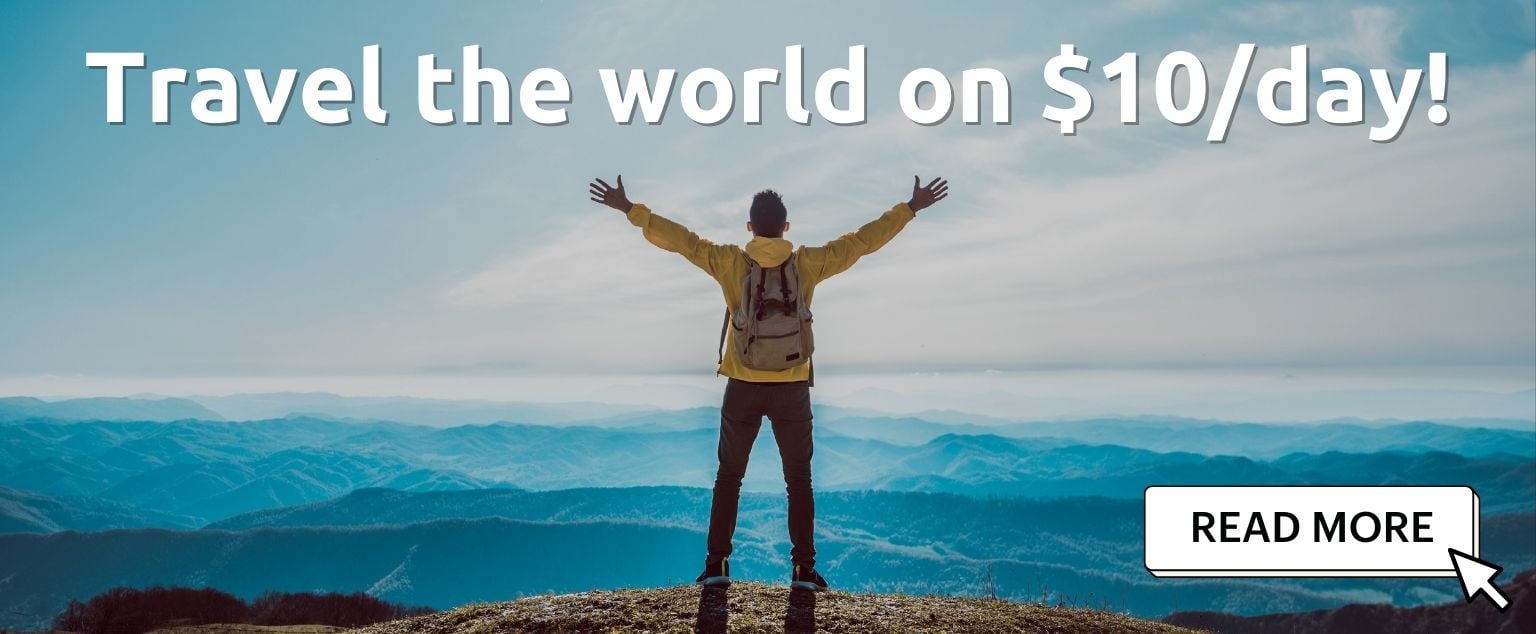 And for transparency's sake, please know that some of the links in our content are affiliate links. That means that if you book your accommodation, buy your gear, or sort your insurance through our link, we earn a small commission (at no extra cost to you). That said, we only link to the gear we trust and never recommend services we don't believe are up to scratch. Again, thank you!