Cape Town is an incredible city – there's nothing you can't find here! The hub of Southern Africa, the city combines high-tech urban experiences with an impressive amount of nature.
Whether you're an adrenaline junkie, a nature-lover, a shopaholic or a history buff, Cape Town will leave you in awe. Most importantly, it has Table Mountain! One of the seven natural wonders of the world, the mountain can be seen from almost anywhere in the city.
So, if you're looking for the best experiences of the countryside and the city, with everything in-between, check out our Cape Town Itinerary! We've chatted to locals and tourists in the city to put together all the very best of South Africa's favorite city.
Wondering when to visit Cape Town? It's a great city to visit all year round. The rainy season is in winter (May-August), while it's summers are warm and dry. Thanks to its coastal location, it seldom gets too hot or too cold, and most Cape Town attractions and activities can be done comfortably all year round.
Summer is our favorite season in Cape Town. It's long (October – March), the sky is blue, and sun-bathing on white-sand beaches is divine. You can swim in the ocean even though the waters are always chilly. In Llandudno and Clifton, you'll find some of the most expensive property in the world (it's all for those views).
So, if you're planning a trip to Cape Town, you can book it for any time of the year! Summer is the city's busy time, but it never gets as full as many other popular destinations, and prices don't change much over the seasons.
Cape Town is a sprawling city with interesting things to do in many of the different neighborhoods. What interests you most about the city will influence where you choose to stay. We've chosen itinerary stops that work well together and are easy to find!
One of the best neighborhoods in the city for the culture and price is Observatory. About 20-minutes from the city center, this suburb is a great place to set off on a Cape Town walking tour to see the sights and the gorgeous street art. The neighborhood has a community culture all of its own.
The main street is dotted with quaint restaurants, cafés, second-hand stores, and hostels and it's an awesome place to base yourself if you're planning a backpacking trip to Cape Town. You can find jazz bars open every night, and there's even an old record store. It's a great place to be, day or night, and you'll struggle not to spend the whole weekend in Cape Town right here.
An affluent Cape Town neighborhood, and certainly the most centrally located, is the City Bowl. This is close to everything and can be a really interesting place to set out. It can get pricey, but if you have the money to spend, it's the perfect option. Many consider it the best place to stay in Cape Town!
From hostels, to luxury hotels or charming guesthouses in Cape Town – there's something for everyone!
Located at the foot of Table Mountain, Ashanti Lodge and Travel Centre is a fantastic budget hostel. They have excellent security and a fun, friendly atmosphere perfect for backpackers. The dorm rooms are really well-priced, clean and comfortable. There's a pool, bar, pool table, and fully-equipped communal kitchen! Everything you'll need for your stay in Cape Town is provided. If you prefer to stay in hostels, this is our insiders guide to twenty incredible hostels in Cape Town.
This gorgeous apartment in the heart of Cape Town is ideal for four guests. There are two bedrooms, a bathroom, and a large open-plan living room, dining area, and a kitchen. The modern kitchen has everything you need to cook up a feast and there's a handy washing machine too. Guests can relax in the small shared garden.
Situated near the Sea Point beach, Ashby is a wonderful place to stay. It has beautiful architecture and comfortable, stylish rooms. A lovely breakfast is provided, and the rooms have coffee makers. The staff are very friendly, helpful, and can show you how to get to your Cape Town itinerary destinations!
This gorgeous luxury hotel has incredible views of Table Mountain and the waterfront! It is- in every way- a perfect experience. It has a spa, pool, gym, and a complimentary shuttle service. The in-house restaurant offers locally-inspired and sourced gourmet meals, and the service is impeccable. It's no wonder this hotel has five-stars.
If you want even more options and inspirations, check out our guide for where to stay in Cape Town.
Cape Town is relatively easy to get around. It doesn't have the public transport system of other popular countries yet, but there are still good options for getting around.
You cannot wak everywhere in the city, because of the way it sprawls across the coast. You can, however, walk between some of the stops, and catch public transport between the others.
You can take the train during the day, but it gets a bit dodgy before 8 am and after 5 pm, particularly when it's empty. It goes across most of the city, and we've found it to be a safe and easy way to get around.
You can take the Myciti bus to most areas of the city. This is completely safe and quite efficient. It is not set up and running in the Southern Suburbs and some other parts of Cape Town, so you can't get everywhere.
If you're up for something a little different, try out minibusses! This is Cape Town's version of a taxi, and it's one of the best ways to authentically experience Cape Town These minibusses are scanty, very cheap, quite an experience, and they go everywhere. The caller will lean out the open door while in motion, shouting the destination, and fill it up until every tiny bit of space is taken- definitely above carrying capacity.
Finally, you may want to rent a car when you're touring Cape Town. They're reasonably priced, you won't have to worry about public transport issues (like the occasional strike or delay), and you'll be able to reach the further parts of the city easily.
Table Mountain | Bo Kaap | Chapmans Peak Drive | Kalk Bay | Long and Kloof Street
On day one of your three day Cape Town itinerary, you'll explore the most incredible natural and cultural attractions in the city! It will be a full day, so pack walking shoes, sunscreen, and get pumped. This day will create some of the most aesthetic photos and fantastic memories of your life.
Day 1/Stop 1 – Table Mountain
Why it's awesome: It's an iconic Cape Town landmark, with incredible views over the city
Cost: Return tickets cost $7 – $33 depending on age. Hiking is free
Food Recommendation: Find something yummy at the Table Mountain Aerial Cableway Cafe
Even with only one day in Cape Town, we would have to put Table Mountain at the top of the list! There are two ways to experience the iconic mountain – hike up, or catch a cable car.
The two are very different experiences, both great in a different way! Either way, it's a great way to start the day, and early in the morning there won't be too many people.
You have to be relatively fit to hike up the mountain. It's steep, and takes a few hours to reach the top! There are multiple hiking paths, including the intimidating Skeleton Gorge, and the more popular Platteklip Gorge.
Insider Tip: If you're hiking, pack some snacks and enough water. If you need a trusty water bottle, these are nine of the best water bottles out there. You'll appreciate it when you get to the top and it's time to chill by the lake! Also, definitely bring a camera.
Take it easy and stop often to appreciate the lush, unique plant-life while you catch a breath. Table Mountain's Cape Fynbos biome is one of the most bio-diverse spaces on the planet, and includes plants that grow only on this mountain!
You can take a cable car up to the top of the mountain and stroll around the top along paths that extend across its expanse. Most only walk around the first part, but if you go further, you'll find multiple lakes on top of the mountain, as well as curious beach sand and some of those unique plants!
The cable car is a great option for families, physically challenged individuals, and those who are only spending a weekend in Cape Town and don't have enough time to hike the mountain.
Day 1/Stop 2 – Visit Bo Kaap
Why it's awesome: Bright, colorful houses line the cobblestone streets
Cost: Free
Food Recommendation: Try local favorites at Bo-Kaap Kombuis
One of the best things to do in Cape Town is visit Bo Kaap. It's one of the most culturally distinct places in the city! Once known as the Malay Quarter, it remains a historical center of the influential Cape Malay culture in Cape Town.
It's a highly popular tourist stop because of the brightly colored houses and quaint cobblestone streets. You won't find anywhere else in the city. You can take a guided walking tour of Bo Kaap, or you can visit it yourself!
It's located very close to Table Mountain, so it's the ideal next stop! Pop into Atlas Trading – a spice store so great it's included in most of Bo Kaap walking tours. Despite its popularity, prices are low, and you can find Malay spices and other spices that are difficult to locate.
You'll also find street vendors selling local specialties like samosas and koeksisters. Try them! You're supporting the locals, and they're so good.
Insider Tip: Cape Malay cuisine is totally unique to the Western Cape of South Africa. So, if you want to try something unique delicious, definitely check out the suggested restaurant, Bo Kaap Kombuis. (Kombuis is the Afrikaans word for kitchen).
Day 1/Stop 3 – Chapmans Peak Drive
Why it's awesome: Incredible views and a thrilling, winding road
Cost: $3
Food Recommendation: Get lunch with a view at Chappies
Rent a car for a few hours and drive along Chapmans Peak, one of the best places to visit in Cape Town. The views all along the coastal route are so spectacular that you definitely shouldn't miss it!
On your way, you'll see the Twelve Apostles – a mountain range that guards the coast. You'll also pass through Camps Bay, Clifton, and Hout Bay. These neighborhoods all have gorgeous beaches. If you have time, stop and run into the water! It's brisk, beautiful, and will re-power you for the rest of your Cape Town itinerary stops.
As you drive along the winding road, appreciate the flora all around you, and the view of the Atlantic Sea. No matter where you go, you'll find this is one of the most beautiful drives you will ever experience.
The twisting roads, high above the ocean, are quite a thrill and may frighten those with a fear of heights, but if you stick it through, you'll love it! Stop at one of the picnic spaces along the route to take photos and breathe in the ocean air.
Day 1/Stop 4 – Explore Kalk Bay
Why it's awesome: A charming area with a beach, shops, and delicious food
Cost: Free
Food Recommendation: Your choice of ice cream at Ice Café
On the map, Kalk Bay looks like just another Cape Town suburb, but it's one of our favorite stops on the itinerary for Cape Town! There's so much to see and do. Best of all, it's where you'll come out after your Chapmans Peak Drive!
When you get here, stroll over to the beach, where you can swim in the ocean or in the tidal pool. Chill with locals who come from all over the city to enjoy the summer sun by the ocean.
When your hair is wet and salty and you've cooled down nicely, visit the charming stores that line the coastal road. Stop at the ice-cream shop to pick your favorite flavor, and shop at the second-hand stores filled with old South African brick-a-brack.
You'll find so many lovely authentic souvenirs here! You'll also find one of the city's best bakeries, Olympia Café, and some fish 'n chip places that get their fish right from the ocean the same day.
In fact, there are so many amazing food options in Kalk Bay, you won't know quite what to do with yourself! Definitely make it a 'cheat day', and enjoy everything you can.
Finally, walk around the harbor and watch the seals swimming among the old ships and sun-bathing on the rocks. It smells a little fishy, but it's so lovely and well worth it.
Day 1/Stop 5 – Long Street and Kloof
Why it's awesome: All the best of the city's night-life, all on two streets
Cost: Free (plus club entrances)
Food Recommendation: Pick something from the daily-changed menu at Black Sheep
After making your way back to the city center, go out for night-time adventures on Long Street and Kloof! These two popular streets are a great place to spend the evening or party all night.
Bars and restaurants line Kloof and Long, and some of the best clubs in the city can be found on the ever-popular Long Street. Go in the evening and watch how the atmosphere changes as it gets dark, with families giving way to college students and young people looking for a great time!
Various locations offer live music for an entrance fee as little as $3 entrance. Sgt. Peppers, for example, often has rock gigs. There you can explore the vibrant and very much alive South African rock scene with the locals.
You'll also find bars offering shots for as little as $0.50! If you're lucky enough to be in Cape Town on the first Thursday of the month, you'll get to experience the aptly named First Thursdays. Locals come out in droves on this night, as Long Street becomes a cultural cornucopia.
Every gallery open during the day stays open and offers free wine and tours. You get to cruise around the street getting a feel for South African art (and meeting enthusiastic locals) before getting sloshed and partying the night away. Really, it's ideal.
Zeitz MOCAA | V & A Waterfront | Two Oceans Aquarium | The Beach | Wine Tasting in Constantia | Labia Theatre
On the second day of your Cape Town itinerary, you'll explore more of the city's incredible cultural offerings!
Day 2/Stop 1 – Zeitz MOCAA
Why it's awesome: Contemporary African art in an old grain silo – it's beautiful
Cost: $13
Food Recommendation: Try something at their rooftop restaurant
The Zeitz MOCAA, or Zeitz Museum of Contemporary Art Africa, is the world's largest museum of contemporary African art. With seven floors with exhibitions exploring a range of ideas and issues, it's not to be missed!
The permanent exhibitions approach topics like the modern black experience and all that it entails, the pitfalls and strengths of African and international feminism, and the strangeness of being human.
It's a great opportunity for contemporary artists to display their work and get their voice heard. Often, only historic art is appreciated at this scale, and with Africa's history, this presents certain difficulties. A museum dedicated to the current moment is special, important, and necessary!
The structure the displays are in is almost as interesting as the art! In one exhibit, a giant dragon-like art piece stretches uping up within what was once a grain siloit. The center is hollow, and you can see all the way to the top. The giant structure has been beautifully repurposed.
You'll get a unique feel for different African lives and cultures on the continent, its diaspora, and the influence of the globalized, modern world. Like so many Cape Town attractions, it's an experience you won't find anywhere else in the world!
Day 2/Stop 2 – V & A Waterfront
Why it's awesome: Lots to see and do, all with a great view over the ocean
Cost: Free
Food Recommendation: Get seafood at Balducci
There are many ways to experience the Waterfront! The working harbor is really beautiful, and you'll cross a bridge or two that lifts to allow boats to pass.
There is a very popular, attractive mall here, where you can find gourmet restaurants and shops under the high glass ceilings. There's also a little indoor market with local crafts and more incredible food. Cape Town really is a perfect city for foodies!
The streets are always busy and bustling, but everyone is having a great time, so it doesn't matter. Locals put on performances for the crowd, and you can find unique artifacts that are both modern and old.
It's also the center of Cape Town's art scene, and you'll find some galleries with local art that will make you wish you had enough money to buy it all. Spend a few hours strolling around, eating things, and enjoying the eclectic mix of cultures and interests gathered here.
Day 2/Stop 3 – Two Oceans Aquarium
Why it's awesome: Marine education and a massive variety of animals to admire!
Cost: $13
Food Recommendation: Grab something at the in-house Café V, with a view of the turtles and stingrays gliding by
Located in the V&A Waterfront, this is a stop-within-a-stop! The aquarium is a great way to experience the diversity of the Indian and Atlantic Oceans, which meet in Cape Town, and it's one of Cape Town's top tourist destinations.
Our favorite part about this aquarium is the work they're doing to preserve and help the animals and their habitat! You can watch Great White Sharks being fed in the predator exhibit – a scary and thrilling experience. The sharks are in the aquarium recovering after being found damaged or injured in the wild.
In recovery, you'll also see turtles, penguins, crazy jellyfish, and our personal favorite – giant crabs which look eerily prehistoric. If you lean down and look at them long enough, they'll open up what you thought was their stomachs and freak you out.
The exhibitions also include some really cool communities of fish, giant eels, and sea-horses. (Interestingly, the male seahorses are the ones who carry their young and give birth! If you're lucky, you'll see some big-bellied dudes).
The environmental education is really informative, and- surrounded by fascinating sea creatures- it's also really interesting! Try to catch a few of the feeding shows and explore the exhibits.
Day 2/Stop 4 – The Beach
Why it's awesome: There are so many to choose from, and they're all phenomenal
Cost: Free
Food Recommendation: Bring a picnic of bread and biltong, a local favorite
Of course, any itinerary for Cape Town has to include a trip to the beach! The only thing is, there are so many to choose from, and each is great in a different way.
If you're interested in exploring the underwater world of the Southern Peninsula, rent a wetsuit (it's cold), snorkel gear, and jump in at Simon's Town. Just off this beach, you'll find forests of kelp and colorful sea urchins.
You'll also spot tiny harmless sharks and brightly colored fish, among other things. The great thing about Simon's Town is that the Great Whites are all far away!
If you're into surfing, Llandudno has some of the best waves in the world, and it's incredibly beautiful. If you need lessons, go to the lengthy Muizenberg beach! You'll find lessons and all the necessary gear right on the beach.
Finally, if you just want to sunbathe and swim, go to Clifton or the lovely Boulders Beach! On the latter, you'll be sharing the beach with members of South Africa's penguin colony. While it's occupants can be a little noisy, this is another one of those once-in-a-lifetime experiences!
Day 2/Stop 5 – Wine Tasting in Constantia
Why it's awesome: Cape Town is famous for its wine – you should certainly try a few
Cost: $4 – $8
Food Recommendation: Pair it with cheese or chocolate
There are a few lovely wine farms to choose from in Constantia – a gorgeous, lush suburb of Cape Town, nestled against the base of Devils Peak. One of the best options is Groot Constantia. There you can enjoy a selection of wines while looking out at the vineyards.
You can choose five wines that look great to you, and sip them while the staff tells you the history of the vineyard and the wine making process. The wines are award-winning and the 300-year history of the place is long and interesting. You're guaranteed to have a great time.
The vineyard has three wine-tasting venues, so you can enjoy your wines in the location you love best. They offer wine and chocolate pairings, or you can get a cheese and charcuterie board to enjoy with your wine.
When you're done, stroll around the gardens and buy some wine for the rest of your vacation in Cape Town and South Africa! You'll certainly want to. You can also do a tour of the vineyard and the cellar to see where all the magic happens.
Insider Tip: The hop-on-hop-off bus stops a short walk from here, as do taxis! Just be sure to have Google Maps open so you know how to find it.
Day 2/Stop 6 – Watch a film at The Labia Theatre
Why it's awesome: Old-school and unique, with great films always playing
Cost: $4
Food Recommendation: Traditional movie-fare, like popcorn and snacks
This theatre is a gem! Centrally located and in a historical building, there's something really special about it. They play African and independent films, catering to those looking to take part in the culture of African cinema.
Our favorite thing about it is its alcohol license! The unusual cinema slushy has vodka in it (although you can also choose virgin) and in winter you can warm up with some Gluhwein!
There's also plenty of snacks. For an extra $1-2 you can get a movie and dinner deal! They have arrangements with some lovely local restaurants. Purchase a ticket in the restaurant you're dining in for dinner, and then stroll over to the cinema.
With its old-school setting and great vibes, this is a super popular Cape Town attraction among locals! You'll love it too. It's a great place to relax after a full, busy day.
Iziko Slave Lodge | Eastern Food Bazaar | Marine Life Kayak Tour | Paragliding off Lions Head | The Neighbourgoods Market
For those with a little more time, these are the best places to visit if you're spending at least three days in Cape Town. There's still so much to see!
Iziko Slave Lodge
Explore one of Cape Town's oldest buildings
Learn about South Africa's history of slavery and segregation
See artifacts and exhibitions on an audio-guided or self-guided tour
During its long history, the Iziko Slave Lodge has been many things – including the Supreme Court. Since 1998 the museum's theme has been 'from human wrongs to human rights.' The Slave Lodge addresses issues and raises awareness with temporary and permanent exhibitions.
Any trip to Cape Town should include an opportunity to learn about the country's difficult past. This is the perfect place to do it. The audio guide is a fantastic addition and takes you through the history of the slave lodge and the dismal living conditions during slavery.
Temporary exhibitions include ancient Egyptology and ceramics! Once you've toured the museum, explore the Company Gardens. The museum is located on the edge of these lovely gardens at the center of Cape Town.
You'll find locals and tourists alike in the gardens, strolling along the paths and feeding peanuts (which you can buy) to the squirrels and birds. There is some beautiful exotic plant-life here, and sculptures dotted around the park. It's a lovely space to enjoy a picnic while you soak in the sun on a bench or the lawn!
Eastern Food Bazaar
Get some absolutely delicious food for very low prices
Enjoy the busy, vibrant atmosphere, surrounded by locals
Appreciate the ornate Indian-style decoration and Eastern music
The Eastern Food Bazaar is a hidden gem beloved by locals! Difficult to spot in the middle of the City Bowl, you'll need to plug it into Google Maps or ask locals for directions. Here you'll find Cape Town's best Cape Malay and Eastern food.
Meals include Butter Chicken and the distinctly South African Bunny Chow (an Indian-style curry with a hollowed-out half-loaf of bread as its bowl). There is so much to choose from! You'll walk its length, looking at the Bazaar's various food stalls and drool as people walk past you with their heaps of food.
Once you've picked what you want, order at the bazaar's center. You'll be given a ticket to give to your stall of choice, and you can watch while they prepare it in front of you! It's one of the most unusual stops on the Cape Town itinerary.
The bazaar is lined with an incredible amount of ornate eastern doors, decades and possibly millennia old. Every seat in the house has a great view. It's also a terrific place to people-watch, while you bite into garlic naan and aromatic stews.
Much more interesting than a restaurant, this is one of the best foodie experiences in Cape Town! In a city renowned for its cuisine, that's saying a lot. You'll want to take home a doggie bag and bring your camera. If you don't have a designated camera travel bag, you can check out our review of the Mountainsmith Camera Bag.
Marine Life Kayak Tour From The V&A Waterfront
Admire Cape Town's unusual beauty from the water
Possible sightings of South Africa's abundant marine life
Get some shots with one of the world's most photogenic coastlines
This is a fantastic opportunity to explore beyond Cape Town without leaving the city! Paddle out of the V&A Waterfront on calm waters, where you'll see some of Cape Town's active marine life. This includes possible sightings of playful dolphins, seals, penguins, sunfish, and even whales!
You'll also have the unique experience of viewing Table Mountain, Signal Hill, and the gorgeous Twelve Apostles from the water! You can alternatively choose to catch a luxury catamaran and cruise along the bay.
Admire how the sun shines on the flowing water, and maybe you'll be able to touch a passing dolphin, be sprayed with water by a joyful seal, and feel the bump of kelp under your kayak.
A photo opportunity on the ocean with a backdrop of Table Mountain is unprecedented Instagram goals, and one for the books. The two-hour tour includes all safety equipment, and don't worry – the boats are very stable!
This excursion is ideal for couples, families, or friends looking to make incredible memories together. If you're spending three days in Cape Town, it's a must.
Paragliding off Lions Head
Get your adrenaline pumping and run off the mountain to take flight
See all the Cape Town points of interest with a birds-eye view
Get fantastic shots with Table Mountain in the background
Soar over Cape Town and the Atlantic coast! This is a great option for those looking to do something a little different in the Mother City and get that blood pumping. You'll have spectacular views over Table Mountain, Lions Head, the Twelve Apostles, and the Waterfront!
Try to spot some of the stops on your Cape Town itinerary, and appreciate the splendor of a city wedged comfortably between mountains and sea. You can see so much of it from here. It's one of the most exciting activities on our itinerary for Cape Town!
After being clipped up and getting a brief lesson in how it works, you'll run off the mountainside with your instructor and take flight. How long you spend in the air depends on the air currents, but your instructor will ensure that the weather is safe for flight before you take off!
Land on the Sea Point Coast after some acrobatic maneuvers in-flight. You'll be transferred back up to the top of the mountain if your car is there – otherwise public transport can be easily found!
You can choose to buy GoPro videos and photographs of your flight. Despite the extra cost, we suggest you do! It's such an awesome experience to remember, and the pictures come out great. Besides, you've just achieved man's oldest dream: taking flight!
The Neighbourgoods Market
Explore Cape Town's most popular and varied foodie heavens
Listen to live local music as you stroll through the stalls
Enjoy arts and crafts, and explore the surrounding area for street art
Situated in the Old Biscuit Mill, this foodie market is uber-trendy and popular among locals and tourists. The food is phenomenal, and you'll find everything from raw chocolate and mushroom kebabs, to local delicacies.
Unfortunately, only those spending a weekend in Cape Town will be able to go, as the market takes place on Saturday. If you are in the city on a Saturday, don't miss it! Live music is played in the courtyard, and the place gets packed with enthusiastic people enjoying their weekend.
Try tasters of the decadent food before you commit to one! Don't get too full too fast, because you might discover something too good to be true when you're already full. Cuisines from all over the world can be found here, as well as some adventurous new inventions and vegan delights.
The atmosphere is informal, fun, and has a great buzz. Once you're full, you can move on to the artisan area to find some lovely things to take home. If you're still on the lookout for South African fashion or art, you'll find it here!
Woodstock is one of Cape Town's most amazing cultural hubs! Go beyond the market to spot street art by local and international artists, and take your picture by some of your favorites. Every year there is new art to discover, and the further you go, the more you'll see.
There are safety concerns in South Africa.
Cape Town is a tricky one, because the different suburbs vary so extensively in terms of safety, but everything on our three day Cape Town itinerary is in a safe neighborhood, so you needn't stress! It's possible to stay safe in Cape Town.
A good practice when you travel to Cape Town is to keep your bags close to your person, and zipped or buttoned closed. If you walk through a very busy area, like a taxi rank, keep your hand on the bag. Violent crime is rare outside of townships.
Still, you should never walk around alone at night (with the careful exception of Long and Kloof Street), and even in groups, avoid unlit areas. During the day you're perfectly safe, as long as you avoid completely empty, dodgy looking avenues.
A good thing to keep in mind about the city is that there's quite an economic divide, part of the legacy left from Apartheid. So many people are looking for an easy opportunity to improve their situation. This means that petty theft is common, but they only go for easy targets. Don't be an easy target, and you'll be left alone. To ensure your safety, check out these crucial travel safety tips.
There's a lot of begging. We support giving food to those who look clearly desperate, but it's best not to give money.
You'll find beggars in most parts of the city, including children and the elderly. This is because South African infrastructure is being slowly improved and does not yet cater to the poor as well as it could!
Don't Forget Your Travel Insurance for Cape Town
World Nomads' mission is to support and encourage travellers to explore their boundaries. They offer simple & flexible travel insurance, and safety advice to help you travel confidently.
They've been doing it since 2002 – protecting, connecting, and inspiring independent travellers just like you.
Get a quote below or read our in-depth review!
World Nomads provides travel insurance for travelers in over 100 countries. As an affiliate, we receive a fee when you get a quote from World Nomads using this link. We do not represent World Nomads. This is information only and not a recommendation to buy travel insurance.
South African Wildlife and Safari Two-Day Tour from Cape Town
This safari is one of the best day trips from Cape Town and spans two days! This is the best way for you to explore more of South Africa with little time. The tour includes 4×4 game drives through game reserves to see The Big Five and an overnight stay in Oudtshoorn.
This charming town in the heart of the semi-desert Klein Karoo is the ostrich capital of the world! Here you'll have a 'braai' – South African barbeque and necessary South African experience.
You'll also have the opportunity to track animals by foot on a walking tour with a local guide. Be sure to bring your camera! This is the best of nature, and totally different from what's in Cape Town. Your overnight stay, breakfast, and transport are included.
Cape Winelands Full-Day Shared Tour
Does anything sound better than a full day of wine, cheese, and biltong tasting in the Winelands? Not to us! On this tour, you'll stop in Stellenbosch, a world-famous wine region and one of the oldest towns in South Africa.
You'll also explore wine farms in Paarl and Franschhoek. Taste the best wines from all three areas, enjoy lunch surrounded by gorgeous Winelands, and walk around the vineyards and cellars.
You'll also stop at various monuments and learn a bit about South Africa's difficult and fascinating history. For this one, you have to be 18-years or older to participate, but children of any age can accompany you to enjoy the food and the sights!
Full-Day Inverdoorn Reserve Safari from Cape Town
See some of the world's most noble creatures in their own habitat! The tour includes a 4×4 game drive where you'll spot lions, cheetahs, and elephants. Your local park ranger will tell you all about them!
Then take a walk with giraffes. It's a spectacular opportunity to get close to these giant beasts, and you'll be surrounded by the unique Klein Karoo biome!
The tour starts early, and you'll travel through some of the most beautiful areas in South Africa's Western Cape. You'll have welcome drinks, lunch, and stop at The Lion Project, which works to sustain a healthy environment for these majestic creatures.
Cape Peninsula Full-Day Tour from Cape Town
This tour takes place partly within Cape Town and partly outside the city! Visit the incredible Cape Point Nature Reserve, where you'll be surrounded by indigenous flora and fauna, including tortoises, eland, and baboons.
Here you'll see the meeting of the great Atlantic and Indian Oceans! Passing secluded coves, immense mountains, and perfect beaches, this reserve has some of the most beautiful views in the world.
Within Cape Town, you'll walk through the botanical gardens and the photo-worthy canopy walk of Kirstenbosch. You'll also see Cape fur seals and penguin colonies on this all-inclusive trip!
Robben Island Ferry Ticket and Township Combo Tour
Learn about life under apartheid and the slow recovery of South Africa's poor in a walking tour of Cape Town townships, including the infamous District 6. You'll get the chance to support local business and buy authentic hand-crafted souvenirs!
Visit a traditional Shebeen and try homemade beer. See a traditional healer or Sangoma. From there you'll go on to a township once reserved for 'coloureds' and learn about the racial divisions that classified and separated them.
Afterward, you'll take a ferry to Robben Island, the notorious prison island where Nelson Mandela spent 18 of his 27 years in prison.
Find out what people want to know when planning their Cape Town itinerary.
Conclusion
You'll get to experience so much of what the country has to offer by exploring all the stops on our Cape Town itinerary. See marine and mountain wildlife, experience adrenaline-pumping adventures, foodie delights, and historical education.
Whether you're spending two days in Cape Town, or two weeks, there's truly something for everyone in South Africa's mother city. Get a taste for the diverse range of cultures, interests, and most importantly, outdoor activities! They'll leave you wishing you too could live here, where the water meets the mountains.
If you want to explore more of South Africa's wild side and diverse cultures, leave behind the Western Cape for the more rural, rugged parts of the country. You can check out our tips for backpacking in South Africa to get inspired and informed!
If there something else you've loved doing or seeing in Cape Town? Let us know. We're always keen to explore and add to our Cape Town trip itinerary. We'll definitely be back!
---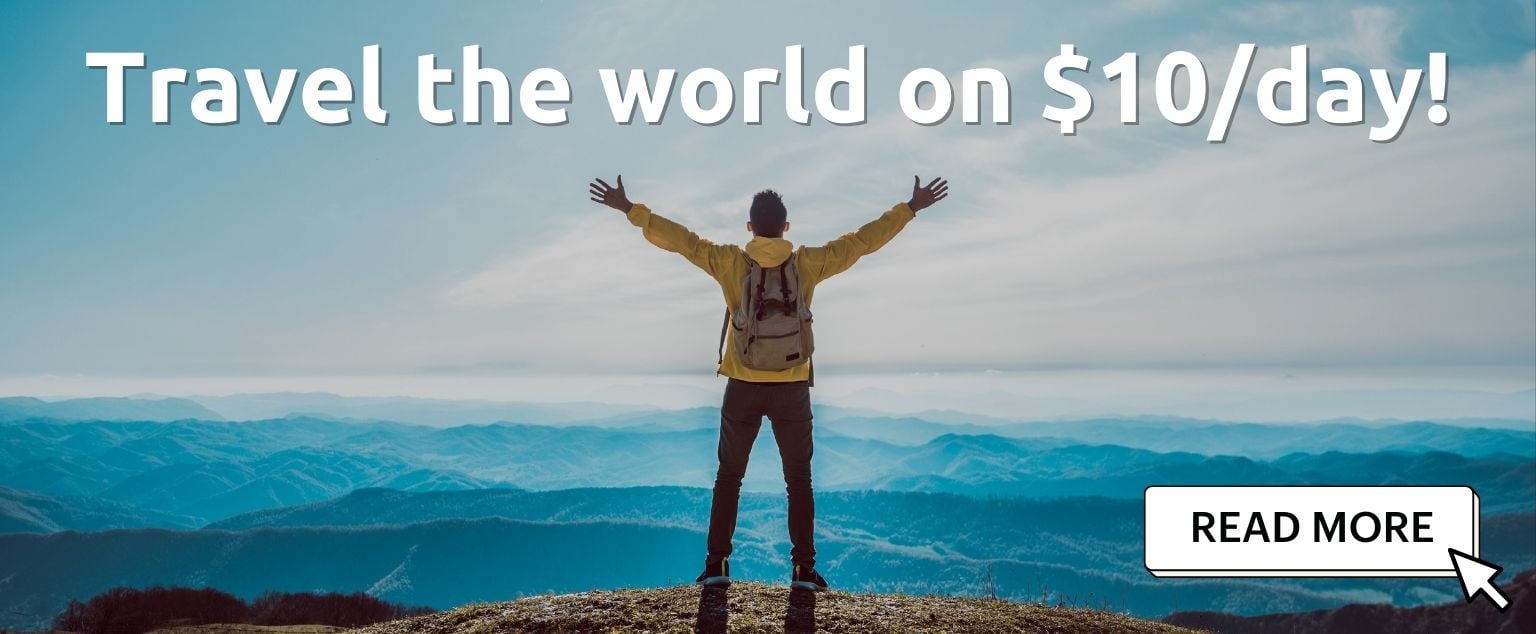 And for transparency's sake, please know that some of the links in our content are affiliate links. That means that if you book your accommodation, buy your gear, or sort your insurance through our link, we earn a small commission (at no extra cost to you). That said, we only link to the gear we trust and never recommend services we don't believe are up to scratch. Again, thank you!