Backpacking Cape Town—The Mother City—is a truly remarkable experience. Southern Africa's most visited and awe-inspiring city is the crown jewel for many travelers. A blend between high-income and low, this coastal metropolis and capital of the Western Cape is one of the most multicultural cities on the planet.
Set against the dramatic mountainous backdrop of Table Mountain with Devil's Peak and Lion's Head on either side; Cape Town is famous for its landmarks and nature. Noted also for its harbour, Cape Point, and its setting in the Cape Floristic Region, the Mother City is sure to captivate worldly trekkers.
Luckily, Cape Town on a budget is feasible with South Africa's affordability and a myriad of free natural attractions. This Cape Town travel guide has everything a traveler needs to make their way around the city while on an allowance.
Whether you have a gusto for coasts and diving, mountains and hiking, or cities and dining; Cape Town for backpackers is surely the place to be!
If you are a broke backpacker in the literal sense, or just a fan of budget travel and you're planning your South Africa backpacking trip, you came to the right place!
Fortunately, for the majority — regrettably for South Africans trying to make a living — most currencies stand strong in comparison to the South African Rand (R). Simply put, your money will go a long way while backpacking Cape Town.
In general, Cape Town can be cheap for accommodation, food, and transportation. Therefore, a Cape Town daily budget of $50 will buy you quite a nice day. However, you can get by on far less if you do not wish to indulge in restaurant meals and sip on South Africa's incredible wines. (It is probably best you make room for the finer things in life within your Cape Town budget. If not here, then where?)
Average Costs of a Trip to Cape Town
The following is a breakdown of items to consider for your Cape Town budget:
Cape Town Budget Backpacking Tips
Backpacking Cape Town on a budget is certainly easier than other top destination cities. Be that as it may, sometimes we could use city-specific advice to be sure we are on the right track—the economy track, that is! The following are a few tips to note before you head to Cape Town.
Taxify: This is a transportation network company similar to Uber, however, it is only available in limited cities around the world. Taxify has become huge in Cape Town, and Capetonians believe this app to be cheaper than Uber. At the end of a trip, there is an option to pay cash (unlike other ride-share apps), which is beneficial for splitting costs with your friends.
Free Walking Tours: A great way to discover Cape Town is with free walking tours. Obviously, there are not any fees, but the guides do operate on a tip basis—use your own discretion for tipping amounts. Guides are knowledgeable and there are several different walking tours to discover the city in many ways.
Explore and Hike around Cape Town: Hike Lion's Head and Table Mountain for free. (Table Mountain Cableway offers free return rides down the mountain on your birthday.) Aside from these two, there are a lot more trails that are more remote and worth checking out BUT it is highly recommended to go with a local guide. There have been a number of hikers attacked in recent years and being away from the popular areas is riskier.
Stroll the Sea Point Promenade and wander around the V & A Waterfront. Watch the sunset at Signal Hill or check out the many beaches within the city. Enjoy the murals and graffiti located throughout Woodstock neighborhood. Catch the incredible view from Chapman's Peak or take scenic walks through the local parks and forests.
Markets: Cape Town always has plenty of markets to amble, especially food markets. Not only is entrance free, but there is often live music by local musicians and food is sold at excellent prices. The Old Biscuit Mill, Bay Harbour Market, and Mojo Market are all worth checking out.
Drink Hacks: Try happy hour for up to 50% off drinks or buy-one-get-one-free specials at local bars. Generally, you can drink at an extra low price if you start early. Most happy hour specials run between 4pm-7pm. Many wine estates offer great prices on wine tastings, and some liquor stores offer free tastings! Wine Concepts offers daily, in-store tastings for free—for those bargain drinkers out there!
Pack a travel water bottle: save money (and the planet) every day! Stop buying bottled water!
Why You Should Travel to Cape Town with a Water Bottle
Plastic washes up on even the most pristine beaches… so do your part and keep the Big Blue beautiful
You aren't going to save the world overnight, but you might as well be part of the solution and not the problem. When you travel to some of the world's most remote places, you come to realise the full extent of the plastic problem. And I hope you become more inspired to continue being a responsible traveller.
Plus, now you won't be buying overpriced bottles of water from the supermarkets either! Travel with a filtered water bottle instead and never waste a cent nor a turtle's life again.
Cape Town has a huge variety of neighborhoods, and each one offers many qualities that make it uniquely distinct from one 'hood' to another.
Hostels or 'backpackers'—in the Mother City can be found in nearly every single neighborhood and there are also a wide variety of guesthouses in Cape Town that are a great alternative if you want your own private space.
The following are a select few districts in Cape Town to be discovered that you could rest your head for the night.
Green Point: Home to the 2010 FIFA World Cup Stadium, this is a popular location for sporting events and concerts. A trendy residential area that is within walking distance to the Waterfront and the Sea Point Promenade.
Central Business District (CBD): What was once the place to be for business travelers has since become popular for people in search of shopping, coffee, bars, or a bite to eat. Located within the city center is hip Bree Street and the famous Long Street.
Woodstock: An artsy, up-and-coming area similar to Brooklyn, NY. Definitely famous for its street art and the Old Biscuit Mill.
Observatory: 'Obs' is a fusion of art, urban-life, and rich culture. Offering a cool nightlife, coffee shops, and second-hand stores, Observatory is also within close proximity to just about everything. A great place to call home for a few nights.
For more inspiration, check out our Cape Town Neighborhood Guide!
Modern, hip, and one of the biggest backpackers in Cape Town, Never@home is the place to stay! Benefits include safety and security, fast and free WiFi, great prices on food and booze, on-site ATM, outdoor pool, and en-suite bathrooms – I could go on and on.
A mix between relaxation and party, Never@home boasts its cleanliness, and it is easy to see what makes this hostel top choice for backpackers in Cape Town.
Located in the center of Long Street, this is the perfect location to find places to eat, drink, and party. The on-site bar, funky mosaics, braai area, and pool table certainly add to the excitement.
Easily, one of Cape Town's busiest backpackers, it is also one of the originals. Long Street is the most vibrant area in the city, and Long Street Backpackers is a safe and secure hostel if you want to enjoy the party without venturing out!
Best Hostel for Solo Travelers — 91 Loop
Another centrally located hostel, 91 Loop is nestled between Long Street and Bree Street. A unique backpacker experience with pod-style beds that are extra long in length, to accommodate travelers that are used to things a bit bigger than by South Africa's standards. *cough, cough* USA *cough, cough*
A social hostel that offers free breakfast, WiFi, walking tours, laundry services, etc. It is easy to see why this cool backpackers is a hit with solo travelers.
This gorgeous apartment in the heart of Cape Town is ideal for four guests. There are two bedrooms, a bathroom, and a large open-plan living room, dining area, and a kitchen. The modern kitchen has everything you need to cook up a feast and there's a handy washing machine too. Guests can relax in the small shared garden.
For more great places to stay in Cape Town, check out our full list of backpacker hostels in Cape Town.
1. Hike to the top of Table Mountain
If you only have a few days in your Cape Town itinerary, make sure you include a hike to the top of Table Mountain. This flat-topped mountain, a prominent landmark, offers stunning views of Cape Town. Appreciate the many life forms that surround you during your hike. At an elevation of 1,067 m (3,501ft), the cableway is a relaxing means of getting yourself back down Table Mountain.
2. Take a tour of Robben Island
Take a tour around the political prison on Robben Island. Former inmates are used as guides to tell the true story about victims of political oppression. Robben Island's most notable prisoner, Nelson Mandela, went on to become South Africa's first black president and the leader of their civil rights movement. Tours depart from the V & A Waterfront, and ferry tickets should be purchased ahead of time.
3. Watch the sunrise or sunset on Lion's Head
Hike above the city skyline to the top of Lion's Head. Impressive views of the sea, city, and Table Mountain are had here, so do not forget your camera! It is truly special to make your way above the clouds, and this is a remarkable spot for a sunrise or sunset.
4. Grab some food at Victoria & Alfred Waterfront
Cape Town's busy retail, dining, and entertainment district is the V & A Waterfront. Definitely a tourist spot, but it is still nice to have a walk around the waterfront or enjoy a cocktail or ice cream on the water.
I wandered down one afternoon and was surprised to stumble upon several fantastic markets, that offered food and local art.
5. Go to Chapman's Peak
Often overlooked by backpackers is the magical Chapman's Peak. Cruise down Chapman's Peak Drive, between Noordhoek and Hout Bay, for one of the most scenic marine drives in the world. Be sure to catch a sunset here—breathtaking.
6. Hang out on the Beach
There are no shortage of beaches to bask in the sun while visiting Cape Town. Clifton Beach, Camps Bay Beach, and Fish Hoek Beach are just a few names worth remembering to feed your seaside appetite.
The best rolling waves in the world and the spot to learn how to surf is at Muizenberg. Stare at mountains in amazement while riding waves, and snap a few shots of the colorful huts on the boardwalk.
7. Stroll along Sea Point Promenade
Sea Point Promenade offers a seaside pathway from Mouille Point to Bantry Bay. A lovely spot for a stroll, run, or bike ride.
8. Watch another sunset on Signal Hill
Another ideal spot for a pretty sunset is Signal Hill. You can catch an Uber, and your driver will likely hangout while you take a few photos, or you could stay for a nice picnic. Have you noticed that Cape Town has no shortage of places to watch a picture-perfect sunset? Did you also know that you can totally jump of the side of this mountain and paraglide down to the city?!
9. Kirstenbosch National Botanical Garden
These botanical gardens are dubbed "The most beautiful garden in Africa." An escape from the city, Kirstenbosch National Botanical Gardens exhibits plants native to the Cape Region on the outside, and the large conservatory houses plants from regions including savanna and fynbos.
Cape Town is one of the best and most affordable places to go diving with Great White sharks! East of Cape Town and closer to the Agulhas Current is an absolute feeding frenzy and sharks love to frequent these waters. For those who want to see sharks from a slightly more secure position can also go on an ocean safari.
11. Chill with penguins in Simon's Town
A small, quiet village with magnificent views and history. A few kilometers south of Simon's Town is Boulders Beach. Here you will find a colony of African penguins, and the option to swim with these cool creatures is given. Did you know Africa was home to penguins?
12. Snap some photos in Bo-Kaap
Walking distance from Cape Town's city center is the colorful neighborhood of Bo-Kaap. A vibrant and bright neighborhood you need to see, even if only for a quick stroll and Instagram shot. It's one of the best places to visit in Cape Town and should be on your bucket list of things to do!
Need help deciding between Johannesburg or Cape Town? Check out our helpful guide.
Admittedly, 3 days in the Mother City is not nearly enough time if you yearn to see and do it all. Hey—that just comes to show that Cape Town is bustling with all of the things that make a city great!
Obviously, if you are limited on time, you should try to adjust this itinerary to match your personal desires. What one backpacker in Cape Town deems important may completely differ to another.
I have done my best to break down 3 days in Cape Town, to maximize the amount of sights you can see in this huge city.
Day 1 in Cape Town
Start your day off right with a breakfast on the water, and continue with a walk down the Sea Point Promenade. Make your way over to the Victoria & Alfred Waterfront for the possibility of live music or specialty markets.
The V & A Waterfont offers ferry services to Robben Island. Take a guided tour of Robben Island to see where Nelson Mandela and many others were imprisoned under the apartheid regime.
Head towards the city center and have a look at the FIFA World Cup Stadium on your route. Support the local craftsman by picking up a few authentic South African items at Greenmarket Square. Grab lunch at one of the local restaurants or cafes in the area.
After some replenishment, you are ready for your hike up Lion's Head to watch an unbelievable sunset. Stand above the city, and the clouds, and appreciate Cape Town in all its glory.
Day 1 in Cape Town is the perfect evening to take pleasure in dinner from a restaurant of your choice and savor local South African wine.
Day 2 in Cape Town
Rise and shine for day 2 in Cape Town. This should be an early start—here is to hoping that you did not indulge in too much wine on night-one! Be sure to have a full breakfast, pack snacks, load your bag with water, and head to Table Mountain, a must-do when backpacking Cape Town.
Allot several hours if you plan to hike to the top of Table Mountain. When you reach the summit you will want to explore, take photos, stare in awe of the city and sea below you, and have a break! There are lots of other adventurous activities to do around Table Mountain as well, like abseiling, rock climbing, and mountain biking.
The table top has abundant plant and wildlife. Keep your eyes peeled for a cute local creature called a dassie. Use the cableway for 360 degree views on your way down the mountain.
Next up is the Kirstenbosch National Botanical Garden, which is absolutely magical, and a lovely spot for a lunch picnic.
Make your way to Bo-Kaap where the brightly colored orange, red, green, blue, and yellow homes are all sure to add brightness to your already magnificent day. Pose for an Instagram worthy photo (everyone is doing it), but do not feel shy about this—locals welcome you to photograph their homes.
Ride up to Signal Hill for another supreme sunset over Cape Town.
Drinks on Long Street may be in order for your second night in the city. If Long Street does not suit your tastes, then check out another of Cape Town's many fun night spots.
Day 3 in Cape Town
Muizenberg is about 30 minutes drive from the city center, but well worth the early morning start. Here you should take a surf lesson and really enjoy the beach-bum lifestyle, even if only for one day. The neighborhood offers a lot to do, but be sure to visit the cute and colorful beach stands. You can check here for a list of local surf schools and lessons, both in and outside of Muizenberg.
Drive south towards Simon's Town and have a bite to eat in this quaint village. Continue on towards Boulder's Beach where you are sure to encounter African penguins. Hang among the penguins but do not get too close because they will nip you! Be on the lookout for baboons while you are cruising around town.
For Day 3 in Cape Town, I suggest taking a coastal drive to Chapman's Peak to watch the sunset. Mountains meet the sea and the colors are likely to be extraordinary. This was one of my personal favorites for scenic views.
You will likely want to indulge in a delicious dinner from a Cape Town restaurant, and begin making phone calls to delay that flight home. I assure you will not want to leave.
Cape Town Off the Beaten Track
If you have more time to spare while backpacking Cape Town, then the following are a few recommendations. These are not unusual activities, they simply may take you a little longer to get to because they are literally—off the beaten track.
Woodstock – This is just a suburb of Cape Town, but is often overlooked by backpackers and that needs to change! Woodstock is an edgy, evolving area that is loaded with hip eateries, cafes, and galleries. A weekly market—Old Biscuit Mill—is the most popular attraction here. Local street art is worth the visit, alone, but there are also quirky shops, vintage stores, gin bars, and much more.
Cape Point – Cape Point is a nature reserve within the Table Mountain National Park on the Cape Peninsula. A Natural World Heritage Site, Cape Point is rich in flora and fauna. The vivid blue coastline, rugged cliffside, and mountains in the distance make for a dramatic landscape. Climb up the lighthouse for some of the best views. Visit the most south-western point on the African Continent, Cape of Good Hope, and get your standard photo in front of the sign.
Stellenbosch – A 45 minute ride outside of Cape Town is the world-renowned wine region known as Stellenbosch. There are hundreds of vineyards in the area, and you simply cannot go wrong with any of them. The region is gorgeous, and an entire day can easily be spent tasting wines and food-pairing. All of this, at a fraction of the price for what it would cost in the most popular wine regions of the world.
Best Walks in Cape Town
Cape Town has a strong outdoor culture, and the city is loaded with walking and hiking trails. Terrain and difficulty levels widely vary, but here are a few popular choices:
Table Mountain – Find a network of trails of different difficulties and lengths. Platteklip Gorge is the most commonly walked track that takes you to the summit of Table Mountain.
Lion's Head – The trail follows a fairly easy track to a section below the summit. Here is where you will need to utilize ladders and chains to make your way to the top.
Newlands Forest – A variety of trails offering dense forest views. There are walks available to match all different fitness levels.
Cape Point – The Lighthouse Keeper's Trail is a short trail running below the old lighthouse to the new lighthouse. This takes you along the cliff and gives you an interesting angle on the old lighthouse.
Below are some travel tips for Cape Town, including the best time to visit Cape Town, how to travel around Cape Town, a guide on the food and nightlife, and more!
Best Time of Year to Visit Cape Town
Backpacking Cape Town can be done during any season, quite comfortably, with its warm Mediterranean climate. Temperature extremes are not common. Winter (June to August) is mild and moderately wet, and summer (December to February) is warm and dry.
As is true with most places, a Cape Town summer is the busiest time of year. If you are after sunshine, beach, and outdoor activities then I do recommend visiting Cape Town during the summer months.
However, if you are not picky about weather and water temperature, then the shoulder season is your best bet. March to May and September to November offer fewer crowds, lower prices, and reasonable weather.
Getting in-and-out of Cape Town
Chances are that you will be arriving in Cape Town by airplane, due to its location as the southern most city in South Africa. Cape Town International Airport is the primary airport serving the city, and it is about 20 km from Cape Town's city center.
There are a number of ways to get to-and-from the airport such as: Uber, taxi, hired car, shuttle, bus, or car rental.
How to get around Cape Town
MyCiTi buses run between 5am and 10pm, with the most frequent services operating between 8am and 5pm. Routes cover a good portion of Cape Town, as well as, airport services.
A 'myconnect' card is used for fares, and can be purchased at MyCiTi kiosks and participating retailers. One-way ticket purchases are possible. Fares depend on the time of day, but always remain inexpensive.
Driving is easy in Cape Town, as they have a great road system. An attendant at a gas station will always fill-up your tank, wash your windows, and check fluid levels, so keep cash on you for tipping. Car-hire companies are easy to find and popular choices are Avis and Hertz.
Cape Metro Rail trains are a cheap way to get around, if you need to go a bit further to places like Simon's Town. Stick to riding during the day for safety and expect delays.
Taxis, Uber, and Taxify are all popular means of transportation in Cape Town.
Long Distance Trains from Cape Town
Shosholoza Meyl is a division of the Passenger Rail Agency of South Africa (PRASA) that offers long distance services. From Capetown, you can utilize train services to East London, Queenstown, and Johannesburg.
Premier Classe trains link Cape Town and Johannesburg at a level above Shosholoza Meyl for a higher price.
The Blue Train and Rovos Rail travel between Pretoria and Cape Town, but these are luxury trains.
Safety in Cape Town
In regards to safety, Cape Town does not have a good reputation. Caution levels should remain high during your visit, but do not work yourself into a frenzy. A few things to be aware of:
Muggings are a common occurrence throughout the Mother City. Ask any Capetonian about being mugged and they will likely have a story relating to themselves, friends, or family. Likely, this is related to post-apartheid income disparity and the nation's struggle with poverty. The price of your precious iPhone could feed many families, so try not to flaunt it.
While you should always remain vigilant, it would be helpful not to flash your goods. Keep your phone away and secure, and do not pull it out on the streets. Wearing jewelry is not recommended, and women should not carry a purse unless it goes across the body.
It is really well worth buying travel insurance for your trip! World Nomads is our favourite insurance provider but check out our epic roundup post on backpacker insurance too!
Never carry anything worth fighting over. If someone tries to rob you, give-in. Always make copies of important documents, and do not wander around with your passport.
If you are the type that enjoys a stroll around a new area, like me, make those daytime walks in Cape Town. Try not to wander by yourself in the evenings, and always take a cab or Uber at night. This is strongly encouraged even if you are only going a short distance.
If self-driving, always keep windows rolled up at stops, doors locked, and keep valuables in the trunk (boot). Beggars like to target stopped cars at traffic lights (robots-yes, this is what Capetonians call them). Car guards are common all over South Africa, usually wearing a bright vest, and it is worth the small tip to have them around. Generally, they will even help guide you in-and-out of a parking space.
Pick yourself up a backpacker security belt to keep your cash safe on the road, and check out our Cape Town safety guide for tips and tricks to stay safe whilst backpacking Cape Town.
This post has plenty of ideas on ingenious ways to hide your money when traveling.
Travel Insurance for Cape Town
Traveling without insurance would be risky so do consider getting good backpacker insurance sorted before you head off on an adventure.
I have been using World Nomads for some time now and made a few claims over the years. They're easy to use, professional and relatively affordable. They may also let you buy or extend a policy once you've started your trip and are already abroad which is super handy.
If there's one insurance company I trust, it's World Nomads.
World Nomads' mission is to support and encourage travellers to explore their boundaries. They offer simple & flexible travel insurance, and safety advice to help you travel confidently.
They've been doing it since 2002 – protecting, connecting, and inspiring independent travellers just like you.
Get a quote below or read our in-depth review!
World Nomads provides travel insurance for travelers in over 100 countries. As an affiliate, we receive a fee when you get a quote from World Nomads using this link. We do not represent World Nomads. This is information only and not a recommendation to buy travel insurance.
Cape Town Accommodation Travel Hacks
Accommodation is probably the one thing that could make a dent in your wallet while backpacking Cape Town. As always, if you are on a tight budget then utilize the Couchsurfing community.
Airbnbs are honestly cheaper than a lot of hostel dorm rooms, and should not be swept under the rug—like backpackers tend to do.
One piece of advice I can give for traveling Cape Town on a budget is to network! Facebook, alone, has countless African backpacking groups. I say to join one of those groups and post your journey to Cape Town, ahead of time. There are tons of solo travelers that scan African pages daily, looking for a partner in crime. Or in this case, a partner in sharing an Airbnb.
No matter where you are traveling in the world, hostels are the best way to save money on accommodation while meeting other like-minded awesome travelers. Book your cheap Cape Town hostel here!
Worth noting: It is possible to negotiate prices with hostels and Airbnbs during a Cape Town winter, as owners are struggling a bit more to fill rooms.
Eating and Drinking in Cape Town
South Africans do not have an indigenous cuisine, per se, but that does not mean the country cannot appreciate food. In fact, there are extraordinary restaurants and amazing local meats and produce to be enjoyed while backpacking South Africa. Possibly, the best place to dine in all of Africa is Cape Town.
Seafood comes fresh—straight from the sea. Fish (kingklip is popular), lobster, oysters, and mussels will all be easy to come by. When you see 'line fish' on a menu, that simply means the catch of the day.
Meat is extremely common to find in Cape Town, and South Africans love their braais (barbecues), arguably even more than the Australians. Biltong is a great snack of—essentially—beef jerky. The Cape Malay dish you will often find on menus is bobotie—spiced, minced lamb or beef on rice with an egg-based topping. Boerewors is a South African sausage that you will often come across.
Fruit and vegetables are locally grown and generally of high standards.
Cape Town is loaded with restaurants from fine dining, to cafes, and everything in-between. Nearly every cuisine from around the world can be found here. One fact stands true, eating out is reasonably priced in the Mother City, in comparison to most of the world's top cities, and quality of food is not jeopardized.
Fruit juice comes unsweetened, in nearly every selection of fruit, and is simply delightful with your breakfast.
Beer remains hugely popular to drink despite the many wine regions near Cape Town. Castle, Black Label, and Savanna Cider can be widely found, but microbreweries are up-and-coming as well.
Wine in Cape Town
The Mediterranean climate and fertile soil make the Cape Winelands one of the best regions to produce wine in the world—the 9th largest producer, in fact. With so many choices it could make your head spin, I have broken down some wine varietals to indulge-in while sipping in Cape Town:
Sauvignon Blanc: A great value and thirst quencher for when the South African weather gets a little warmer.
Chenin Blanc: If you enjoy a Sauvignon Blanc or Pinot Gris, Chenin Blanc comes highly recommended. This wine is quite dry with a tad of sweetness in the South African Region.
Pinotage: A downright delicious and fruity red that is available in all price points.
Shiraz/Syrah: Grapes of this variety are grown throughout South Africa giving you a wide range of styles to choose.
Nightlife in Cape Town
The Tavern of the Seas has long held its reputation as an awesome place for bars and refreshments. No matter the season, you are sure to find endless pubs and bars to drink with friends, party, or club.
Cape Town's hottest nightlife scene is loudly present on Long Street. Long Street's name could easily be derived from the road's endless stretch of bars, restaurants, and clubs. The street never sleeps, and you will find countless choices for music, dancing, or your social needs—any night of the week.
Party safe in Cape Town and always be aware of your surroundings. I do not recommend this city to be the one for 'experimenting' or getting out-of-control. Walk in numbers and always take a cab if you are not popping-in just next door. There is plenty of fun to be had, but you still want to wake up in possession of your wallet!
Fancy heading to a South Africa festival? Cape Town is home to a fair few, just take your pick!
Books to Read on Cape Town
Cape Town to Kruger: Backpacker Adventures in South Africa and Swaziland – A fascinating tour with vivid descriptions of Cape Town to Kruger Park.
A History of South Africa – A guide to South Africa's turbulent past. This book also debunks common myths about South Africa.
The Cape Town Book: A Guide to the City's History, People and Places – An information-rich book that presents a fresh picture of the Mother City.
Long Walk to Freedom – An autobiography by the South African president, Nelson Mandela. A compelling read about his life and hardships during 27 years of imprisonment. This should be on everyone's Cape Town reading list.
Lonely Planet Cape Town & the Garden Route (Travel Guide) – A detailed guide to Cape Town and its surroundings.
Volunteering in Cape Town
Long term travel is awesome. Giving back is awesome too!
Worldpackers
For backpackers looking to travel long-term on a budget in Cape Town whilst making a real impact on local communities look no further than Worldpackers. World Packers is an excellent platform connecting travelers with meaningful volunteer positions throughout the world.
In exchange for a few hours of work each day, your room and board are covered.
Backpackers can spend long periods of time volunteering in an awesome place without spending any money. Meaningful life and travel experiences are rooted in stepping out of your comfort zone and into the world of a purposeful project.
Worldpackers opens the doors for work opportunities in hostels, homestays, NGOs, and eco-projects around the world. We've tried and approved them ourselves – check out our Worldpackers in-depth review here.
If you're ready to create a life-changing travel experience and give back to the community, join the Worldpacker community now. As a Broke Backpacker reader, you'll get a special discount of $10. Just use the discount code BROKEBACKPACKER and your membership is discounted from $49 a year to only $39.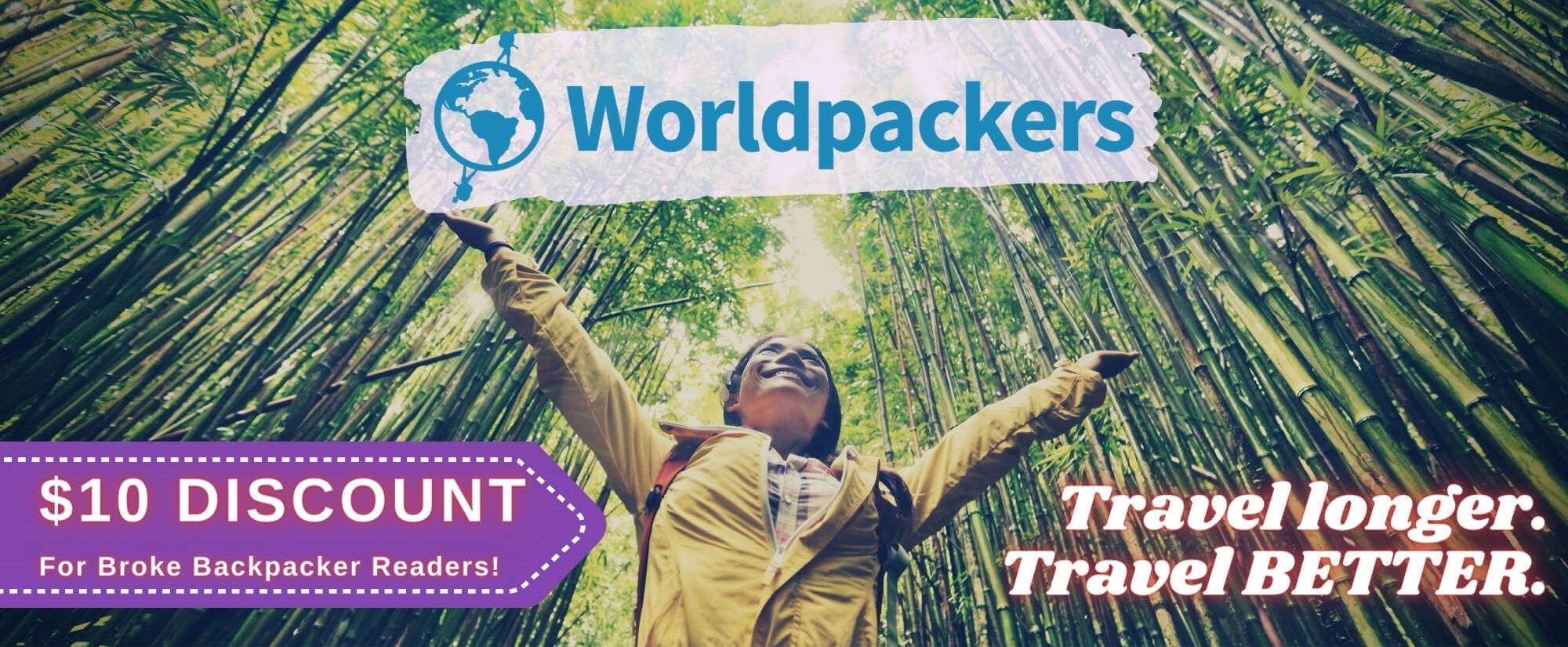 Worldpackers: connecting travellers with meaningful travel experiences.
Workaway
Alternatively, Workaway is another excellent common platform used by travellers searching for volunteering opportunities. Workaway is pretty massive, with over 40,000 hosts registered (that's 40,000 opportunities) and over 350,000 reviews on the site. With a database base that big, odds are you'll be able to find something that strikes your fancy. You can read our review of Workaway for more info on using this terrific platform.
Volunteer programs run through reputable work exchange programs like Worldpackers and platforms like Workaway are usually very well-managed. However, whenever you are volunteering do stay vigilant, especially when working with animals or children.
Global Work and Travel
Last, but not certainly not least, Global Work and Travel is another viable option for finding volunteer opportunities in Cape Town. What sets Global Work and Travel apart from other volunteering platforms is the amount of assistance they give, from a 24/7 global help-line, help with VISA processing to airport transfers and continued support once you are in Cape Town.
They offer a Cape Town Community Center Project for volunteers wanting to stay anywhere from 2 to 12 weeks. You'll be providing educational and developmental opportunities for children; an incredibly enriching and vital part of outreach work in the local area. As with all volunteer abroad programs, there's a cost, but you'll be able to pay it off in interest-free instalments. Don't forget to bring your camera and make sure you are between the ages of 18-85 to qualify!
Make Money Online Whilst Backpacking Cape Town
Traveling in Cape Town long-term? Keen to make some cash when you are not exploring the city?
Teaching English online is a great way to earn a consistent income—from anywhere in the world with a good internet connection. Depending on your qualifications (or your motivation to obtain qualifications like a TEFL certificate) you can teach English remotely from your laptop, save some cash for your next adventure, and make a positive impact on the world by improving another person's language skills! It's a win-win! Check out this detailed article for everything you need to know to start teaching English online.
In addition to giving you the qualifications to teach English online, TEFL courses open up a huge range of opportunities and you can find teaching work all over the world. To find out more about TEFL courses and how you can teach English around the world, read my in-depth report on teaching English abroad.
Broke Backpacker readers get a 35% discount on TEFL courses with MyTEFL (simply enter the code BACKPKR), to find out more, please read my in-depth report on teaching English abroad.
Whether you are keen to teach English online or looking to take your teaching game a step further by finding a job teaching English in a foreign country, getting your TEFL certificate is absolutely a step in the right direction.
Being a Responsible Backpacker in Cape Town
Reduce your plastic footprint: Perhaps the best thing you can do for our planet is to make sure you do NOT add to the plastic problem all over the world. Don't buy one-use water bottles, the plastic ends up in landfill or in the ocean. Instead, pack a tough travel water bottle.
Go and watch A Plastic Ocean on Netflix – it'll change how you view the plastic problem in the world; you need to understand what we are up against. If you think it doesn't matter, get off my fucking site.
Don't pick up single use plastic bags, you're a backpacker – take your daypack if you need to go to the shop or run errands.
Bear in mind, that many animal products in countries you travel through will not be ethically farmed and won't be of the highest quality. I'm a carnivore but when I'm on the road, I only eat chicken. Mass-farming of cows etc leads to the rainforest being cut down – which is obviously a huge problem.
Need more guidance? – Check out our post on how to be a responsible backpacker.
Backpacking in Cape Town will bring you ample opportunities to participate in debauchery, and it is very important to have fun, let loose, and get a bit wild at times. Most backpacking trips I have been on across the world have included at least a few mornings where I wake up knowing I went too far.
There are some things that will put you in the category of a straight up jackass if you do them. Being super loud and obnoxious in a tiny hostel at 3 AM is a classic rookie backpacker mistake. Everyone in the hostel will hate you when you wake them up. Show your fellow travelers (and locals) respect whilst backpacking in Cape Town and anywhere else for that matter!
---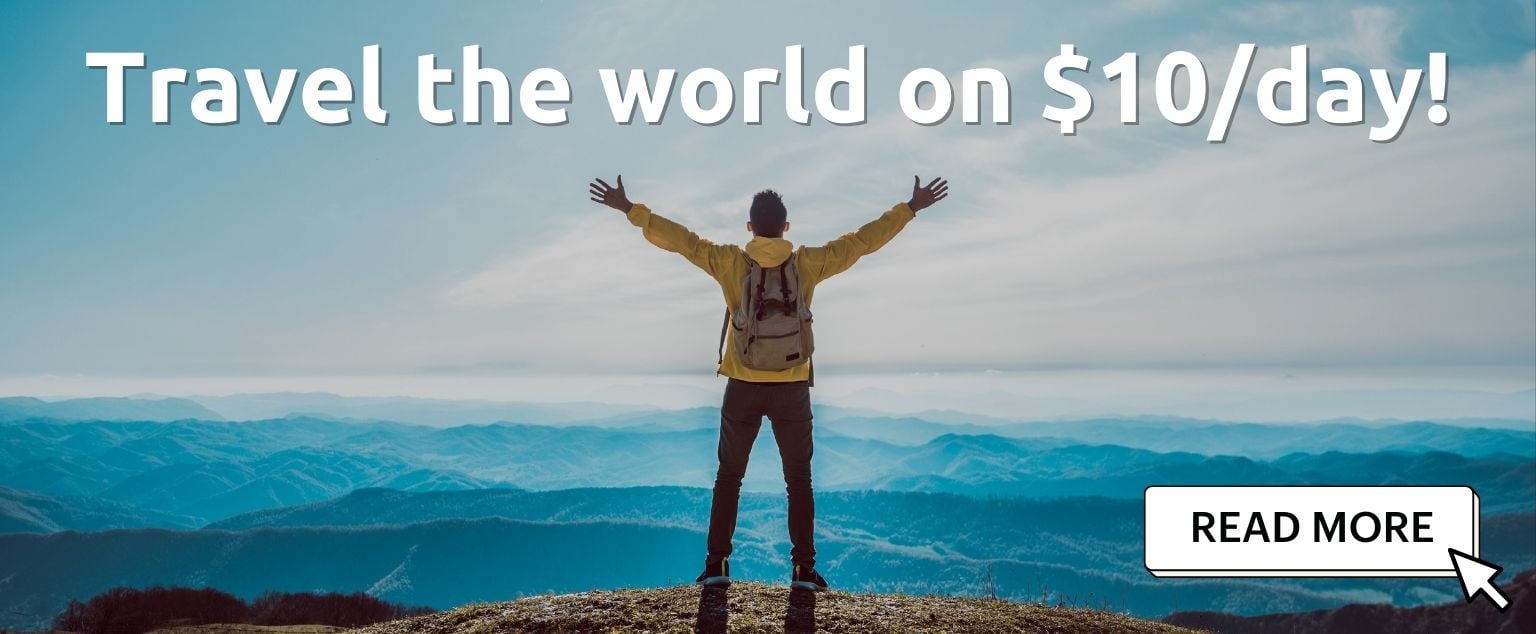 And for transparency's sake, please know that some of the links in our content are affiliate links. That means that if you book your accommodation, buy your gear, or sort your insurance through our link, we earn a small commission (at no extra cost to you). That said, we only link to the gear we trust and never recommend services we don't believe are up to scratch. Again, thank you!