France is a country of love, light, and history. It has everything you could dream of, from Mediterranean beaches to snowcapped alps to cities with centuries of history.
Whether you call France home or are planning a once-in-a-lifetime vacation, attending one of the top festivals in France is one of the best ways to immerse yourself in the local culture.
There are all sorts of festivals to attend here, from small-scale cultural celebrations hosted in regional villages to massive parties held countrywide. With a population who loves to party, tons of music festivals are also held throughout the year.
Luckily, there are plenty of festivals to choose from each year. However, this can make planning a trip around a festival a little overwhelming. So, to make your life easier, I've collated the top eleven cultural, religious, and music festivals held in the country.
Festivals in France
If you're struggling to find a great festival to attend in the country of love and lights, read on for some of the top cultural and music festivals held across France.
When: February
Where: Menton
Opening up our list with a citrus-fueled bang, the Fête du Citron, otherwise known as the Menton Lemon Festival, is an event you won't forget. As the name suggests, this festival is all about the sweet and sour citrus grown across the country.
It is believed that the event started as a way to entertain the wealthy winter visitors who would holiday on the French Riviera. Today, Menton is known as the 'Lemon Festival Capital of the World' because of it.
Held in the Bioves Garden in the heart of the French Riviera over two weeks in February, Fête du Citron is a French Festival that draws over 200 thousand visitors each year. During these two weeks, local and international artists create giant statues and models made entirely from citrus fruits grown in the area.
When life gives you lemons…
I'm talking about life-sized buildings, trains made from oranges and lemons, and model animals often animated by live performers. Some of these figures can consume as much as fifteen tons of fruit and rise ten meters high!
The fresh scent alone is enough to attract you to the festival, but there are performances by musicians, marching bands, acrobats, masked dancers, and a crafts fair that's worth checking out.
Parades take to the street when the sun sets on this lemony festival, lit by dazzling lights and firework displays.
Where to Stay:
Menton is drowning in luxurious hotels and estates; however, if you're looking for an affordable place to stay, there are also some tremendous self-catering rentals along the coastline. I highly recommend picking a stunning property on the sea to make the most of your time on the French Riviera.
When: February
Where: Nice
Carnival is celebrated worldwide, with the main event taking place in Brazil's Rio De Janeiro. By far the biggest festival in France, Nice hosts a massive Carnival event that attracts over a million visitors to the Mediterranean city every year.
Records show that the Nice Carnival might have been celebrated as far back as 1294, which would make this Carnival the original carnival celebration.
Every year, the festival organizers choose a theme, and artists and participants from across the country collaborate to create floats and figurines using traditional paper mache for the penultimate parade. Other than the theme, the floats draw inspiration from social and political events, often interspersed with a touch of satire.
The coastal boardwalk, the Promenade des Anglais, is the main route for the float. However, the entire city is packed with activity over the two weeks, with stalls selling gifts and food, dramatic firework displays, and musical and theatrical performances.
Set against the backdrop of the French Riviera, this is one of the most exciting festivals to attend in the winter months. The carnival alone is a great reason to visit the coastal city of Nice.
Where to Stay:
Like most French Riviera cities, Nice has its fair share of exclusive and luxurious hotels. The Hotel Le Negresco is an iconic five-star property in the center of the Promenade des Anglais. If you have the budget for it, you can't do much better than this!
If there's one event you would have heard of on the list, this would be it. The Cannes Film Festival is, without a doubt, the best-known film festival on the planet. Each year during May, celebrities, models, producers and film crews flock to the Mediterranean city for one of the most star-studded events of the year.
This French festival's main purpose is to showcase the top films and cinema productions of the time. The film premiers are then judged under different categories, and movies are awarded for artistic achievement.
The film festival concept allows filmmakers and producers to brainstorm ideas, view films and create relationships with one another.
The general public is invited to attend a few film premiers and screenings. However, most are kept private as 'invite only.' Naturally, the event brings a dazzling nightlife scene, with closed parties hosting the likes of some of the world's top film stars.
The event is hosted at the Palace of Festivals and Congresses of Cannes on the harbor. About 2,000 films are submitted for entry into the festival each year, with only about 50 selected.
If you cannot attend a screening, make your way to the red carpet and admire the stars from a distance for a pop-cultural experience like no other.
Where to Stay:
Cannes is a fairly small, very walkable city, so you can stay anywhere and you'll be near the film-star action. There are some gorgeous places to rent in the city, like this beautifully refurbished apartment in Centre-Ville Croisette.

Do You Want to Travel FOREVER??
Pop your email in below to get a FREE copy of 'How to Travel the World on $10 a Day!'.
First held in the UK, Download Festival is a British-organized rock festival that has recently expanded to a second location in France. With an event held at the height of summer in Paris each year, the festival is one of the top rock and heavy metal music festivals in France.
The festival hosts some of the most iconic artists in heavy metal and rock and roll, with headliners like Iron Maiden, Linkin Park, Feeder, Kiss, Black Sabbath, and System of a Down taking the stage.
Download Festival has been hosted since 2003 in the UK, but has only recently expanded into the city of Paris with a successful debut in 2016. It takes place the same weekend as the original English festival, with most acts performed at both festivals over different nights.
You can expect all the mosh pits, headbanging, and pyrotechnics of a classic rock concert set against a backdrop of one of Europe's most iconic cities.
Other than the festival merchandise store, attendees can also visit the on-site tattoo parlor for a more permanent souvenir.
Tickets can be purchased online starting at around €50, increasing in price closer to the festival date.
Where to Stay:
Need a place to stay between gigs? I'm a big fan of this gorgeous studio in a traditional Parisian building, with Juliette balconies overlooking the street below. Best of all, it's super close to public transport stops.
Join a global movement of changemakers at one of the most dynamic and diverse festivals in France. AFROPUNK FEST Paris is part of the worldwide series founded to champion equality worldwide.
It's a two-day music festival that showcases artists from every corner of the earth, emphasizing those who come from marginalized communities. While music is at the heart of this festival, AFROPUNK FEST Paris is a true collaboration of art and culture, showcasing art, film, and fashion as well as musical talent.
AFROPUNK is much more than just a string of festivals. It's a movement orchestrated to celebrate different identities across the world.
In a celebration of black identity and female talent, the event attracts a diverse and eclectic audience who are as interested in spectating some of the world's top talent as they are in supporting up-and-coming artists.
You can purchase a single-day pass for €110 or a full weekend pass for €250. There are also pricier VIP tickets which will give you access to shorter lines, exclusive viewing platforms, bars, and lounges.
Where to Stay:
Paris is overflowing with gorgeous self-catering apartments and lofts to rent out. This trendy one-bedroom spot has been renovated with contemporary interiors and is located right near Grand Boulevards.
La Fête De La Musique directly translates to 'World Music Day' and is a global event celebrated worldwide. Its origins are rooted in France, where the festival was first celebrated in 1981 as an opportunity to urge residents to play music outside their homes, in their neighborhoods, and in shared parks and spaces.
When the French Minister of Culture discovered that one in two French citizens played a musical instrument, he dreamed of a way to bring these casual musicians into the streets. Since then, this French festival has become an international phenomenon, celebrated in over 130 countries worldwide.
It's a day filled with free public concerts where musicians play and perform for enjoyment instead of payment. La Fête De La Musique is celebrated annually on the 21st of June, on the summer solstice.
A core part of this event is that it is free and public for anybody and everybody to attend. Its purpose is to promote amateur and professional musicians to perform in harmony with one another while making different genres of music available to the public.
Other than being the first city to host the event, La Fête De La Musique celebrations in Paris are some of the best in the world.
Where to Stay:
Combine hotel comfort with affordability and stay at the Citadines Les Halles Paris, located right in the heart of the city. You can't be better located than this!
Have you sorted your accommodation yet?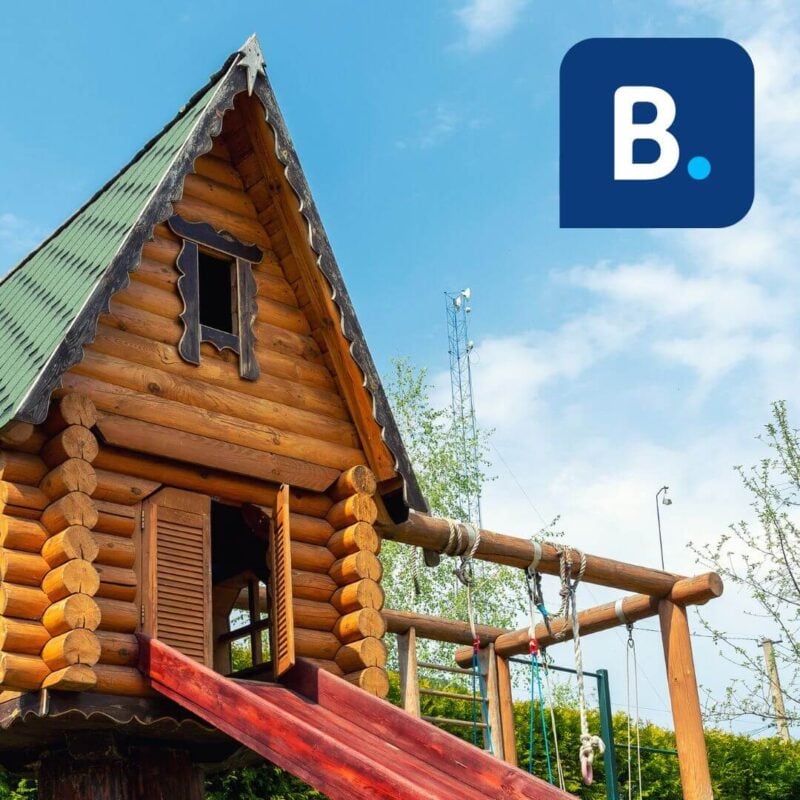 Get 15% OFF when you book through our link — and support the site you love so dearly 😉
Booking.com is quickly becoming our go-to for accommodation. From cheap hostels to stylish homestays and nice hotels, they've got it all!
View on Booking.com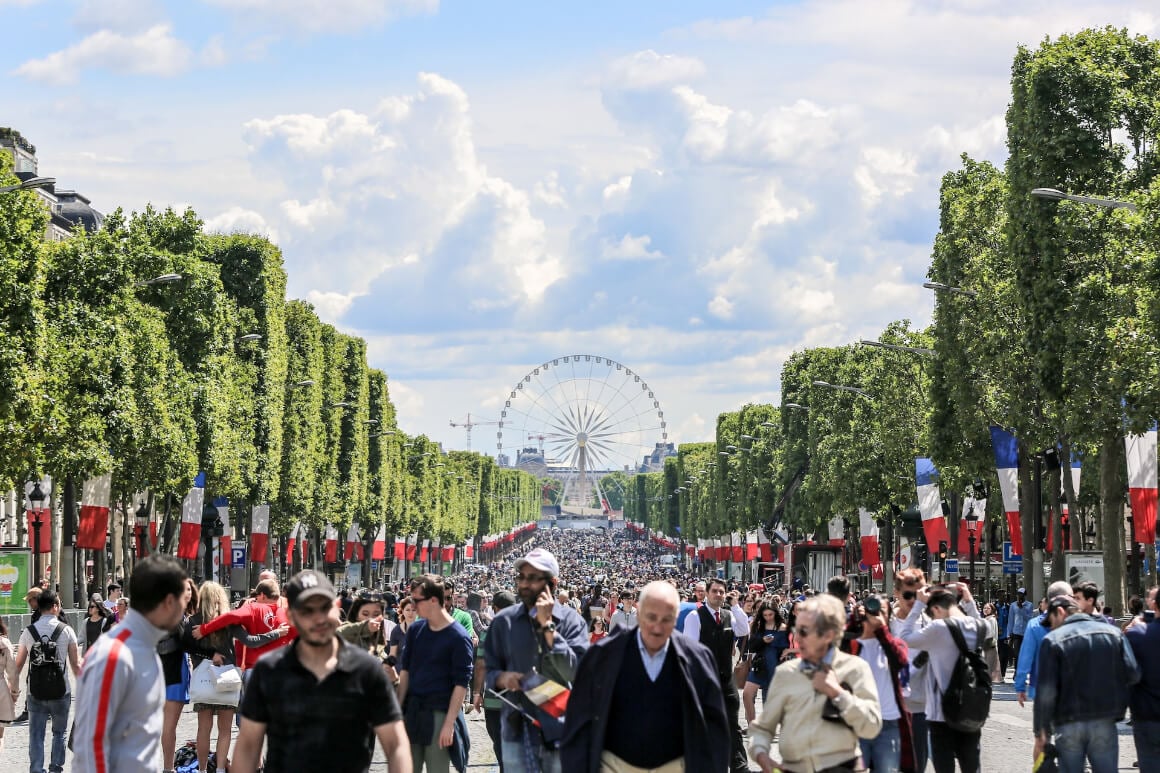 Celebrated every year on the 14th of July, Bastille Day is the English name for the National Day of France. Locally, it's referred to as Fête Nationale Française – the anniversary of the French Revolution's Storming of the Bastille on the same date in 1789.
Celebrations are held across the country and the French-speaking world, but the biggest is, without a doubt, in Frances's capital of Paris. One of the celebrations, held in front of the Arc de Triomphe on the Champs-Élysées, is one of Europe's oldest and largest military parades. The parade includes military regiments on horseback, in tanks, and on foot.
In 1789, this military festival was designed to strengthen the country's national identity using the events of the 14th of July. Today, Bastille Day is a celebration of 'all things French'. You can expect quintessentially French art exhibitions, theatre and music performances, food, and entertainment at this important festival of France.
A big deal in Paris, Bastille day is a mixture of solemn military parades coupled with fun dance parties, markets, and fairs. Once the sun sets on the day, attendees can expect a fireworks display like no other!
Where to Stay:
This is arguably one of the busiest weekends in Paris, so make sure you book well ahead of time and secure yourself a great hotel room or apartment. If you're looking to treat yourself, why not book a room in the grand Hotel de L'Esperance near rue Mouffetard?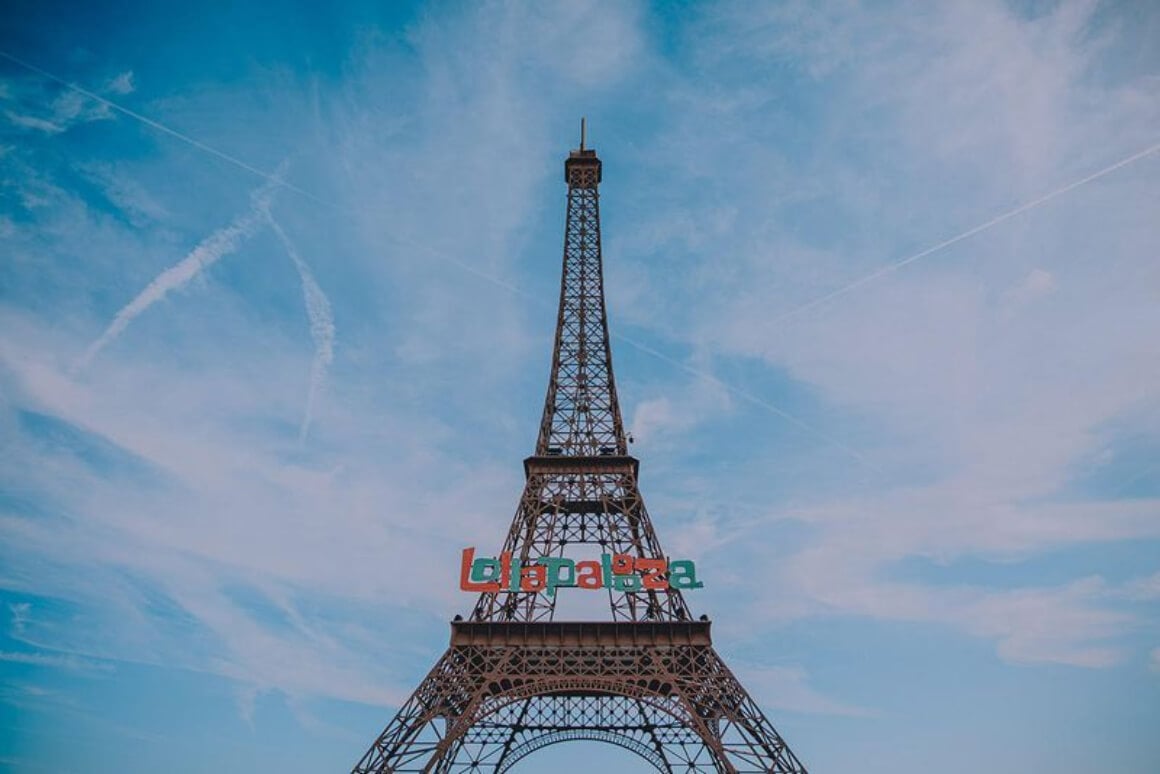 If you're a fan of contemporary music (R&B, hip hop, alternative, rock – you name it), there's a ticket to Lollapalooza with your name on it. This festival began in Chicago and has since expanded into a global event reaching the stages of France.
The Chicago original has been running for 30 years, and France has just celebrated its fifth successful edition of the festival.
Each year on a weekend in July, 130 thousand people flock to the Hipodromo de Longchamp for one of the biggest festivals in France. With a line-up including the Gorillas, Twenty-one Pilots, Kasabian, Travis Scott, A$AP Rocky, and Depeche Mode, it's no wonder this is one of France's biggest rock and pop festivals around.
The event has four stages, each boasting a star-studded line-up to enjoy. Of course, attendees can buy food, drinks, and merchandise on-site to keep them hydrated for the entire weekend.
The venue for the event is easily accessible by metro, bus, or taxi from the city center, making it super convenient for those already on vacation or living in Paris.
Tickets are relatively pricey for this one, but you'll be getting some serious bang for your buck with the number of famous artists playing. You'll have to check prices when the next event is announced.
Where to Stay:
After a few nights of head-numbing dancing at Lollapalooza, you'll appreciate a good night's rest more than anything. What better place to catch up on your beauty sleep than in this cozy loft apartment with original wooden beams and a ton of history!?
When: July
Where: Aulnoye-Aymeries, Maubeuge
Hidden in the lush mountains of northern France in the Maubeuge region, Les Nuits Secrètes Festival is a contemporary music festival that takes place over three days on the last weekend of July.
Translated to 'Secret Nights' in English, this French festival has been running for twenty years and has brought some of the world's most revered artists to the area. The impressive lineup has hosted artists like Jamie XX, Rone, Damso, Orelsan, and Vitalic.
While many attendees buy tickets to see their favorite artists, the event's main aim is to experience new performers and broaden your musical interest.
The event takes place in a secret location in the area, only disclosed to ticketholders at the time of the festival. You'll board a bus without knowing exactly where you're going and be led into abstract and unusual venues like fields, barns, and churches for the event of a lifetime.
This unique festival has three stages, including the main stage to accommodate 14 thousand people, and two other secret stages.
A three-day pass costs €120, while a one-day ticket goes for as low as €50. Children under ten can attend for free, and you can also choose to camp on-site in the area for €20.
Where to Stay:
If camping isn't your vibe and you're looking for a bargain property to rest your head after a long night at the festival, this self-catering apartment has everything you might need for a short-term stay.
Is This the Best Daypack EVER???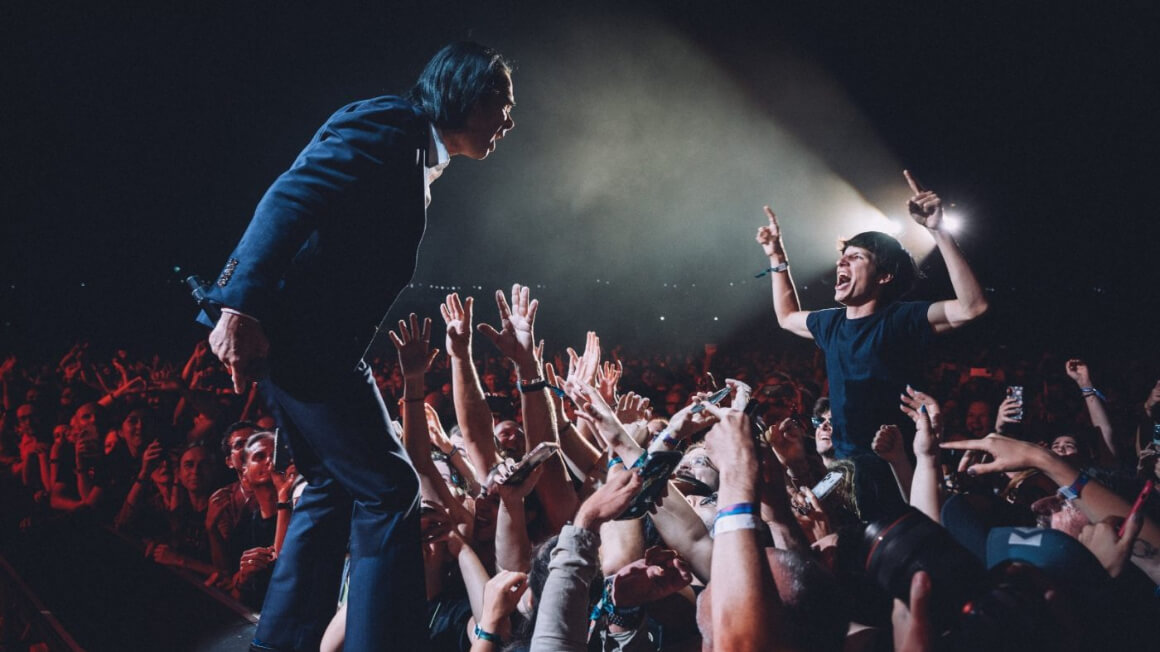 Once a year, over four days in August, one of the most famous rock concerts sets up camp at the Domaine National de Saint-Cloud and Chateau de Saint-Cloud park west of Paris. Tucked away in a garden setting, this music festival in France pulls over 40 thousand attendees each day.
Rock en Seine has been running since 2003, with a short interval during the Covid pandemic, and is usually held towards the end of August.
If you're a fan of electronic, indie, pop, and rock and roll, you're in for a real treat. Artists like Simple Plan, My Chemical Romance, Arctic Monkeys, The Streets, Bloc Party, and Bombay Bicycle Club have performed across the event's six stages. With such a diverse multi-genre line-up, it's no wonder this is one of the country's most famous festivals.
Tickers for the event start from €59 for an early bird day pass and €49 for a regular adult day pass. Weekend tickets can also be purchased. If you're interested in standing in the Golden Pit in front of the main stage, you can do so for €89. There are also ticket packages which include accommodation and transport.
Where to Stay:
After a night of head-banging to the world's best rock music, make yourself at home in this sunny apartment with views of the Eiffel Tower.
When: August
Where: Orange
For fans of Opera, there is no better French festival to attend than Chorégies d'Orange. This cultural music event is held in August in the region of Orange, just north of Avignon in southern France.
The festival dates back over 150 years to 1869 but has been celebrated in its current form since 1971. The event forms part of the high places of international Opera, attracting some of the genre's most influential performers.
The location of the event is something truly special. Chorégies d'Orange takes place in an ancient Roman theatre that was built in the first century. The eroded 37-meter-high walls and rounded open-air structure of the building offer an incredible audio advantage you won't experience at any other concert.
Typically, two popular operas are each performed twice in front of nearly nine thousand people, and the performances are also broadcasted on live television.
You can reserve a seat for this cultural music festival online or over the phone. Prices are only announced when tickets for the next event are released.
Where to Stay:
Spend some time in this gorgeous contemporary loft in the city center for a relaxing opera festival experience.
Final Thoughts
France is jam-packed with exciting music festivals, cultural experiences, and religious celebrations worth checking out. Although summer concerts in Paris are the most common, you'll find an event to attend no matter when or where in the country you visit.
My favorite festival in France would have to be Bastille Day. Although I've attended many Bastille celebrations worldwide, none are as incredible as the festivities in the capital of France.
Make sure you book your event tickets (and accommodation) well in advance. France is a super popular vacation destination, and you don't want to miss out on the event of a lifetime because you weren't quick enough.
ALWAYS sort out your backpacker insurance before your trip. There's plenty to choose from in that department, but a good place to start is Safety Wing.
They offer month-to-month payments, no lock-in contracts, and require absolutely no itineraries: that's the exact kind of insurance long-term travellers and digital nomads need.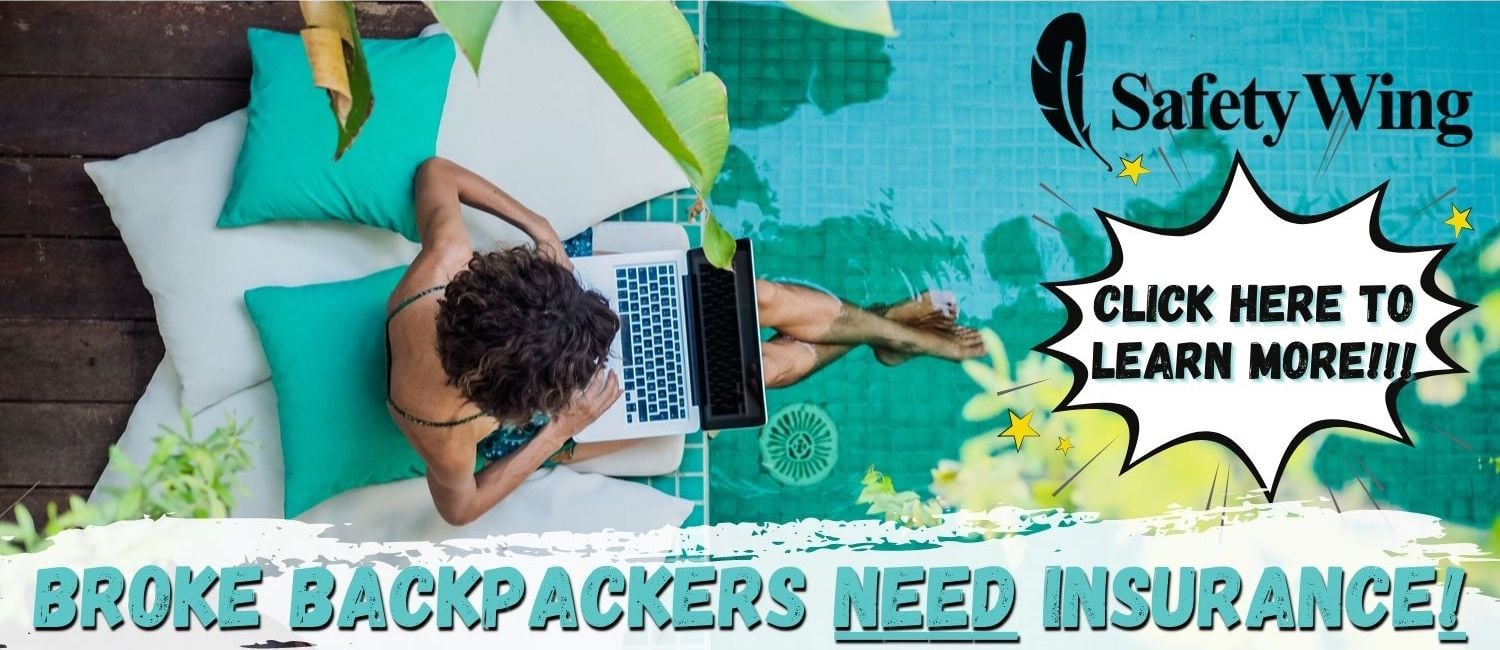 SafetyWing is cheap, easy, and admin-free: just sign up lickety-split so you can get back to it!
Click the button below to learn more about SafetyWing's setup or read our insider review for the full tasty scoop.
---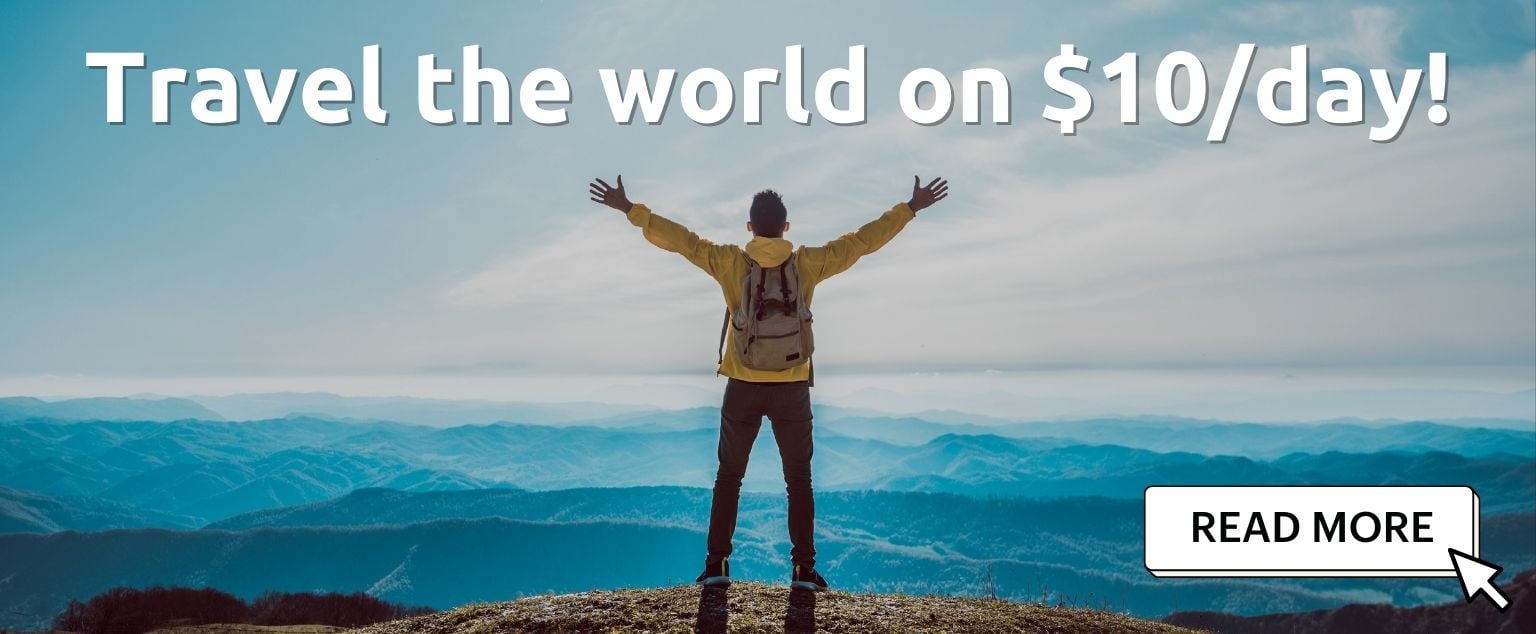 And for transparency's sake, please know that some of the links in our content are affiliate links. That means that if you book your accommodation, buy your gear, or sort your insurance through our link, we earn a small commission (at no extra cost to you). That said, we only link to the gear we trust and never recommend services we don't believe are up to scratch. Again, thank you!